For my son Harrison's Secret Agent Training Birthday Party a few years ago, I wanted to create a show-stopping Spy-Themed Dessert Table. With the help of talented cake makers and a large DIY Donut Wall, we made it happen! Read on to see how I did it, and then check out the other posts at the end for more Kid's Spy Party Inspiration.
How to Create a Spy Themed Party Dessert Table
The Table
I used a  narrow, buffet-style card table with a blue linen tablecloth over it.  You can also purchase a second-hand table or use a sideboard or sofa table. A tablecloth can cover anything and make it look good! Because my table was a little small, I added a few overturned red milk crates on either side to hold additional desserts.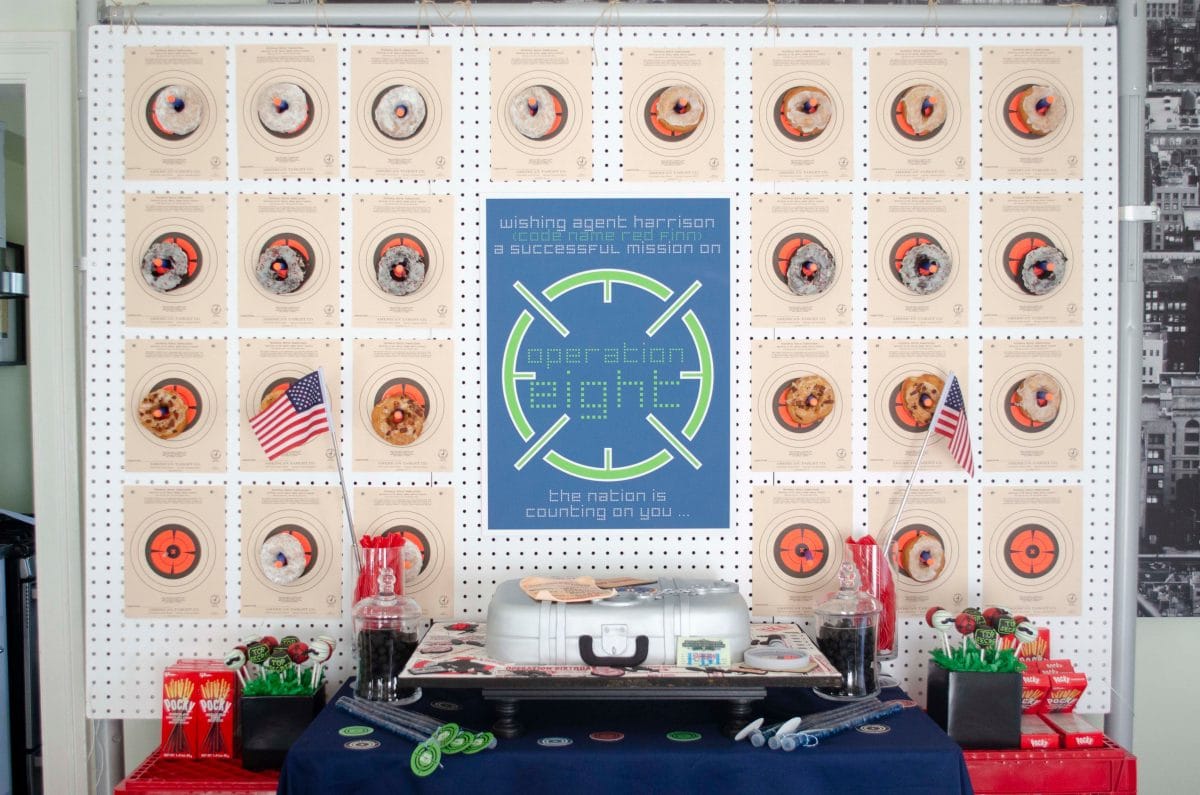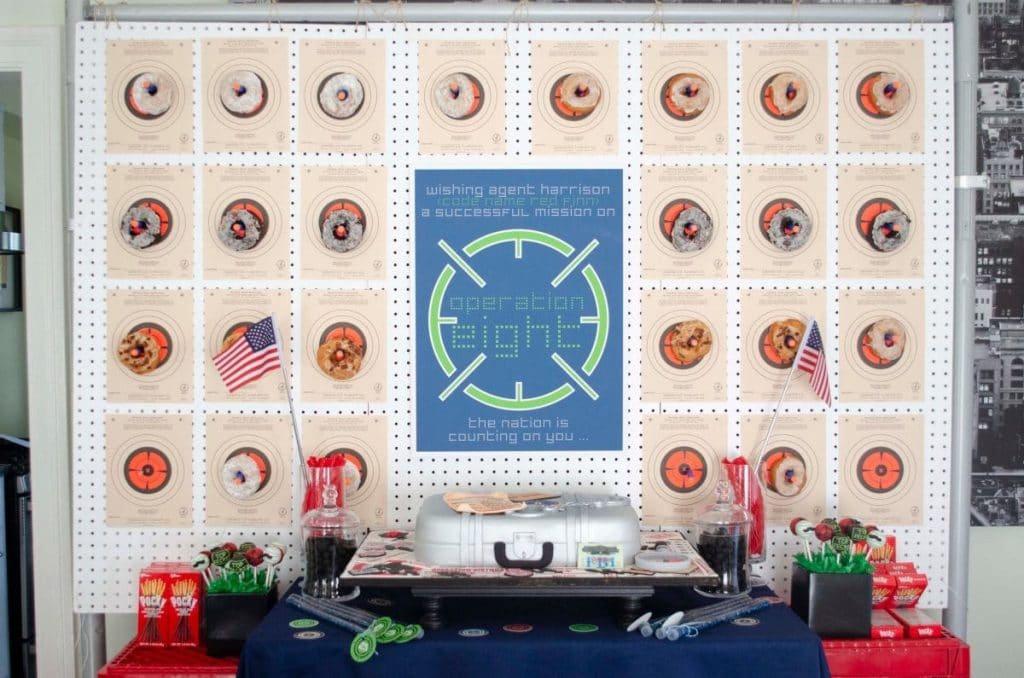 The DIY Donut Wall Backdrop
Step 1-
First, I created the donut wall backdrop. I used a pipe and drape frame to hang three sections of pegboard, which were connected to each other and to the frame with plastic zip ties.  
TIP: If you do not have a pipe and drape frame, you can also use a photo booth frame (make sure it's heavy duty to support the weight), or rest the peg boards against the wall behind the table (make sure the boards are anchored and stable).  Alternatively, you could use hooks from your local hardware store on the wall.
Step 2-
Once the pegboard back drop was up, I taped paper firing range targets to the backdrop. I also added a brightly colored bullseye target sticker to the middle of the paper target for a bit more color.
TIP: You can count the peg holes to ensure these targets are evenly spaced across the three panels.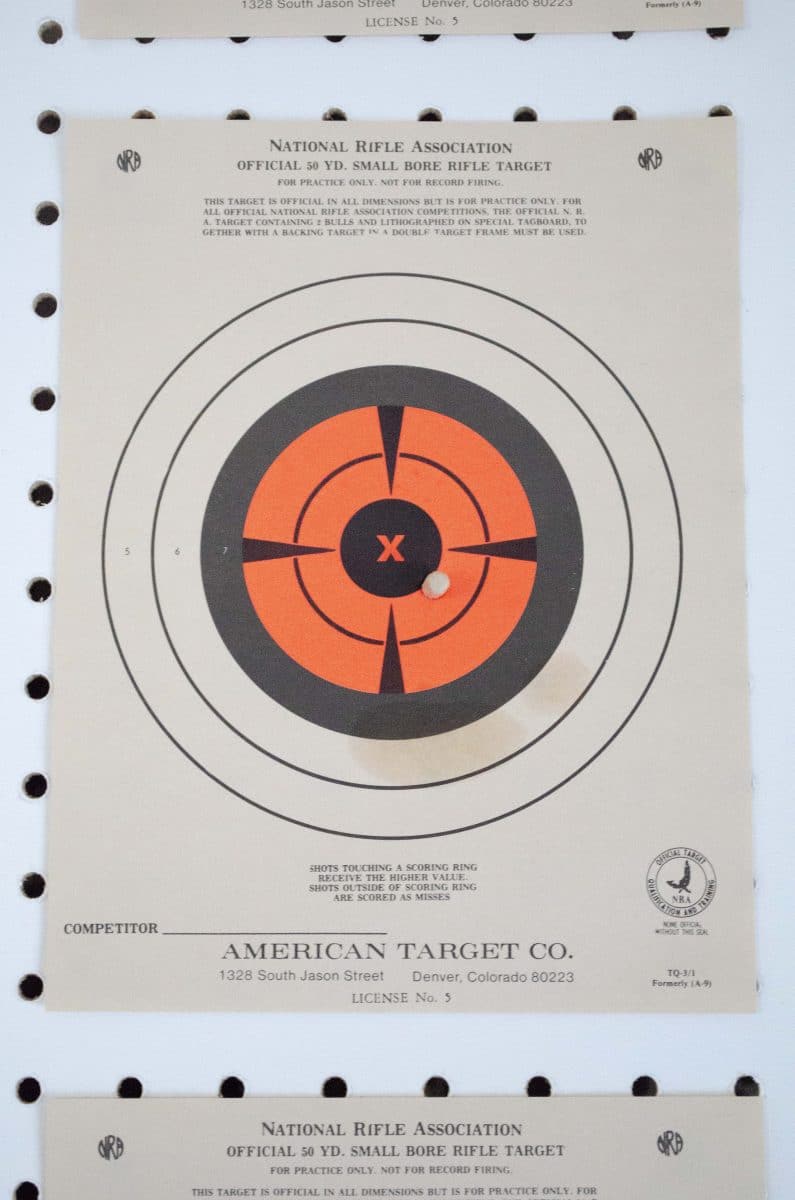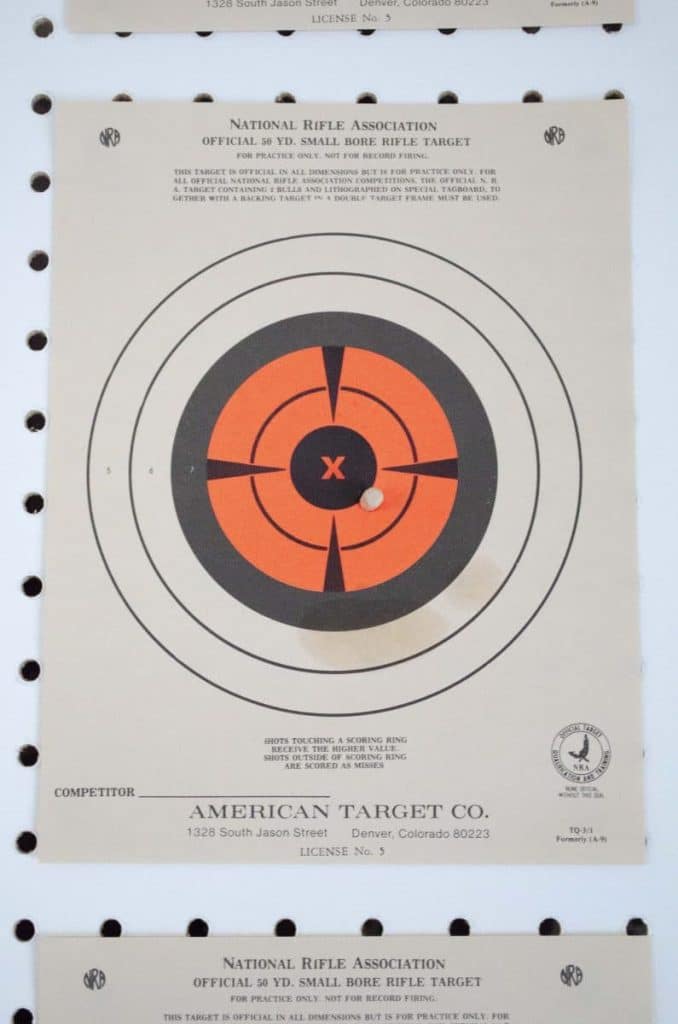 Step 3 –
Next, I inserted a wooden dowel peg into the hole that was in the center of each target (or near enough).  I used longer pegs, so that I could then slip a nerf bullet over the peg.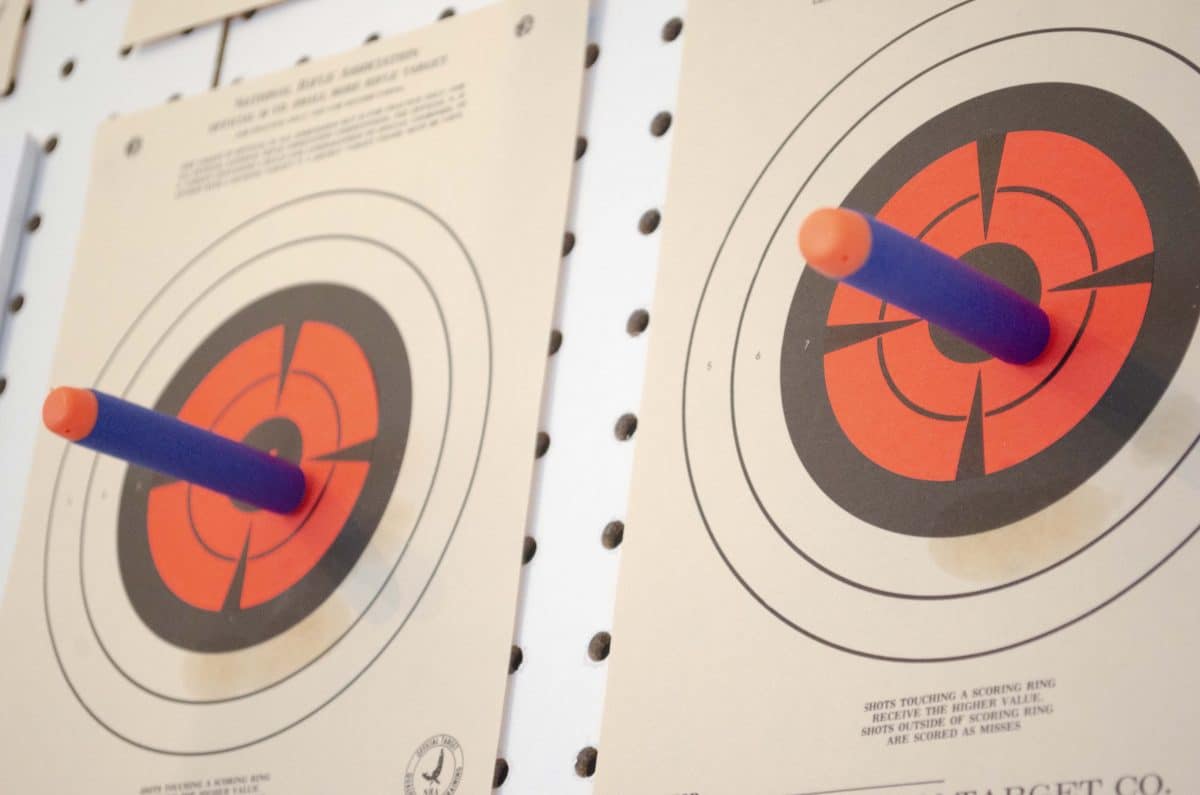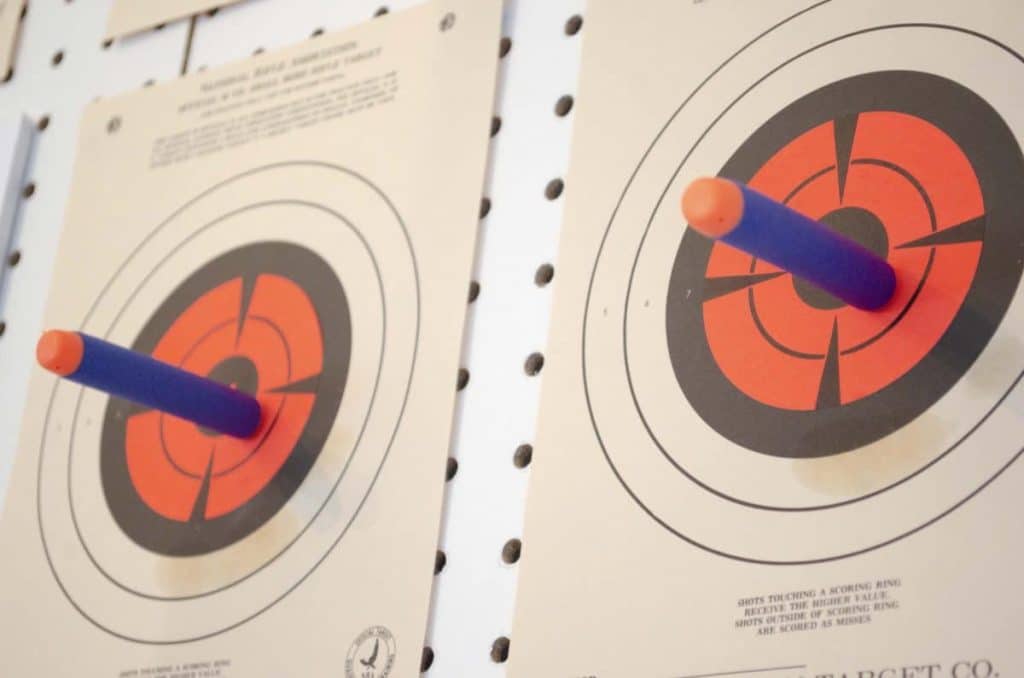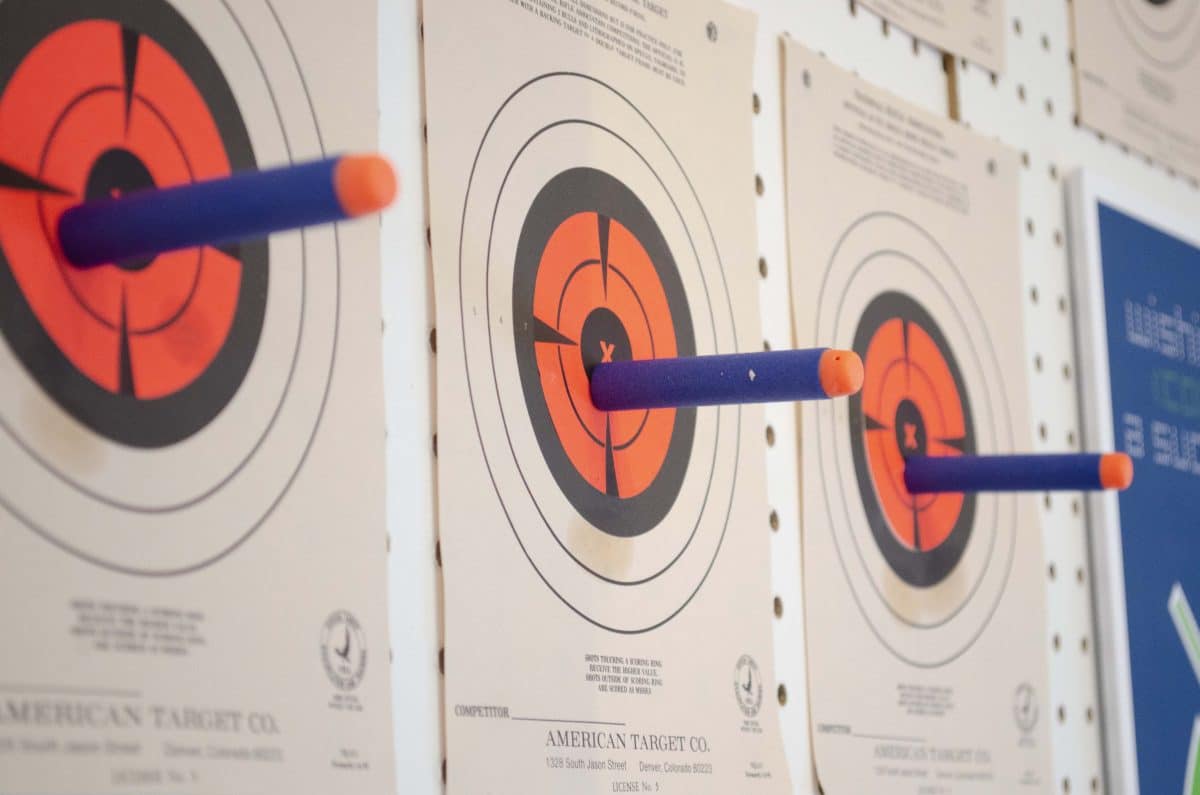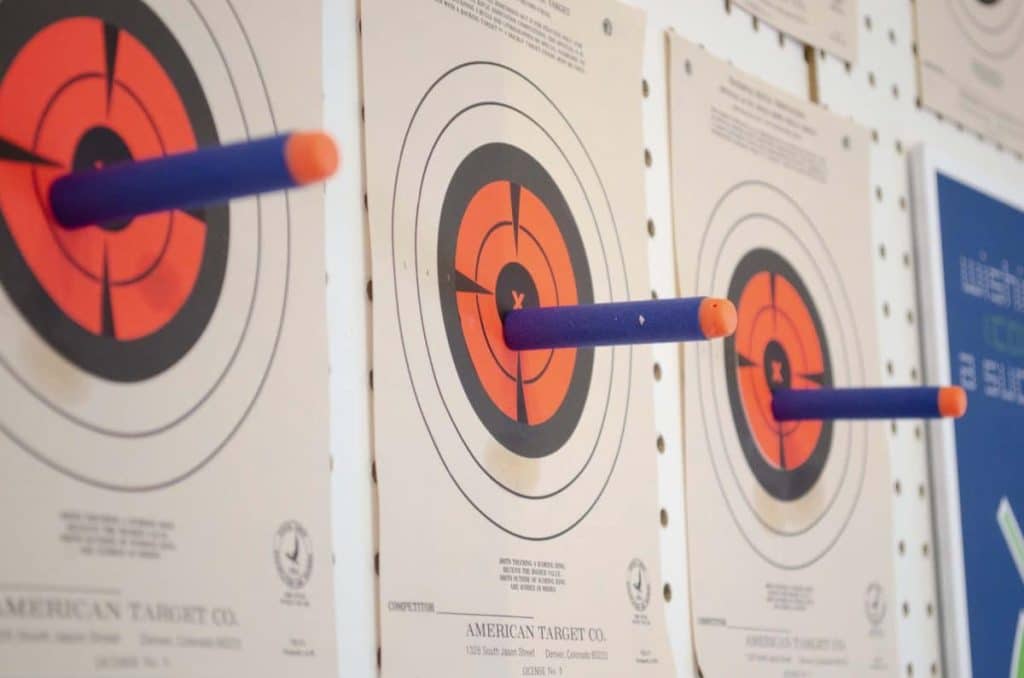 Step 4 –
Once the pegs and nerf bullets were inserted and stable, I hung the donuts from them.  The kids loved this as they were able to walk up and take donuts right off the targets!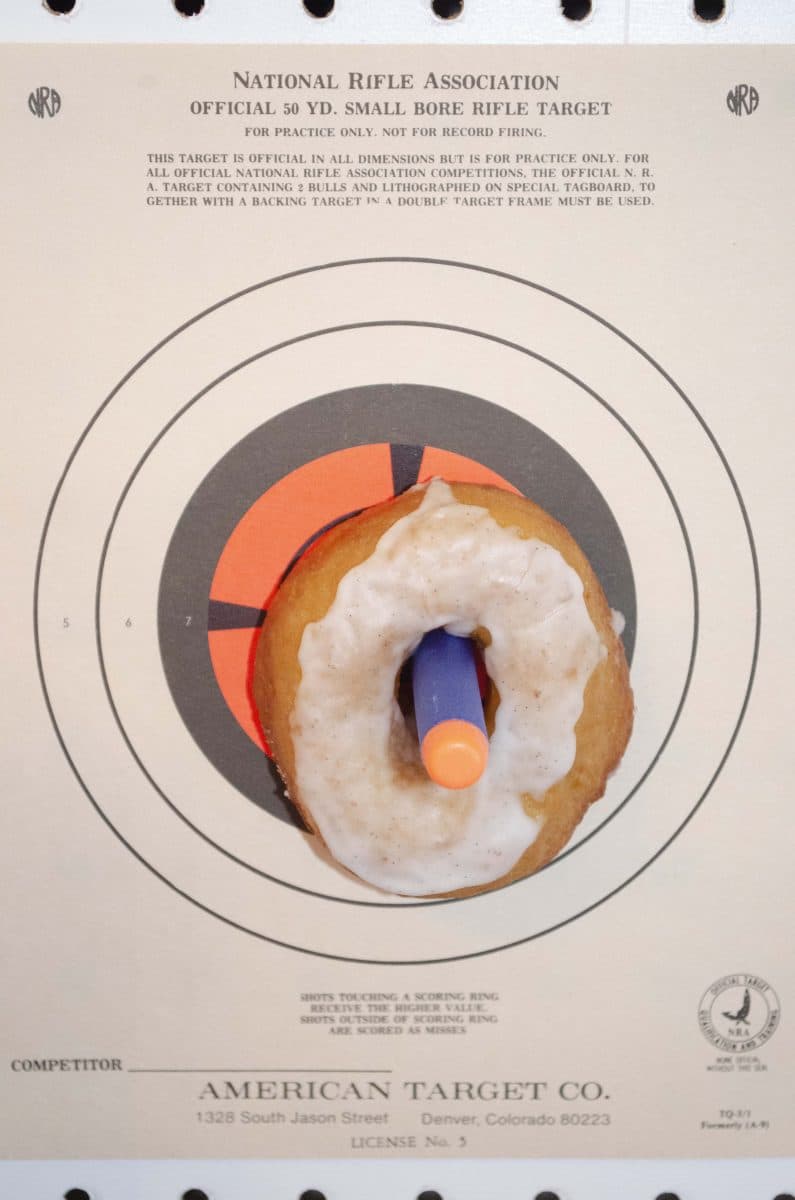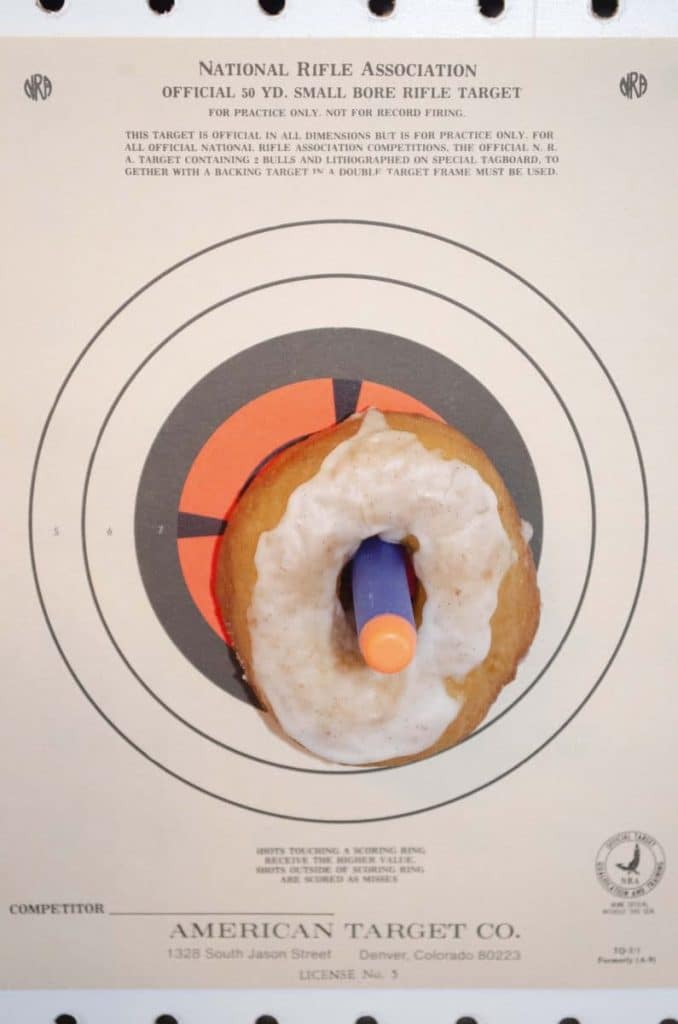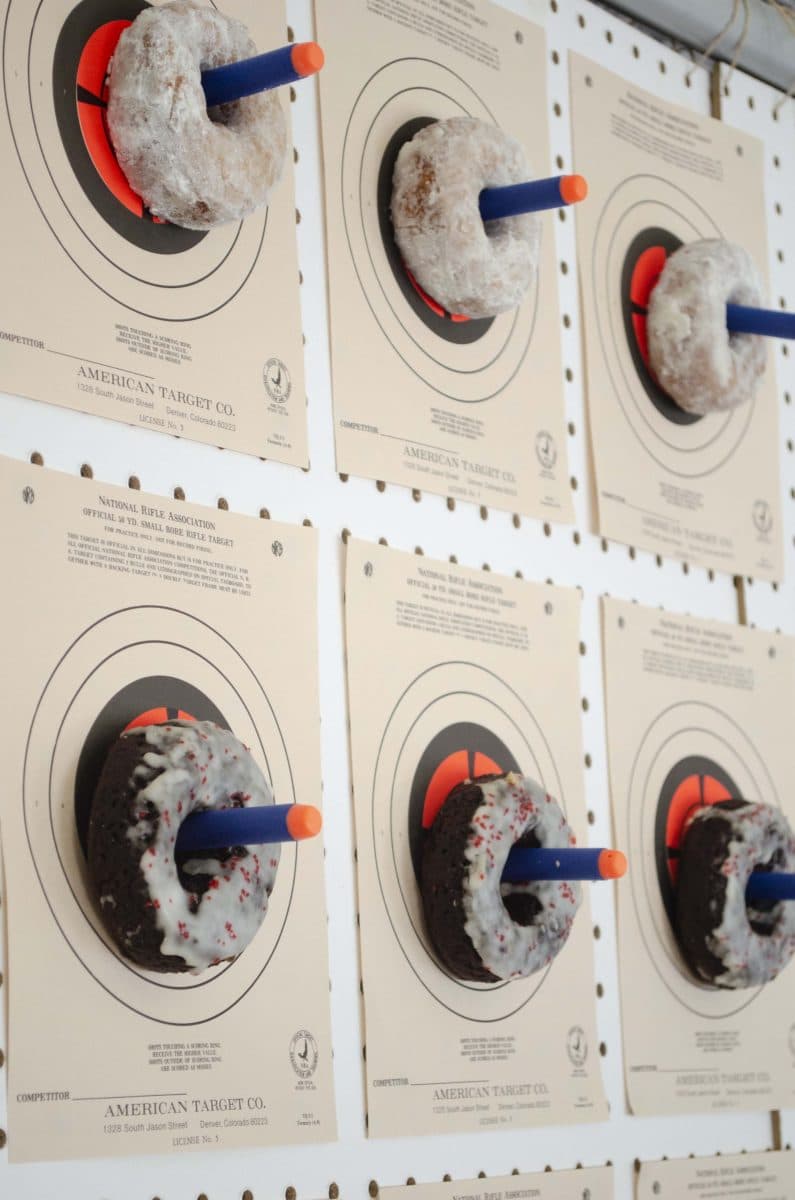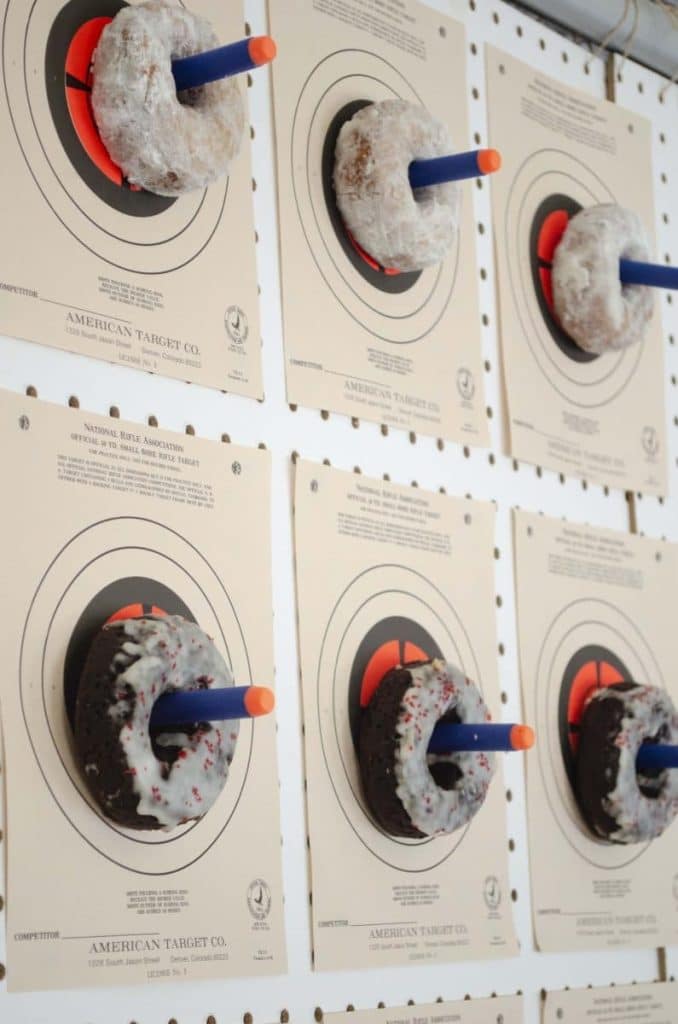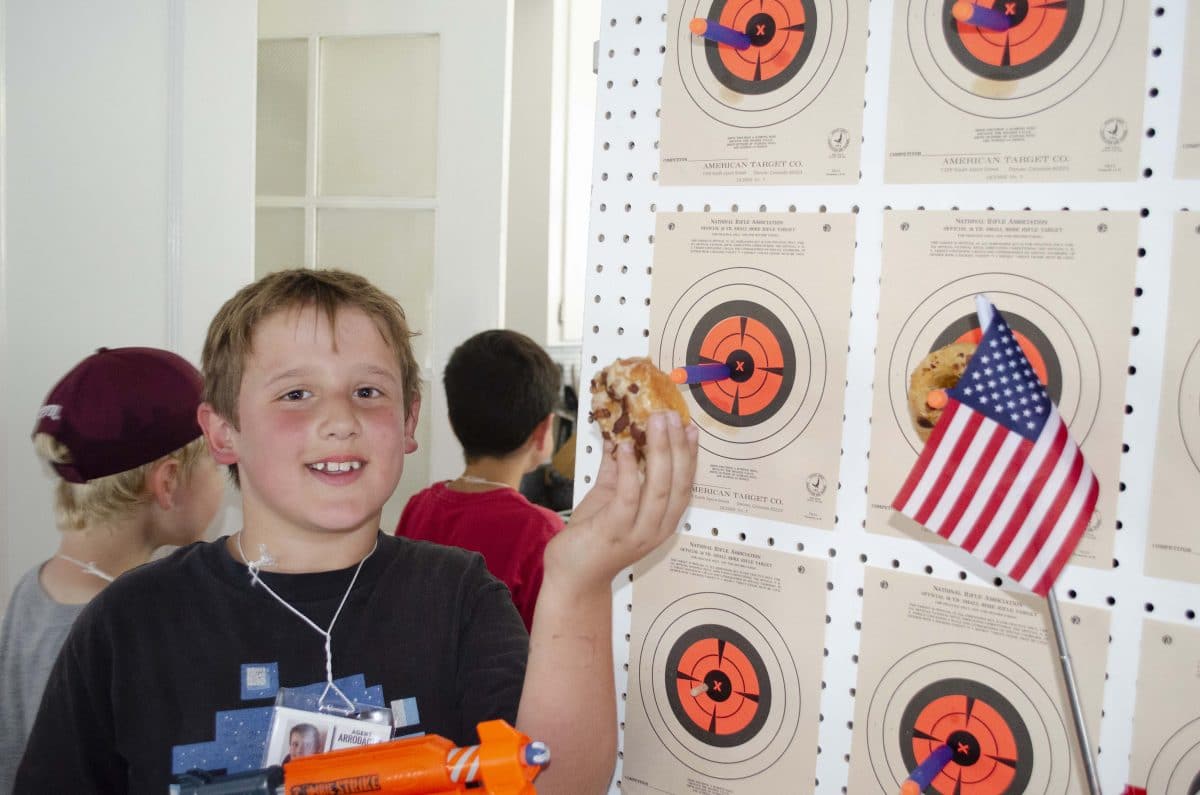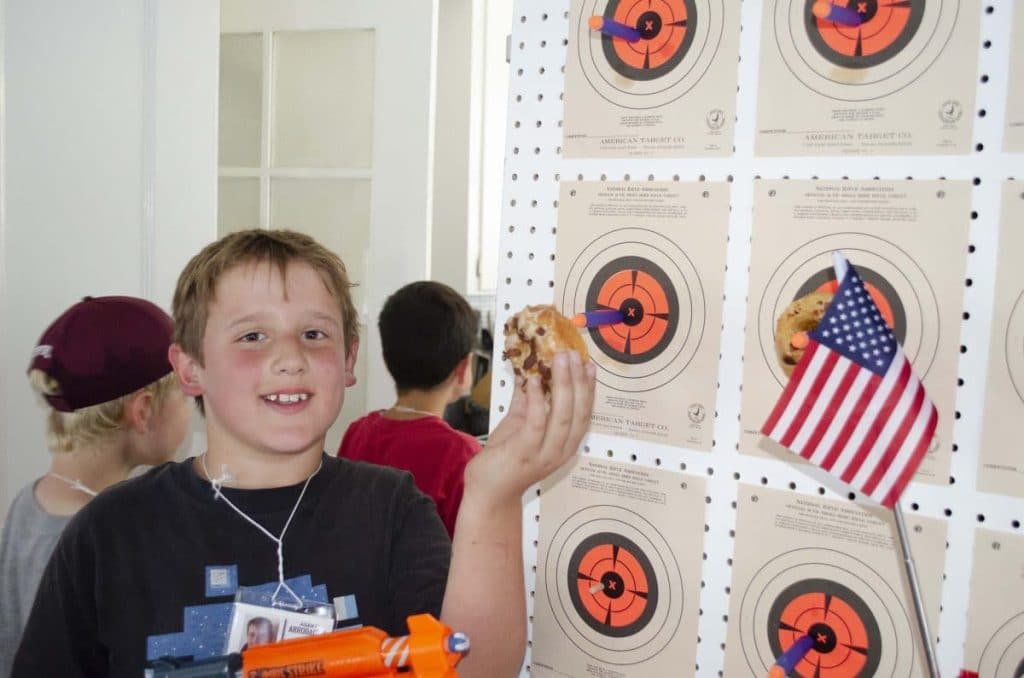 Step 5 –
I also included signage wishing "Agent Harrison" success on his birthday spy mission – "Operation Eight",  in the form of a rifle scope in the center.  Alternatives to attach to this space could be  using another target with Happy Birthday written or stuck on,  adding a banner, or a photo of the birthday child.  You could also hang a banner or sign off the frame!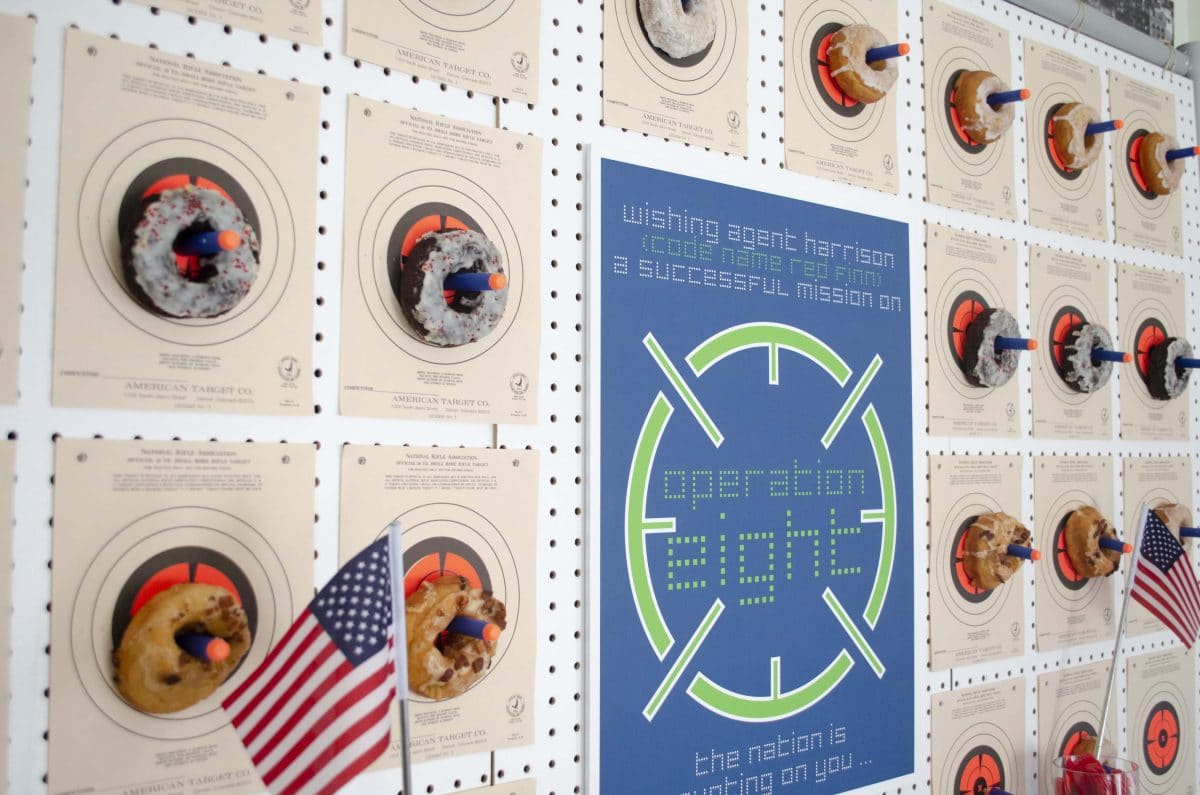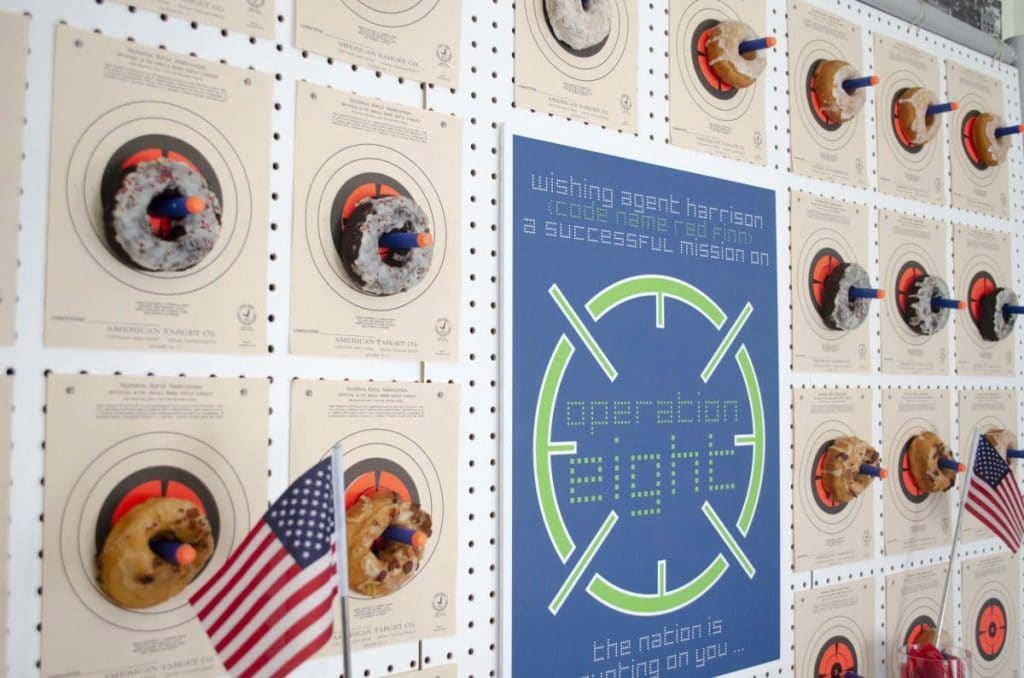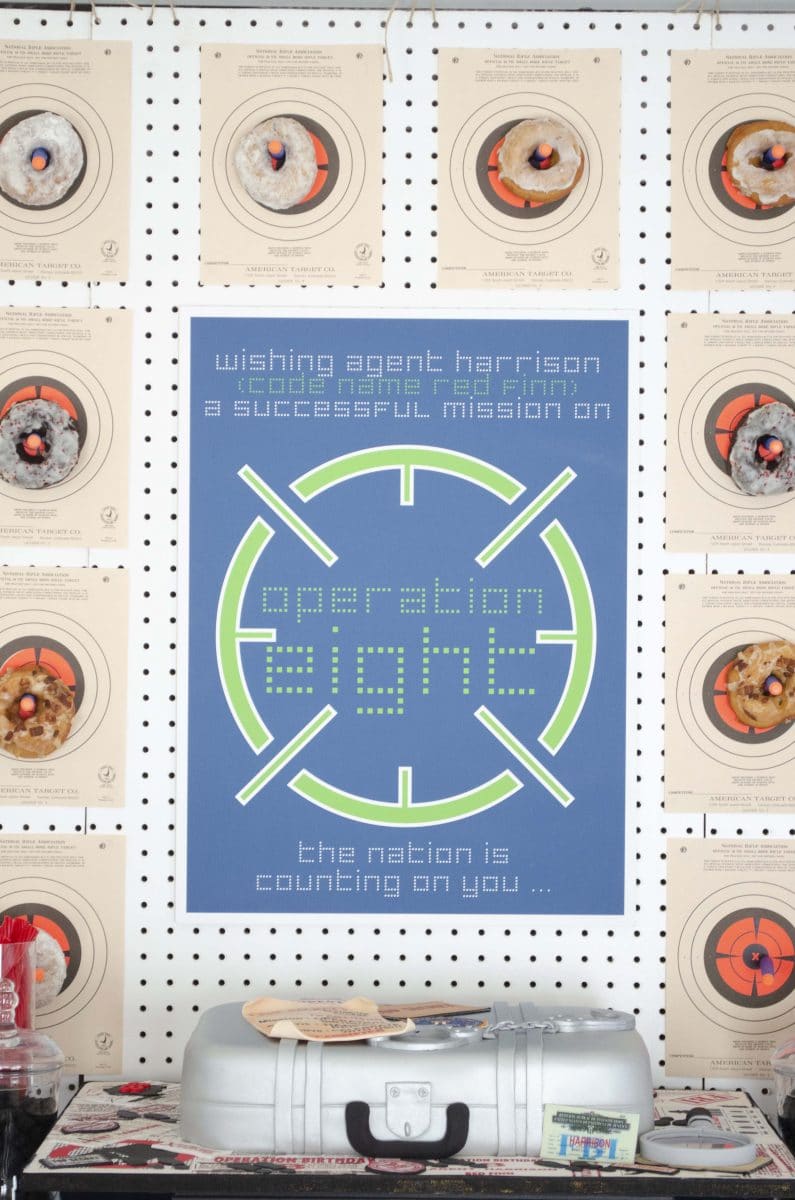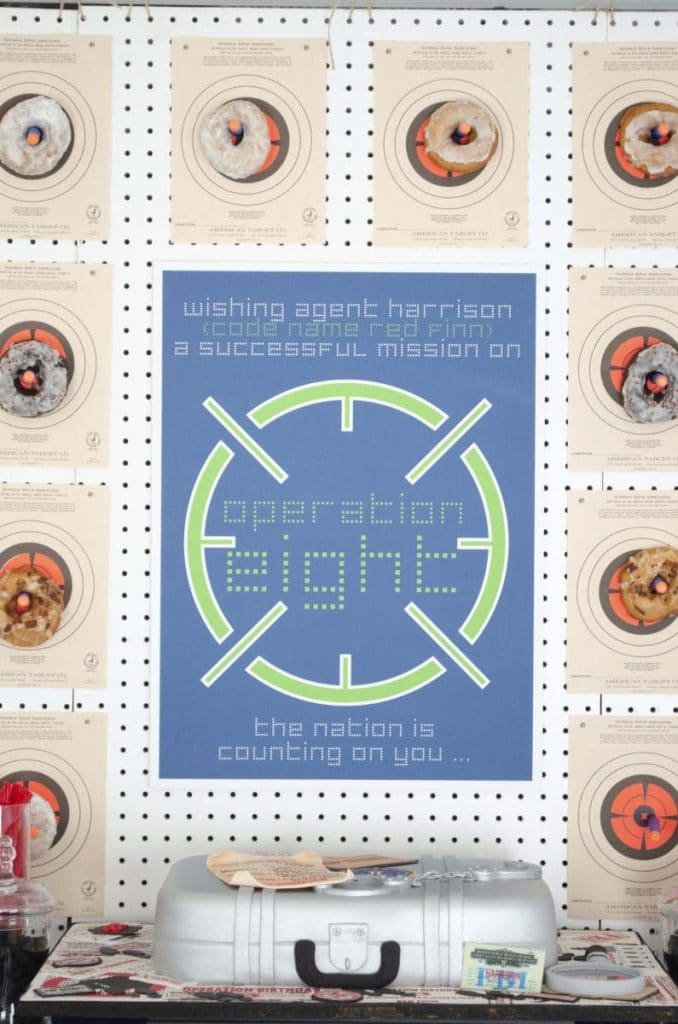 The Spy Supply Briefcase Cake
The amazing folks at The Cake Shop created an incredible 3D spy briefcase for my party.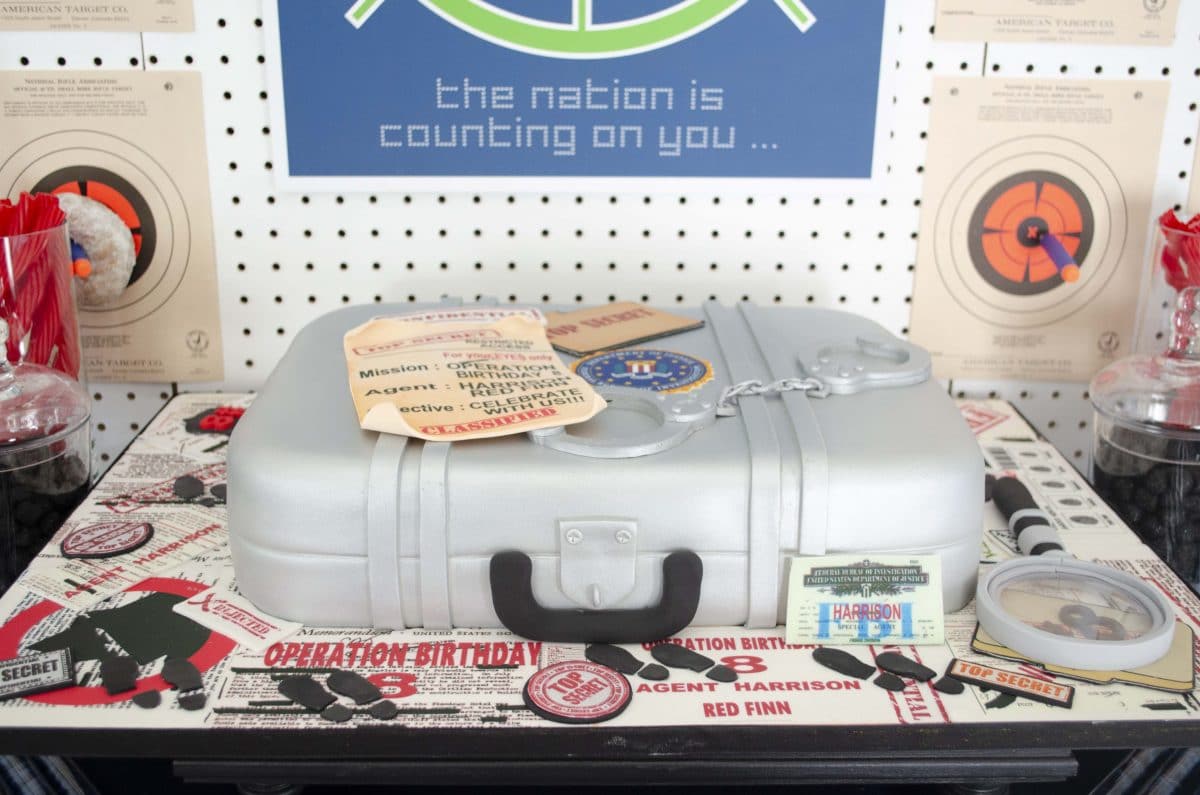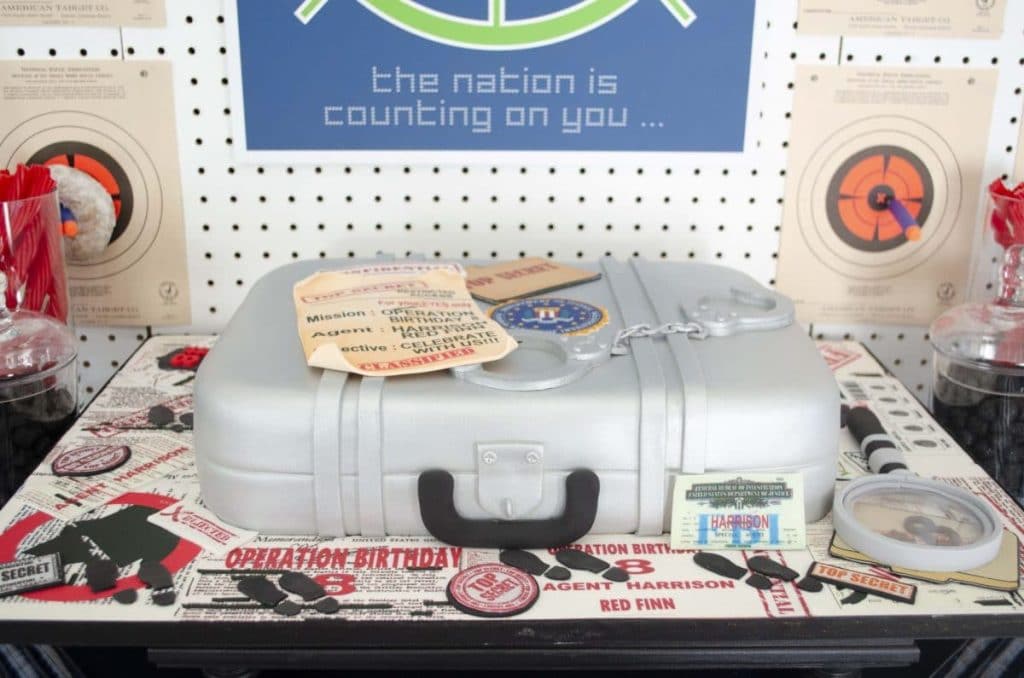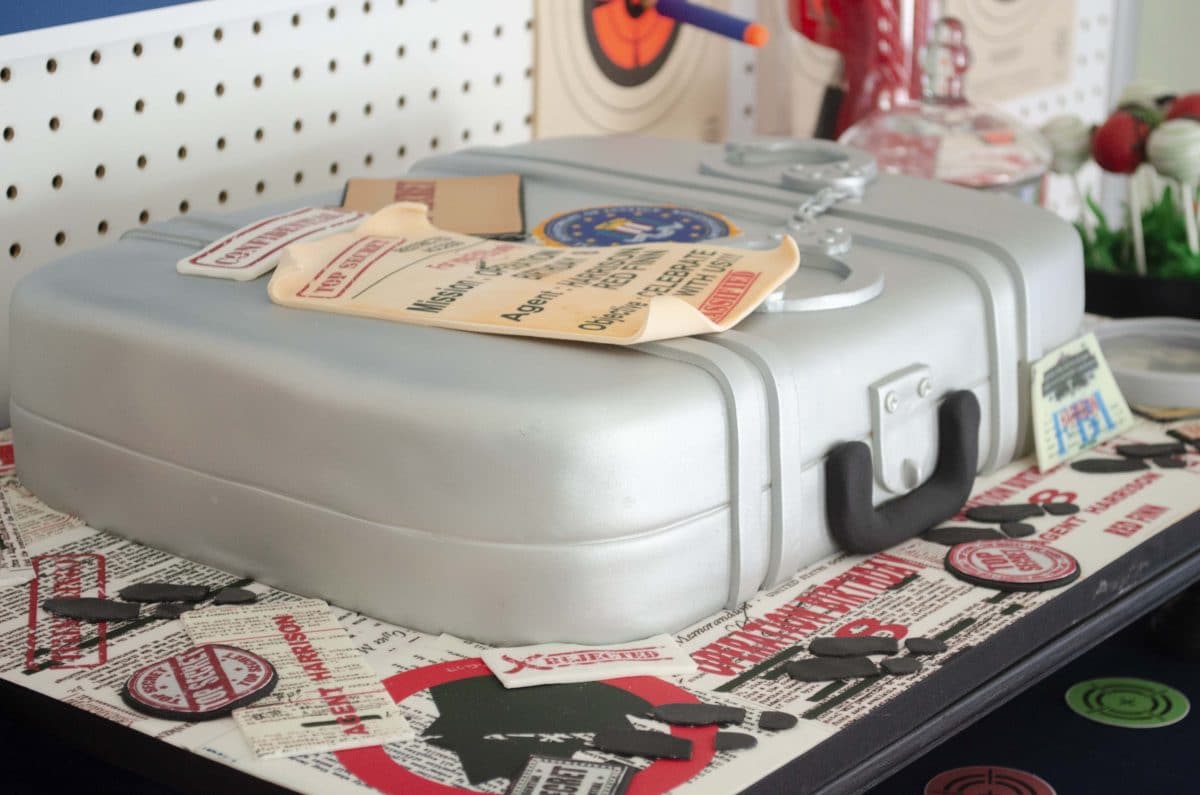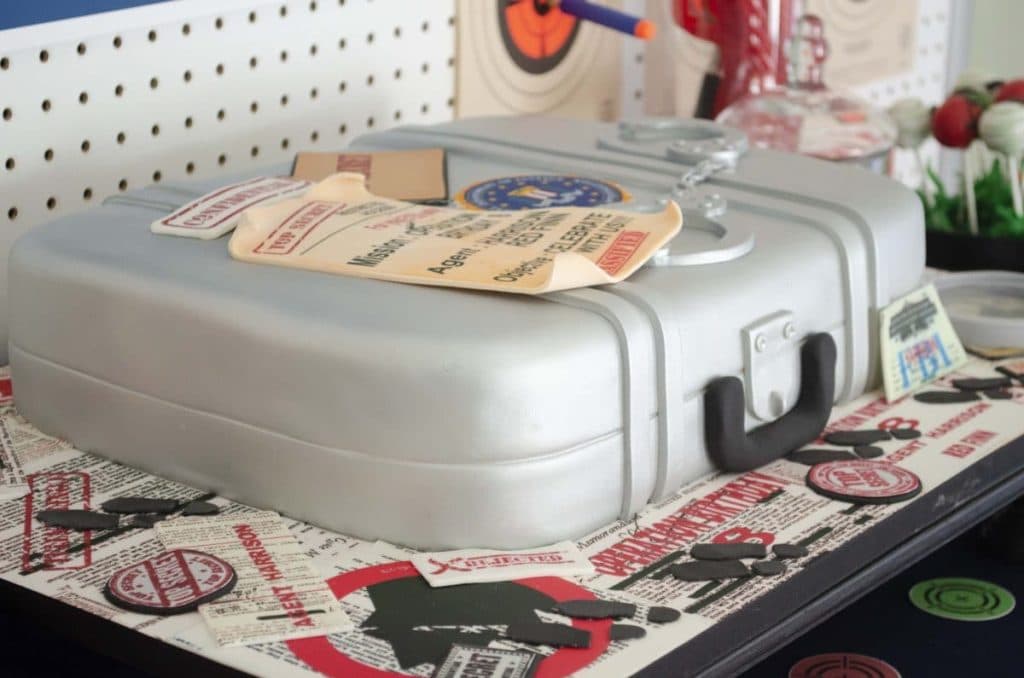 They added so many amazing details, such as file folders, a magnifying glass, handcuffs, and even a personalized Top Secret Mission sheet to the top of and around the cake.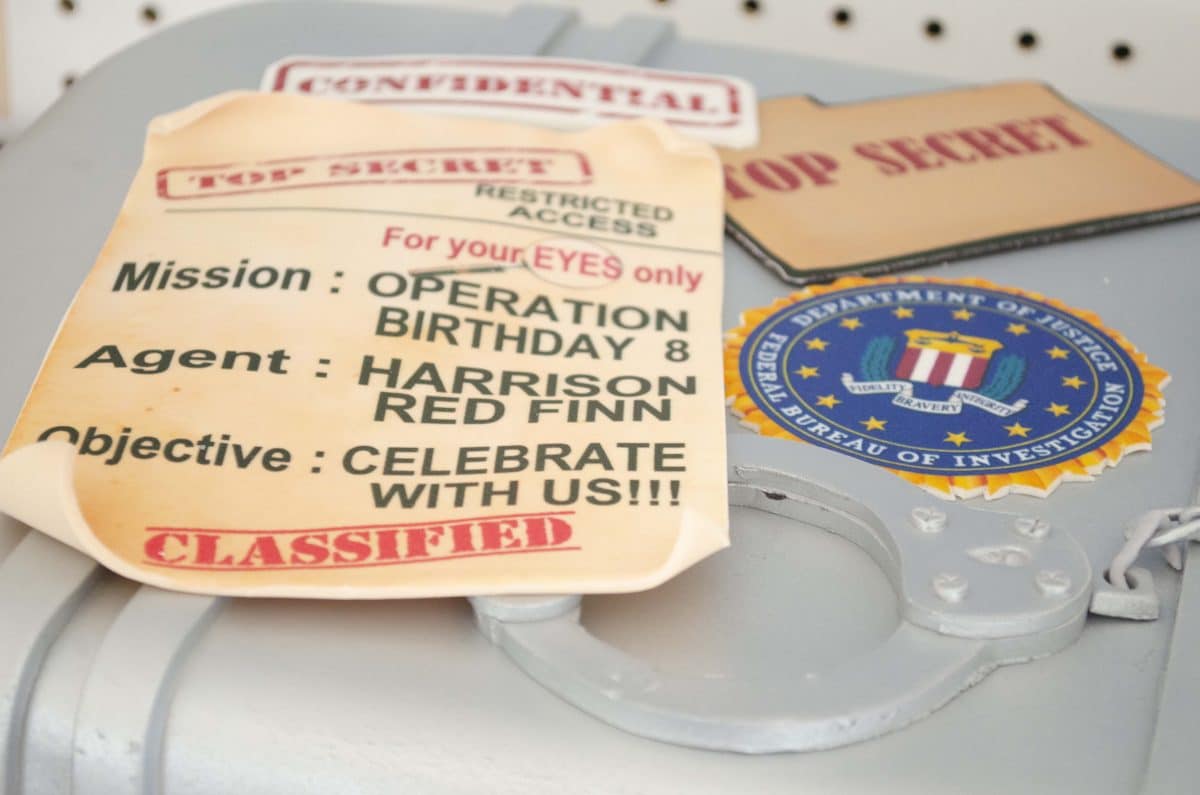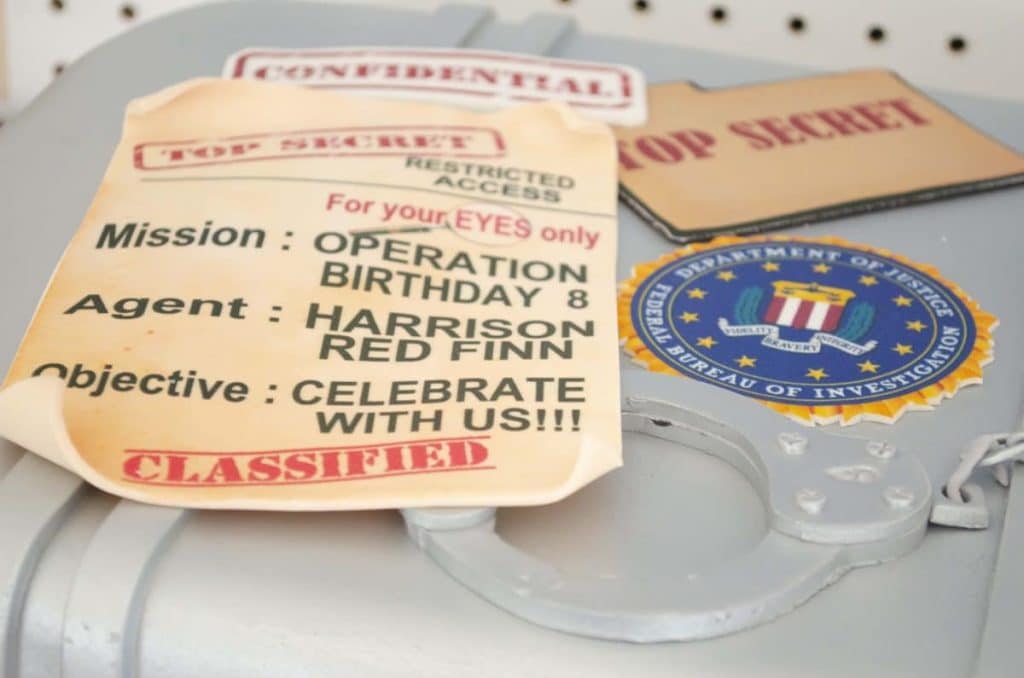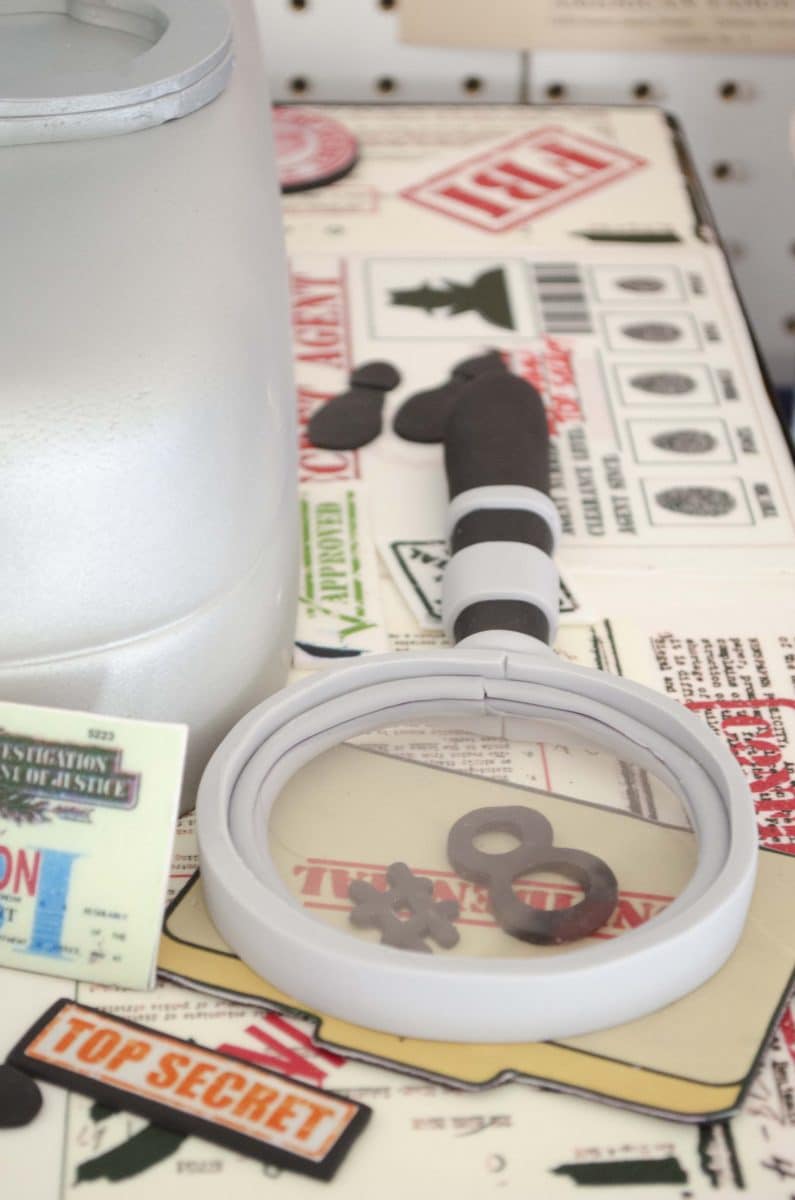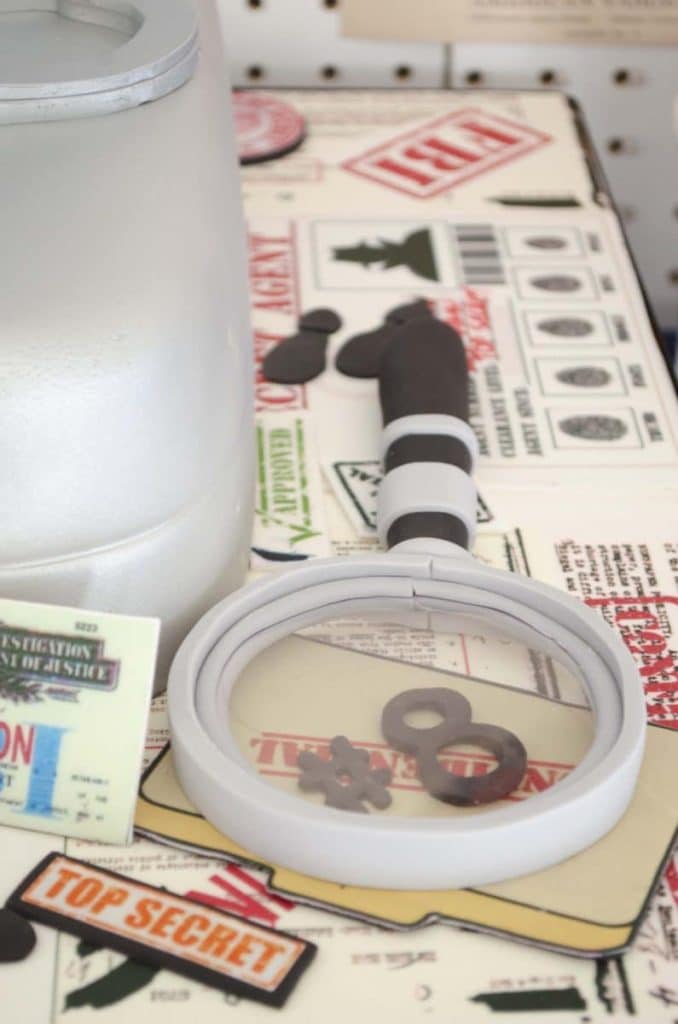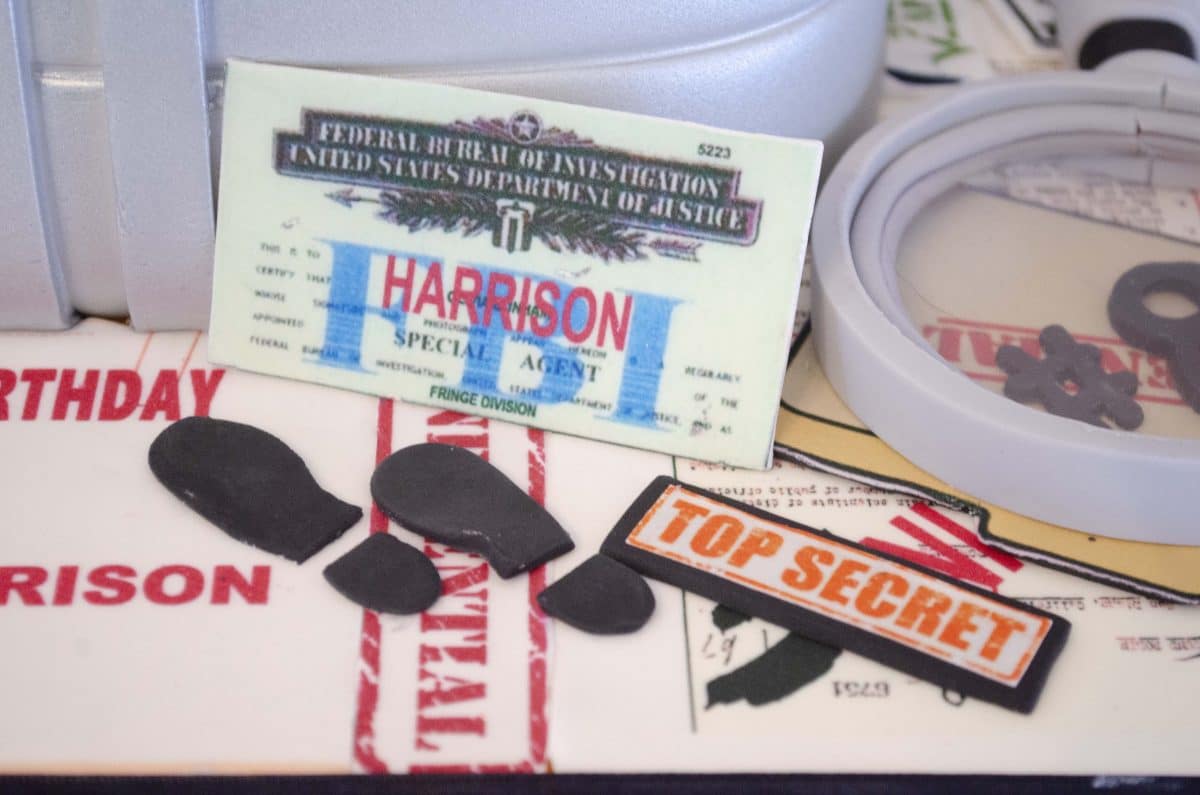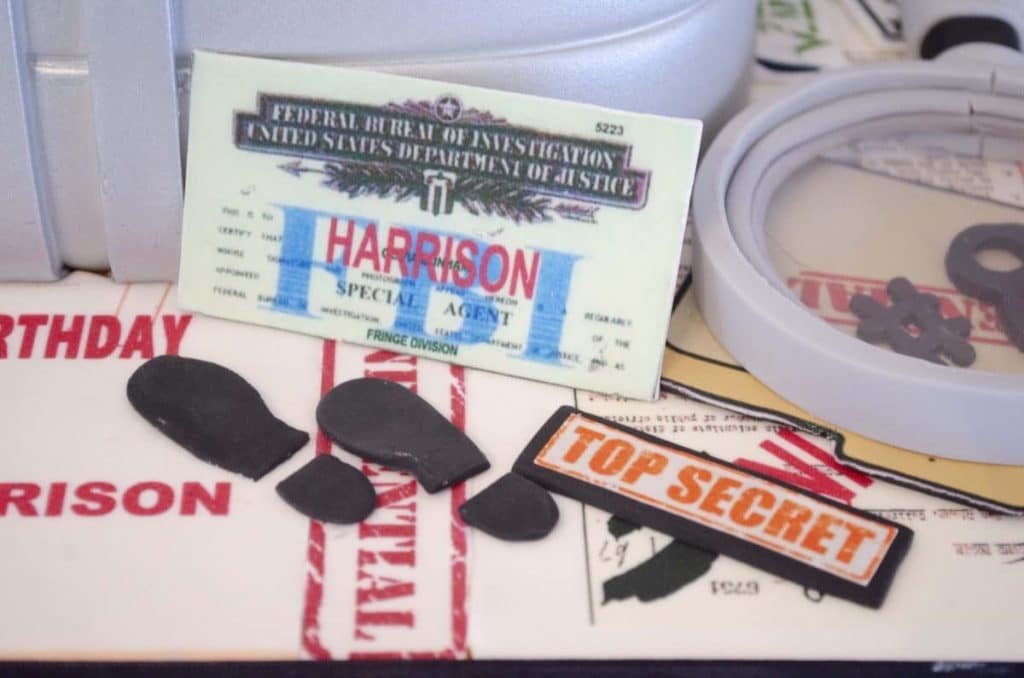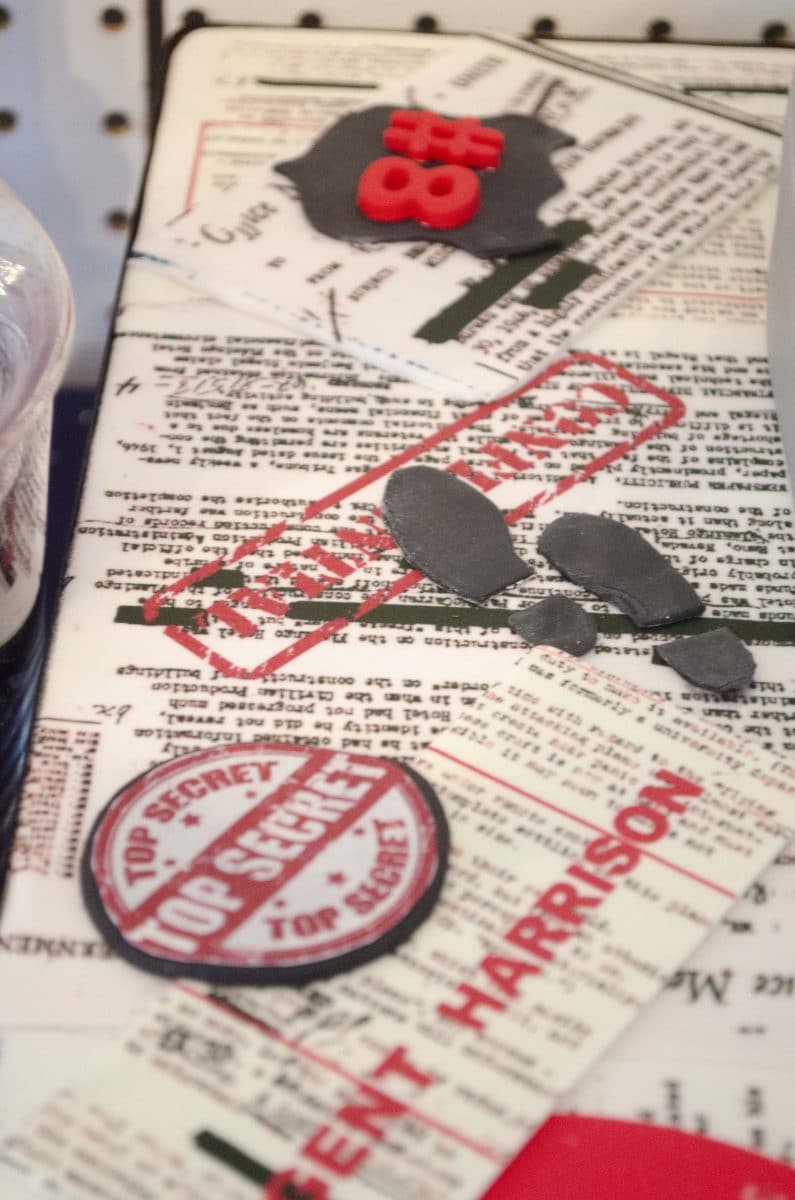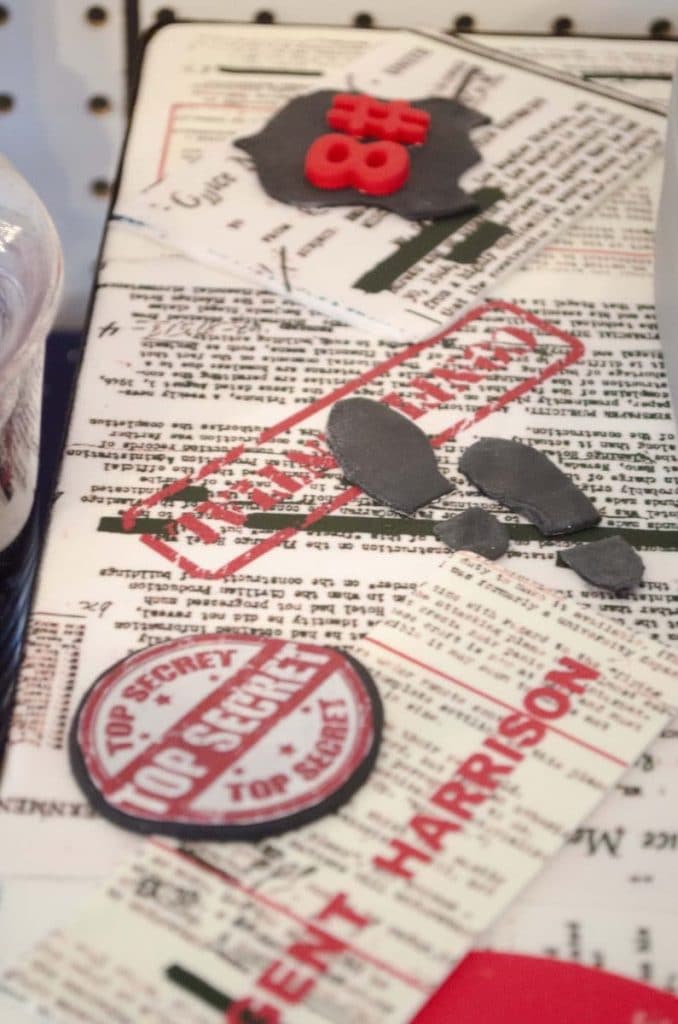 I placed the cake on a large black cake stand for height, to give it even more prominence.  You could use a different style cake plate, boxes, books or even a spy based board game or crate to give the same height and impact!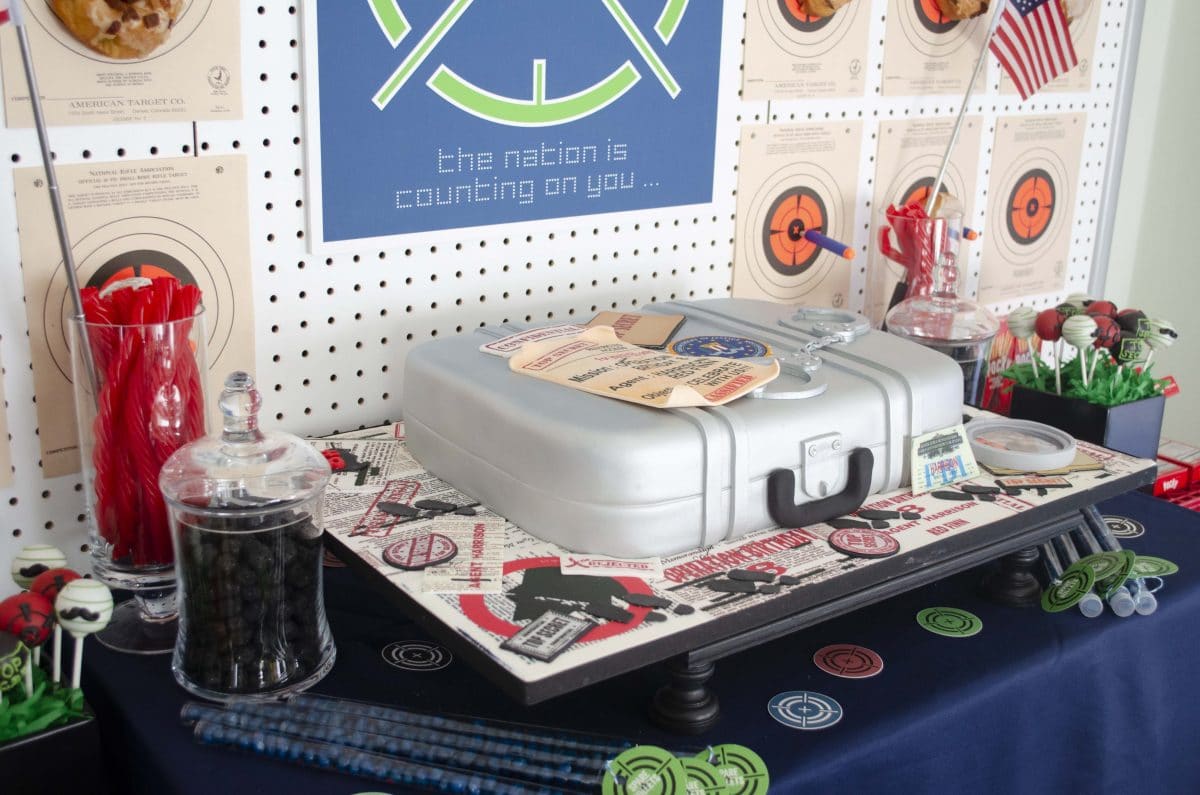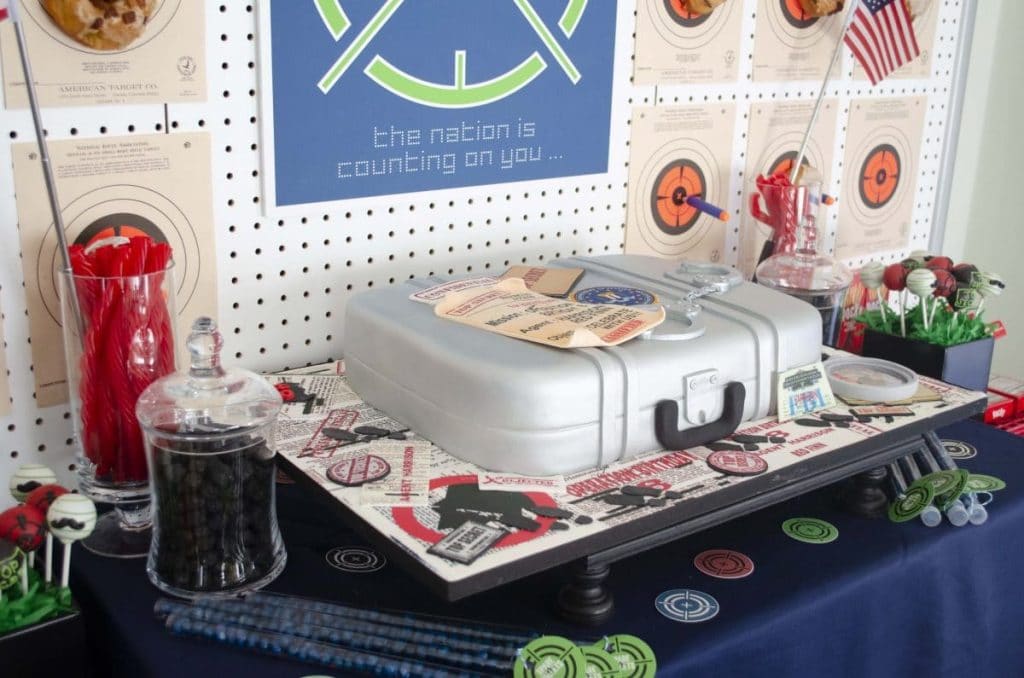 TIP: I always love using a local bakery, but there are less expensive alternatives – you can make a cake yourself, pick one up at the local grocery store, or purchase a plain store-bought cake and add cupcakes or custom fondant toppers, characters or actual props to give it the spy character you're looking for (a set of glasses, fake handcuffs or an ID badge for example). 
More Spy Treats
On each side of the cake, I filled glass jars with candy. I love how classy candy can look when displayed this way!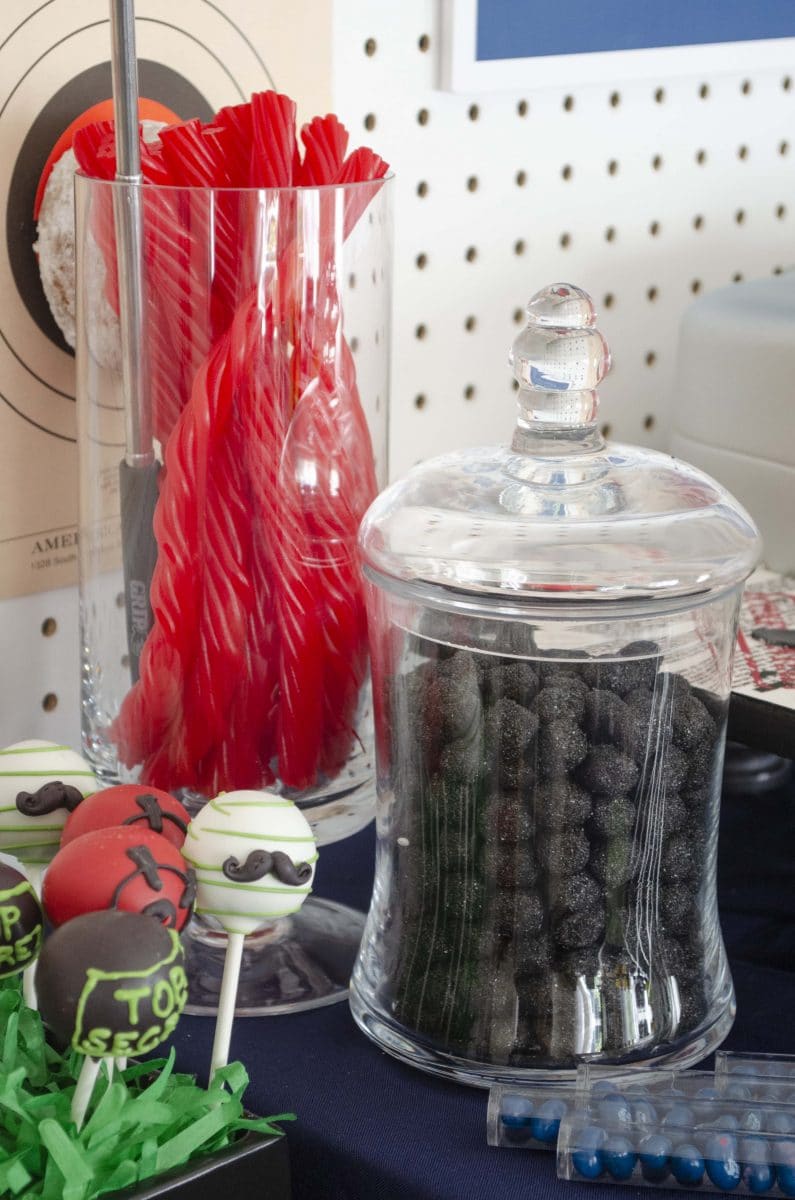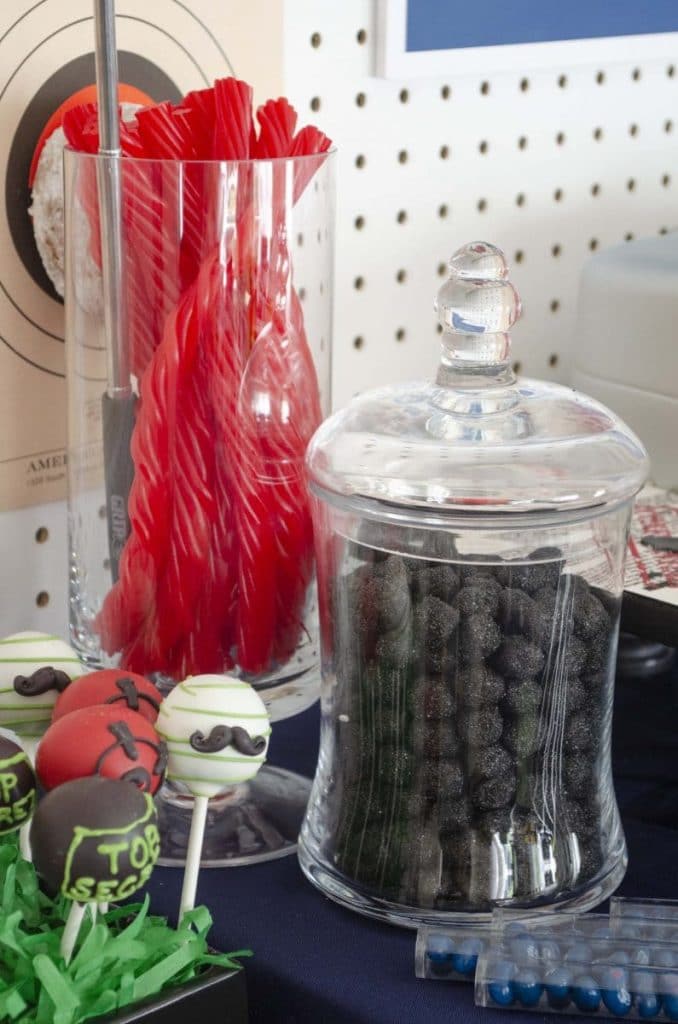 I also used square black vases (with floral foam and paper shred inserted) to hold the cutest cake pops from Let Them Eat Cake Pops.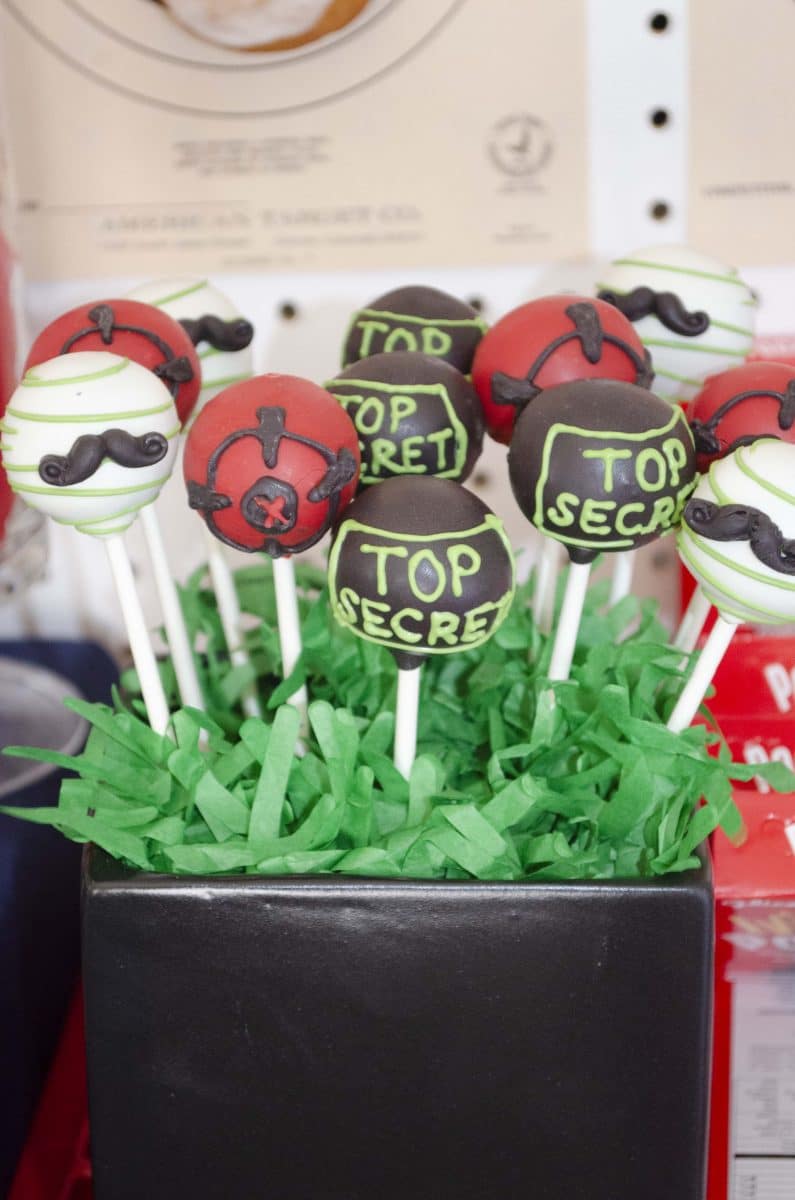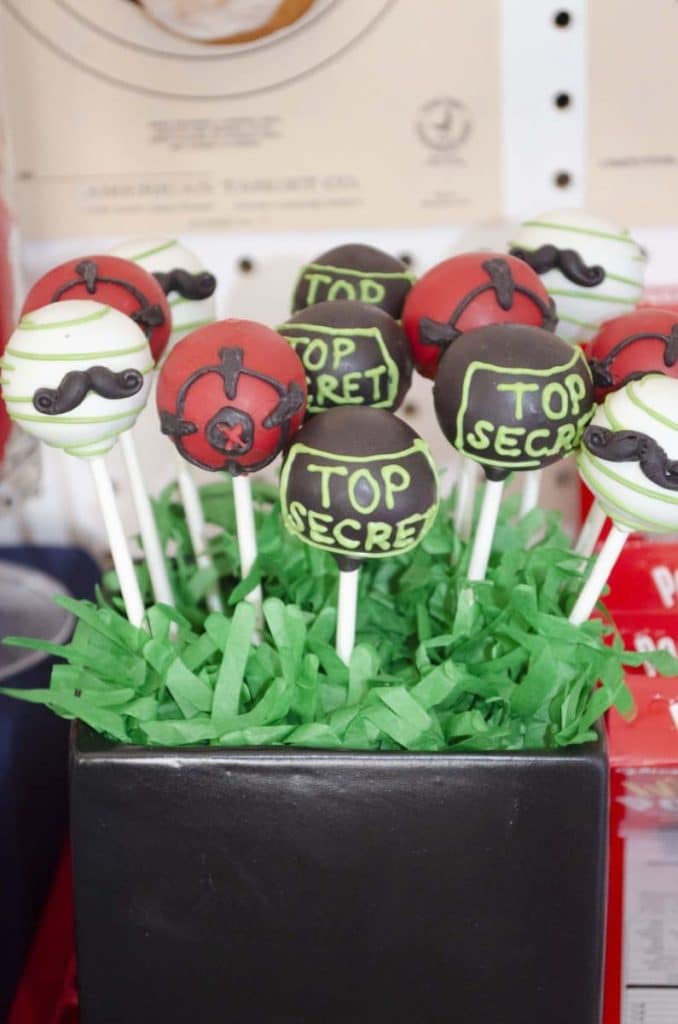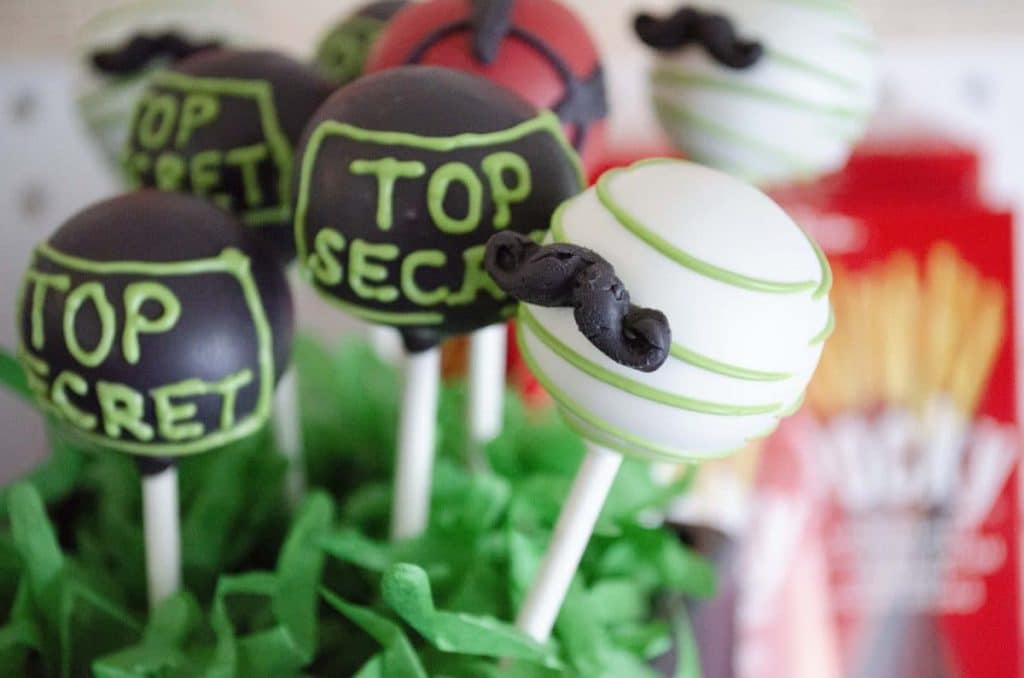 Then, I filled clear plastic tubes with candy and labeled them "spare bullets".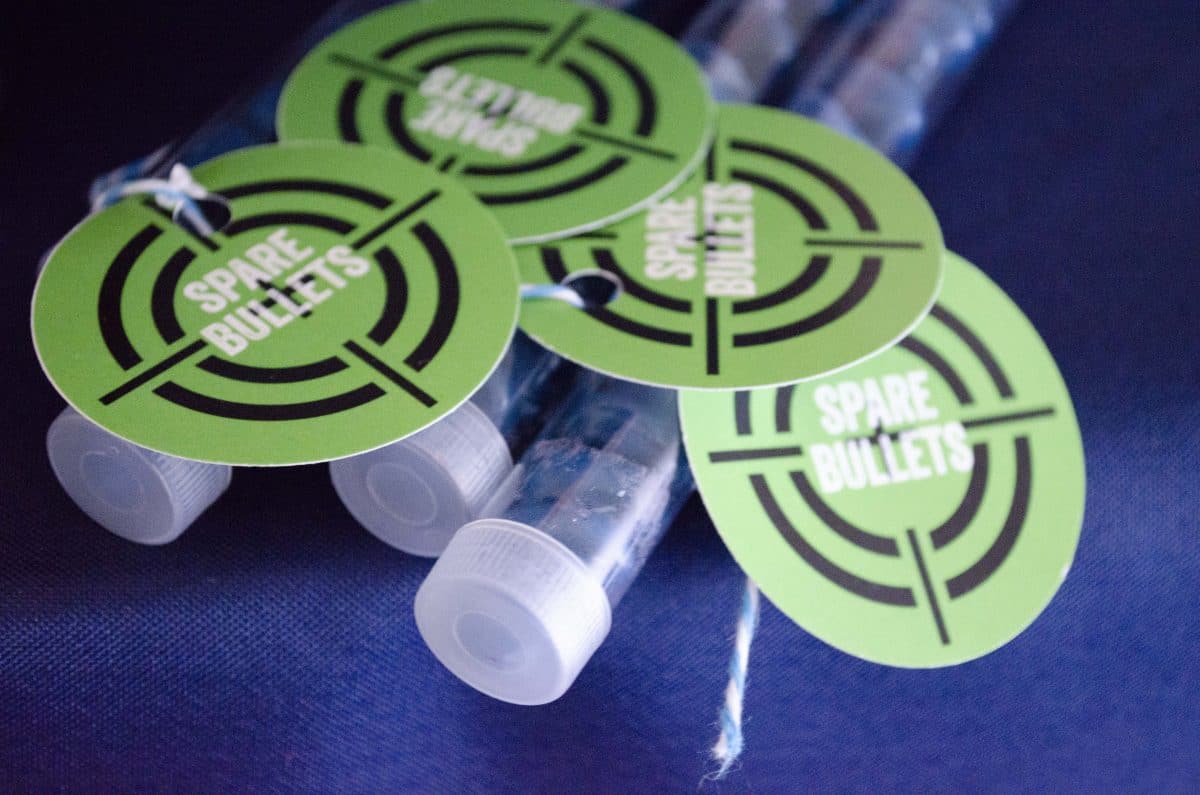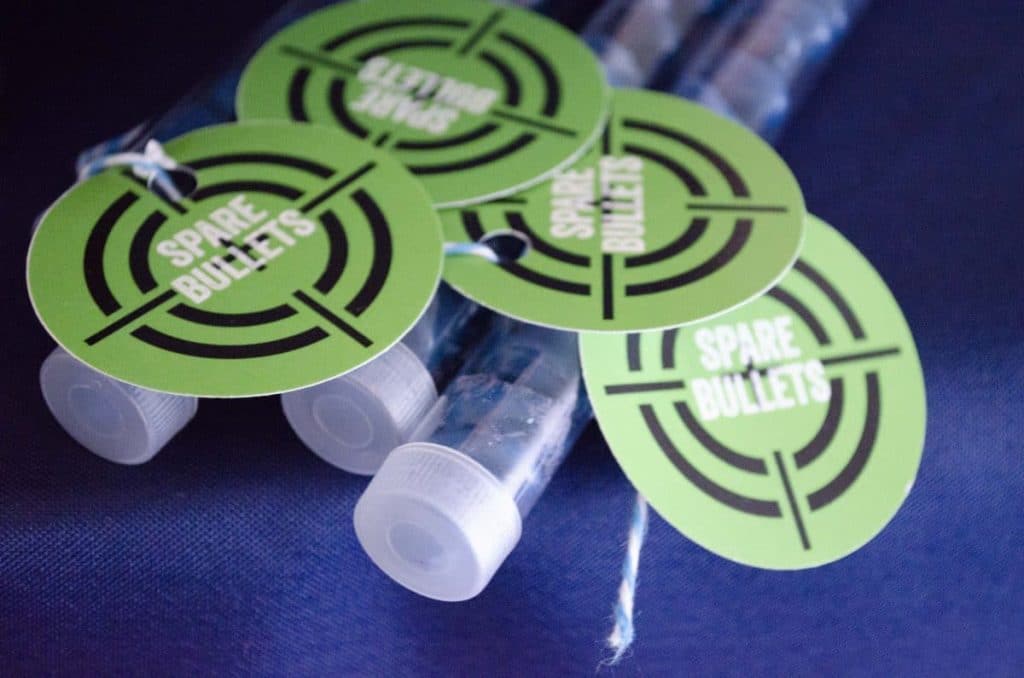 Finally, I added some boxes of pocky sticks, as they were my son's favorite! Don't forget to add some personalized details like this – after all, the party is ultimately about the guest of honor!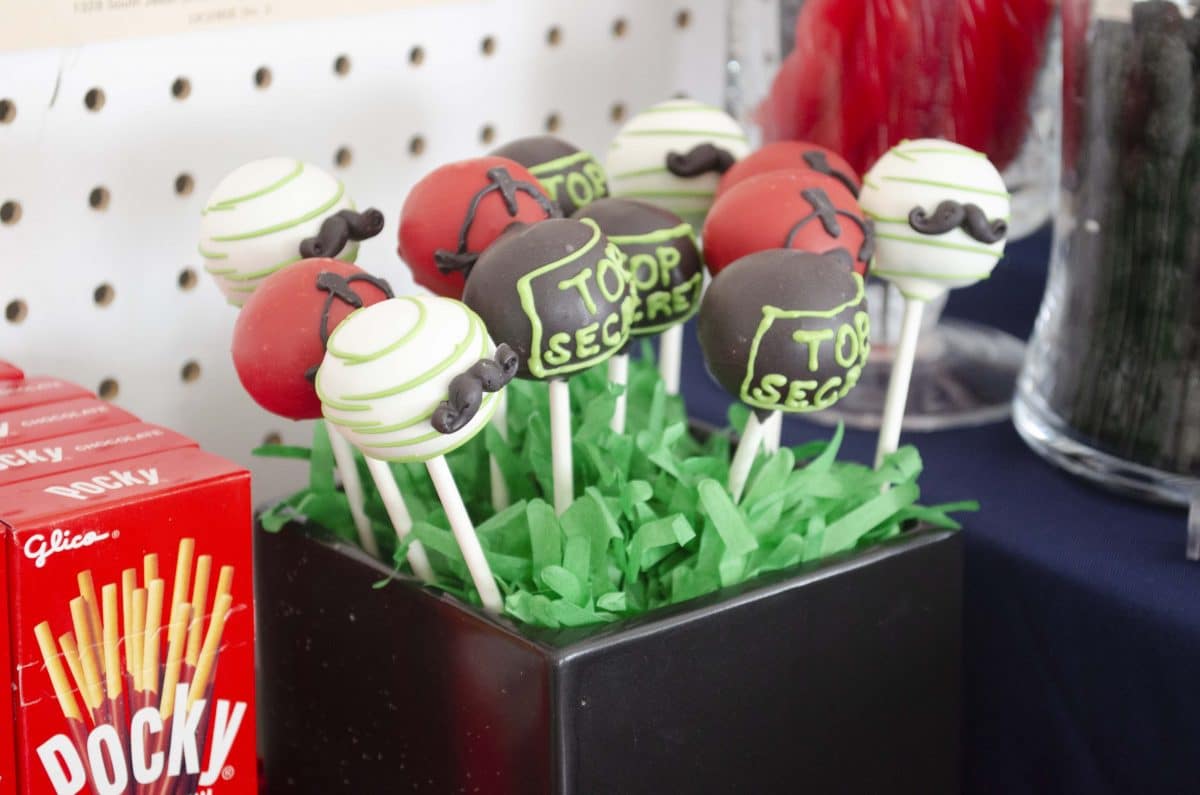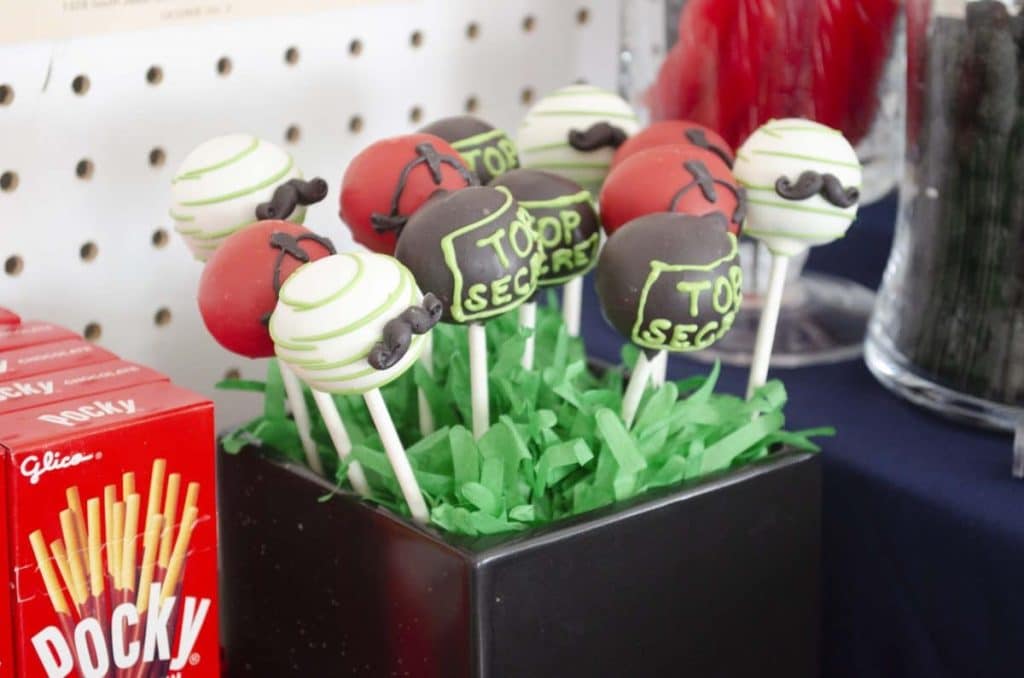 Final Touches 
For the final touch, I added small American flags, one to each side of the table.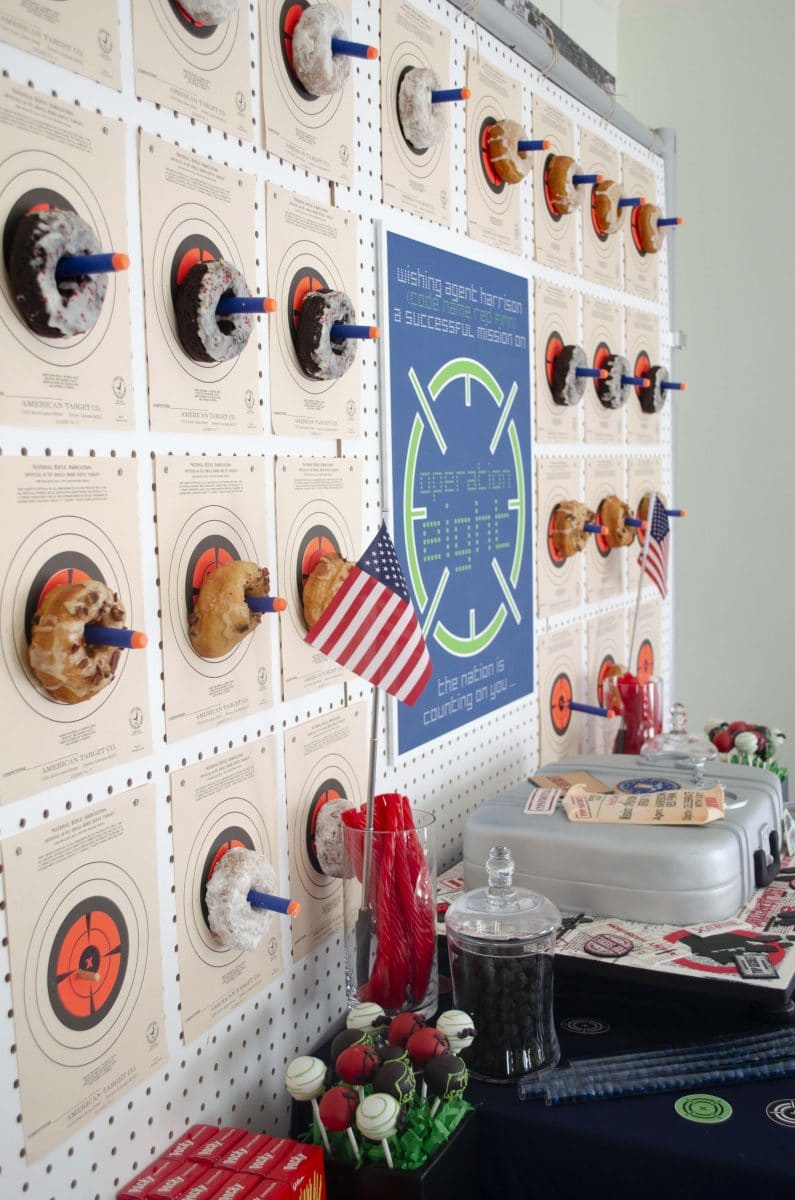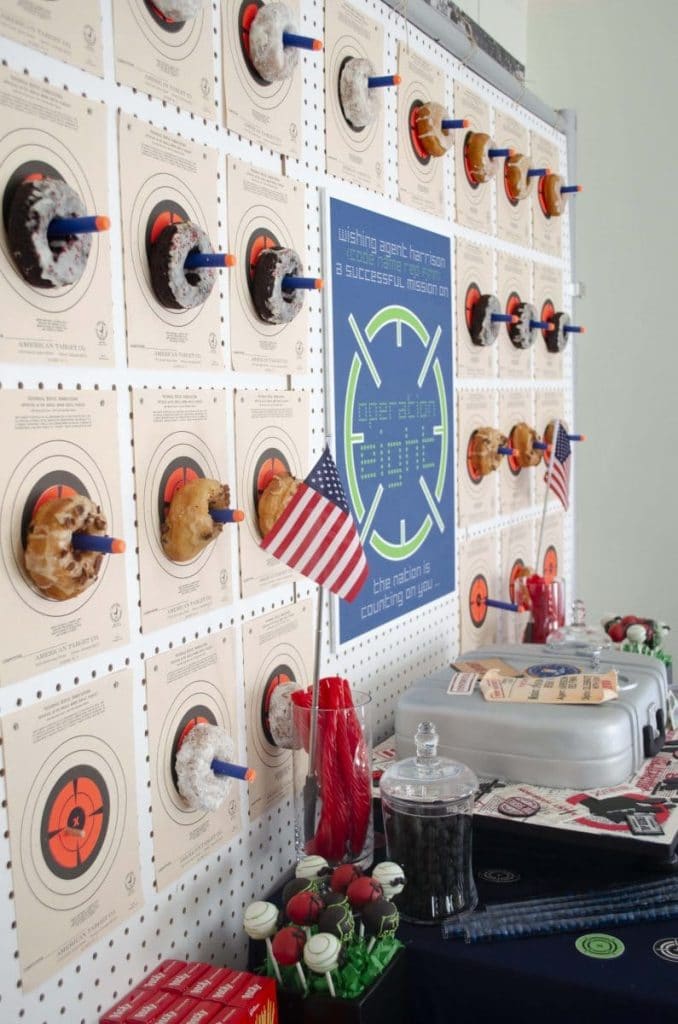 More Kid's Spy Party Inspiration
Don't forget to check out the posts on the Spy Party Set Up, Spy Party Photo Booth, Spy Party Mission Kit Favors, and Spy Party Activities, so you have everything you need to create your own amazing Spy Training Party!
Happy Partying!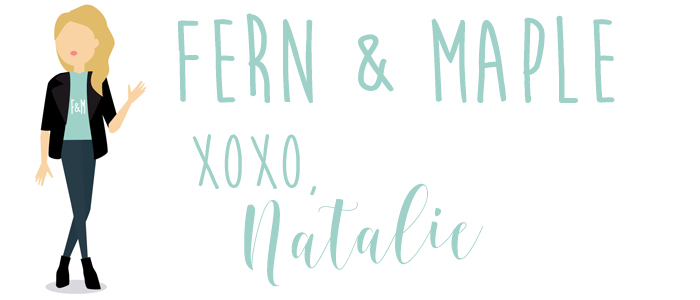 PIN FOR LATER: