Create a Star Wars™ dessert table inspired by a Star Wars™ movie premiere.  The "Feature Presentation" being this fun desert table. This sweets table is full of delicious Star Wars™ treats and memorabilia that the kids will be sure to love.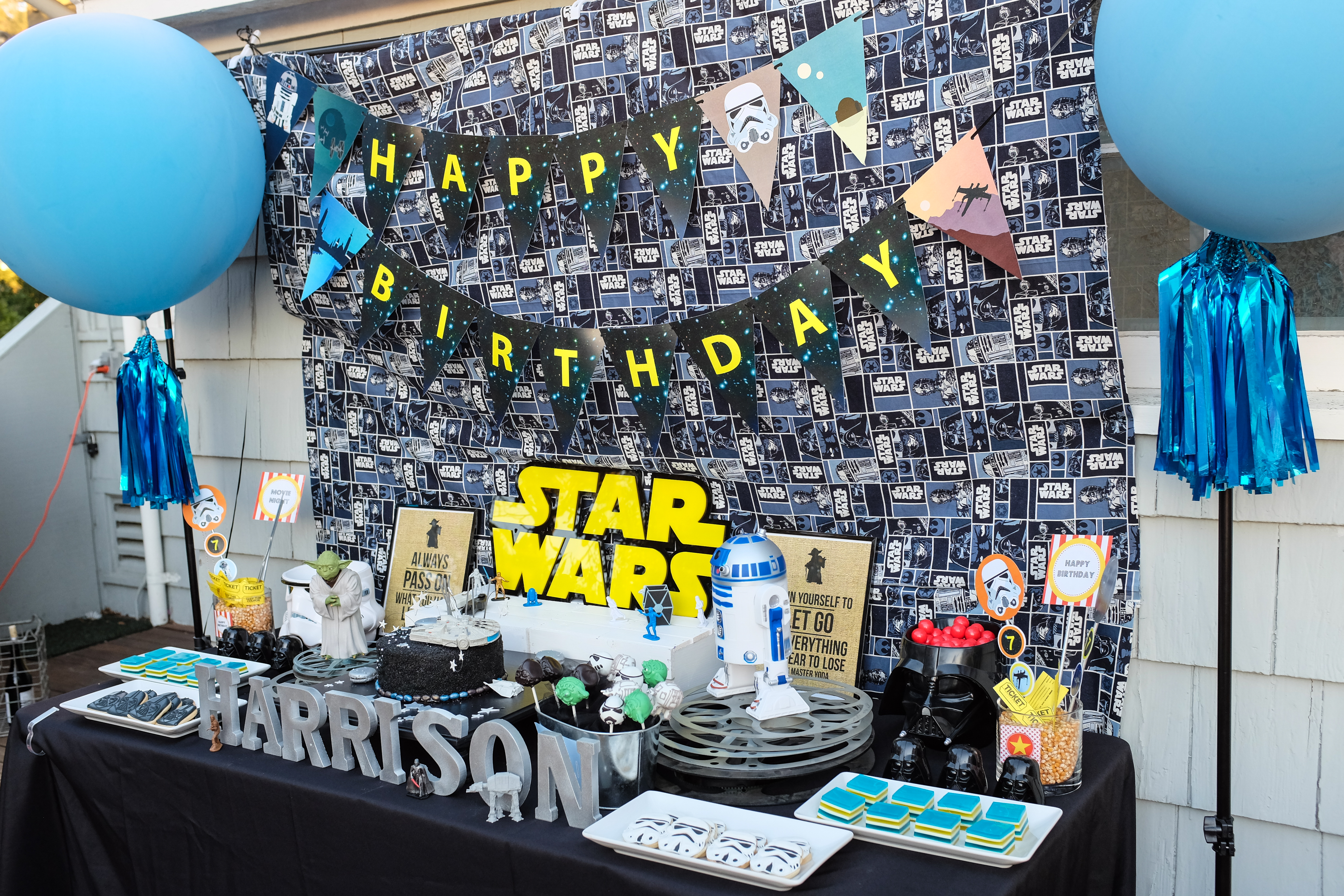 I created this dessert table for my son's 7th birthday using a basic photo booth frame (via Amazon).  These are super lightweight and flexible, perfect for a makeshift dessert table outdoors.  Once this was up I hung a large piece of Star Wars™ fabric (approx 4 yards) as the backdrop panel.  On top of this I added a pennant banner from Creative Little Stars.
Flanking the table were 2 gorgeous blue Geronimo balloons with Prospect Goods classic foil tassels.  Prospect Goods shut down their shop a while back, so, for well made, crinkle free tassels I recommend Glam Fete.  I created this Star Wars™ dessert table a couple of years back.  If I was to create it today I'd update it slightly and go for a balloon arch.  A blue, silver, yellow and black balloon arch with balloons of varying sizes would look fabulous across the frame.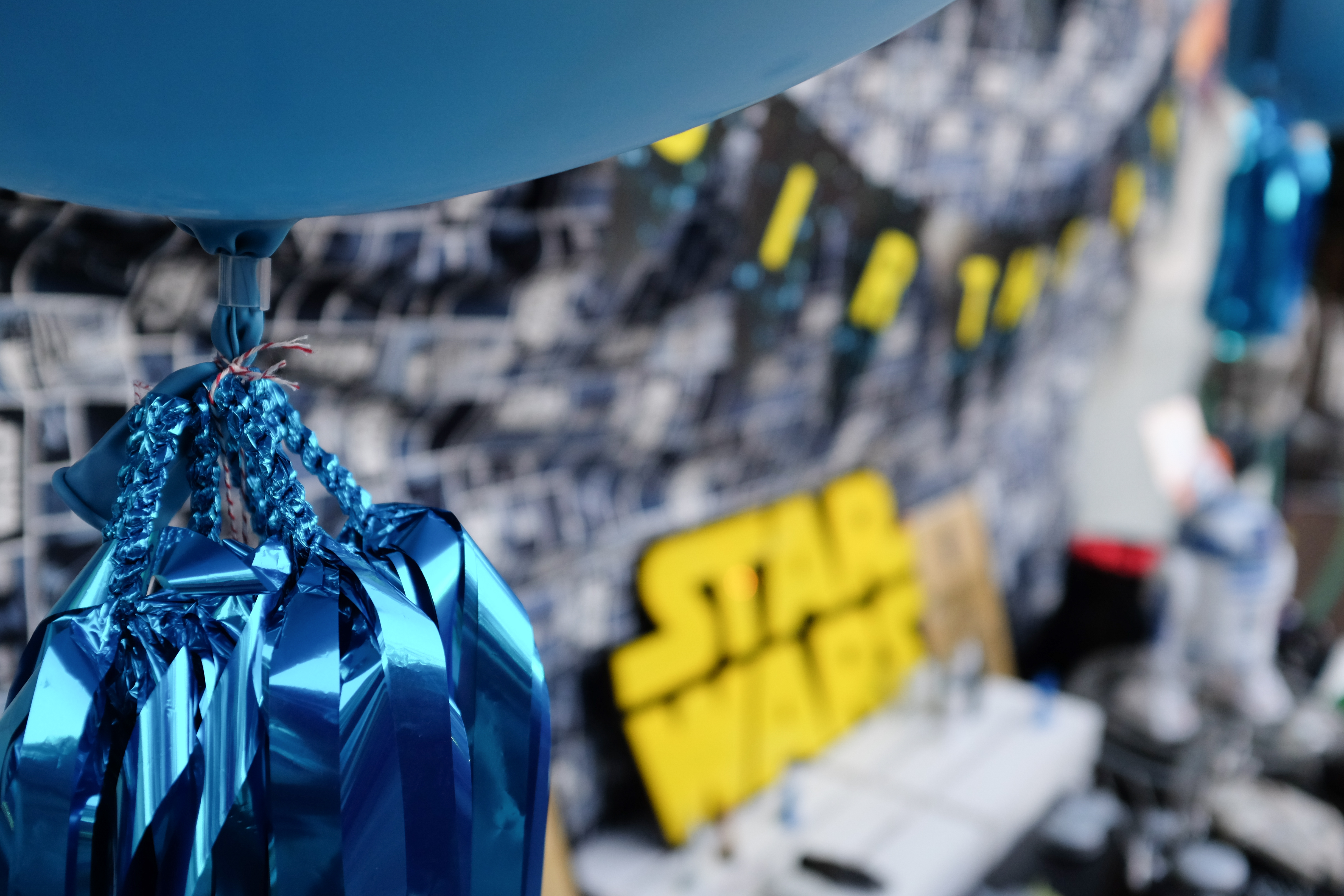 My favorite find for this Star Wars™ dessert table was this acrylic Star Wars™ sign in the Star Wars™ font from Caveman signs. It made a great piece of decor in my son's room after the party.  I placed it centrally on top of 2 wooden crates I sprayed white and placed star wars figurines on the boxes. A battle scene the kids loved.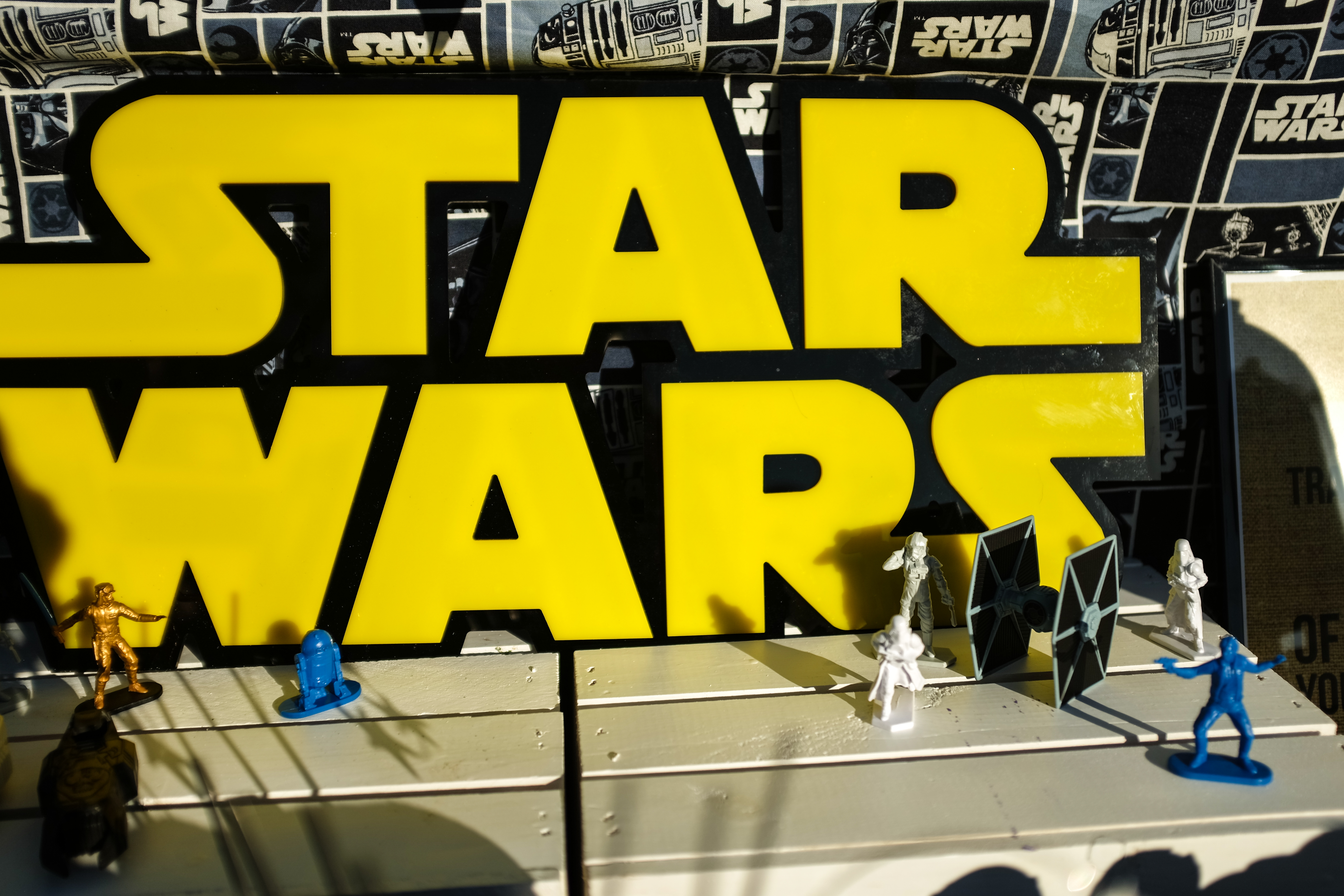 At the front of the table more letters.  I spelled out my son's name (yes he is named after Harrison Ford!! I'm a big fan!) in freestanding letters I spray painted metallic silver..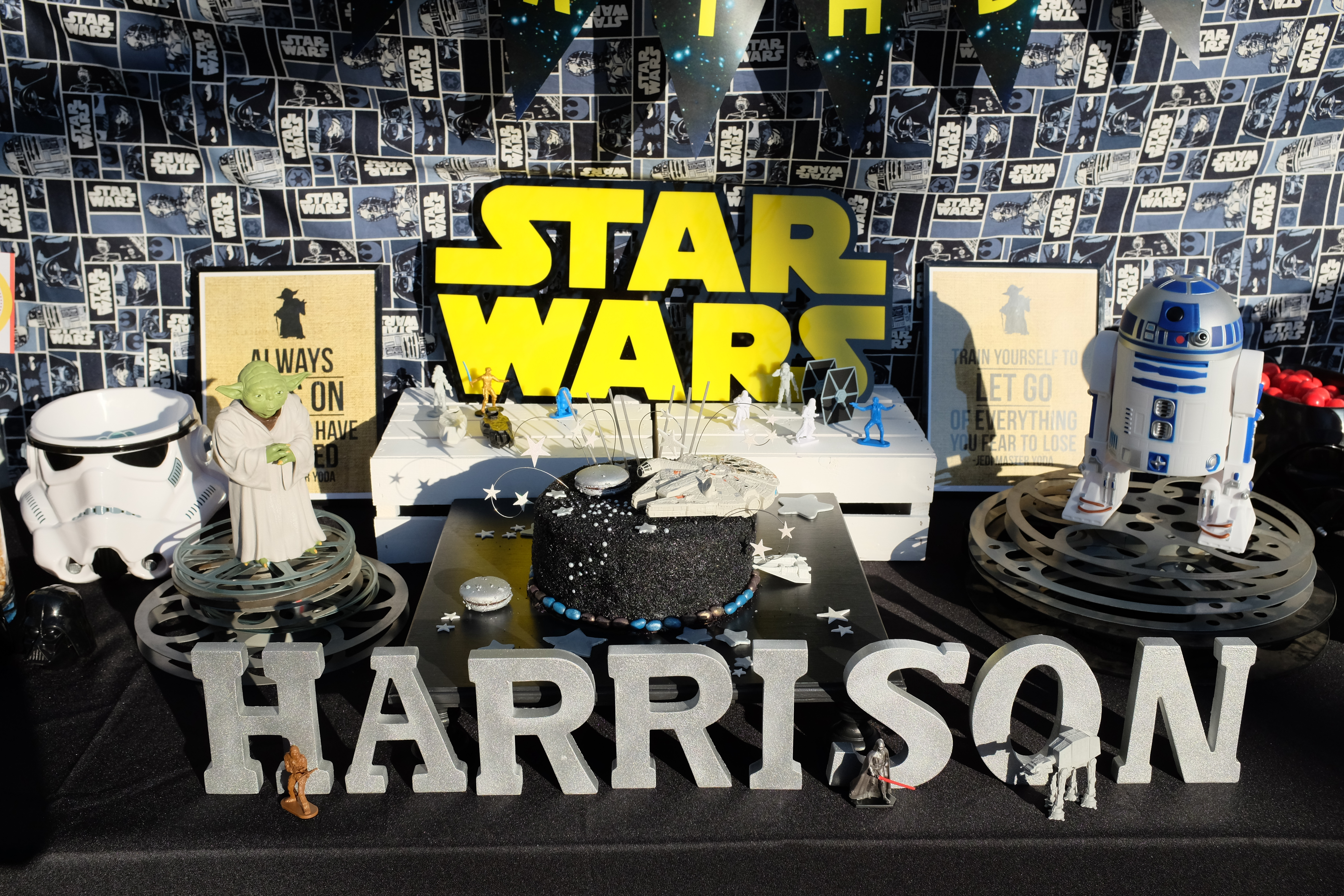 I added more figures battling around his name and in and out of letters.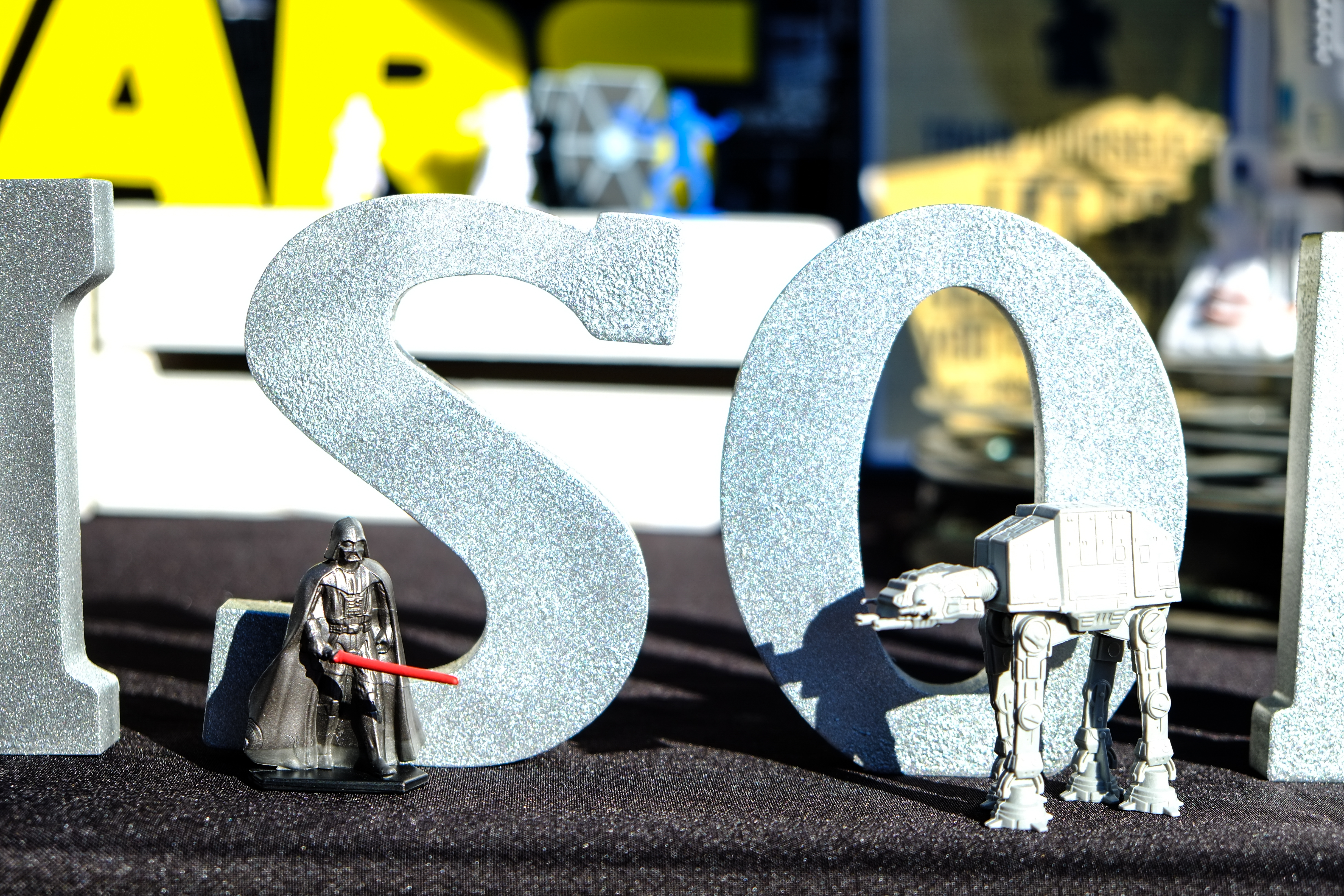 I just loved the fun shadow (the dark side?!) that the letters threw across the table as the sun went down.  His name in dark & light, the force is strong with this one!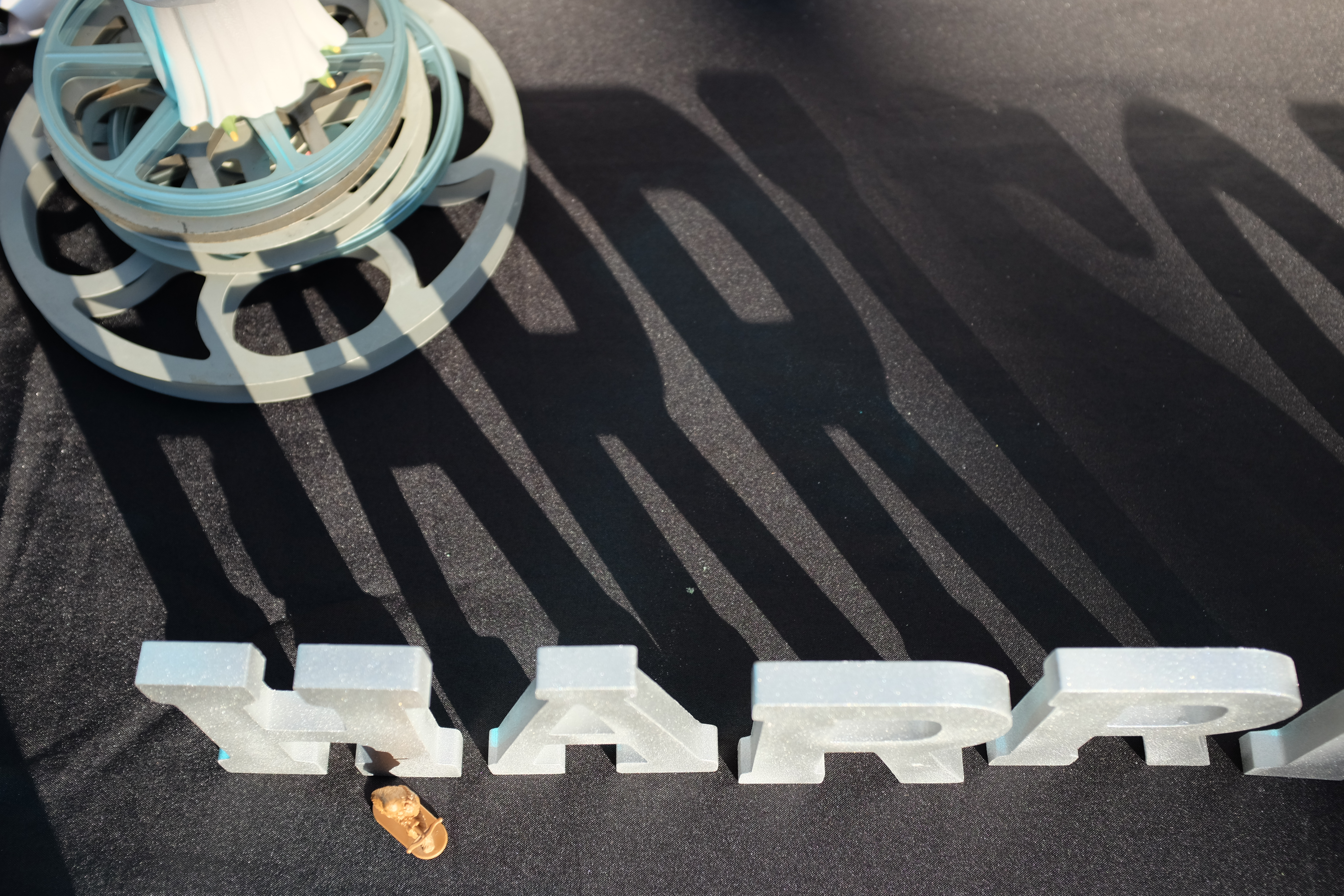 Printables are a great way to personalize a dessert table.  I mixed up Star Wars™ and movie night printables; gluing them to painted wooden sticks and inserting them into vases filled with popcorn kernels and vintage movie ticket stubs.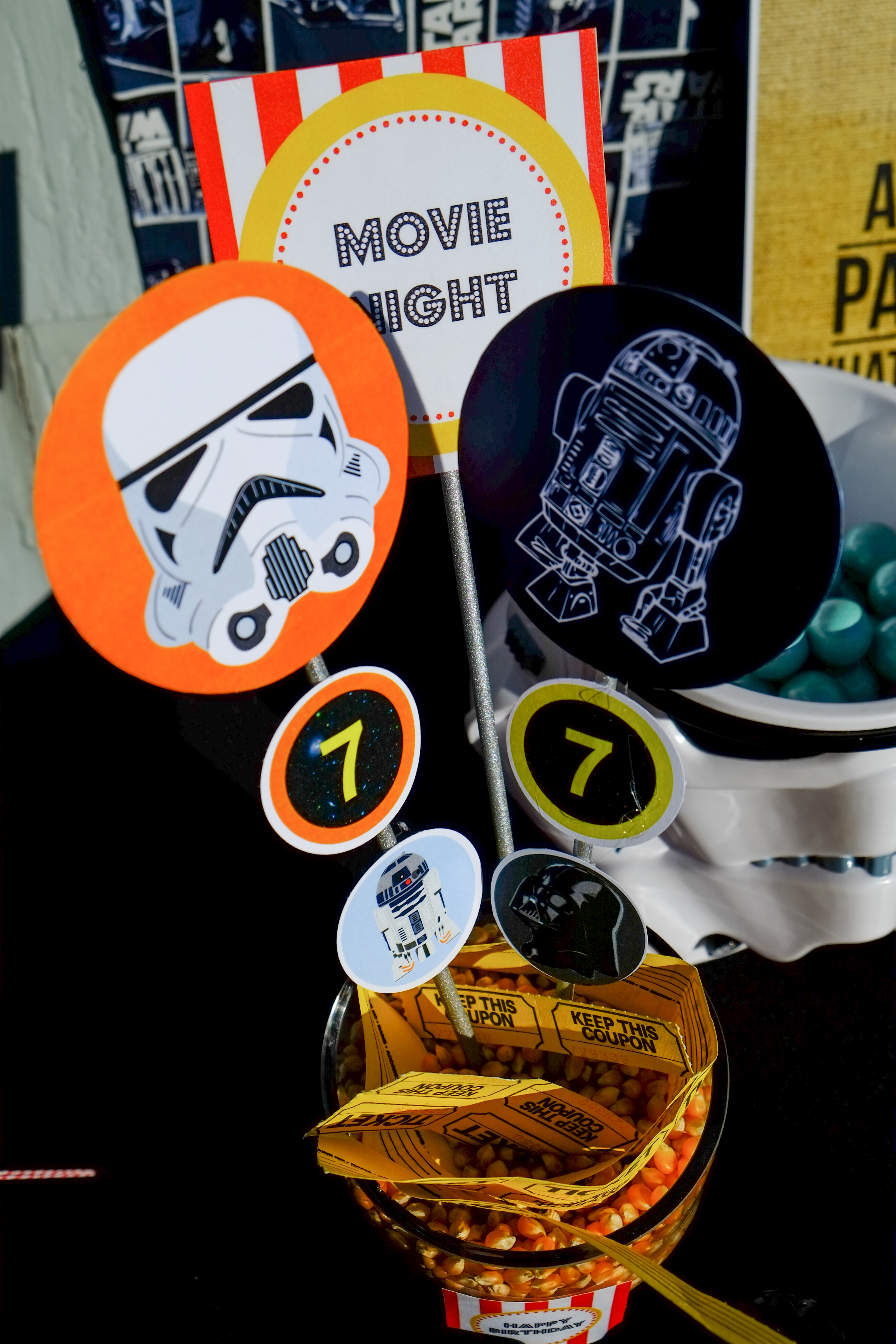 I also found fabulous Yoda quotes from Jaclyn Rose Design that I framed and added to the table.  I placed a Yoda (and other characters) on vintage film reels and reel transport cases in front of these signs. Your child's room is a great place to find party props, wink, wink!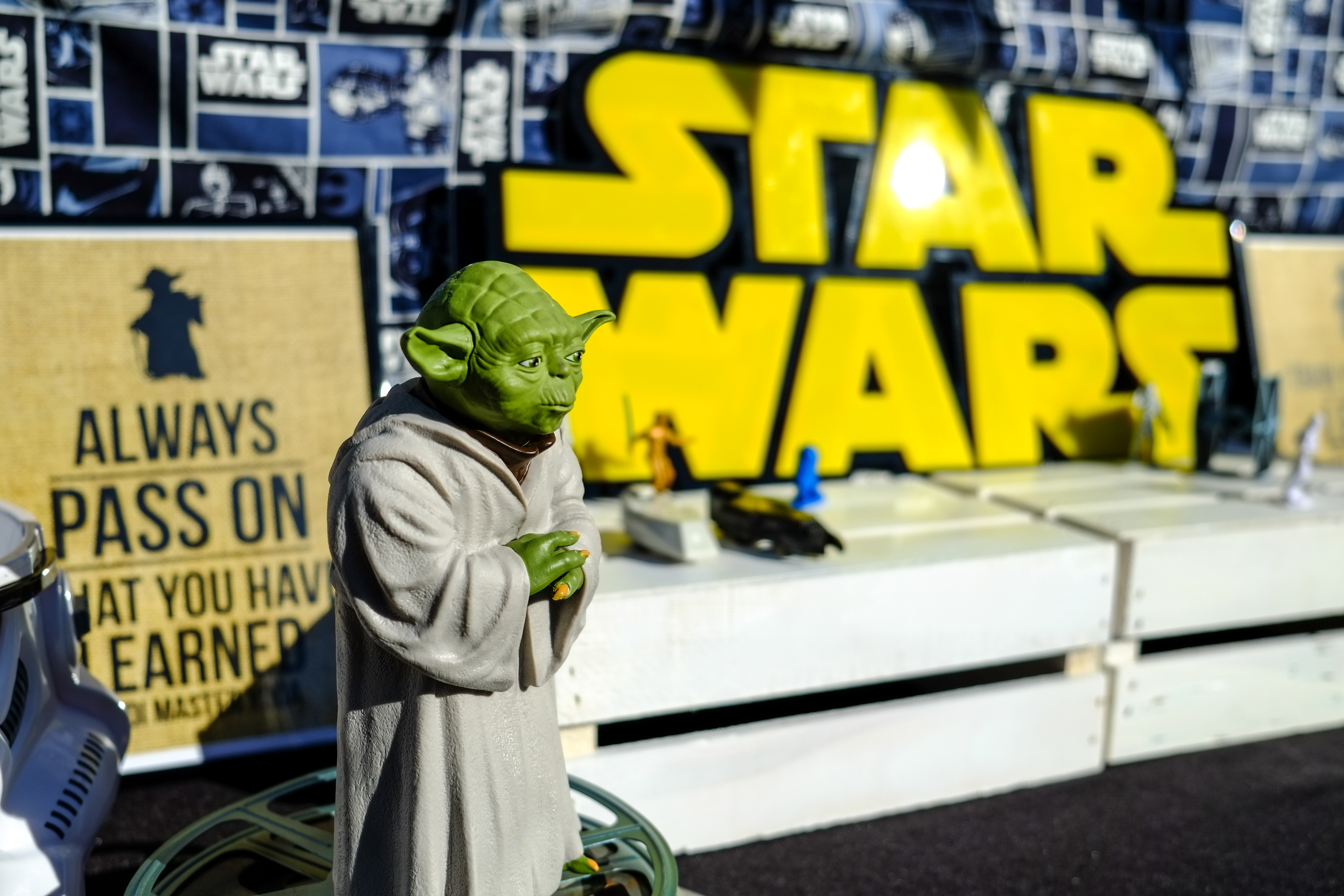 On the table I had all the GOOD STUFF! themed treats the kids loved getting into.  Darth Vader & Stormtrooper cookies from The Green Apron, Darth Vader and AT cookie pops from Let Them Eat Pops, and the yummiest triple colored jello cake my friend Dejana made.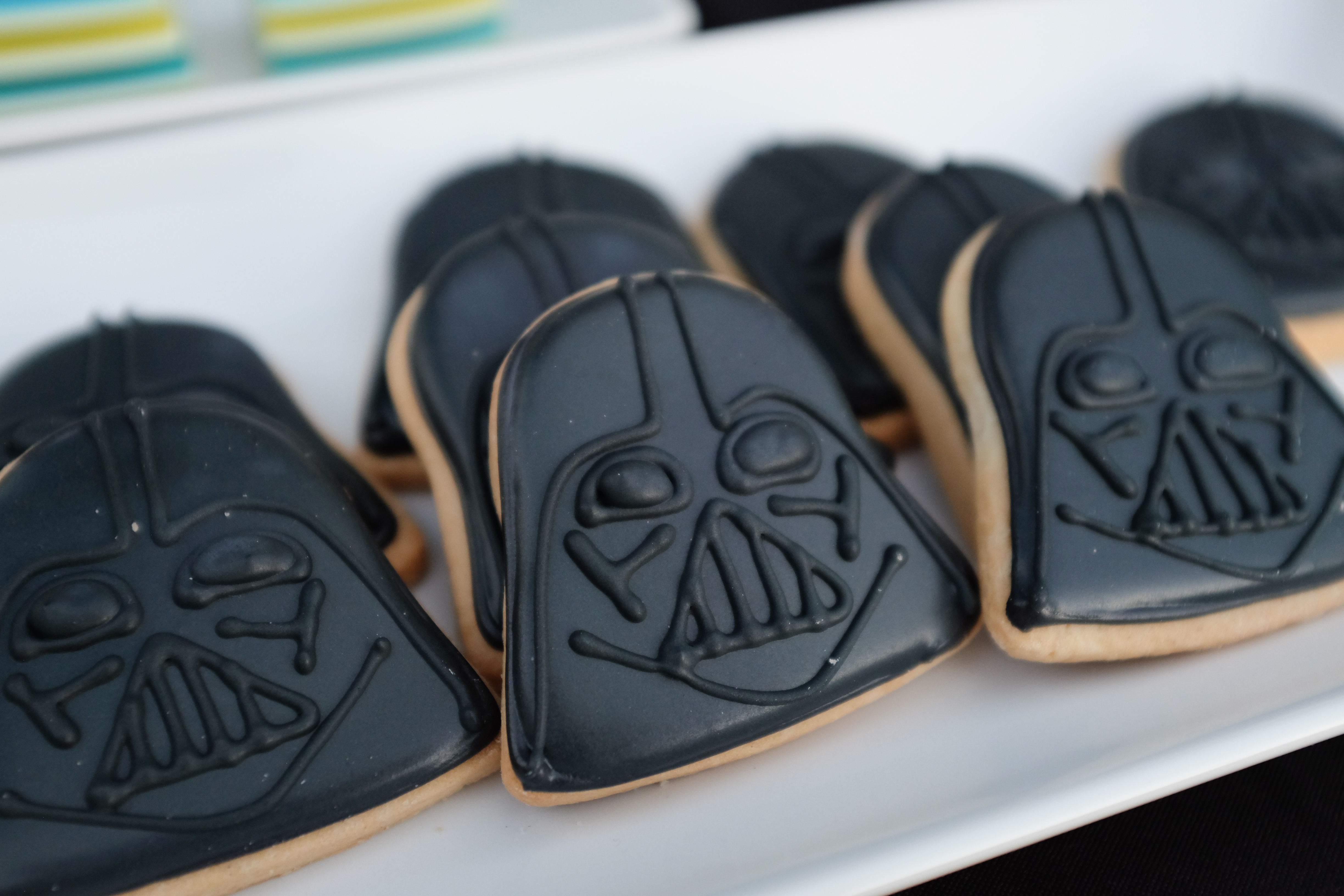 I used white trays for the cookies and jello and galvanized tin tubs for cake pops.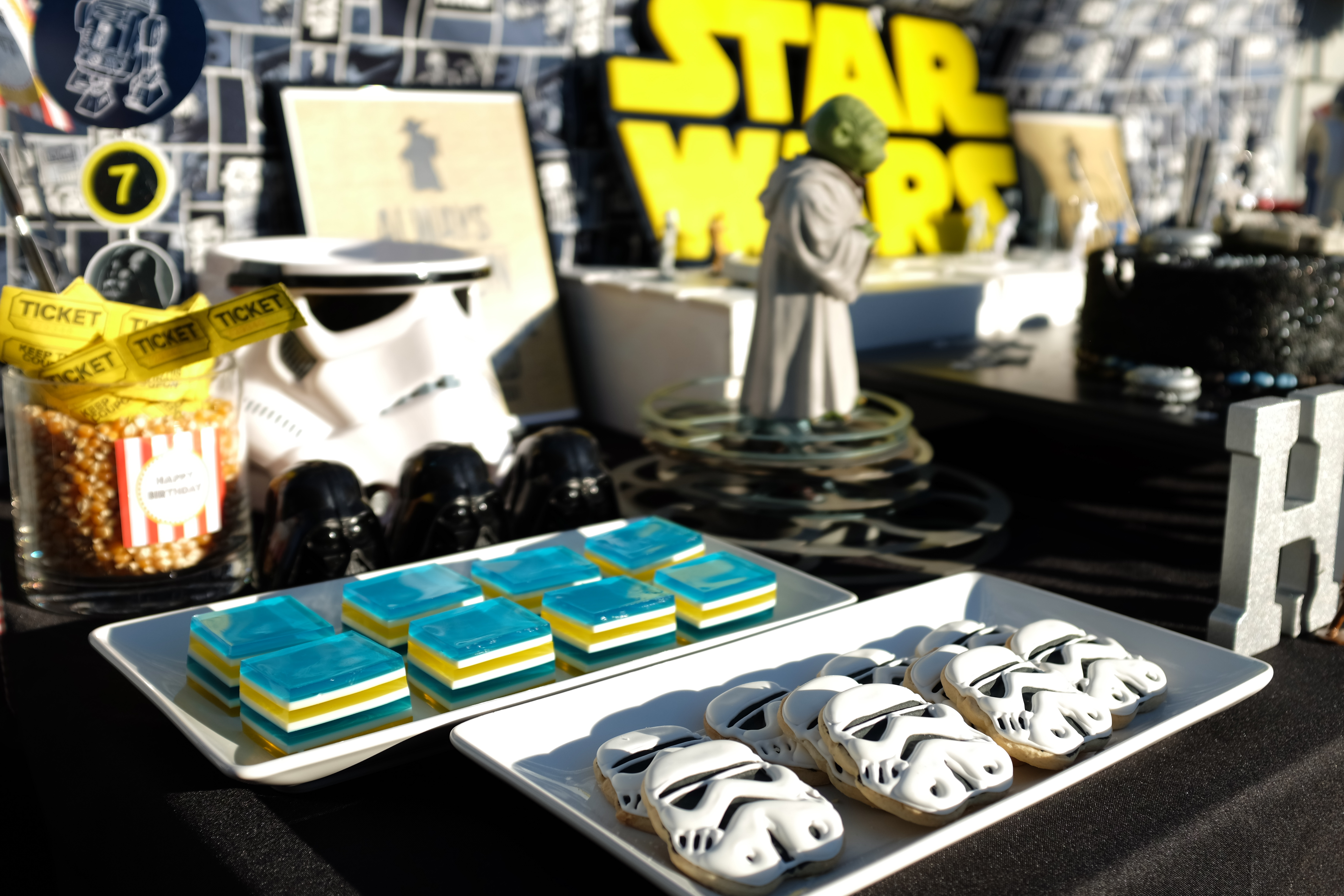 Tin tubs work really well for cake pops.  Put a piece of floral foam inside the tub and cover the foam with either black paper shred or black tulle like I did.  The pop sticks can be inserted into the foam and will stand up perfectly.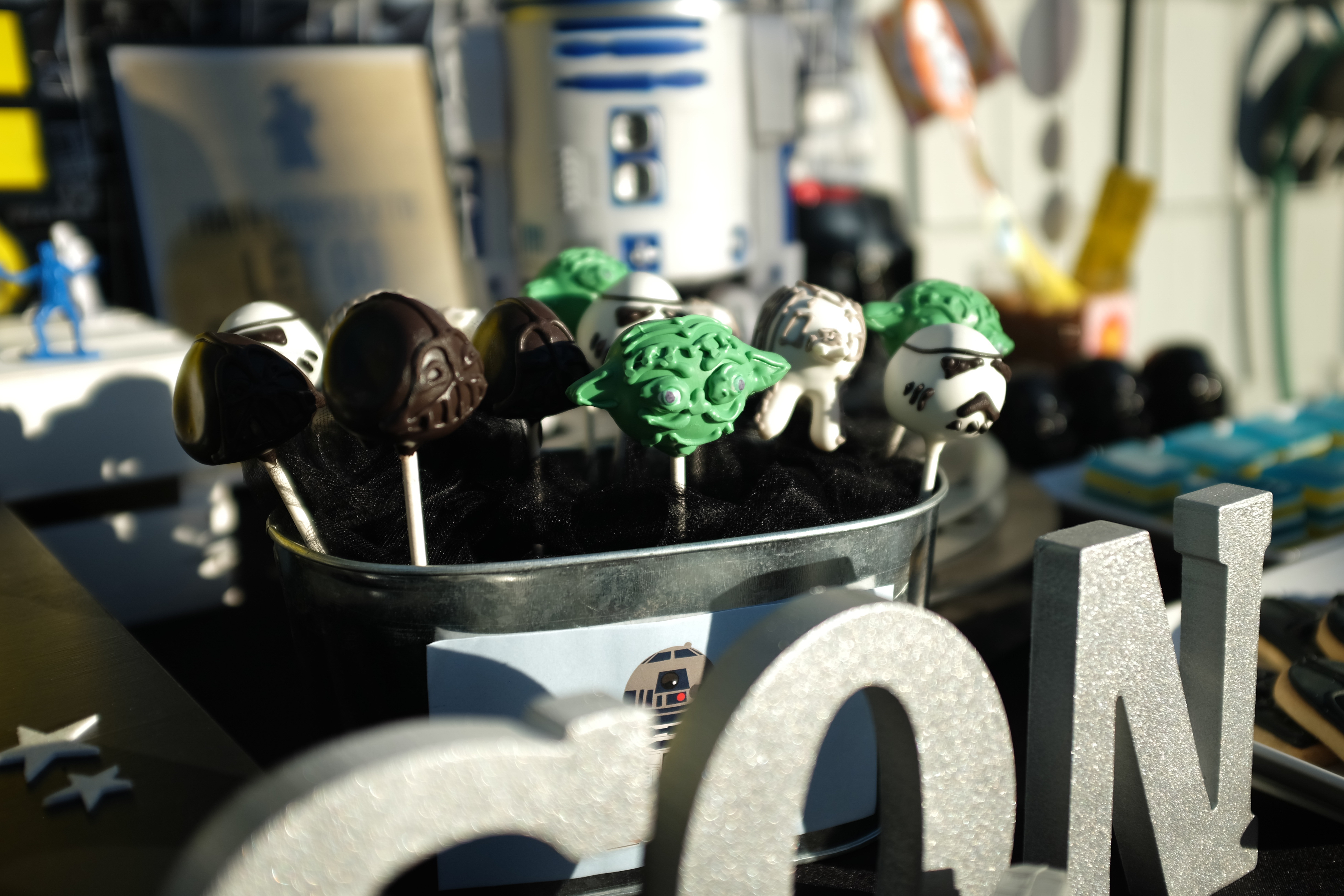 I also found fun character bowls at Target which I filled with gumballs.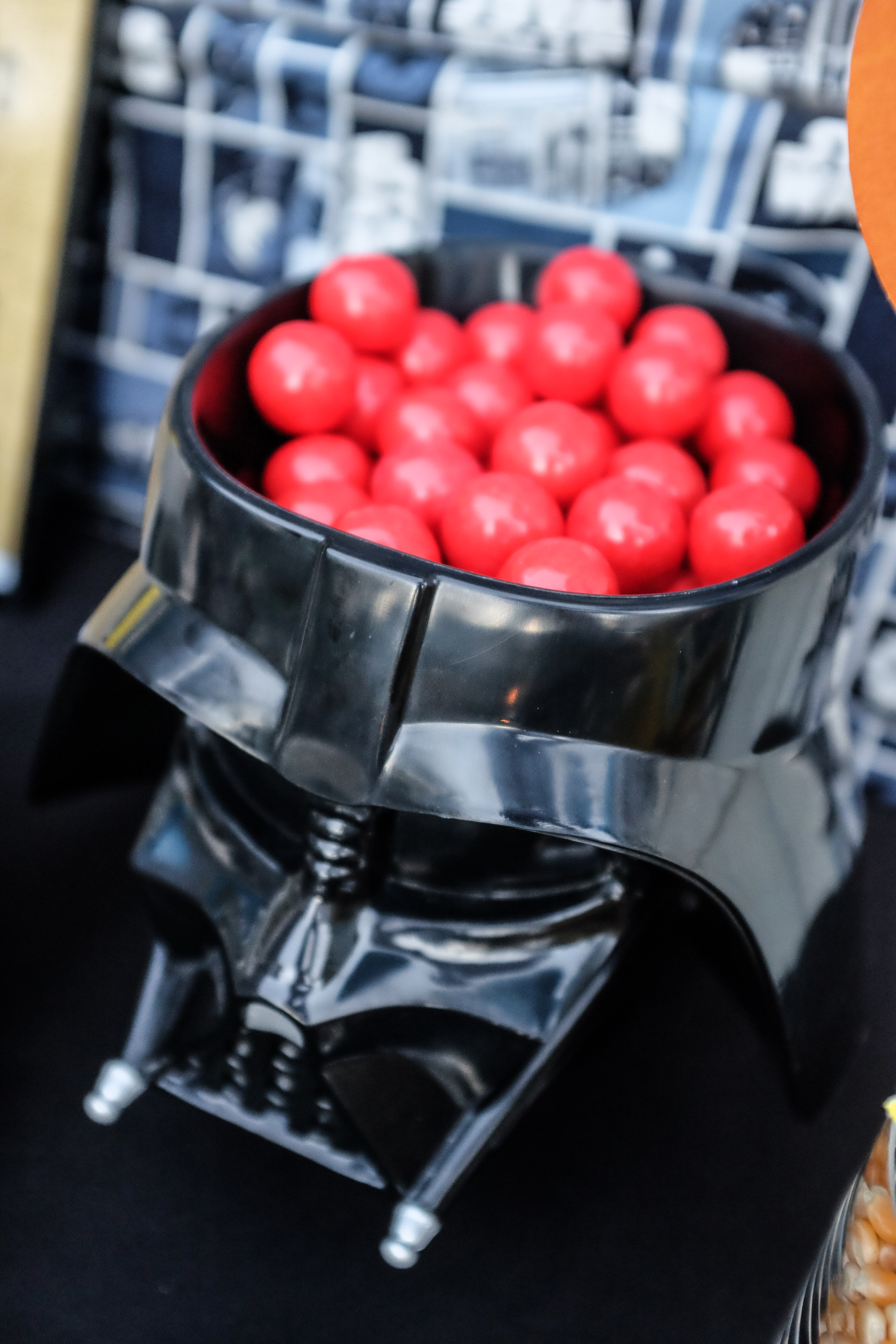 They also had mini versions of the Darth Vader head filled with candy.  The kids loved these cause they make the breathy Darth Vader breathing sounds.
In the center of the table I placed the cake on top of a square black cake stand.  Cakes don't have to be expensive.  This was a store bought chocolate cake I decorated, it's easier than you think.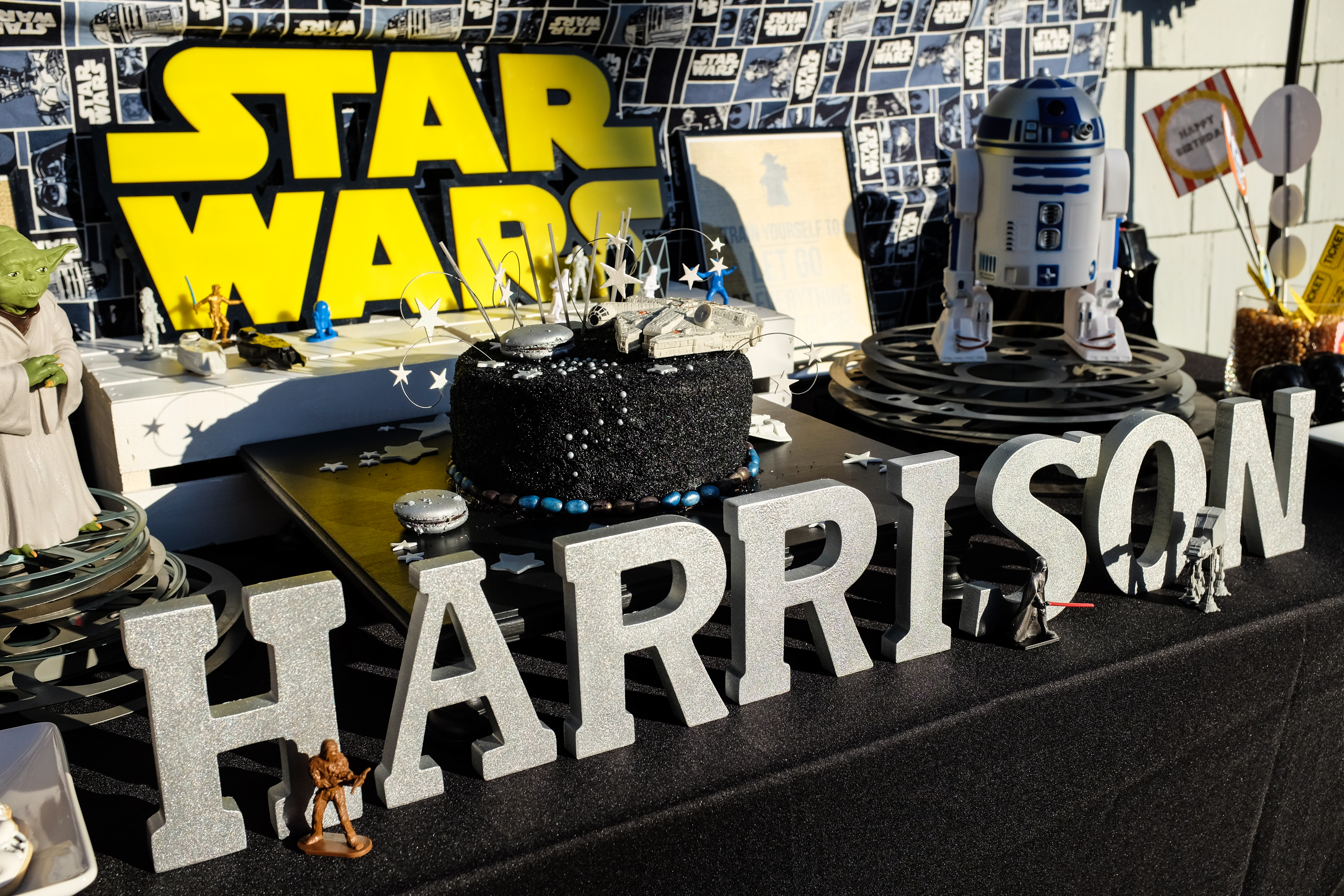 First I bought black sprinkles and covered the entire cake with these, adding silver and black edible pearls randomly over these.
Then I rolled out a piece of fondant and used a star cutter to create star shapes.  I sprayed these  and some macaroons with silver food coloring spray.  Gotta love Duff cake graffiti.  I placed these on the cake stand on the cake.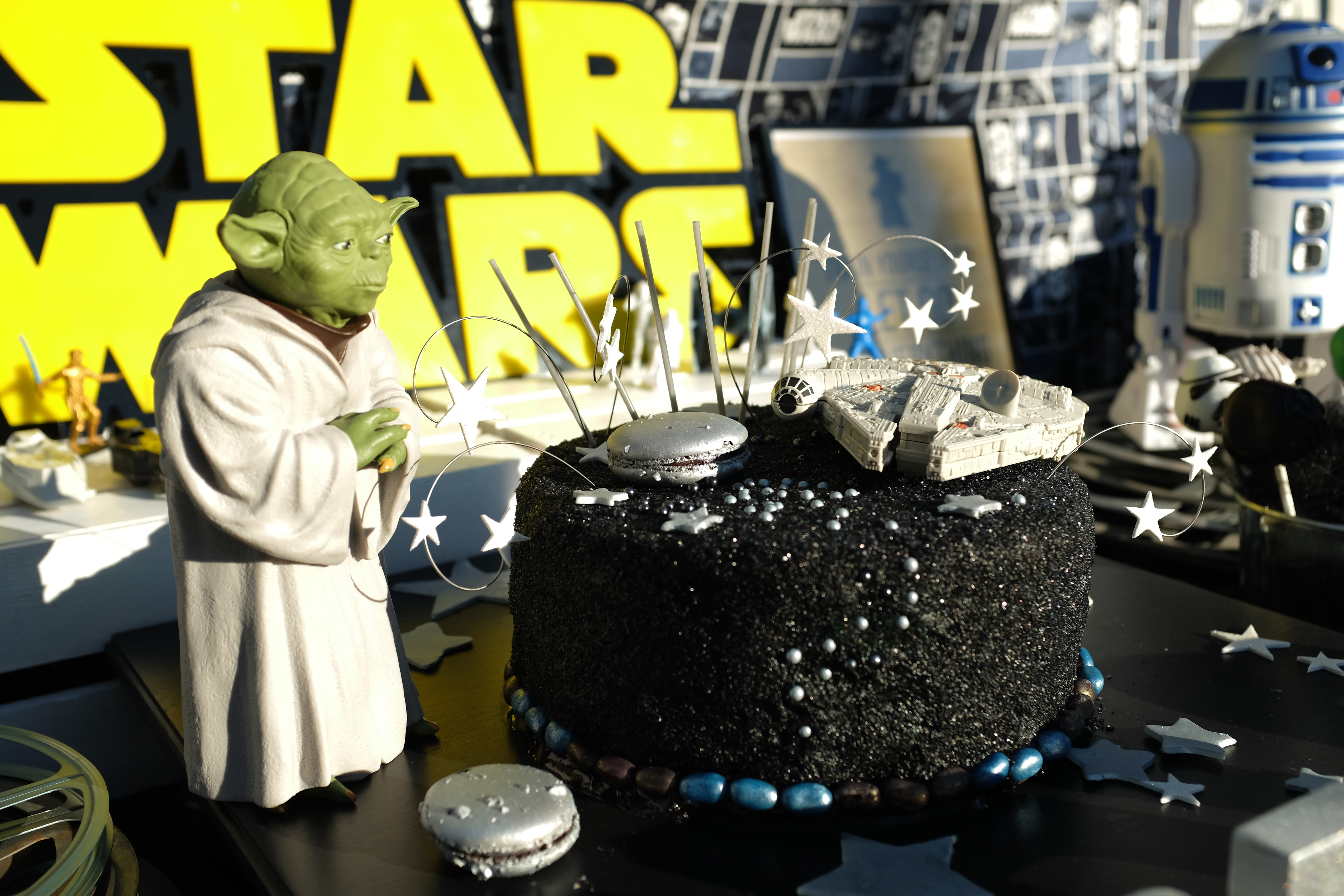 I cracked the macaroons a little to give more of a moon crater look.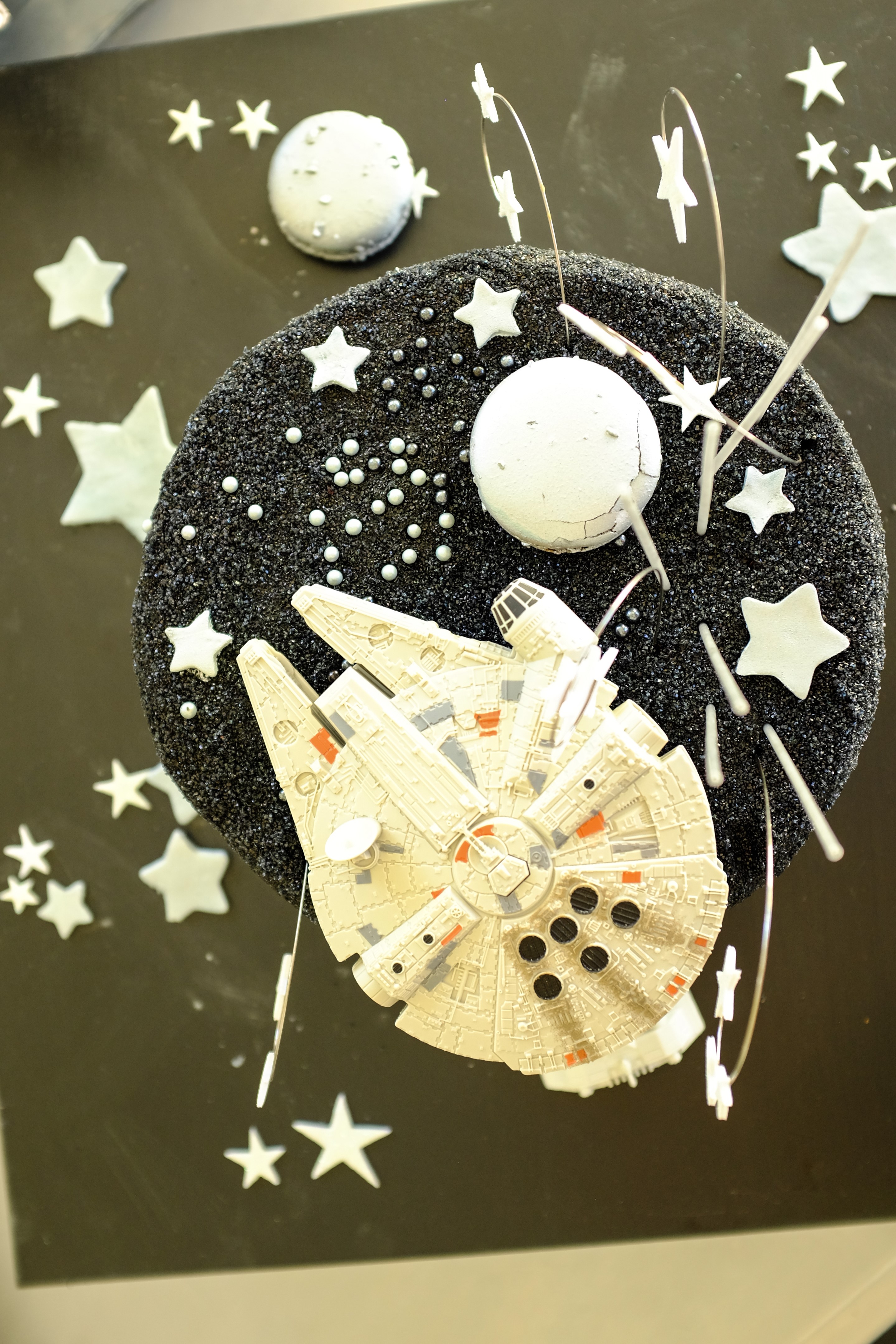 Then I used metal cake decorating swirls with extra stars added to them and inserted these and silver candles into the cake.  The black and silver galaxy from far, far away was ready for the Millenium Falcon! This was the final touch to create this fun battle scene cake.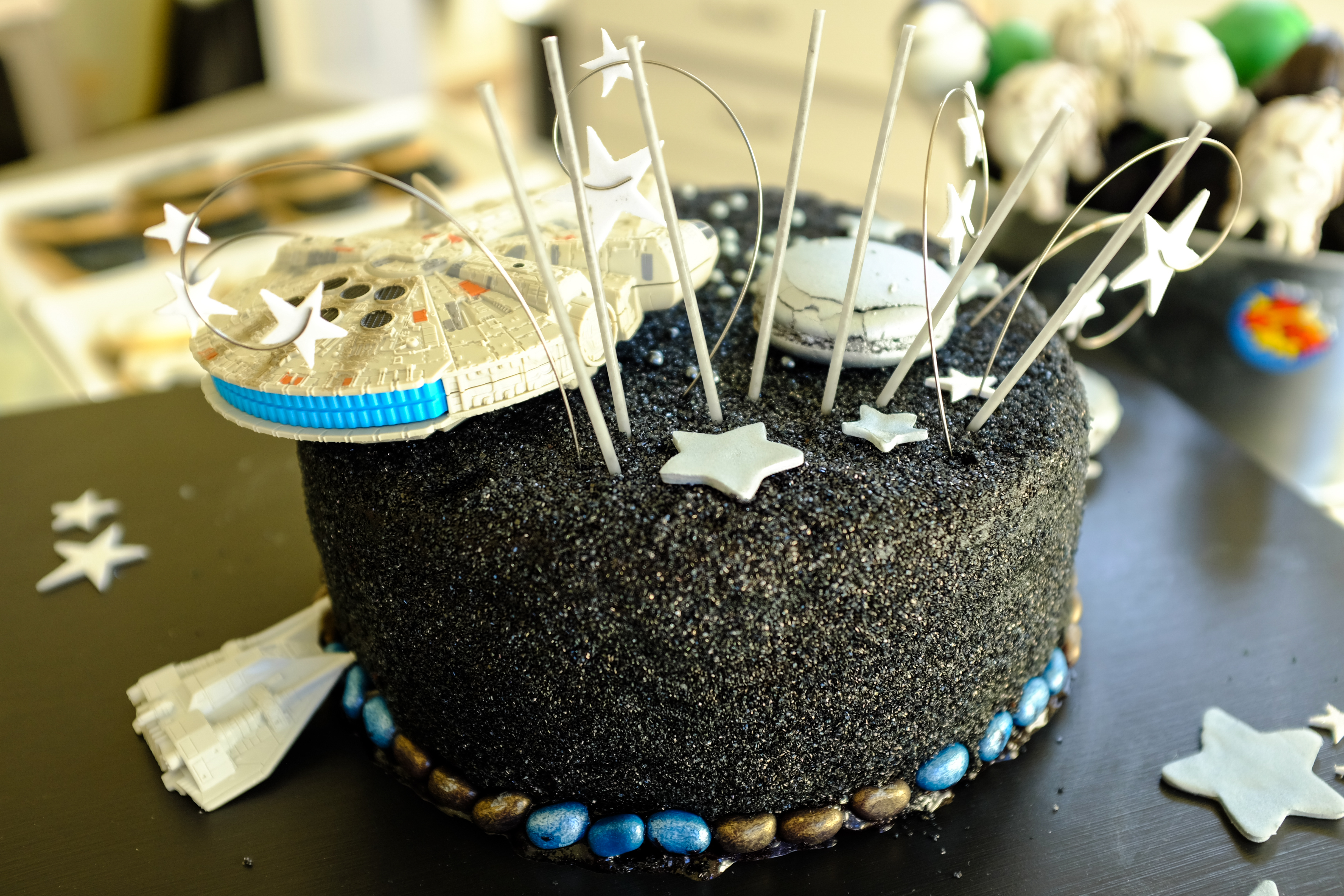 I really enjoyed creating the battle scenes and space themed details for this party.  Things that would thrill my own Hans Solo and his Jedi friends. I hope your child enjoys these dessert table ideas as much as I enjoyed creating them.  For more Star Wars™ party ideas be sure to check out my Star Wars™ movie concession stand, party activity and Star Wars™ photo booth posts.
PIN LATER: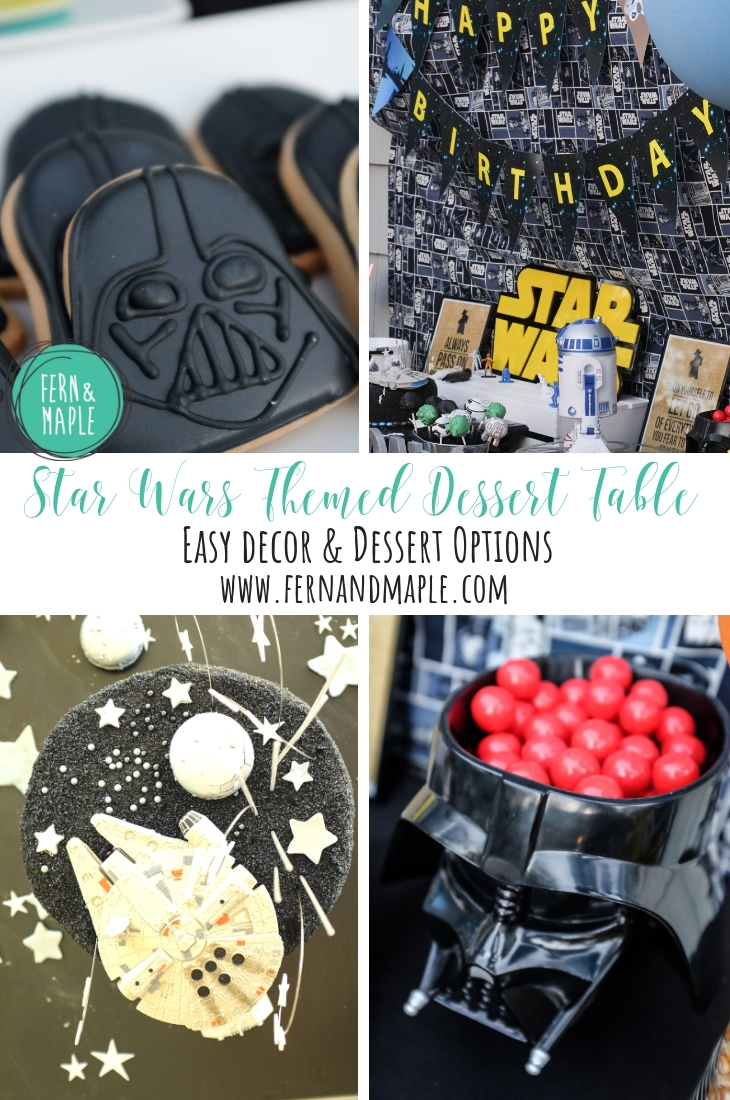 Photography – Lydia Johnston of Photography Hill
Happy Partying!