Nothing is more fun than a photo booth…especially one that is easy to put together! I wanted our Jedi's to have a blast taking fun photos with Star Wars™ themed props and fun character masks, and this Star Wars™ Photo Booth and selfie station was the perfect set up!
With plenty of light sabers, a galaxy far, far away themed backdrop and lots of giggles, you can recreate this fabulous photo booth at home for your next party!
I started with a walk of fame that lead the way to the photobooth.  My friend Elena of World Wide Party created the star printable  for me and personalized it with the kids names. I also added in a large arrow with "Photos" on it.  I created this photobooth 3 years ago, if I was to do it today I'd add in a lightbox or letterboard in place of this arrow.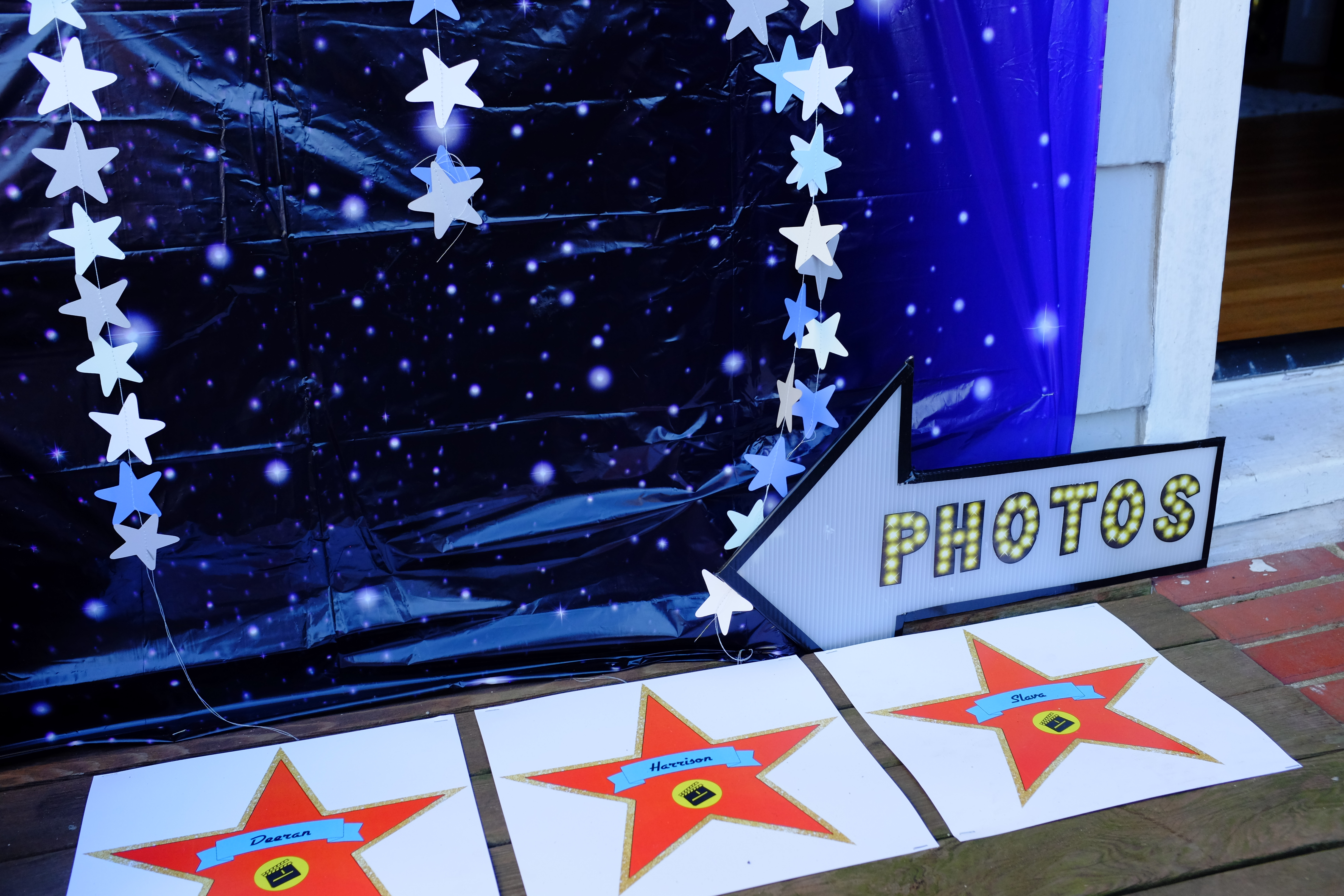 The kids had a lot of fun with the Star Wars™ face props.  Again I found these on Etsy from Flair Graphic Design and Amazing Party Shop.  I like to make them kid-proof as much as possible (lol).  I laminate them before cutting them out.  Then I attach each one to a wooden stick painted black.  I placed these in a Star Wars™ toy chest for the kids to grab easily and added a couple of fun camera props.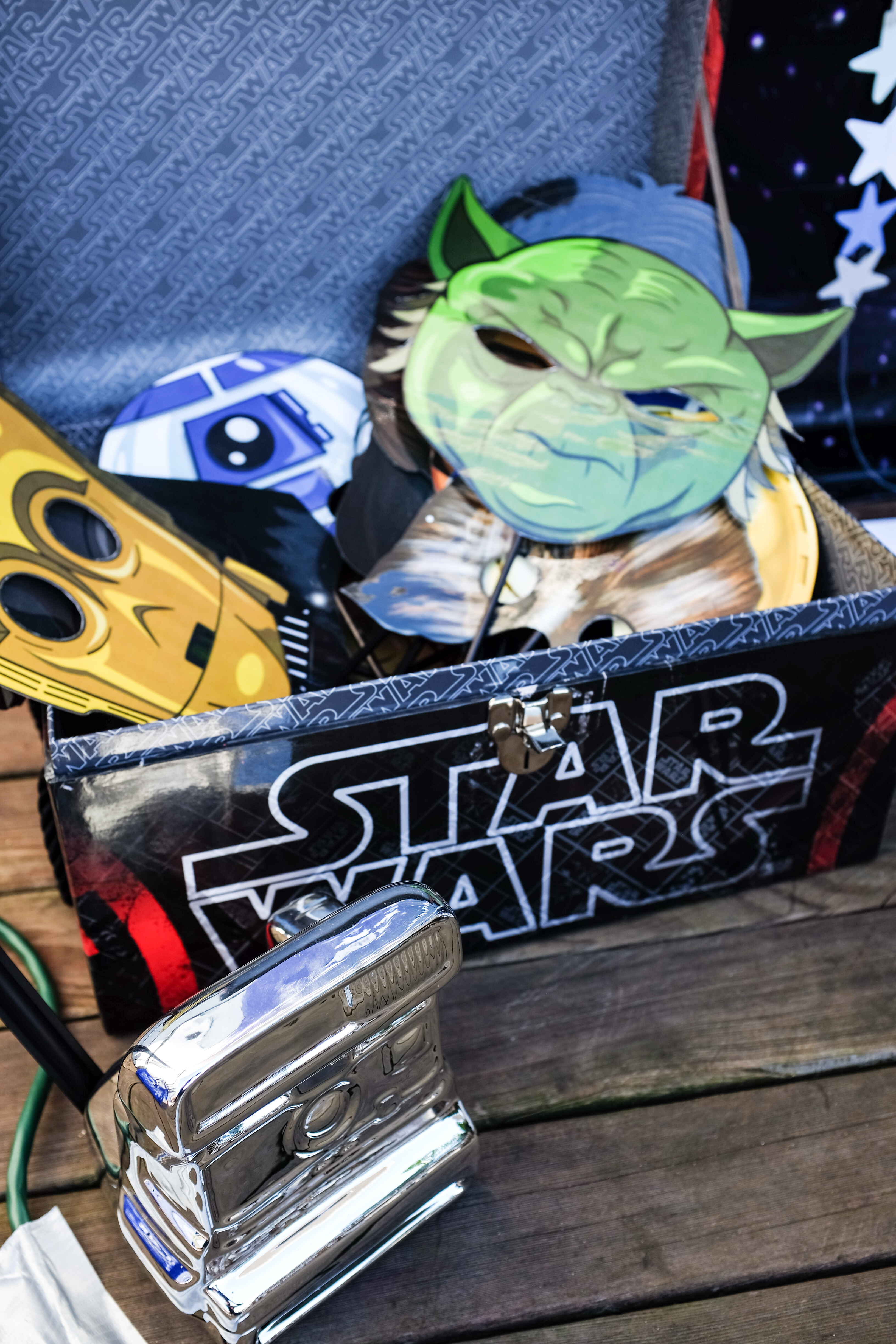 To create the backdrop I used a super affordable plastic galaxy tablecloth and used removable strips to attach it to the outside of our house.  I then layered multiple strands of paper star garlands on top of this for extra dimension, with large silver stars at each side.
The finishing touch to the backdrop, some "quote" signage from the movie like "May the Force be With You" from Hello My Sweet. Then billboards, including an Empire Strikes Back movie poster on an easel, advertising the film opening the following week.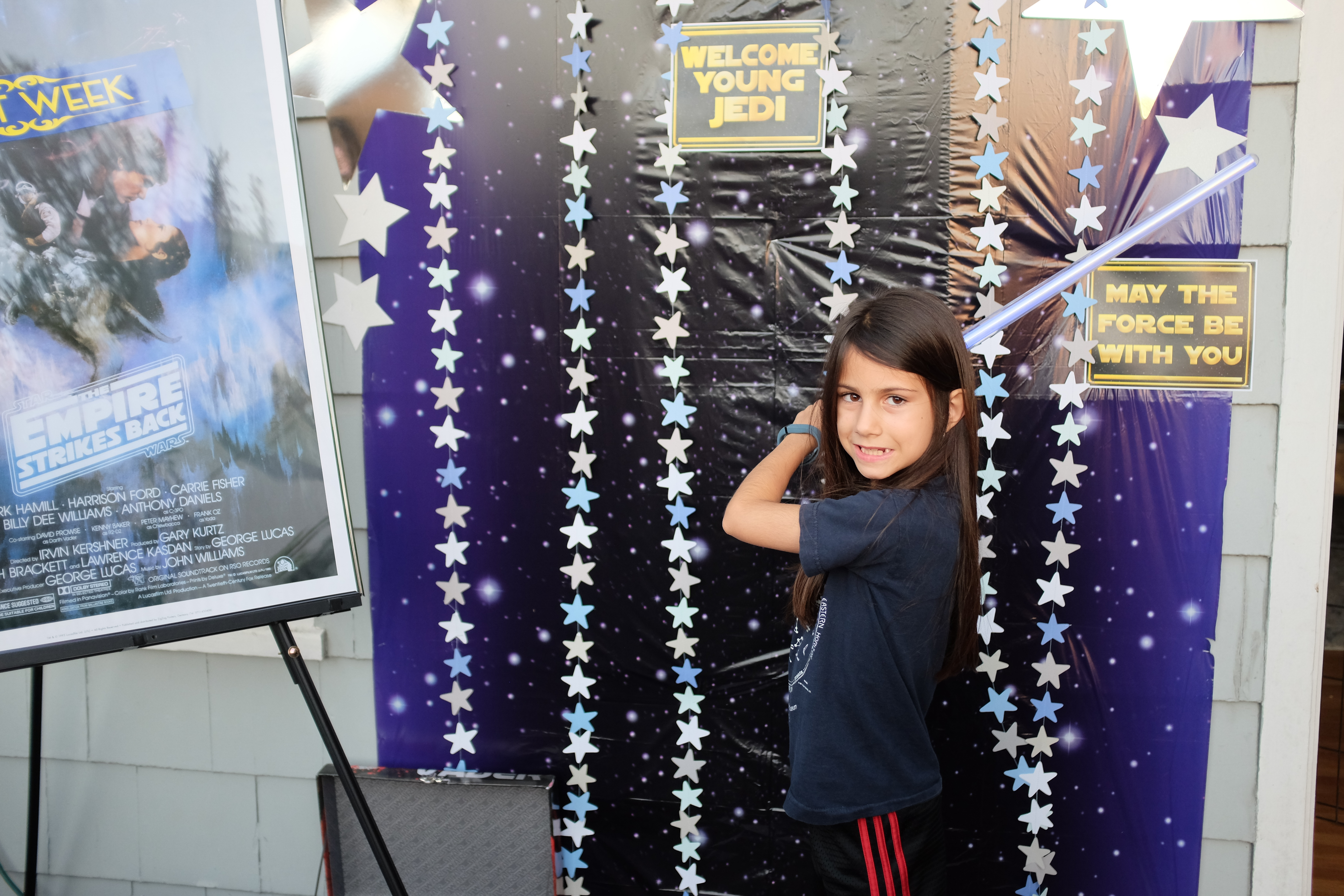 Finally, the fan favorite, a stack of lightsabers for Jedi training on film.  These were soooooo popular.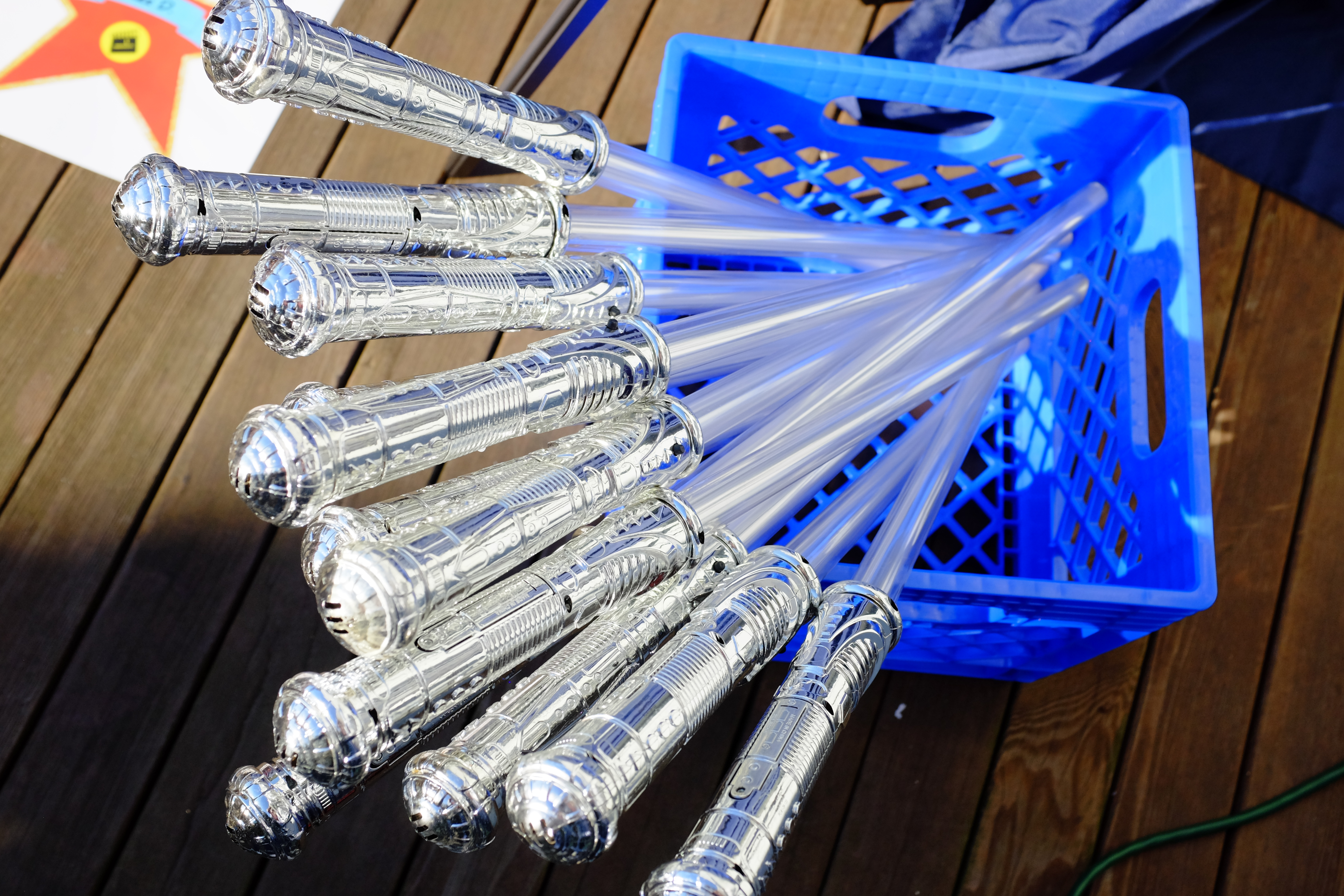 I loved watching the kids acting out their Jedi moves in the photo booth and posing like they were one of the movie stars.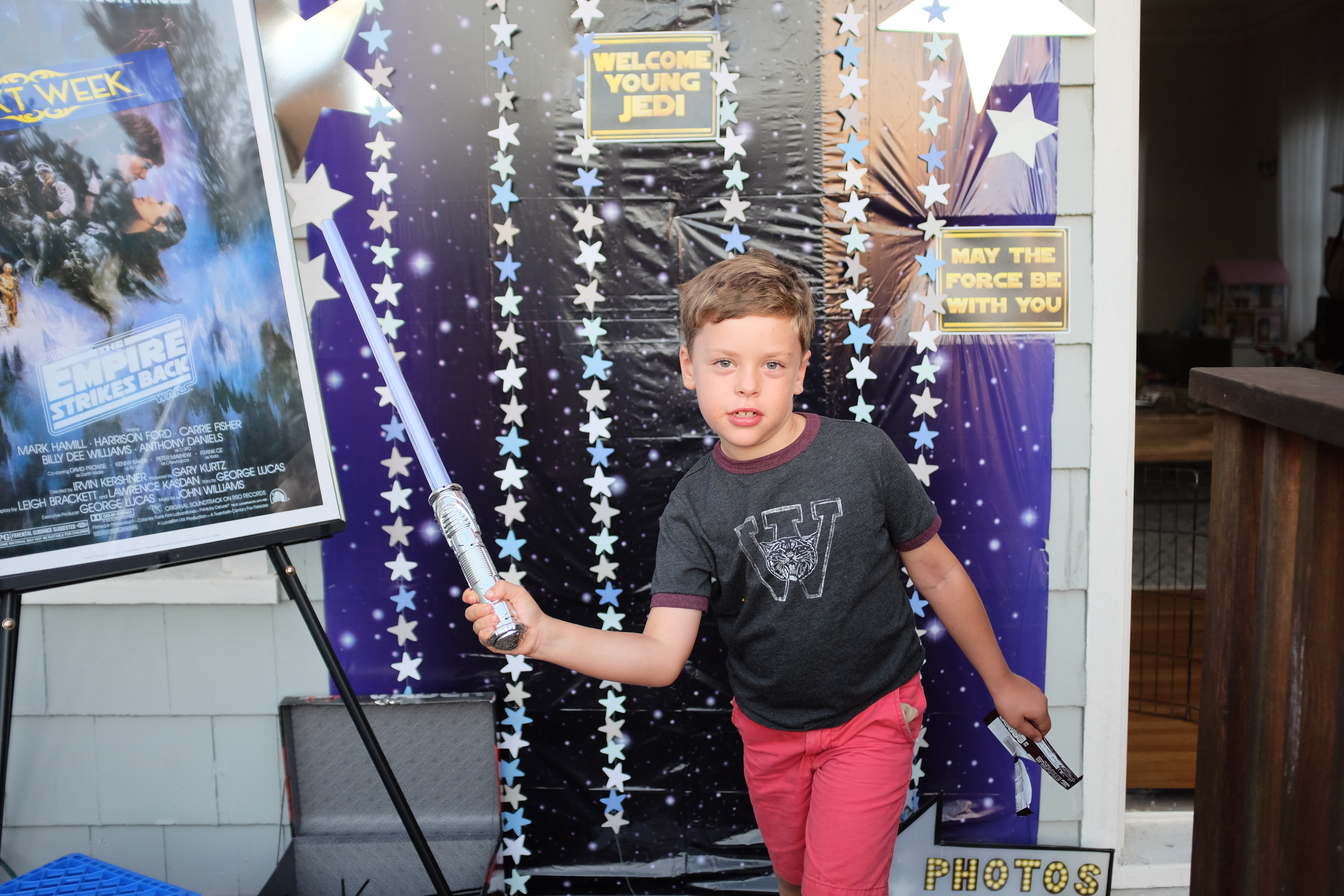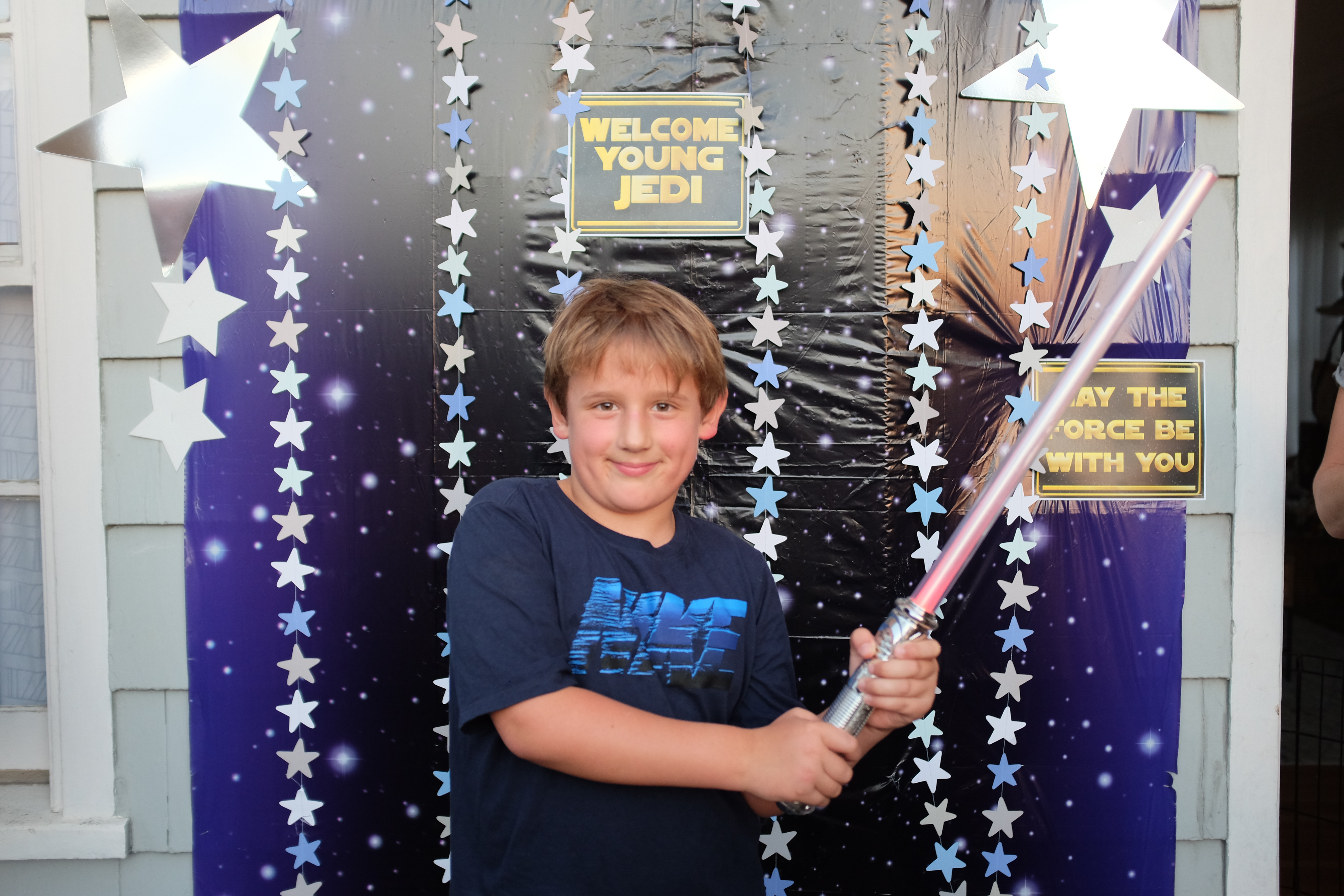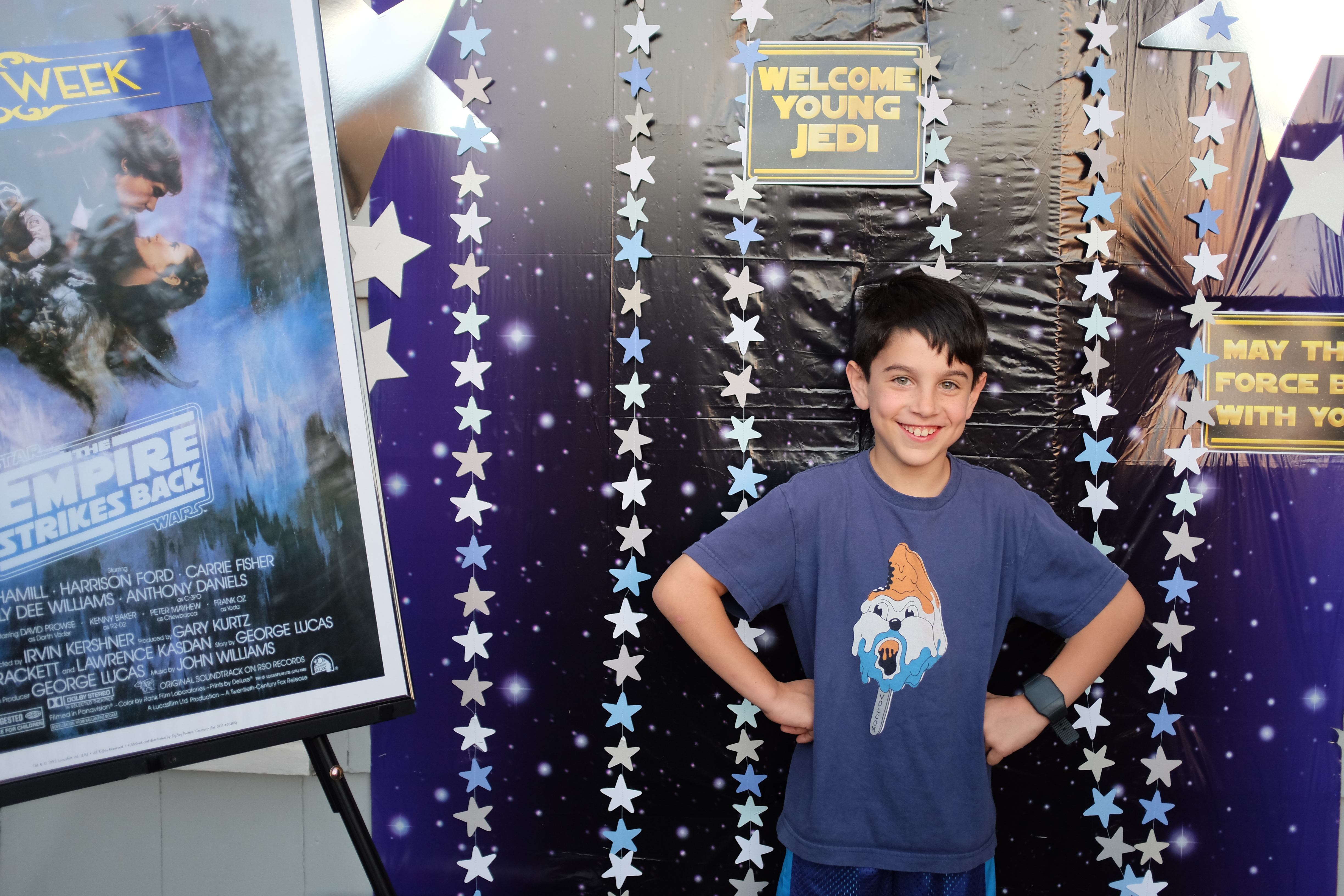 The great thing with masks and face props is that even the shyest of kids participated and started to have fun.  Acting out scenes from the movie.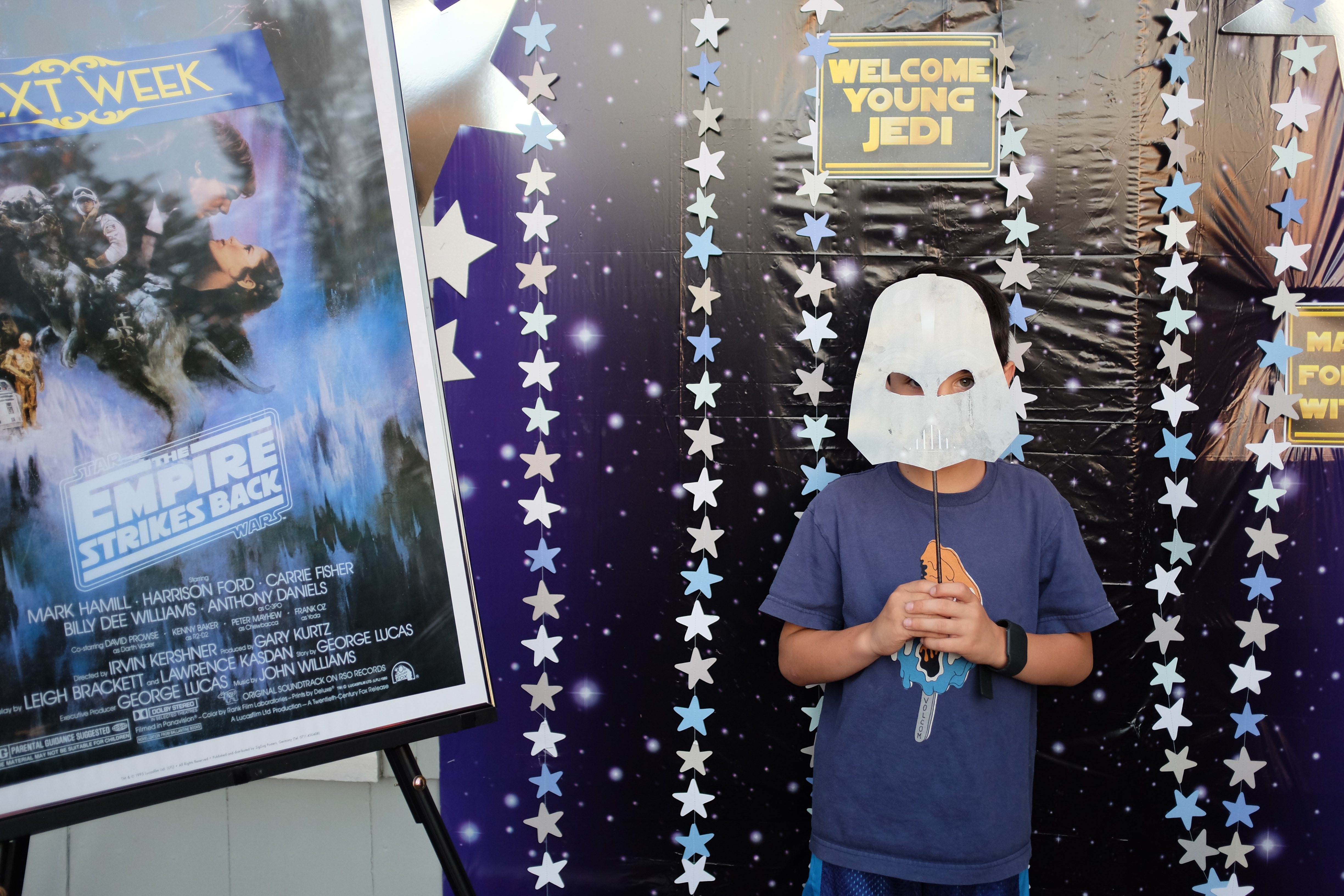 We gave them photos to take home which they loved as a souvenir in conjunction with their Jedi training certificates.
My son Harrison went as his namesake Harrison Ford and did the full dress up for the photobooth.  His friend Kai dressed up as Chewy and they made the cutest pair.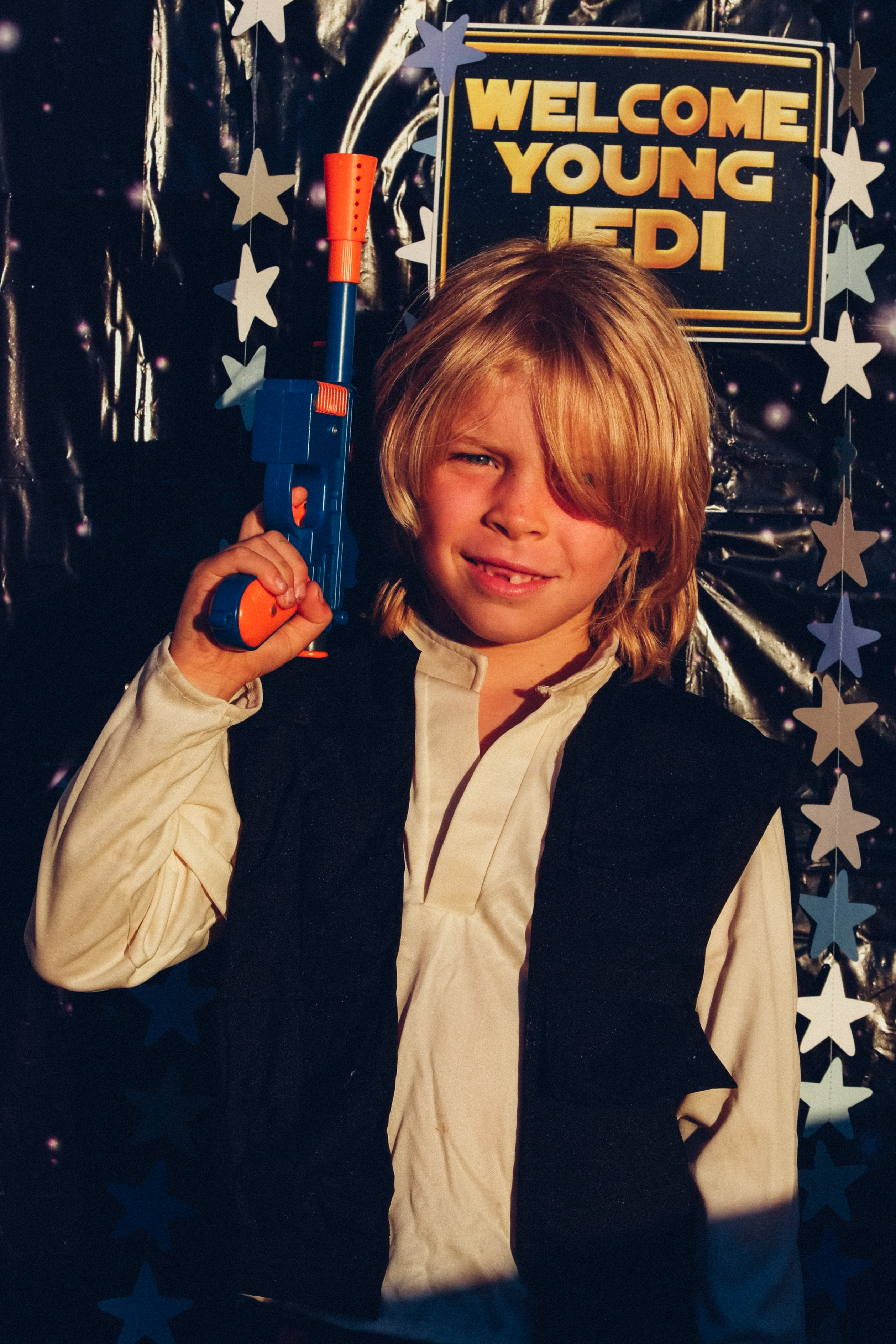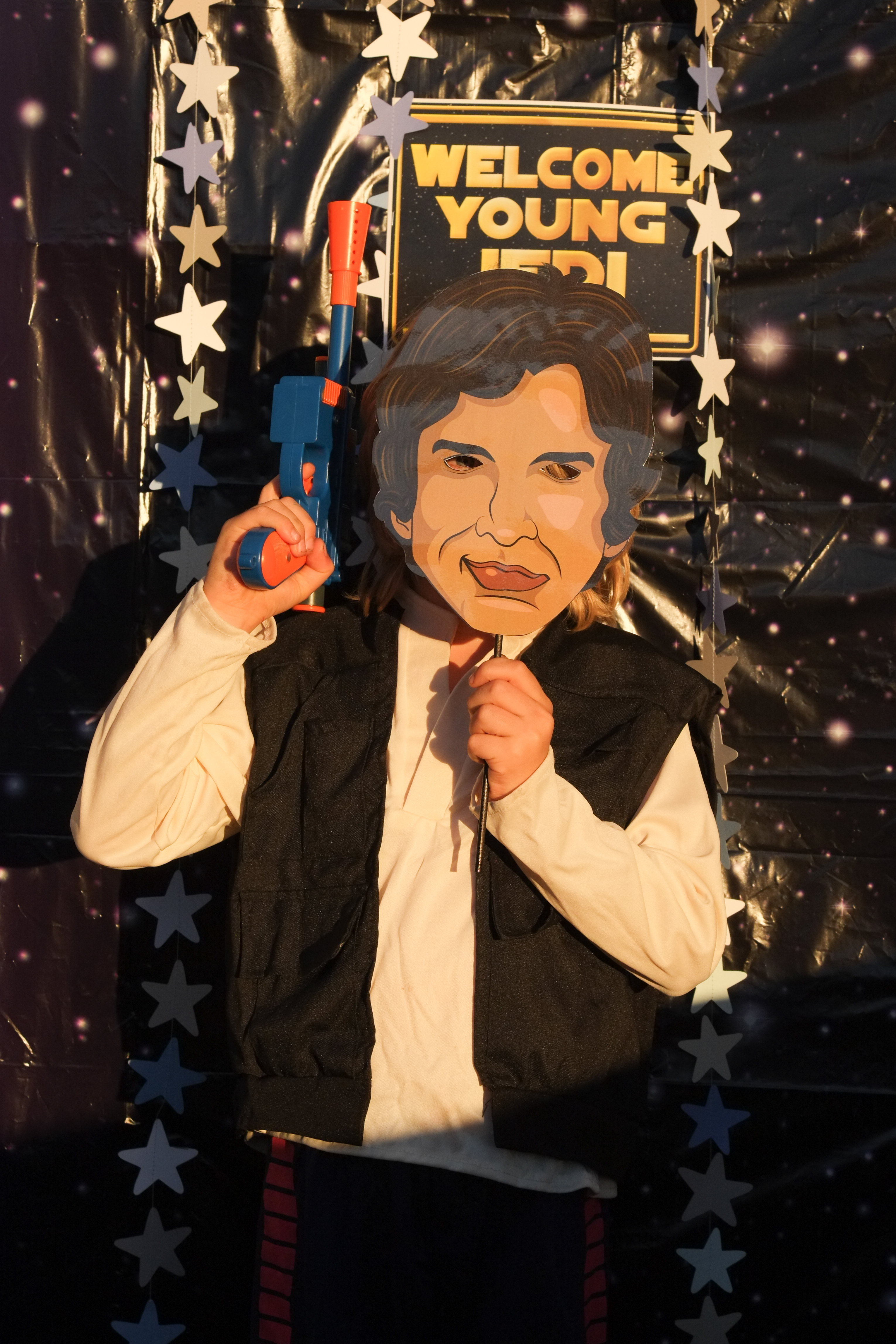 Don't forget the Millenium Falcon!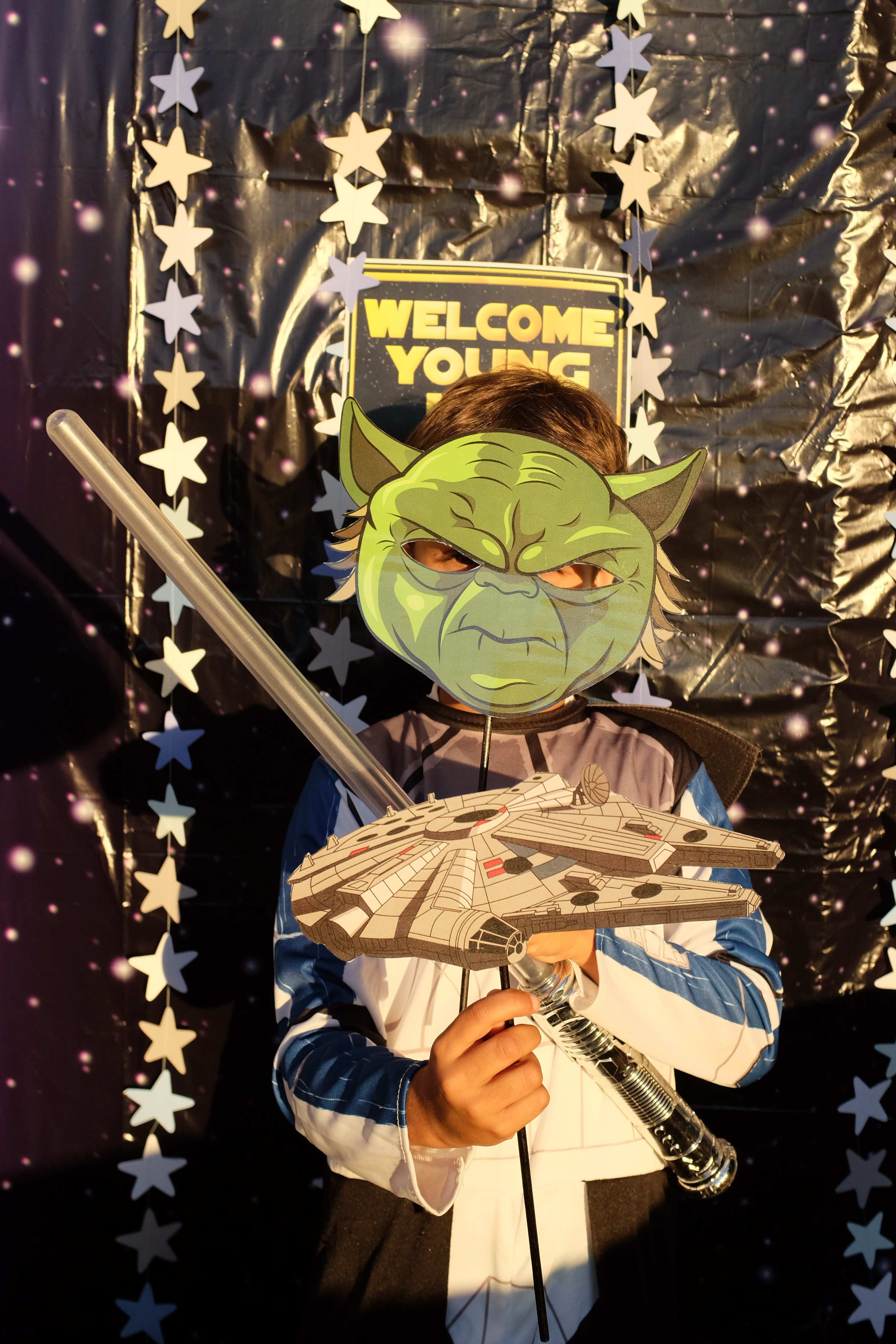 You can easily recreate this affordable Star Wars™ photobooth and the fun at your Star Wars™ party.  For more ideas and inspiration be sure to check out my Star Wars™ dessert table and party activities for all ages.
PIN LATER: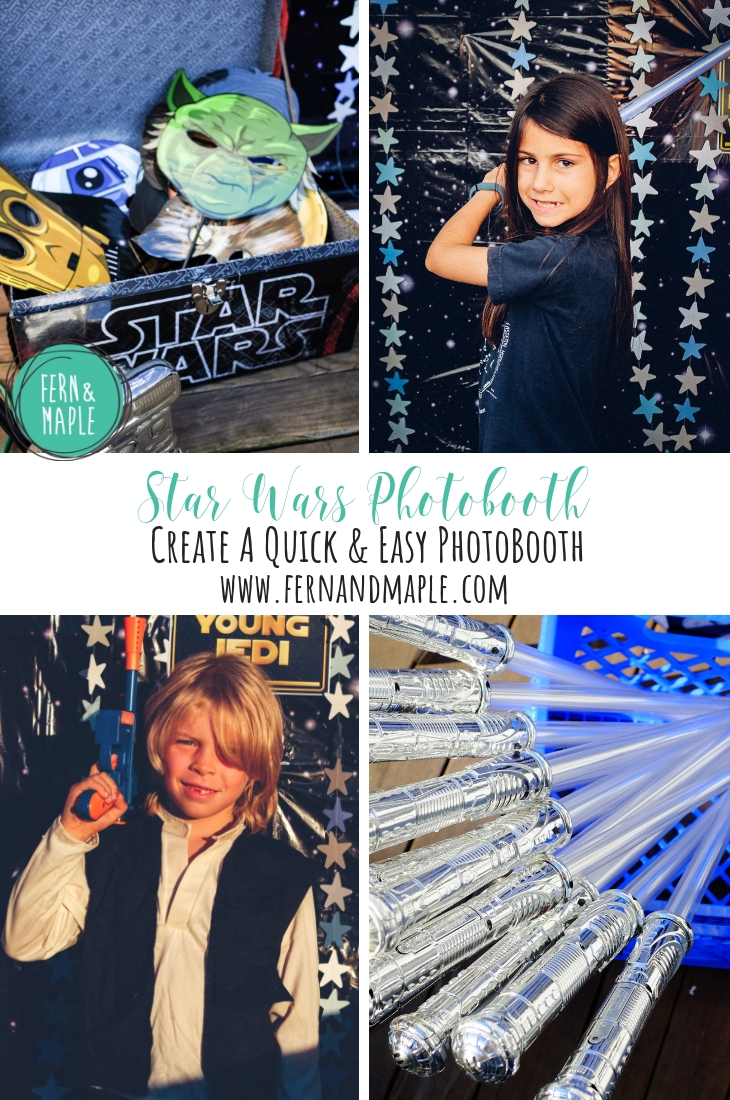 Photography – Ike Shin Photography
Happy Partying!