Every good movie night needs good snacks! Is there anything better than freshly popped popcorn?! I'm sharing all the details for my DIY Movie Night Concession Stand.  It was perfect for our Star Wars™ backyard movie night.
Our snack station will make your home the place to be and create a fun movie-theater vibe complete with popcorn, snacks and candy.  Don't forget the movie posters and cinema lights to set the scene.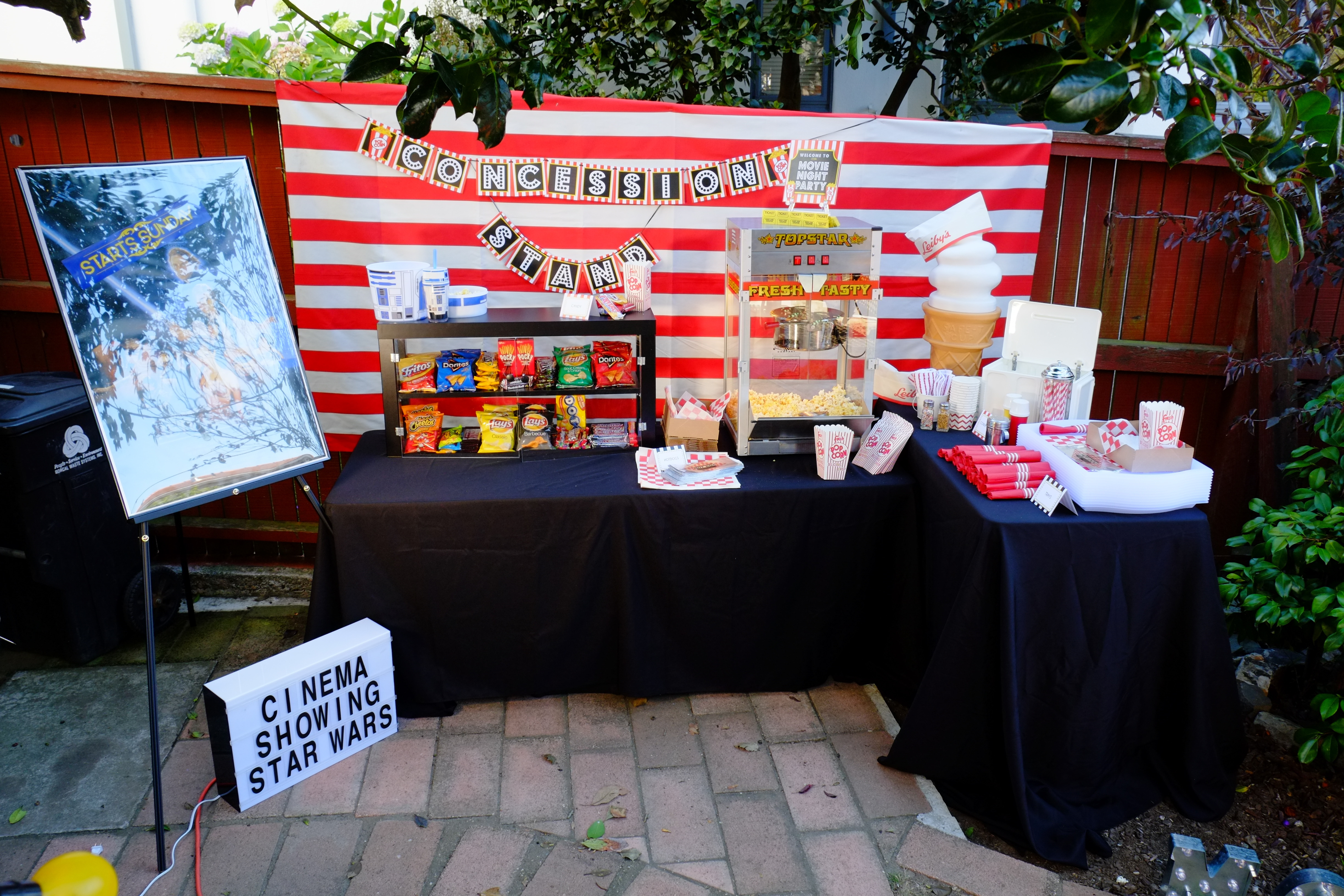 I started with simple red and white wide stripe fabric ( approx 3 yards) and hung a "Concession Stand" printable over this.  There are so many options available on Etsy.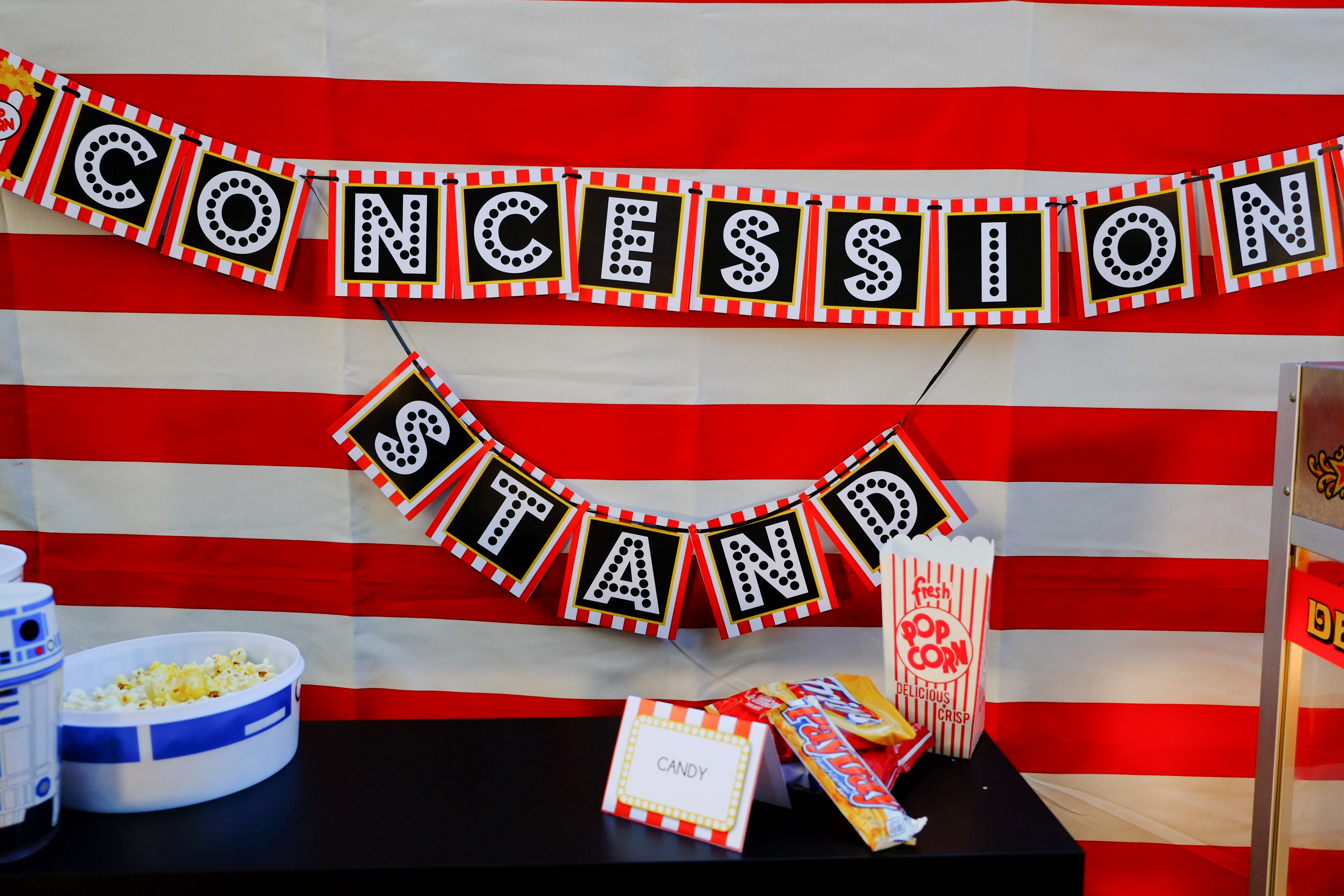 To create this DIY Movie Night Concession Stand, I used two folding tables as a base.  Placing black tablecloths over the top.  The combination of this with the stripes gives a real movie vibe.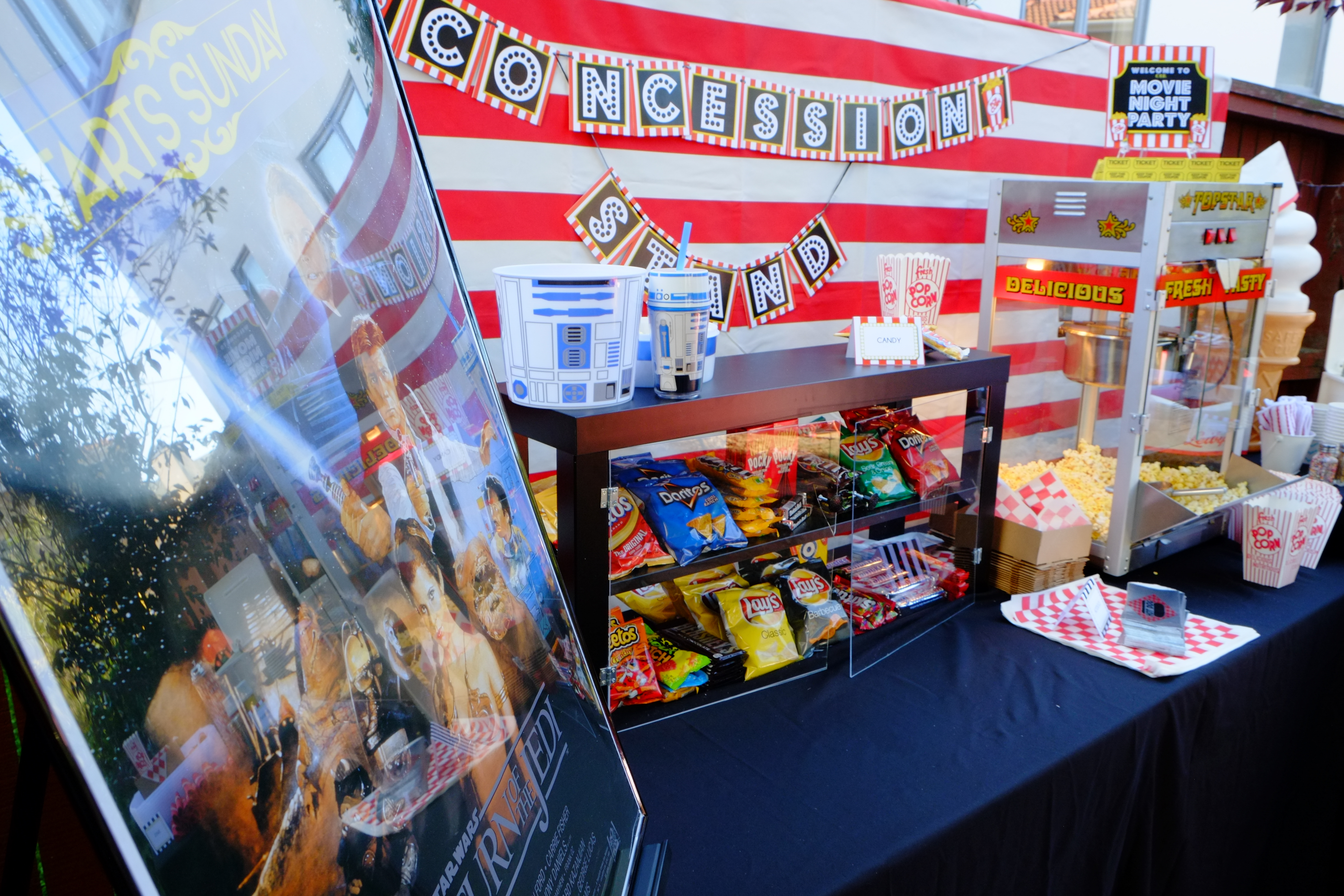 To create a fun snack station reminiscent of a movie theatre concession stand I used a fun Ikea hack.  I bought a Lack TV Unit ($15.99) and added 2 doors to the front.  2 sheets of acrylic attached with 4 small hinges.  I then added 2 small door handles.
I packed the stand full of the kids favorite snacks, such as doritos, pocky sticks and skittles.The kids loooooved opening the doors to the goodies.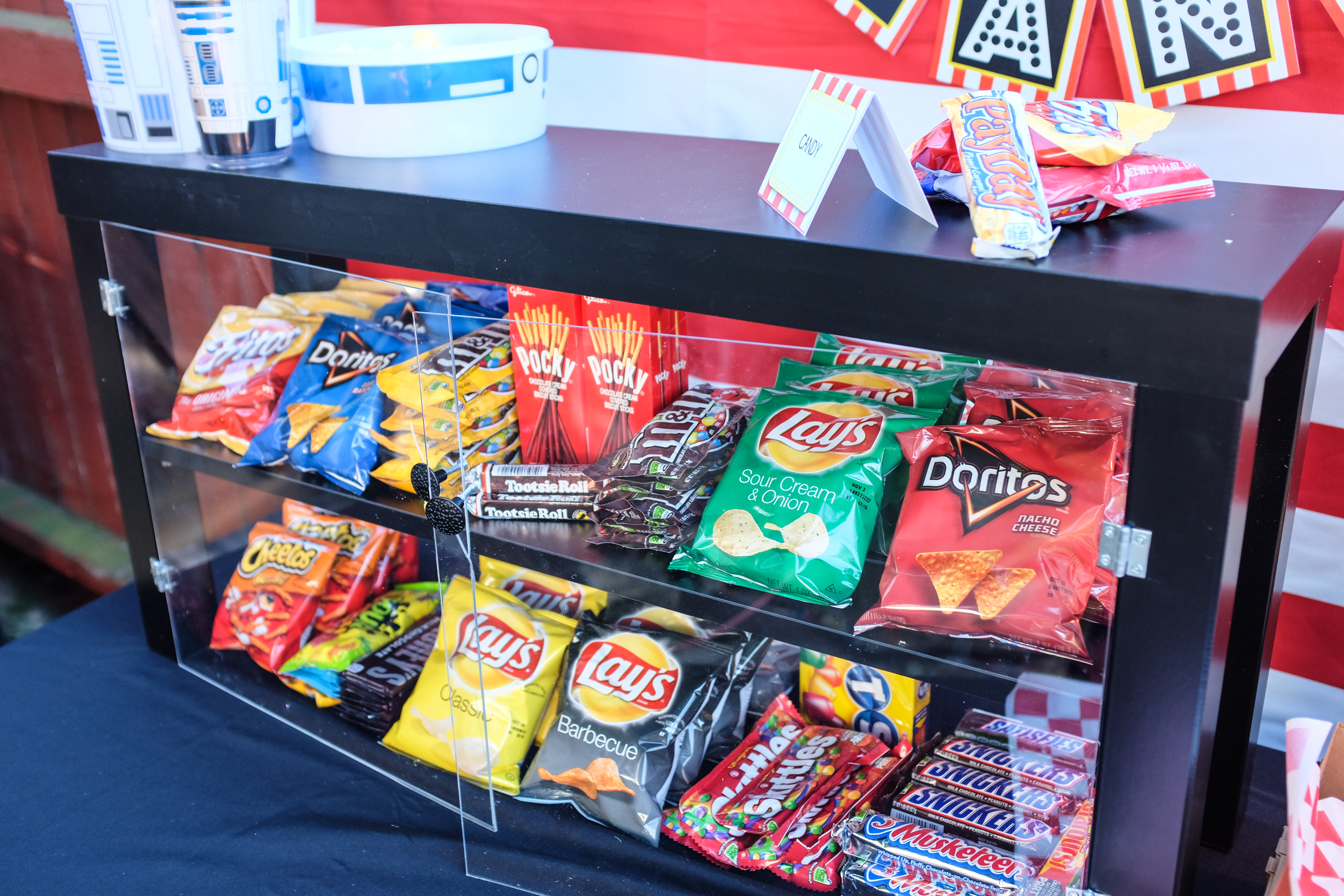 I added some fun props to the table, a giant ice cream with a retro ice cream hat on top. LOL and my husband thought I'd never use it! wink wink!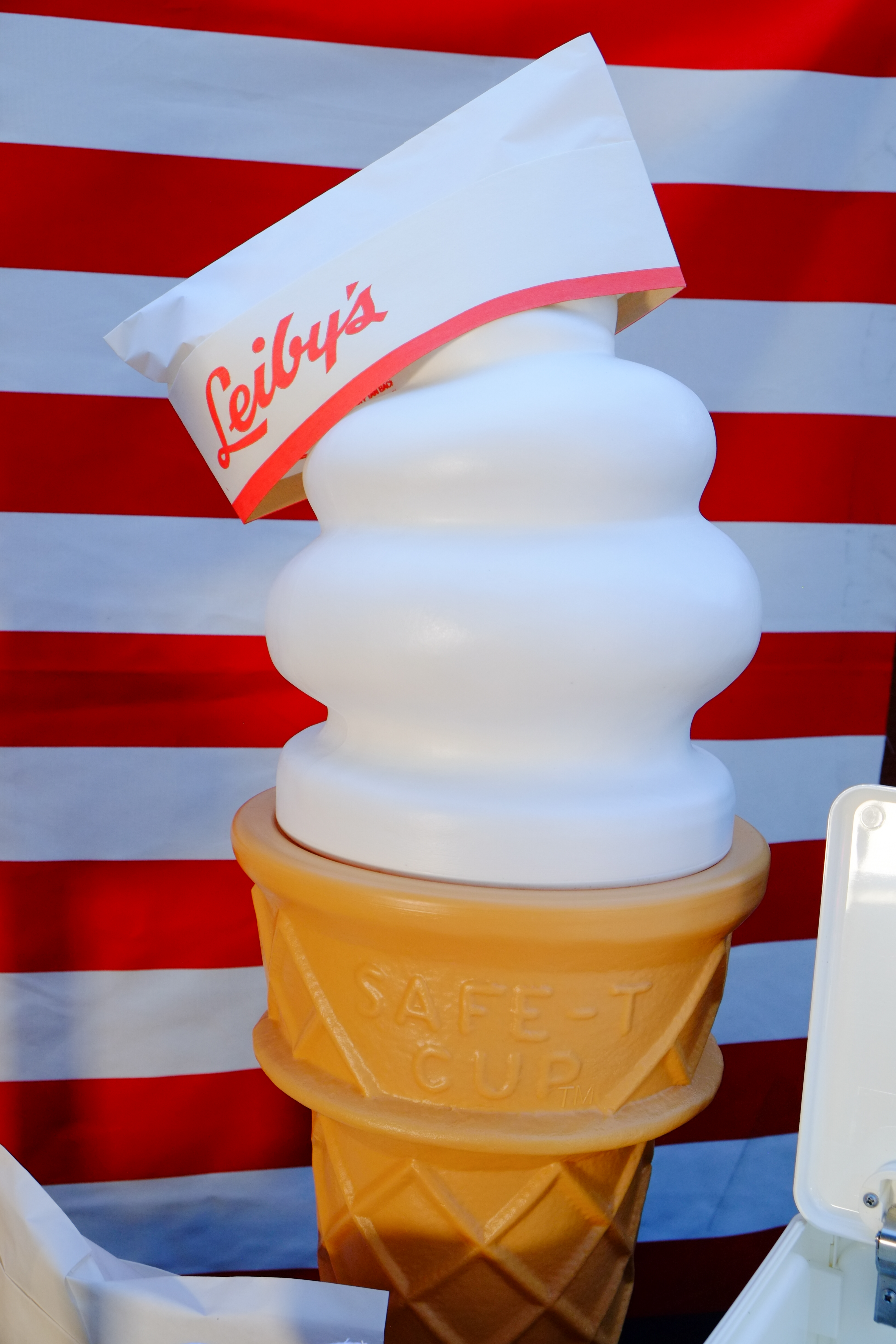 I also found Star Wars™ themed movie size popcorn buckets and soda cups.  I used these as special movie themed "size guide buckets" just like they do at movie theatres.  The birthday boy loved getting to use these.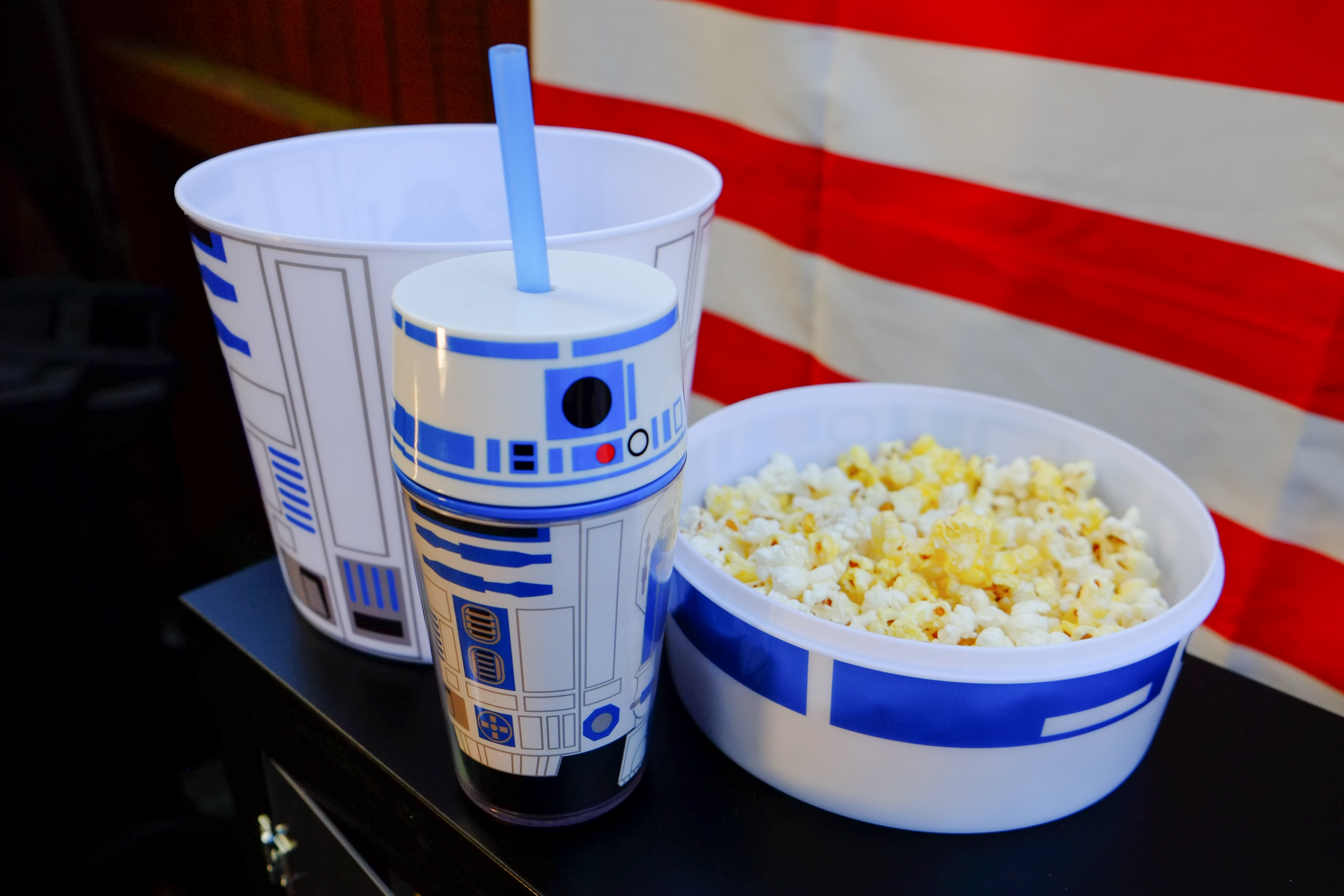 Popcorn machines are surprisingly affordable to rent.  If this is something you are looking to do on a regular basis there are options for buying smaller size machines.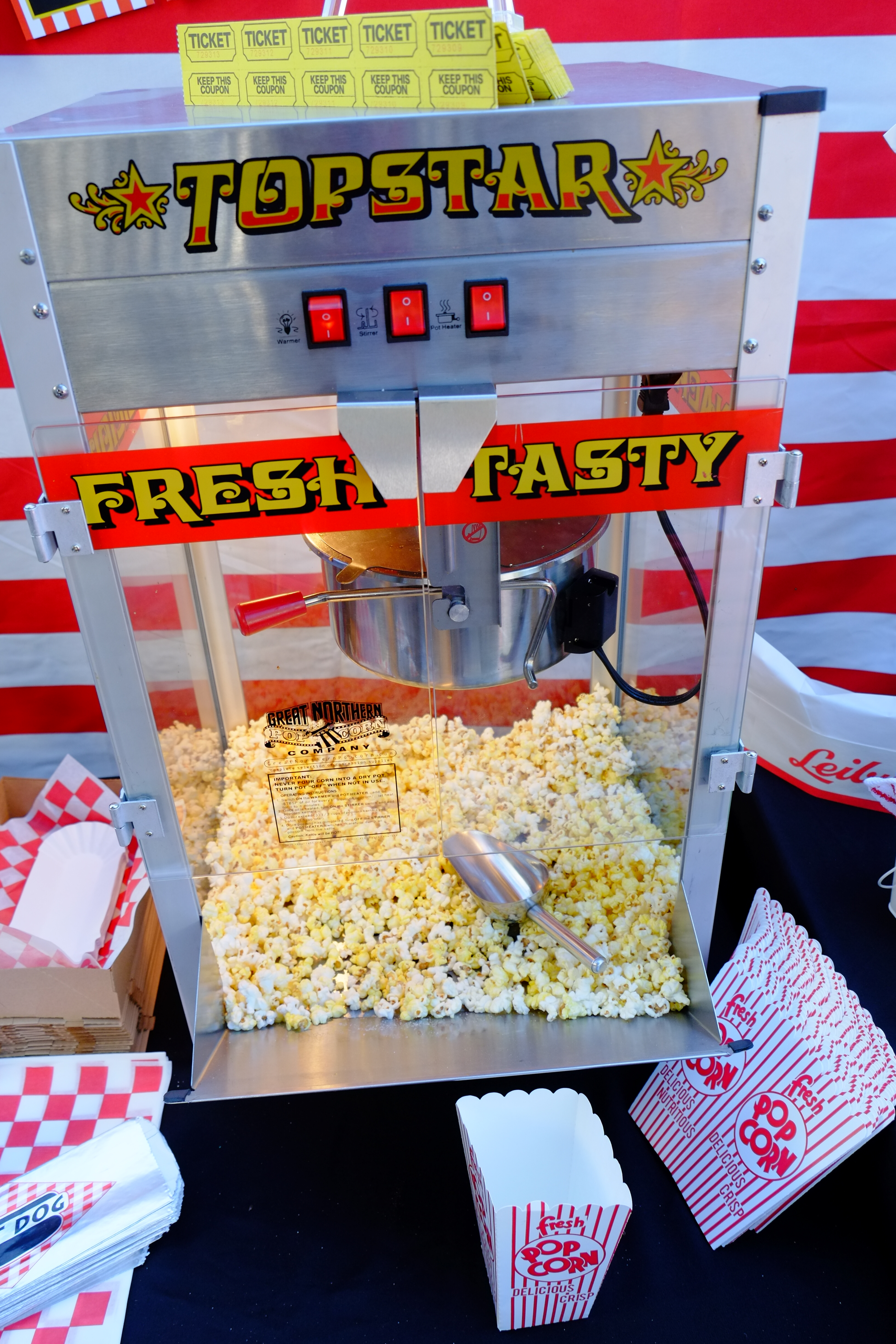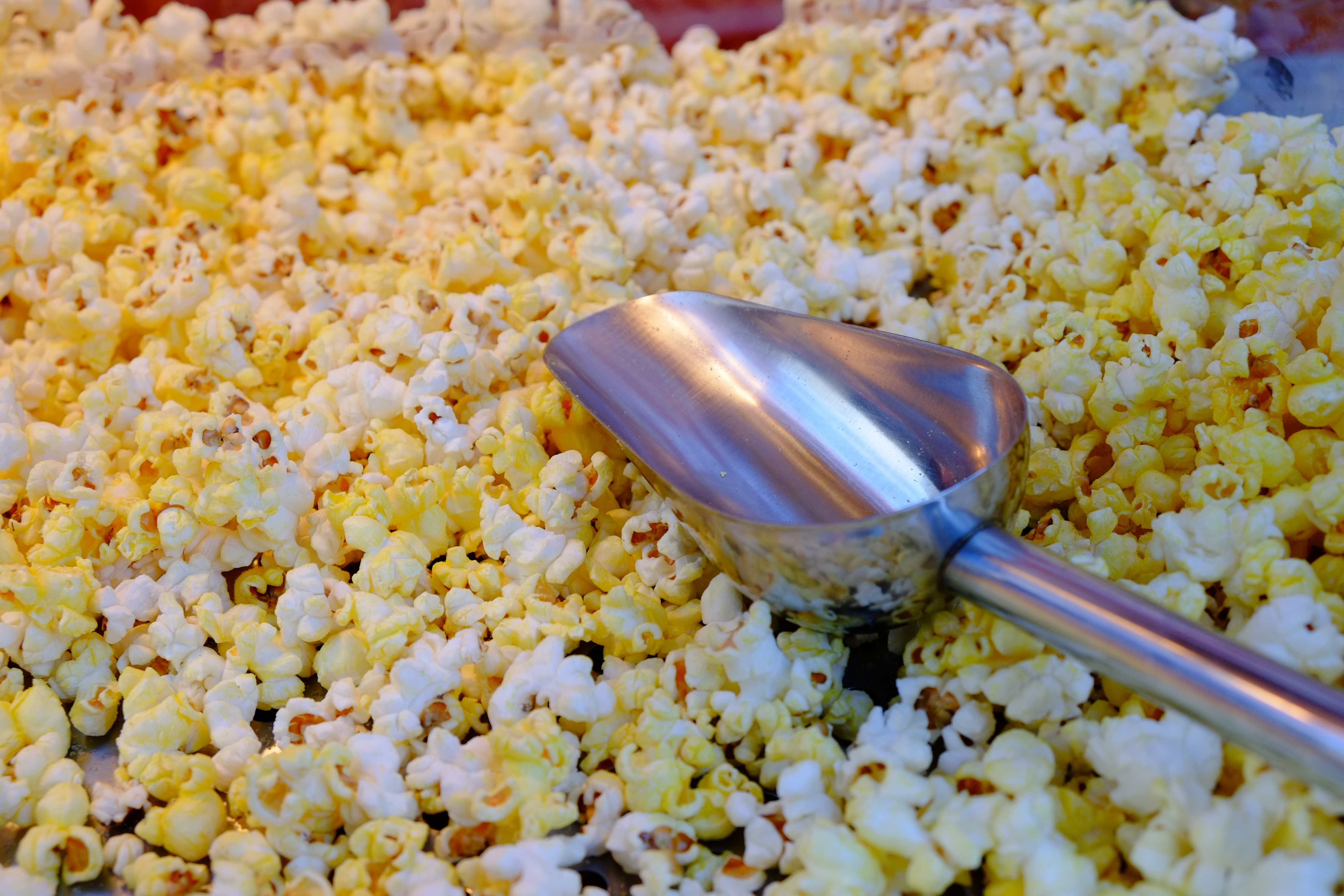 Again the serve yourself option was a hit with the kids.  Don't be fooled though, I had my eagle eye on excesses! lol  I gave the kids retro popcorn boxes to fill and take back to the movie.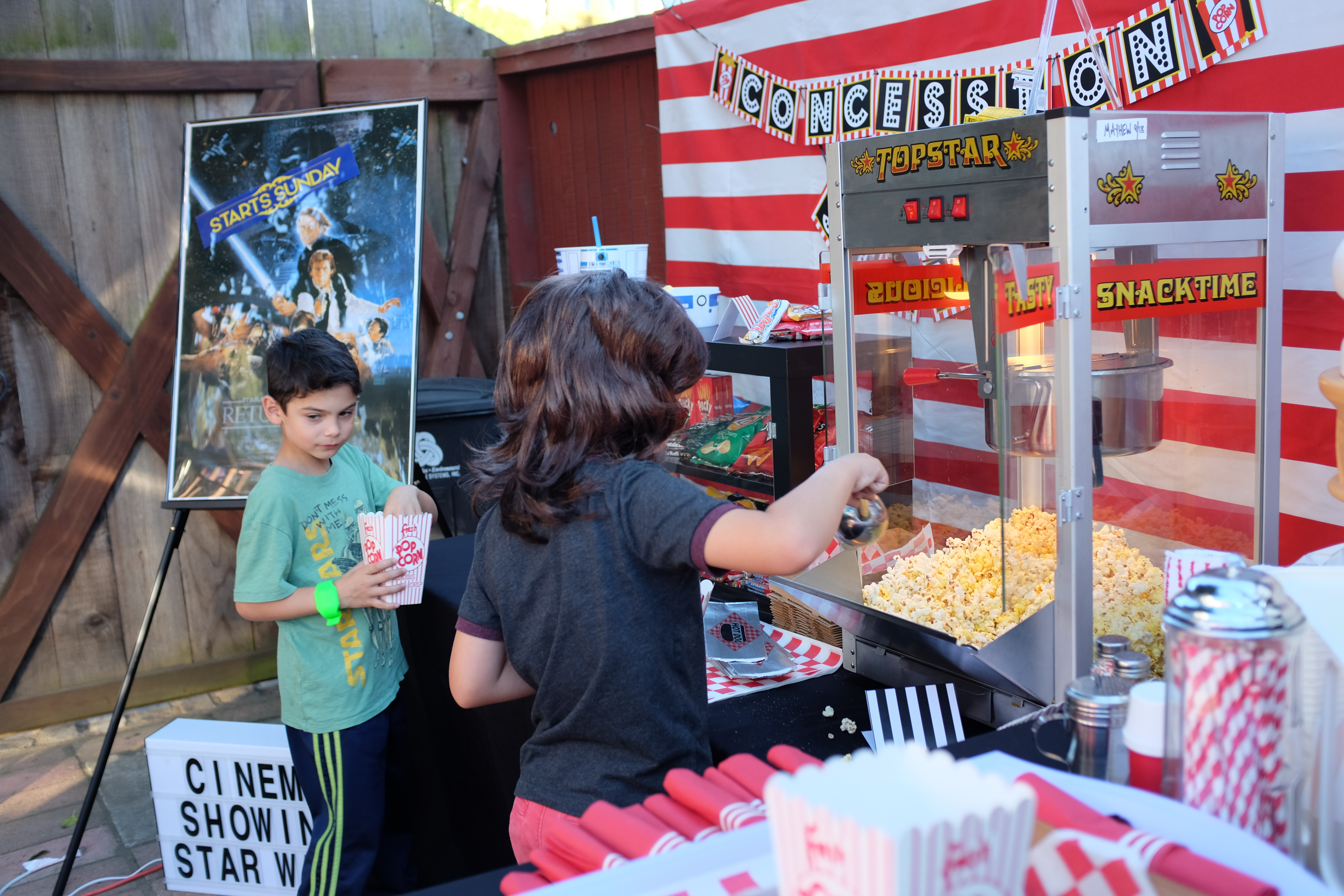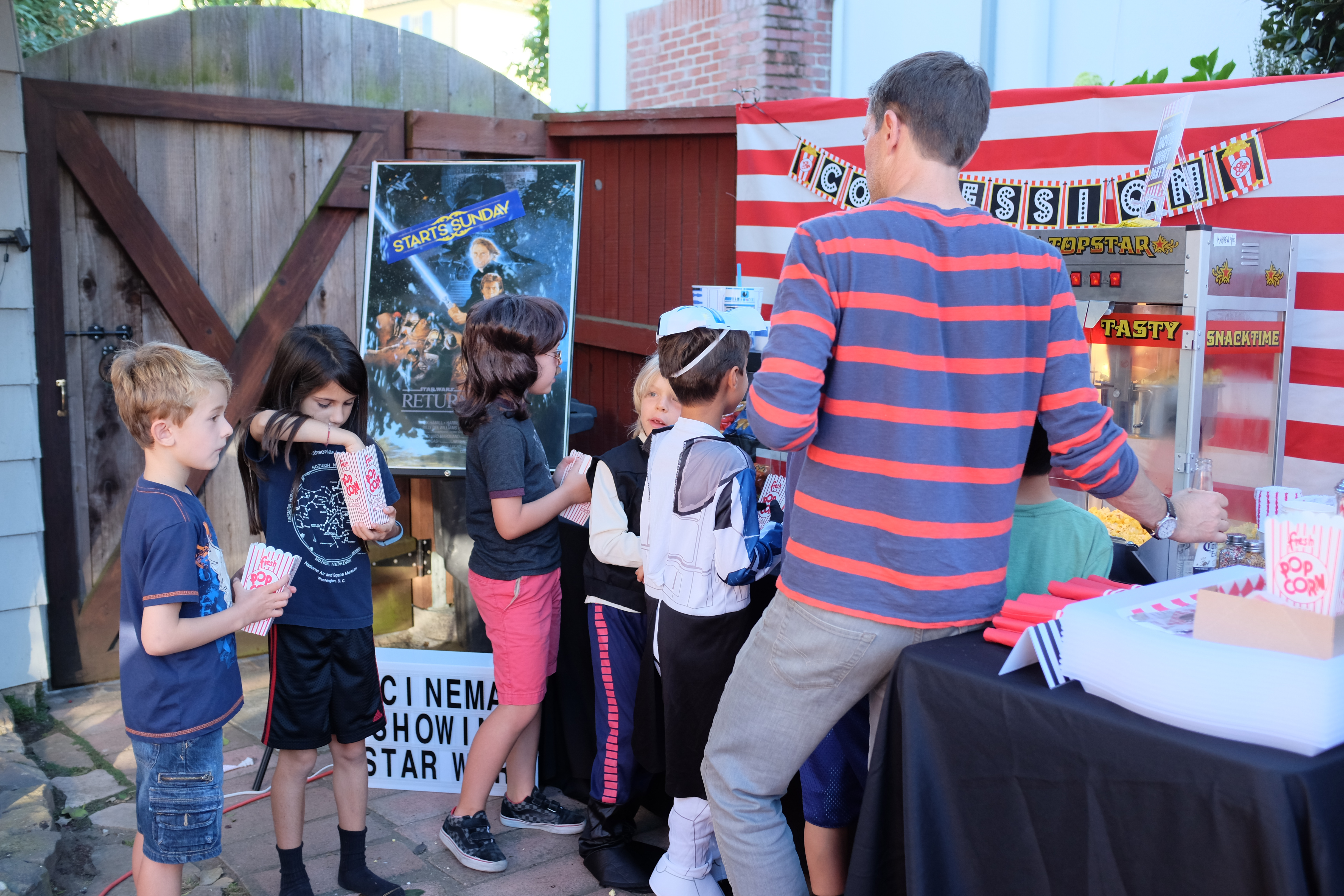 Eating in front of a movie is a special treat at our house.  I figured other kids would be very similar, this inspired the purchase of white canteen trays. This made it super easy for the kids to get their food and sit and eat it in front of the movie.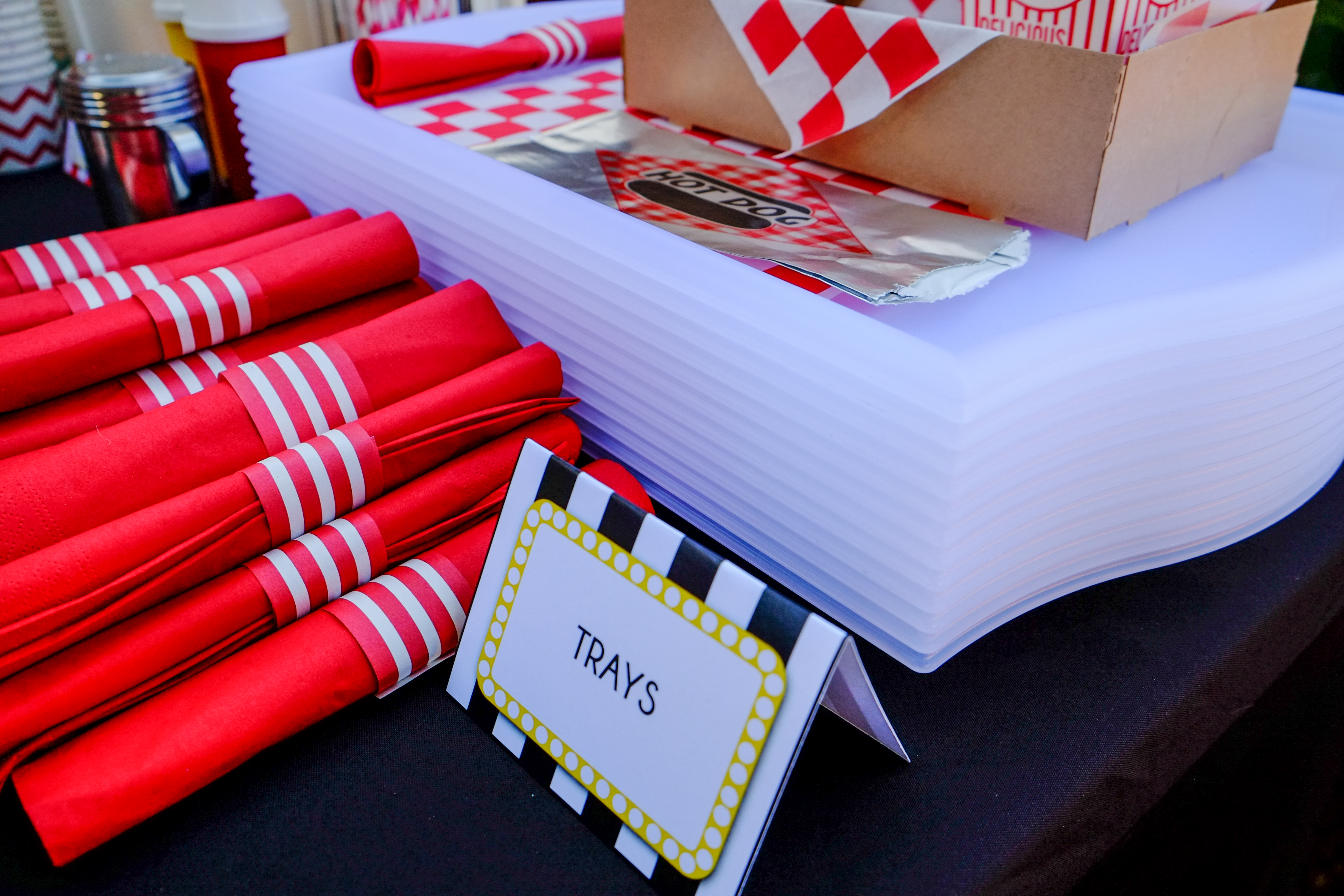 I doubled down on the retro food accents to get a total movie vibe reminiscent of Star Wars screenings from the Harrison Ford era! Red & white all the way…check wax liners for the trays and foil hot dog wraps.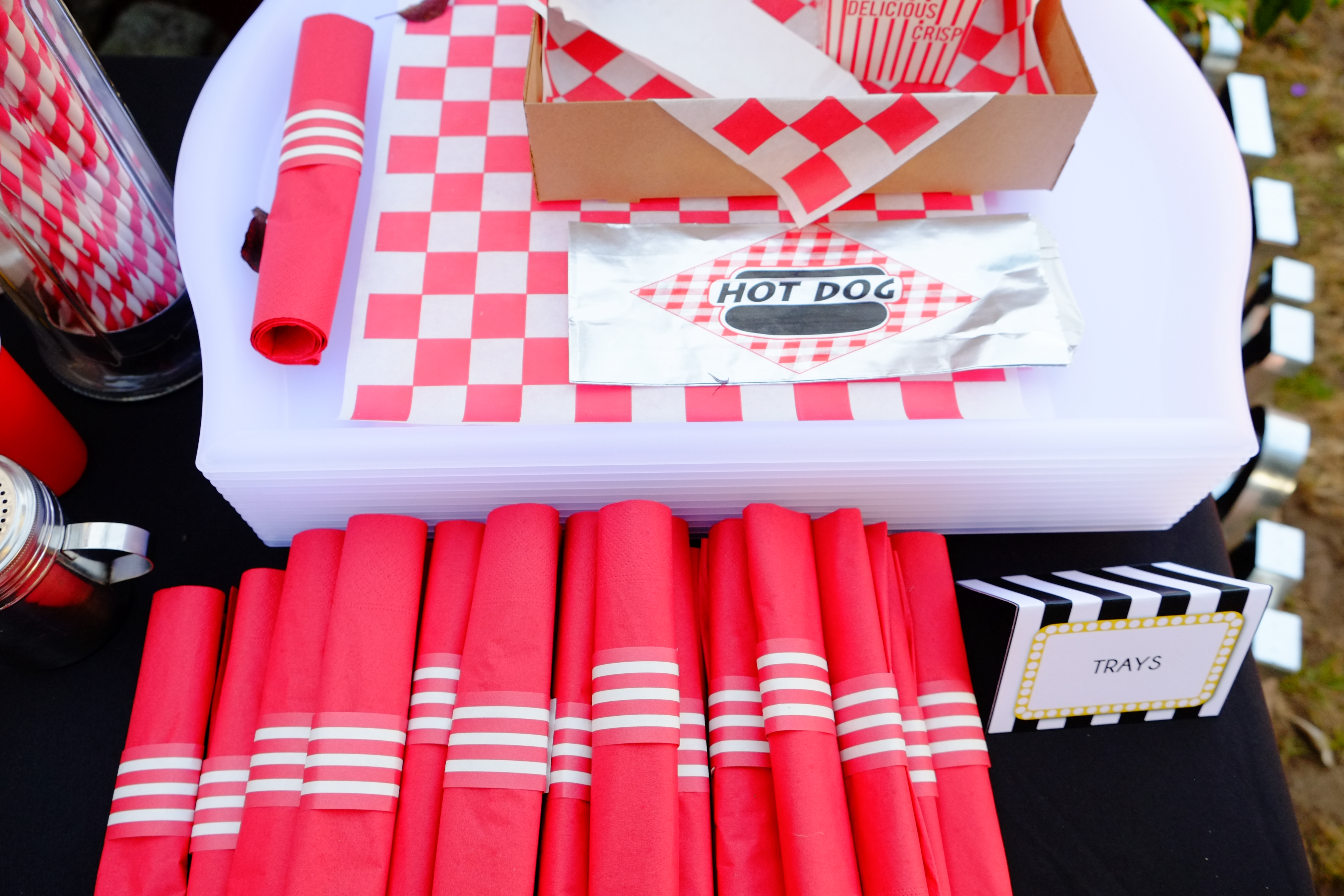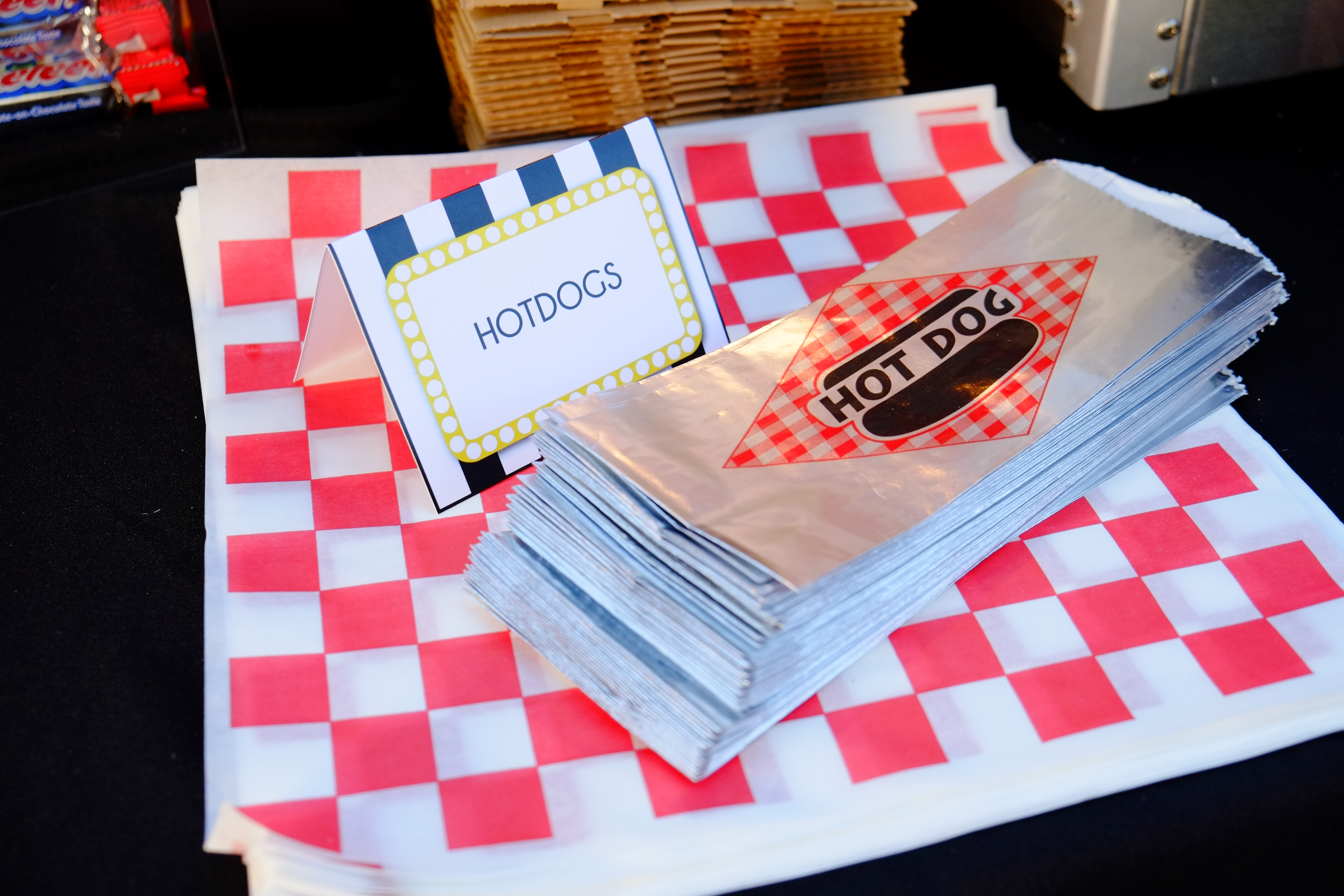 Condiments for hot dogs and ice cream after the movie were all served in retro containers.  Fun chevrons and stripes make the DIY Movie Night Concession Stand pop!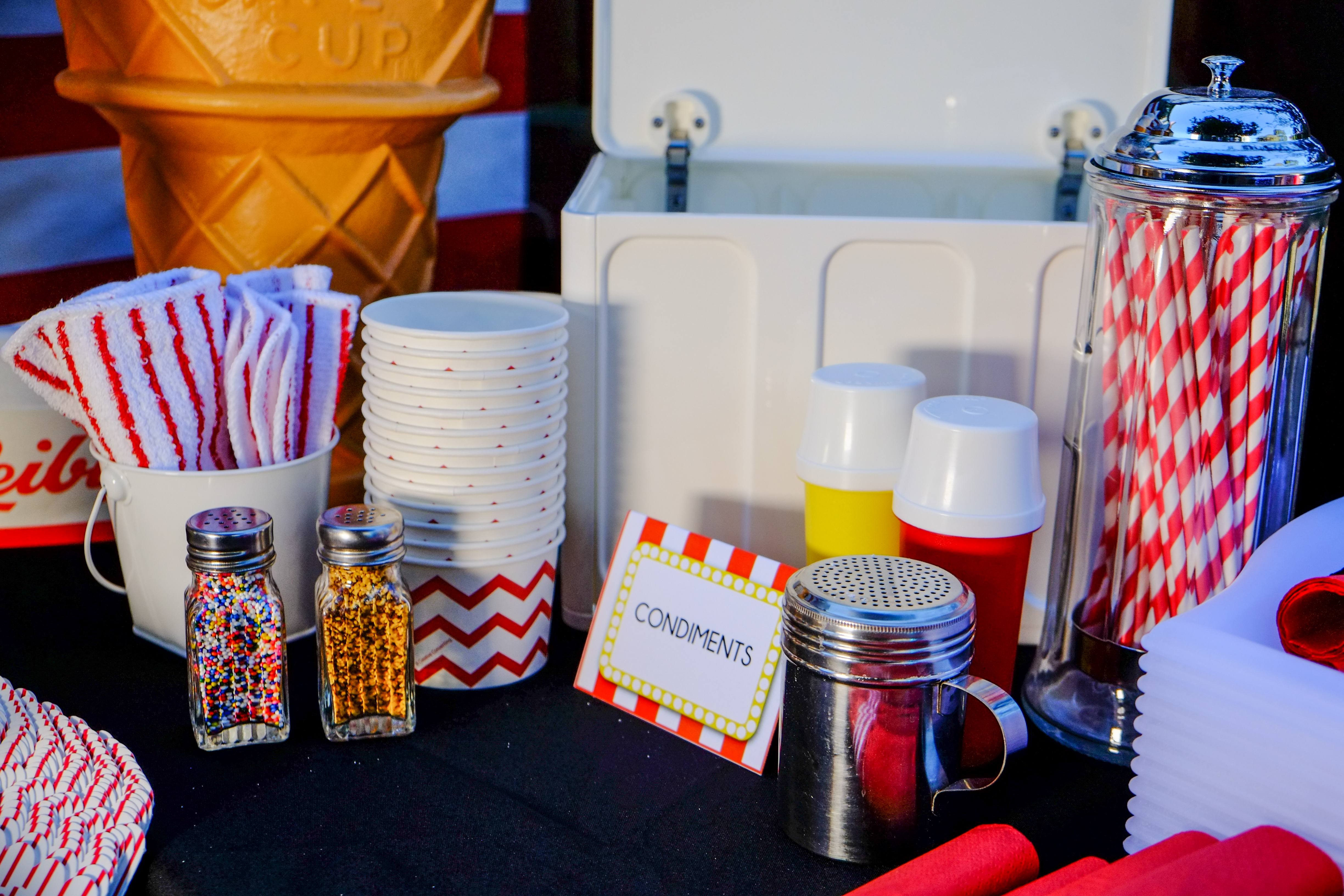 Those toothless grins make it all worthwhile…this is my son Harrison, Harrison Ford is his namesake!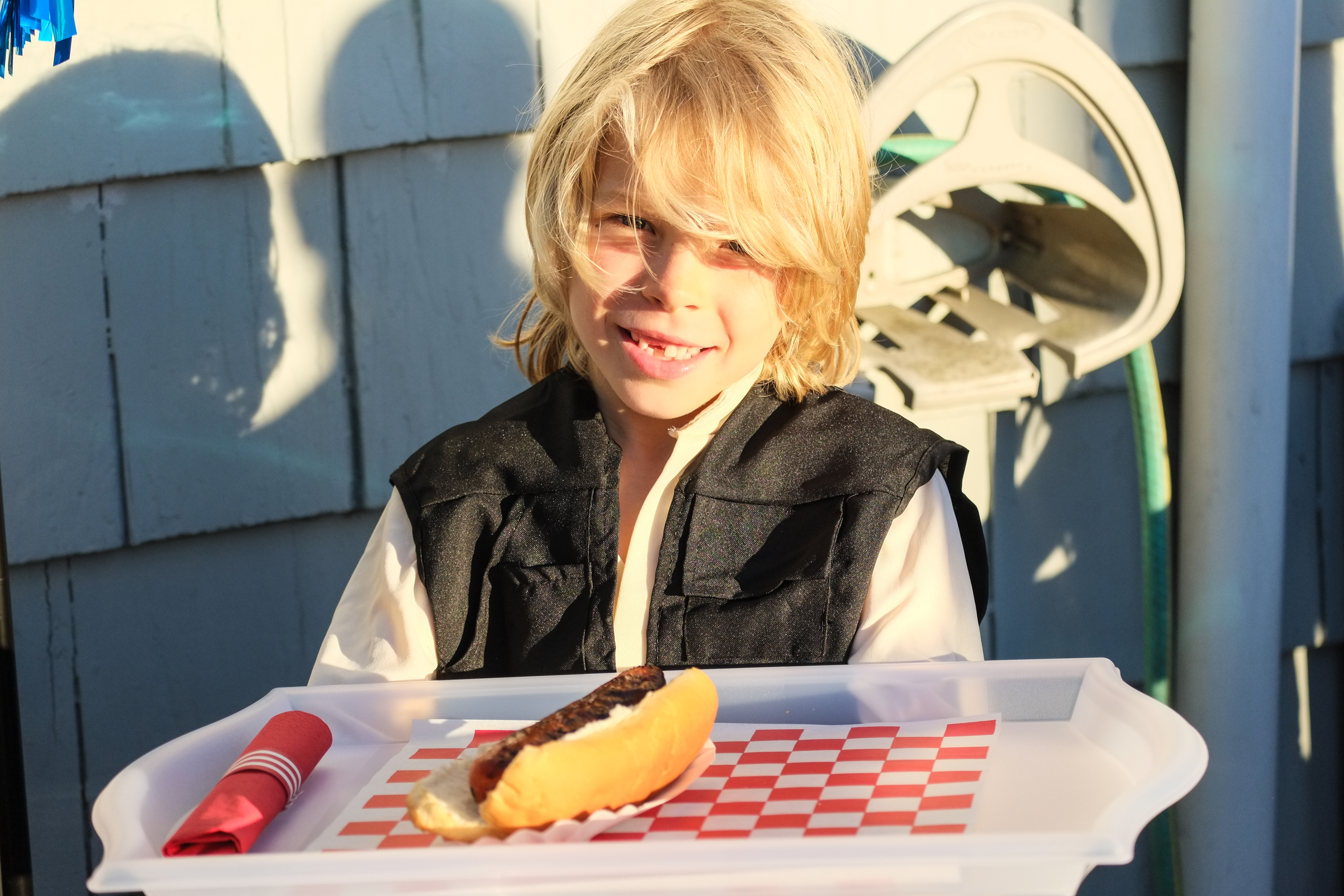 The trays and comfy eating was a hit.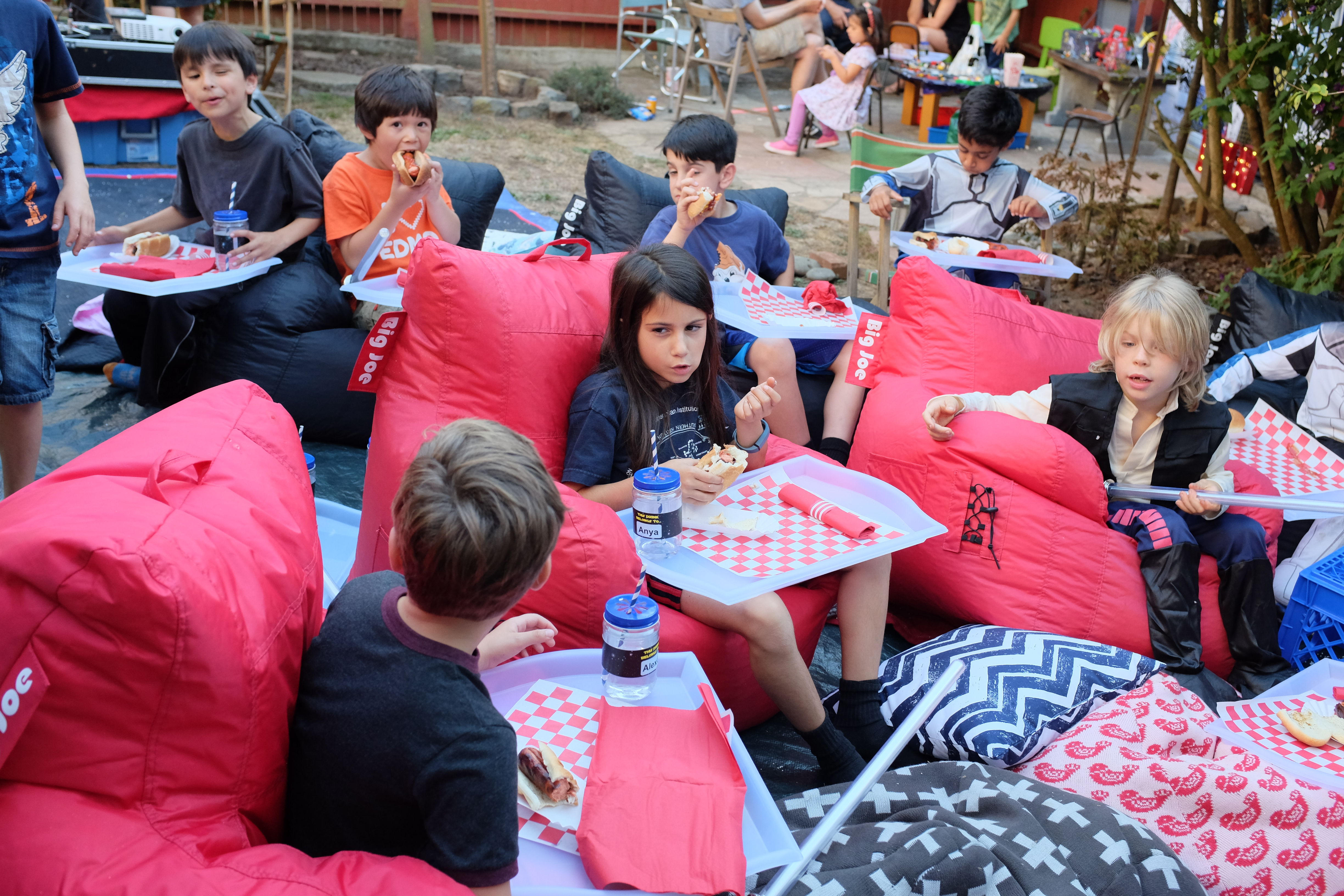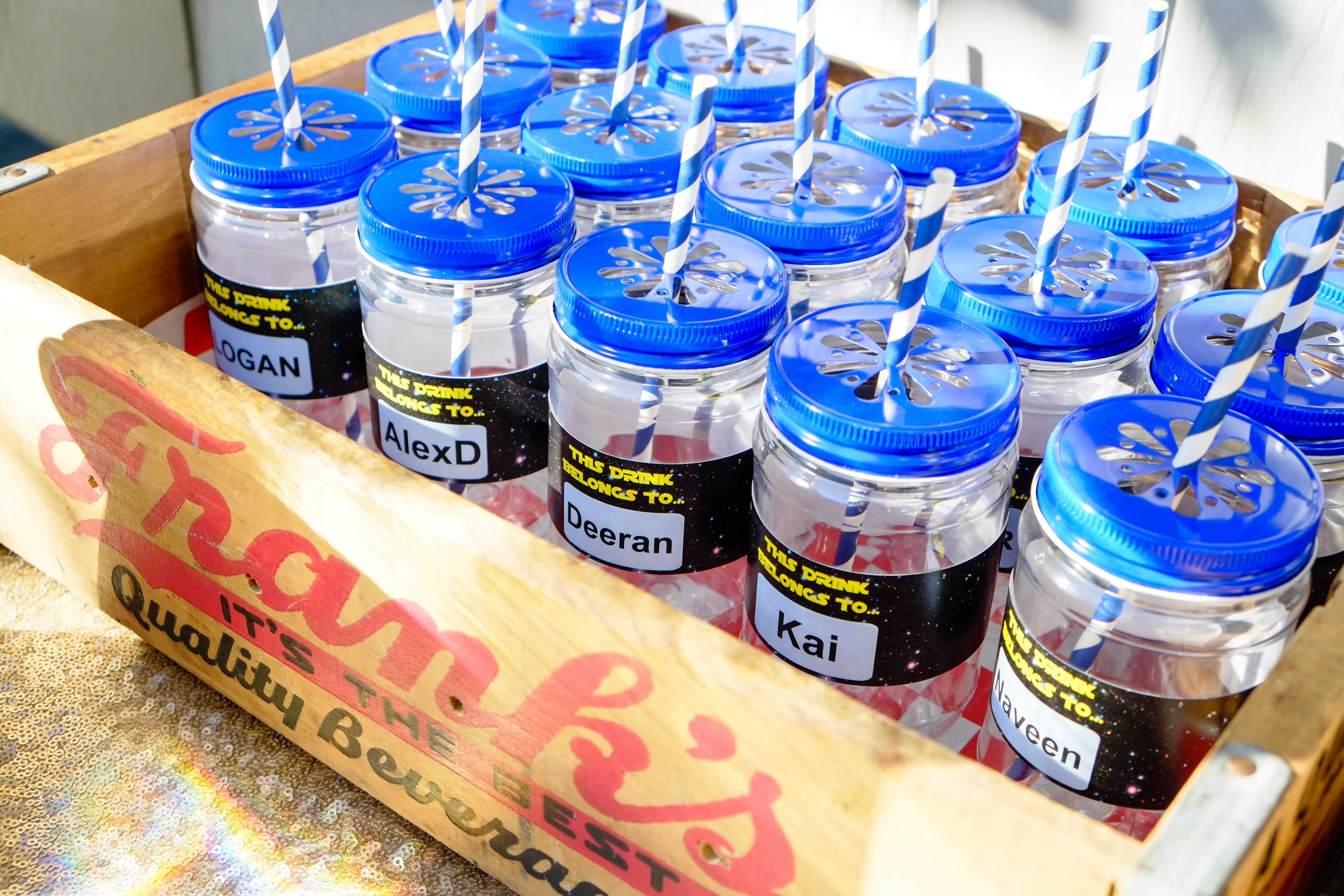 The great thing about this DIY Movie Night Concession Stand is it is available throughout the evening and looks even better as night falls.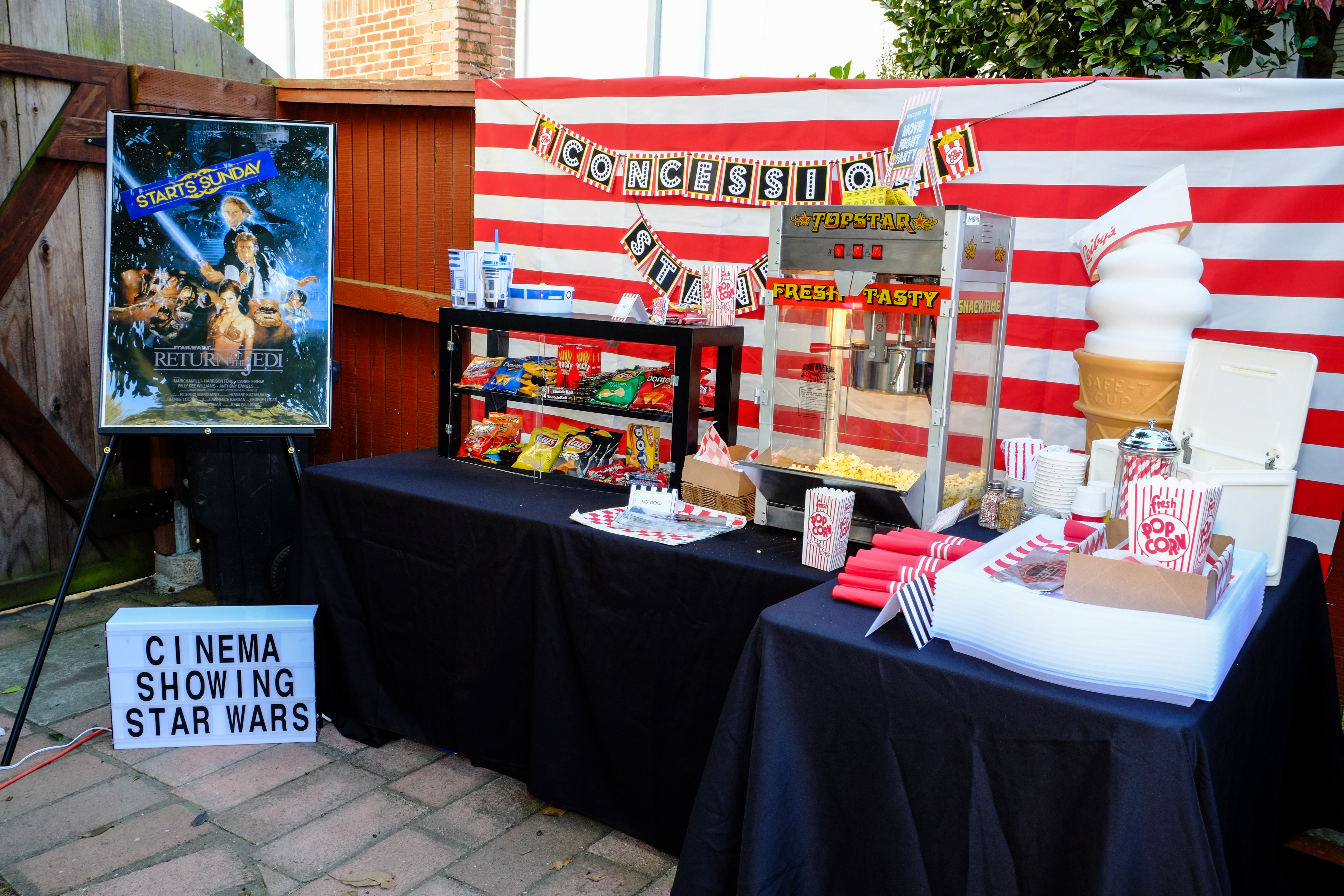 The gentle hum of the popcorn machine as it lights up the DIY Movie Night Concession Stand.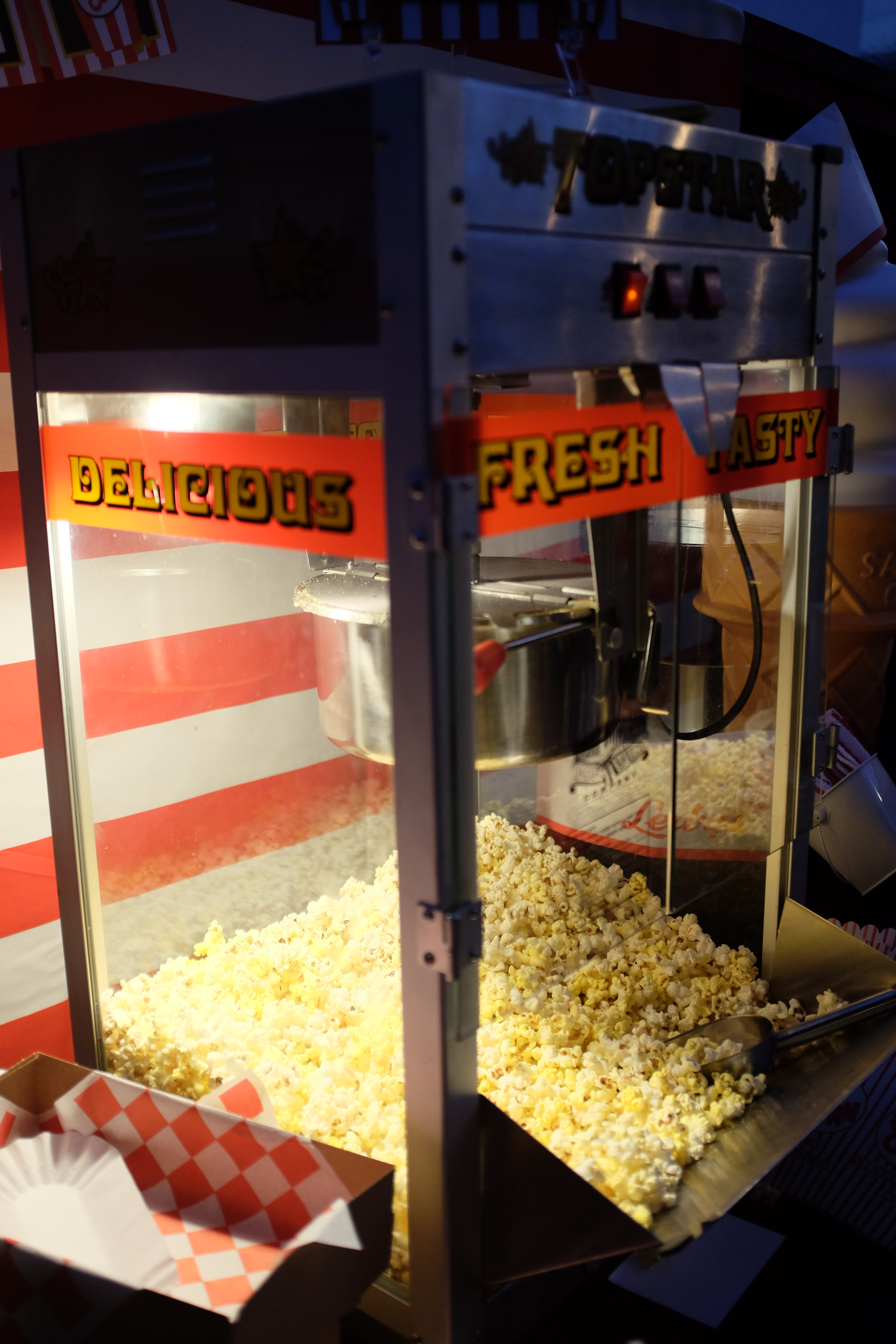 Marquee MOVIE lights guide the way so kids can make their way back and forth to the DIY Movie Night Concession Stand. No one wants to miss out on the ice cream!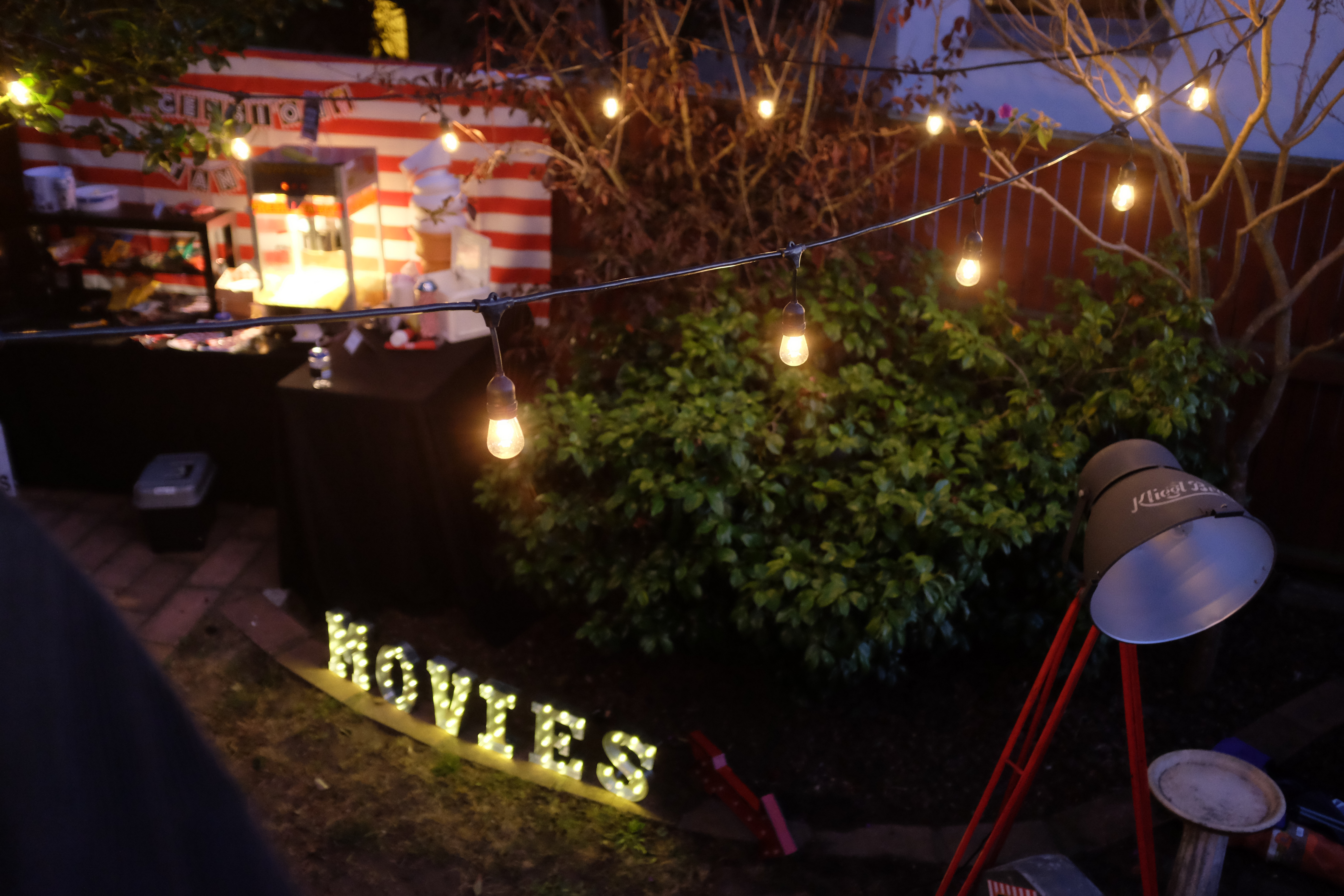 Now that the lights are low let's turn to the darkside and get this movie started.  For more outdoor movie night ideas and inspiration be sure to check out these fun Star Wars™ movie night activities.
PIN LATER: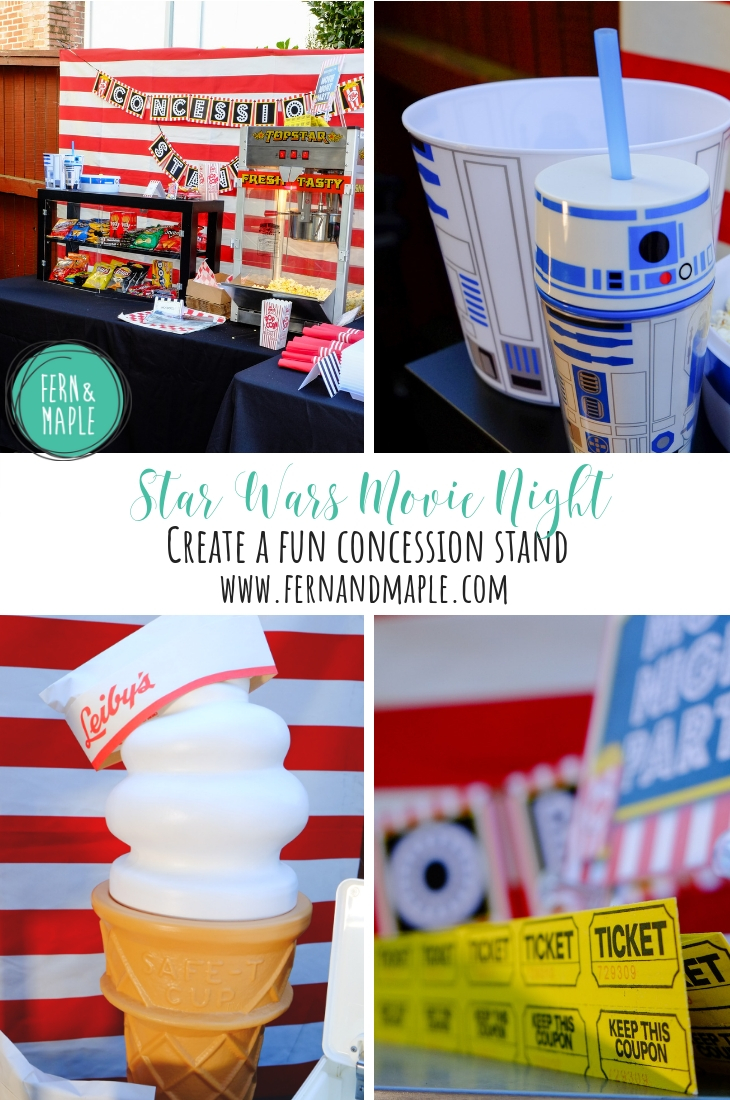 Photography – Ike Shin Photography
Happy Partying!