Hands up if you are a Star Wars™ fan.  Our home is well and truly a Star Wars™ fan base! So much so that we named our son Harrison after Harrison Ford.
Luckily Harrison himself also loves Star Wars™ and the fact that Hans Solo is his namesake.  He had been asking us for a long time if he could have a Star Wars™ themed birthday party.
So, with his seventh birthday approaching, I knew an outdoor movie theatre screening of his favorite movie would be perfect.  Star Wars™ Under the Stars!  A movie night for his friends and their parents that delivered the whole movie experience, big screen, big sound and yummy snacks.
Did I mention we were crazy enough to have all 12 kids sleep over after the movie?! LOL.  Keeping them outside as long as possible was perfect!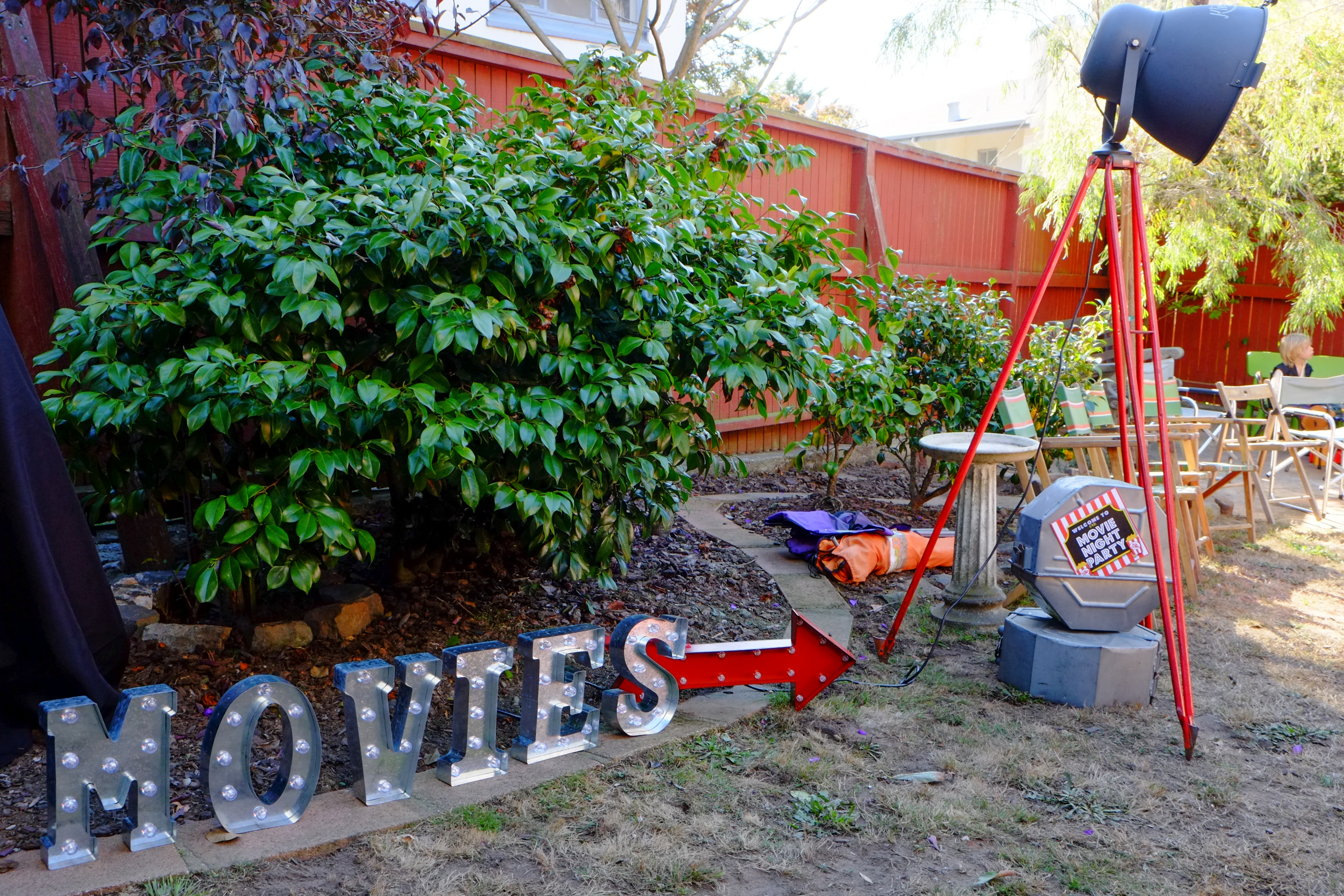 We were lucky to have a beautiful San Francisco warm evening for the party. I set the scene with MOVIE marquee lights and a marquee arrow to direct guests to the big screen. I used a vintage cinema light to light up the "movie theatre" and vintage movie reel containers in a stack for the welcome signage.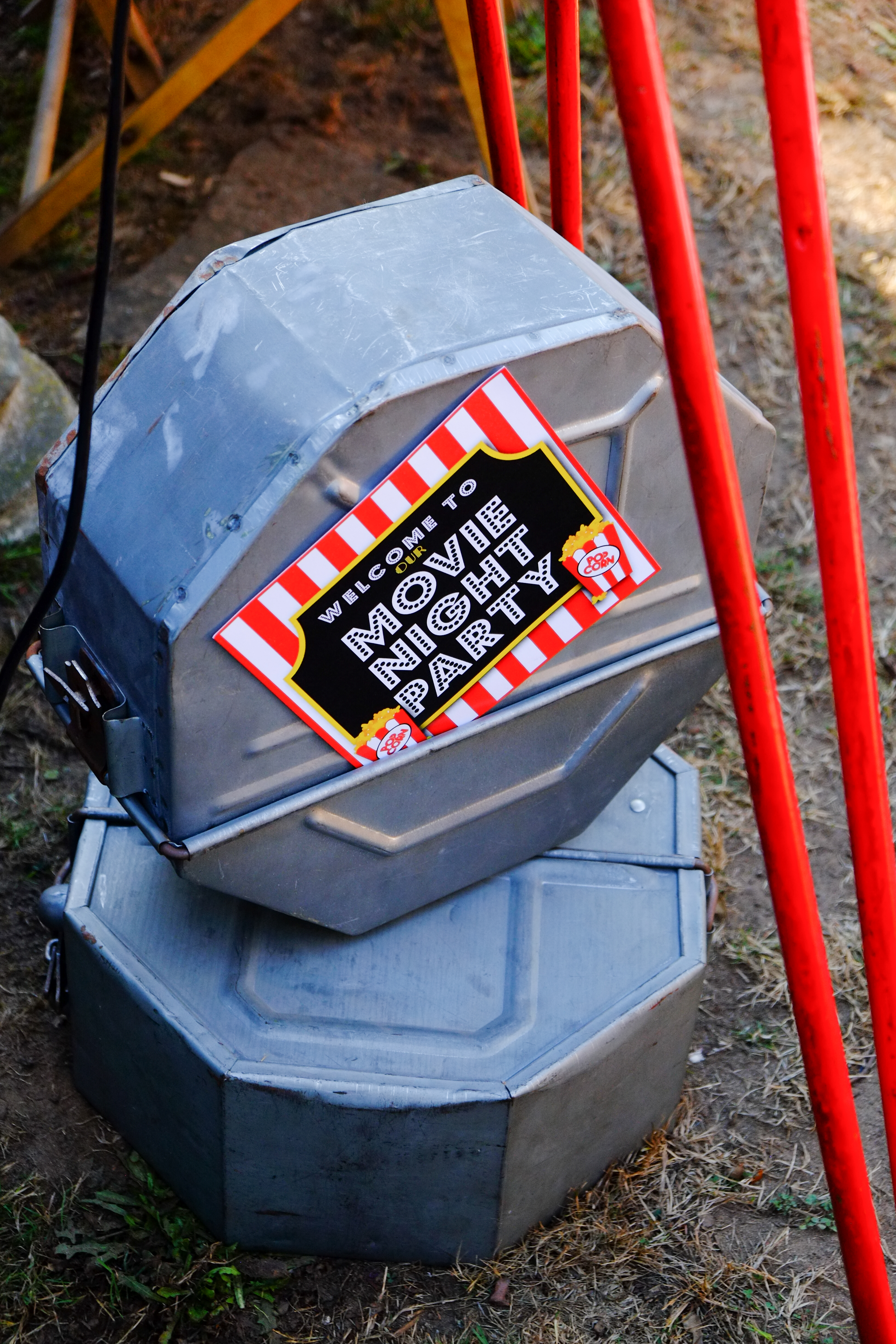 A basket of fleece throws from Ikea were ready and waiting in case the air turned chilly as the sun went down.
To immerse the kids in the experience from the beginning we had them arrive through a special entrance where we had a 70's star wars era style marquee cinema printable printed. Harrison's own family name was used as for the advertising of the film premiere. Movie posters showing Star Wars™ and the other trilogy movies were used as billboards that lined the entrance way.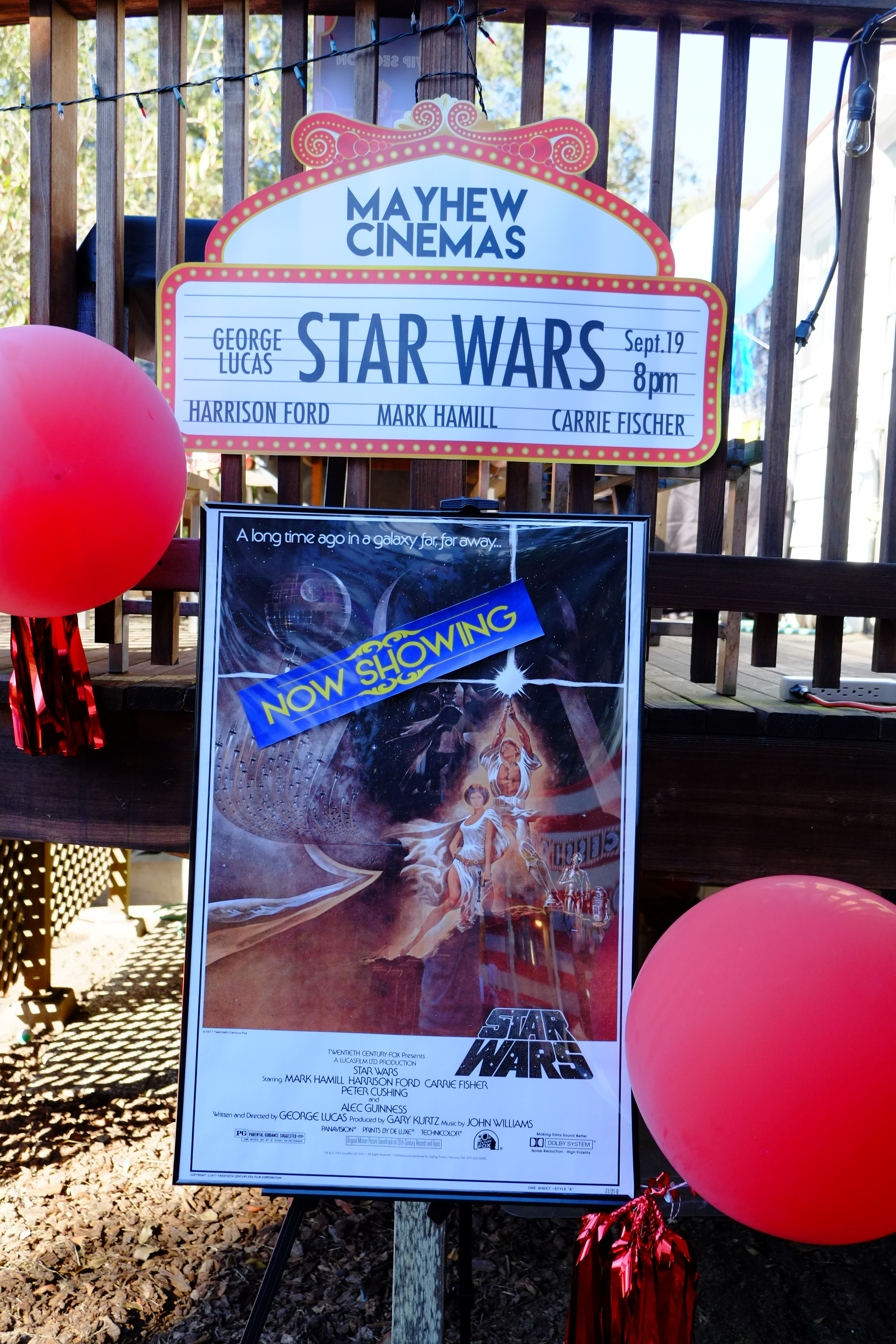 The kids loved walking in across a walk of fame that had their names.  My friend Elena of World Wide Party made these for me and I taped them to our deck.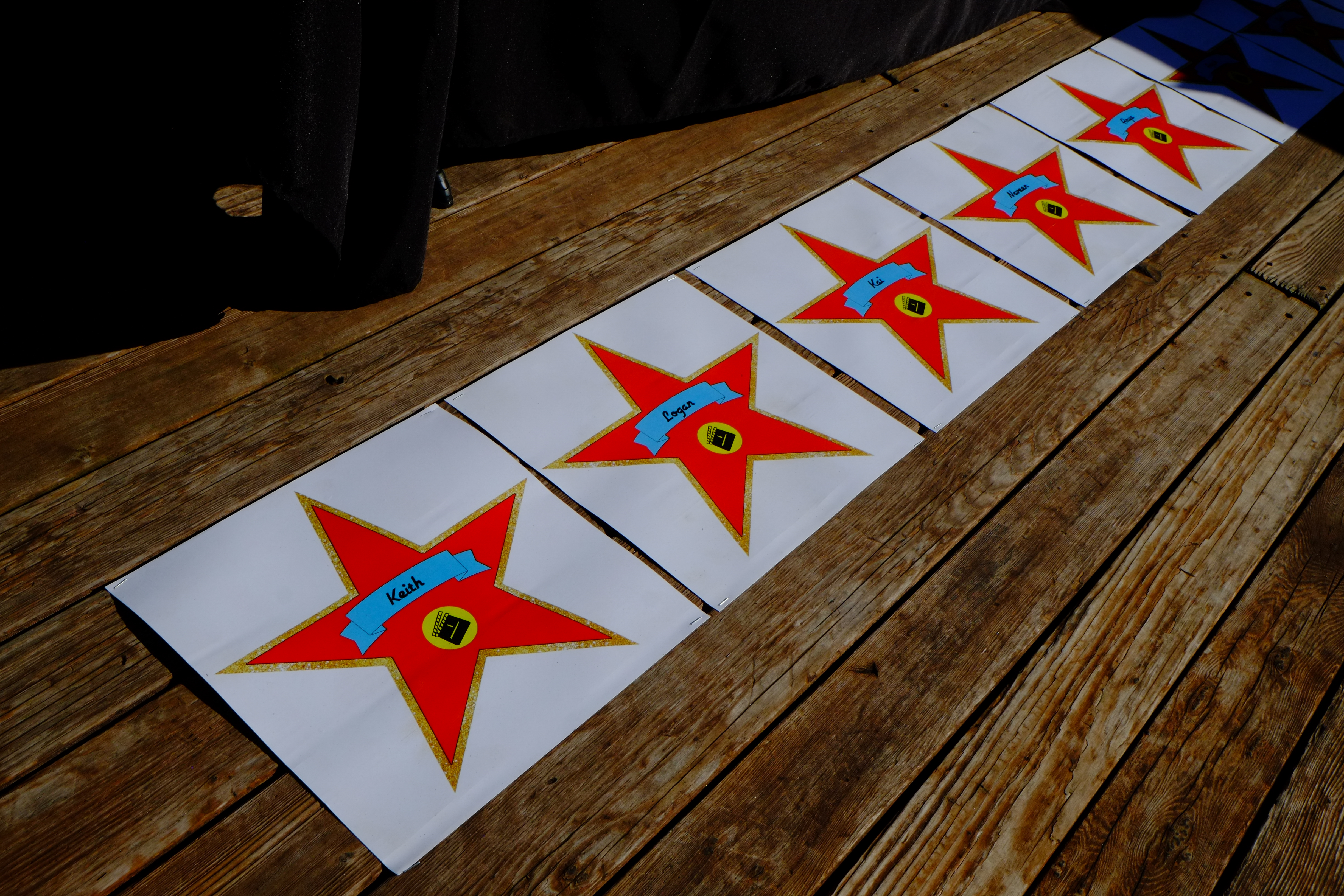 They grabbed a ticket as they came in and headed to their seats.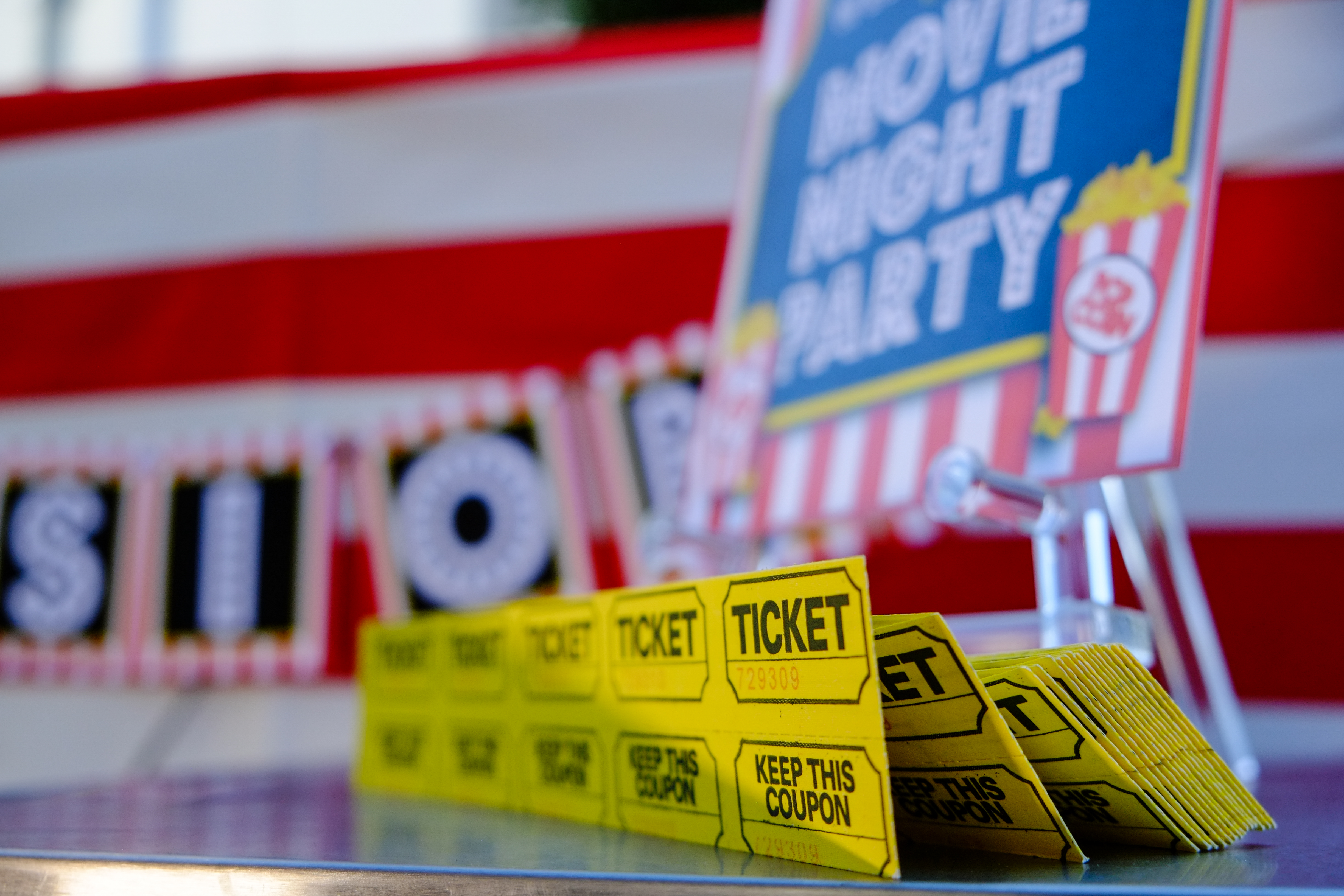 For seating I used Big Joe bean bag seats, cushions and blankets. I set this up in front of a giant inflatable movie screen we rented. So fun! I found a giant light up applause sign at Acme Prop Rental (a large movie prop rental company in San Francisco). I placed this in front of it and had fun lighting up the applause sign at different times during the movie and getting the kids to cheer.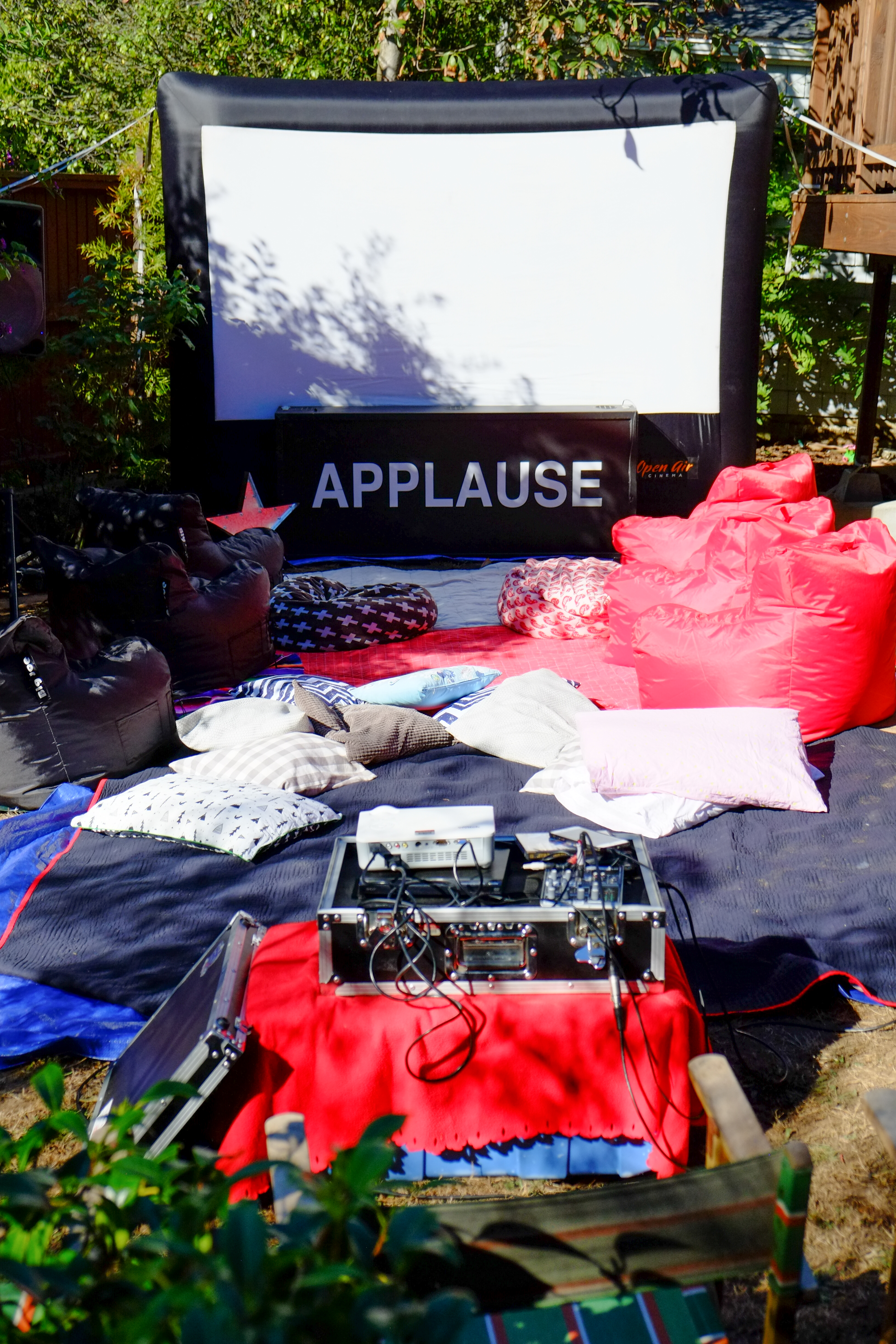 The sibling Princess Lea's had a little too much fun with the bean bags…lol, boom.  One pre-movie explosion!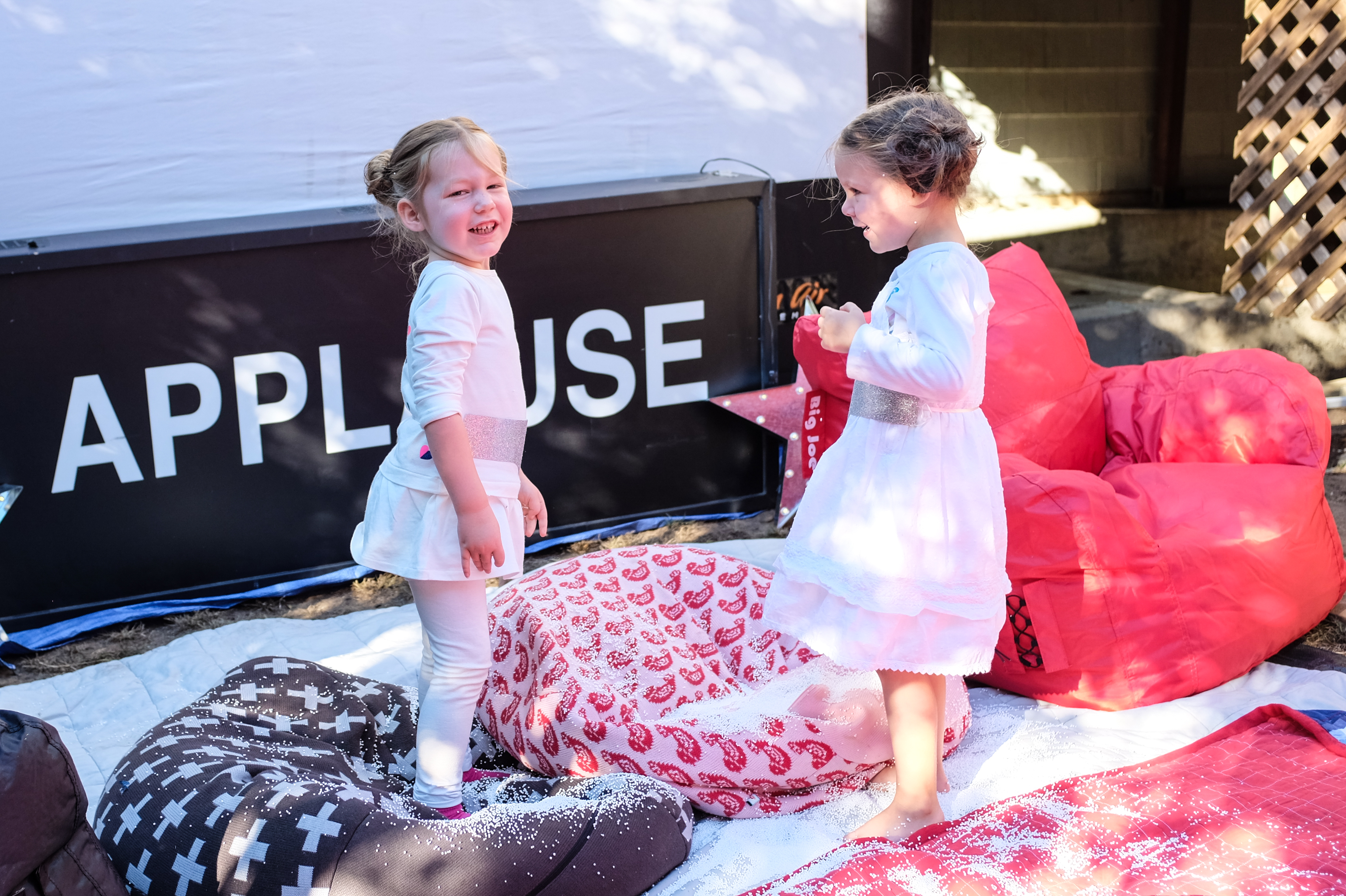 The kids were able to eat and fight with light sabers during the movie.  My favorite part of an outdoor movie night, the mess is all outside!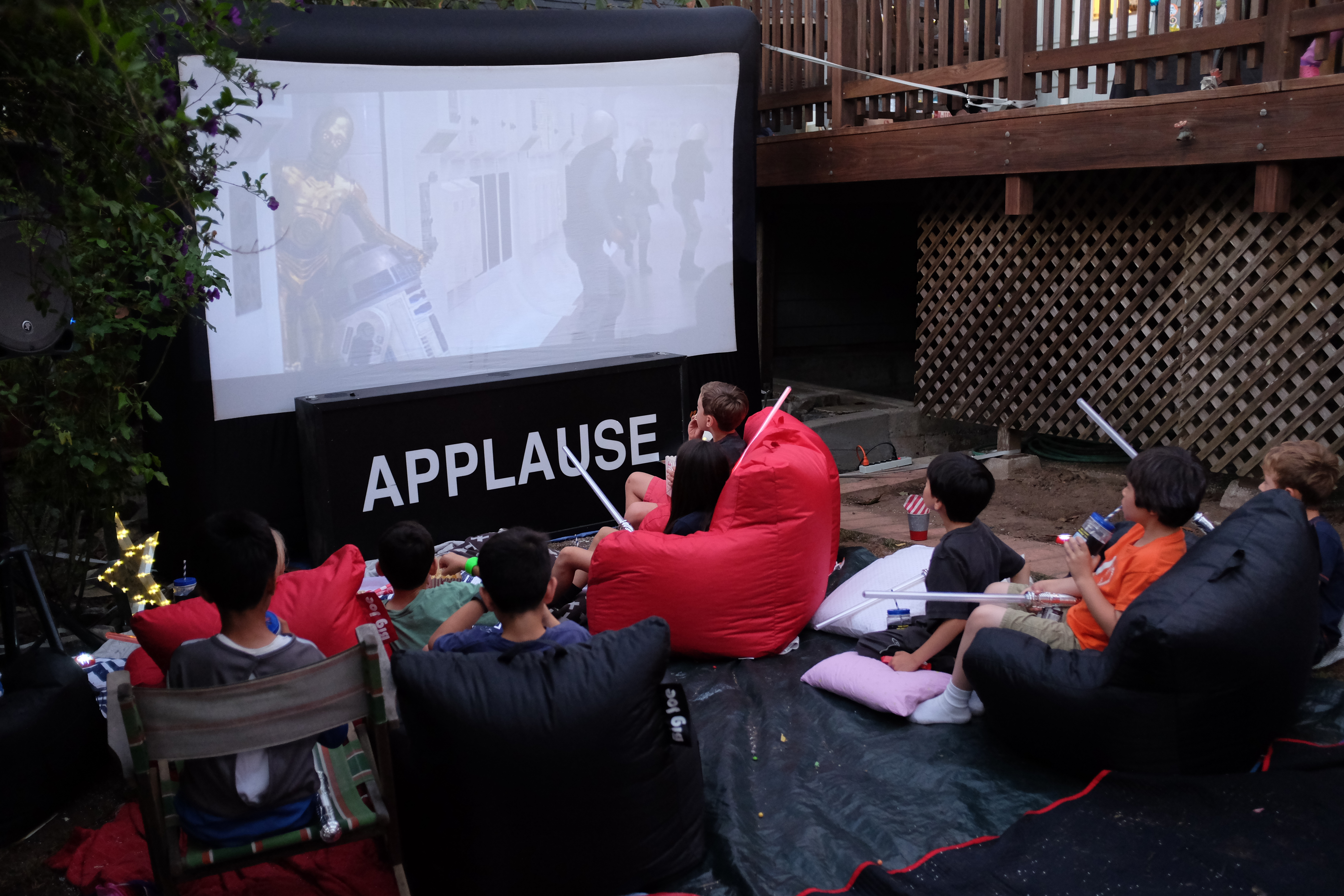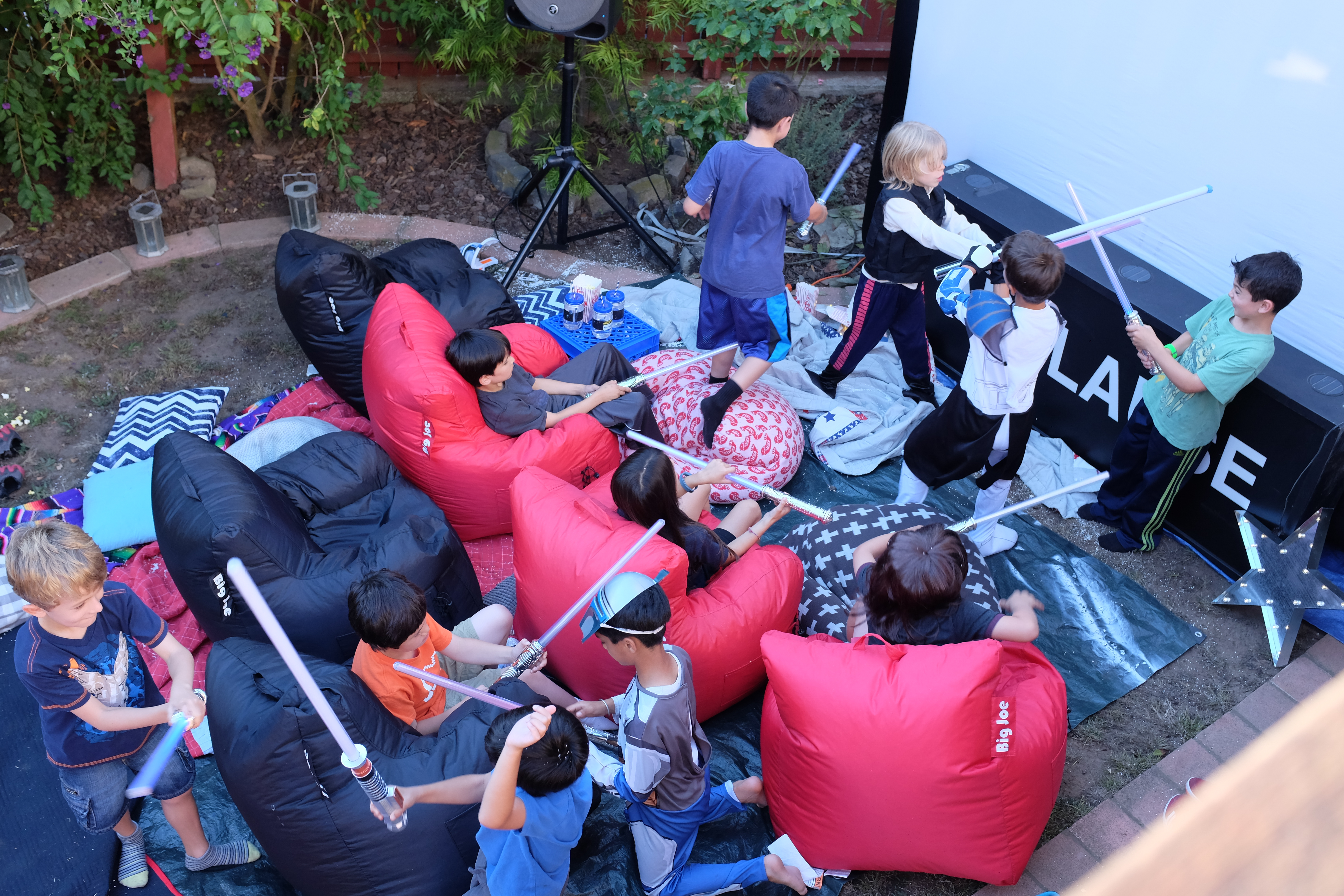 The movie was scheduled to start at sunset, so, to keep the kids busy until then I created a droid and pod racer building station.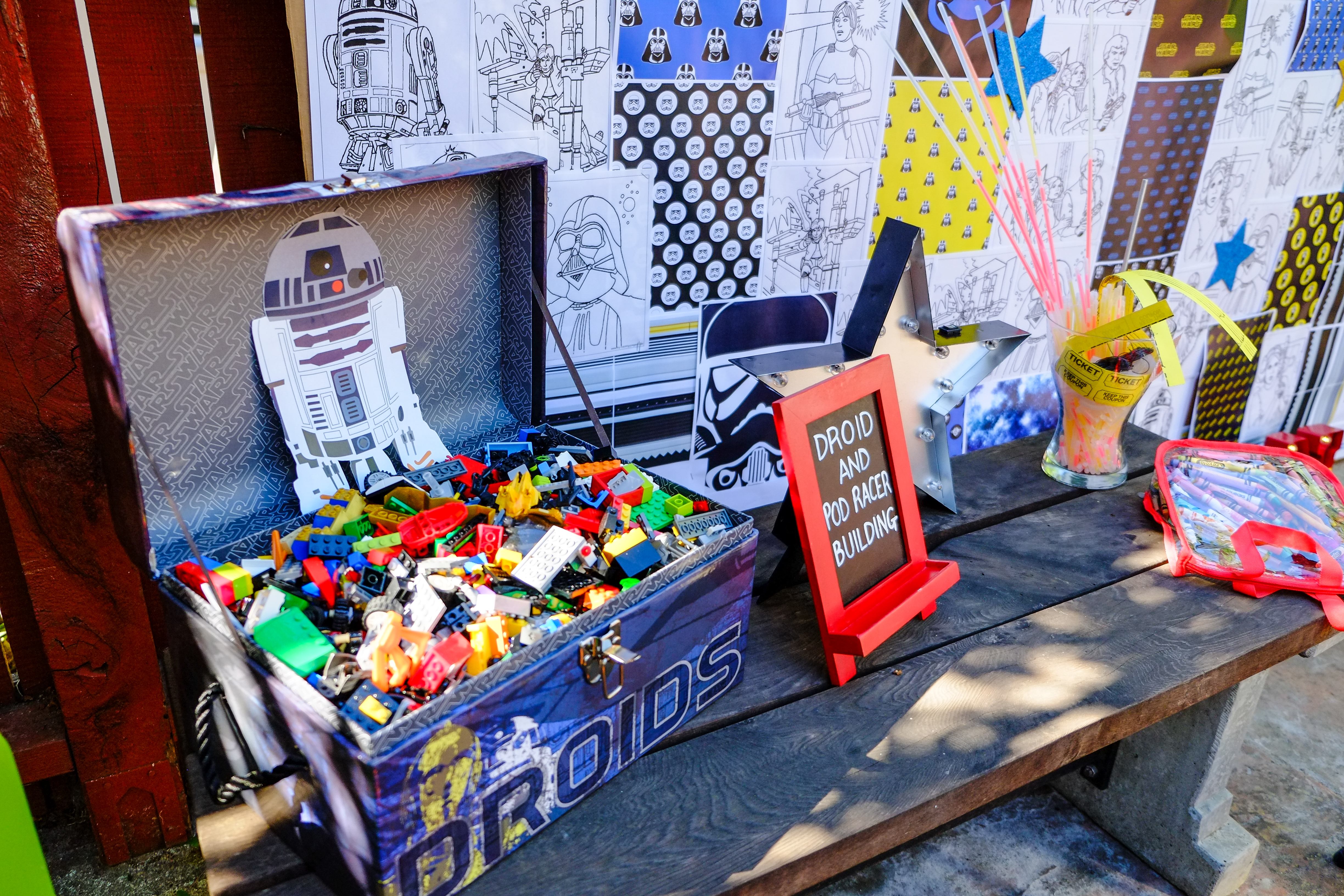 I used an old lego table covered in a star table cover with star wars figures and a silver spray painted mountain glued onto it for them to race around.  We provided a mountain of lego in an R2D2 chest that can be found in Michaels.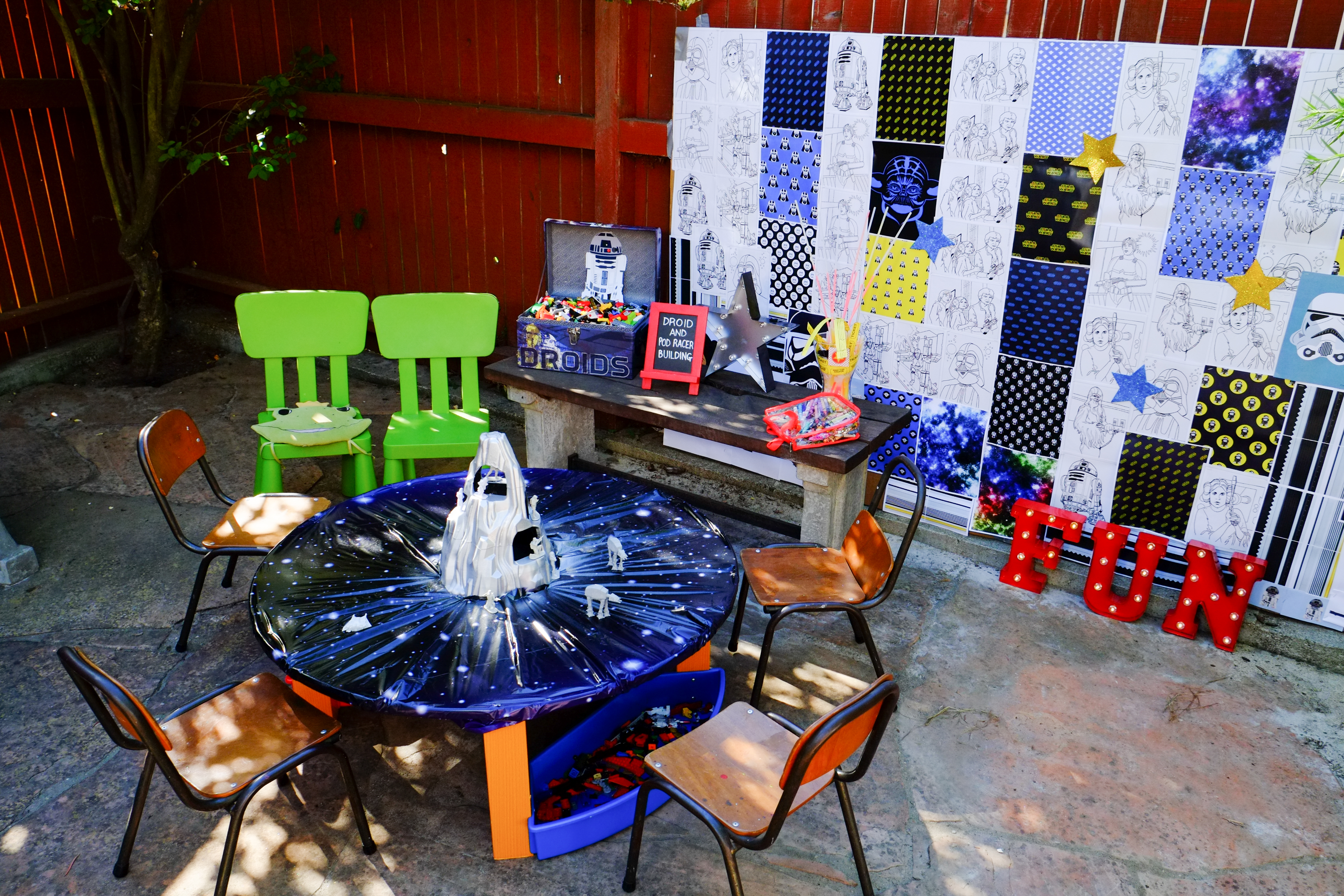 Inspired by Brit & Co: Remake 2015 a giant coloring wall with star wars coloring pages and graphics provided FUN! Get all the details for my fun Star Wars™ party activities for all ages here.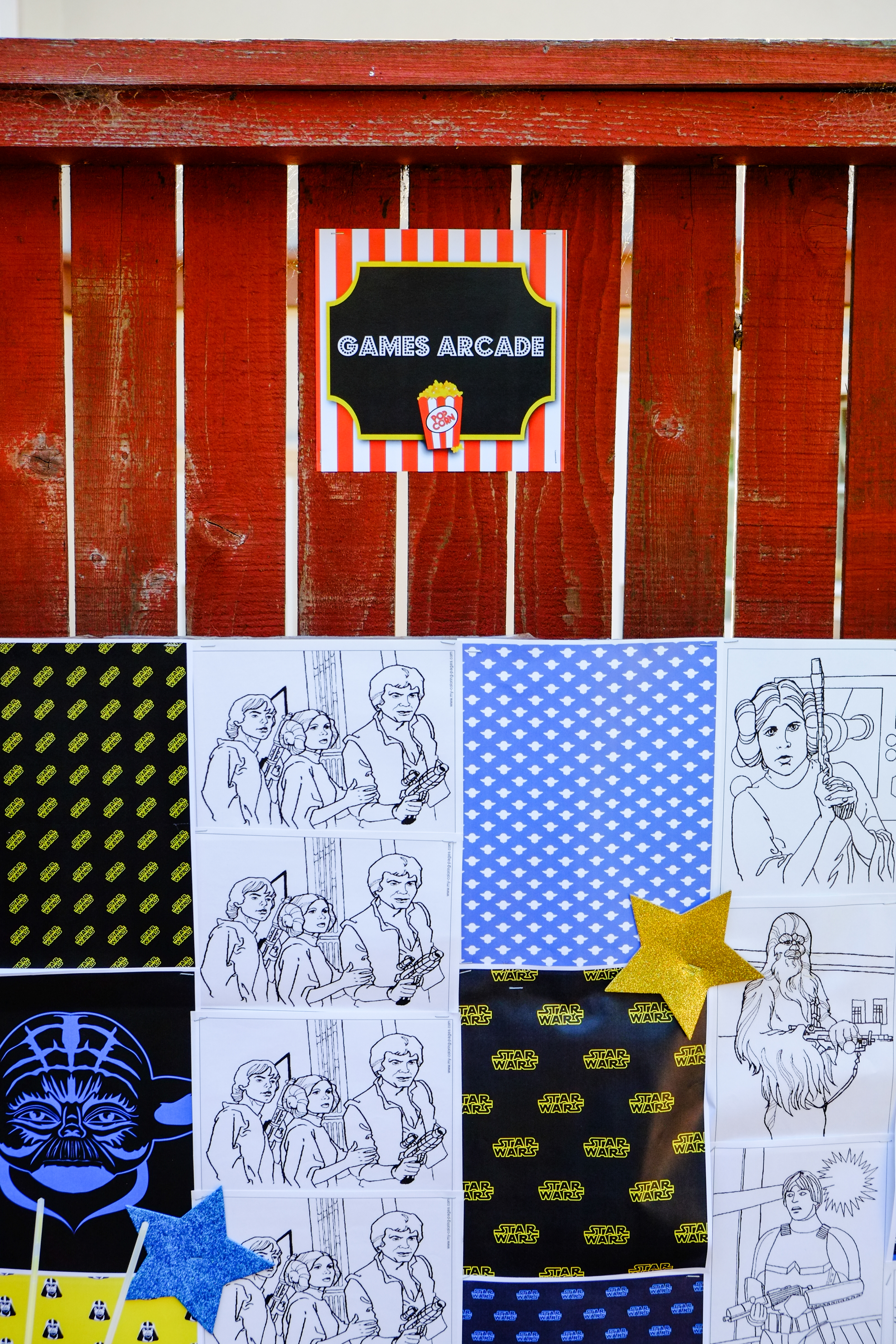 A photo booth with a starry night sky backdrop and hand stitched star garlands also kept the kids entertained. They chose either character props or their own light saber for the pictures and acted out some great battle scenes. My son was Hans Solo and a friend Chewbacca which made for some great action shots. Get all the details for setting up your own Star Wars™ Photobooth here.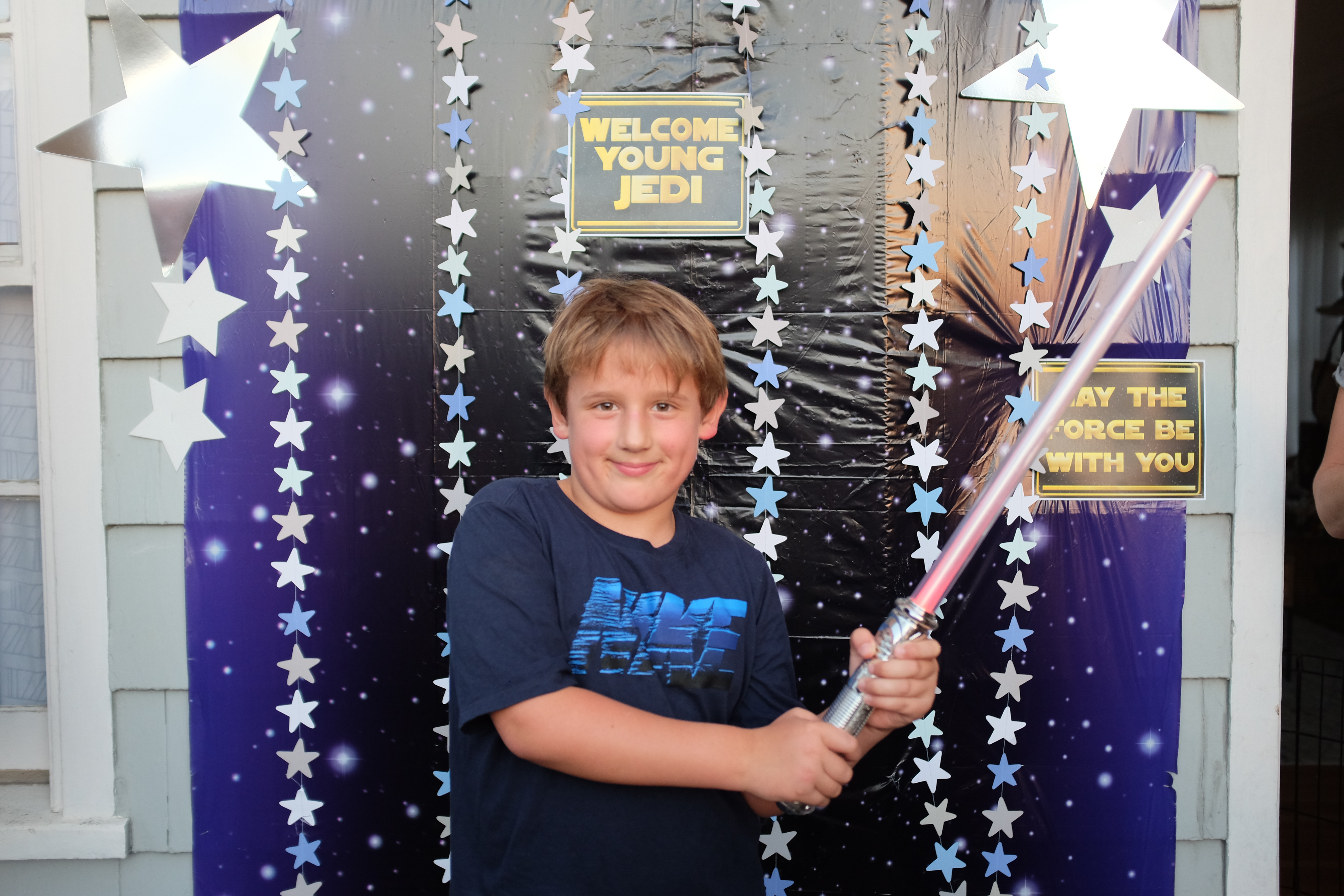 Before the movie started the kids had hotdogs on their own trays and loaded up the trays with hot popcorn and candy from the concessions stand for the movie. Get all the details on creating your own outdoor movie concession stand here.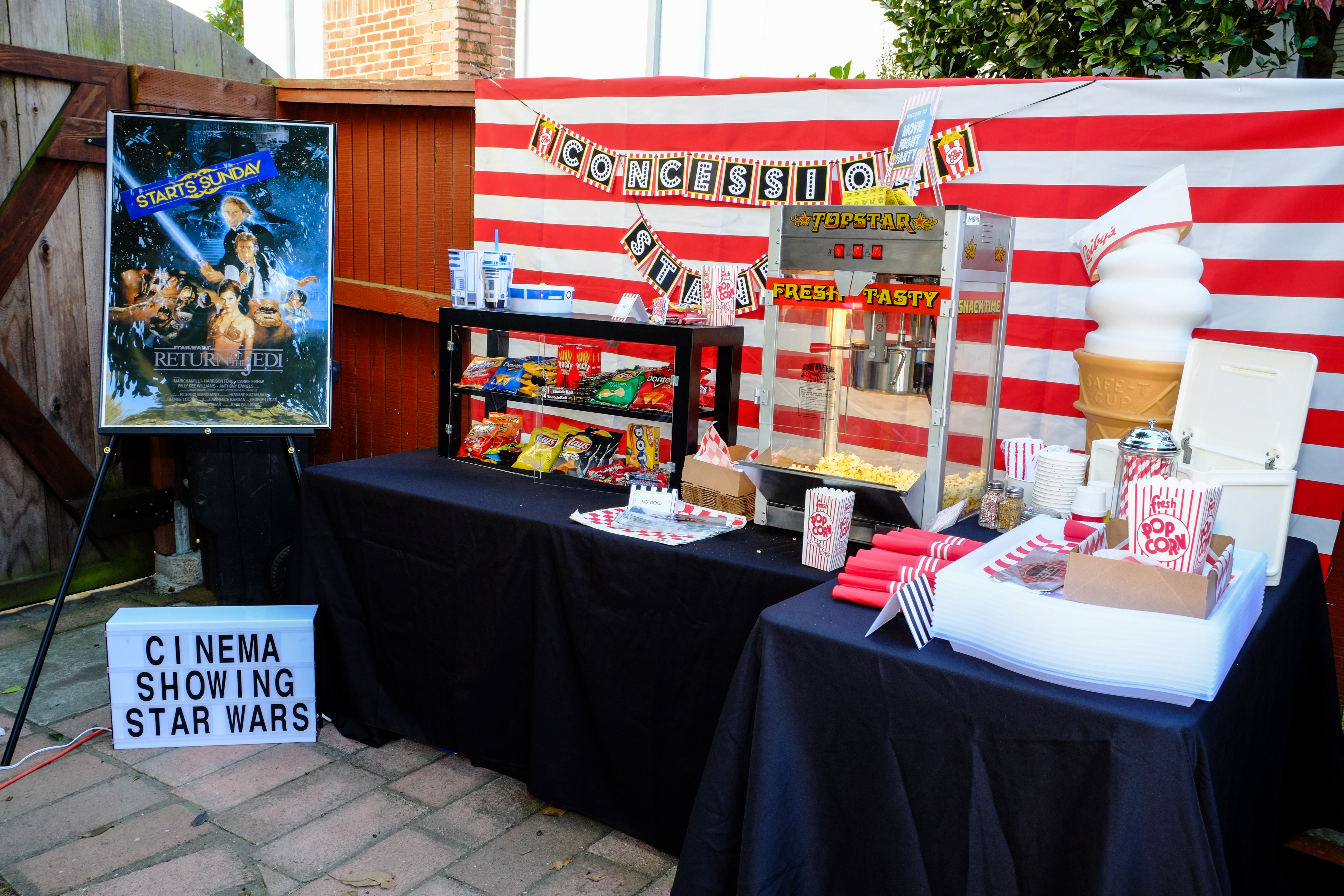 Inspired by a movie "Feature Presentation" the desert table provided the main show. Get all the details for this Star Wars™ Dessert table here, it includes all sorts of themed treats such as Darth Vader & stormtrooper cookies, Yoda and AT-AT cake pops, star wars colored jello cake, candy in character bowls and a battle scene cake.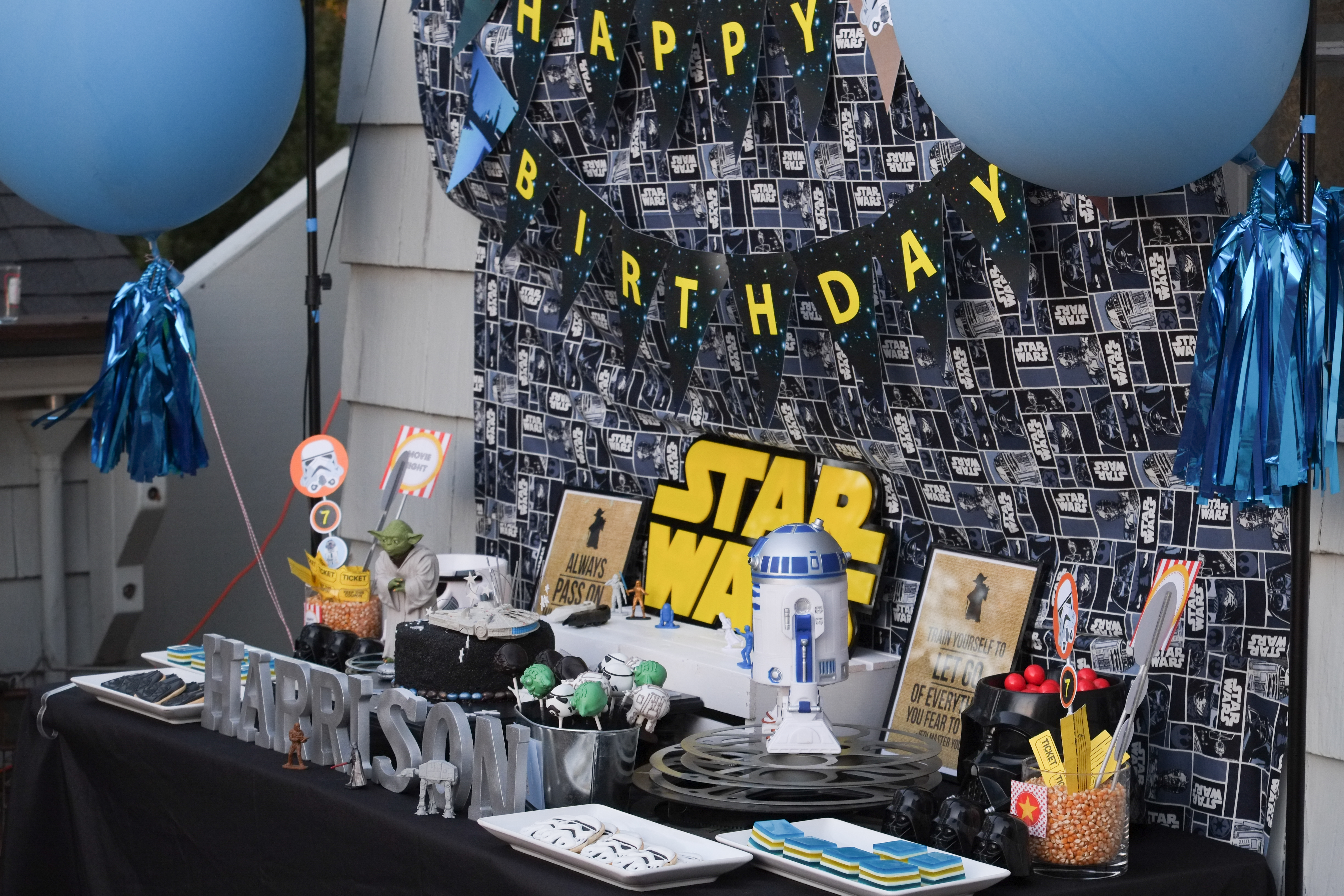 Once finished it was time for the movie, they got comfy in their big joe bean chairs, the "rows" lit up with light sabers and backlit by cinema lights and settled in for Star Wars™! The parents who wished to join us stayed up on the deck…in the VIP section complete with a bar and our own nibbles.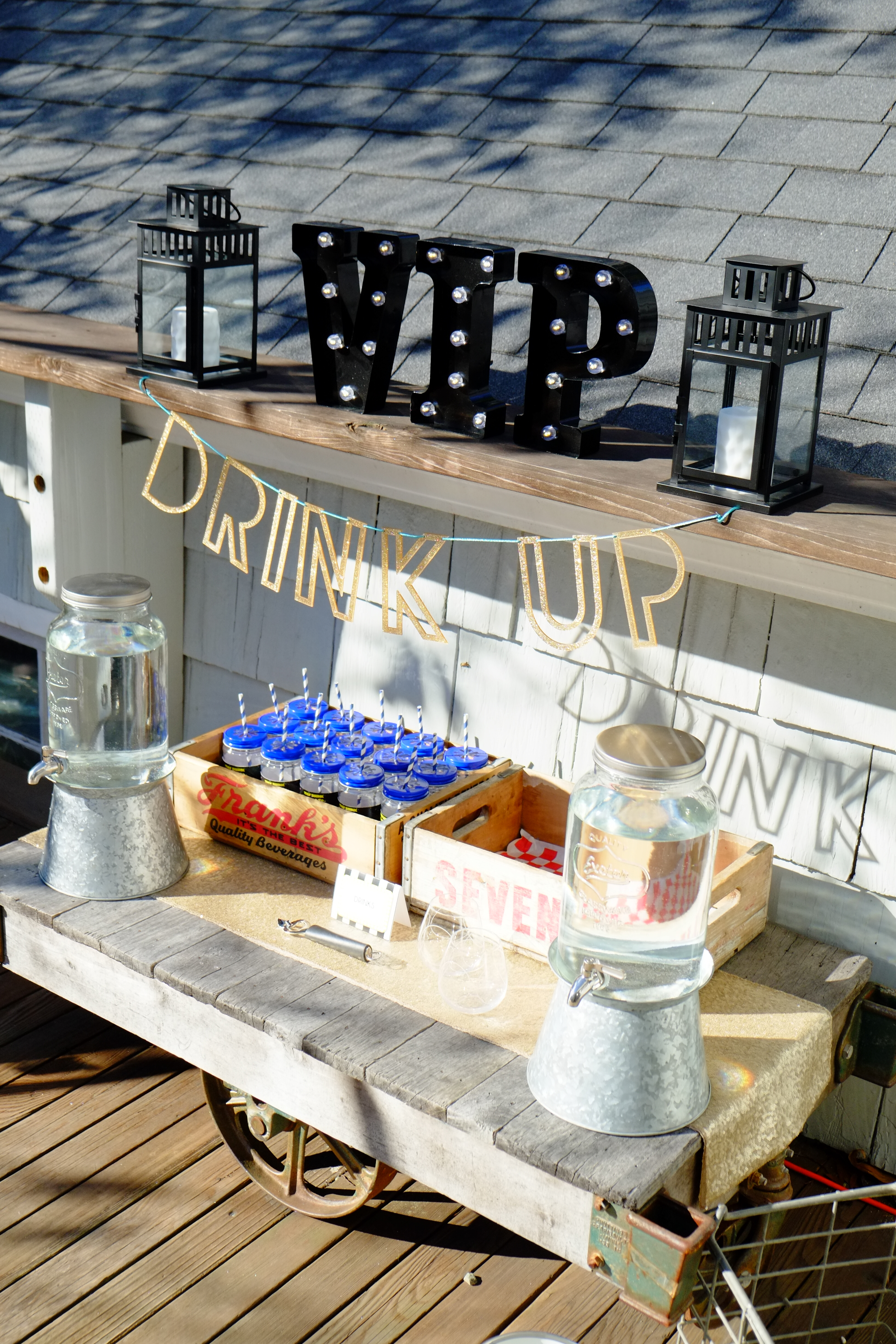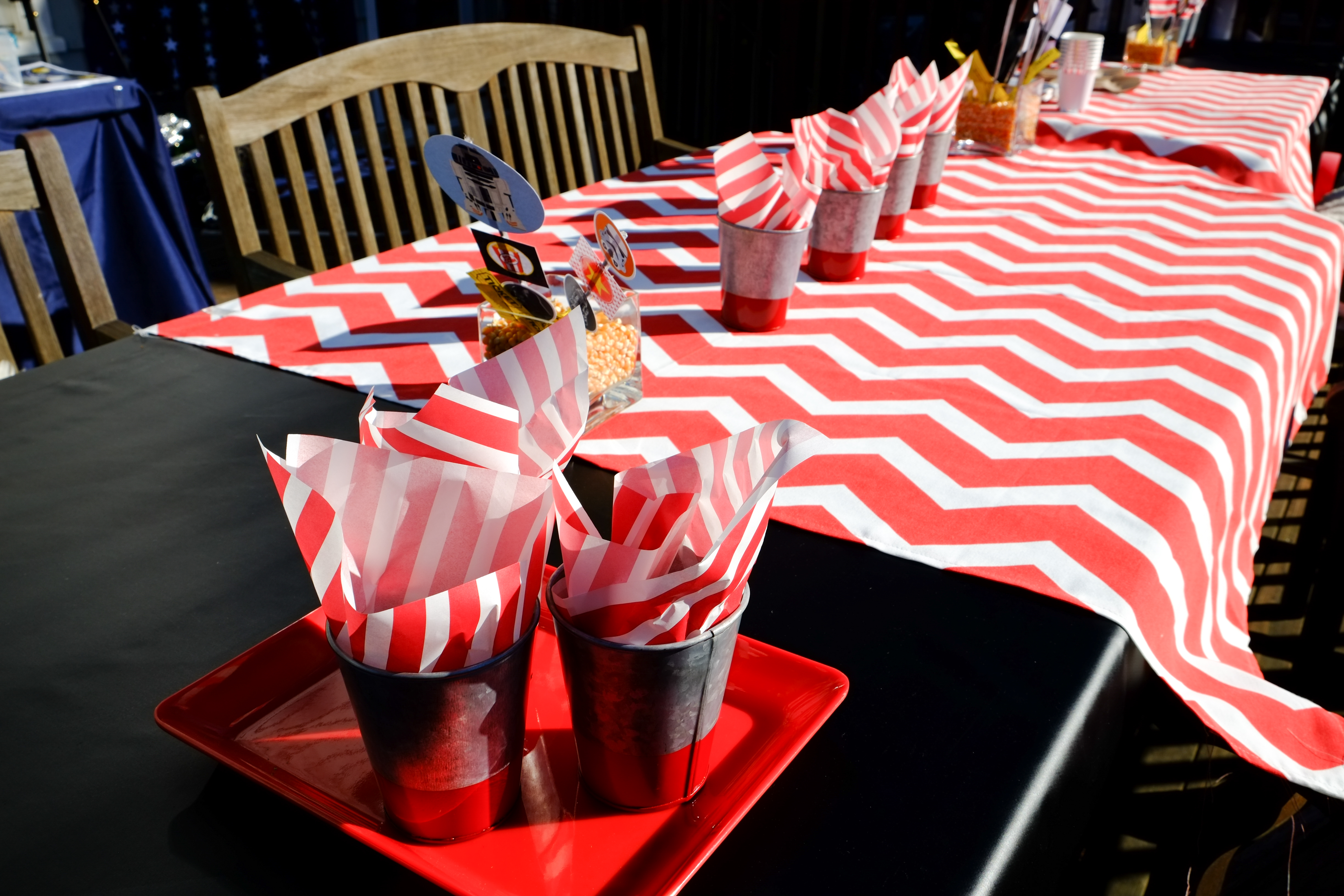 As the sun set the lights shone even brighter adding even more to the ambiance of the outdoor movie experience.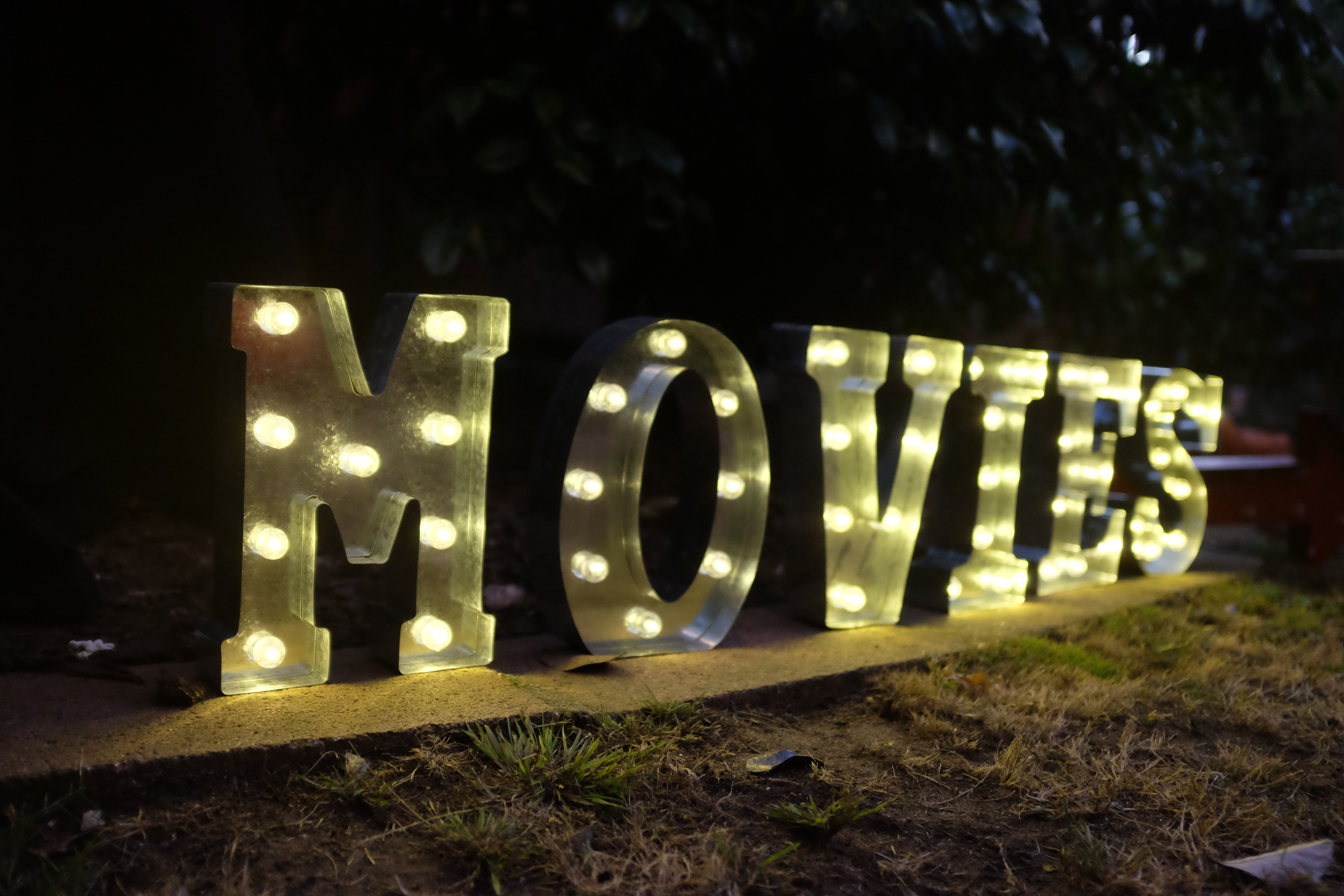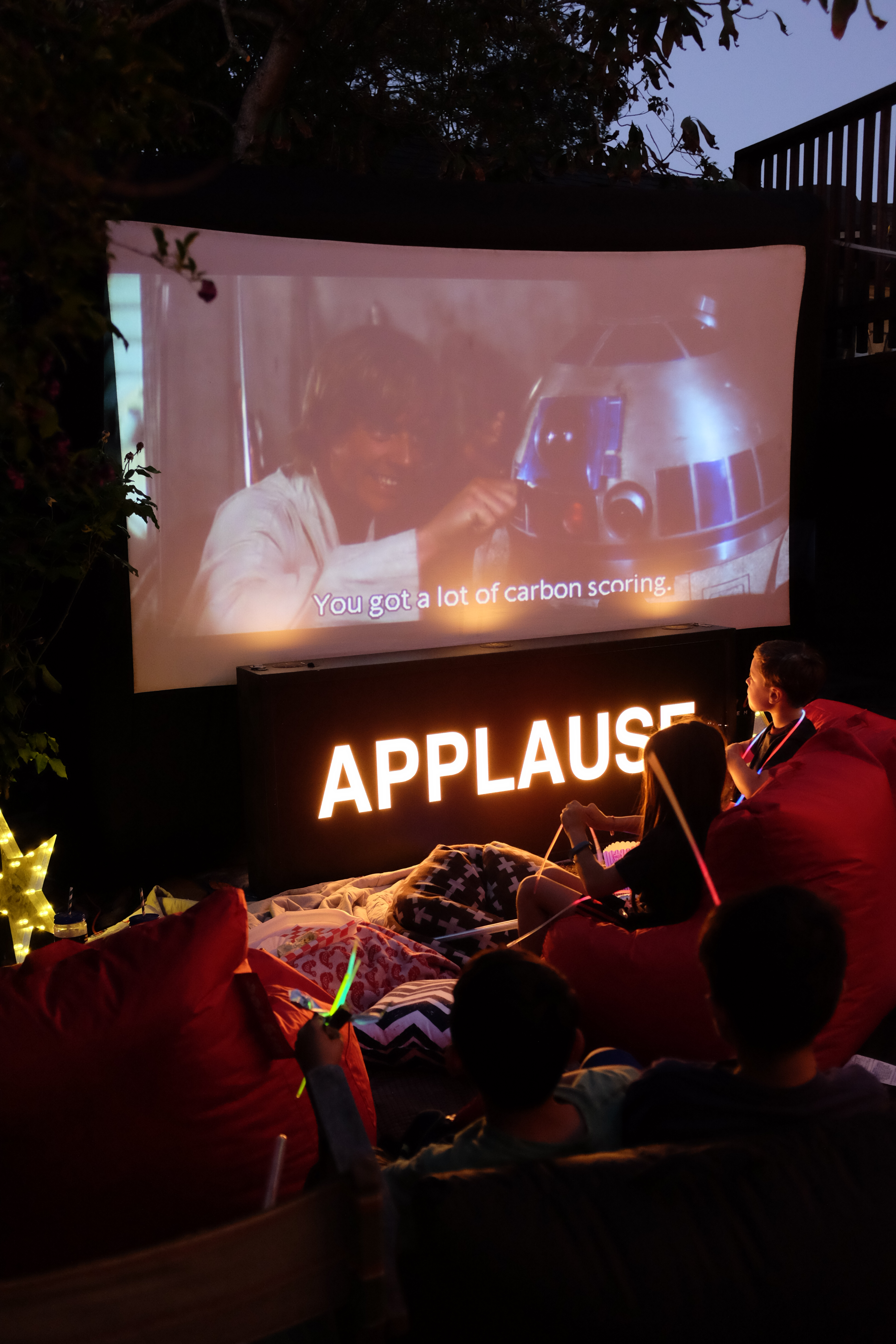 As our fun night of Star Wars™ Under the Stars came to a close and it was bed time, each child was given a favor box that had Star Wars™ toothbrushes and other overnight necessities inside. We tucked the candies and Jedi certificates into their bags for the morning…and then they slept! Just kidding…..We wish!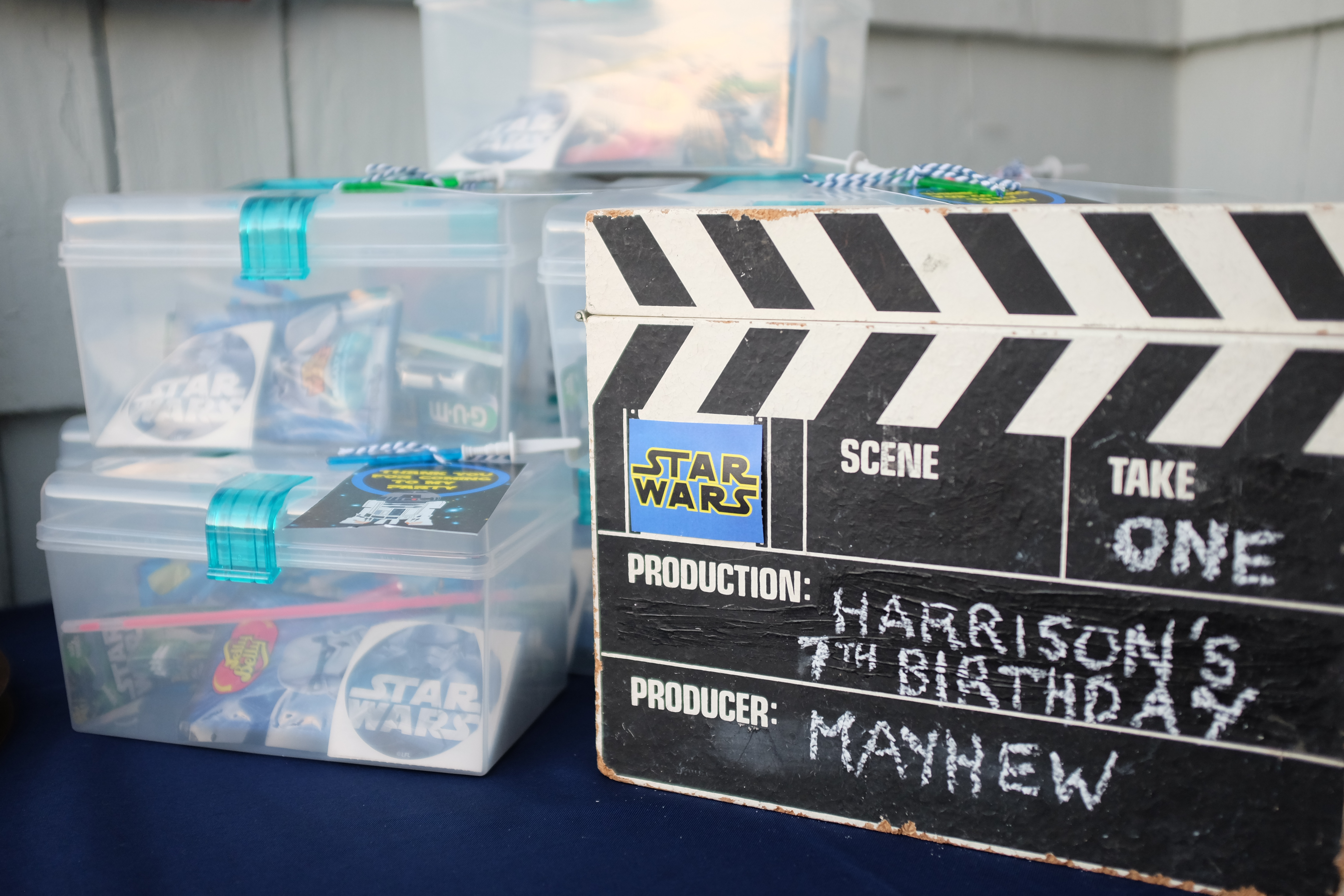 I hope you enjoyed these ideas for hosting your own Star Wars™ Under the Stars outdoor movie night as much as we did hosting it!
PIN LATER: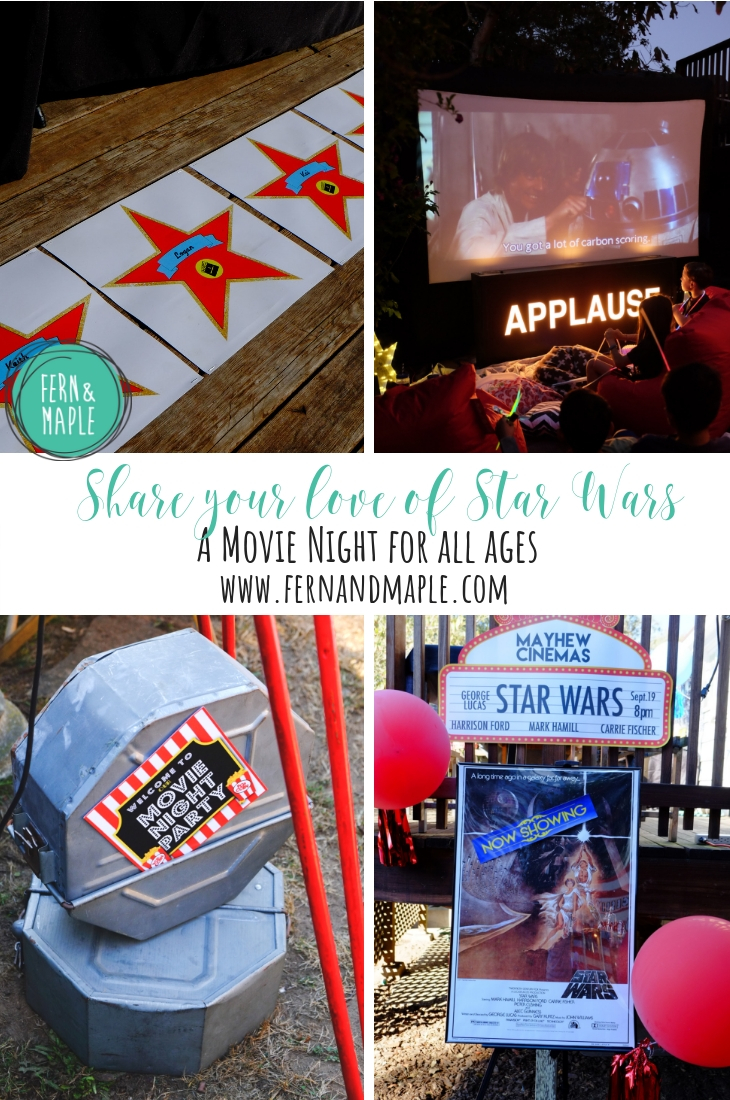 Photography – Ike Shin
Happy Partying!