I know Halloween has passed this year, but you're definitely going to want to save these ideas for next year! These themed table (or "Trunk or Treat") ideas that I used for our Halloween Community Festival this year include both scary and kid-friendly options, and a healthy mix of spooky and fun. So many of them used repurposed materials and props from many of my past parties – I'm all about recycling and reusing! Read on to get inspired for your next Halloween community or charity event, your next Halloween party, or your next Trunk-or-Treat!
Halloween Community Festival Entrance
Before we get to the tables, here's a quick look at how I set up the entrance to the festival. We used large cardboard letter cutouts to spell out "Hillside", the name of our community, by where people were parking their cars. I had already used these for our Summer Block Party – but I repurposed them and turned them spooky by adding a variety of skeleton bones throughout.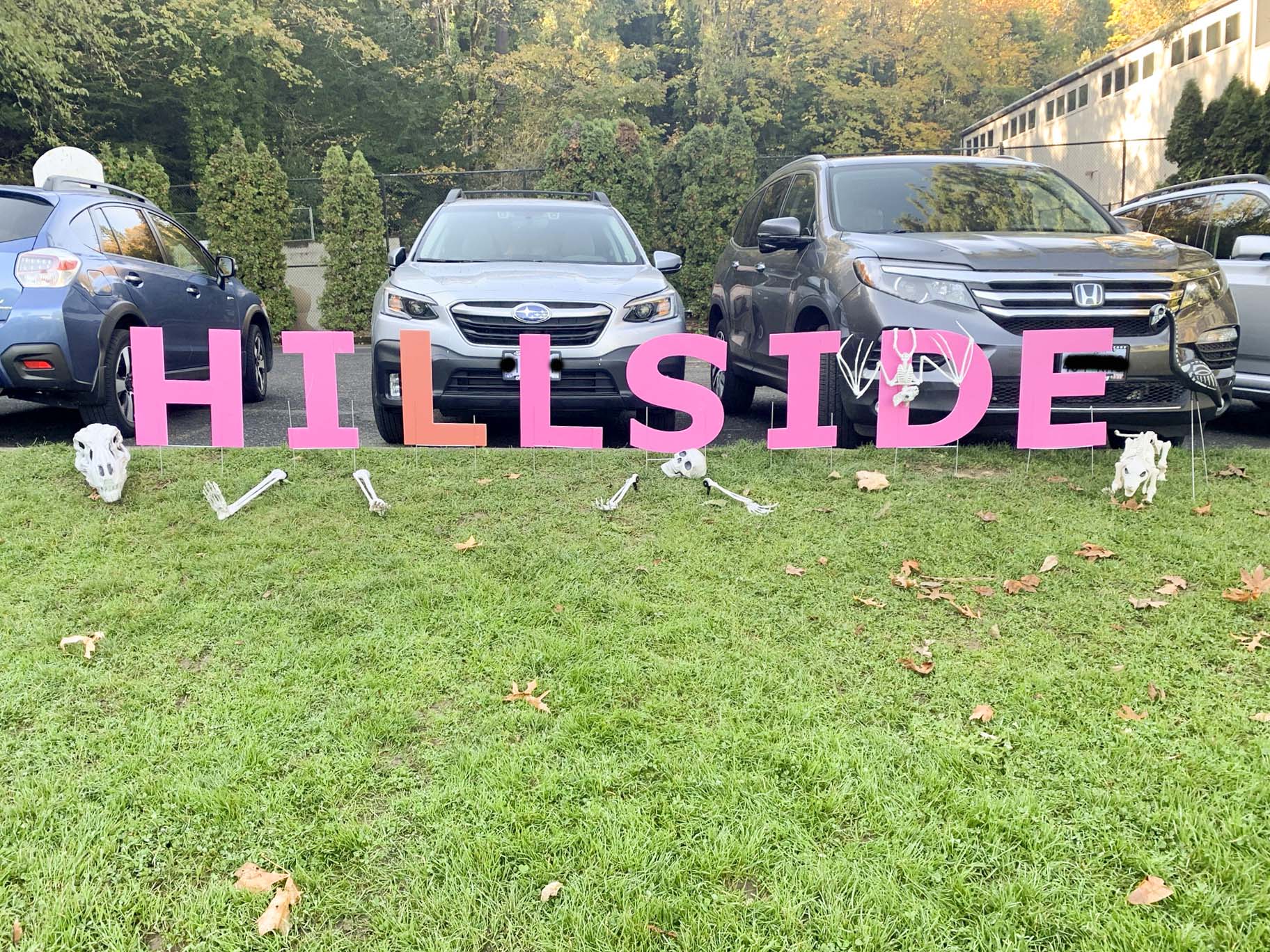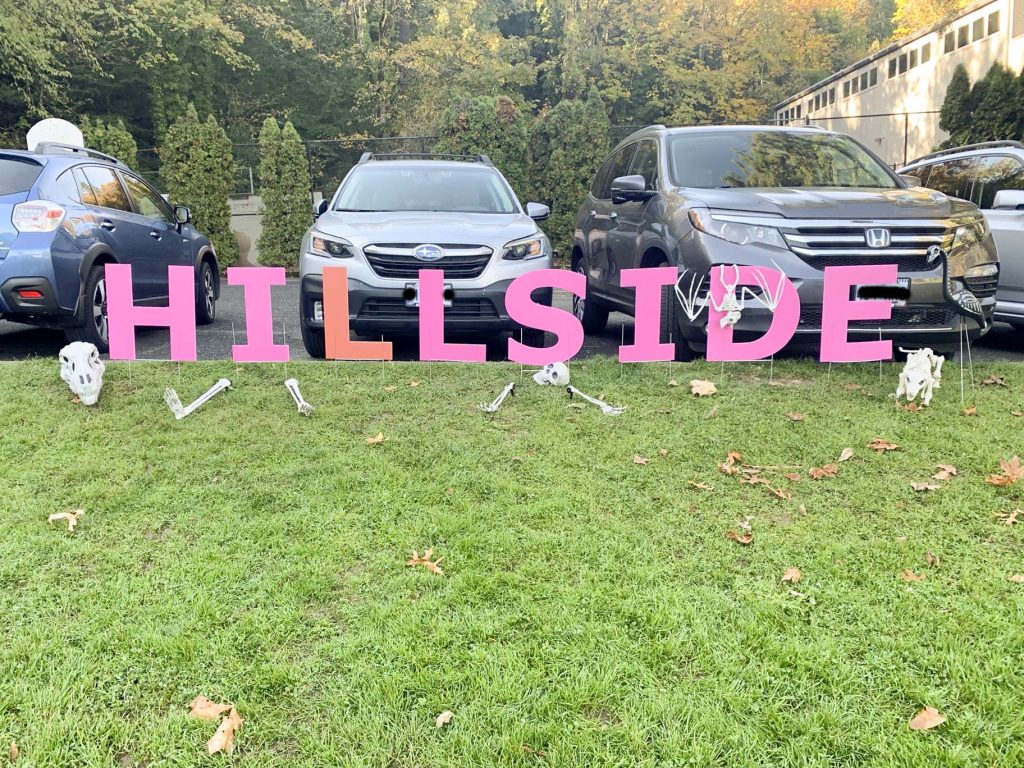 As families entered the tennis courts, they were greeted by a skeleton greeter, sitting under a balloon garland in a Halloween color scheme and some caution tape – enter if you dare! Mr. Skeleton also provided hand sanitizer and information on how to connect with the community president.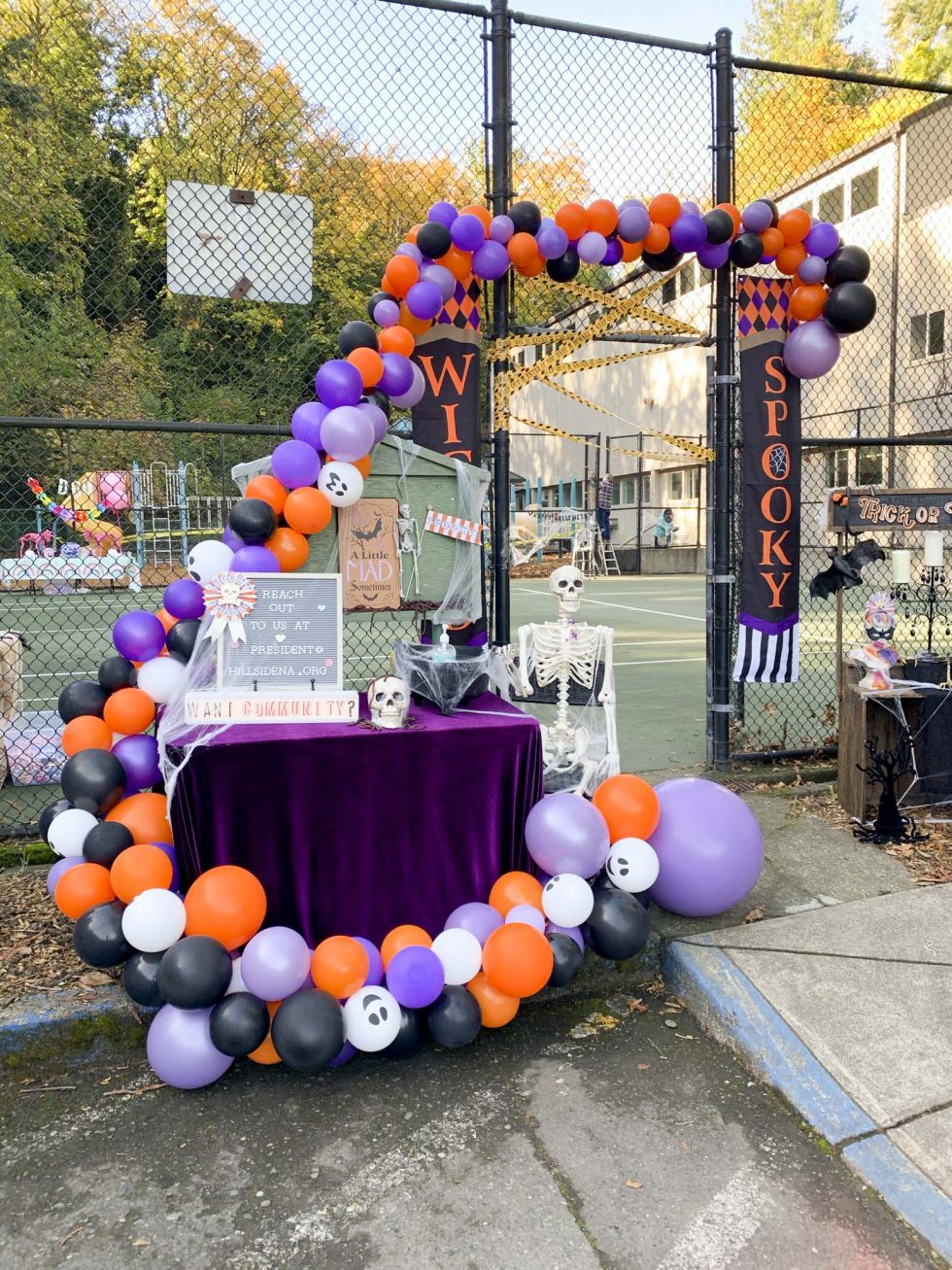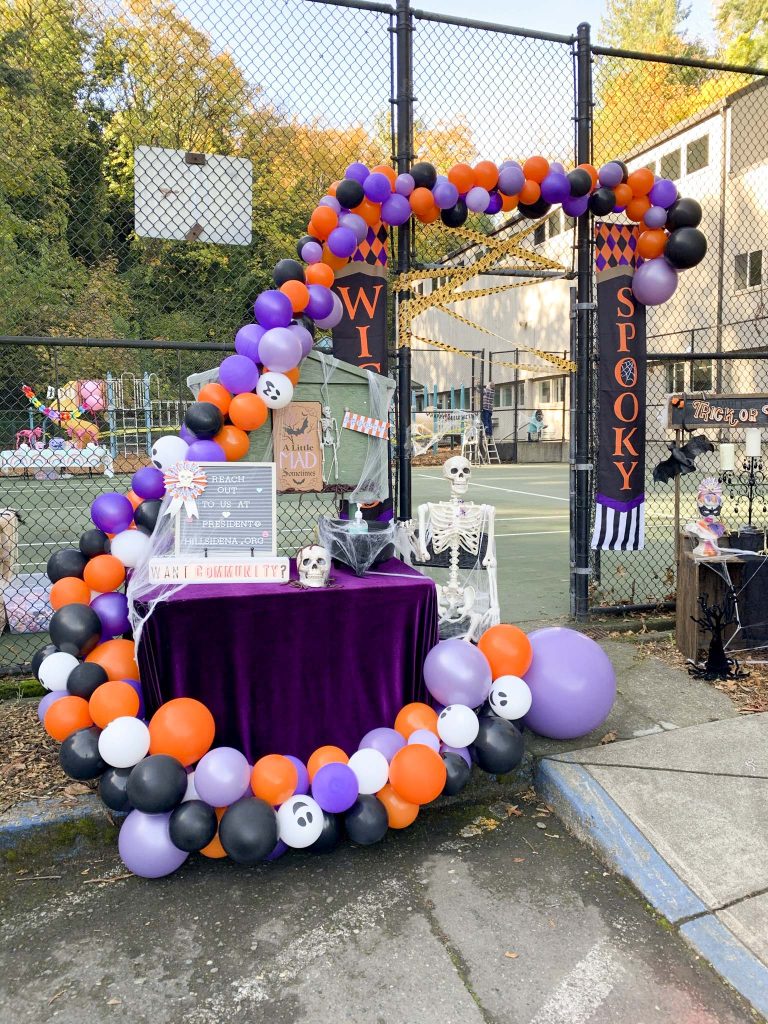 On the other side of the wicked and spooky entrance, I added more Halloween decorations on a trick-or-treat stand I previously used as a cider stand for my Fall Festival – some of which were repurposed from my Punk Inspired Halloween Bar Cart, my Stranger Things Party and the Ancient Egyptian Tomb Trunk-or-Treat.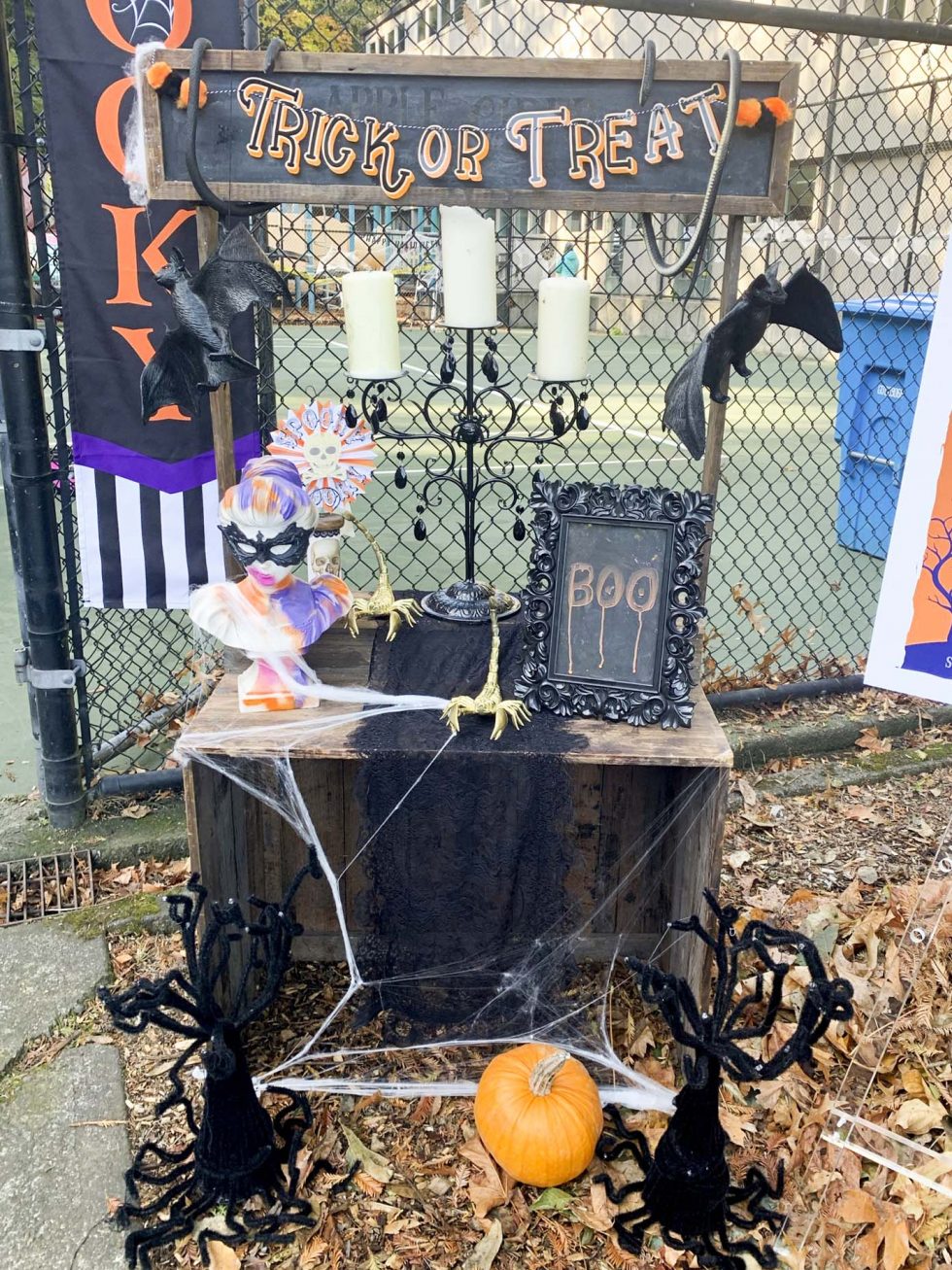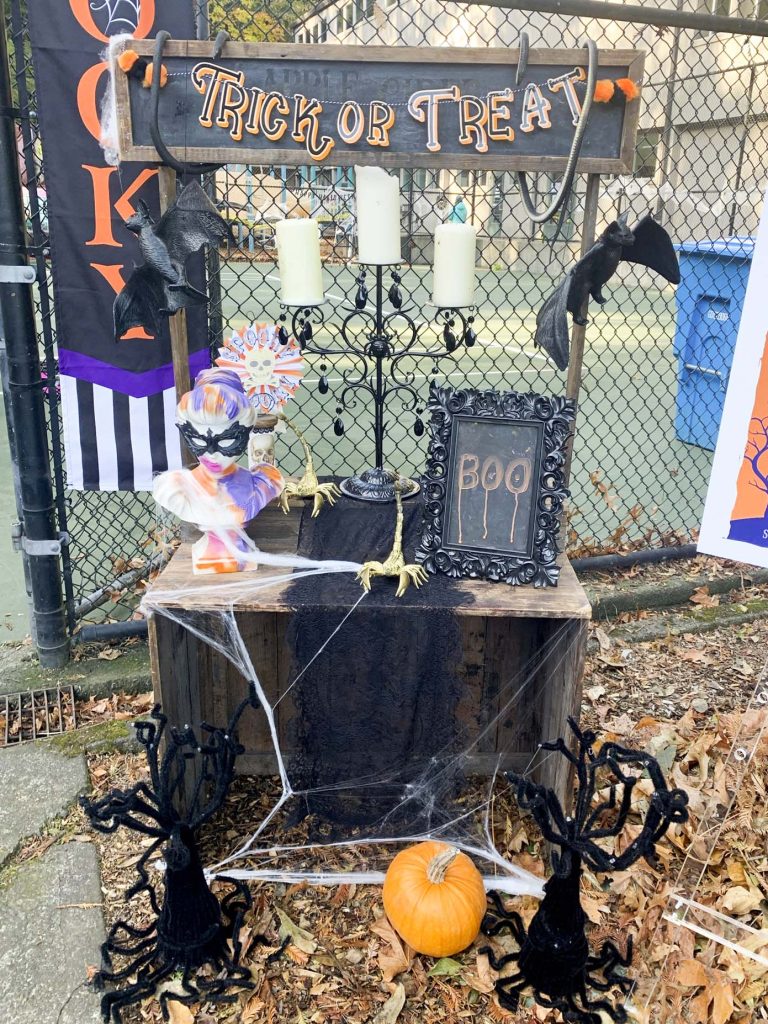 We also used the entrance to thank the sponsors of the event.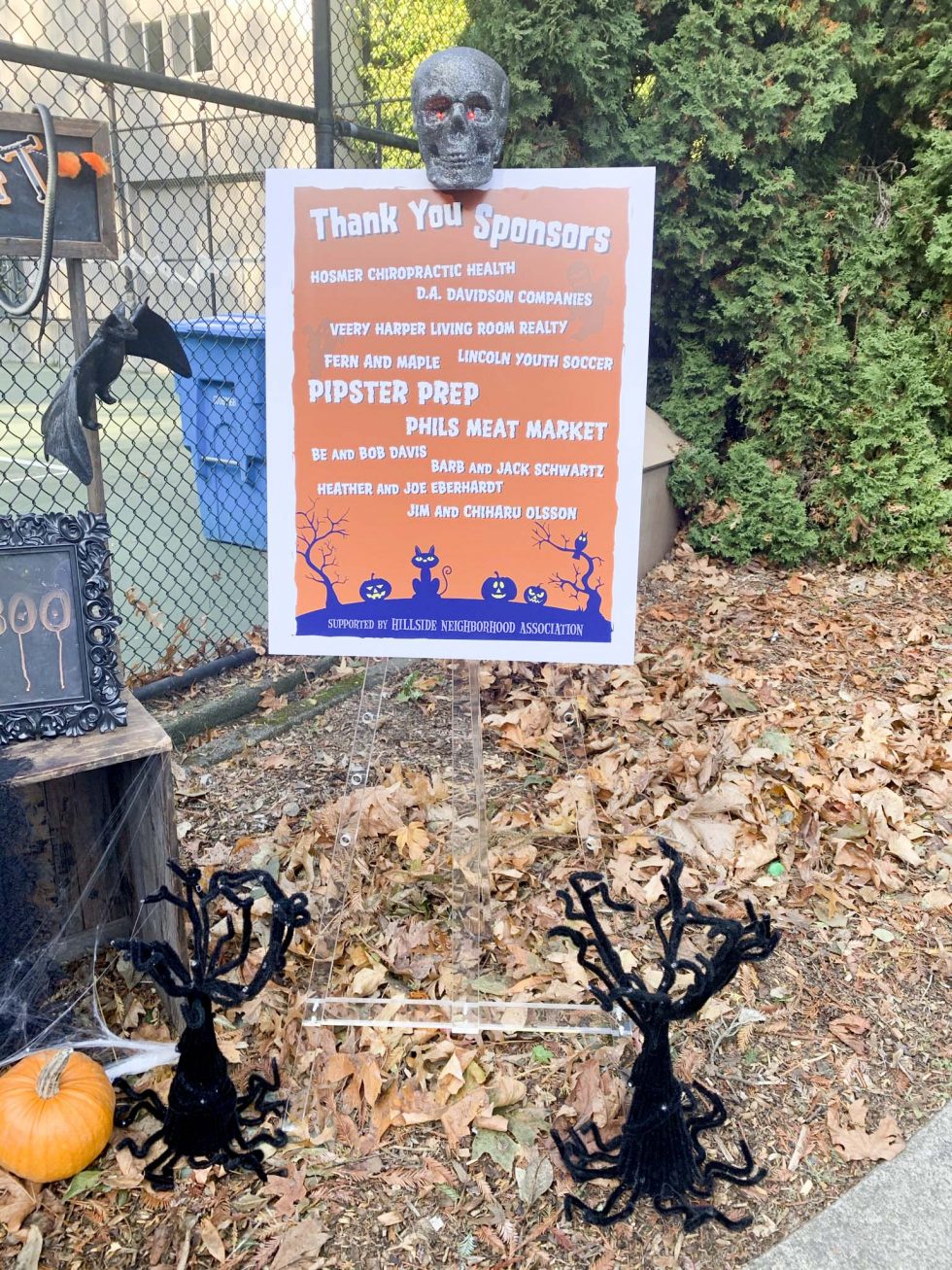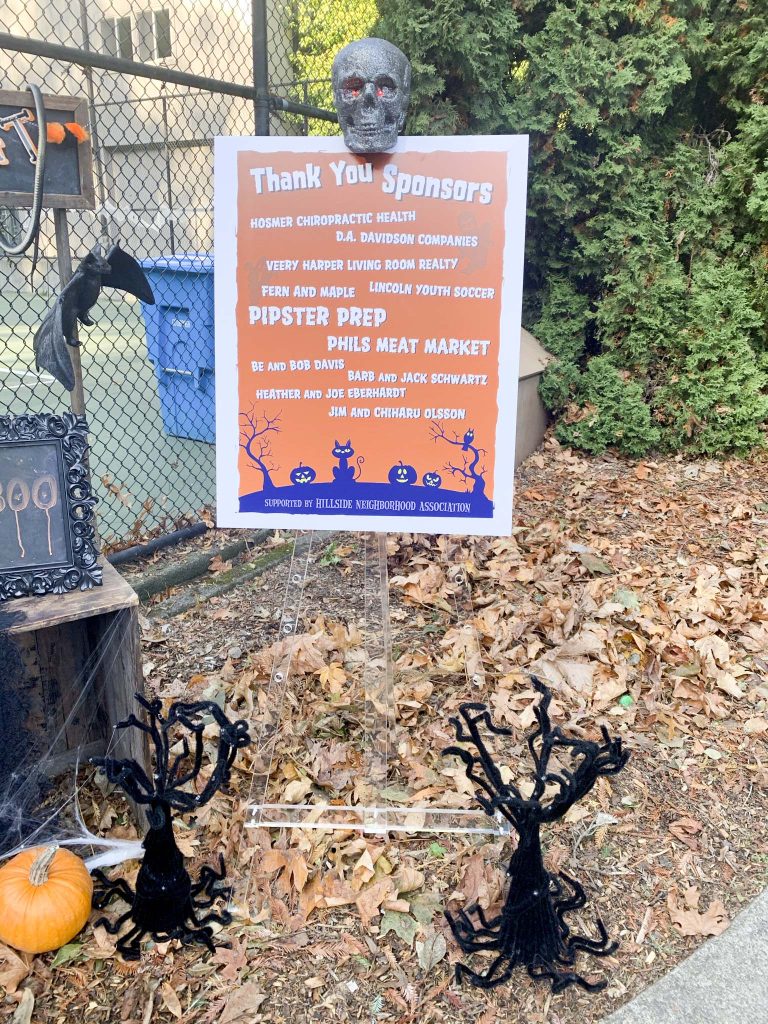 Now, onto the tables!
Pirate Table
The first table was a Pirate themed table. I reused several items from my Haunted Halloween Luau and my daughters Pirate Party as well as adding a few more pirate elements – things like chocolate coins, a treasure chest, pirate flag, items from the sea, and a spooky skull pineapple!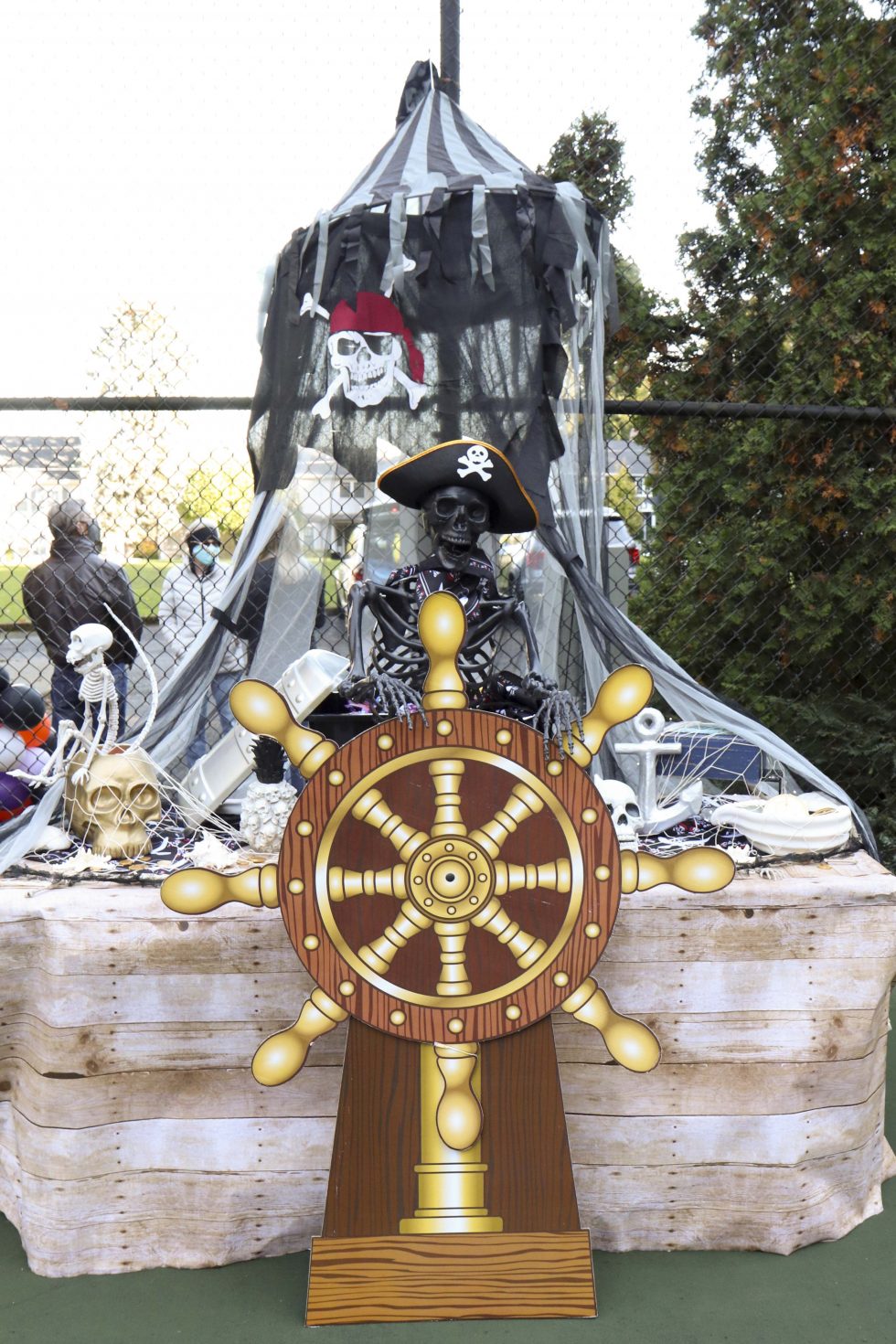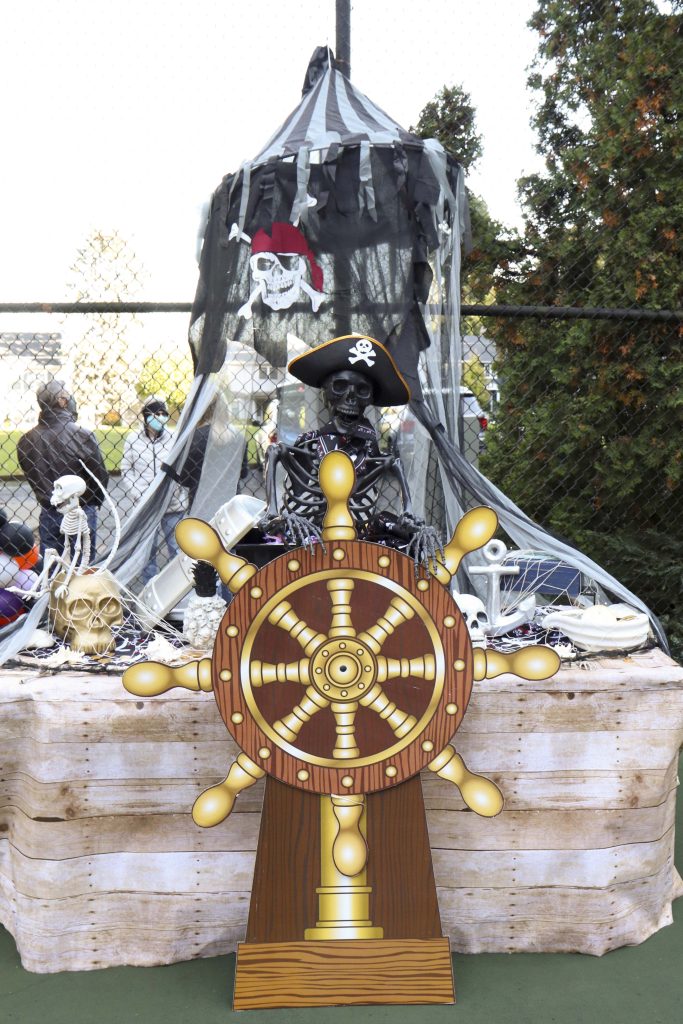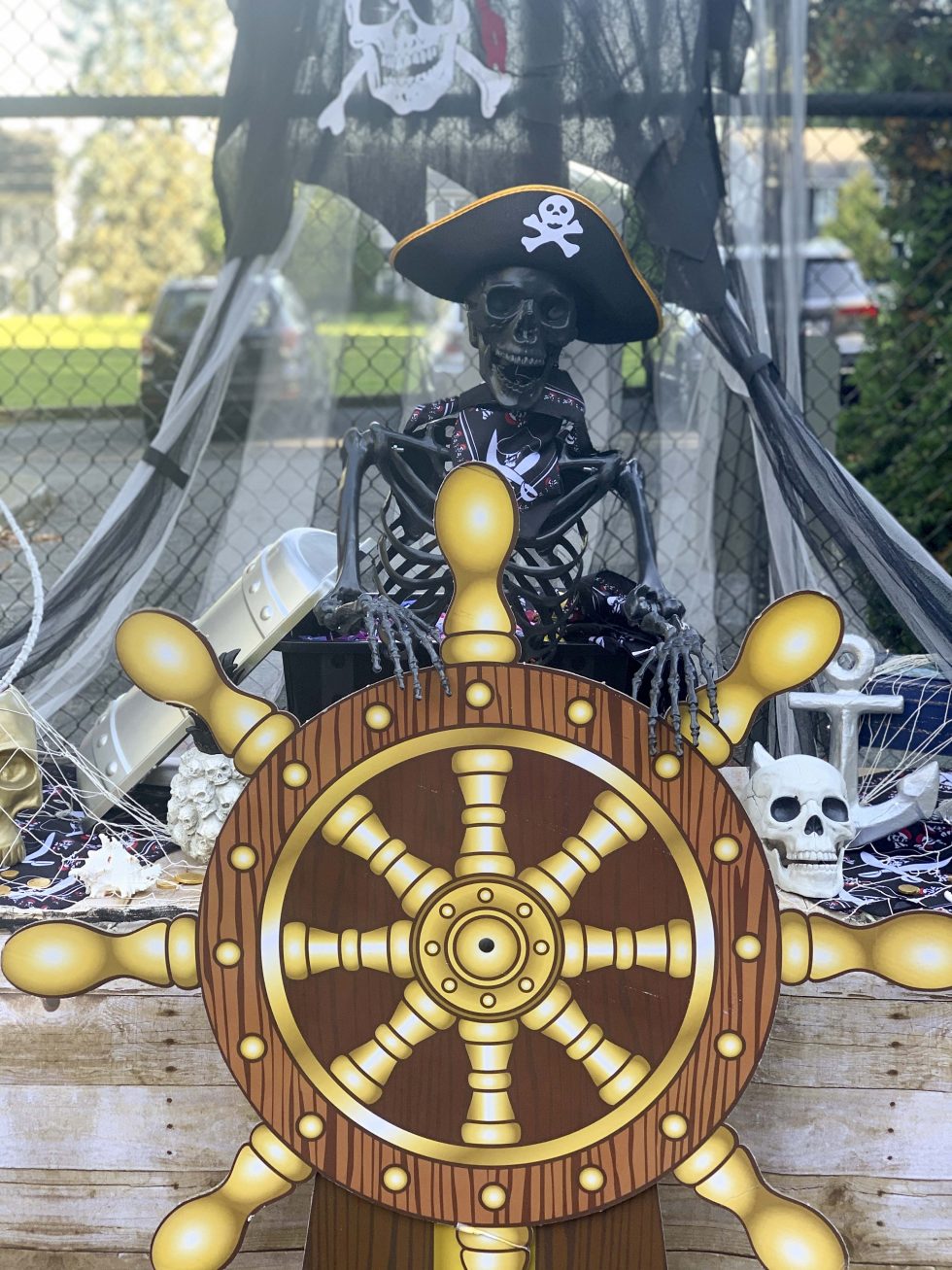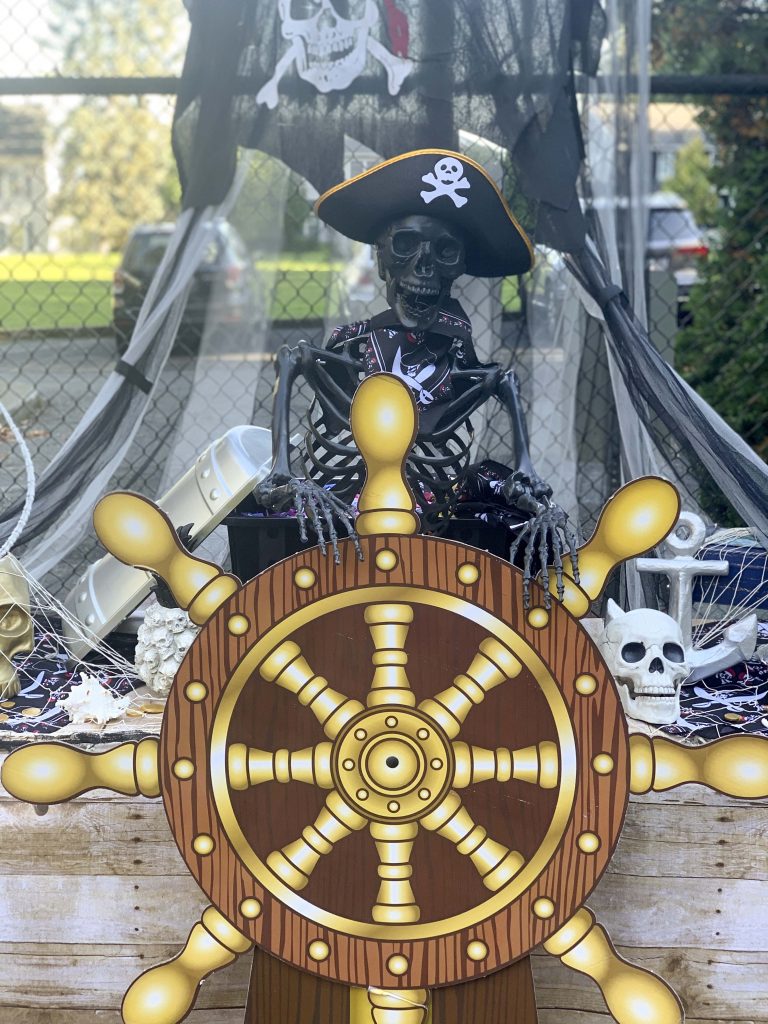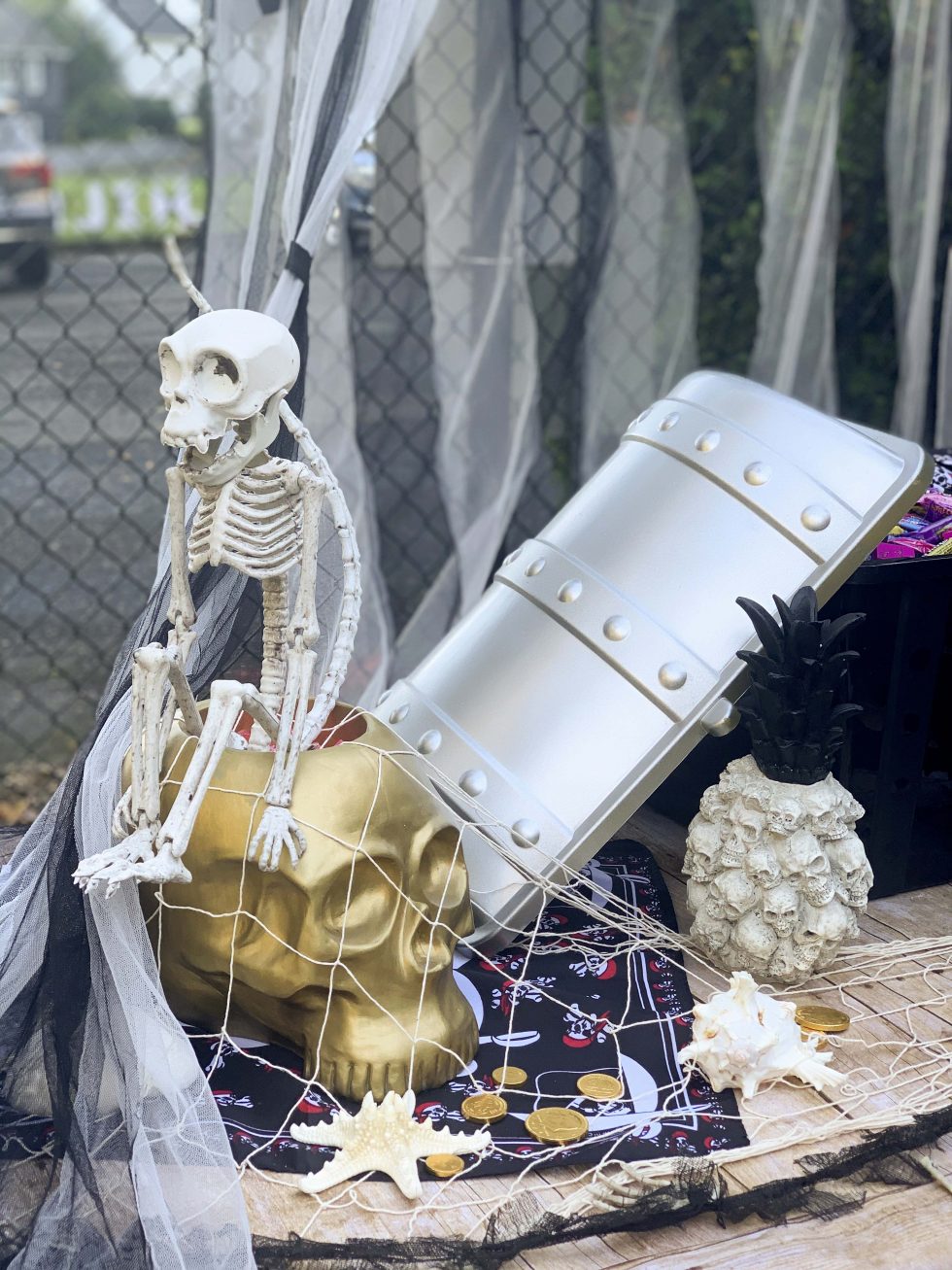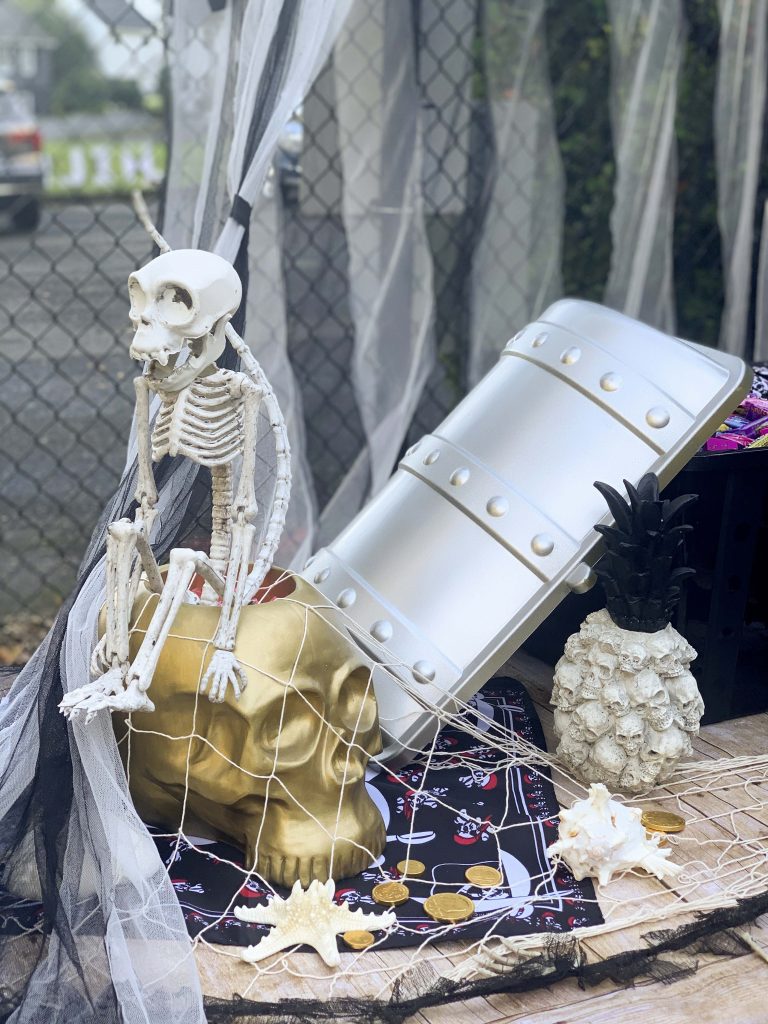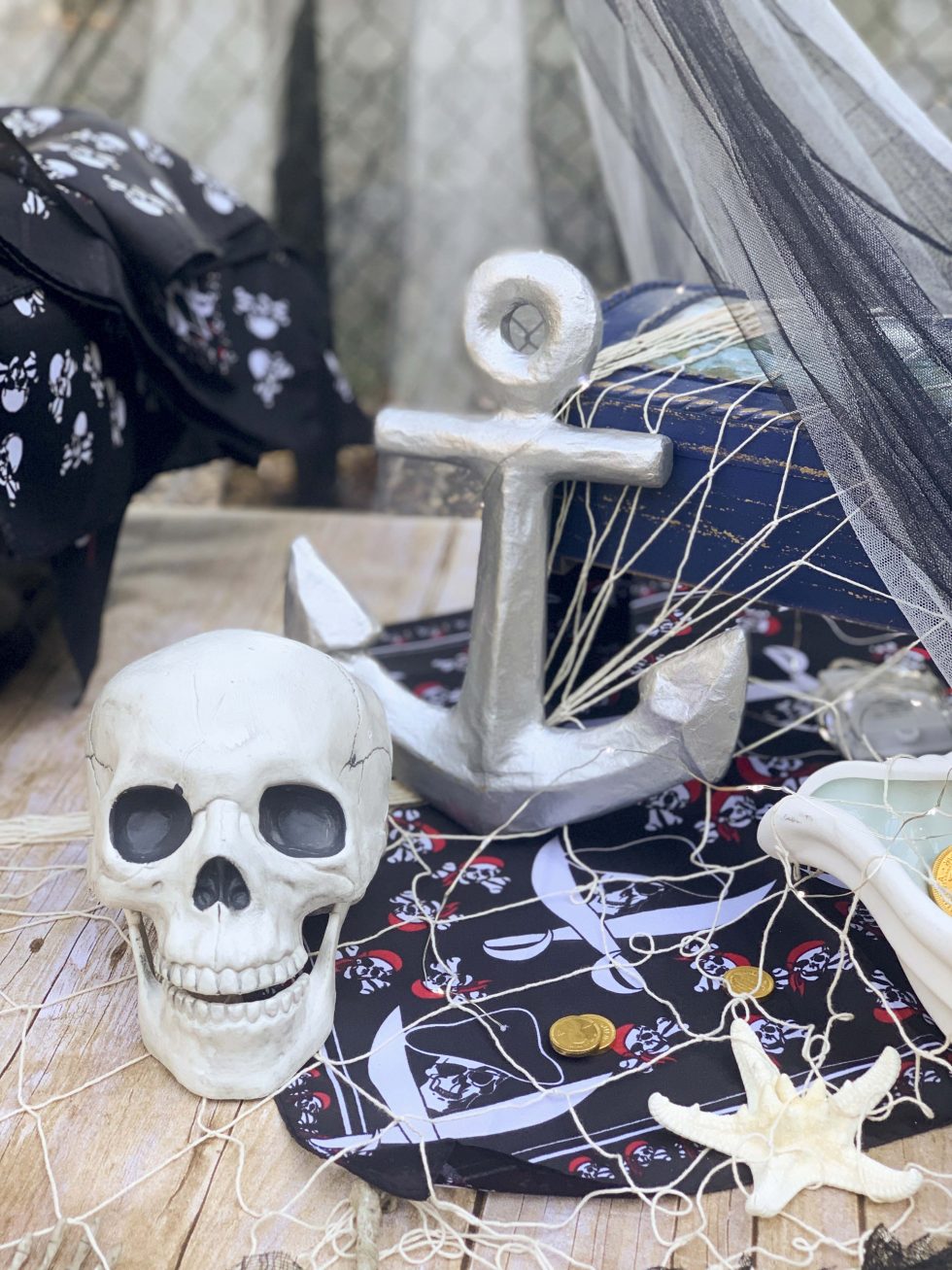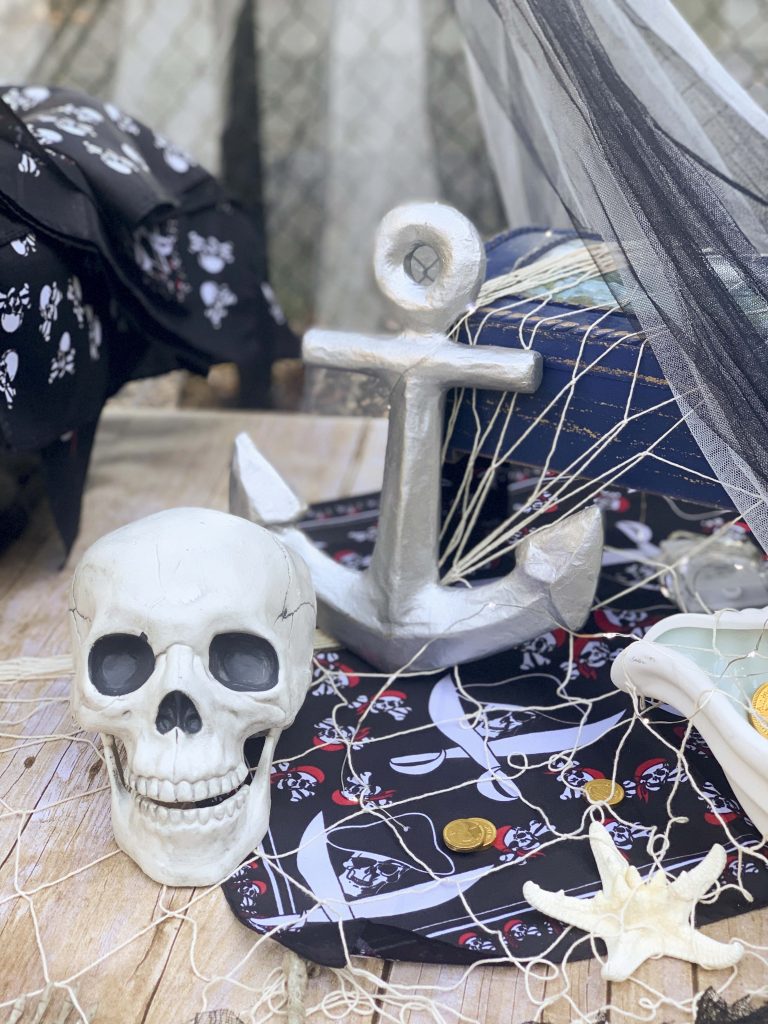 Pumpkin Patch Table
For a more toddler/kid-friendly table, I set up a Pumpkin Patch table. I used a few pumpkins and props from my Traditional Halloween Party for Kids, but added tons more so that it looked like a true pumpkin patch! The backdrop, garland, and table cloth really helped here too. I also had a sound machine playing spooky sounds at this table!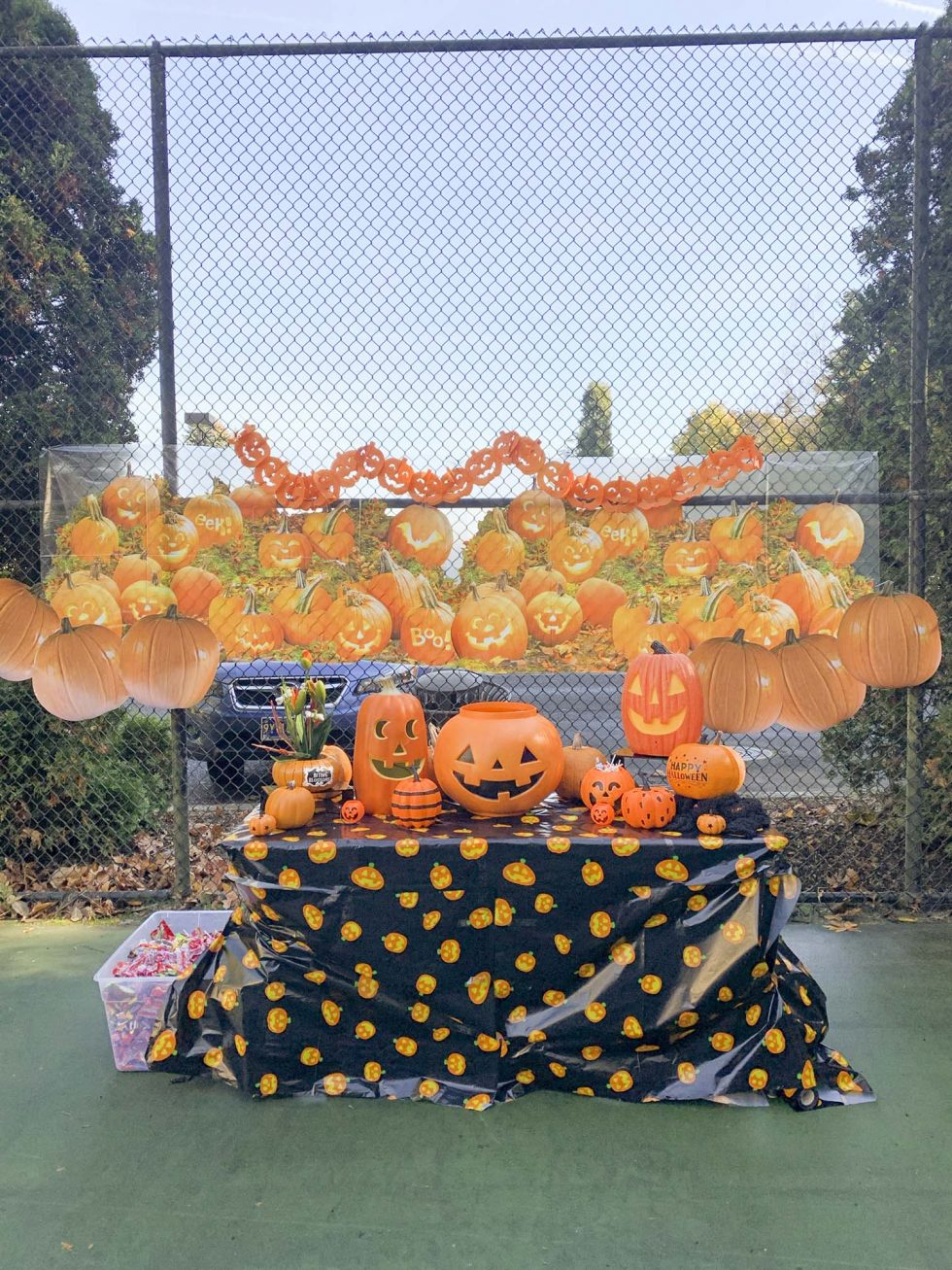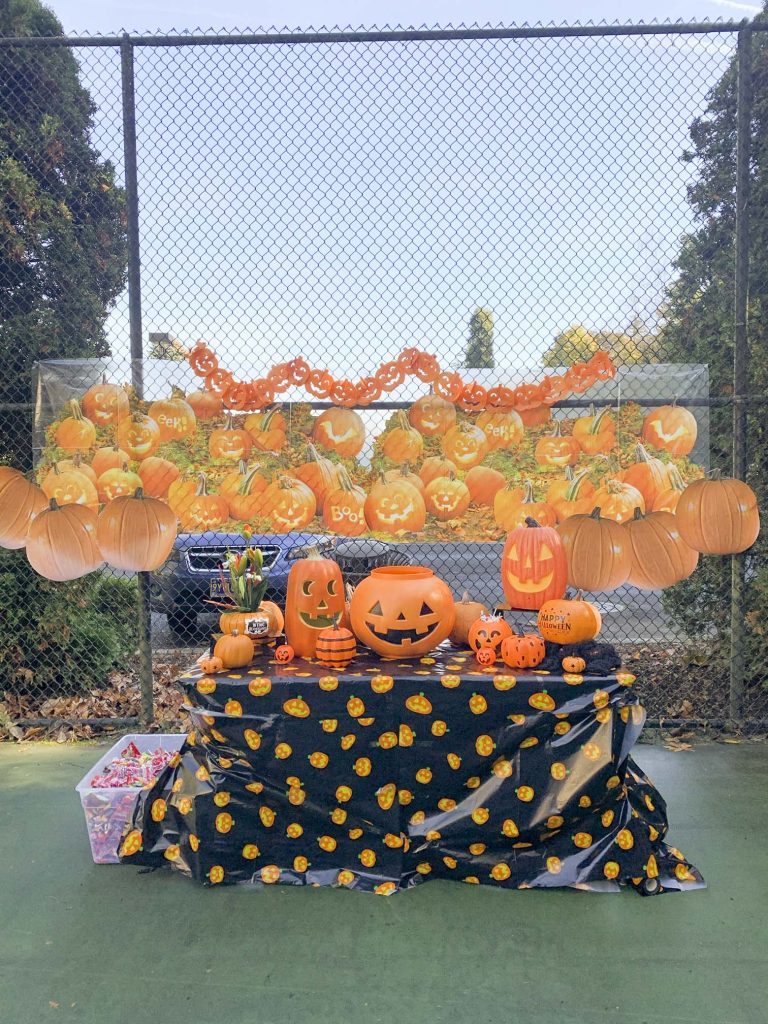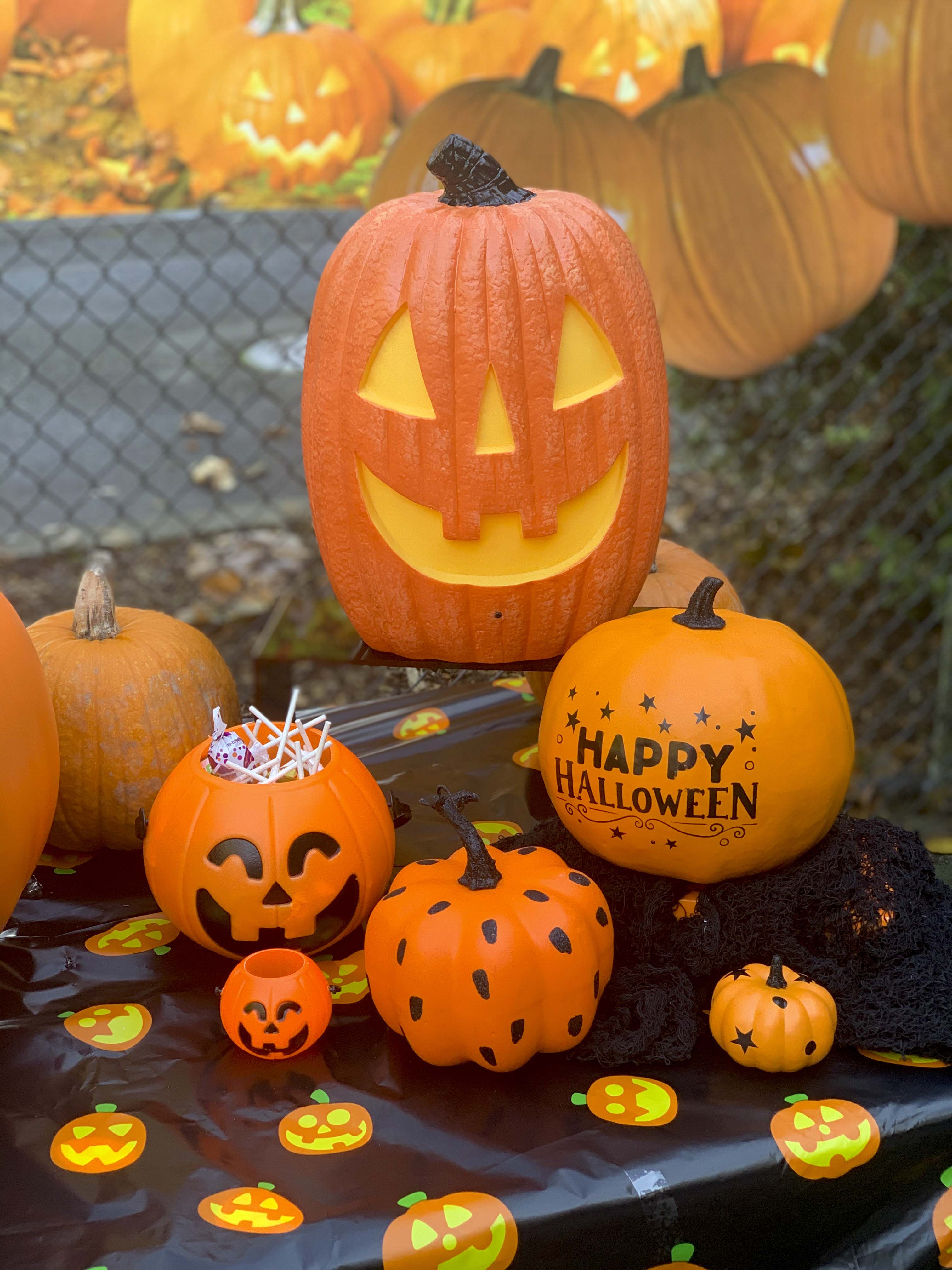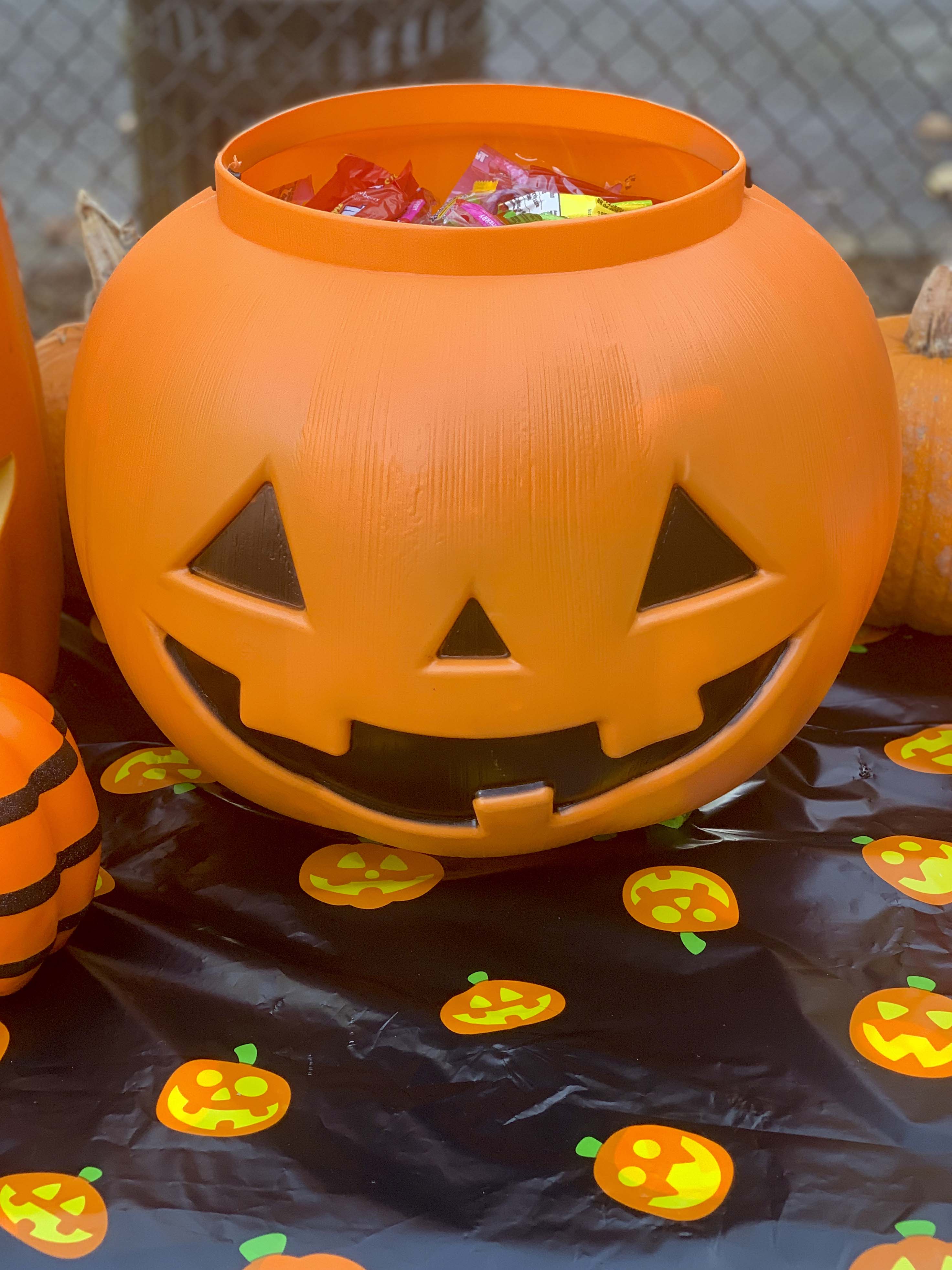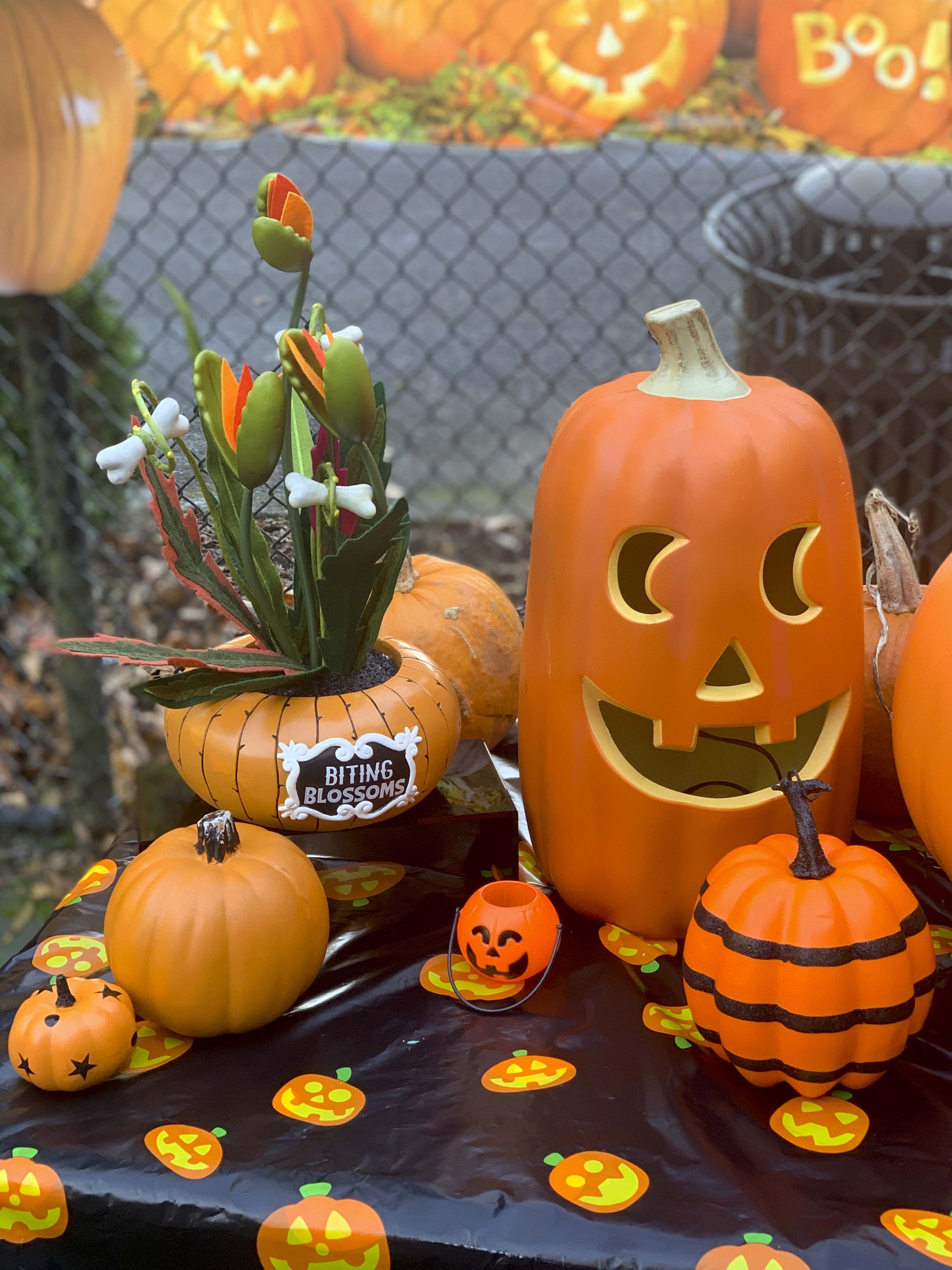 Monster Table
Another even more kid-friendly table was the monster table. These smiling monsters are far from scary – just look at those smiles! A large cardboard friendly monster cutout served as a great photo op. Adding giant googly eyes to painted pumpkins and the candy bowl made this table even more fun. This table also served as my teal pumpkin area – and had a variety of non-candy treats available for those who can't have candy.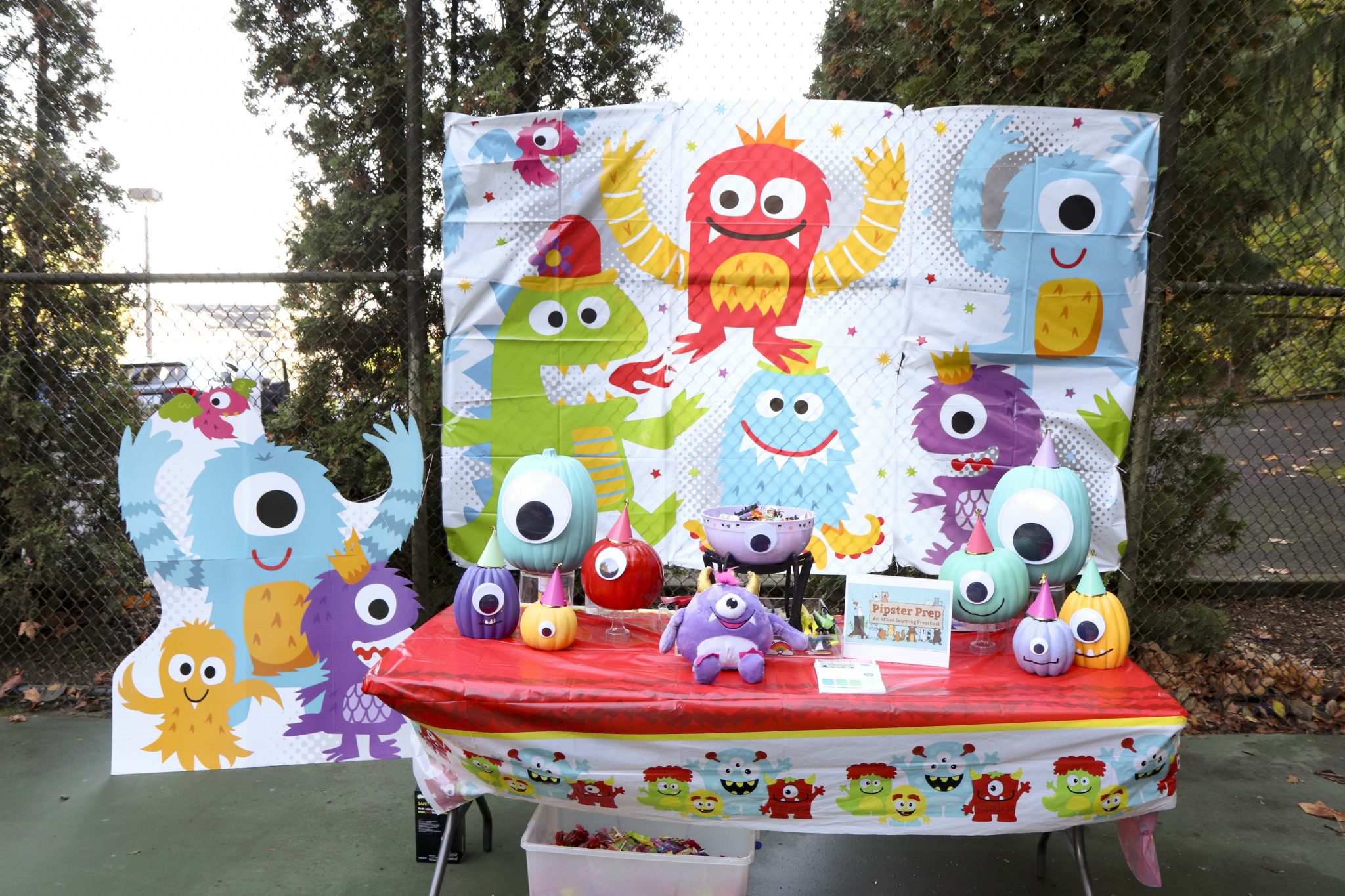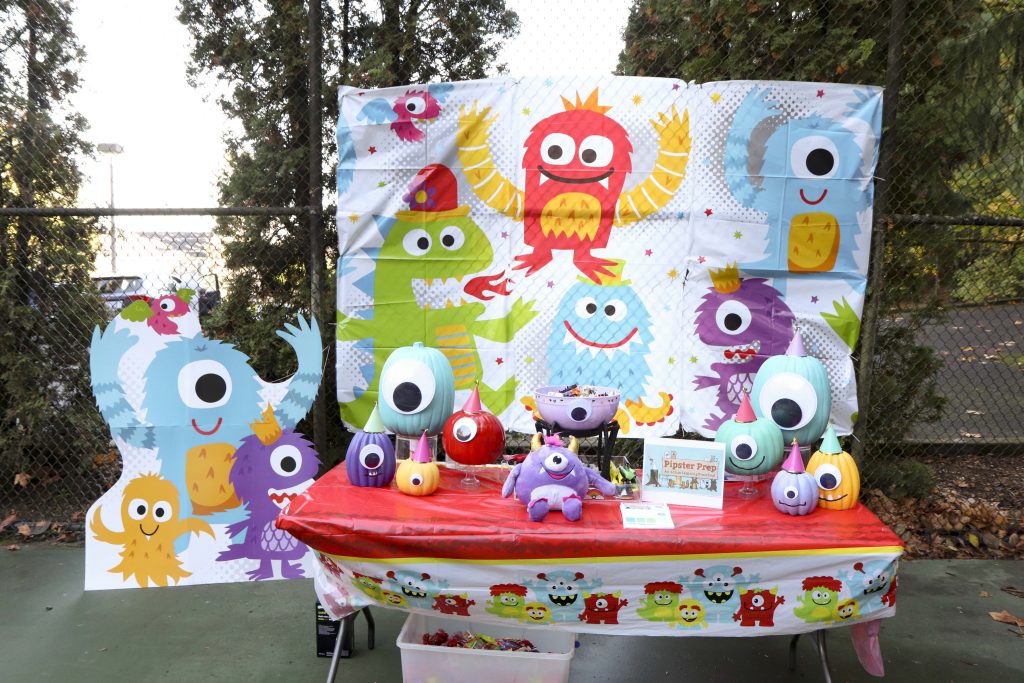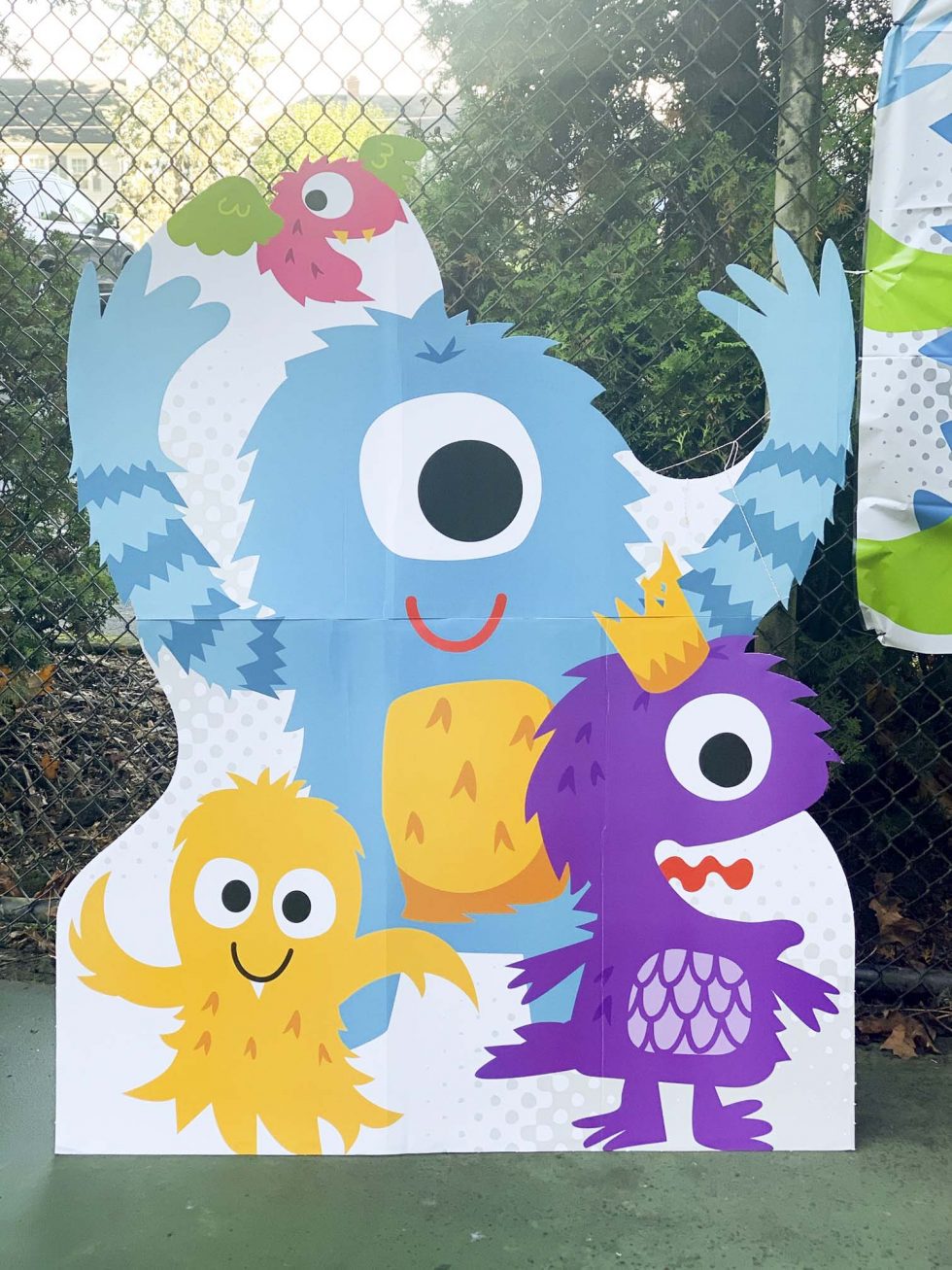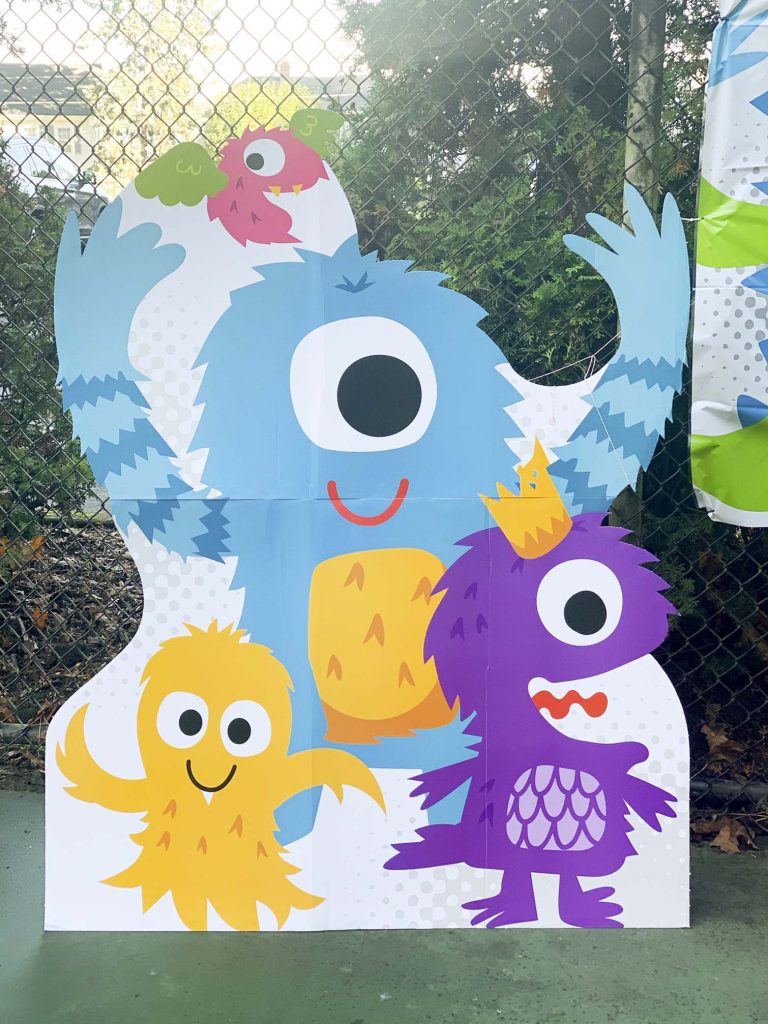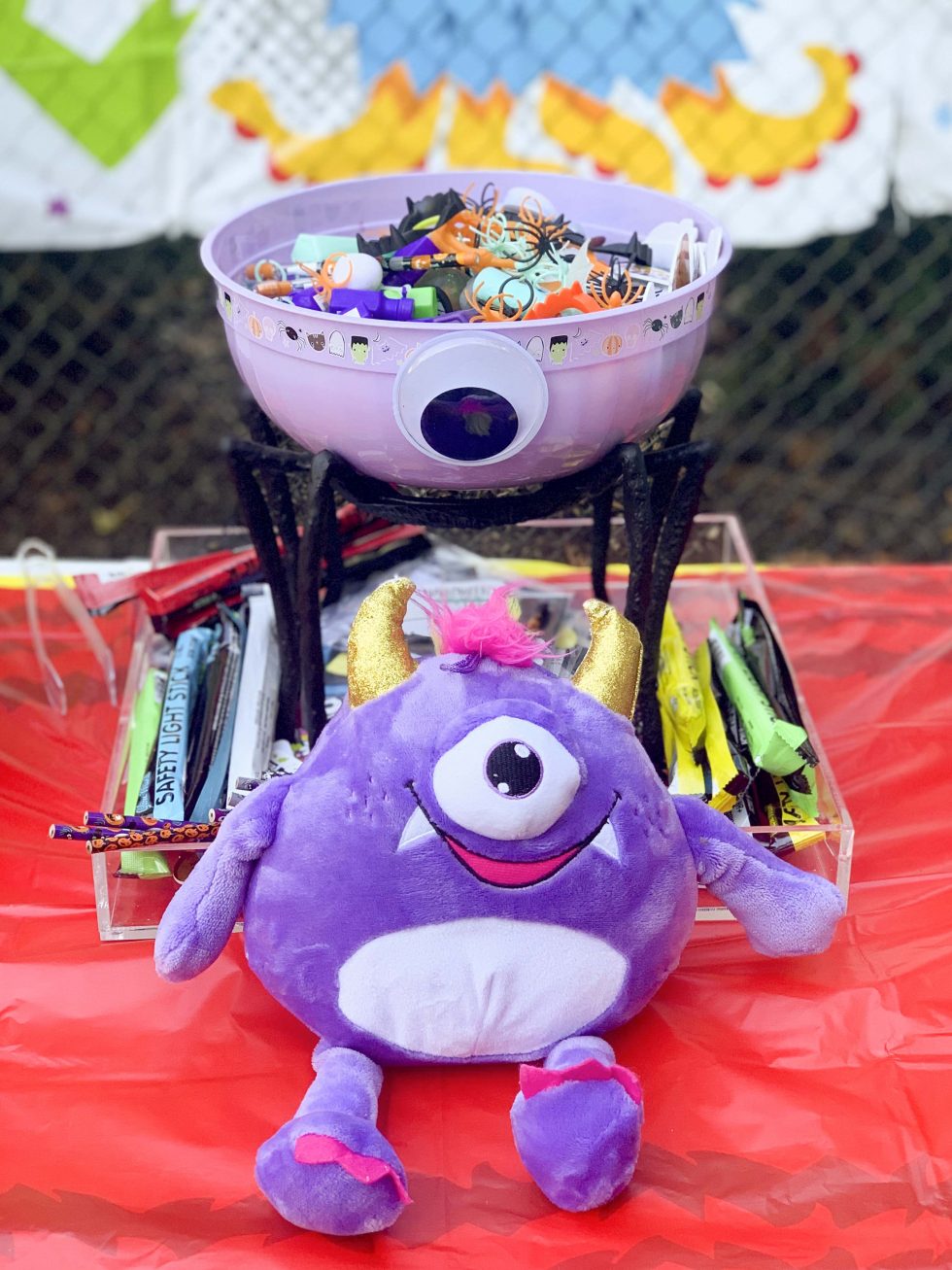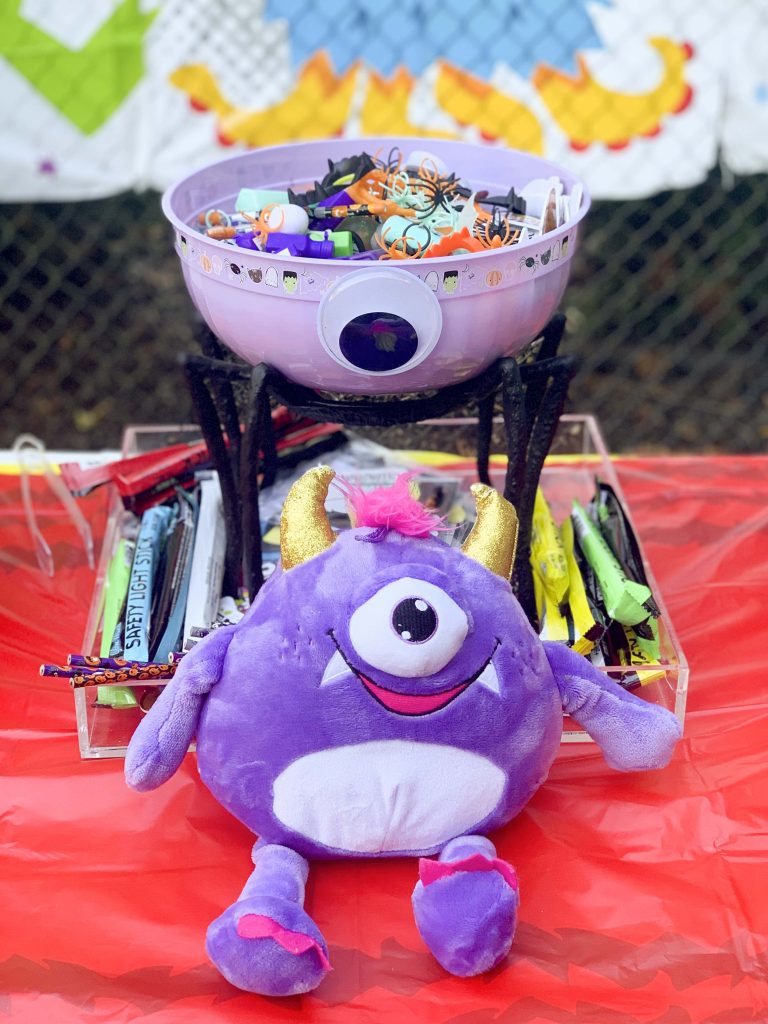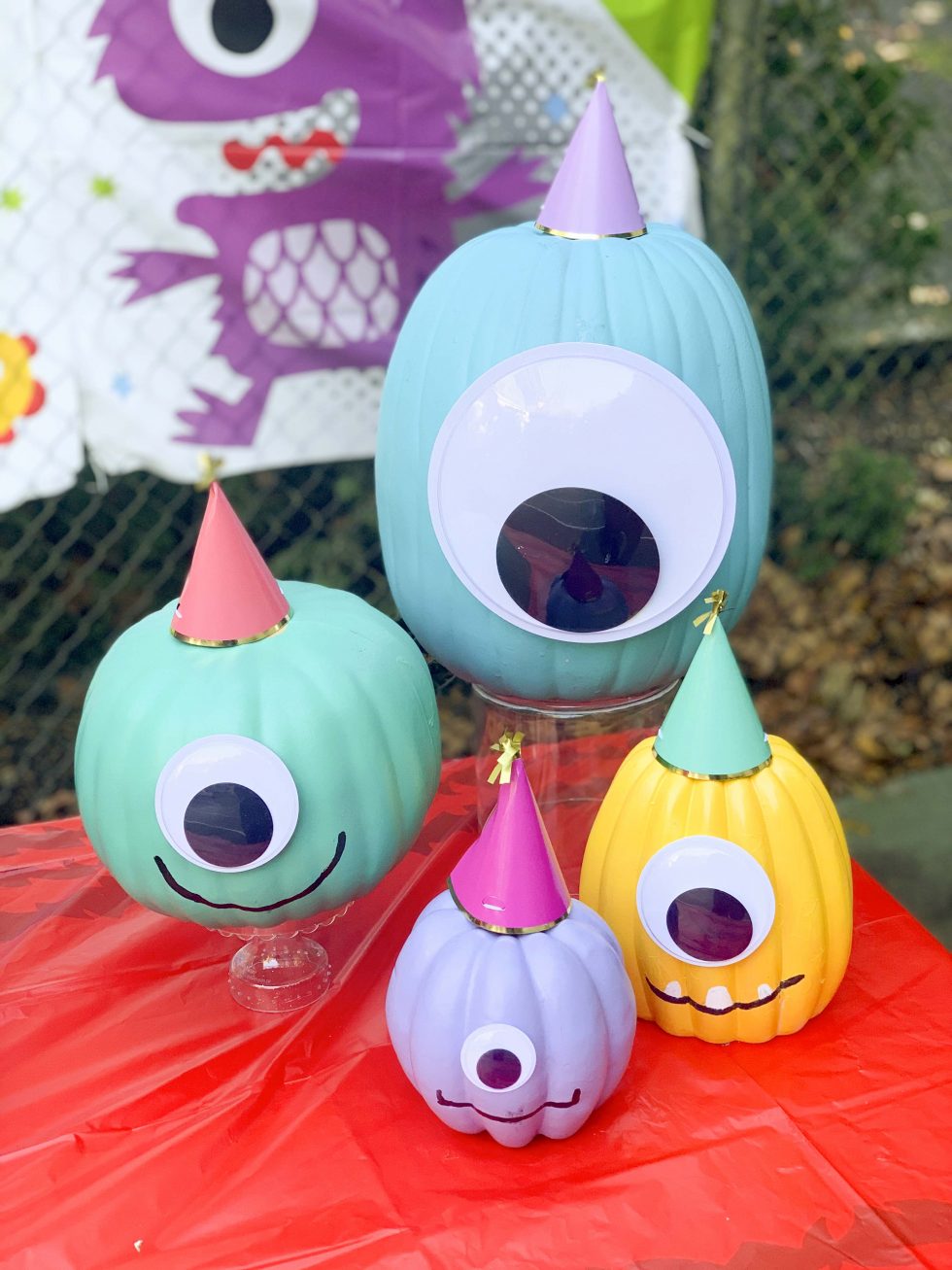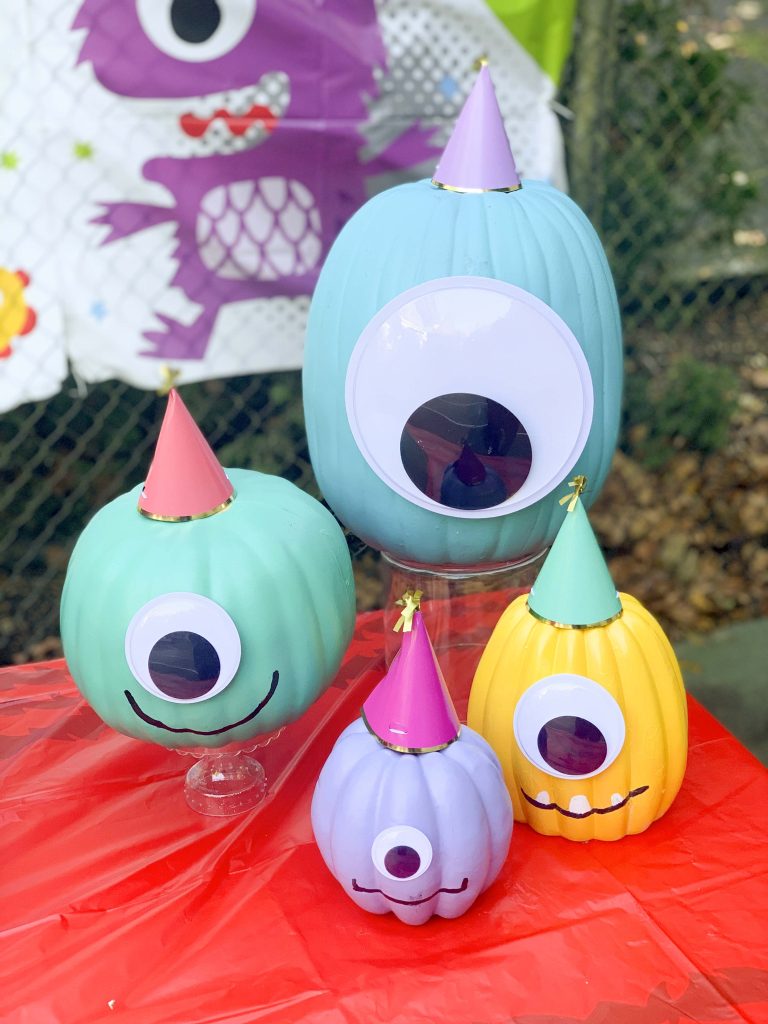 Fortune Teller Table
Then, I repurposed props from my Mystical Misfortune Dinner Party and Fortune Teller Halloween Craft Party to set up a Fortune Teller Table. My favorite part has to be the two-headed skeleton fortune teller in the center – she predicted candy in everyone's future! But for those who wanted more of their fates foretold, there was also a wheel of fate and tarot cards aplenty. I also loved the look of the metallic silver moon balloon hovering over this table from Hello Me Party.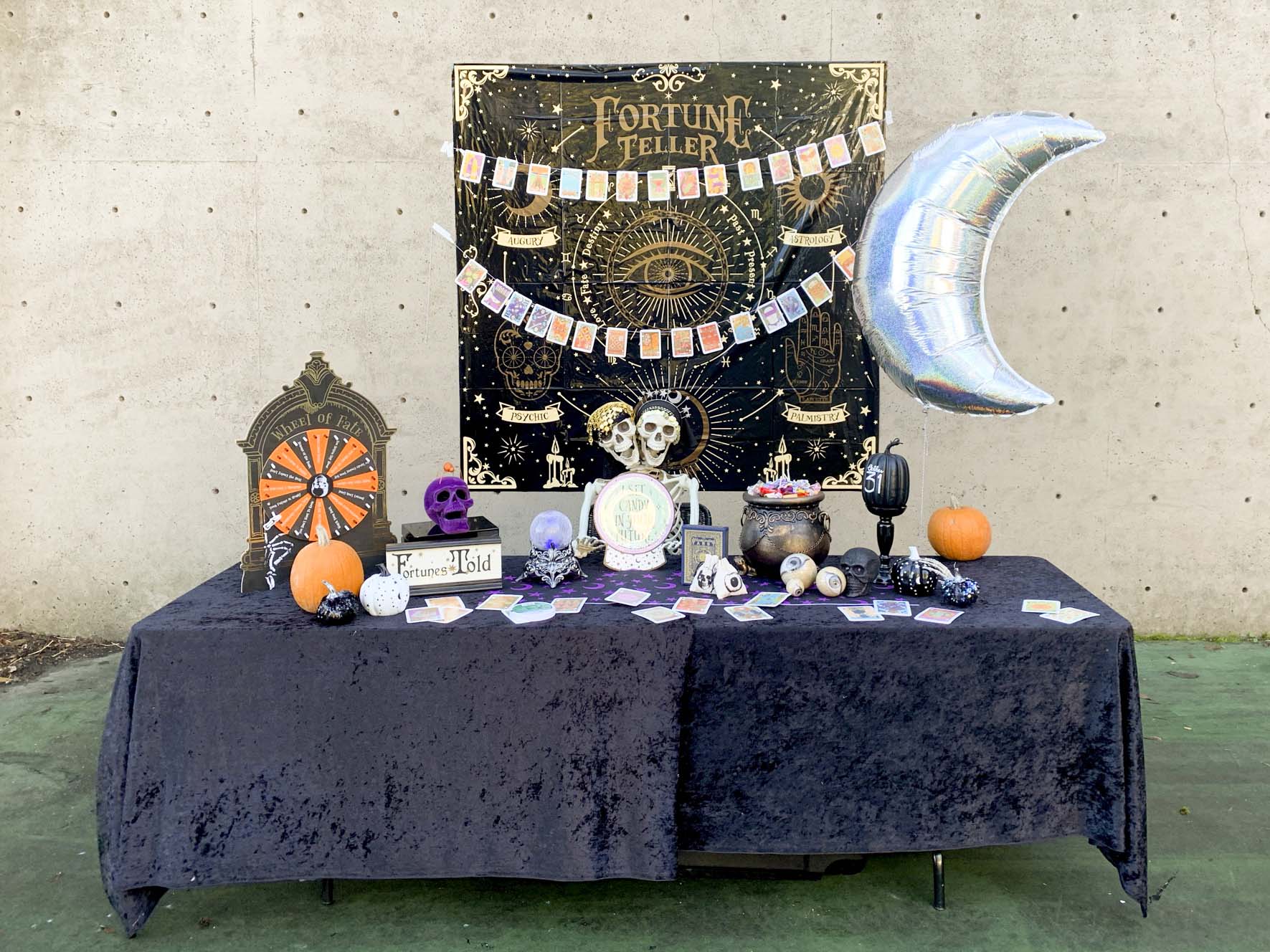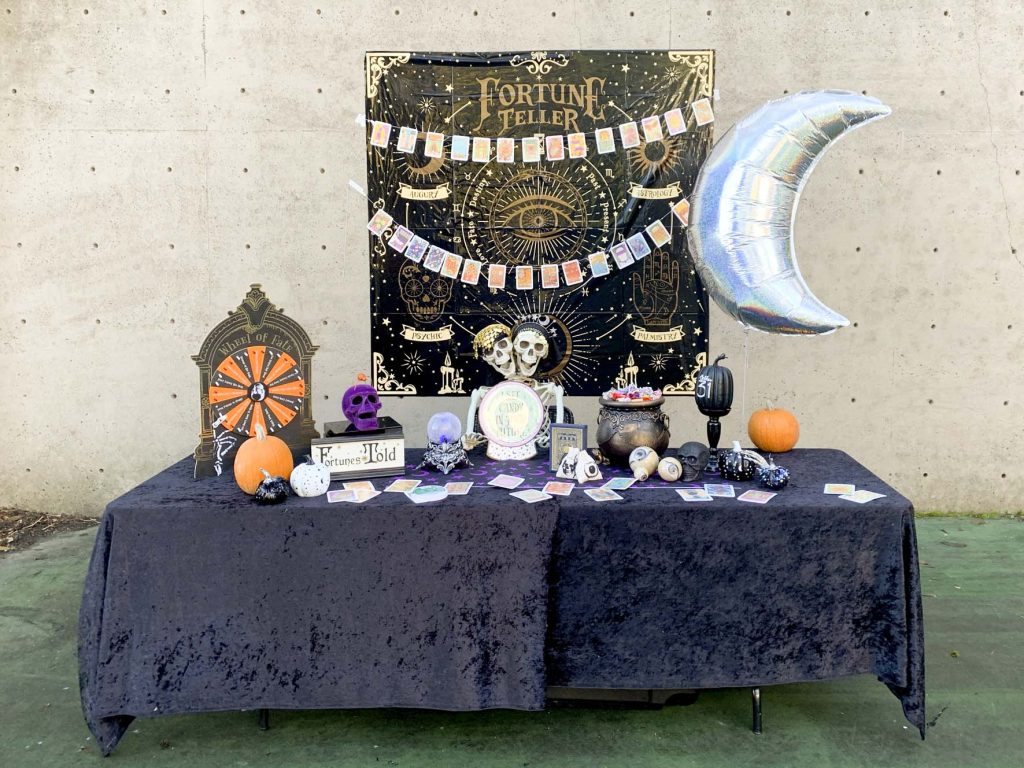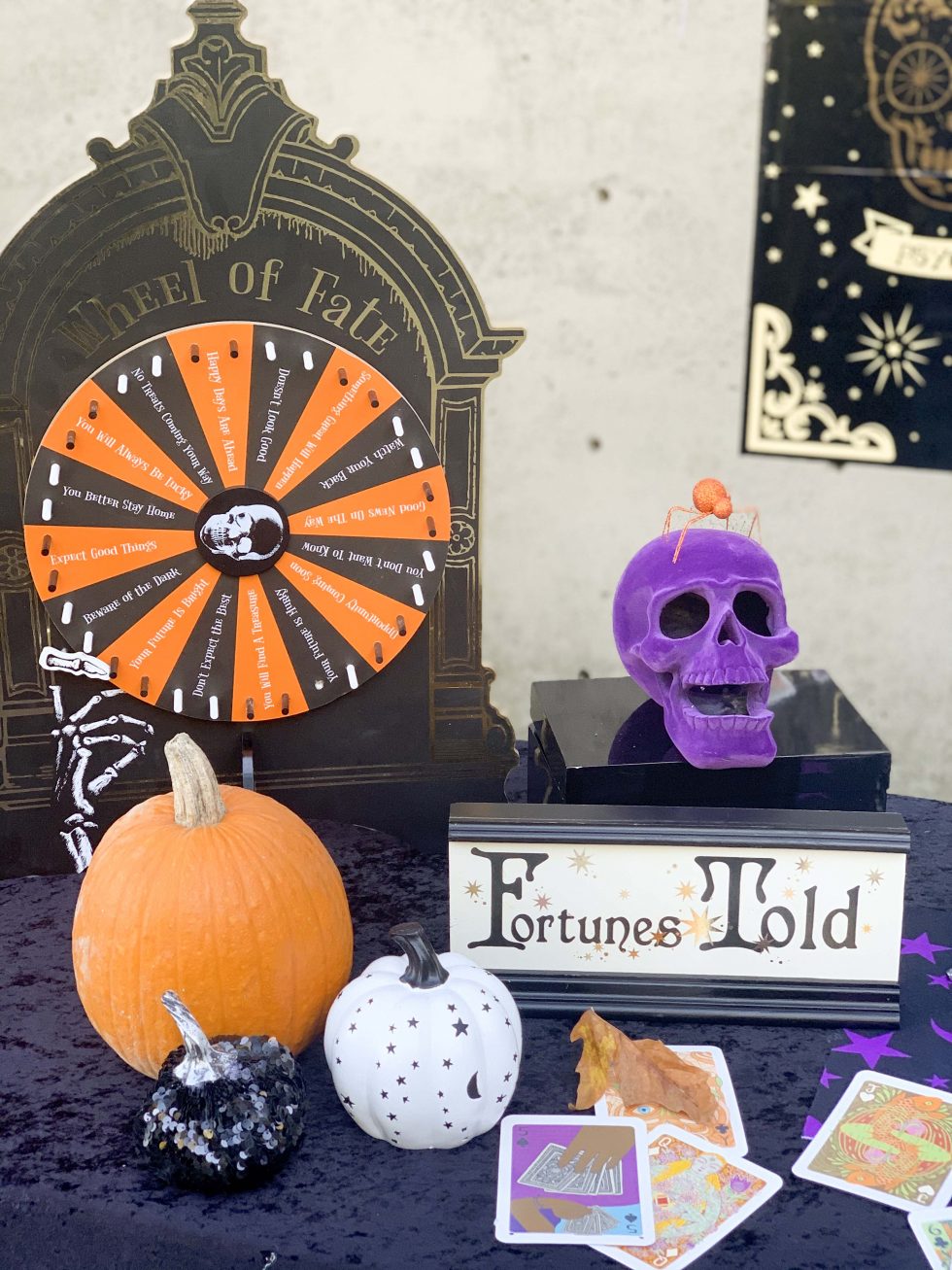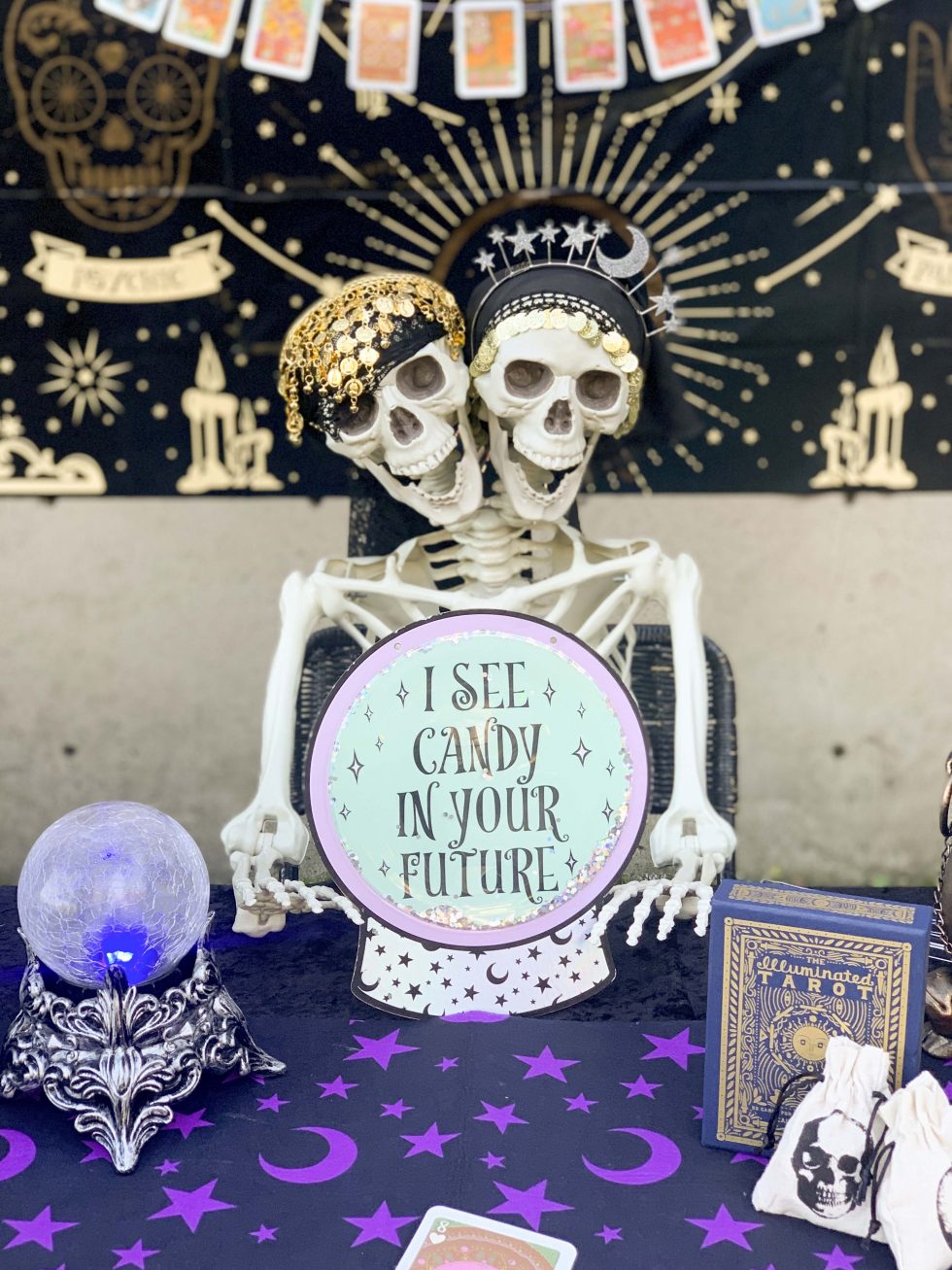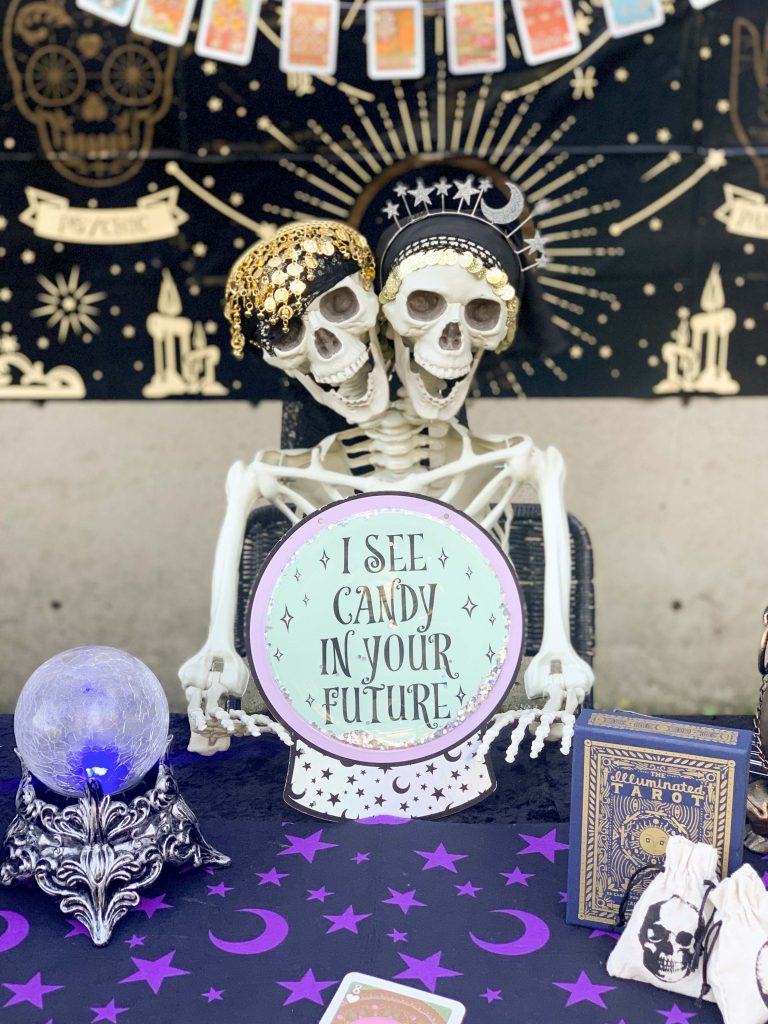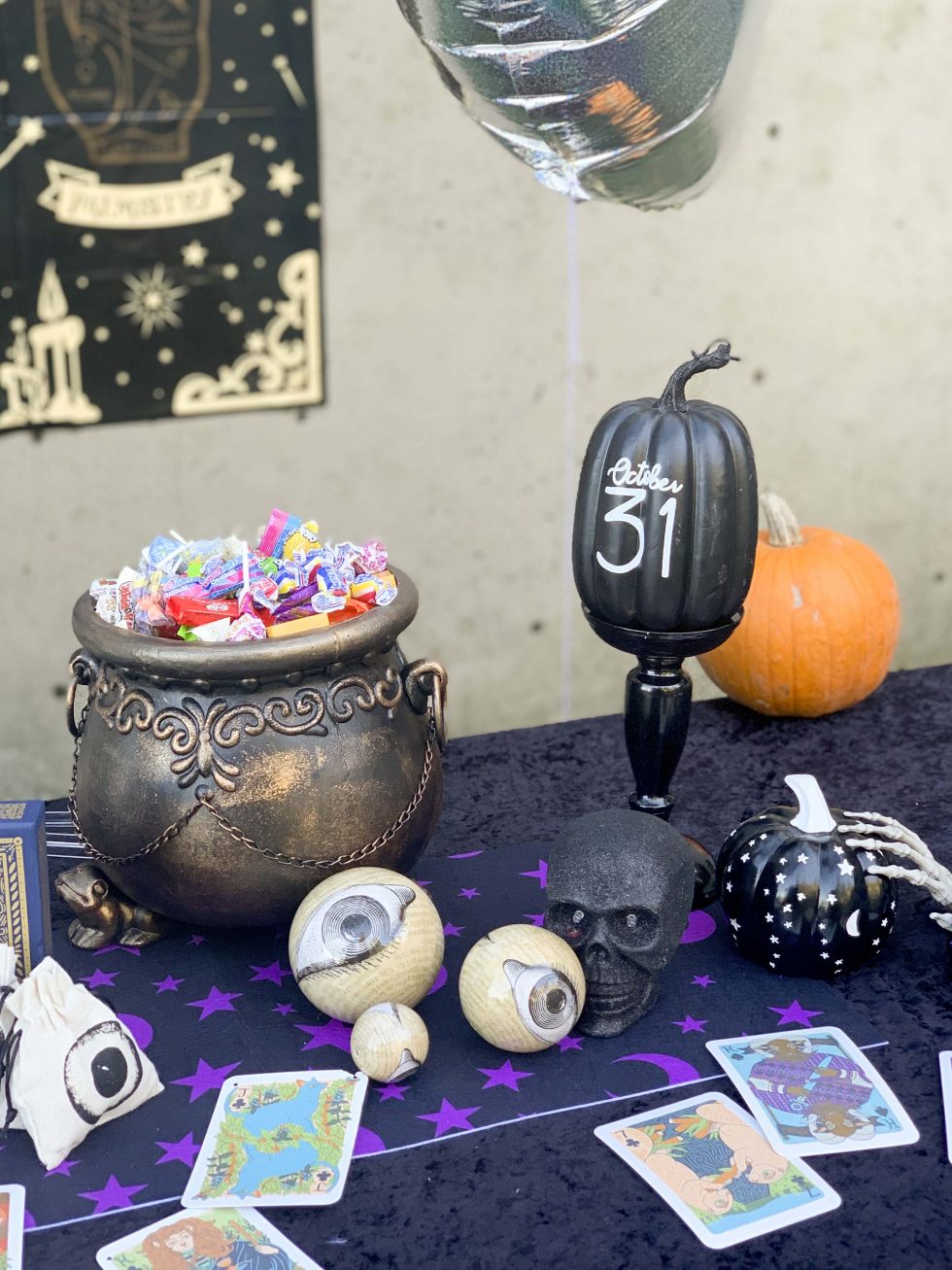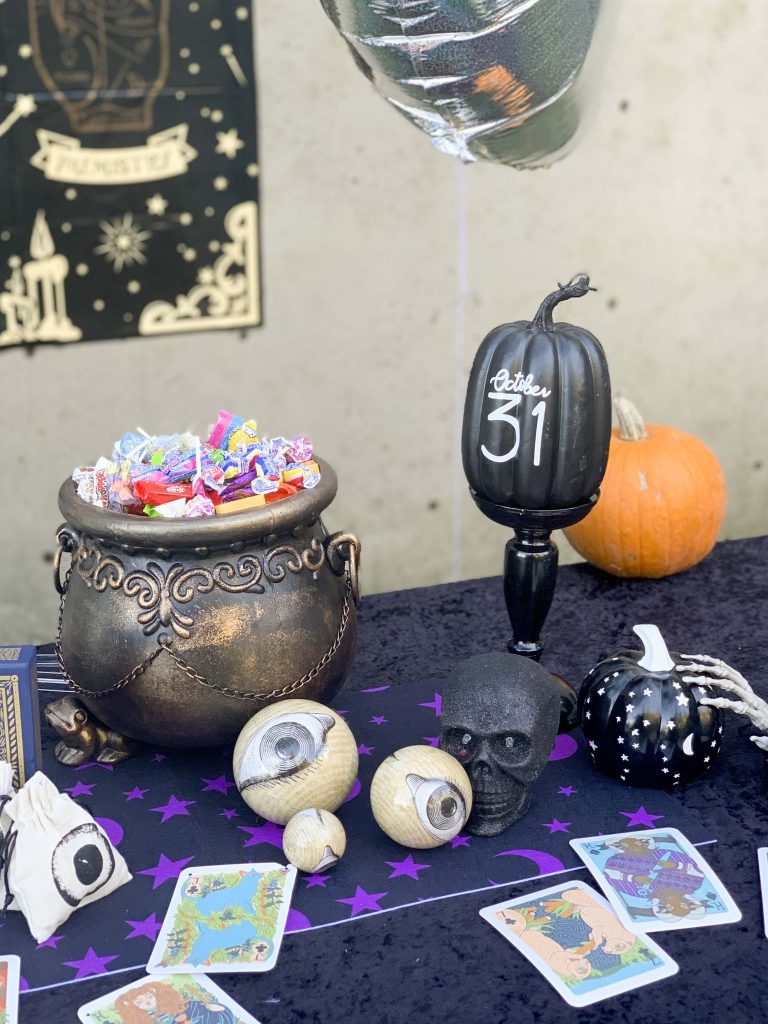 Spider Table
Next, one of the easiest yet creepiest tables – the Spider Table! I used giant spider props from my Spooky Spider Party – enough to give anyone the creepy crawlies. And to get candy from this table, kids needed to be brave enough to sneak some away from the spider keeping watch on this candy cauldron! Would you be brave enough?!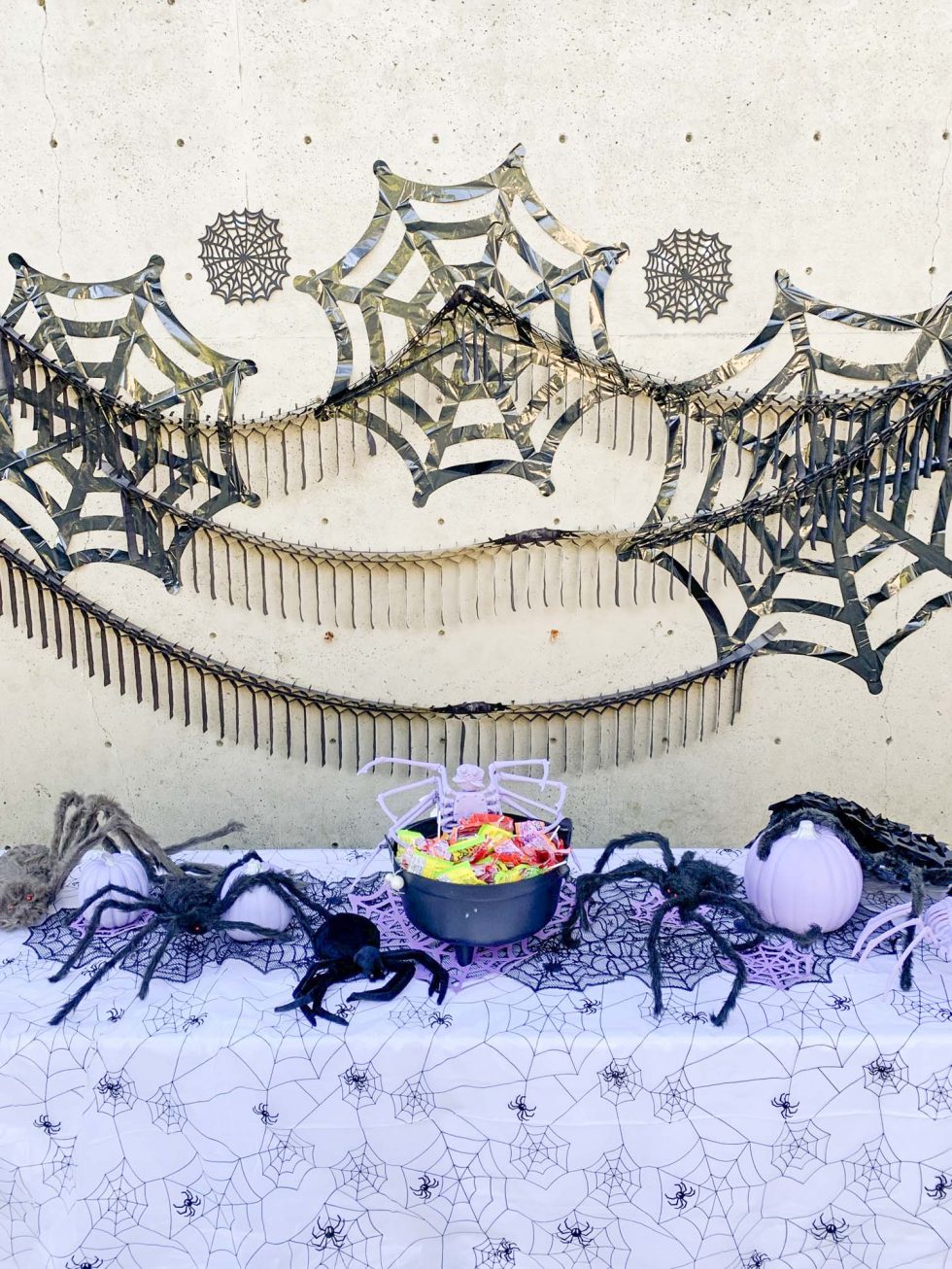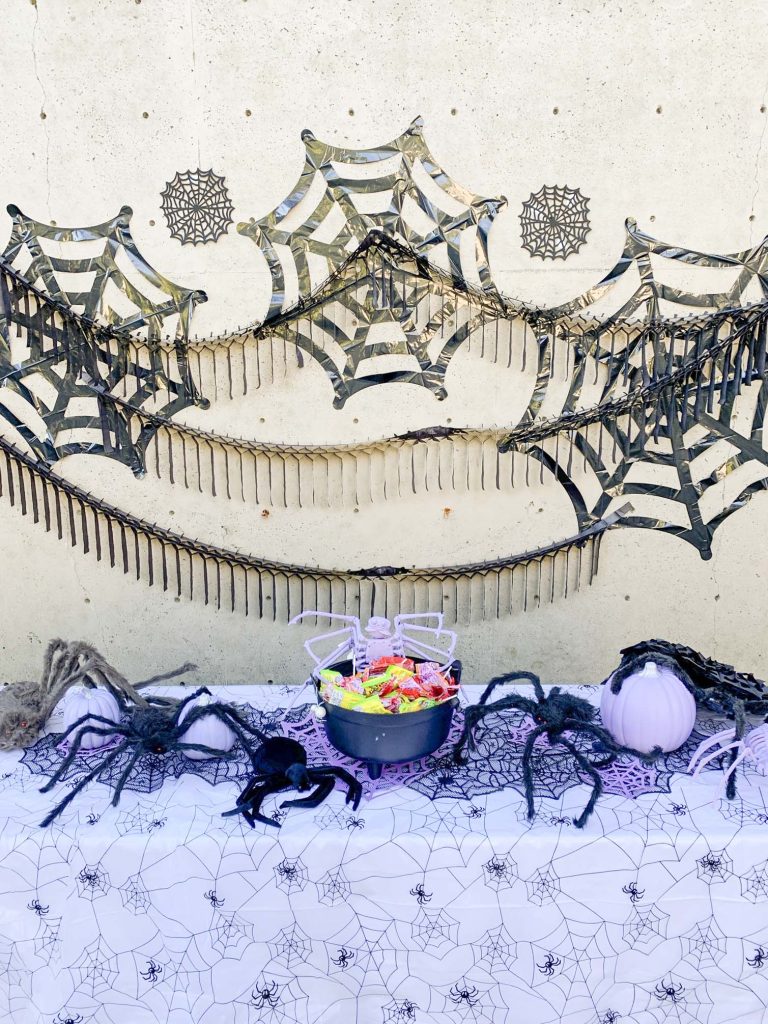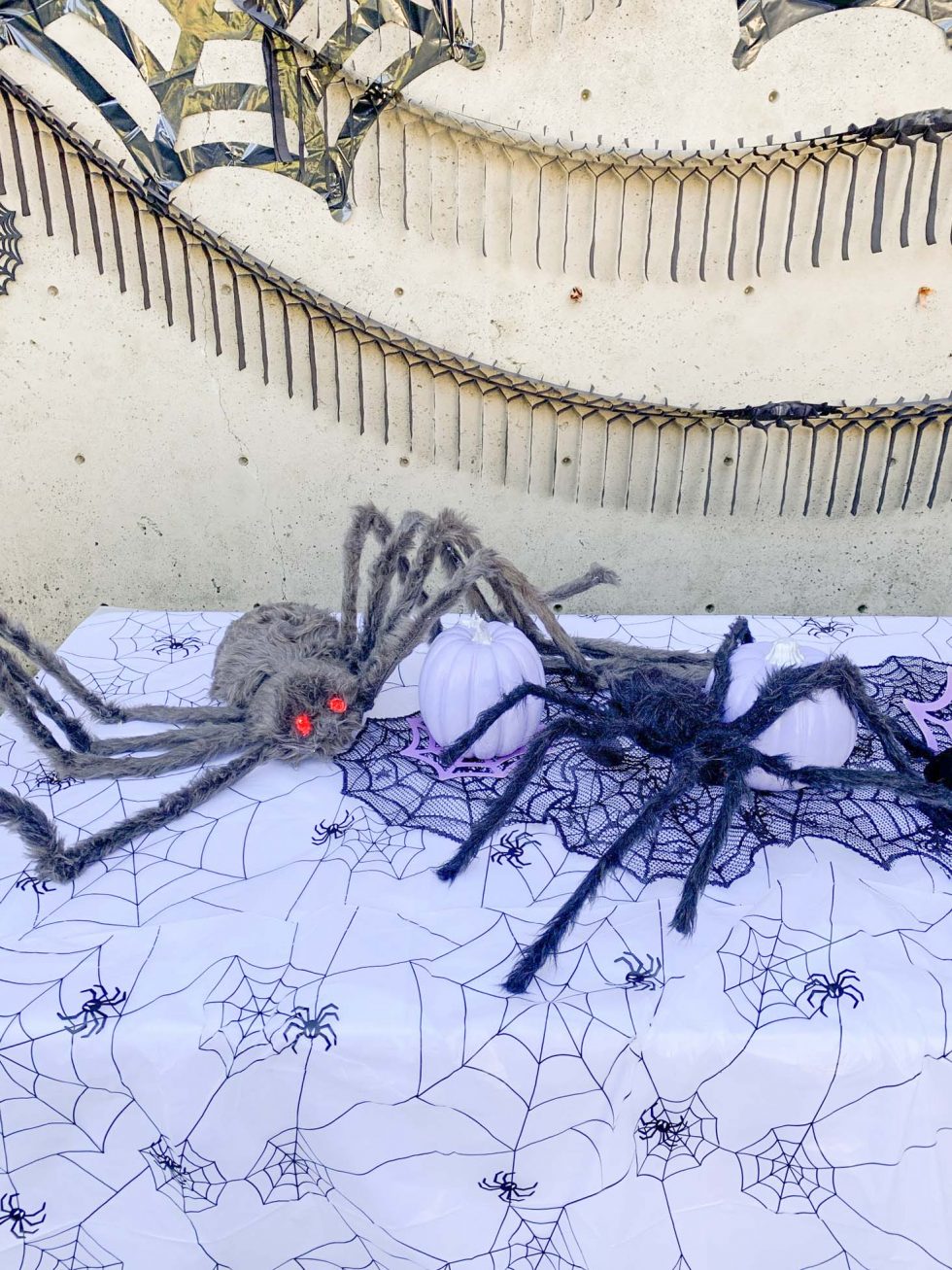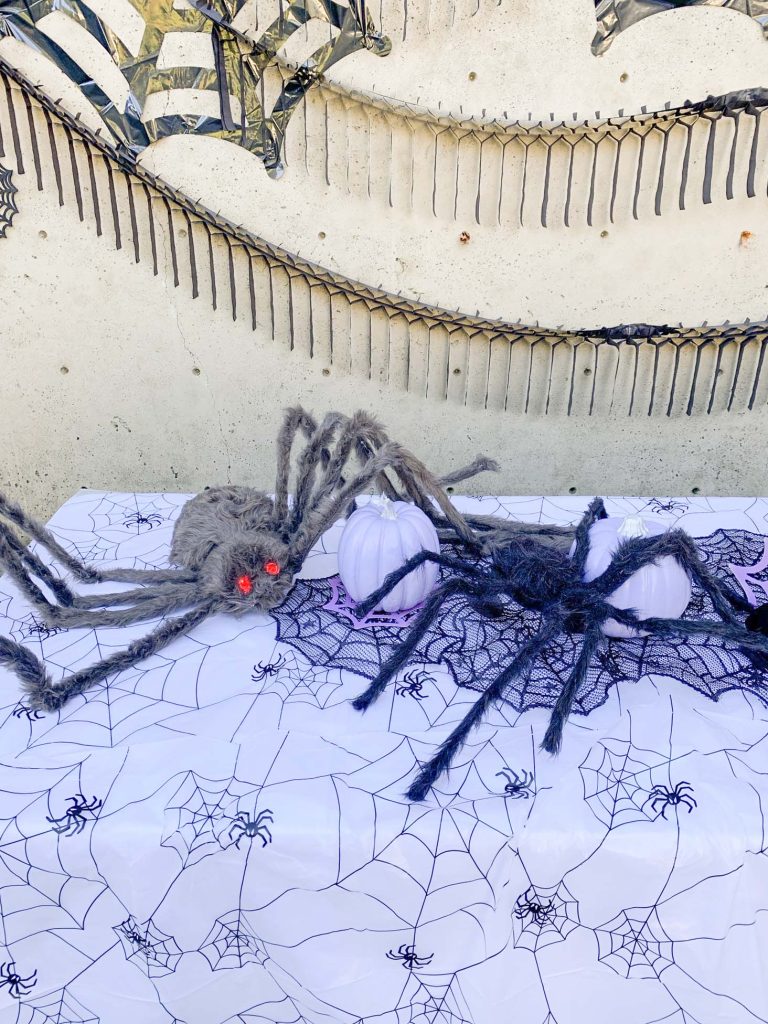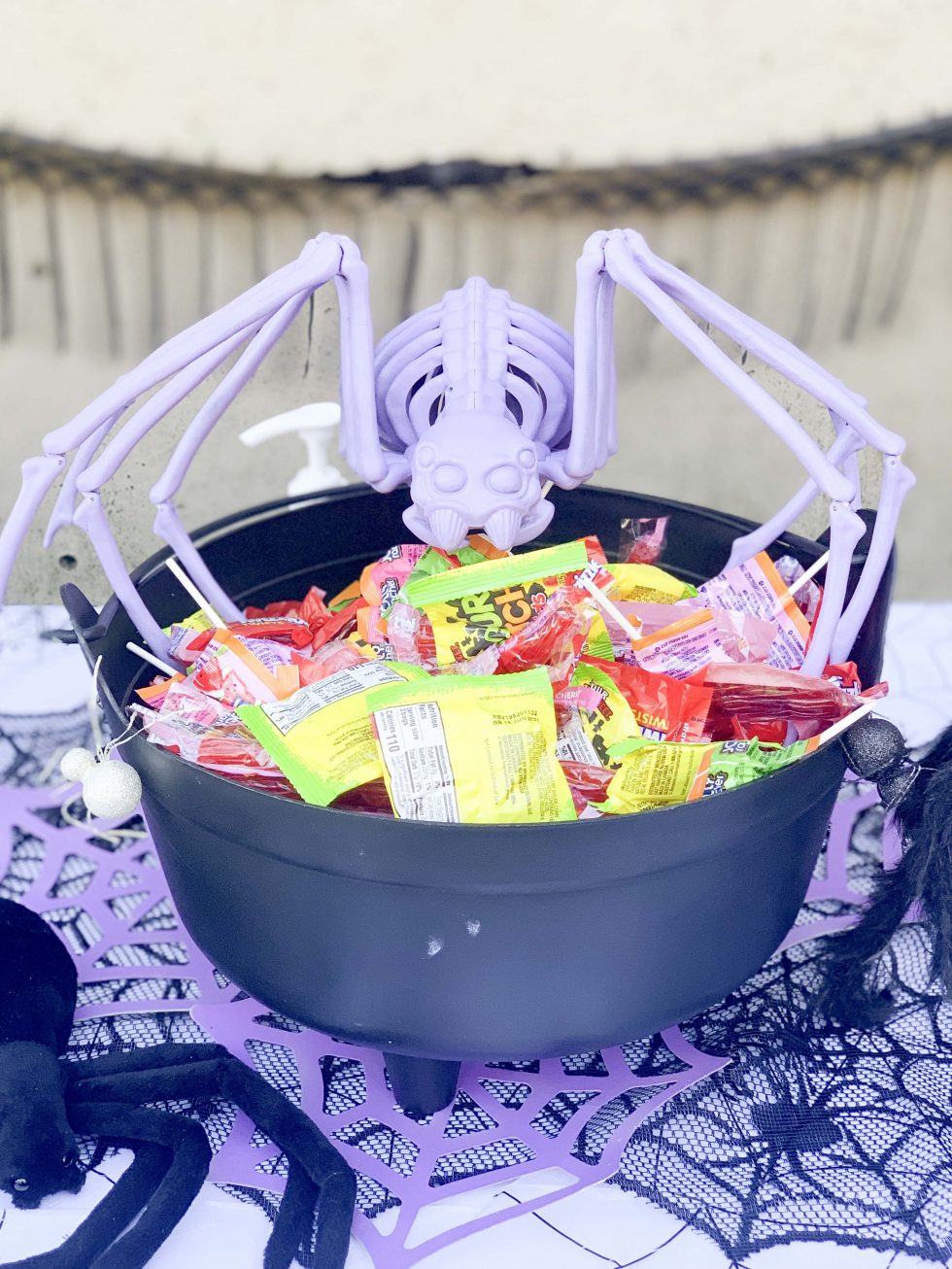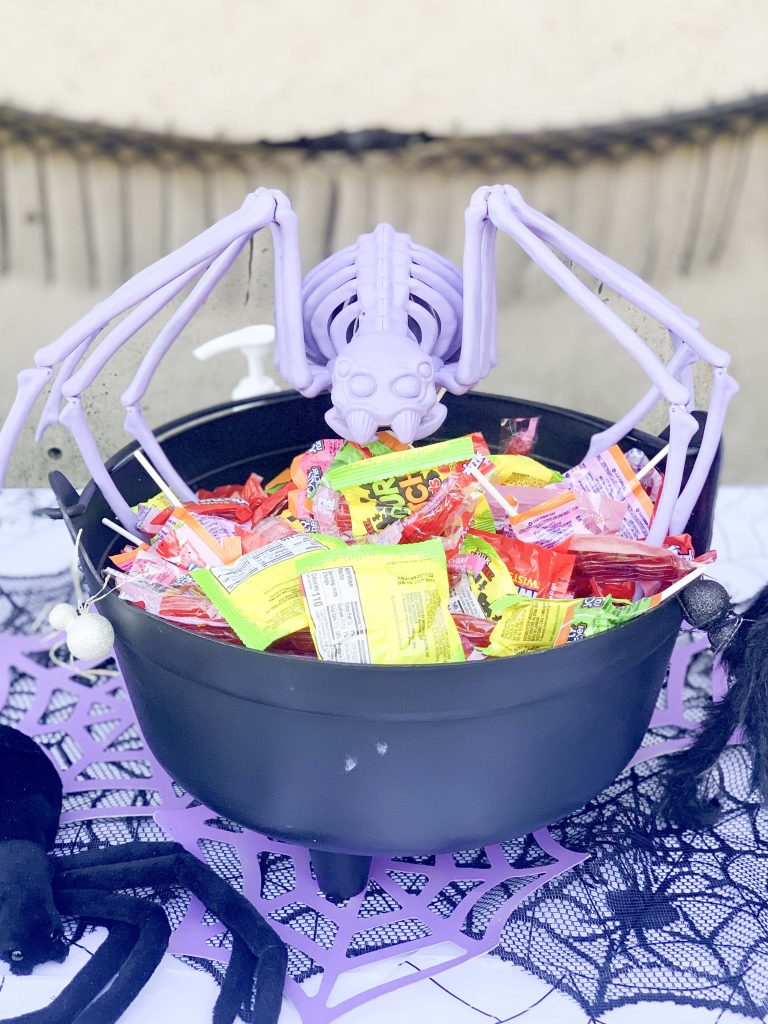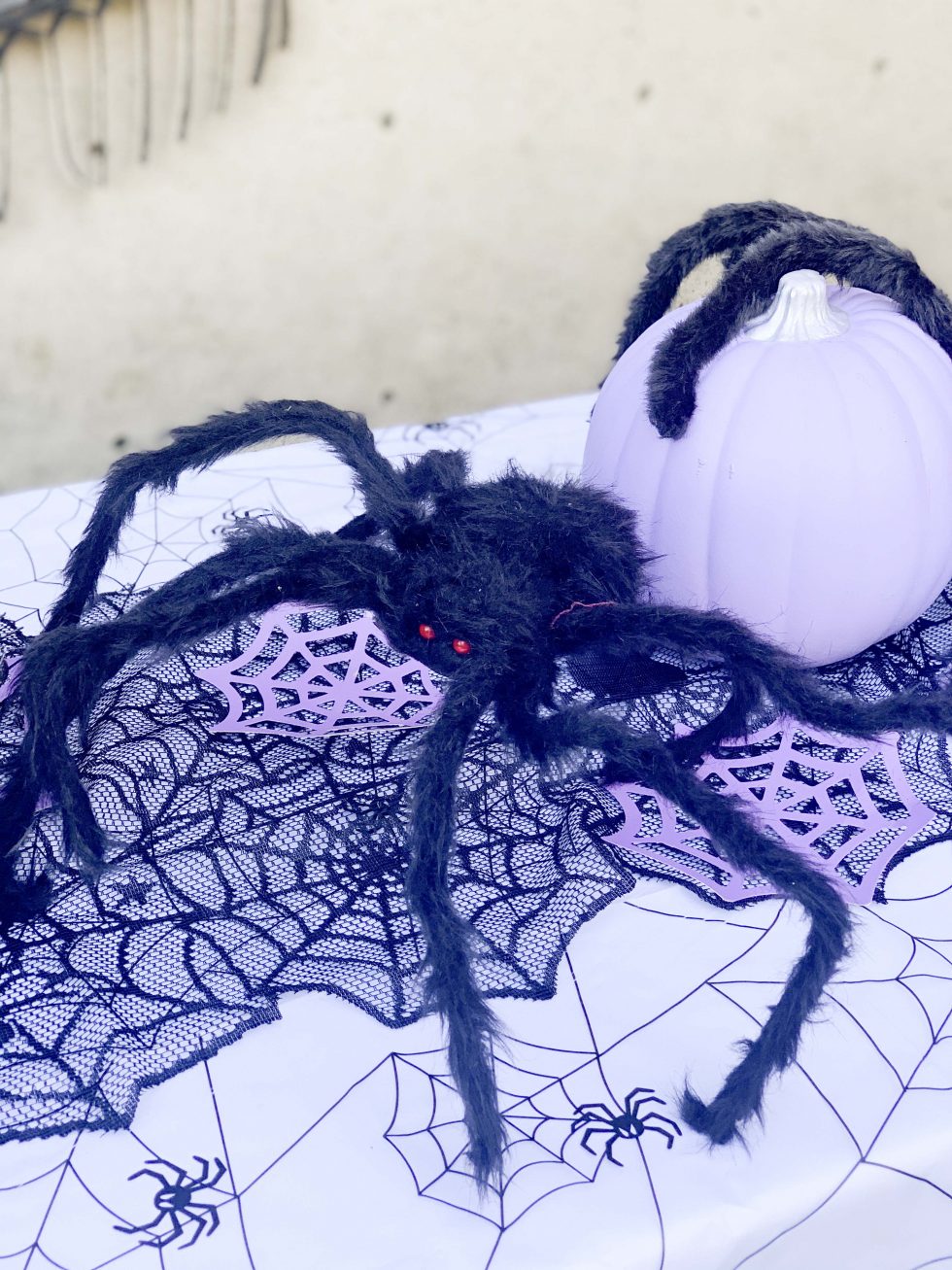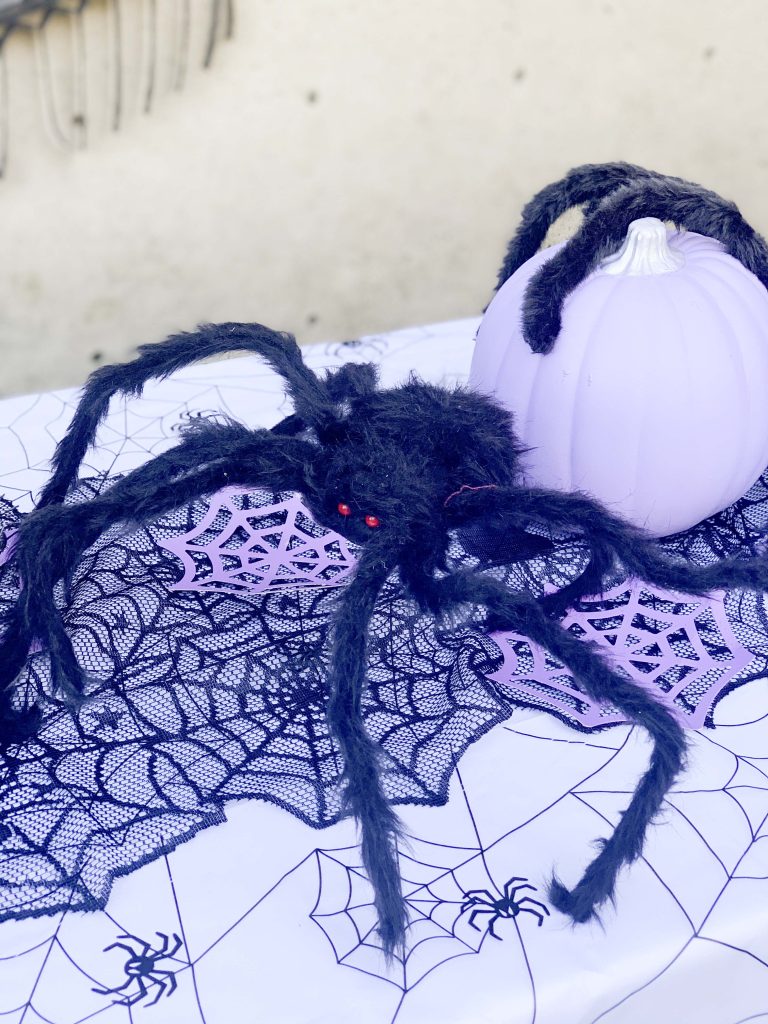 Candy Land Table
To balance out the fear factor, the next table was a fun one – a Candy Land Table! After all, there is no Halloween without candy, right? This one was also pretty easy to create with lots of candy balloons, giant gummy bears, and giant wrapped candy I made out of pool noodles! A fun and simple DIY project anyone can do and would also be great to repurpose for the holidays!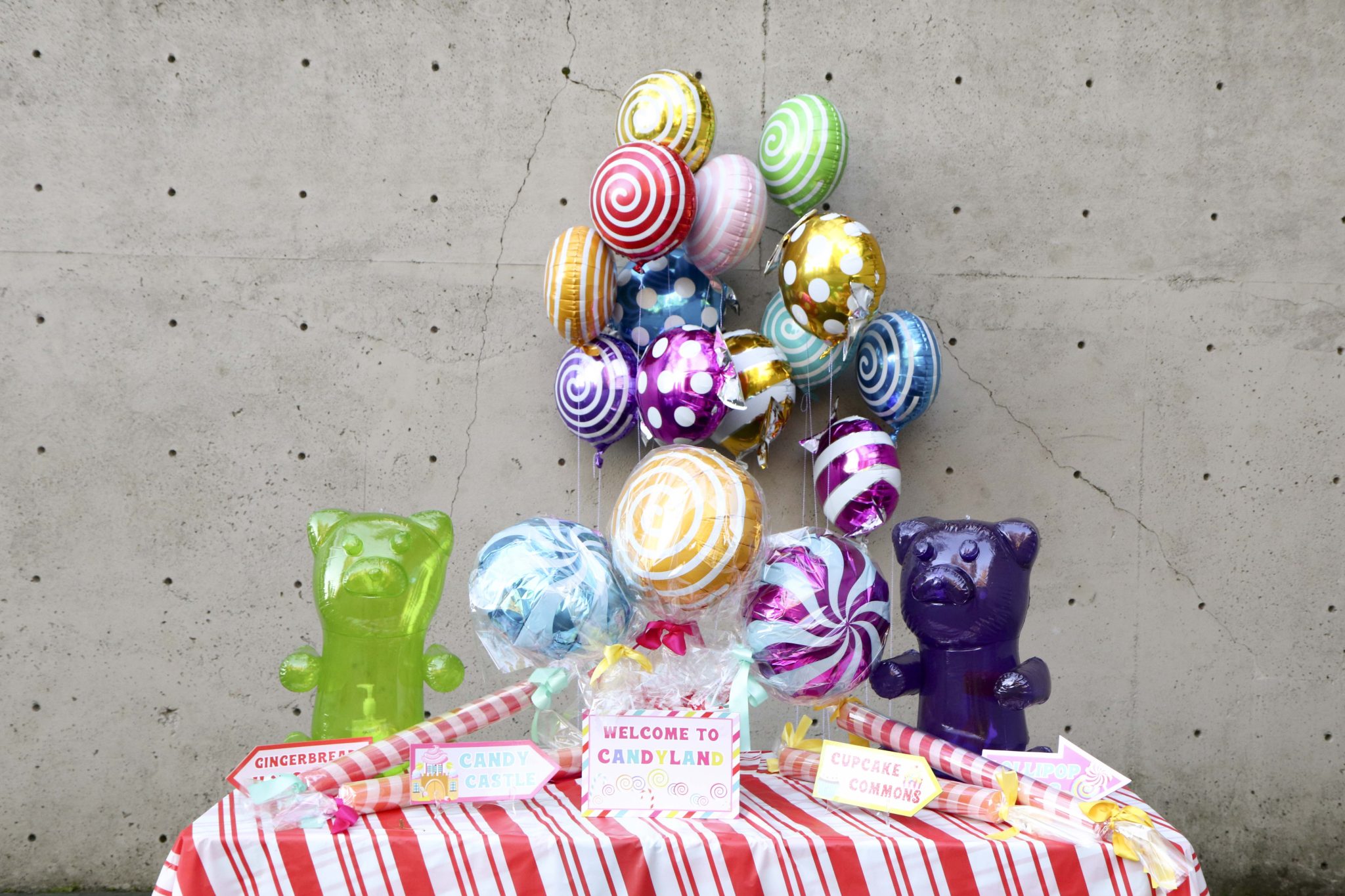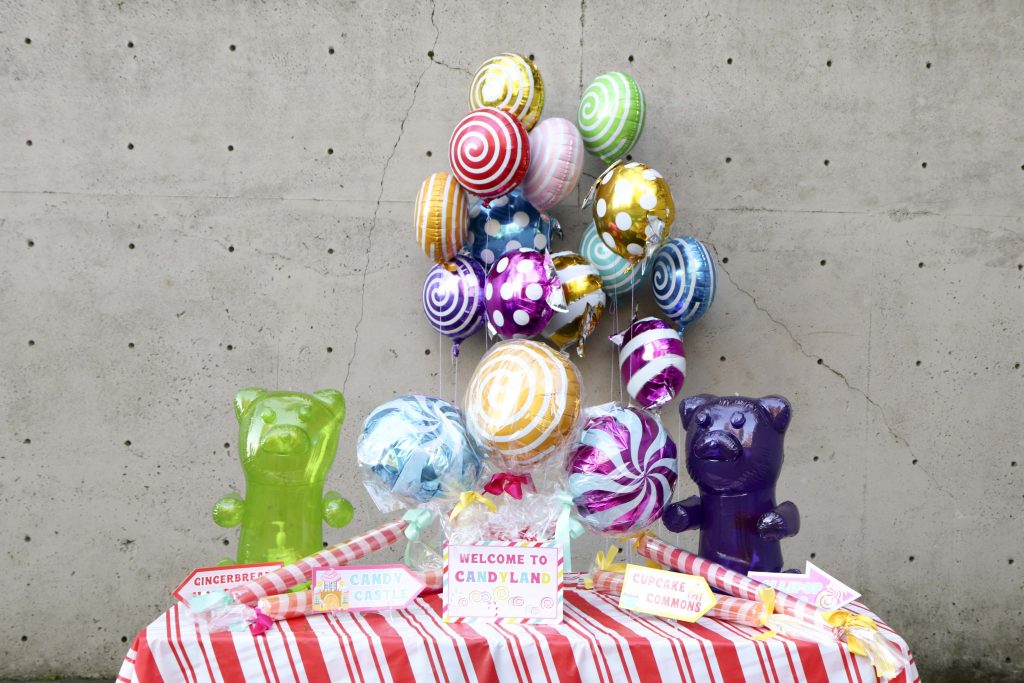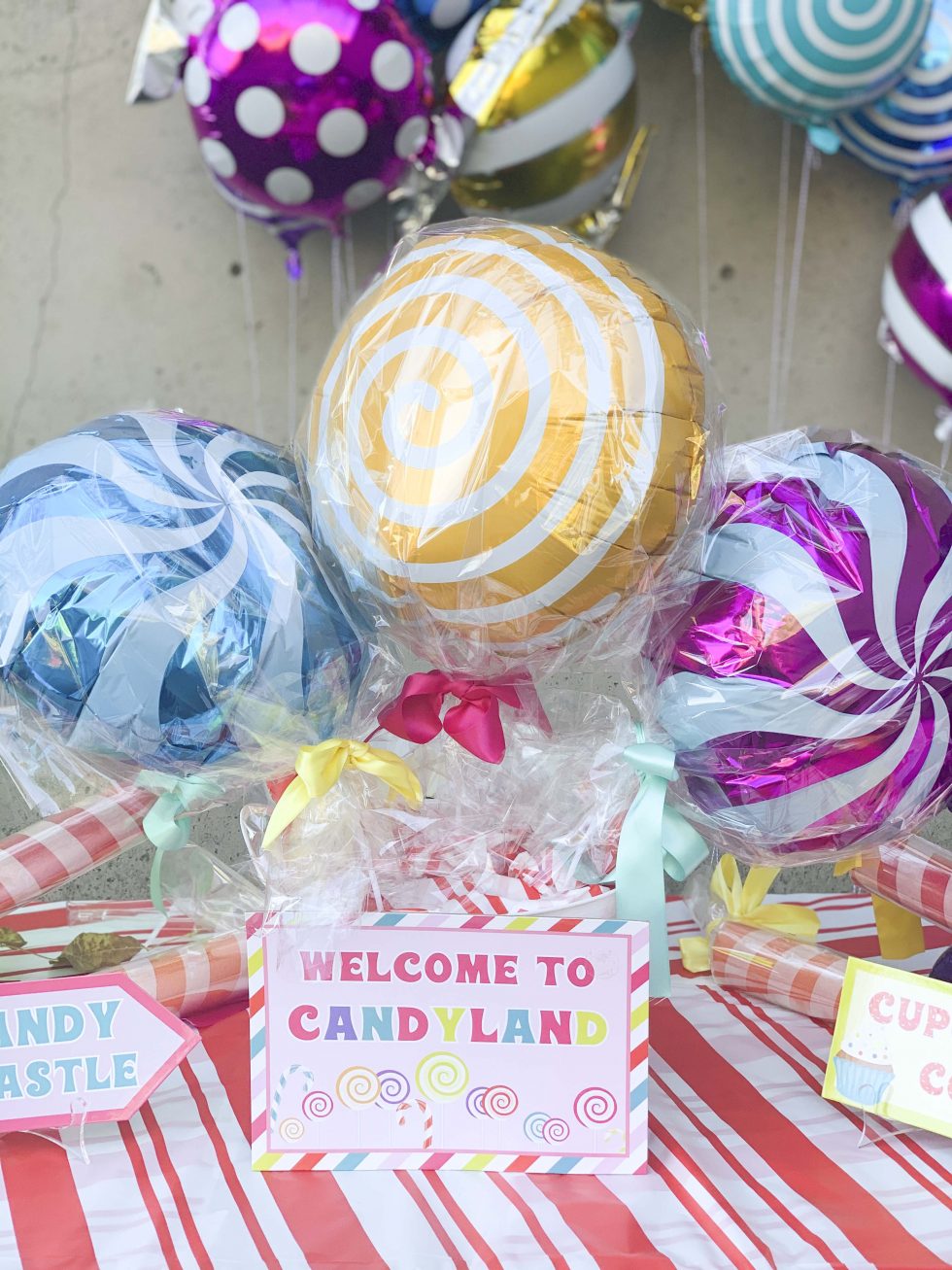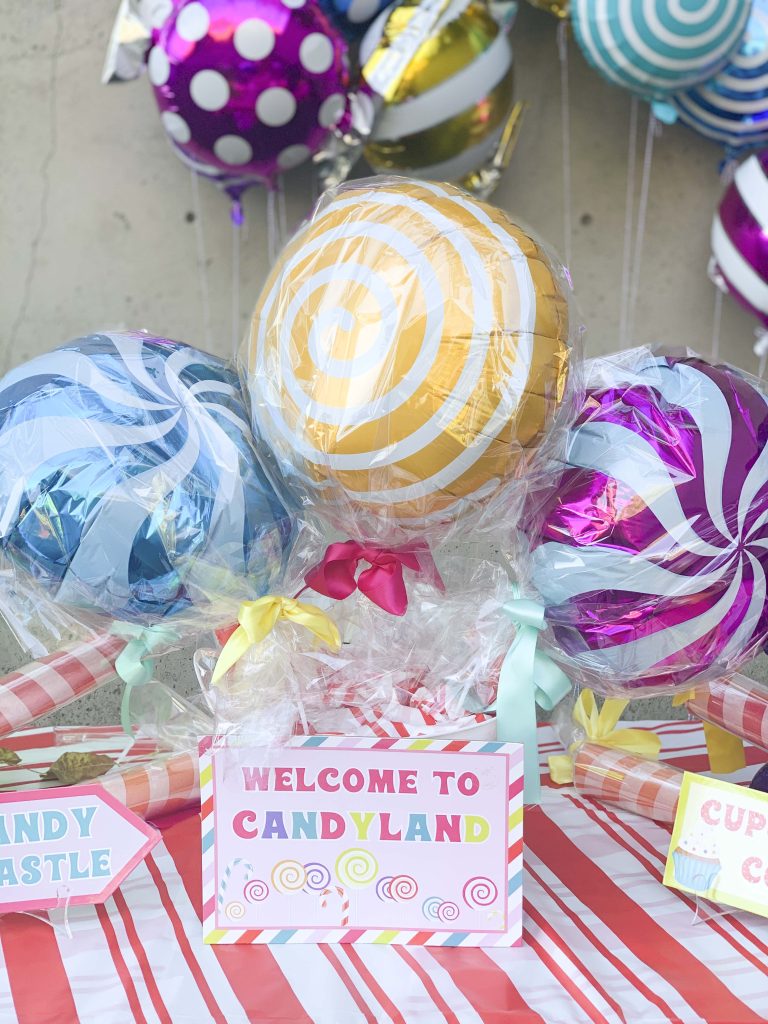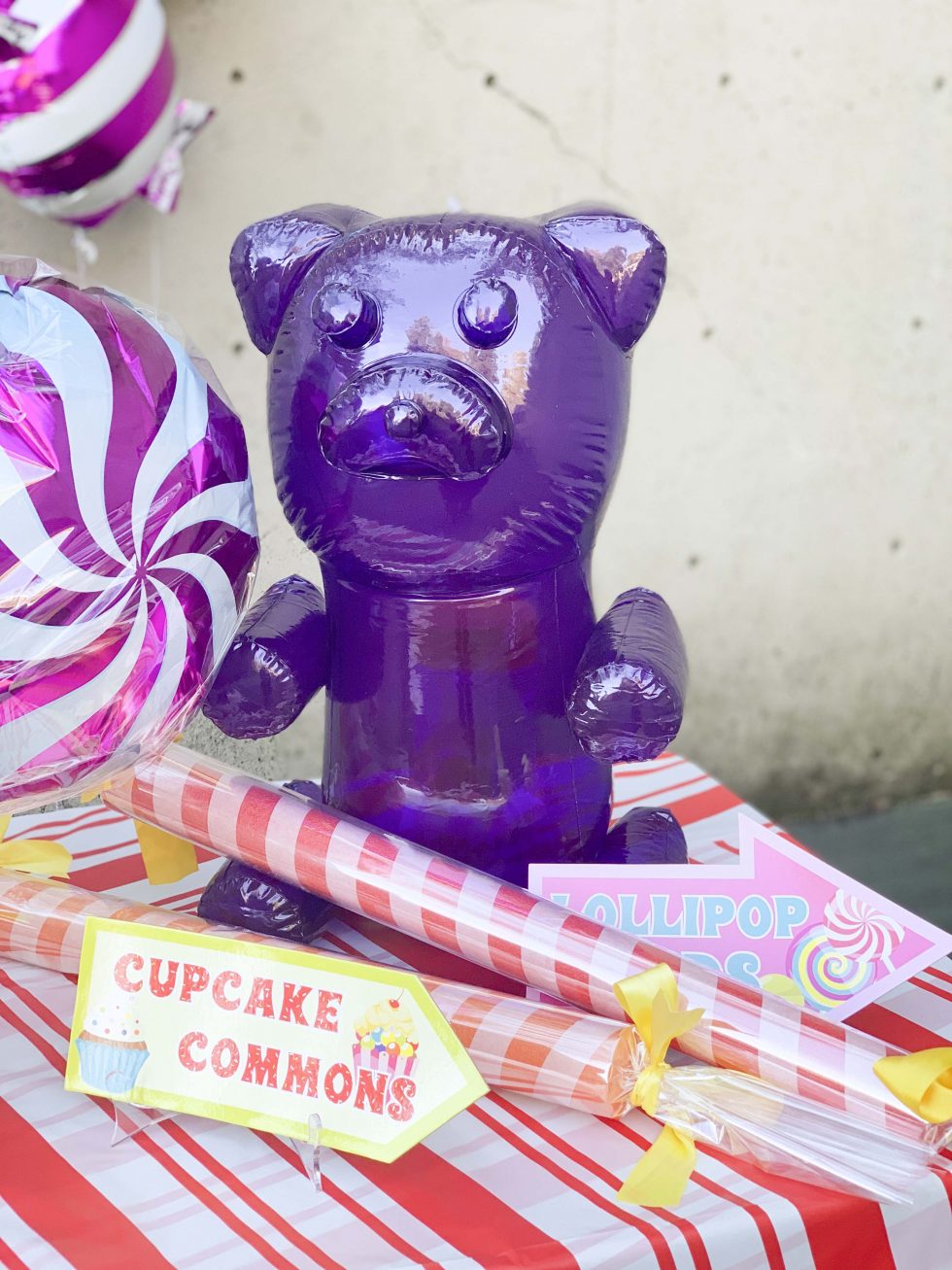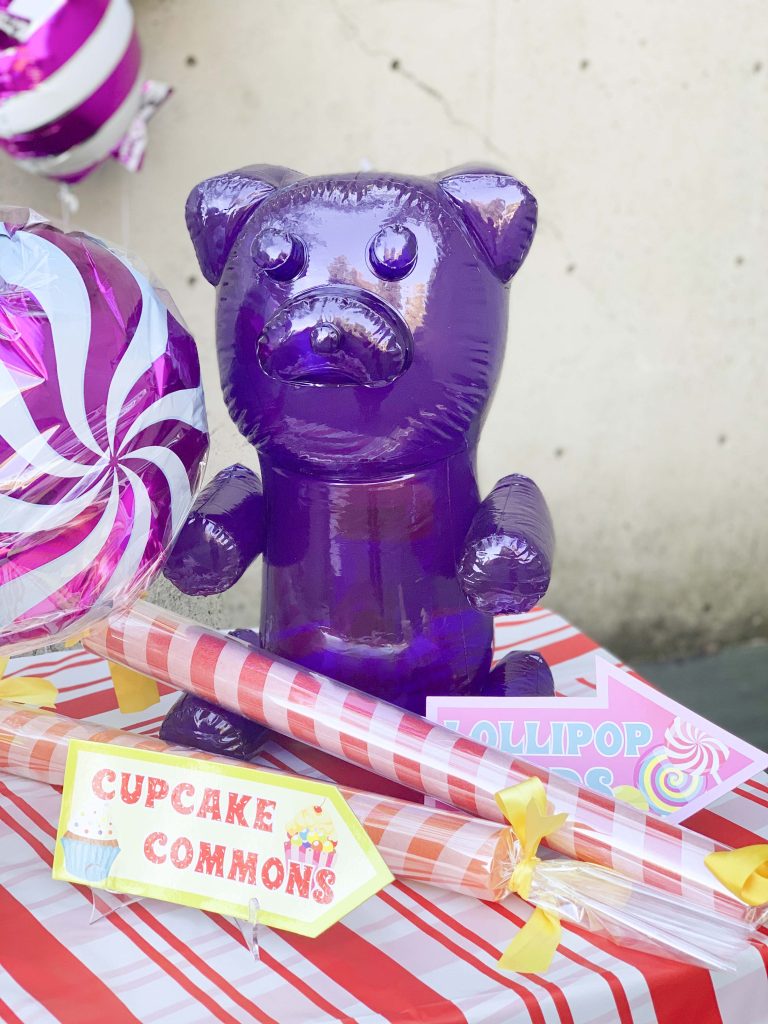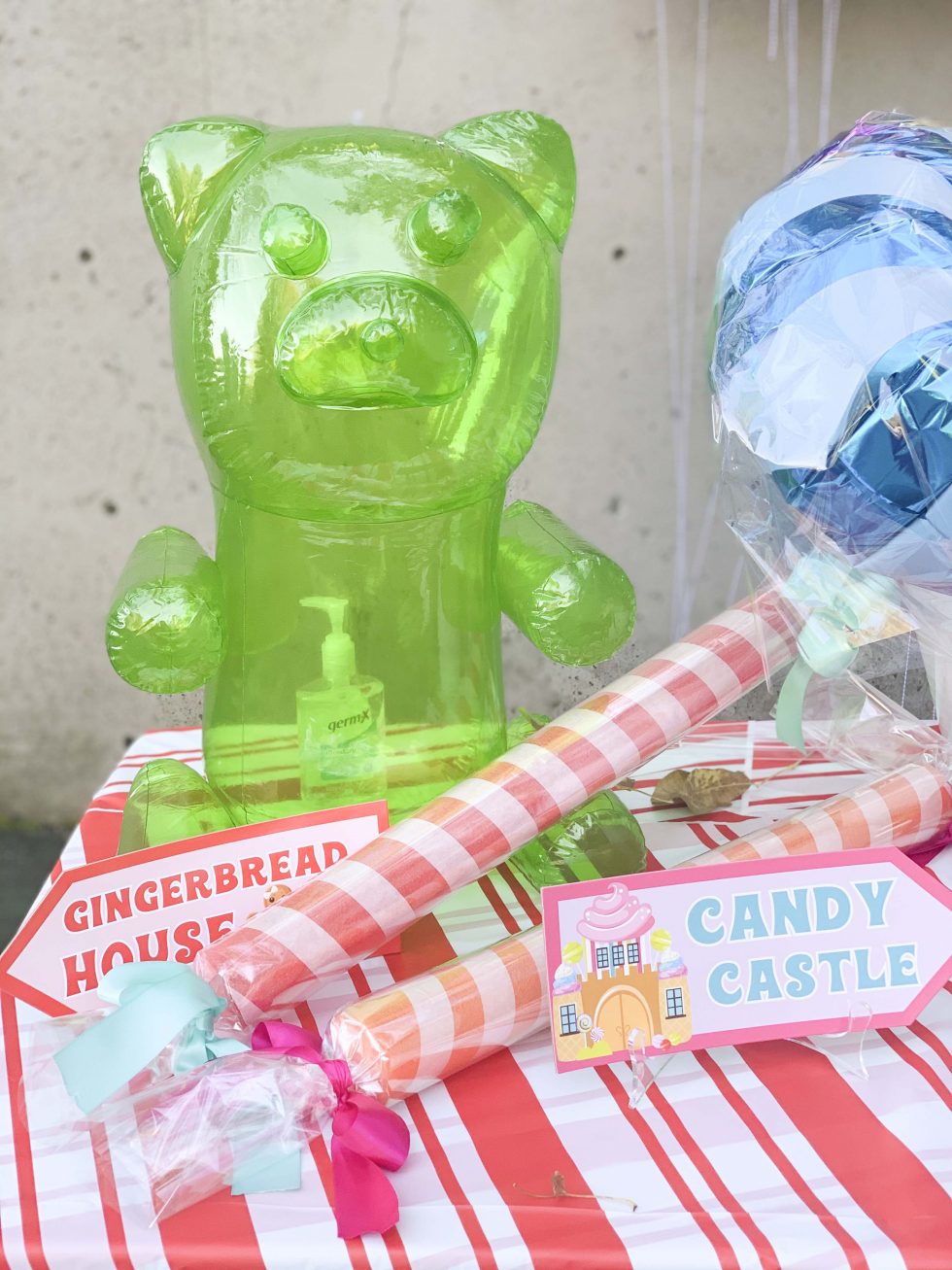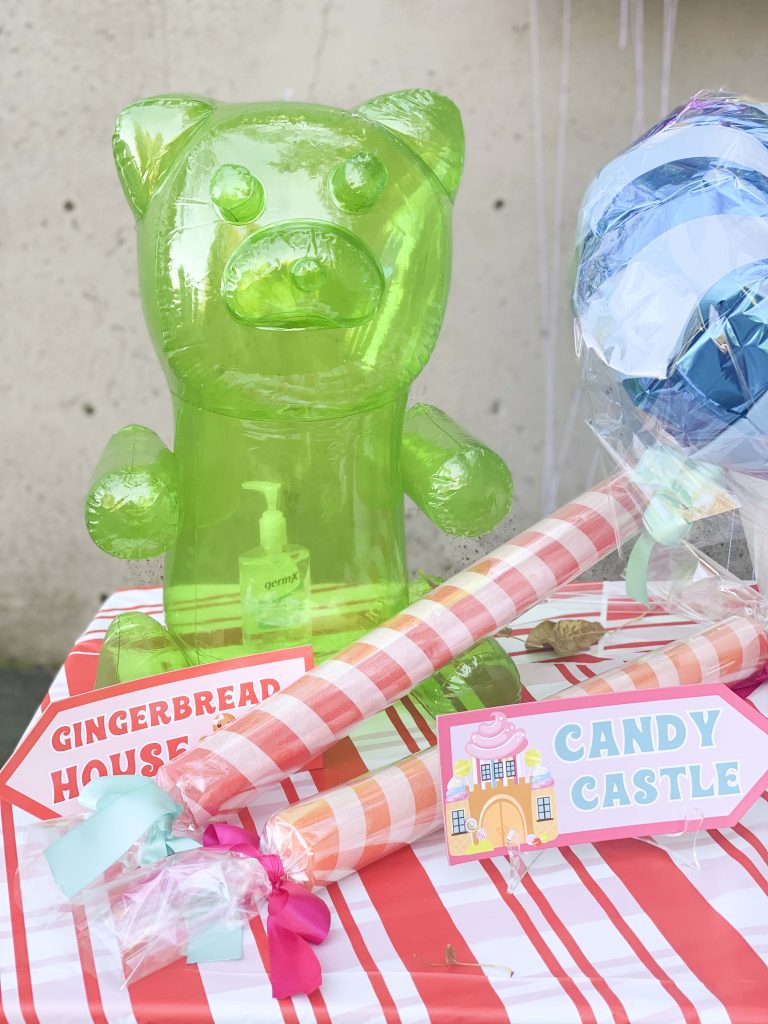 Witches Table
Getting back to the spooky Halloween vibes, the next table I created was a spellbinding Witches Table. I used plenty of props from my Hocus Pocus Party and my Black Cat Party, and added a fun witchy backdrop and of course, a huge cauldron of candy.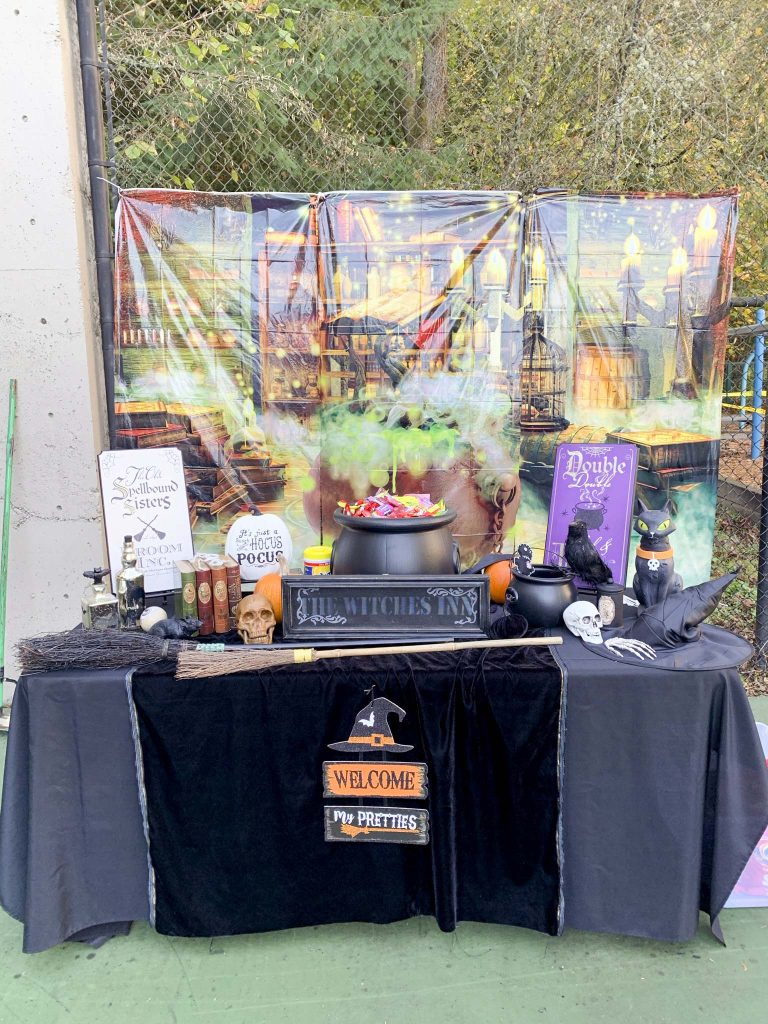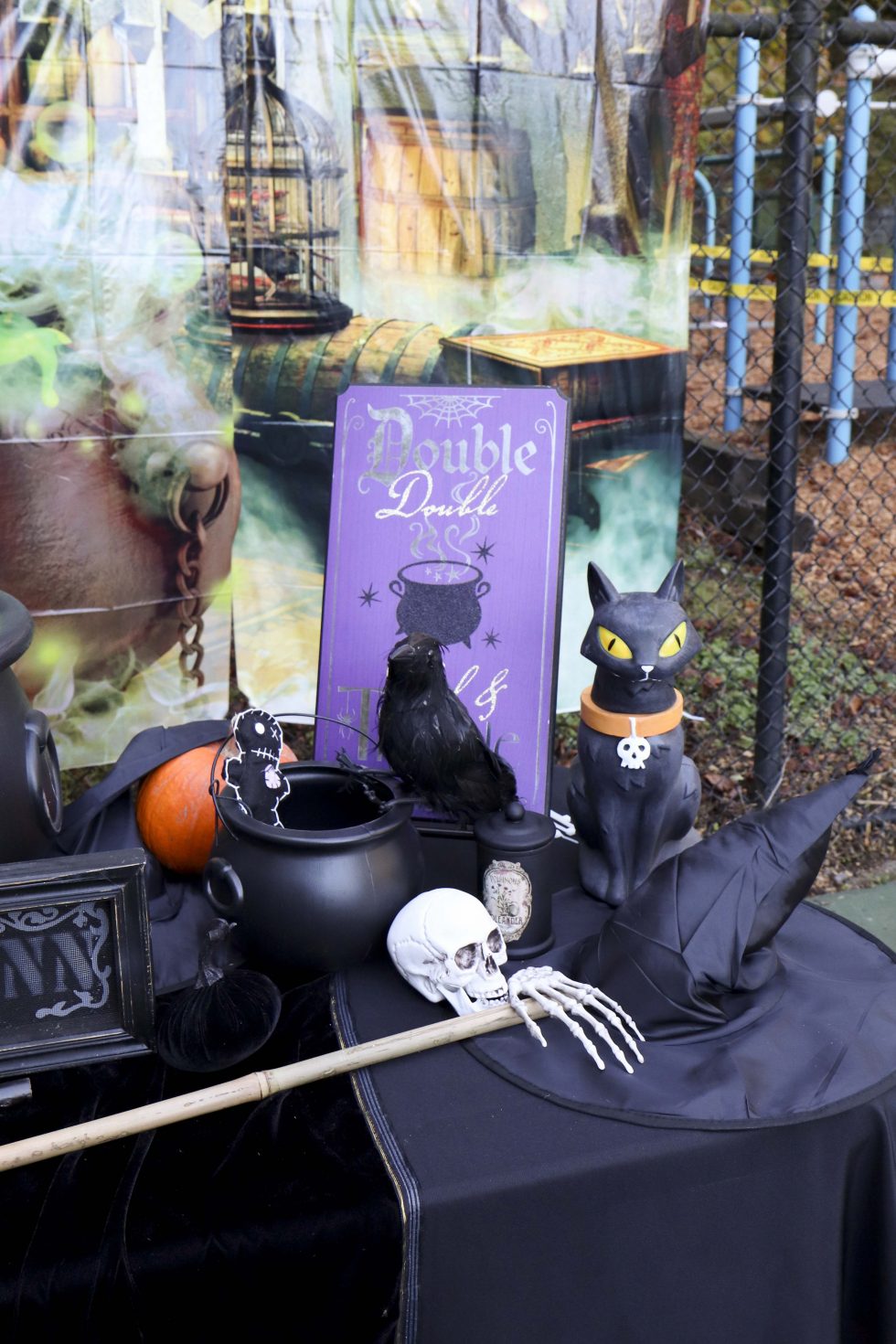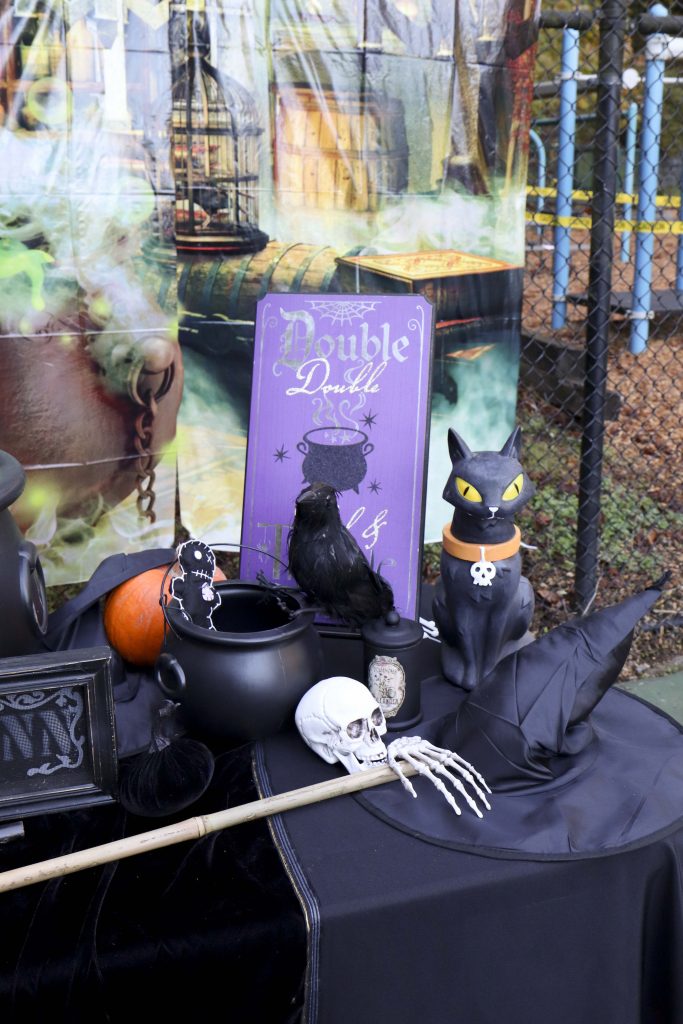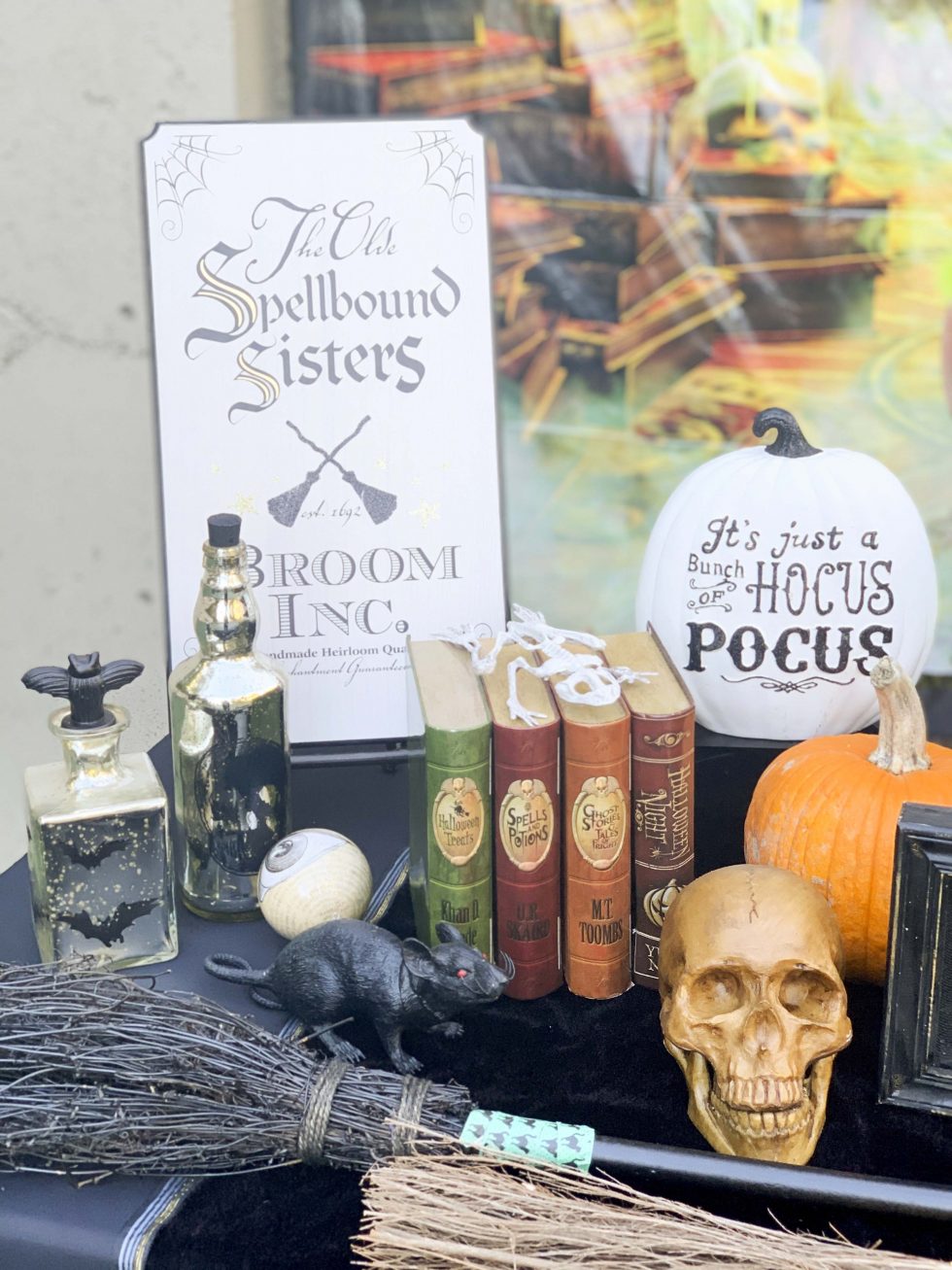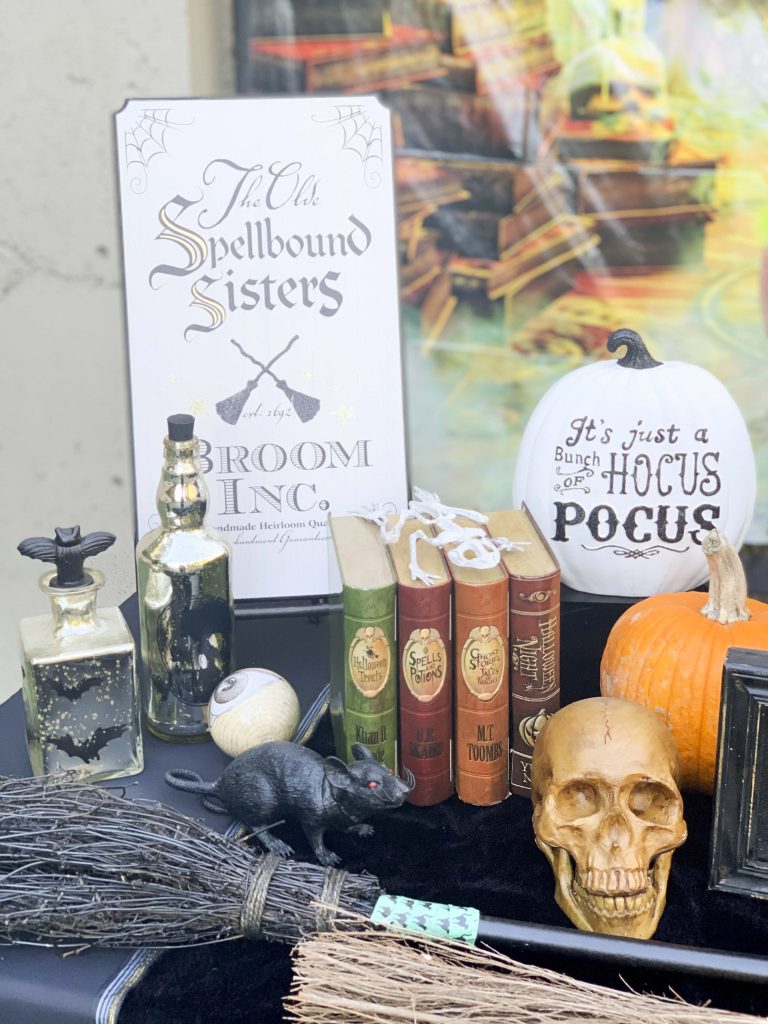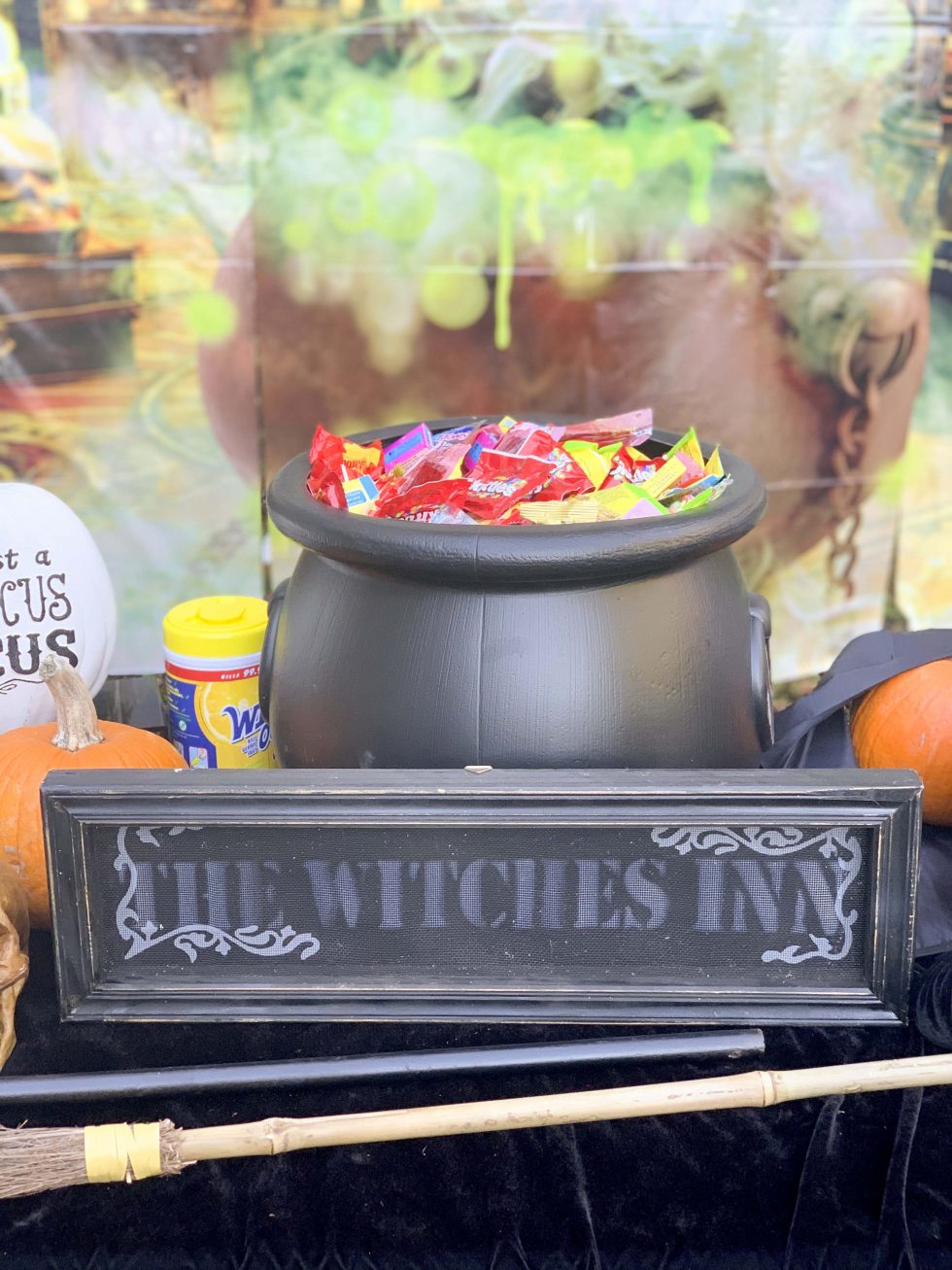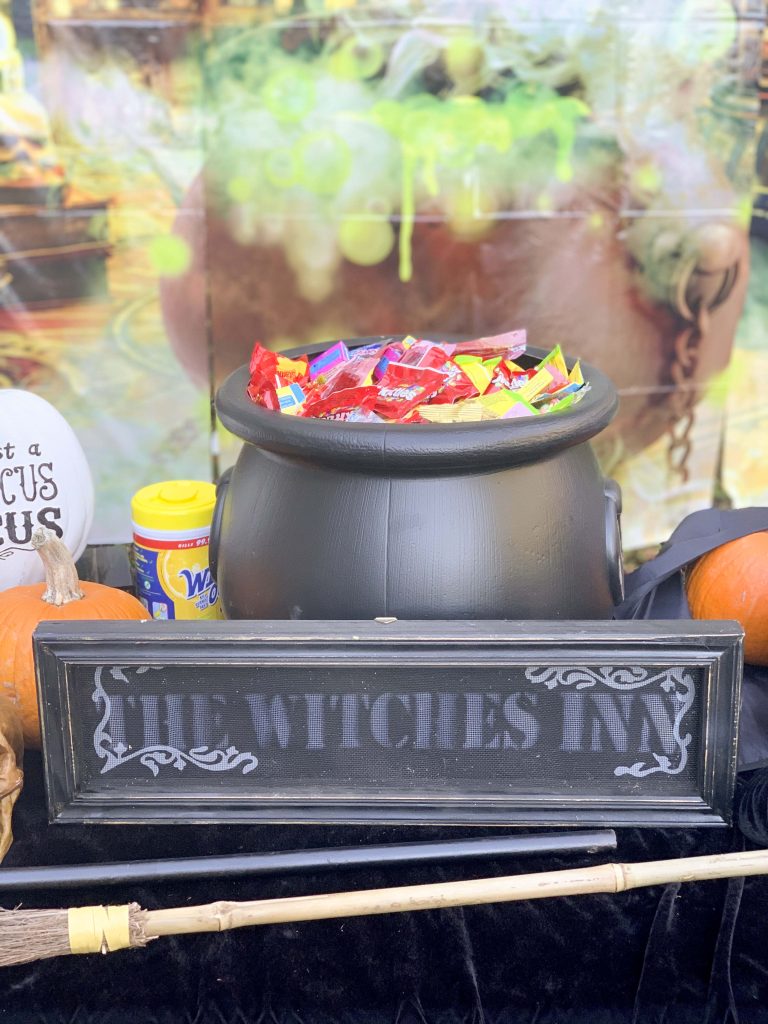 Ghoul Gang Table
For a more sweet-than-scary twist on traditional Halloween characters, I set up the Boo Gang table! This one was easy to set up using the Ghoul Gang line of decor from Oriental Trading. I also added a few props from my Friendly Frankie Party and Little Ghost Party.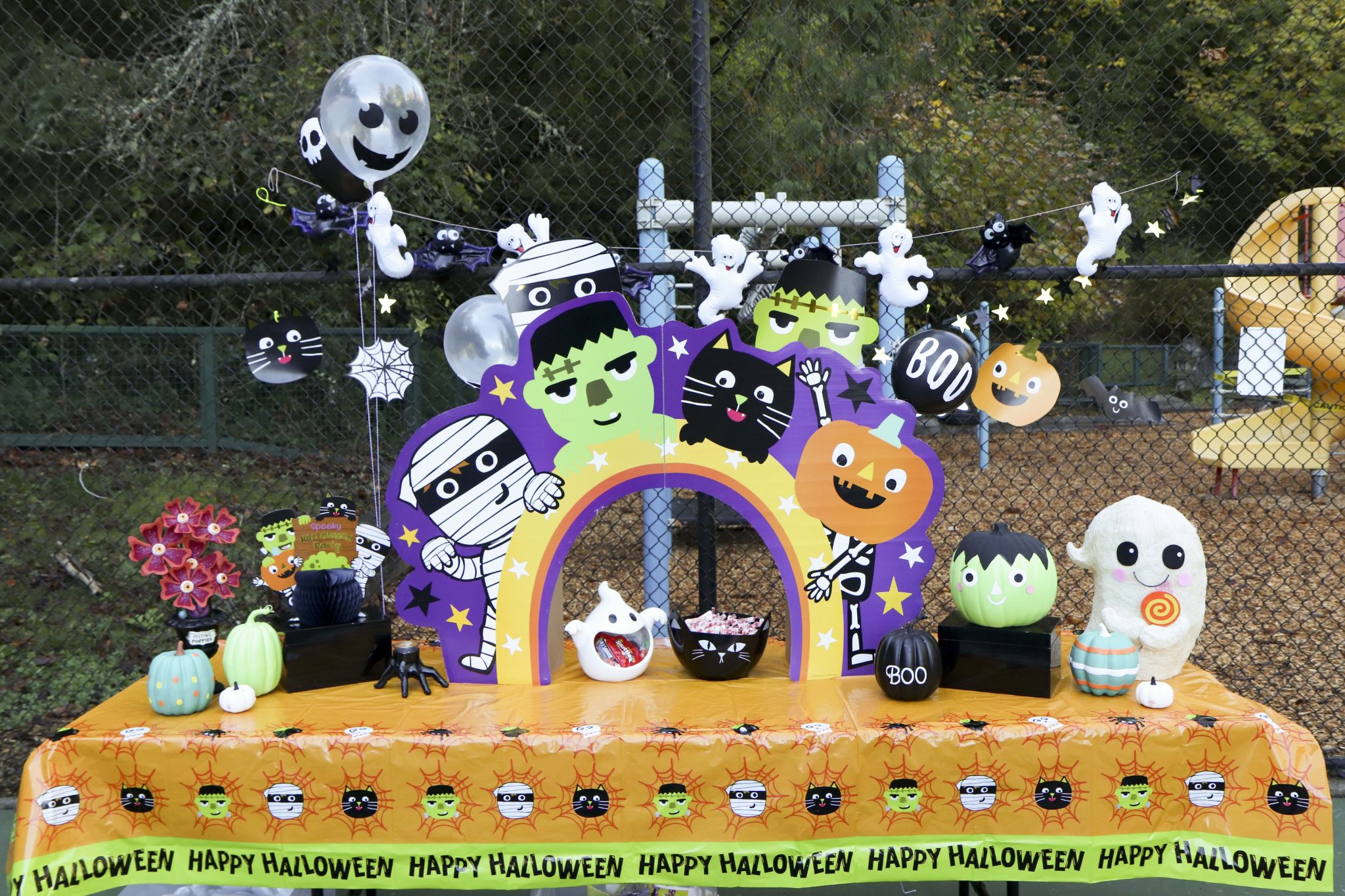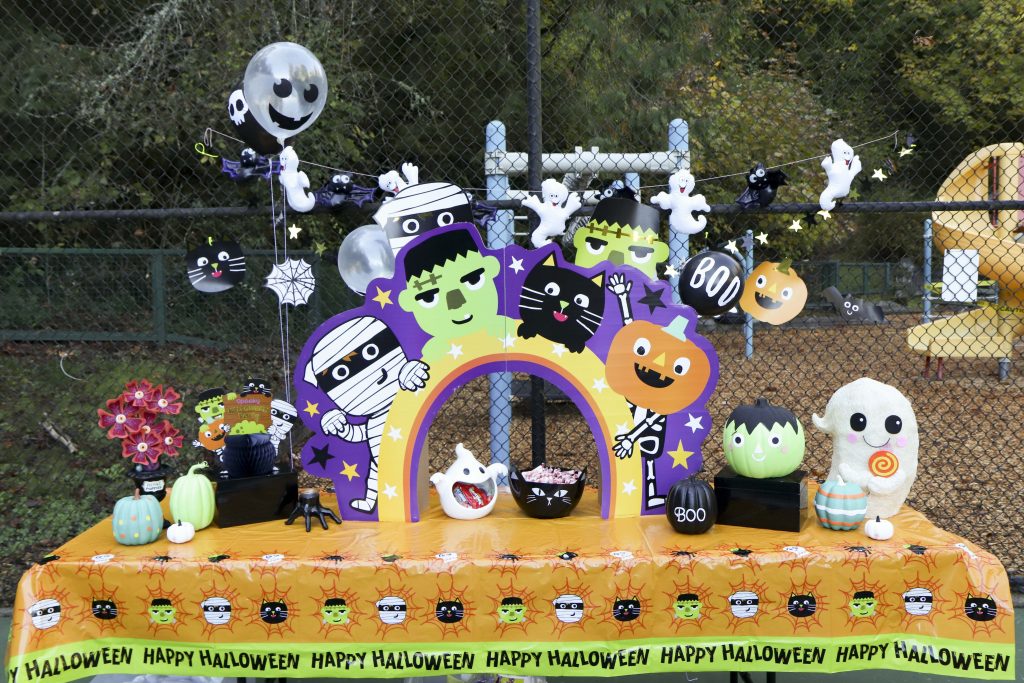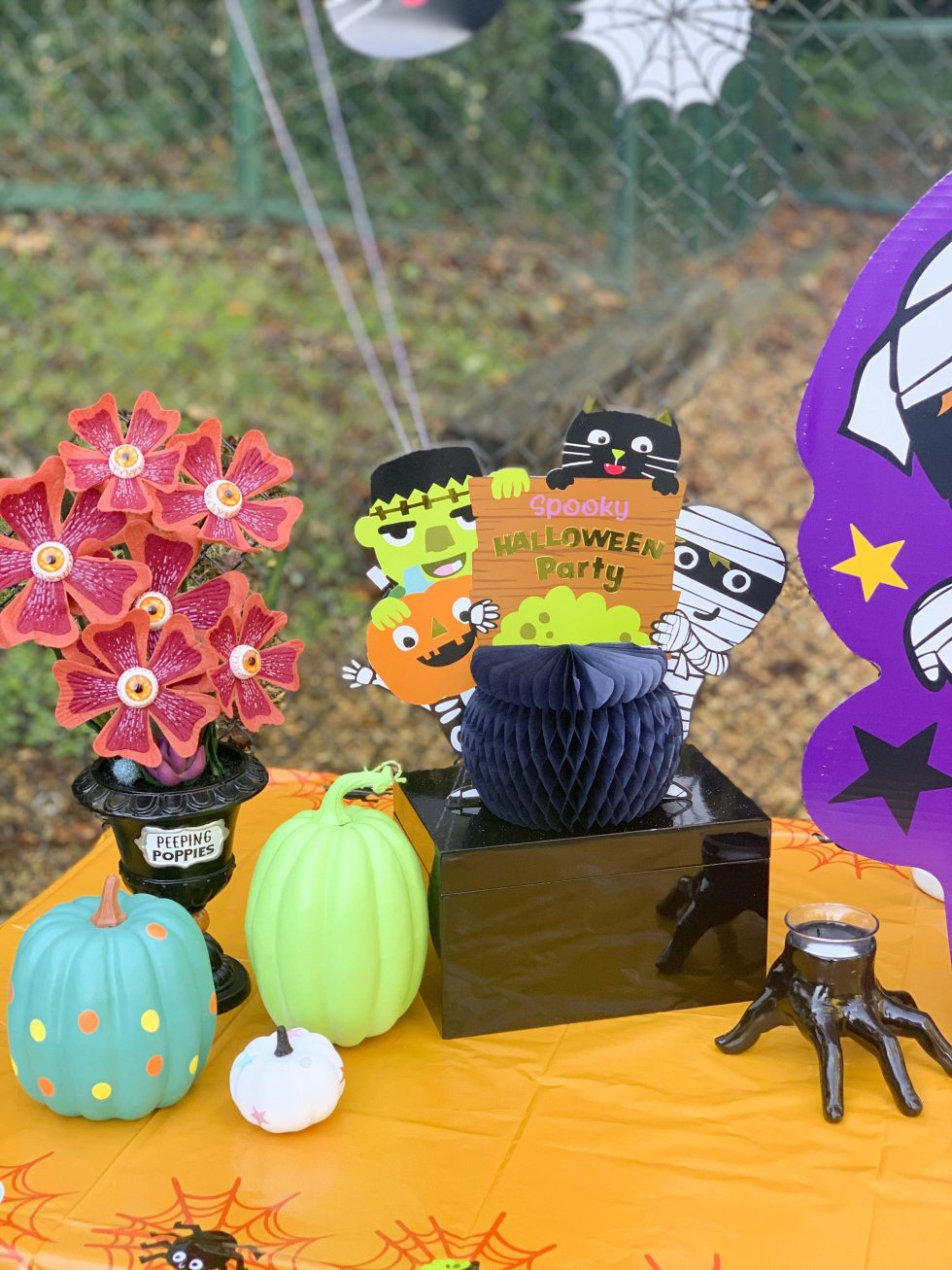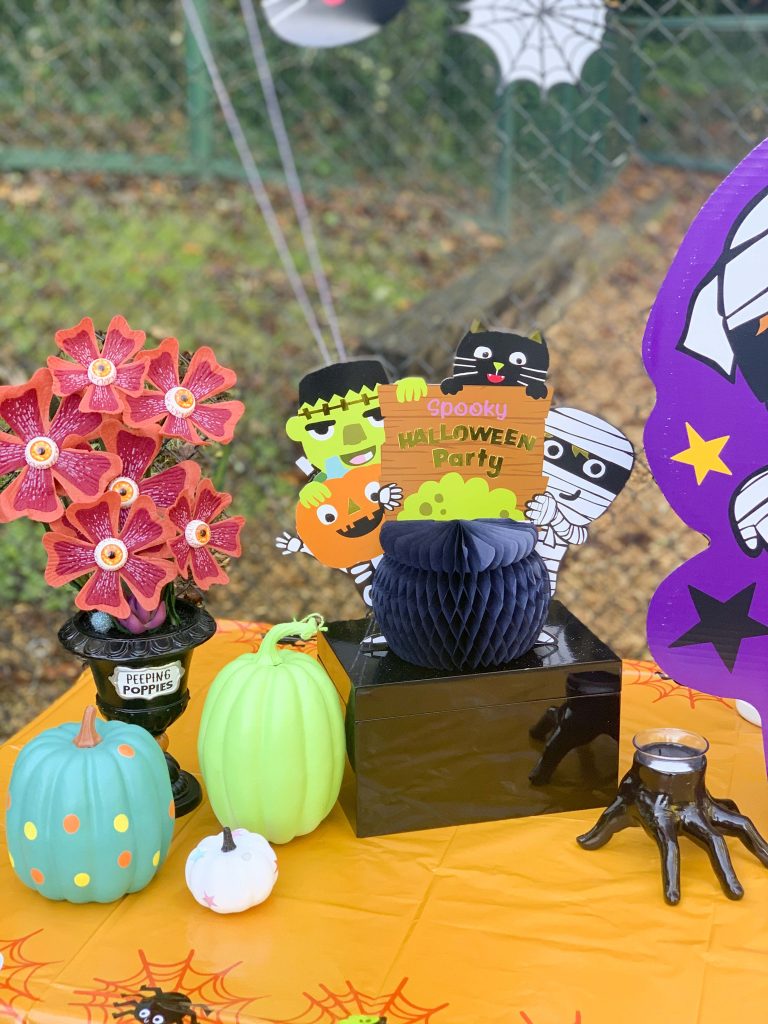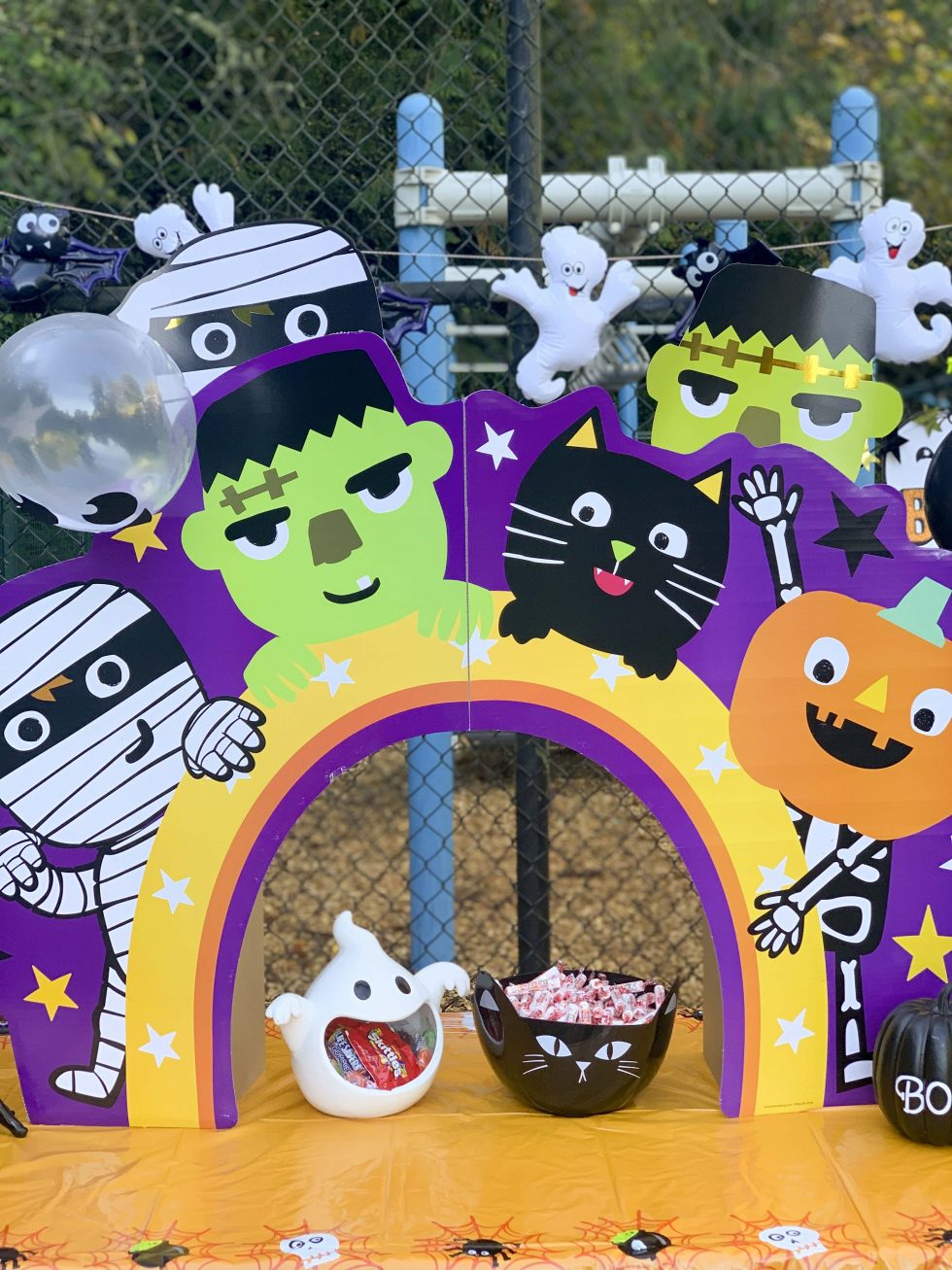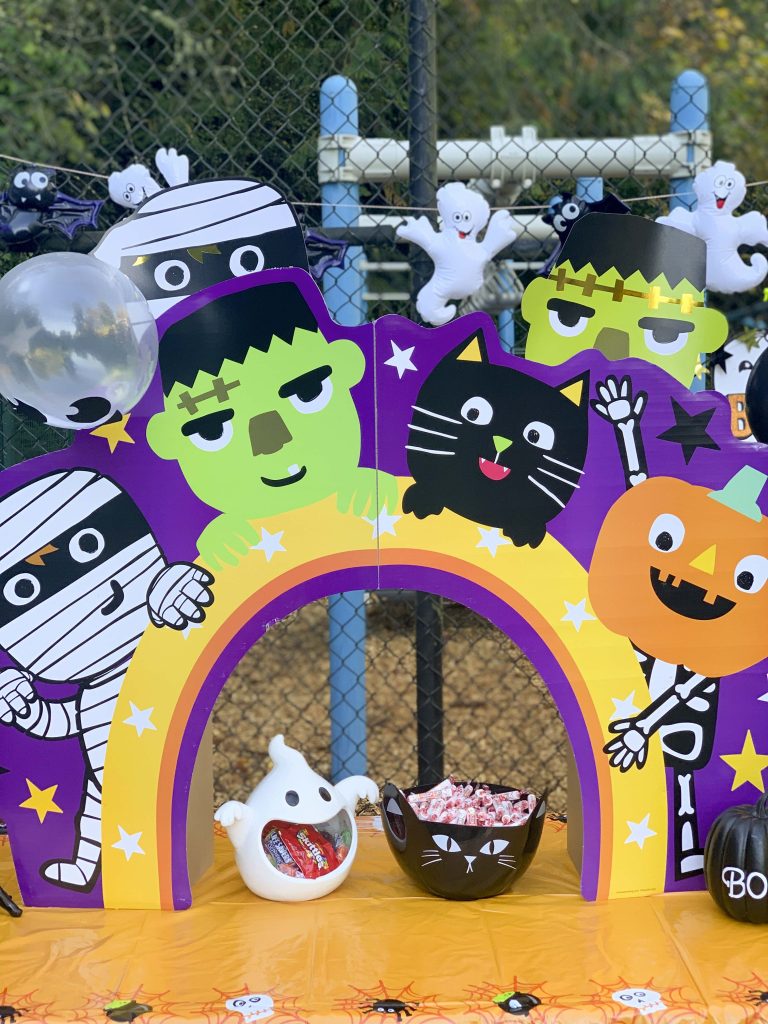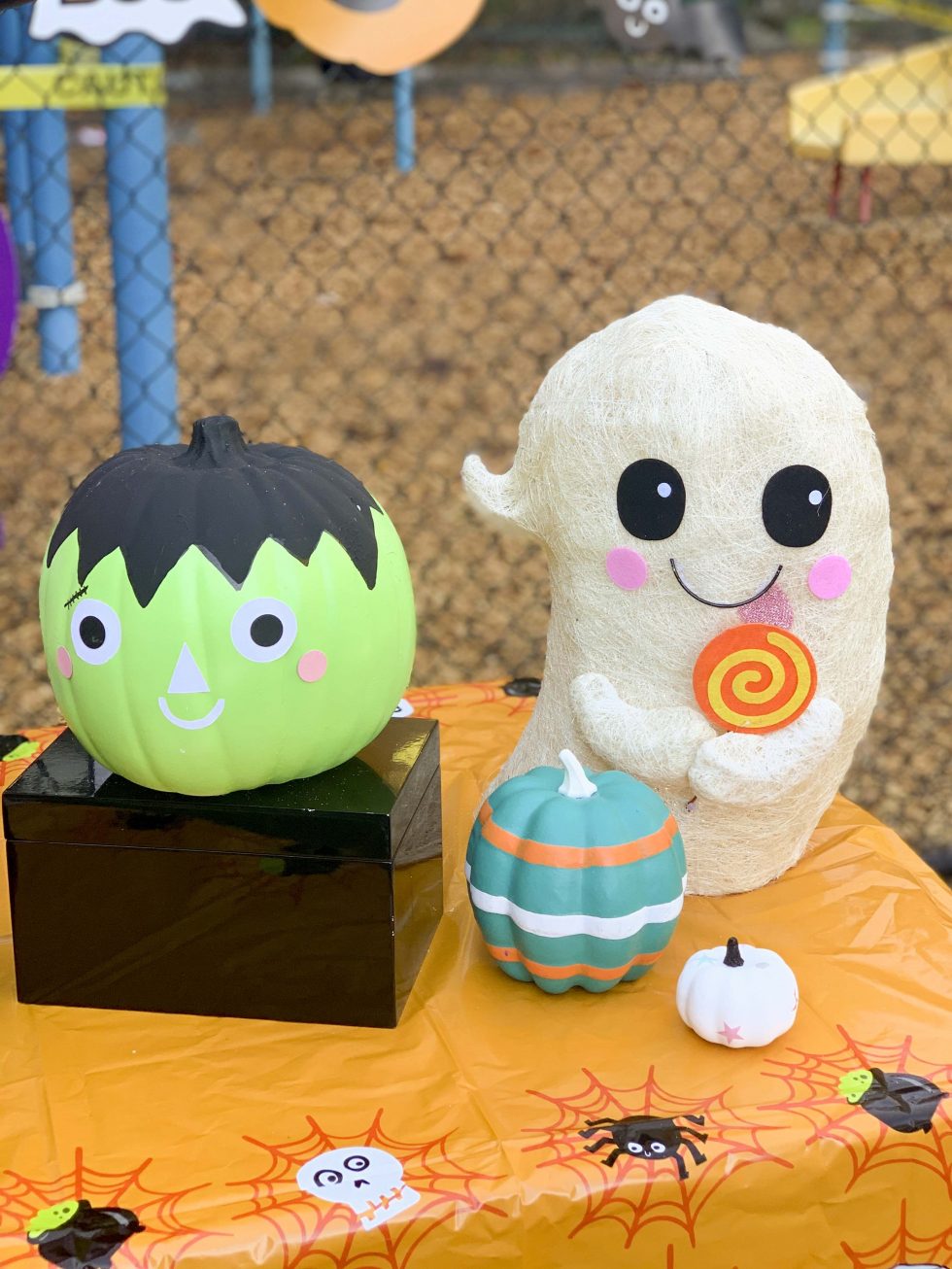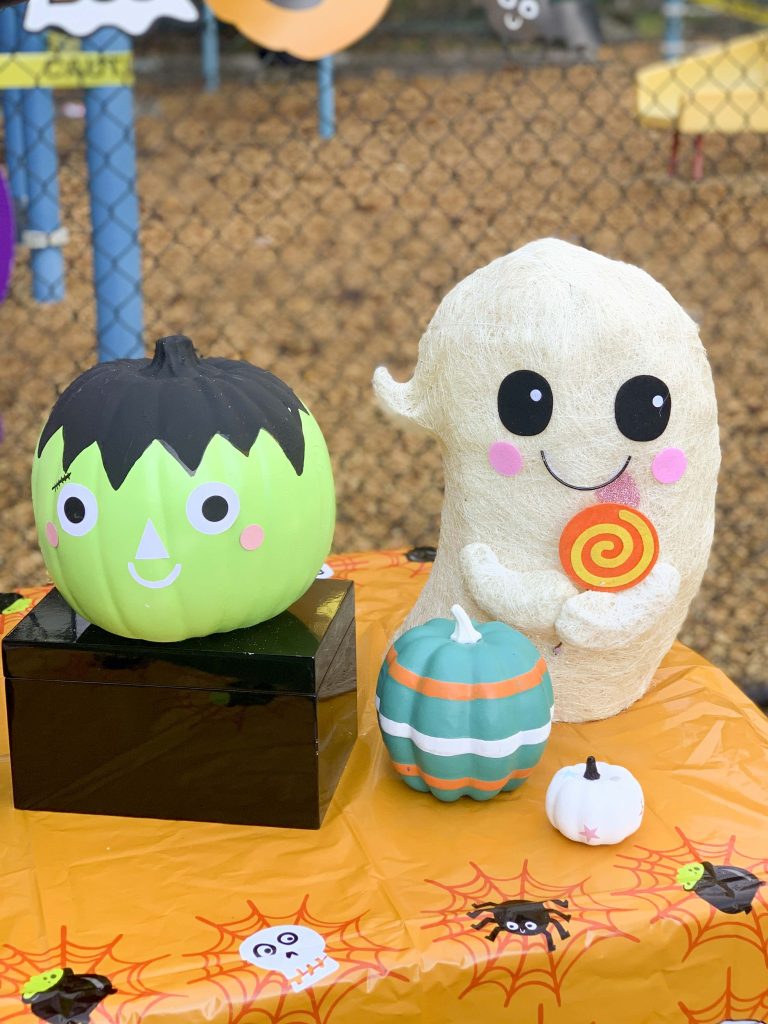 Rainbow Unicorn Table
Another fun and colorful one was the Rainbow Unicorn Table! I used painted unicorn skeletons from Oriental Trading, overlooking rainbow filled pastel jack-o-lantern candy buckets. A pretty rainbow garland and table cloth, sparkly letters spelling out "Boo", and pastel pink balloons added to the whimsy of this table. P.S. Those rainbow polka dot pumpkins are from my Rainbow Thanksgiving Table for Kids.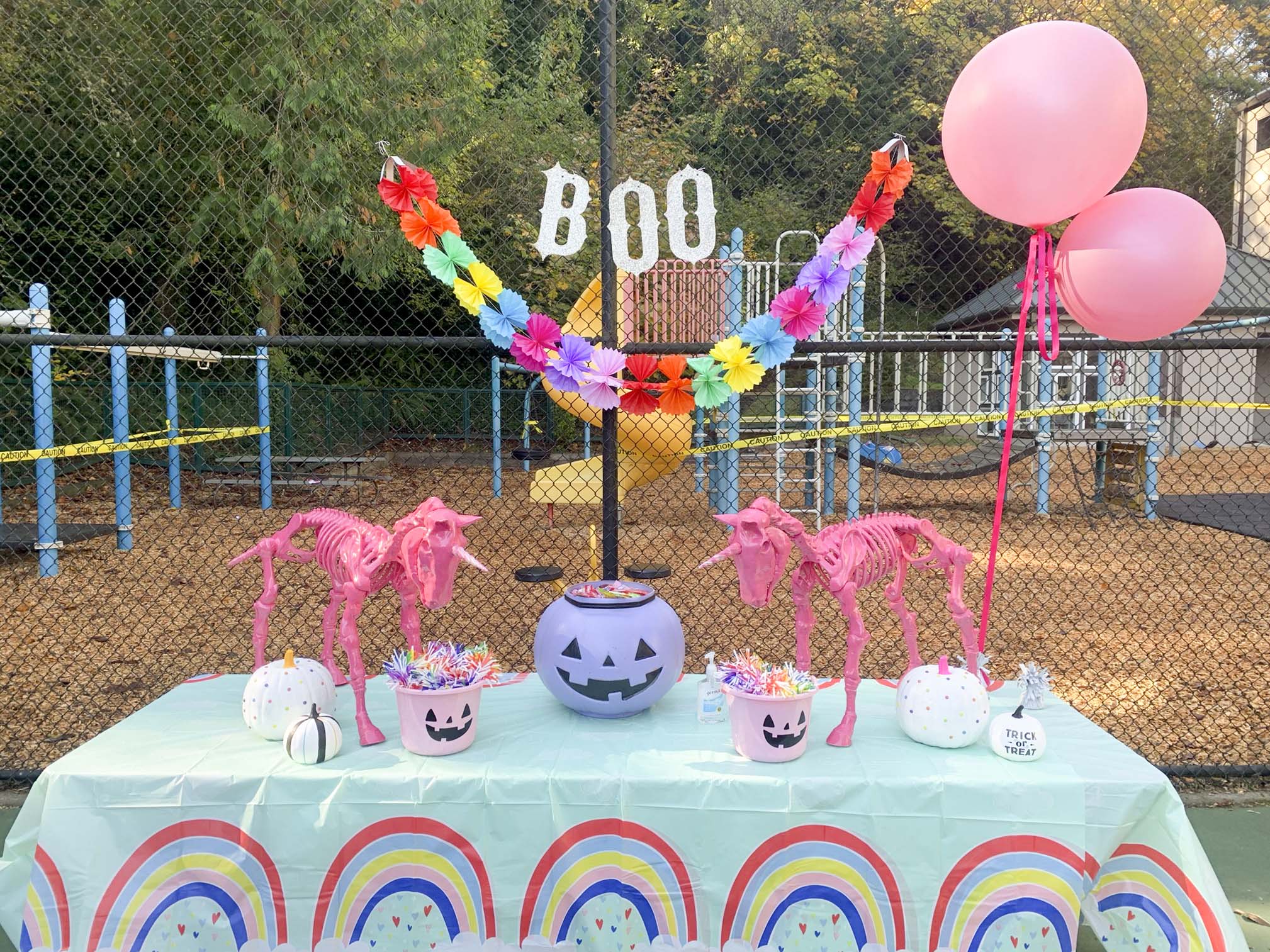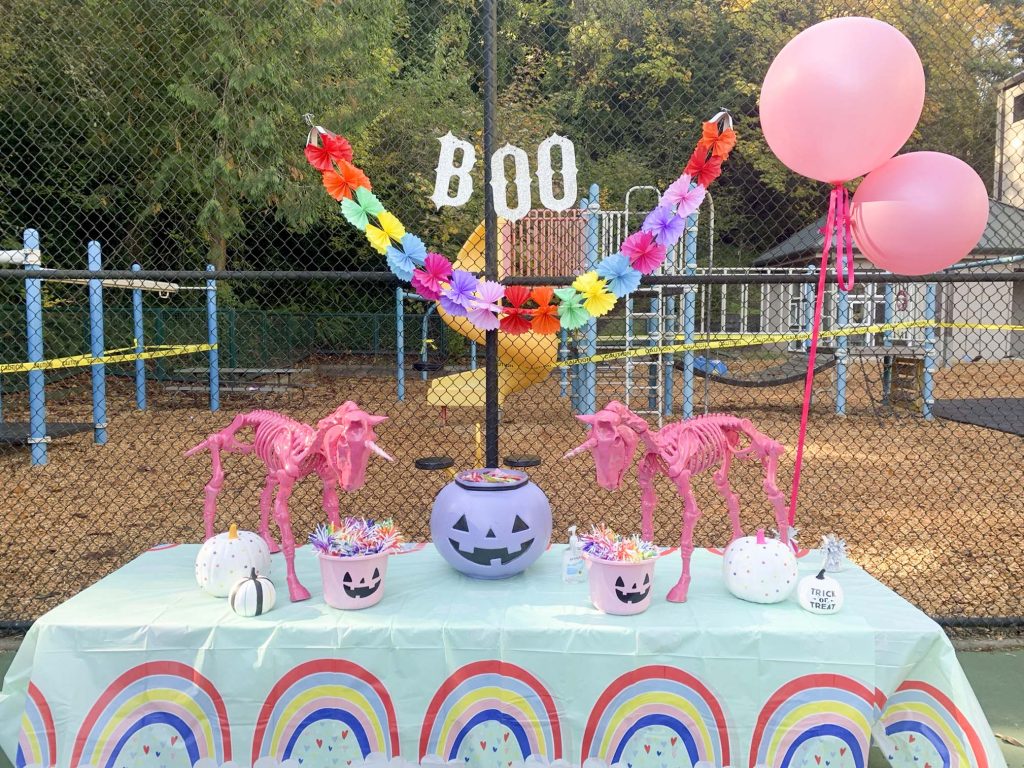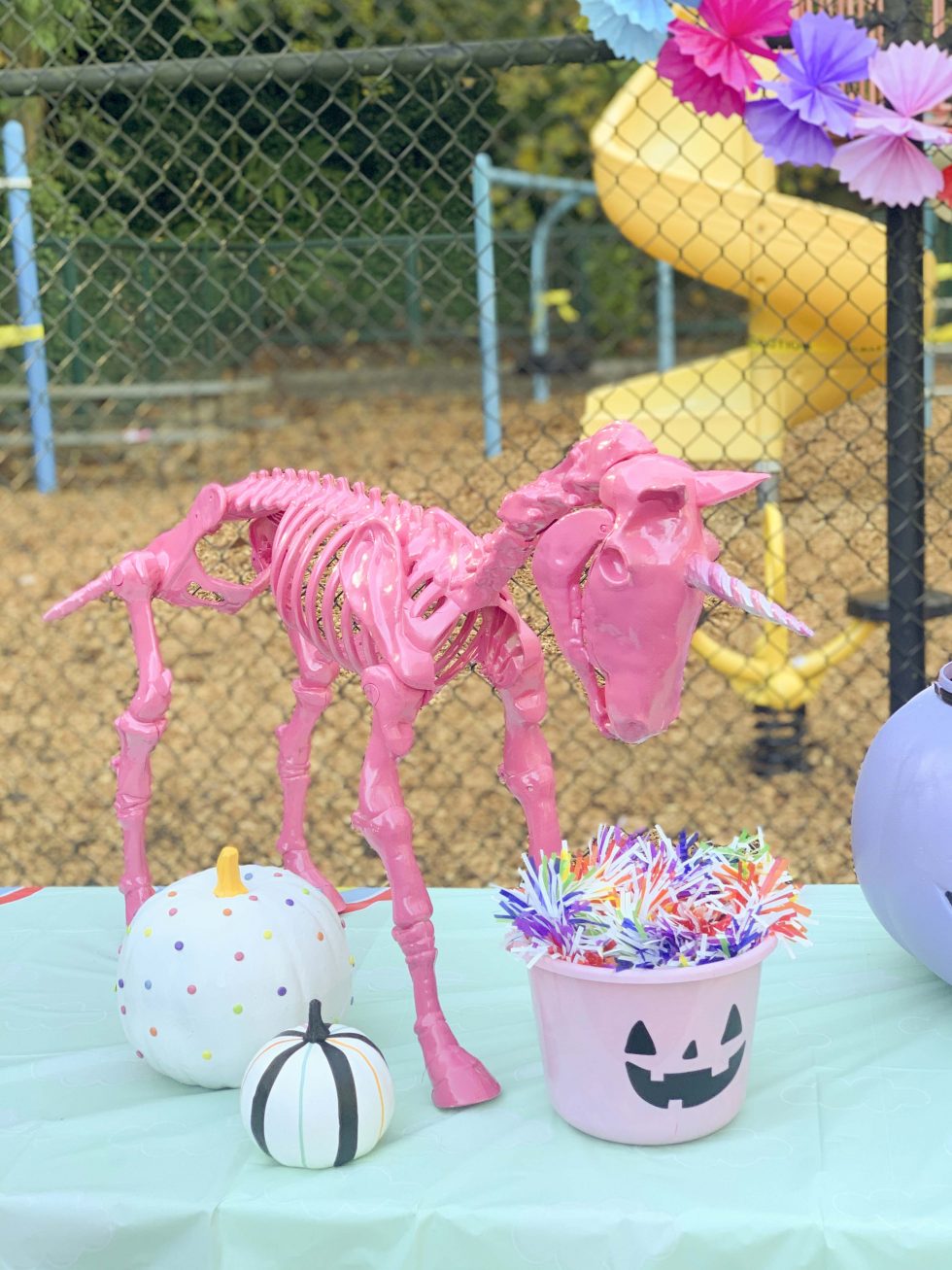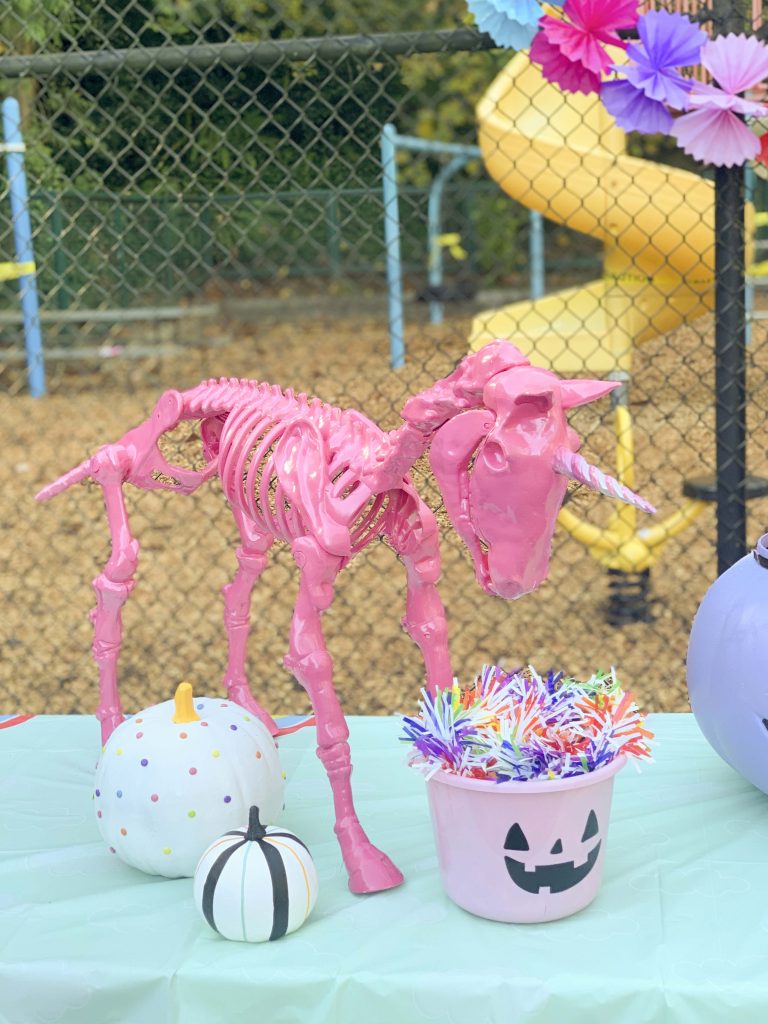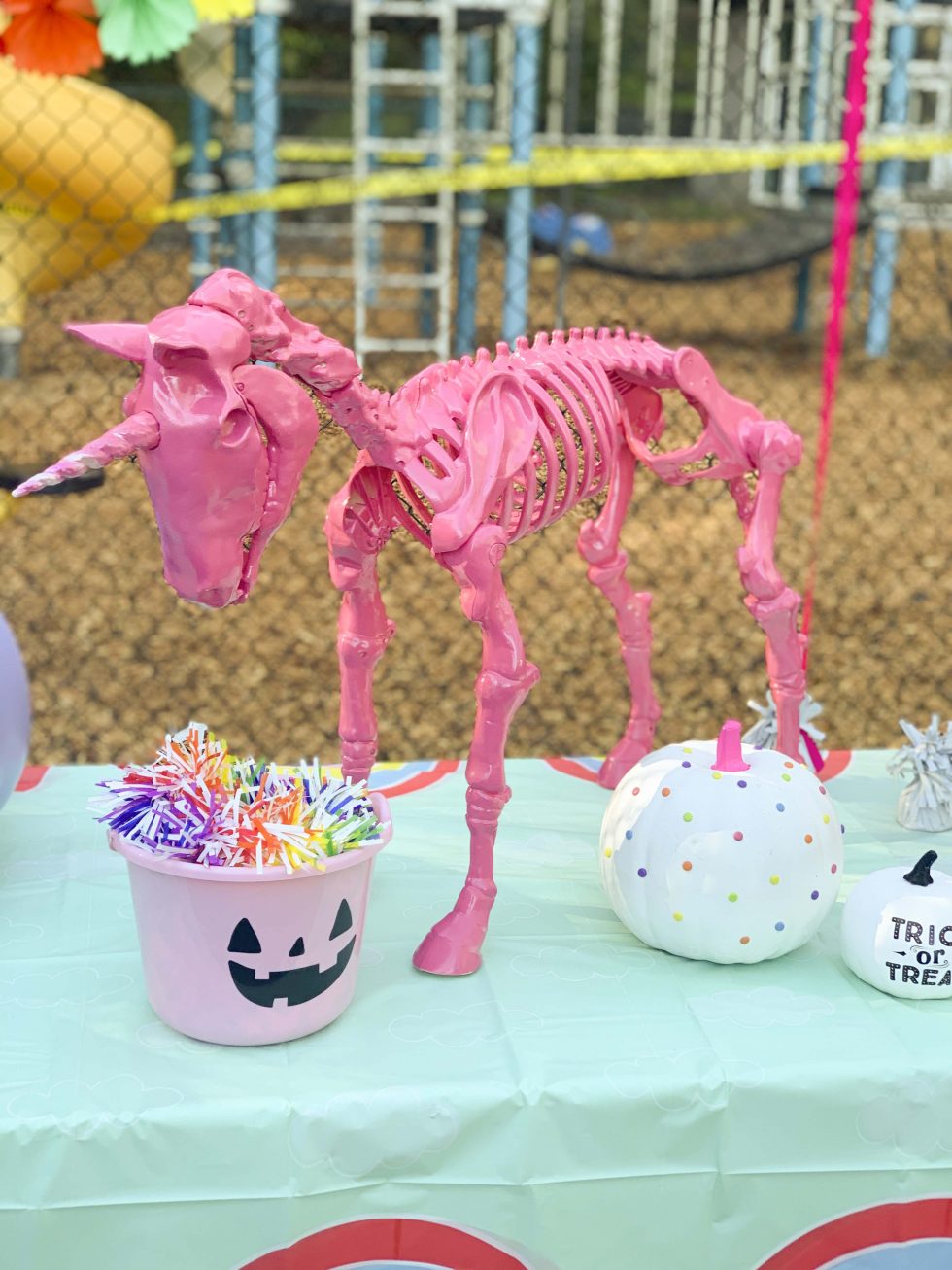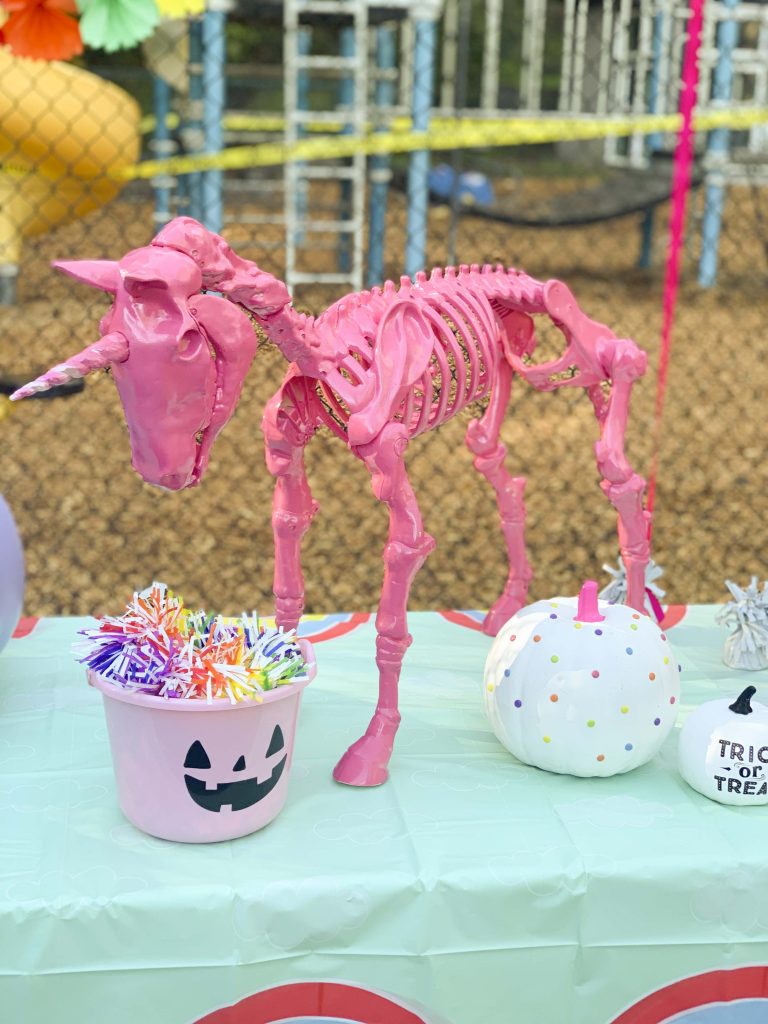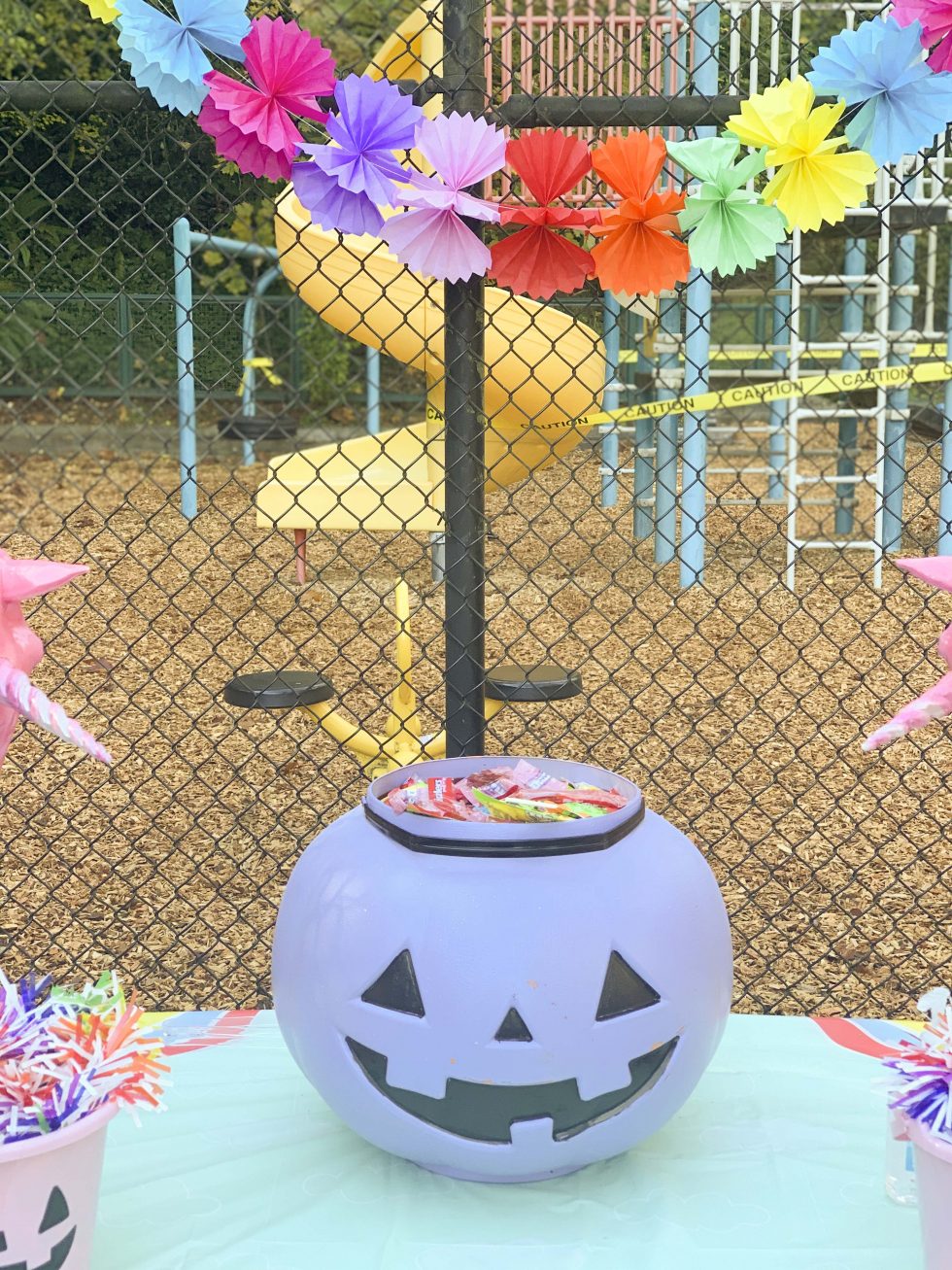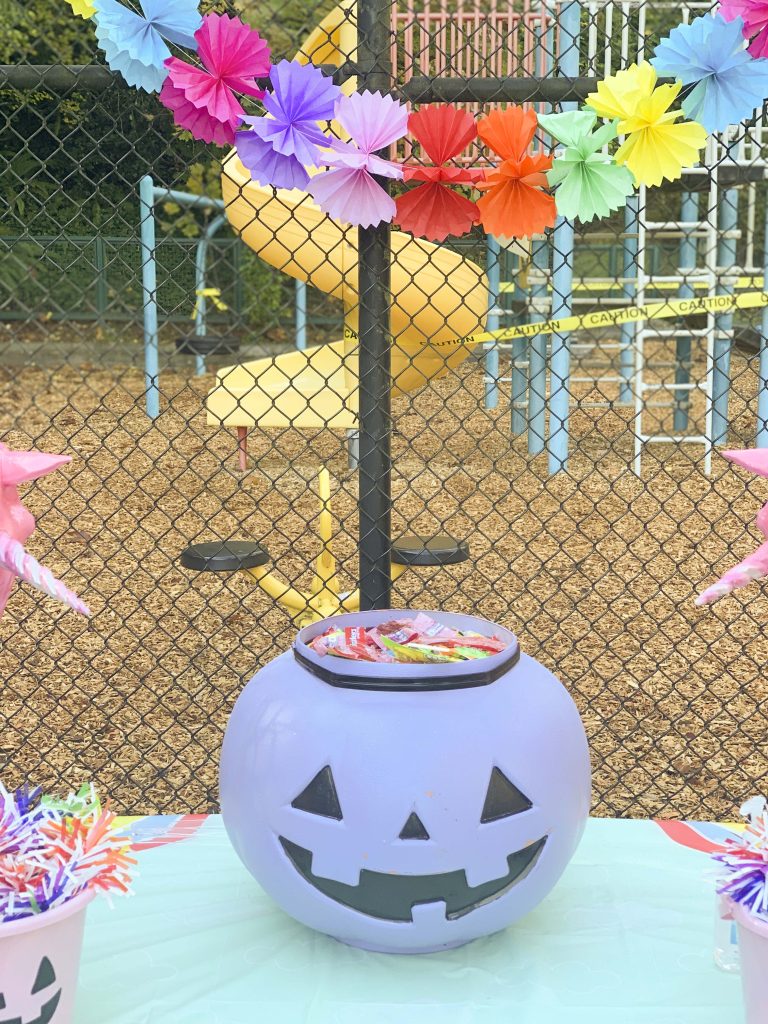 Harry Potter Table
Last, but certainly not least for all the witches and wizards out there – I set up a Harry Potter themed table! I packed the table with Harry Potter props, but with a particular focus on the candy from the wizarding world – Honey Dukes and Bertie Botts Every Flavor Beans! A Hogwarts tablecloth and backdrop added to the magical feel of this table – but my favorite prop has to be Hedwig the owl getting ready to fly!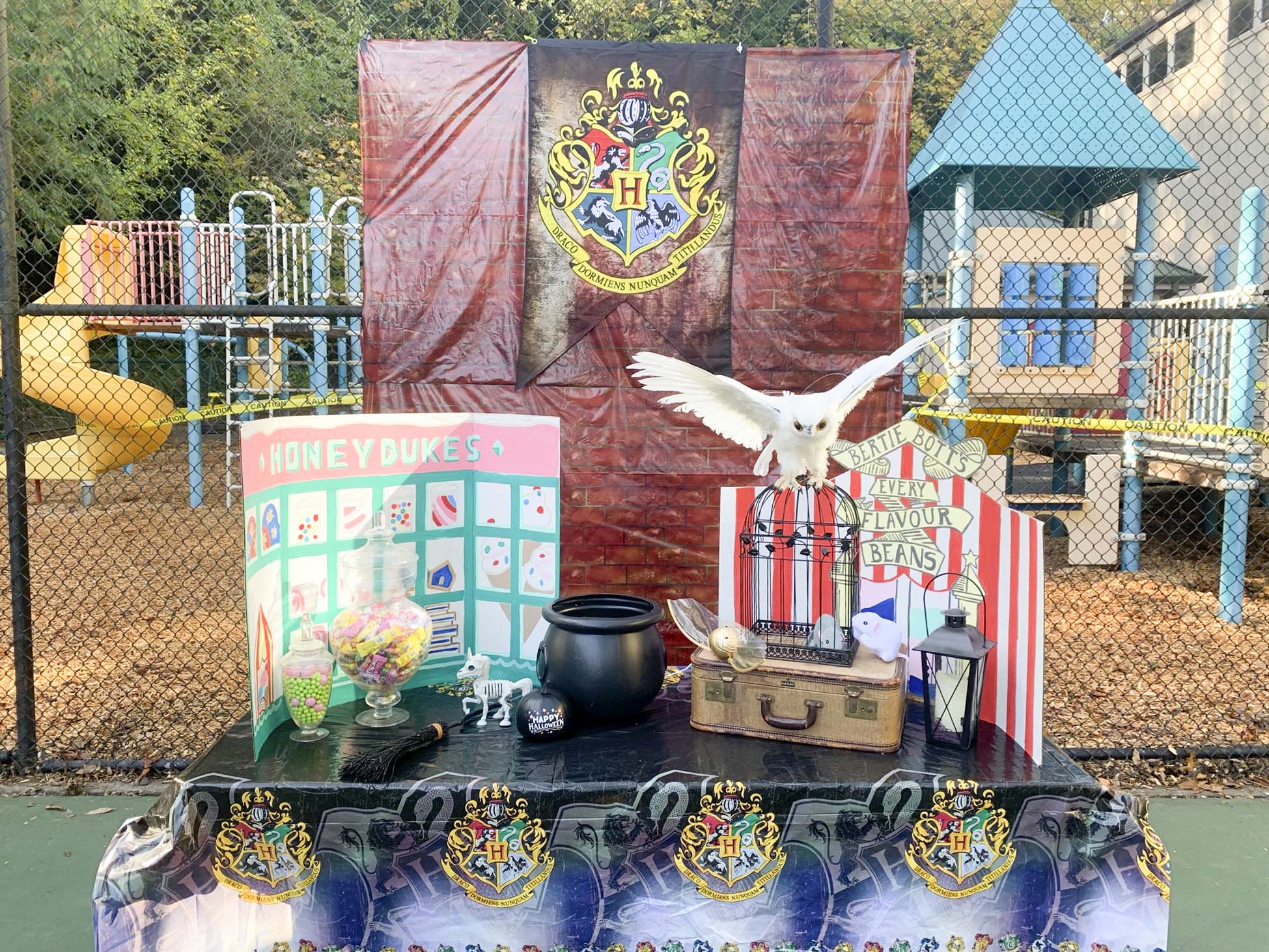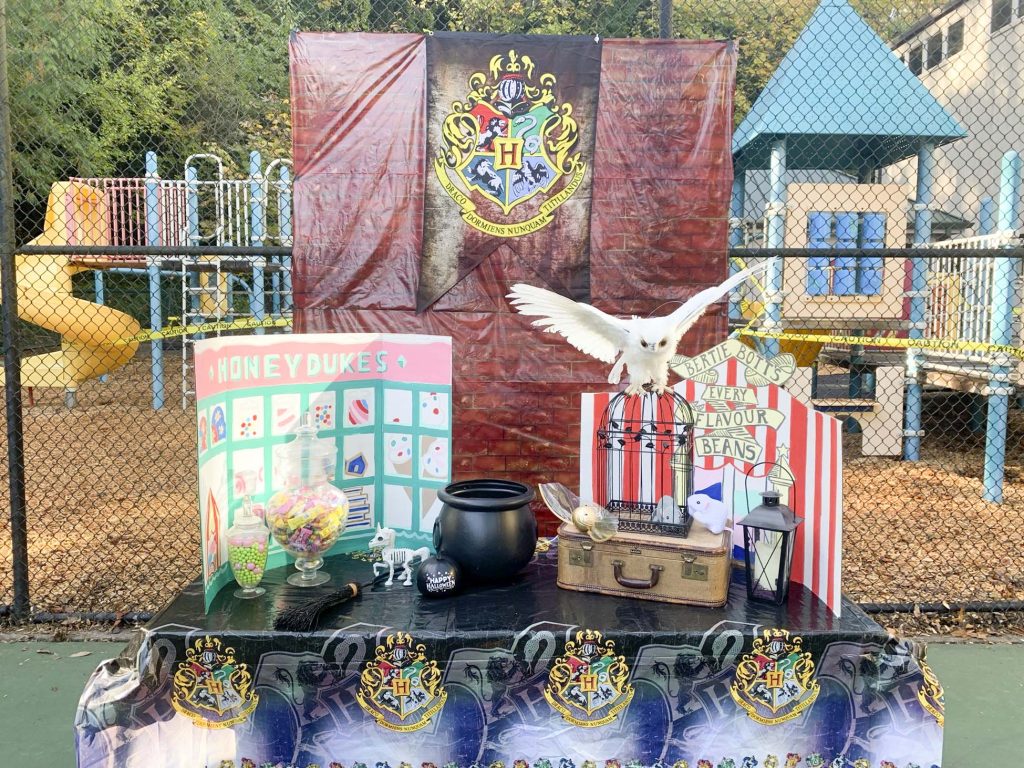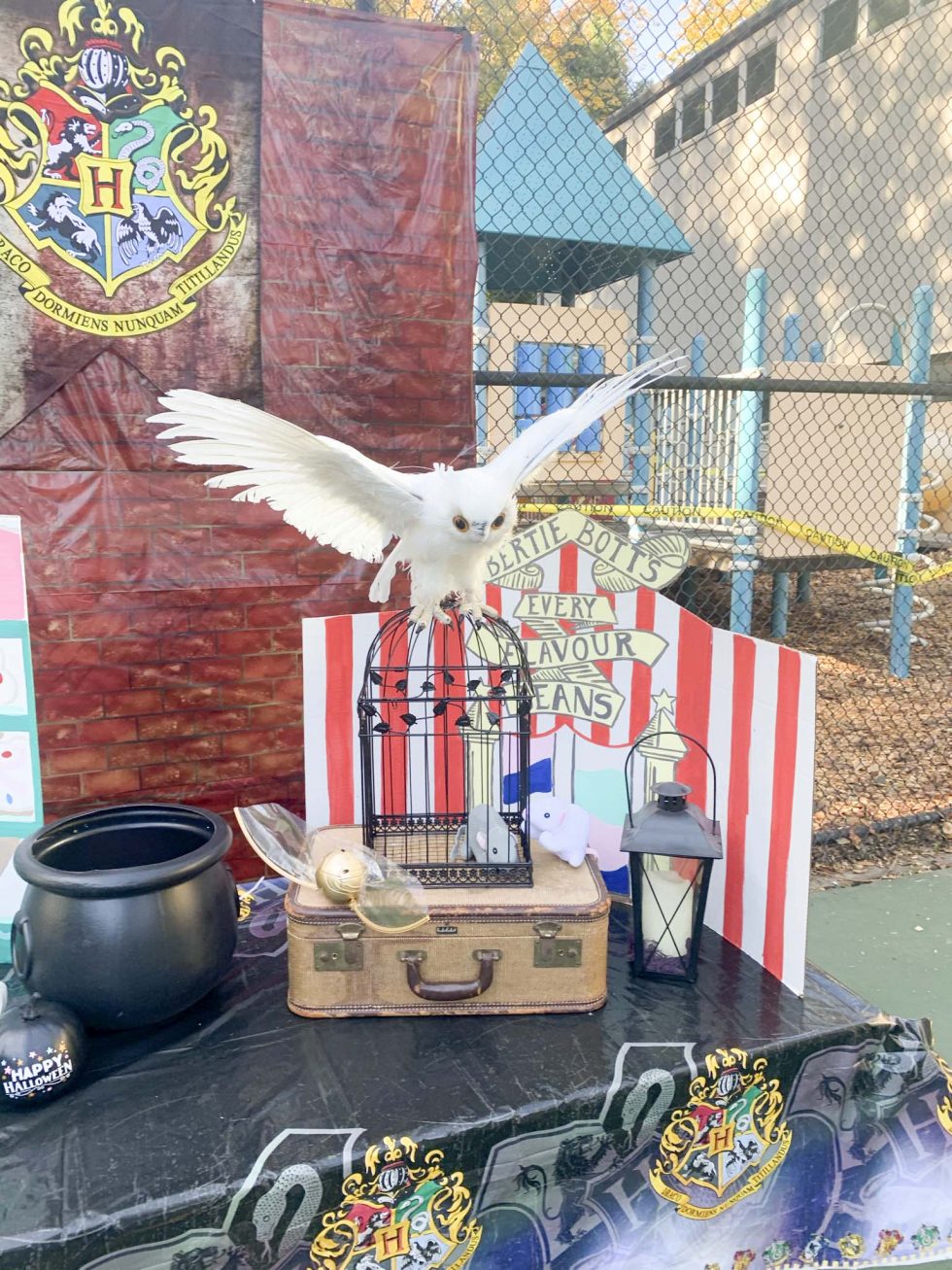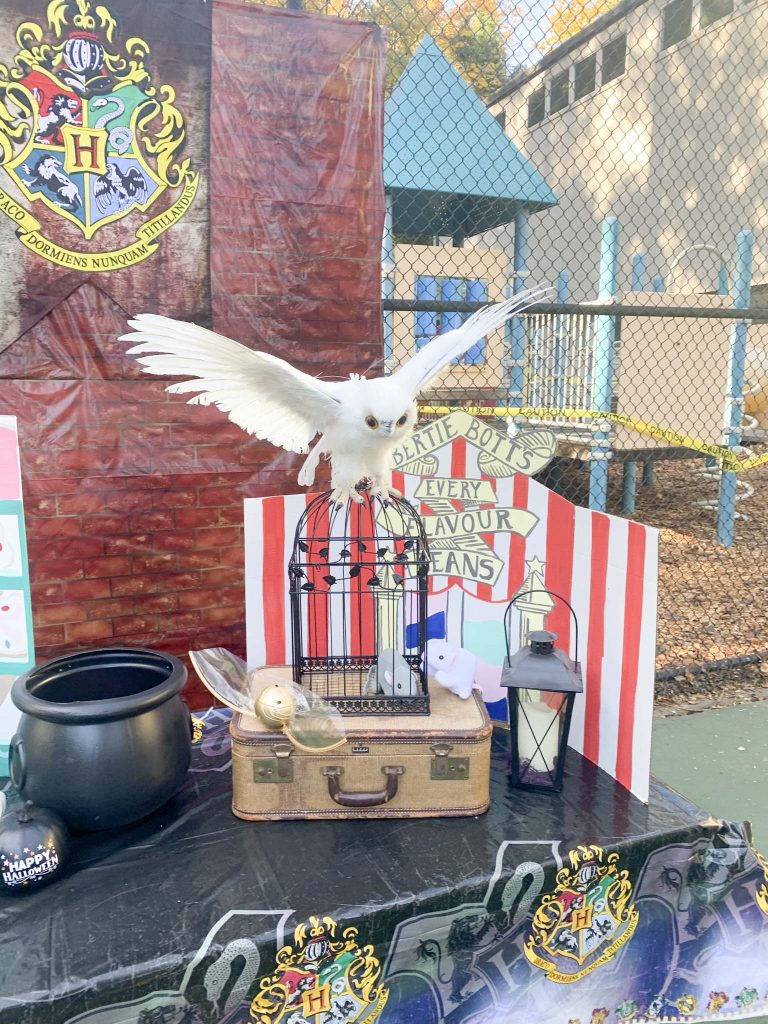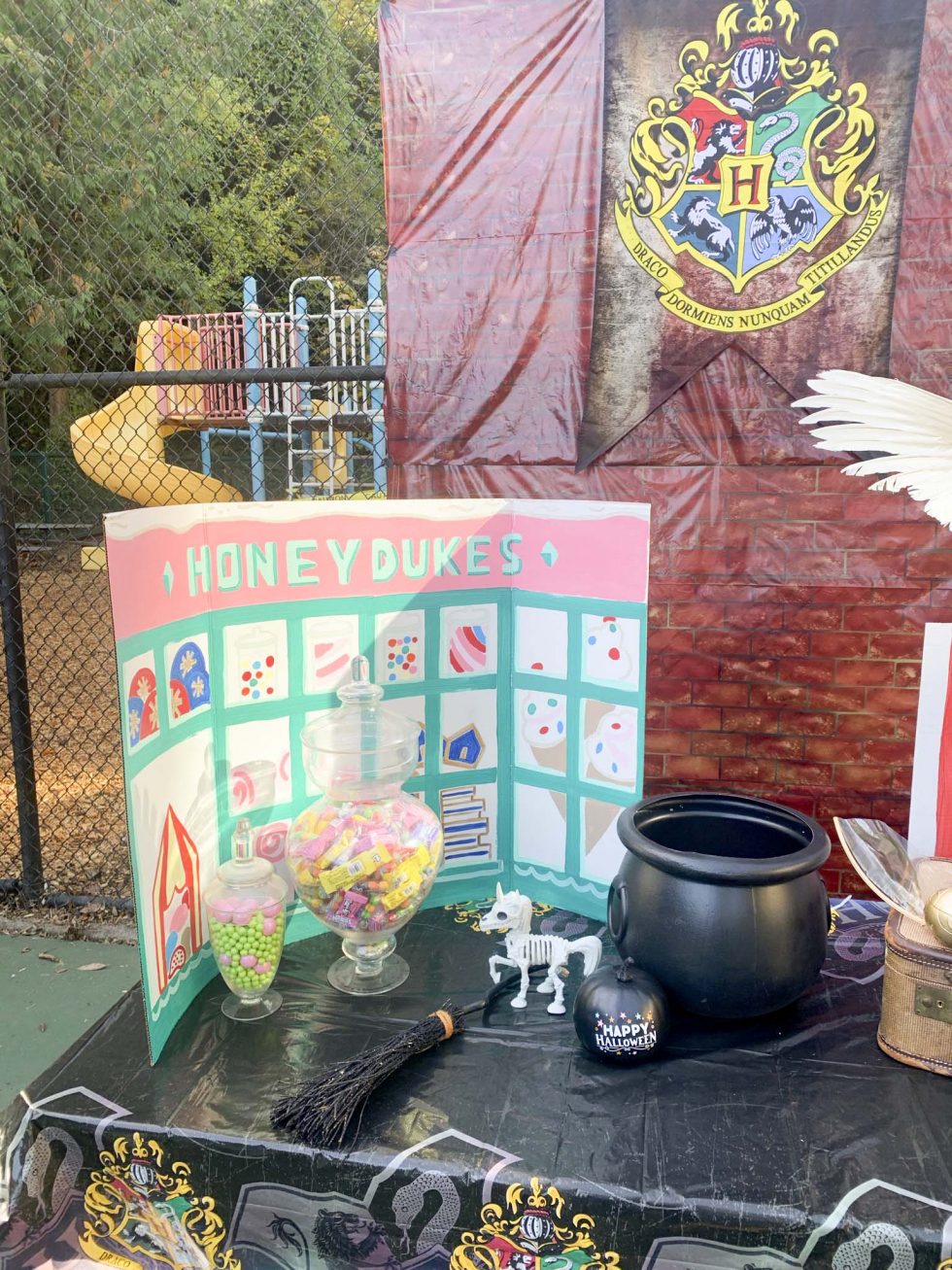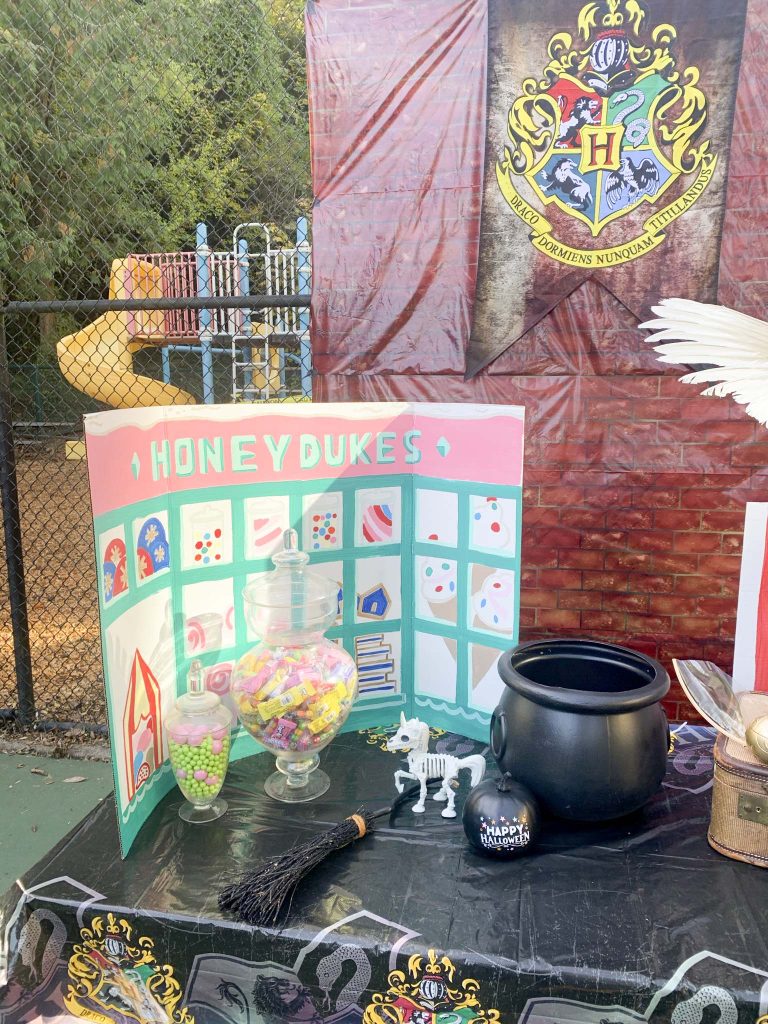 Exit
After all of the tables were visited, a skeleton surrounded by spiderwebs bid guests farewell and Happy Halloween as they exited the tennis courts!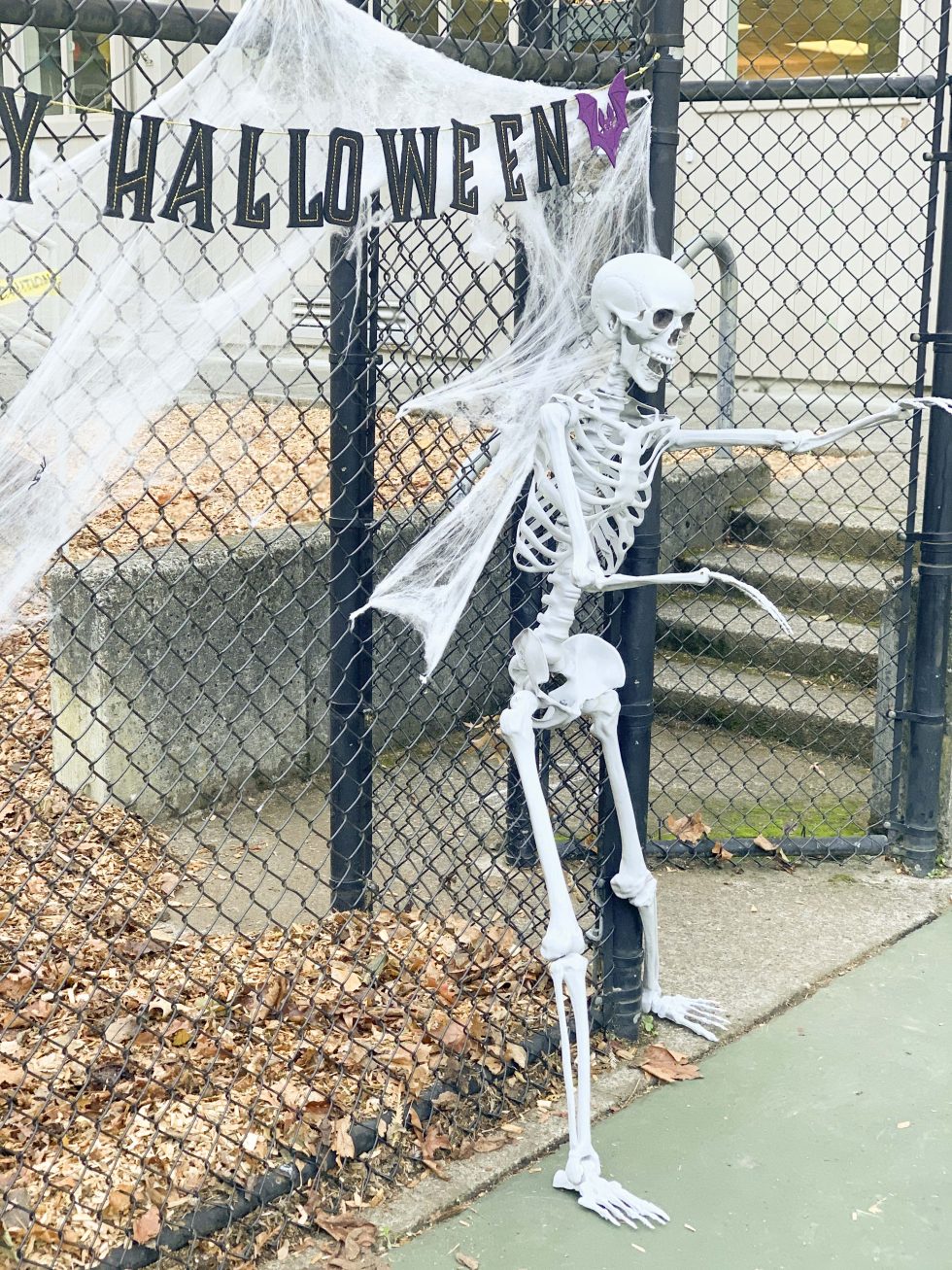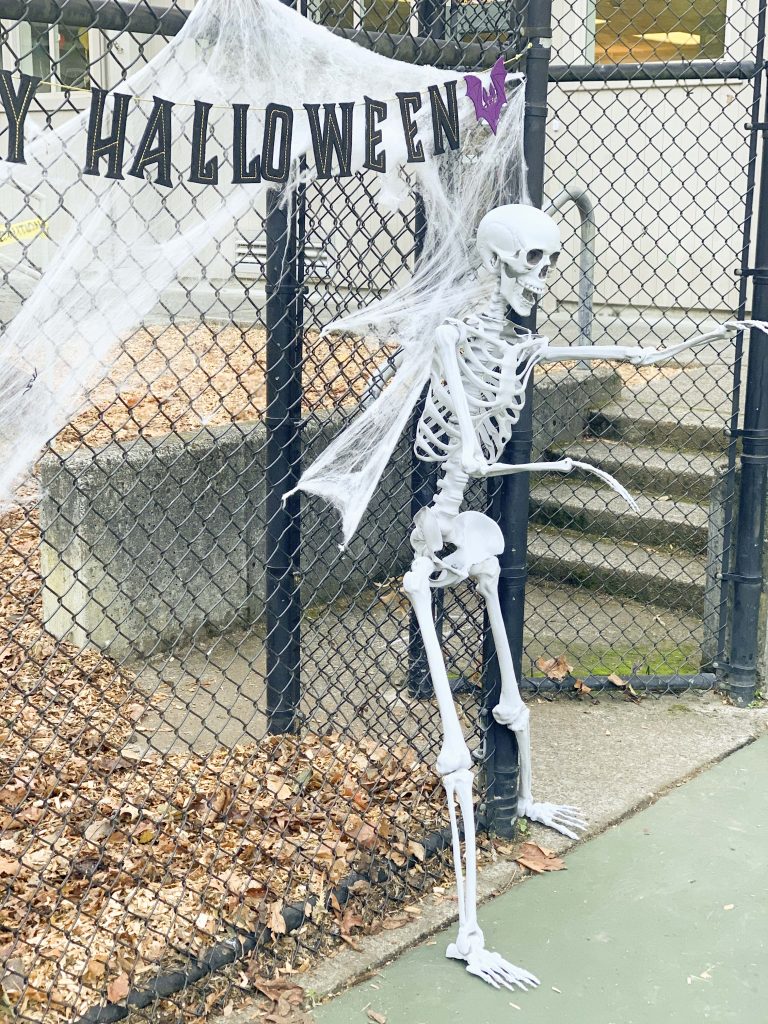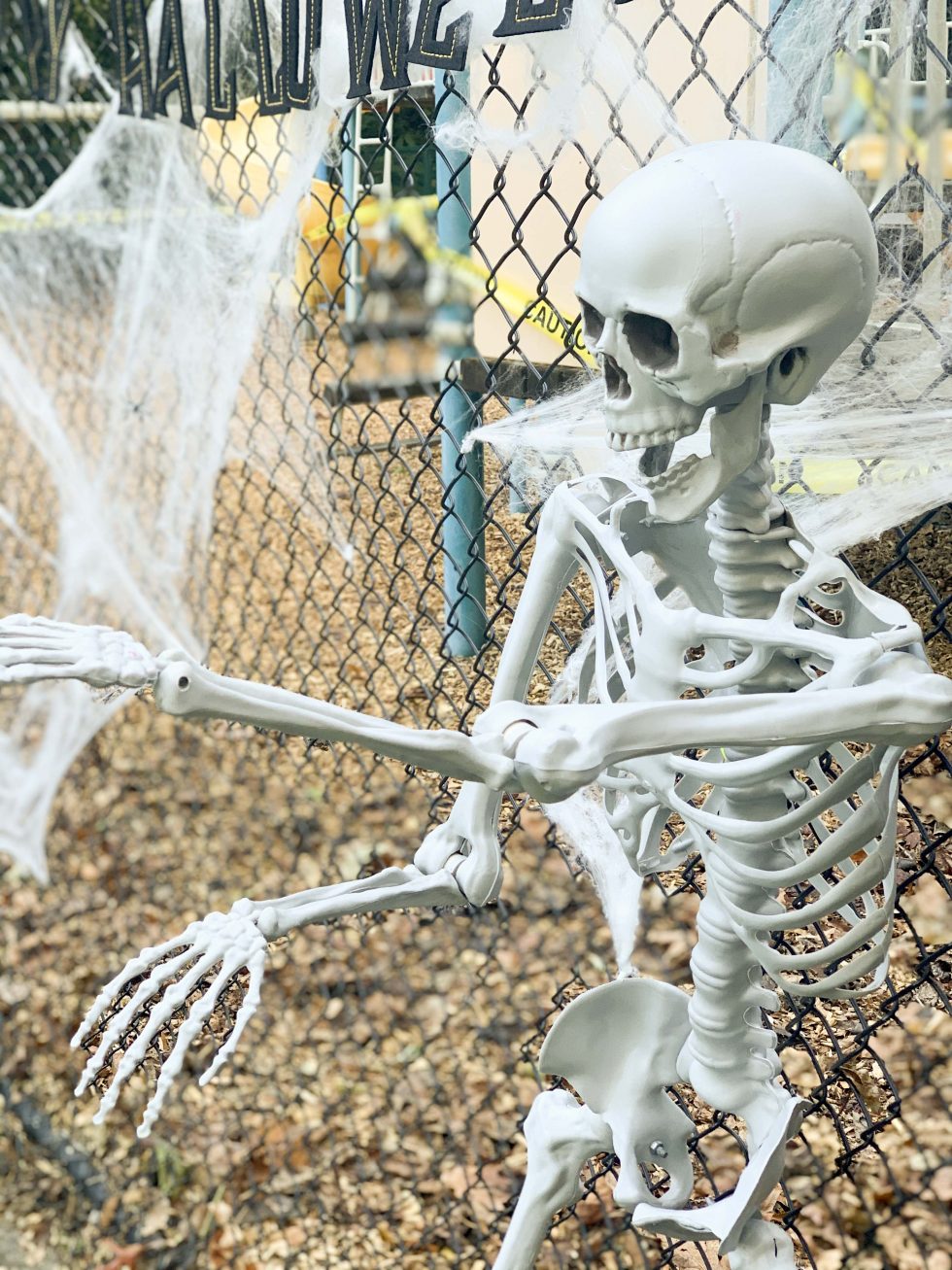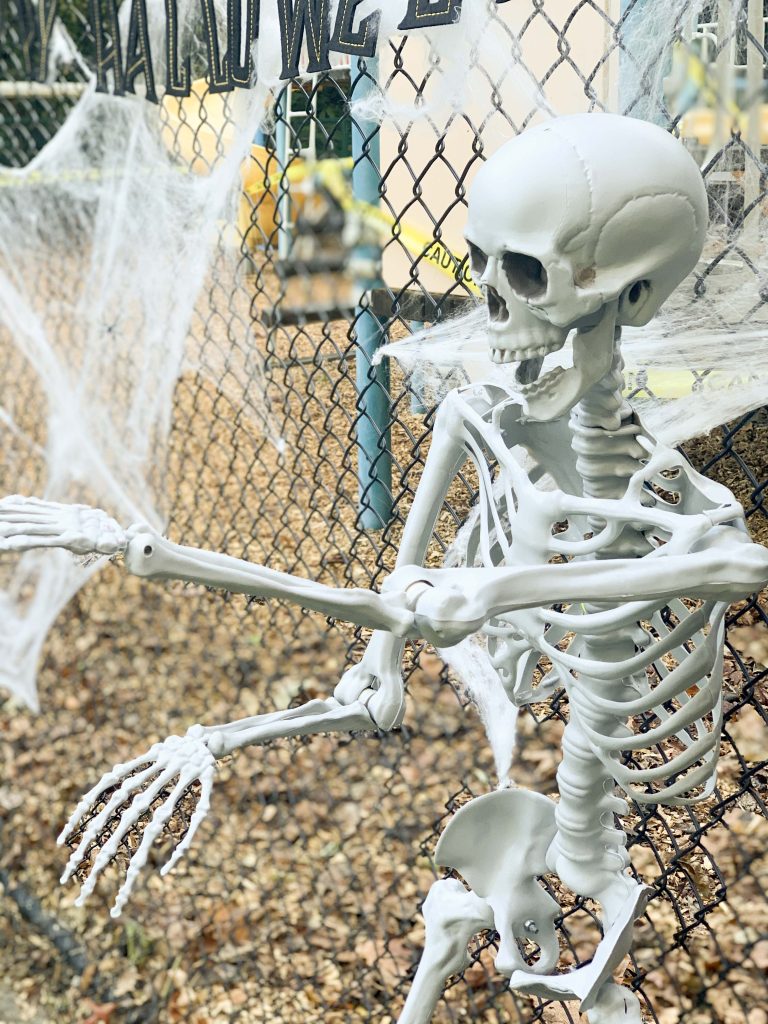 I hope this has inspired you for next year's Halloween Festival or Trunk-or-Treat! Don't forget to pin it to save it, and then tell me in the comments, which of the ten tables was your favorite?!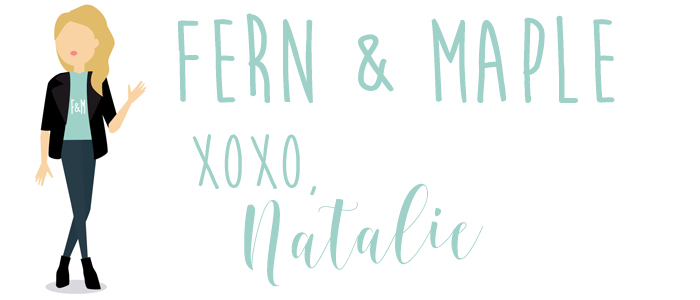 As a blogger, I sometimes receive compensation and/or products in exchange for my styling and crafting services. I also may earn a small commission from any sales that result from affiliate links on this page. As always, all project ideas and any opinions expressed here are my own.  For further information on our disclosure policy please check out our disclosure page.
PIN FOR LATER: