A Wednesday Addams Party is an amazing idea for almost any occasion. Wednesday Addams has become an even more iconic and popular character lately thanks to the new Netflix show Wednesday. And I am so here for it. I loved the deliciously dark show and was instantly inspired to style a Wednesday-inspired party for grown-ups and kids alike.
This party idea is perfect for an Anti-Valentine's Day Party, birthday party, Halloween party, or dinner party. It'd also be great for a Wednesday Season 2 Watch Party when it comes out! If you want to go all out on decorations that delight – I've got DIY ideas galore for your wickedly wonderful Wednesday Addams party. Don't worry if you're not sure where to start; I have everything mapped out so that your party will be truly unforgettable. So read on – it's time for some macabre merriment!
How to Throw a Wednesday Addams Party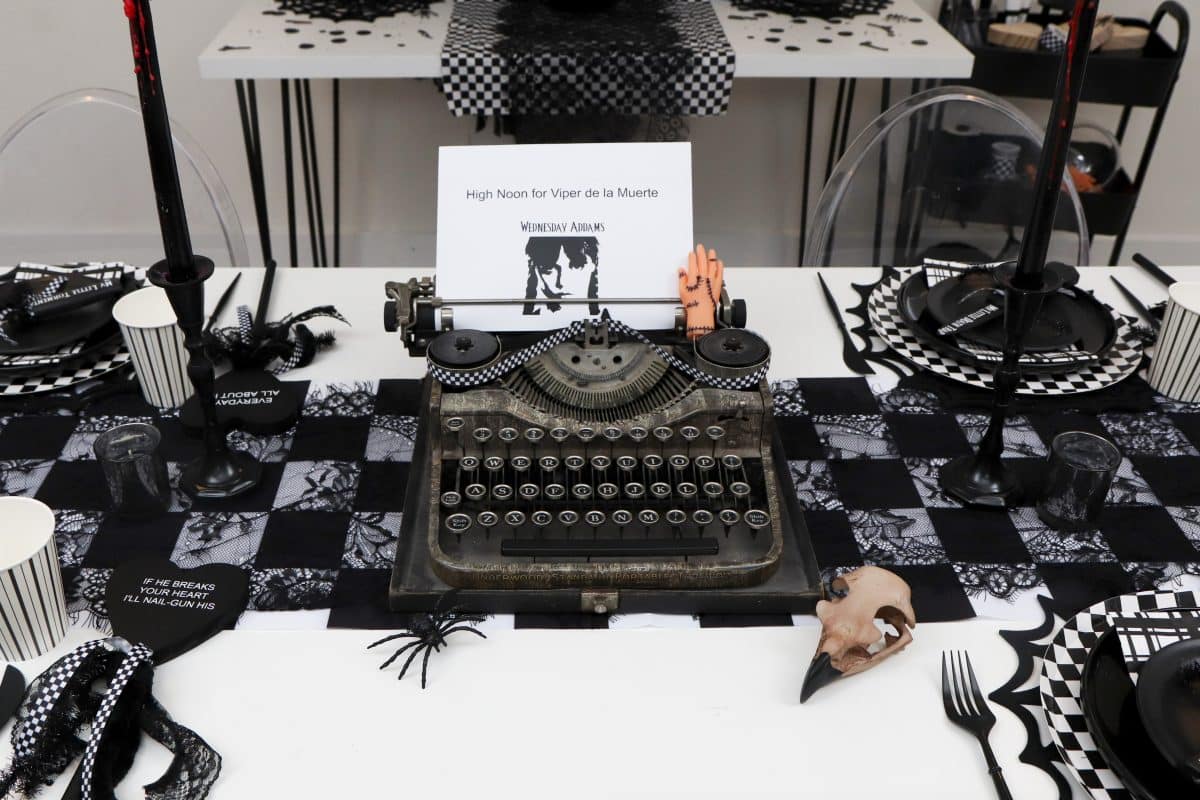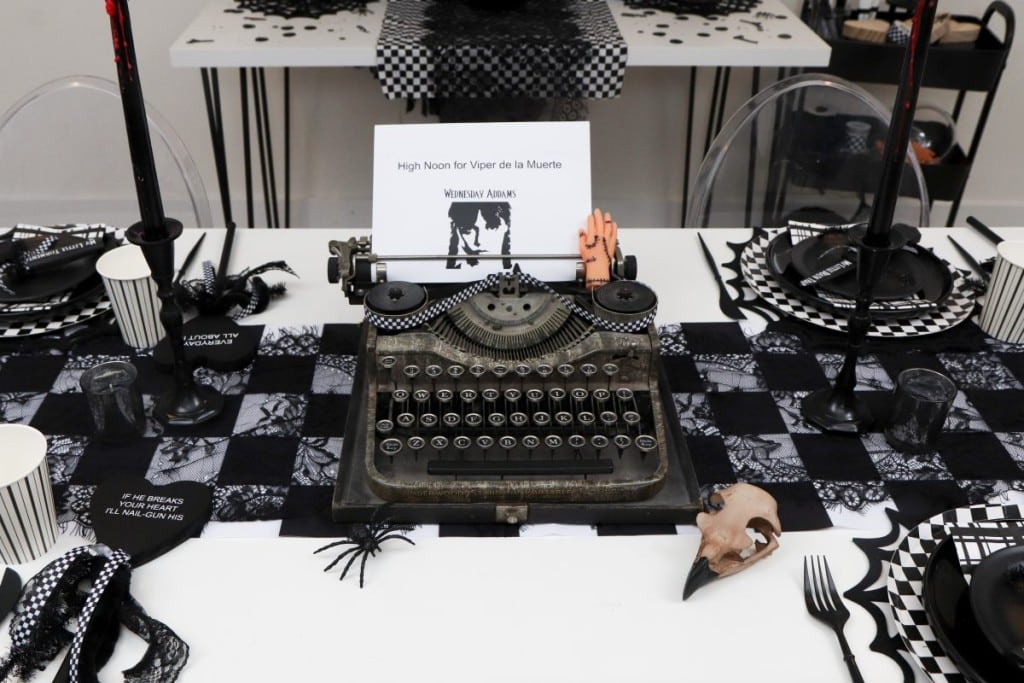 Table Setting
First, set the spooky scene with a tenebrous table setting. For contrast, I used a white table and added a black-and-white checkerboard table runner. Over the top of the runner, I added some black lace to darken it up with just a bit of softness.
In the center of the table, I made a Wednesday Addams typewriter centerpiece. I found a fabulous vintage underwood typewriter that I used to display a page of Wednesday's novel (I DIY'd this using SVG files & my Cricut). Then, I added a checkered ribbon to the typewriter. I accented this with "Thing", a black dahlia, a spider, and a crow's skull.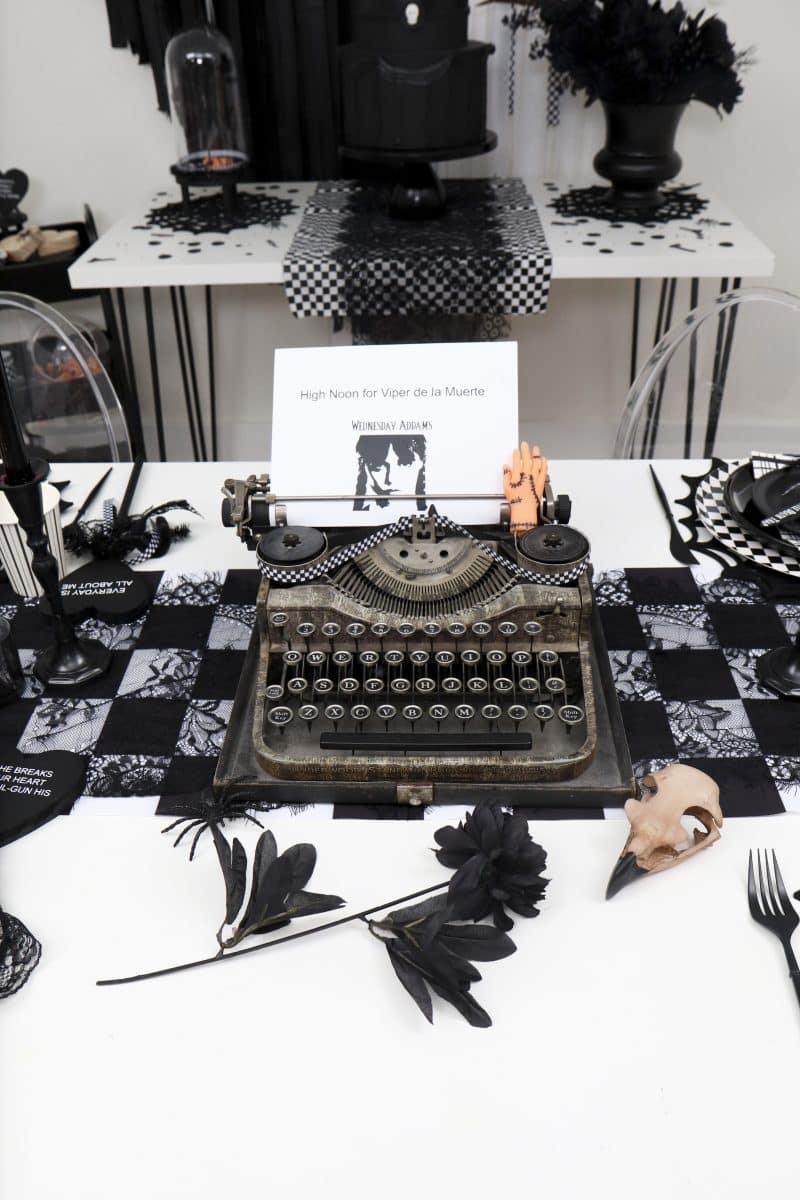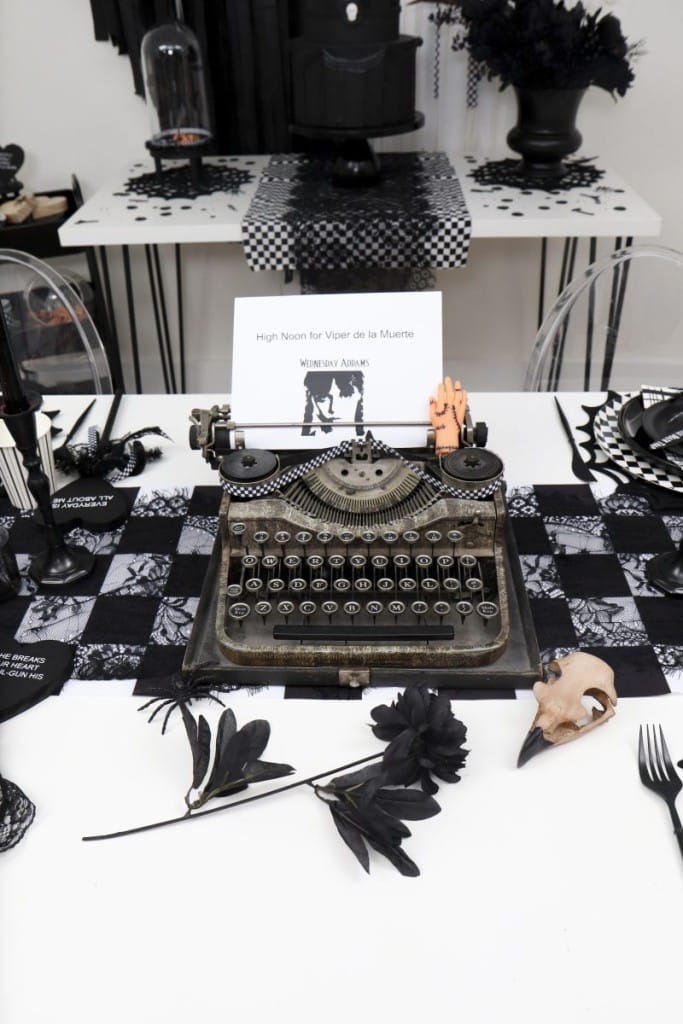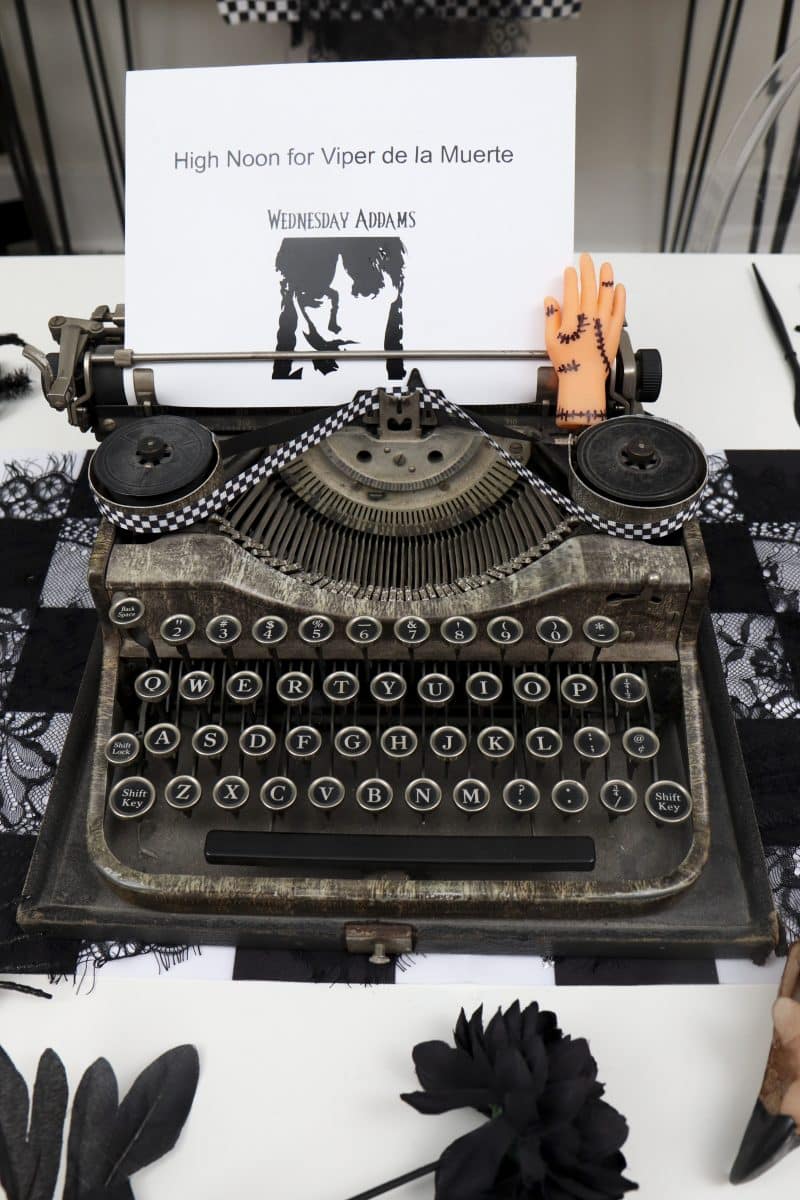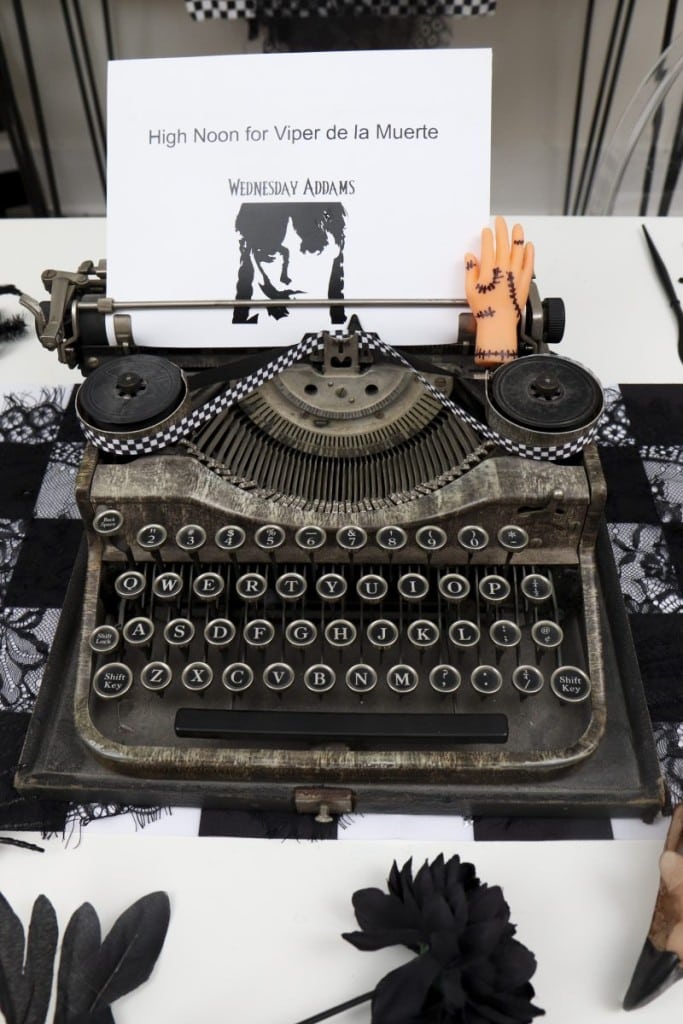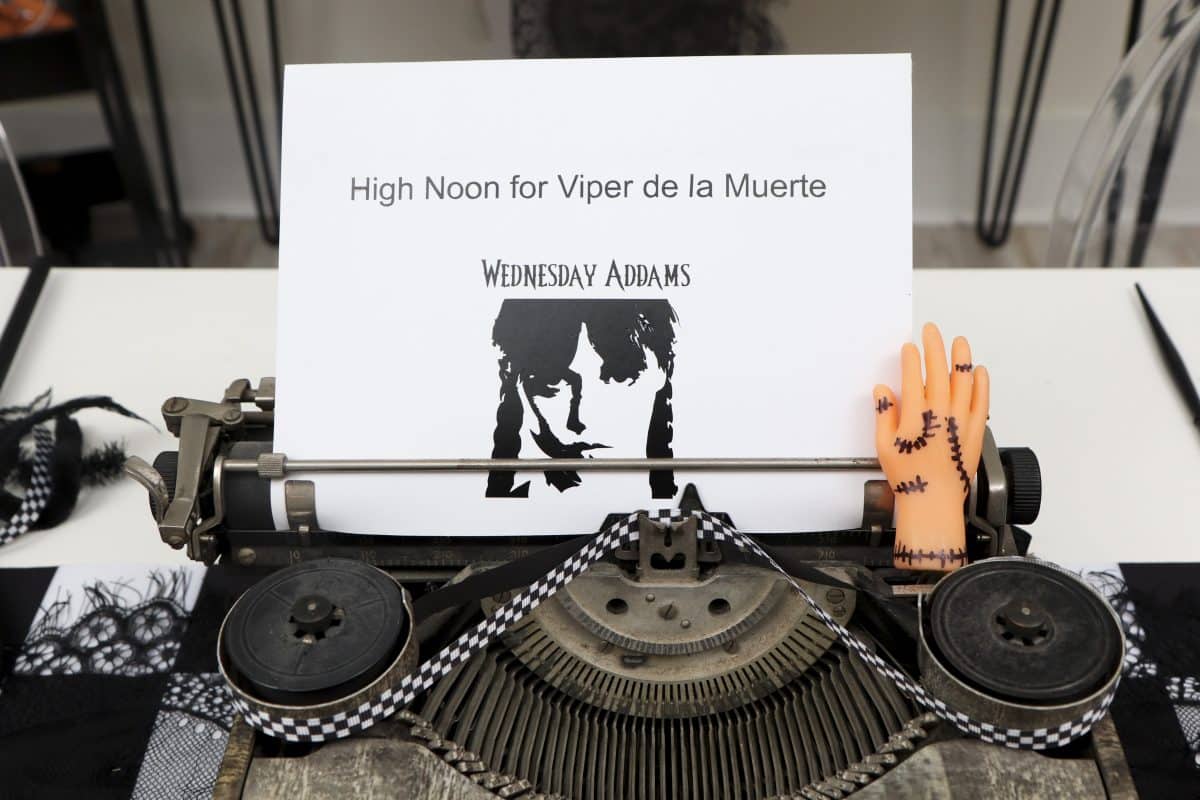 On either side of the typewriter centerpiece, I added black votive candles and black taper candles that drip "blood" when lit – I have a feeling Wednesday Addams would approve of this morbid illumination!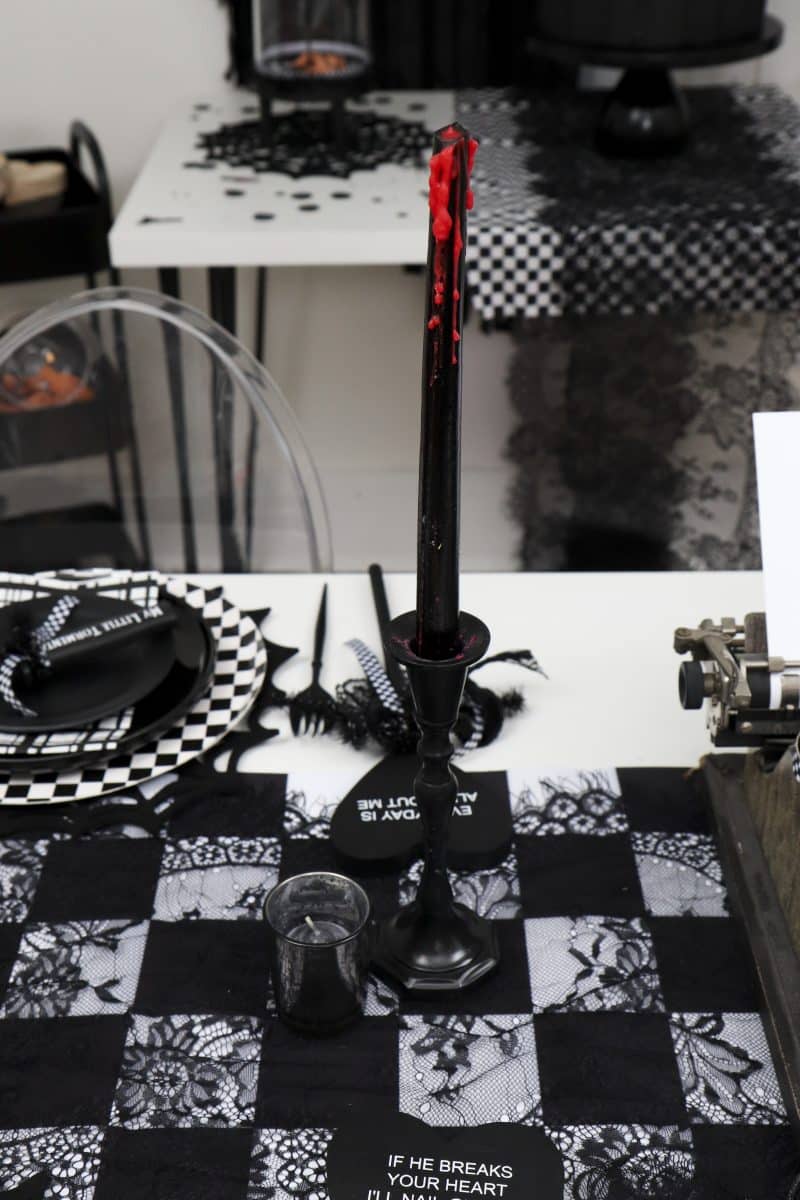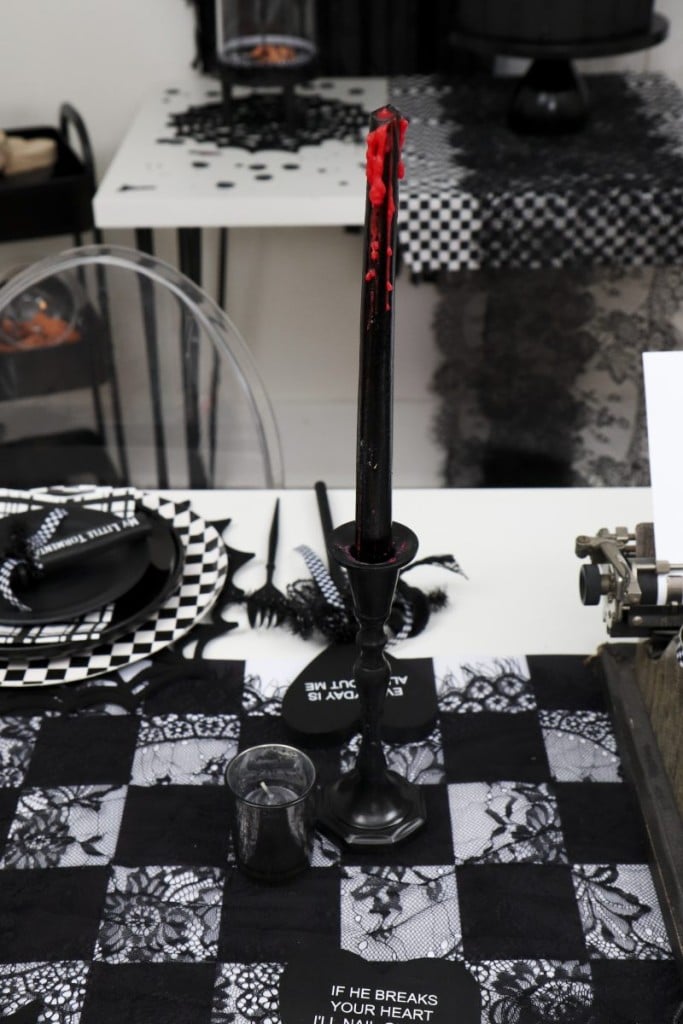 For more table decor, I made a DIY Wednesday Addams Cloche  that held a minature deep black cello. Get details for how to make it HERE.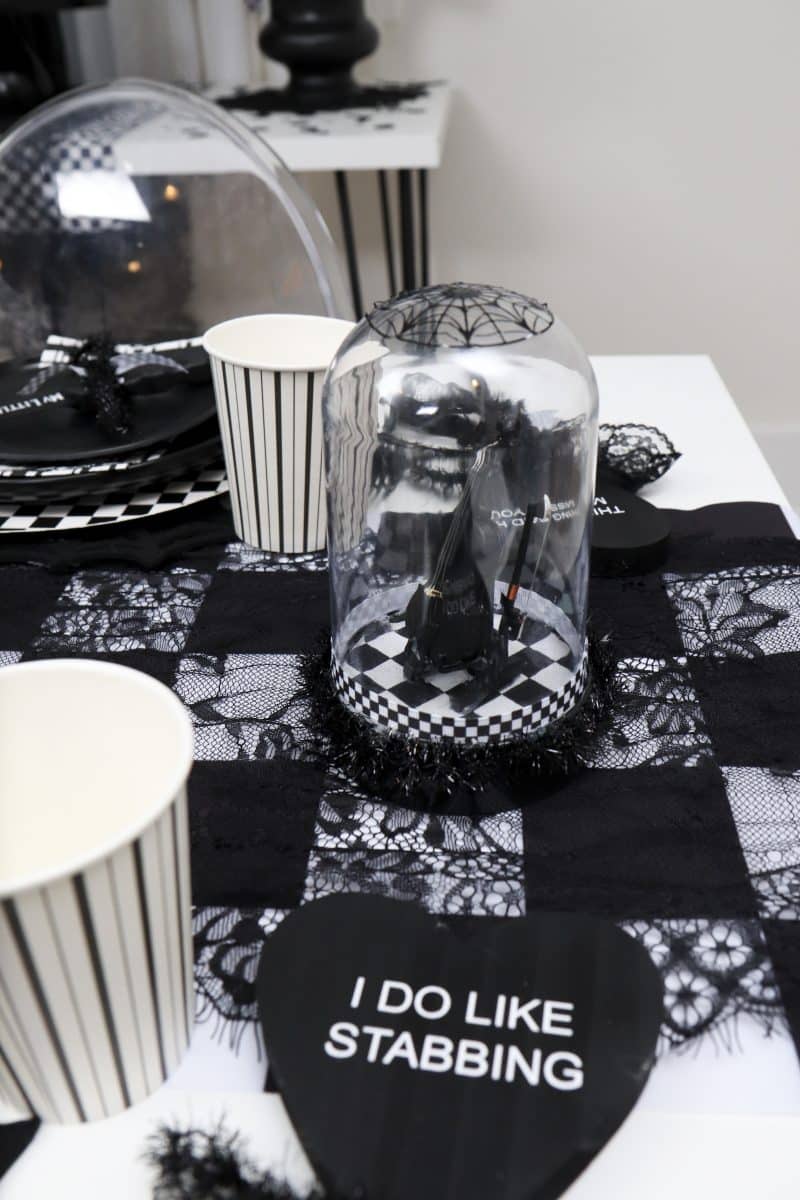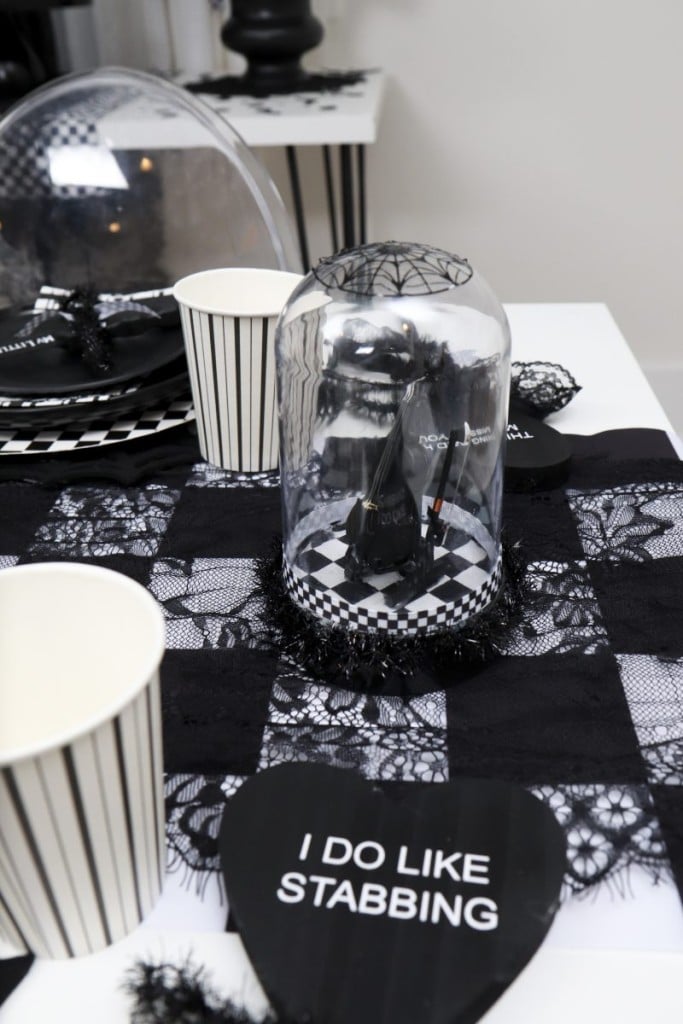 On the other side of the table, I placed another miniature cello, this time in a blood-red case and holding a bloody knife in its strings.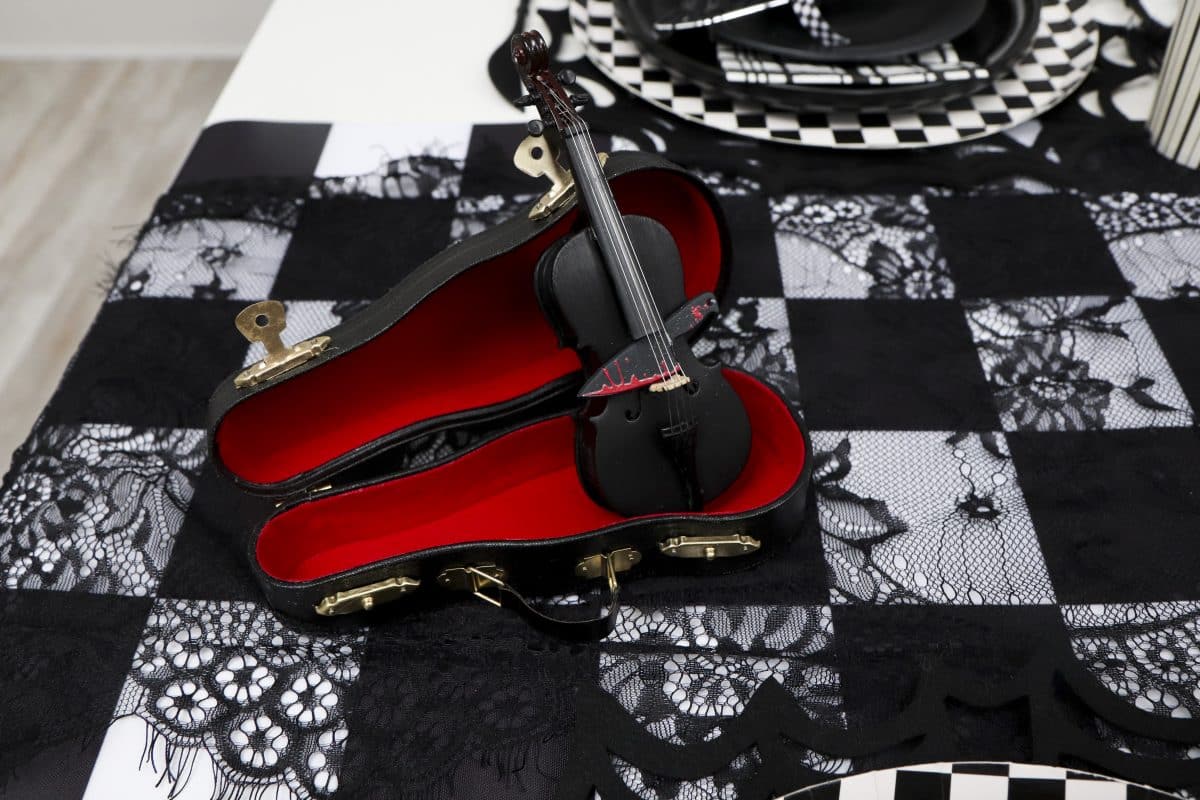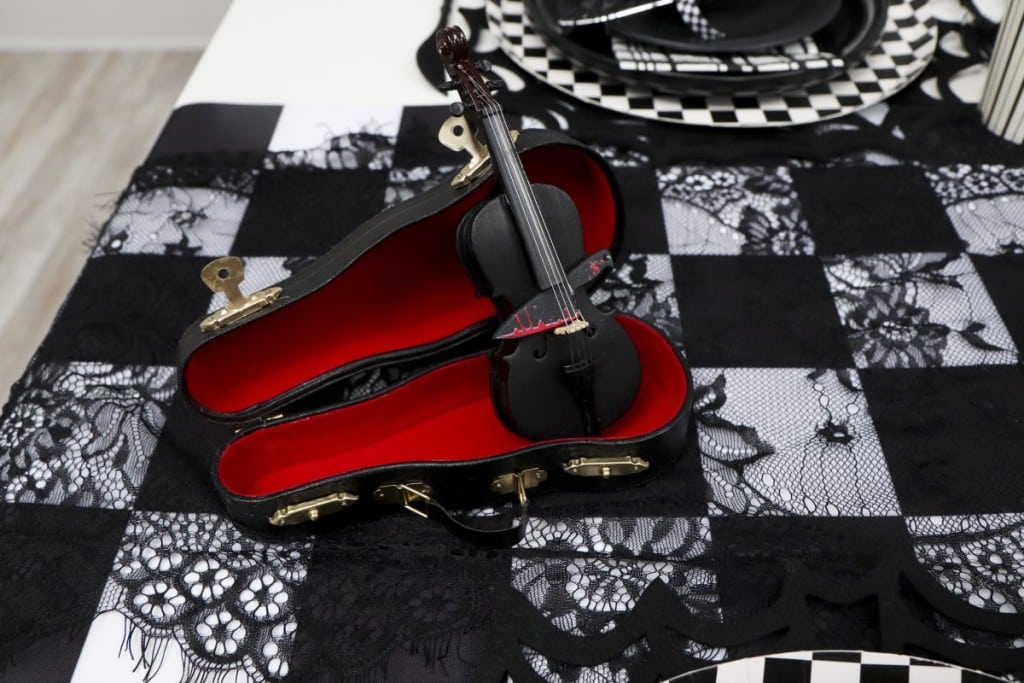 Place Settings
For each place setting, I layered spiderweb placemats with black and white checkered chargers, black salad plates, black and white plaid napkins, and black dessert plates. Black utensils and black wine glasses added to the shadowy look – perfect for a dinner party.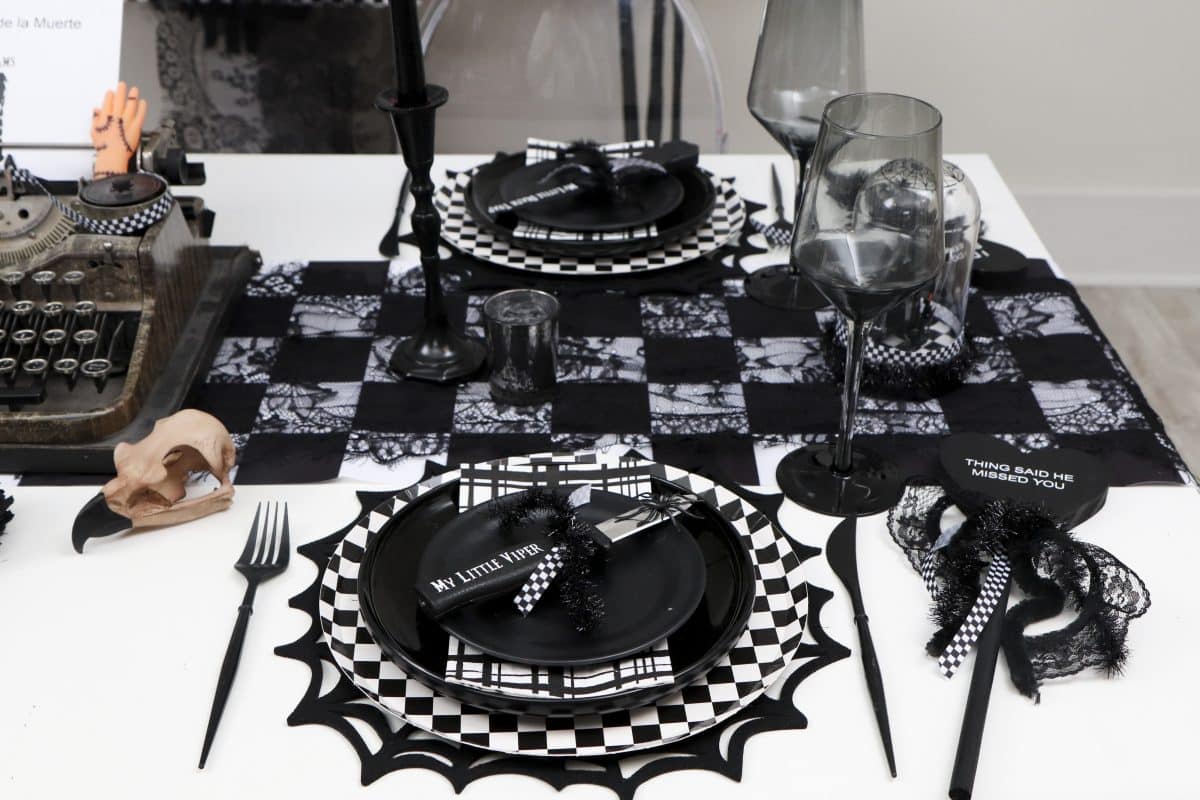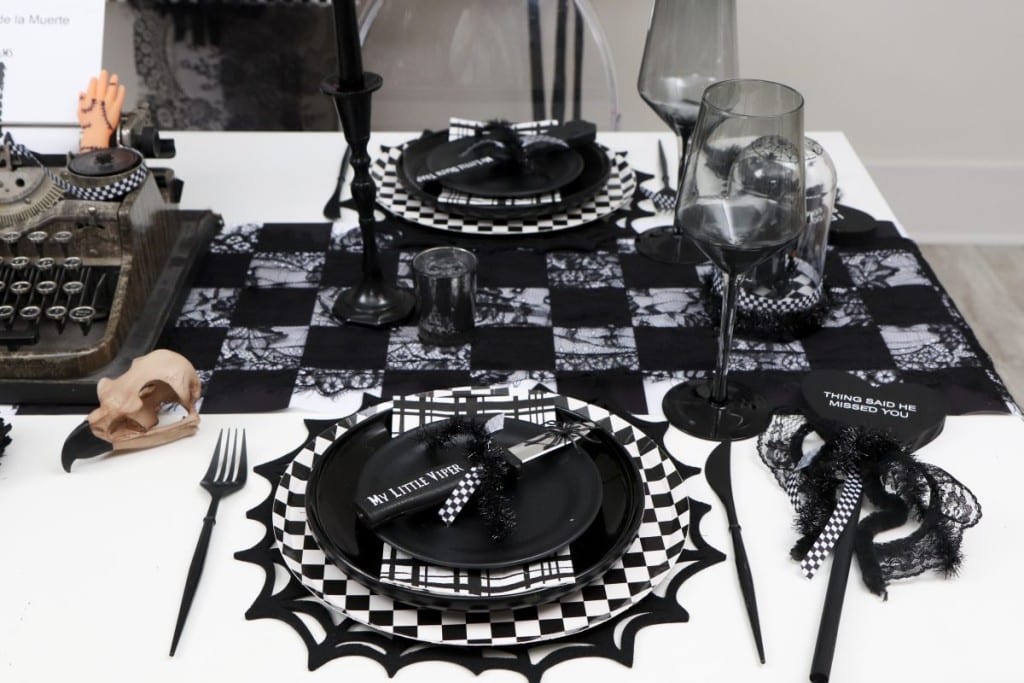 If you're setting up a kid's Wednesday Addams Party, you can easily swap the wine glasses for black and white striped party cups.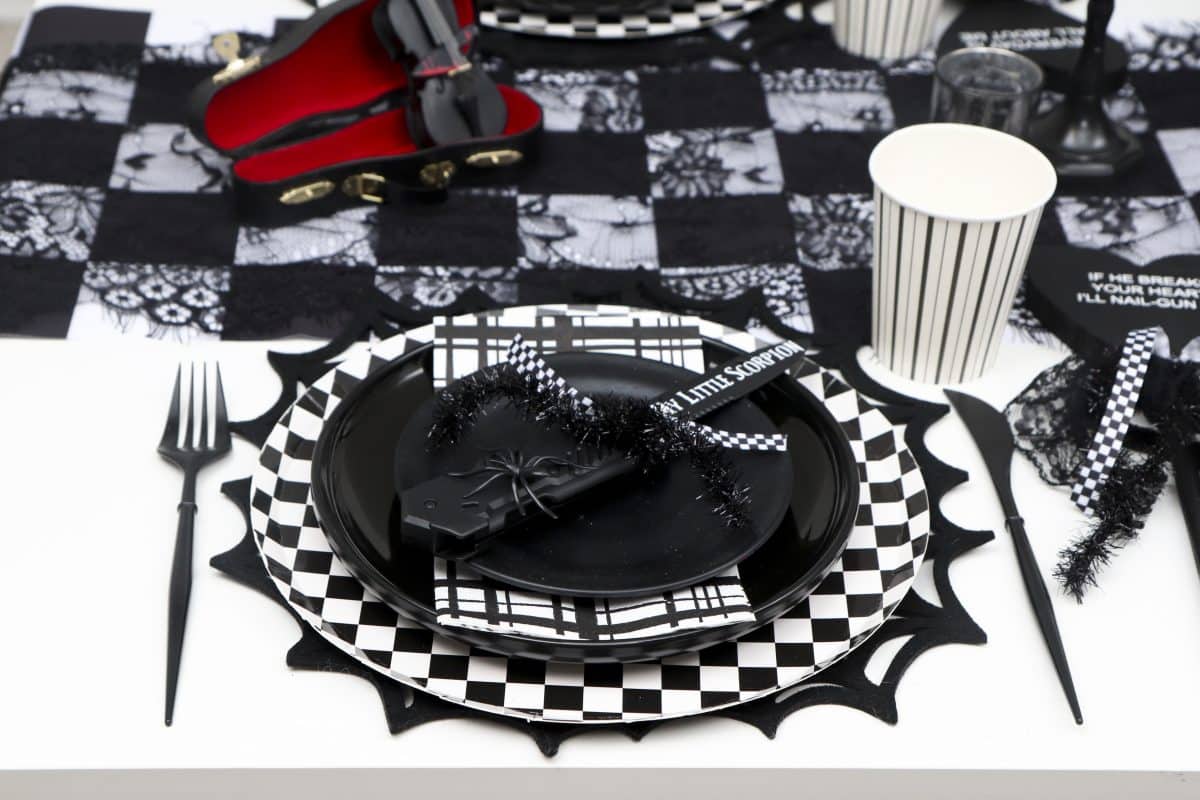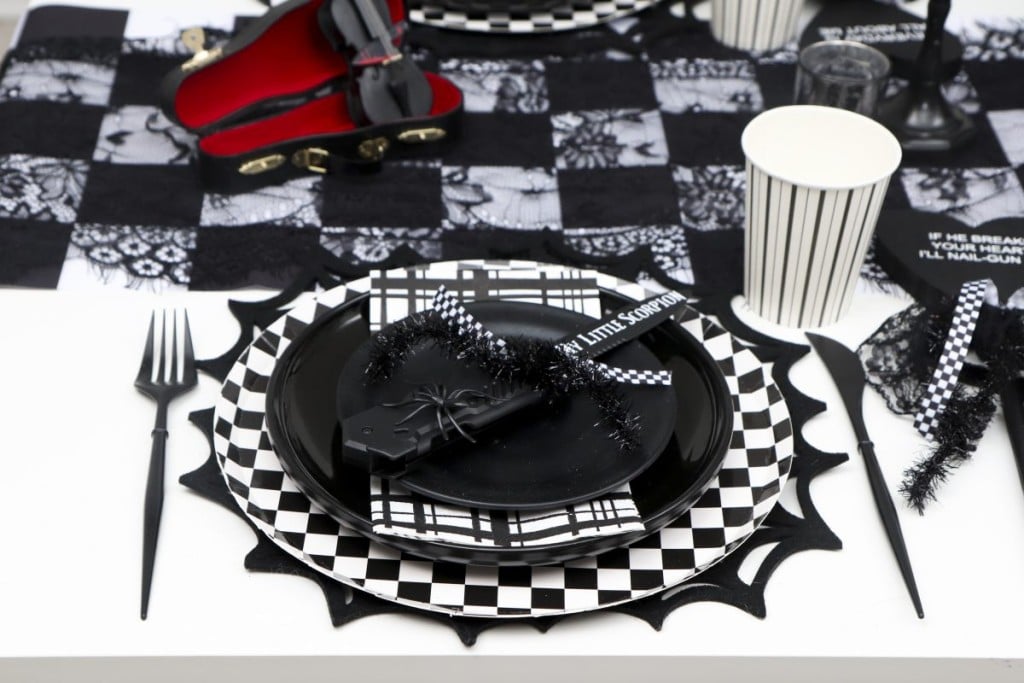 In lieu of boring place cards, I created DIY Wednesday Addams Place Cards that are sure to delight any fan of the dark and dramatic. Each blade handle featured one of Gomez's nicknames for Wednesday! Get details on how to make these amazing place cards HERE.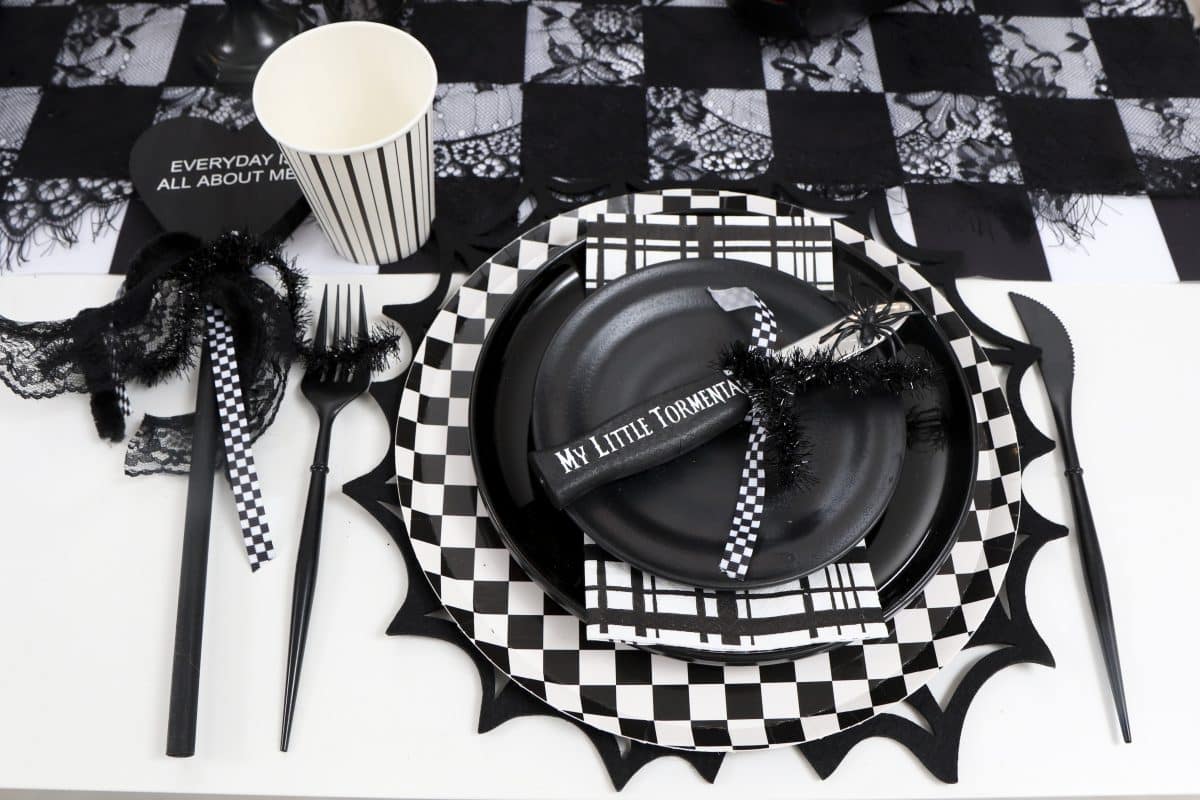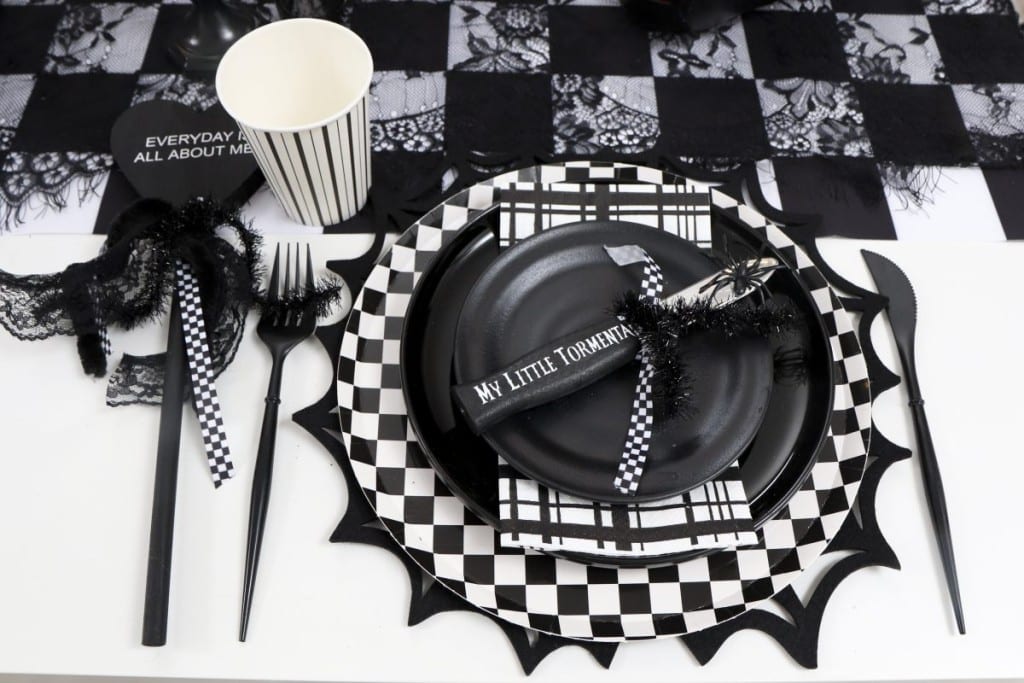 Finally, because I was setting my party up as an Anti-Valentine's Day party, I added Wednesday Inspired Heart Wands with fun Wednesday Addams quotes to each place setting. Get DIY details and instructions HERE.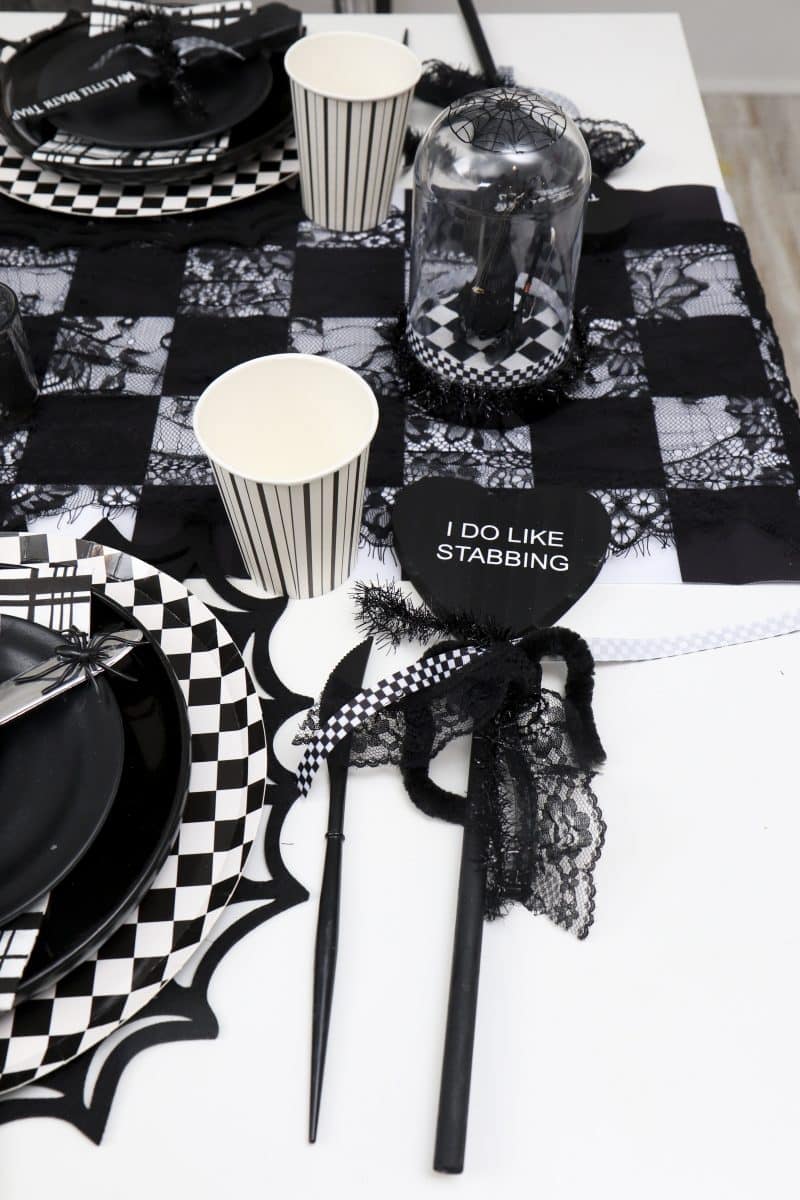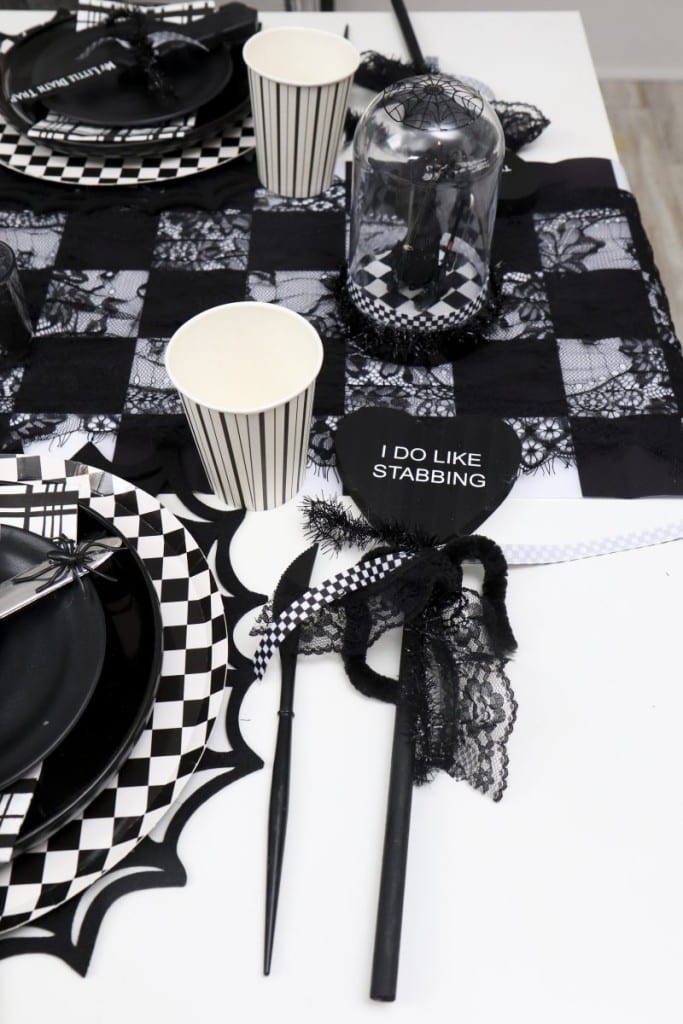 Backdrop & Dessert Table
Next, I set up my backdrop and dessert table. I used a black and white fringe backdrop with checkered ribbon added in.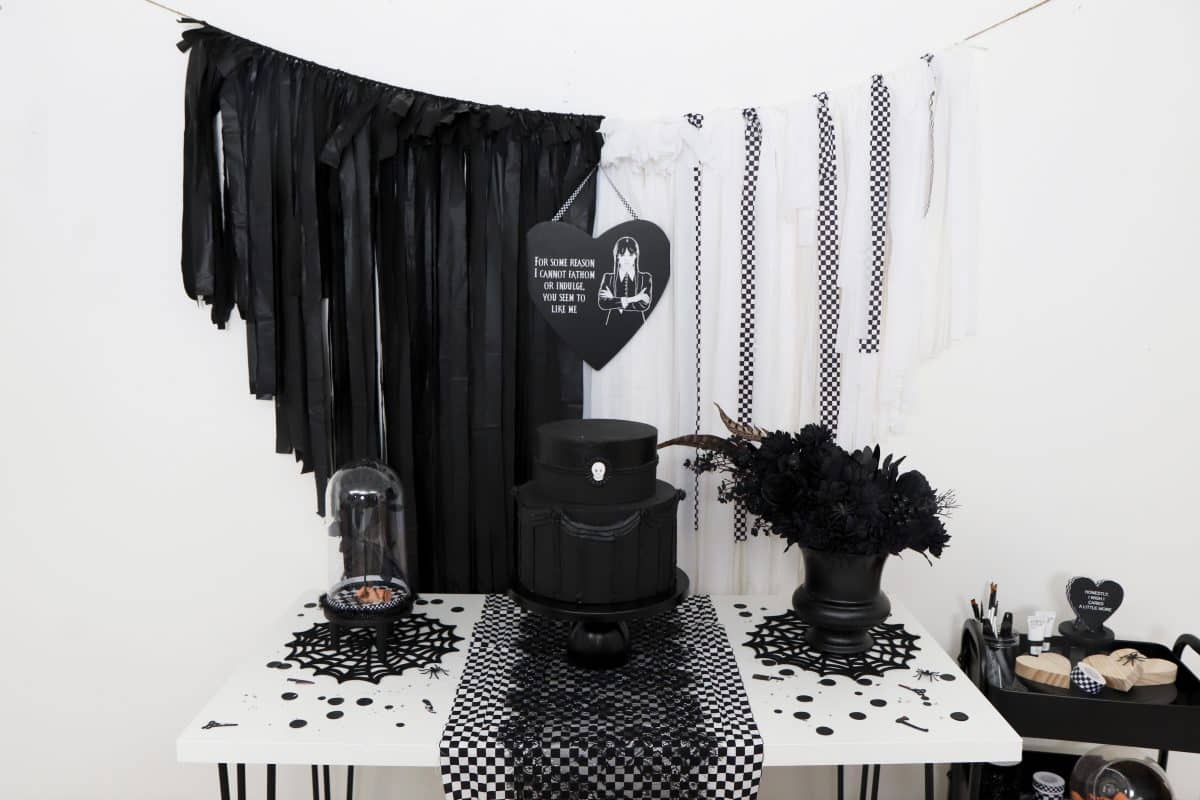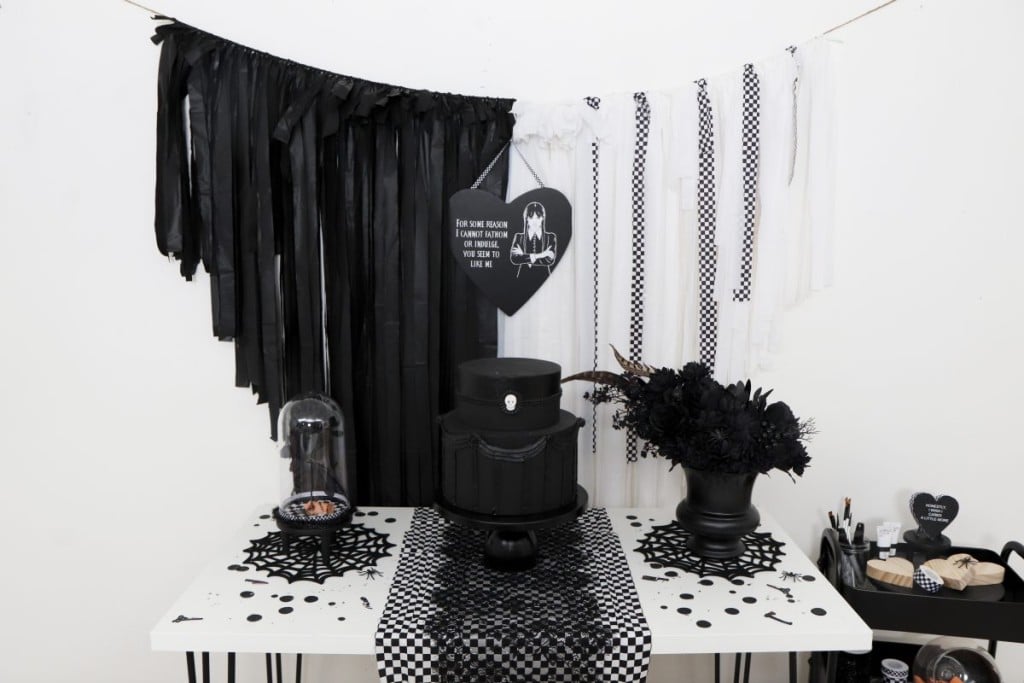 Then, I hung a heart sign I made by painting a wooden heart black, adding black and white checkered ribbon, and cutting out the perfect Wednesday Addams quote and image for Anti-Valentine's Day out of vinyl with my Cricut.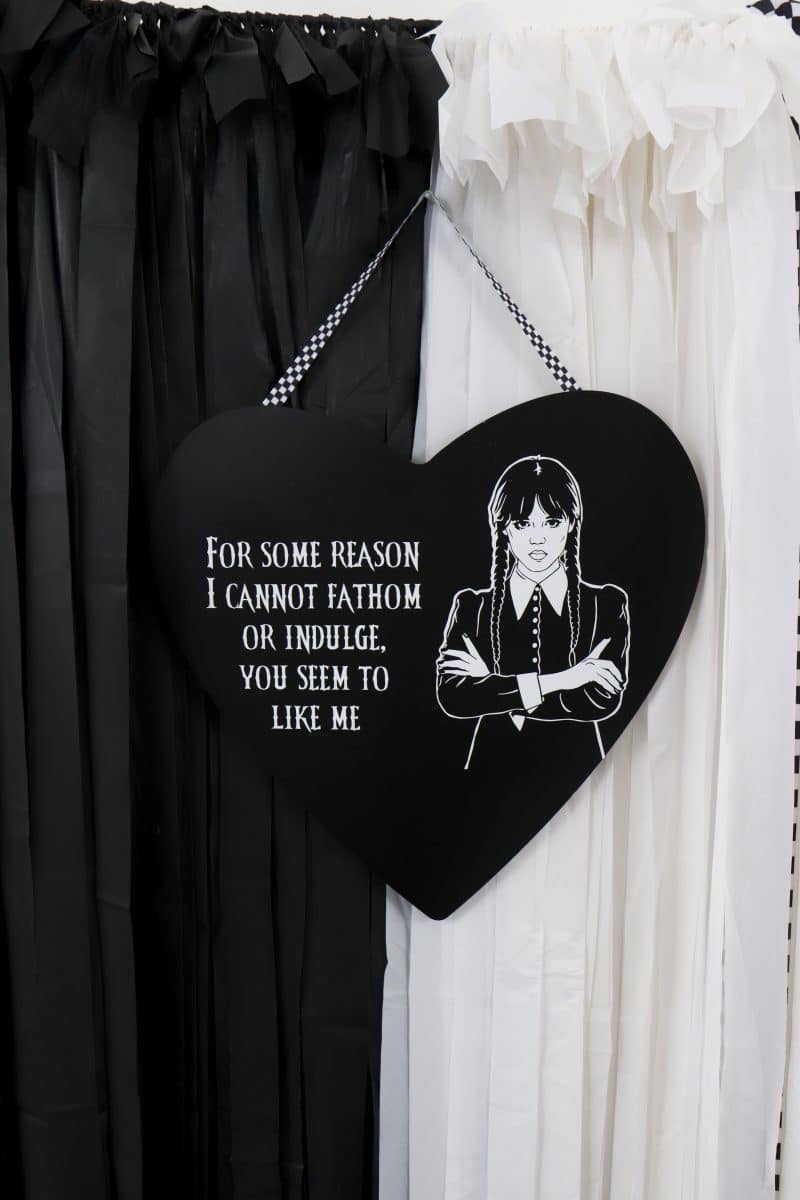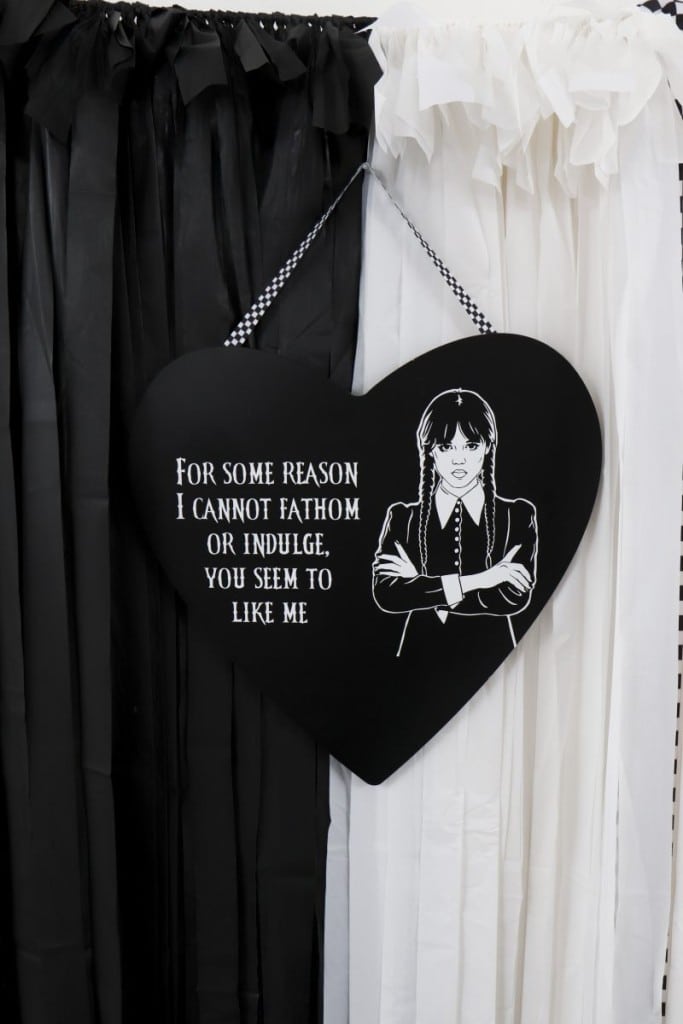 Underneath the backdrop, in the center of the dessert table, I placed a black cake stand holding a deep black cake on another table runner of fabric and lace.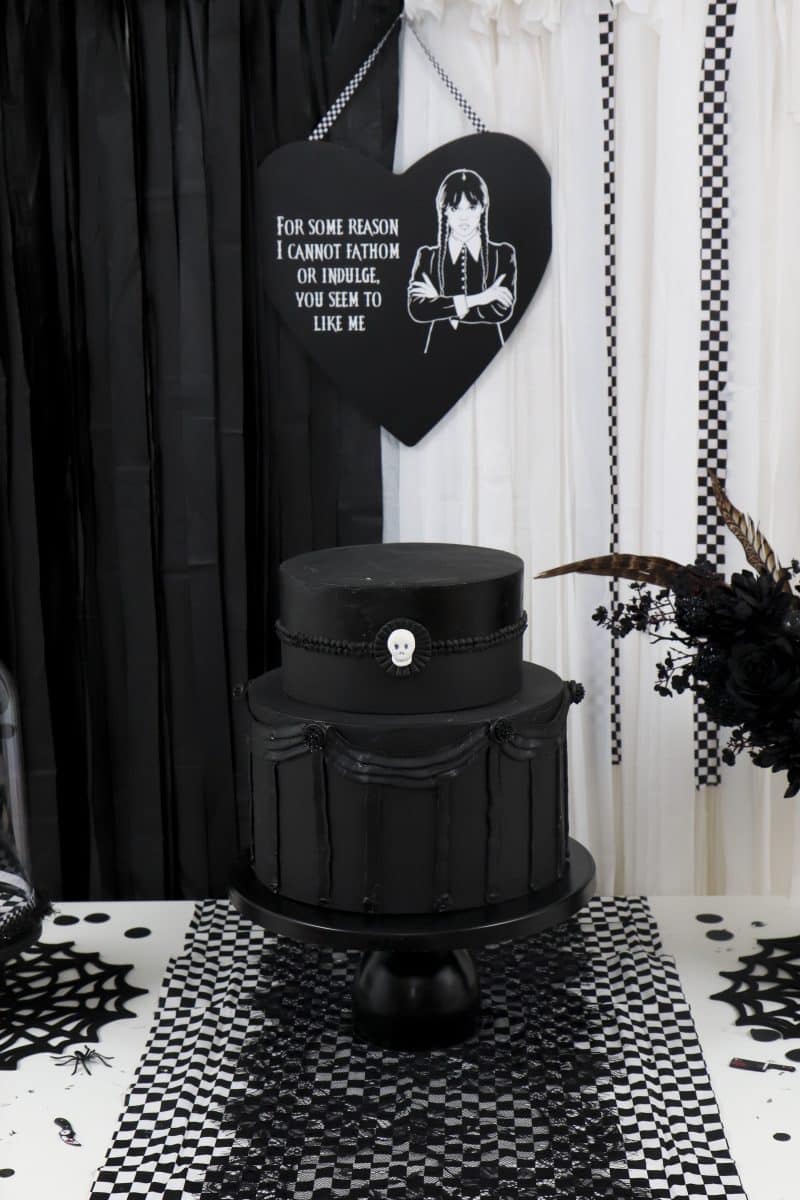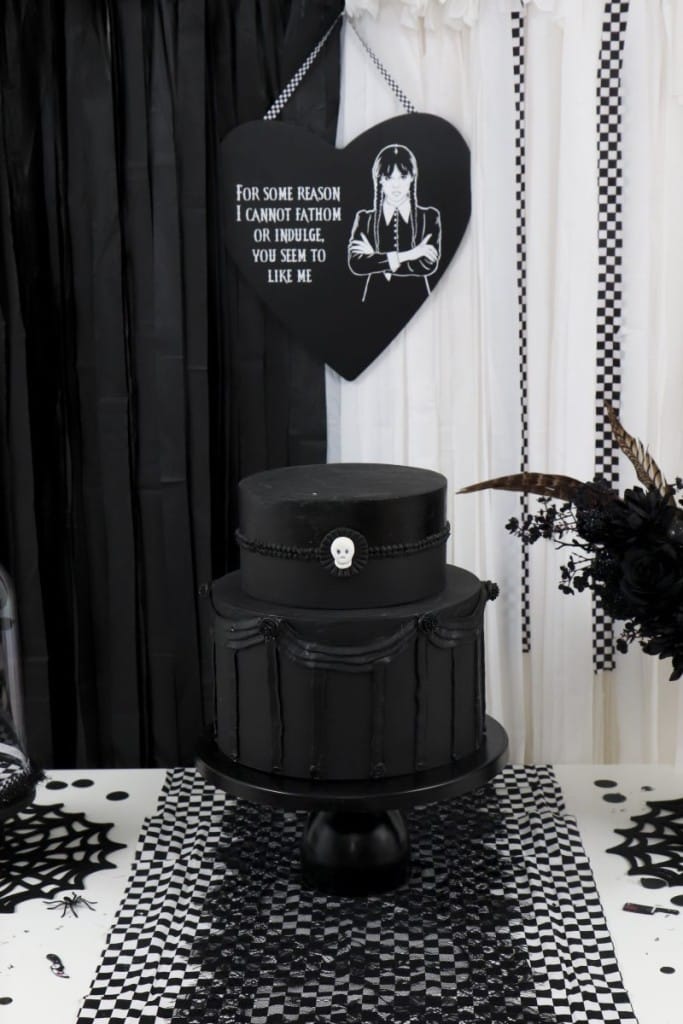 On one side of the dessert table, I placed a bouquet of bleak blooms in a black urn (a reference to Wednesday's love of death's sweet embrace) on a spiderweb placemat. For the florals, I used black dahlias – did you know that the Black Dahlia is Wednesday Addams' favorite flower AND the name of her favorite unsolved murder?! I sprinkled creepy confetti, crow feathers, and spiders underneath.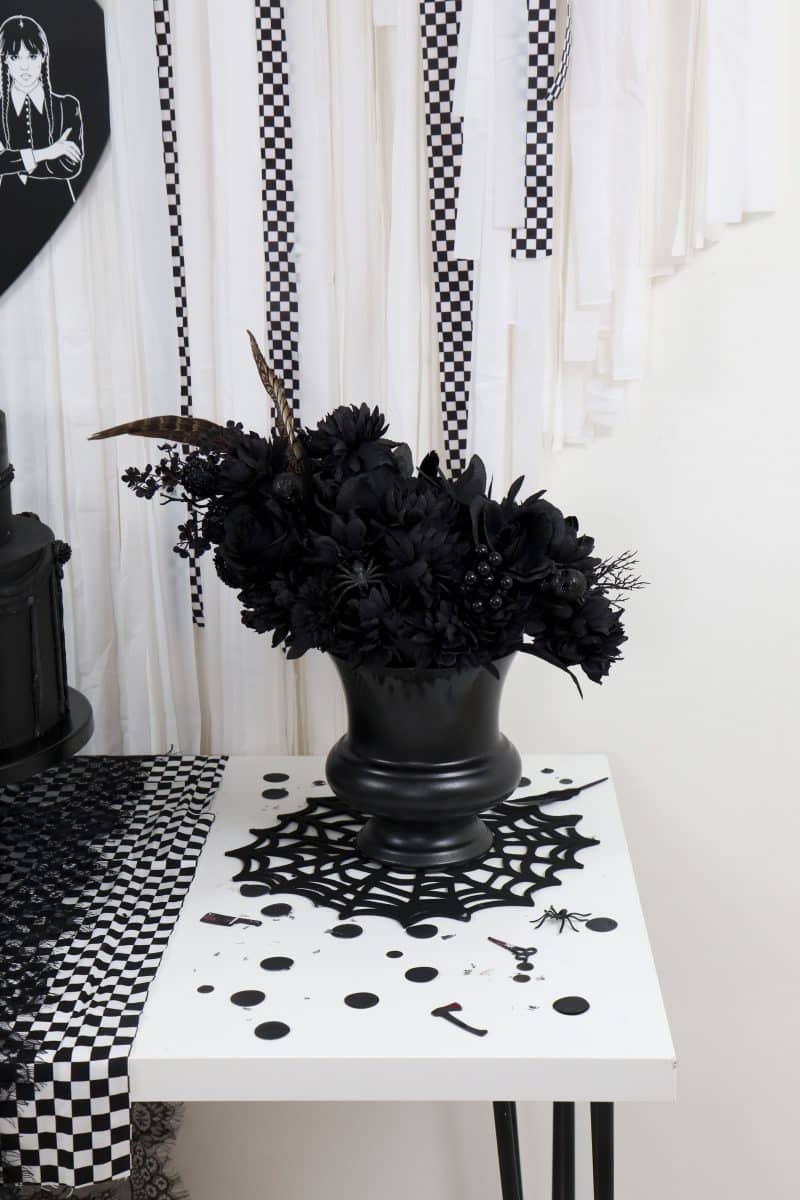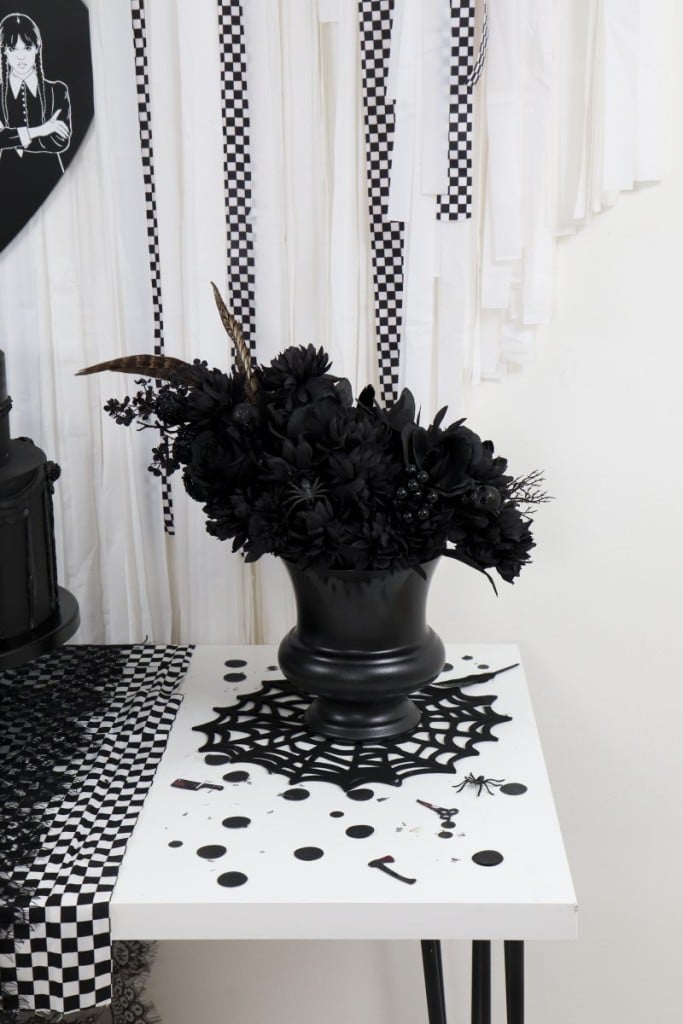 On the other side of the cake table, I added more DIY Wednesday Addams Cloche Decor.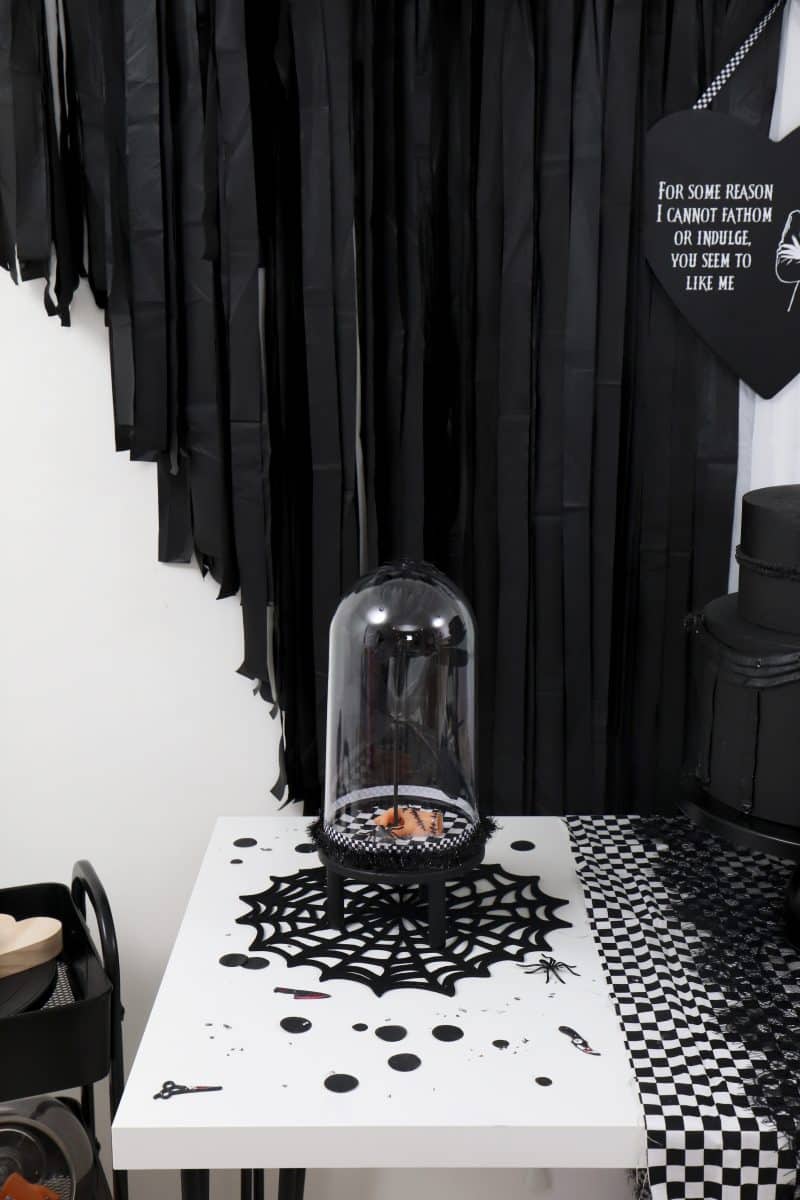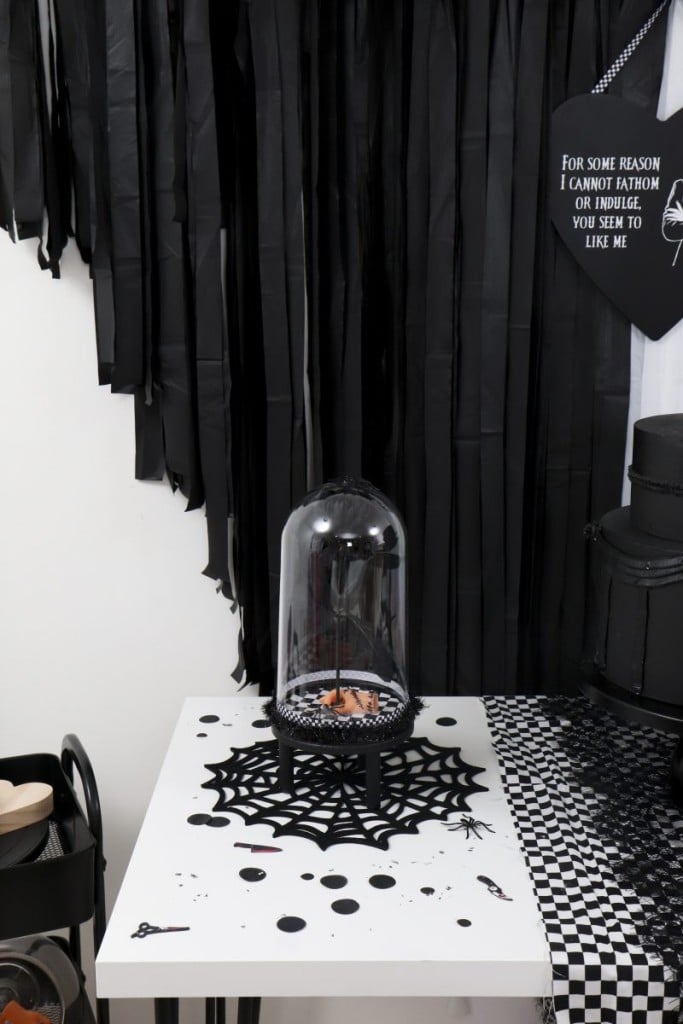 This one featured a DIY "Thing" holding a single black dahlia.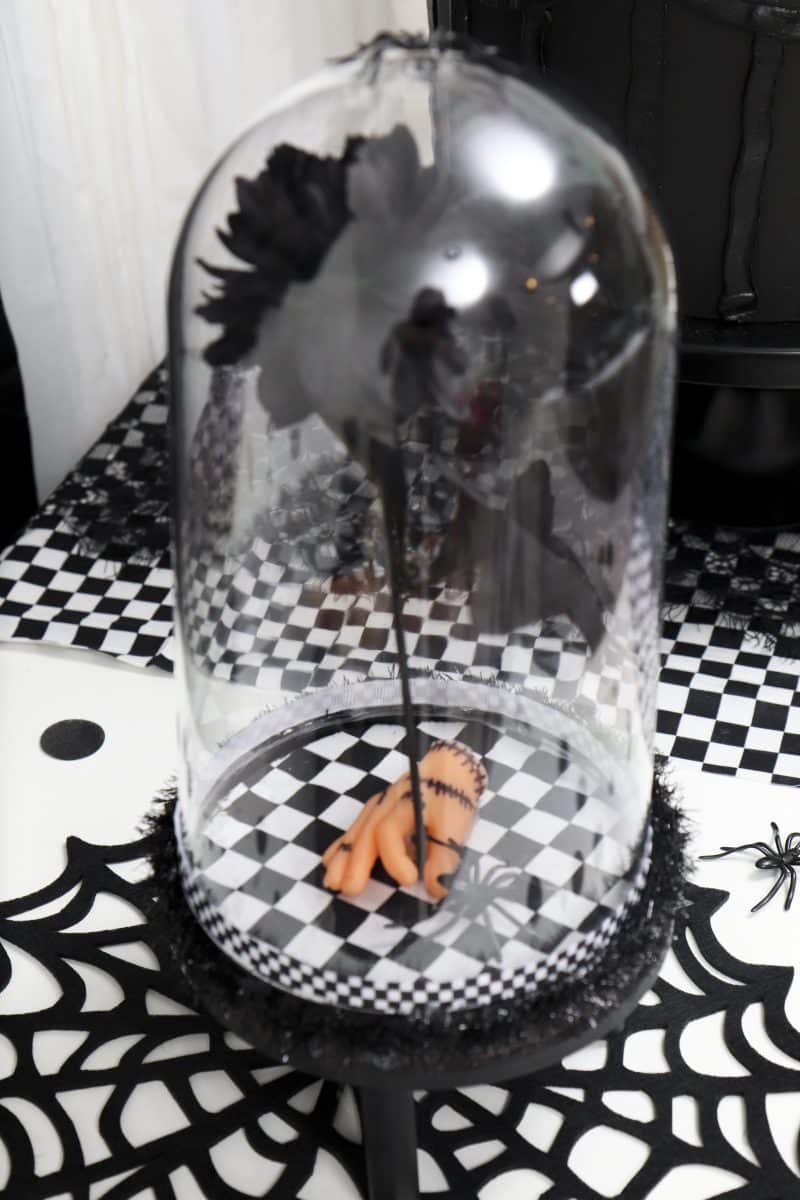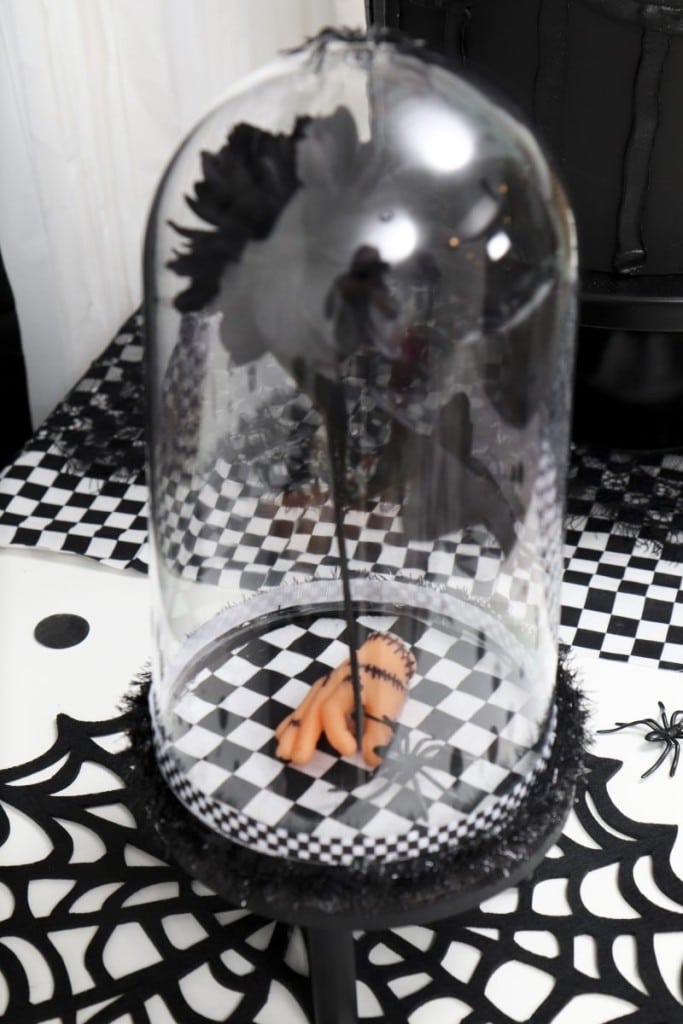 Thing might have been one of my favorite parts of Wednesday Season 1, so I of course had to feature him as much as possible in my decor!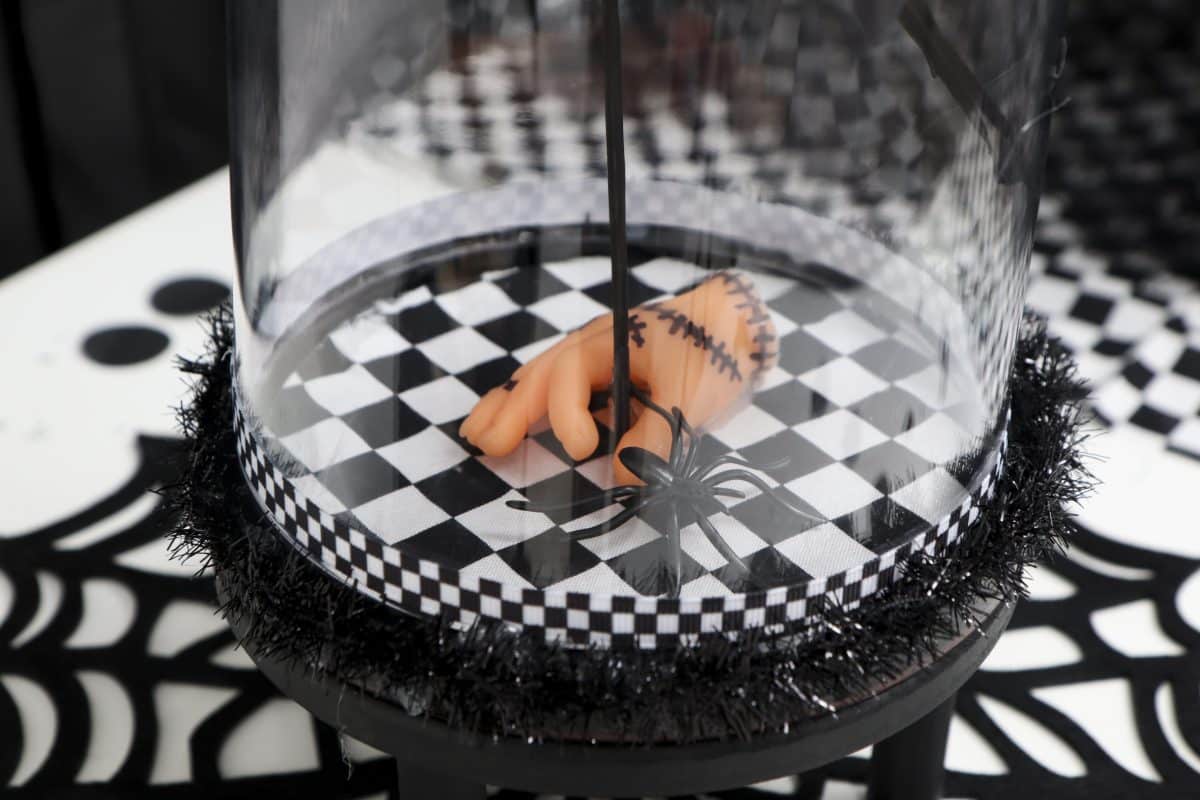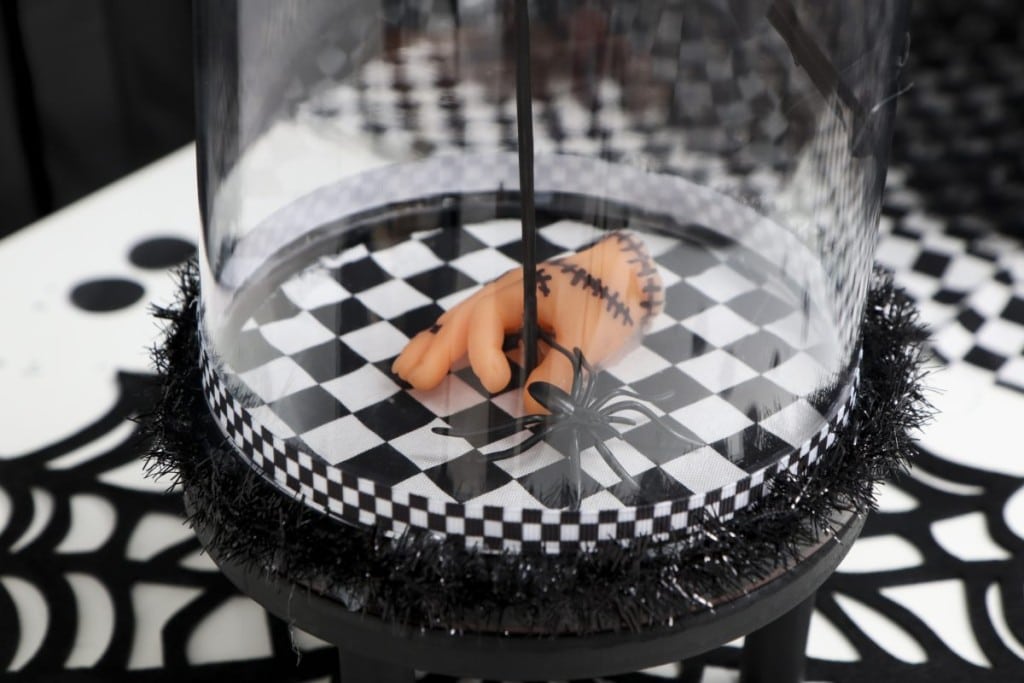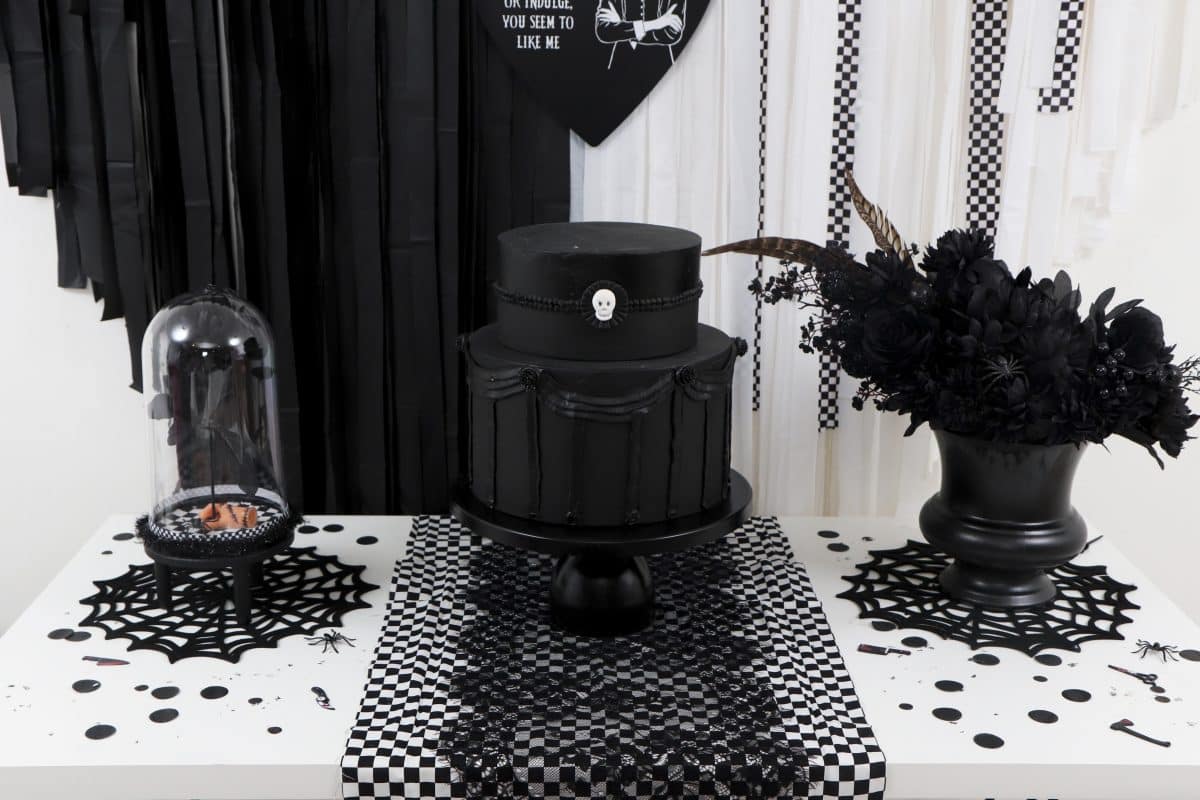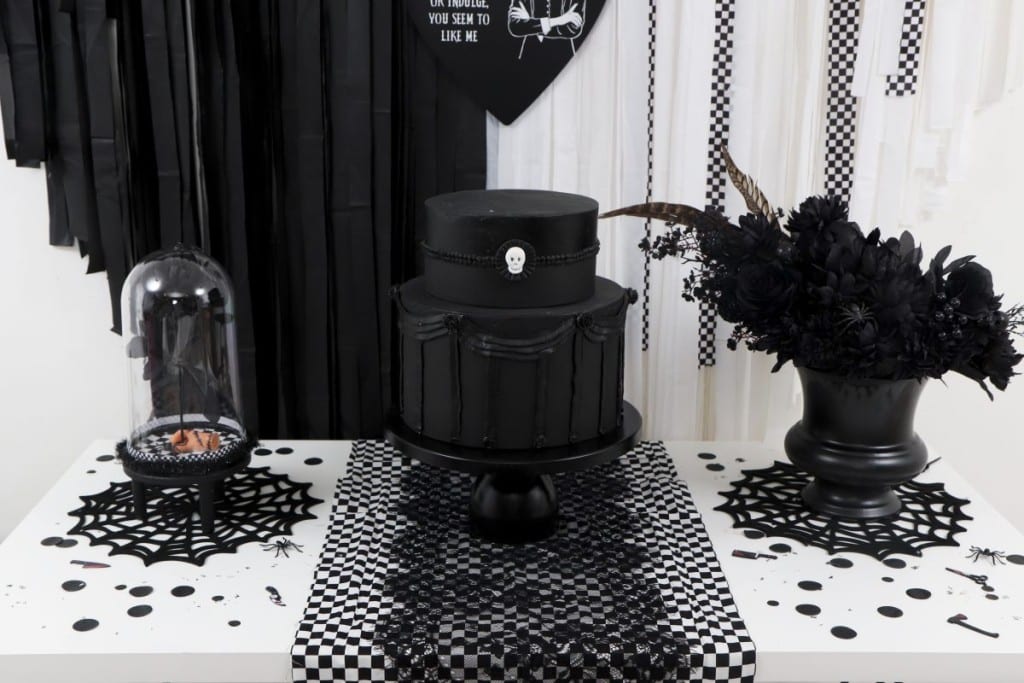 Craft Cart
Crafts are a great way to keep guests entertained during your Wednesday Addams Party. I love adding a rolling craft cart to my parties, featuring a themed craft for guests to make.
For this Anti-Valentine's Day party, I set up a craft cart with supplies for guests to create DIY Wednesday Addams Conversation Hearts!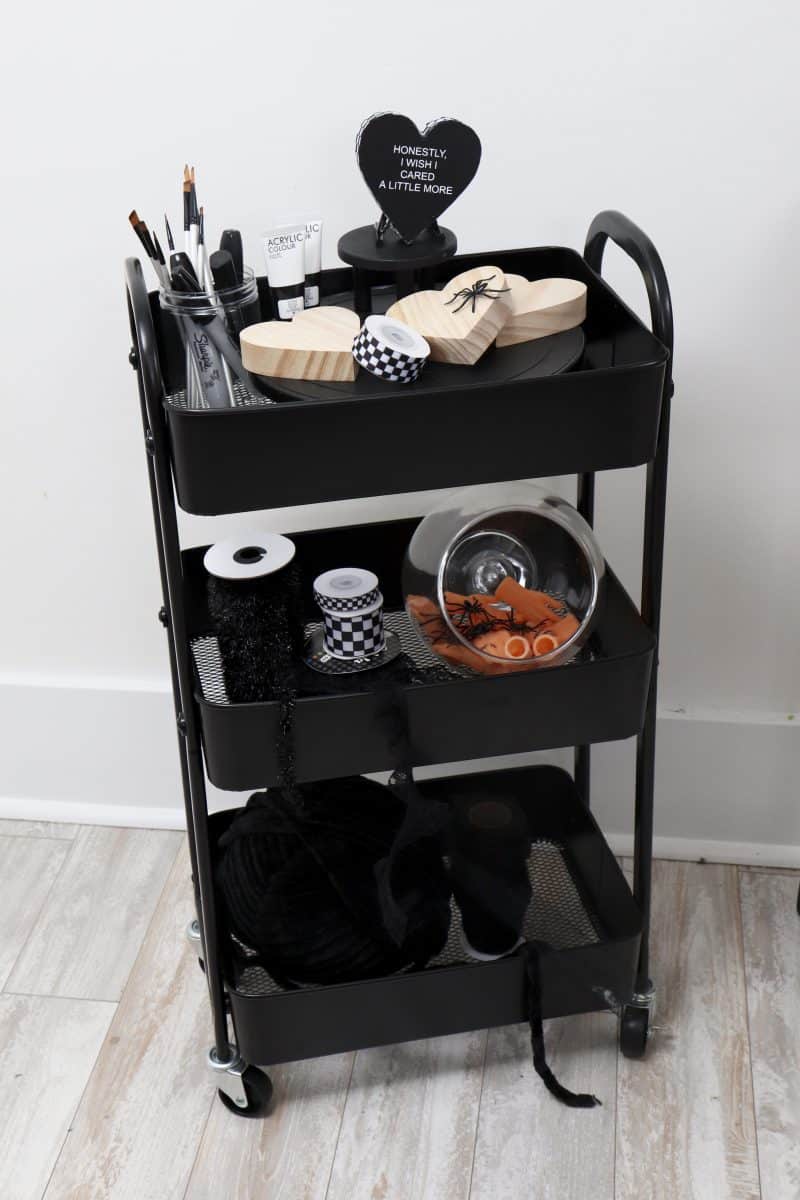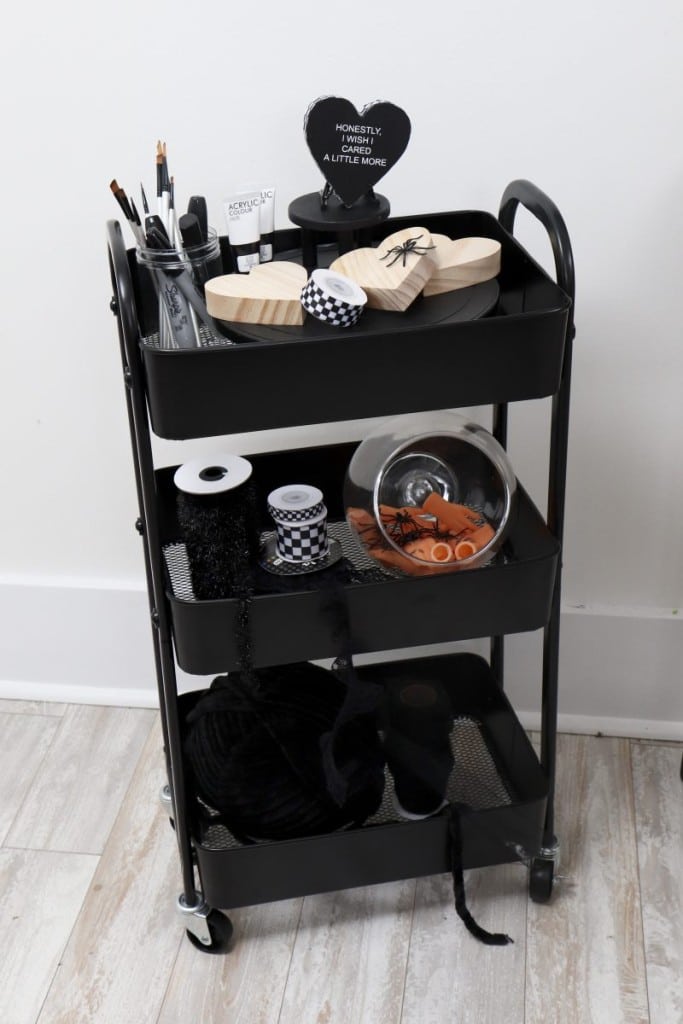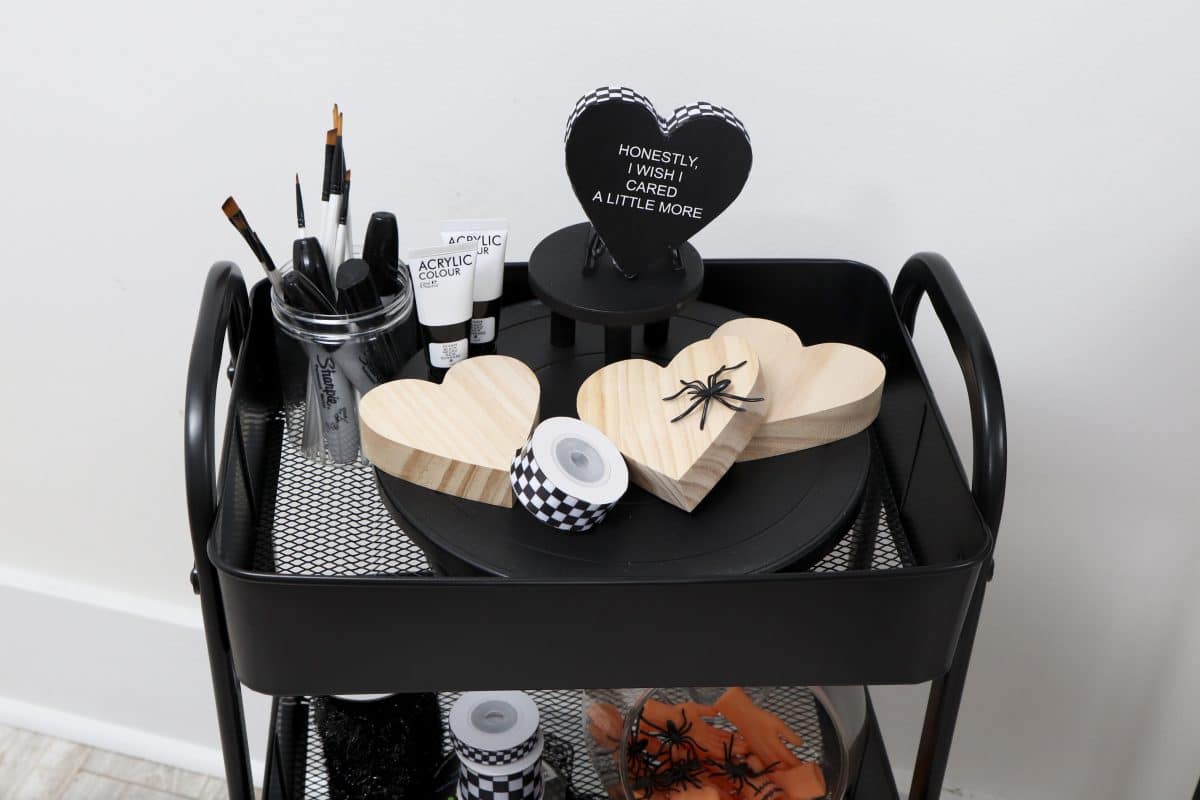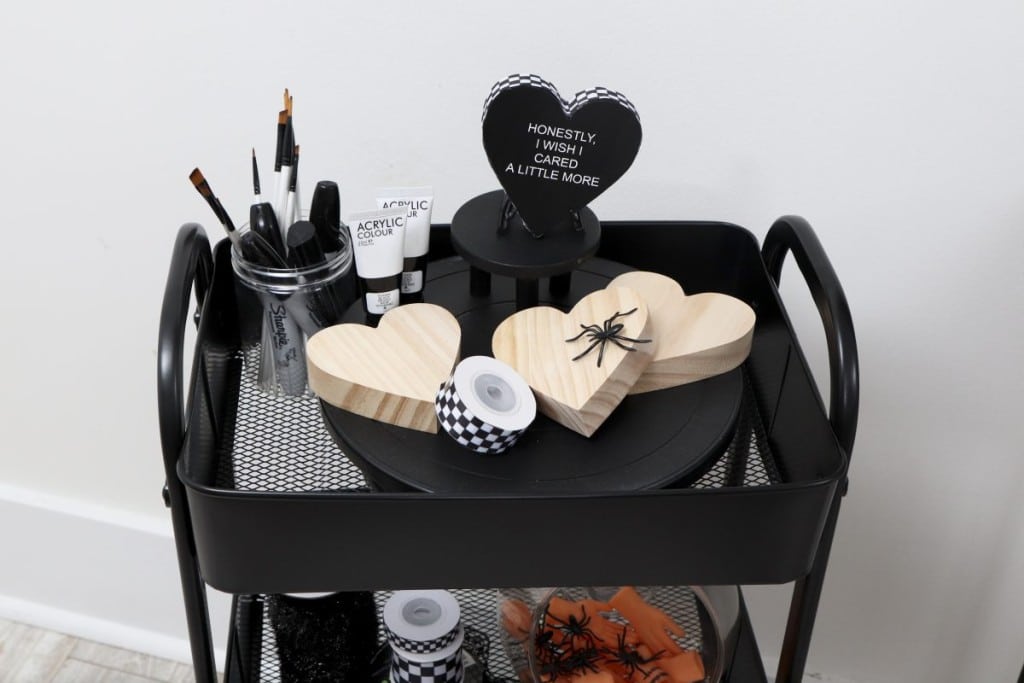 The fact that the craft cart rolls makes it really easy to bring over to the table once dinner is done and craft time begins!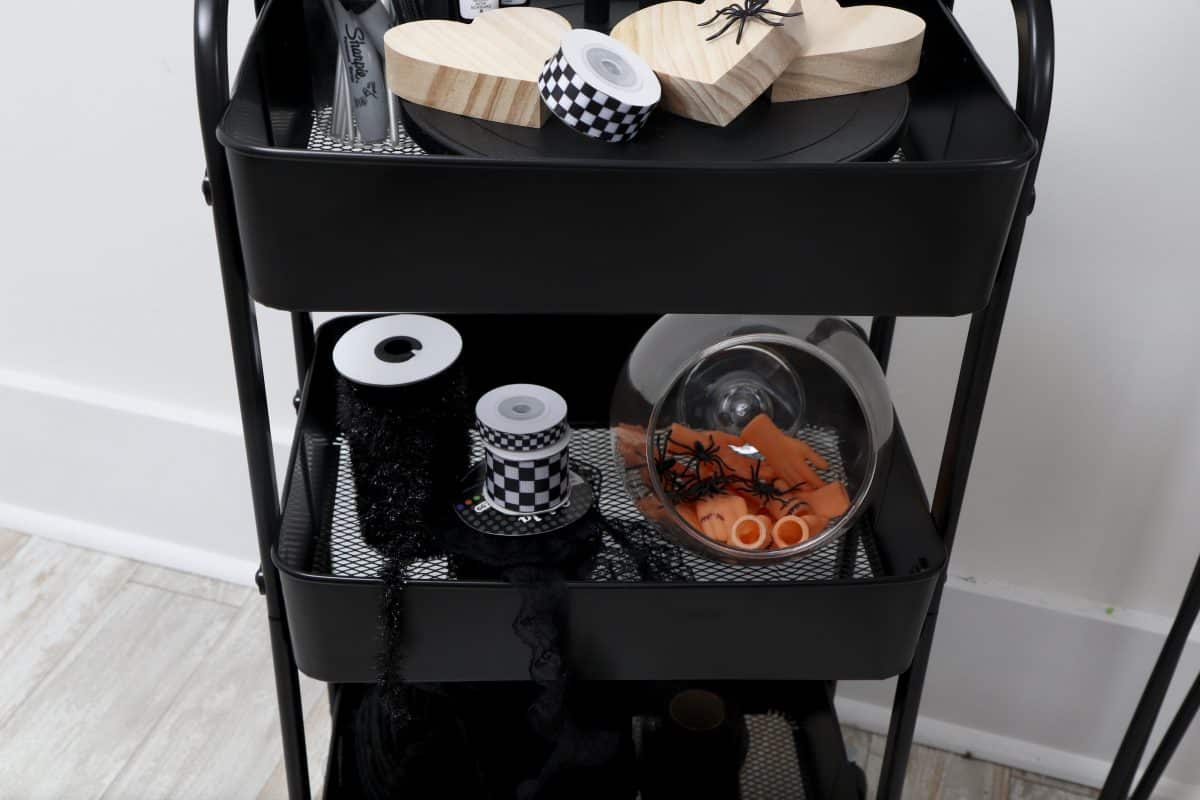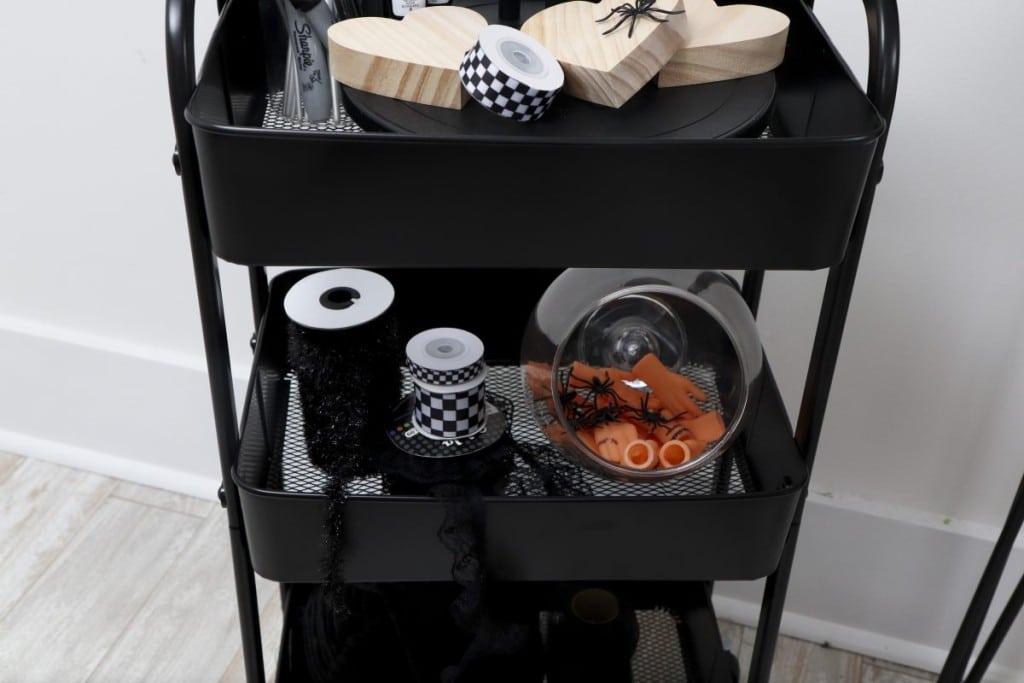 Get the step-by-step instructions on the DIY Wednesday Addams Conversation Hearts HERE.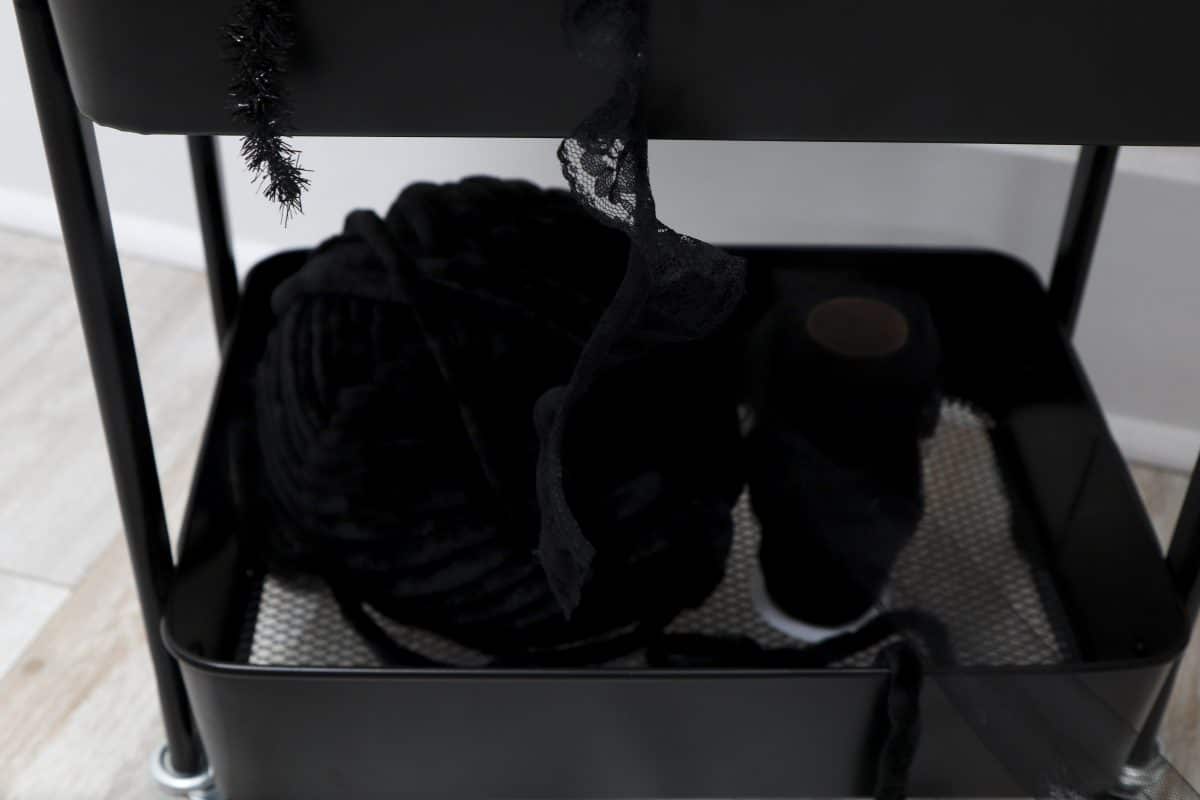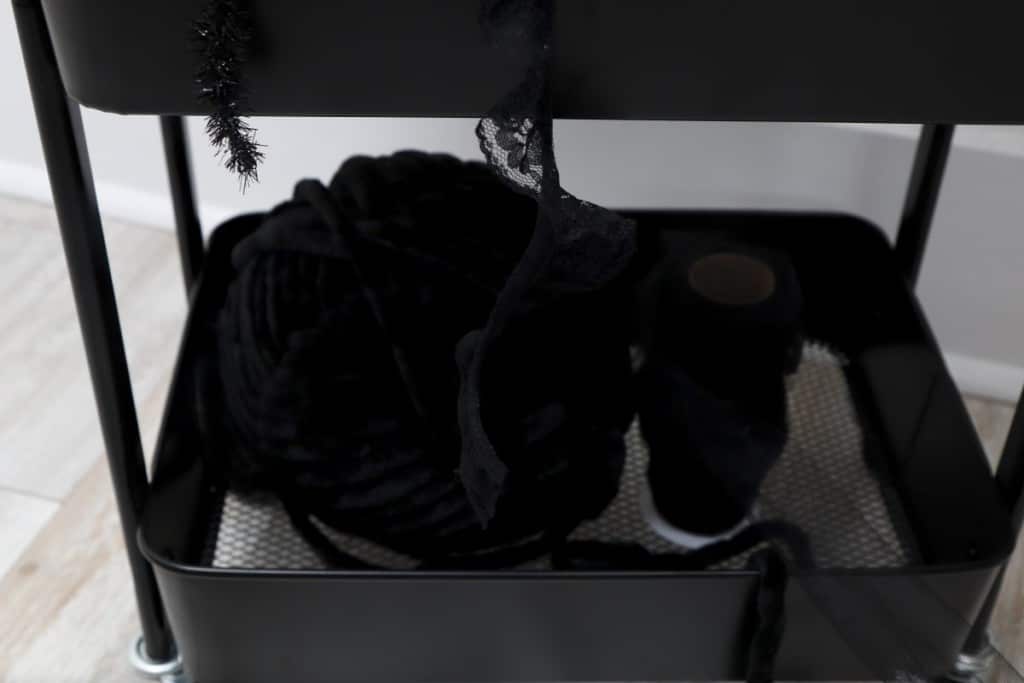 What occasion would you use this Wednesday Addams Party for? I cannot wait for Wednesday Season 2 to come out. If you guys like this one, I might just have to create another party for Season 2!
For an easy one-stop-shop for many similar supplies to the ones I used for this party, take a peek at my Amazon Shop.
Don't forget to check out all of the step-by-step instructions for DIY Wednesday Addams Party Crafts and Decor:
Happy Partying!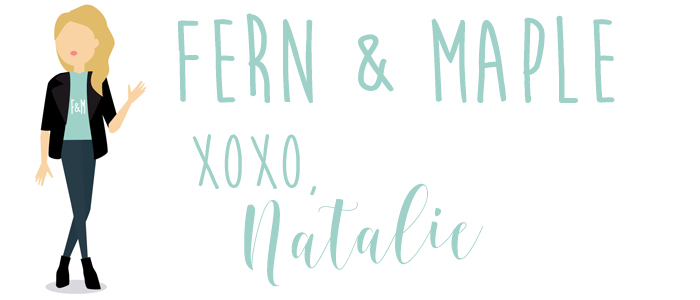 As a blogger, I sometimes receive compensation and/or products in exchange for my styling and crafting services. I also may earn a small commission from any sales that result from affiliate links on this page. As always, all project ideas and any opinions expressed here are my own. For further information on our disclosure policy please check out our disclosure page.
PIN FOR LATER: