Outdoor movies are always a fun and exciting way to connect with friends, family, and neighbors, or to celebrate any special occasion. But planning them can feel a bit intimidating. You want to make sure everyone has a great time, and for that, you need to be set up for success! Luckily, I have 10 Tips for Setting up Successful Outdoor Movie Parties for you (plus a bunch of bonus tips!). Read on for all of the tips, and to see how we set up a Star Wars-themed outdoor movie party for my son Harrison's birthday several years ago.
P.S. After you read the post, head over to my Amazon storefront for a one-stop shop for everything you need to create your own outdoor movie experience!
As a blogger, I sometimes receive compensation and/or products in exchange for my styling and crafting services. I also may earn a small commission from any sales that result from affiliate links on this page. As always, all project ideas and any opinions expressed here are my own.  For further information on our disclosure policy please check out our disclosure page. 
How to Host Perfect Outdoor Movie Parties
1. Get the right tech tools for outdoor movie parties.
First, you'll need all the right tech tools. The biggest? The big screen, of course! You can either rent or purchase an inflatable or standing screen, or you can use a blank wall or hanging white sheet, in a pinch.
BONUS TIP: Be sure to have a way to strongly secure the screen to the ground/wall – you don't want it coming down in a breeze!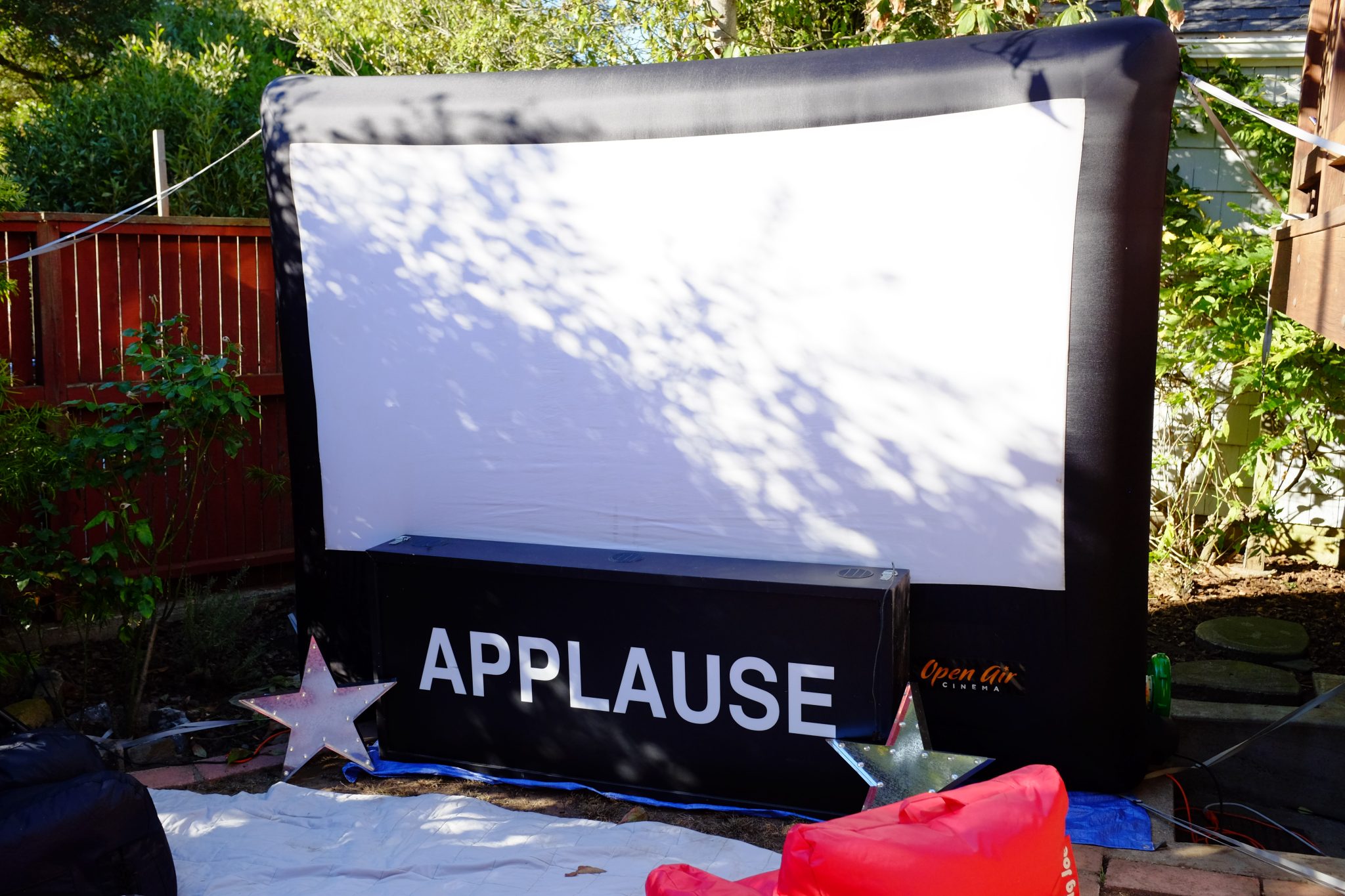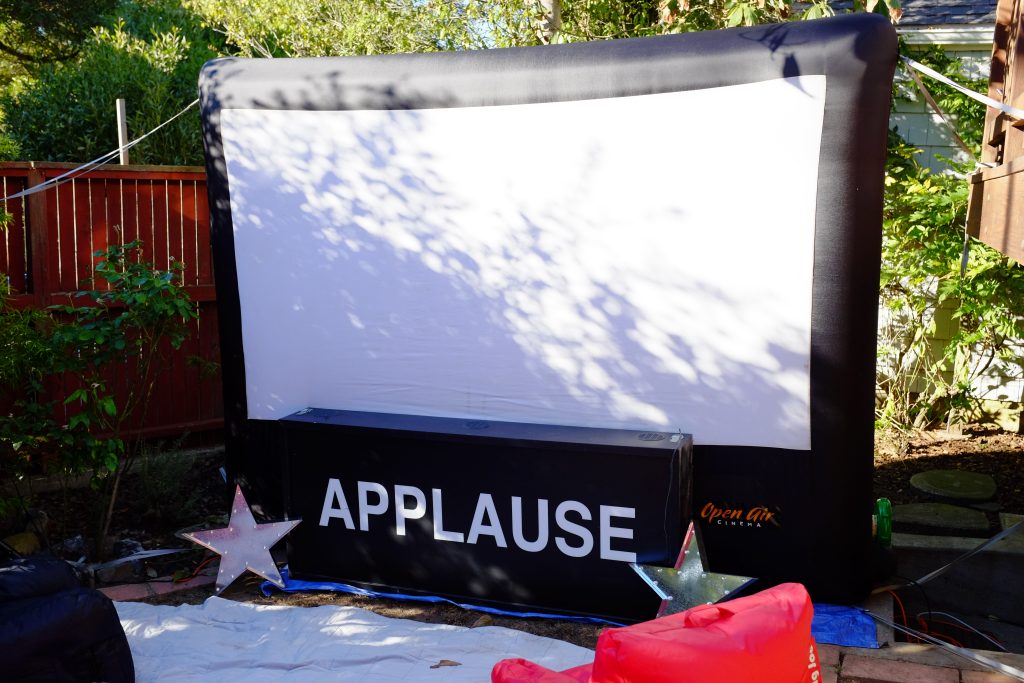 You'll also need a projector that either connects to your computer/DVD player, or connects wirelessly to your phone.
BONUS TIP: If you go the wireless streaming route, you'll definitely want to test it and make sure your WiFi can handle it before the guests arrive!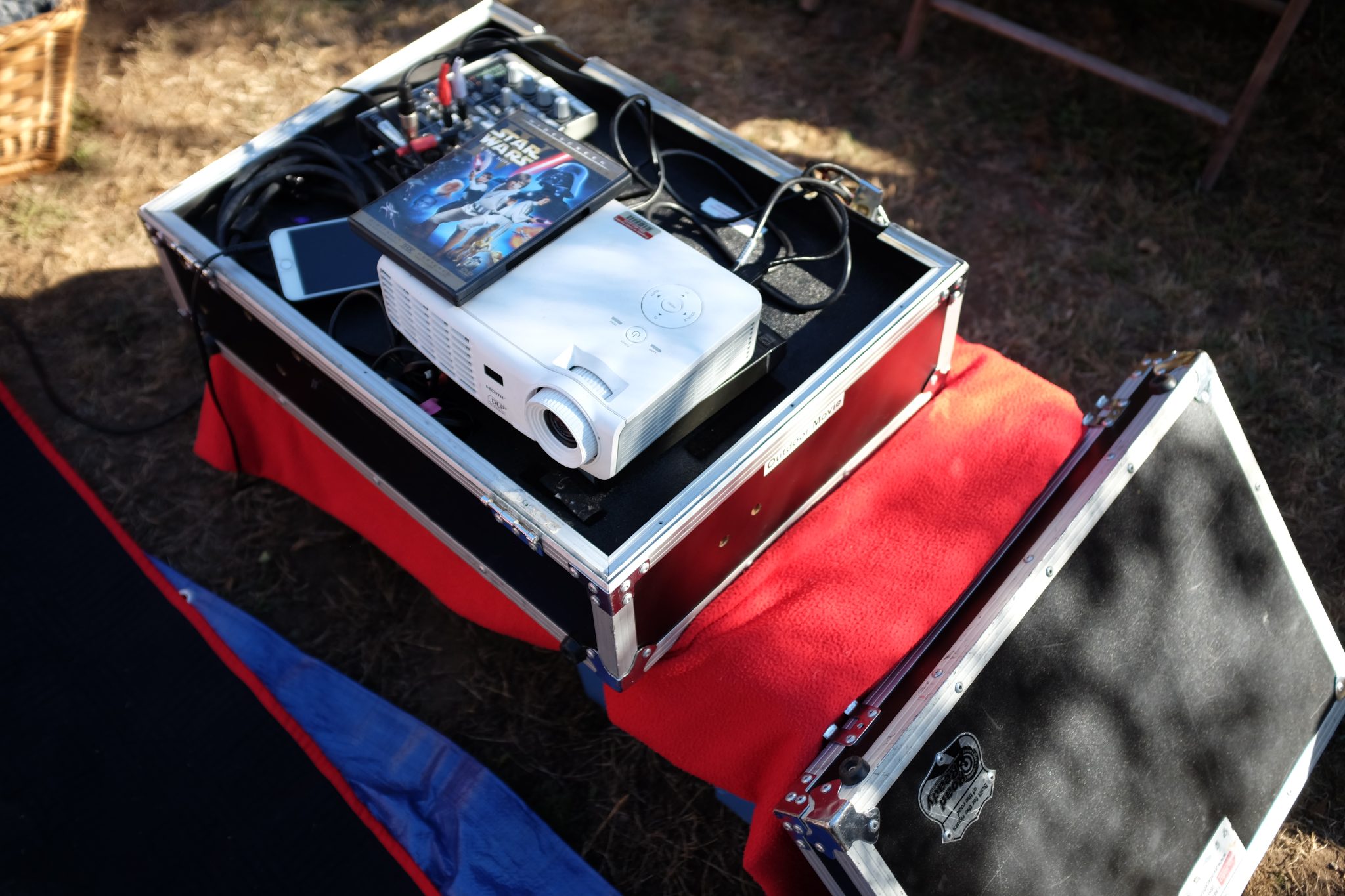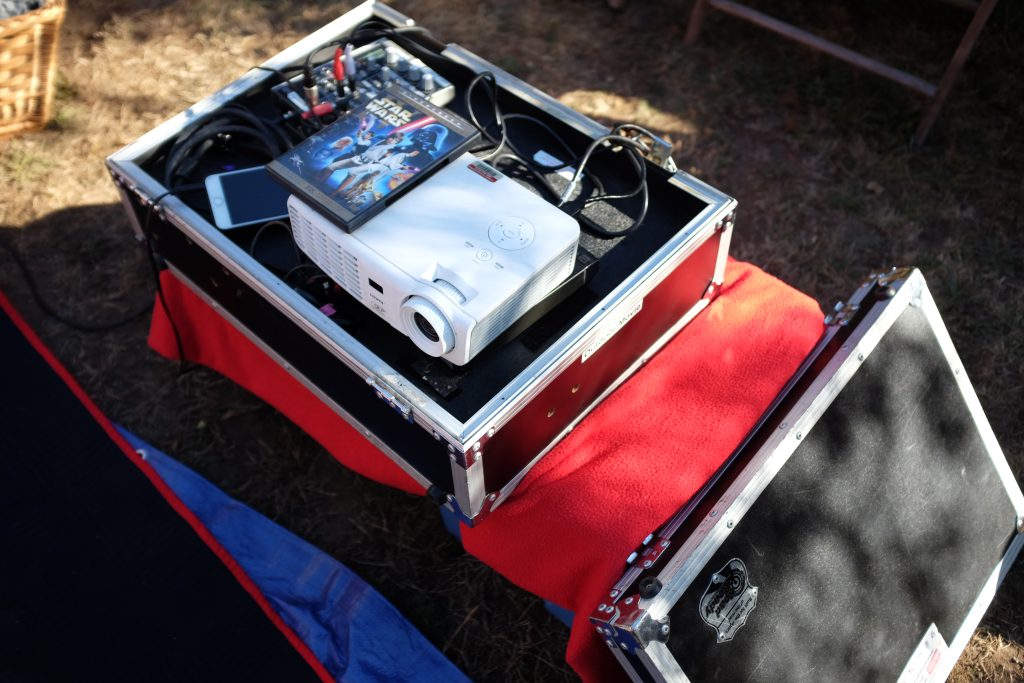 Finally, you'll want to have a good sound system. Depending on how large your movie party is, you'll want to make sure your system can get the sound loud enough to where everyone can comfortably hear the movie, no matter where they are sitting.
BONUS TIP: Be sure to tape down cords for all your electronics so that there's no tripping over them in the dark!
2. Send the Perfect Invites.
Even before guests arrive, you can give them a little taste of movie magic with your invites! Whether you go with an electronic invite or a physical invite, make it movie-themed. My favorites are ones that look like movie tickets!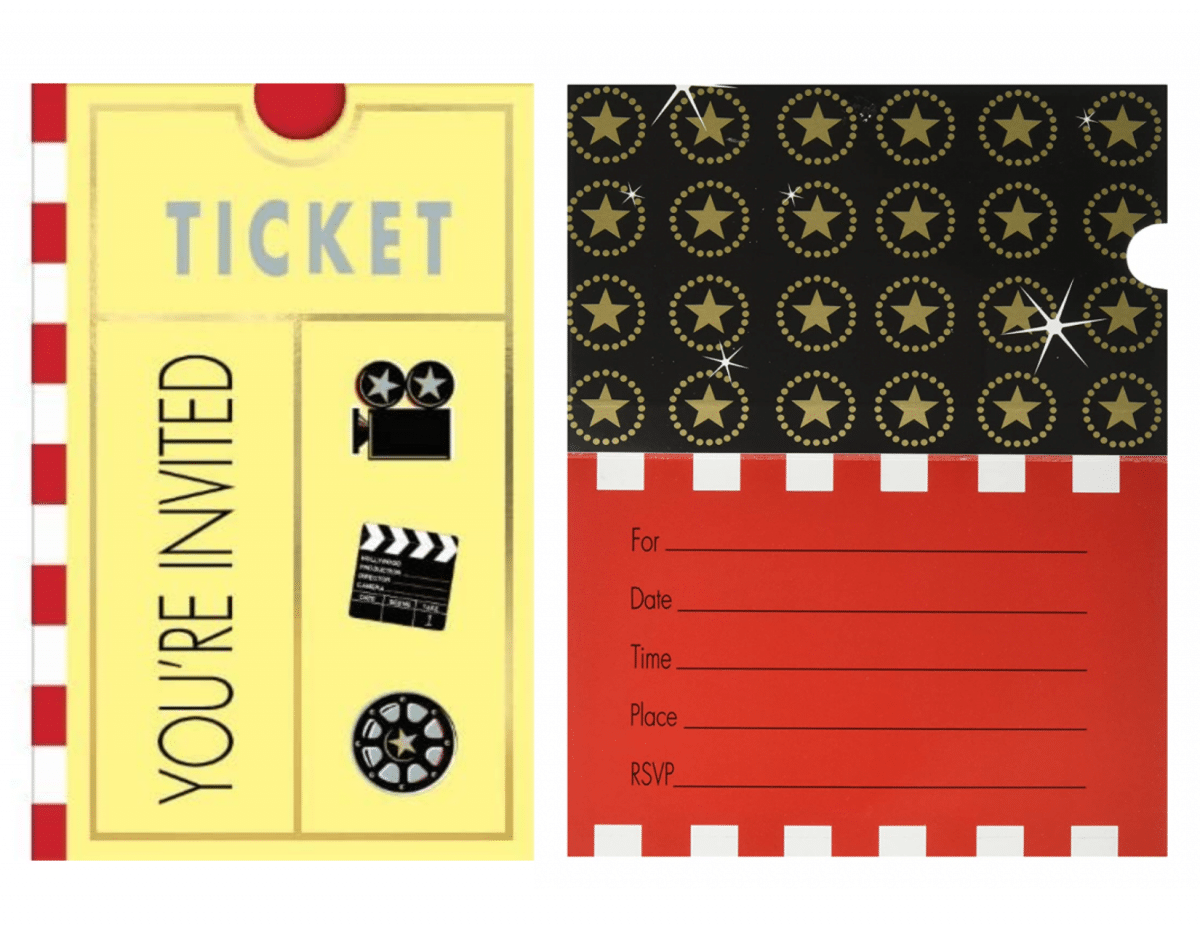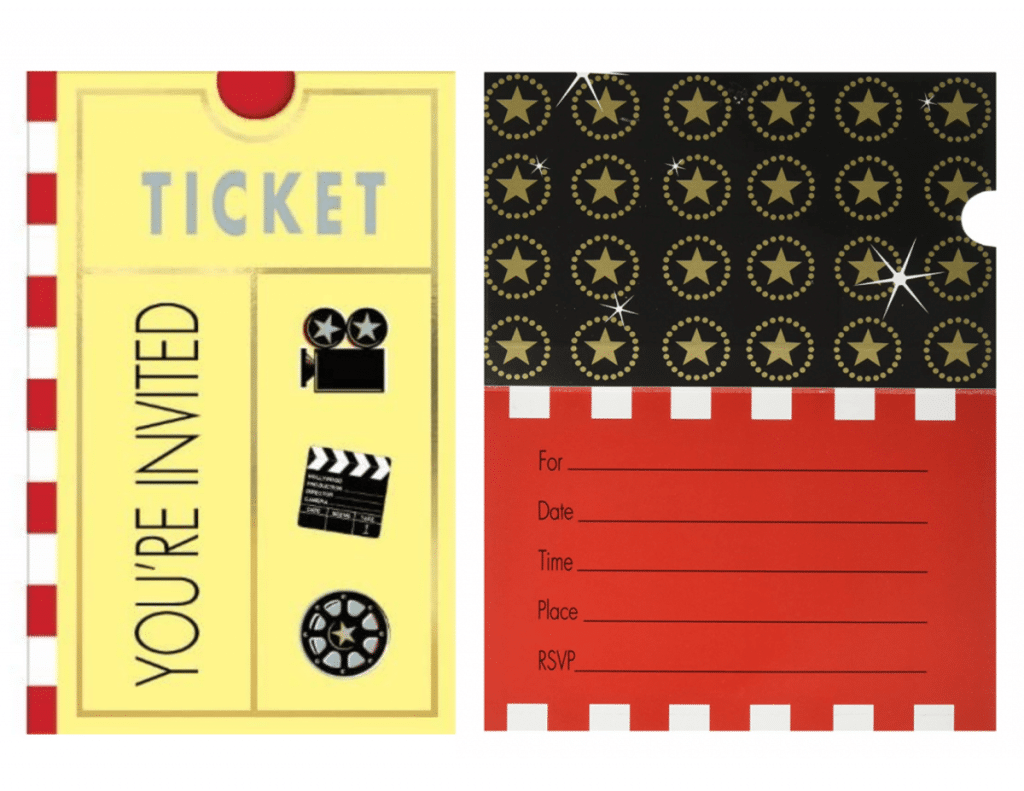 While I usually send one big invite per family, I also like to include smaller tickets in my invites – one per admission! Kids often find it fun to hold on to their own tickets to get in the party. You could even make a ticket booth and have a member of your family assigned to ticket collection! It just adds a bit of fun for everyone involved and makes the party feel more exclusive. VIPs only!
BONUS TIP: These tickets are also great for raffling off a prize at the end of the party. Movie theater tickets perhaps? Or you can create an at-home movie basket with popcorn, snacks, etc.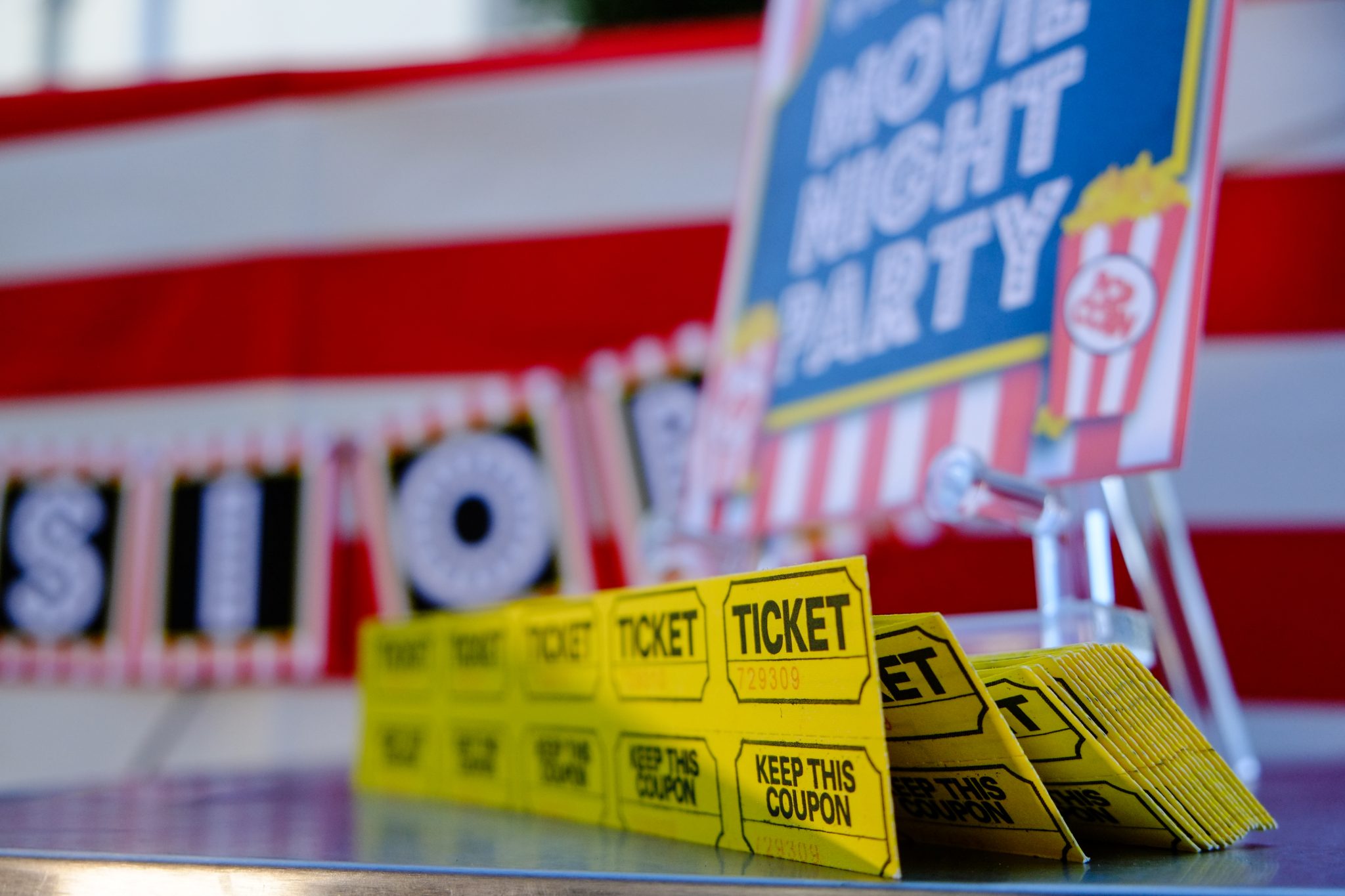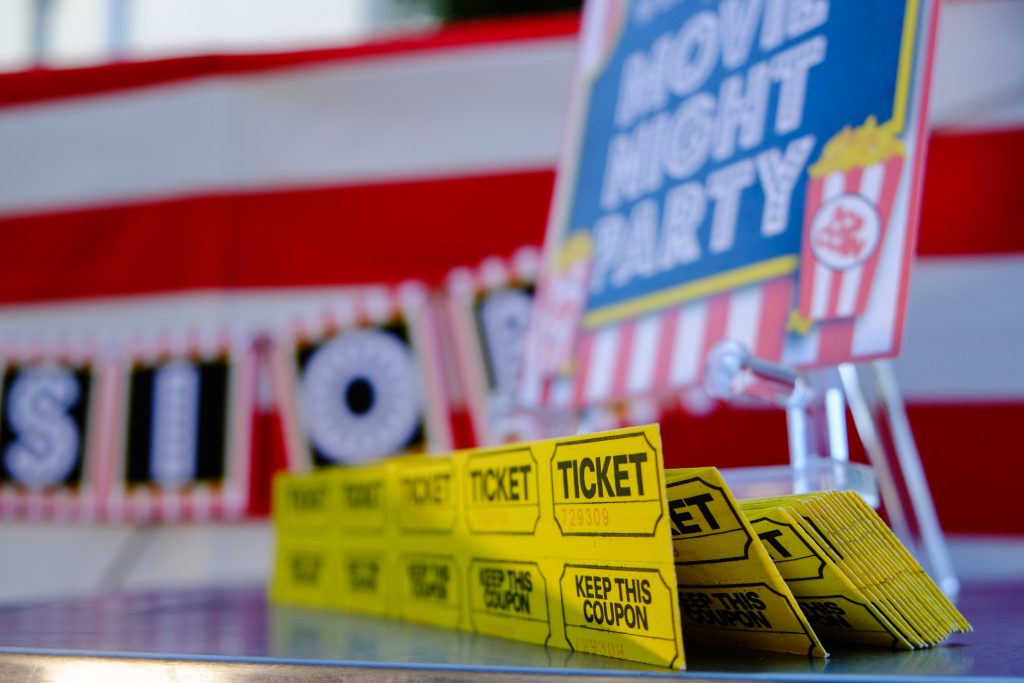 3. Set the Scene.
In addition to the ticket booth, you can make the party entrance and area fun by adding movie-themed decor and details throughout. A red carpet, film canisters, clap boards, movie posters, themed signs, etc. all make it feel like a real (outdoor) theater experience!
BONUS TIP: You can also use themed decor from whatever movie you are showing that night!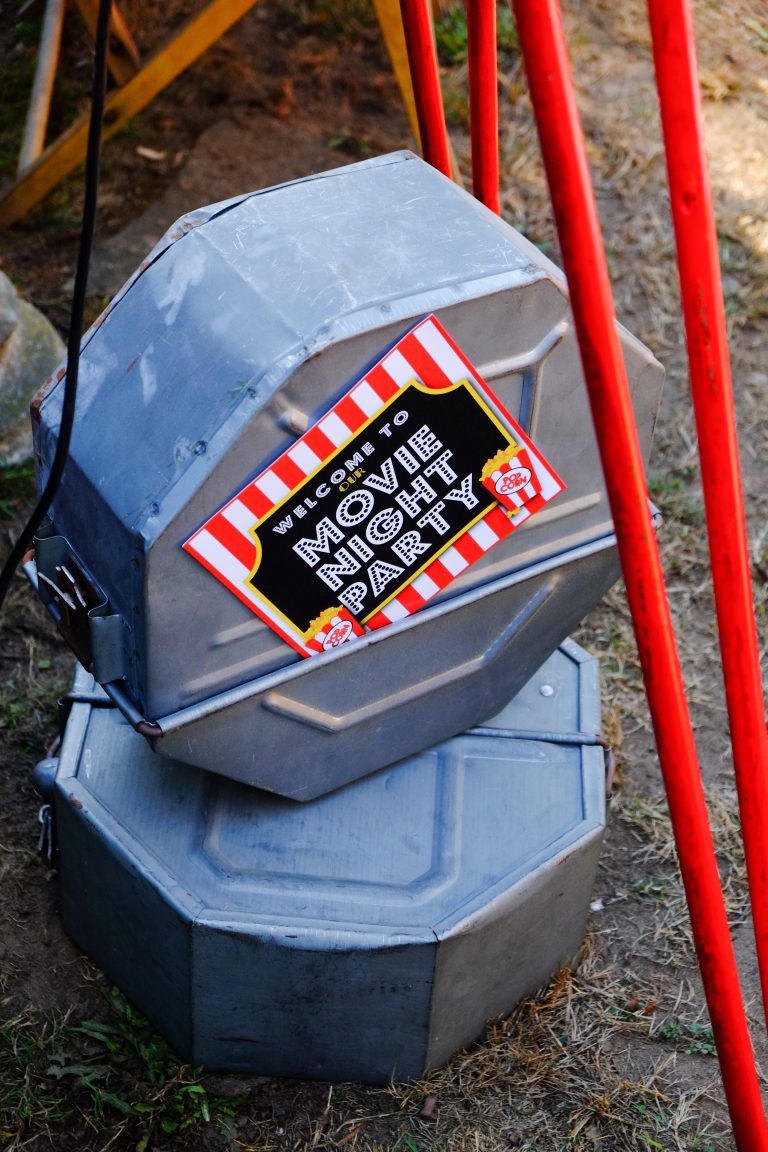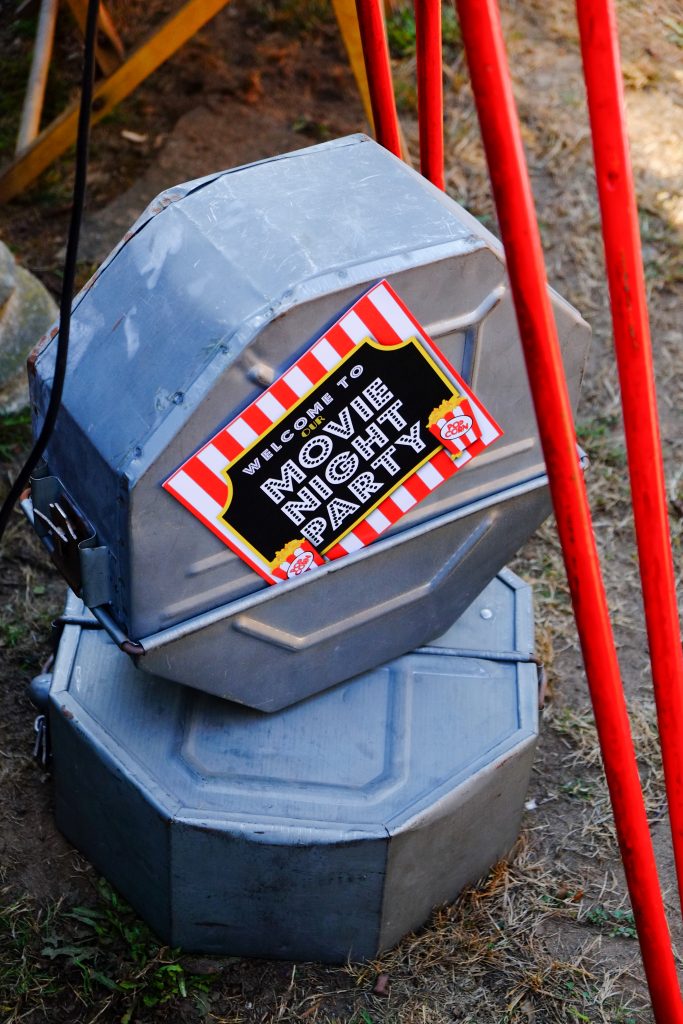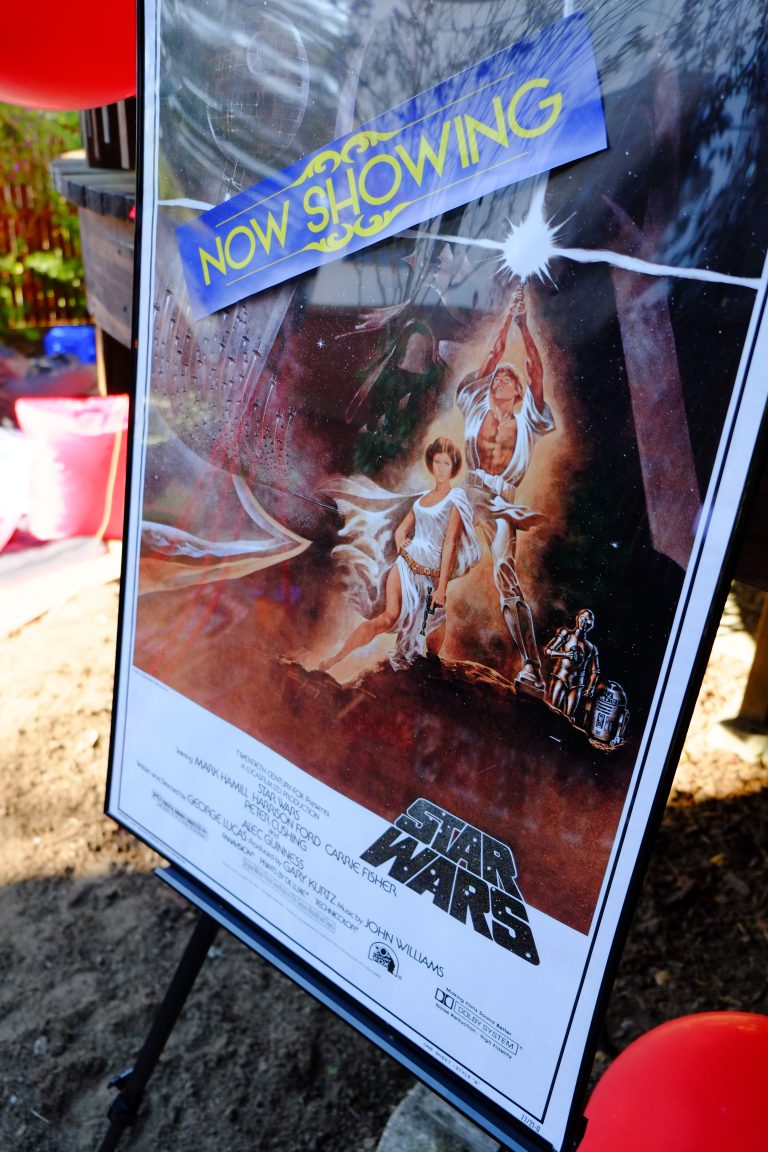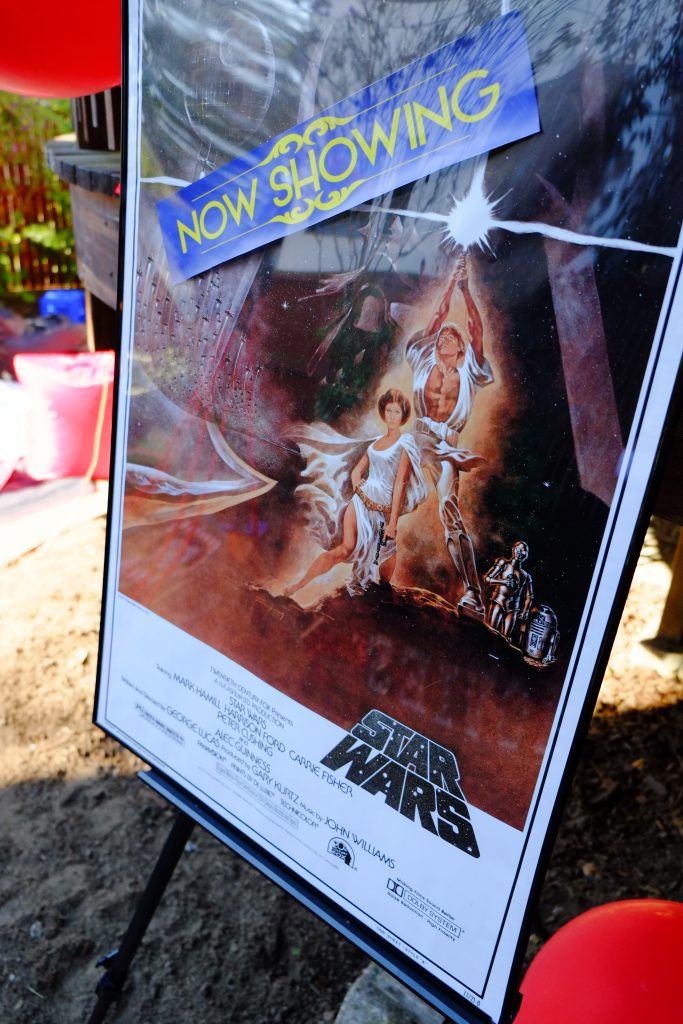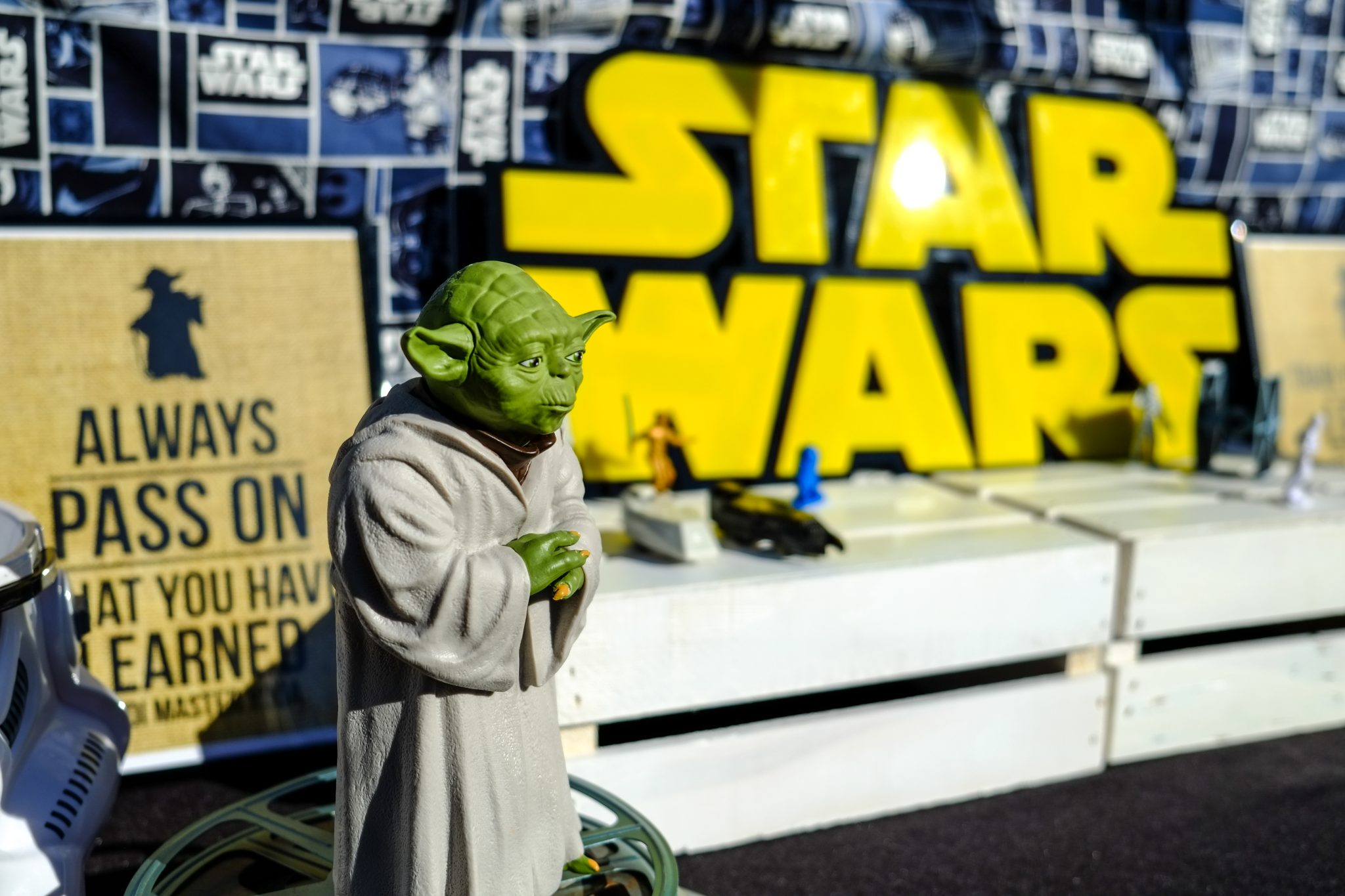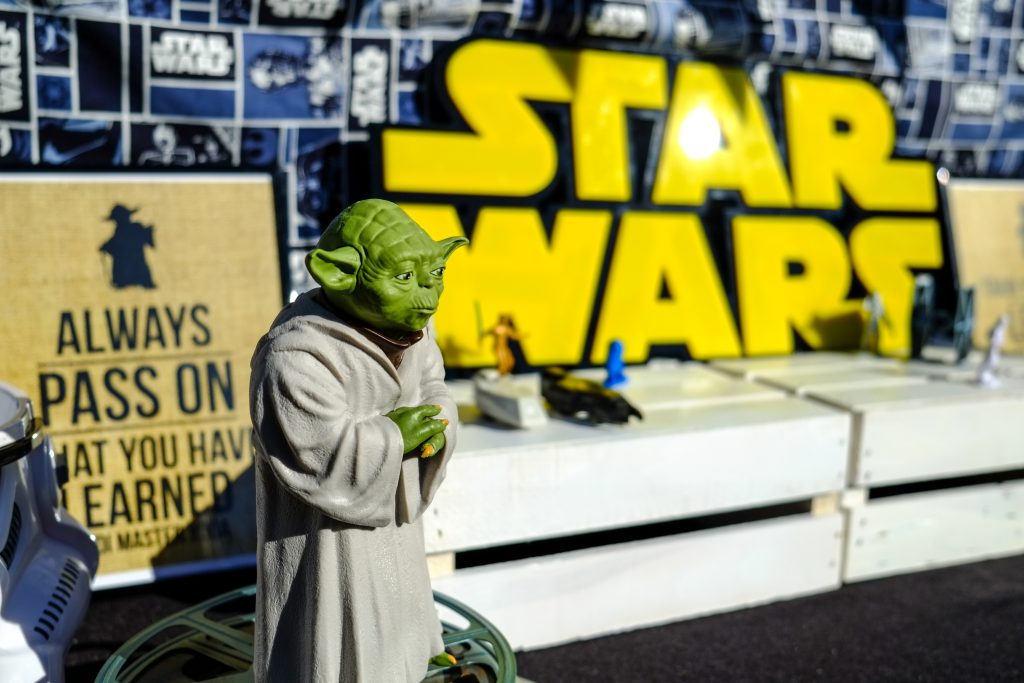 For our movie night, my friend Elena of World Wide Party made Hollywood Walk of Fame stars with guest's names on them for me, and I taped them to our deck. You can also purchase kits for this! Guests will be so excited to find their names in the stars.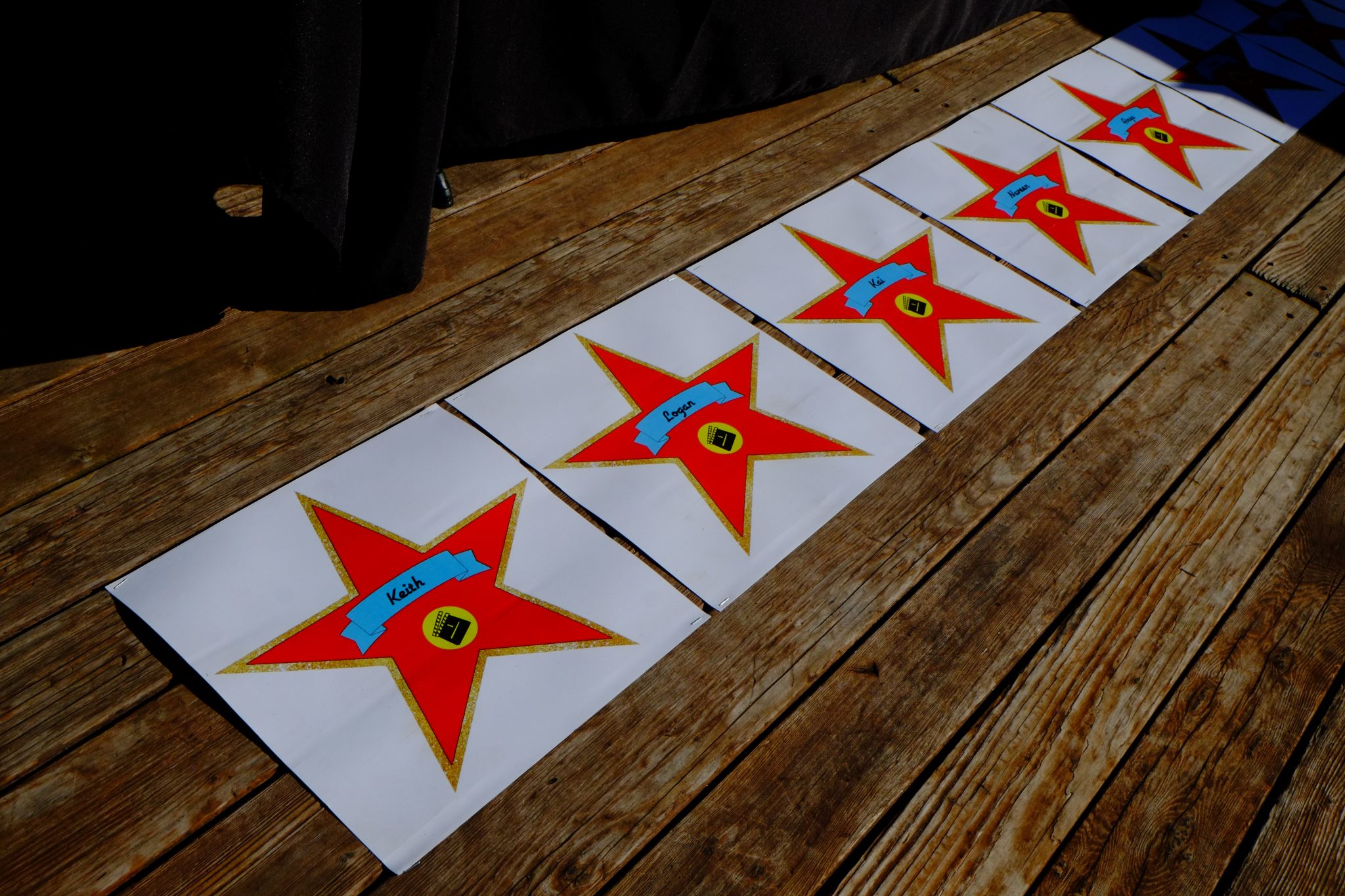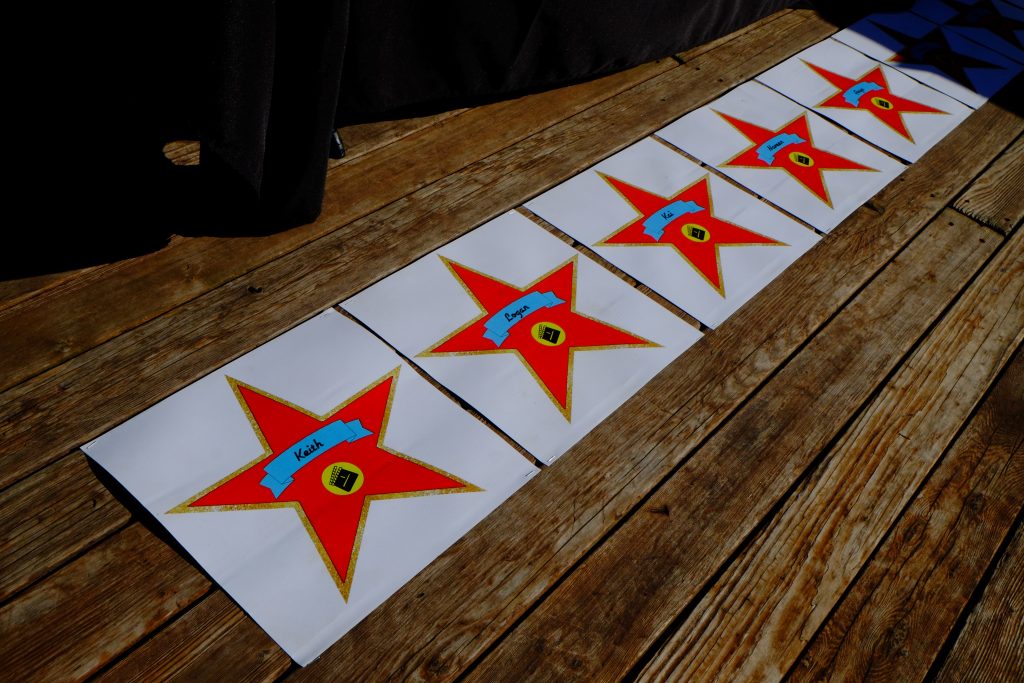 4. Light it Up.
Because outdoor movie parties can only happen once it's dark, you'll need plenty of creative lighting options to keep everything safe. But lighting can also add some fun elements to the party. Marquee letters and shapes, and lightboxes are a great way to add some light, and designate different party areas.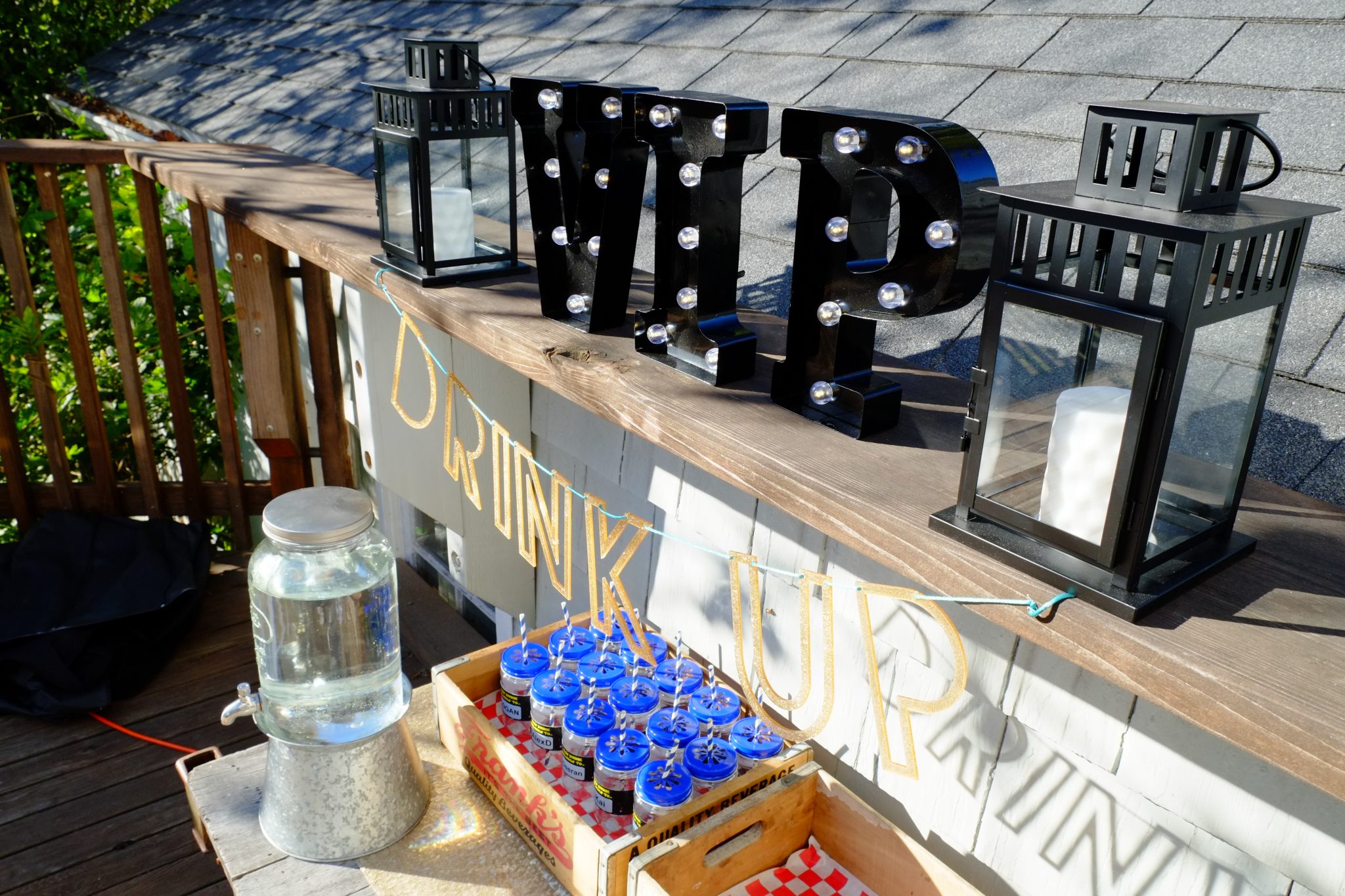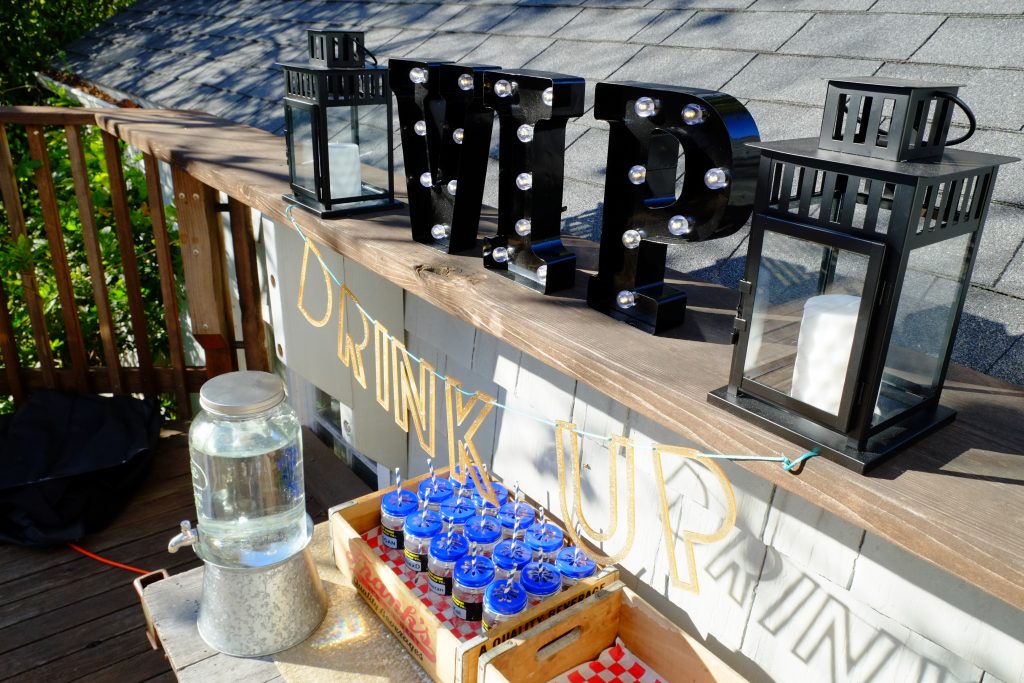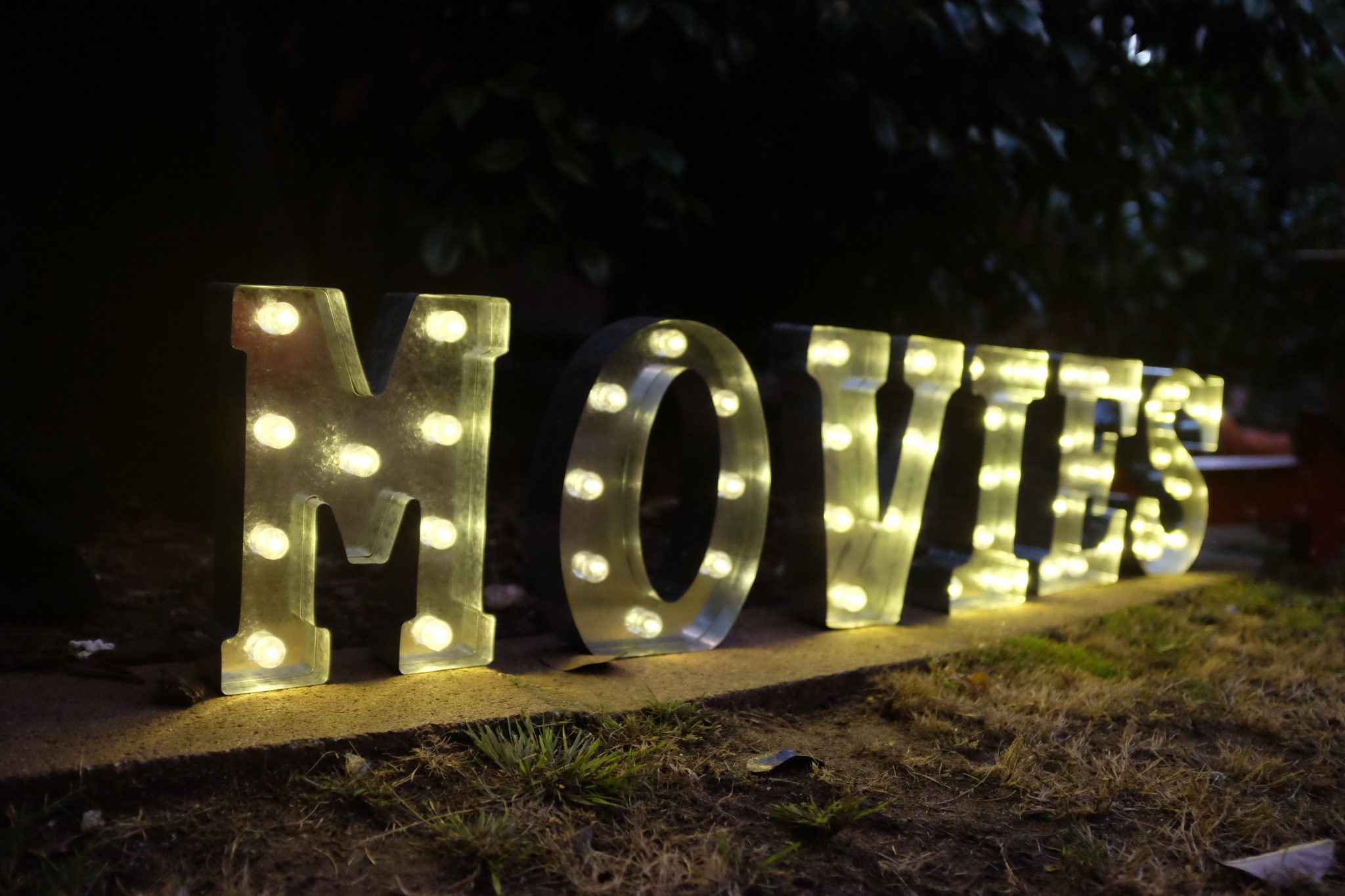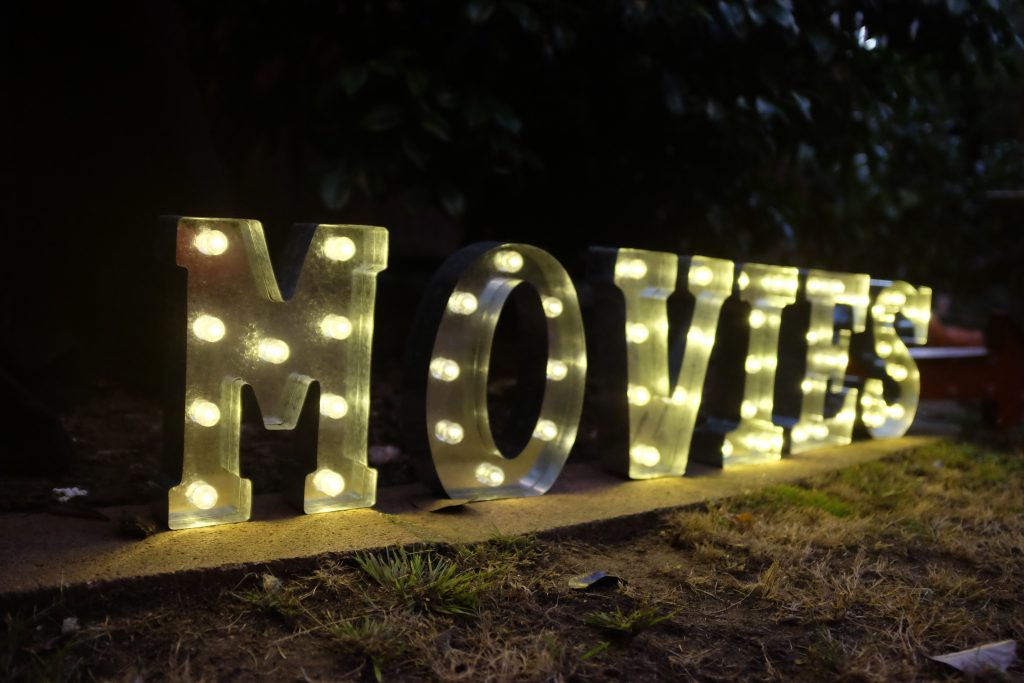 Before the movie starts, you can also use a larger standing light (or movie spotlight!) to light up the viewing area while everyone gets settled.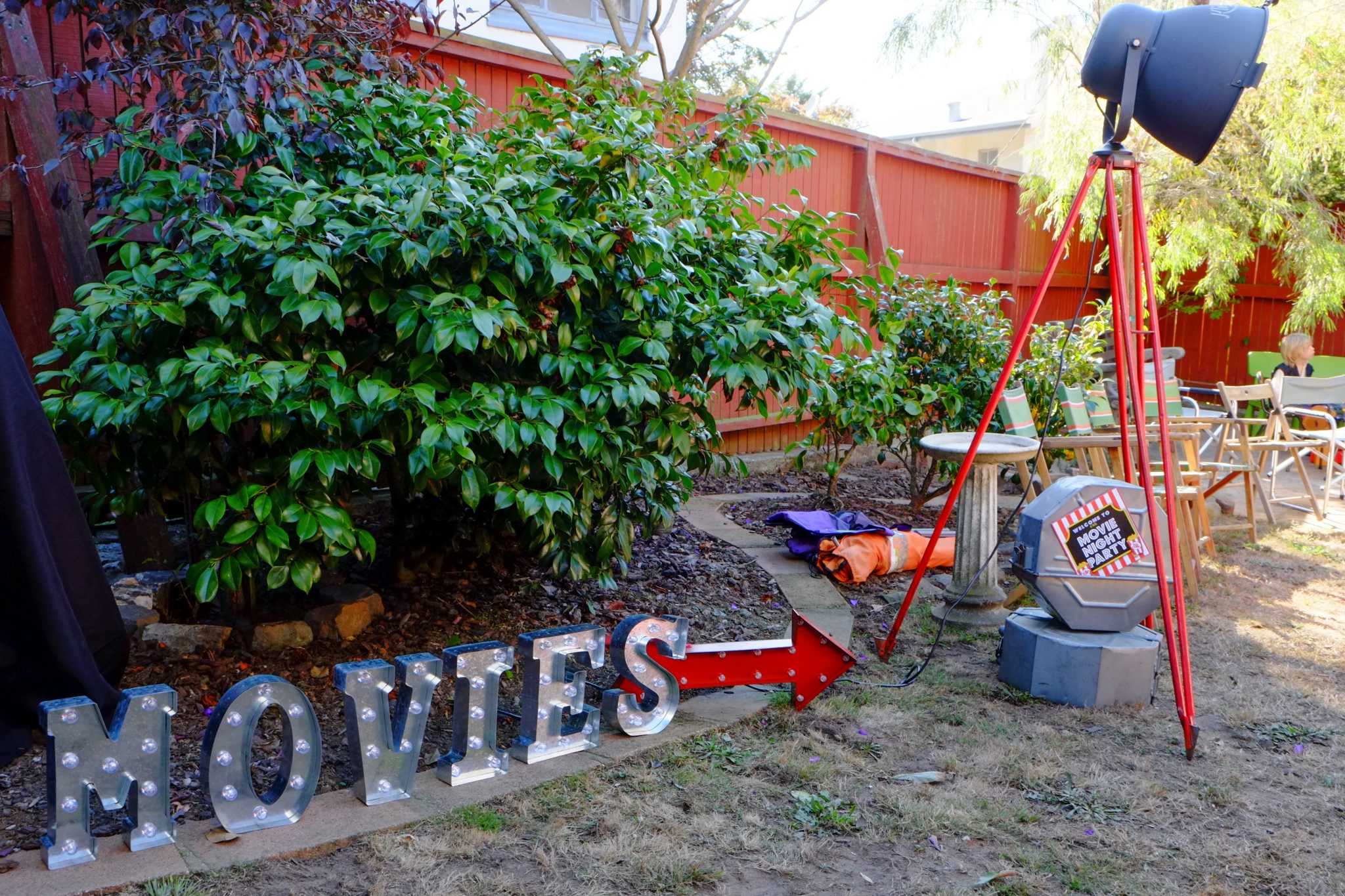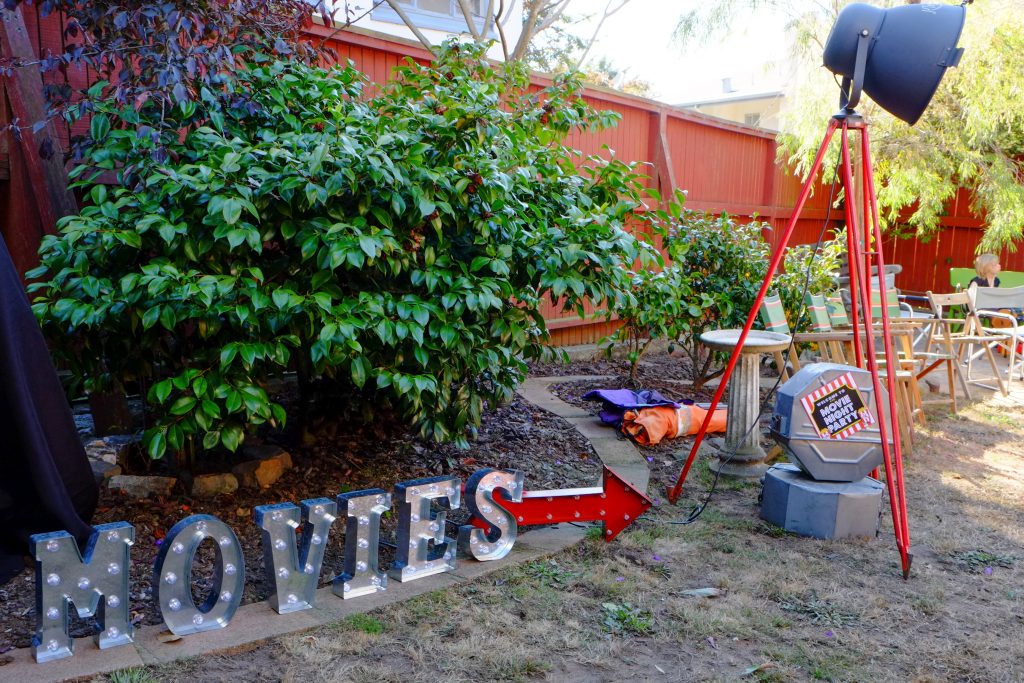 You can also line walkways with lanterns, which provide a warm glow that allows people to see where they are going, but not so bright as to be a distraction. Another option could be strings of rope lights!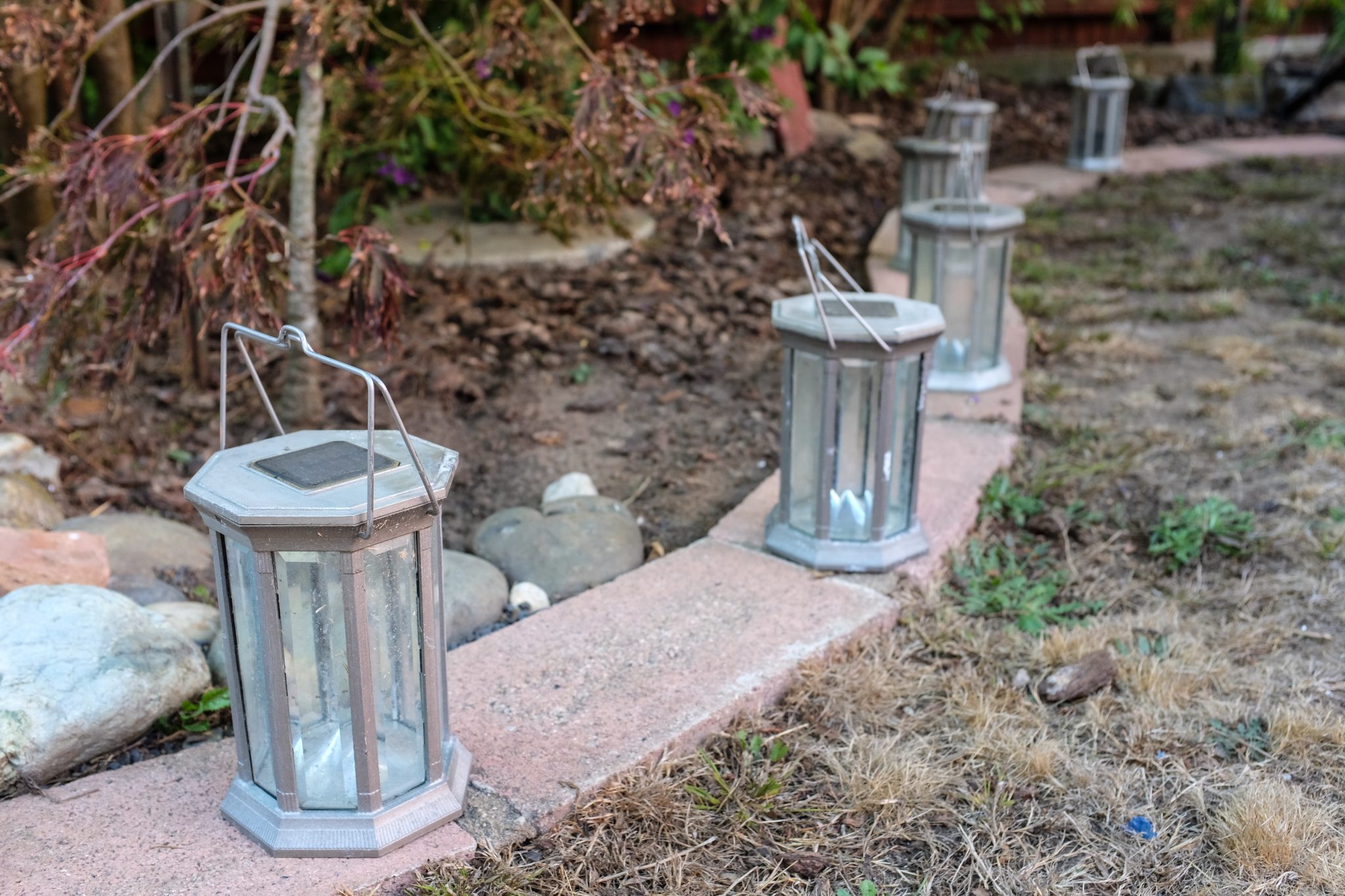 Another way to cast the area in a warm glow without being too bright is by using hanging lights, particularly around areas people need to be able to see, such as where the food and drinks are!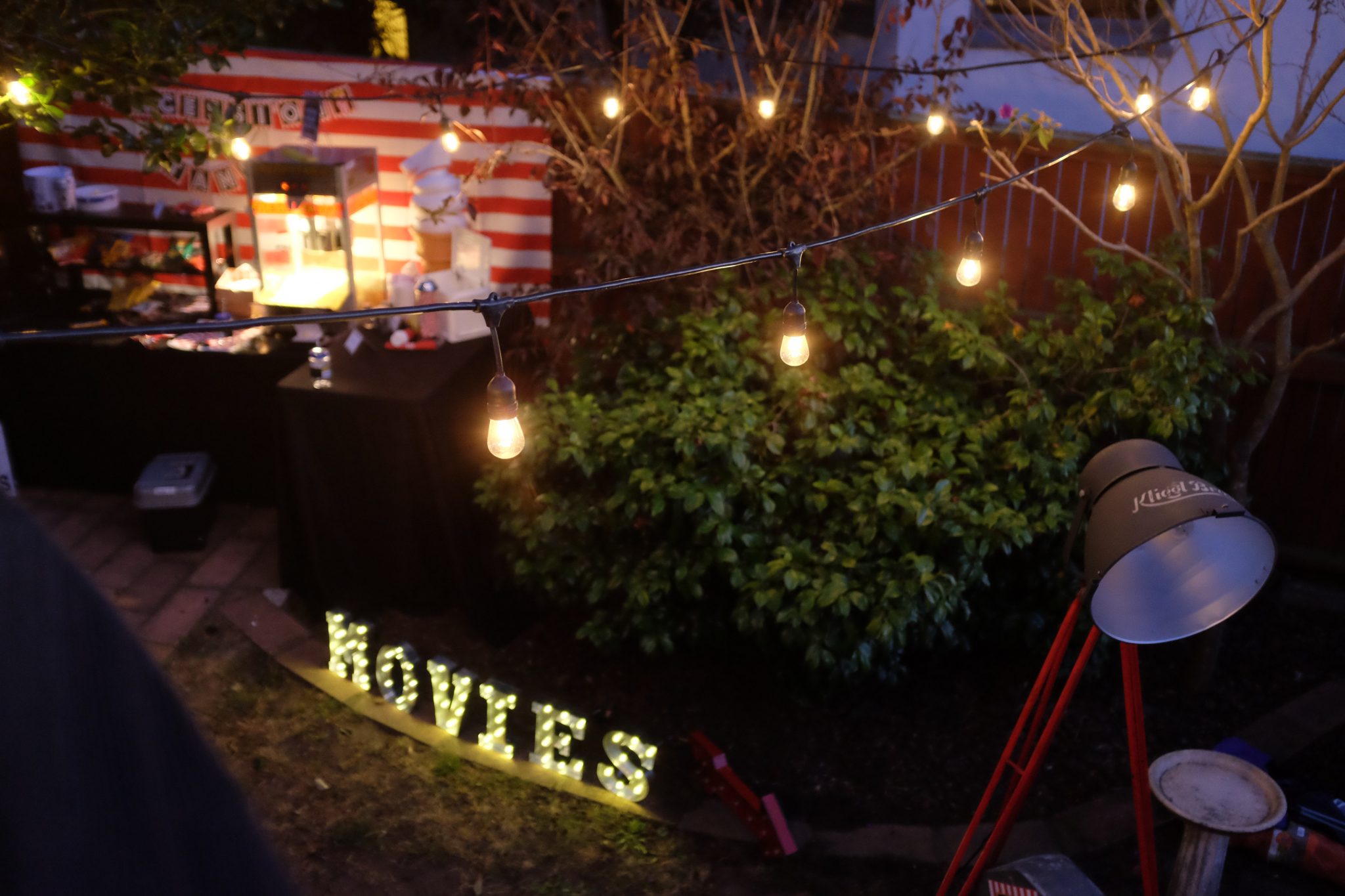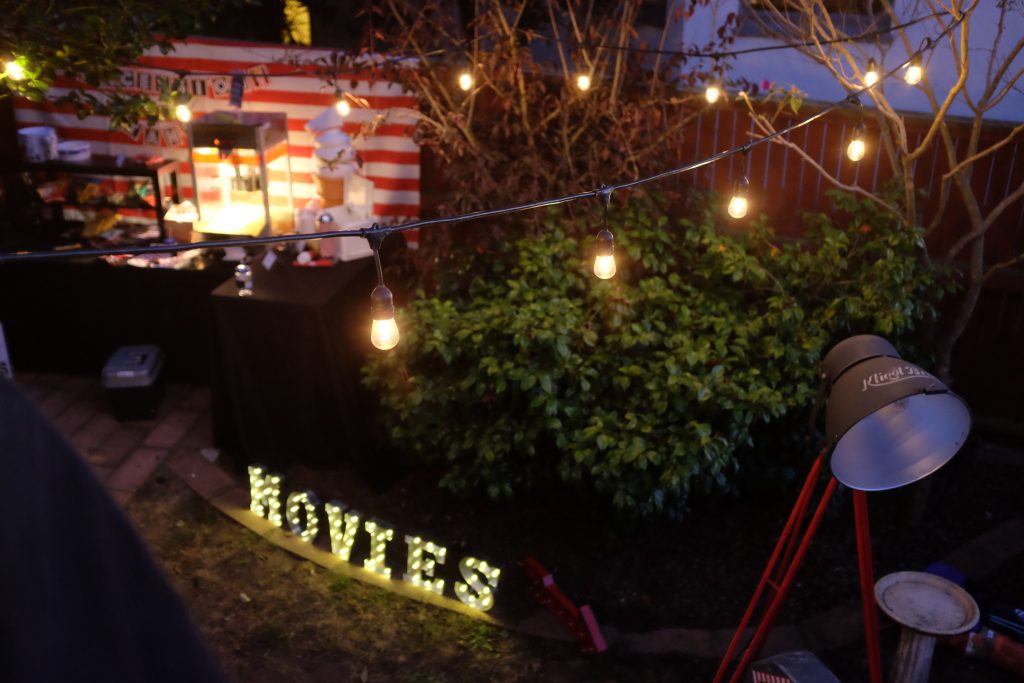 For our Star Wars movie party, we used lightsabers to create a path to the seats, and small battery operated lights next to each row of seats, labeled with letters, like a real theater,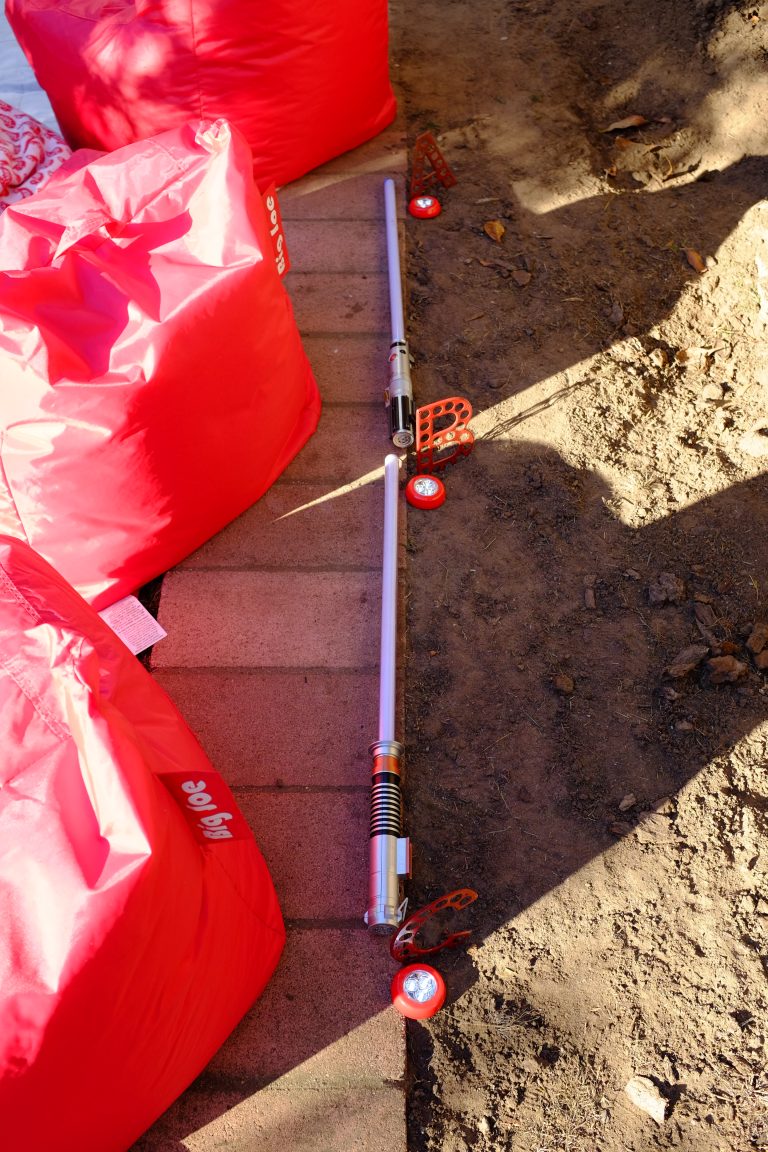 5. Provide Comfortable Seating.
Speaking of seating, it's one of the most important parts of outdoor movie parties! Guests have to be comfortable since they'll be sitting for the whole movie. I like to start with tarps and blankets on the ground to keep guests from getting dirty/avoid bugs or itchy grass. Then, I fill the viewing area with pillows for those who might want to lay on the ground, bean bag chairs, and lawn chairs. Everyone can choose whichever seat they find most comfortable, since there is a variety of options!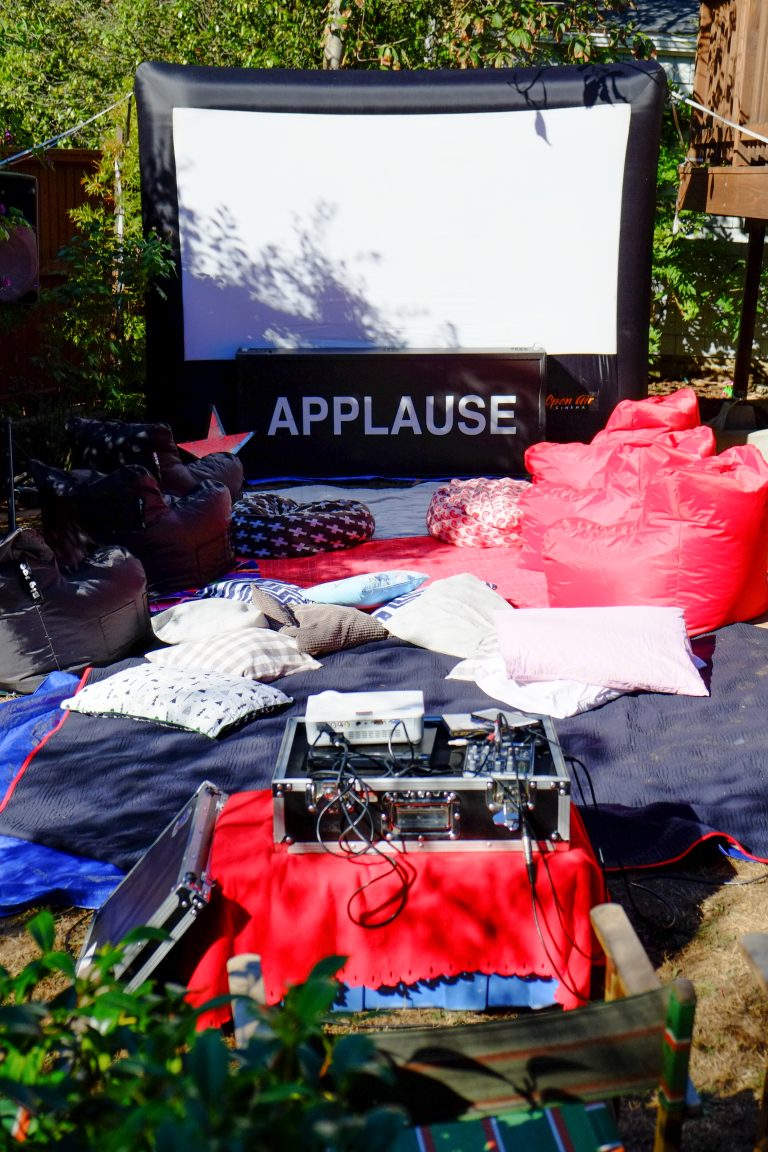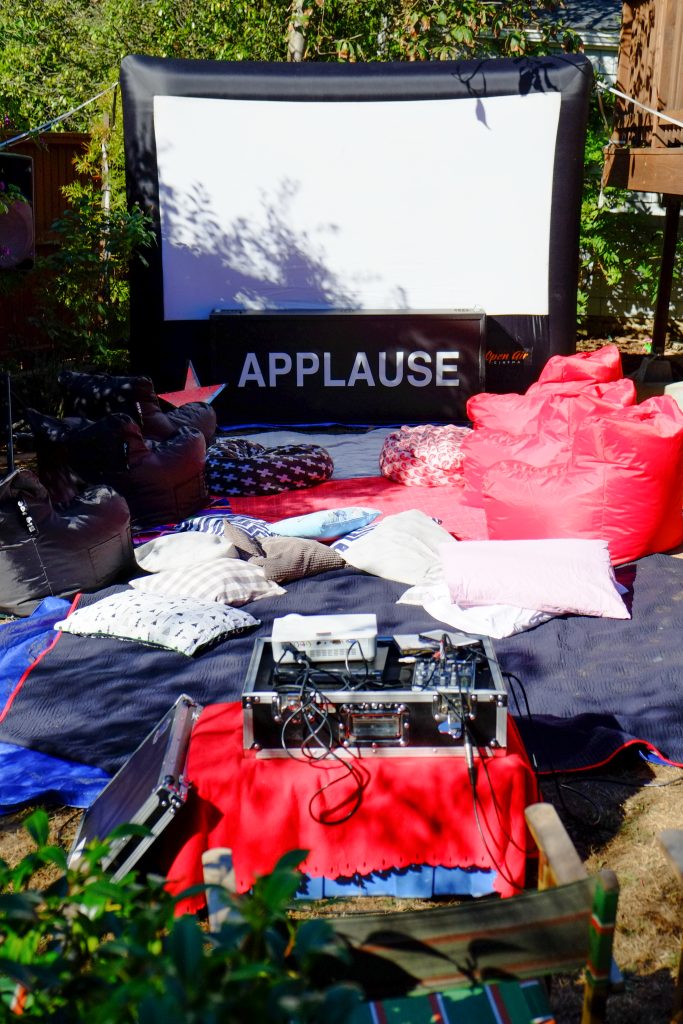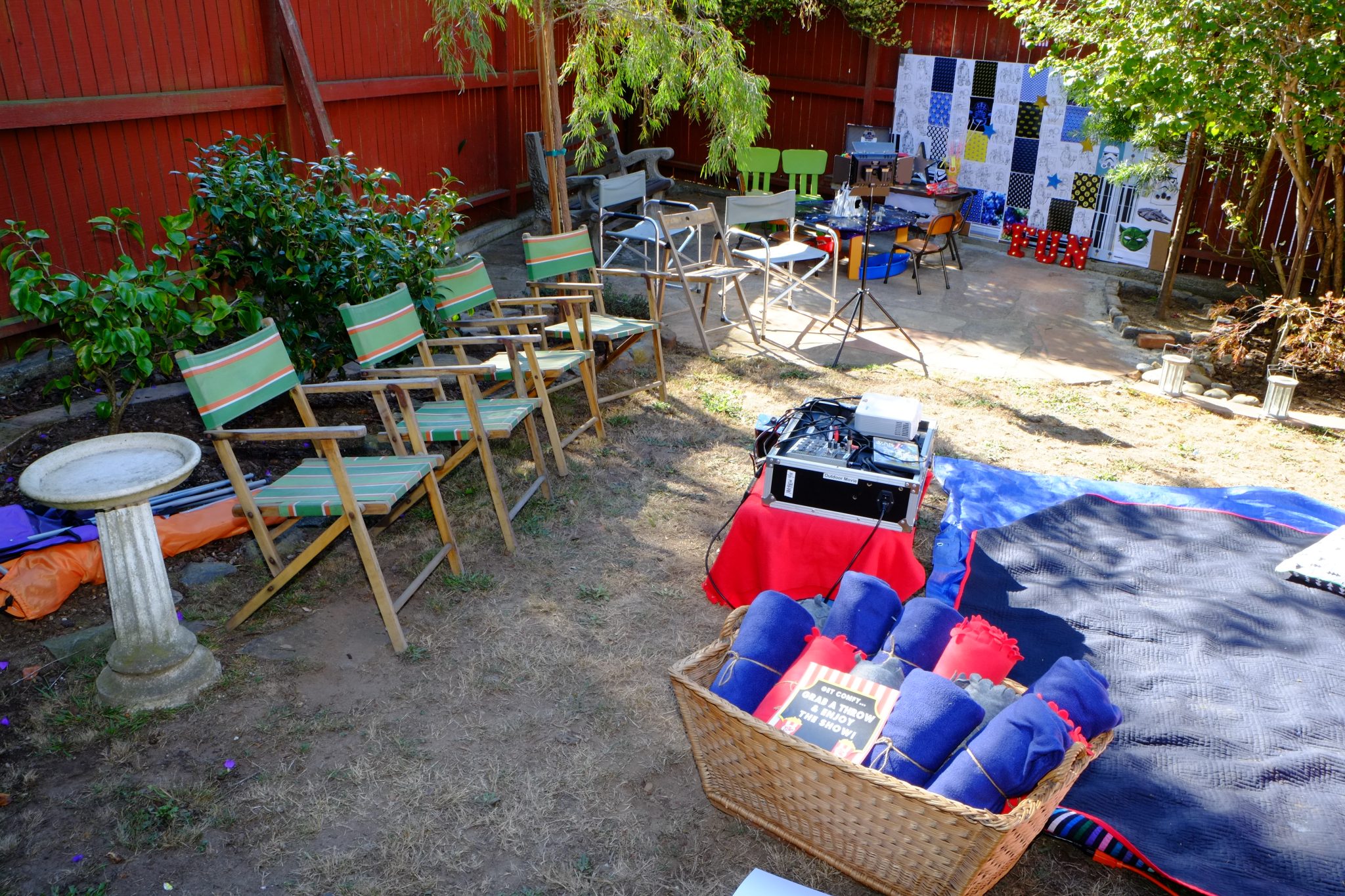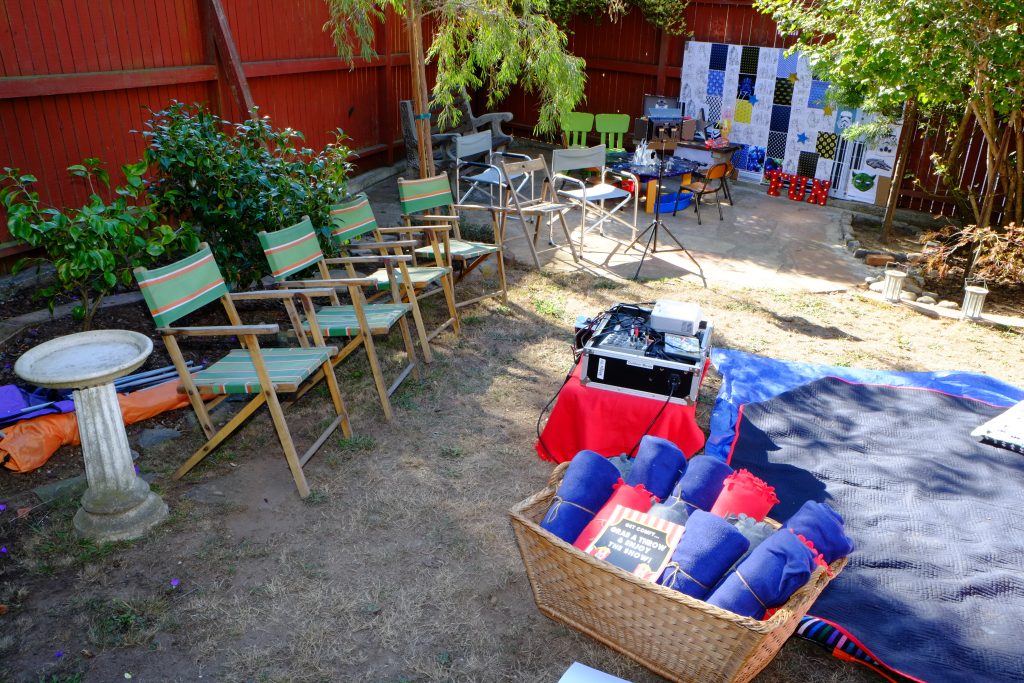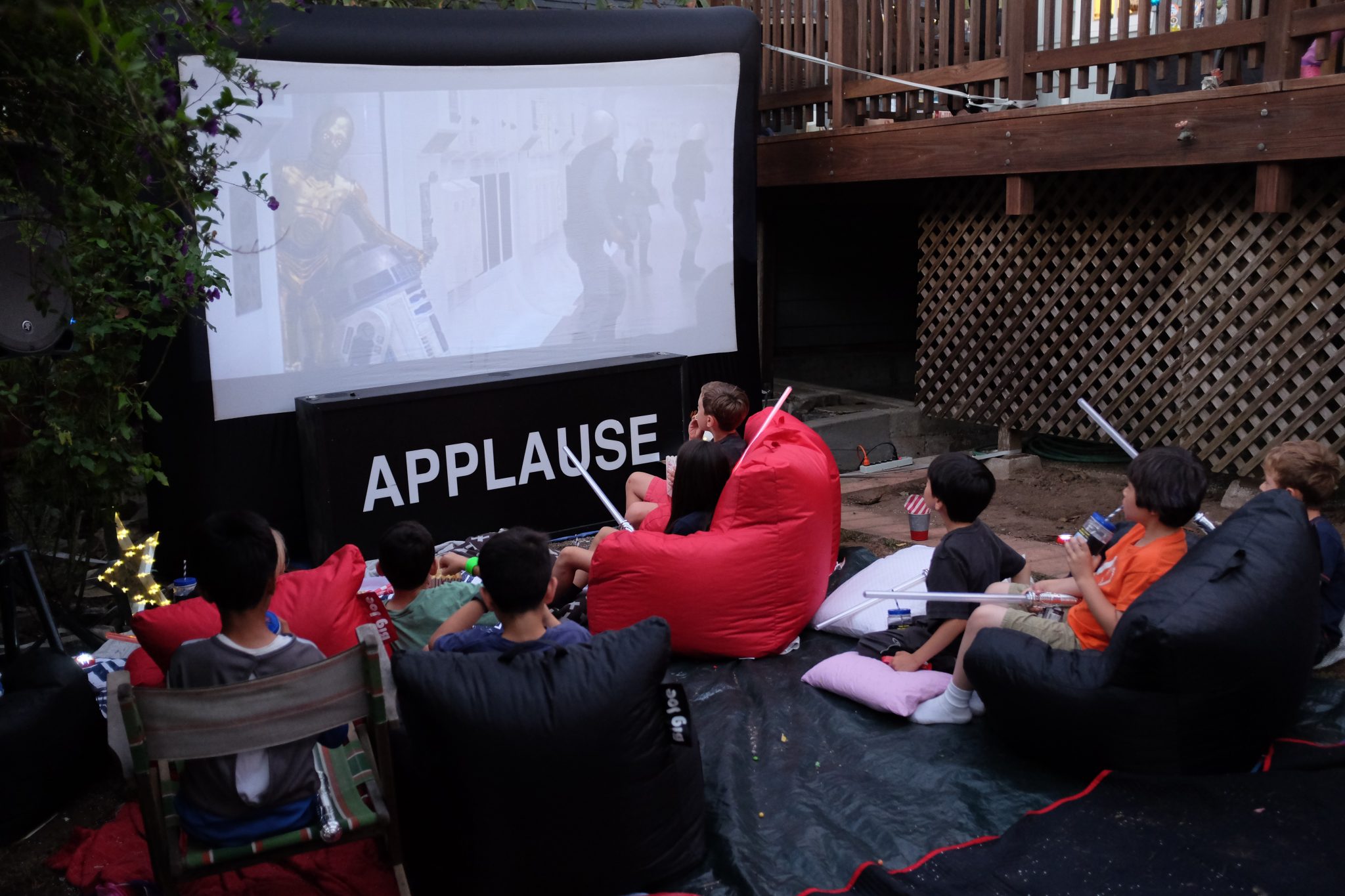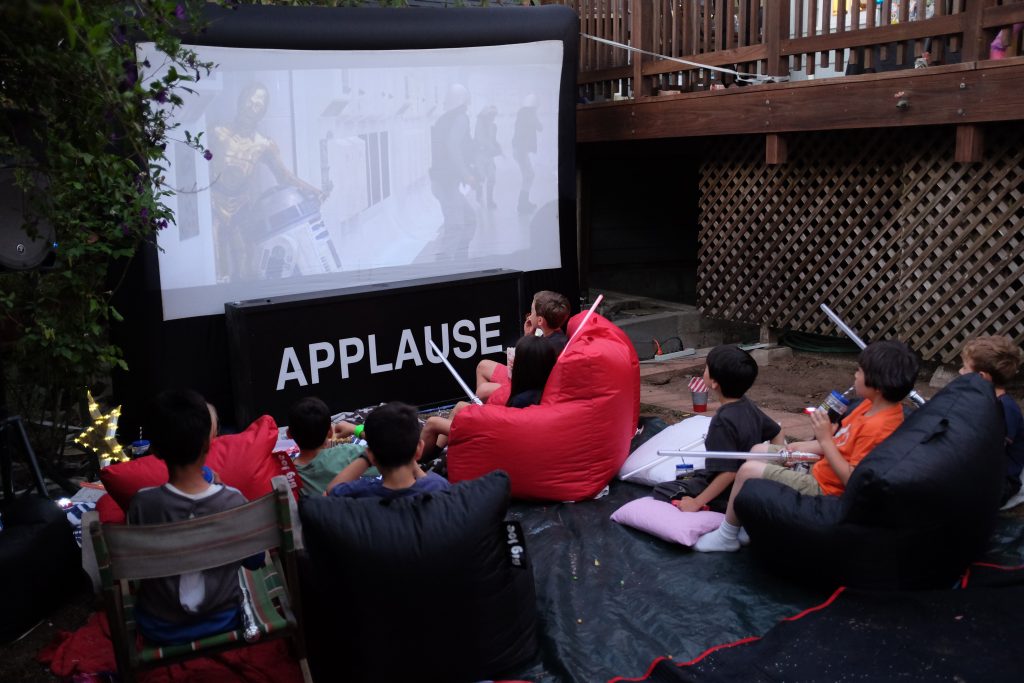 6. Get Creative with Concessions.
My favorite part of any movie party is the concession stand! You can get really creative and give it a retro feel with red and white decor and old school food containers.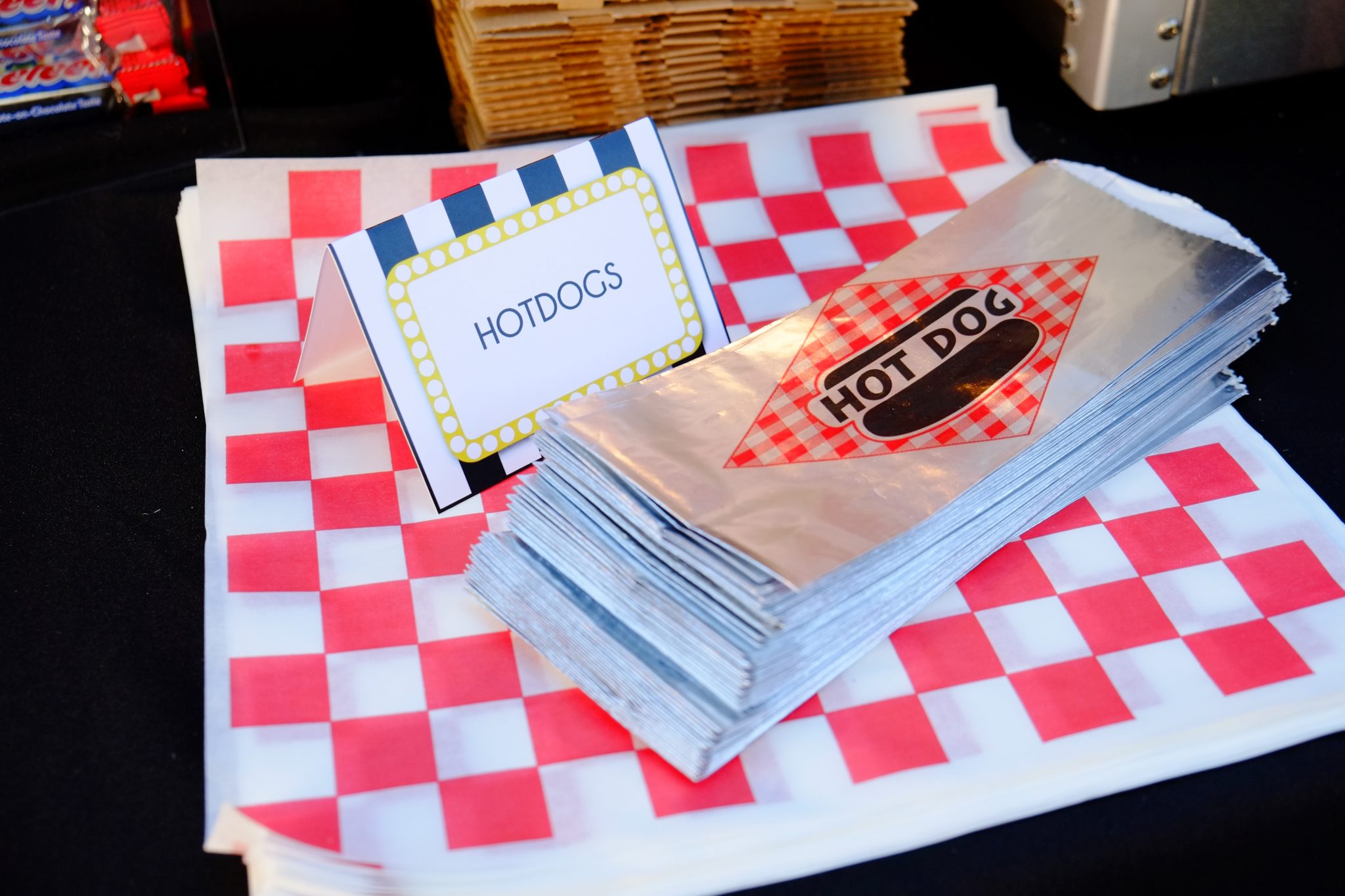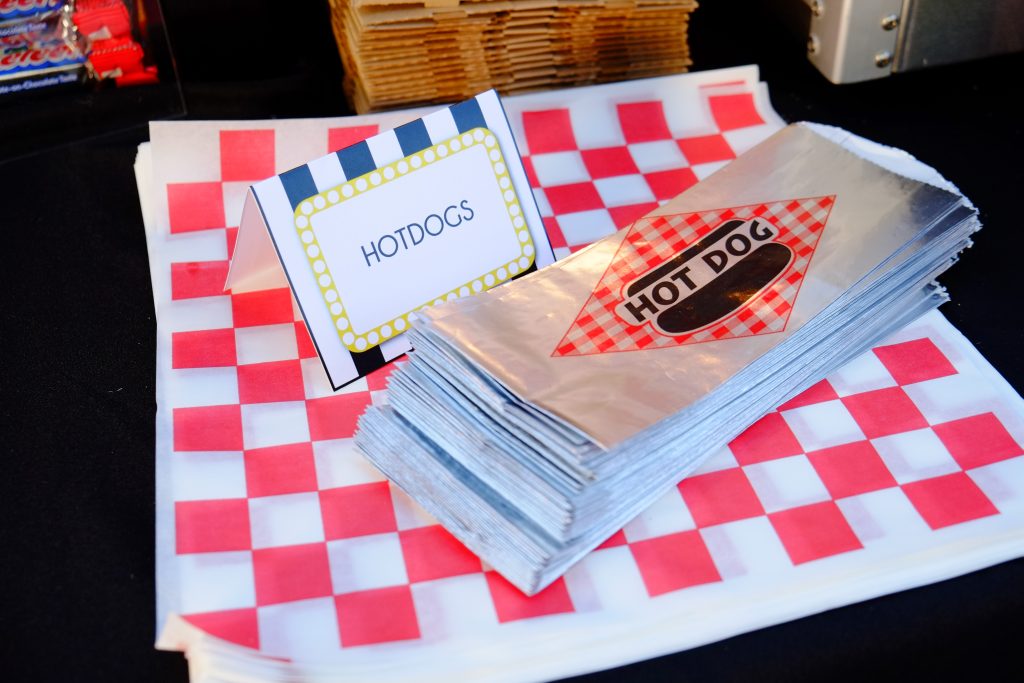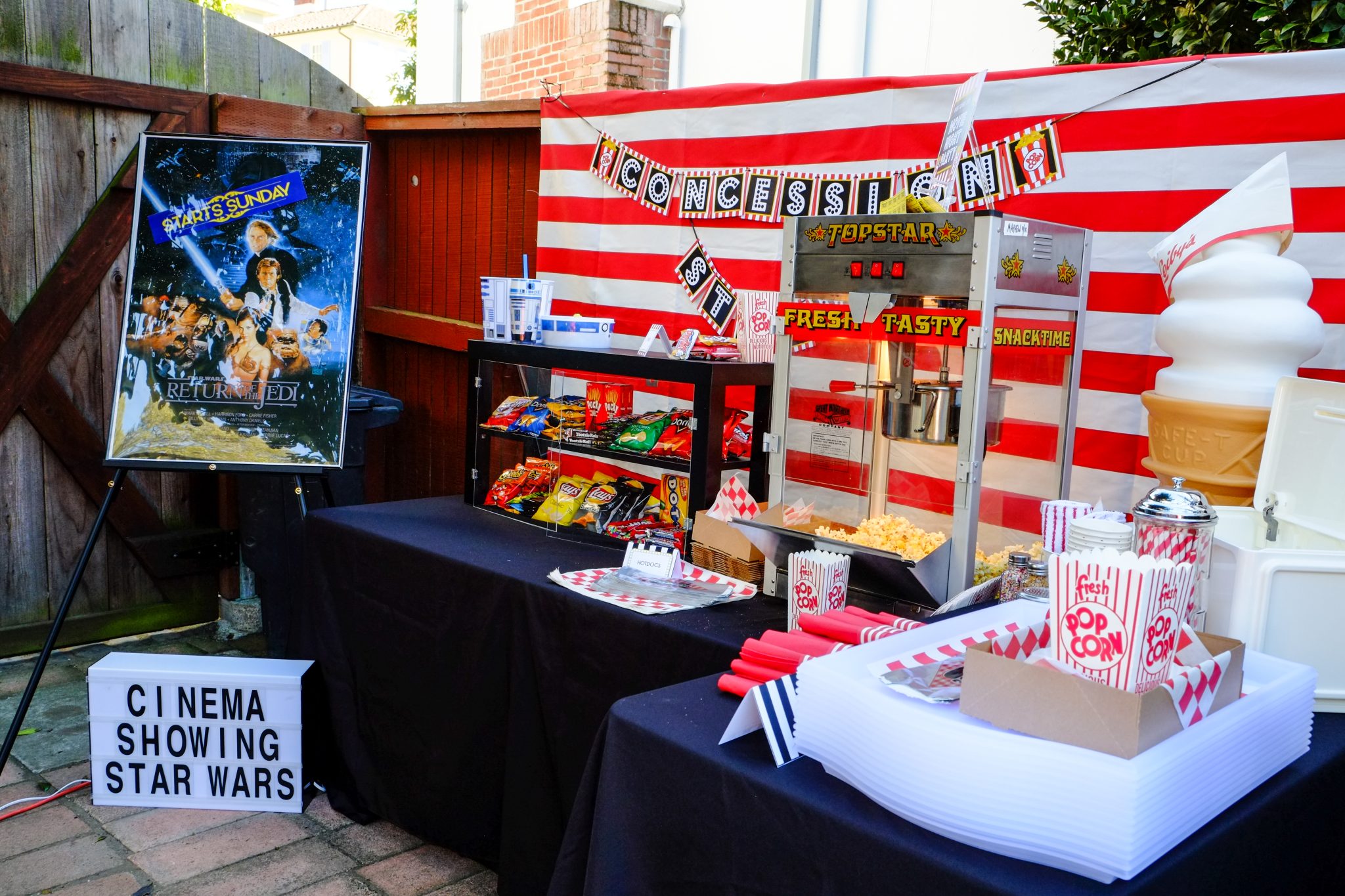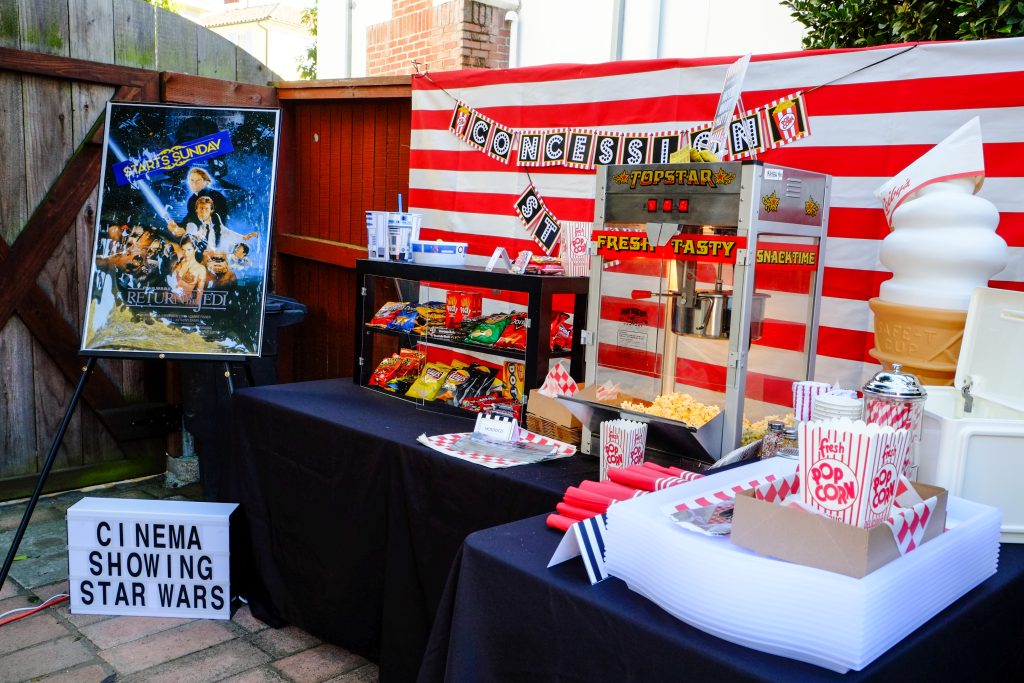 It's also fun to display some of your snacks in a case or snack stand, so that guests can see all of their options, and it really feels like a concession stand at the movies!
BONUS TIP: You can also divvy up a set amount of small tickets as "money" for concessions – this ensures that children don't eat TOO much candy and snacks and get upset stomachs!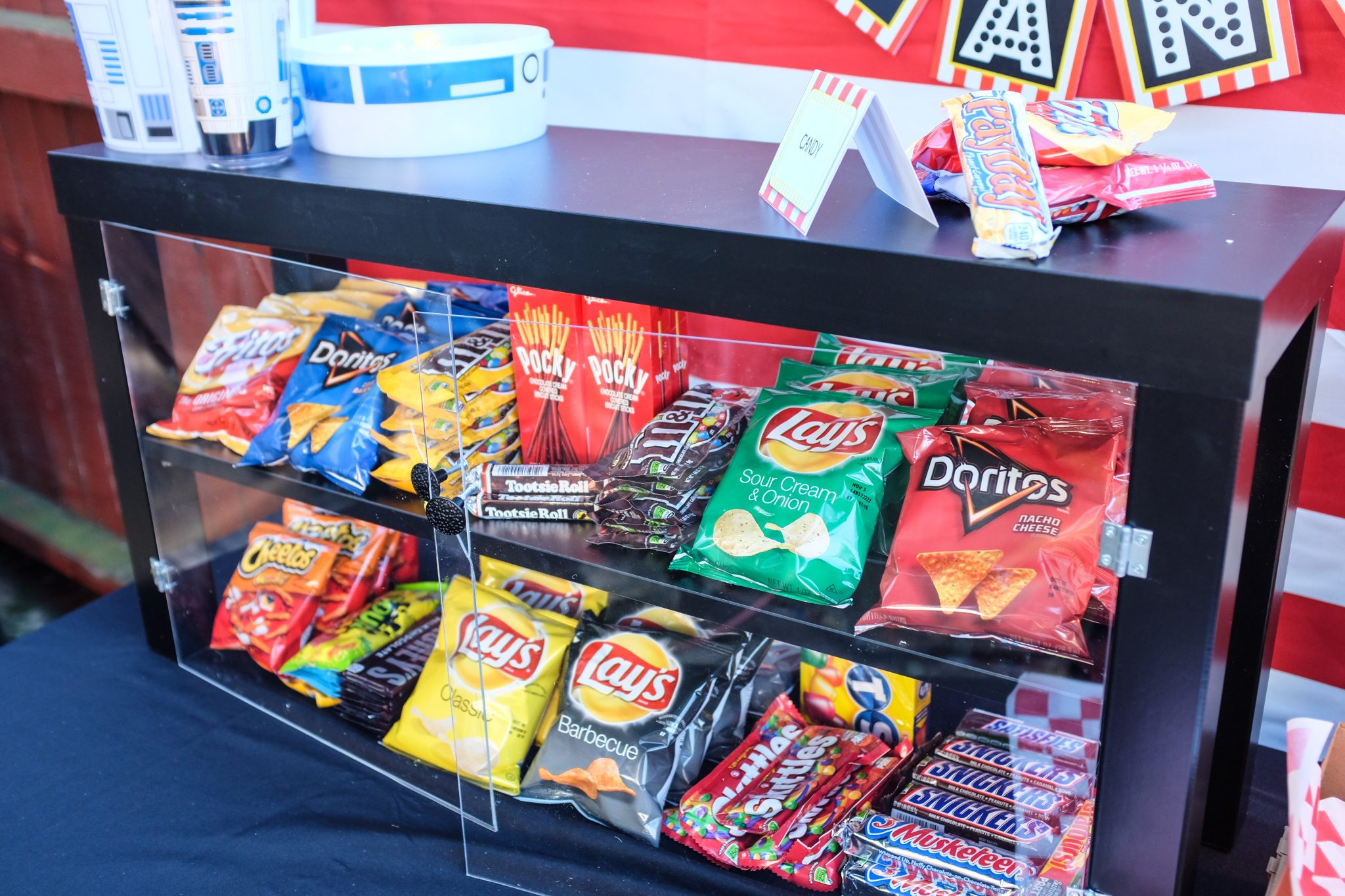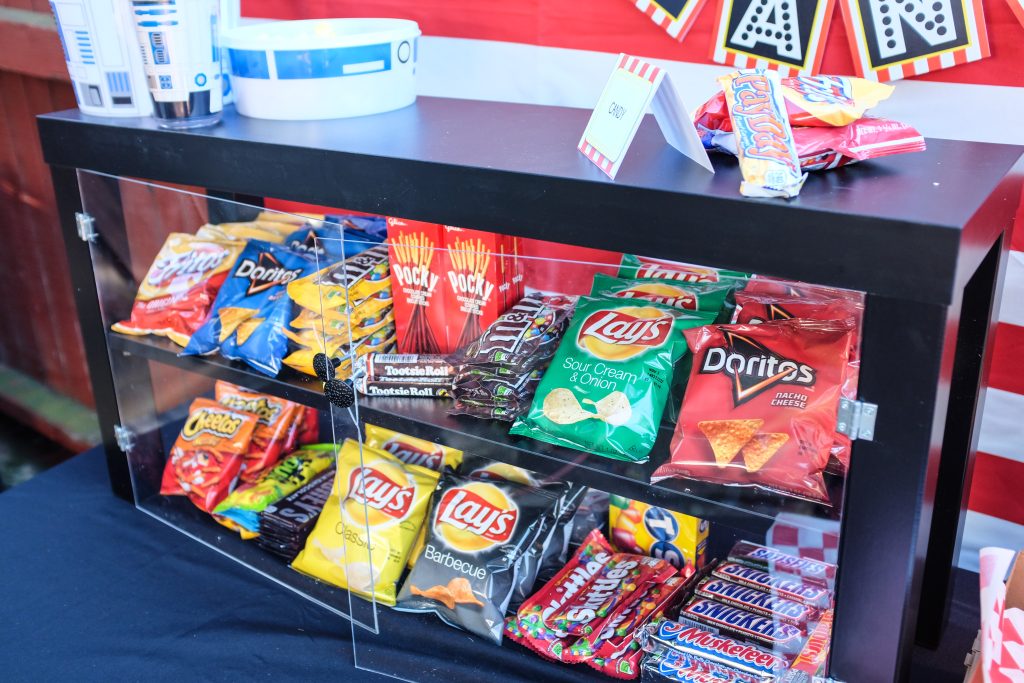 A popcorn machine is a must if you want it to feel like a real movie theater concession stand. You can rent one, or purchase one. You'll just have to have someone to serve or supervise the serving process, as it gets hot! Extra points for having fun red and white movie theater popcorn boxes to hold the popcorn!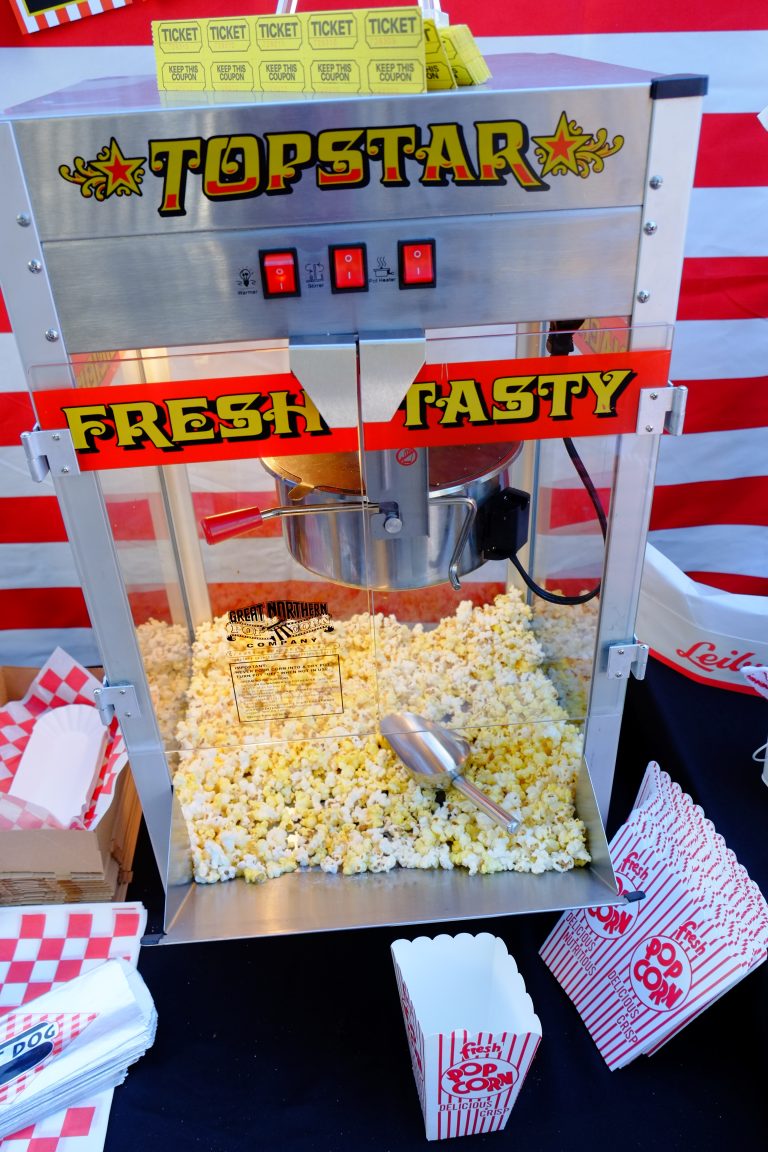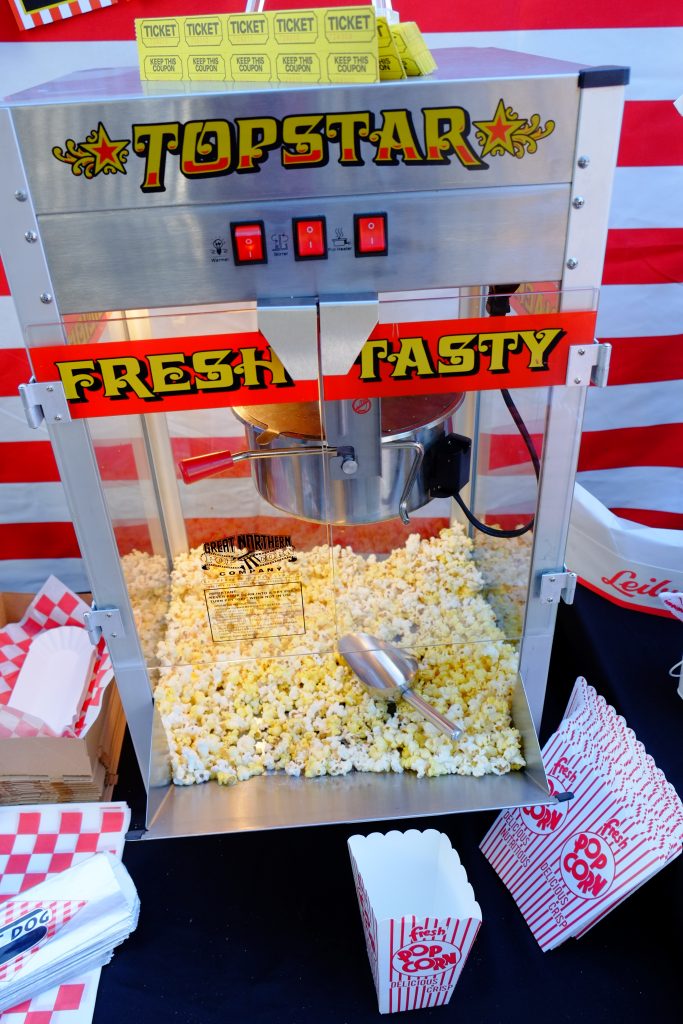 For adults, you can provide a cooler of drinks. For kids, a fun option is to have personalized mason jar containers for each. This ensures they don't lose track of their own drinks, and cuts down on spills.
BONUS TIP: Especially in the summer, make sure to have plenty of water available at all times. Gotta stay hydrated!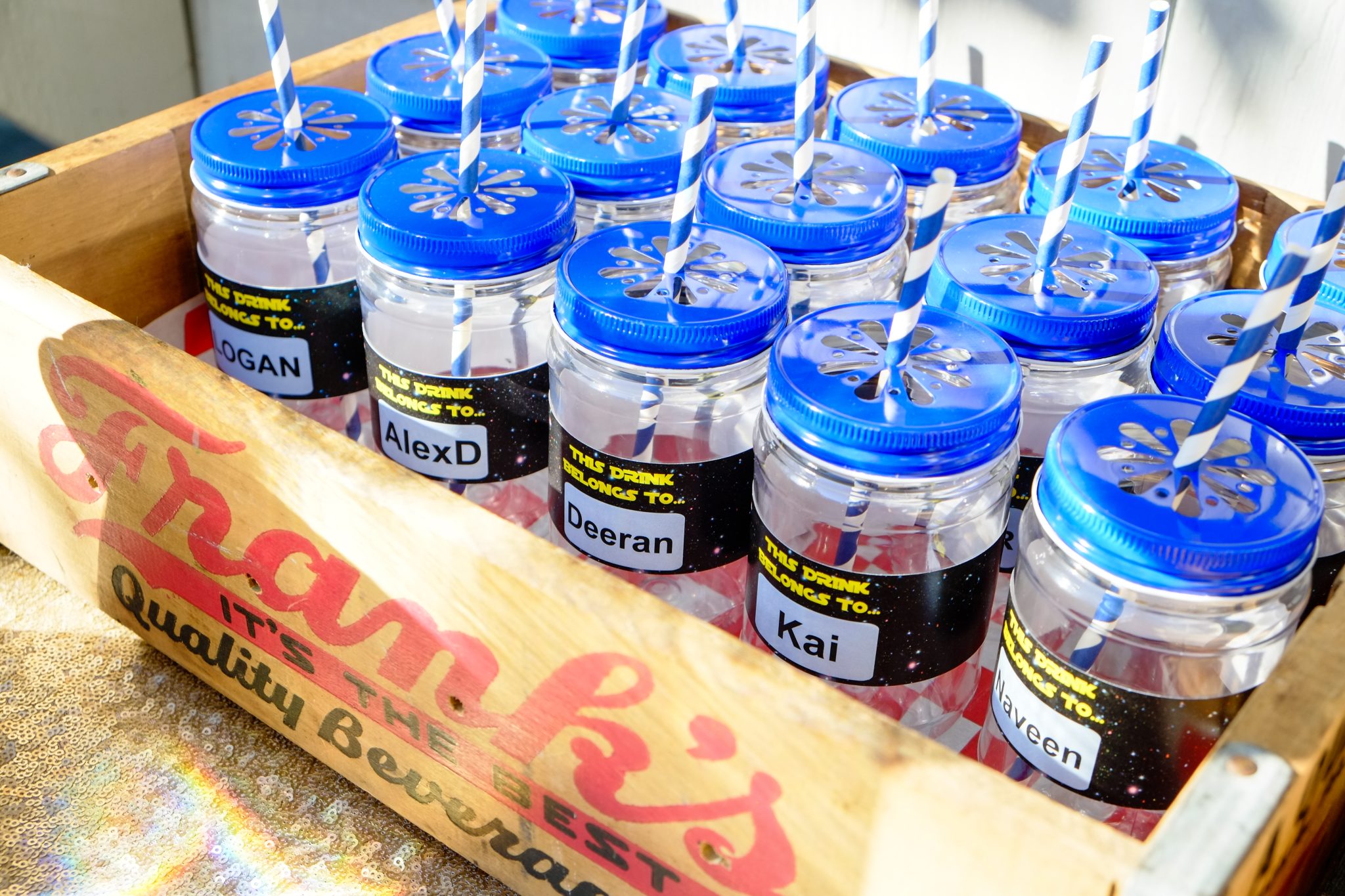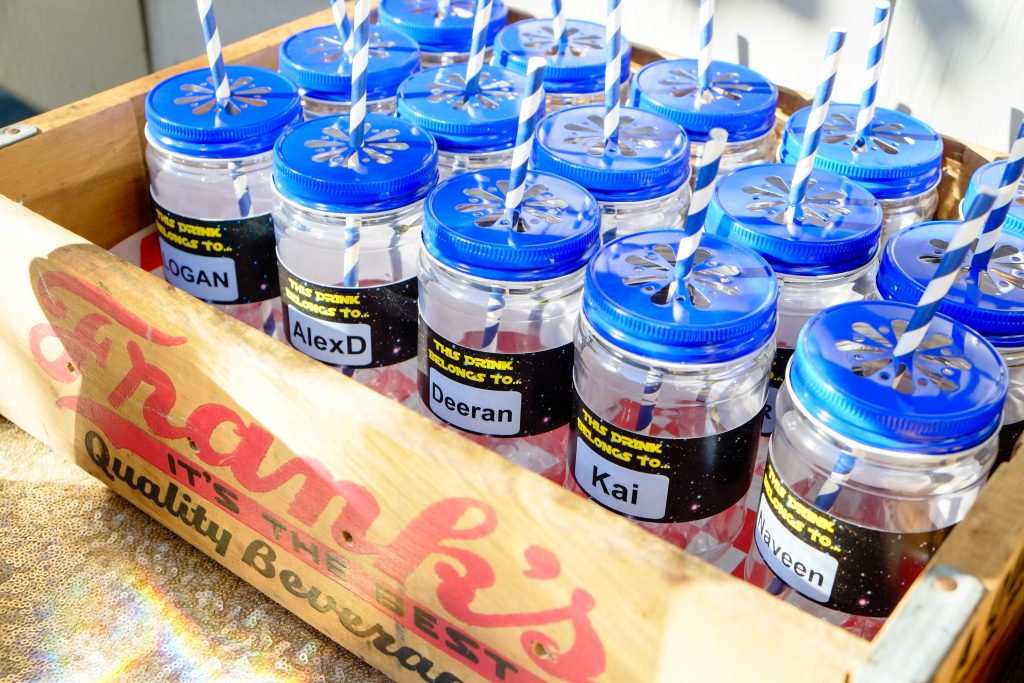 It's also a good idea to provide trays or snack boxes (or both) for everyone to hold all of their snacks, since there aren't tables at the seats. I also like to provide napkins and any needed utensils in cute rolls for easy grabbing.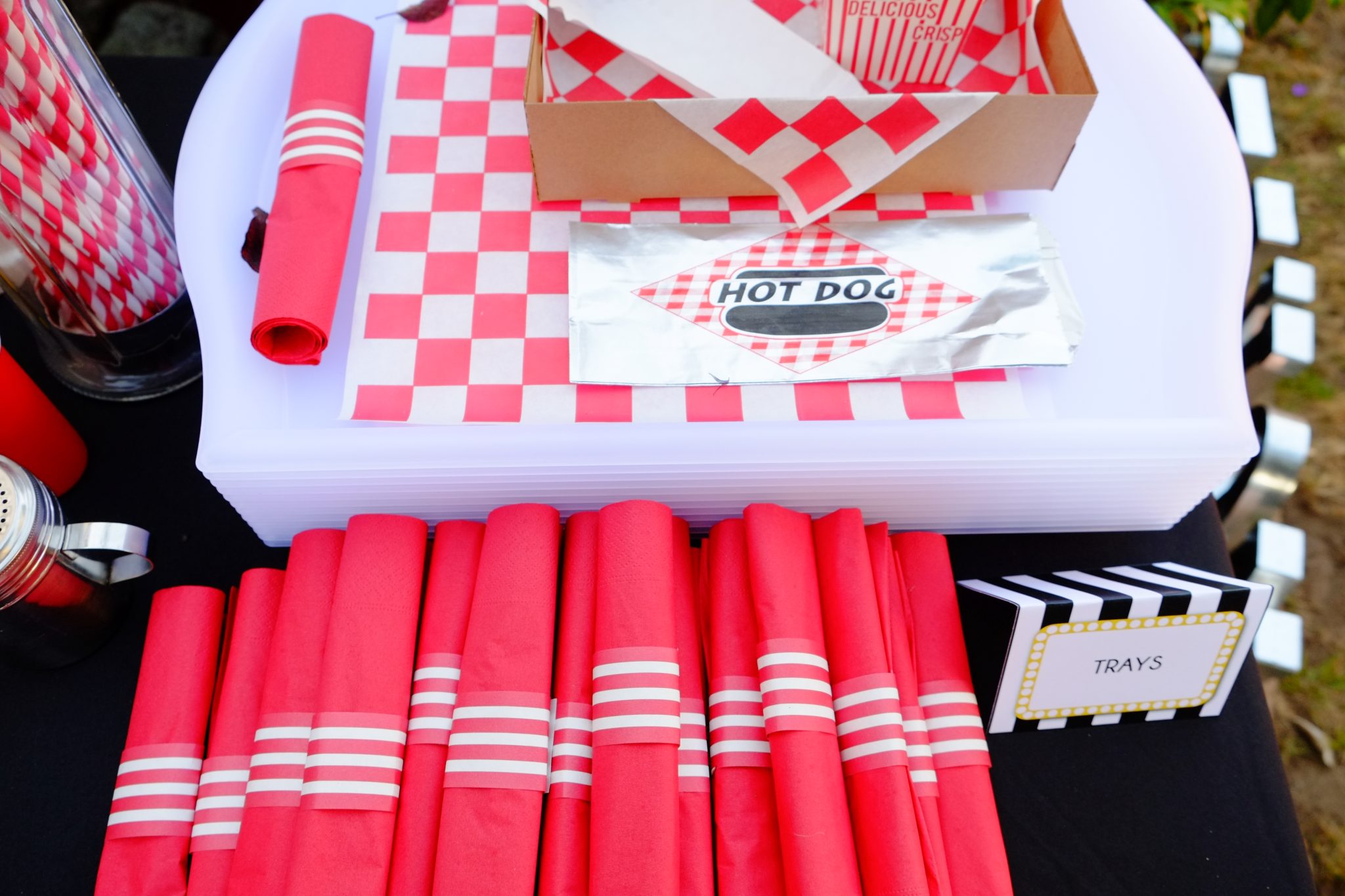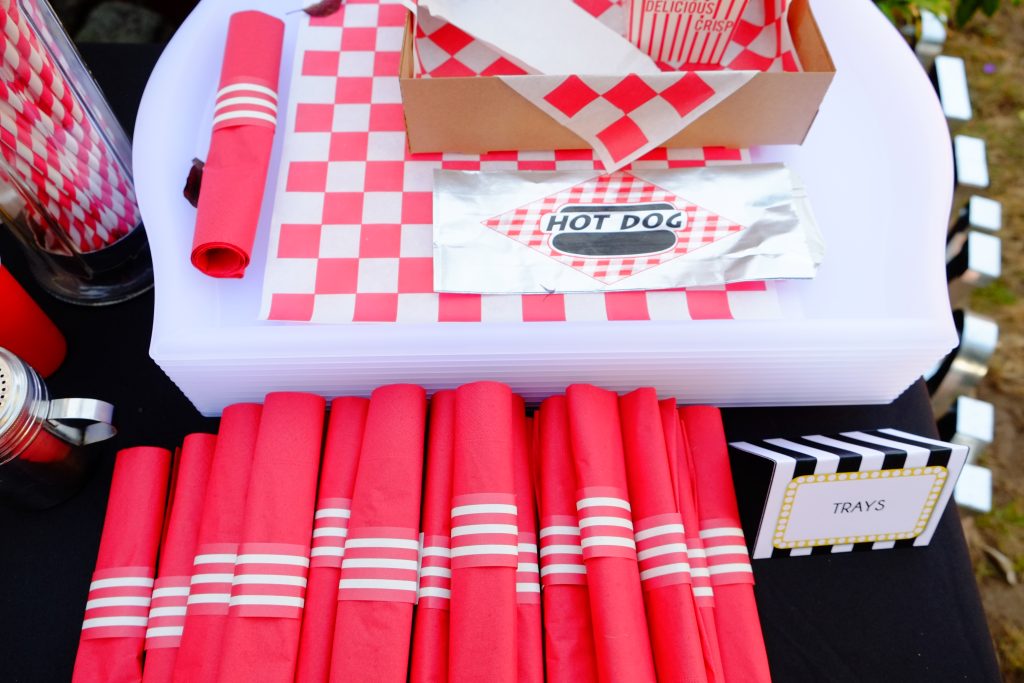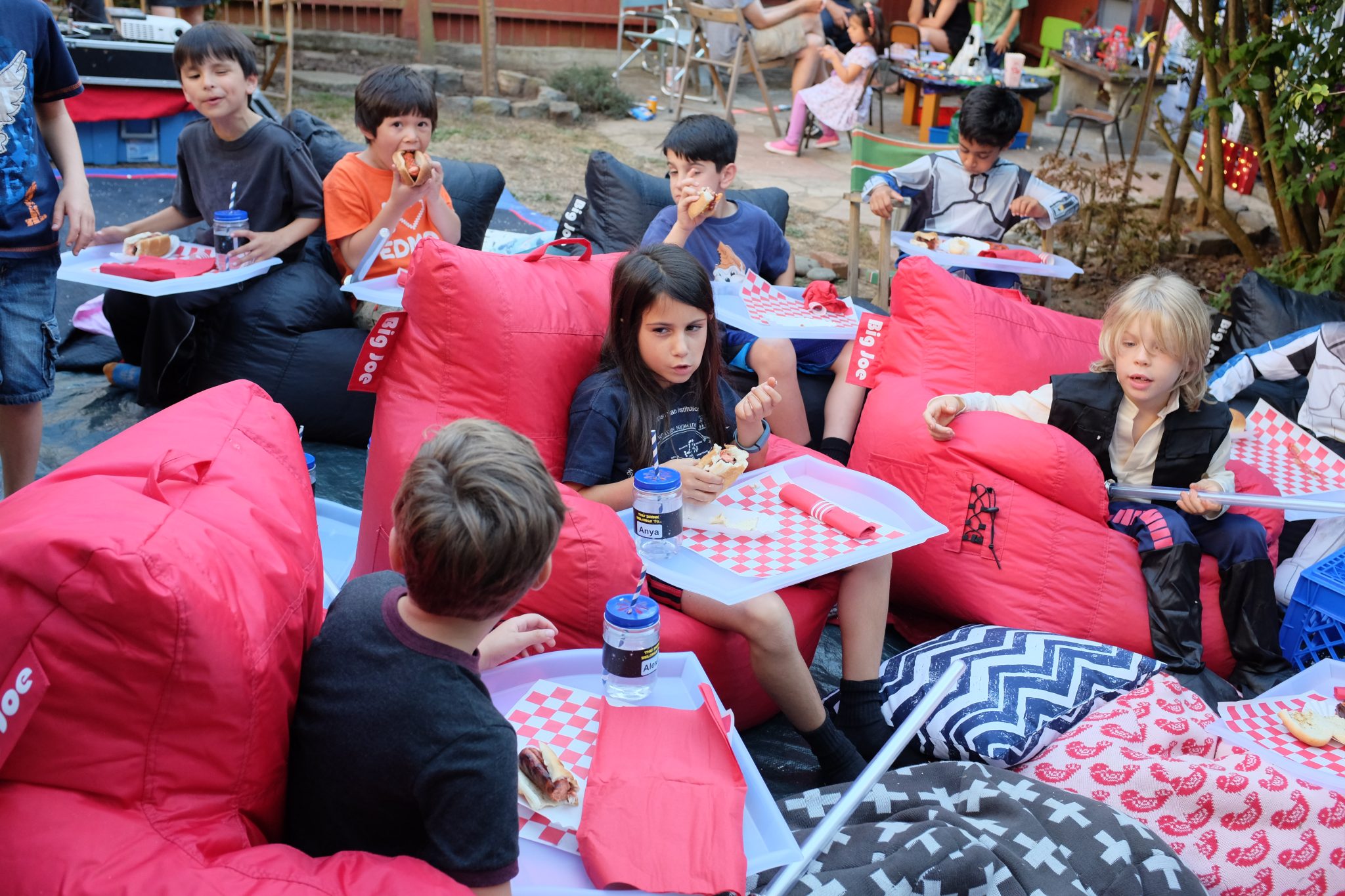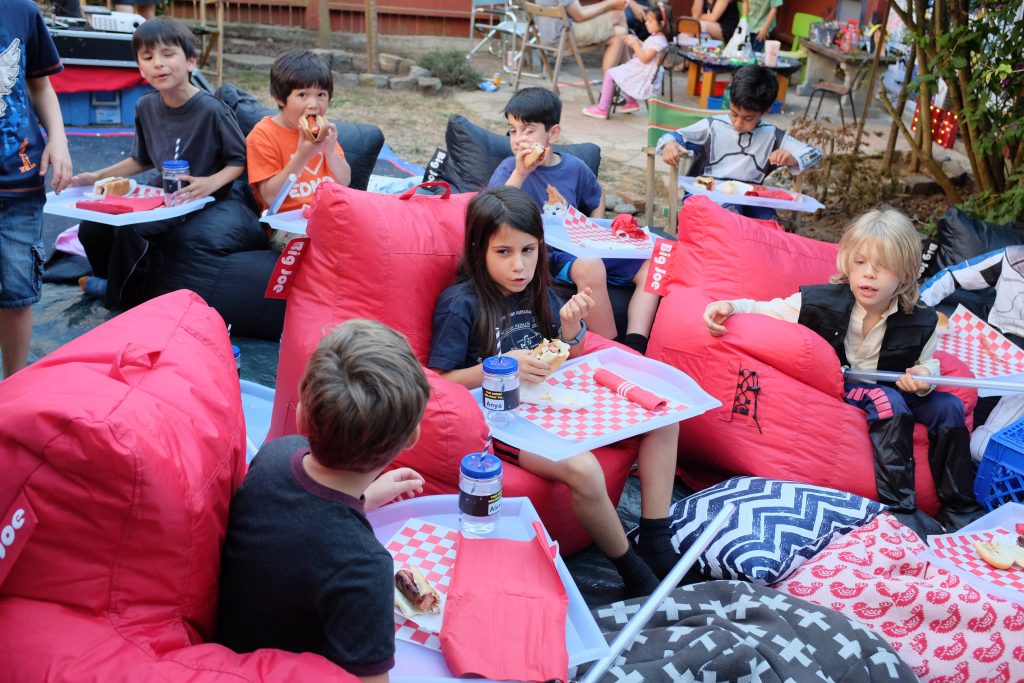 If you can find them, food and drink containers that are themed for your movie can make the concession stand even more fun! But you can always use general movie-theater containers as well.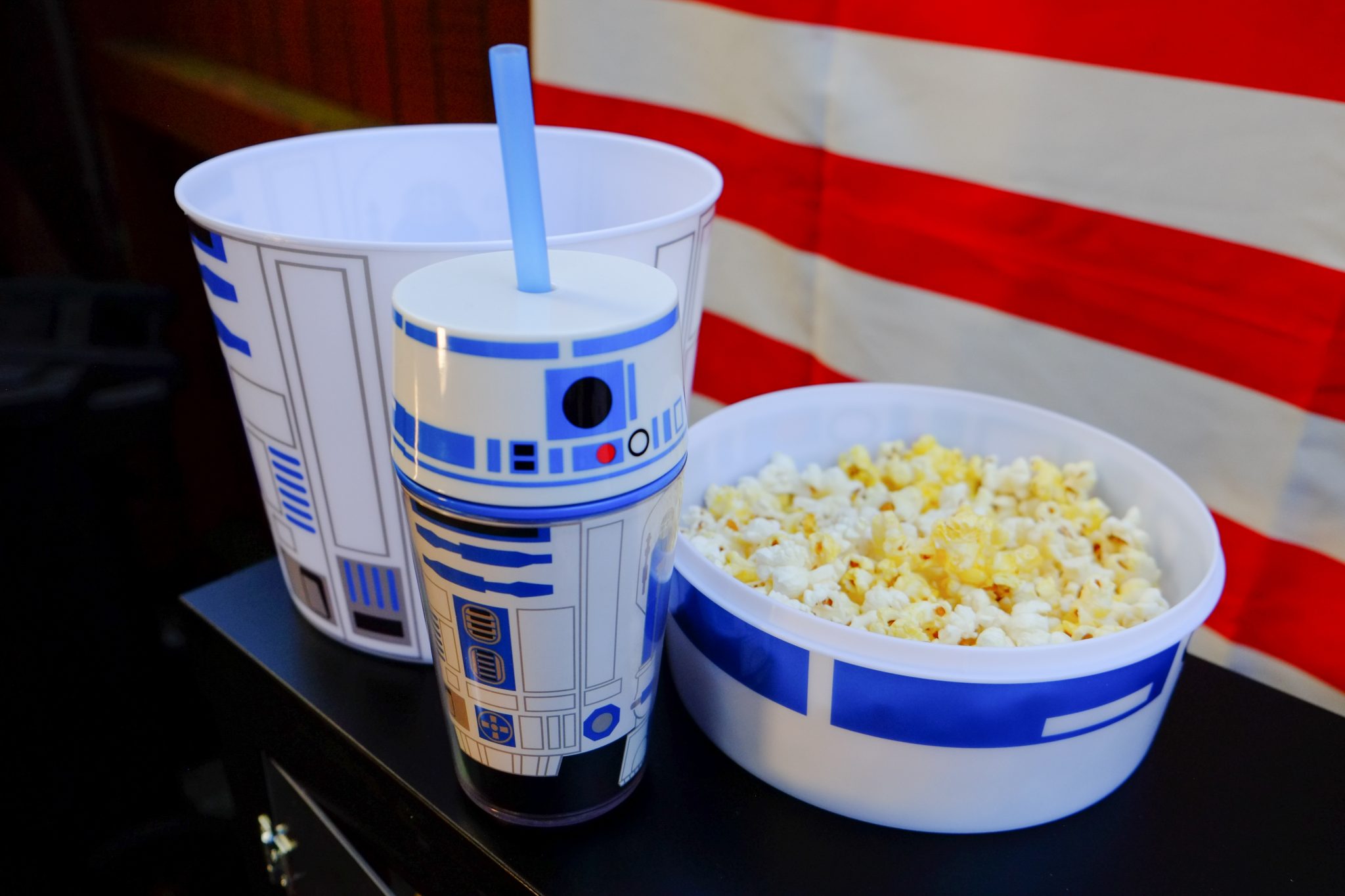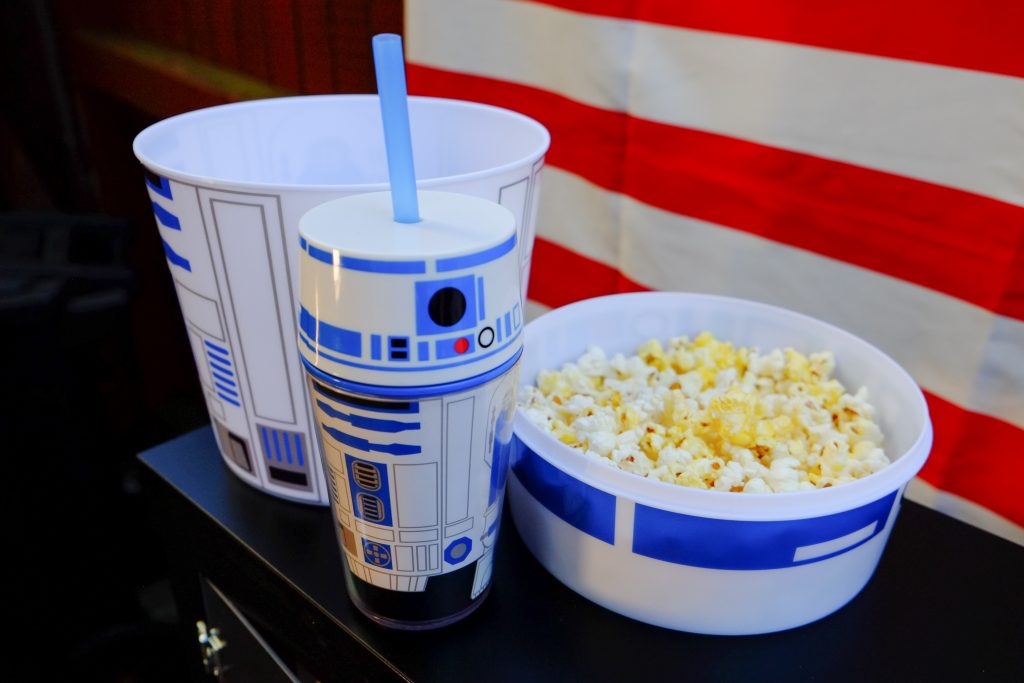 7. Think of Thoughtful Touches.
Your guests will thank you for thinking of their comfort if you do a little planning in advance. What will the weather be like? If it will be hot, perhaps provide some paper fans at the entrance to the viewing area. If it might get chilly, a basket of soft throw blankets is a great idea. You might also provide some bug spray so guests don't get itchy!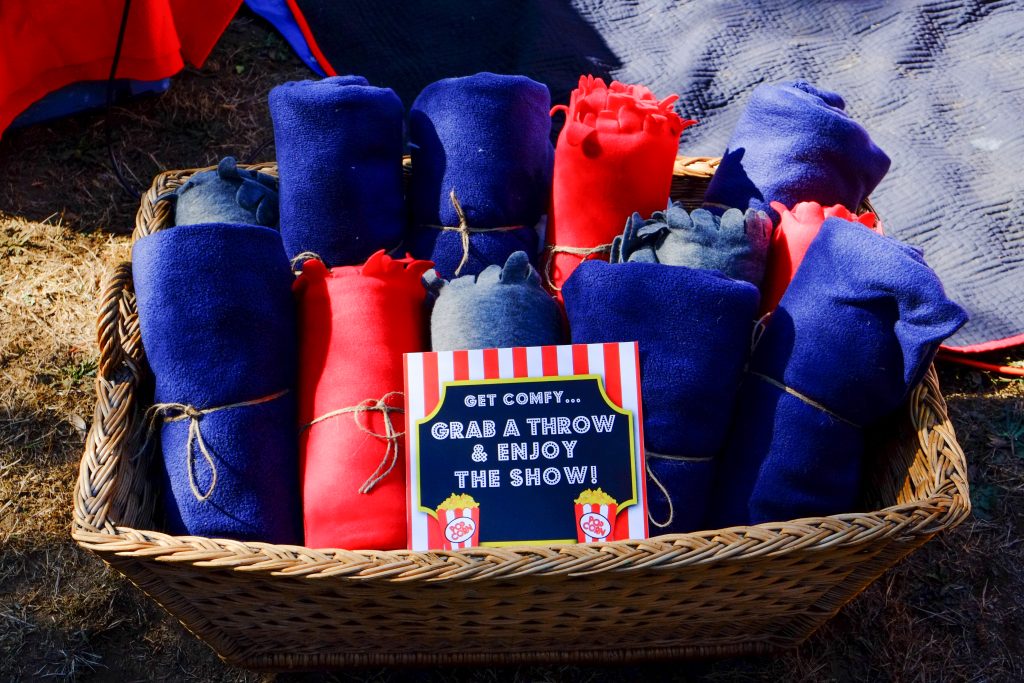 8. Entertain the Kids.
If there will be smaller children at your outdoor movie parties, consider having a separate activity area for them. This area can be close-by the viewing area so they don't go too far and parents can keep an eye on them, but they can head there when they need a break from sitting still. We created a Star Wars themed activity area for our party.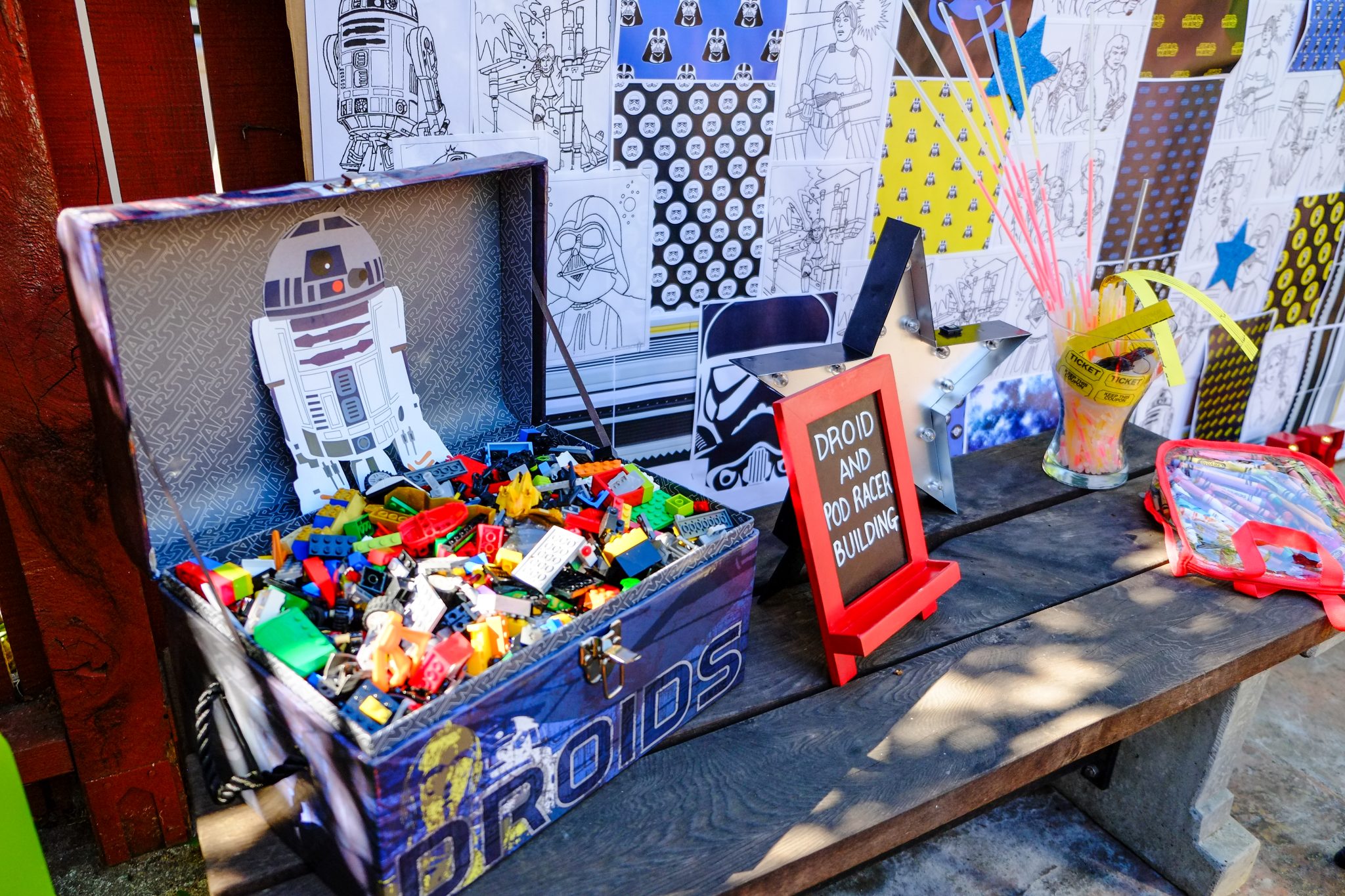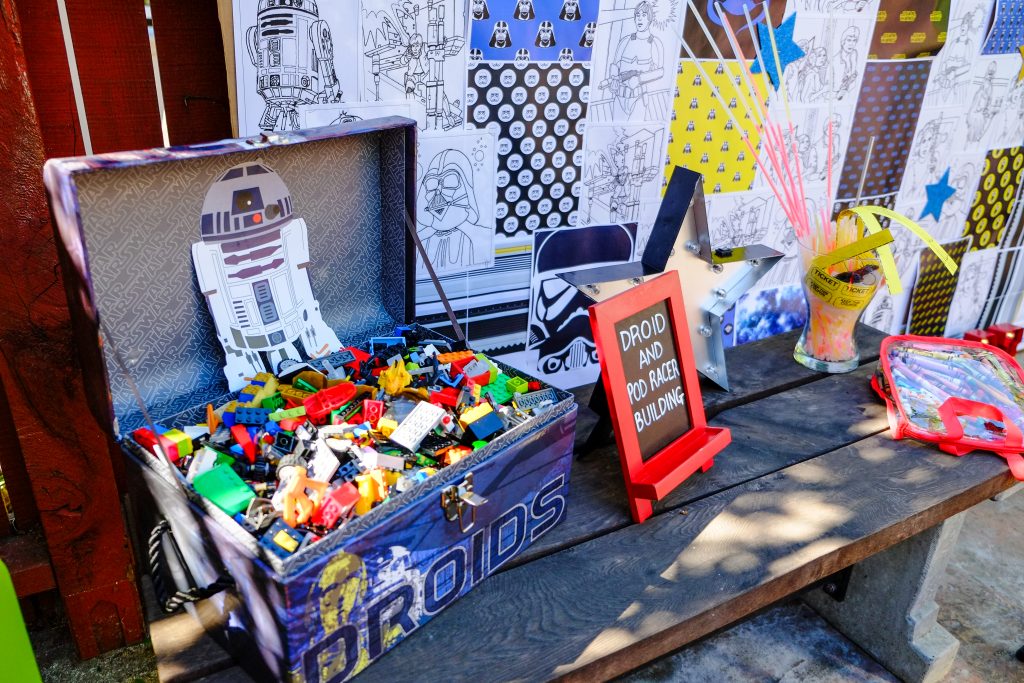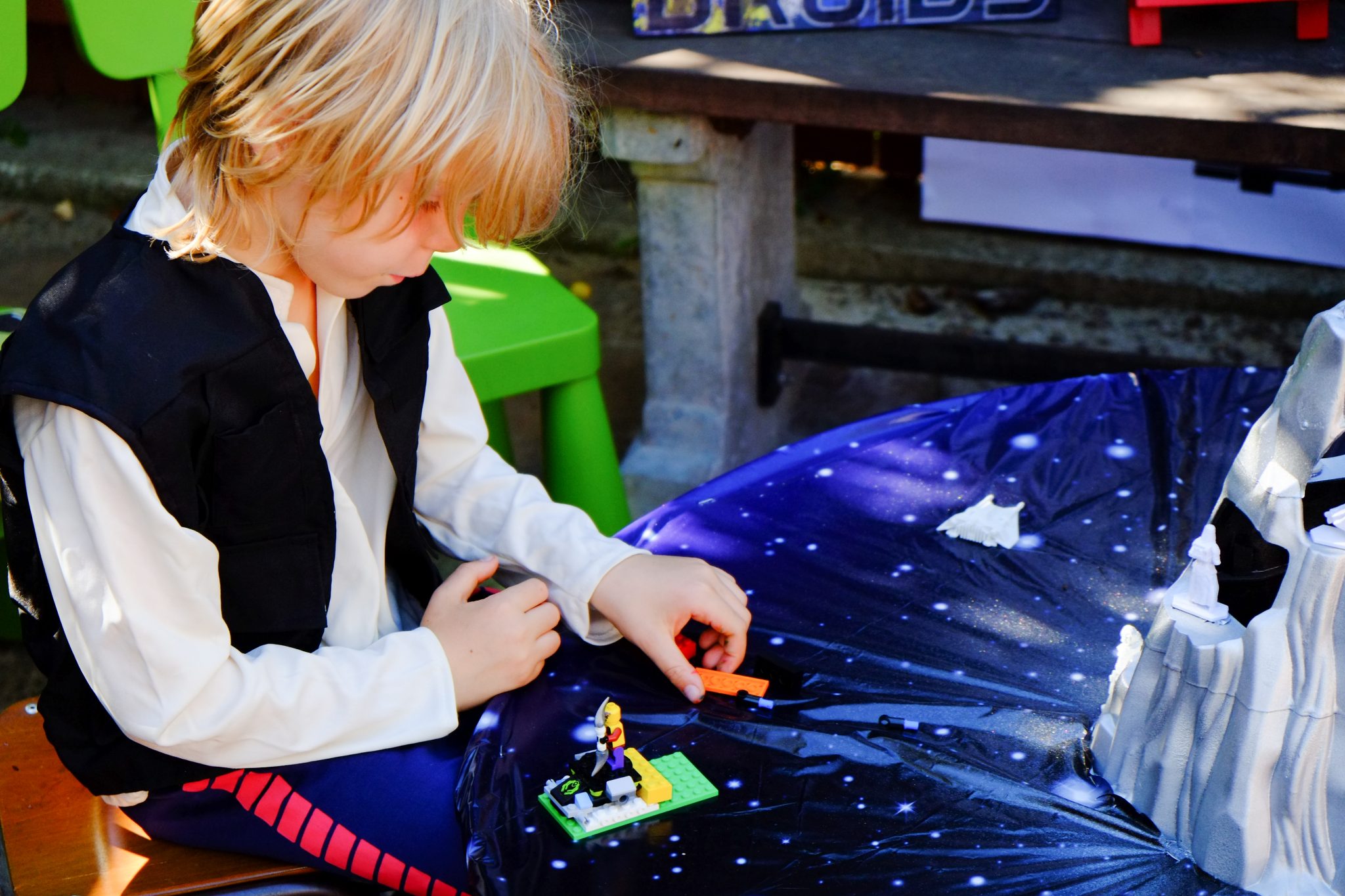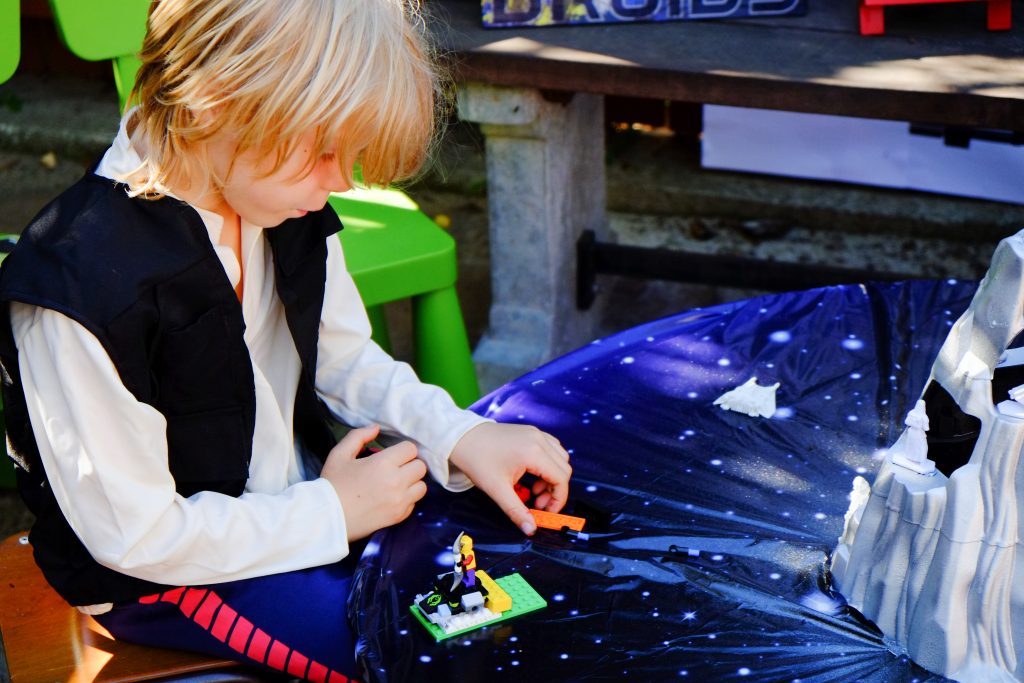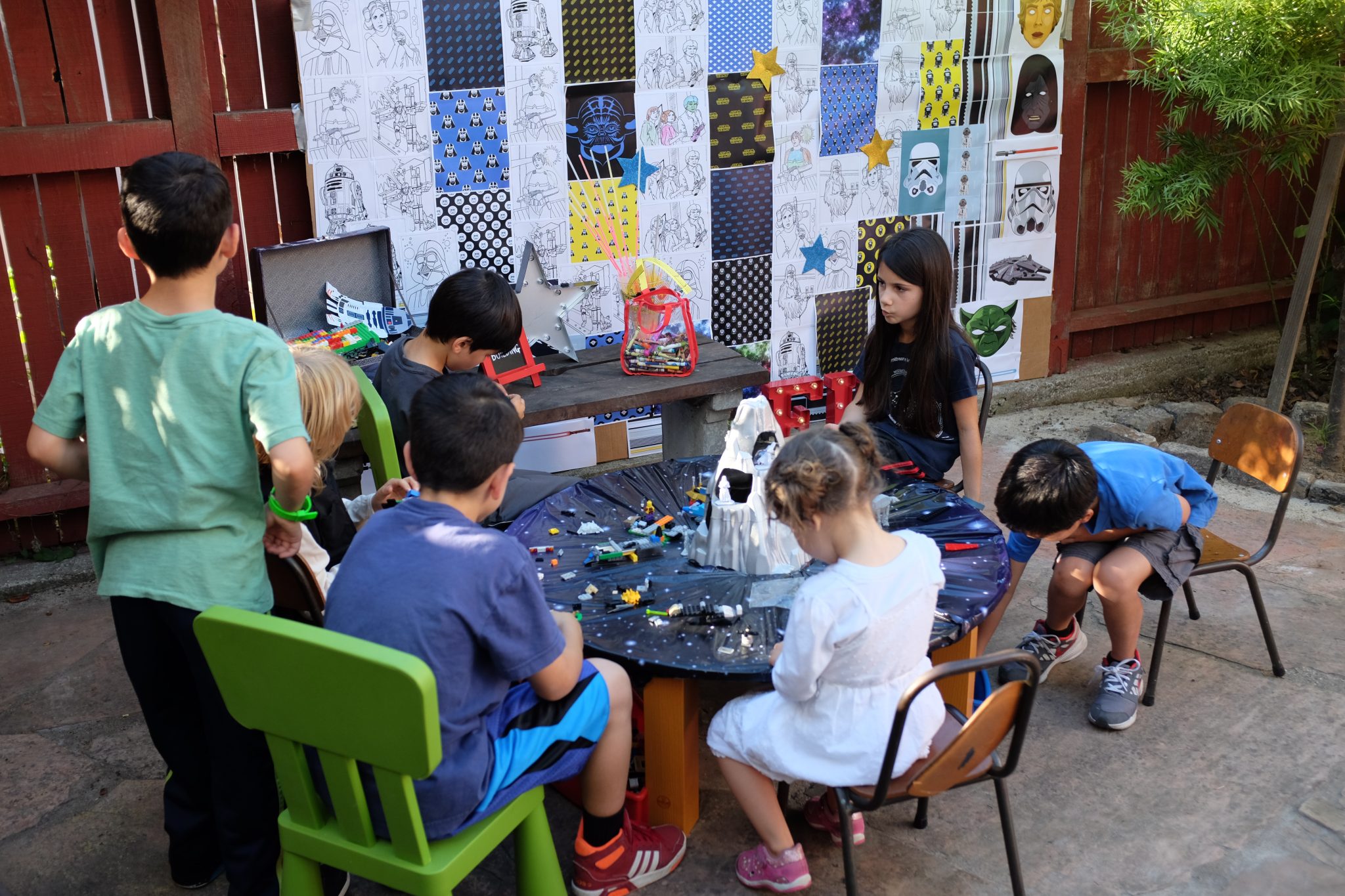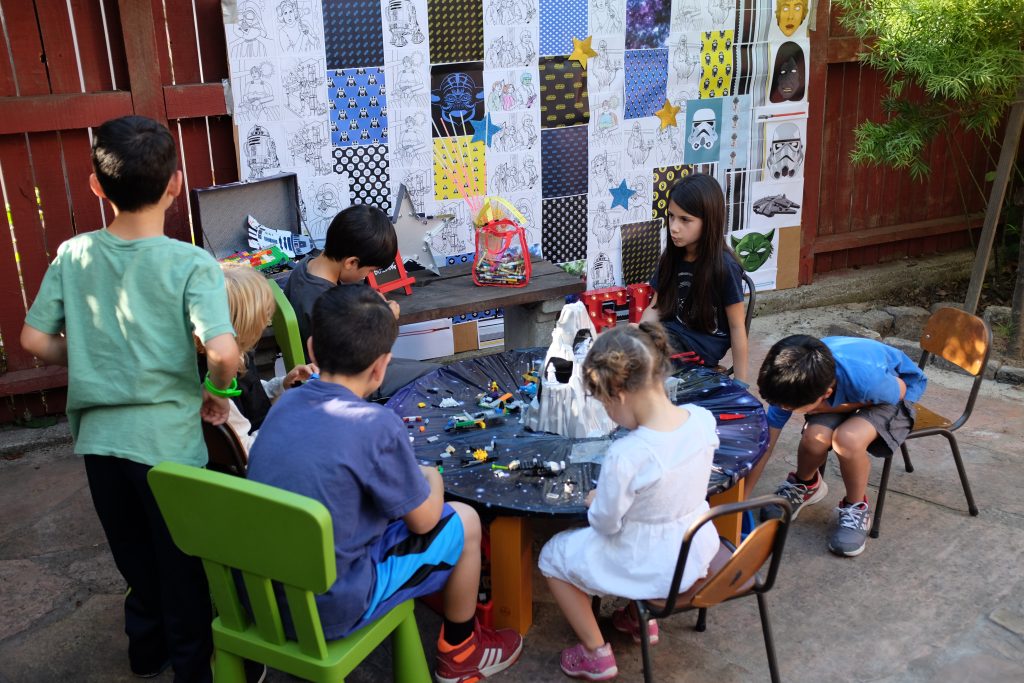 BONUS TIP: Provide glow bracelets or necklaces for the kiddos – there's no chance they'll get lost when it gets dark out!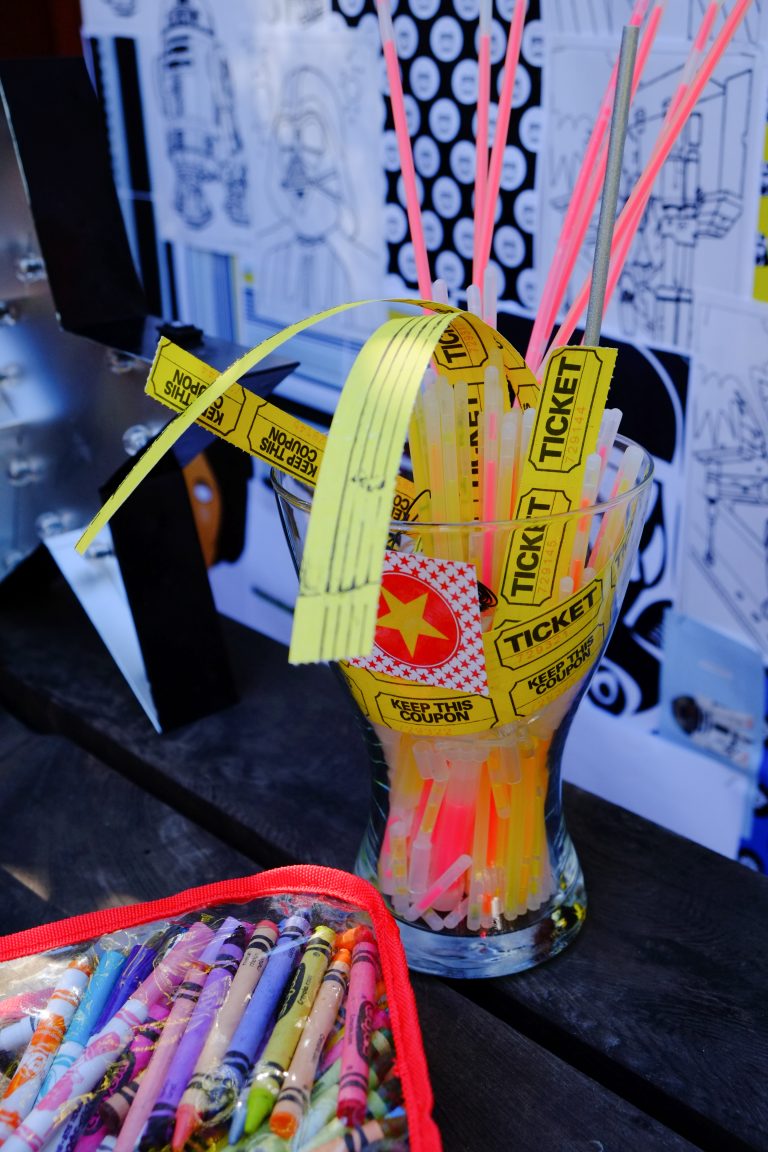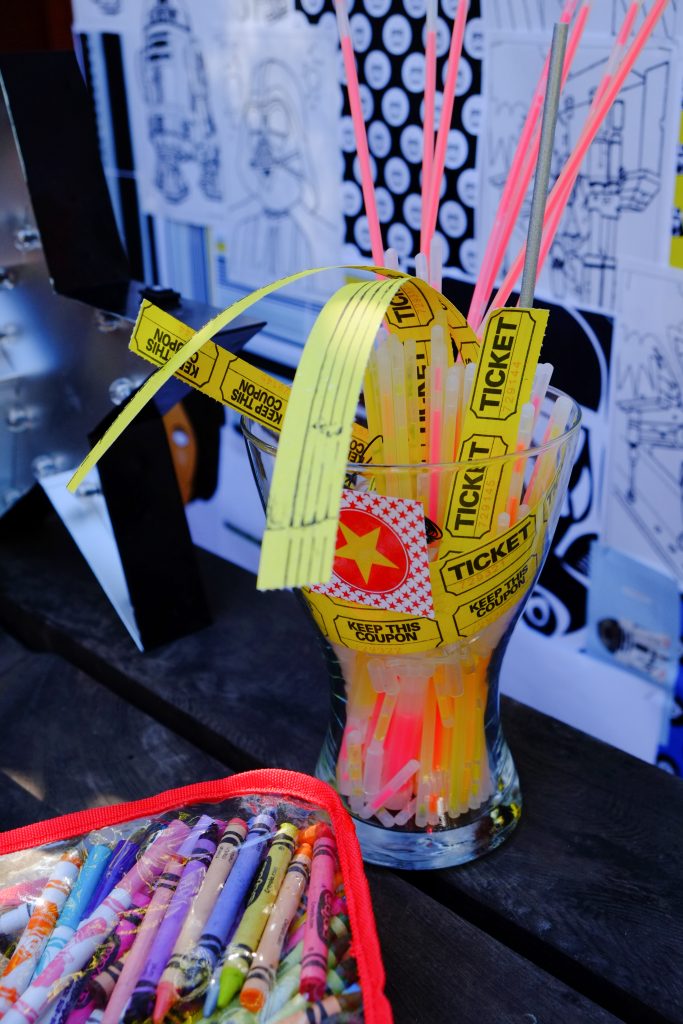 9. Make it Fun for Everyone.
Small children aren't the only ones who want to have fun during the movie, however. For those still watching the movie, providing interactive props can make the movie experience an even bigger blast. For ours, we provided light sabers so the guests could pretend to fight along with the movie characters!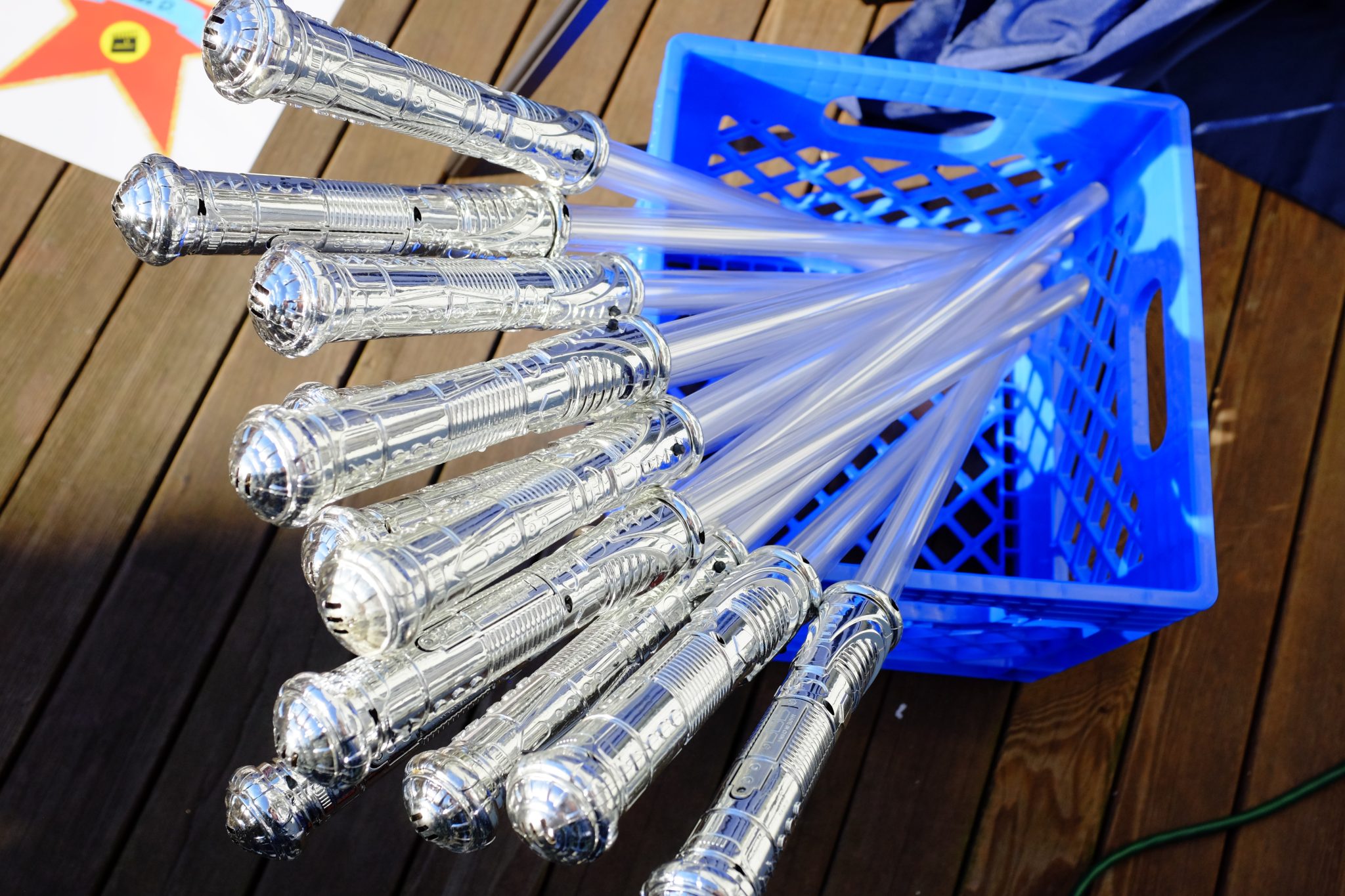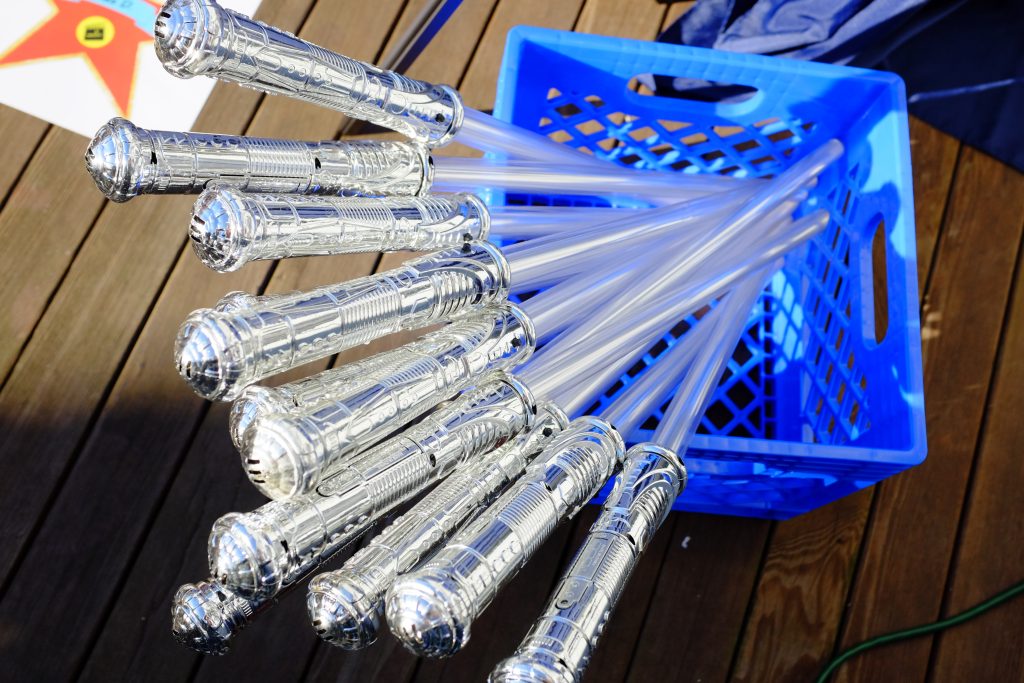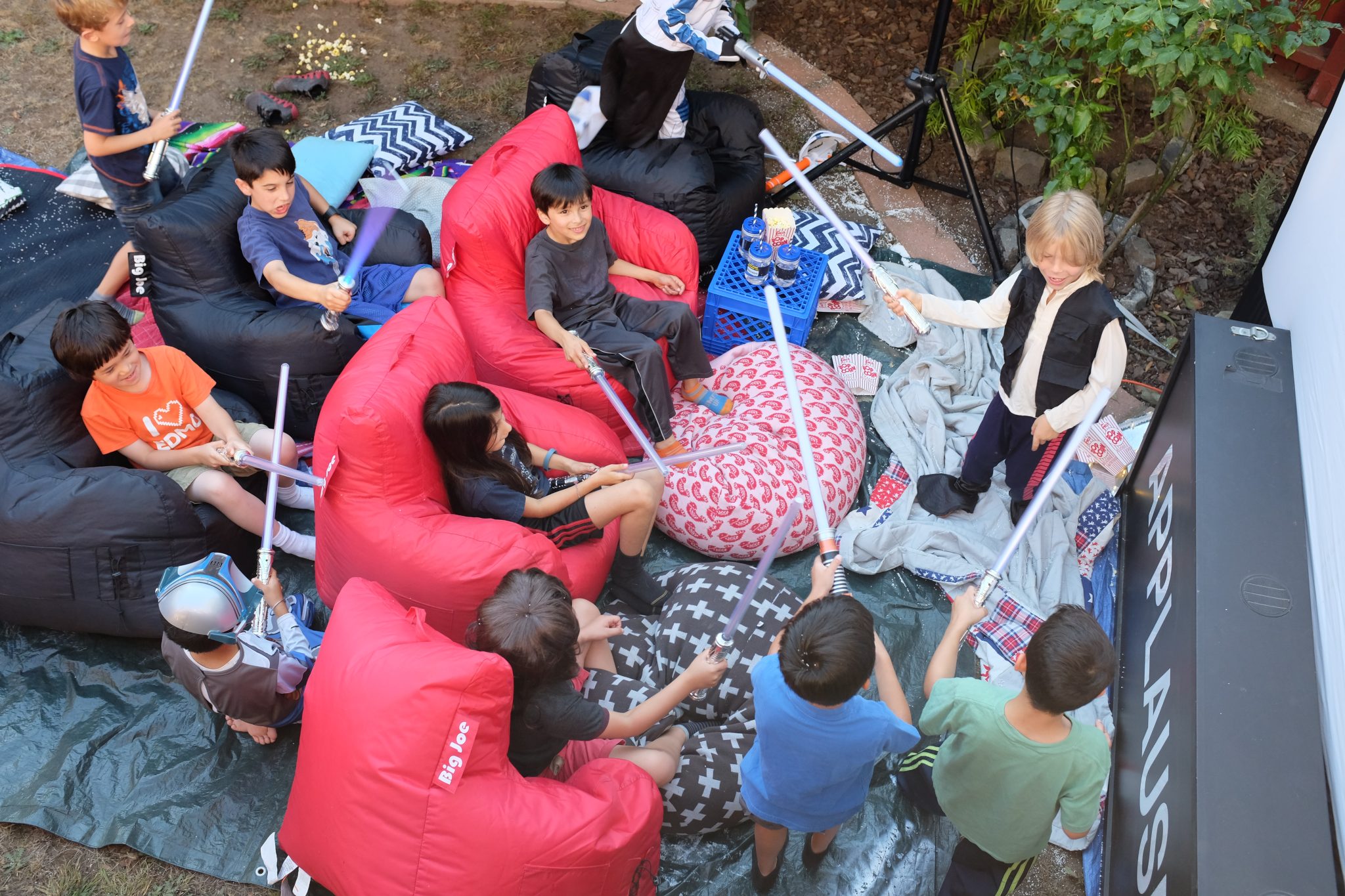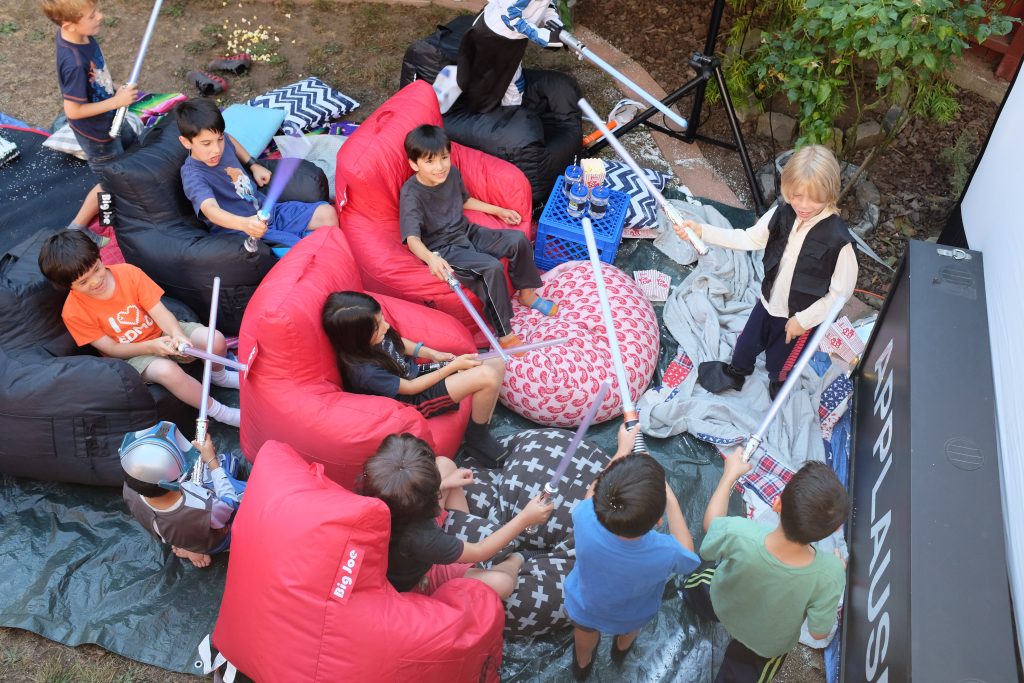 I also rented a large "APPLAUSE" sign that could be turned on when the scene called for some cheering (here's a smaller option). This was a fun way to get everyone actively involved in the movie-watching experience. Other options could be choosing a phrase to yell out or an action to perform anytime something comes on screen.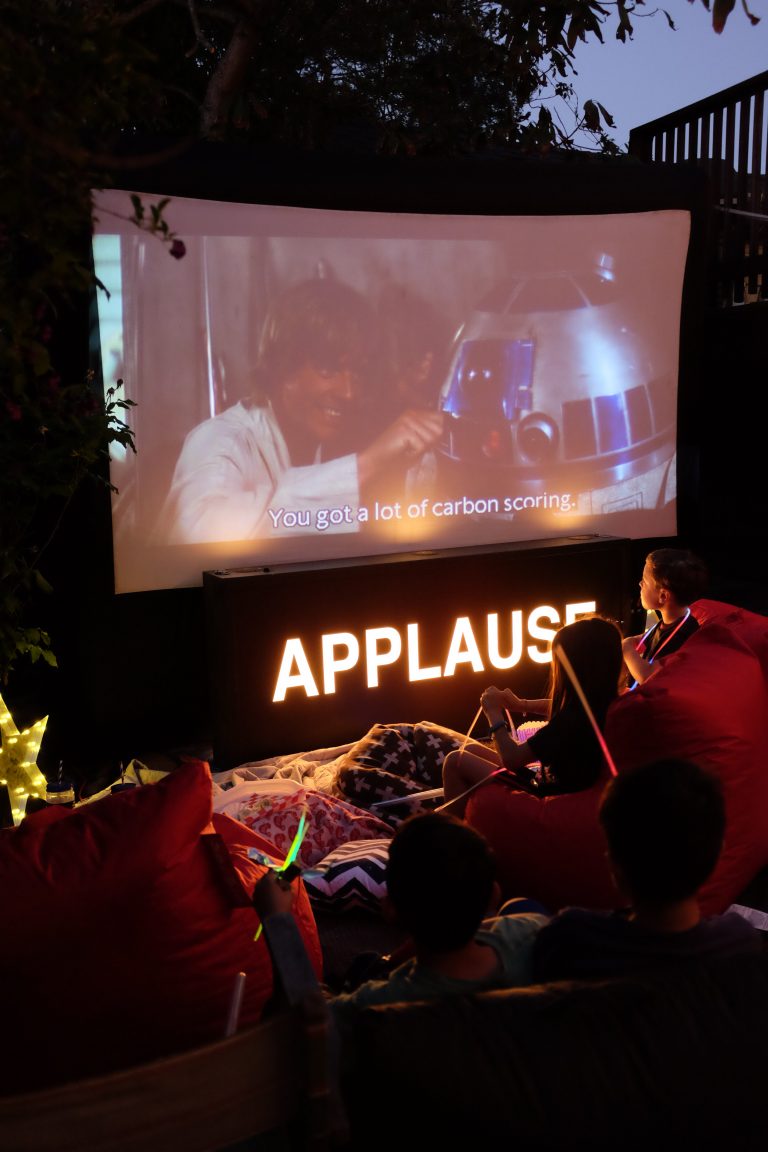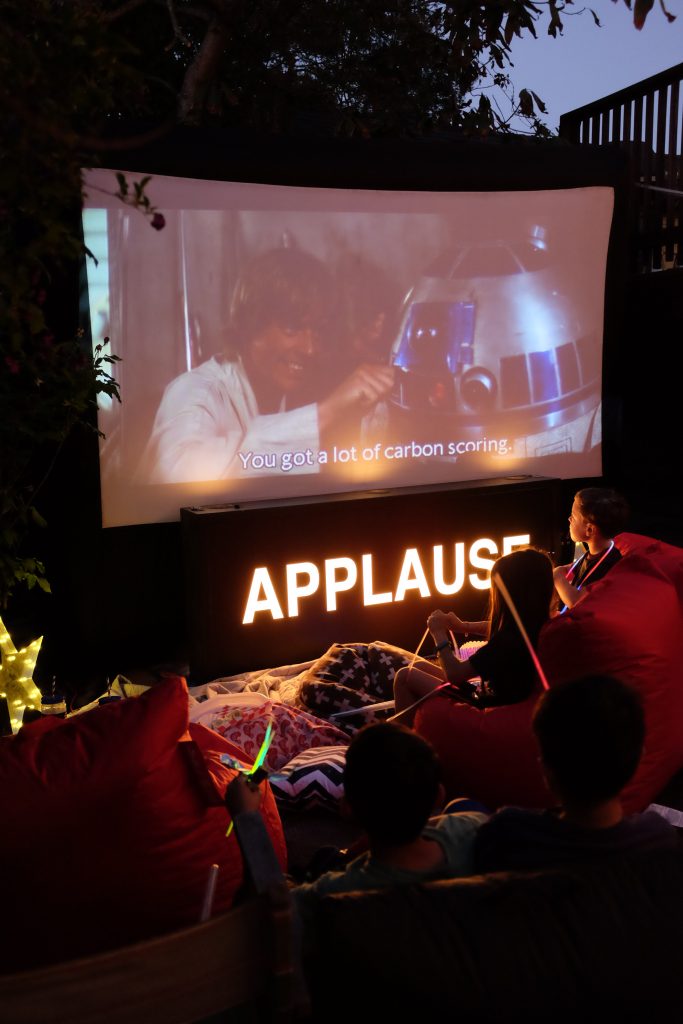 10. Make Memories.
Finally, don't let anyone leave without making some memories! A themed photo-booth is a great way to do this. Ours was Star Wars themed, but you could also do a  general movie-themed photo booth.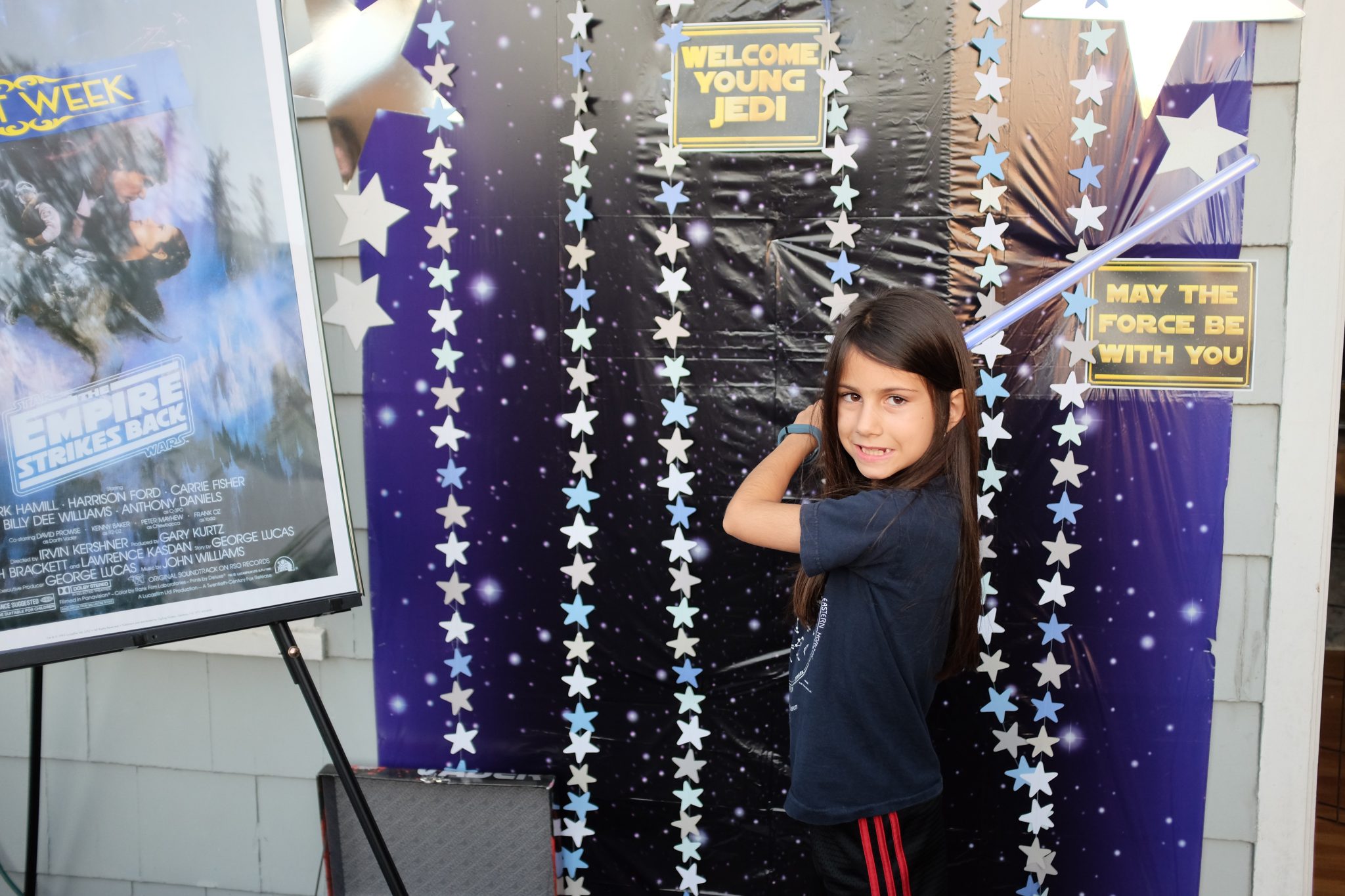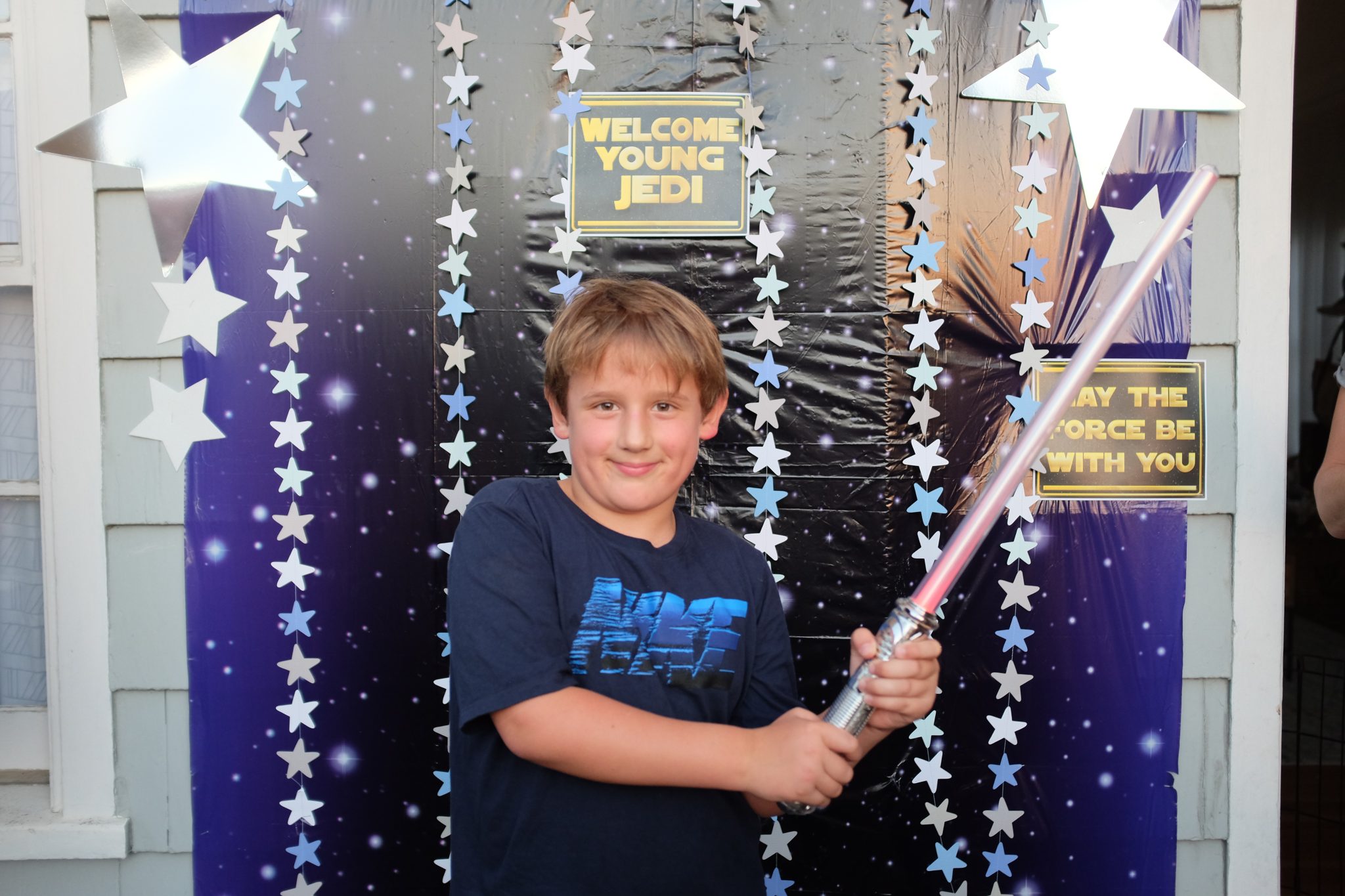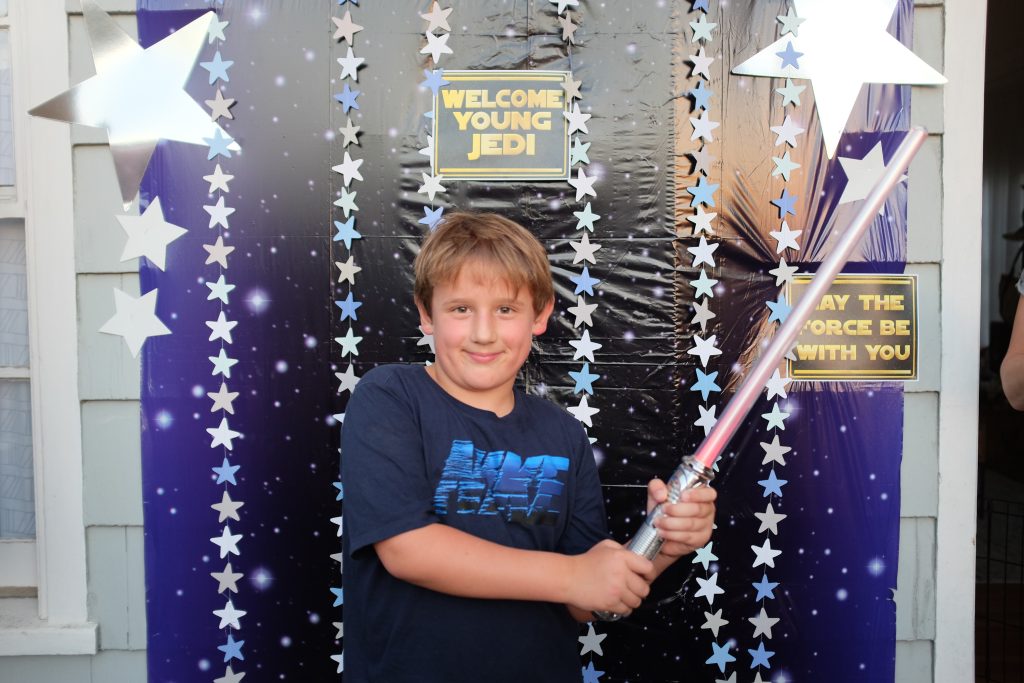 Don't forget to provide props for the perfect photo ops!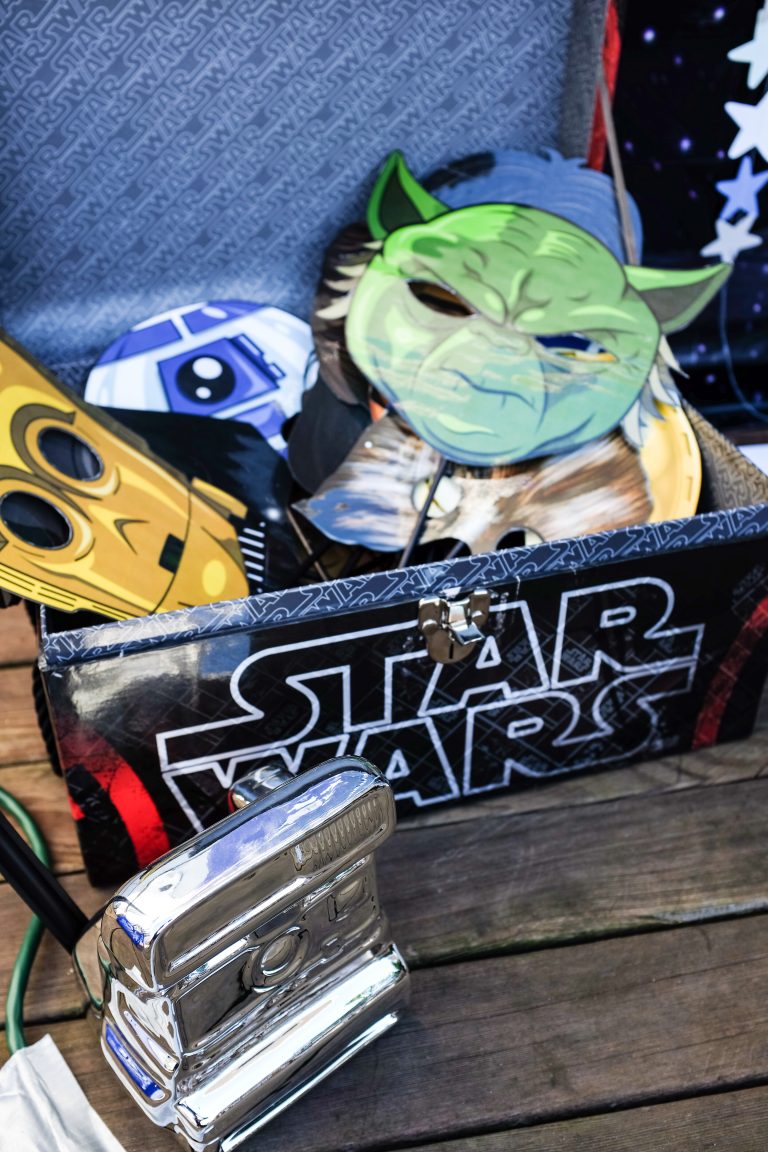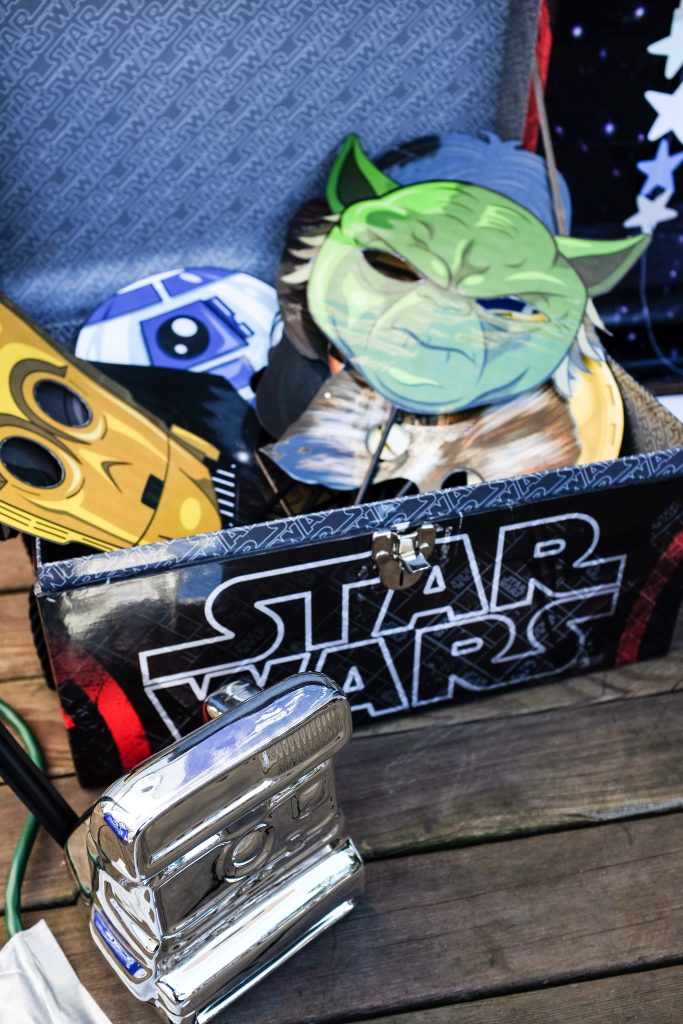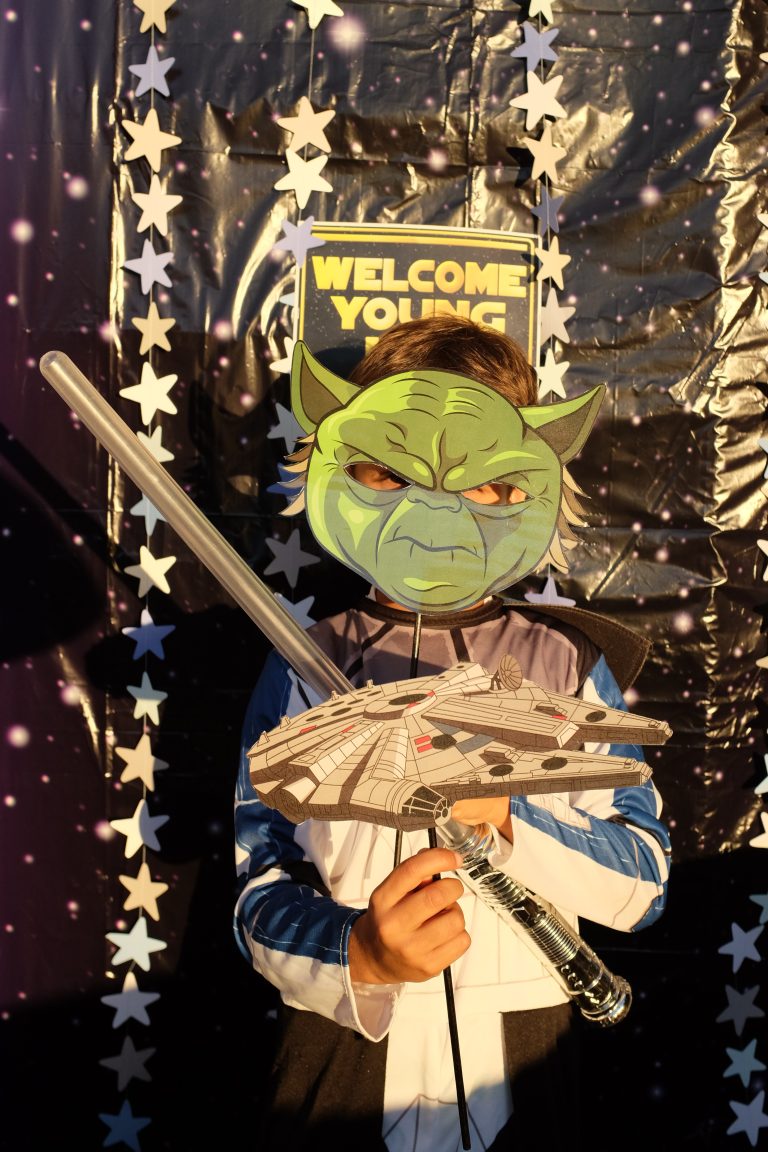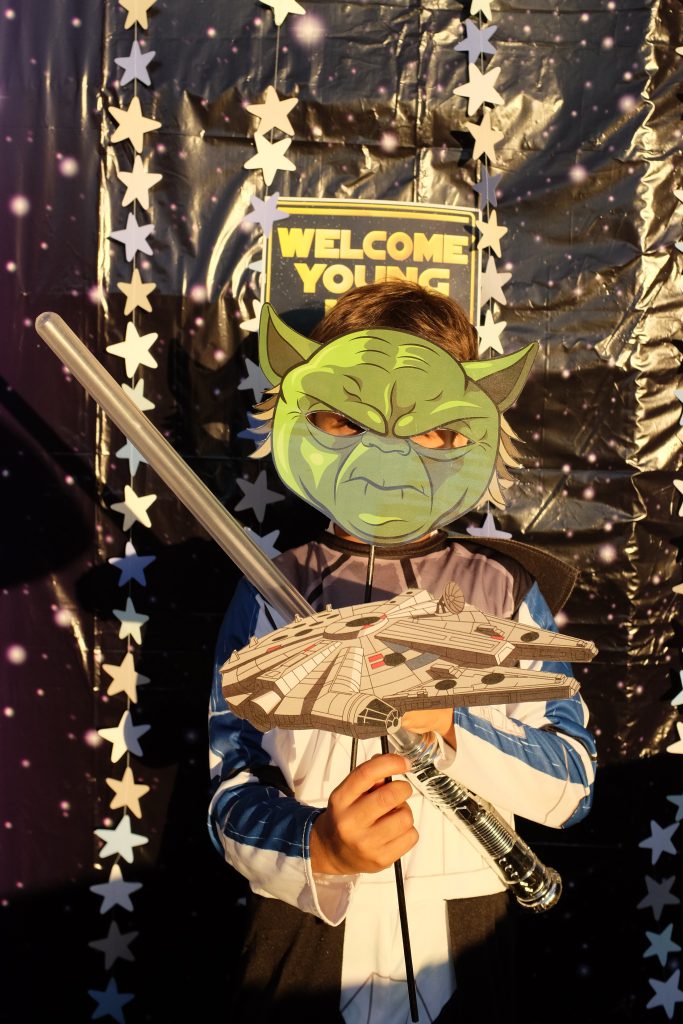 You can also encourage guests to come dressed as characters from whatever movie you are watching. Who doesn't love getting dressed up!?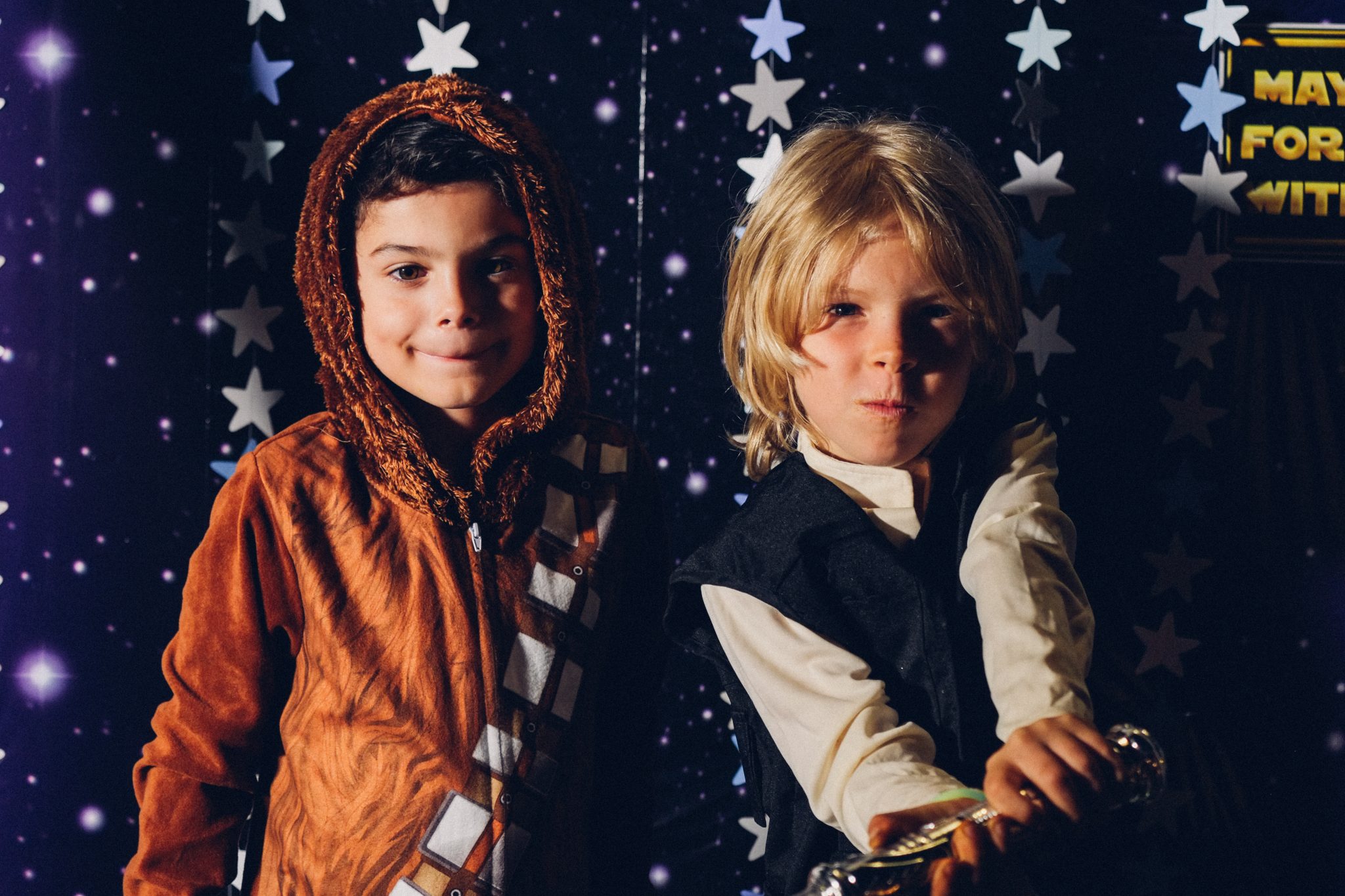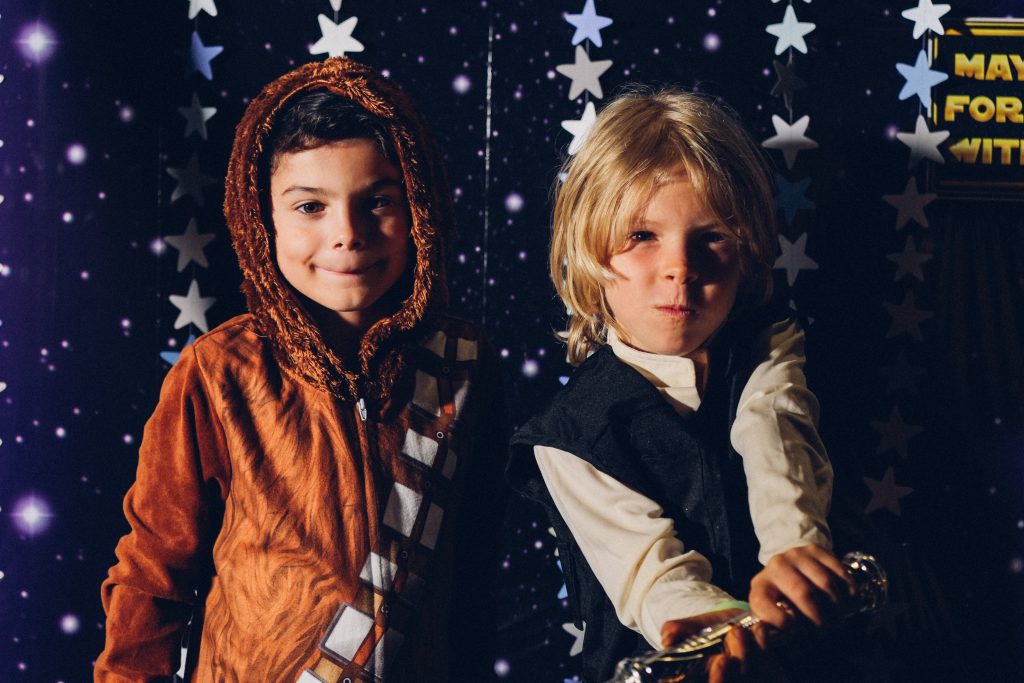 Then, before guests leave, make sure they pick up a favor, so they will never forget their fun outdoor movie party experience. For ours, I created favor boxes of star wars treats, and gave each guest a Jedi Training Certificate. We used Star Wars thank you tags to thank our guests for coming, but you can also use general movie-themed tags.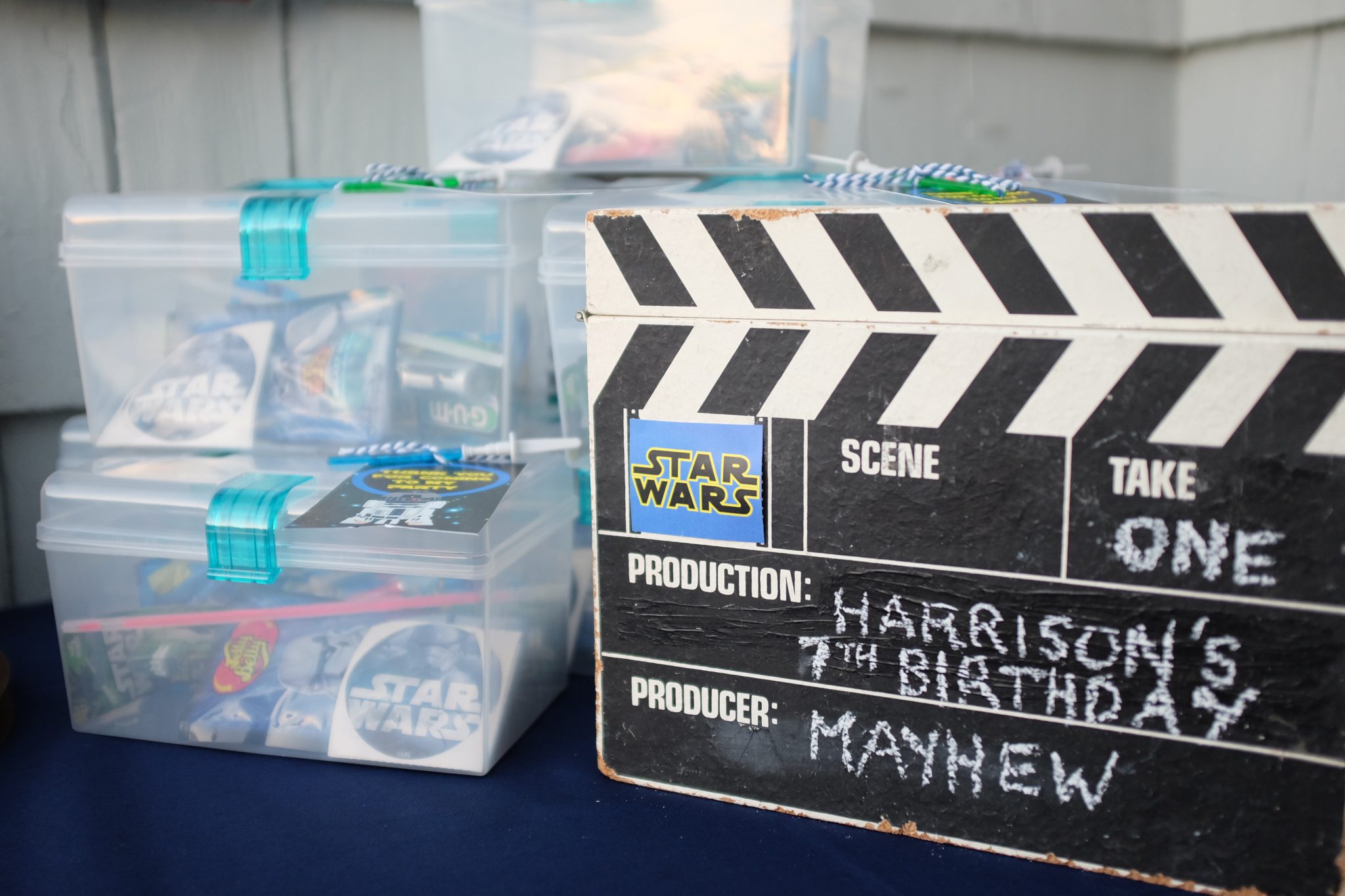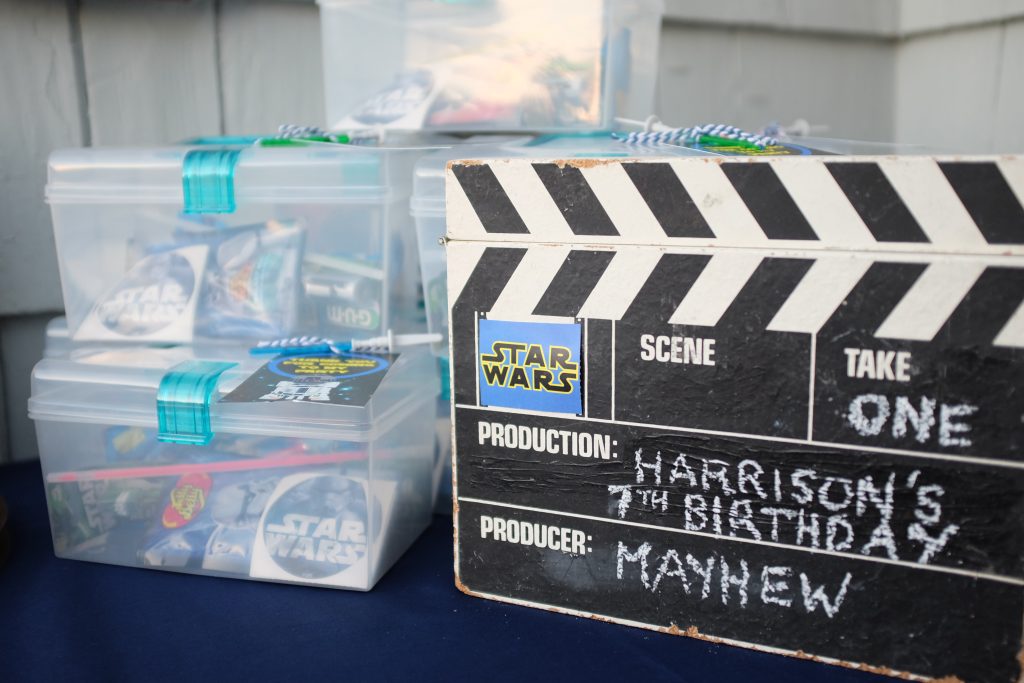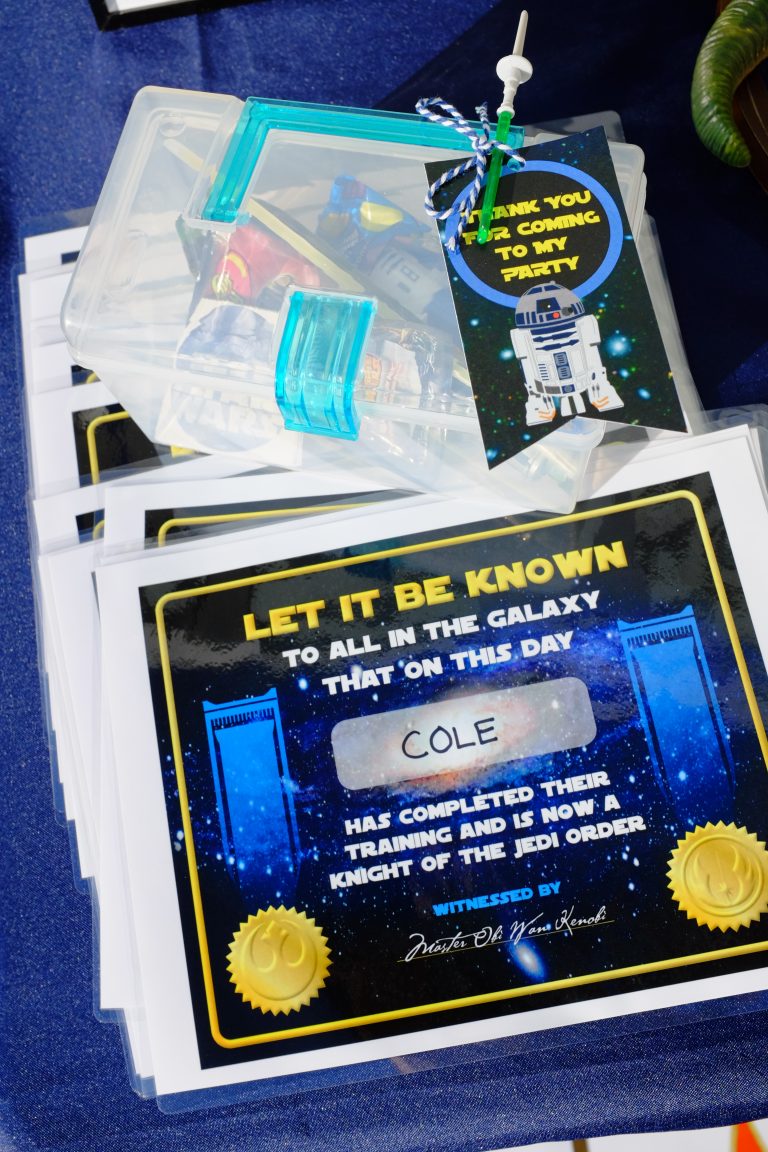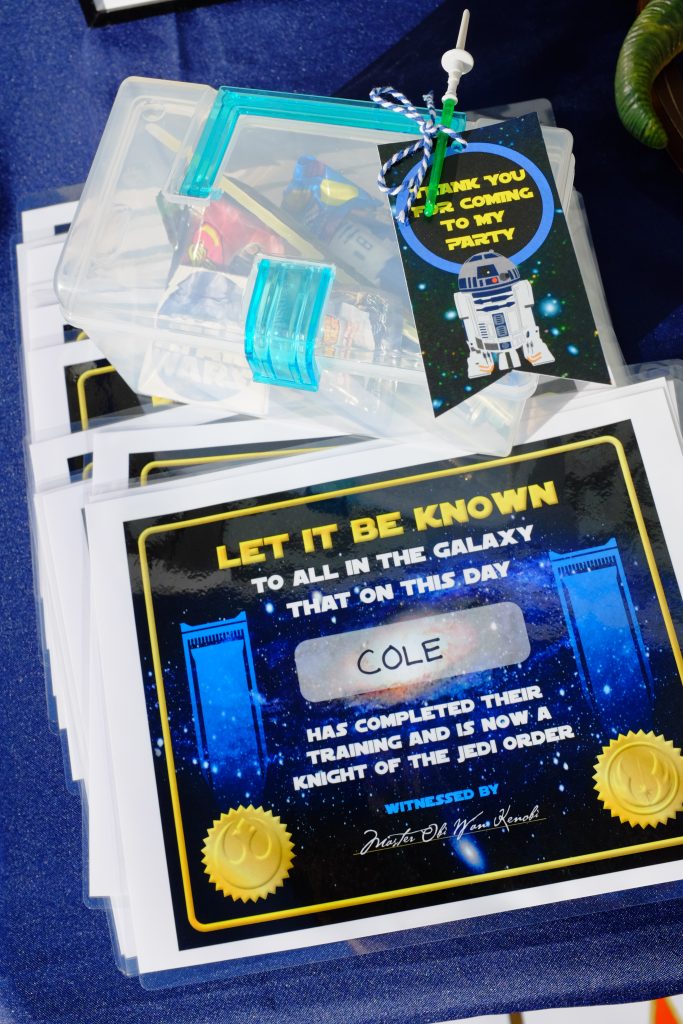 If you follow these tips, you are sure to become an expert at throwing successful outdoor movie parties!
Be sure to check out my Amazon shop for tons of ideas for what you can use for your outdoor movie, all in one place.
And don't forget to take a peep at my Star Wars Outdoor Movie Birthday Party for more Star Wars-specific ideas!
Happy Movie-Watching!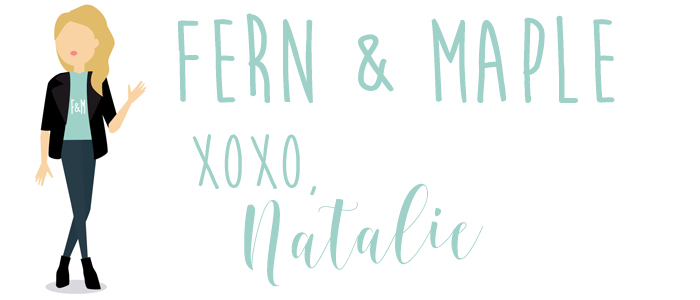 PIN FOR LATER: