Running a summer lemonade stand is often a child's first business experience. They're never too young to learn some of these skills! A lemonade stand can not only teach valuable lessons about money and customer service, but also be an entertaining summer activity for bored kids. Use these 10 Steps for Setting up the Perfect Summer Lemonade Stand to make sure your child is successful in their first fun business venture!
As a blogger, I sometimes receive compensation and/or products in exchange for my styling and crafting services. I also may earn a small commission from any sales that result from affiliate links on this page. As always, all project ideas and any opinions expressed here are my own.  For further information on our disclosure policy please check out our disclosure page. 
How to Set up a Successful Summer Lemonade Stand
1. Gather your Ingredients
The main thing you'll need is, of course, lemonade to sell. Customers often appreciate the use of fresh ingredients – plus, if you use them you can advertise its "fresh and homemade" status. However, if you're low on time, a powdered lemonade mix can work just fine, and may even be tied to a bit of nostalgia for a lot of people. Who didn't grow up drinking Country Time?
BONUS TIP: Make sure to have plenty of ice the day of the sale – in the hot summer sun, these drinks won't stay cold for long!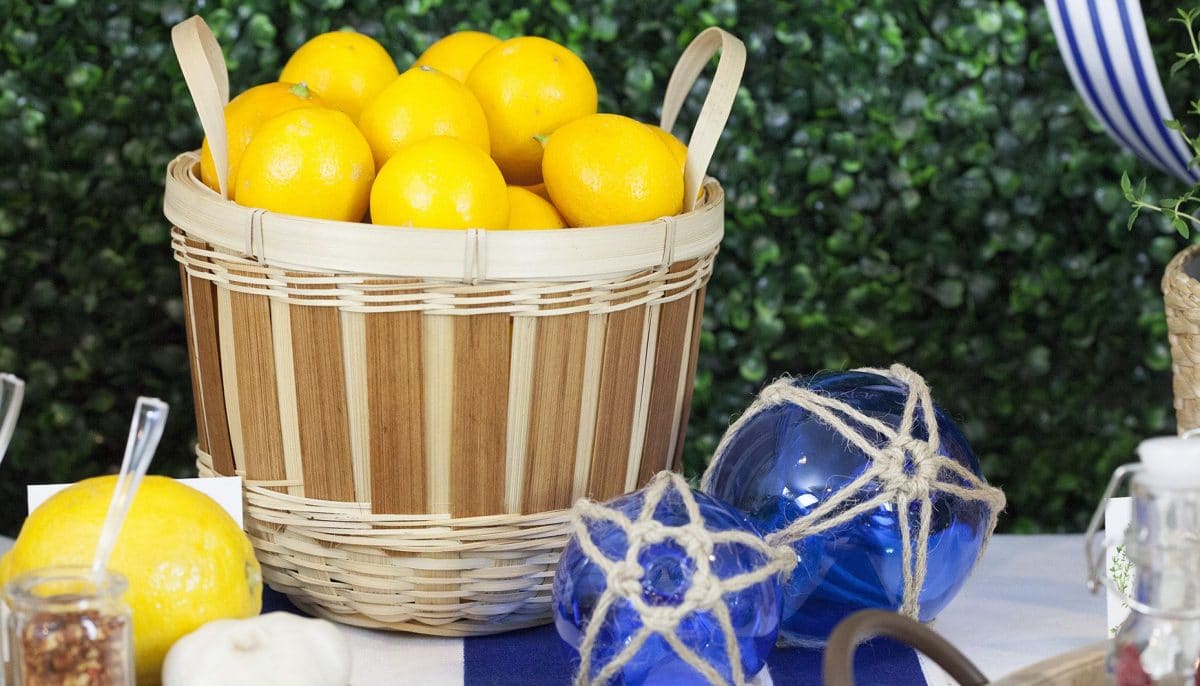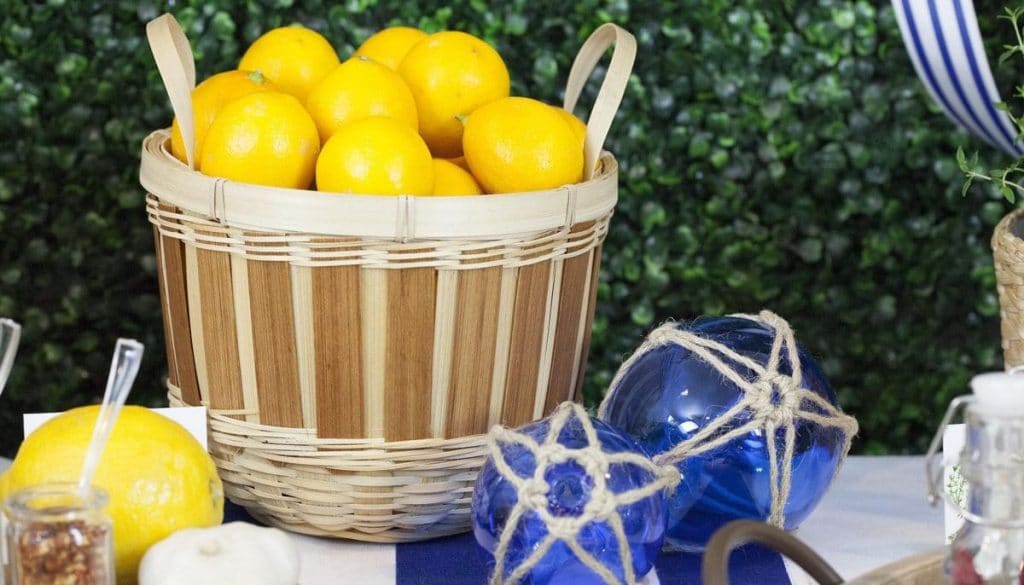 Consider offering multiple options – pink lemonade or strawberry lemonade are popular options in addition to regular.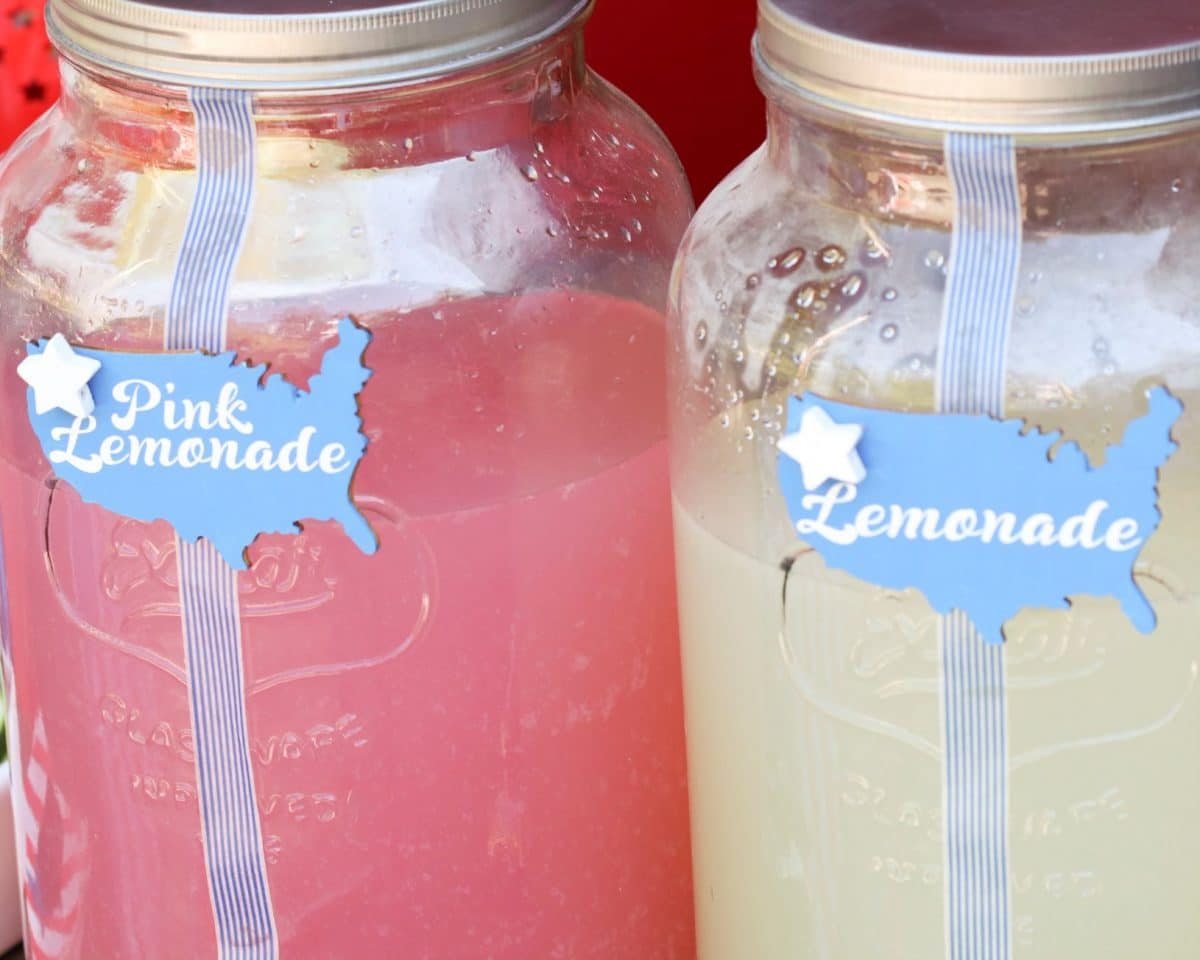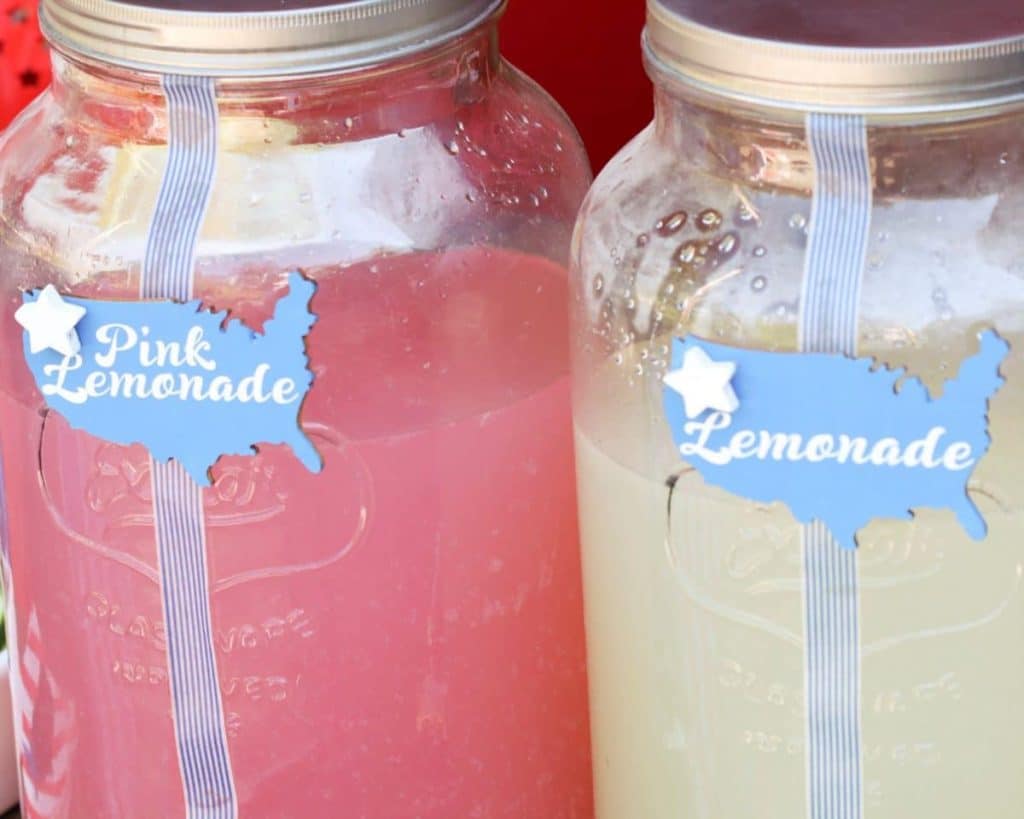 Another option is to prepackage your lemonade in mason jars. This ensures each customer gets the same amount, and works well for younger children who may have trouble pouring without making messes. Plus, these are perfect for on-the-go lemonade drinking!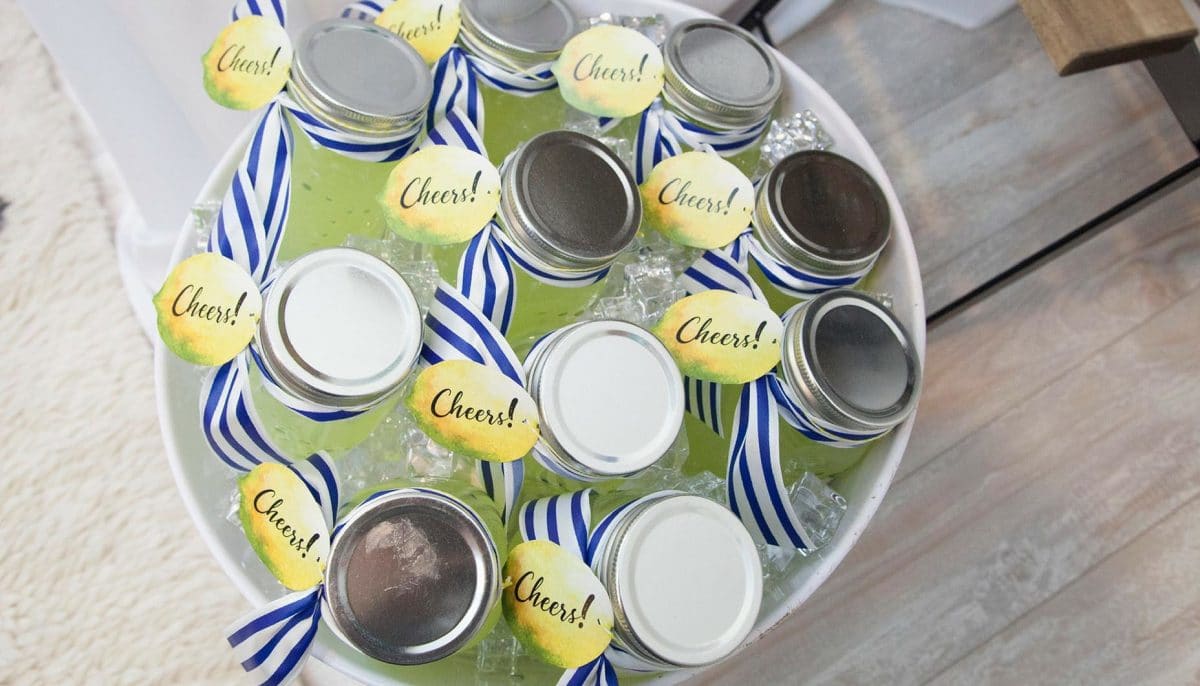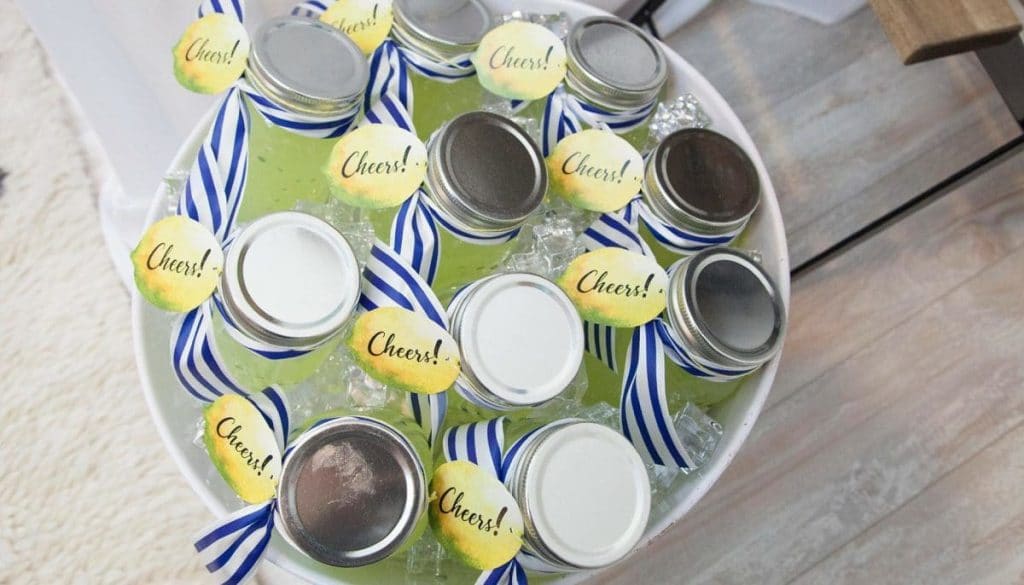 2. Eye-catching Stand
The second thing you'll want to focus on is making sure your stand is attractive to customers. You can use a simple folding table, or build or purchase an actual stand. Whichever you use, it's nice to let children add their own personal touches to it. Bright and bold colors are the way to go to make heads turn and bring the customers in!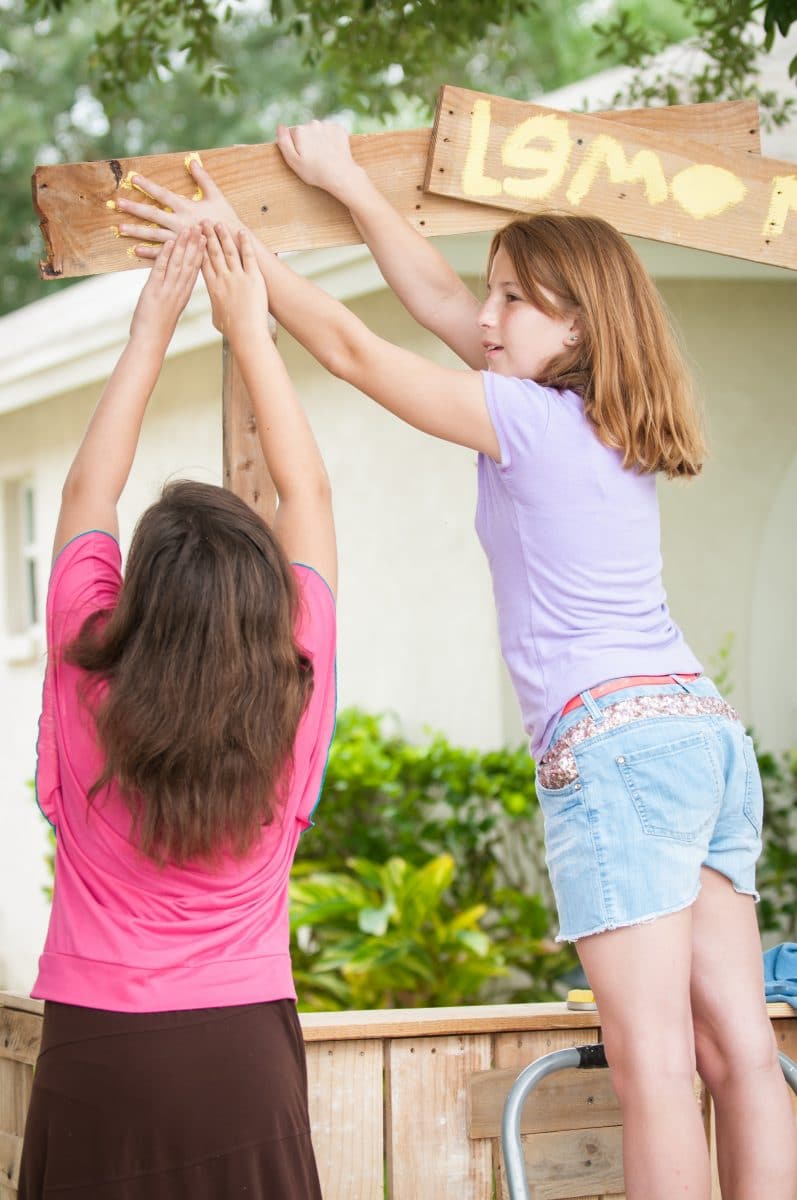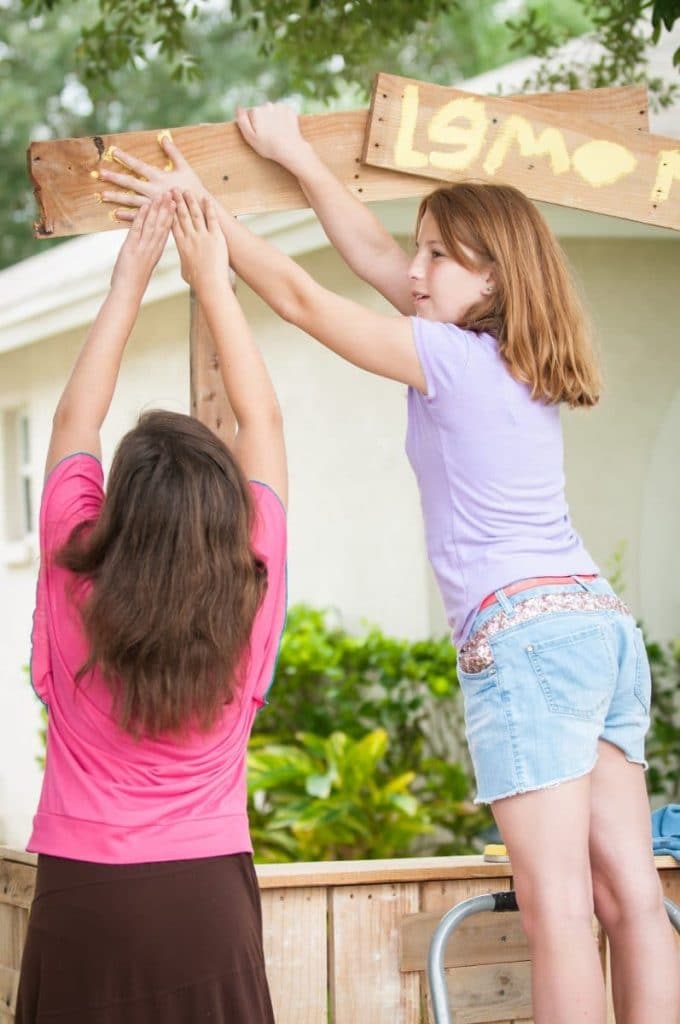 You can also add simple but elegant decor items to really make the stand eye-catching. It can be as easy as adding garlands, displaying some lemons on stands, or slicing up citrus in clear vases or jars. You can also add some florals for a boost of natural eye-catching color.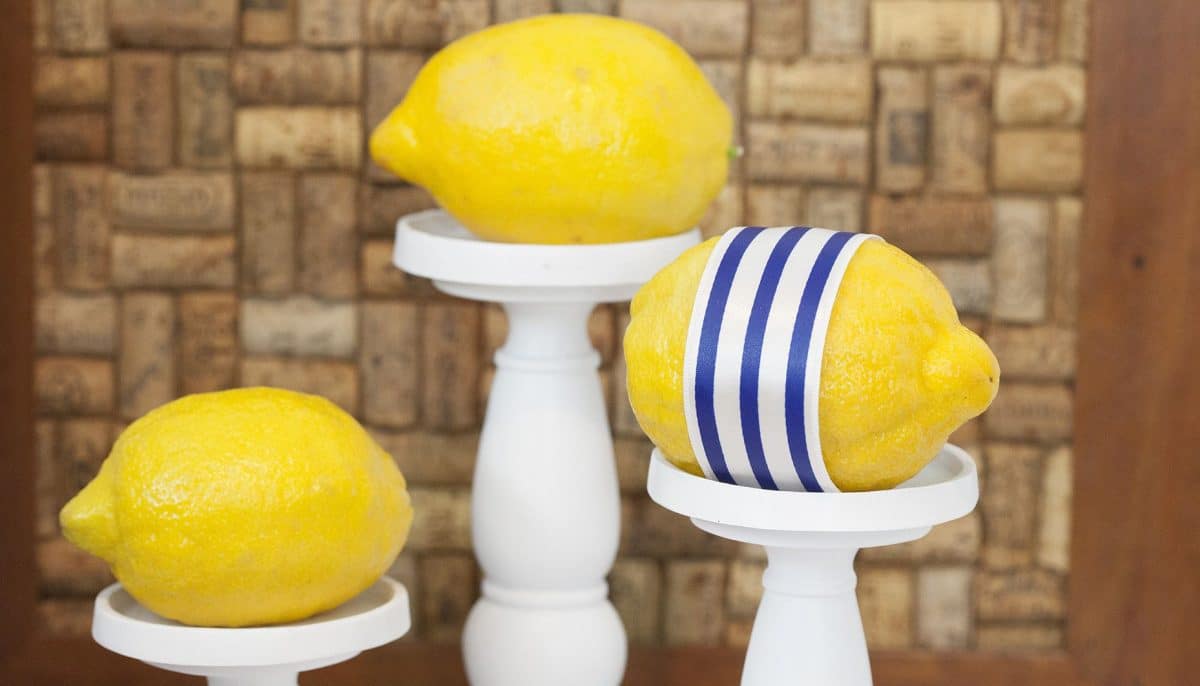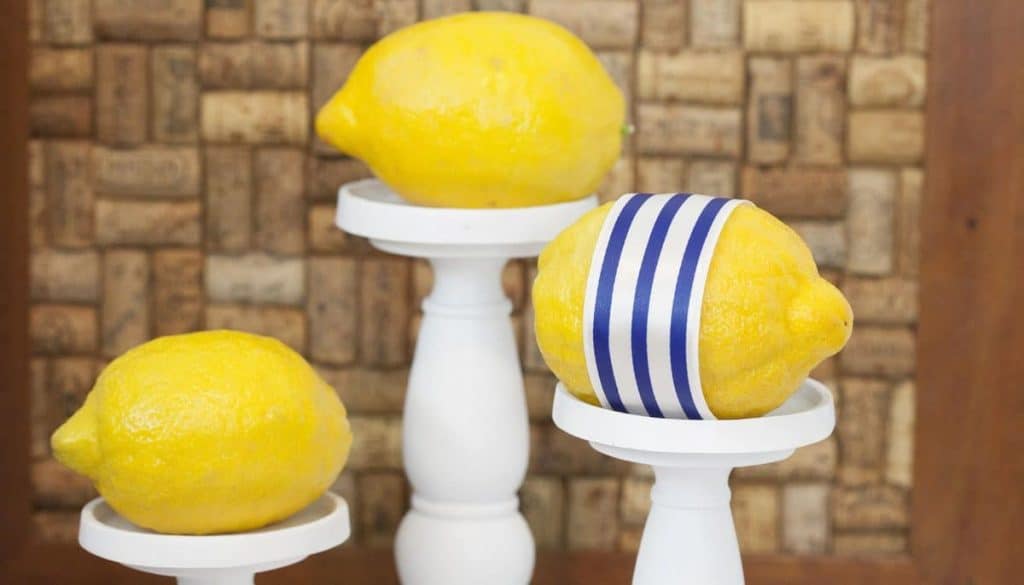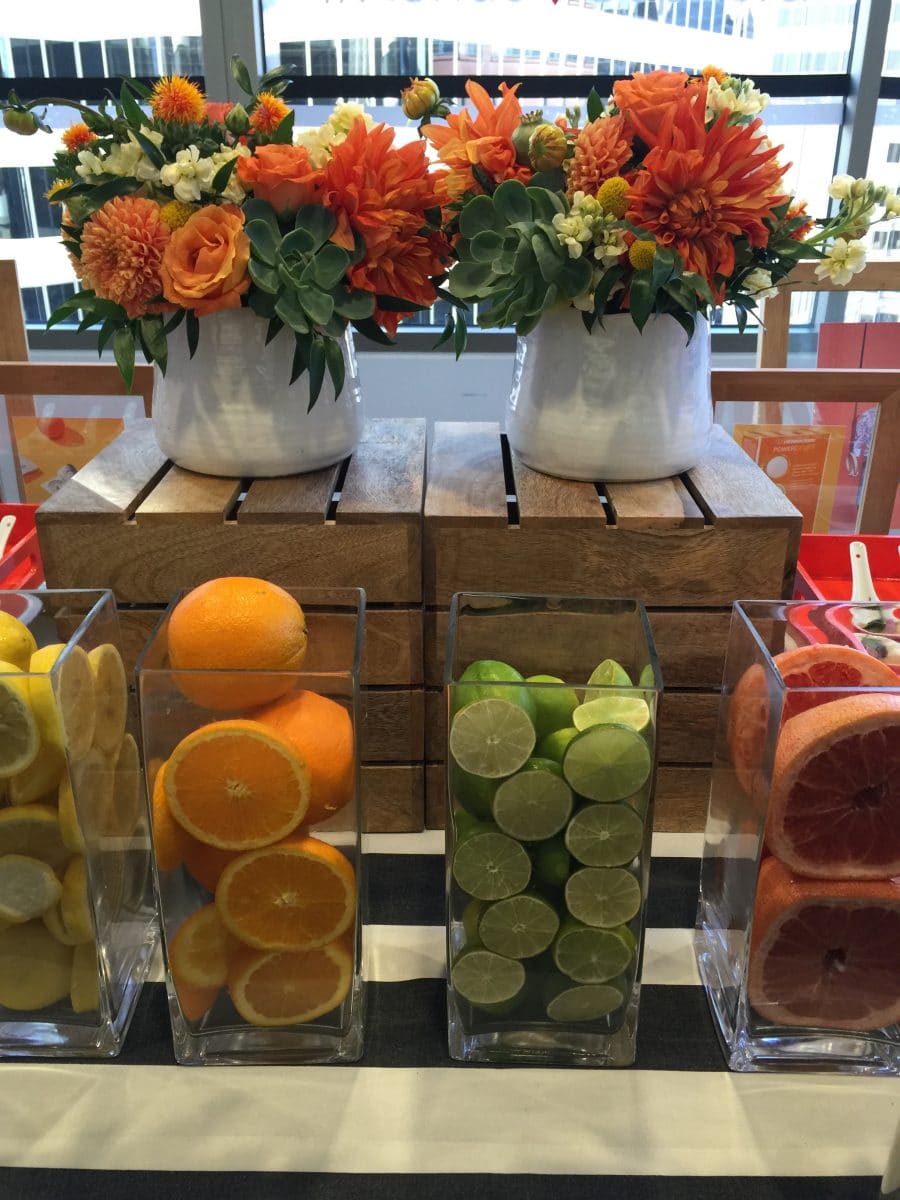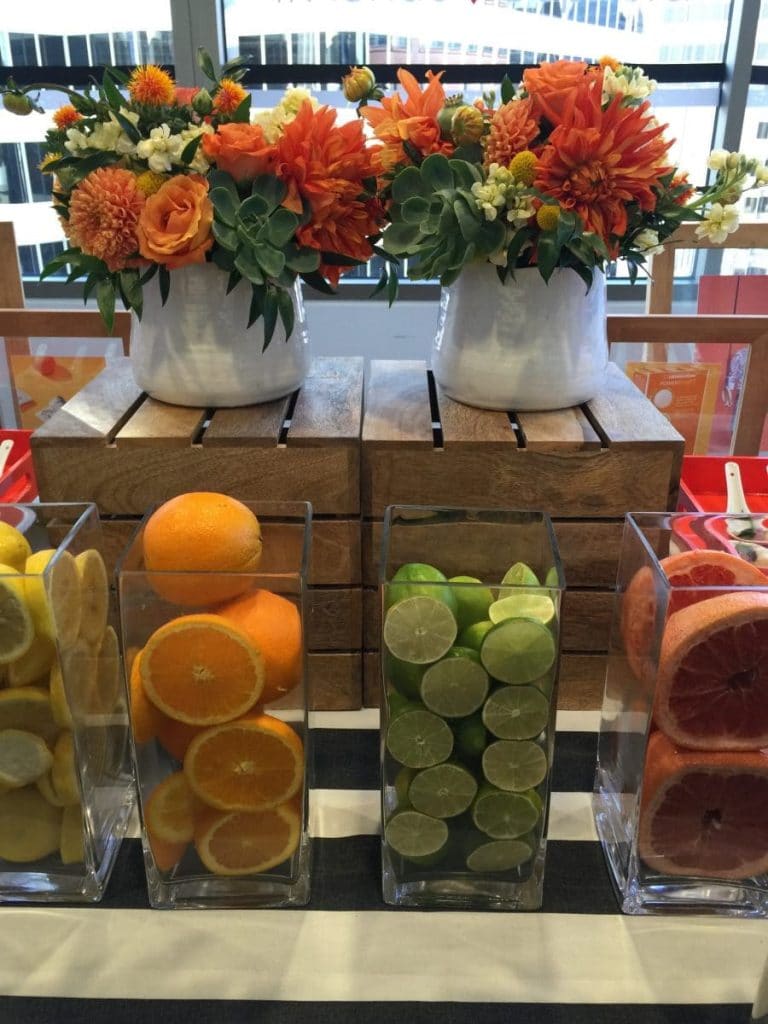 Another great way to decorate your stand is by decorating the actual drink dispenser. Colored masking tape or themed washi tape is perfect for this, as it's easy to remove once the sale is over.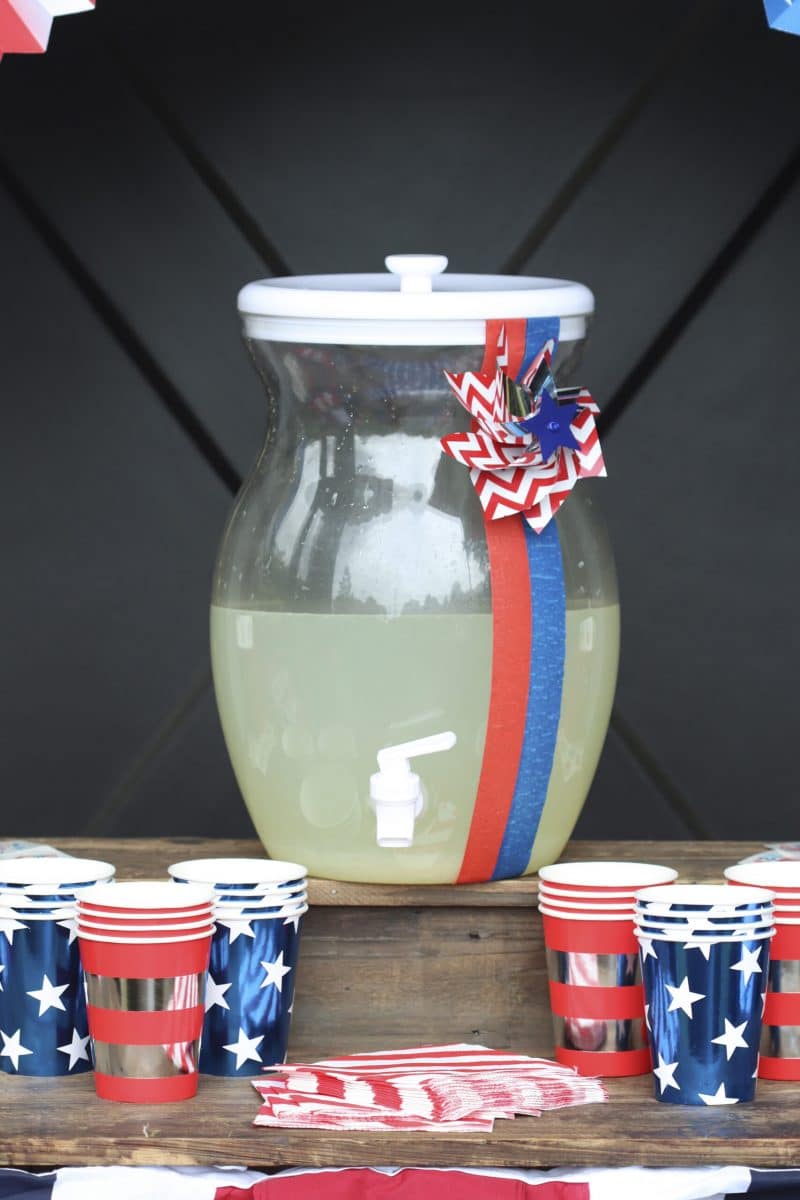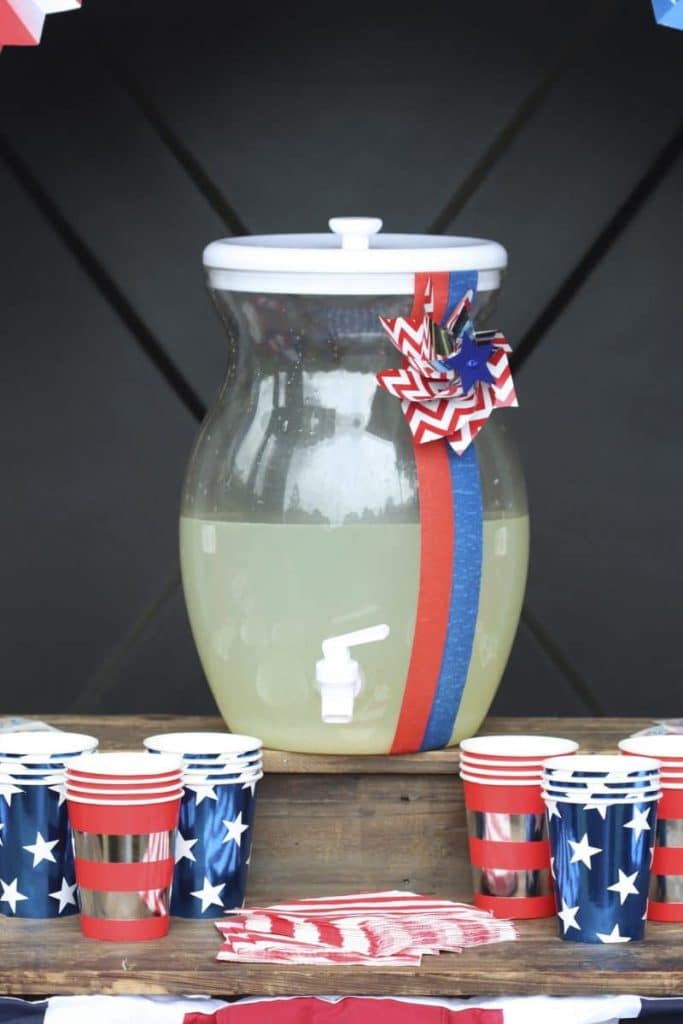 3. Location, Location, Location
Once you have your supplies and your stand ready, you'll want to plan out a good location for your stand. In front of your house isn't always best, if it's not somewhere that gets a lot of foot traffic. The last thing you want is an excited child losing their steam when no one visits their lemonade stand for long amounts of time! Pick a busier main street in your neighborhood, or (with permission) set up in a public park or in front of a store.
Alternatively, plan to offer a drive-through lemonade service. Set up your stand close to a road where customers can easily and safely pull over, and stay in their cars for the transaction. You may be more likely to get customers who are in a bit of a rush this way.

4. Timing is Everything
In addition to location, consider your timing. A weekday in the middle of the day is unlikely to get as much traffic as a weekend day or a weekday after work hours. Afternoon, when it's hottest out, might be your be a better bet than a cooler morning or evening – anyone outside during the heat of the day is going to need a refreshing drink to stay cool! You could also think about planning your lemonade stand (with permission) during a community event, like a block party, to ensure a steady stream of customers.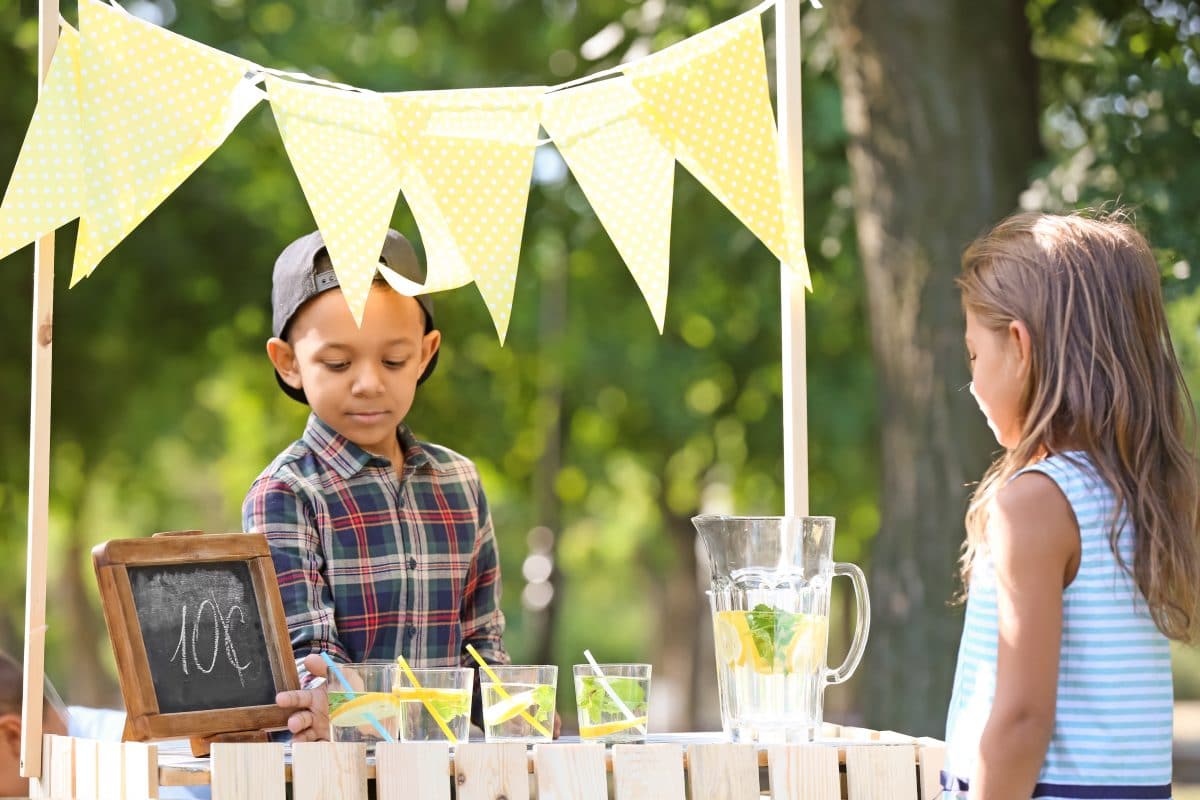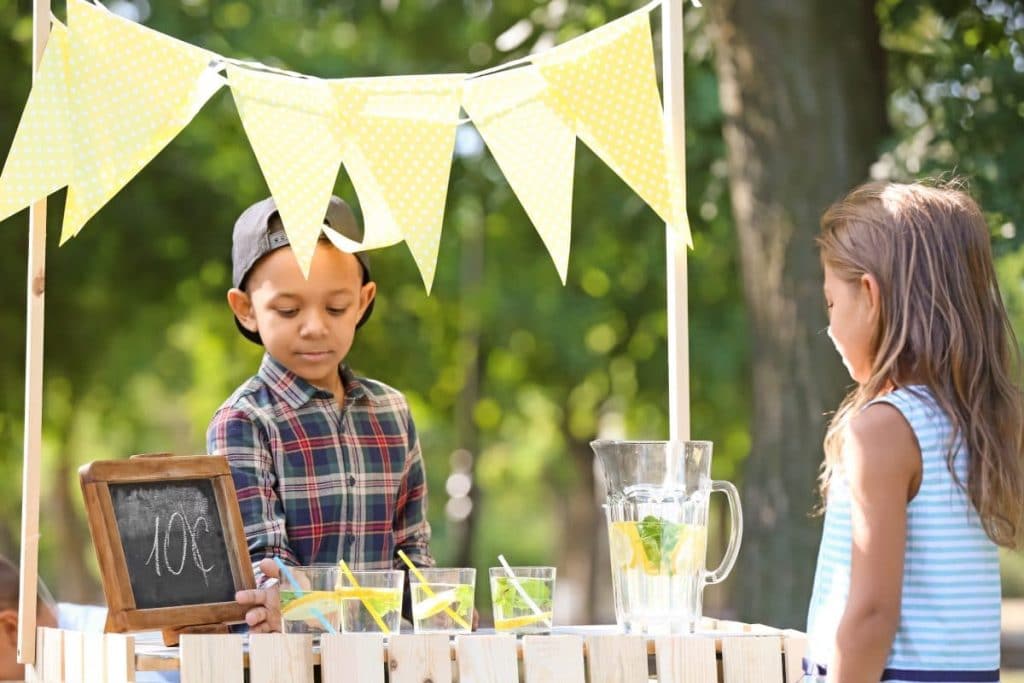 5. Sell It
Rather than only relying on your eye-catching stand to attract customers, plan a little in advance and do some advertising! Have your kids help make flyers to distribute to neighbors a few days before the sale. You can also post pictures of their advertisements in online community groups, if allowed, or on social media.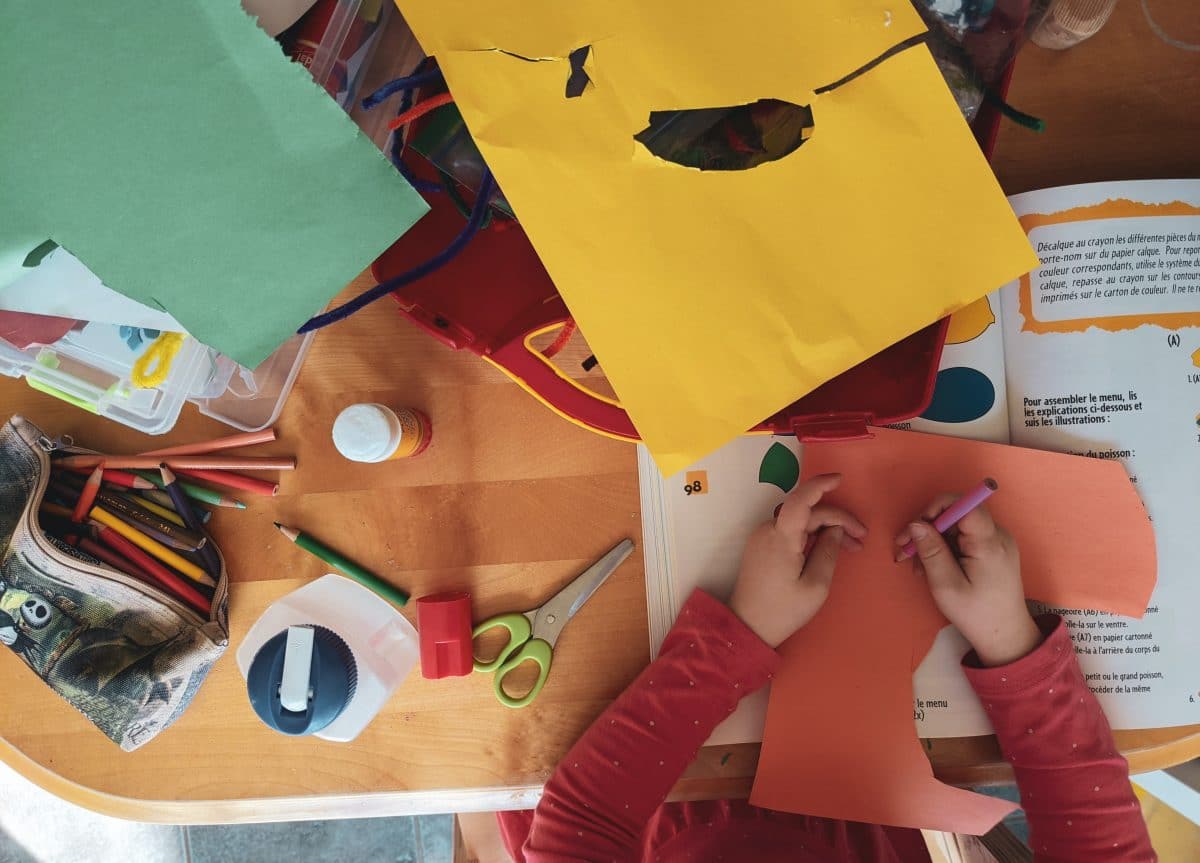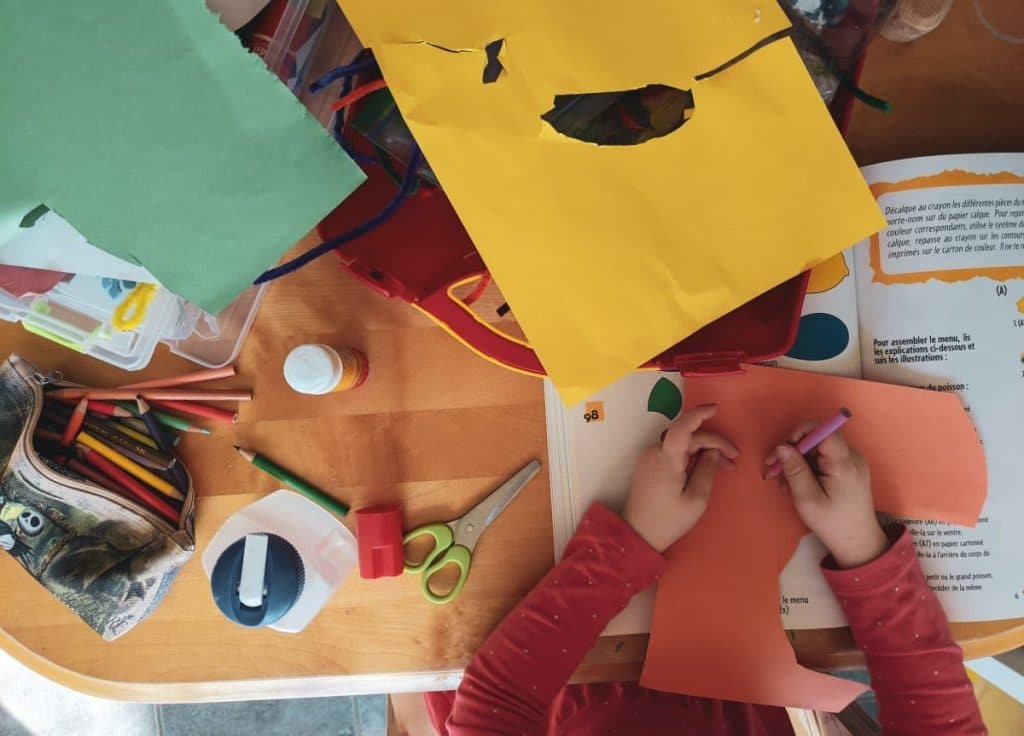 6. The Price is Right
You'll want to make sure your price is right – not too high, and not too low. A lot of this will depend on how fancy you make your lemonade. You may be able to charge a bit more for homemade lemonade with fresh ingredients, or lemonade that's been elevated with additions (see step #9). Alternatively, you could employ a "pay what you want" model, rather than setting a specific price. Often, customers will pay more in support of your child's first business…particularly if there's a charity component (see step #10).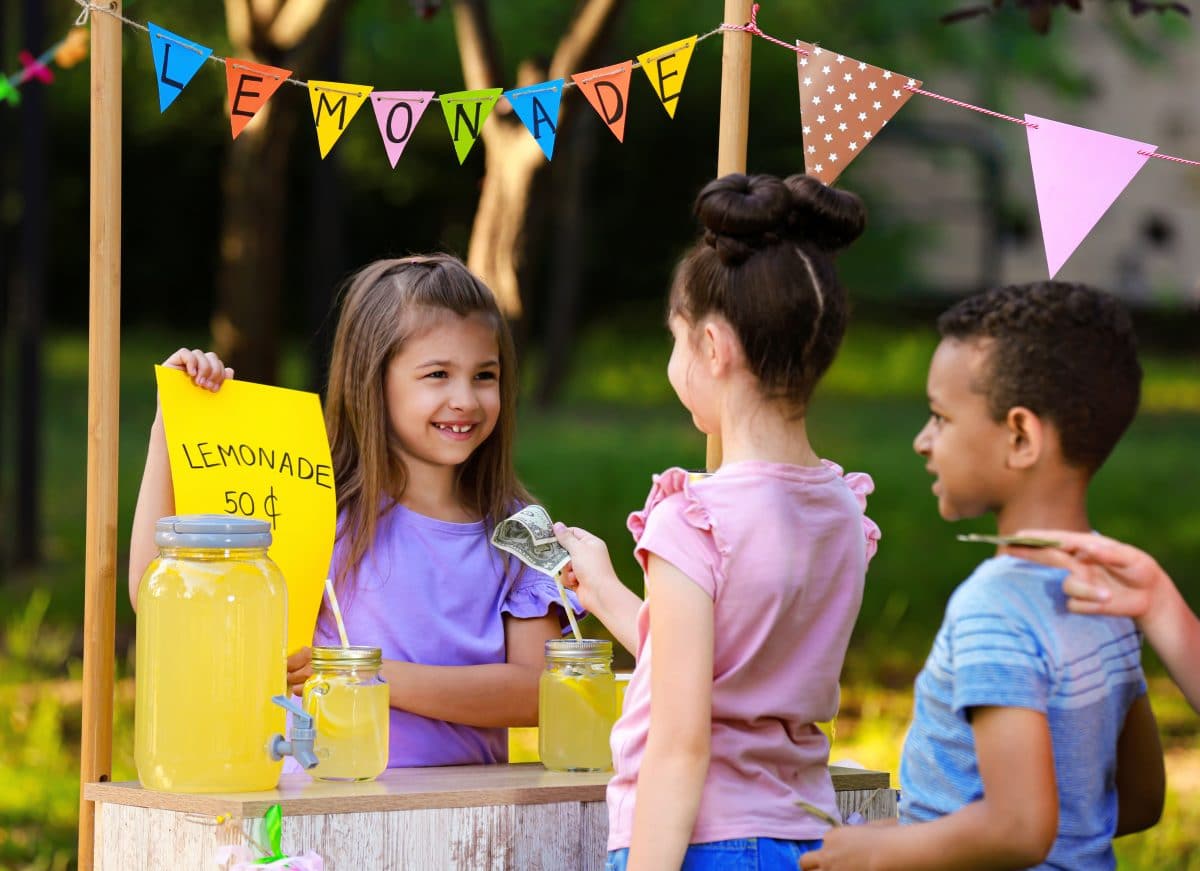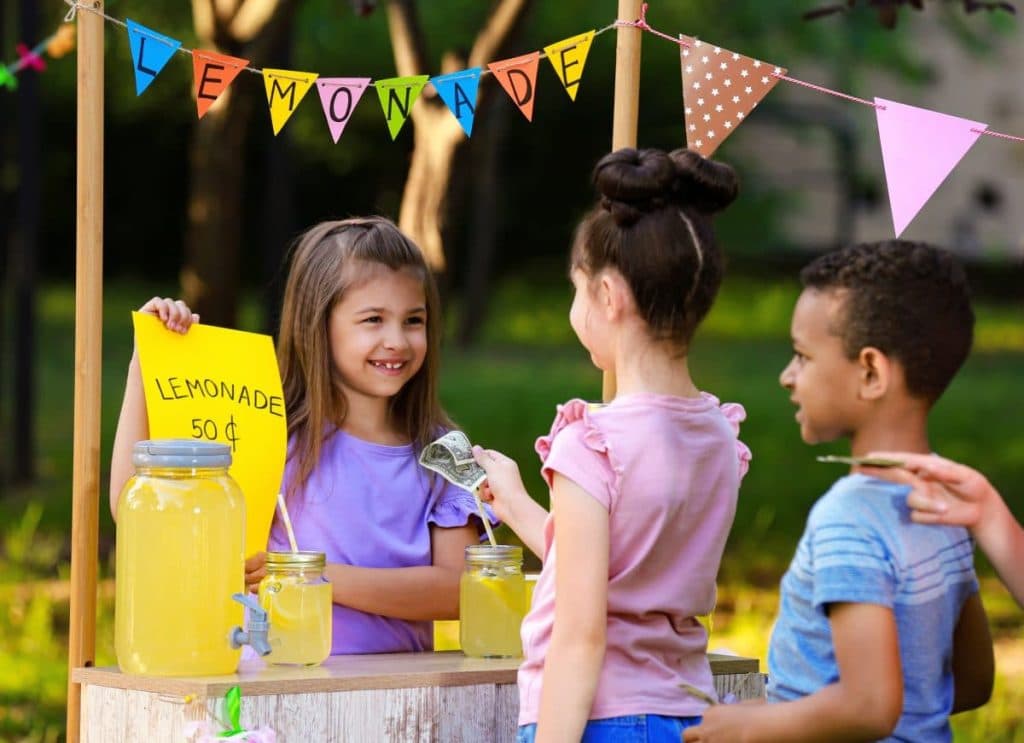 7. Practice Makes Perfect
Before sending children off to become little salespeople, spend some time talking about customer service. Being friendly, asking appropriate questions, pouring lemonade, and making change are all things you can practice with your child in advance. Of course, depending on their age, you may need to provide supervision and help with running the stand, but every child will have more confidence in their responsibilities with a bit of advanced practice.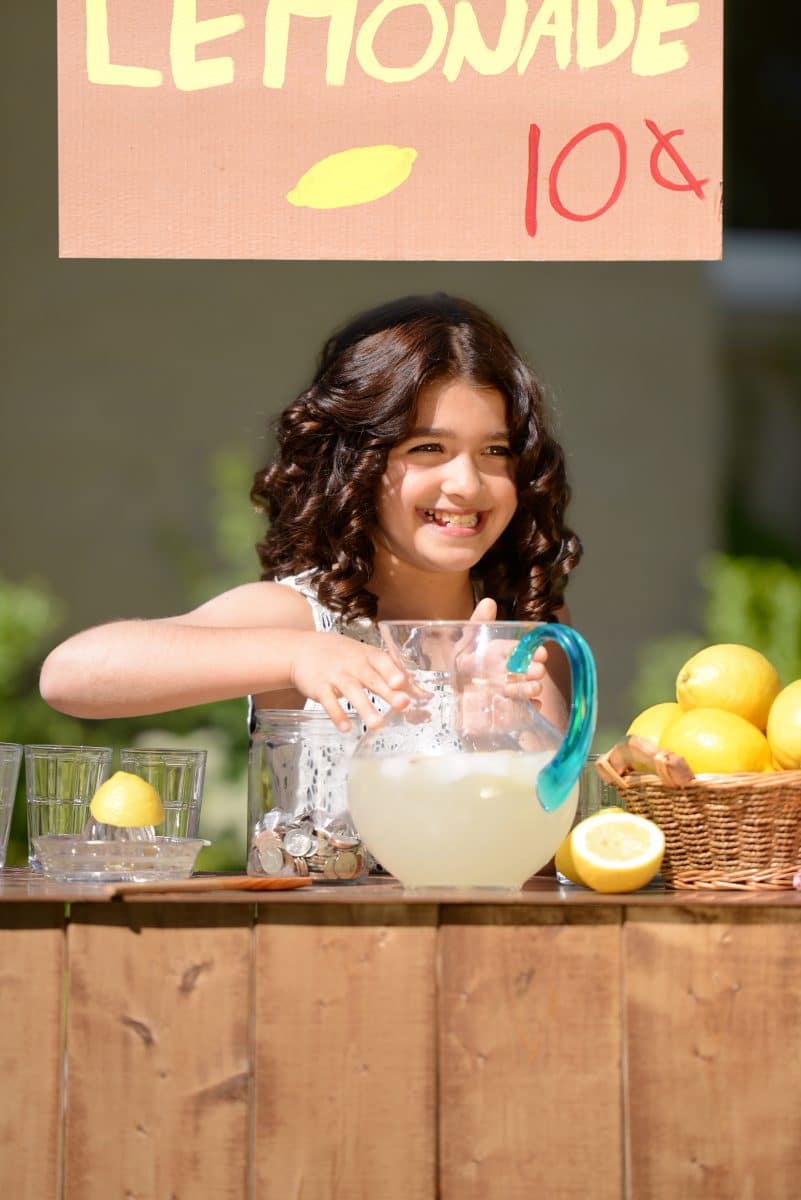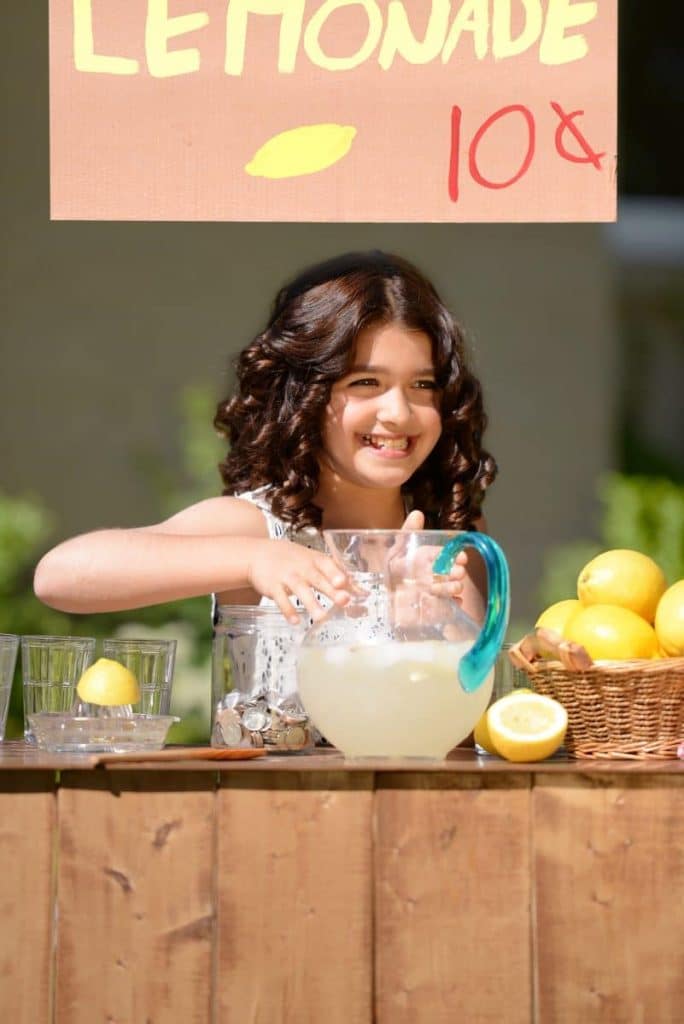 8. Arrange Ample Accessories
In addition to the lemonade itself, you'll need accessories! Cups are the most basic accessory you'll need. Choose cups that are not too large, or you'll run through your product too quickly. Paper straws are also a fun addition, and way to personalize the drinks a bit. Customers will also appreciate having napkins for containing the condensation from their ice cold drinks, and in case of any spills. Having dishes of sliced lemons for garnish (or limes if you're selling limeade), adds a really nice extra touch.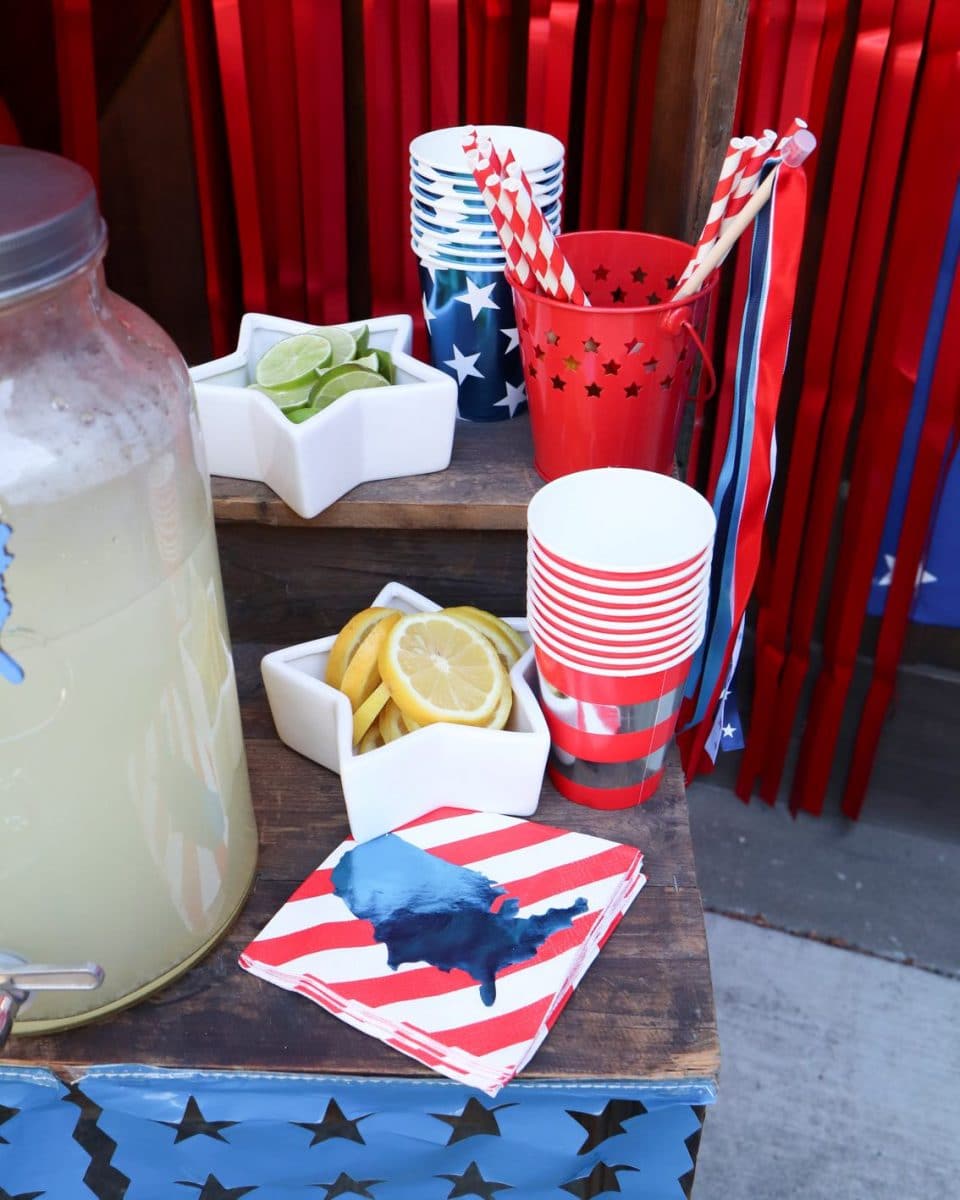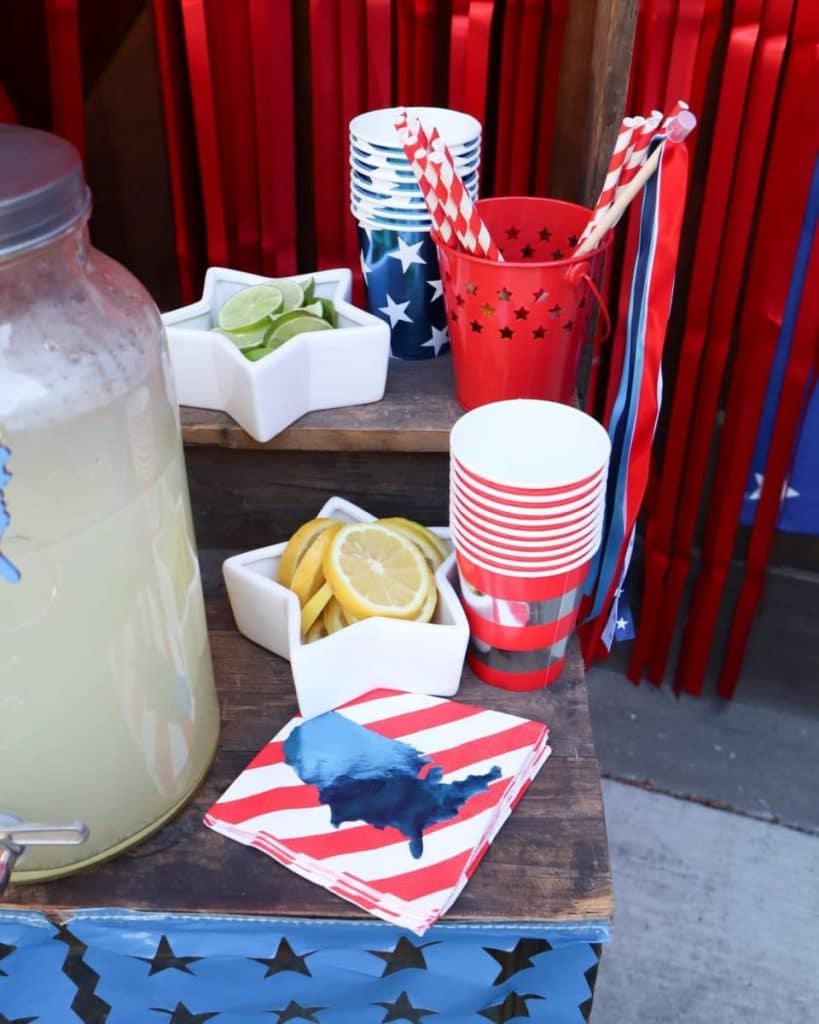 9. Elevate it with Extras
More ways to elevate your lemonade stand beyond simply citrus garnishes are by having a variety of "add-ins" for customers to add to their drinks. Fruit, fresh mint leaves, and lavender are all great ingredients to add to lemonade for a more unique and luxe drink (that you can charge more for!).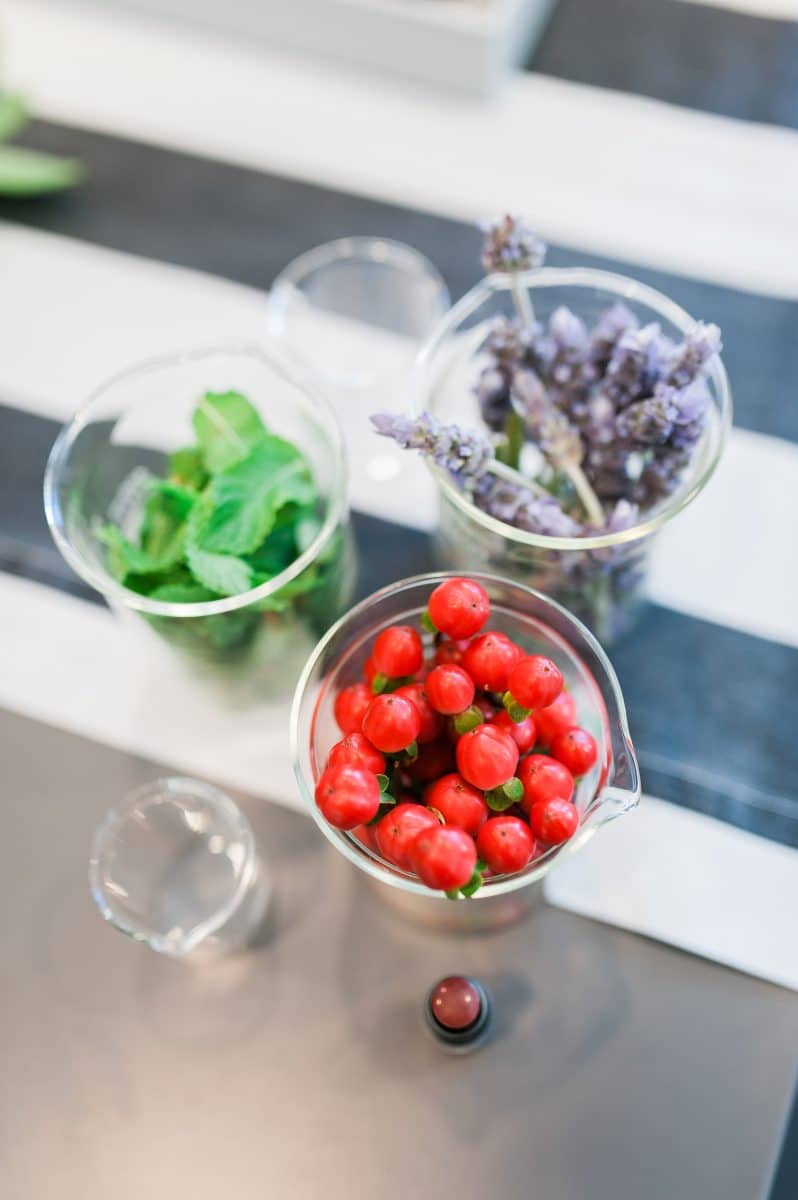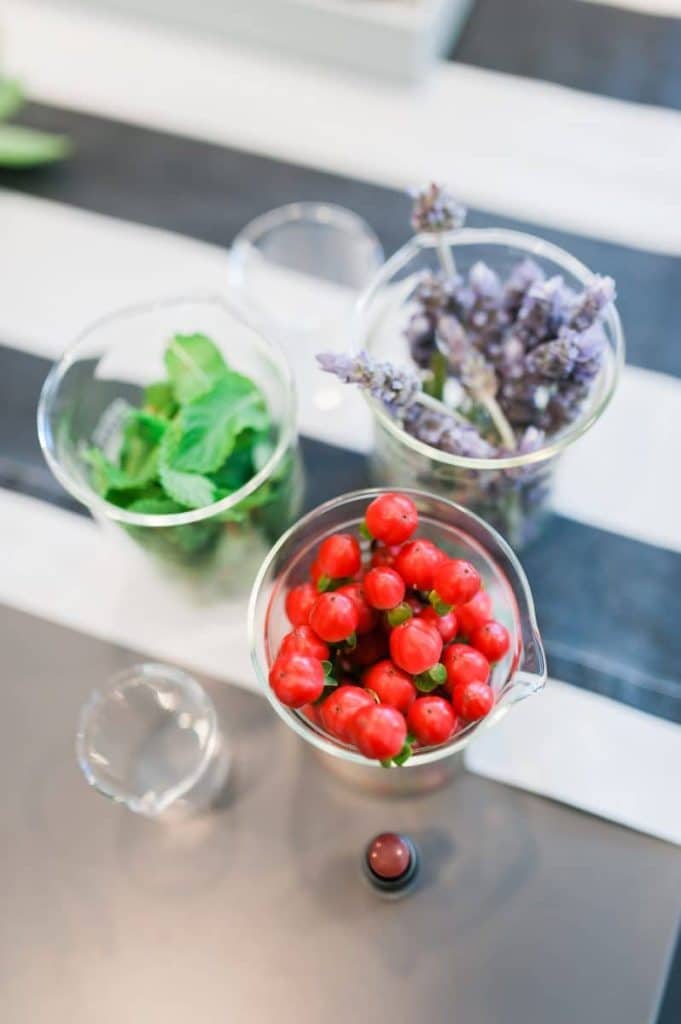 You can also offer easy grab-and-go snacks to make your lemonade stand even more popular! You can charge for these separately, or add them as a freebie for anyone who purchases lemonade (in which case you'll want to make sure you raise your lemonade price a bit).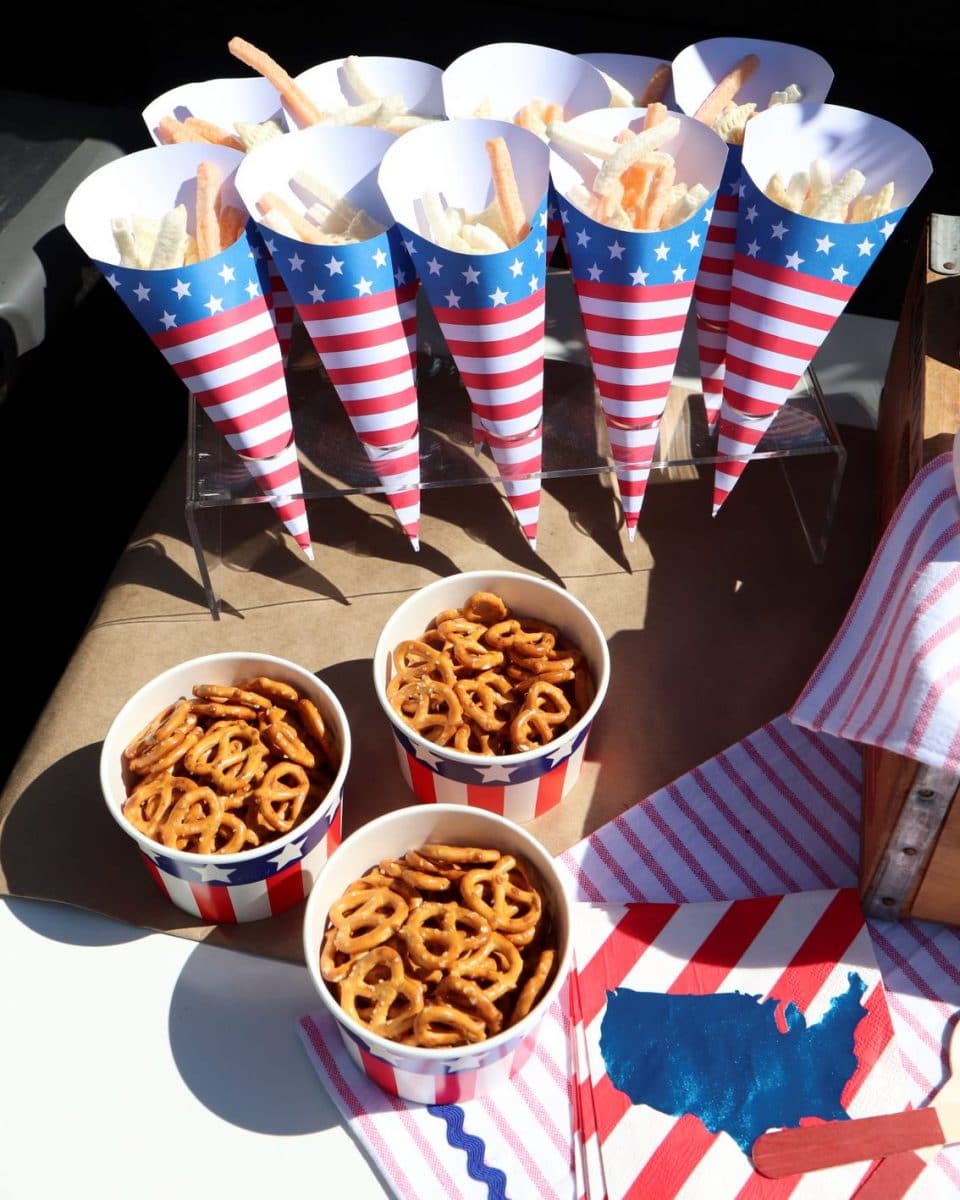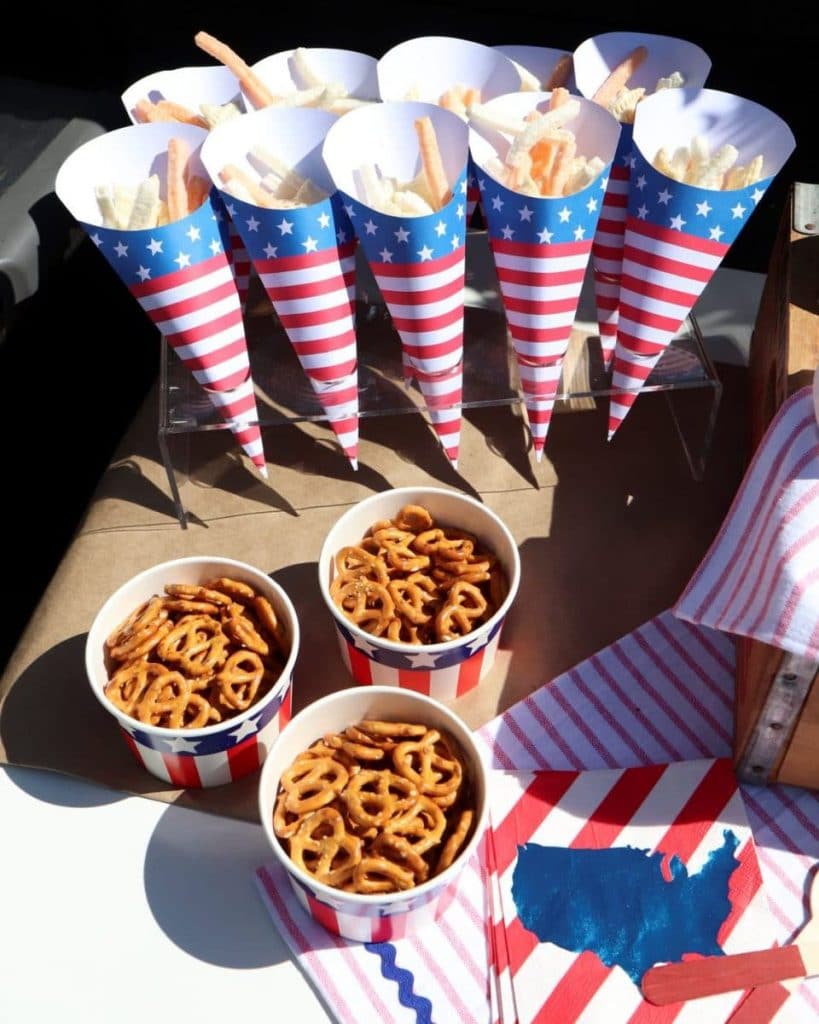 Another way to elevate your lemonade stand is by having small "thank you" gifts for customers. Kids will love temporary tattoos (and you can get them in bulk for cheap!). Or stay in the lemon-theme and offer lemon-flavored candies with their receipts or change.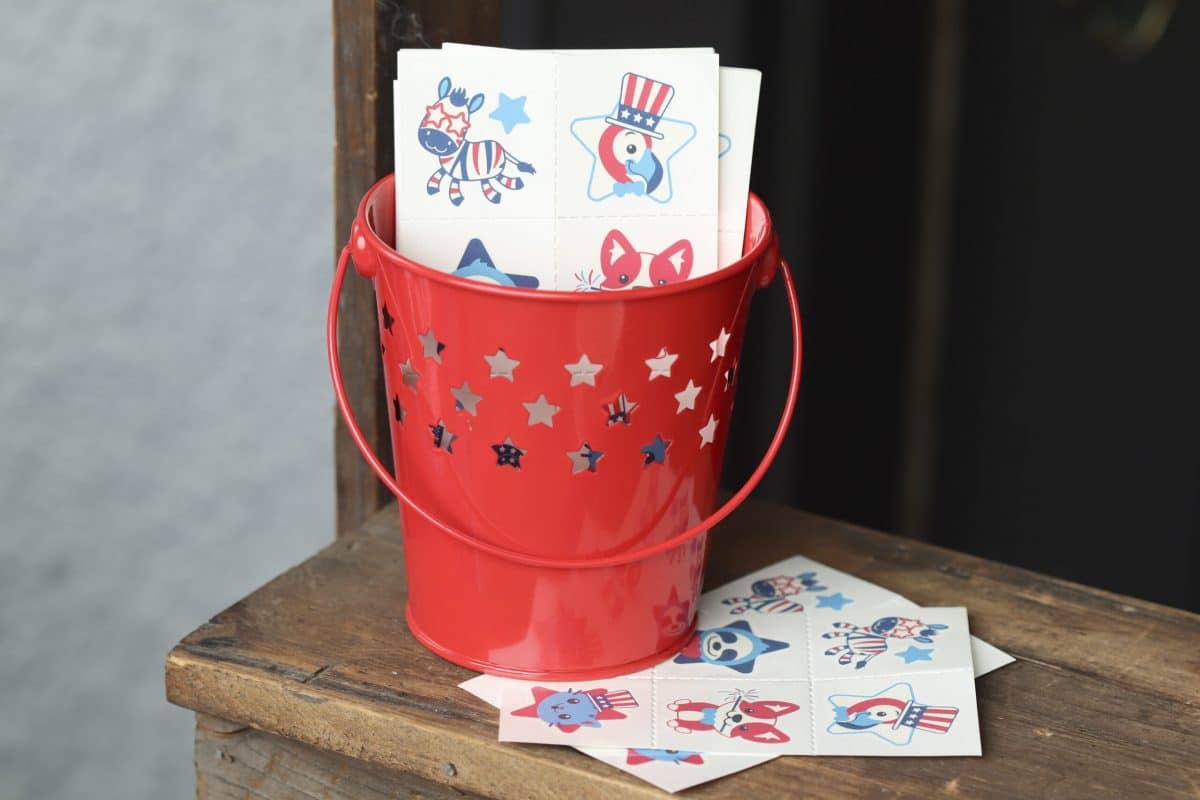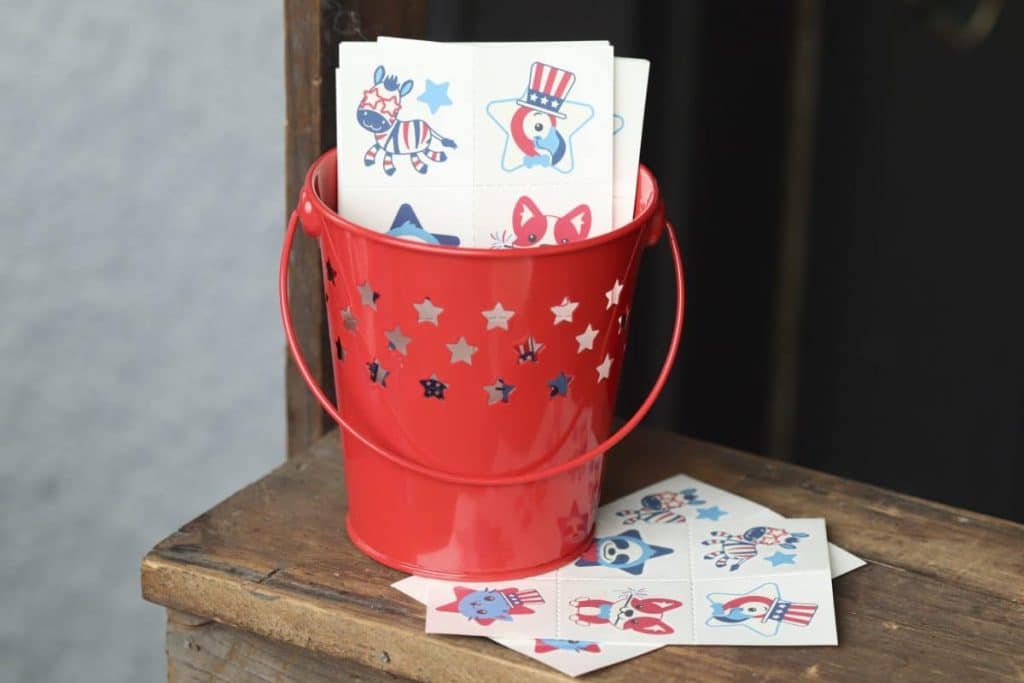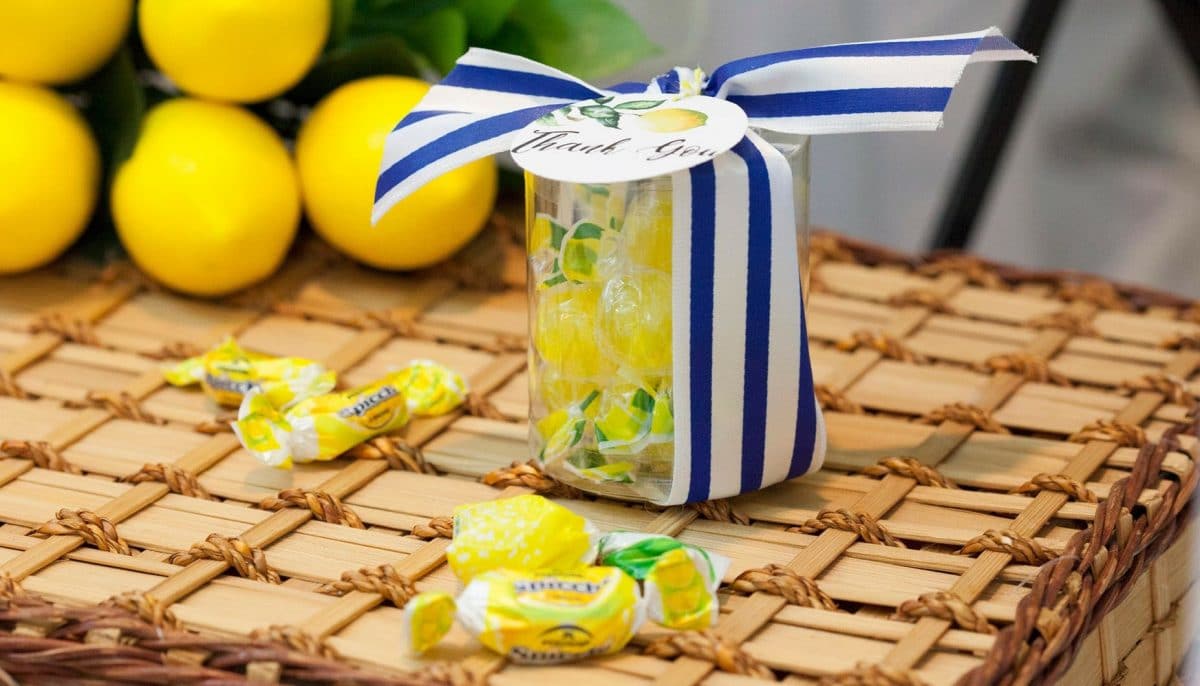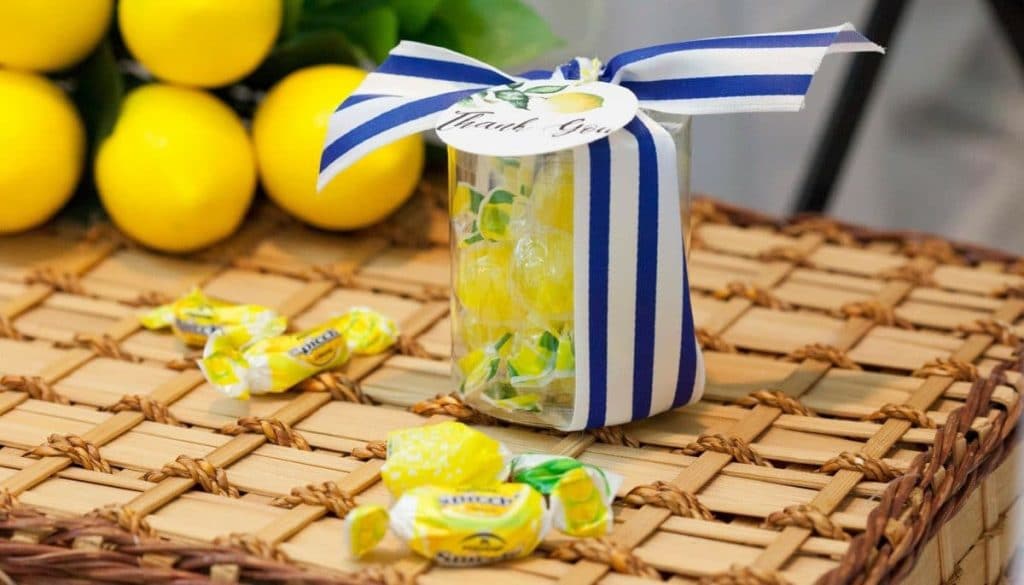 10. Make Change
Speaking of change, there's another wonderful way to make a different kind of change with your lemonade stand. Once the sale is over, it's time to figure out what to do with all of the money your child made. They will certainly want to keep some of the money they earned with their hard work- depending on the age of the child, it's a great time to talk about saving money to reach goals.
However, you could also consider talking to your child about donating a portion of their proceeds to a cause they choose. It's a great way for children to learn about different issues and feel rewarded in contributing to making a difference, in addition to saving a portion for themselves.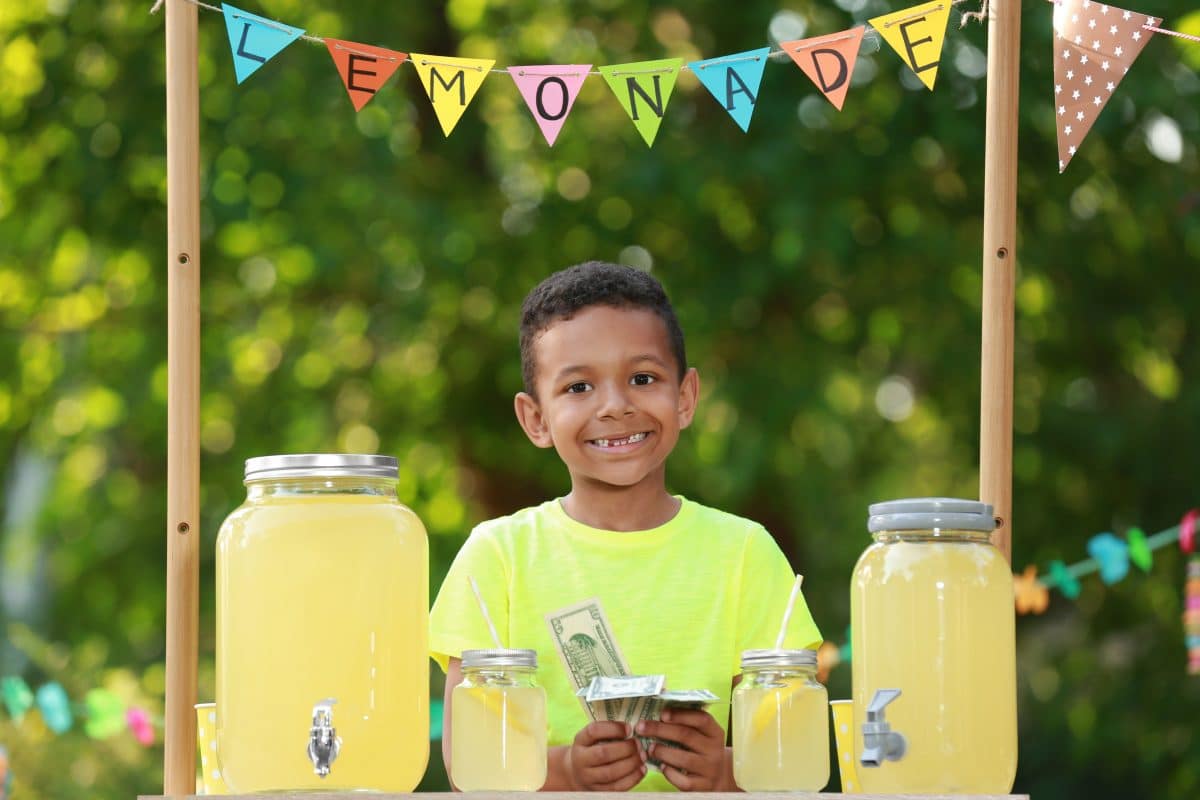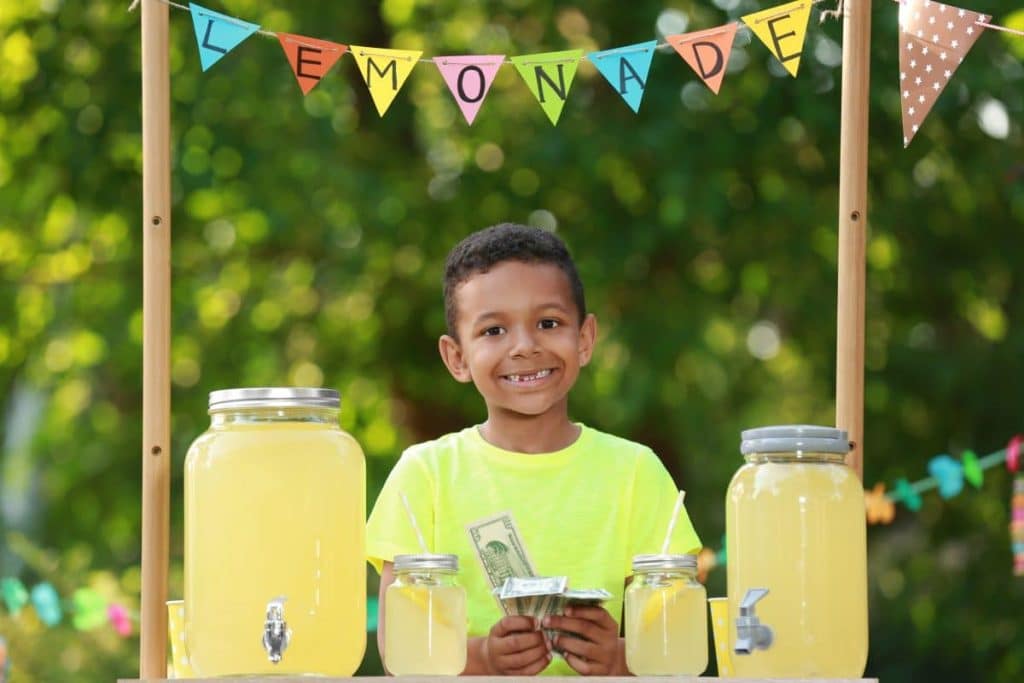 By following these 10 Easy Steps, your child is sure to have a successful Summer Lemonade Stand. And if you want to help other children in your community create their own lemonade stands, consider this amazing idea from my friend Mariah from Giggles Galore, and create your own Lemonade Stand Kit!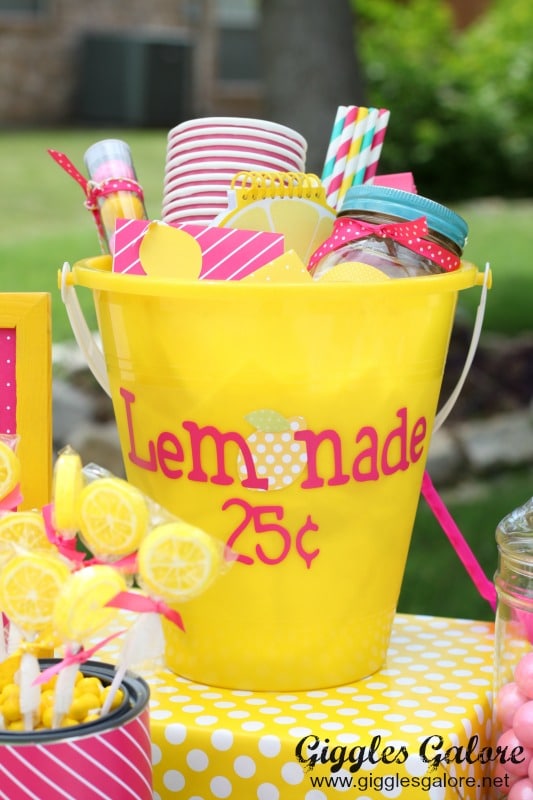 Don't forget to check out my Amazon Shop for an easily shoppable list for your own lemonade stand!
And for more summer fun, check out these posts with tips for hosting successful Summer Birthday Parties and Outdoor Movie Parties, or DIY Summer Centerpiece Ideas!
Happy Summer Selling!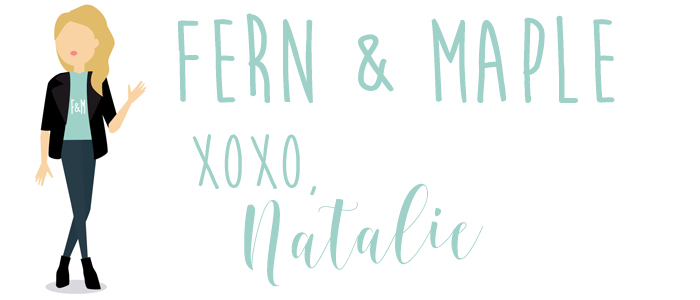 PIN FOR LATER: