Do your kids love space as much as mine do? If your little astronaut has requested a Space or Rocket themed birthday, I'm here to help you deliver with a game changing "party in a box" recommendation, as well as a few tips for those looking to personalize the party further!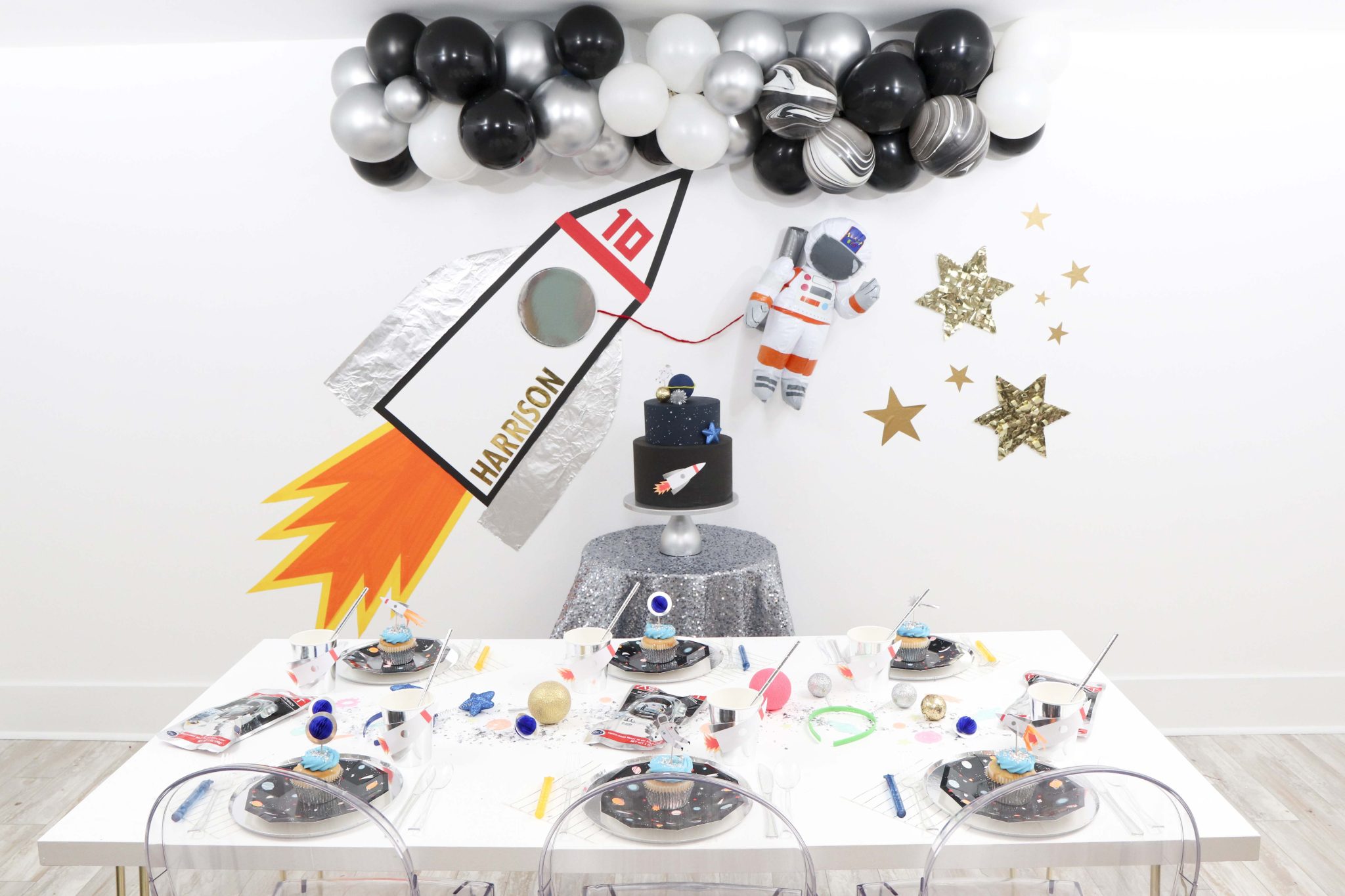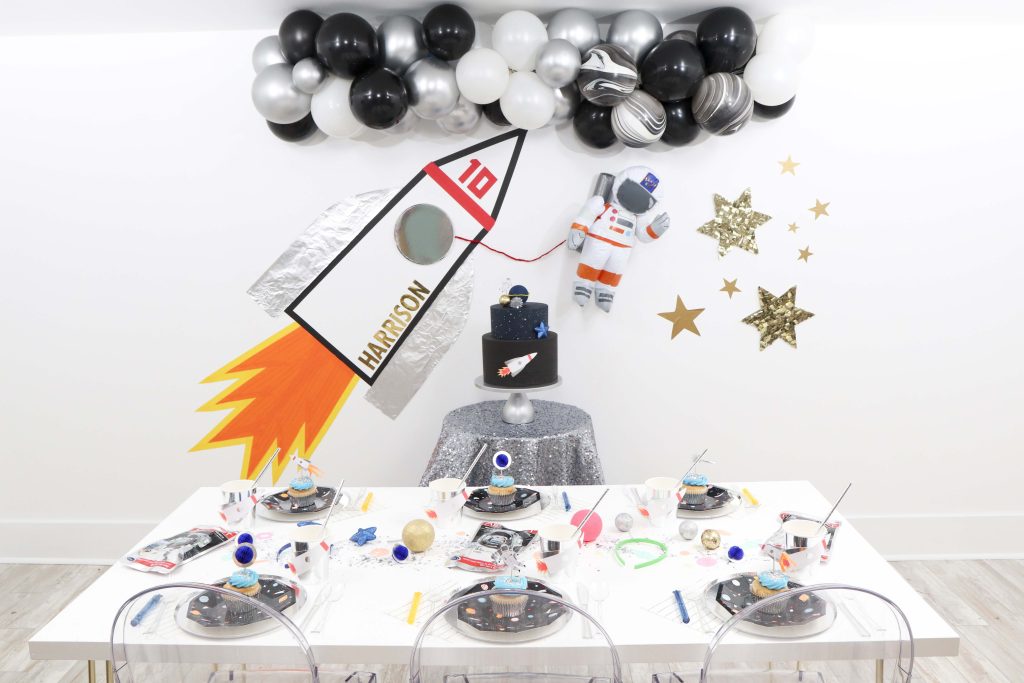 Outer Space is one of my favorite themes, so I jumped at the chance to try out one of the carefully curated party boxes from Party Postess.
The Outer Space Birthday Box has everything you need to make your party a celestial sensation. Madison & her team really deliver the party to you! No more rushing around trying to source everything you need, they take all the stress out of planning.
WHAT DO YOU RECEIVE IN YOUR PARTY BOX?
Firstly, I was really impressed with the packaging! Anyone else love a thoughtfully packaged box? It's so fun opening the box and removing layers of tissue and space themed stickers to reveal carefully coordinated tableware in a palette of black and silver, with illustrated planets and rockets. You can select supplies for a varied number of guests, ranging from 1-8 to 24 guests.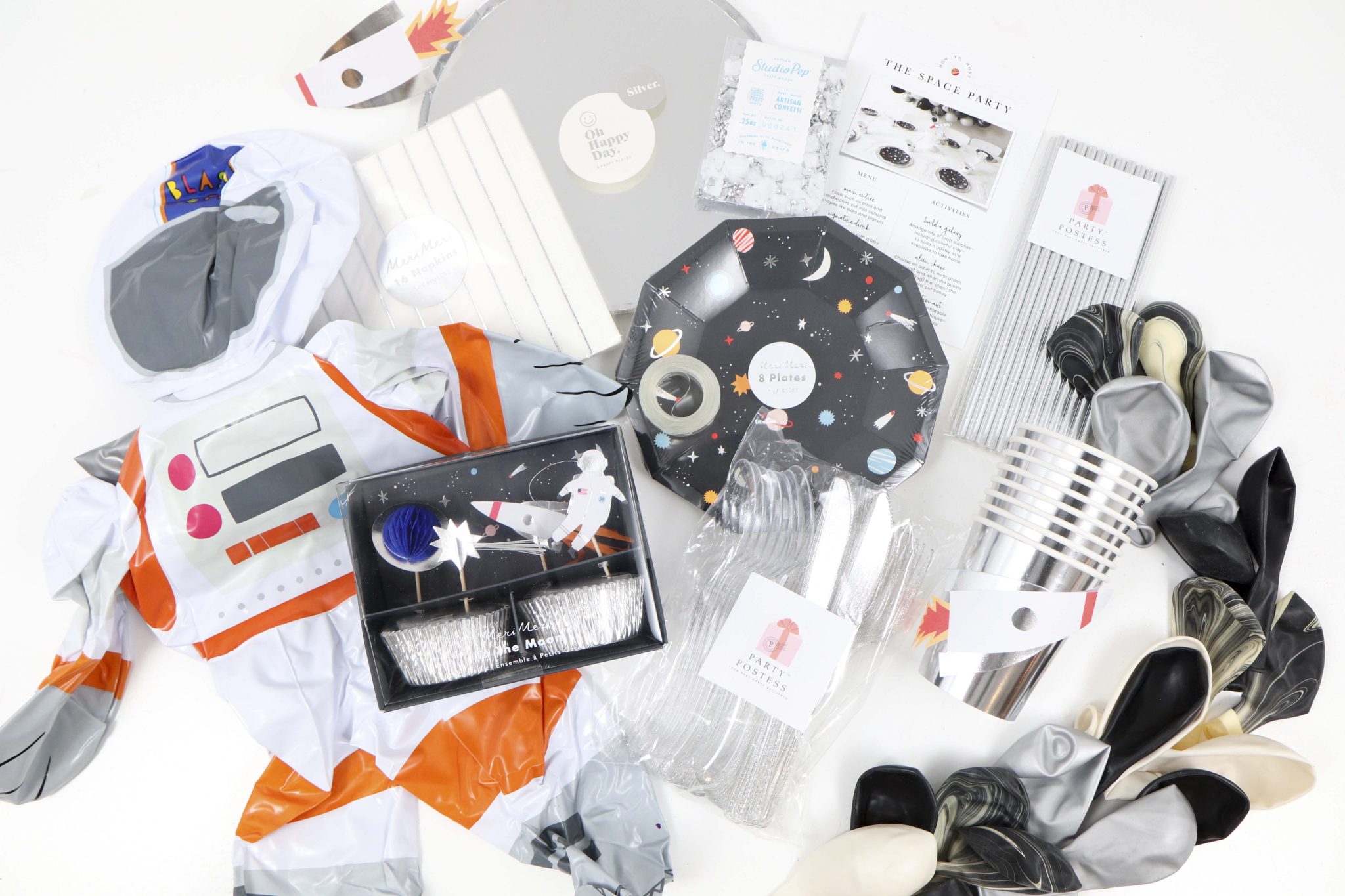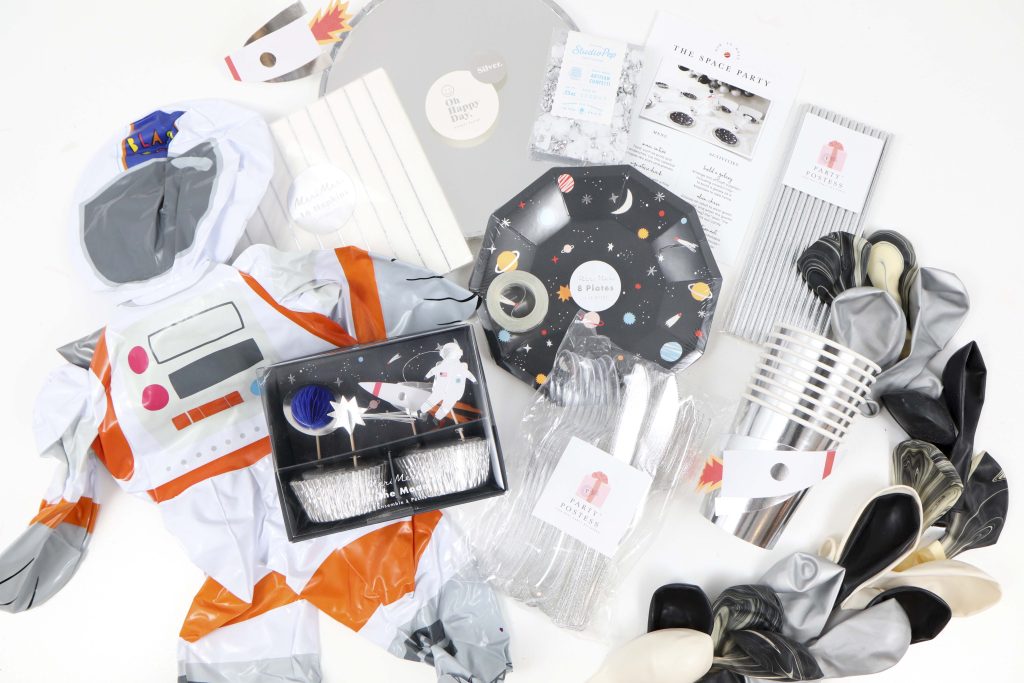 Party Postess offers plenty of affordable add-ons to decorate the room and create a dessert table that ties in perfectly with the tableware – from balloons and confetti, to a blow up astronaut and cupcake kit. My favorite part of the kit was The Postess Guide™.  You can create the set-up pictured on the card with helpful styling tips, and you'll also find plenty of ideas for the menu and party activities.
SETTING THE TABLE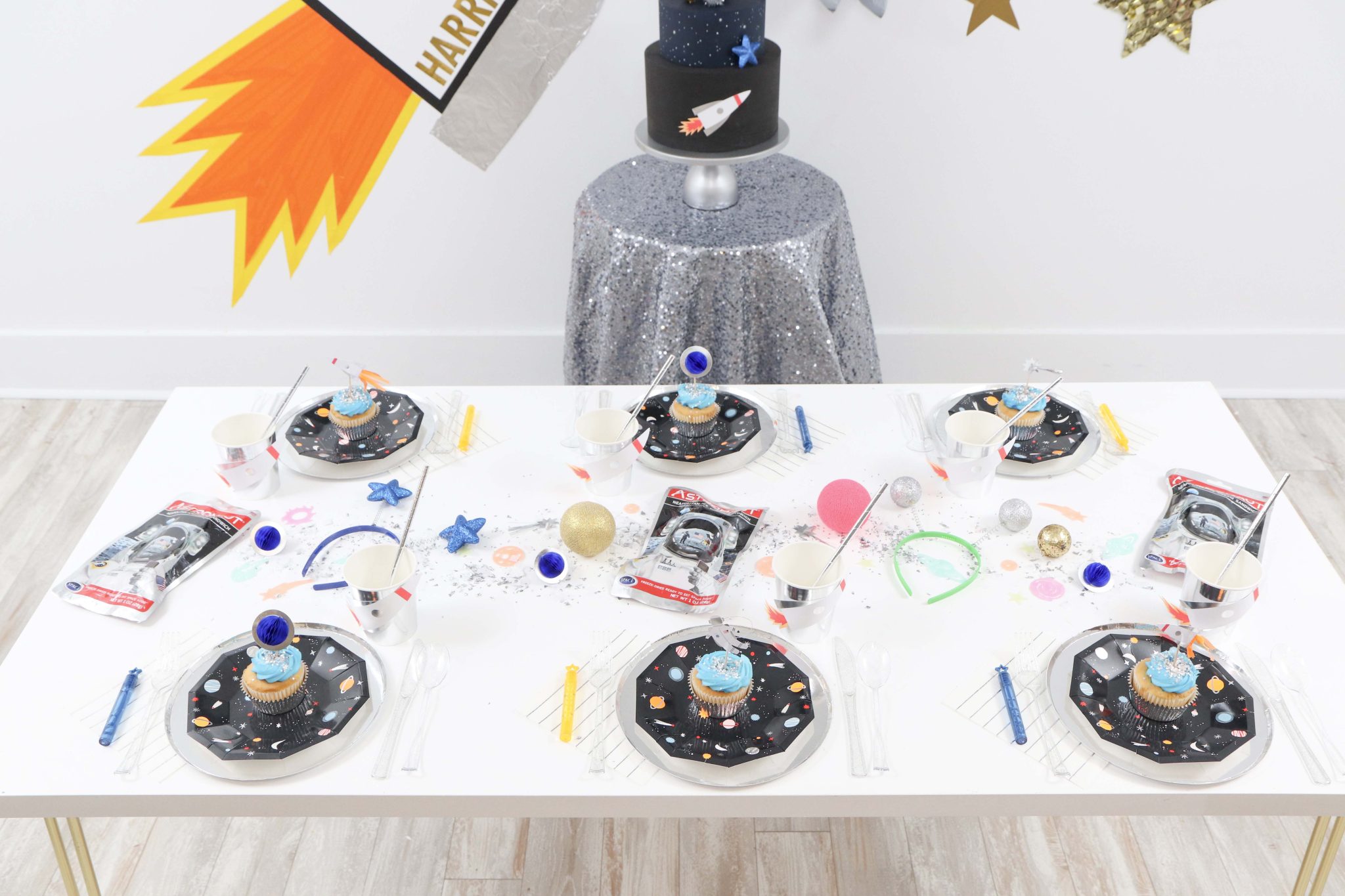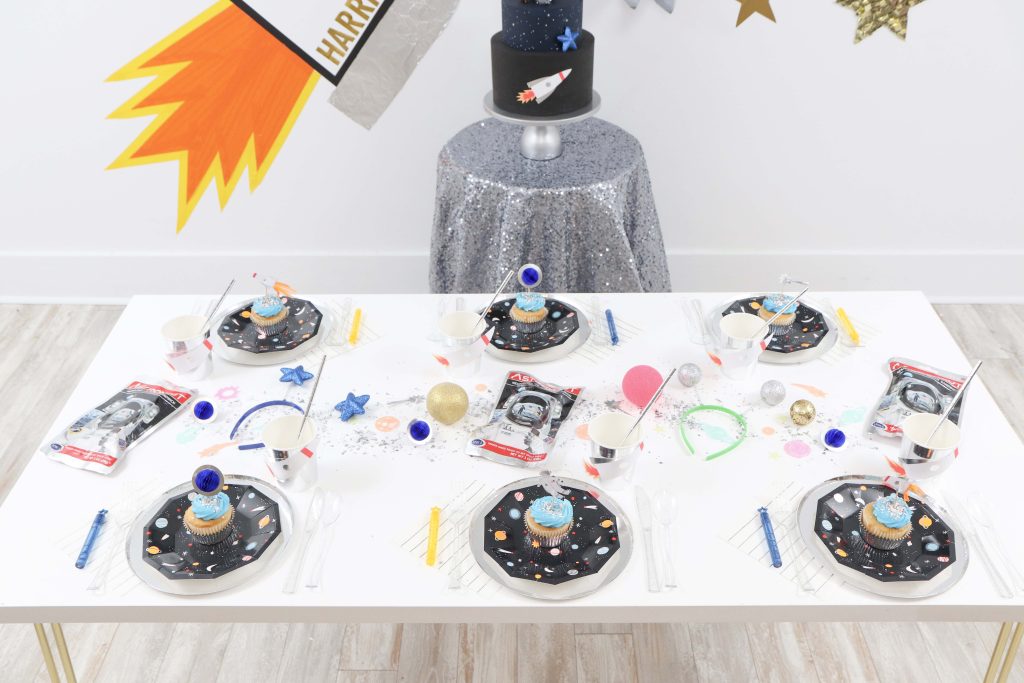 THE RUNNER
Sprinkle the custom silver sparkle confetti down the middle of the table…moon dust perfection!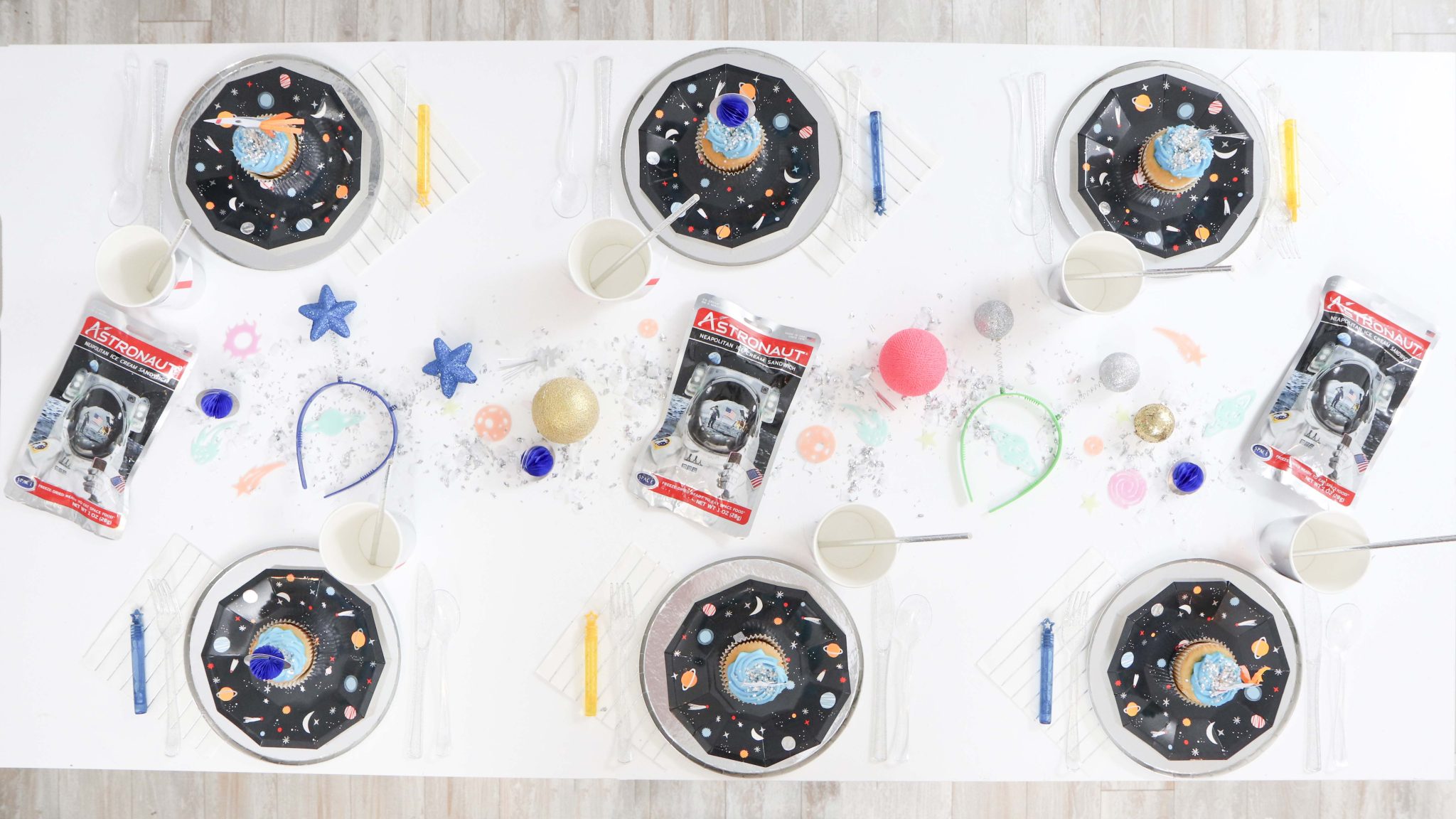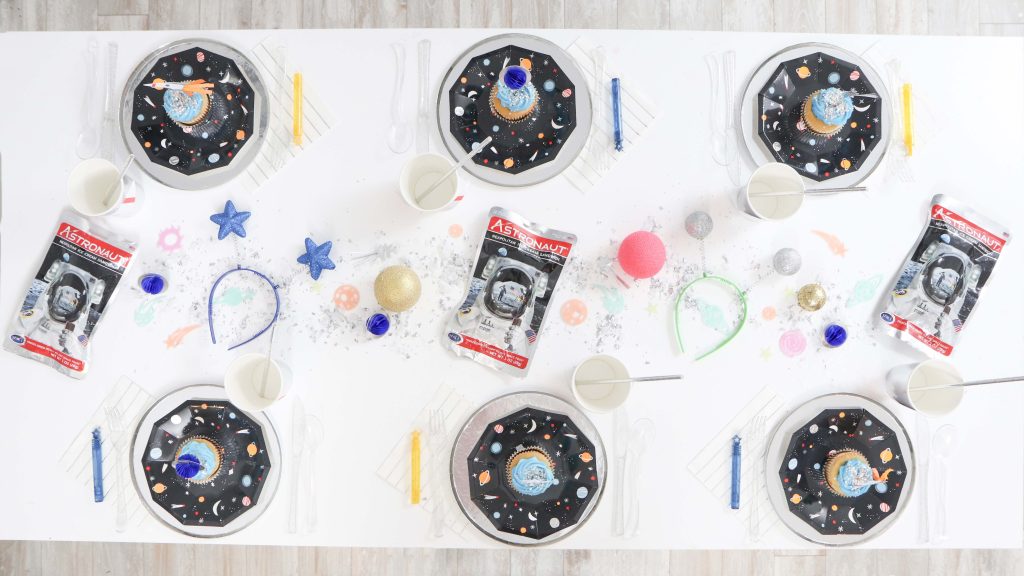 TIP: Add a selection of stars and planets to the confetti.  I added colored & glittered foam balls and glow in the dark stars and planets to add pops of color.  If you have left over cupcake picks, you can also cut off the toothpick and add some of the planets, astronauts or rockets to the middle of the table.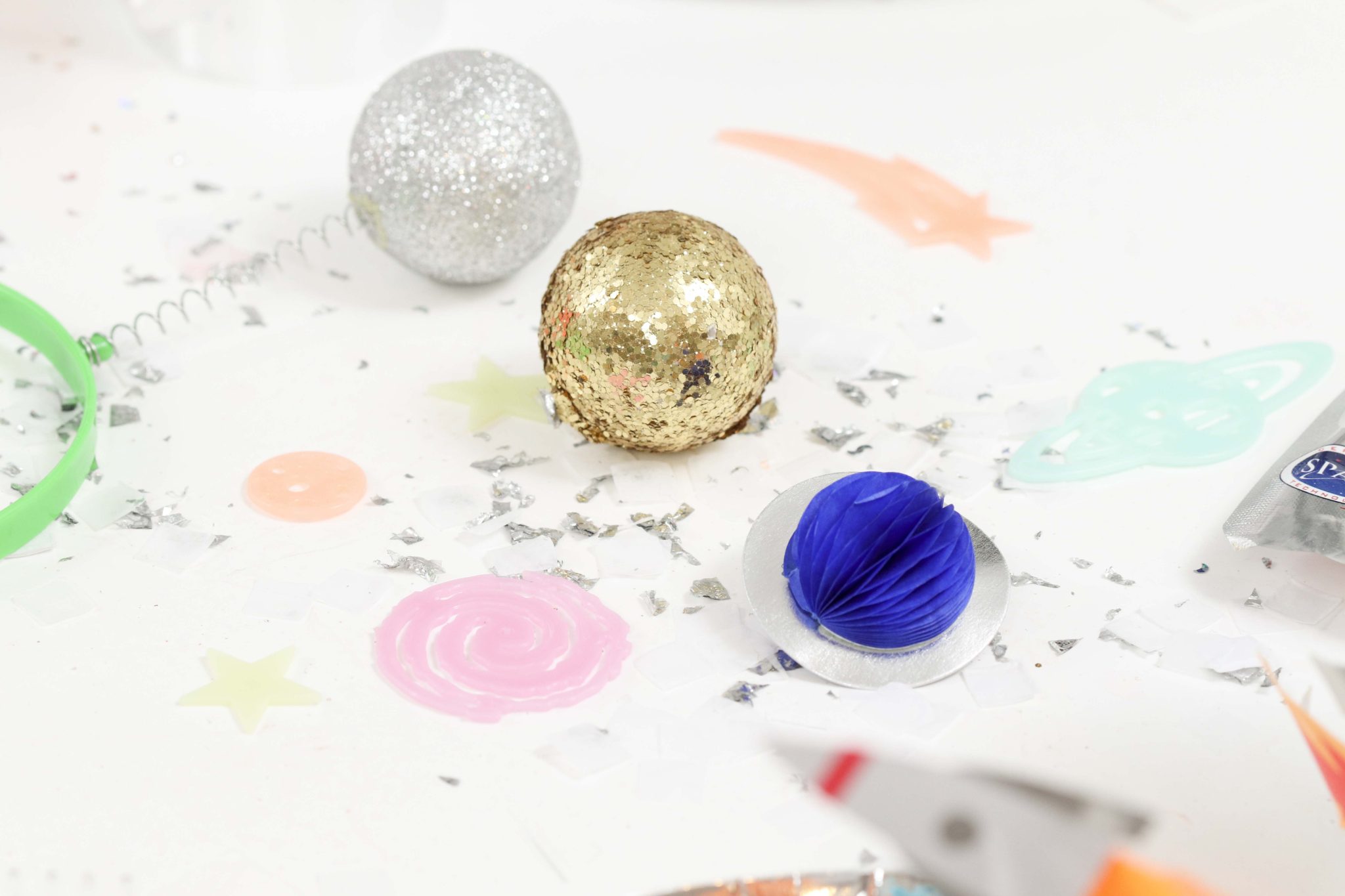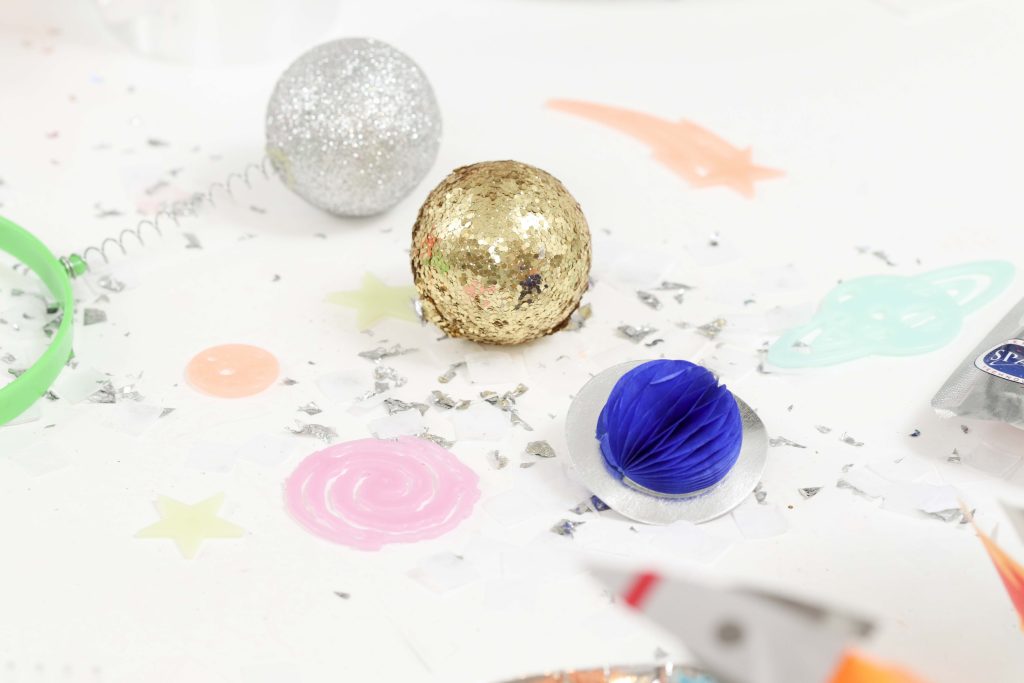 TIP: Retro fans will love these alien themed head bopper headbands! Add these down the middle of the table for the kids to try on and have some fun with….Astronauts VS. Aliens?!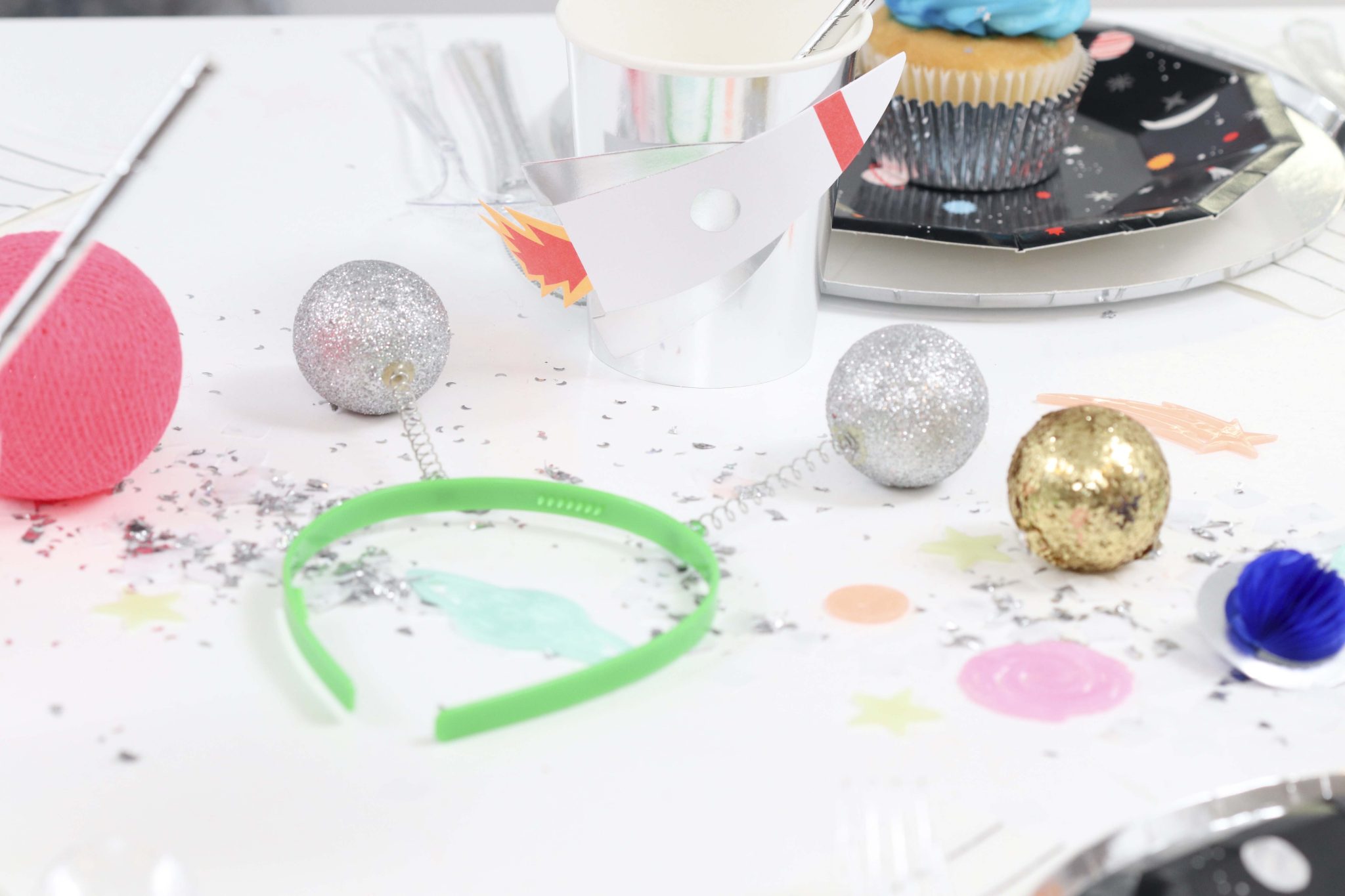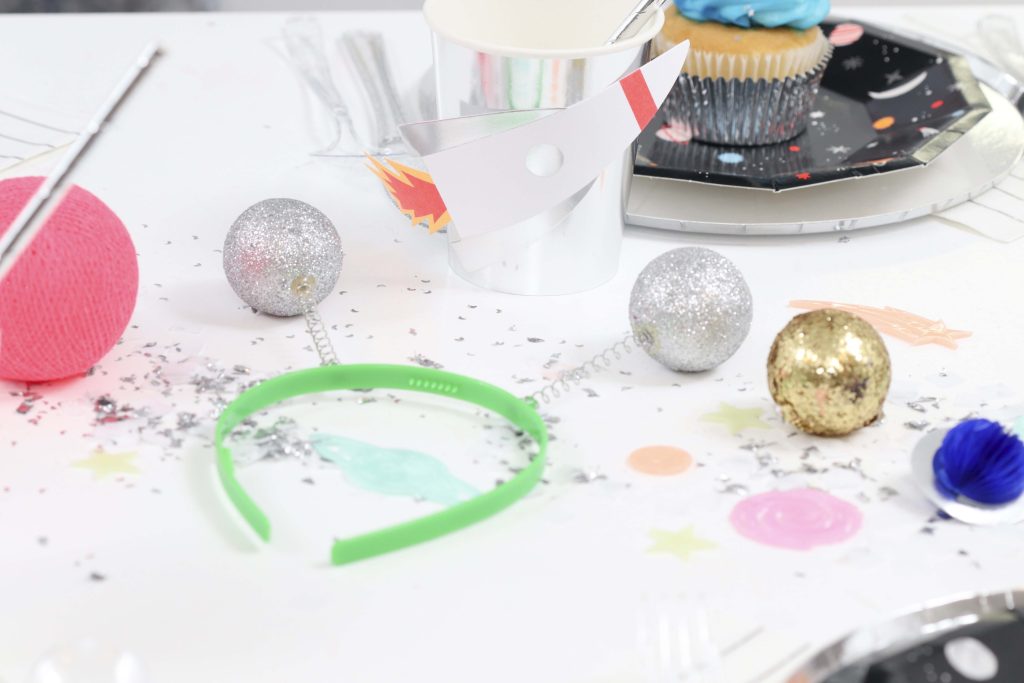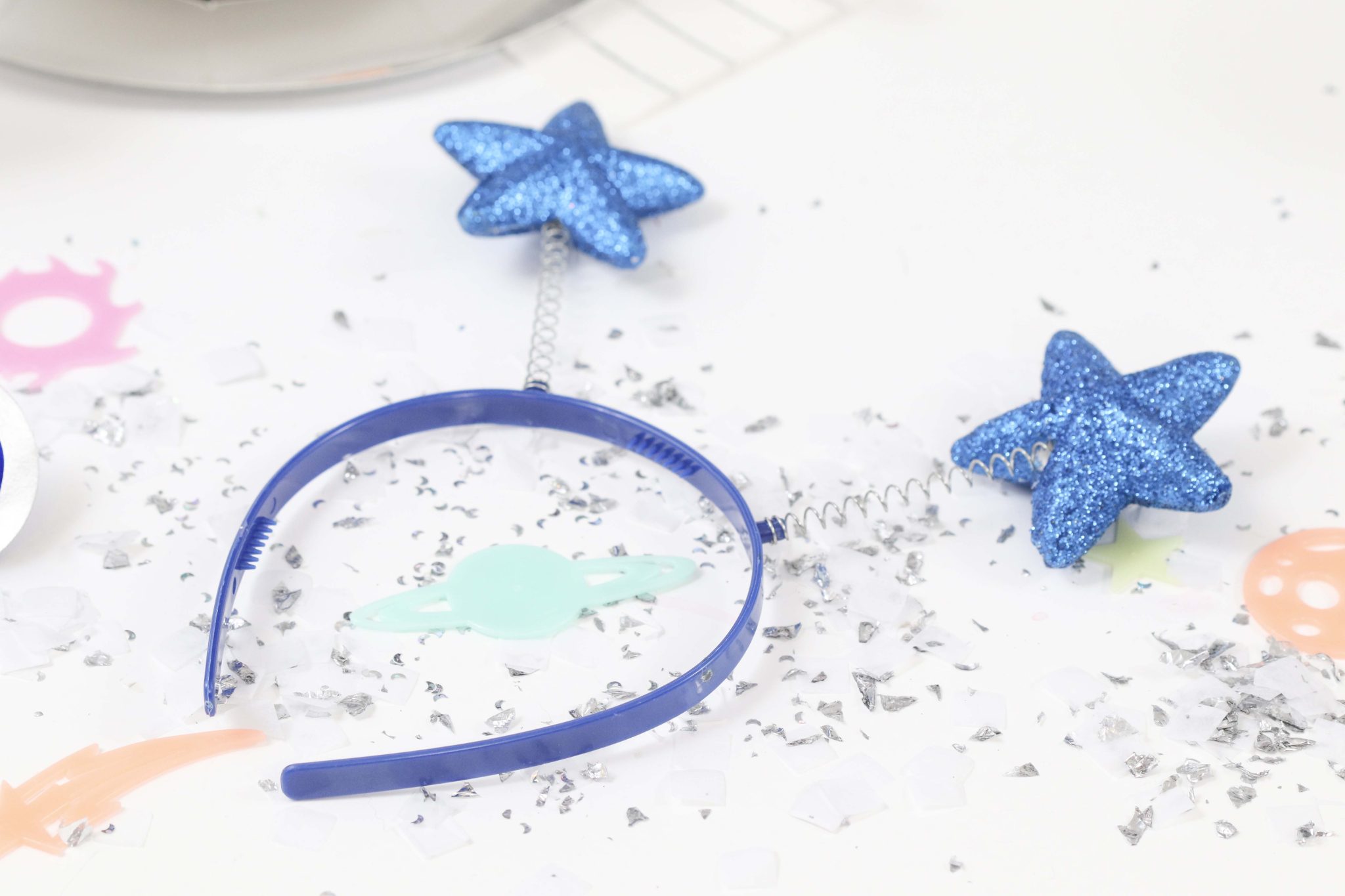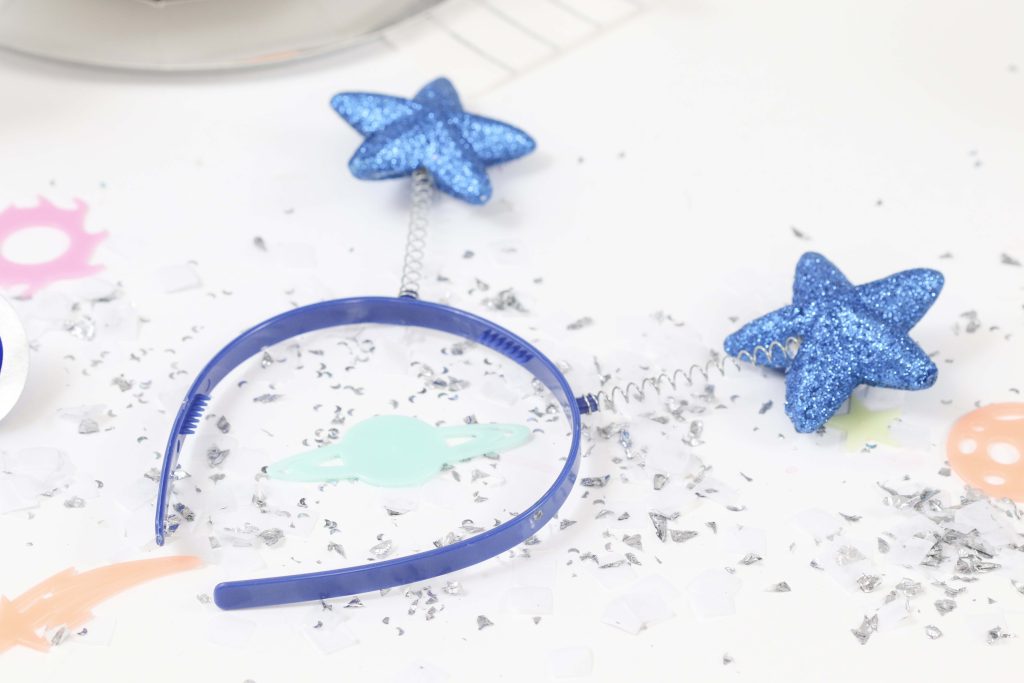 TIP: What do astronauts eat? Freeze dried ice-cream of course! Blow their minds with these freeze dried ice cream sandwiches!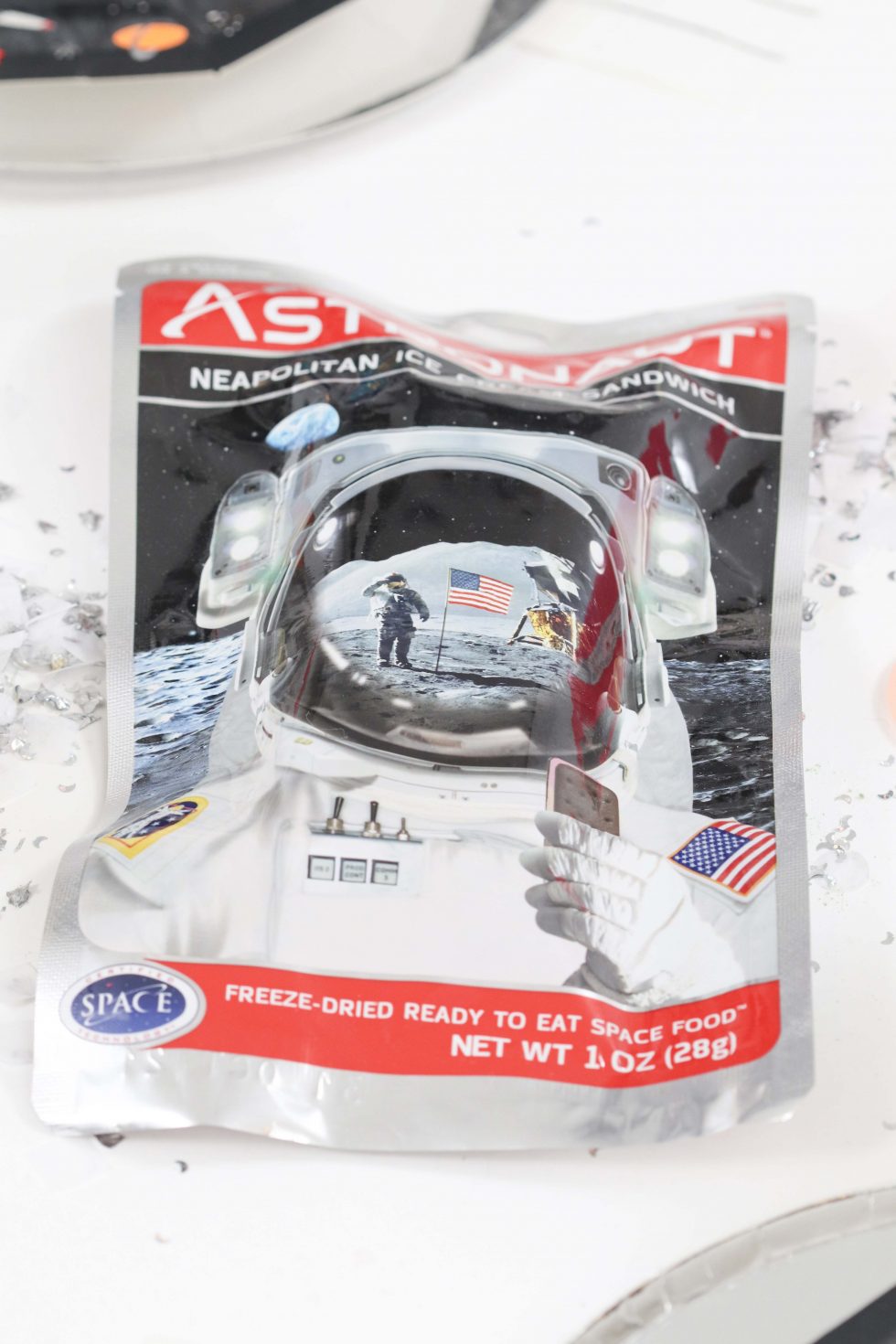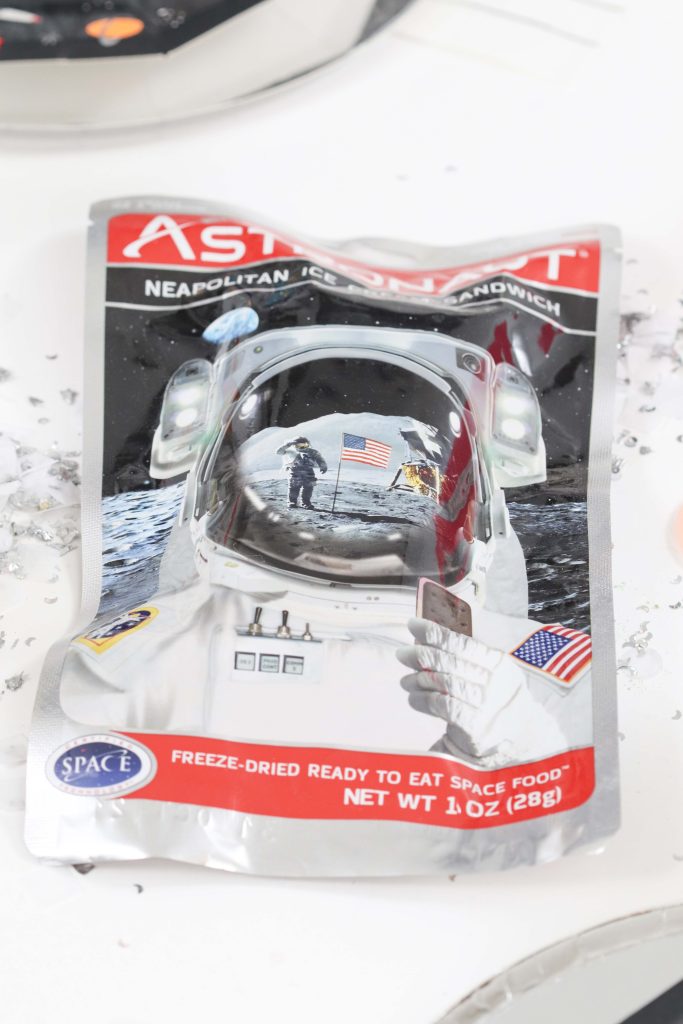 THE TABLE SETTINGS
I love the tableware included in the Party Postess box – it includes all my favorite party brands, such as Meri Meri and Oh Happy Day!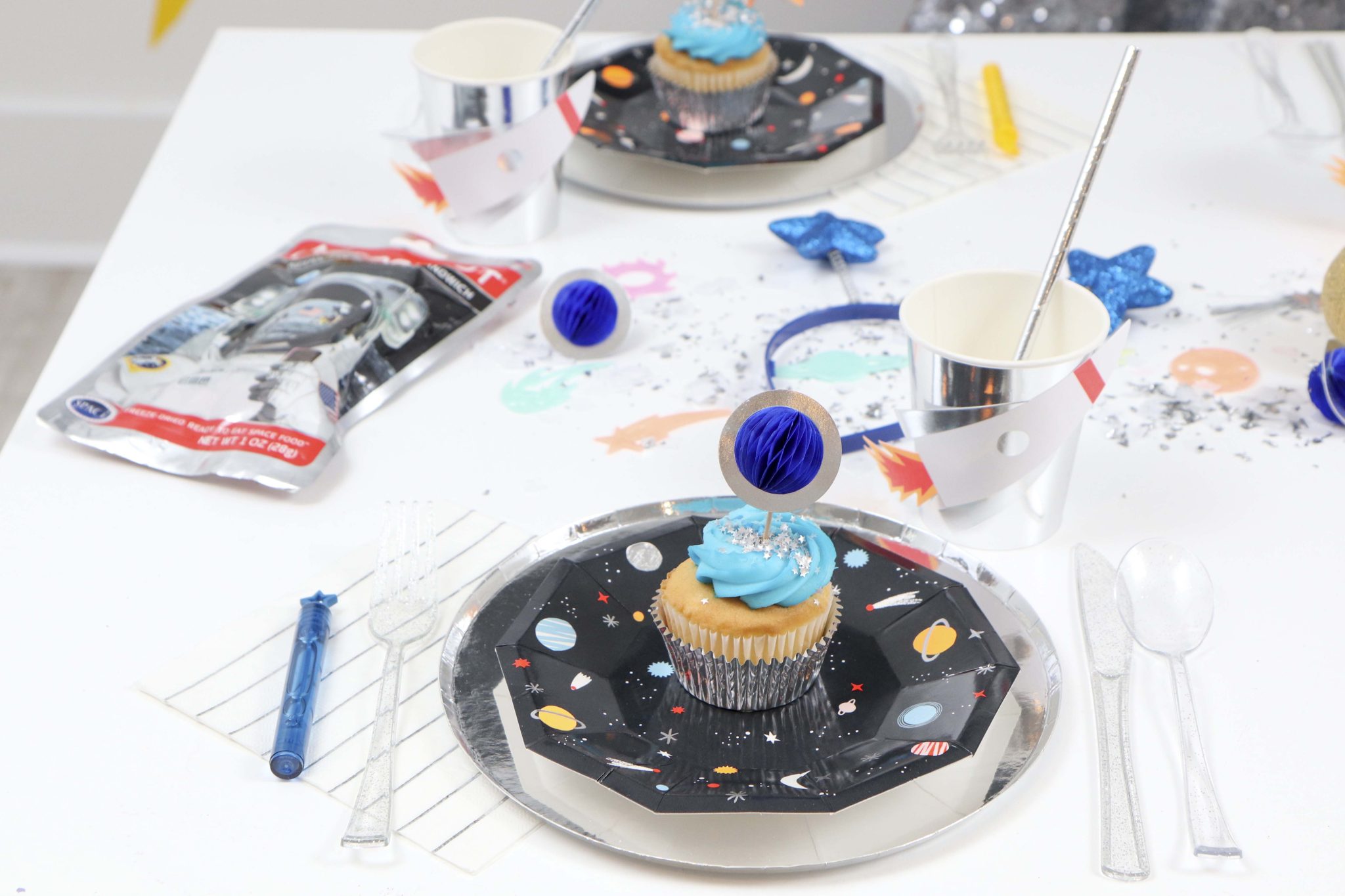 Layer the plates with the larger silver plate underneath the planet plate. Having two plates is not only pretty, but it allows for a savory and sweet plate. Then, add the sparkly cutlery and a sliver striped napkin to complete the look. There are plenty of extra napkins, which you know kids always need!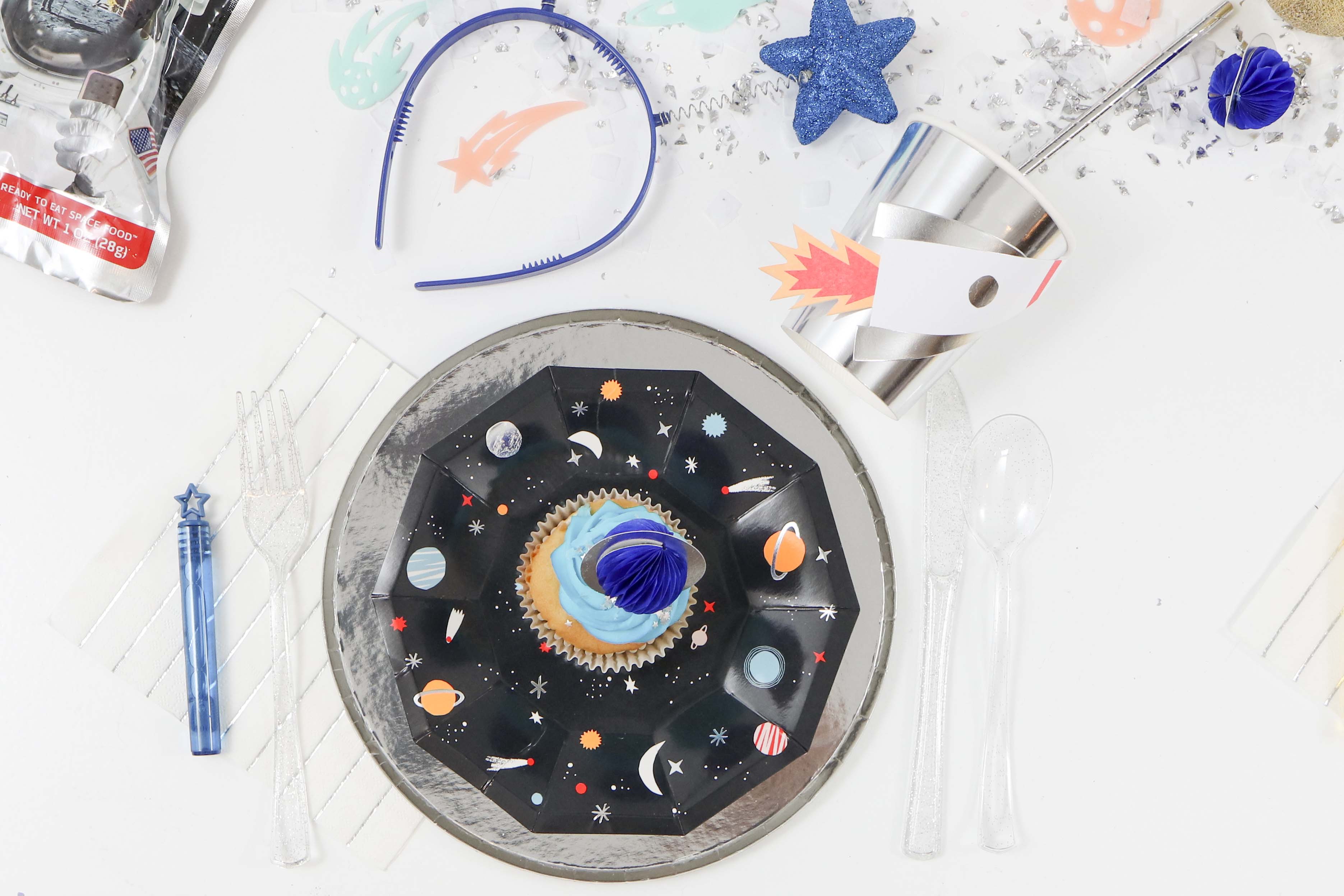 TIP: Float around space inside magical bubbles! Surprise the kiddos with a mini tube of bubbles at each place setting.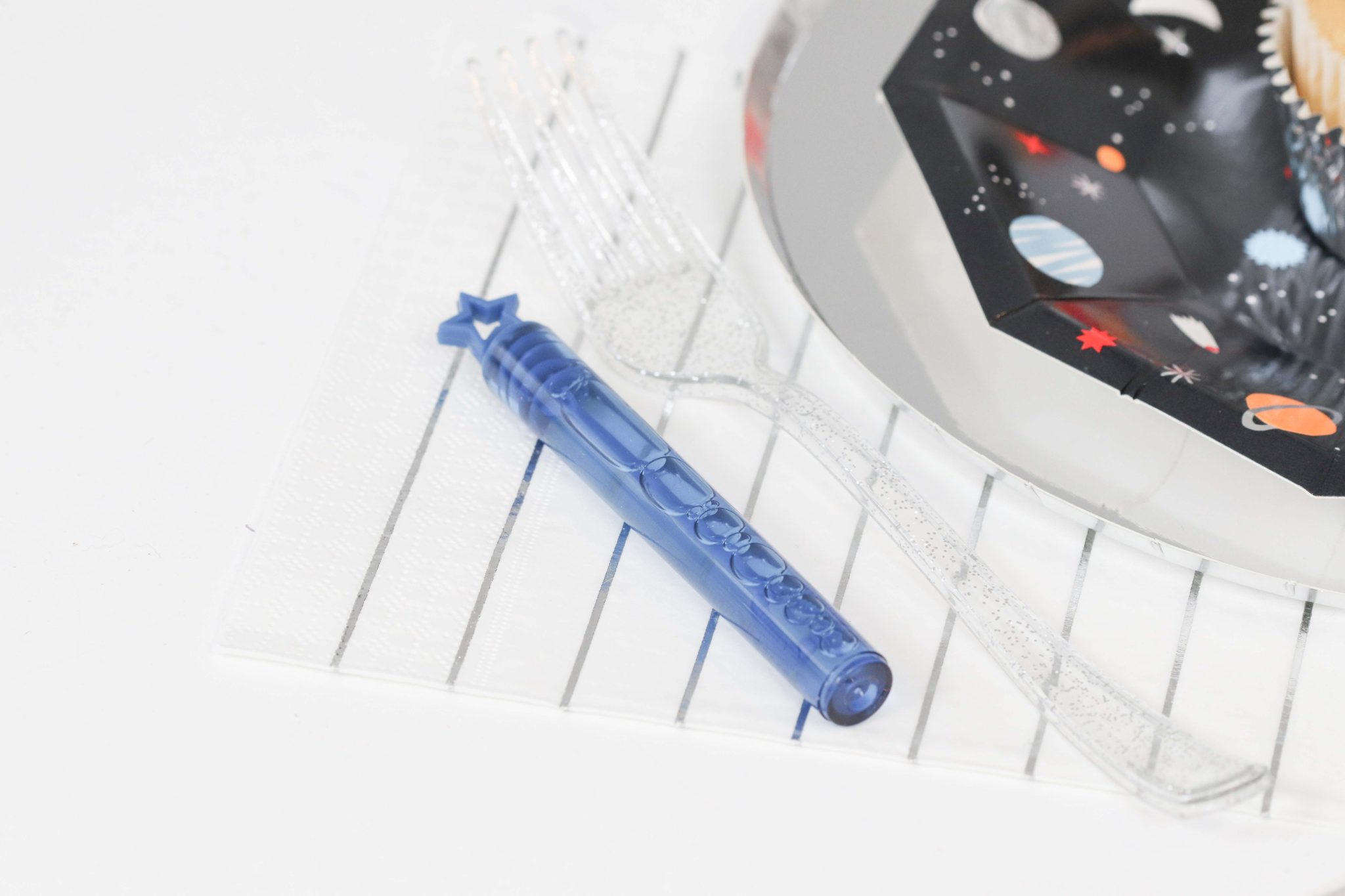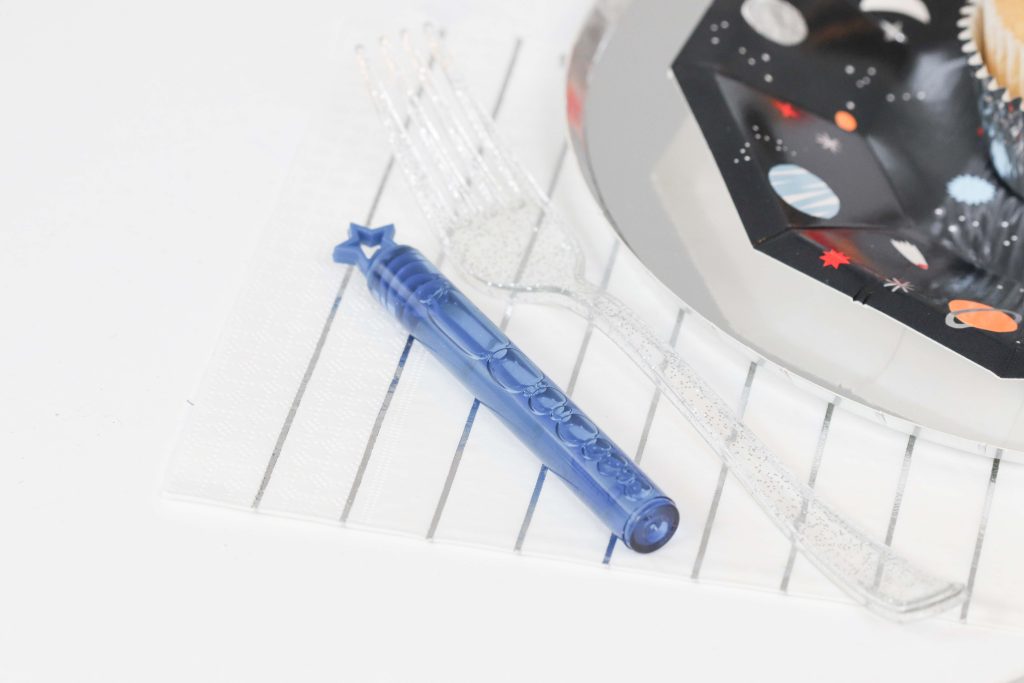 Finally, add the rocket cup and one of the silver straws.  The rockets come pre-rolled & taped to easily add to each cup.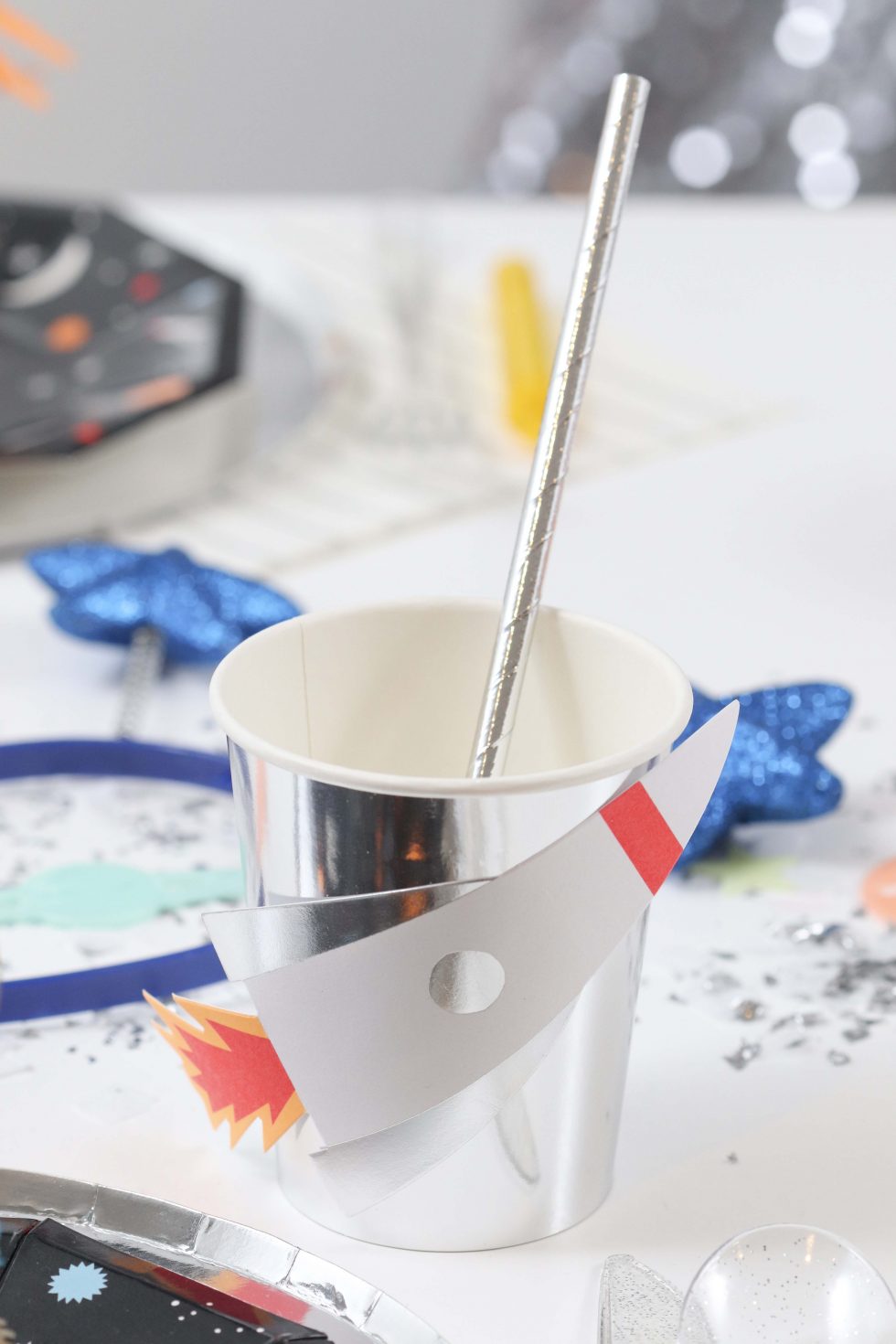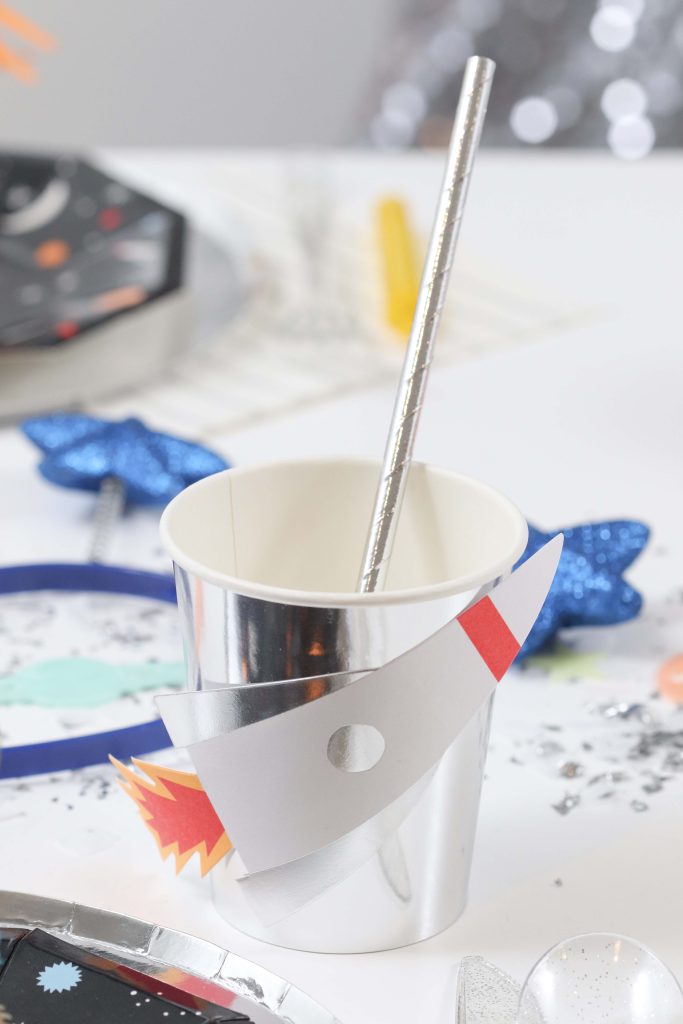 As an alternative to placing the cupcakes on a stand, you can place them in the middle of the top plate to give the setting more dimension. I love the depth it gives to the setting. And how cute are these cupcake picks?! Which is your favorite? I love the astronaut!
TIP: Store bought cupcakes are given an out of this world upgrade with the cupcake kit. Take it one step further by adding edible star sprinkles in gold or silver!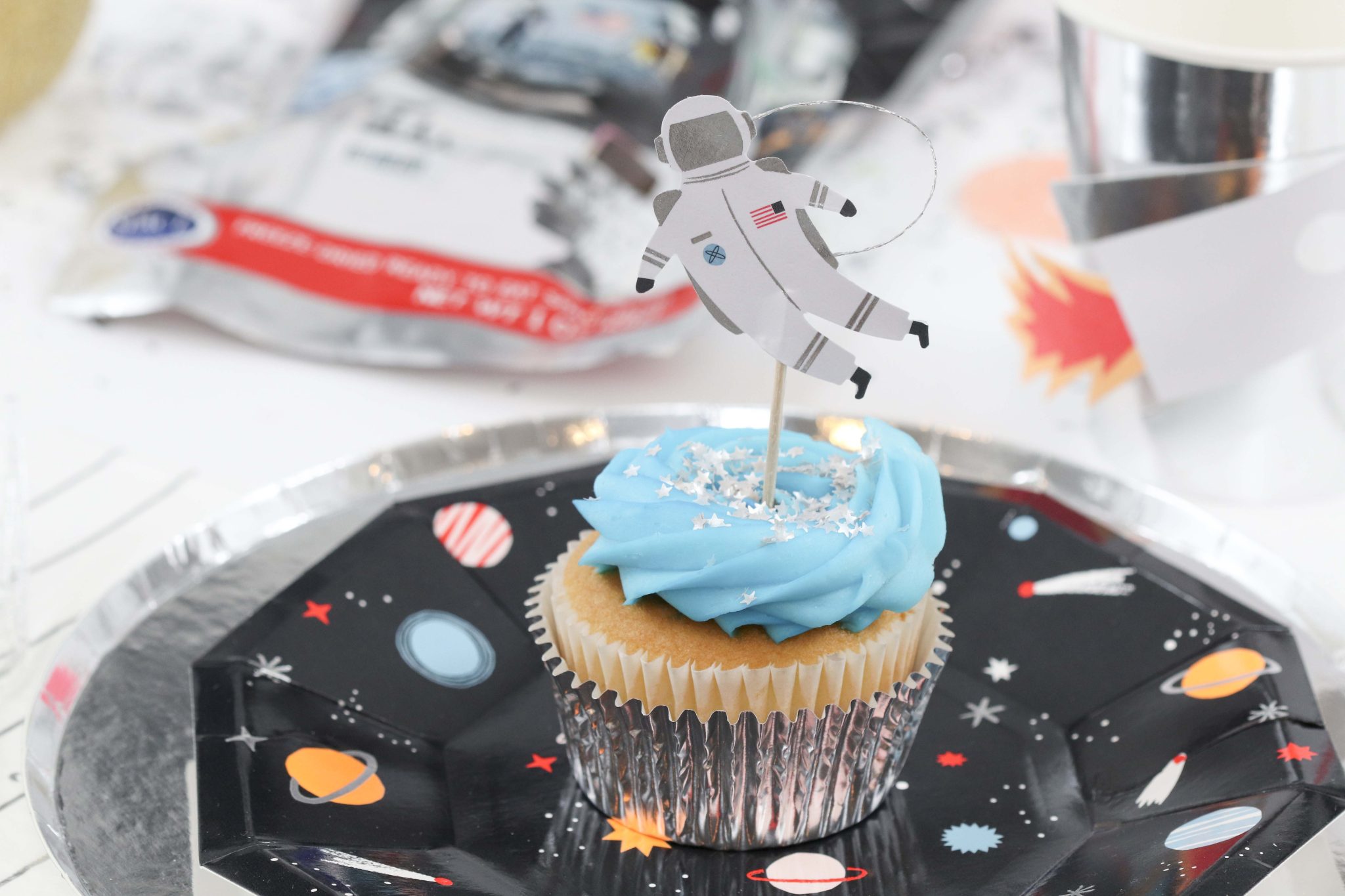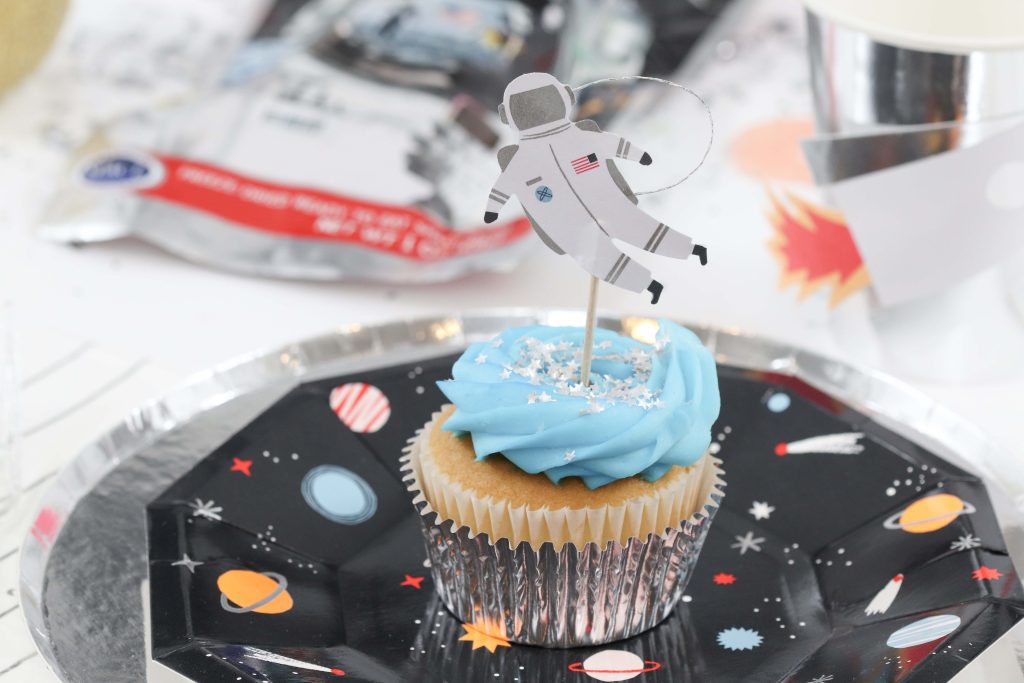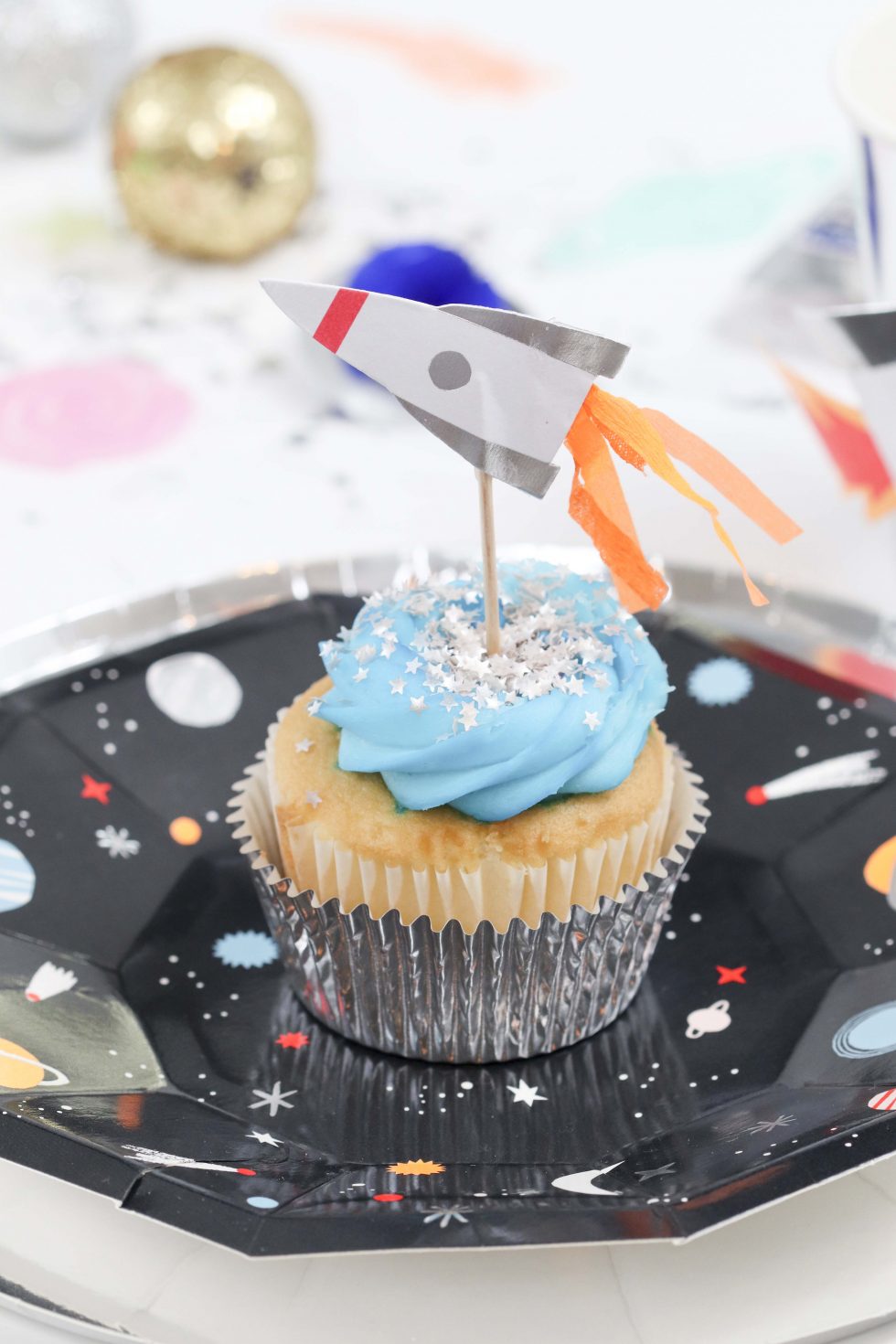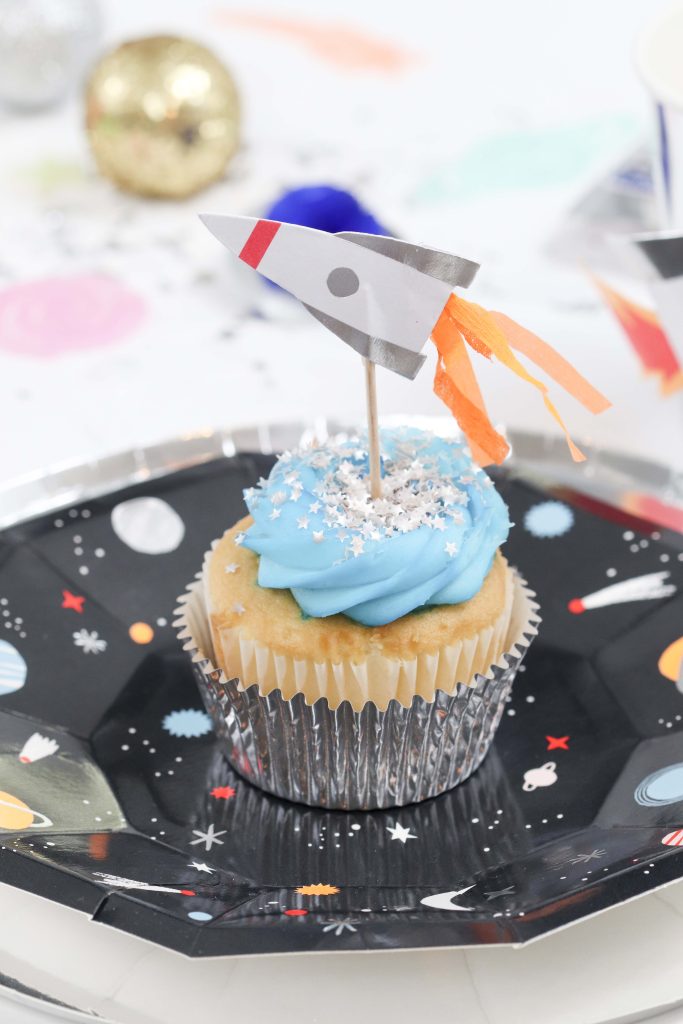 CREATE A SPACE THEMED BACKDROP

BALLOONS
Balloon garlands are a must have for parties these days! This 5′ garland is a party box add on, and is the perfect palette for creating an outer space vibe: blacks, silvers, whites, and a mix of marbled black & white.  It really looks like space!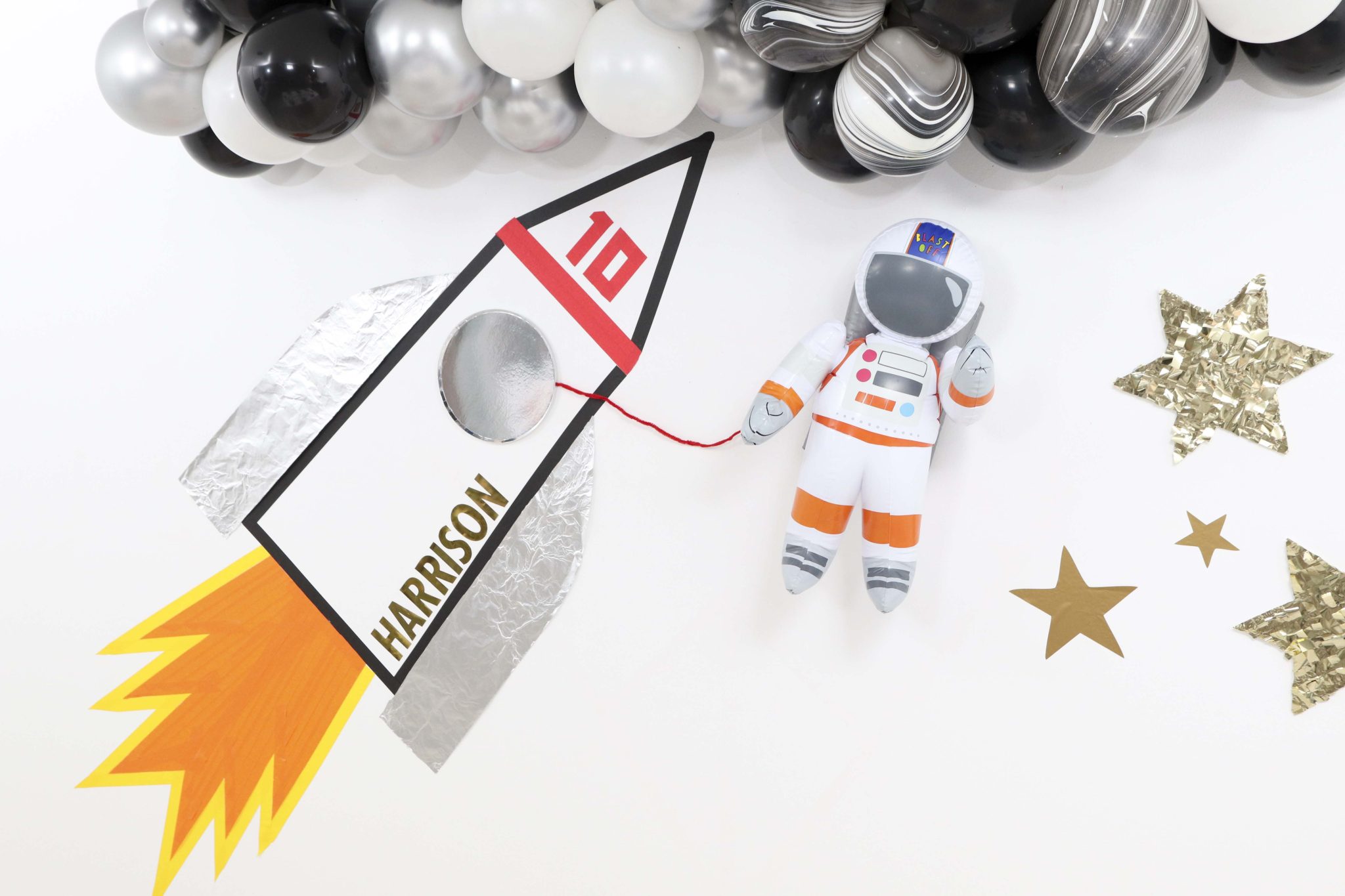 Don't be nervous about pulling this garland off! The box includes balloon tape, glue dots, and instructions for creating the garland. It's super easy to put together, I promise! Balloon tape is my go to. You just push the balloon tie into the holes in the tape to secure, alternating colors as you go. That's it.
TIP: Invest in a balloon pump to make blowing up balloons a breeze.  My kids now borrow the pump to blow up balloons for games of balloon volleyball!
THE ROCKET SHIP
TIP: Personalize your little astronauts' trip to space with a rocket ship! Created out of masking tape and tin foil, this backdrop is easy and affordable way to fly into space! The step-by-step is coming to the blog soon!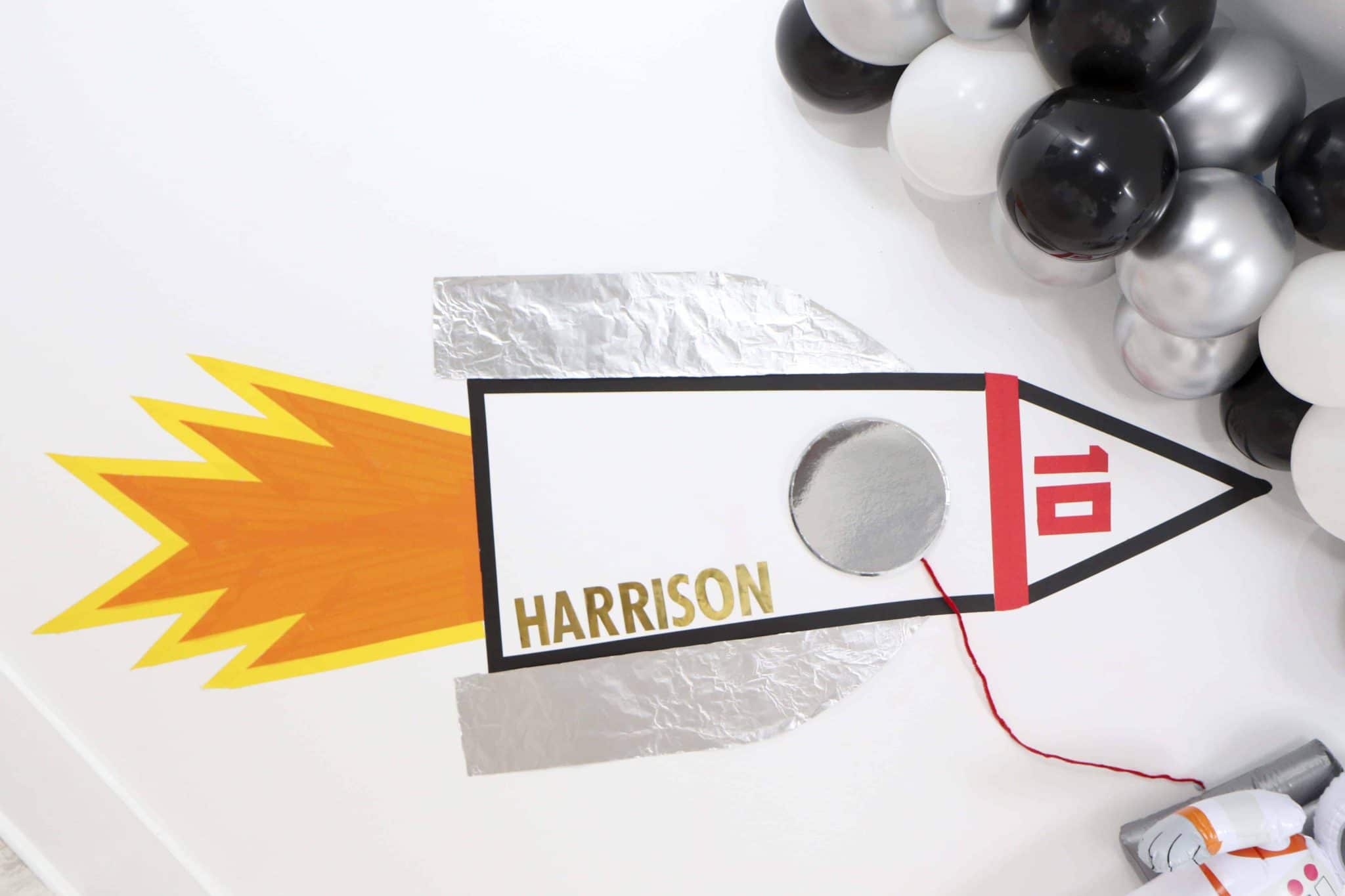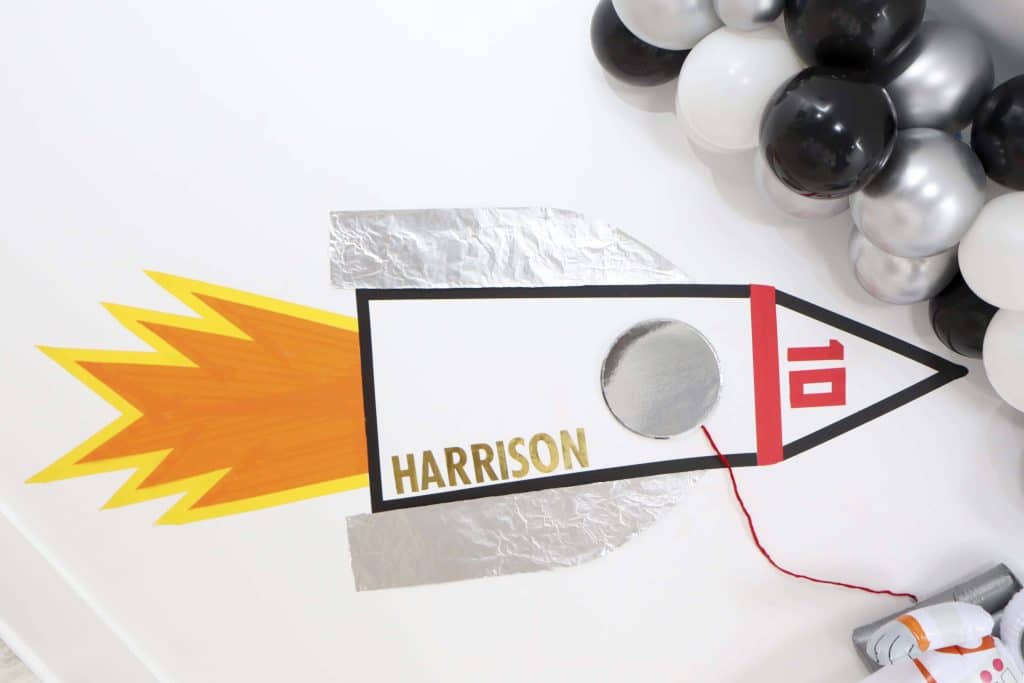 TIP: Use chenille stems to create a tether between the rocket ship and the astronaut that is part of the Outer Space Birthday Box. Blow him up and attach him to the wall with glue dots to send him off on a birthday moon walk!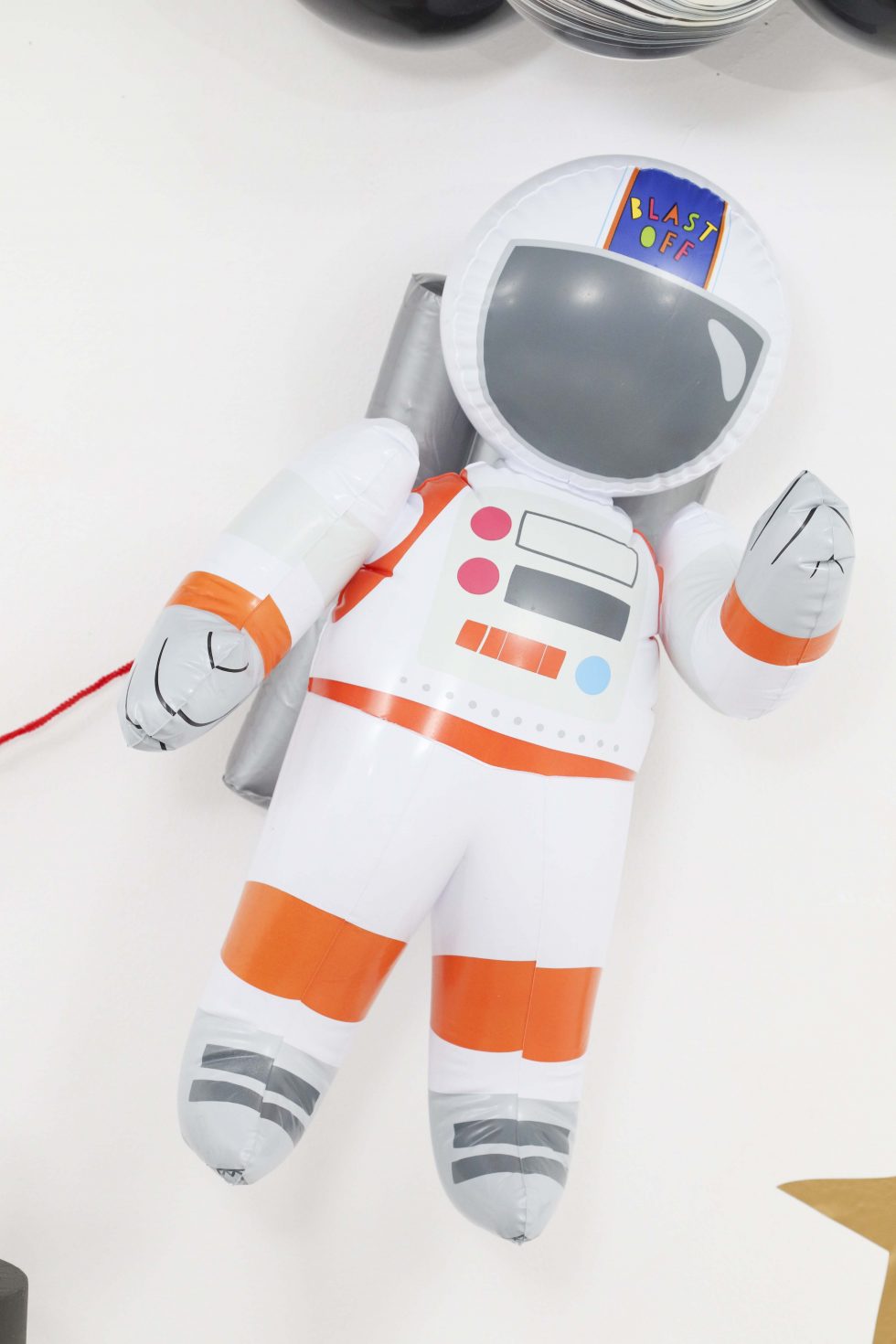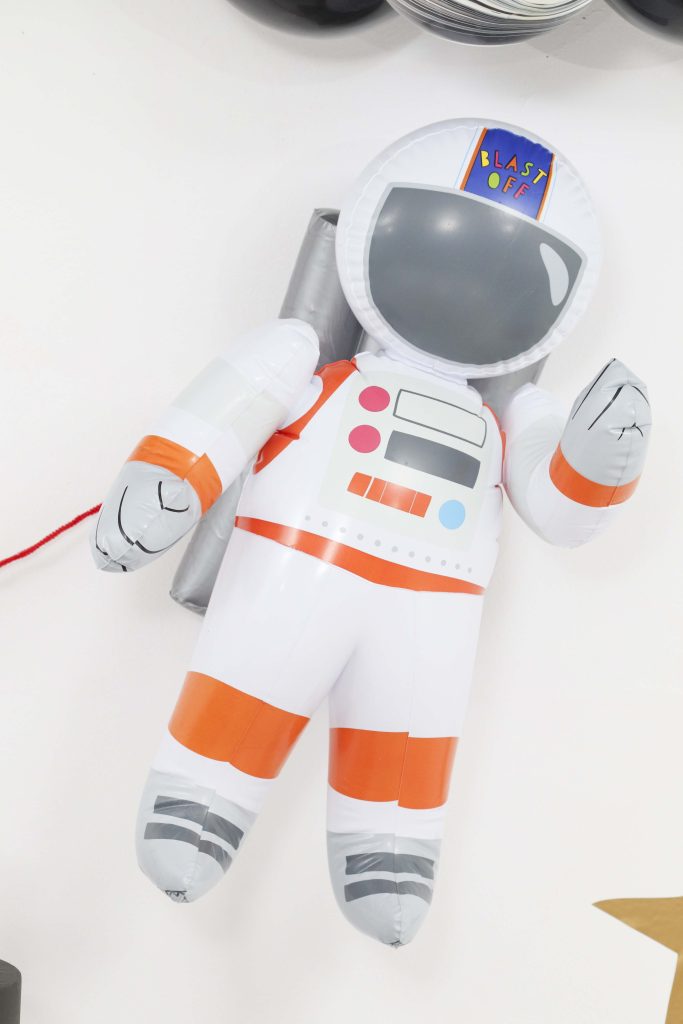 TIP: Add stars to the wall to twinkle over the birthday party festivities.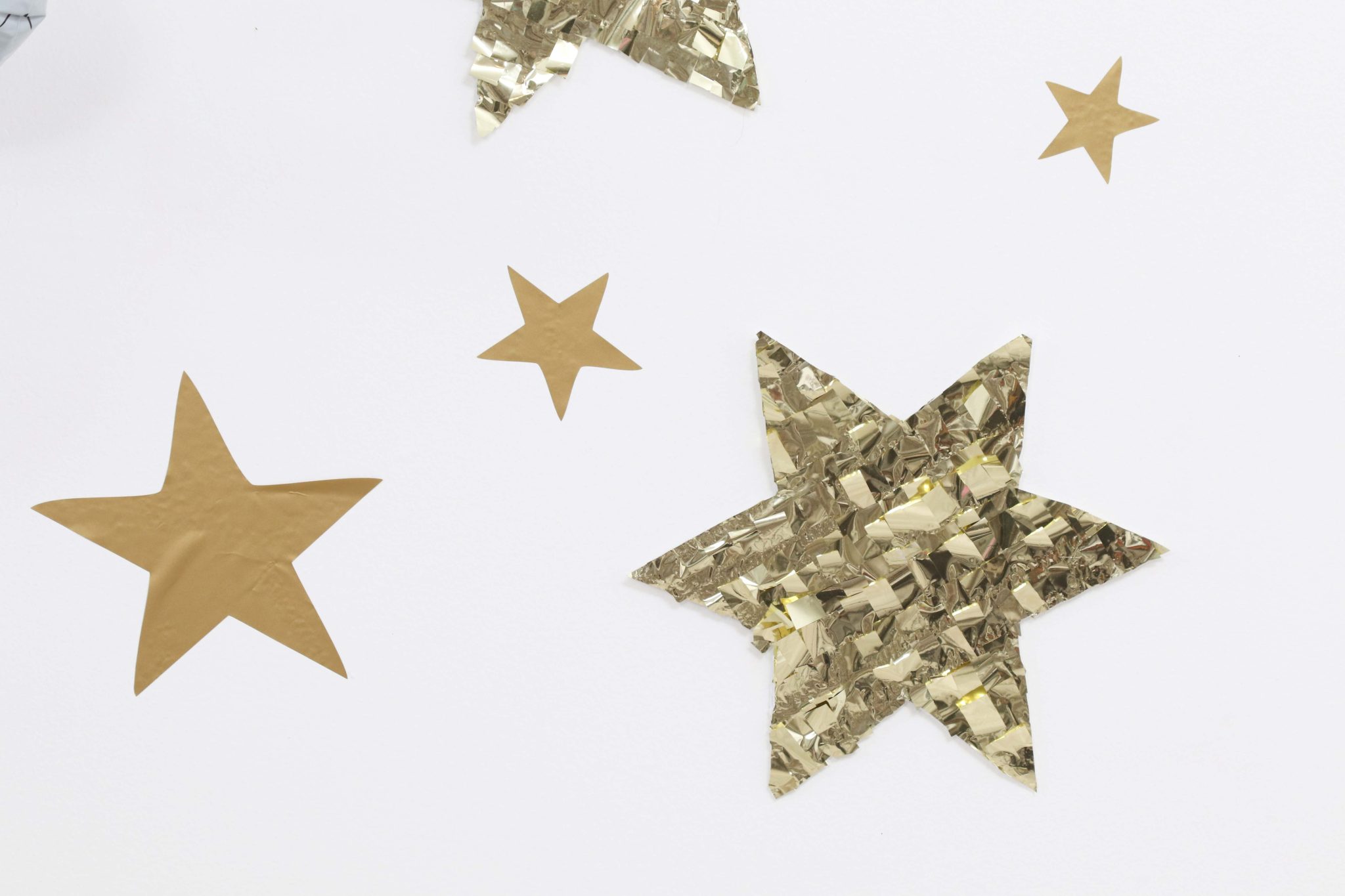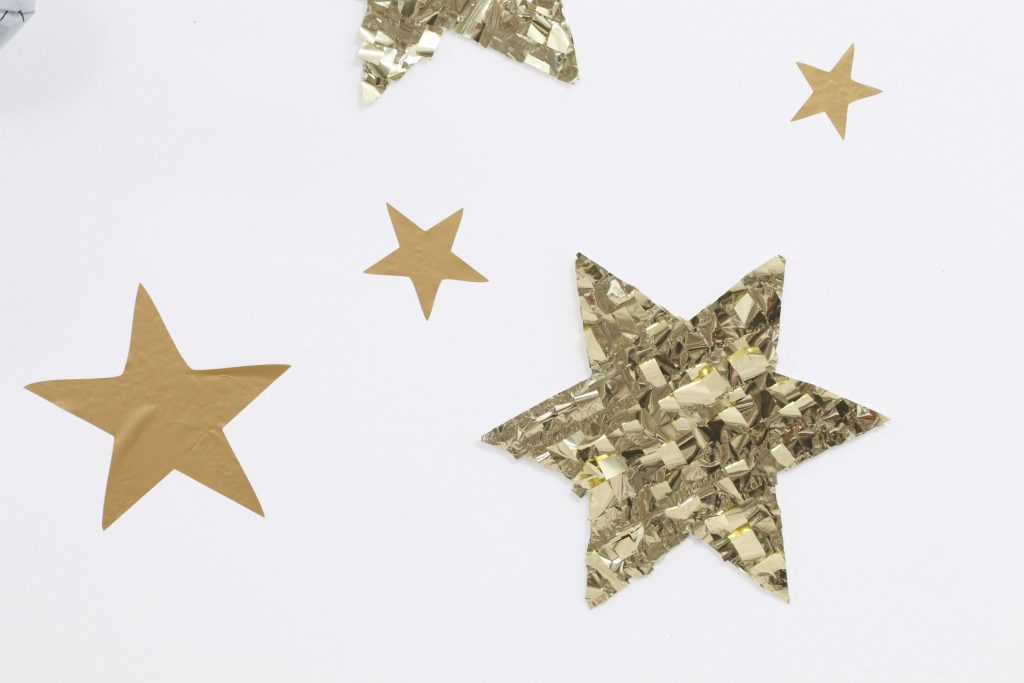 SPACE THEMED BIRTHDAY CAKE
For more intergalactic sparkle I used a sequin silver tablecloth and silver cake stand for my cake.  The bottom layer is the deep black of space, and the top layer is a midnight blue with sparkling night stars.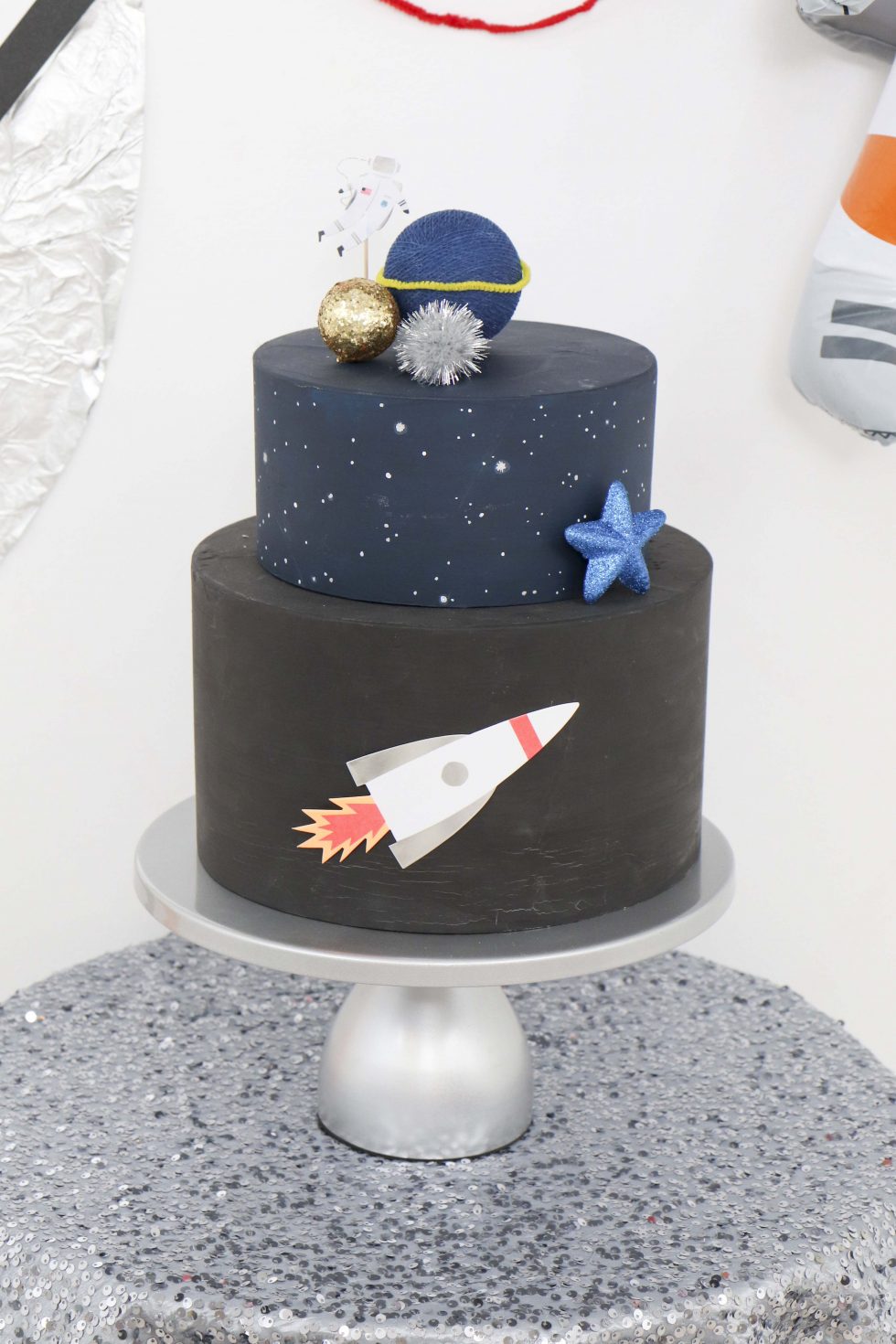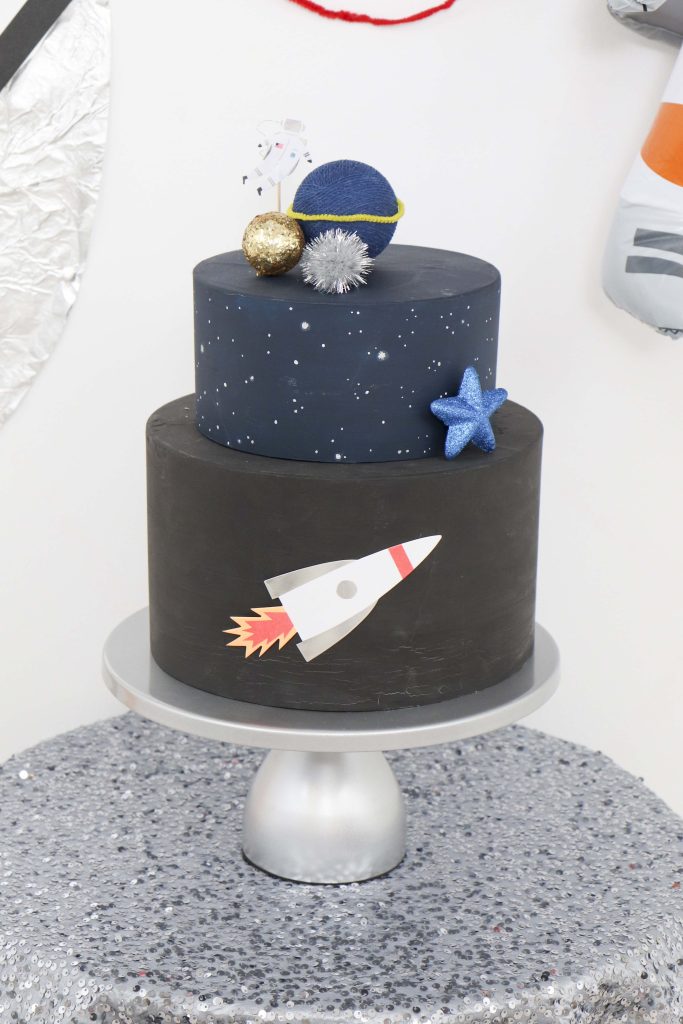 To decorate the cake, I used glittered foam balls, silver pom-poms and an astronaut cupcake pick as a cupcake topper.  I also added one of the  rockets from a cup to the front of the cake.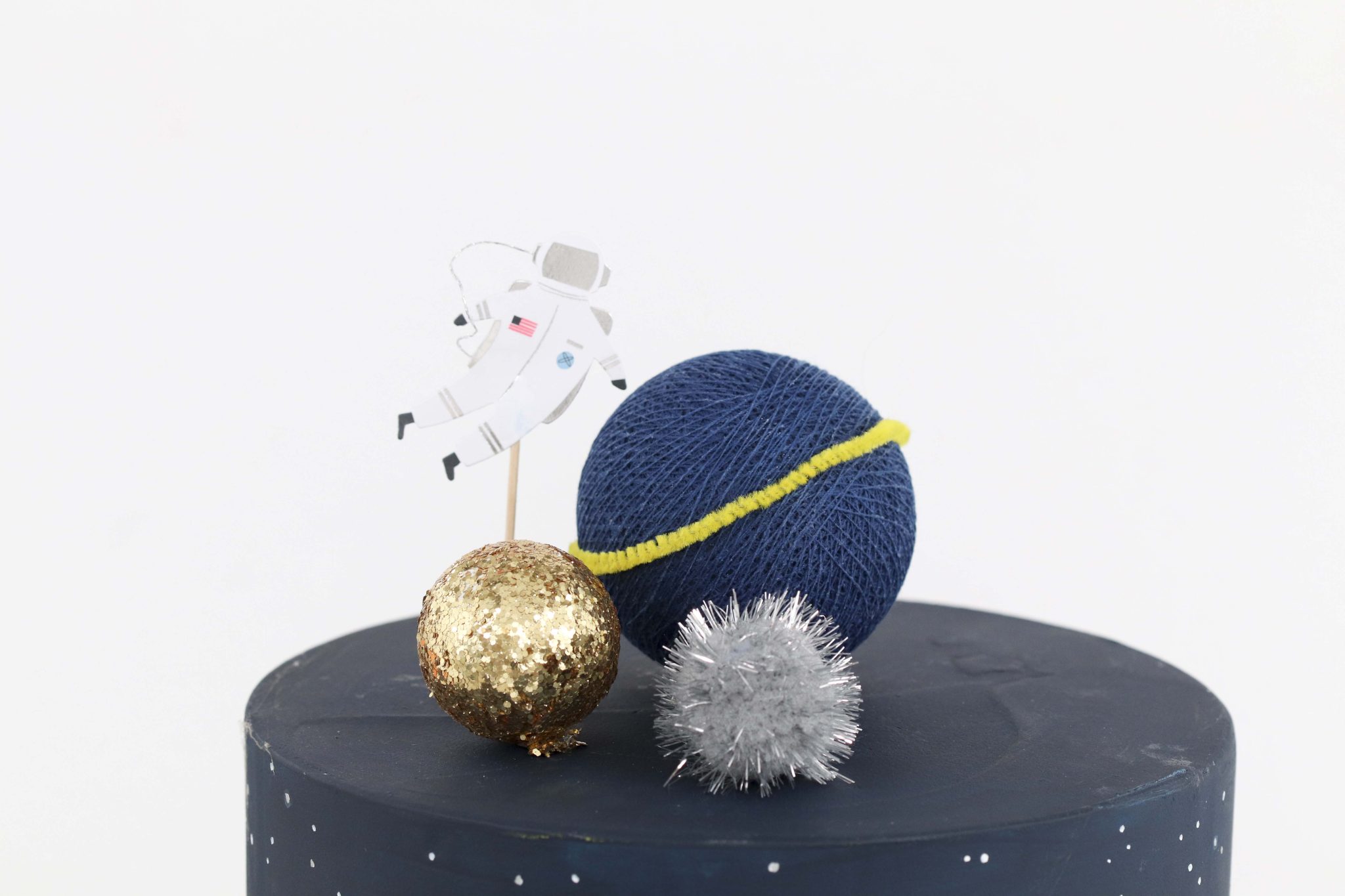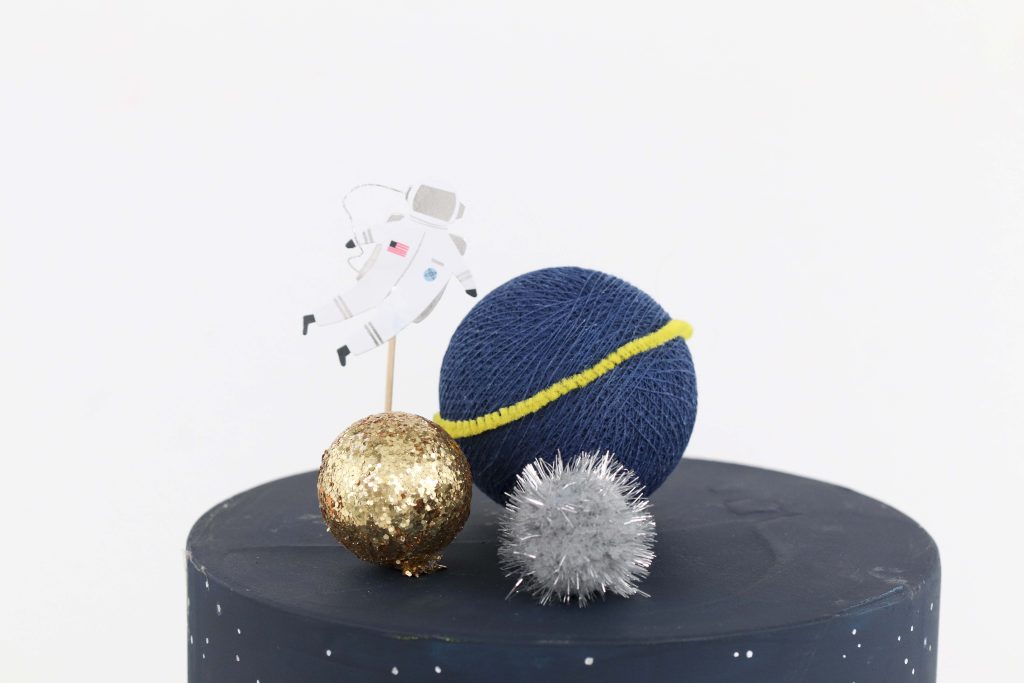 SPACE THEMED ACTIVITIES
The Postess Guide™ provides great fun space themed activity ideas to keep the kids busy at your birthday party. If you are looking to keep with the "all you need in one box" set-up, then you can't go past the Kid Made Modern Cosmic Craft Kit. Everything the kids need to make planets, spaceships, stars, aliens and more!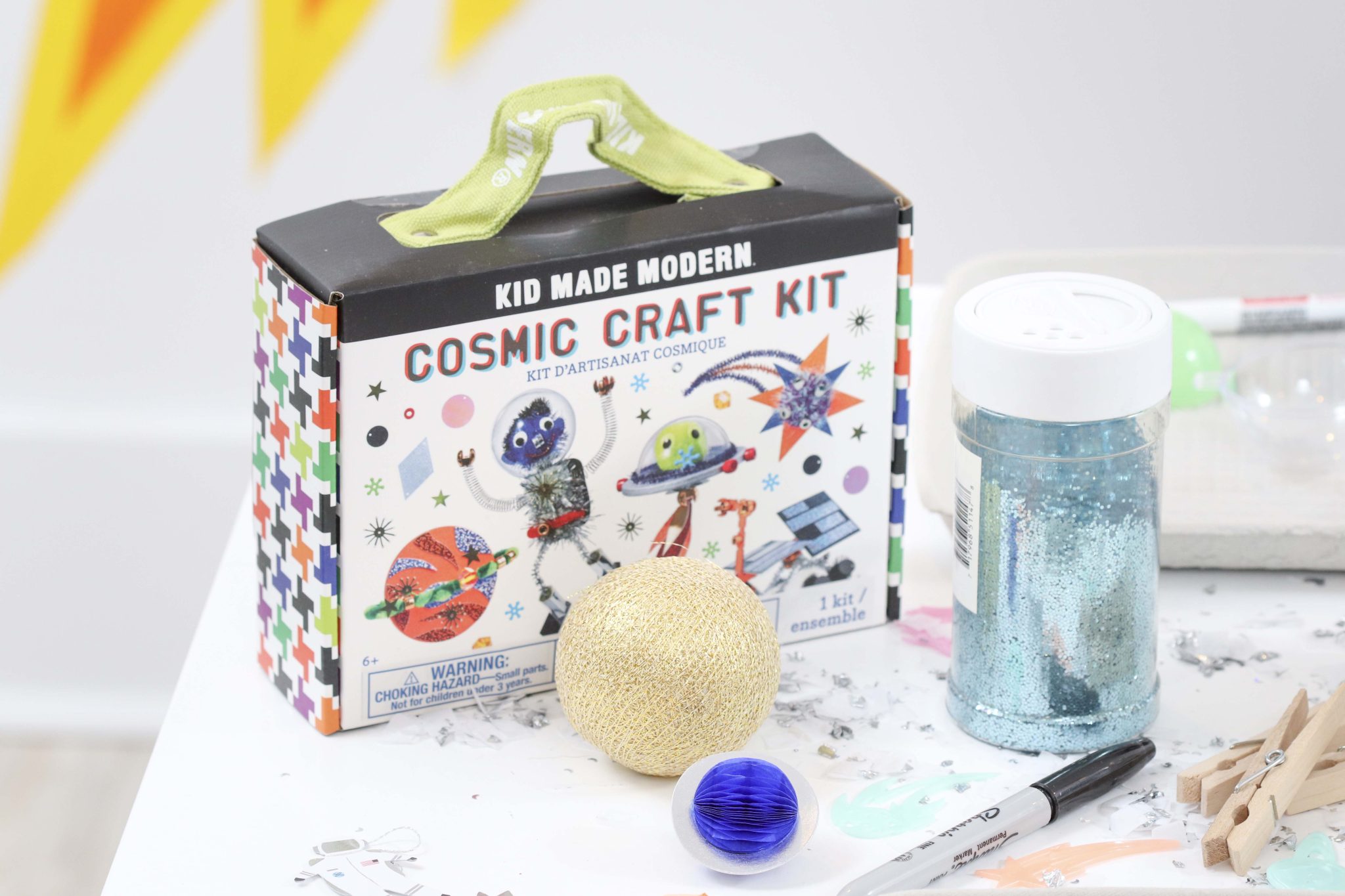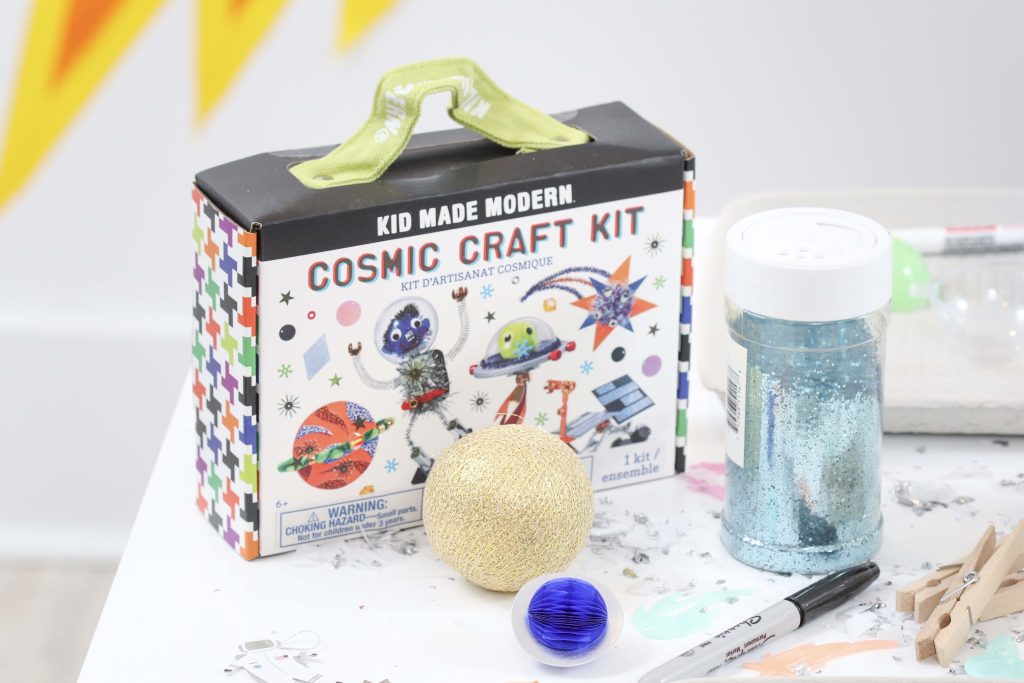 Give each child a craft tray to work on, and place all the crafting materials in the middle of the table.  I added some additional supplies I had available at home.  For more fun space themed activities be sure to check out the Space Party Activity Round Up coming up on the blog!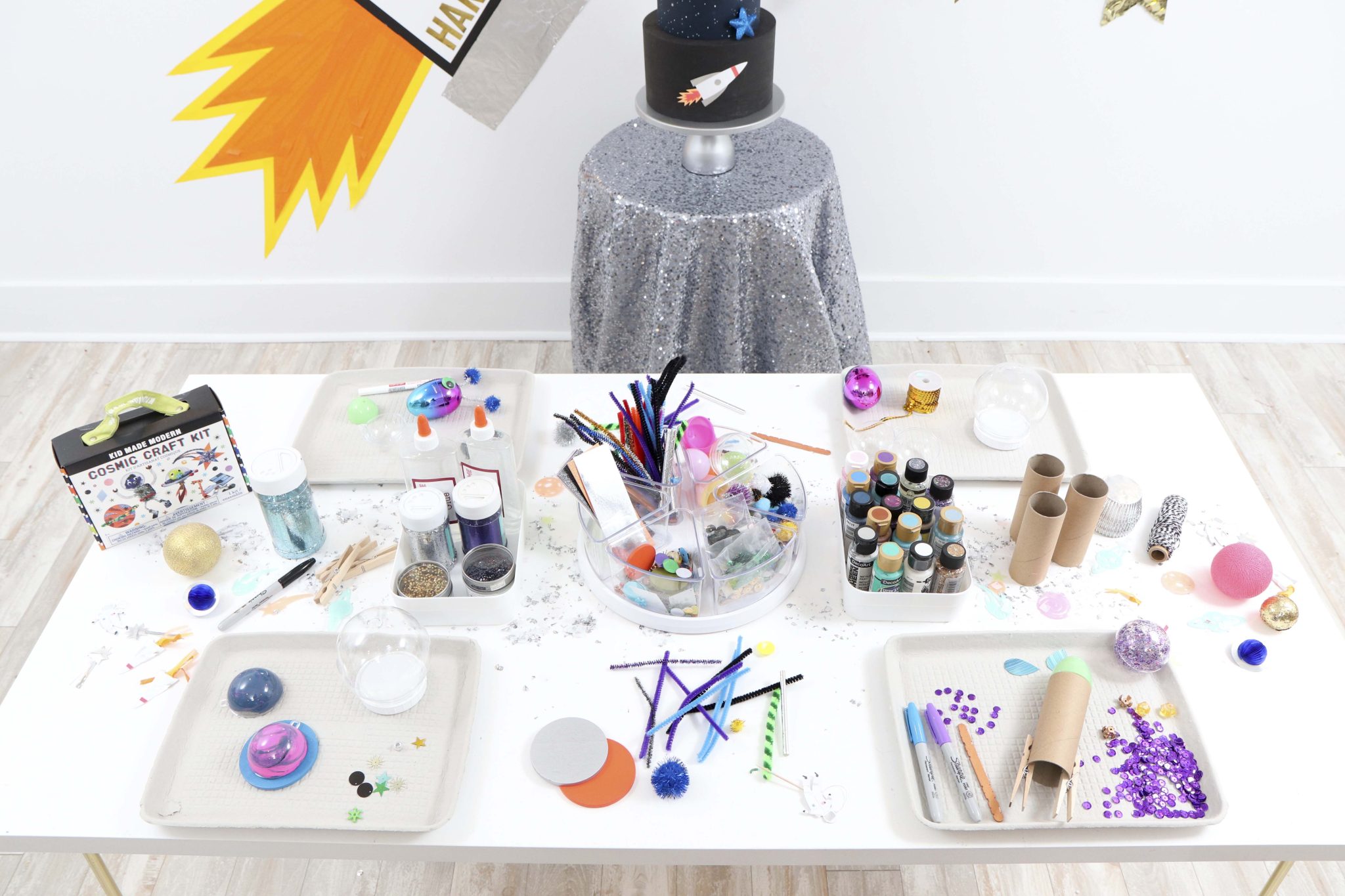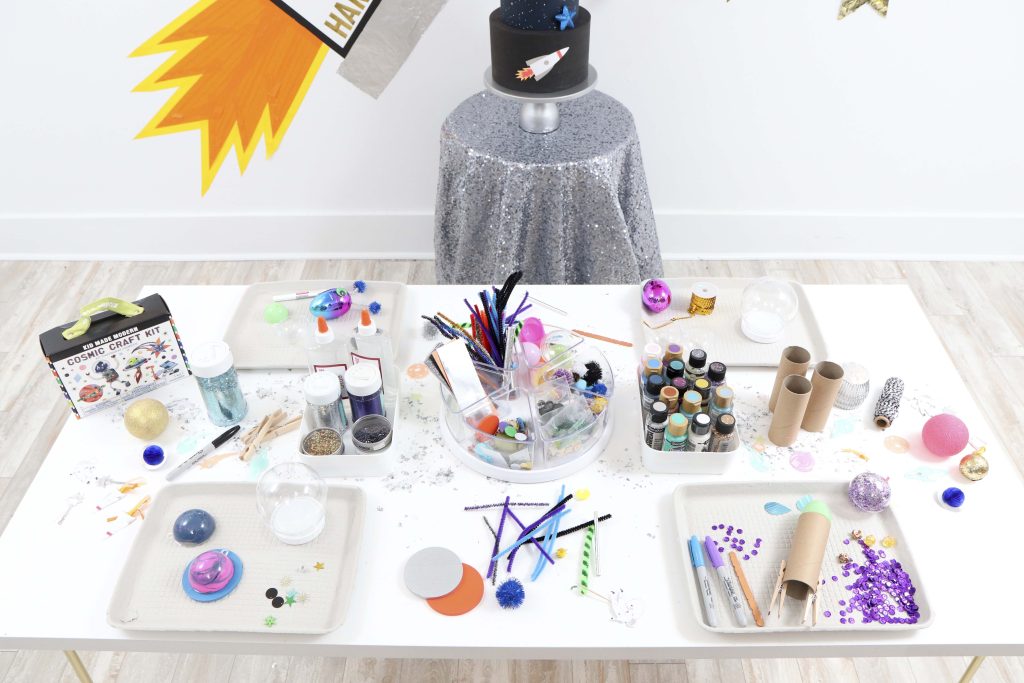 If you love classic themes, be sure to check out my Comic Book Superhero Party, or an all time favorite – Sleepover Party!
If you'd prefer to keep things virtual this year, check out my posts on How to Throw Virtual Parties and Celebrations and 15 Fun Activity Ideas for Virtual Kids Birthday Parties.
Happy Partying!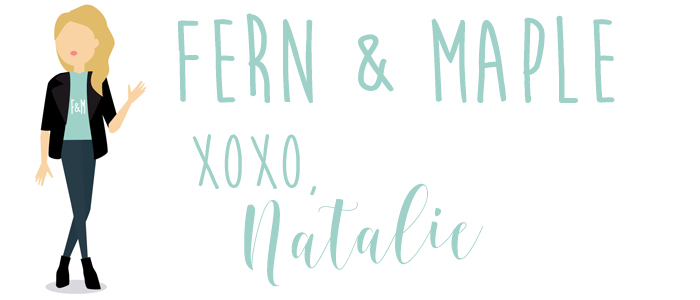 As a blogger, I sometimes receive compensation and/or products in exchange for my styling and crafting services. I also may earn a small commission from any sales that result from affiliate links on this page. As always, all project ideas and any opinions expressed here are my own. For further information on our disclosure policy please check out our disclosure page.
PIN FOR LATER: