I was recently asked how I would set-up a purple themed 18th birthday party, and I jumped at the chance to do this one. It's my favorite color and even the color of my hair! A color is a great theme for a birthday party. I like to use varied but complimenting shades of the color I'm using in the theme. For purple, I would layer in softer lilacs and some vibrant violets. Then, I would layer in natural greens and a metallic-like gold to keep the purple from becoming too overwhelming, and rather highlighting its beauty.
There are a few ways to style for a color-based theme. For this one, I would either go all floral glam but soft and feminine, or I would use a modern combination of paper honeycombs and disco balls! Here's how I'd pull together the look for each style.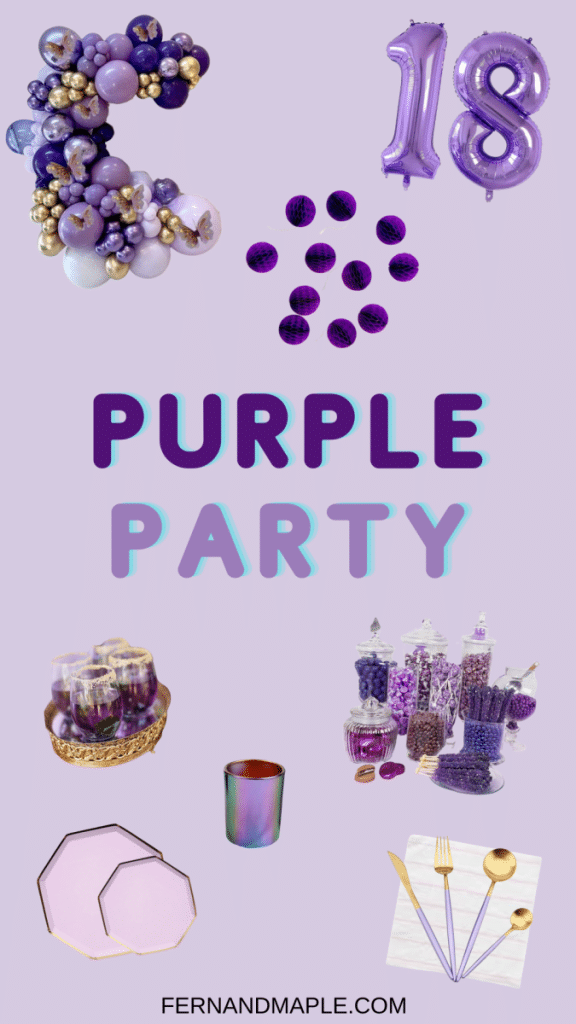 How to Style a Purple Party
In both styles, I would create a balloon arch in the tones of purple, adding in gold and number balloons "18".  For a softer look, I would layer flowers into the garland and give it an organic feel.  For a more modern look, I would add the balloons to a modern gold frame and give it a more structured look.
With my softer look table, I would have a large floral centerpiece and then use purple rose petals down the middle of the table. I'd layer in floating flowers & candles to complete this whimsical look. I would use violets as napkin rings to bring the florals into each setting.
I would use paper balloons, also called honeycombs in various sizes down the table for the more edgy modern look.  Then I'd layer in gold disco balls of varying sizes.   
For tableware I would go with lilac plates, an octagon shape would work for either style, layered smaller on top of larger. Then I'd use two-tone lilac and gold cutlery and add a delicate floral napkin or a subtle and modern Frenchie stripe napkin depending on the selected style.
For desserts in this age group, you can't go wrong with donuts, use a purple drip glaze to bring in the purple theme, and then add edible flowers. Alternatively provide custom lollipops with edible gold layered through them. Pair either with a vibrant cake or a dessert bar of candy in shades of purple.  I've included a pre-made purple candy selection below and a selection of candy jars to display them in.
A personalized signature cocktail (or mocktail) is a great way to bring the theme to life. Have it colored purple and then dip glasses in gold sprinkles before filling them!
Add purple iridescent votive holders around the room for a gorgeous purple party ambiance.
I hope these ideas help you set up your purple-themed part with ease.  See below for a detailed video on putting together this celebration and here is a shopping list ready-made for you!
Shop for a Purple Party
As a blogger, I sometimes receive compensation and/or products in exchange for my styling and crafting services. I also may earn a small commission from any sales that result from affiliate links on this page. As always, all project ideas and any opinions expressed here are my own. For further information on our disclosure policy please check out our disclosure page. 
Need a more detailed Purple Party Plan? Or want some help creating a shopping list or customized party plan for your own theme? I can help.
Don't hesitate to reach out!