How cute is an avocado baby shower theme? Avocados are a super food and a super theme! Because they are symbols of health and prosperity, they certainly make the perfect underlying message for a baby shower.
When I think of avocado as a theme, my mind instantly goes to kawaii avocados! Kawaii is a Japanese artistic and cultural style that emphasizes the quality of cuteness. It uses especially bright colours and the characters have a child-like appearance. It's adorable and perfect for a baby shower theme. The avocado stone can also represent the baby in the belly. Now read on to see how I would style it!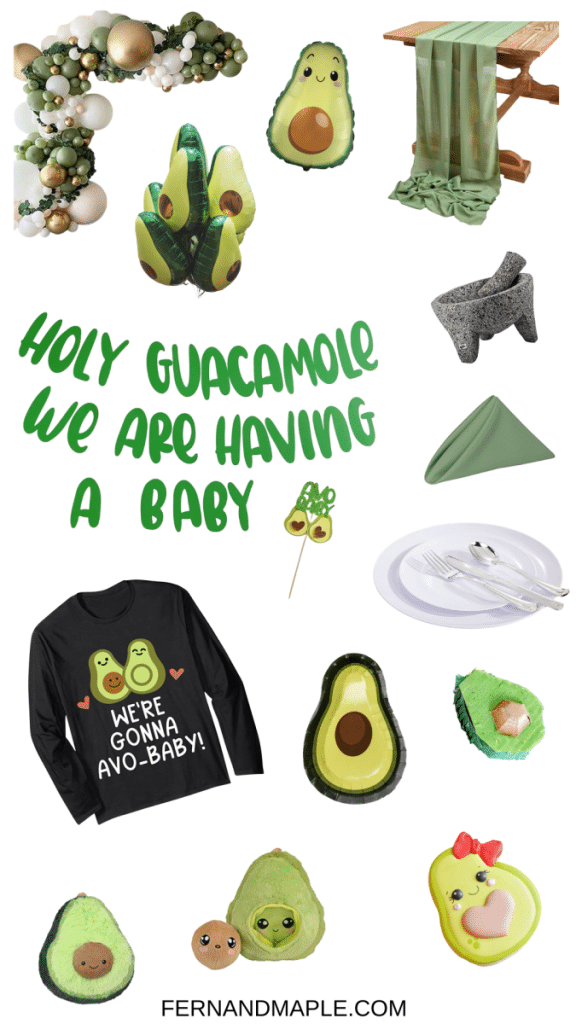 How to Set Up an Avocado Baby Shower
For this shower theme, I would decorate with the kawaii style in mind. Also, it makes a great theme for gifting, eating, and drinking! Yum – guacamole or avocado toast anyone?
I'd use a neutral color palette of creams, stone, and tans with a gold metallic and avocado green. 
First, I'd start by using these colors in my balloon garland. The color "willow" is one of the closest I have found to this shade of green. Then, I would layer in some avocado mylar balloons. If you feel like doing some DIY, add a face to these. Alternatively, you can find a kawaii version in my shopping list below.  
The fun comes by adding puns (because you know I can't resist a good pun!). I'd use a pun baby shower garland under the arch. You can also have some fun with pun t-shirts like "we're gonna avo baby!" 
Next, I would continue with the neutrals for my tablescape, with lots of greenery as a runner. For my florals and centerpiece, I would use large stone guacamole bowls as vases for a gorgeous and unique look!
Additionally, place little guacamole canape plates or avocado pinatas as place cards. They're great for bringing the theme to the table without going overboard. Subtle and cute! Another great way to bring your theme to the party table is with cookies. Have kawaii-style cookies created – these also double as a lovely take-home favor.
Finally, the diaper cake! Add a plush kawaii avocado as an accent or topper. The mom-to-be will love this thoughtful extra for the baby's room!
I hope these ideas help you set up your avocado baby shower with ease.  See below for a detailed video on putting together this celebration. Then, check out the shopping list ready-made for you!
Shop for an Avocado Baby Shower
As a blogger, I sometimes receive compensation and/or products in exchange for my styling and crafting services. I also may earn a small commission from any sales that result from affiliate links on this page. As always, all project ideas and any opinions expressed here are my own. For further information on our disclosure policy please check out our disclosure page. 
Need a more detailed Avocado Baby Shower Plan? Or want some help creating a shopping list or customized party plan for your own theme? I can help.
Don't hesitate to reach out!