Do you have a child at home that is in the shape & color phase? Throwing a fun shapes and colors birthday party for is perfect for the pre-schooler aged 3-5 years old. Its such a fun way to incorporate shapes they'll recognize.
Why shapes & colors? I still remember how excited my little ones were when they spotted shapes and letters they were learning. My daughter especially was always drawn to bright colors and shapes. She would point them out everywhere. It's so cute!
The bonus is I love shapes too! It's a super playful theme and there are lots of options to buy and to DIY. Better yet there are interactive options the kids can play with to make it a truly memorable event.  Now, read on to see how I'd style it!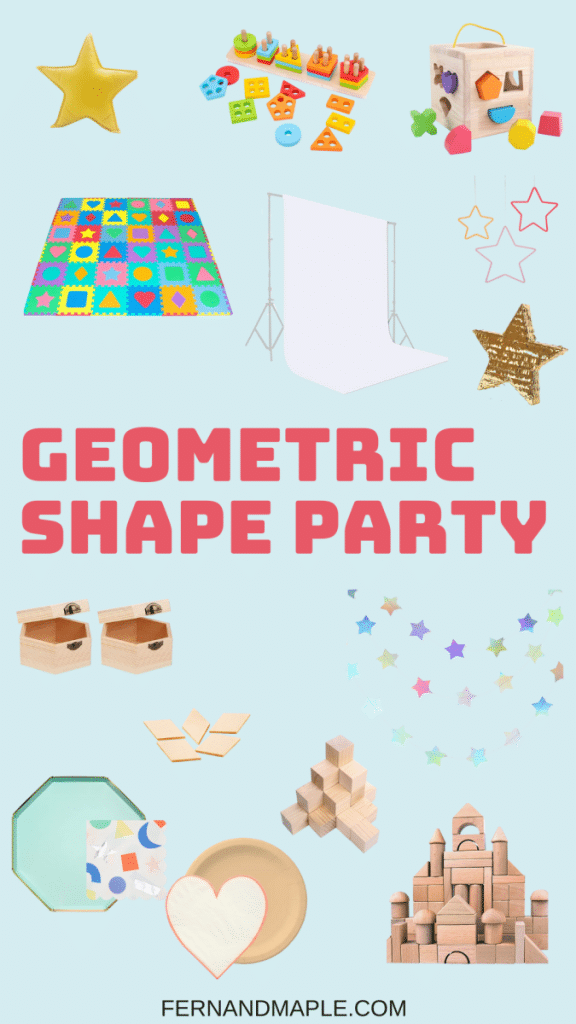 How to Set-Up a Geometric Shape Party
Table
When I think of shapes my mind instantly goes to shape sorters, the classic wooden toy.  First of all, I would use these as a key piece of my decor.  Slide out the top and insert a vase inside to hold flowers, use these on the table or as room decor. 
For the table, I would combine 2 shapes of plates. For example, an octagon plate with a star or circle on top. Then, I'd add geometric theme napkins from Meri Meri you'll find linked below.  There are sweet cups and more in this range. Or use another shape, such as a heart napkin. Next, for my cutlery, I'd use wooden cutlery that comes or can be stamped with shapes!
Down the center of the table, I would use playmats as a runner – the foam shapes that interlink and have shapes on them. Alternatively, they would make great placemats. However, if you want a more interactive table, try using geometric shape toys on the table as centerpieces.
Wooden DIY shapes are a great option to DIY a runner, placemats, or place cards in any color combo your child loves! Add patterns or use 3D shapes for an extra pop of fun!
Play Area
Next, set up a floor-level play area. This can be indoors or outdoors. First, start with a foam playmat with a shape design. Then, incorporate lots of soft cushions in all sorts of shapes for kids to crawl over on and play. Giant size stars, half circles, pyramids, and more!
Additionally, create more fun with hanging decor, giant hanging stars, and star garlands. Alternatively, use strands of shapes, and string them together to create a fabulous shape streamer backdrop.
Another DIY option would be to use a sheet or black canvas and hand-paint shapes onto it. Then, decorate around it with paper honeycomb shapes or pinatas in fun shapes and in all colors!
Favors
Finally, I'd send each guest home with a little favor, small hexagon boxes painted in the colors of the party and filled with age-appropriate treats!
I hope these ideas help you set up your geometric shape theme birthday party with ease. Now, see below for a detailed video on putting together this celebration, and below that is a shopping list ready-made for you!
Shop for a Geometric Shape Party
As a blogger, I sometimes receive compensation and/or products in exchange for my styling and crafting services. I also may earn a small commission from any sales that result from affiliate links on this page. As always, all project ideas and any opinions expressed here are my own. For further information on our disclosure policy please check out our disclosure page. 
Need a more detailed Geometric Shape Party Plan? Or want some help creating a shopping list or customized party plan for your own theme? I can help.
Don't hesitate to reach out!