The flower power and hippie trend is super popular right now! It works so well for multiple ages, Two Groovy, a One Groovy party right through to teens and even older. It's such a fun theme to use and full of peace, love, and happiness!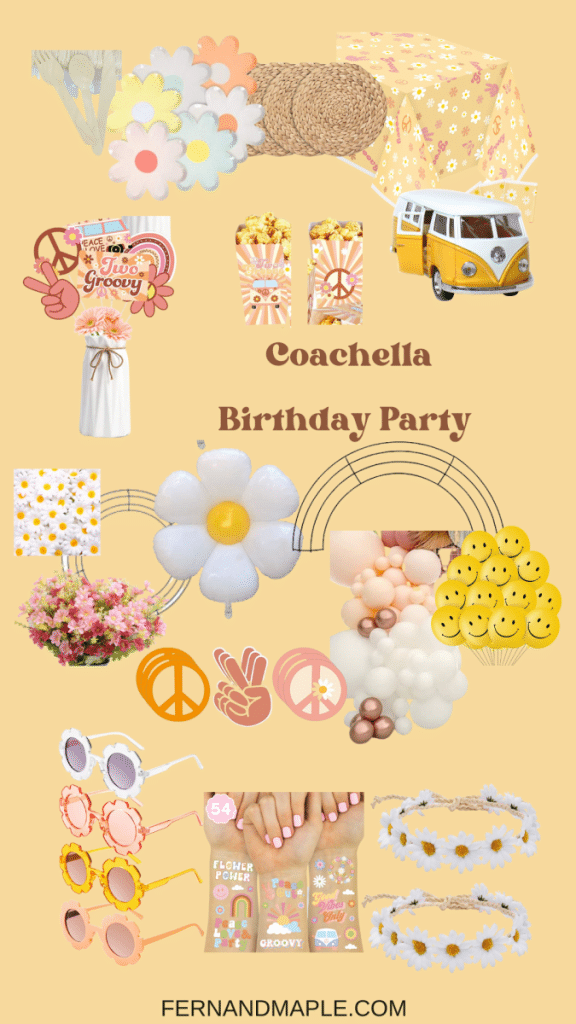 How to Set Up a Groovy Birthday Party
To create a groovy vibe at your party incorporate these iconic symbols in some way; daisies and other wildflowers, peace signs (both the circular kind and the finger symbol), rainbows, smiley faces, volkswagons and musical instruments like tamborines.  All of these iconic groovy symbols will help transform your space.
Combining symbols can give you a show stopping look.  For example using daisies to create a giant peace sign or different colored wildflowers to make a large rainbow, both make a groovy party backdrop.
Another easy way to incorporate these eleements is in your centerpieces.  For example using mason jars of flowers and adding printable peace signs and VW's into these to create a groovy centerpiece. I also love getting a little quirky and fun.  Add some colorful slinkies down the middle of the table for an unexpected and fun element.
Alternatively, use them in a table setting.  Use daisy flowers with rainbow napkins, add drink stirrers with peace signs…there are so many fun options.
 Favors can also double as decor, for example flower sunglasses are pretty and can sit on each plate to make them pop! Watch these videos for lots more table top ideas.
Check out the video below for backdrop ideas:
The video below shows you how to make a Groovy Balloon Garland:
Check out the video below for some activity ideas:
Shop for a Groovy Boho Birthday Party
As a blogger, I sometimes receive compensation and/or products in exchange for my styling and crafting services. I also may earn a small commission from any sales that result from affiliate links on this page. As always, all project ideas and any opinions expressed here are my own. For further information on our disclosure policy please check out our disclosure page. 
Head over to Tik Tok for more party ideas and help setting them up.  I'm always up for questions, let me know the theme you've been dreaming of.
Need a more detailed Groovy Boho Birthday Party Plan? Or want some help creating a shopping list or customized party plan for your own theme? I can help. Don't hesitate to reach out!