Yo ho ho! These 6 Pirate-Themed Activity and Craft Ideas from my daughter Parker's Pirate Themed Party are great for  encouraging creativity, and promoting fine and gross motor skills! All while ensuring the little pirates are staying entertained and having a blast at the party. Several of them also double as take-home favors as well. Blimey! Read on to get the details for your own kid's Pirate Party. And then be sure to check out my Pirate Party Dessert Table Ideas, DIY Pirate's Treasure Decor, and DIY Pirate's Loot Favor Station!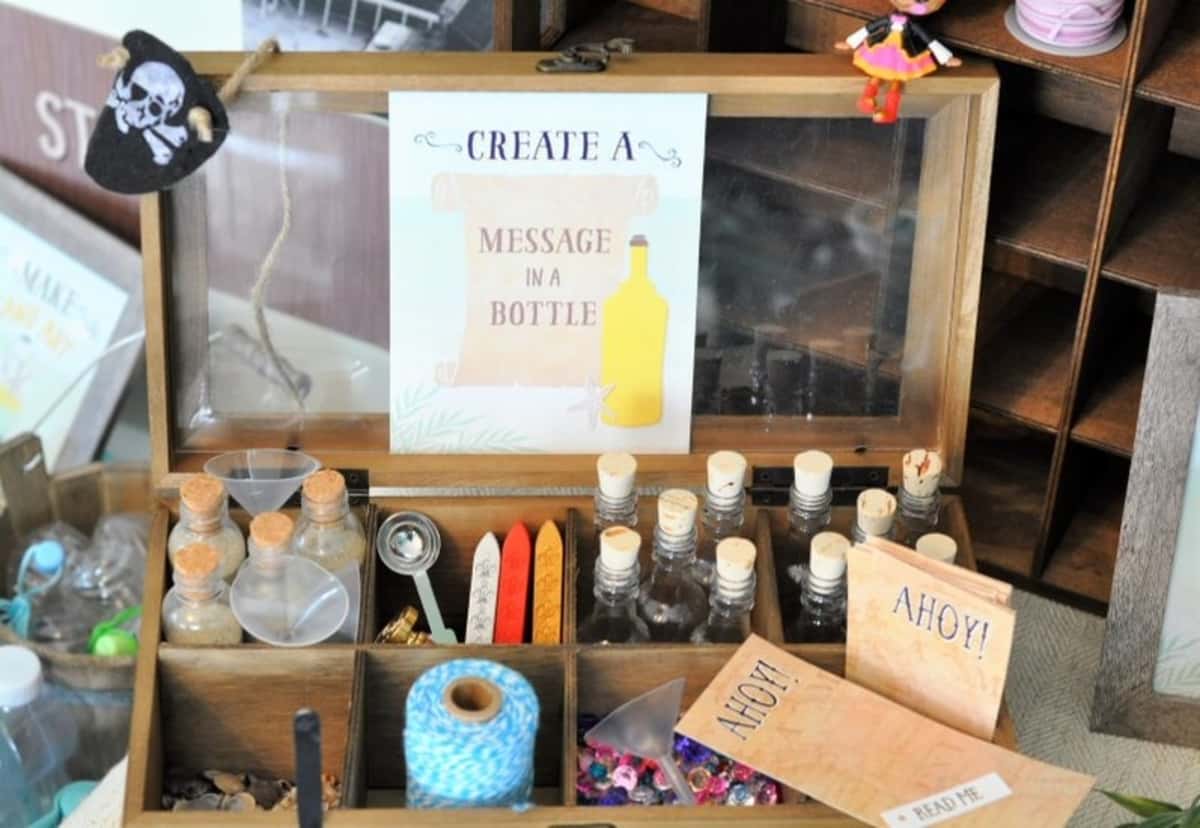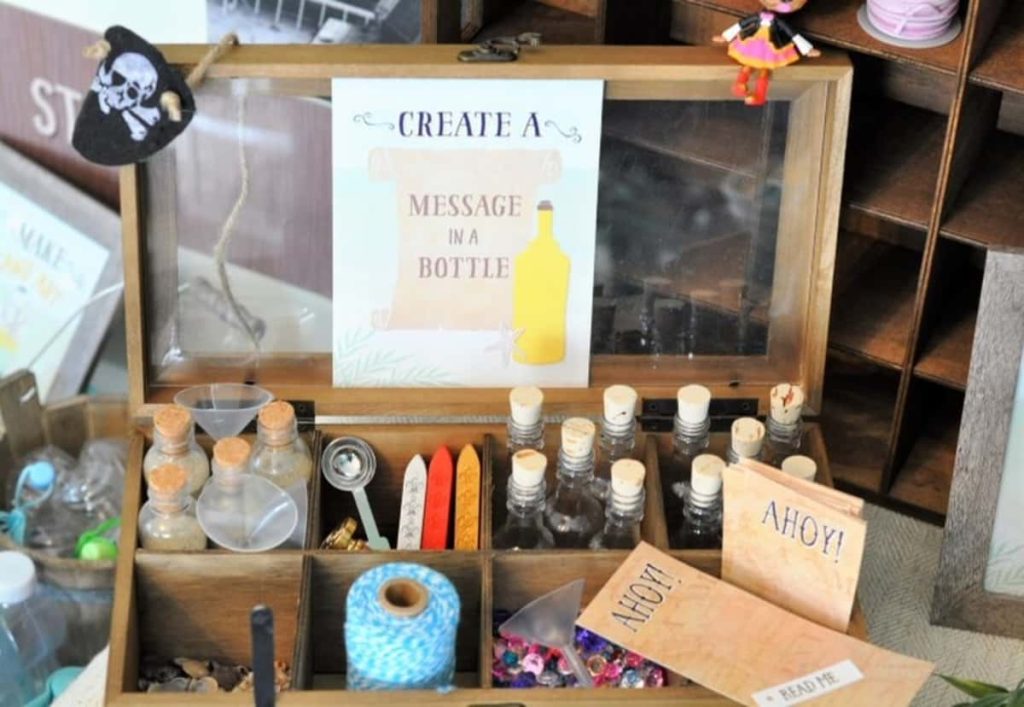 Pirate-Themed Party Activities & Crafts
Sand Art Bar
This activity is a really fun way for kids to get creative with their colors, and ends up with a pretty keepsake from the party!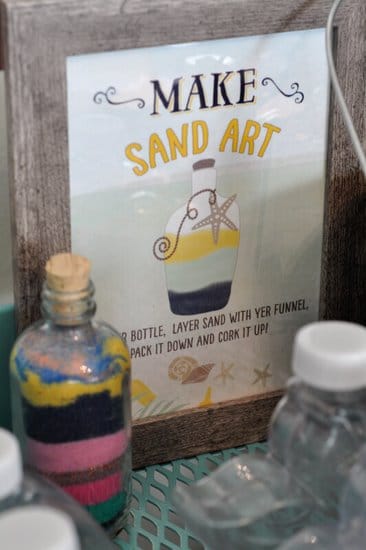 I used plastic bottles shaped like sea creatures, with little "P" stickers on them to serve as reminders of the Pirate Party guest of honor – Parker. I also provided some seashell necklace bottles for some wearable Sand Art! You could also use more basic tropical bottles for this craft as well – whatever you think guests will prefer!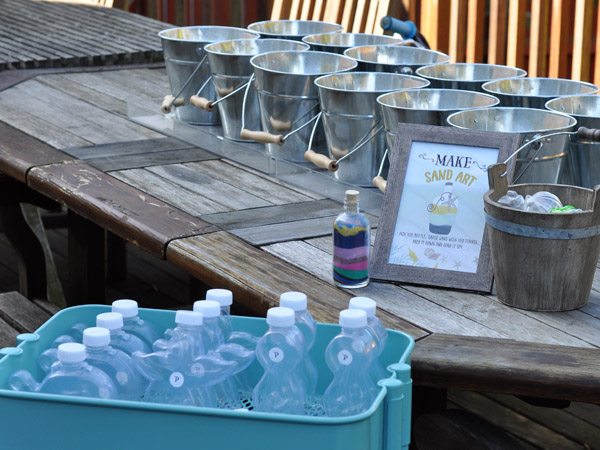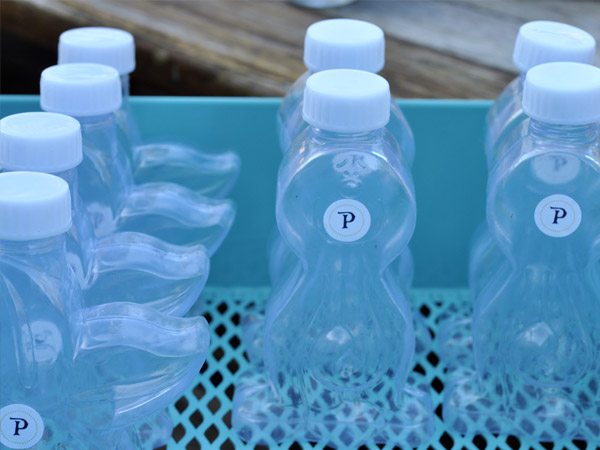 I then set out tons of colored sand in galvanized pails, along with scoops and funnels for adding sand to the bottles.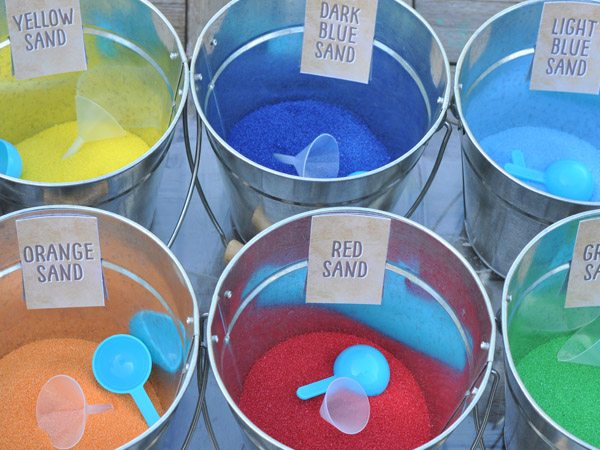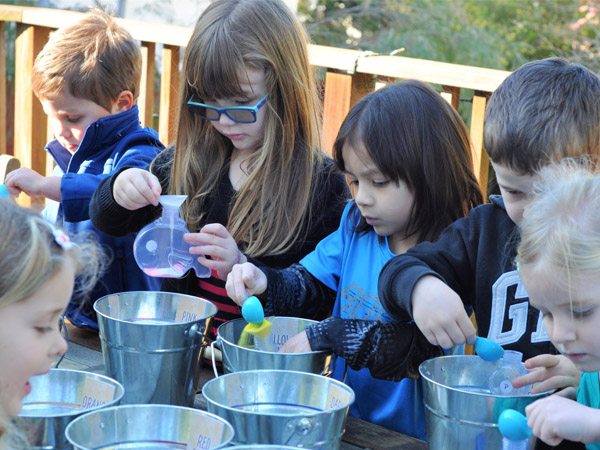 Fair warning – this activity is definitely a messy one. You'll want to invest in a really good vacuum cleaner, or, like I did, plan for this one to be outdoors!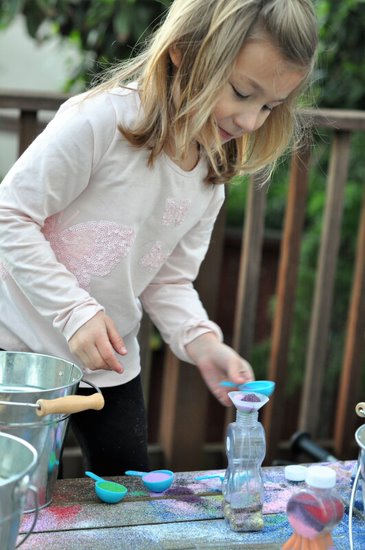 The results are pretty pirate treasures!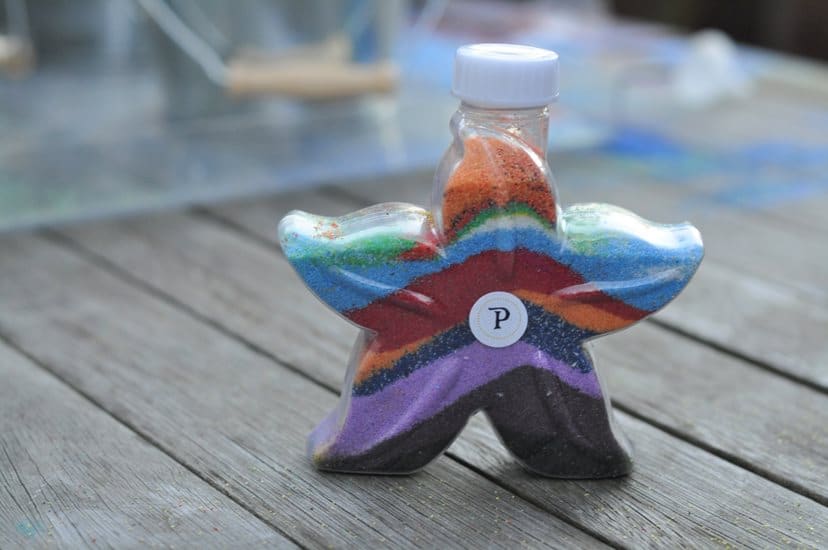 Driftwood Pirate Ship Building
The second Pirate Party activity was creating driftwood boats. I set out a basket with all of the supplies needed – small pieces of driftwood with holes for the sails, dowel rods to hold the sails, pre-cut "Jolly Parker" sails, and plenty of craft glue. Then, I added additional decorations for each guest to personalize their boats.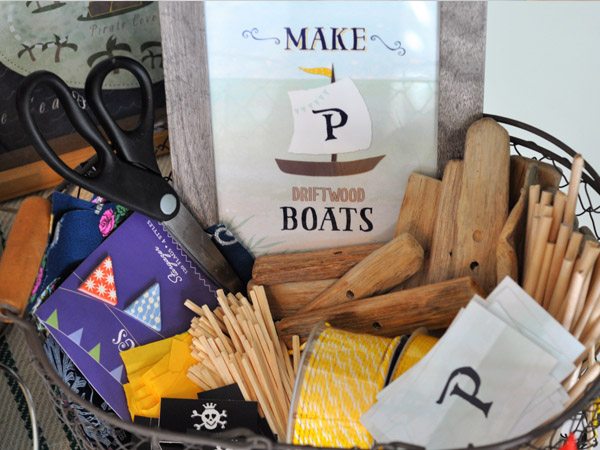 "Make Yer Mark" Metal Necklace Stamping
The third activity was creating a stamped metal necklace. A great way for the little mateys to "make their marks"!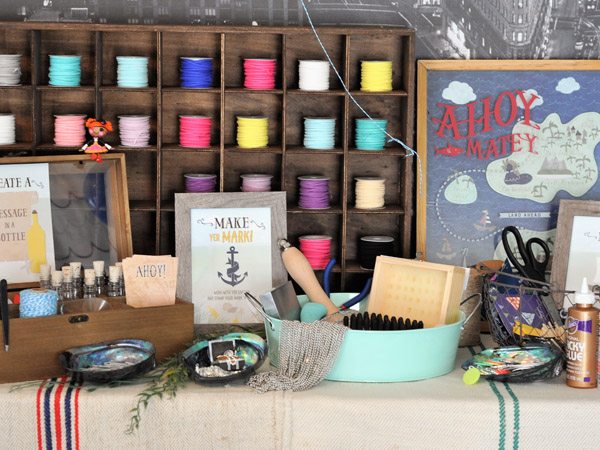 This station included a metal stamping kit with letter stamps and mallet, metal necklace tags, and chains. I also added some additional charms, pearls, and beads for the guests to personalize their necklaces.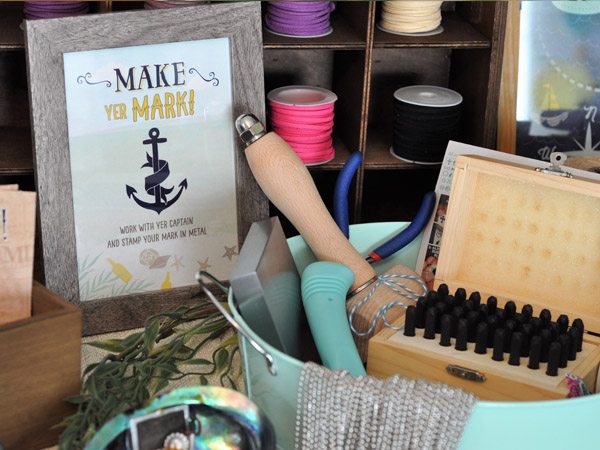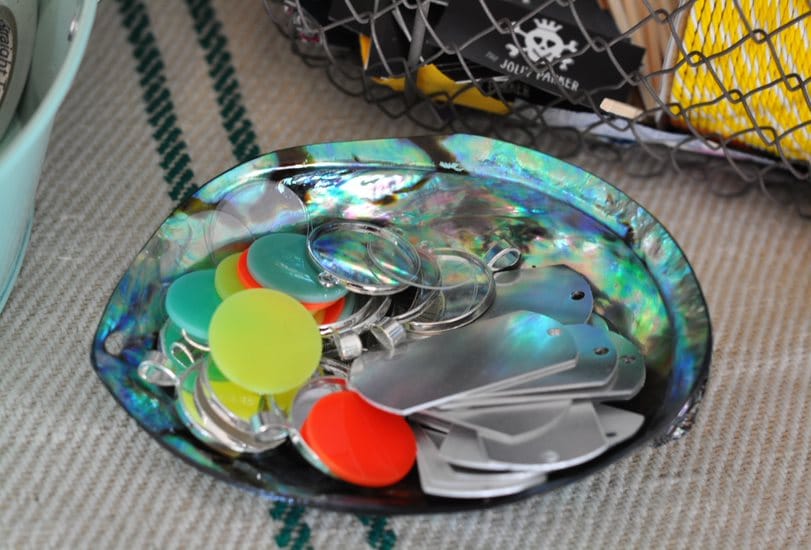 Message in a Bottle Craft
Another fun pirate-themed craft idea is this message in a bottle craft. Similar to the Sand Art craft, it requires using a funnel to fill small bottles with sand, and in this case, a secret message! For this craft, I also provided some tiny shells and "pirate's treasure" gems to add to the bottles.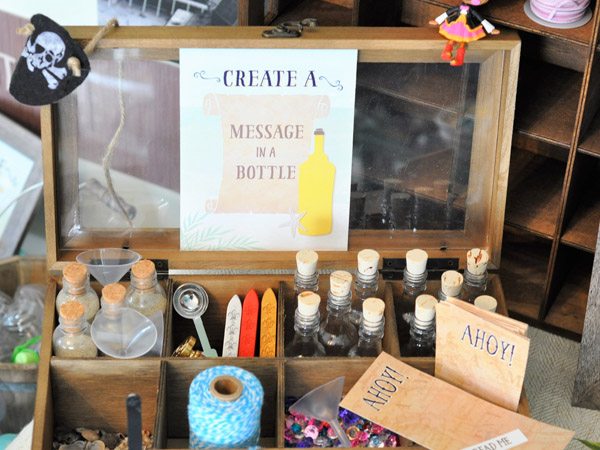 Guests could write their secret messages on pirate-themed "Ahoy" paper I provided, which could then be rolled, tied with baker's twine, and inserted into the bottles. I also printed out some "Read Me" tags to tie around the neck of the bottles.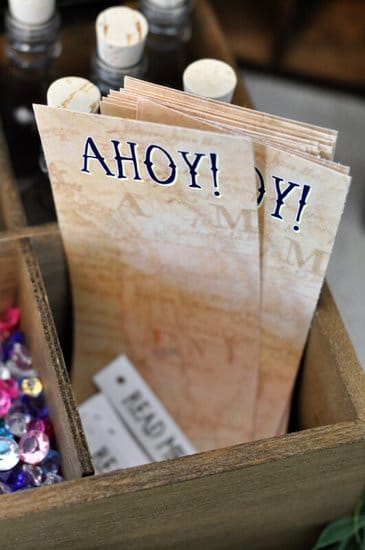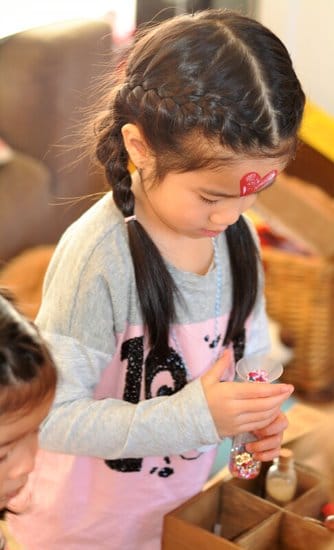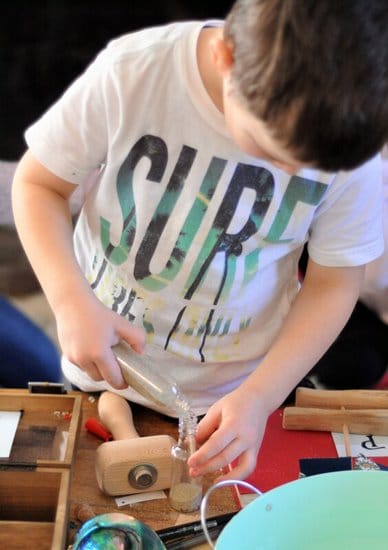 Temporary Tattoos
What kid doesn't love temporary tattoos? They're perfect for feeling more like a pirate (temporarily!). I dubbed this station the "Tattoo Parlour", and set out a variety of pirate, nautical, and sea-creature temporary tattoo options.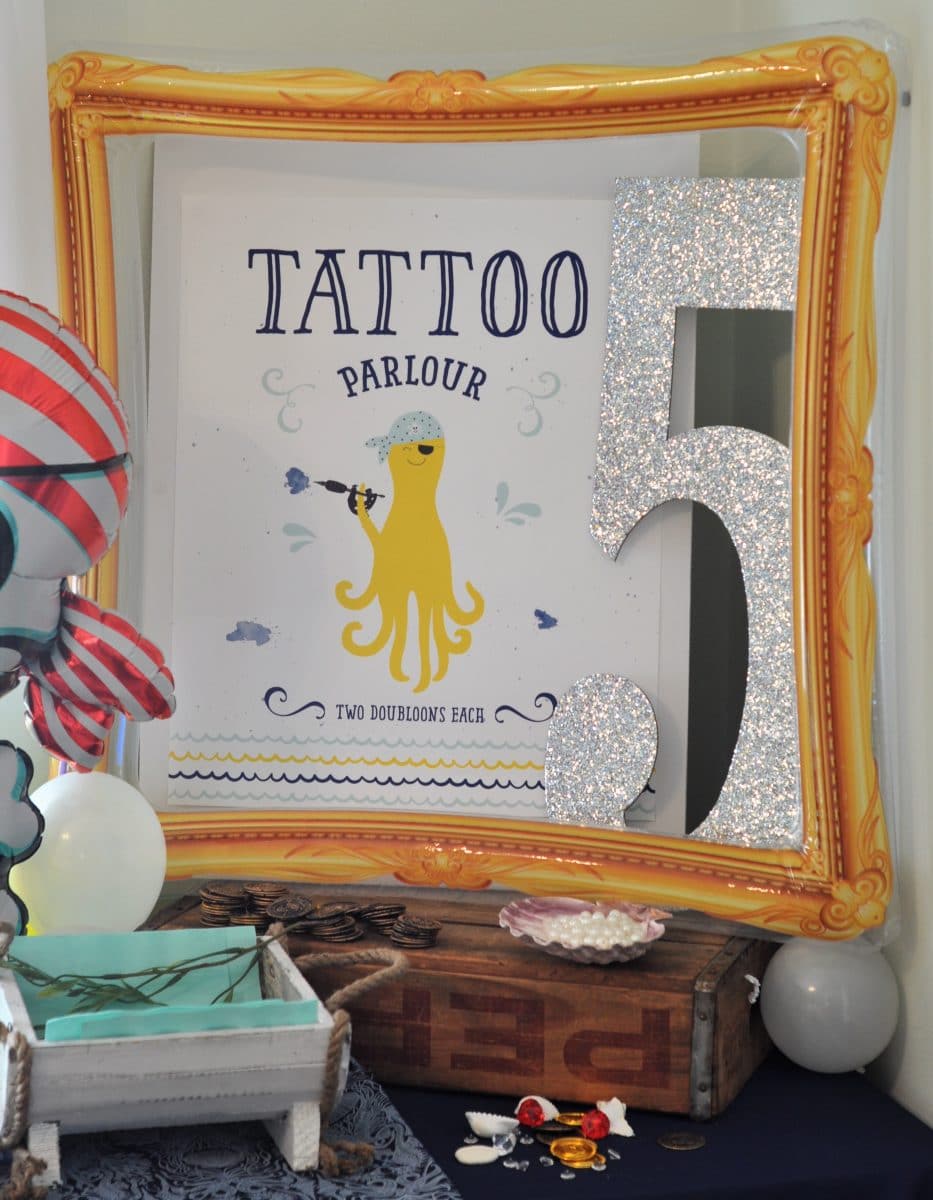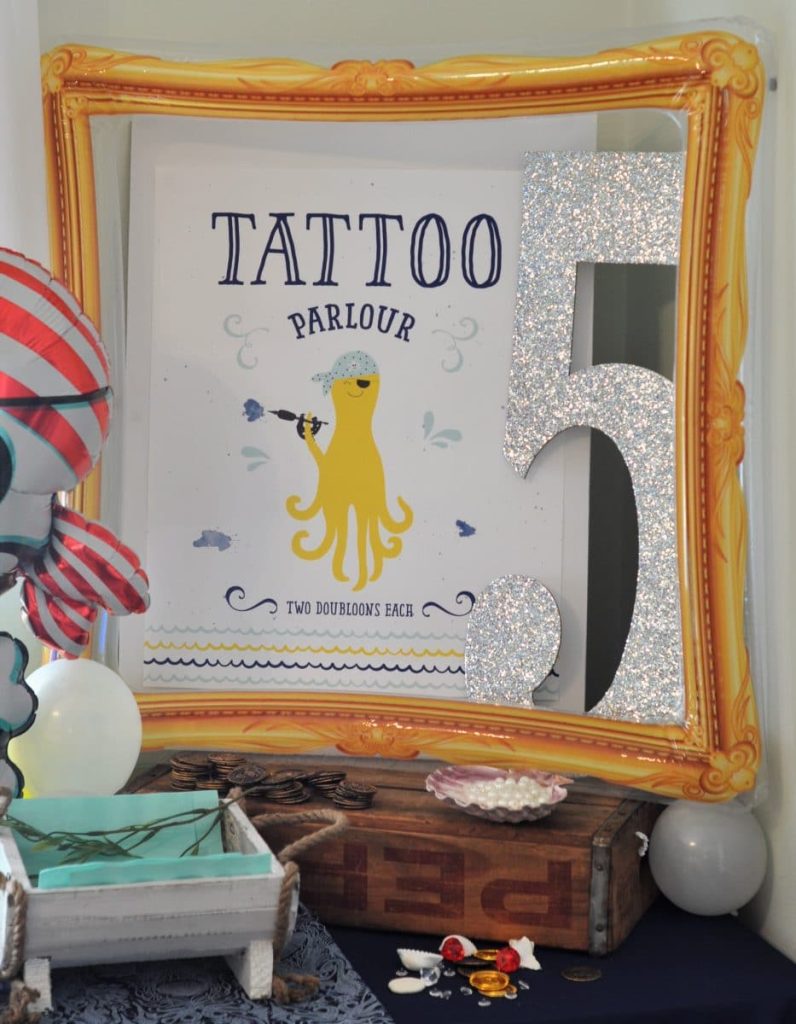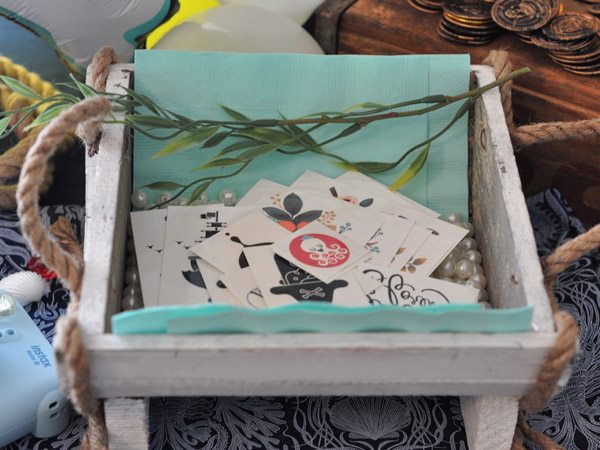 To make the tattooing easier, I filled a bowl with pearls and some water, along with some Tattly sponges for transferring the temporary tattoos.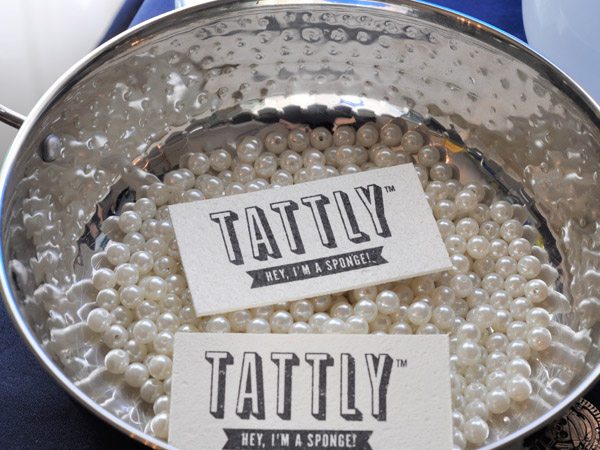 Walking the Plank
Finally, for more of an active activity, I created a plank walk in the backyard, using a sturdy wooden board set atop two milk crates. The holes in the milk crate allowed me to securely attach the ends of the board to them with plenty of strong string so that they wouldn't fall off.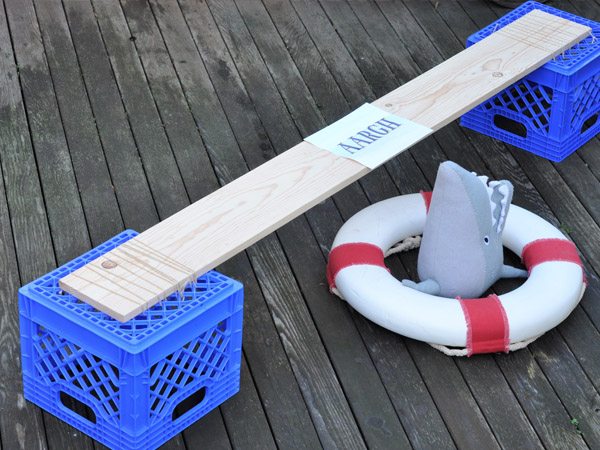 I added a stuffed shark in a life preserver to make the kids laugh and provide a little extra motivation to make it across the plank!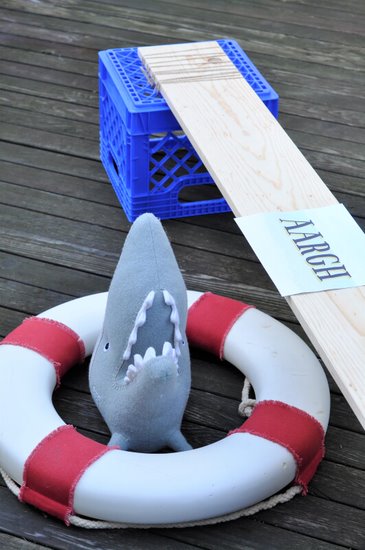 More Pirate-Themed Fun
You'll also need to check out the other Pirate Party posts to get even more ideas for how to make your Pirate Party a success, savvy?
Happy Partying!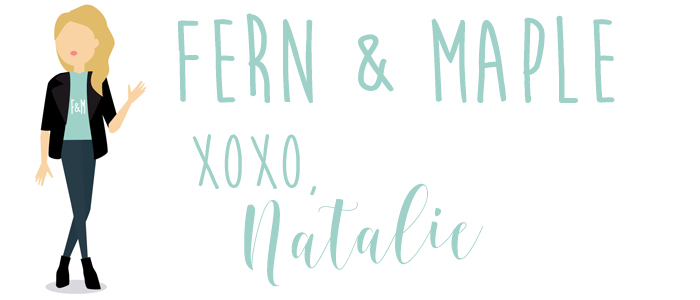 As a blogger, I sometimes receive compensation and/or products in exchange for my styling and crafting services. I also may earn a small commission from any sales that result from affiliate links on this page. As always, all project ideas and any opinions expressed here are my own.  For further information on our disclosure policy please check out our disclosure page. 
PIN FOR LATER: