Carving pumpkins can be a really fun activity. But I have to admit, every time I've done it I seem to have forgotten just how messy and challenging it can be, until I'm right in the middle of it! And then once they're done – they only last a few days before they start to wilt a bit! Sometimes, we just don't have the time or patience for all of that effort. That's where these 13 Easy No-Carve Pumpkin ideas come in handy. Not only will you avoid the sticky mess and the sharp tools – you'll end up with unique and longer lasting decor, as well (particularly if you use faux pumpkins)!
1- Golden Glam No-Carve Pumpkin
This deep purple and gold pumpkin is as glam as it gets. And it's as easy as adding a coat of paint, some glue, and some faux leaves! You can find the instructions HERE.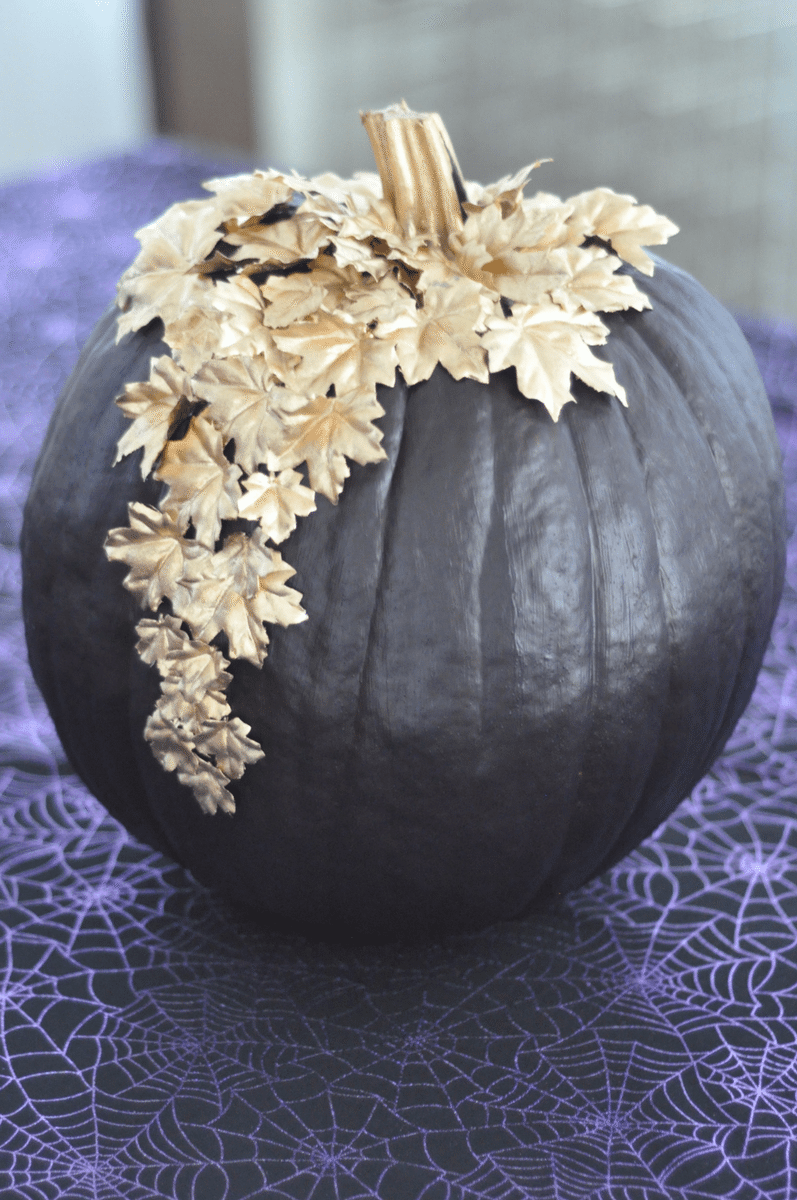 2 – Funky 80's Pumpkin
For a totally rad no-carve pumpkin idea, why not go Funky 80's style? Get the details on this painted pumpkin HERE.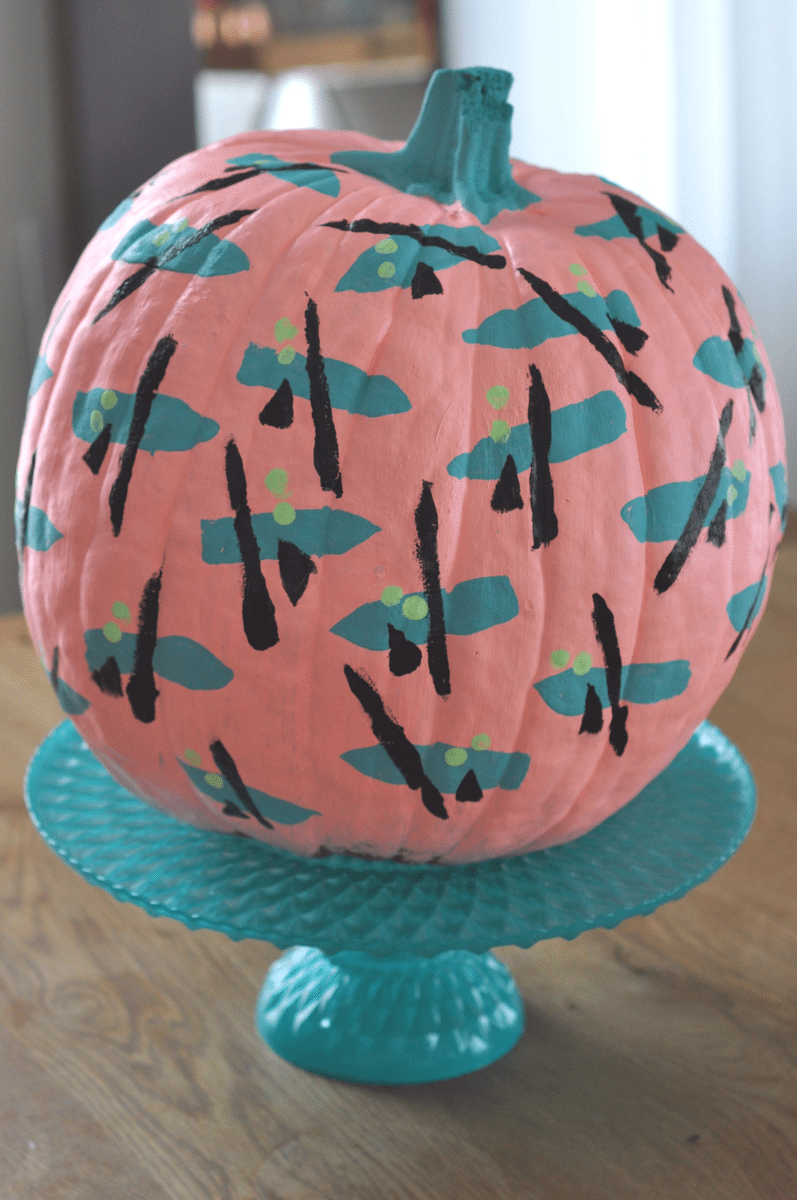 3 – Steampunk Pumpkin
Prefer the retro-futuristic look? This metallic steampunk pumpkin is perfect for you. Find out how to make it HERE.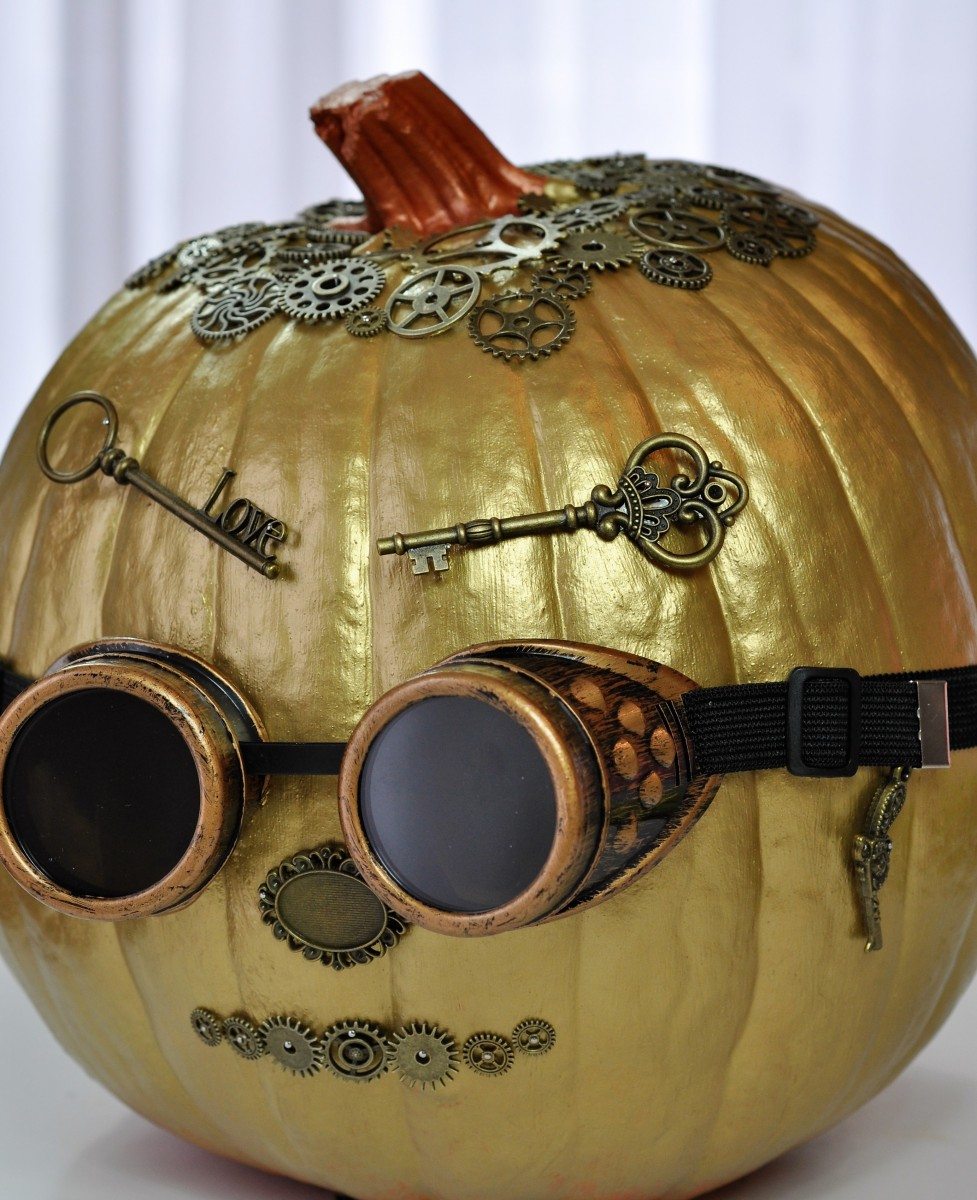 4 – Friendly Frankenstein Pumpkin
Perfect for children who don't like overly scary or gory things, this Friendly Frankenstein pumpkin is painted with a smiling Frankie face. You can easily make him using paint, cut out paper shapes, and a permanent marker. Get all the rest of the details about my Friendly Frankie Frankenstein Themed Halloween Party HERE.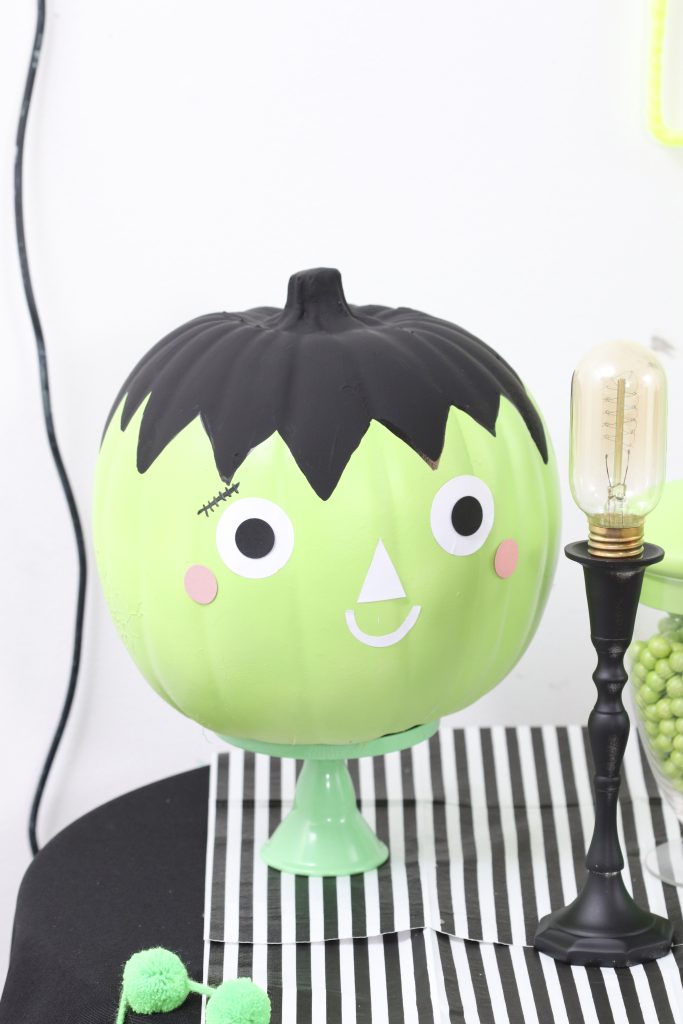 5 – Light-Up Fall Centerpiece Pumpkins
This DIY light-up pumpkin centerpiece was used for our Fall Festival this year, at our pumpkin craft station, and it got so many compliments! Get the instructions for how to make it HERE, and check out the rest of our Fall Festival Block Party HERE.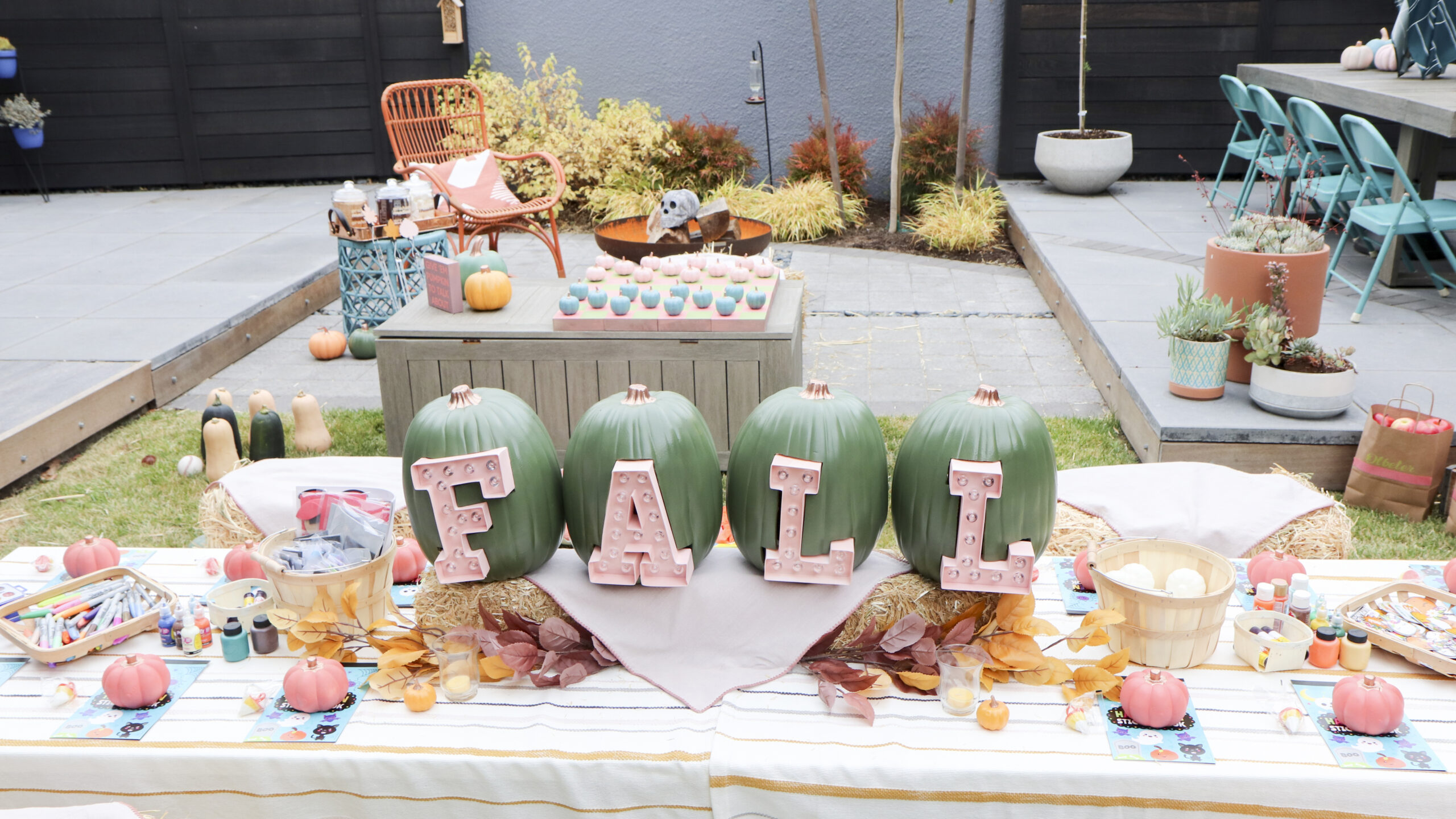 6 – Spooky Spider Pumpkins
One of the easiest ways to spook up a Halloween pumpkin is simply by adding paint and some creepy crawlies. Attaching a variety of spider toys and favors to these purple and green painted pumpkins made them perfect for my Spooky Spider Kids' Halloween Party! See more from that party HERE.

7 – FRIENDS Themed Pumpkins
Could these pumpkins BE any cuter?! If you're a Friends Fan like me, you'll love making these. Using a vinyl cutting machine (or stencils), add quotes from the show to a plain or painted pumpkin. Decoupage a friends-themed napkin onto another. Or, for my favorite (and most simple of them all), add Richard's mustache to painted pumpkins.  I used my Friends pumpkins for a Thanksgiving dinner, but you can easily change up the quotes and use them for Halloween decor as well. Read all about my Friends Themed Friendsgiving Party HERE.
8 – Floral Phase of the Moon Pumpkins
If you need a more romantic pumpkin look, these Floral Phase of the Moon pumpkins will have you spellbound! Get the instructions HERE, and check out the rest of my Spellbinding All Hallow's Eve Wedding ideas HERE.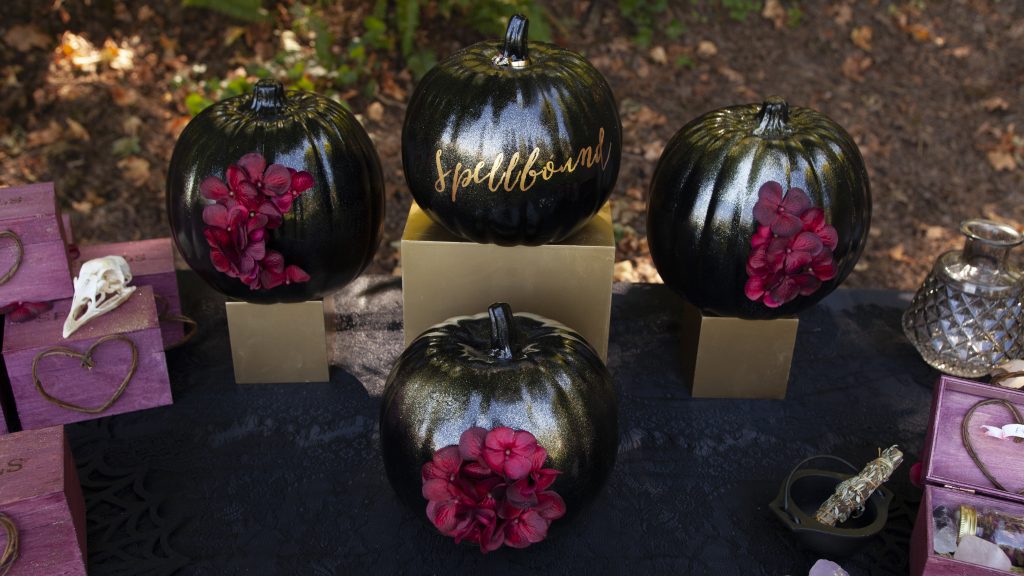 9 – Tiki Pumpkins
For those whose Halloween weather allows for outdoor celebrating, throw tradition to the wind and host a unique backyard halloween luau! These tiki pumpkins are easy and make quite the impact. Get the instructions for how to make them HERE, and then check out the rest of my Haunted Halloween Luau ideas HERE.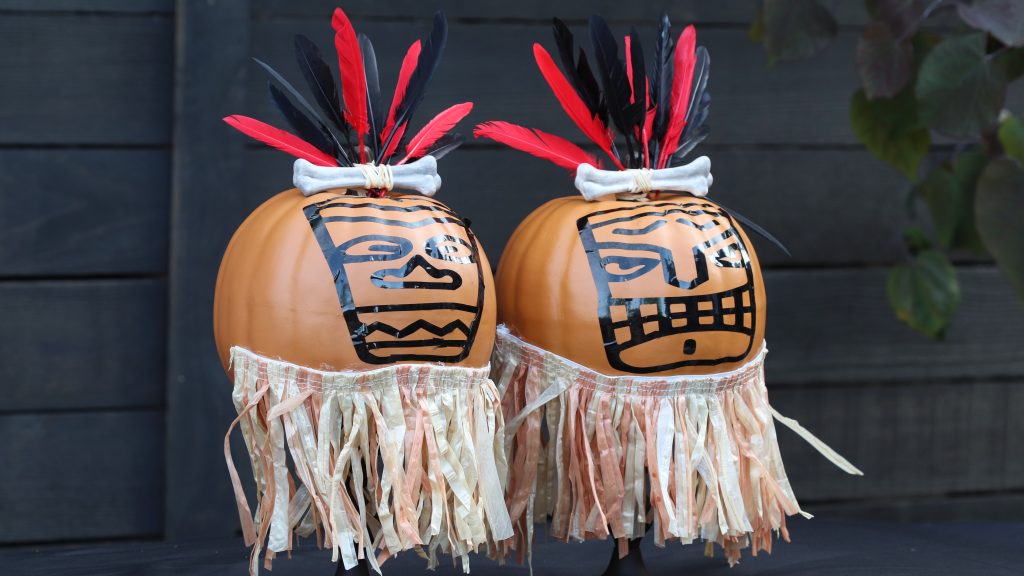 10 – Zombie Pumpkin
Another fun kid's option, this goofy Zombie Pumpkin is crazy easy. Simply paint a pumpkin green, and then use a Zombie Decorating Kit to add a face, stitches, hair, and, of course…braaaains. See the rest of my Zombie Party fun HERE.
11 – Rainbow Pumpkins
These polka dotted Rainbow pumpkins are so colorful and fun. Either paint a real pumpkin white (or use a faux white pumpkin) and then push colorful brads in a random pattern around the pumpkin. That's it! Find more info on my Rainbow Thanksgiving kids table HERE.
12 – Hocus Pocus Pumpkins
Amok! Amok! These Hocus Pocus pumpkins are for all of the Sanderson Sister fans out there. I can't go a full Halloween season without watching this movie at least once! Get all of the details for how to make these pumpkins HERE, and then check out the rest of my Hocus Pocus Themed Halloween Party HERE.
13 – Stranger Things Pumpkin
Who loves Stranger Things?! While you wait for the next season to finally come out, why not throw a Halloween Party from the Upside Down? This one is simple – just use a vinyl cutting machine, stencils or stickers to write out Eleven's "Friends Don't Lie" quote on a white painted pumpkin, and then wrap it up in string lights! See more of my 11 is the new 13 Halloween Party HERE.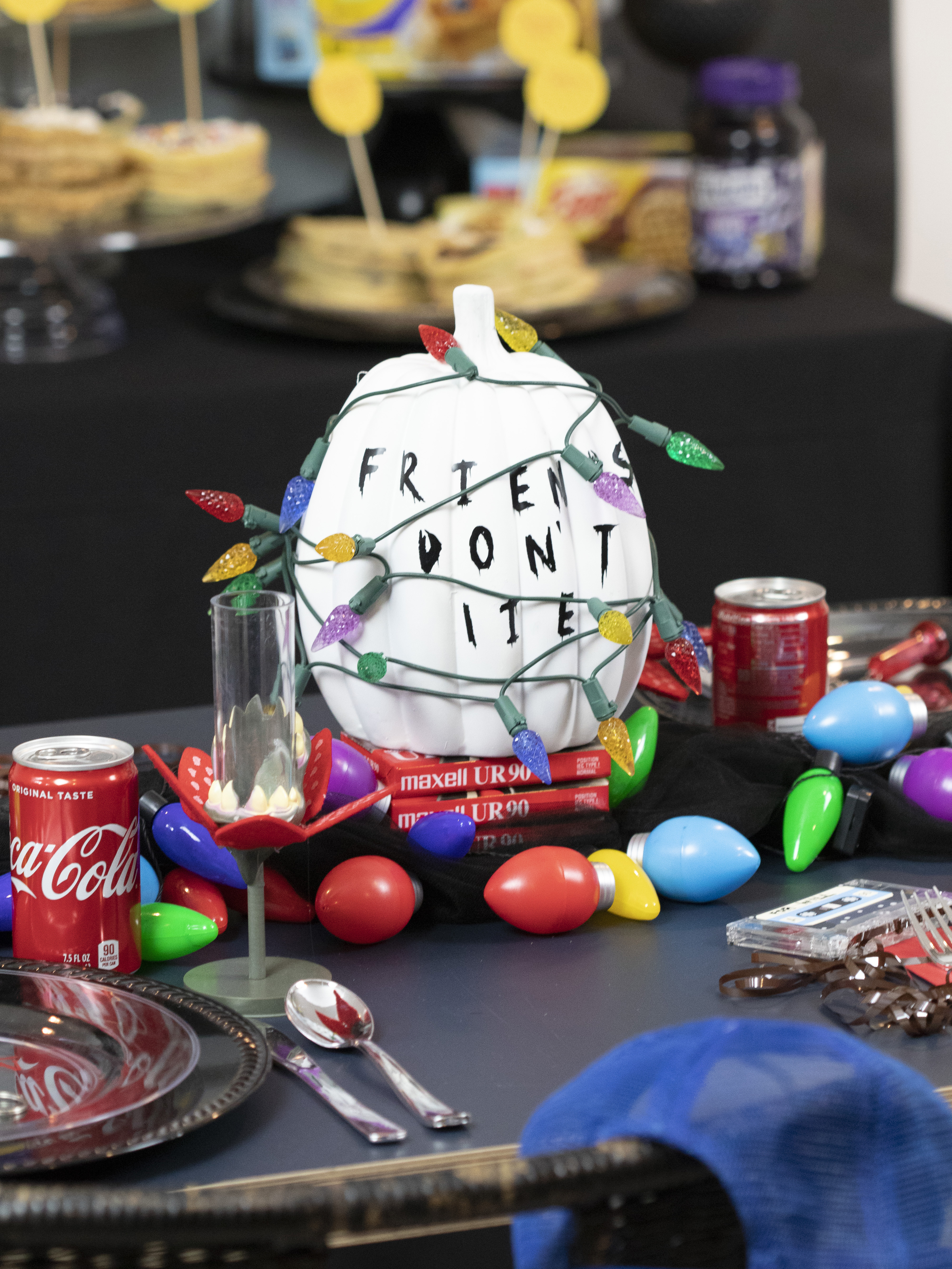 There are so many ways to decorate pumpkins without having to carve them. I hope these 13 Ideas have inspired you to get creative about no-carve! Have more ideas to share? Tell me in the comments!
For more Halloween ideas, check out my other Halloween round-up posts:
Happy Decorating!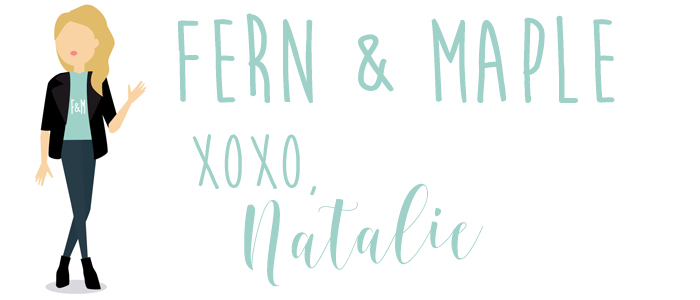 PIN FOR LATER: