While I love Halloween and totally get into the scary and gory aspects of it, I also recognize that it's not for everyone.  Younger kids in particular might not enjoy some of the creepier Halloween party themes! That's why I love getting creative and finding ways to transform traditional Halloween party themes into kid-friendly fun themes. 
For this Frankenstein-inspired Halloween party, I decided to channel my inner Dr. Frankenstein and create a friendlier version of his "monster" – Frankie! I was inspired by plates I found from my local Fred Meyers supermarket that depicted a cute smiling version of Frankenstein's monster. How could he be scary with that smile?! This character of "Frankie" became the central theme of the whole party. Read on to find out how I set it all up, shop the Amazon list, and then be sure to click the links in the post below to get the details on the DIYs!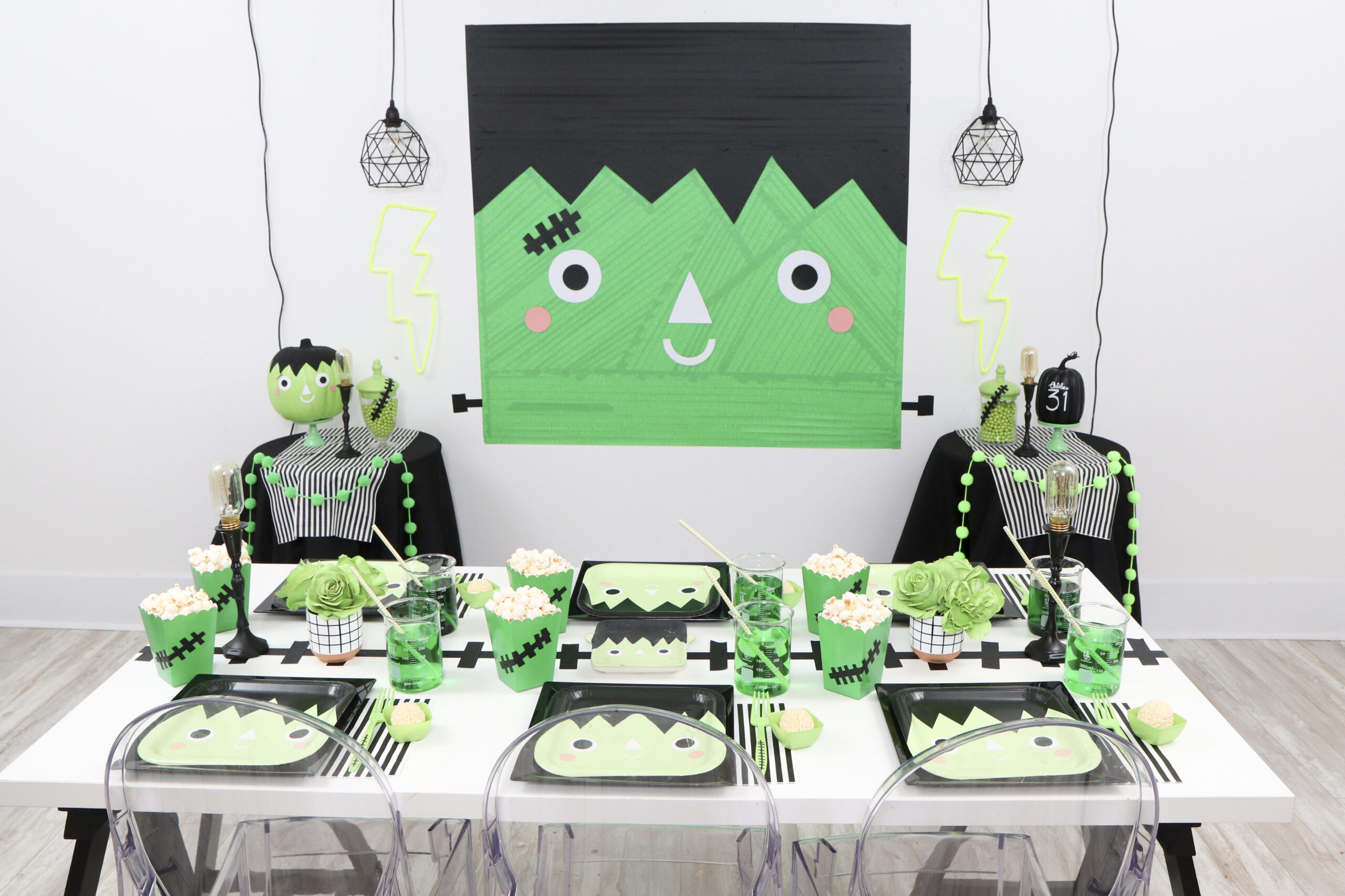 Big Frankie Backdrop
The first thing I did was create a giant backdrop version of friendly Frankie's smiling face. You can get the step-by-step instructions for creating it yourself HERE.
TIP: Set up your Frankie backdrop at a level where younger kids' heads will just cover the bottom. This will create the perfect photo booth opportunity – Frankie will smile above their heads without being covered up!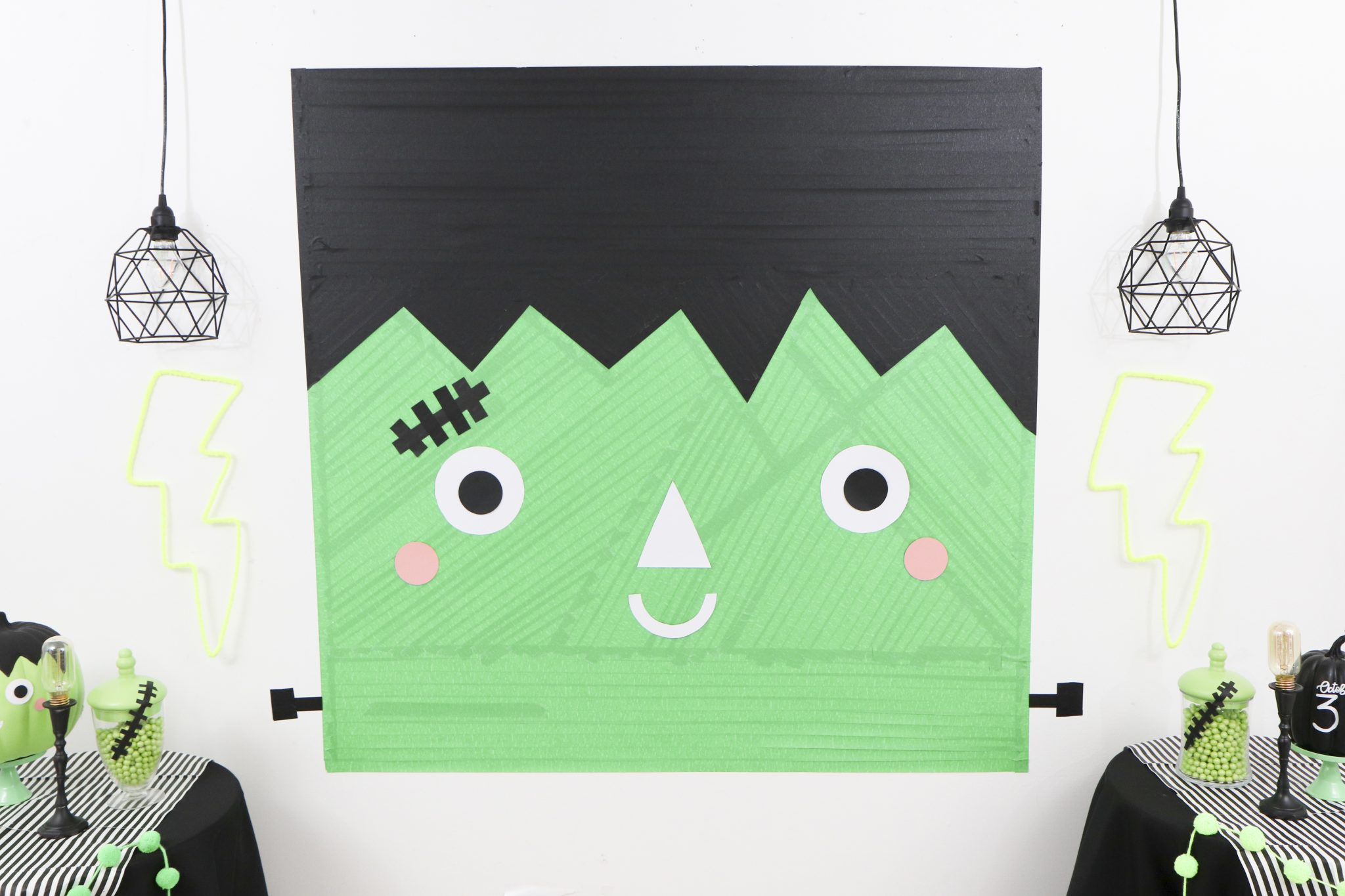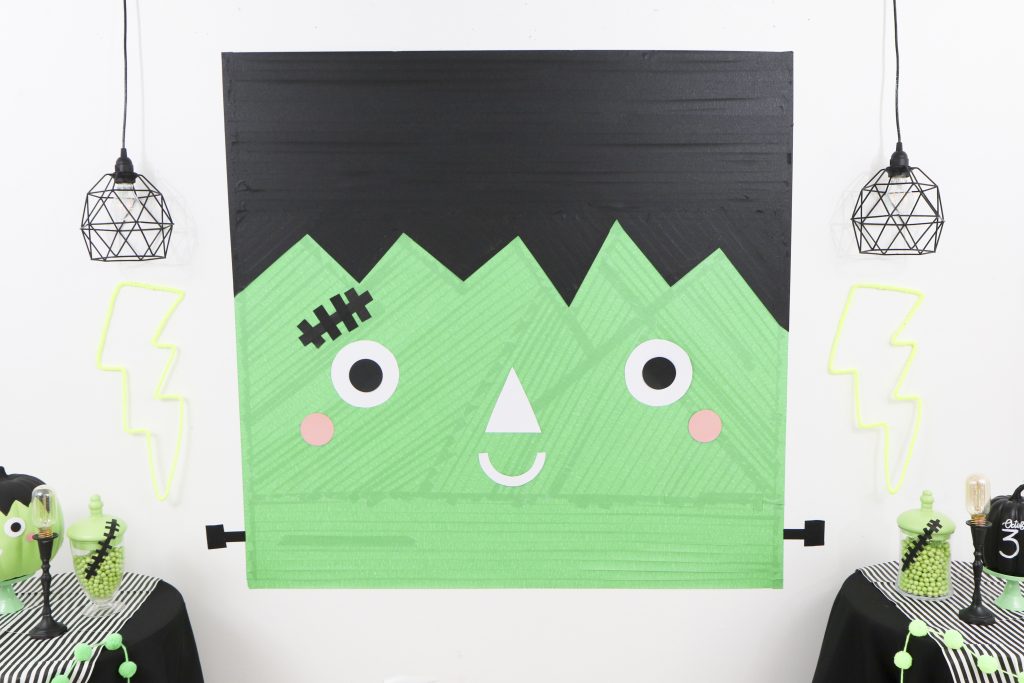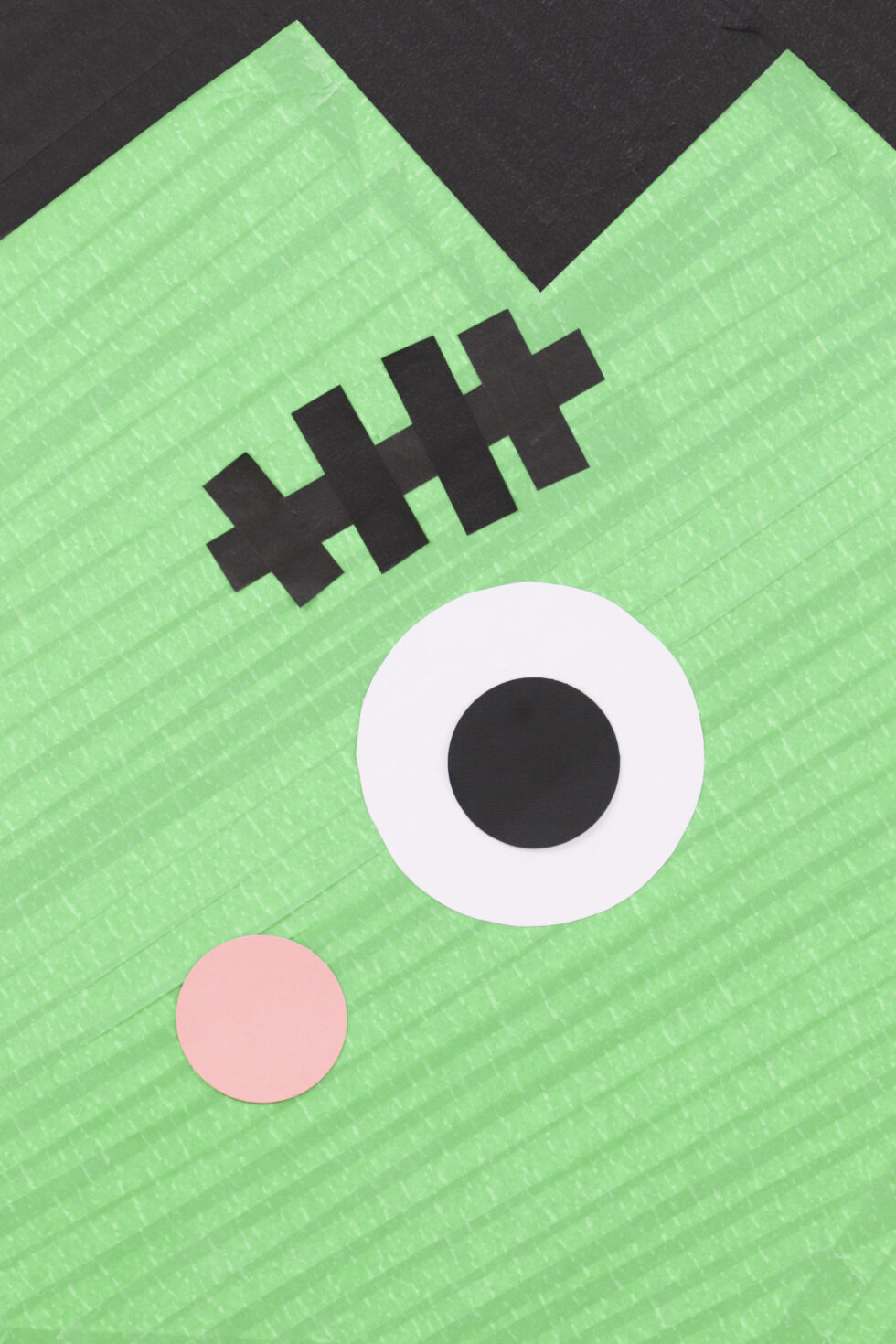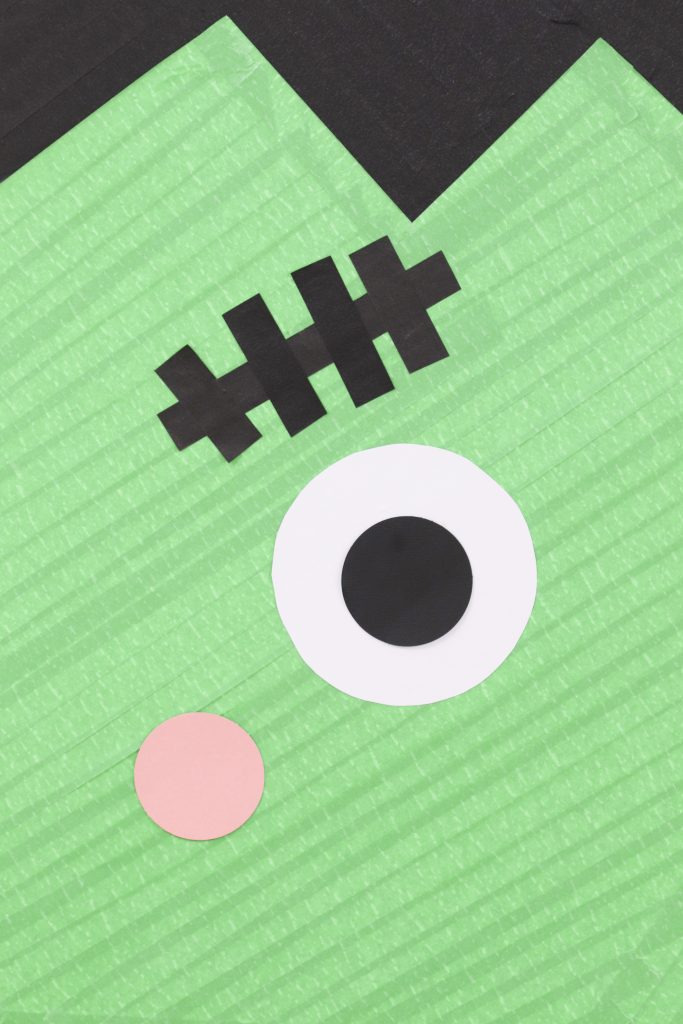 On either side of the backdrop, I added geometric hanging lights with vintage light bulbs, and neon lightning bolt decor to symbolize the electricity that made Frankie come alive!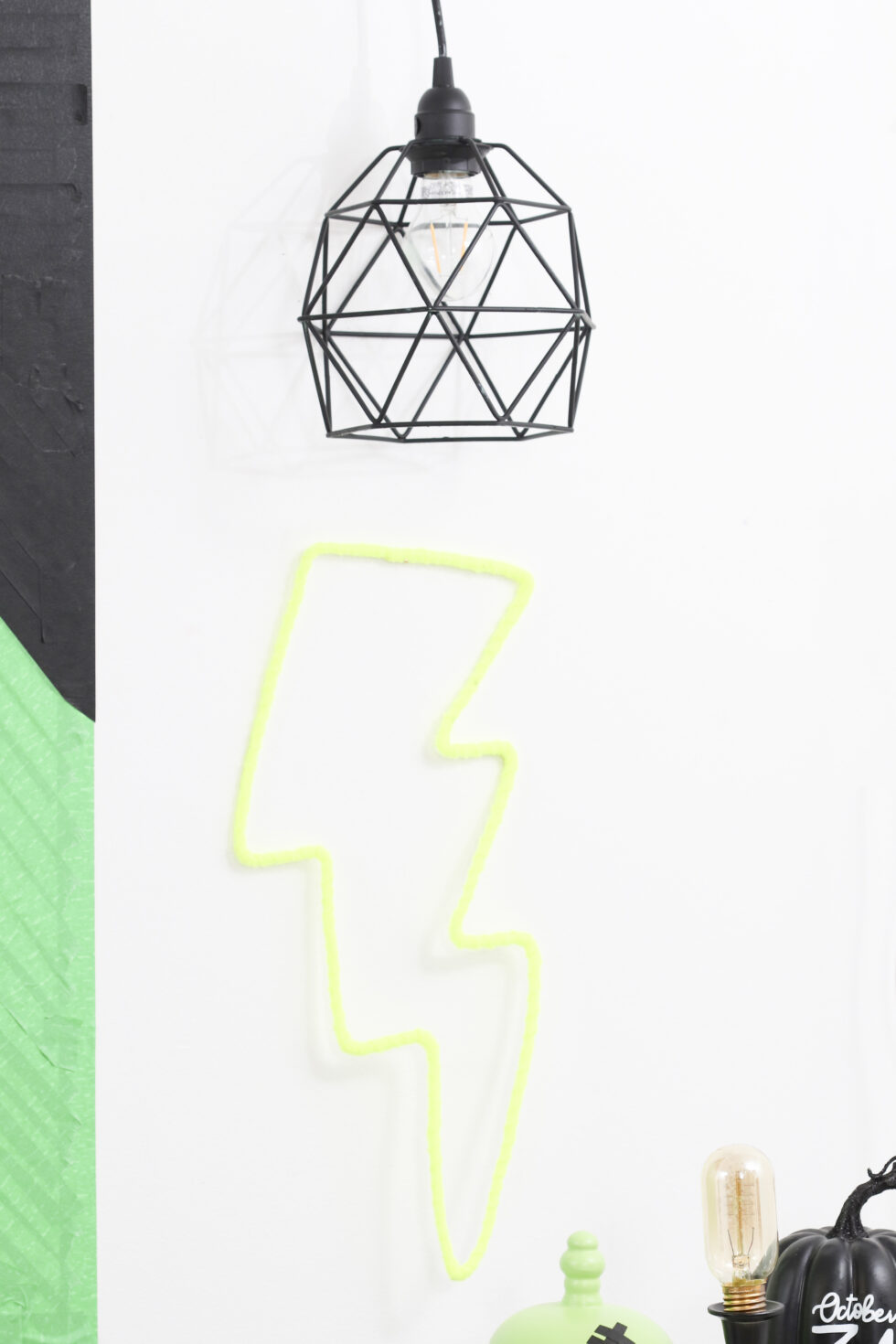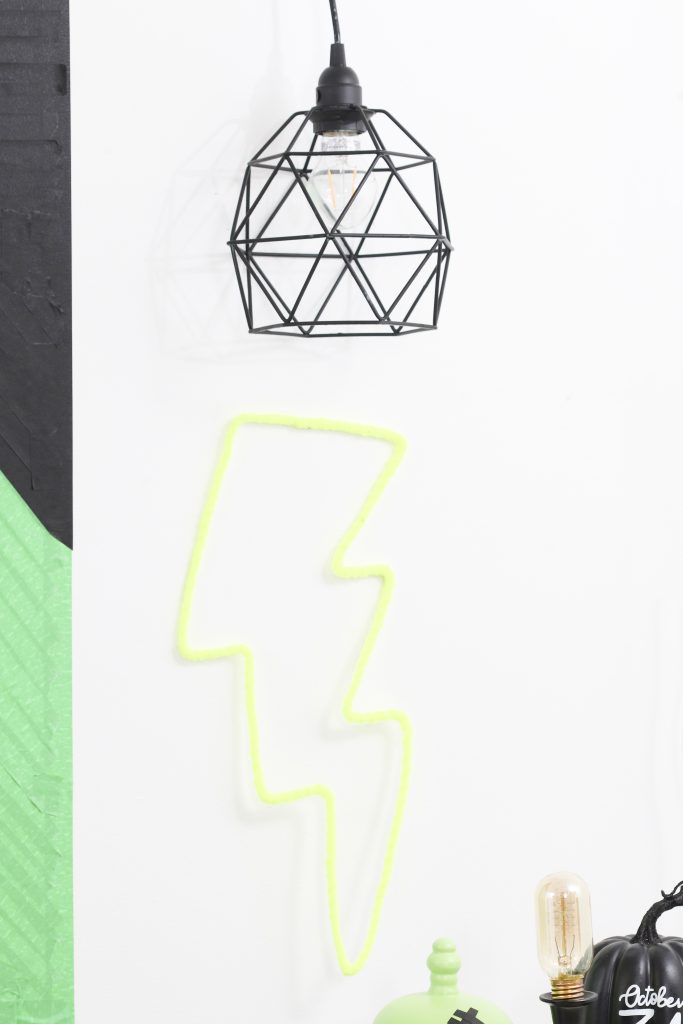 Delightful Decor
To add to the Frankie fun, I set up two tables of Frankenstein decor on either side of the backdrop. I covered them both with black table cloths and then added black and white striped napkins to each (unfolded to get the length). Then, I draped a bright green pom pom garland across the front of each table, which provided a nice contrast to the dark tablecloth.
TIP:  Attaching a couple of the pom poms to the tables using large glue dots will allow the garlands to drape naturally across the front of the tables without constantly falling off!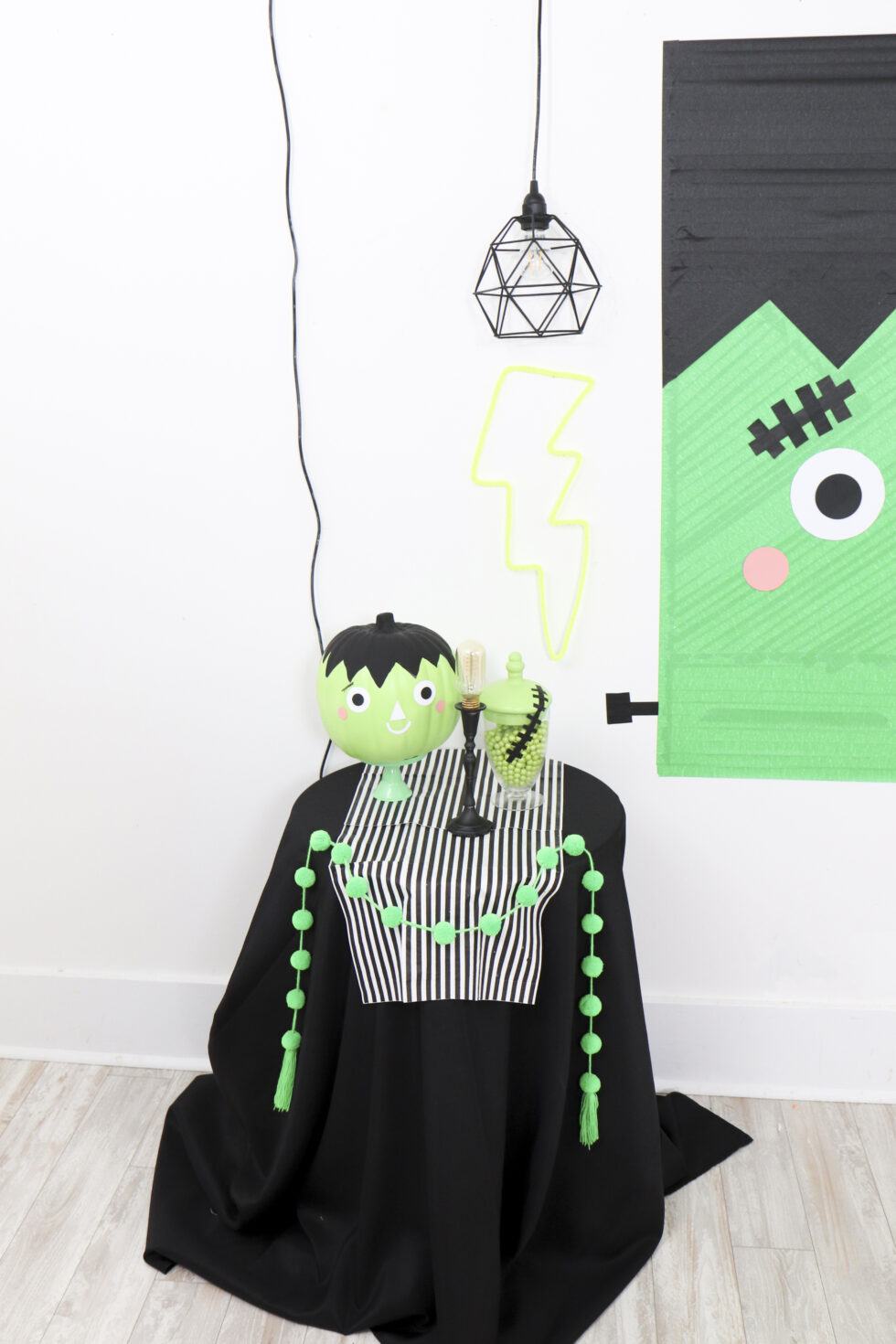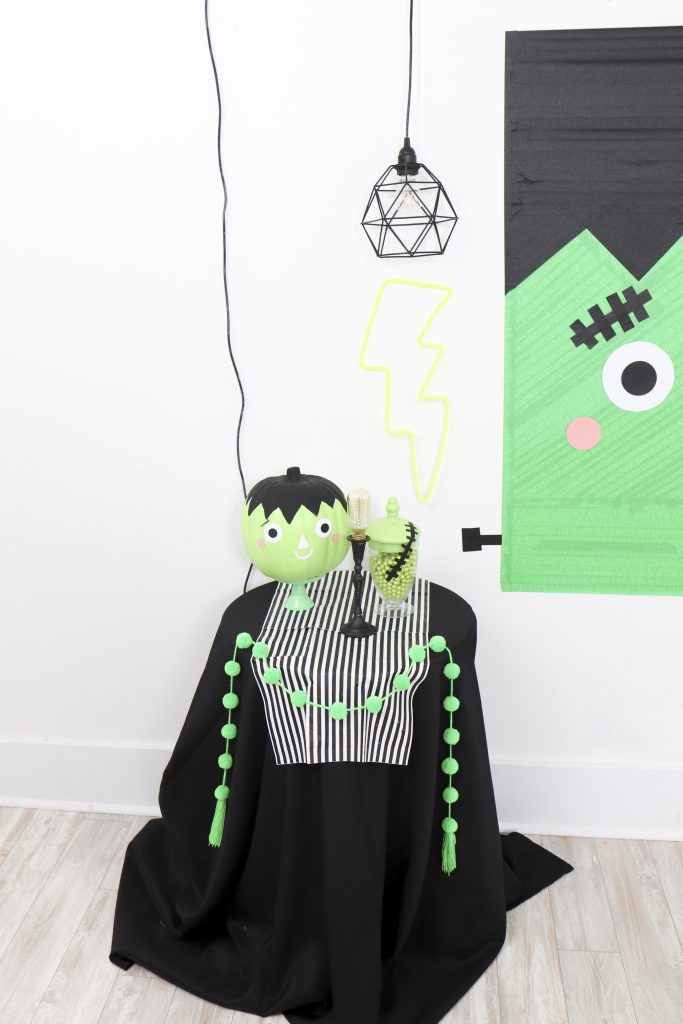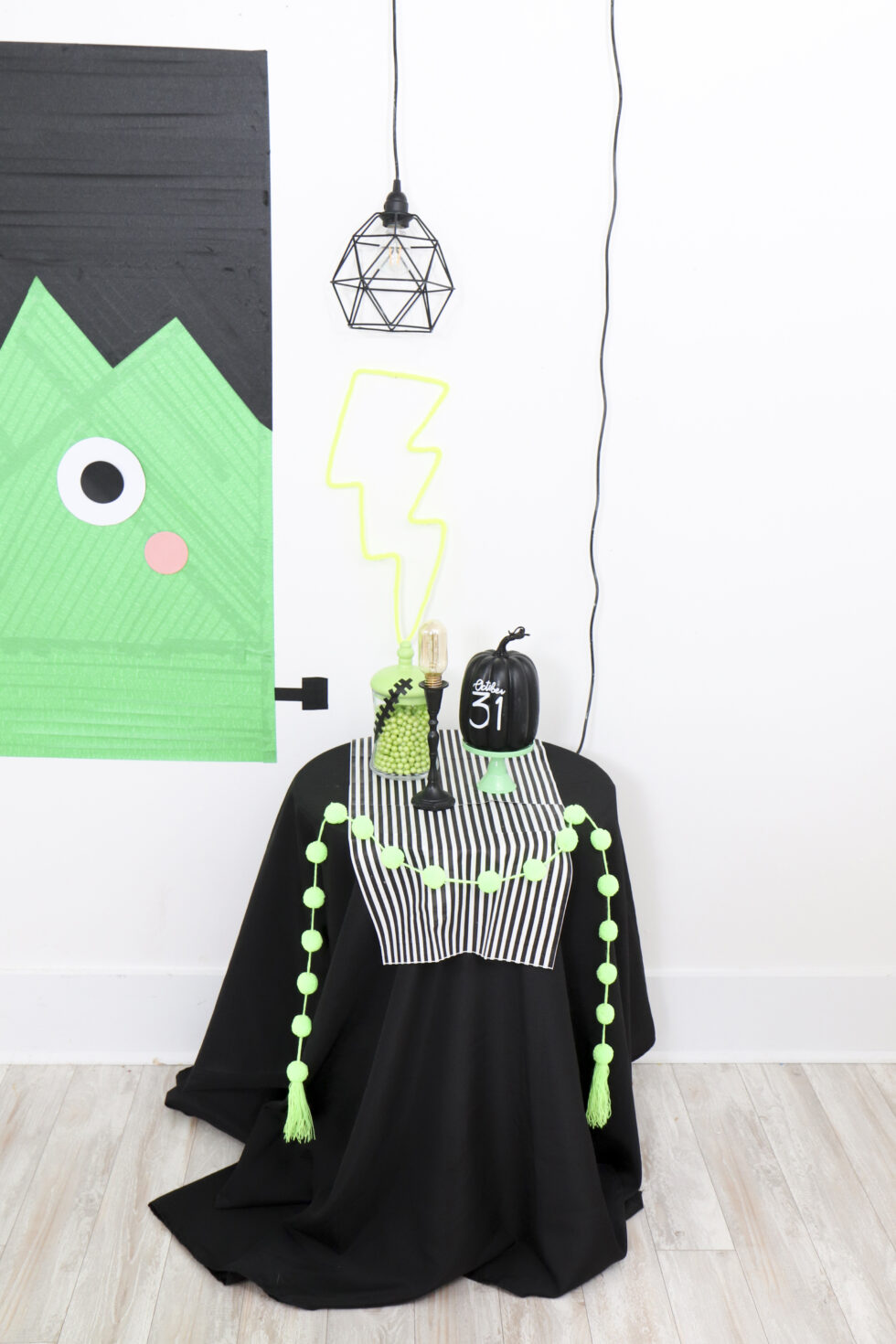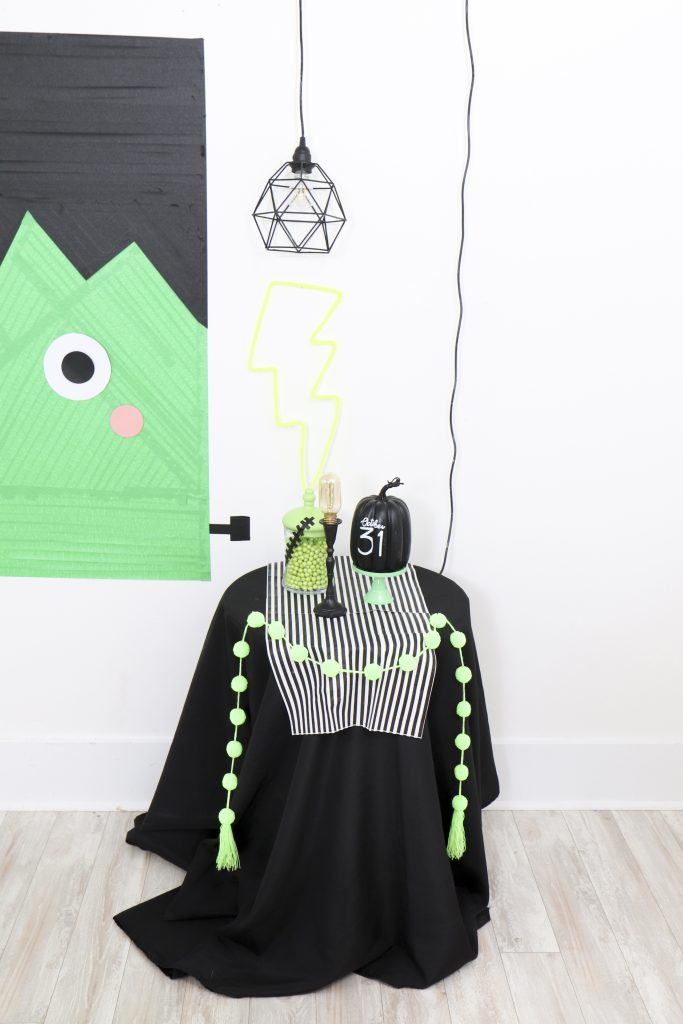 Each table had another electrical light (this time inserted into black candlesticks) on it, and a painted pumpkin. One black with "October 31" on it, and the other with – you guessed it – more of Frankie's smiling face. This no-carve pumpkin is super easy to make with just paint and paper cutouts!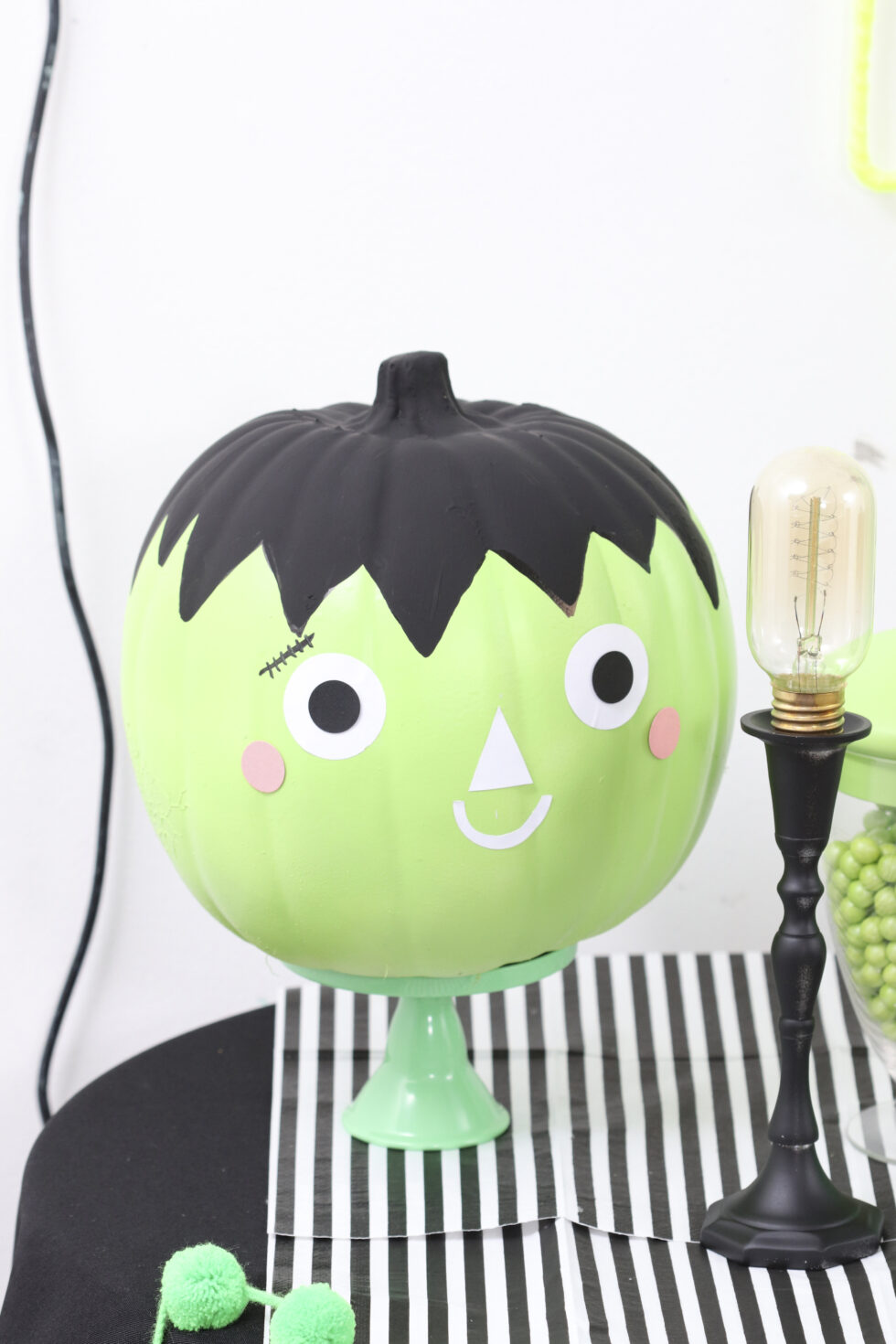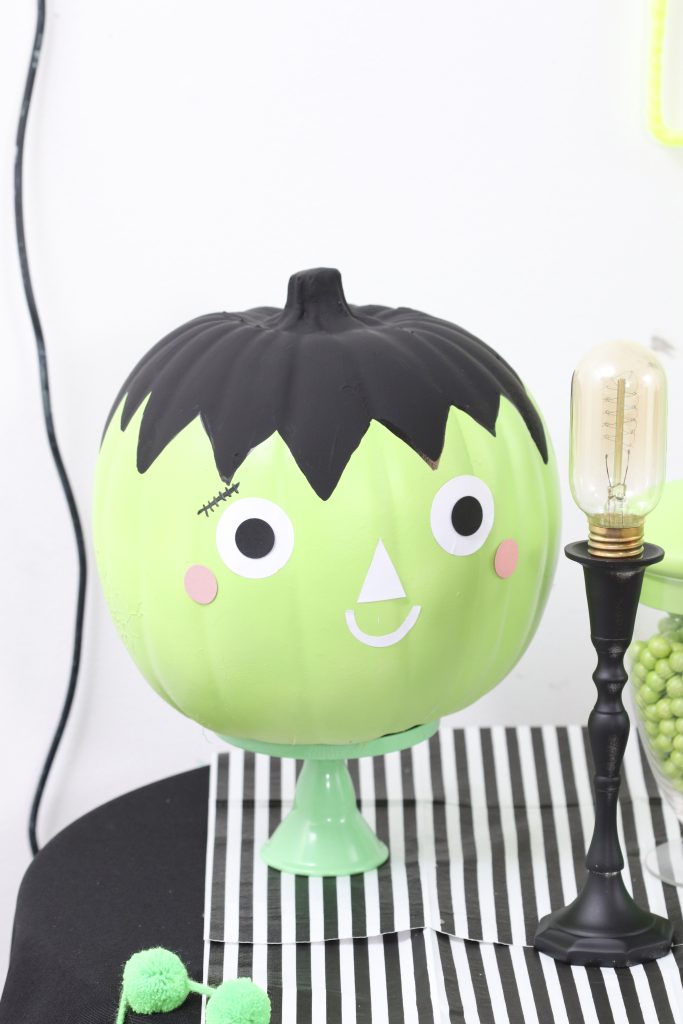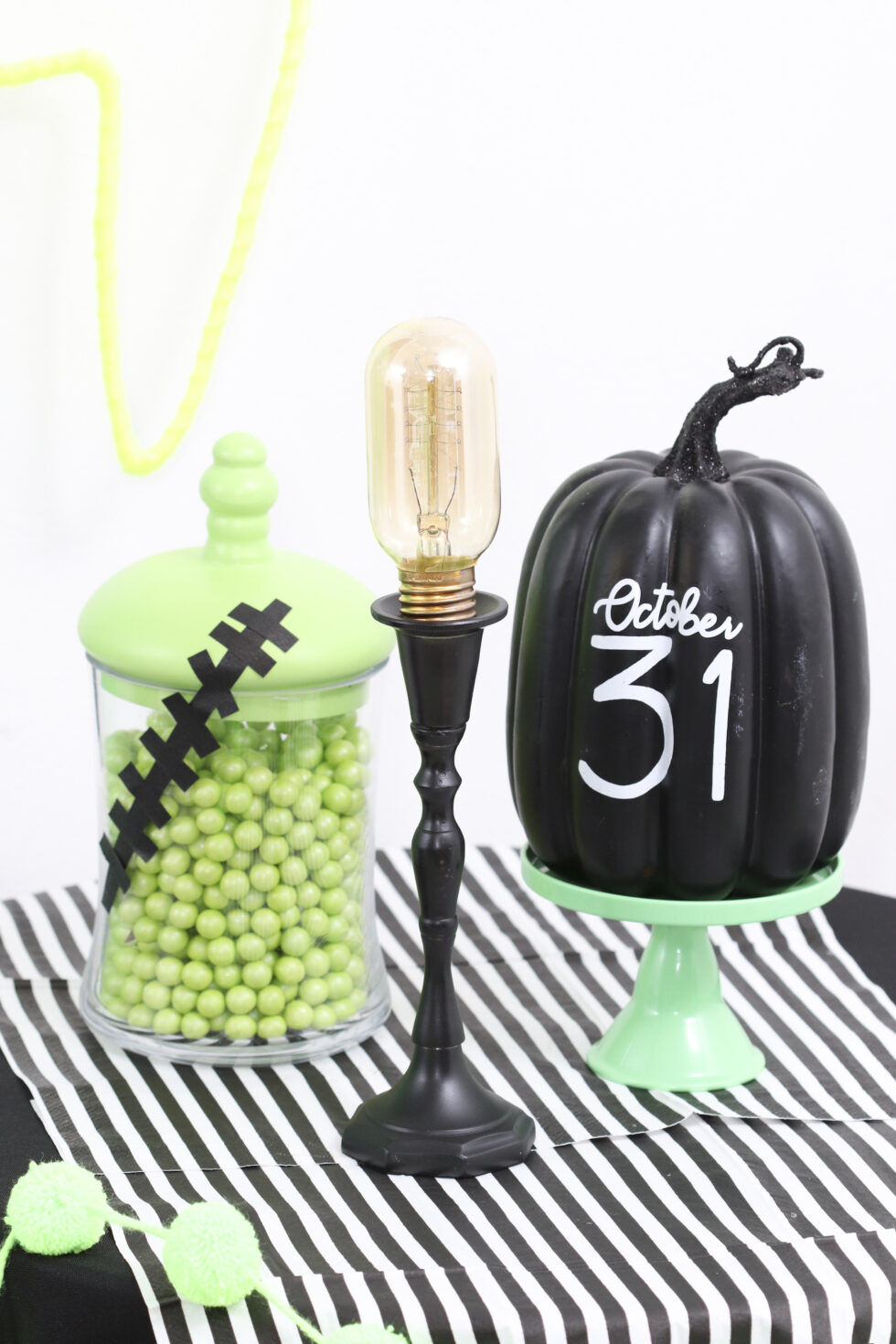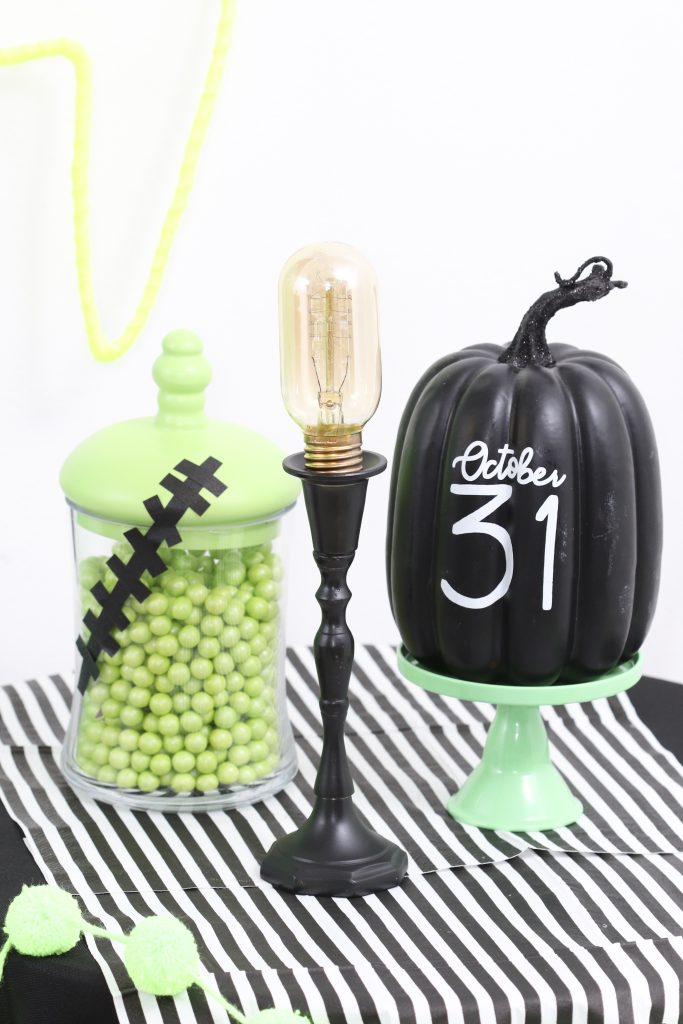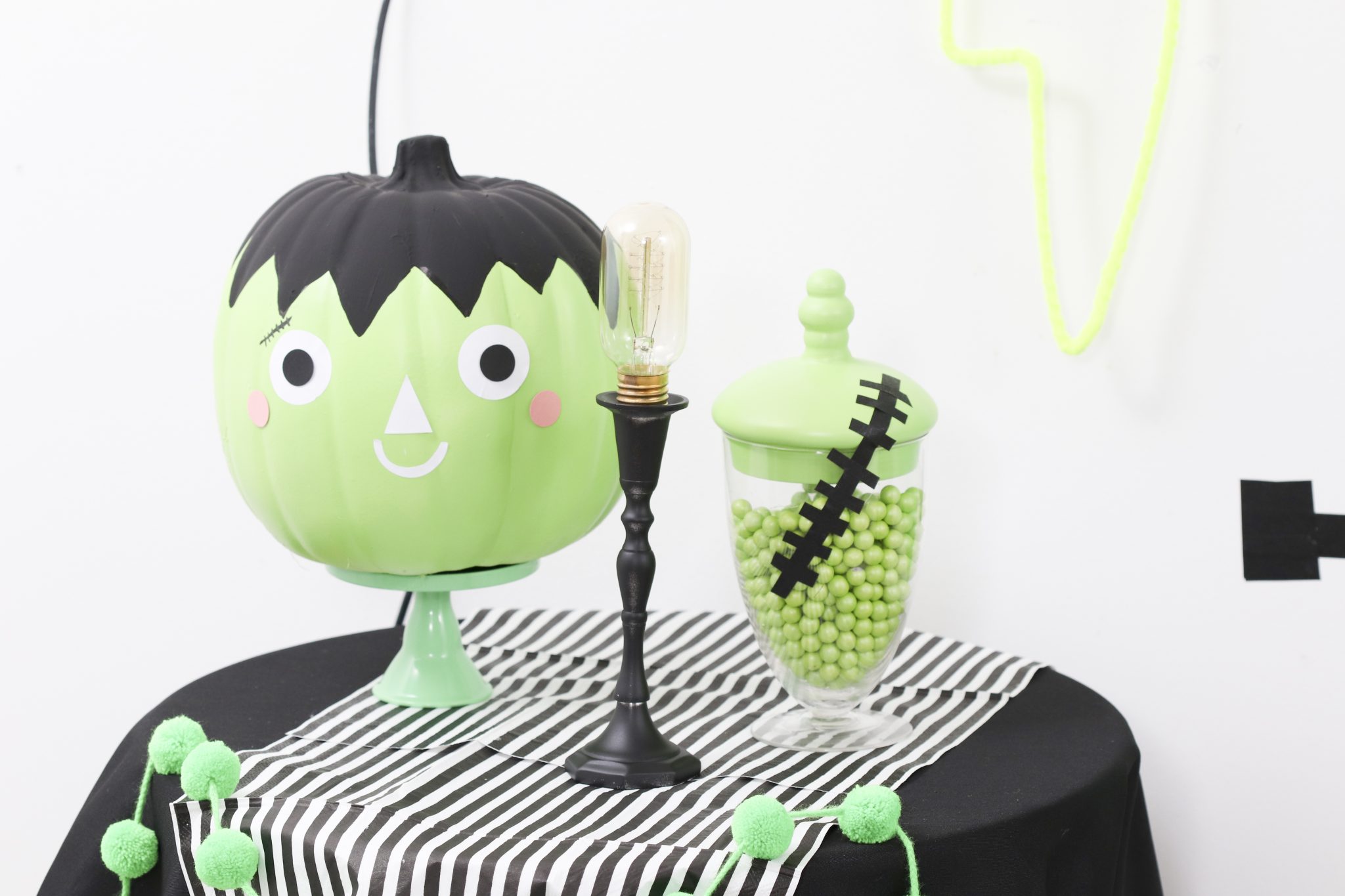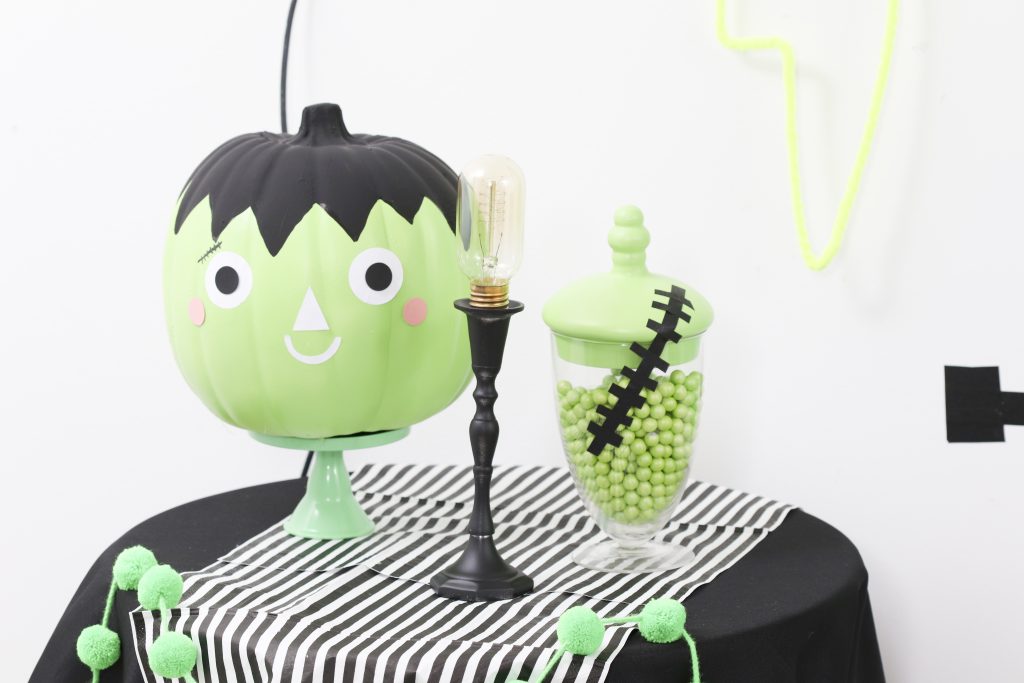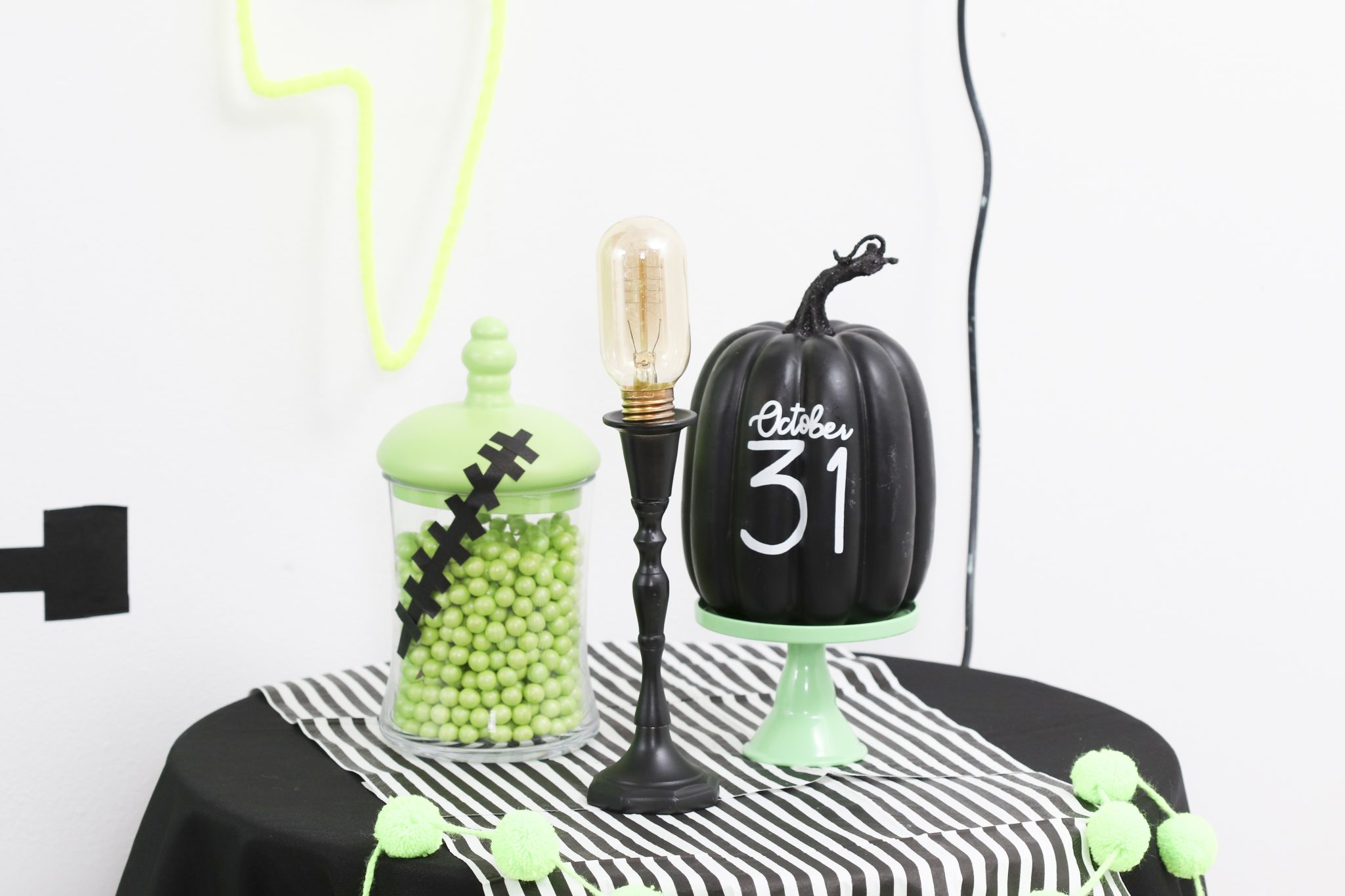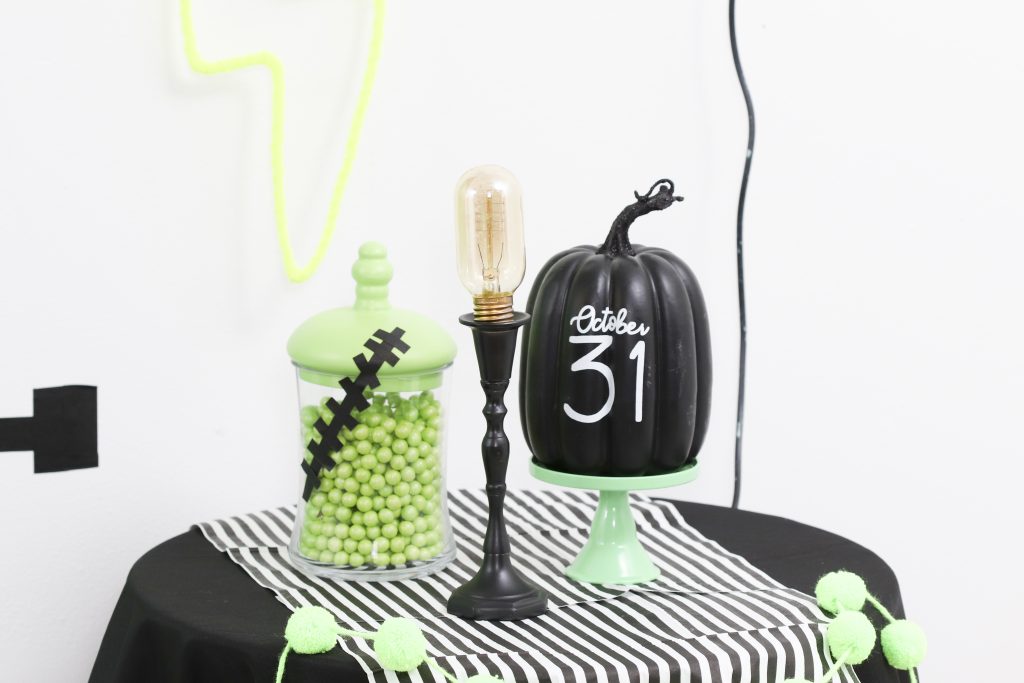 Additionally, each table held a "stitched" jar of green candy – I made these easily using painted candy jars and black masking tape "stitches".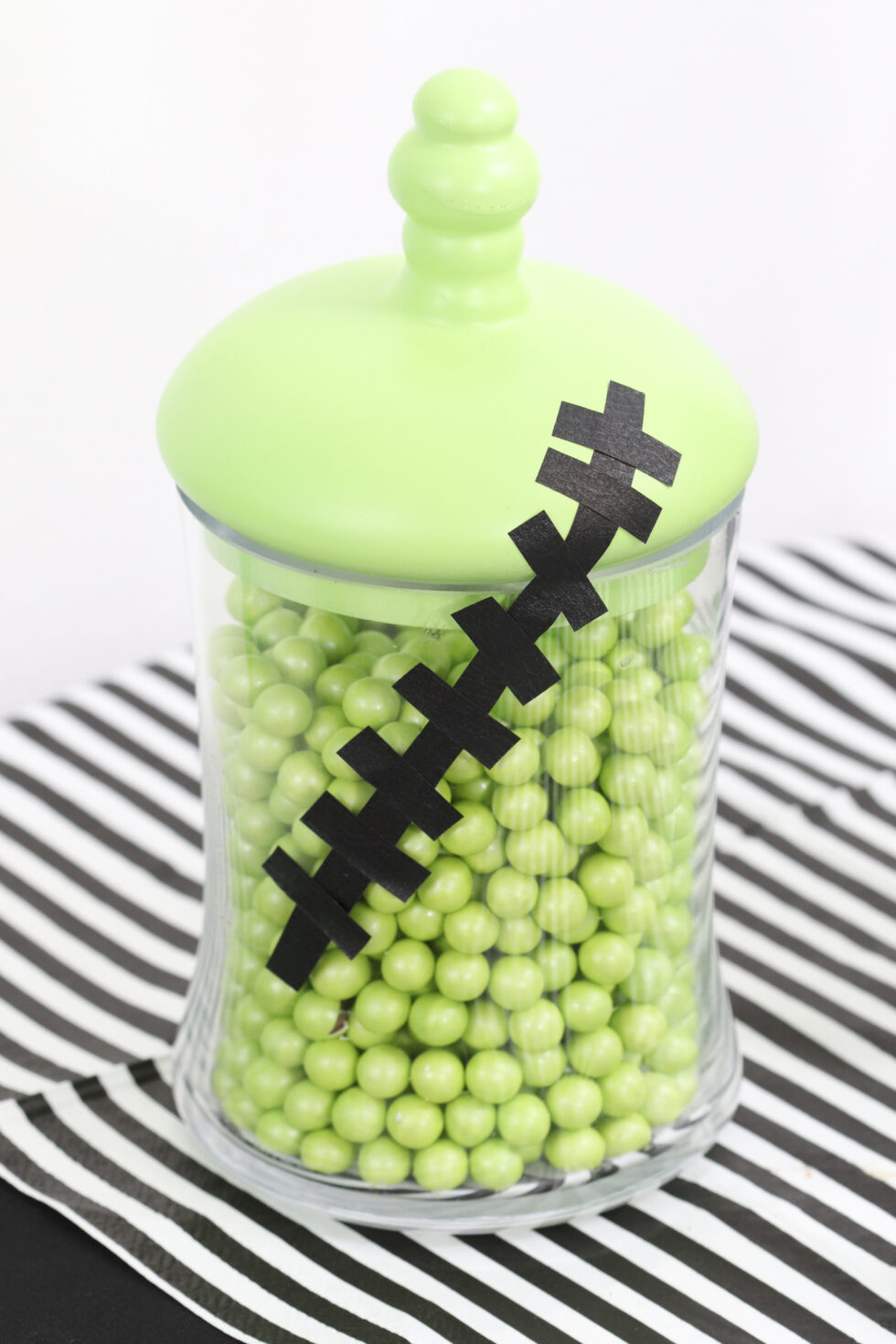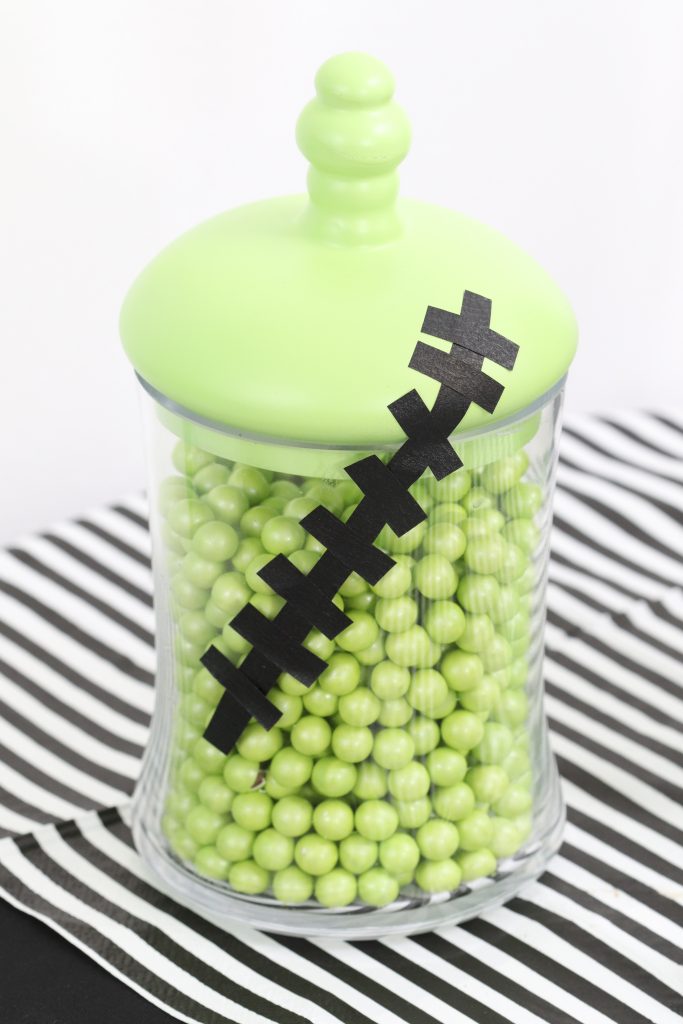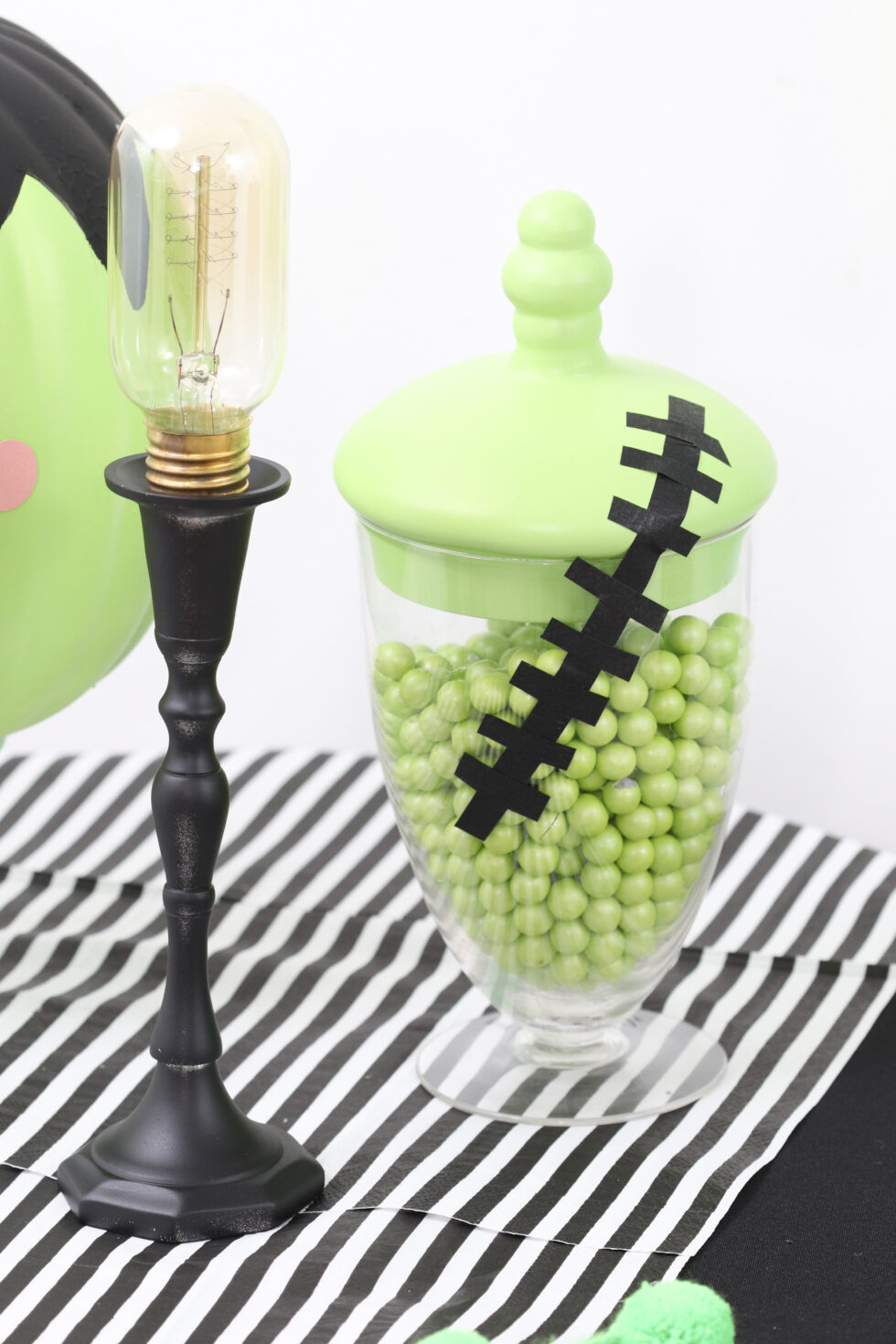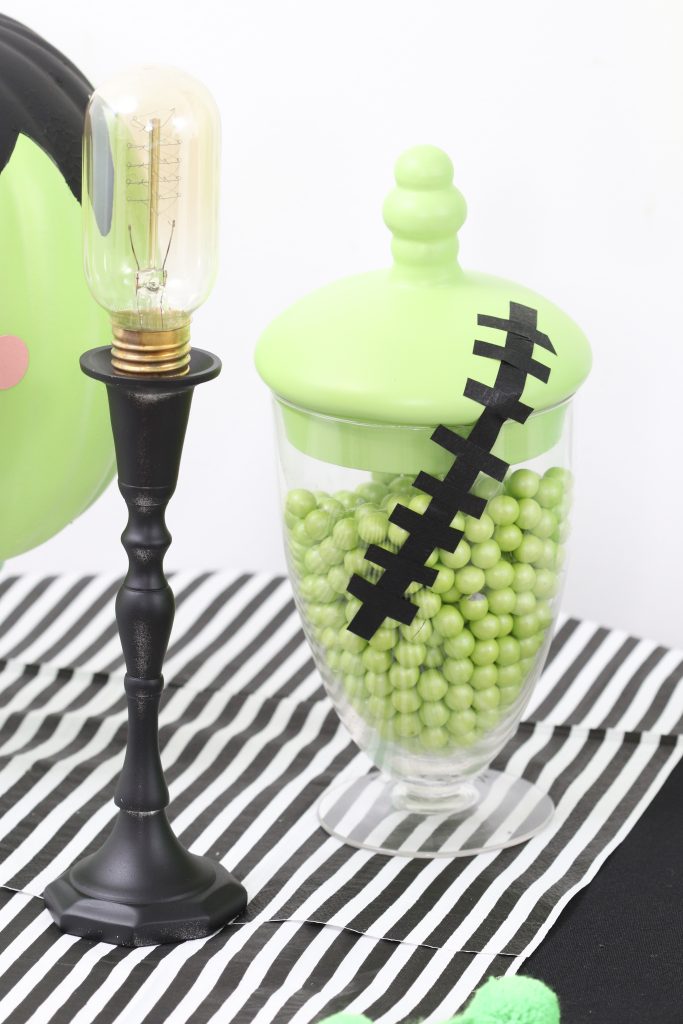 Laboratory Table Setting
Next, I set up my "laboratory" table for dining. I left the table uncovered, but added "stitching" I created with black (removable) masking tape across the center of it as a table runner.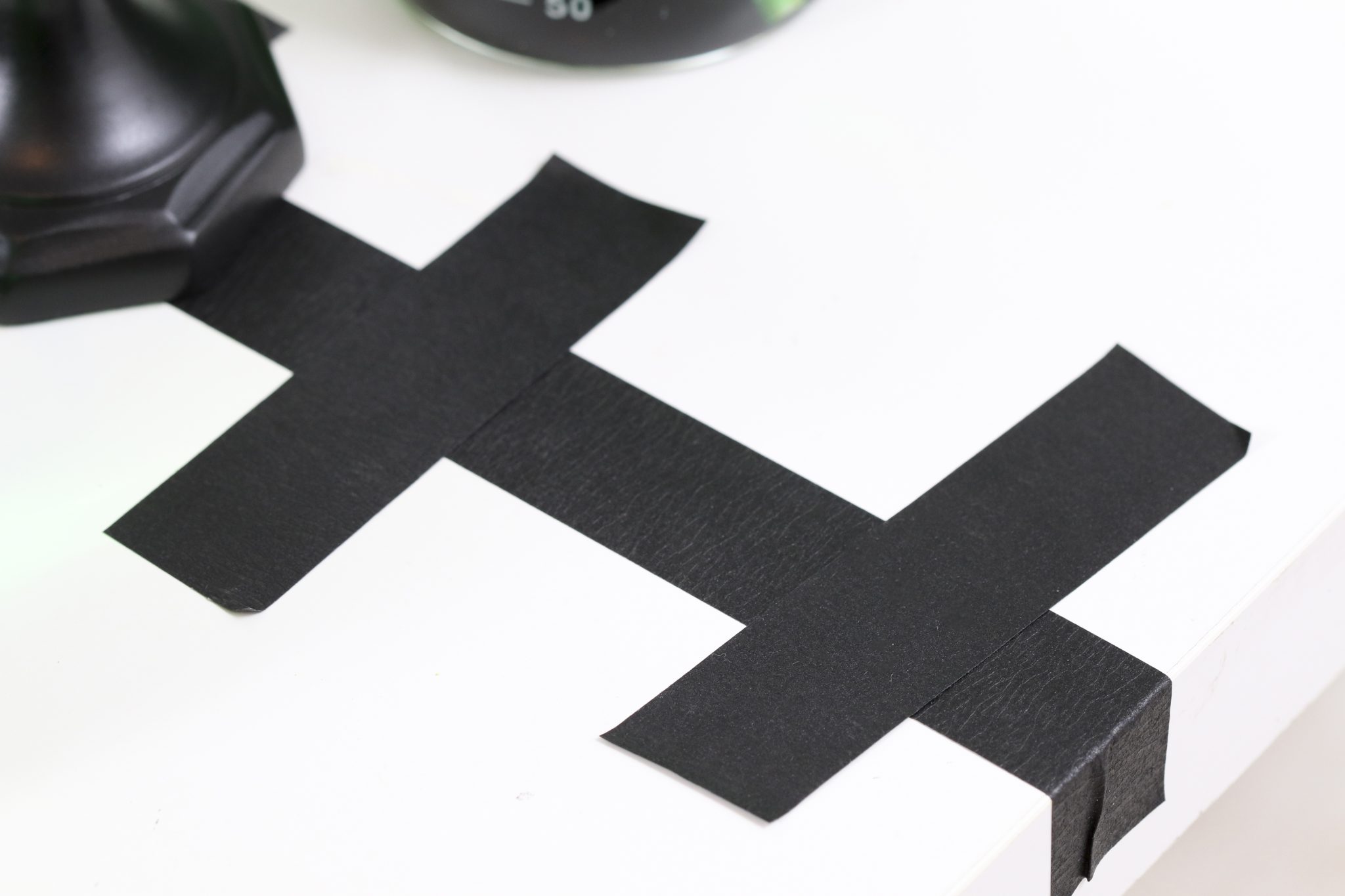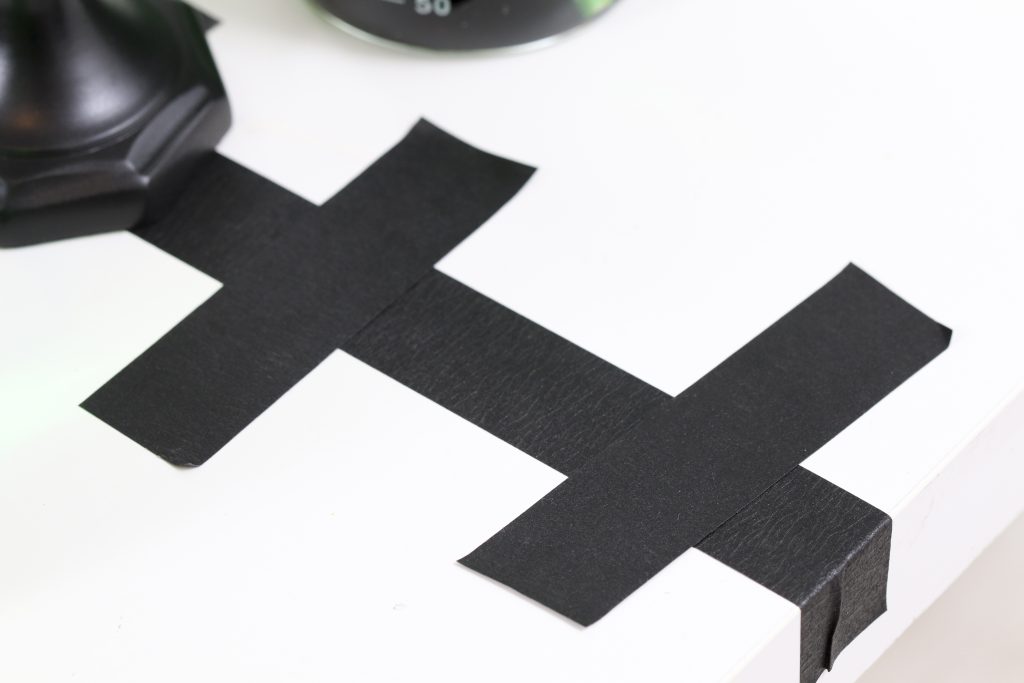 Then, I added more candlestick lights to each end of the table, and a couple of lime green flower arrangements. In the very center of the table, I added a hand painted ceramic Frankie dish as a centerpiece.
TIP: No need to try to find lime green flowers –  mine are simply faux flowers spray painted lime green!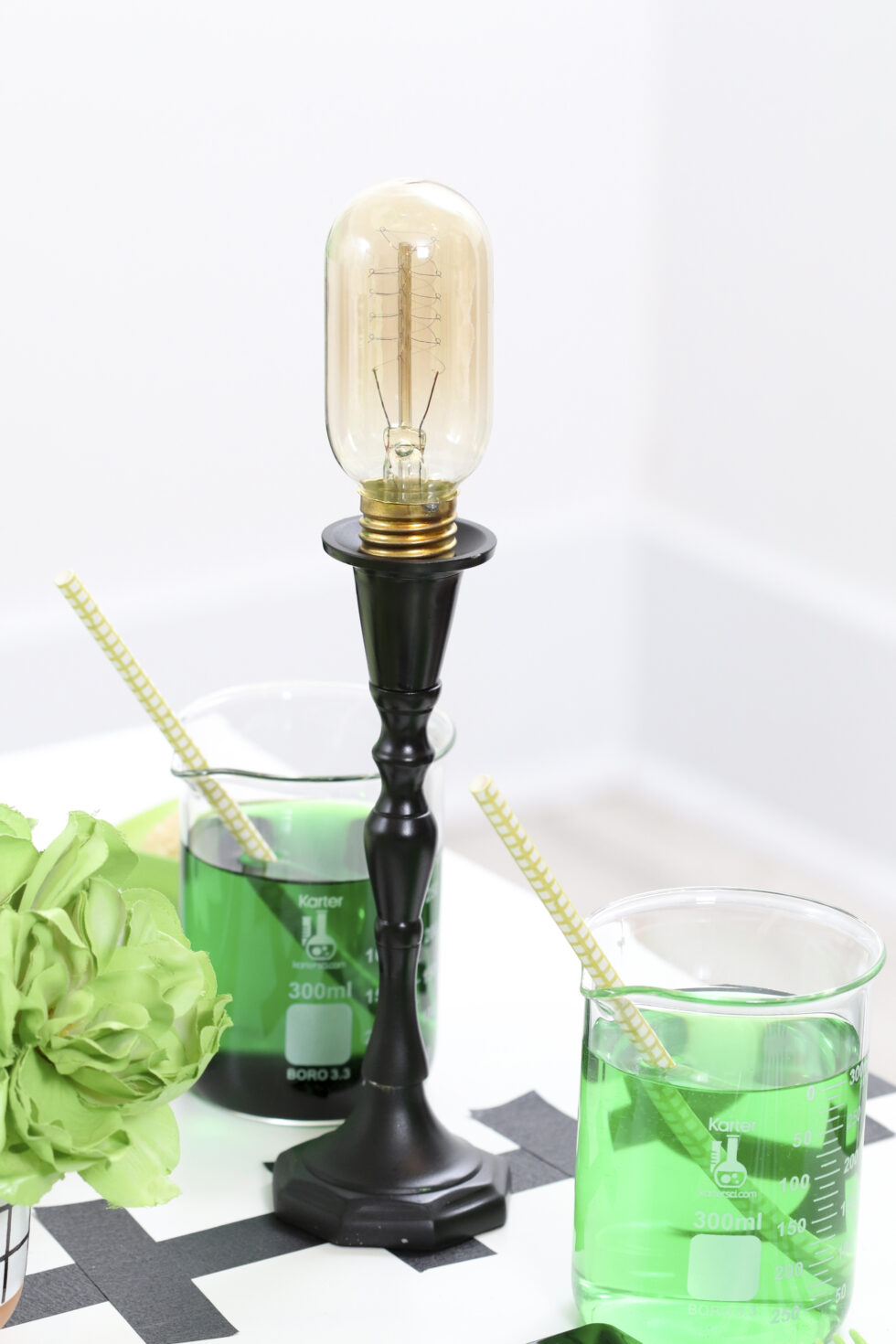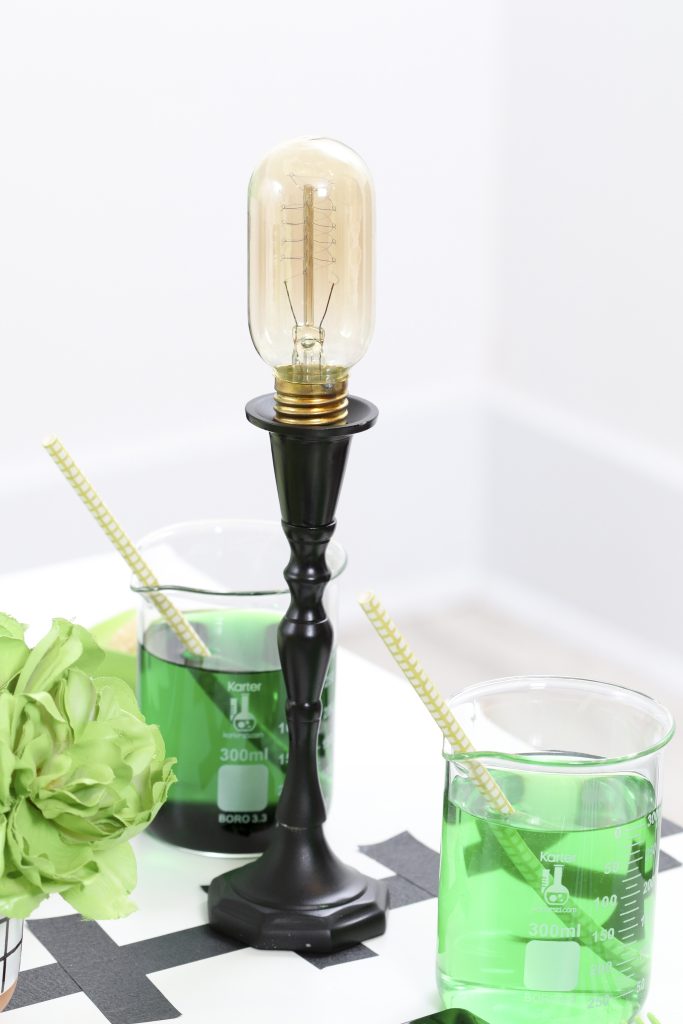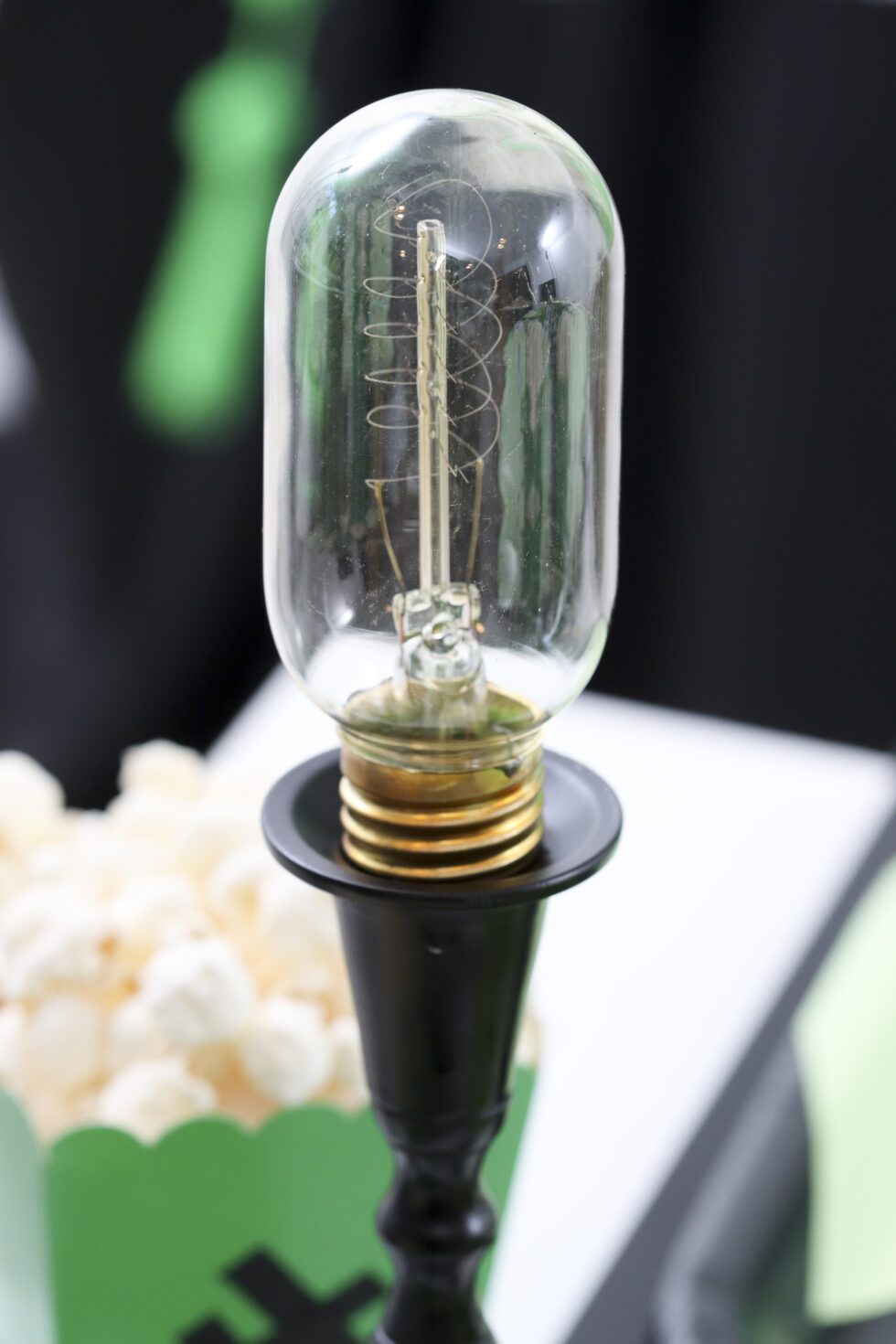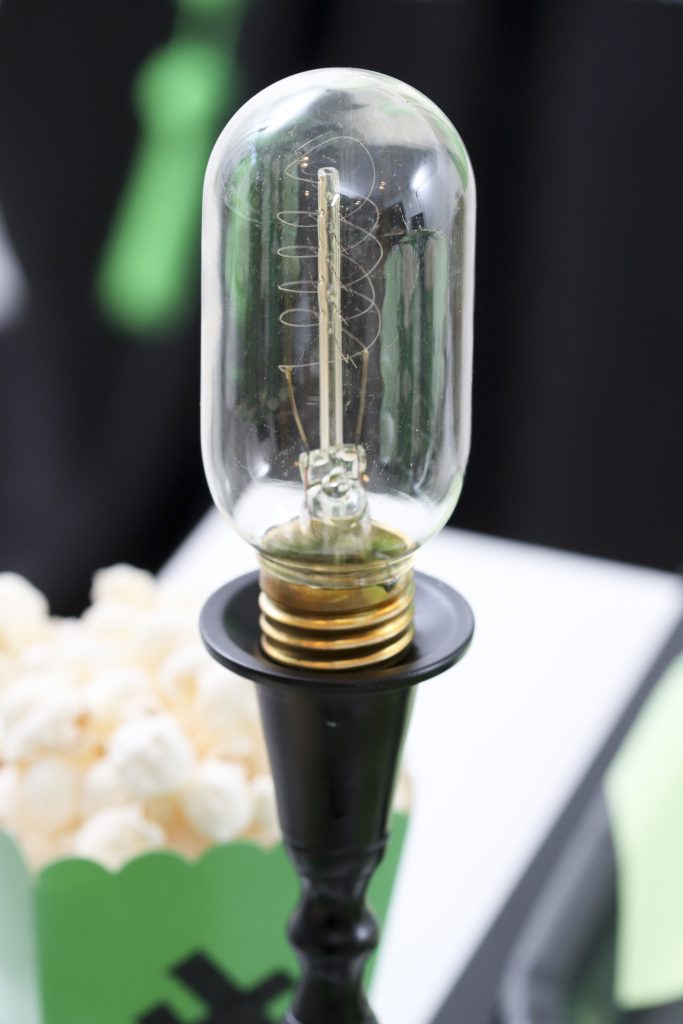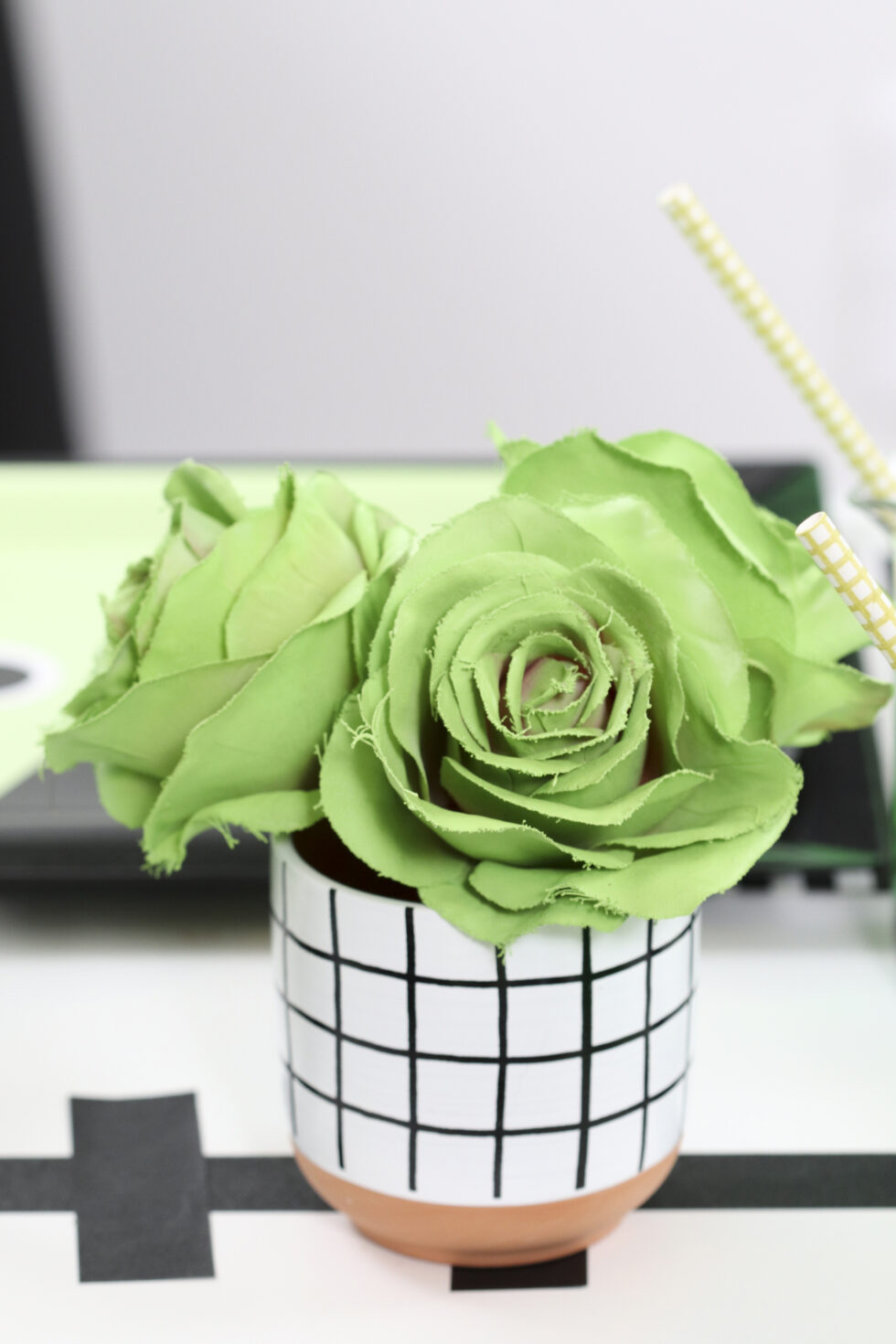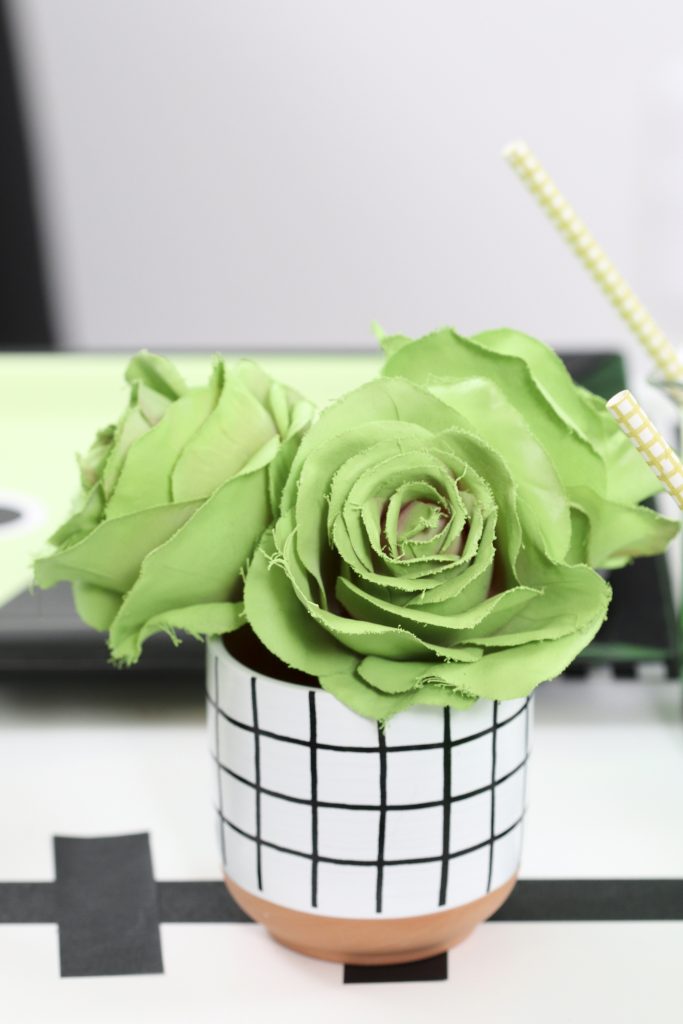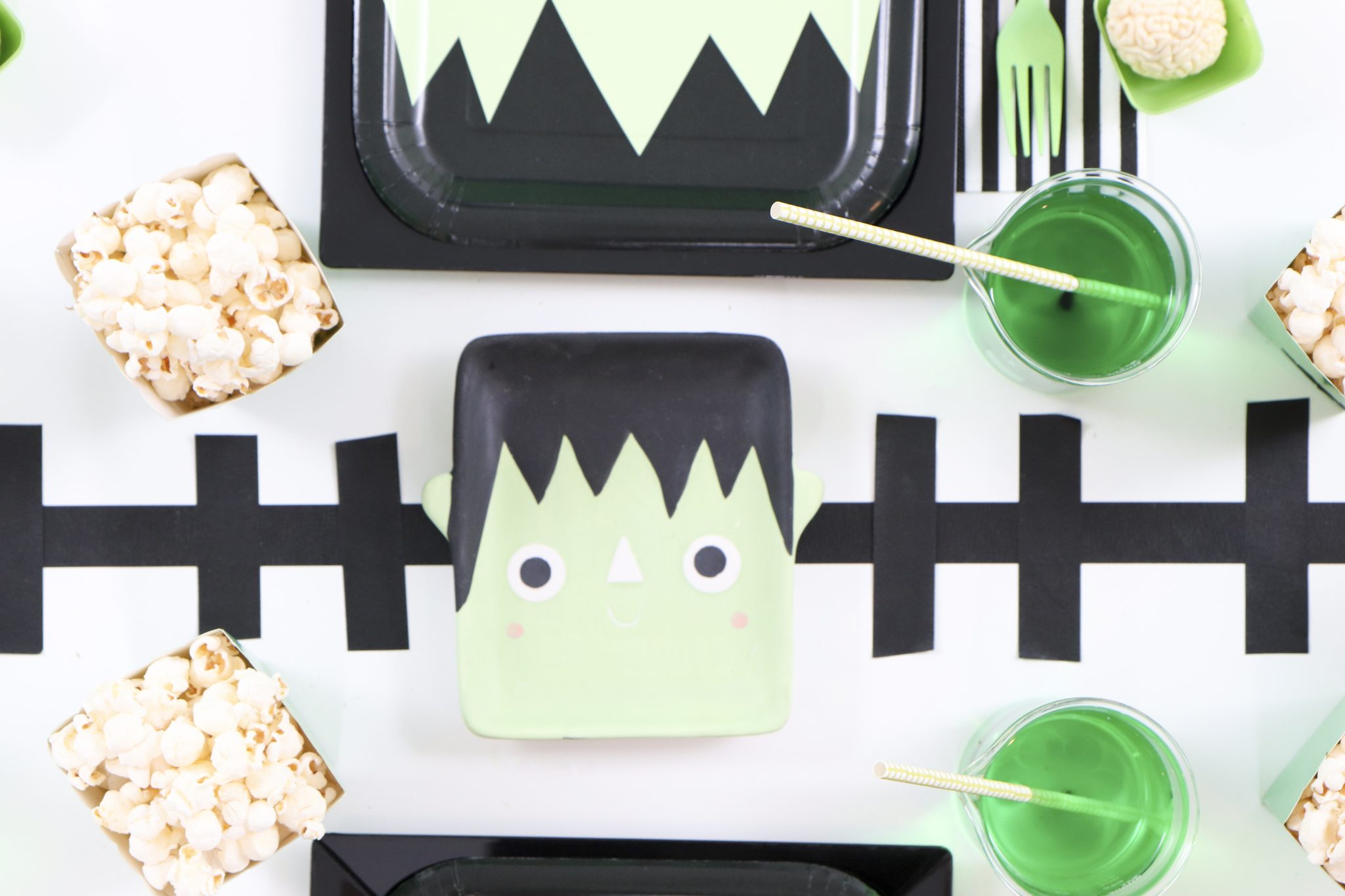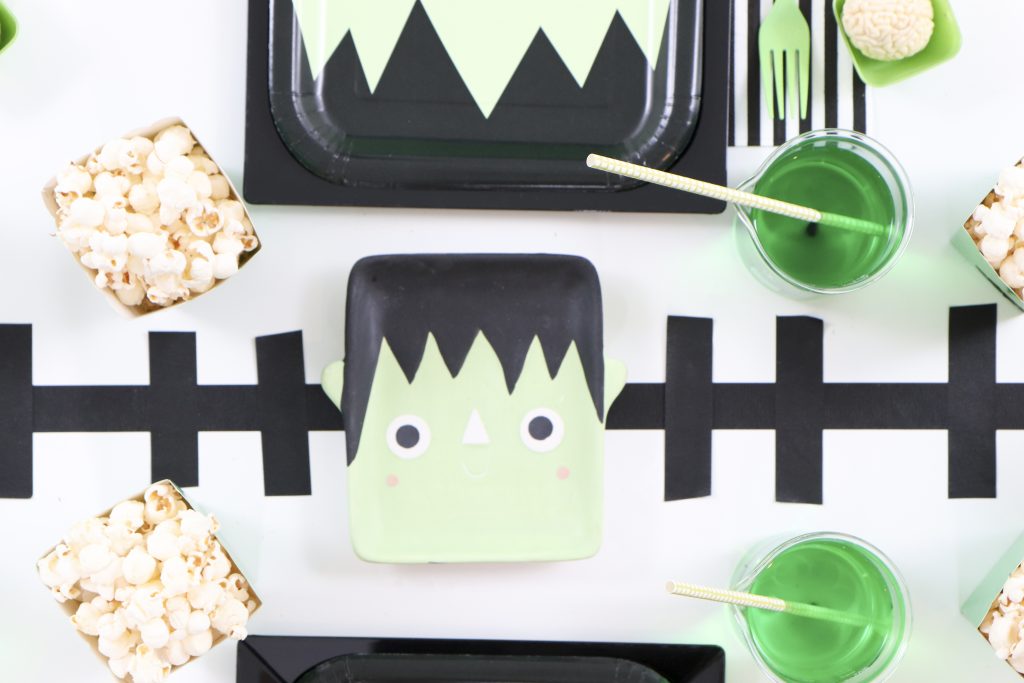 For my place settings, I used square black plastic plates as chargers, and then the inspirational Frankie dinner plates. I added black and white striped napkins, and lime green utensils.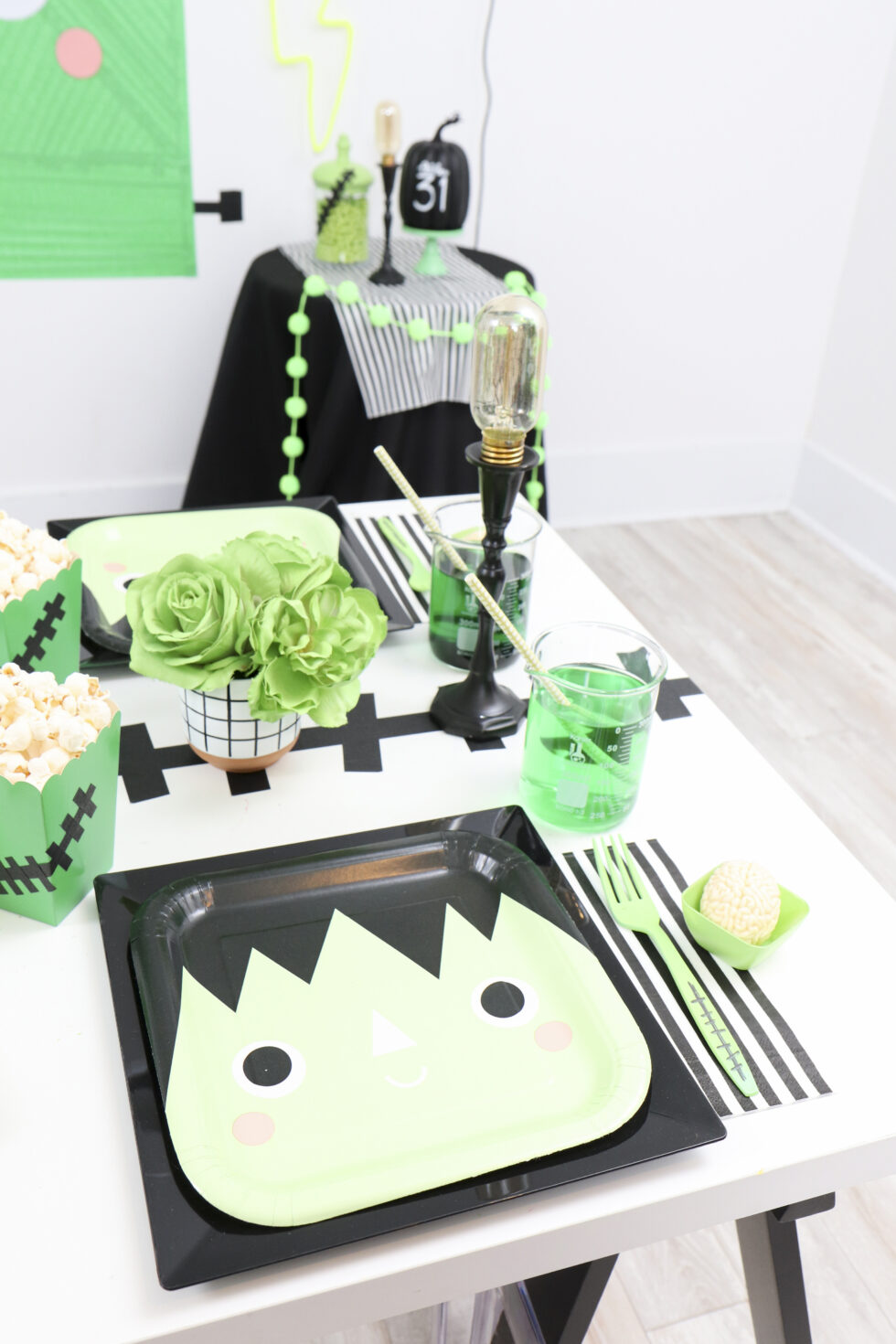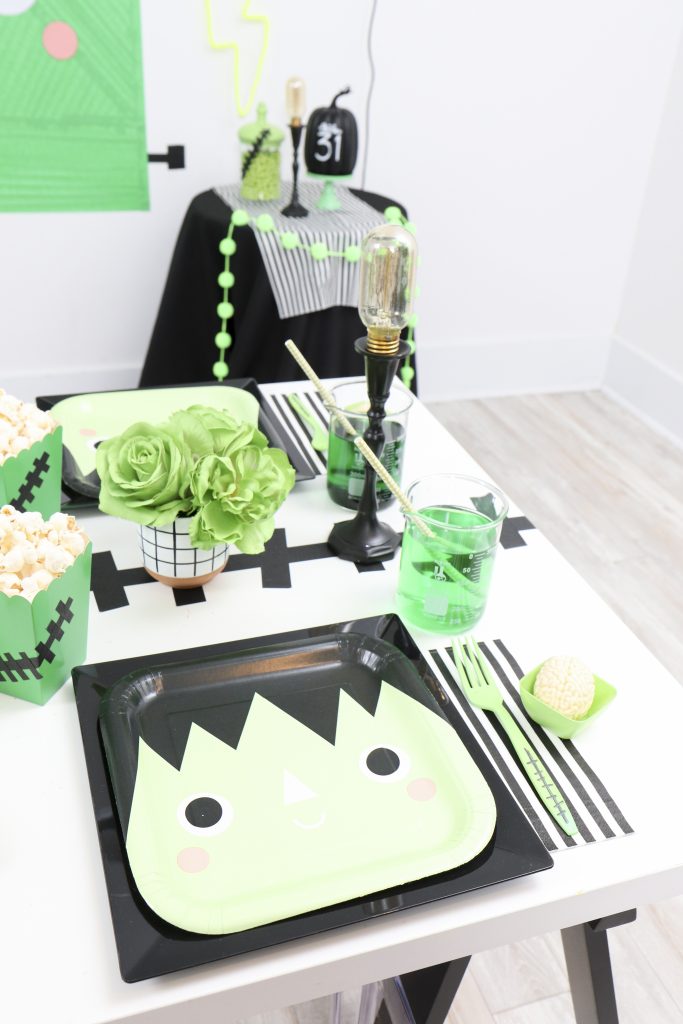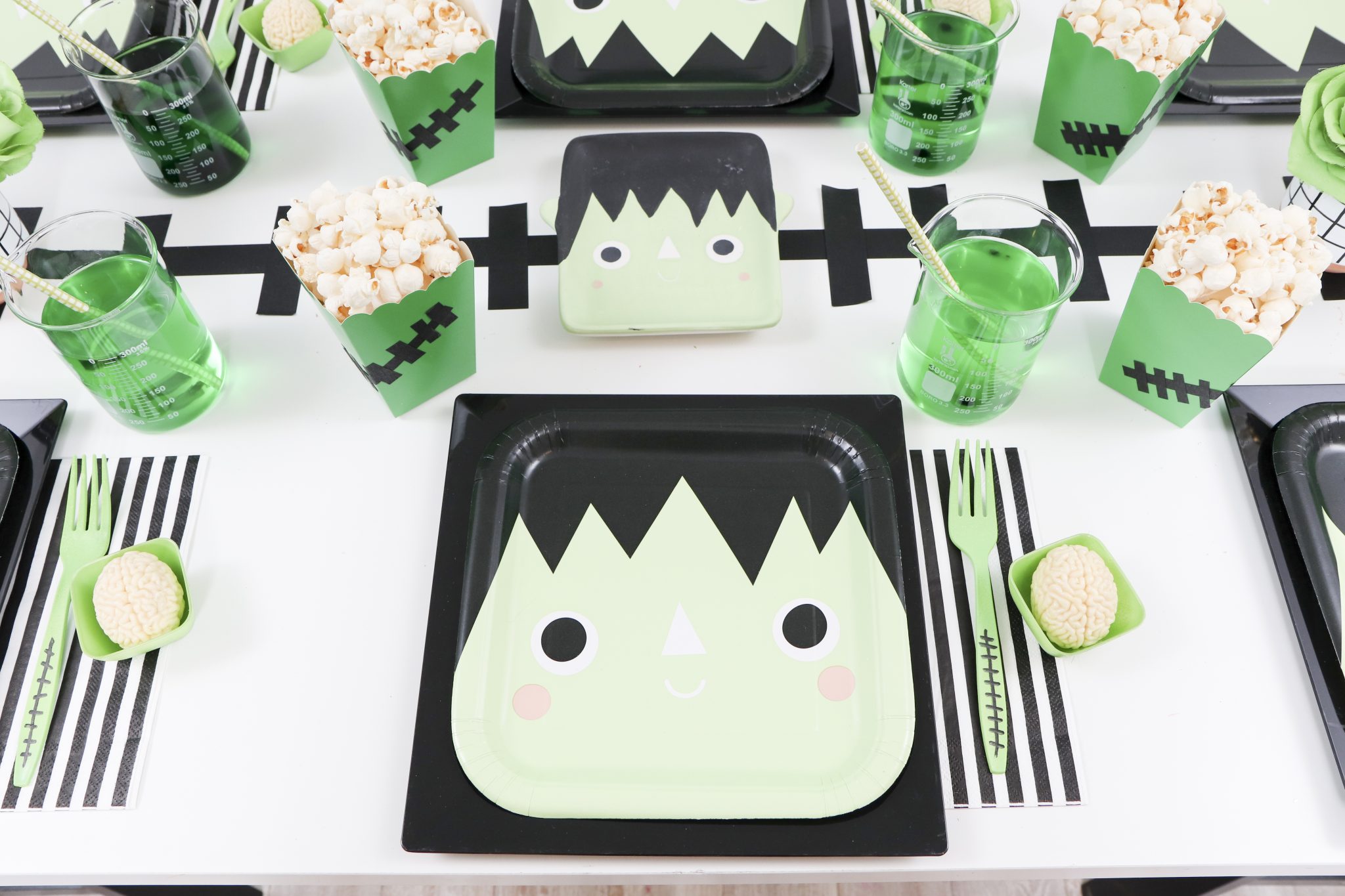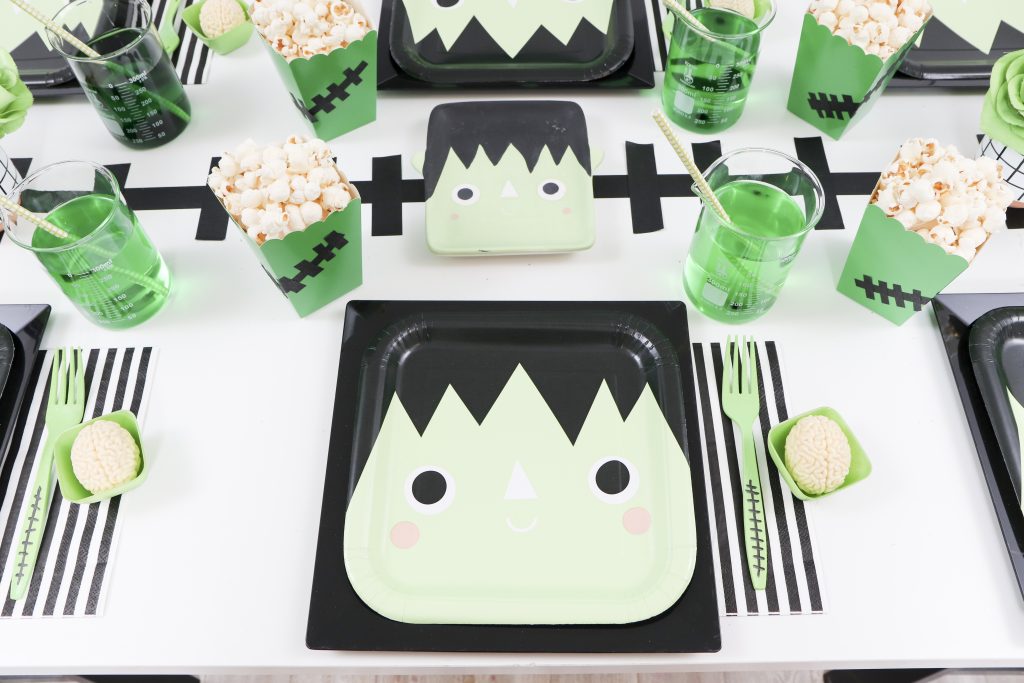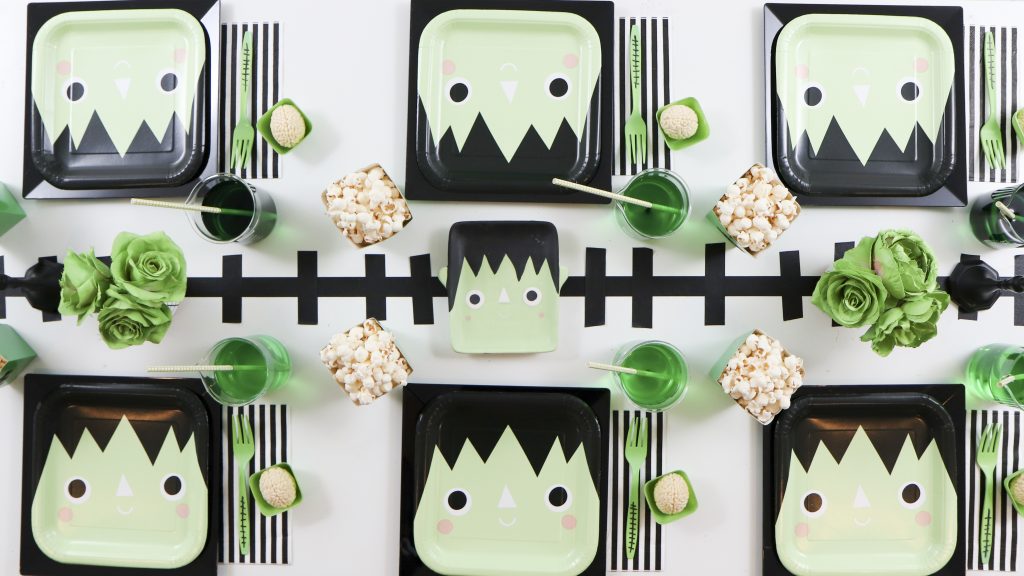 TIP: Easily add Frankenstein stitching to the utensils with a permanent black marker!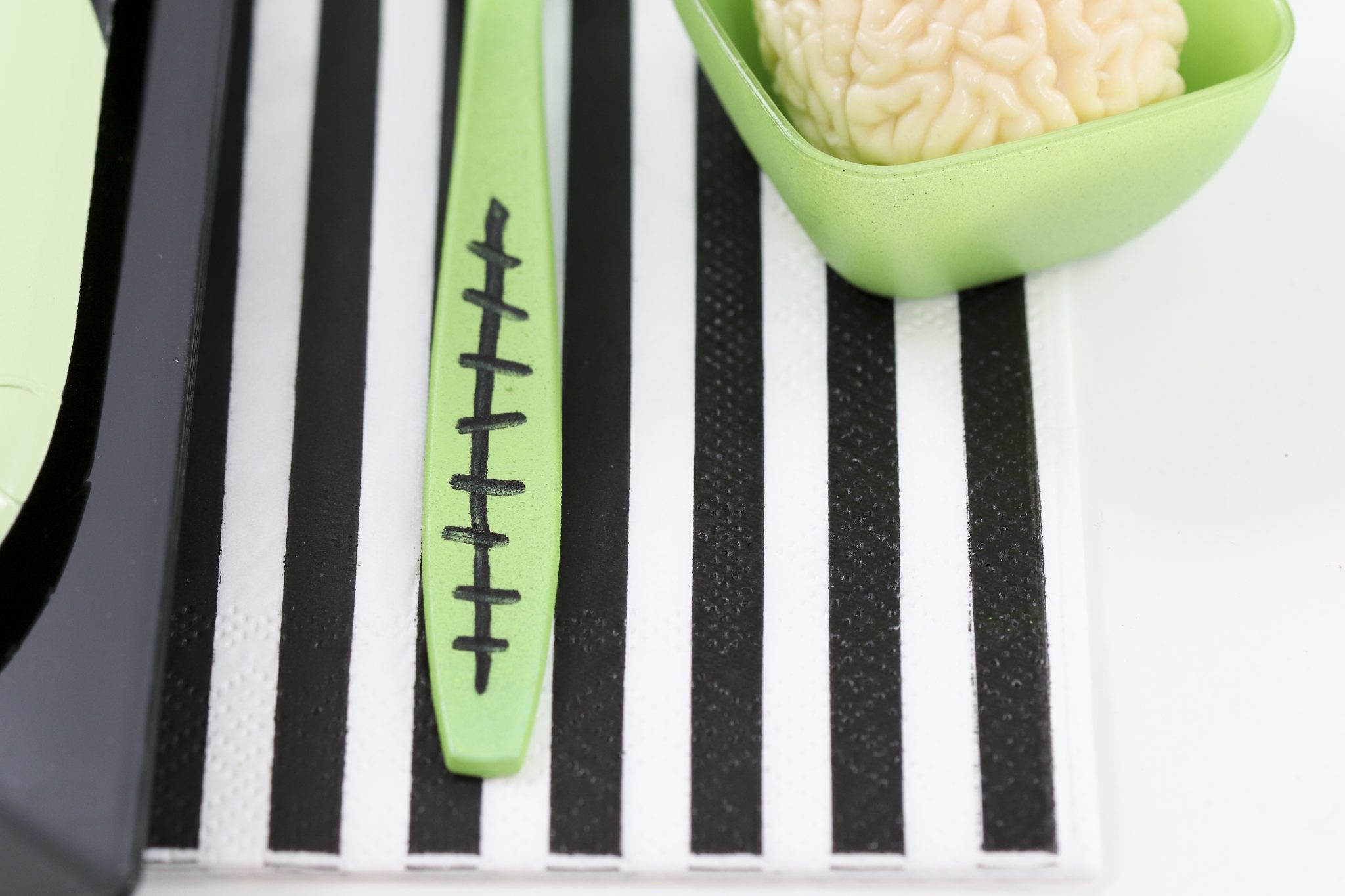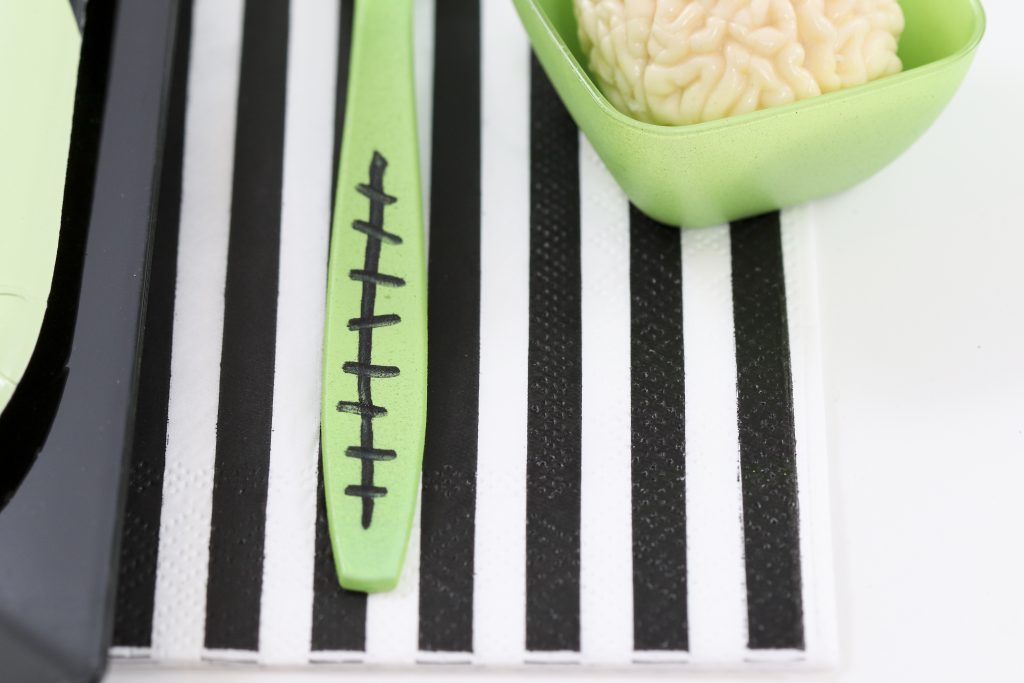 Then, next to each setting, I placed a bowl with a toy brain in it – a silly and only-slightly-creepy trick for the kids. No one is expected to eat brains at this party – but Frankie's brain makes a fun party favor!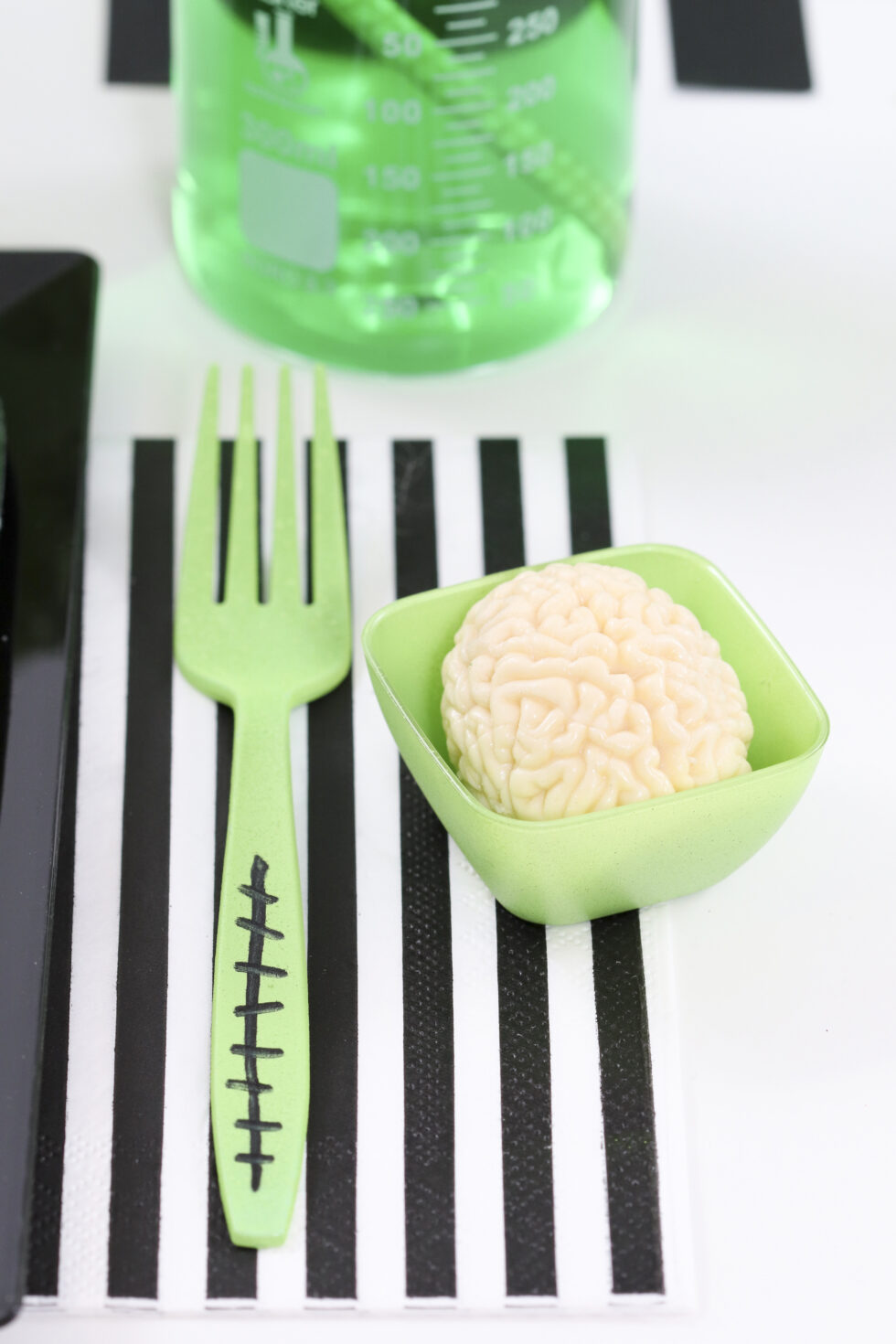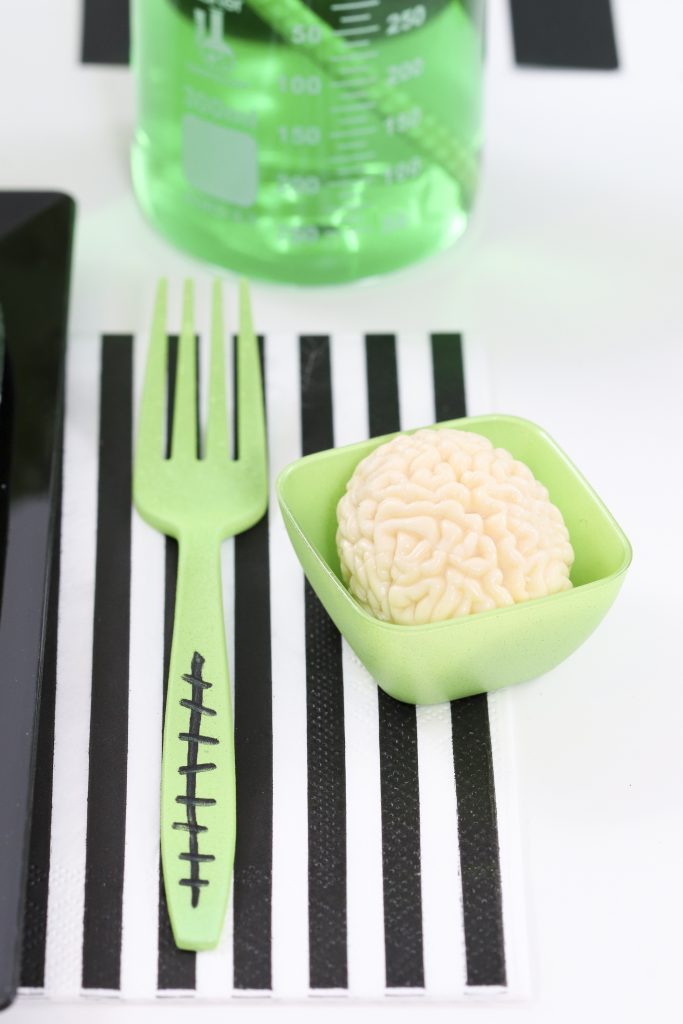 Next, I added science beakers as drinkware to add more of  a laboratory feel to the table. I filled these with water tinted green with just a drop of food coloring, and added green and white straws.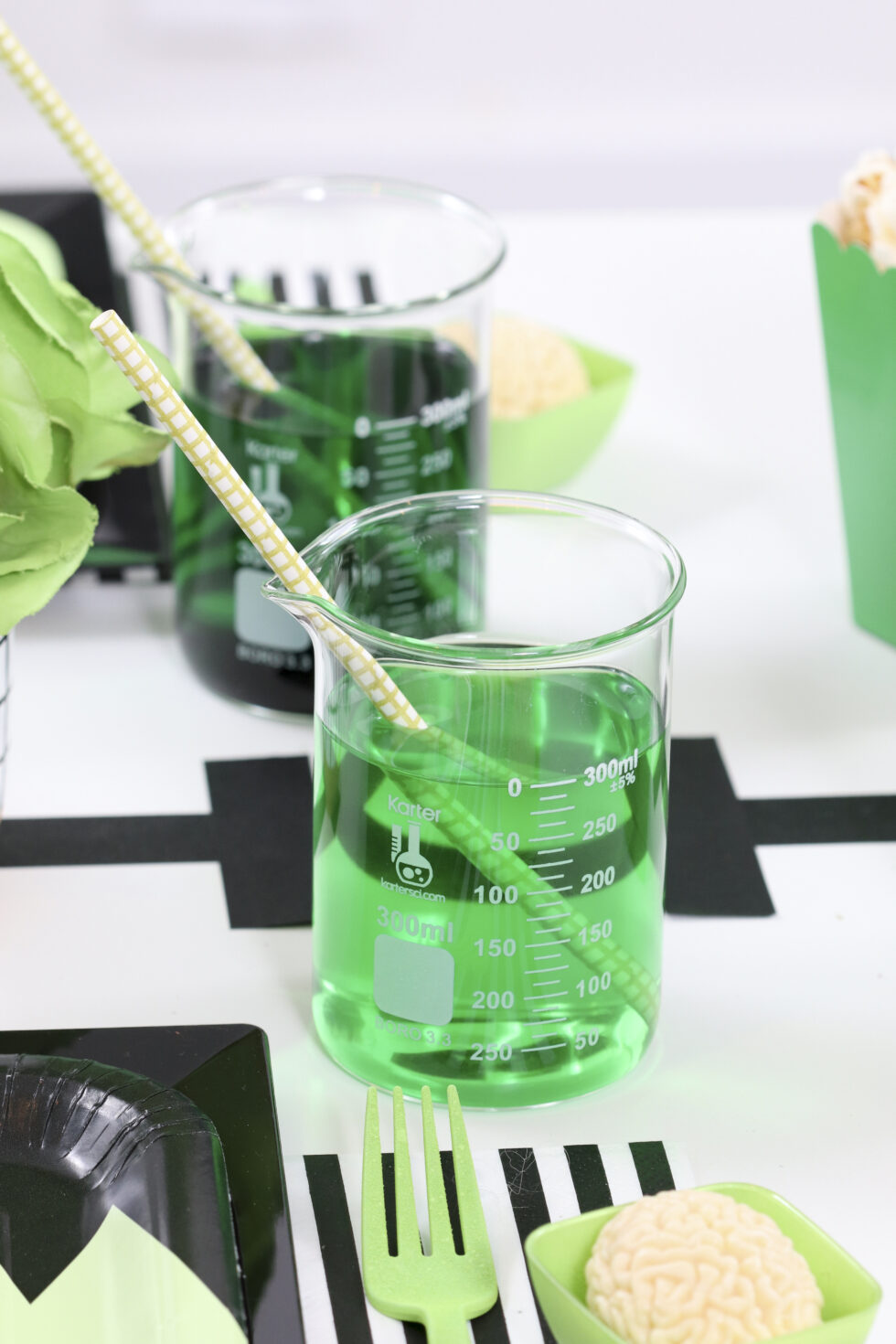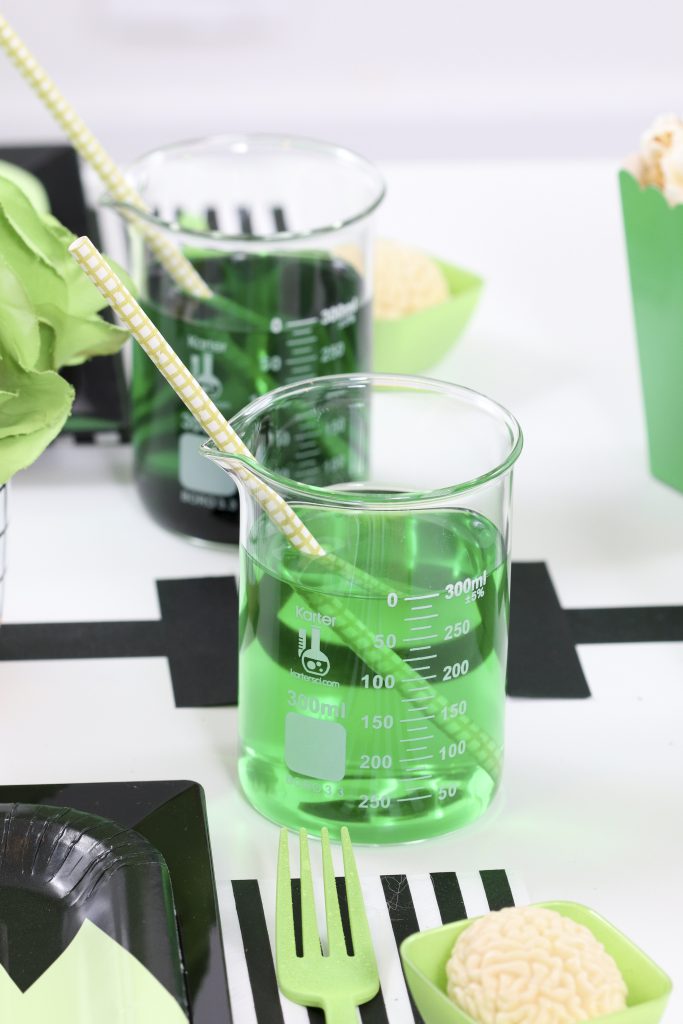 Lastly, I made cute Frankenstein stitched popcorn boxes for each place setting.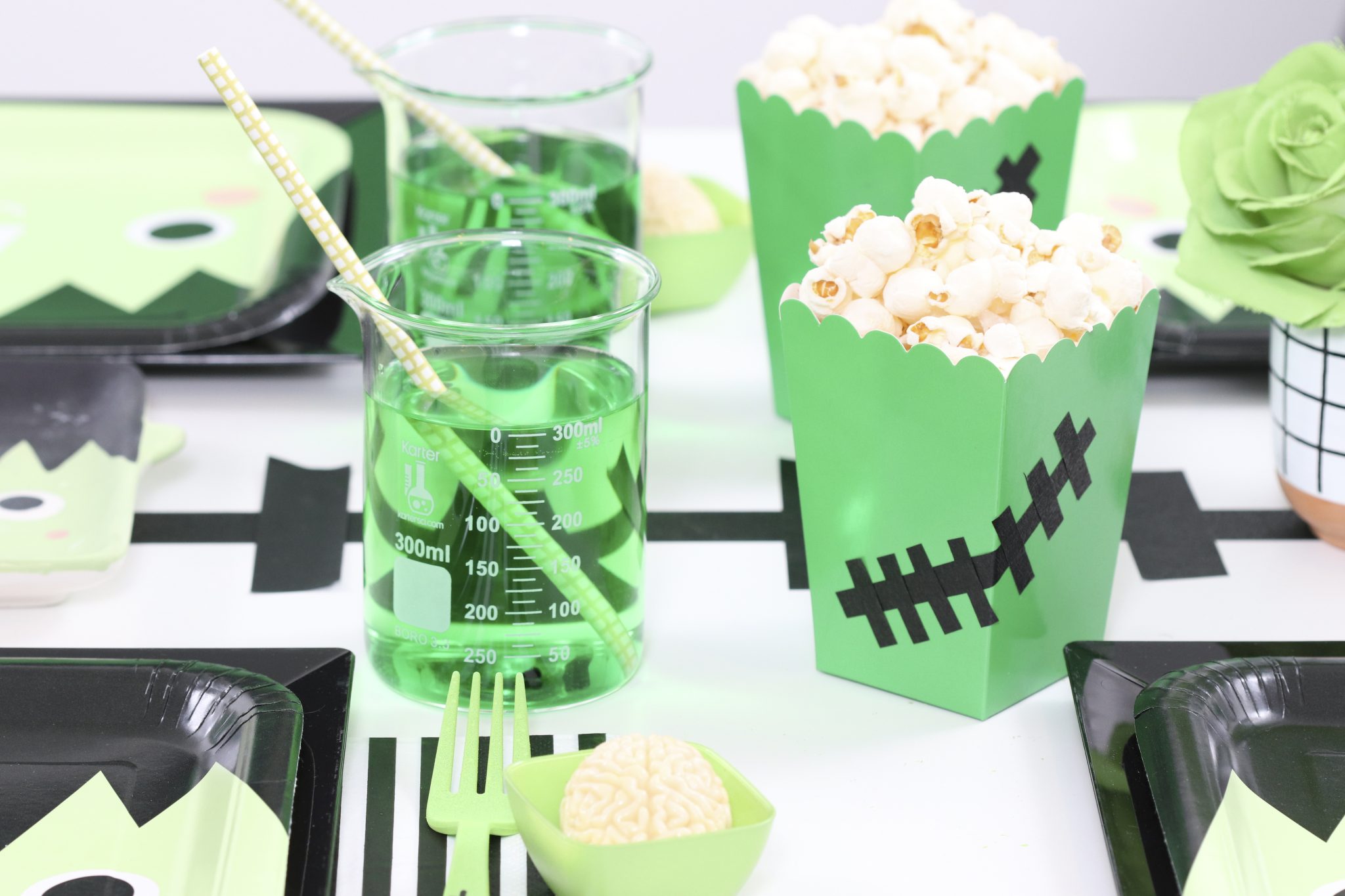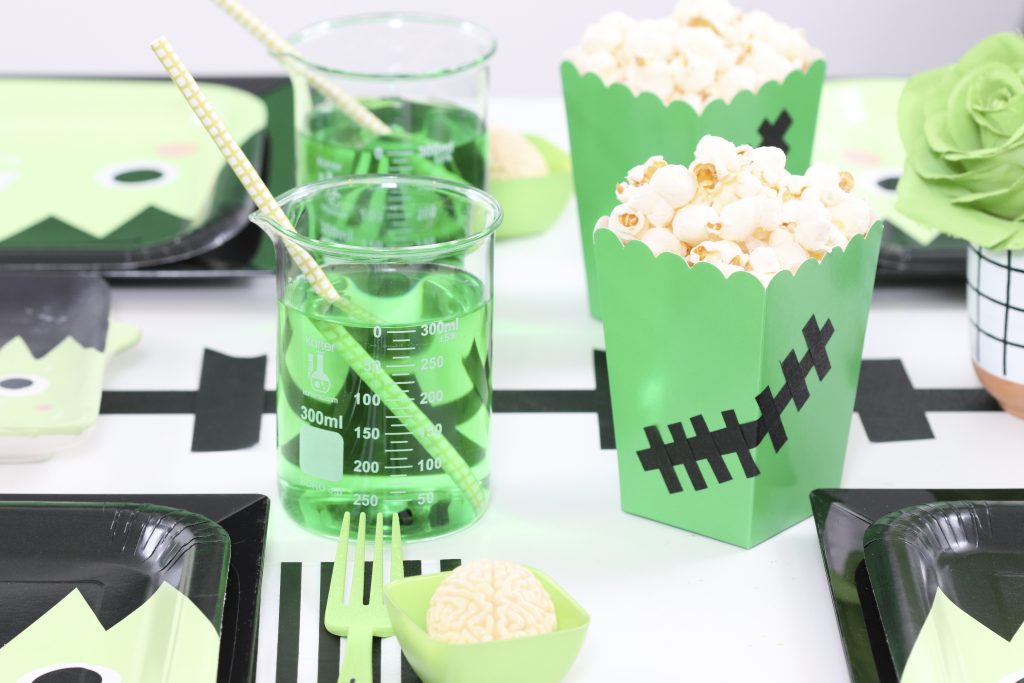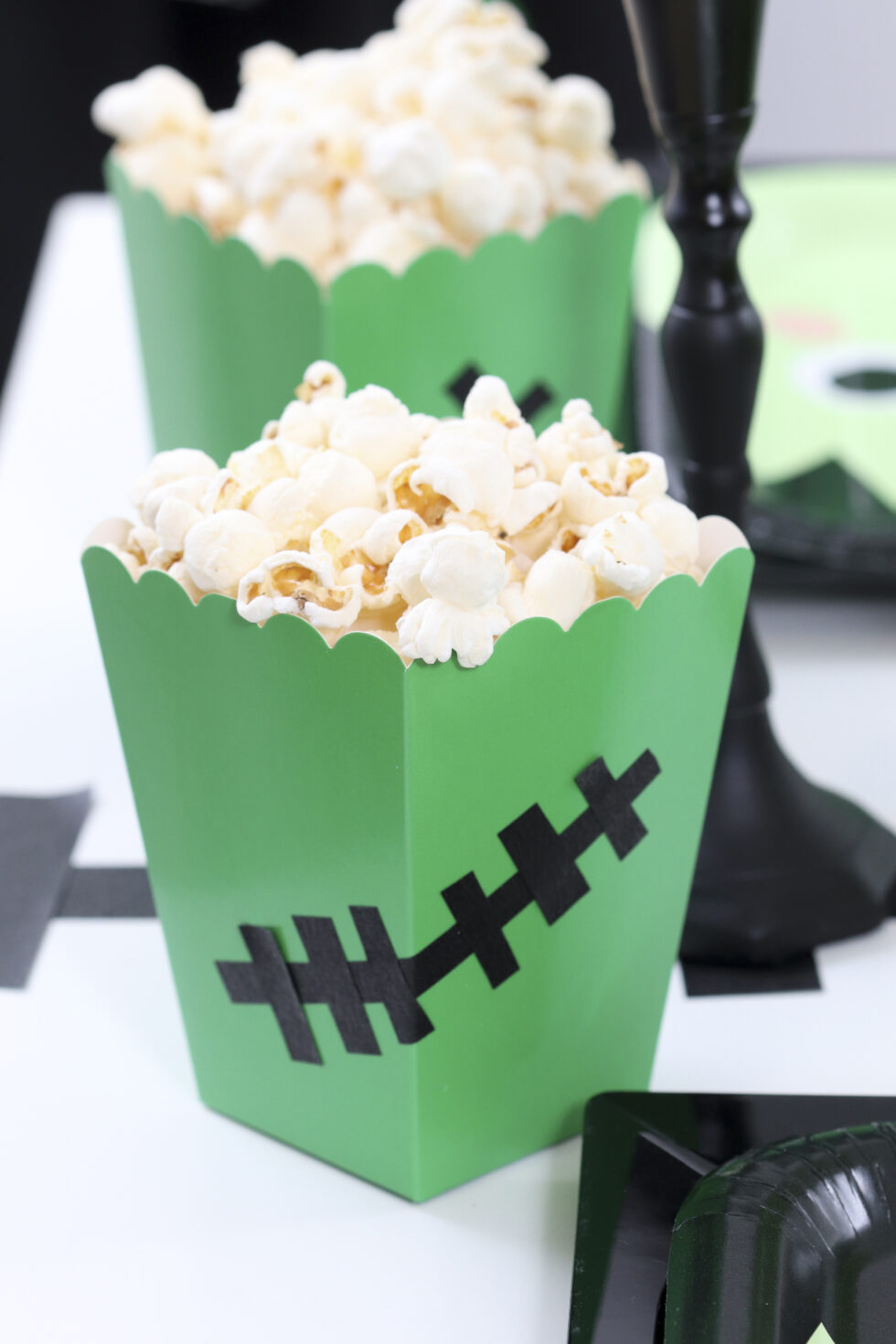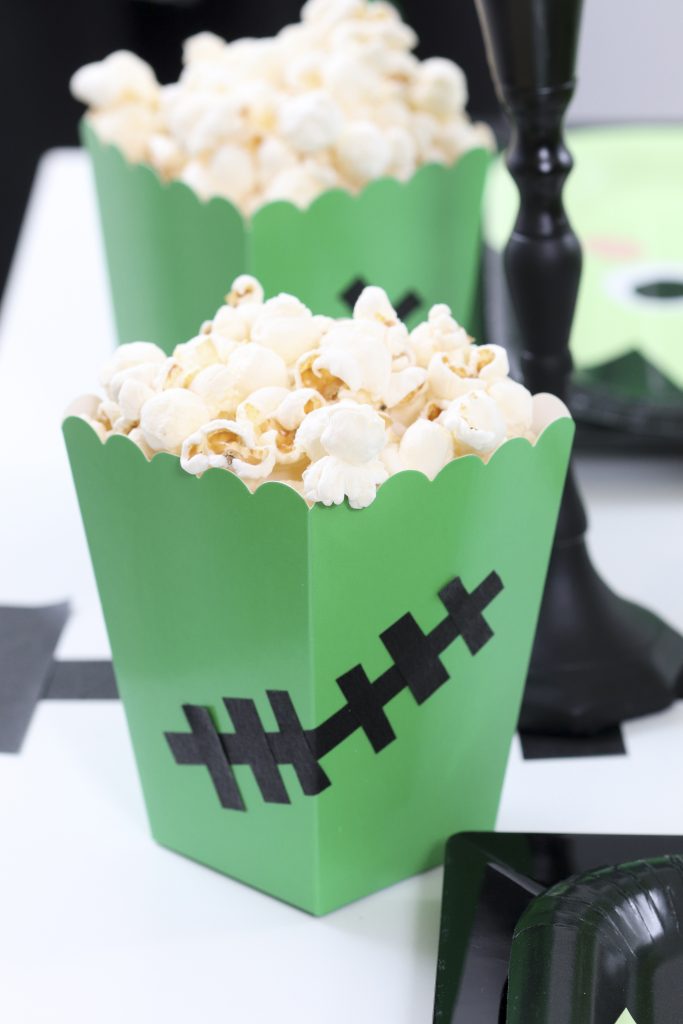 What do you think? Are your kids the type to love all of the creepy and gross Halloween things, or would they be happier partying with Frankie? I'd love to hear your opinions in the comments below! Which character should I party with next?
Don't forget to check out my Amazon store to shop for the items I used or similar!
And, for TONS more kid-friendly Halloween party ideas, check out my recent post, 13 Halloween Party Ideas for Kids!
Happy Partying!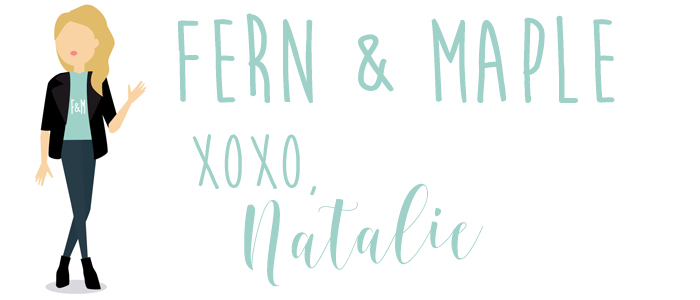 As a blogger, I received compensation and/or products in exchange for my styling and crafting services. As always, all project ideas and any opinions expressed here are my own.  For further information on our disclosure policy please check out our disclosure page.
PIN FOR LATER: