'Tis the season for warm and cozy drinks! Whether you're a hot chocolate, tea, or coffee drinker (or all three…), it's nice to have the supplies set up for your favorite hot beverage whenever the winter chills hit. Even better if everything is decked out in festive decor! This year, I set up a Hot Chocolate, Tea, and Coffee Bar in my dining room from now through the holiday season, and I decorated everything with a holly jolly red theme inspired by one of my favorite Treetopia trees. Read on for all the details!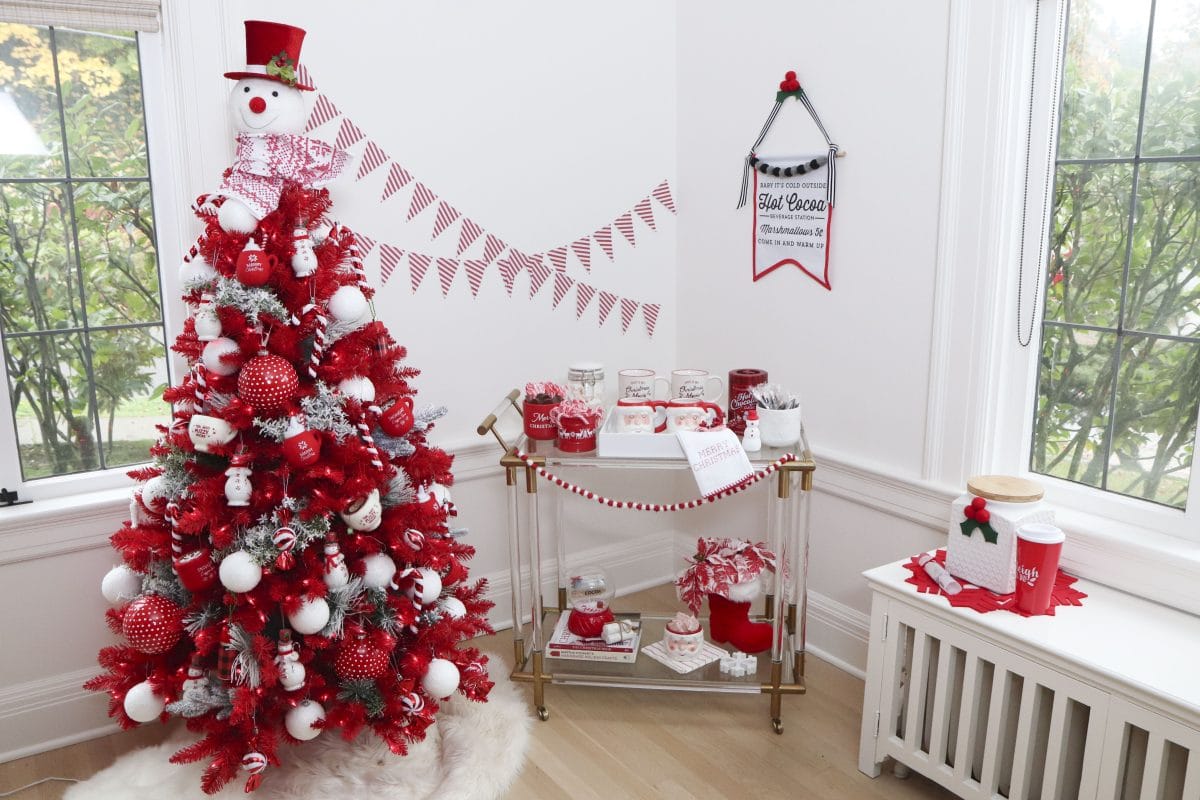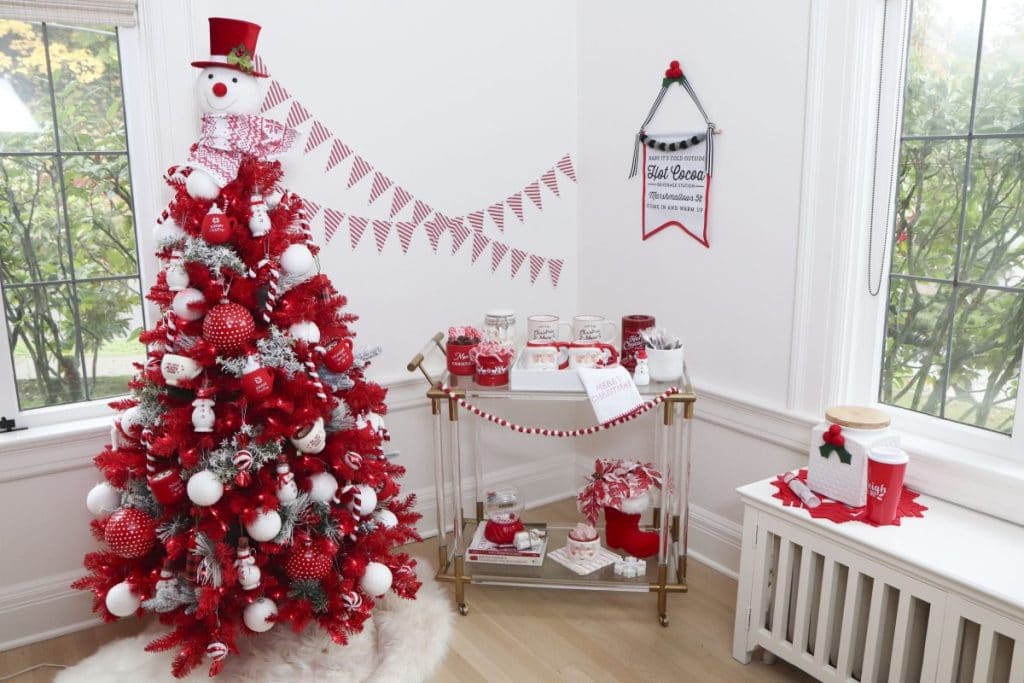 How to Set up a Seasonal Hot Chocolate, Tea, and Coffee Bar
As a blogger, I sometimes receive compensation and/or products in exchange for my styling and crafting services. I also may earn a small commission from any sales that result from affiliate links on this page. As always, all project ideas and any opinions expressed here are my own.  For further information on our disclosure policy please check out our disclosure page. 
Decorating the Holiday Tree
To set the scene, I used the Lipstick Red Treetopia Tree. I love the unique and bold red hue and the full shape of this tree.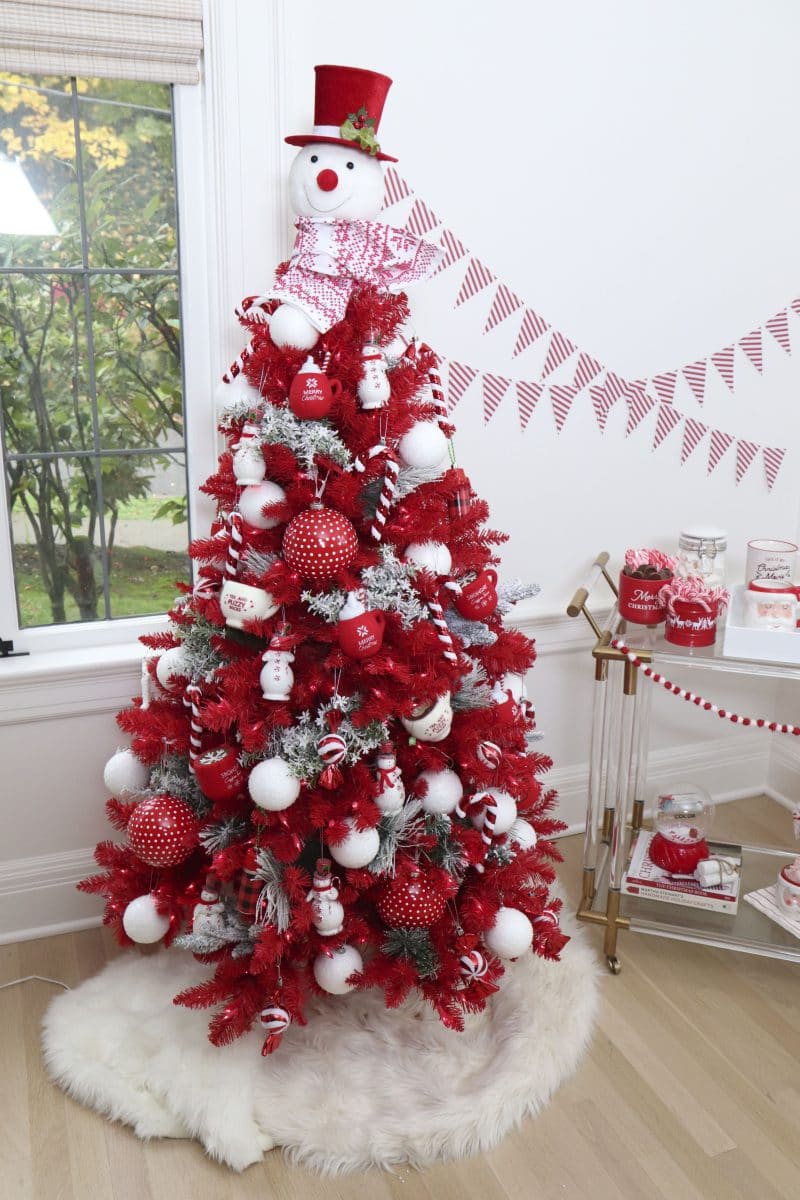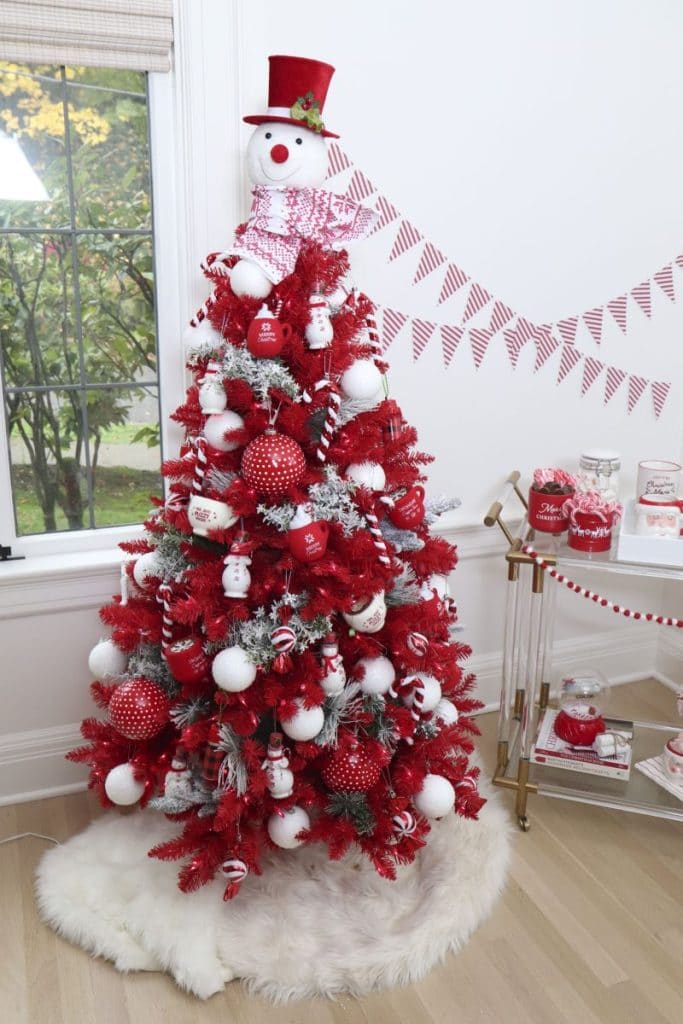 I tucked some frosty white foliage throughout to break up the red a bit.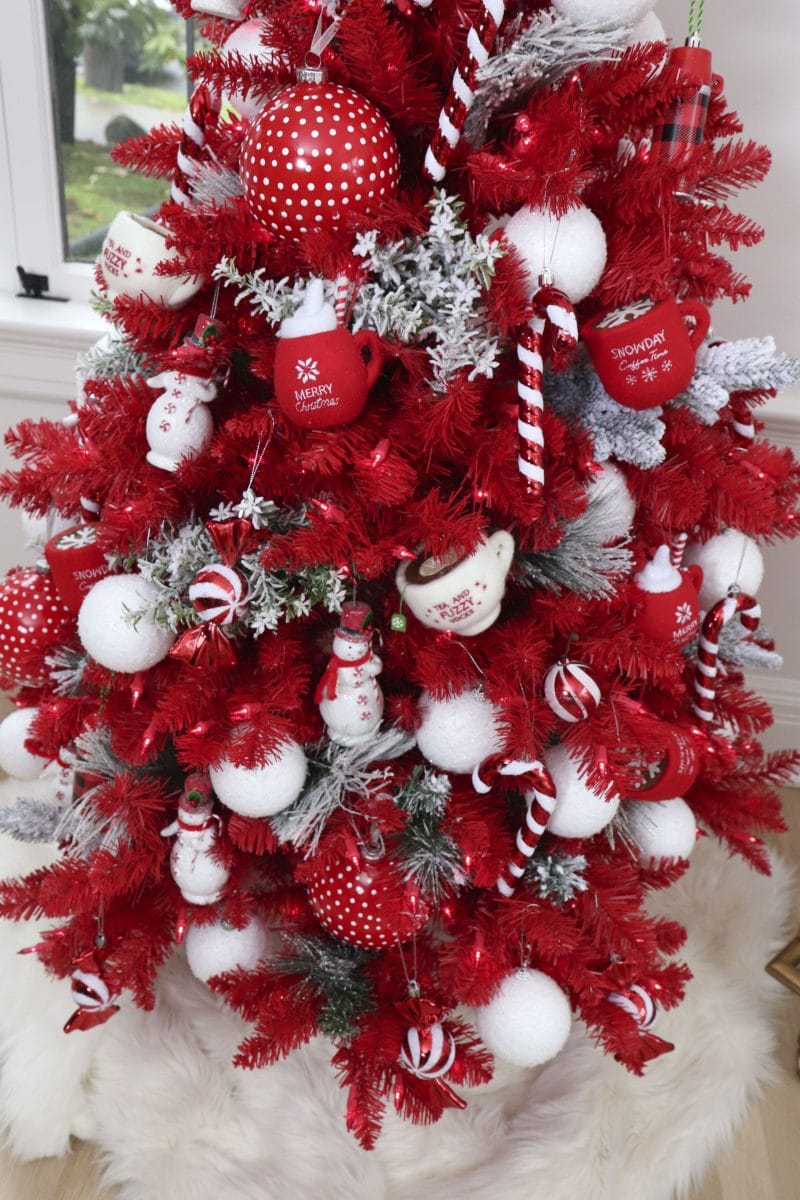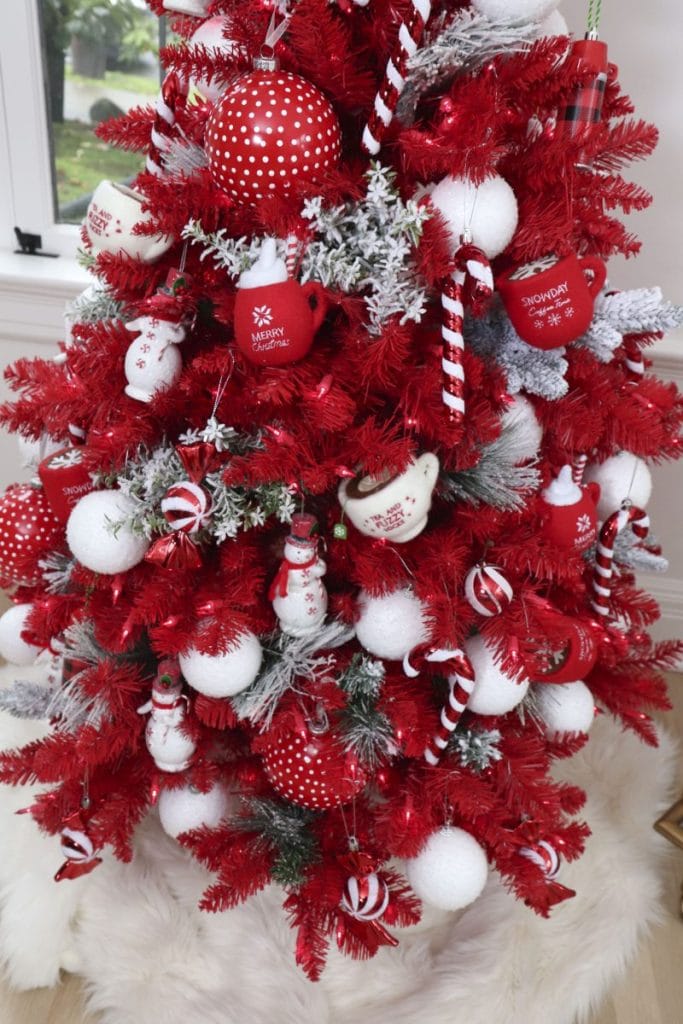 For a tree topper, I used an adorable smiling snowman in a red top hat and wrapped with a red and white scarf.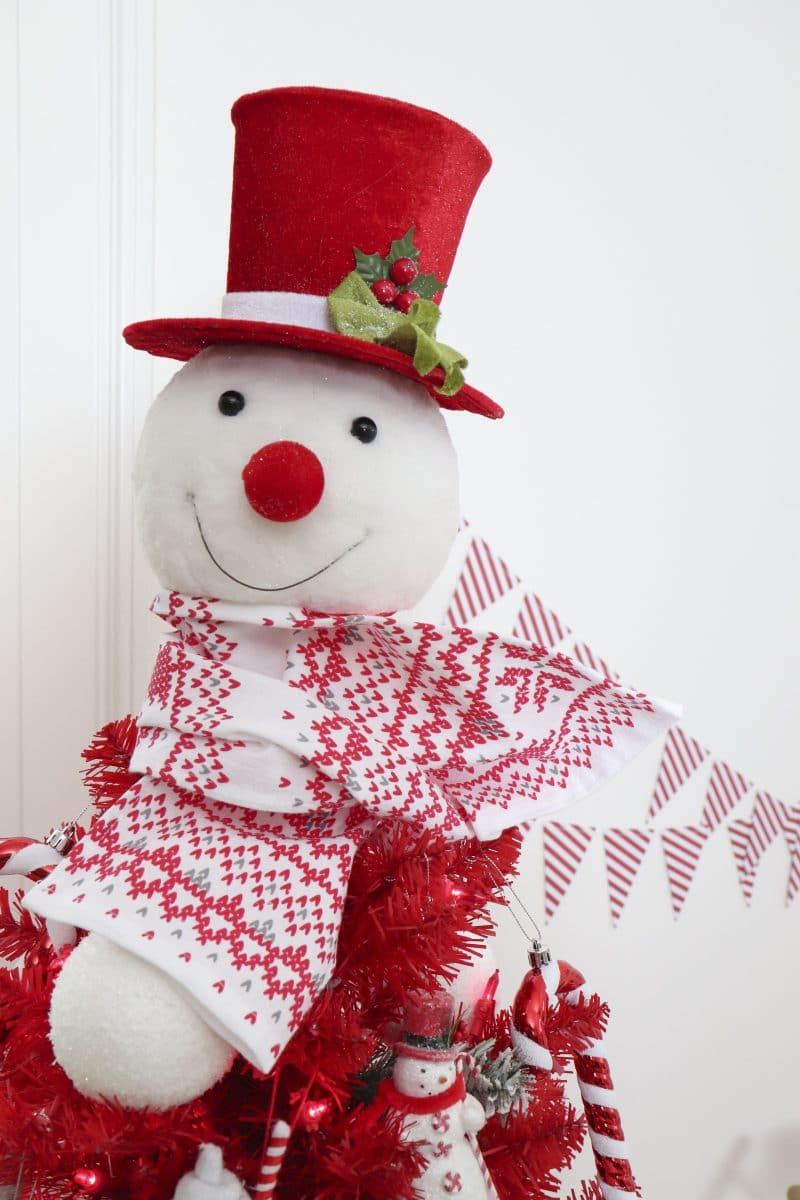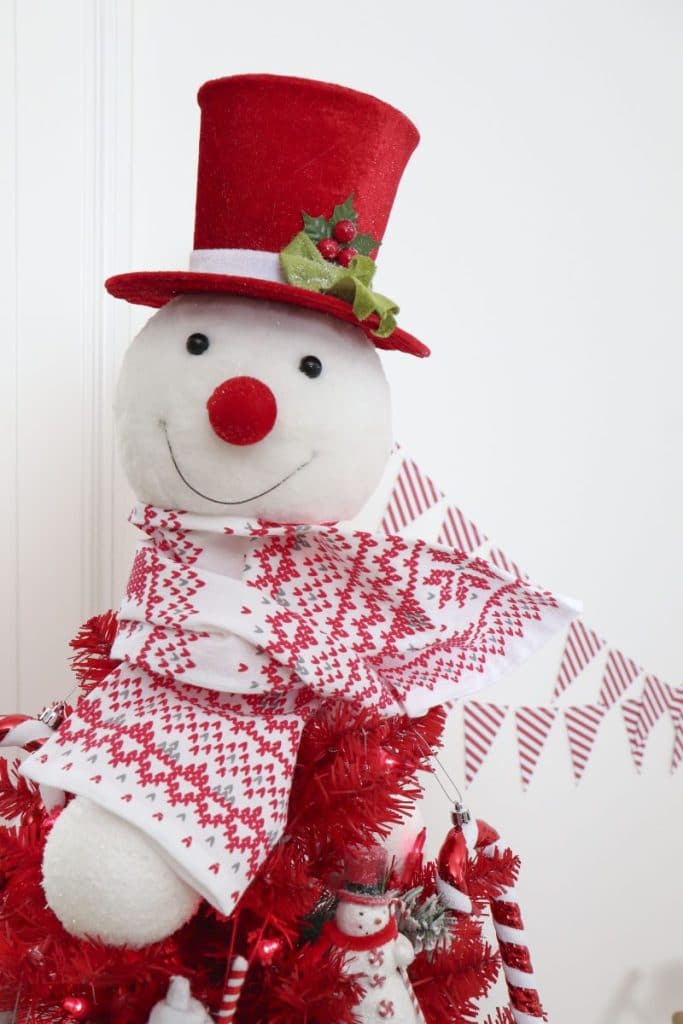 Then, it was time to pile on the ornaments! Sticking with a color scheme of just white and red doesn't mean boring…I found so many amazing ornaments that fit the festive theme and color scheme.
My favorites were the adorable felt mugs that went perfectly with our hot chocolate, tea, and coffee bar!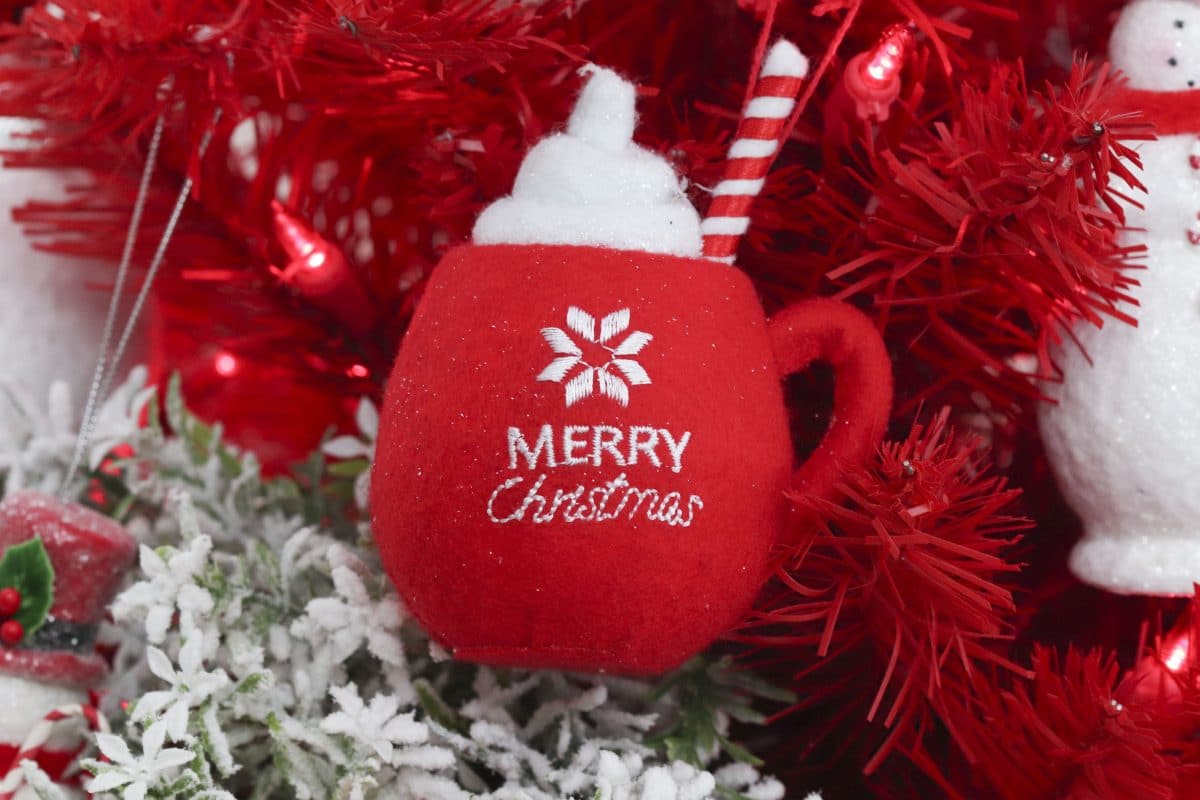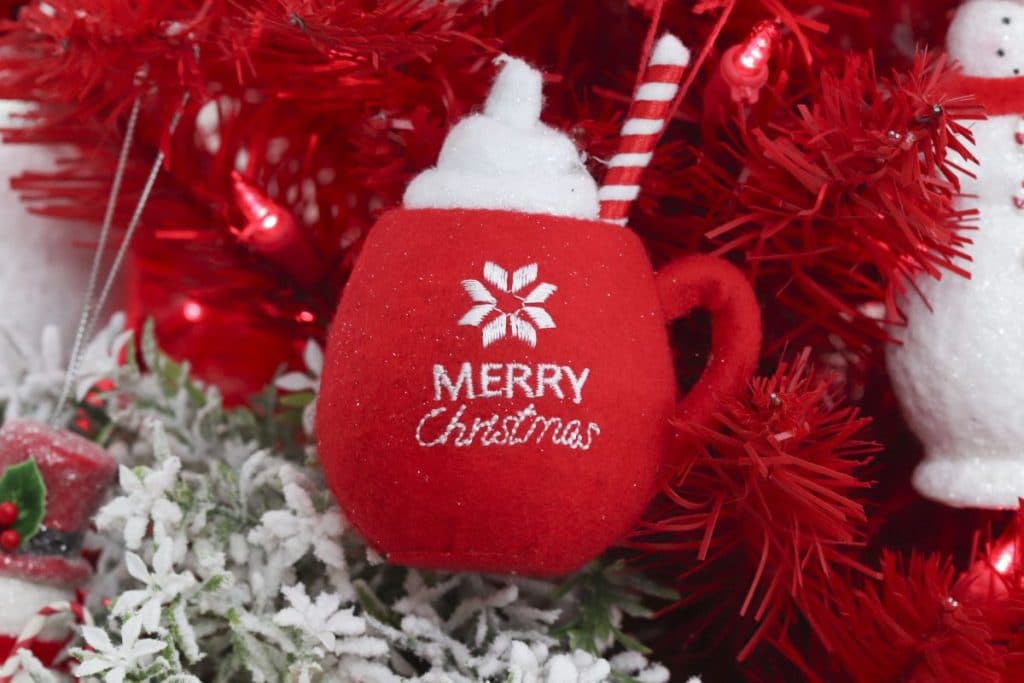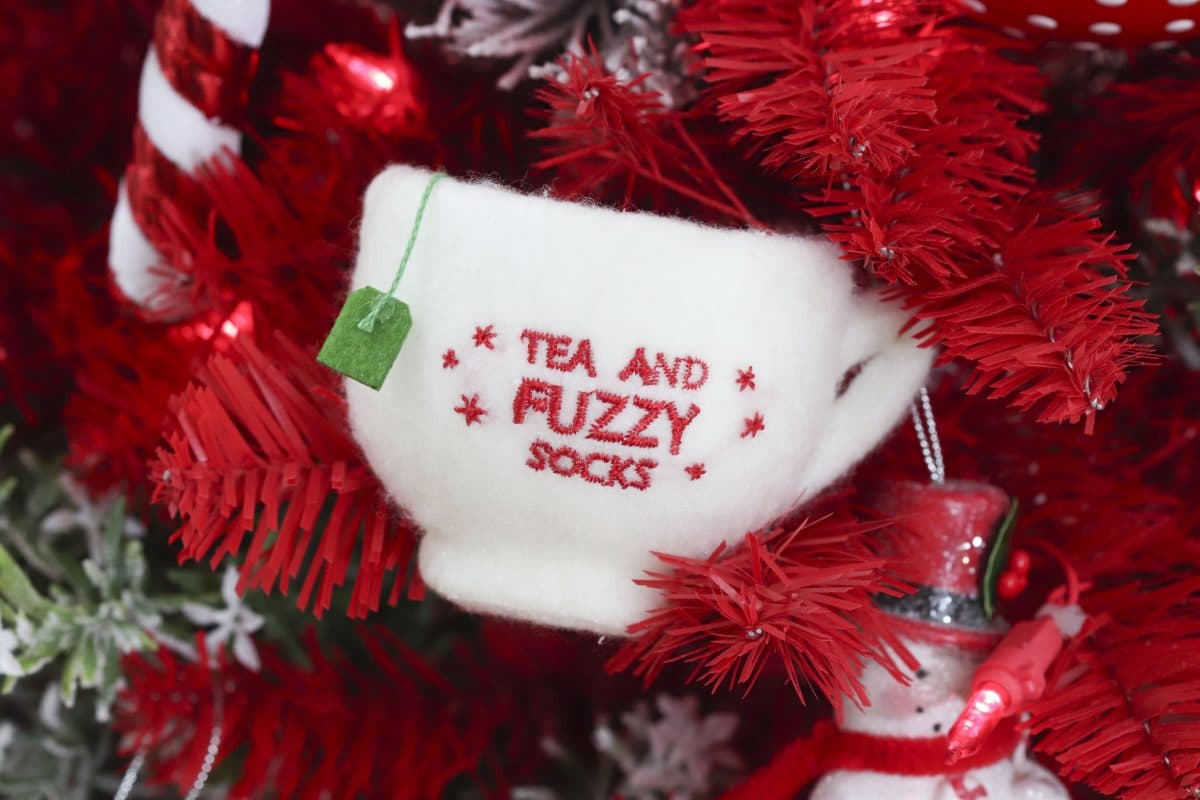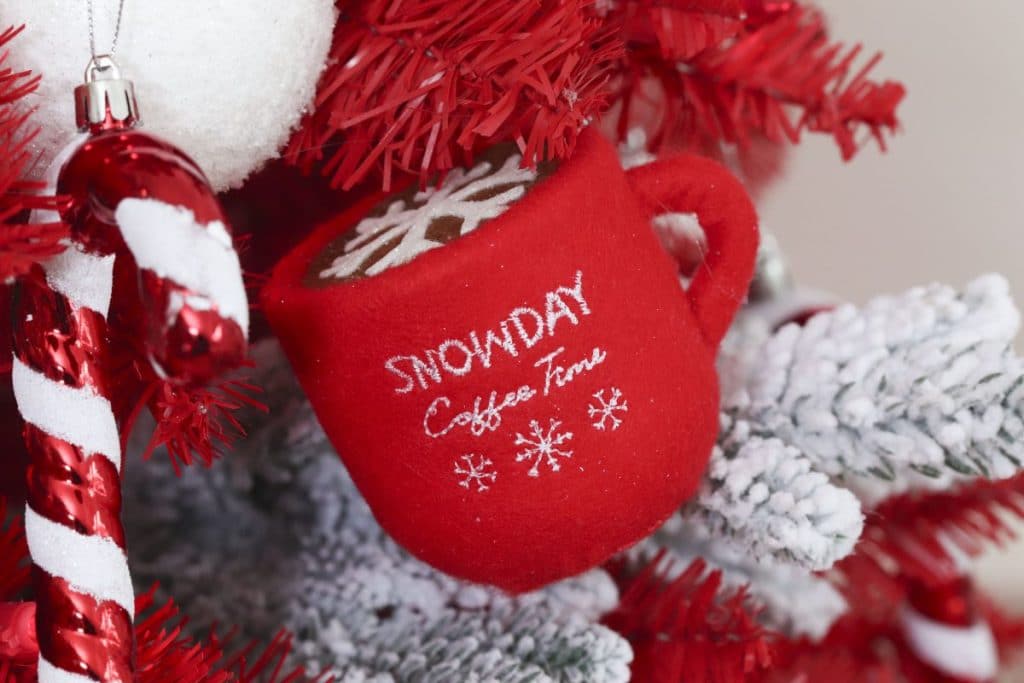 I also added some candy canes and peppermint striped candy ornaments, the quintessential holiday candy that perfectly matches the decor.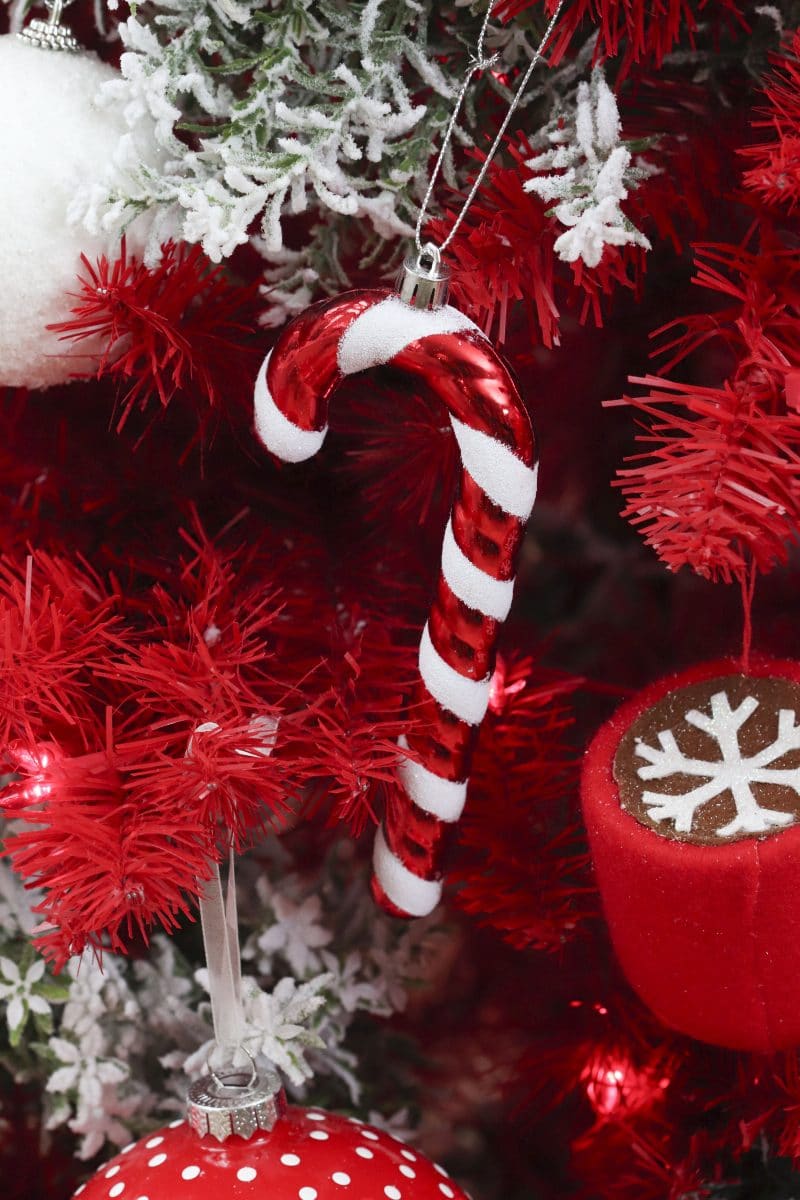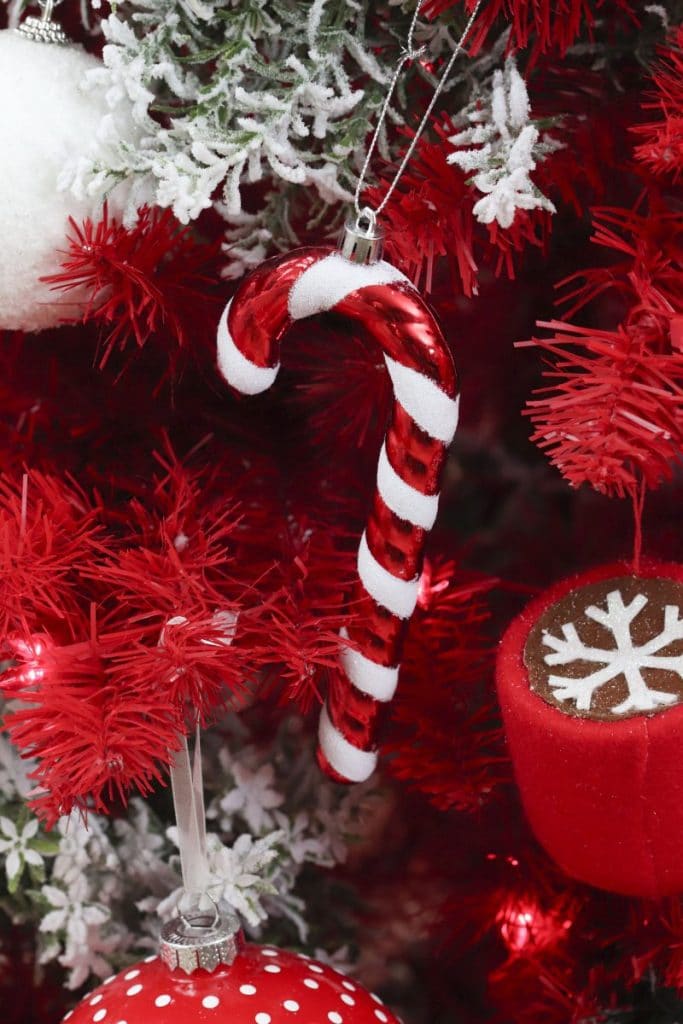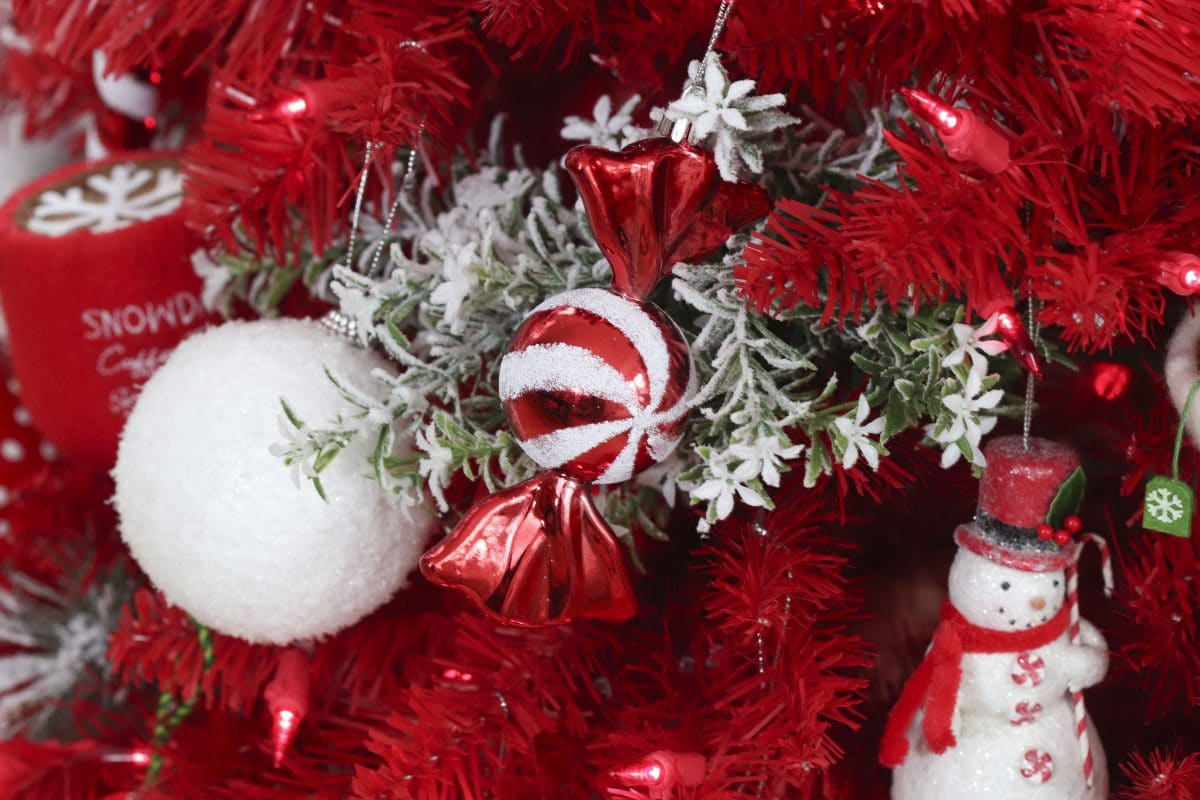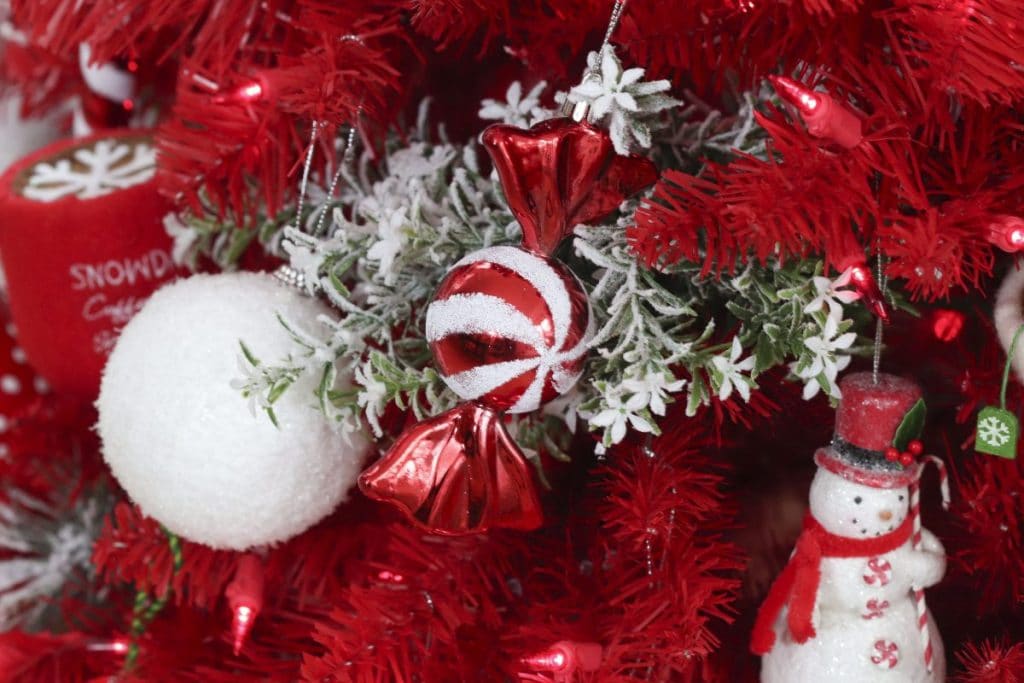 Traditional round ornaments, more snowmen, and even fuzzy white Christmas word ornaments made for an eclectic and fun tree, all while staying in theme.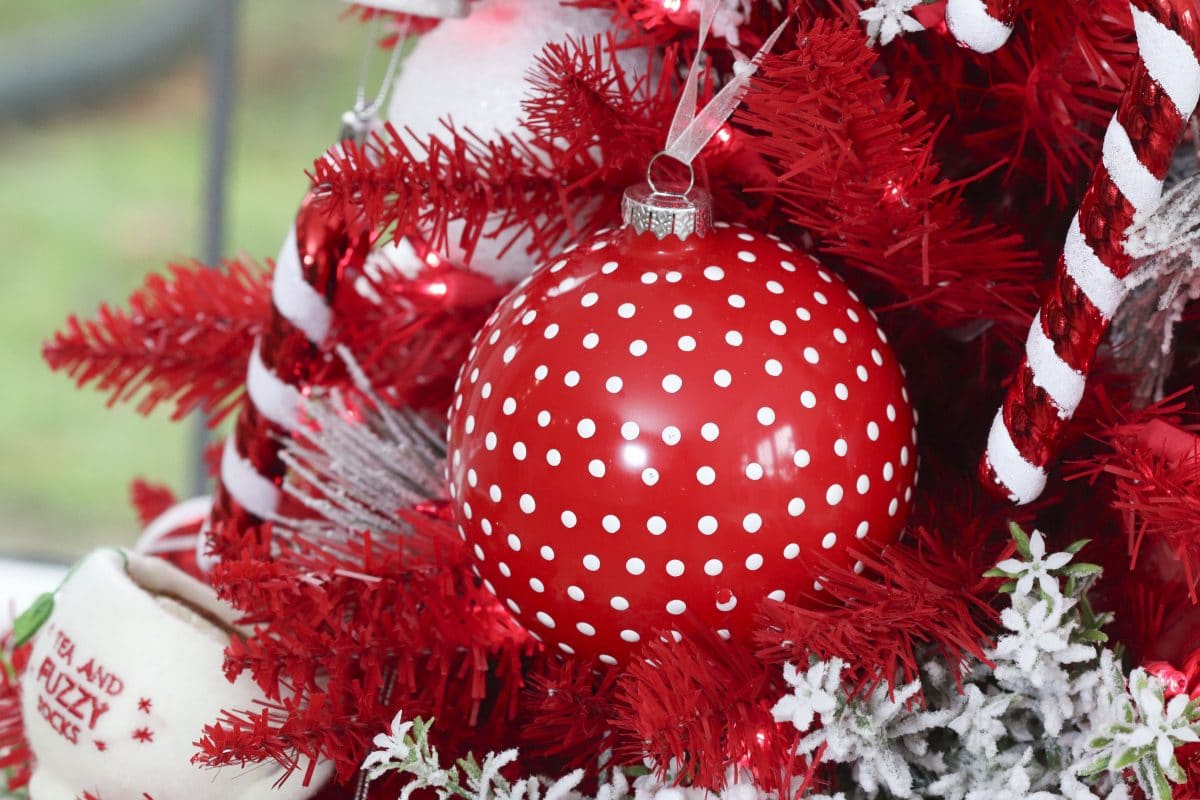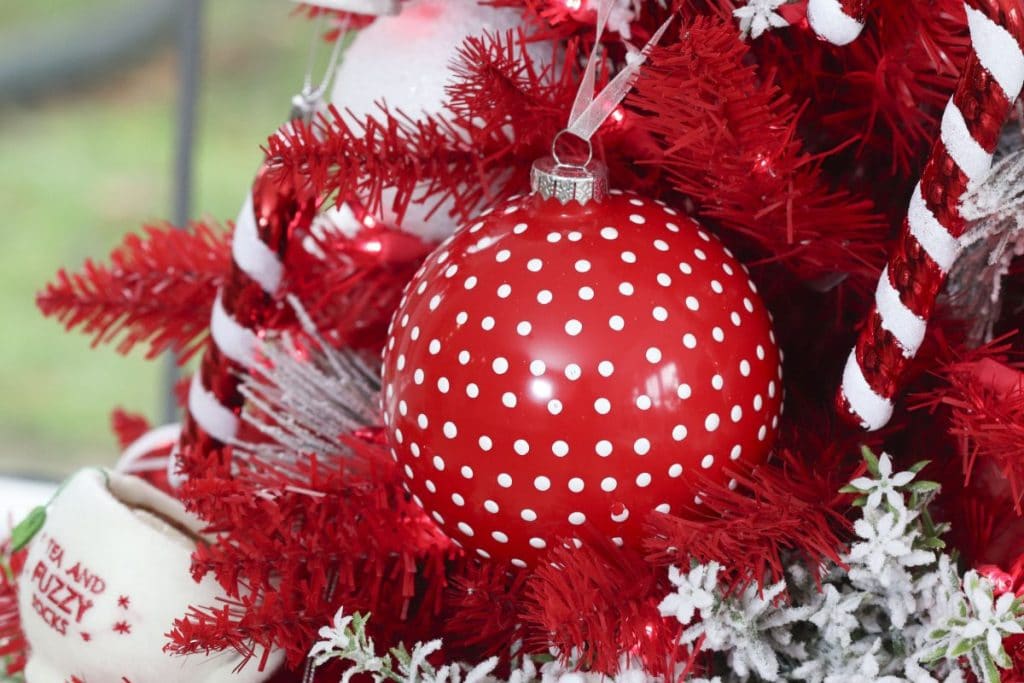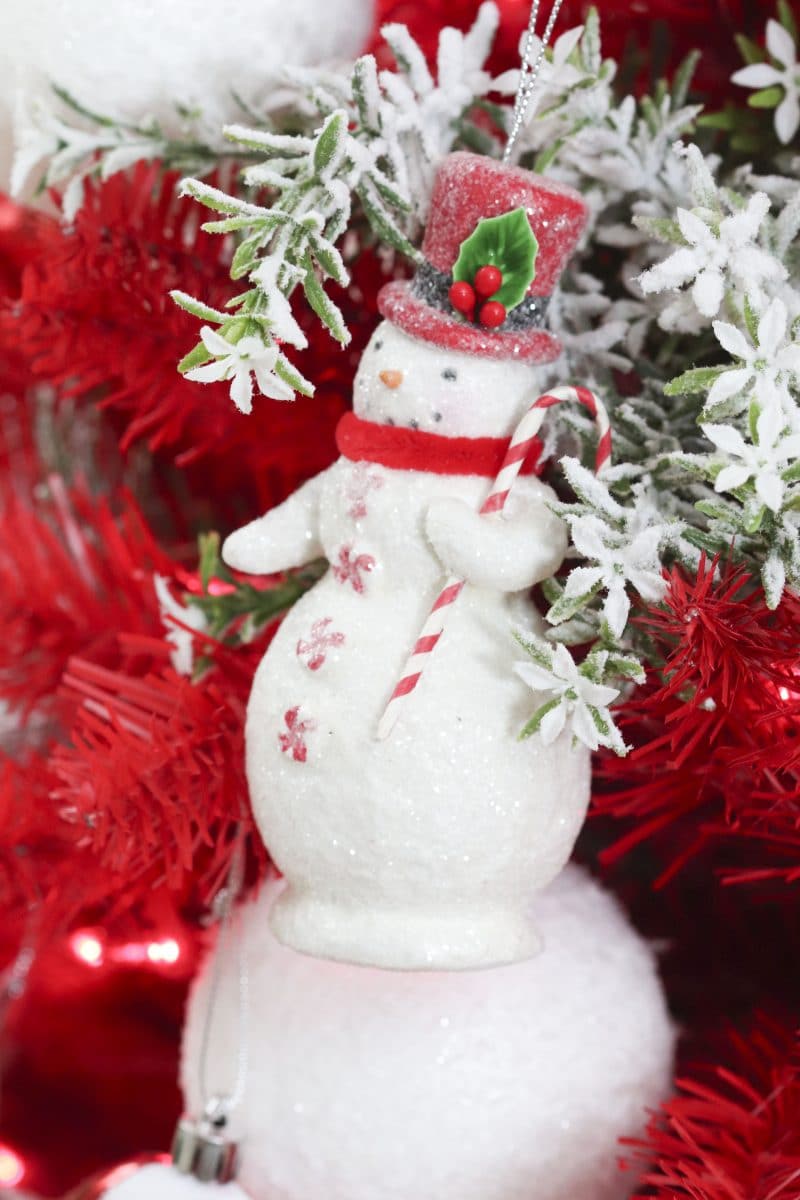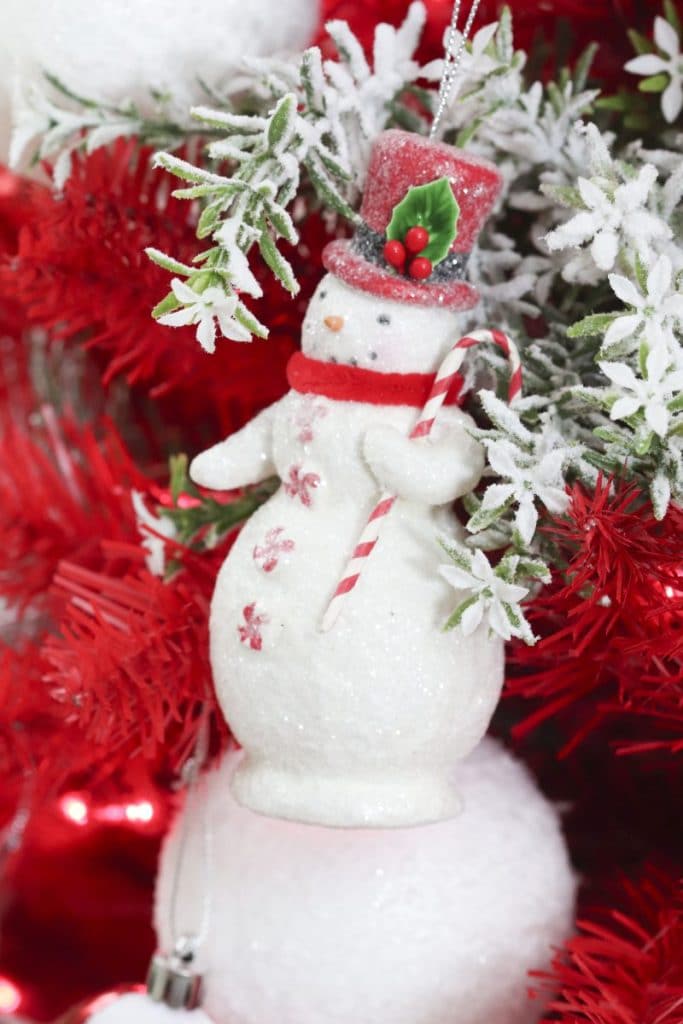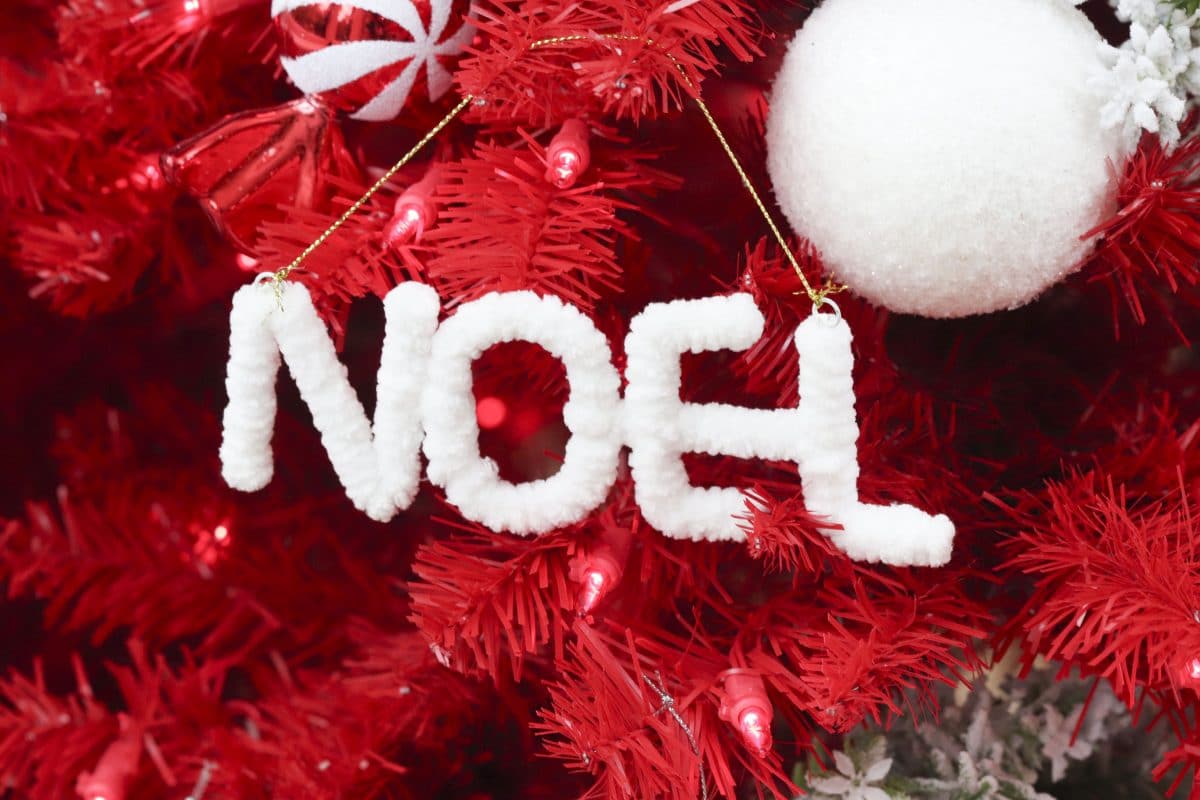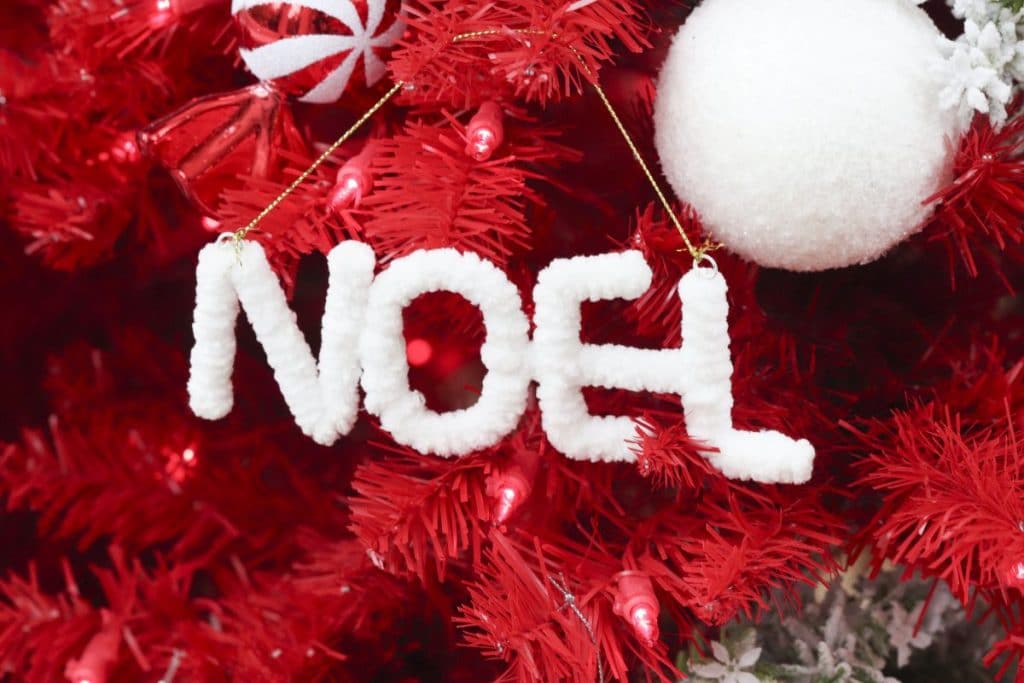 And just in case anyone wants their hot beverage to go….how cute is this little red thermos ornament?!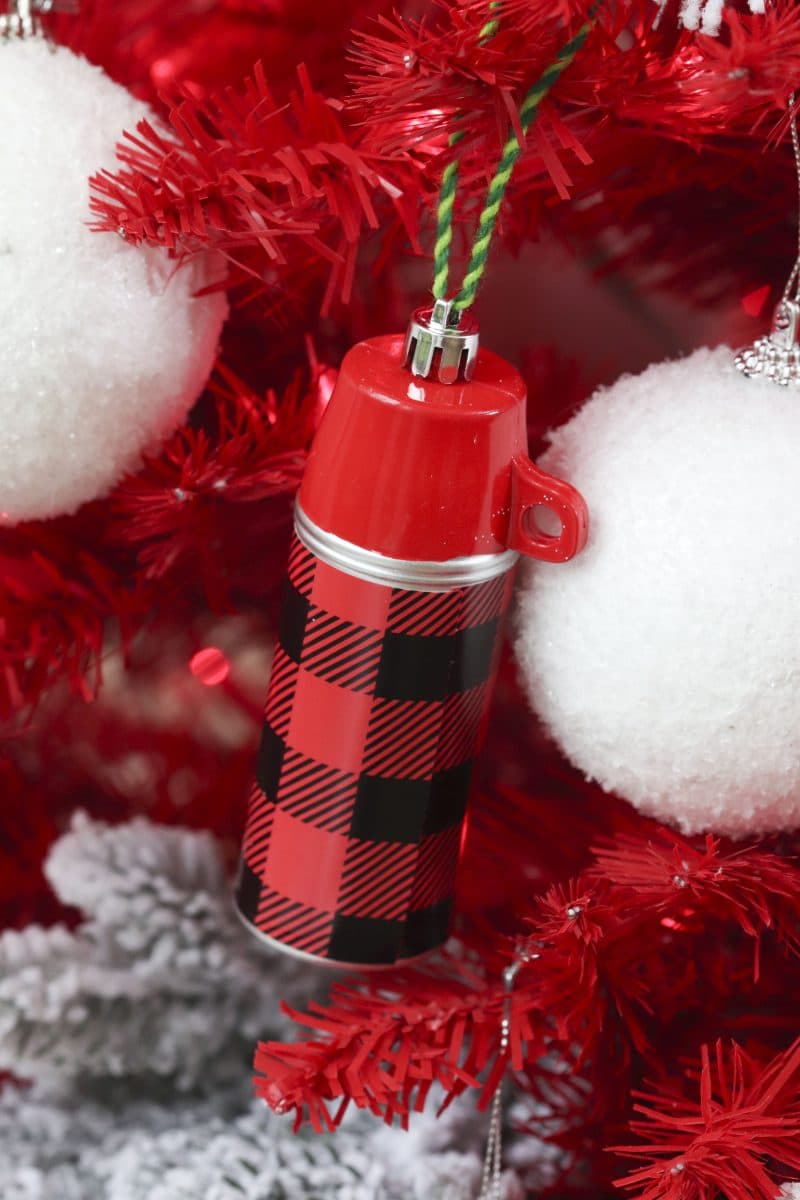 My kids never tire of decorating trees – so they were thrilled that we had an extra one to decorate in our dining room this year.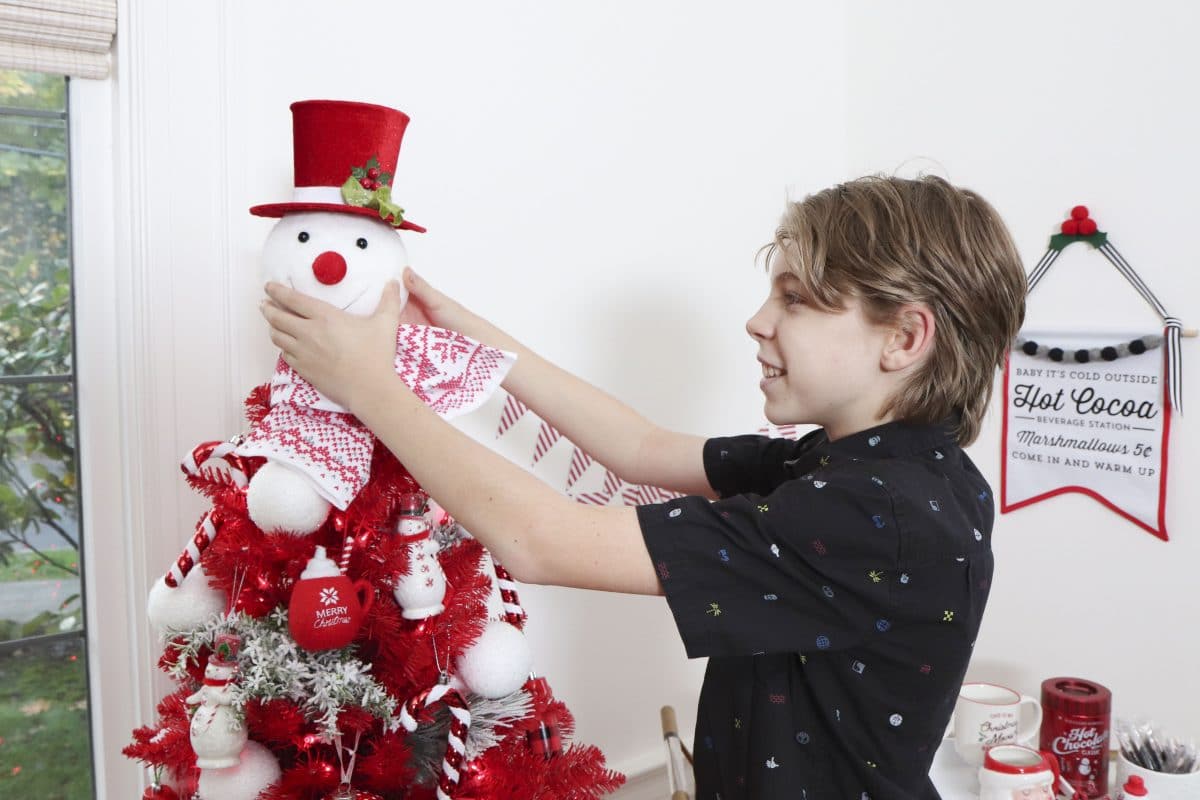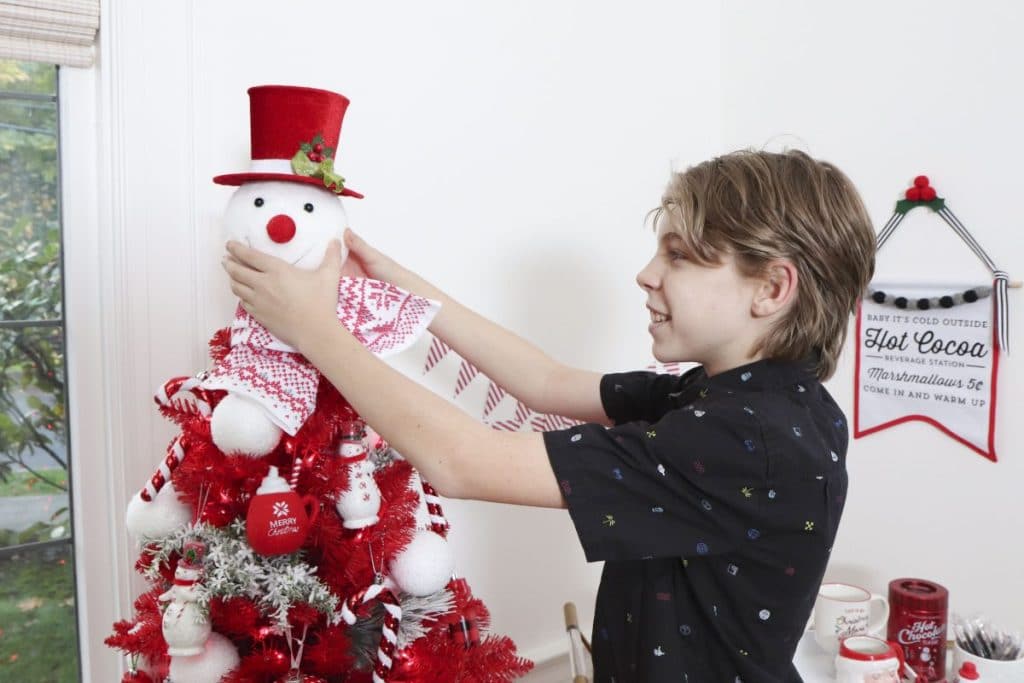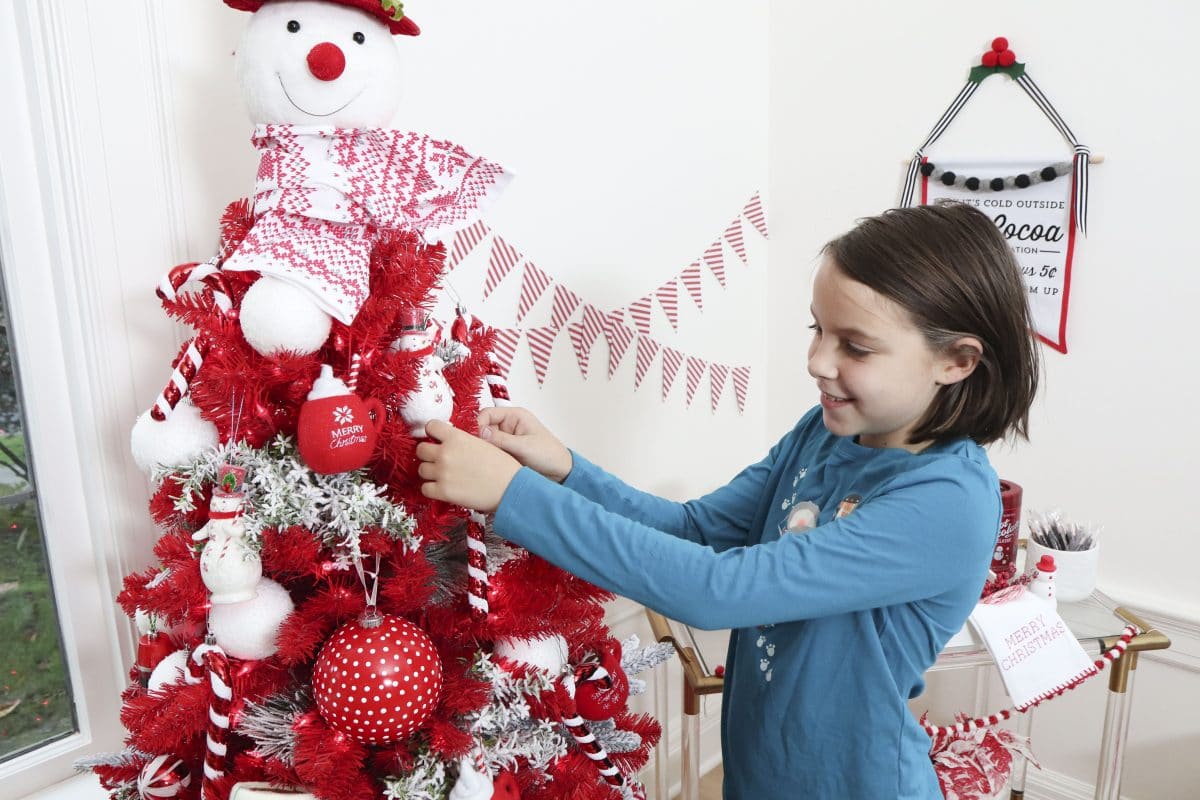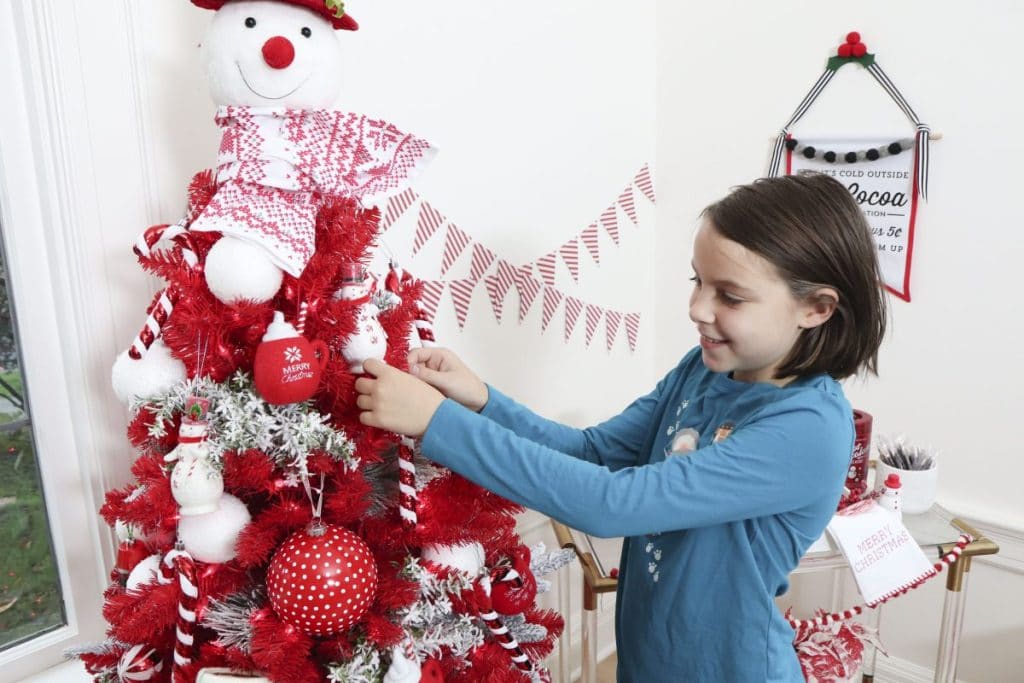 Setting up the Hot Chocolate, Tea, and Coffee Bar
Now, onto the beverages! I used a bar cart to hold all of my bar items, but you could easily use a small table or even shelves. Behind the bar cart, I hung a red and white striped pennant garland, and a cute hot cocoa beverage station sign. Then I draped a red and white felt ball  garland around the bar cart itself.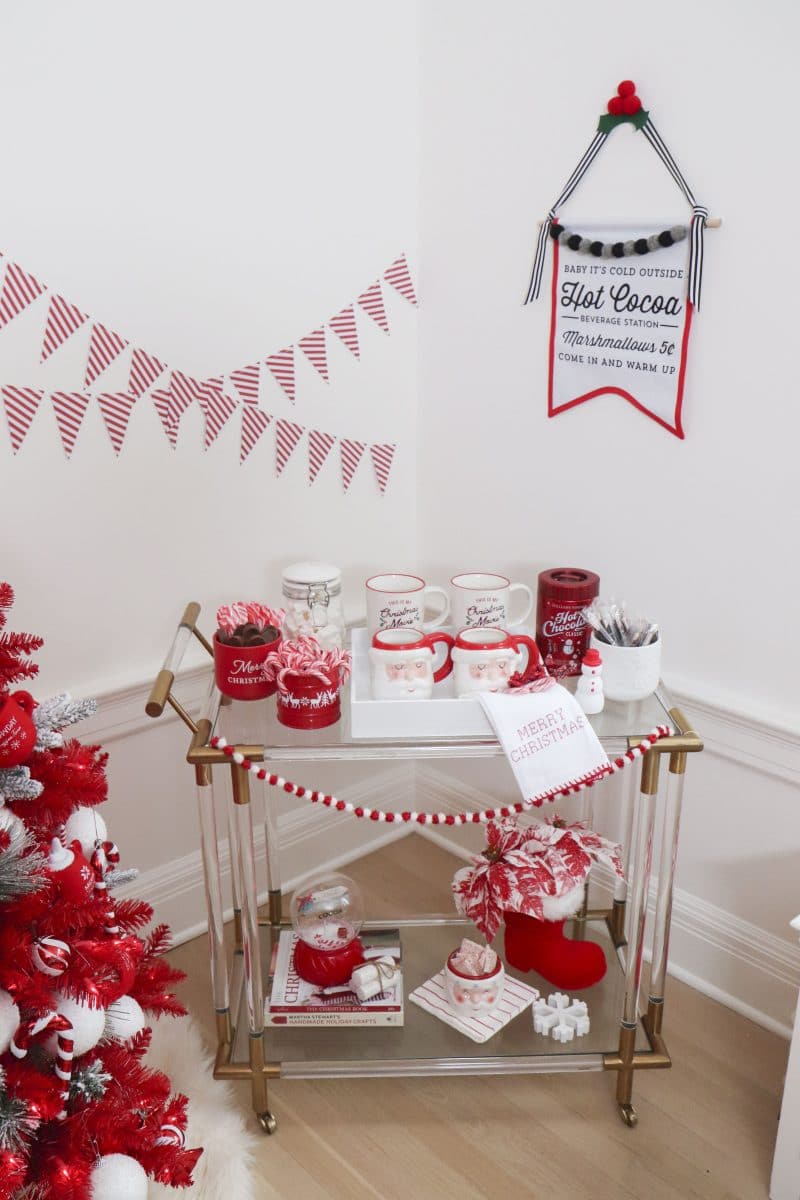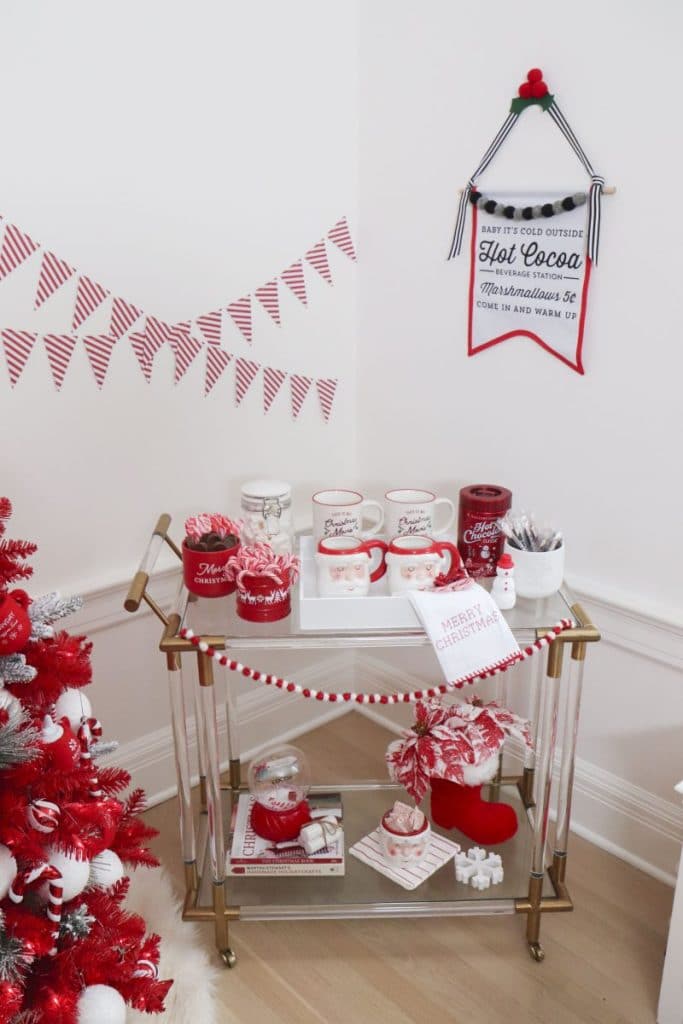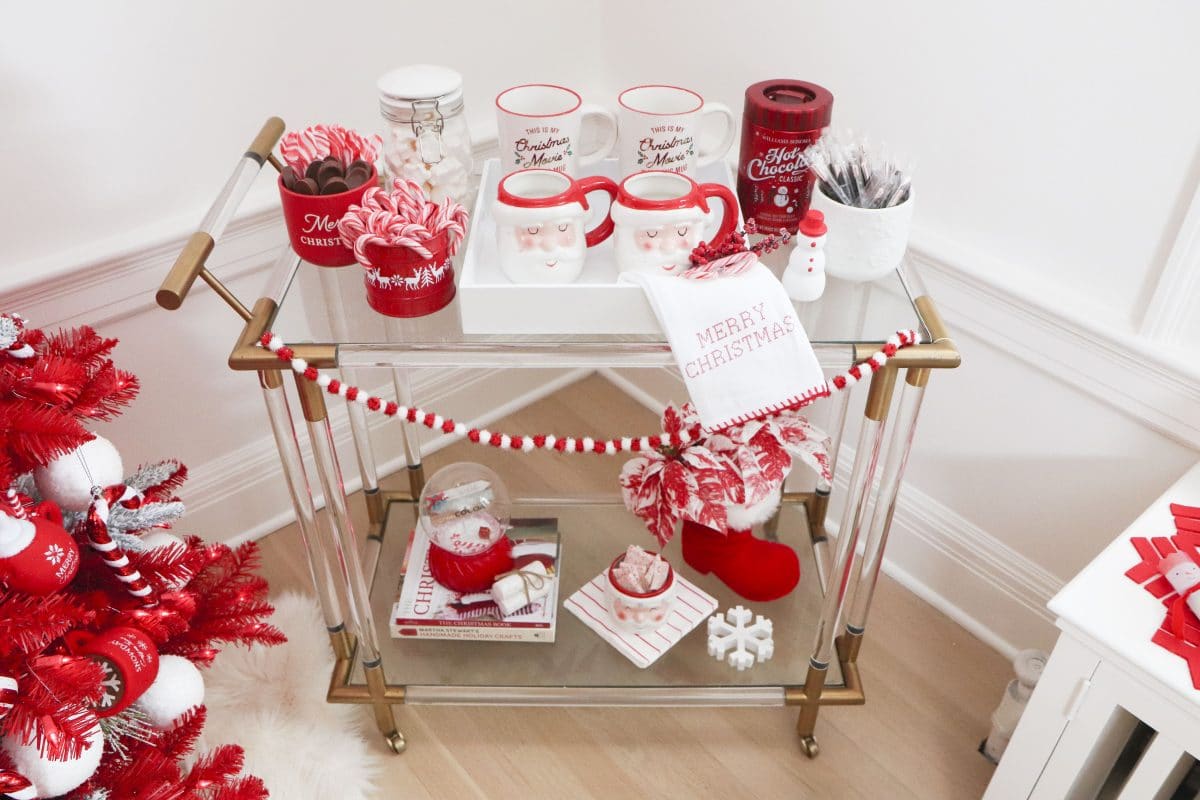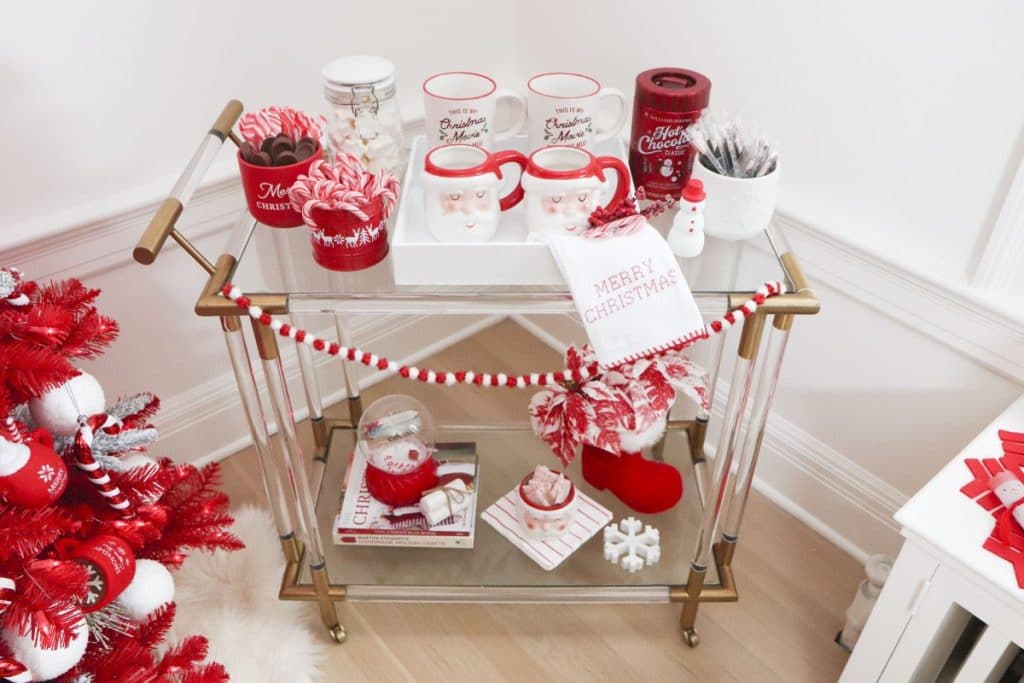 On the top level of the bar cart, I set out all of my mugs and hot beverage accoutrements.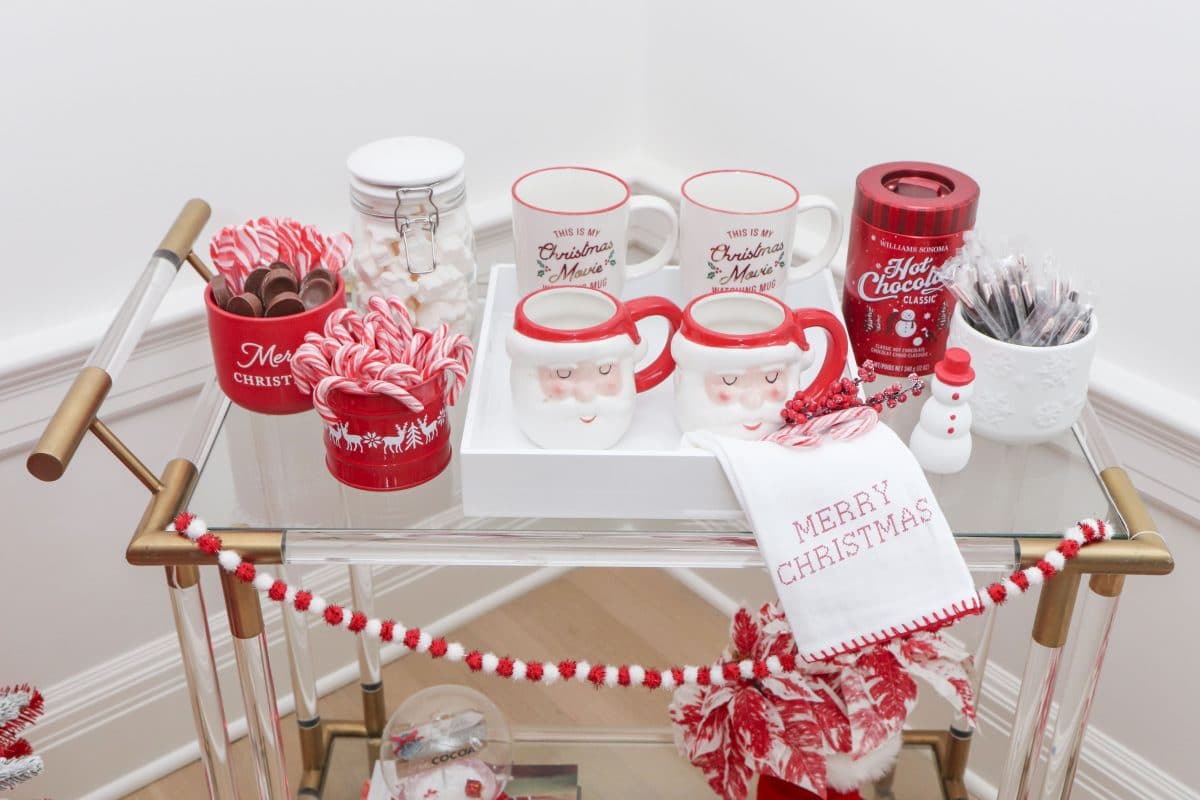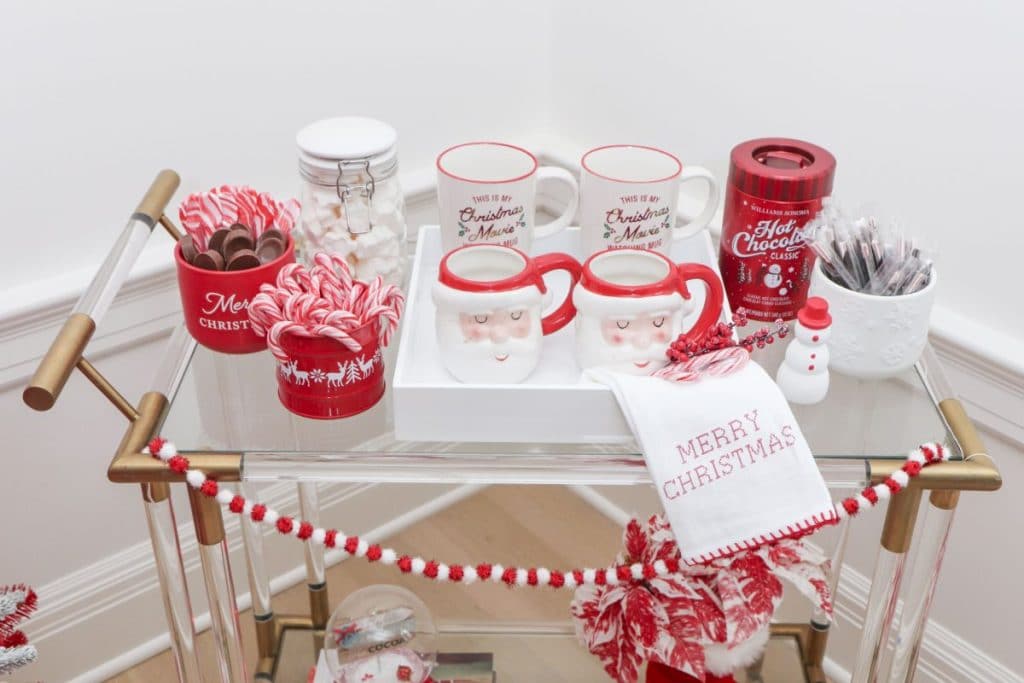 I love using cute Christmas-themed mugs like adorable Santa mugs.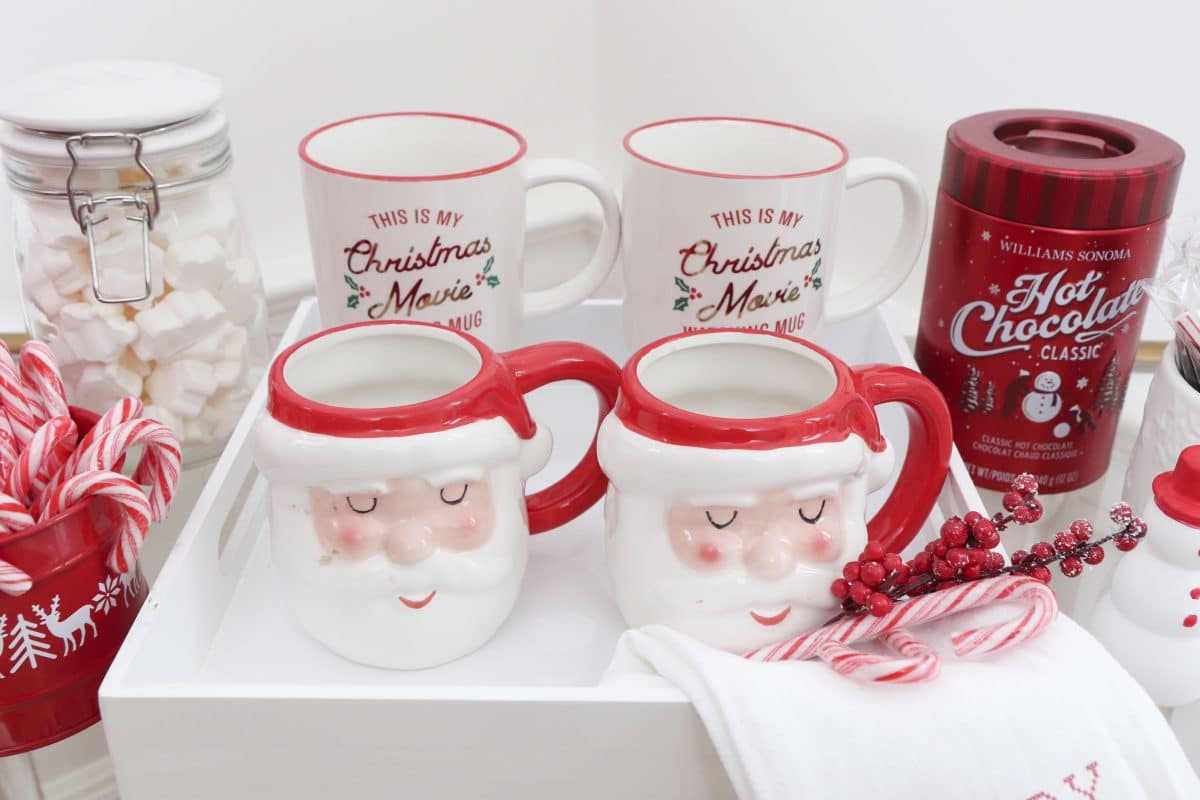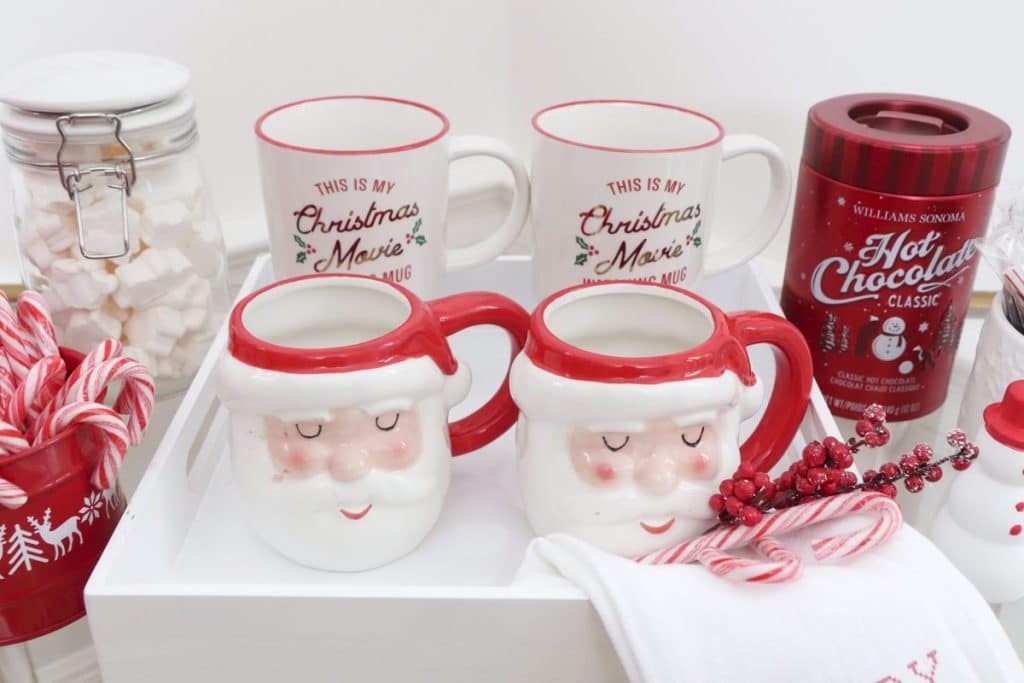 And these Christmas movie mugs that inspire me to take breaks from working and holiday stress and snuggle up with hot chocolate and a Christmas movie!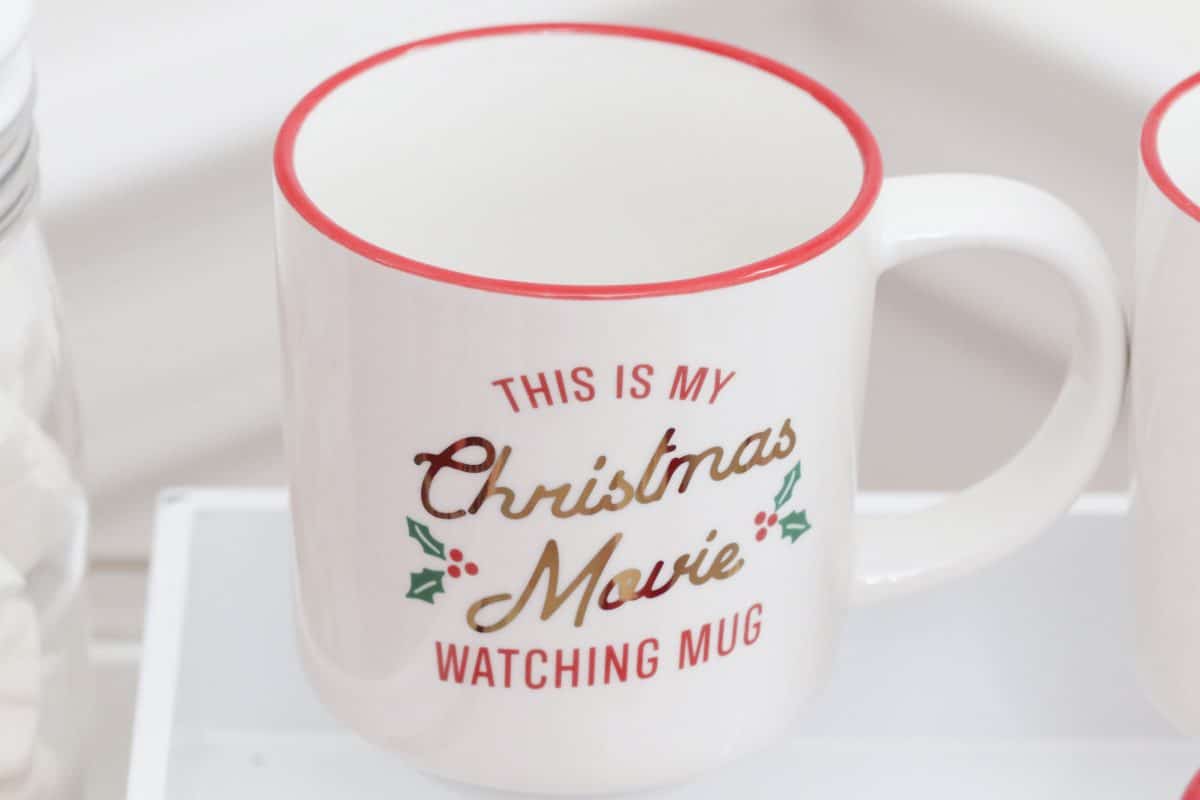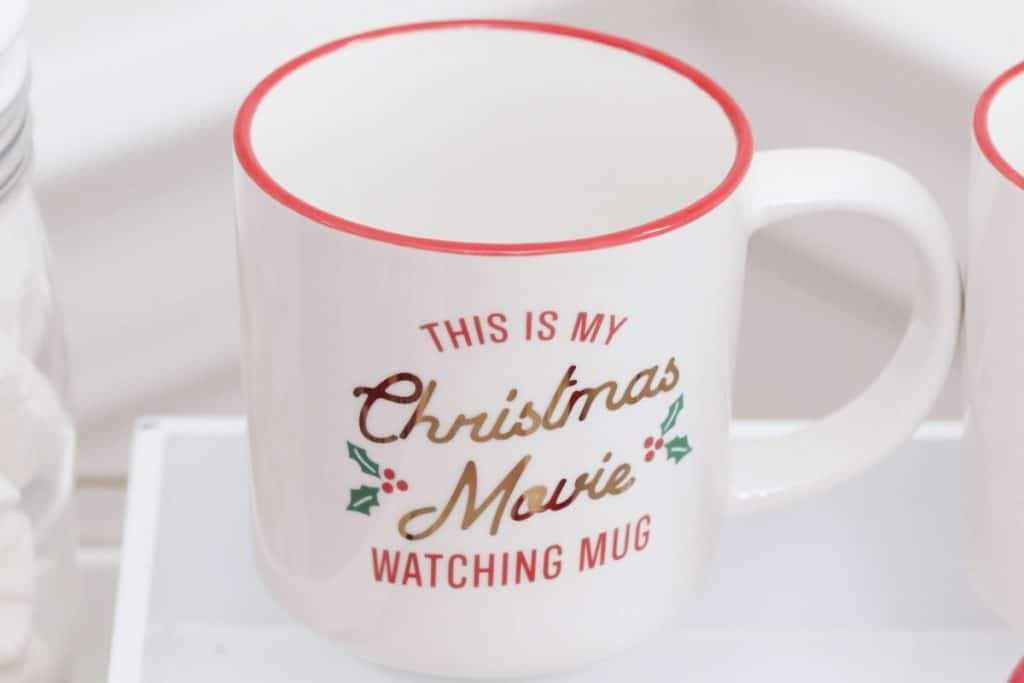 Then, on one side of the mugs, I added snowflake shaped marshmallows, edible chocolate and peppermint spoons, and candy cane stirrers.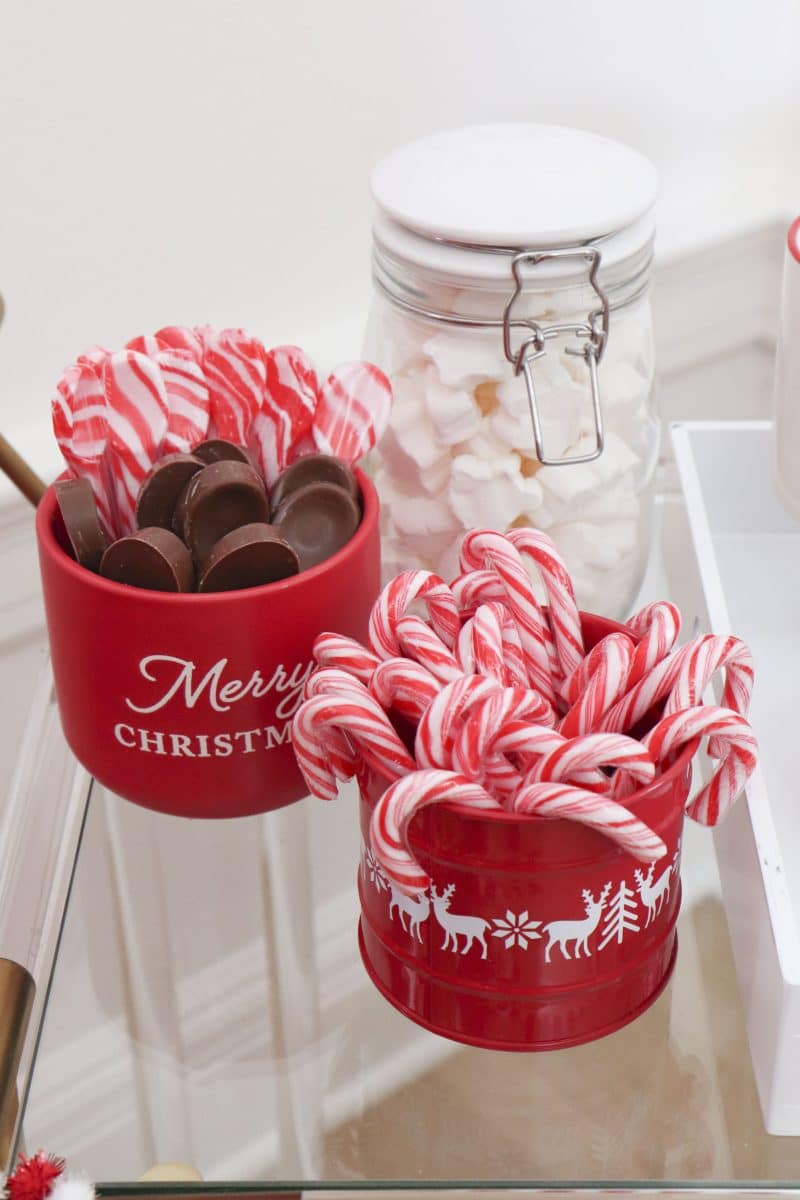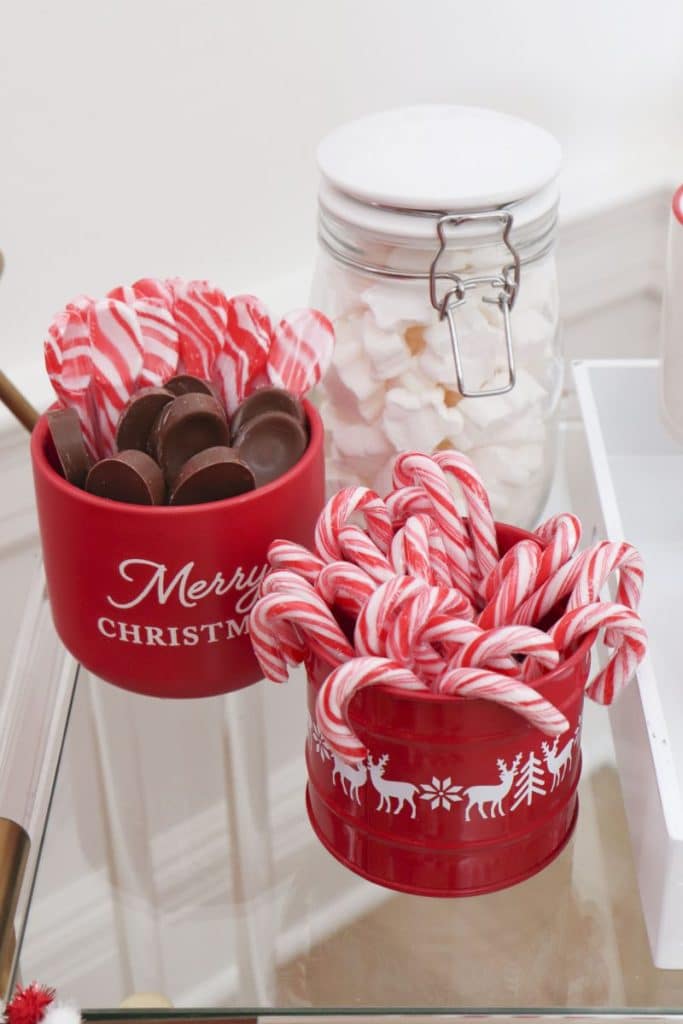 On the other side, I placed a canister of hot chocolate, and individually wrapped chocolate covered peppermint sticks. (I kept the caffeinated beverages in the kitchen for less easy access by smaller hands…).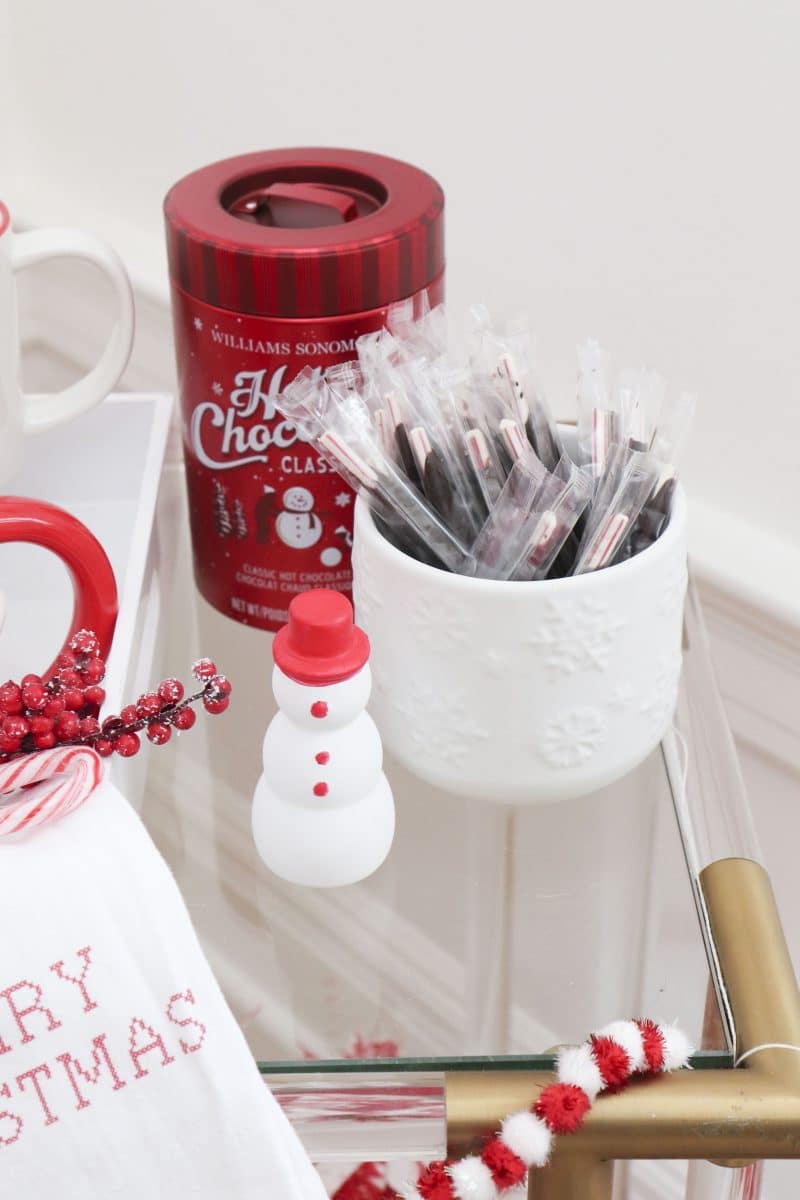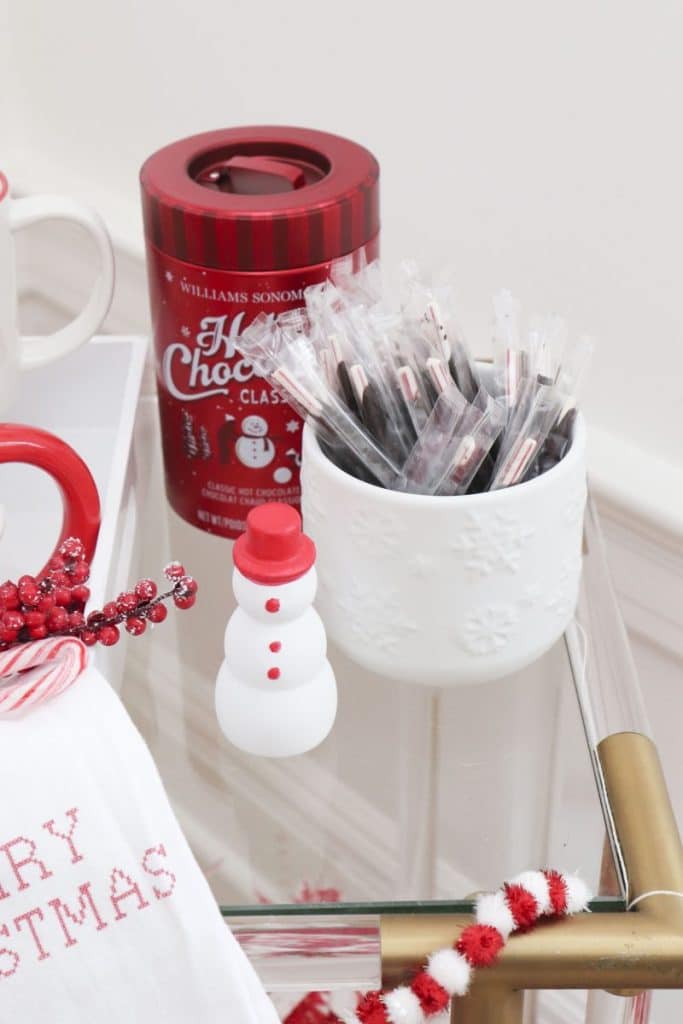 On the bottom level of the bar cart, I placed more red and white decor.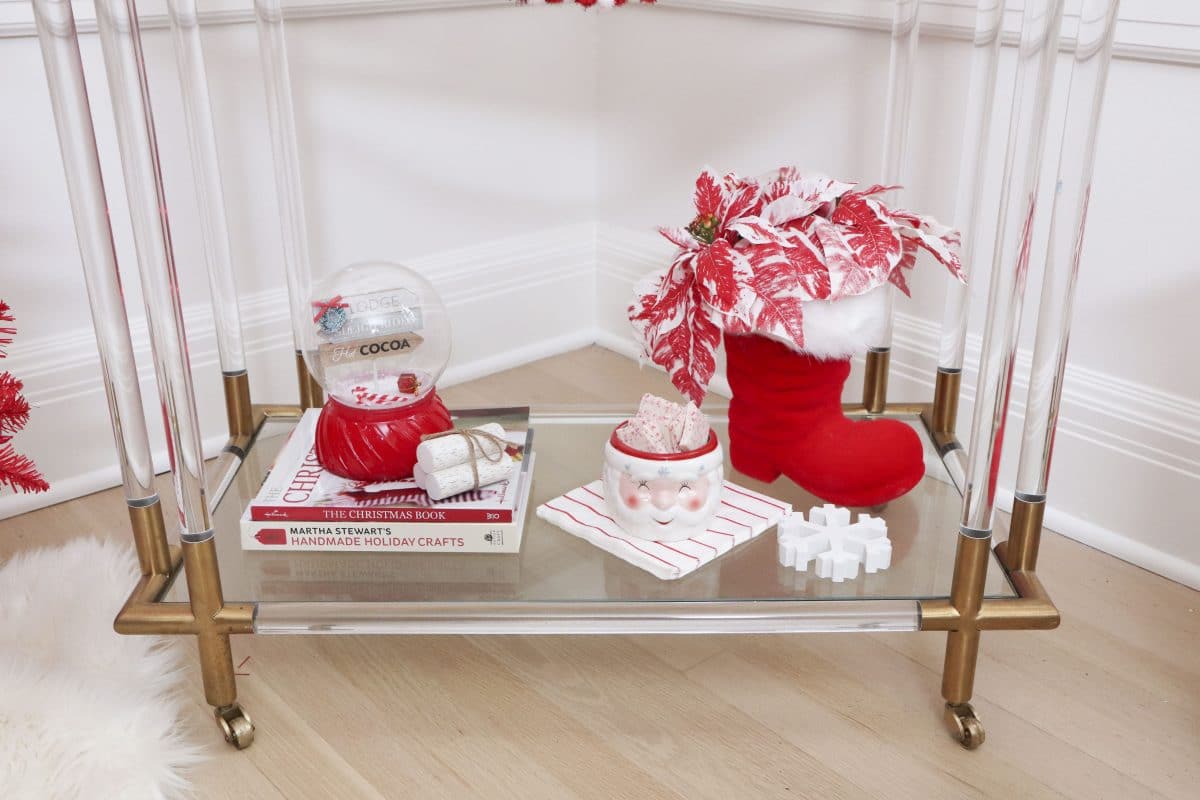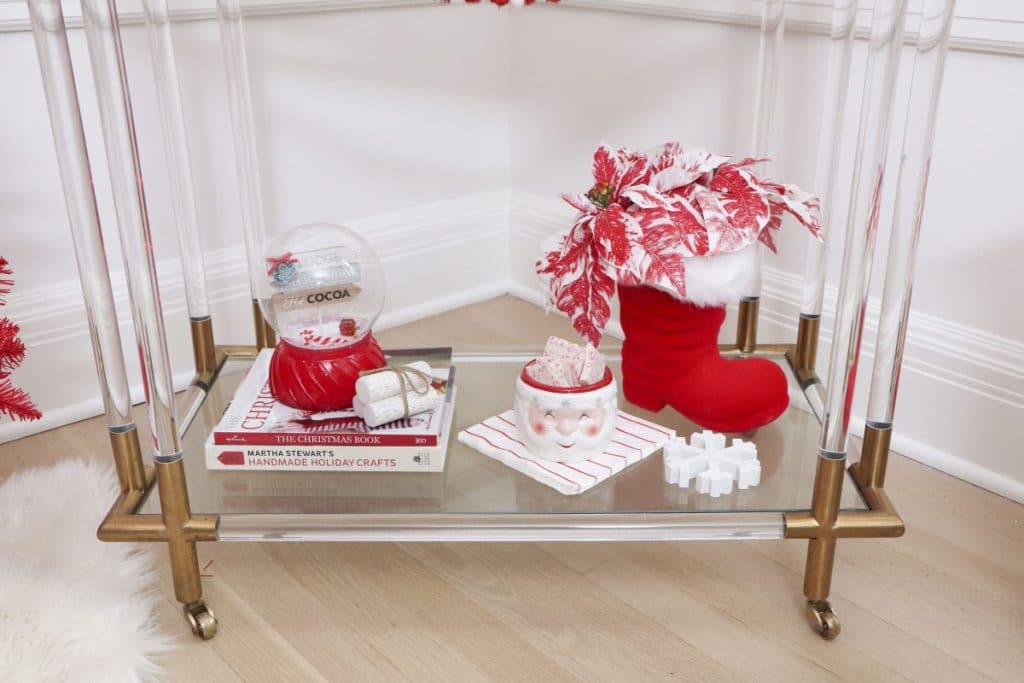 A large snow globe sat next to a bundle of white faux birch logs, and on top of a stack of Christmas books with red and white spines.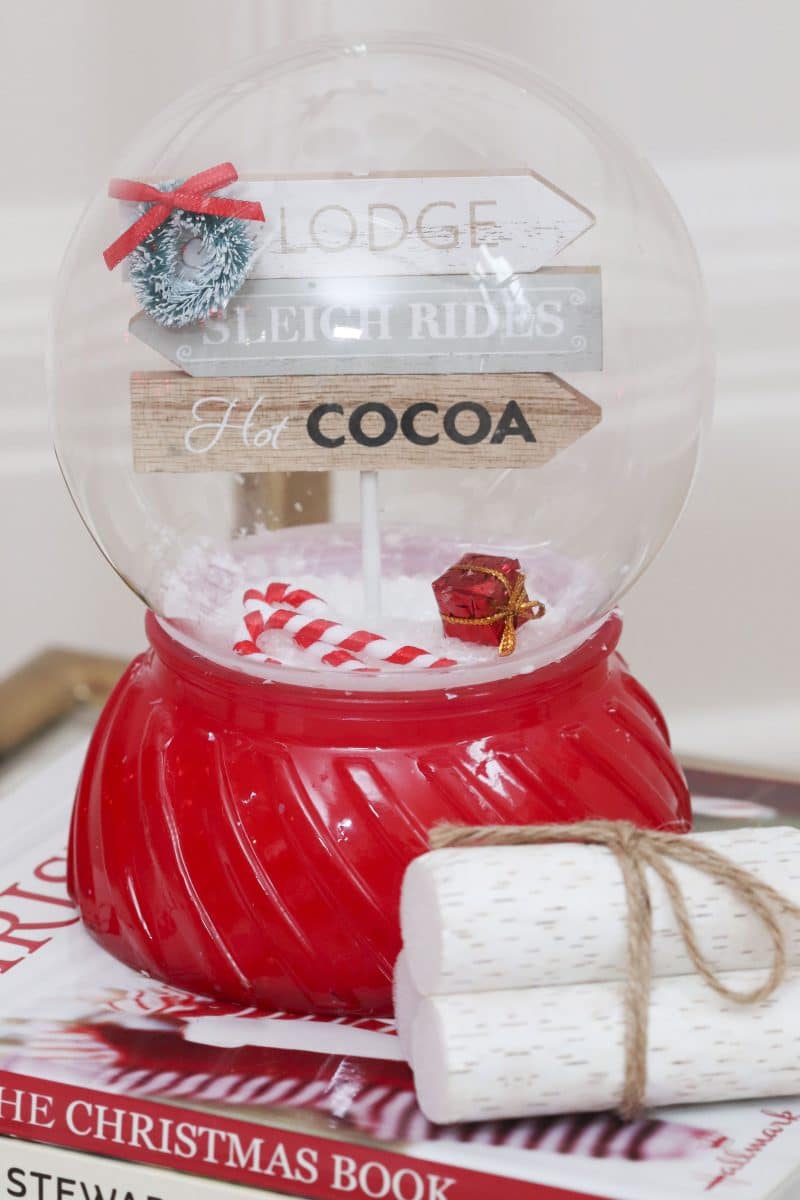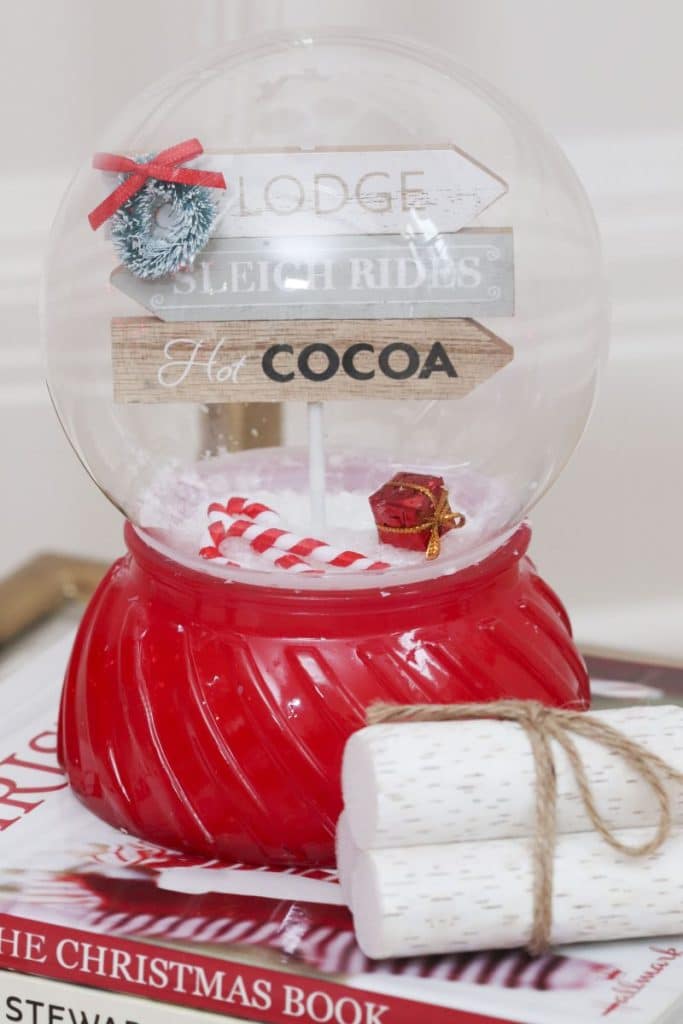 I also placed red and white poinsettias in a velvety red Santa boot. In front of that, I added a mug of peppermint white chocolate on red and white striped napkins, and a wooden snowflake decoration.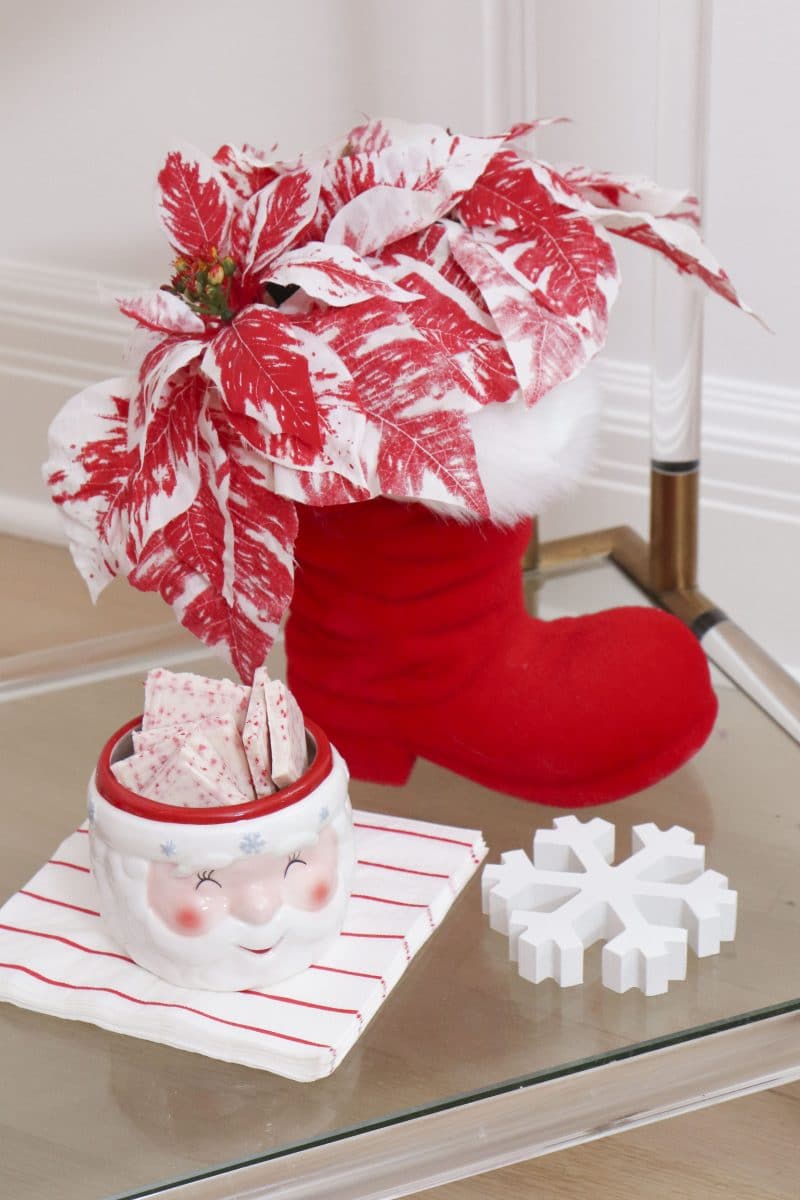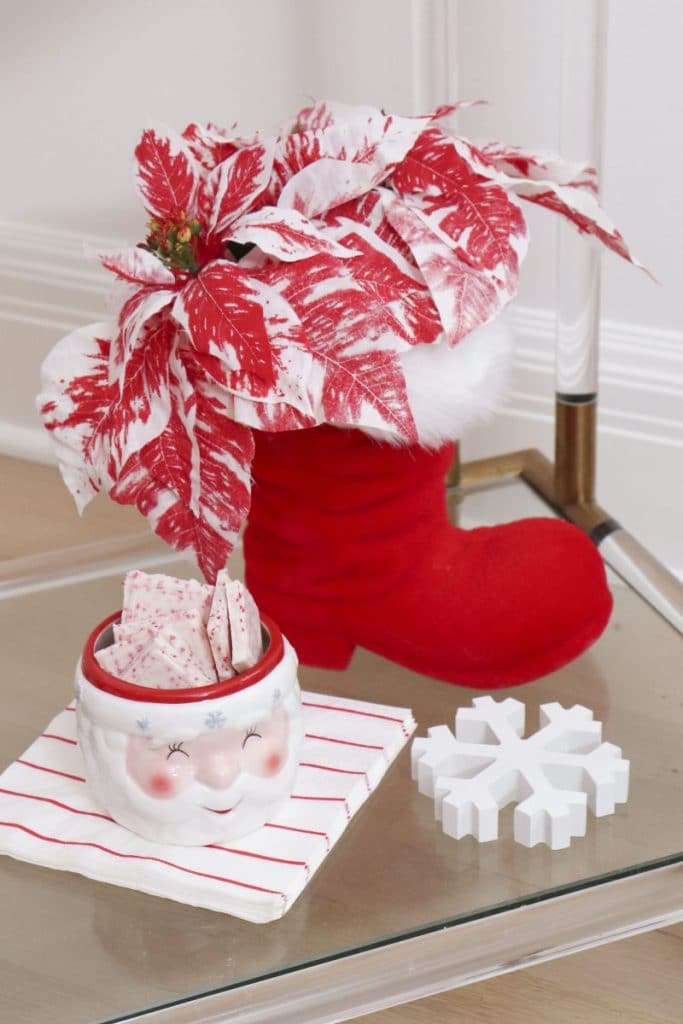 Finally, on a bench to the side of the bar cart, I placed a white cookie jar on a red snowflake placemat- because what's a cozy hot seasonal beverage without a Christmas cookie or two?!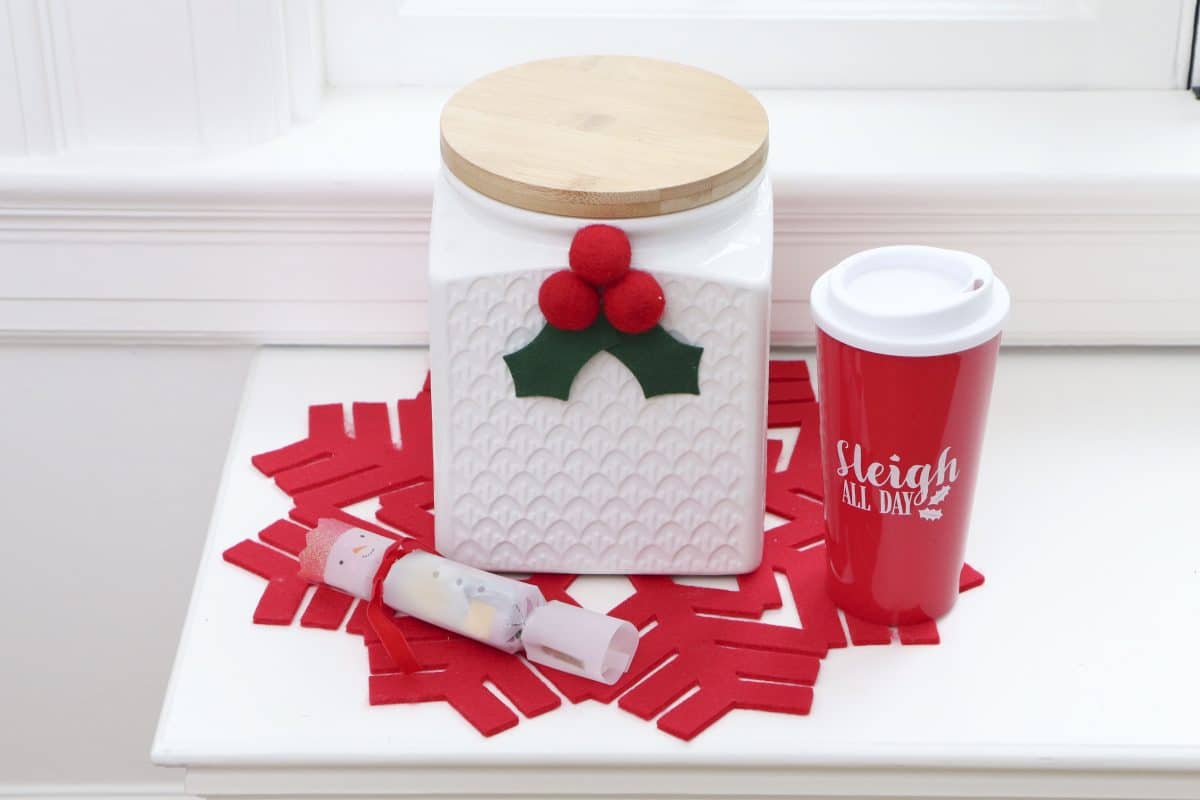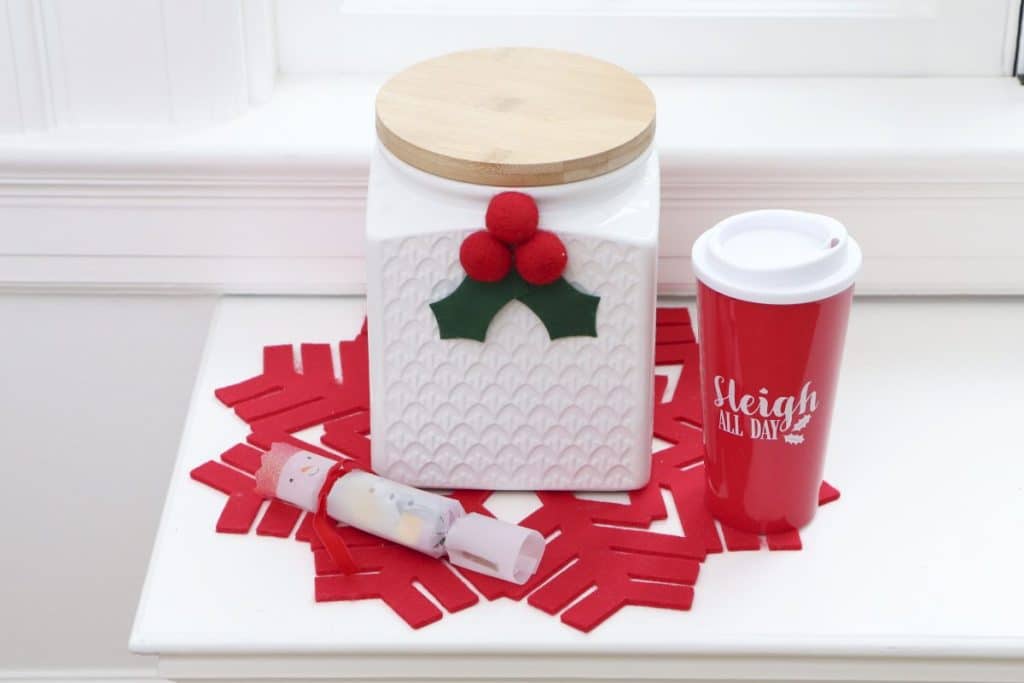 A hot chocolate, tea, and coffee bar is a fun way to celebrate the entire holiday season.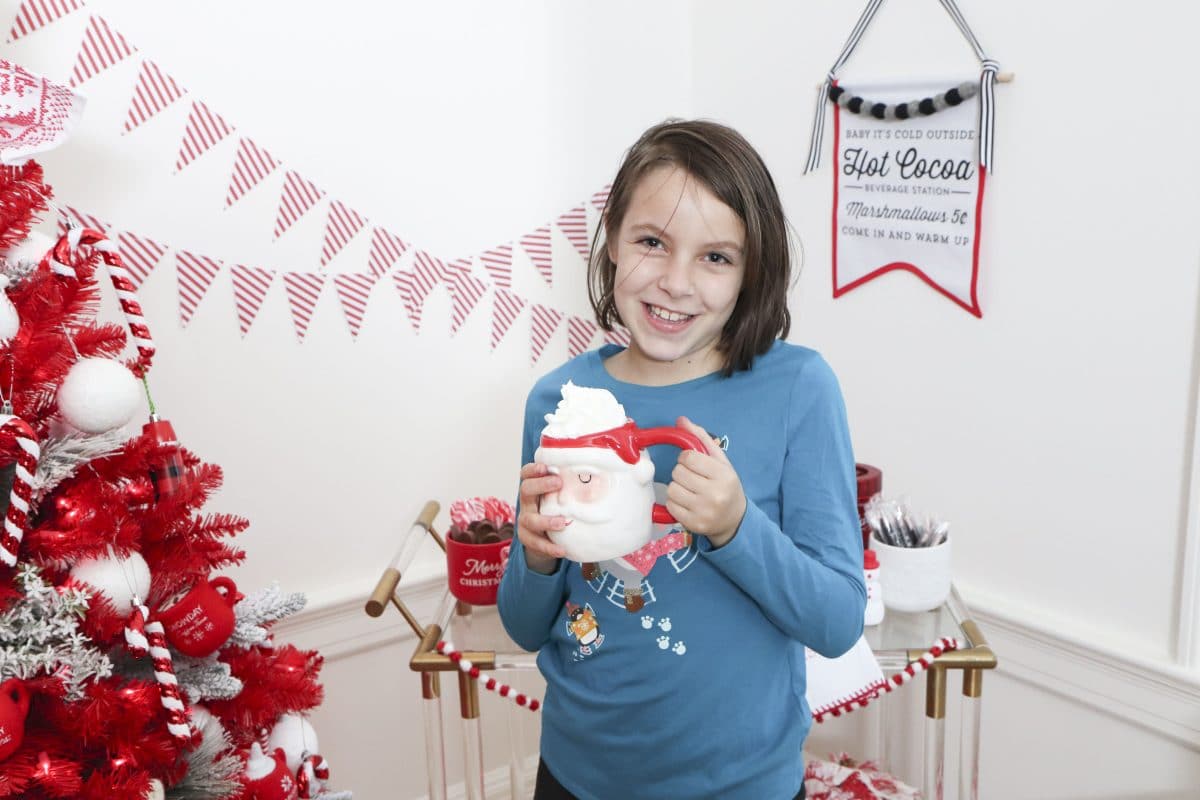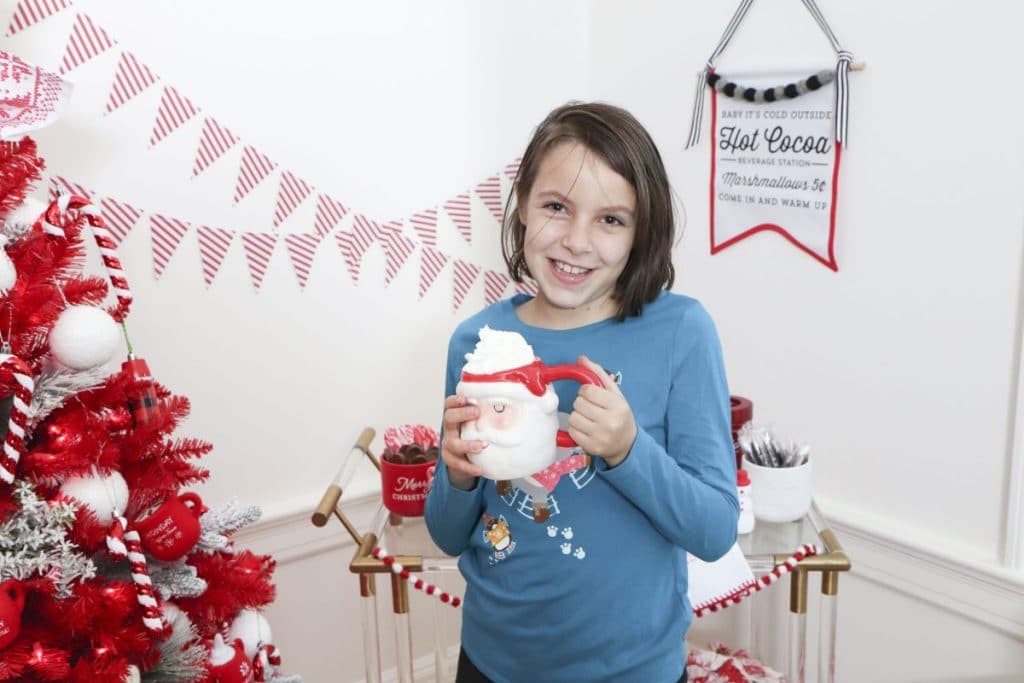 Just don't forget to cool your drink off a bit first!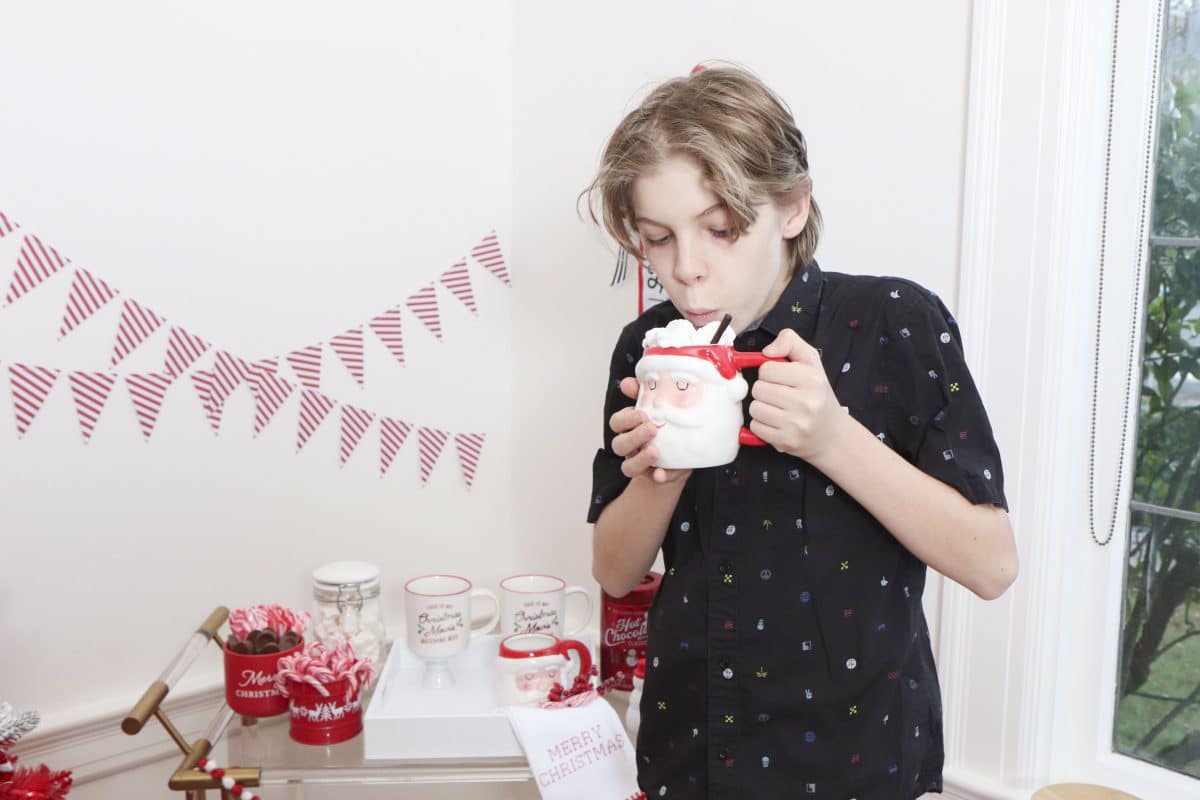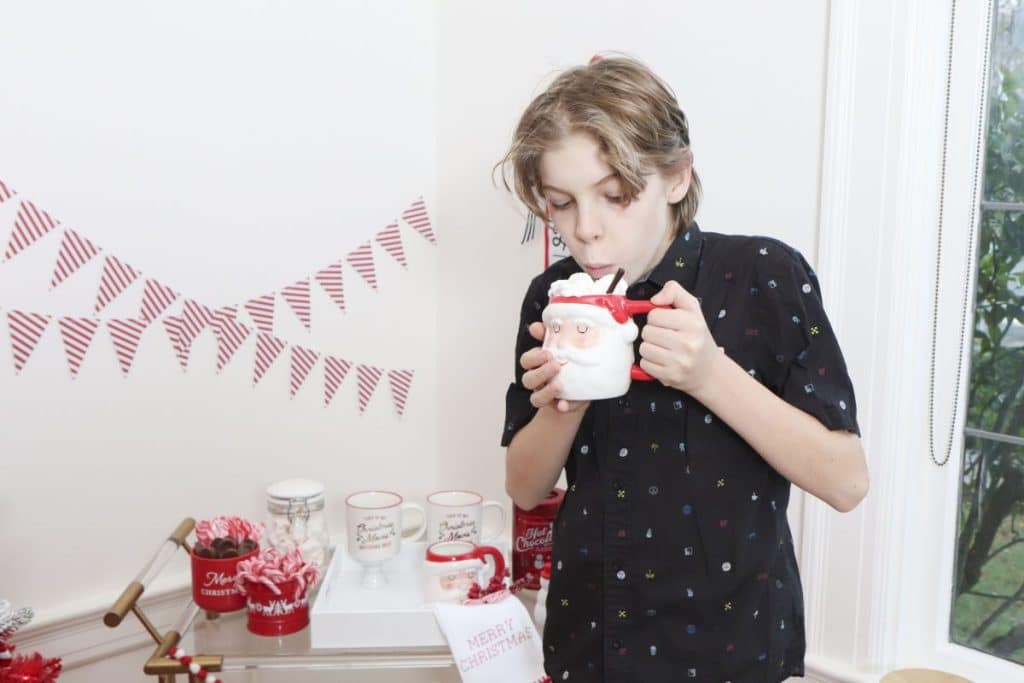 What is your favorite seasonal beverage? Would you set up a non-traditional colored tree? I'd love to hear your thoughts!
And for more holiday inspiration, check out my post on Top Tips for Holiday Coffee Table Entertaining.
Happy Hot Beverage Drinking!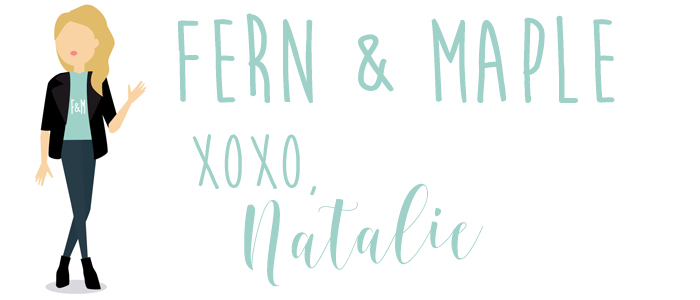 PIN FOR LATER: