There is something so peaceful and whimsical about an English country garden. Warm sun, the scent of fresh flowers and plants, and an enticing array of soft colors. Unfortunately, we don't all live near a garden like this, and sometimes an outdoor wedding just isn't in the stars for us. However, you can create an English Country Garden Wedding indoors! Read on to find out how I bought the outdoors inside.
As an OTC blogger, I received compensation and/or products in exchange for my styling and crafting services. As always, all project ideas and any opinions expressed here are my own.  For further information on our disclosure policy please check out our disclosure page.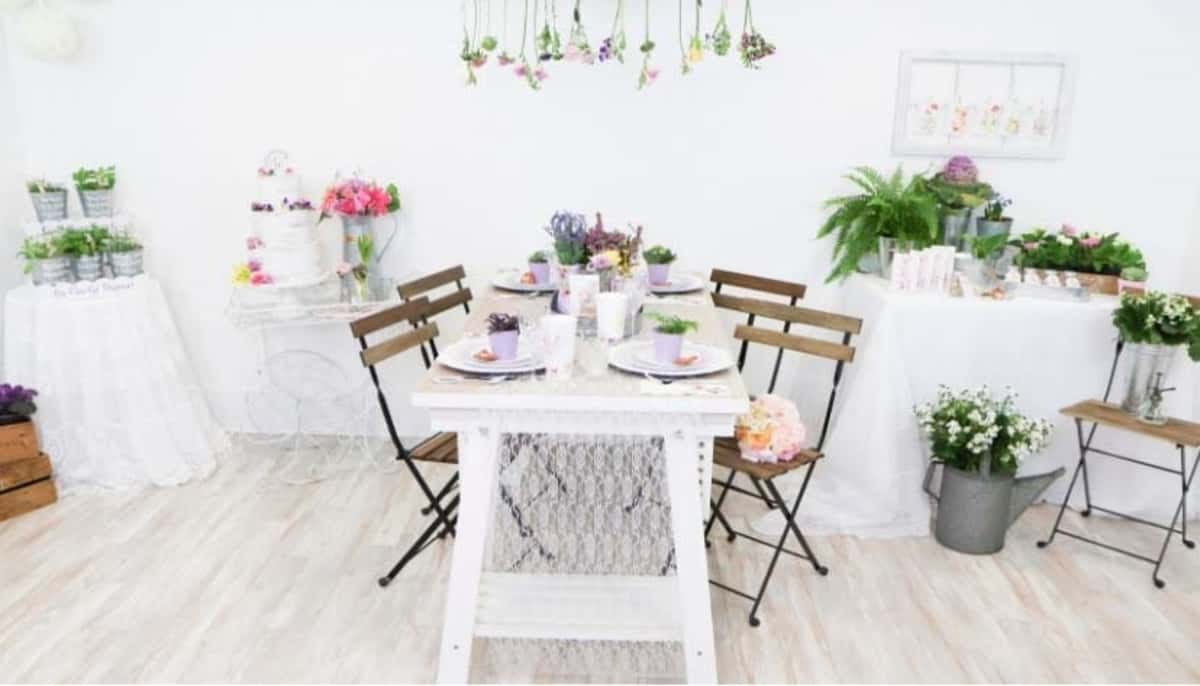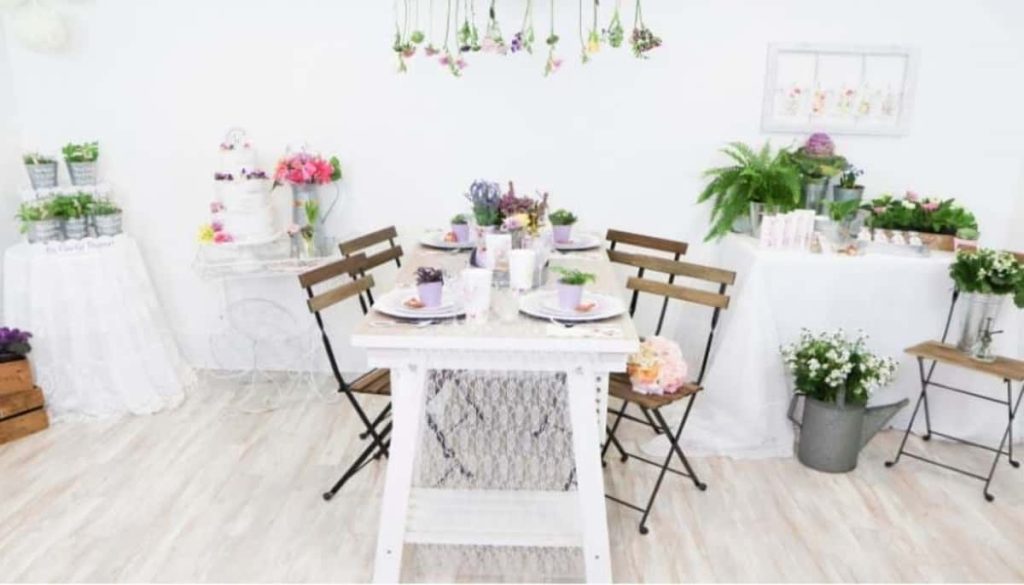 How to Create an English Country Garden Wedding
Elegant Entrance 
First, as guests walk in, they are greeted by a beautiful and aromatic seating chart. Set atop a round table with a lacy white tablecloth, and under some gorgeous hanging hydrangea decor, this DIY Live Seating Chart uses live herbs in galvanized pots with lists of names written on them. Wooden sticks in each pot indicate the table number. The scalloped white stand gives the punny instructions: "Find your seat, it's party thyme!" Get all of the details for how to create this unique seating chart HERE.
After guests find their name and table number, they pass by a gorgeous floral decorated cake on a white wrought iron garden cart. I added a tall galvanized watering can and a few bulb vases to the cart, and filled them with blooms.
TIP: Wooden crates stacked at an angle on the ground with more flowers add dimension to the area and more of the country garden feel.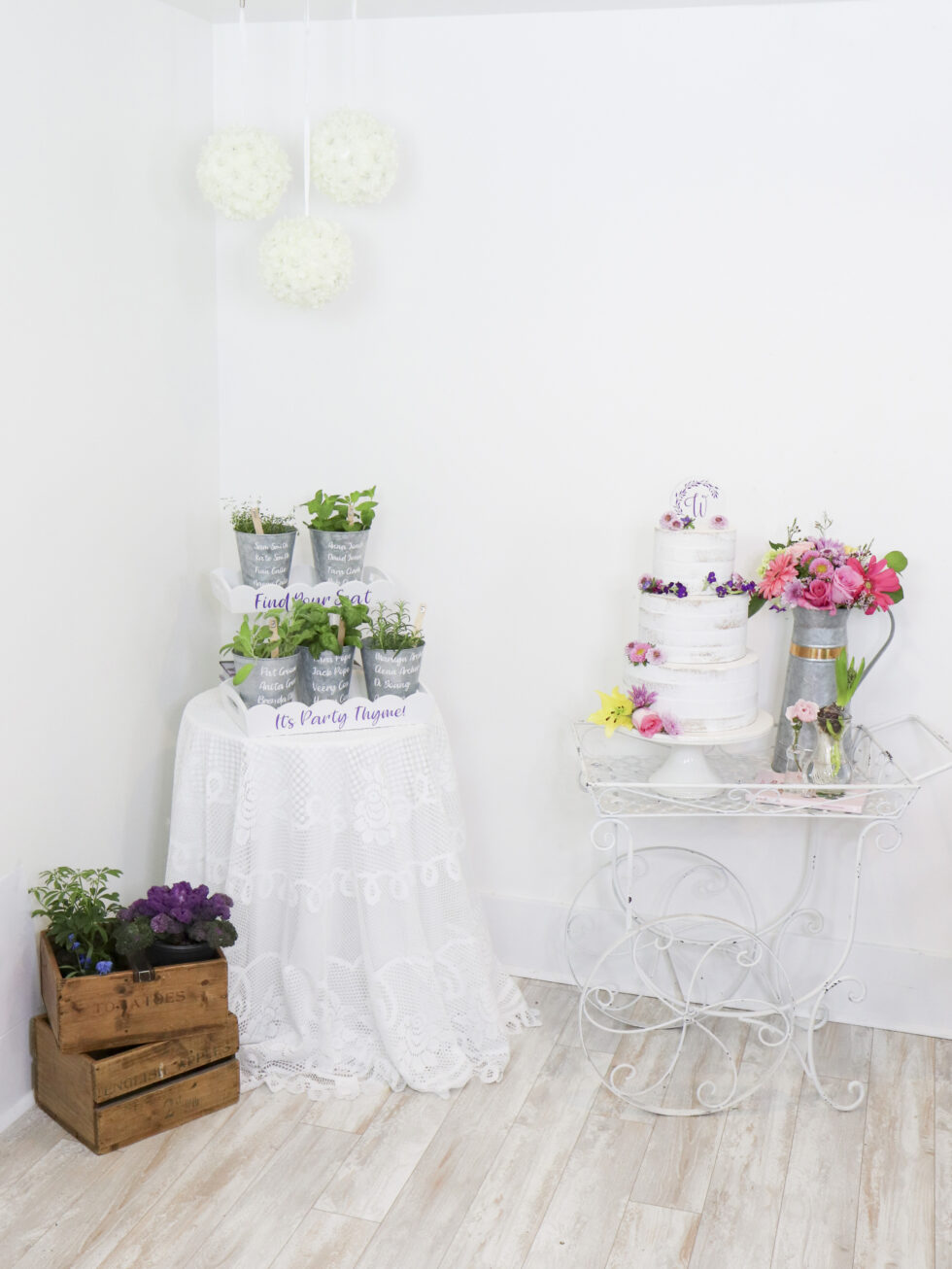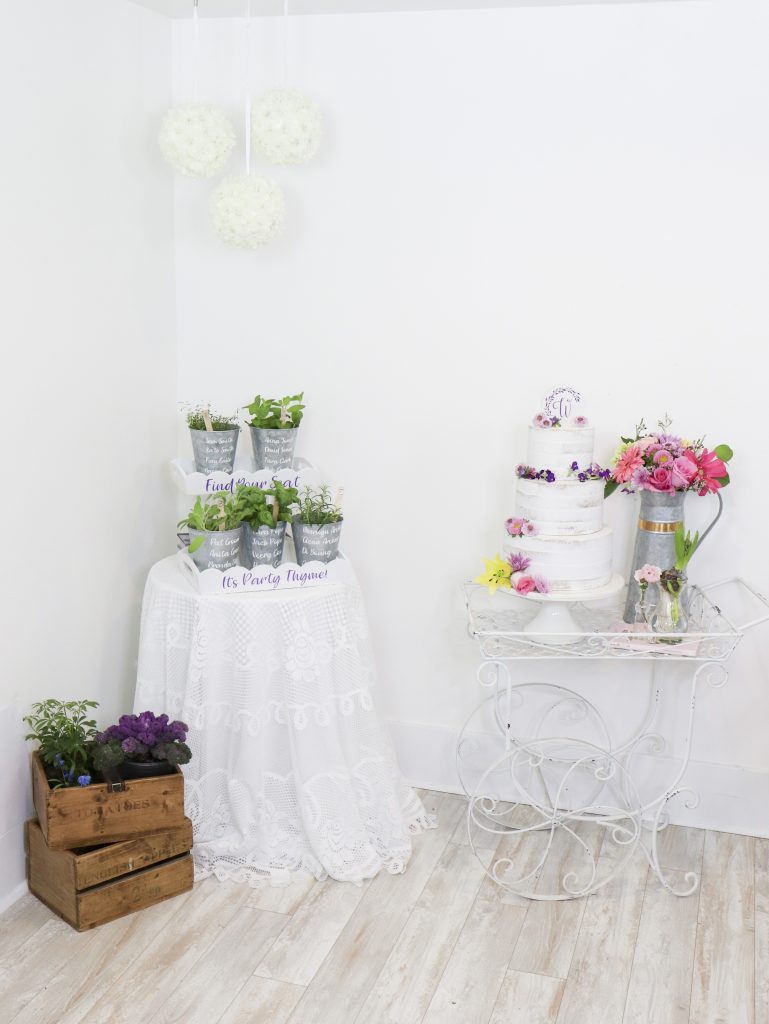 Tranquil Garden Table
I started setting up my table area by hanging fresh blooms above the table to form a fragrant and eye catching chandelier. With that in place, I draped some lace tulle down the center for a table runner. Then, I placed a few clear votive candle holders on each side for some warm and twinkly lighting. In the middle of the table, I set out a Garden Inspired Centerpiece that I put together. You can get the details for how I created it HERE.
TIP: Hanging the chandelier flowers in floral vials of water ensures that they will last throughout the reception.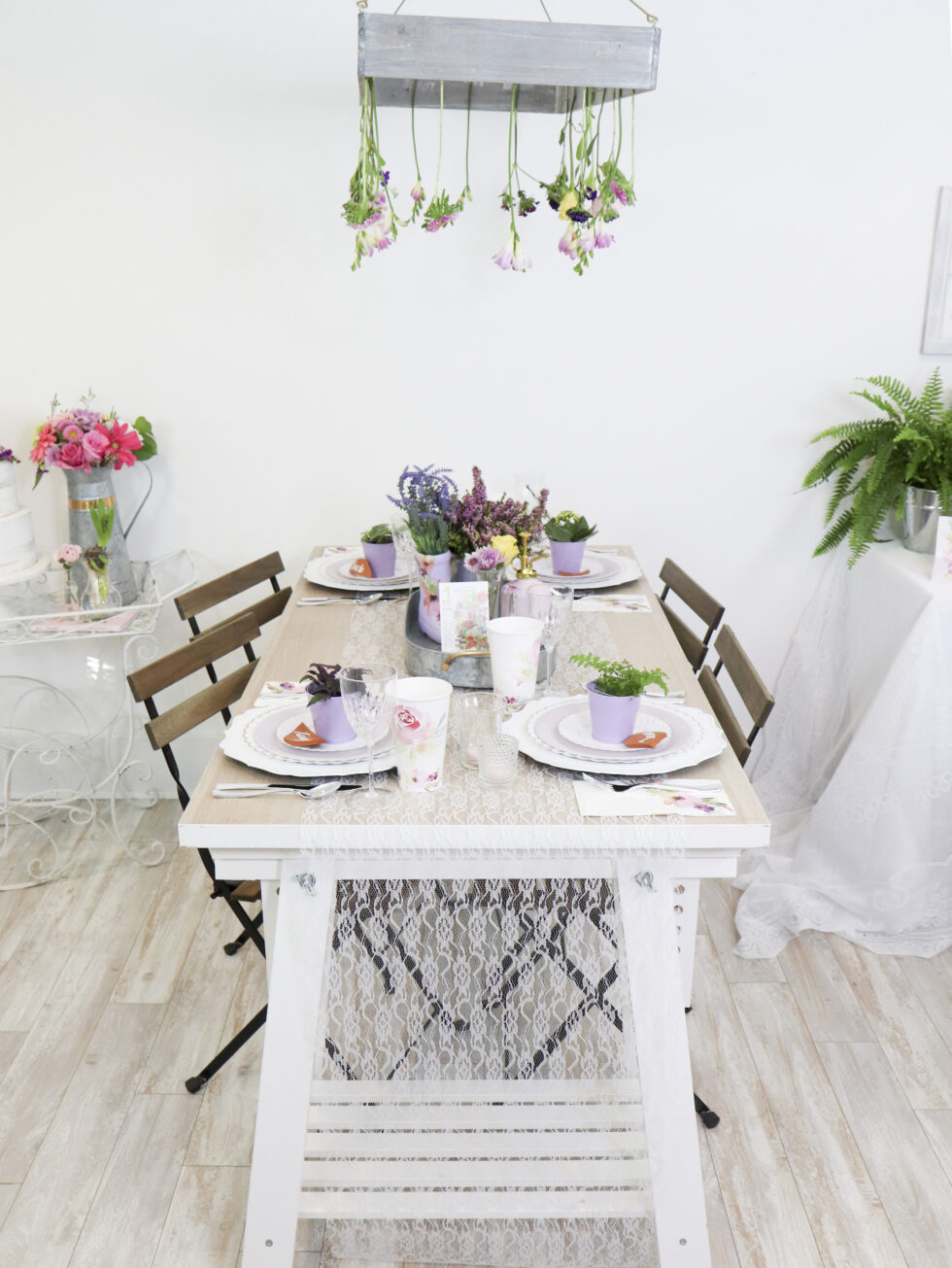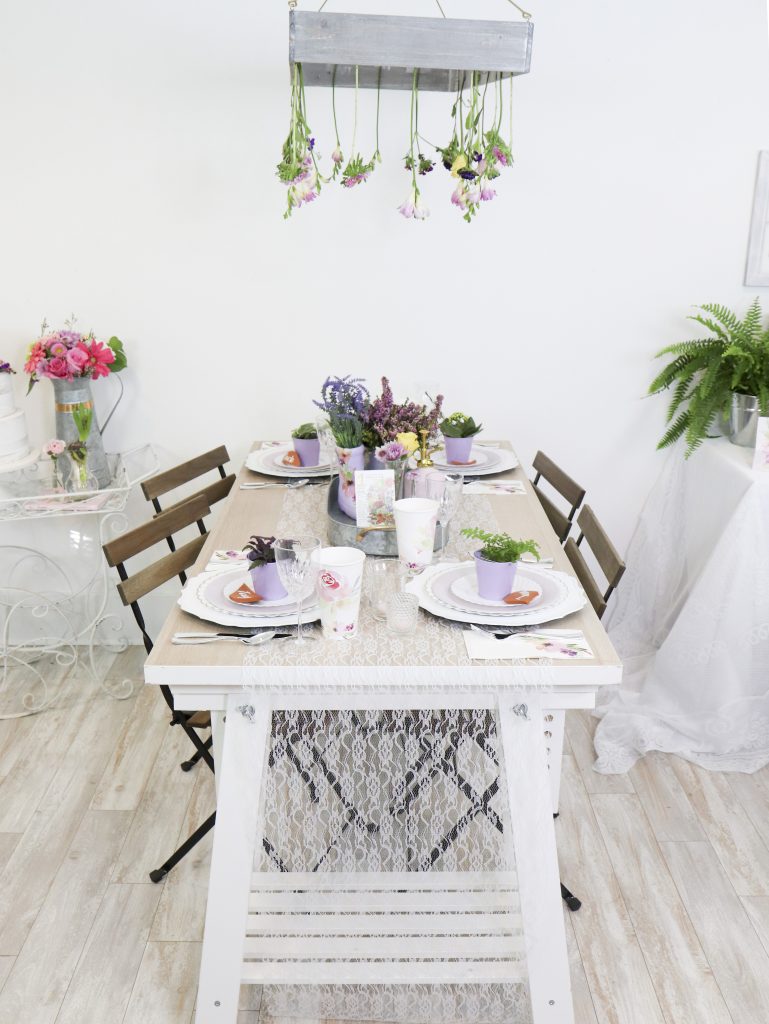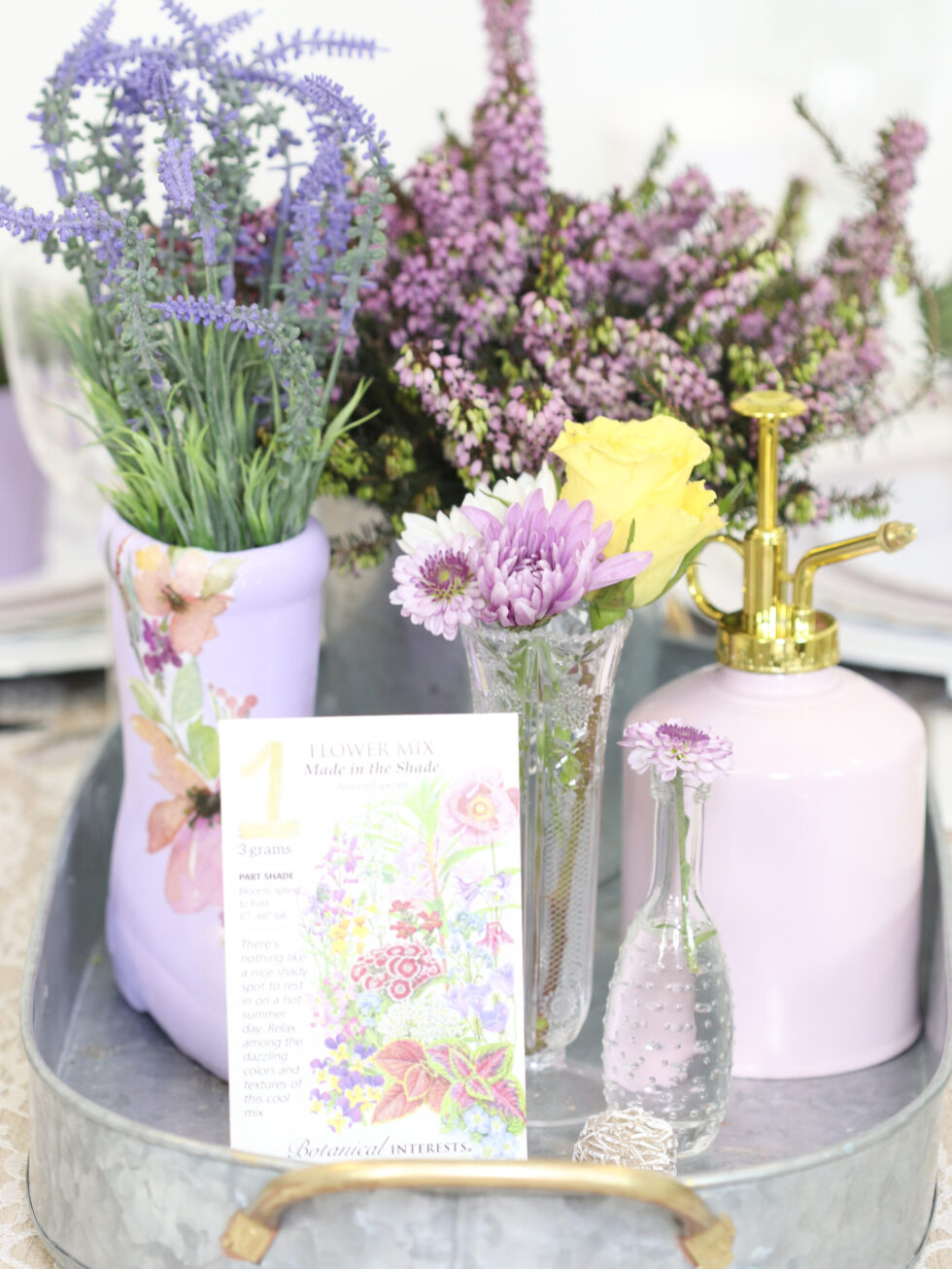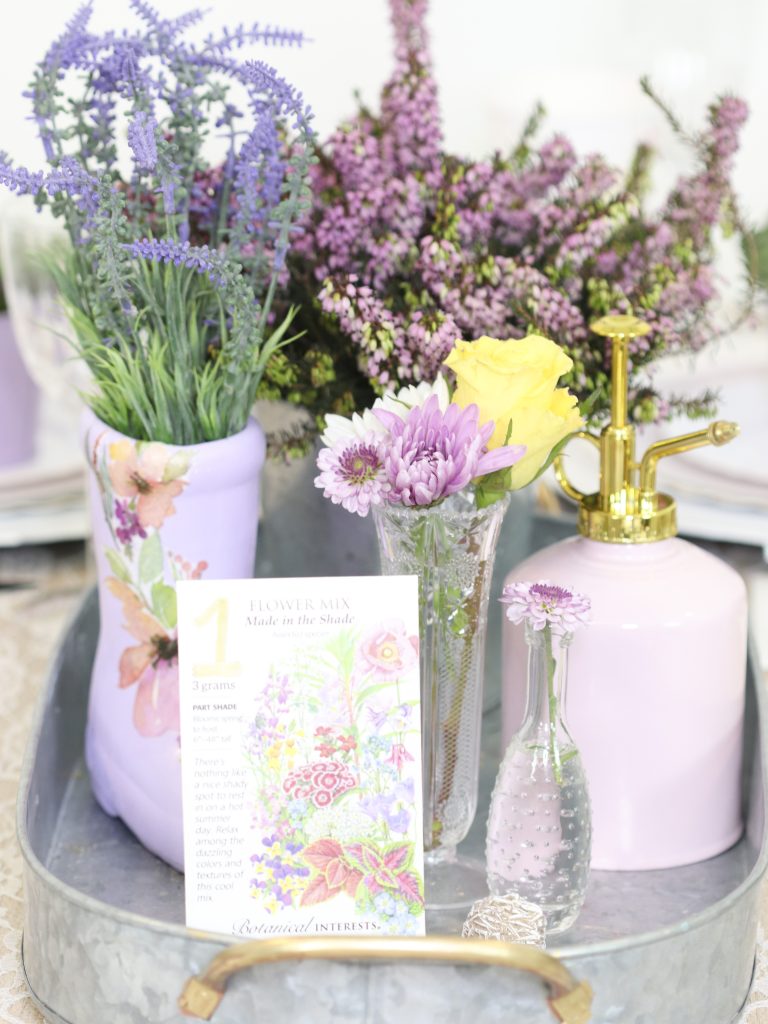 Pretty Place Settings
Next, I moved on to the place settings. I wanted them to feel romantic, yet garden simple. I used a soft white and lavender color scheme, and layered plates with a variety of elegant edges onto scalloped chargers. Additionally, in the center of each setting, I placed a lovely lilac pot, holding a houseplant, that guests could take home. Then, I created the perfect place cards for a garden wedding – broken terracotta pieces! I love the unique shape of each broken piece and how pretty the white writing looks on them. Silver cutlery, clear plastic wine glasses, and pretty garden inspired napkins and cups completed the place settings.
TIP: A flowering hibiscus and lavender cocktail is the perfect drink for a garden wedding! Get my recipe for it HERE.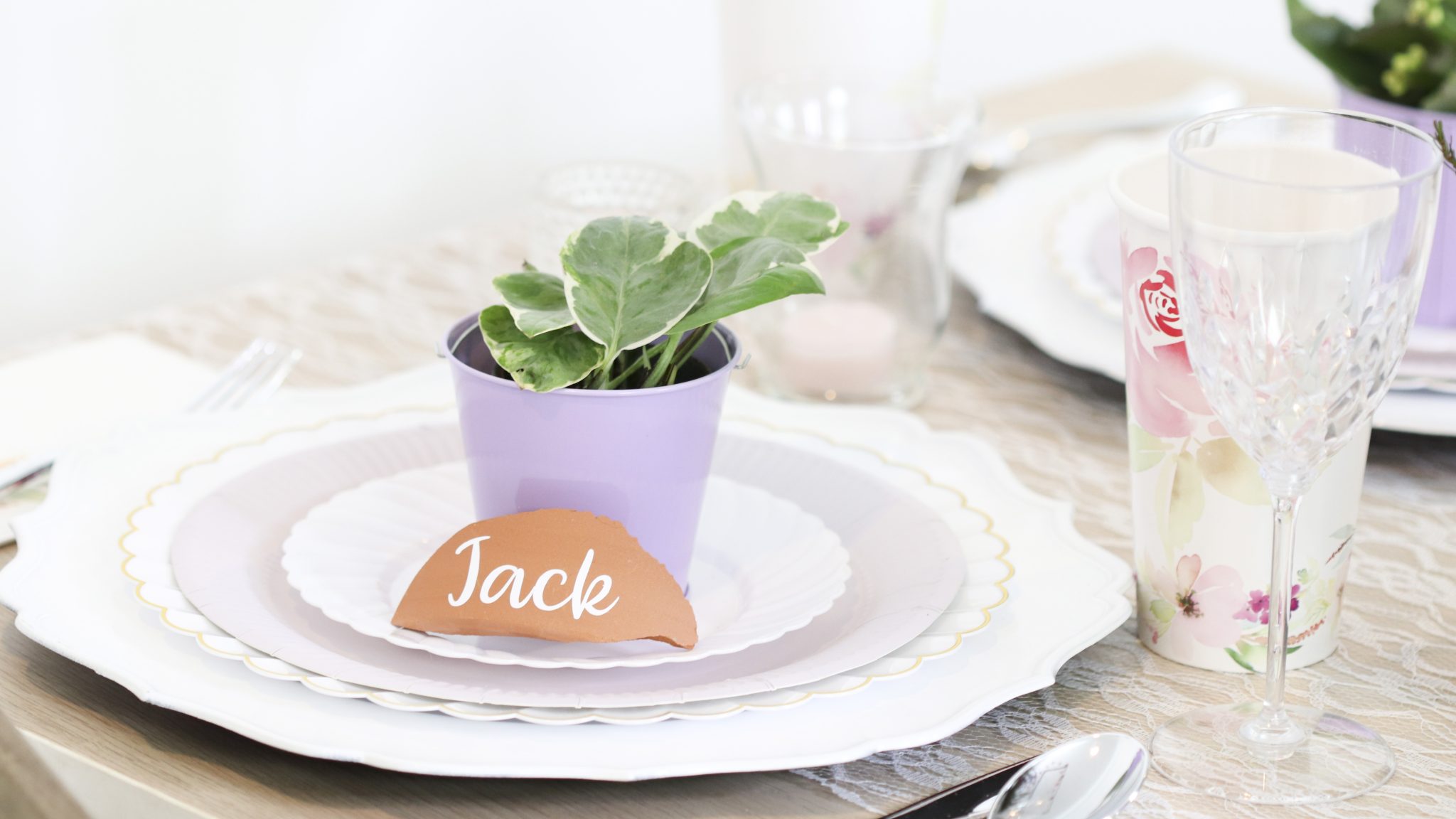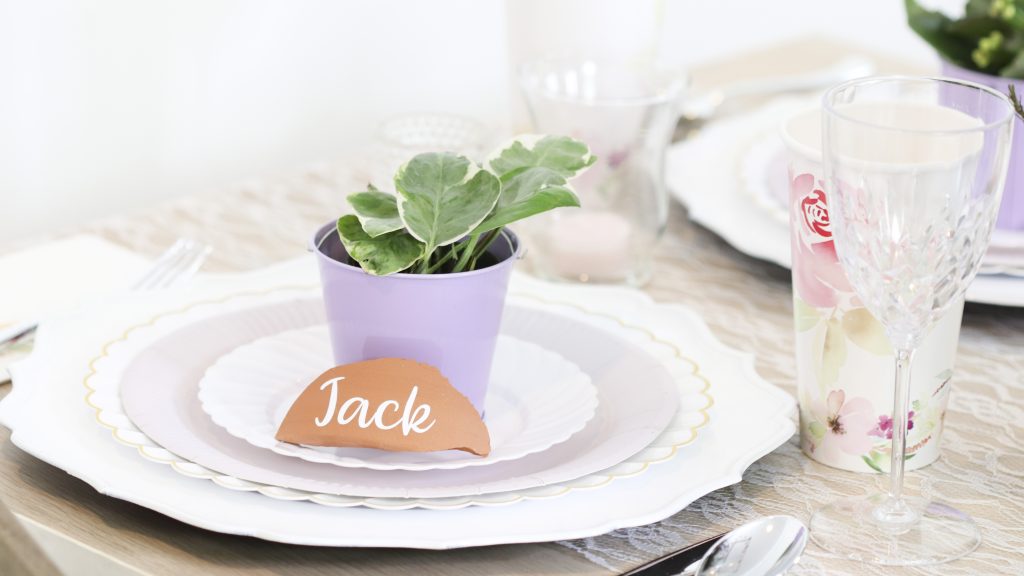 Floral Favors
Before guests filter out at the end of the celebration, they'll stop by the final part of your secret garden – the favor table! I covered the table with bright white linens, and put an array of fresh flowers and plants in various containers around the back edge. Then, what better favor to offer guests at an English garden wedding than bulbs for them to plant? I put the bulbs in mini mason jars with pretty floral tags and set them out in a tray. I also put some sweet treats into coordinating floral treat bags for those who have a sweet tooth. Above the table, I used a white window frame to hold hanging packets of  flower seeds. The packets are pretty enough to be art!
TIP: Add a few garden tools as decor to really drive the theme home. Guests will feel like they stepped into an actual working garden!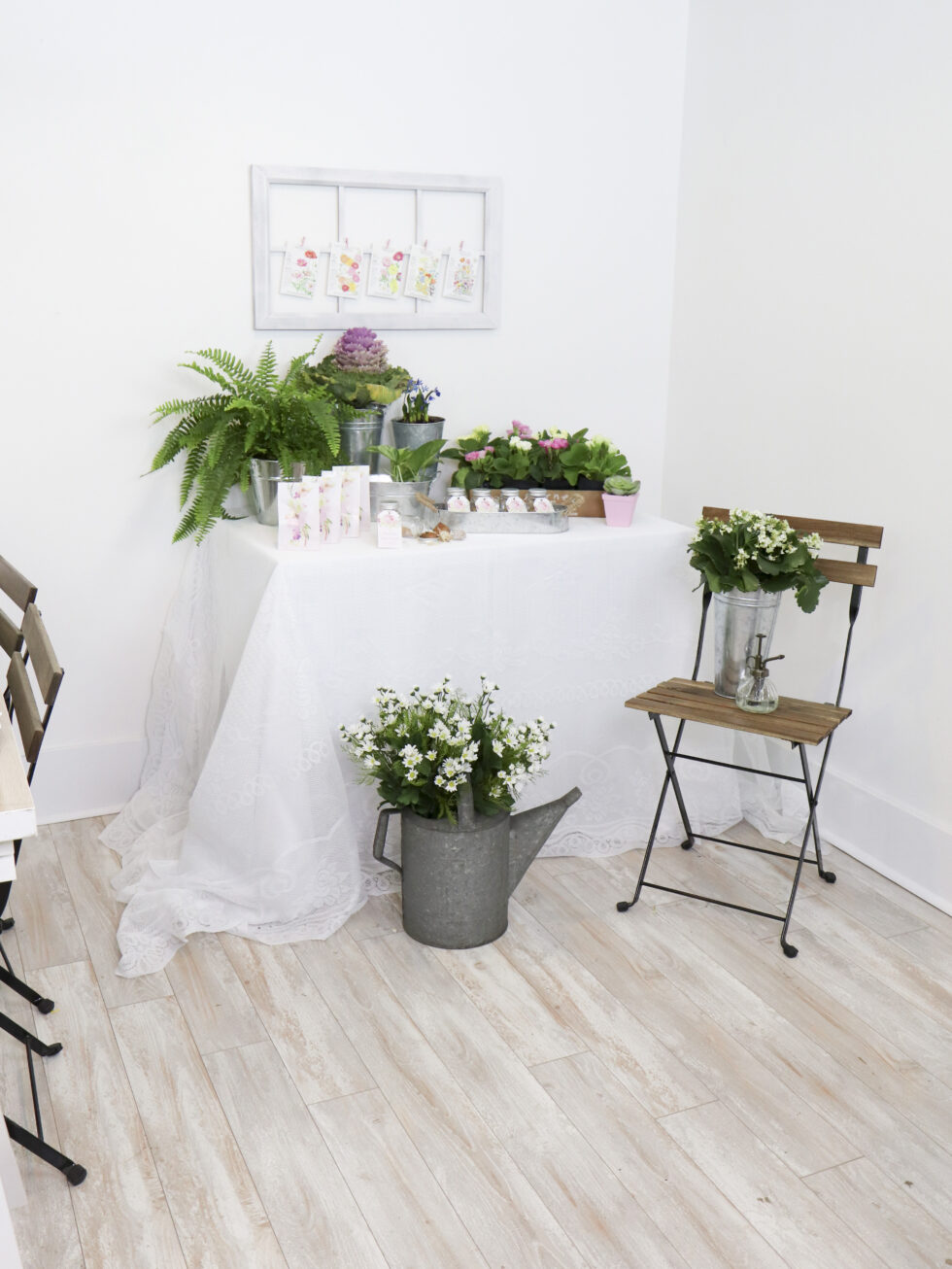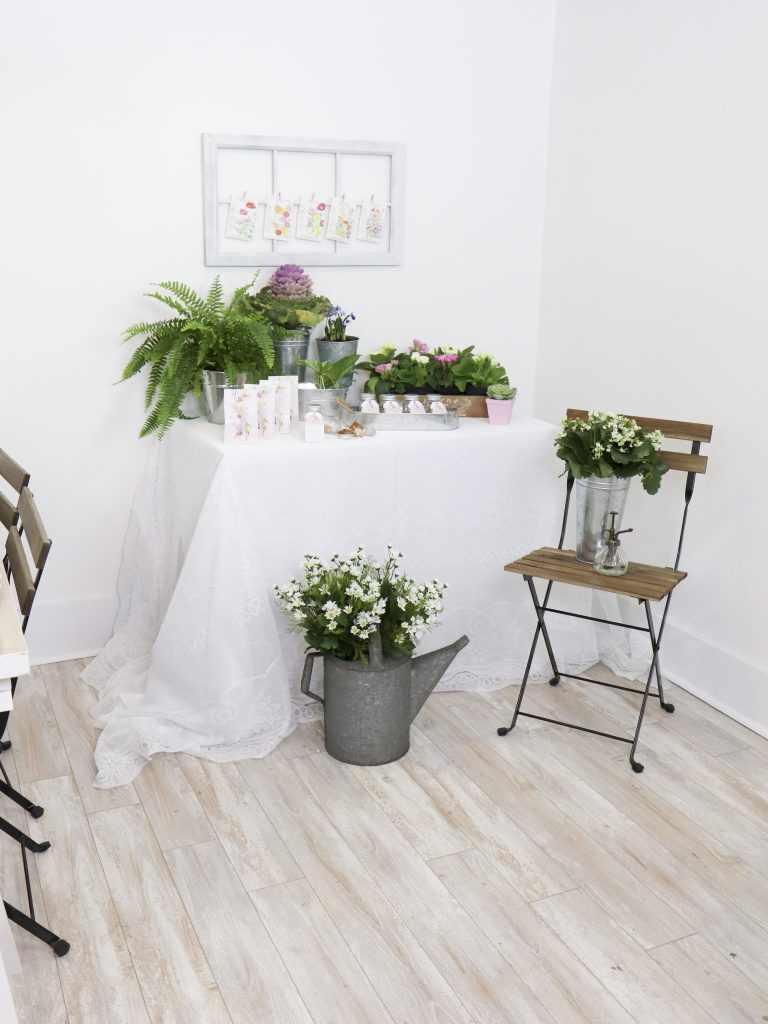 This English Country Garden Wedding is the perfect way to bring the outdoors inside and surround yourself and guests with floral magic. You can find all the additional details for how I created it on Fun365 at Oriental Trading. Everything you need to See It, Shop It and Make It with the click of a button! 
More Floral Wedding Inspiration
For more ideas on how to bring the beautiful outdoors in at your wedding, check out my posts on throwing a Wildflower Bridal Shower or a Vineyard Garden Inspired Wedding Shower.
What flower would you be sure to have at your garden wedding? Tell me in the comments below!
Happy Celebrating!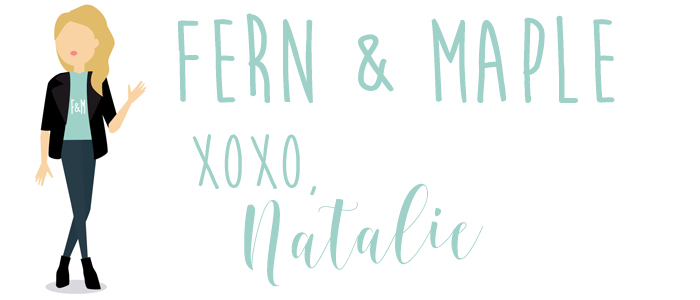 PIN FOR LATER: