Who else remembers when you could eat all the fast food you wanted without really feeling any consequences?! Those were the days. My kids are still definitely in those glorious days, and just love it when we treat ourselves with fast food night. That's why I decided to style a Fun Fast Food Party, I knew would be a "fan favorite" with the kids.
This party would be a perfect birthday bash for the kid who loves fast food treats. Or, as a "just because" party to brighten your kids' day and make an easy dinner feel extra fun. Read on to see how I did it and where you can get the supplies!
How to Create a Fun Fast Food Party

Backdrop of Burgers, Buns, and Balloons
I started by creating a balloon garland over my condiment station. I used a bold green, yellow, and red color scheme with pops of white to balance it all out. These colors were inspired by the main colors in burgers and other fast food items.
How to Tip: I use a balloon decorating tape (multiple vendors) to create my garlands.  They come in 25 or 50ft.  A 25ft strip goes a long way with small arches like this one which is approx 6ft.  They are super simple to use, just push the baloon ties through the holes in the strip! Fill any gaps with smaller size balloons, stick those on using glue dots. 
I used a variety of balloon sizes to create a more organic look to the garland (from 3″ through to 15″). Under the balloons, I hung a paper cutout garland of hot dogs, hamburgers, and french fries I found at Target 's Bullseye's Playground. Then, on each side of the table, I hung a giant spicy hot sauce balloon from Jollity and Co.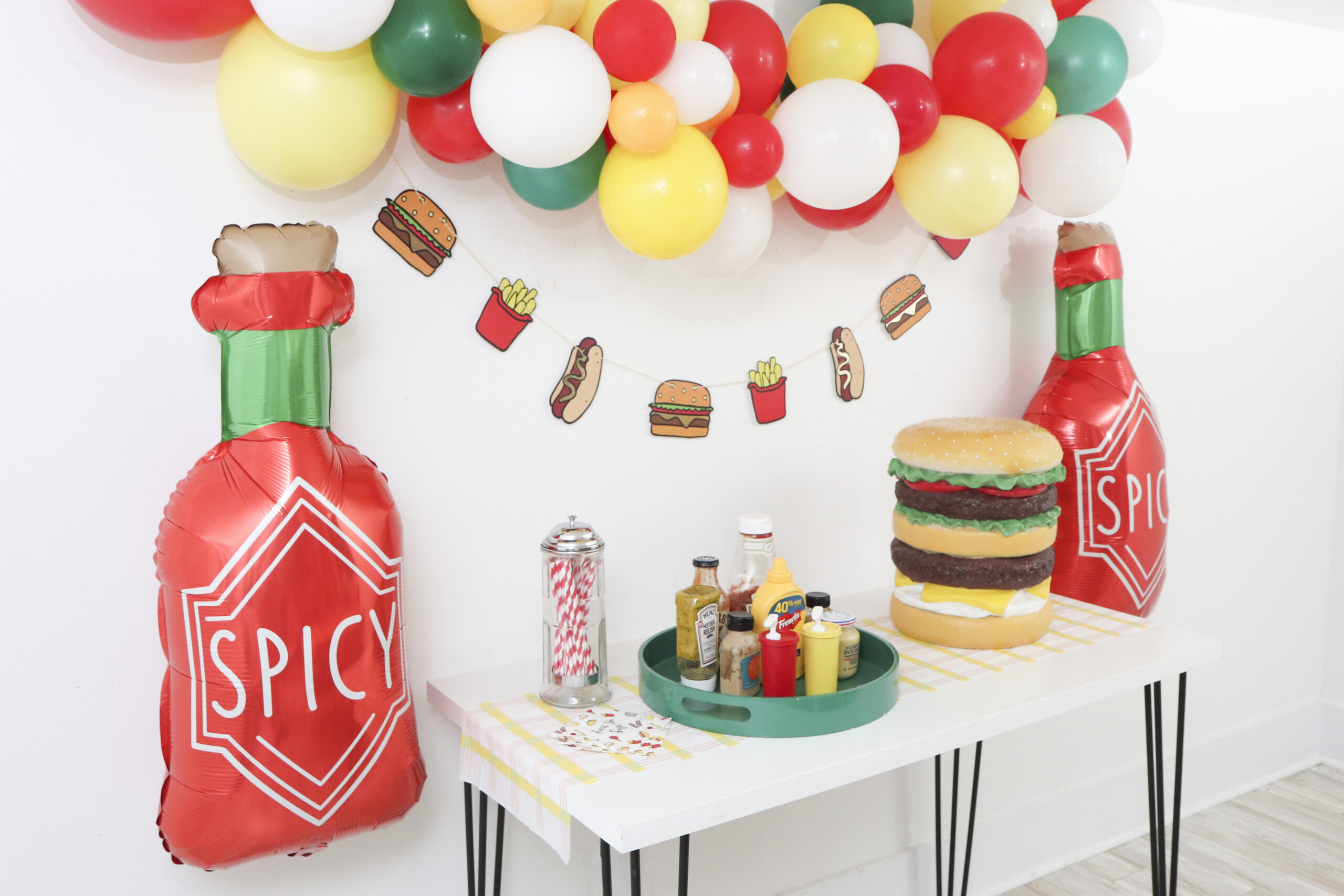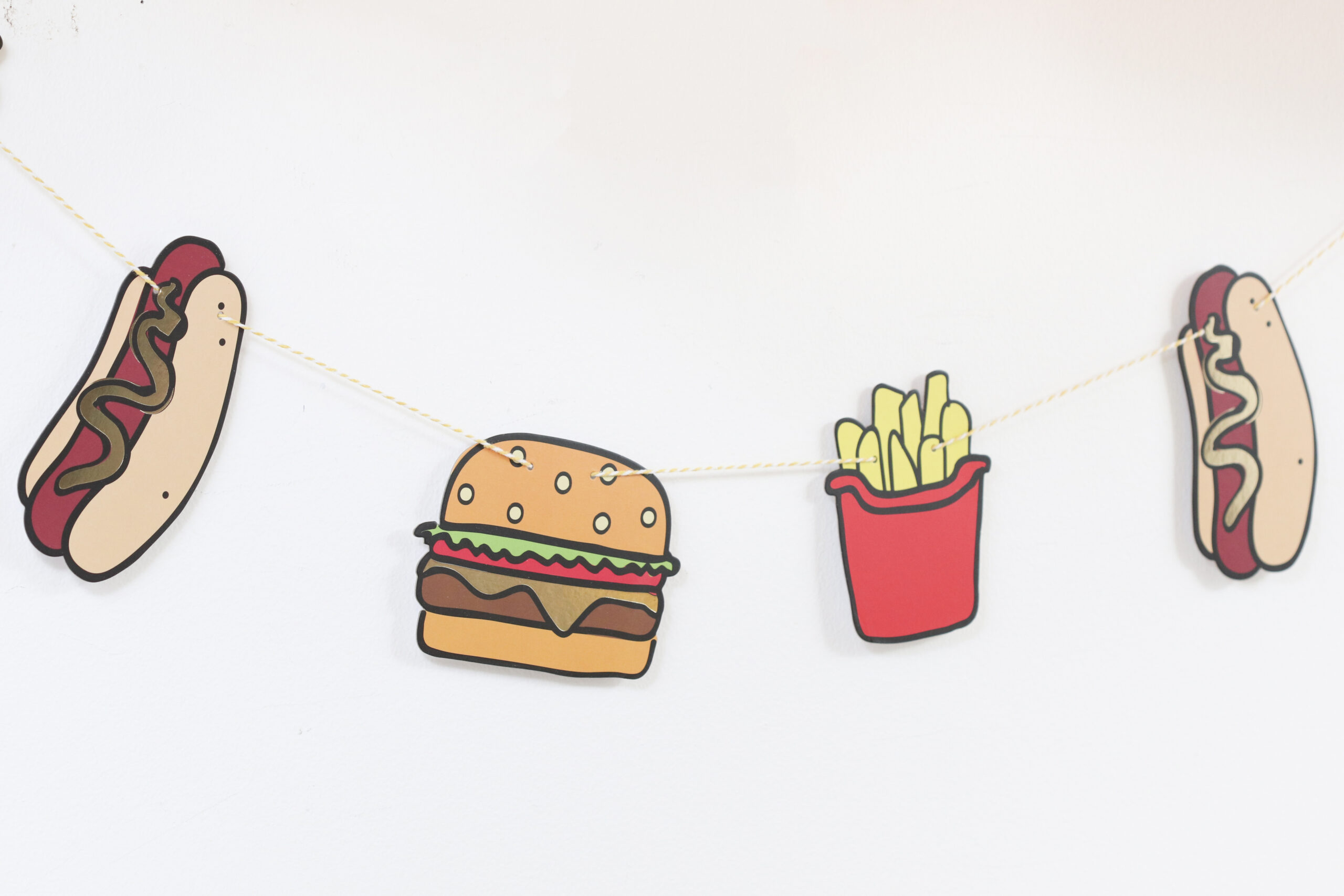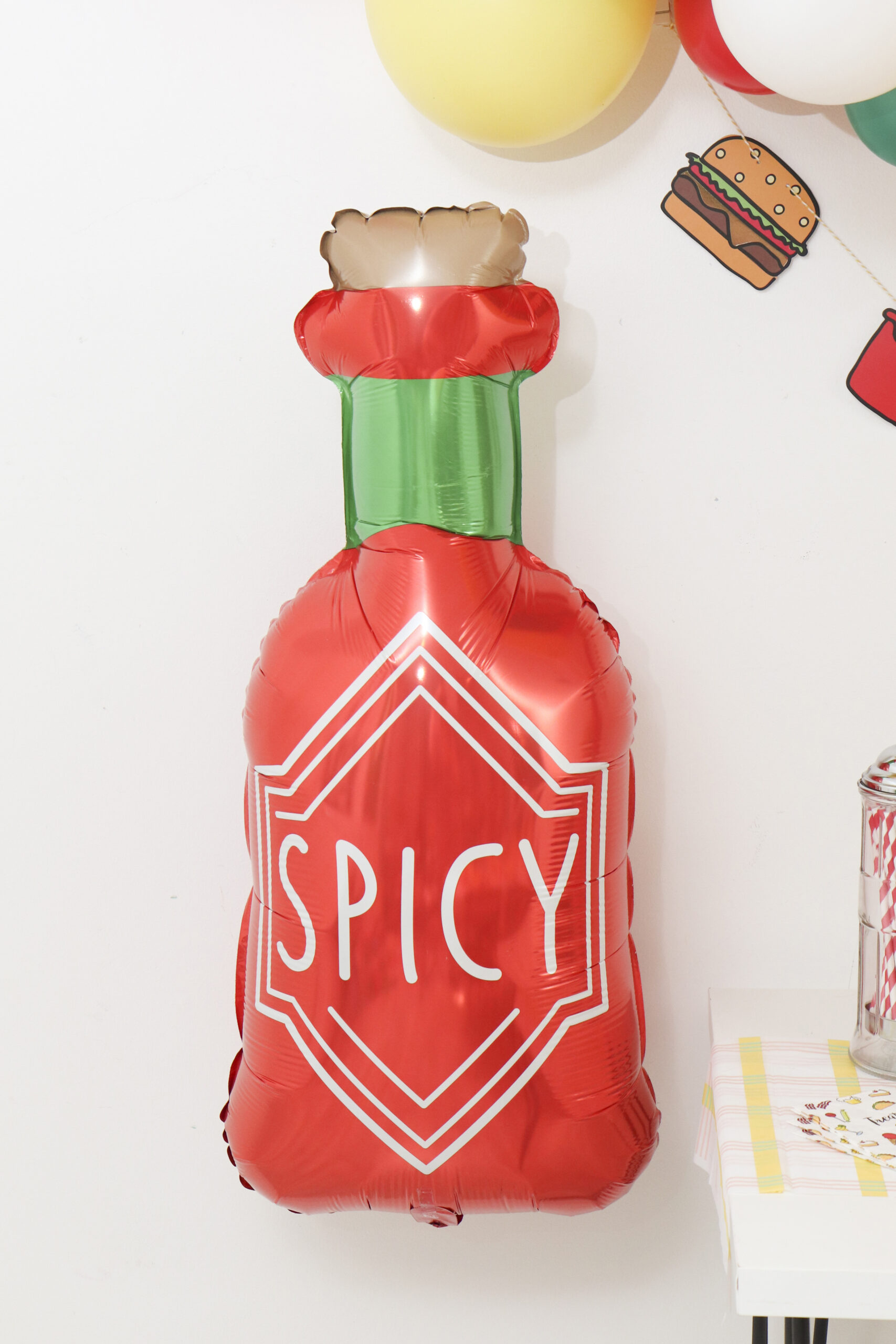 Condiment Station
First, I laid out a muted yellow, green, and red plaid table runner (bullseye again!). The subtle colors were a nod to the color scheme without clashing or taking away from the other decor. Then, on one side of the table, I placed a giant double hamburger prop that was the perfect statement piece for the party. Doesn't it make you hungry just looking at it?! I'm kind of a crazy prop hoarder (eeek!), I found this resin hamburger footstool years ago while living in Australia.  They had amazing oversized food decor.  If your smitten I found the same burger stool at Urban Outfitters HERE and another equivalent on ebay HERE.
In the center of the table, I set out a round green tray (World Market), whose color complimented the lettuce from the hamburger prop. The tray was filled with a variety of condiments for all sorts of fast food – ketchup, mustard, relish, BBQ sauce, etc. 
On the other side of the condiment tray, there was an old fashioned diner straw container filled with red and white striped paper straws. Additionally, a stack of fast food napkins from the Target dollar section encouraging users to "treat yo'self" were arranged in a visually pleasing fan shape next to the condiment tray.  These crack me up everytime!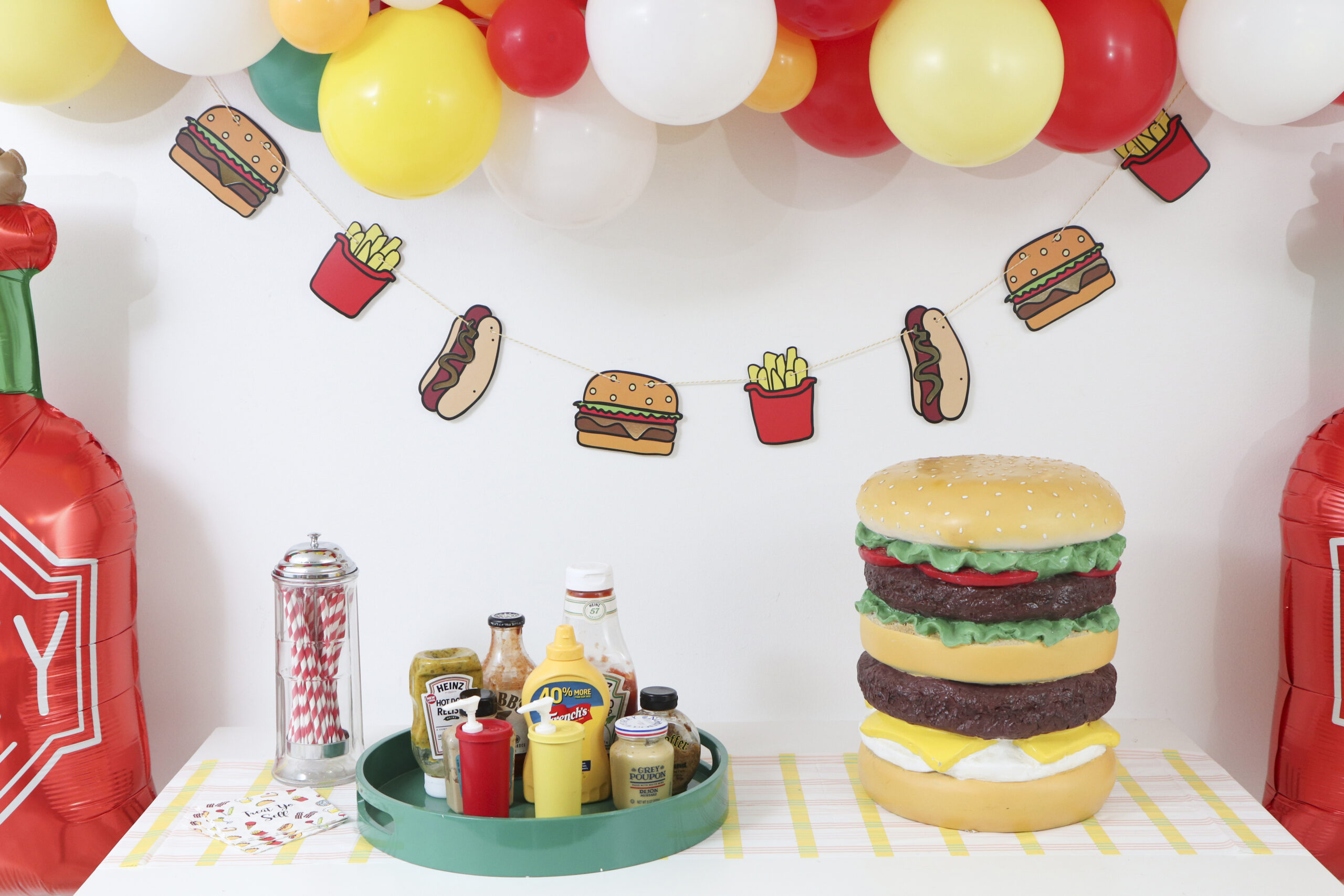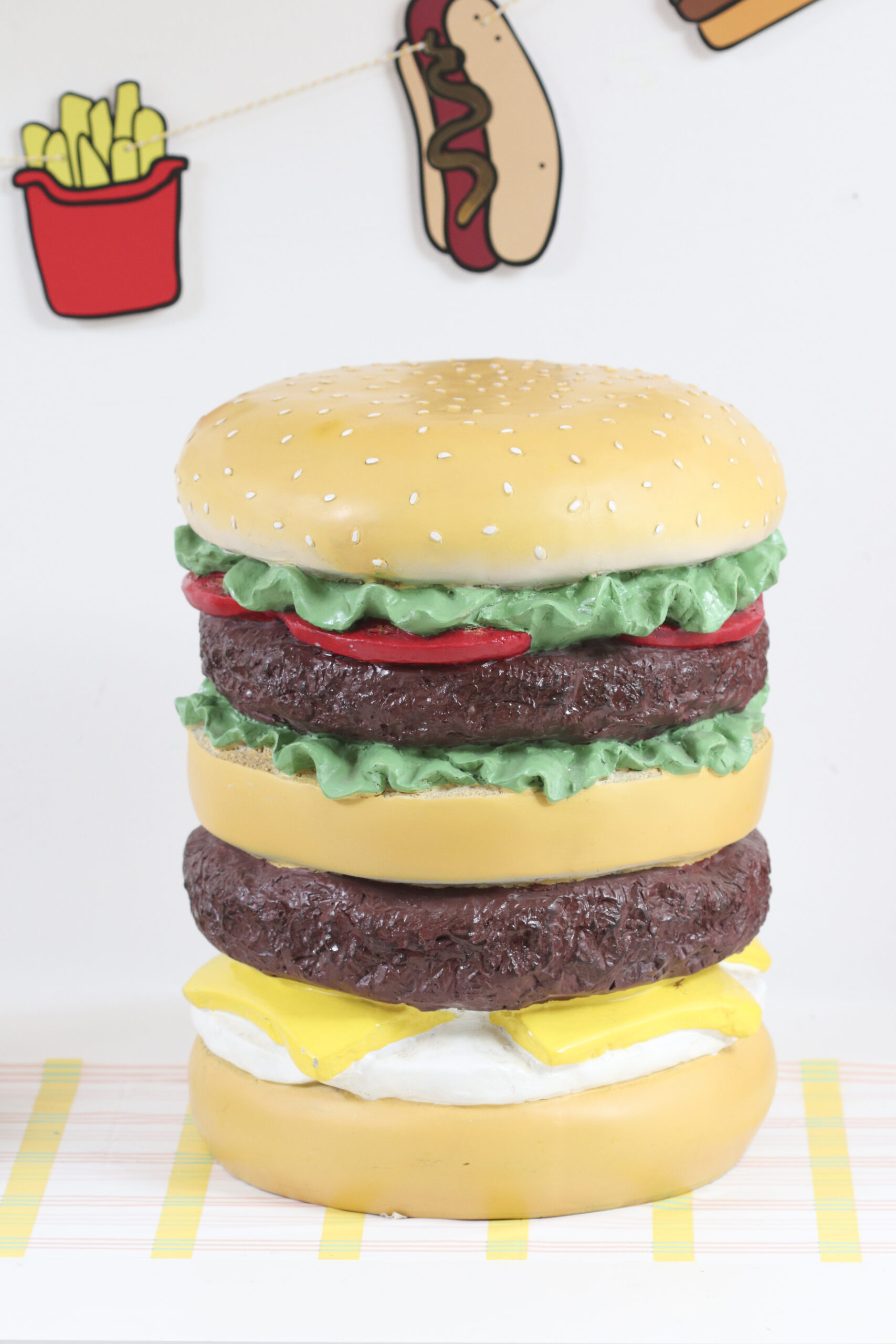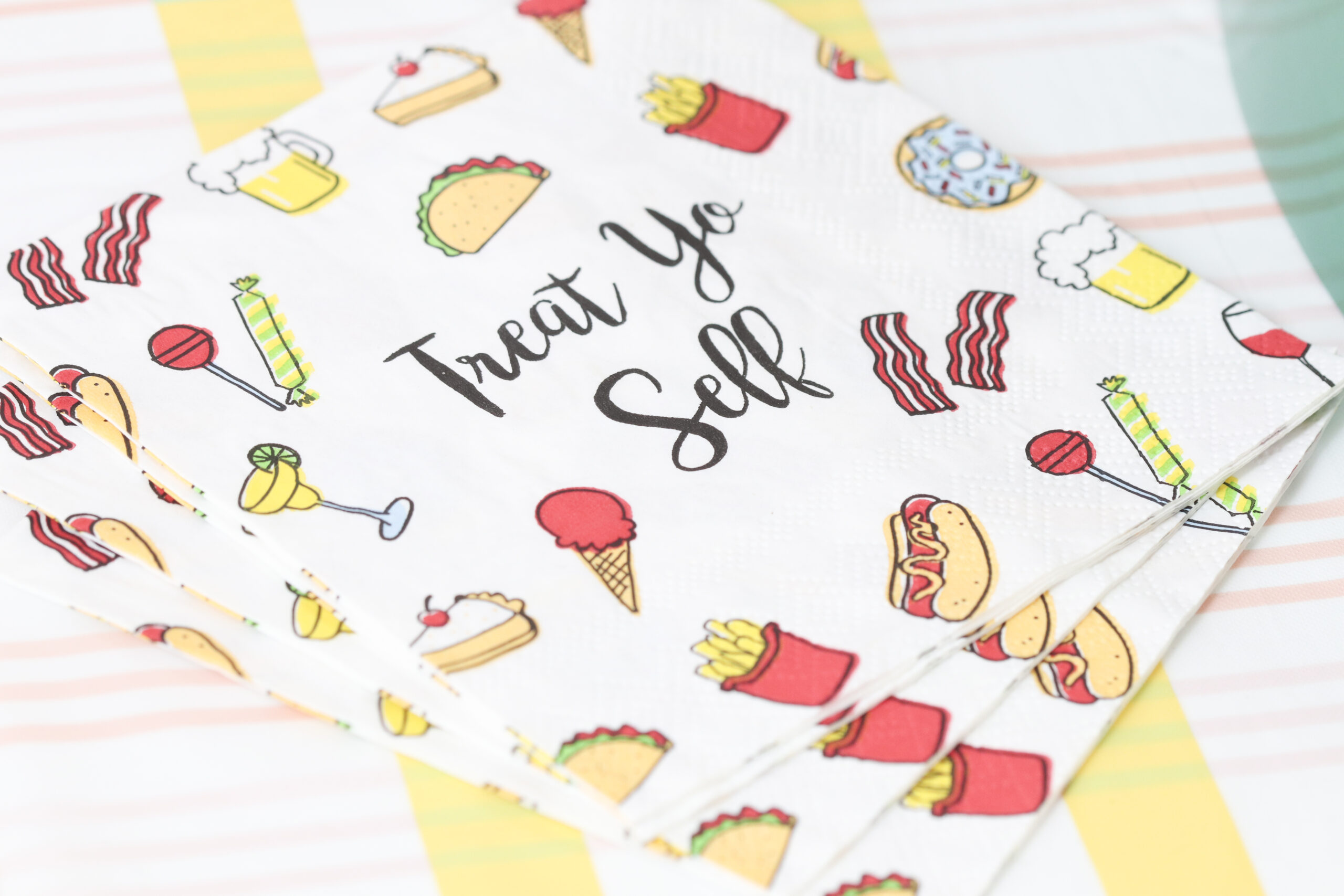 Tasty Table
I used the same plastic plaid tablecloth as a table runner on my main table, which helped to tie the room together. Next, I set out a couple of small dessert stands from Target dollar spot with hamburger treat containers from Oriental Trading on each in the center of the table. Cut up a napkin to use under the container, to break up the colors.
On each side, I placed additional ceramic fast food-themed trays from Target dollar spot with mini burger shaped chocolate filled cookies.  You can find these chocolate cookies at a Japanese dollar store such as Daiso. , Then I added fast food shaped eraser favors and more treat containers from Oriental Trading, the fries are my favorite!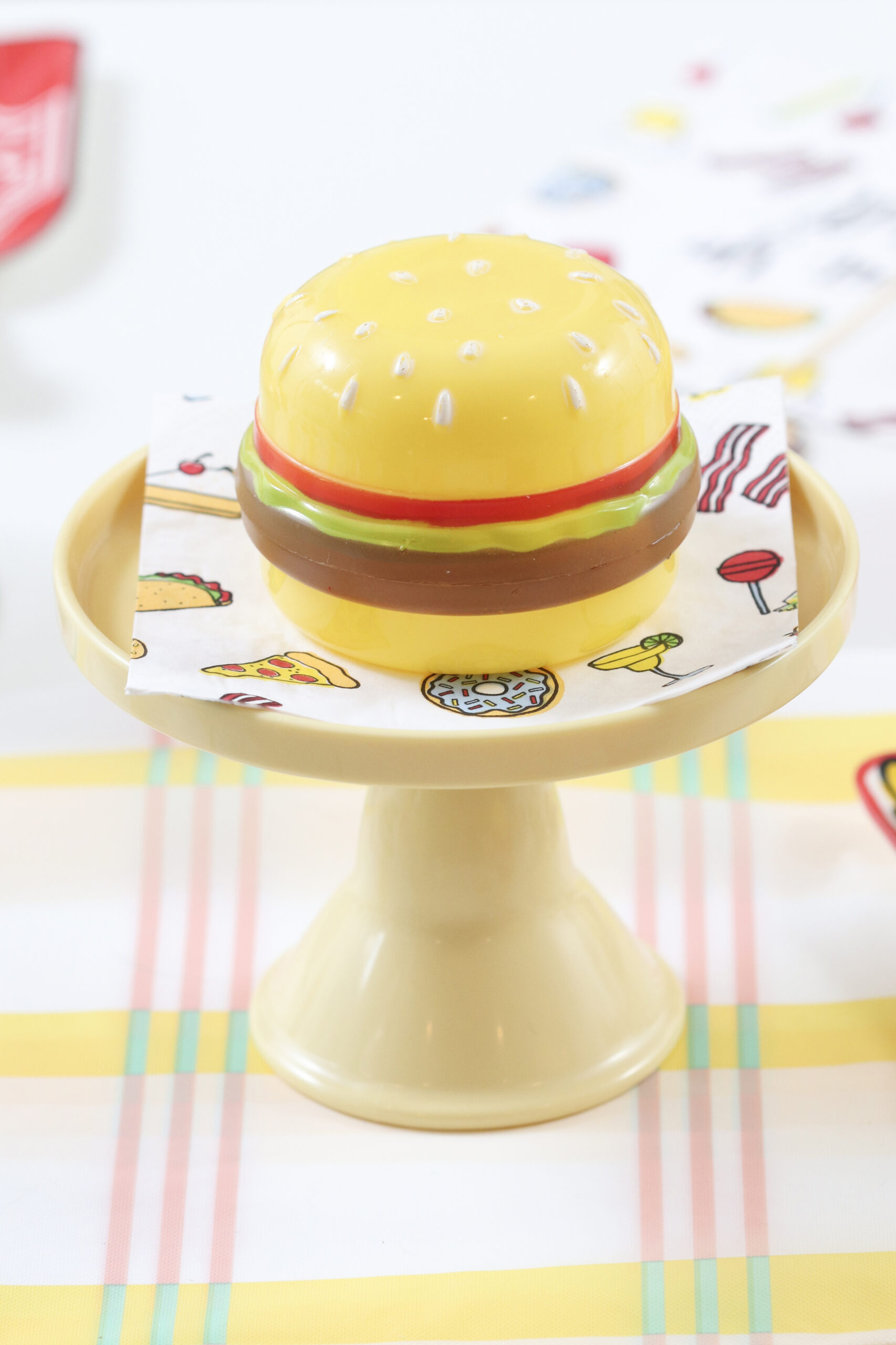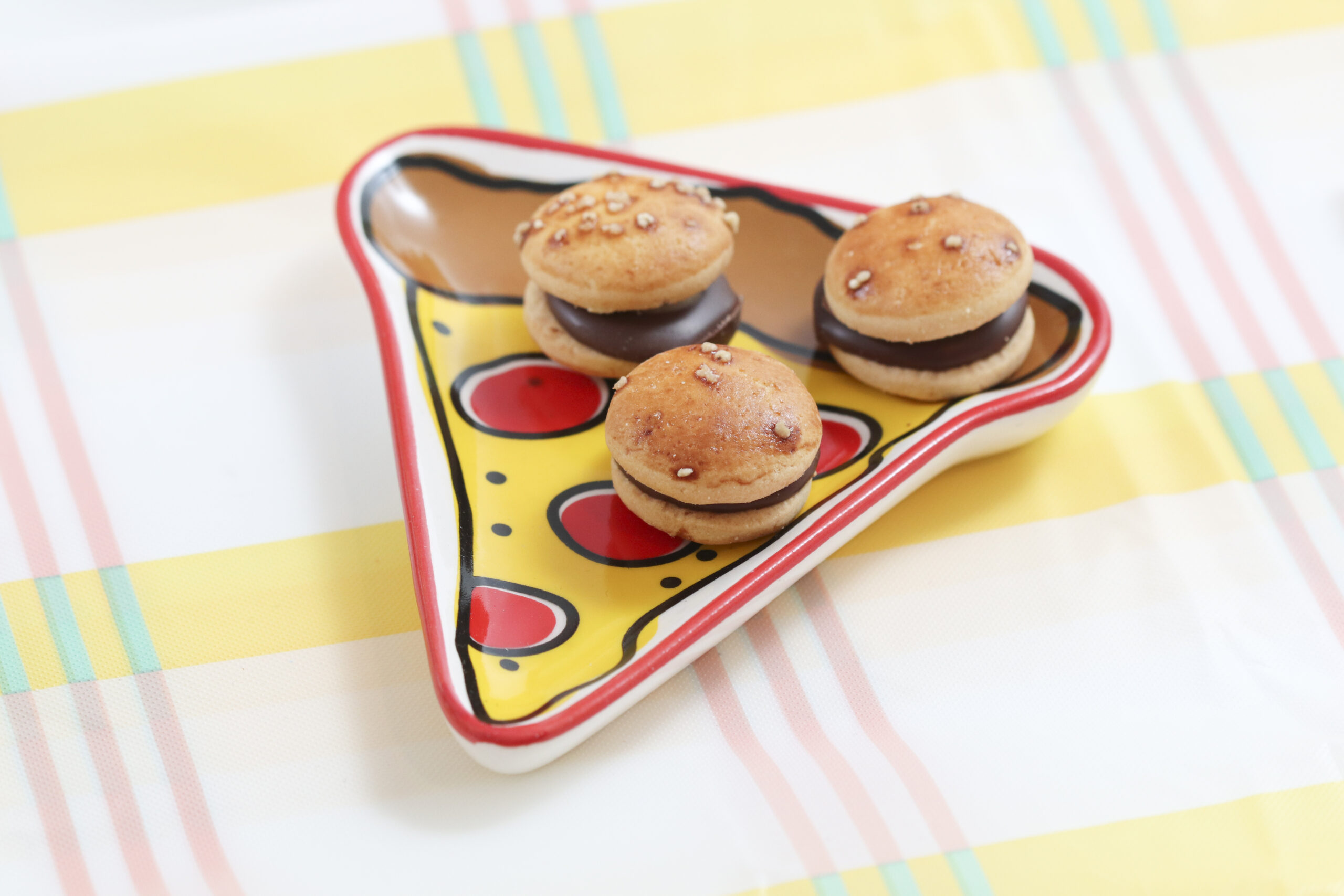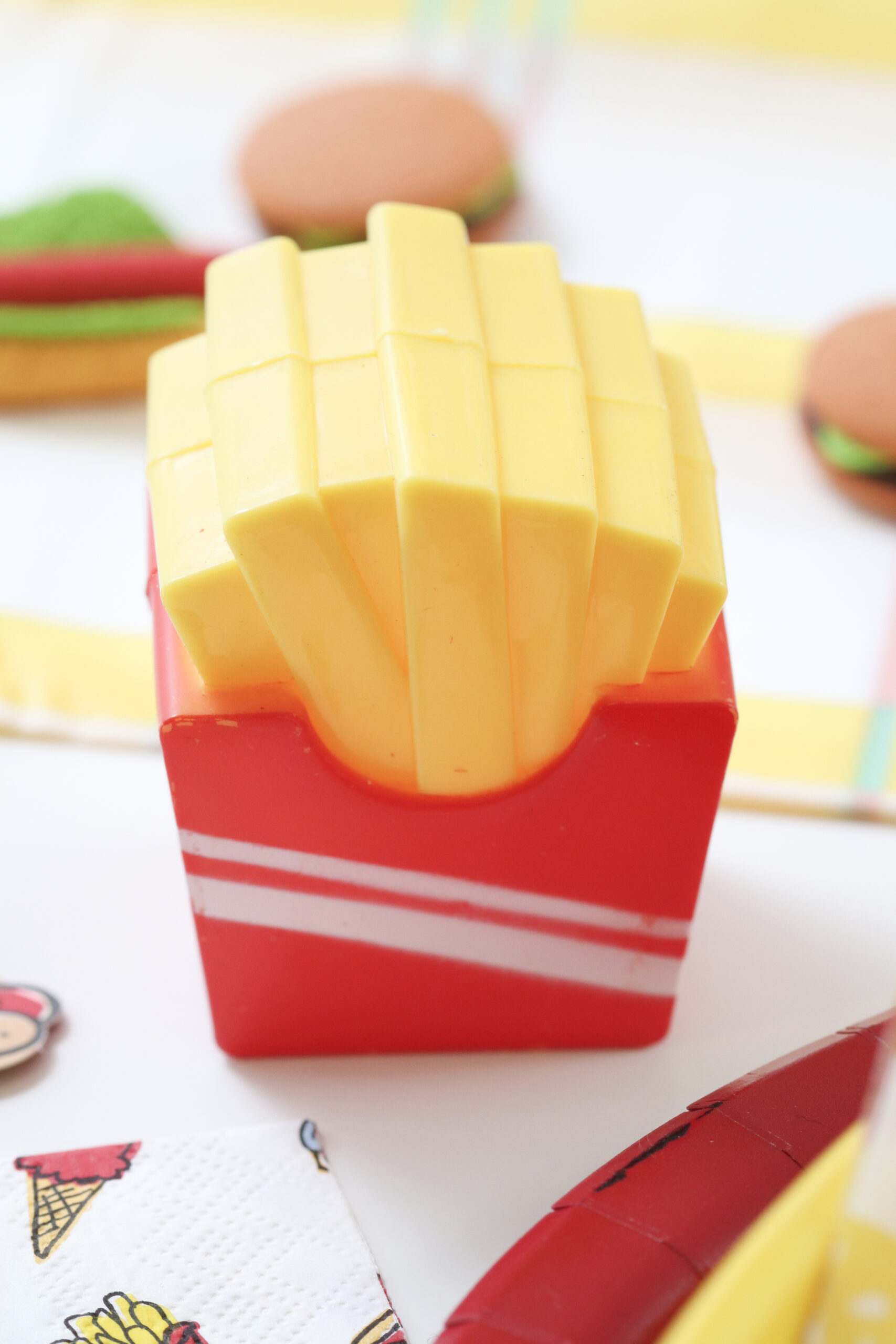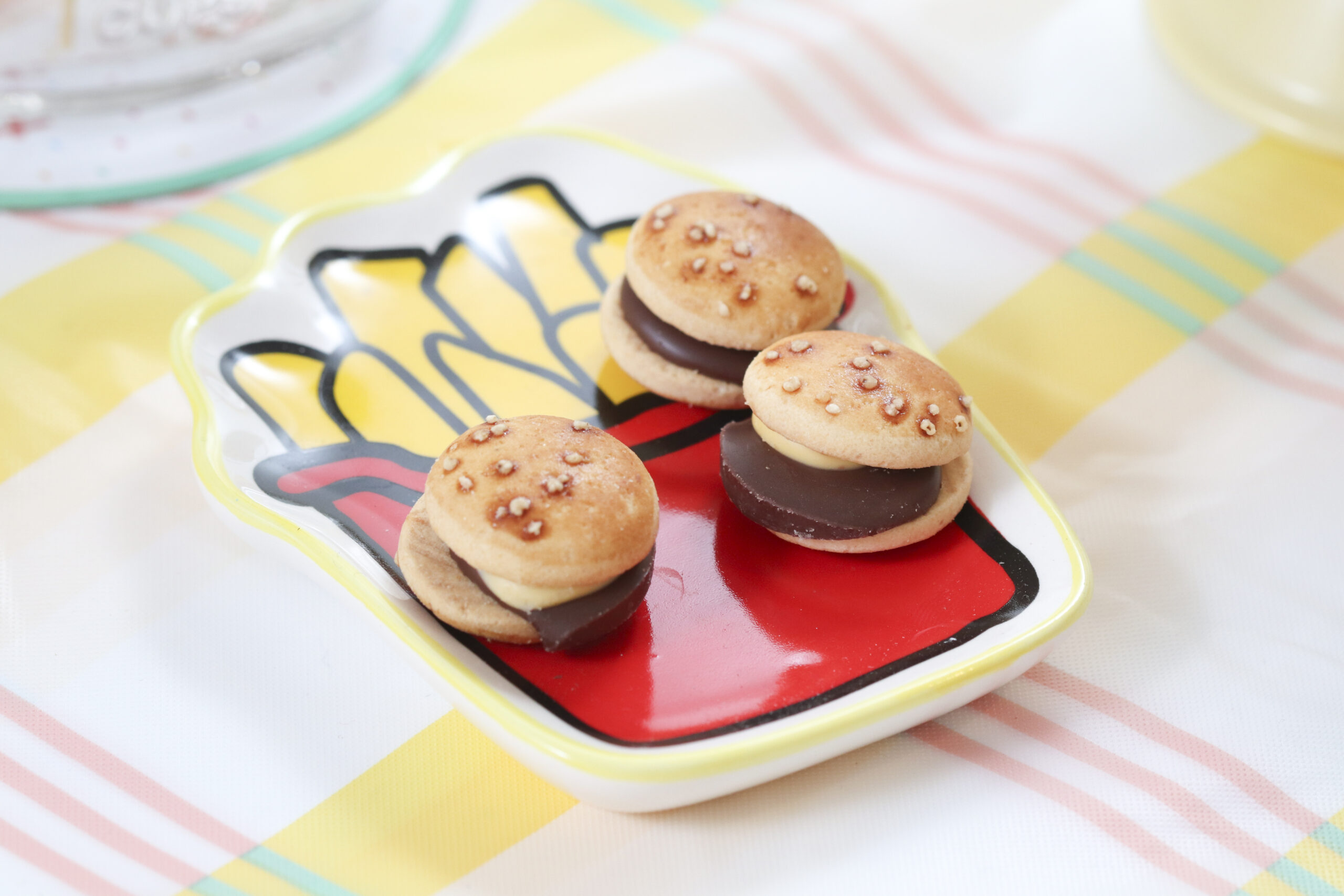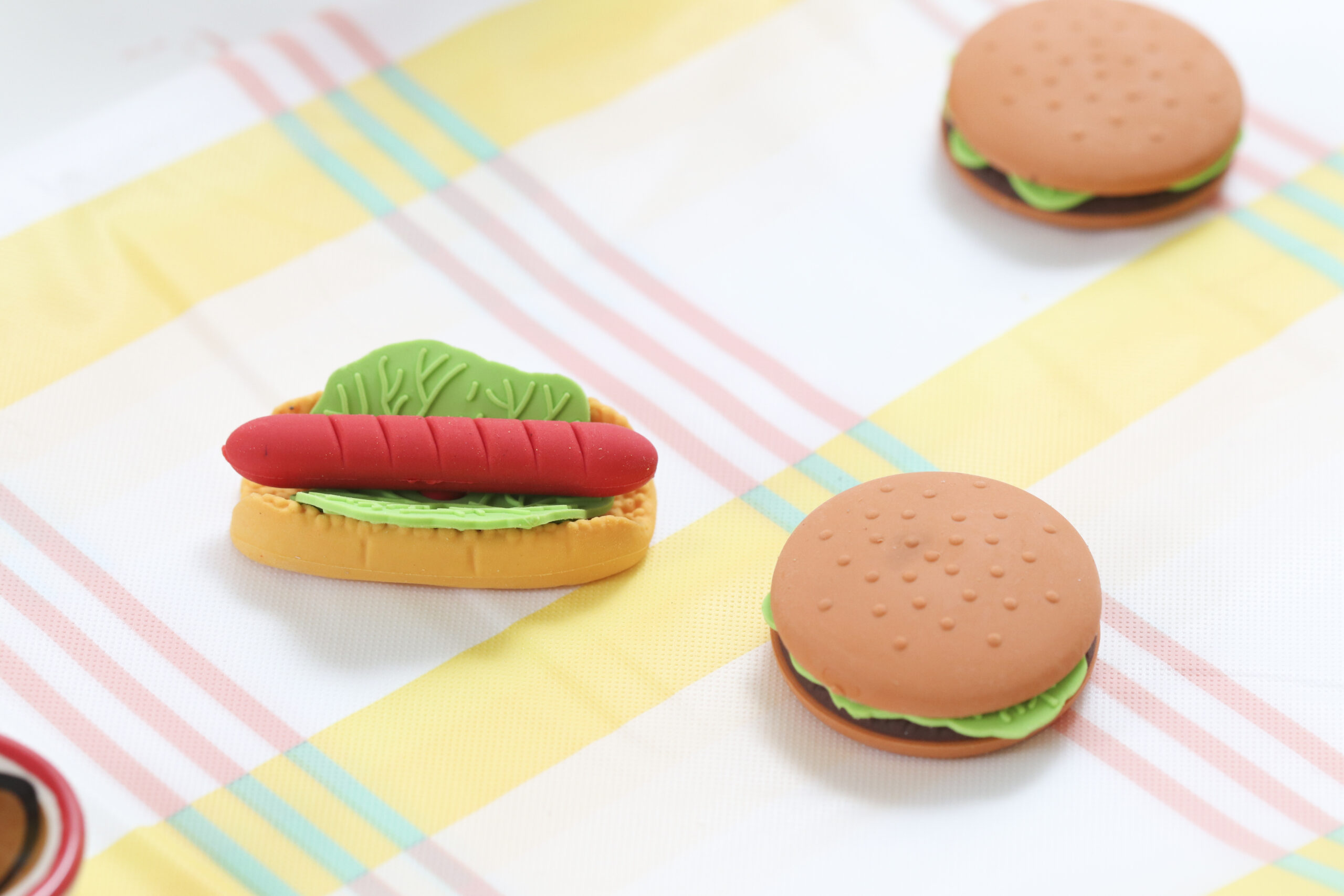 Place Settings, Two Ways
I couldn't pick my favorite between two options for my place settings, so I'm sharing both! For the first, I used large red paper plates as chargers, and then used old school bright yellow fast food baskets rather than plates! The baskets really gave the feel of a fast food diner. I placed a fast food liner in each, and then a hot dog treat container on top of those as a favor.
Then, next to each plate, I put another "treat yo'self" napkin and a hot dog pick. On the other side, I put a really fun hot sauce condiment plate from Jollity and Co. that matched the hot sauce balloons next to the condiment table! Since the fast food options are eaten with your hands, flatware wasn't necessary. I did use my favorite mini mason jar beverage containers with red striped straws, and placed them on the perfect "grill out chill out" hot dog coasters in the party's color scheme.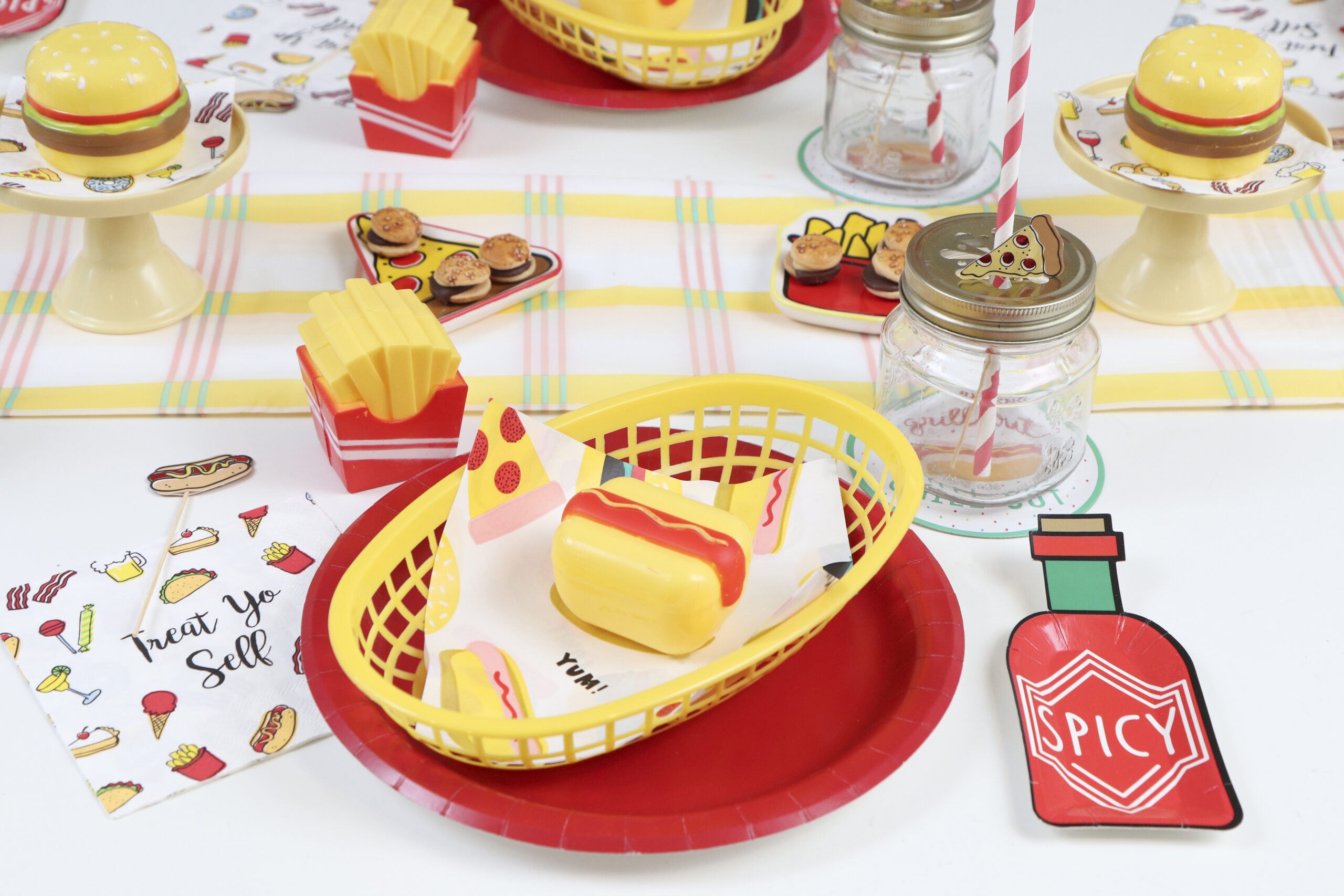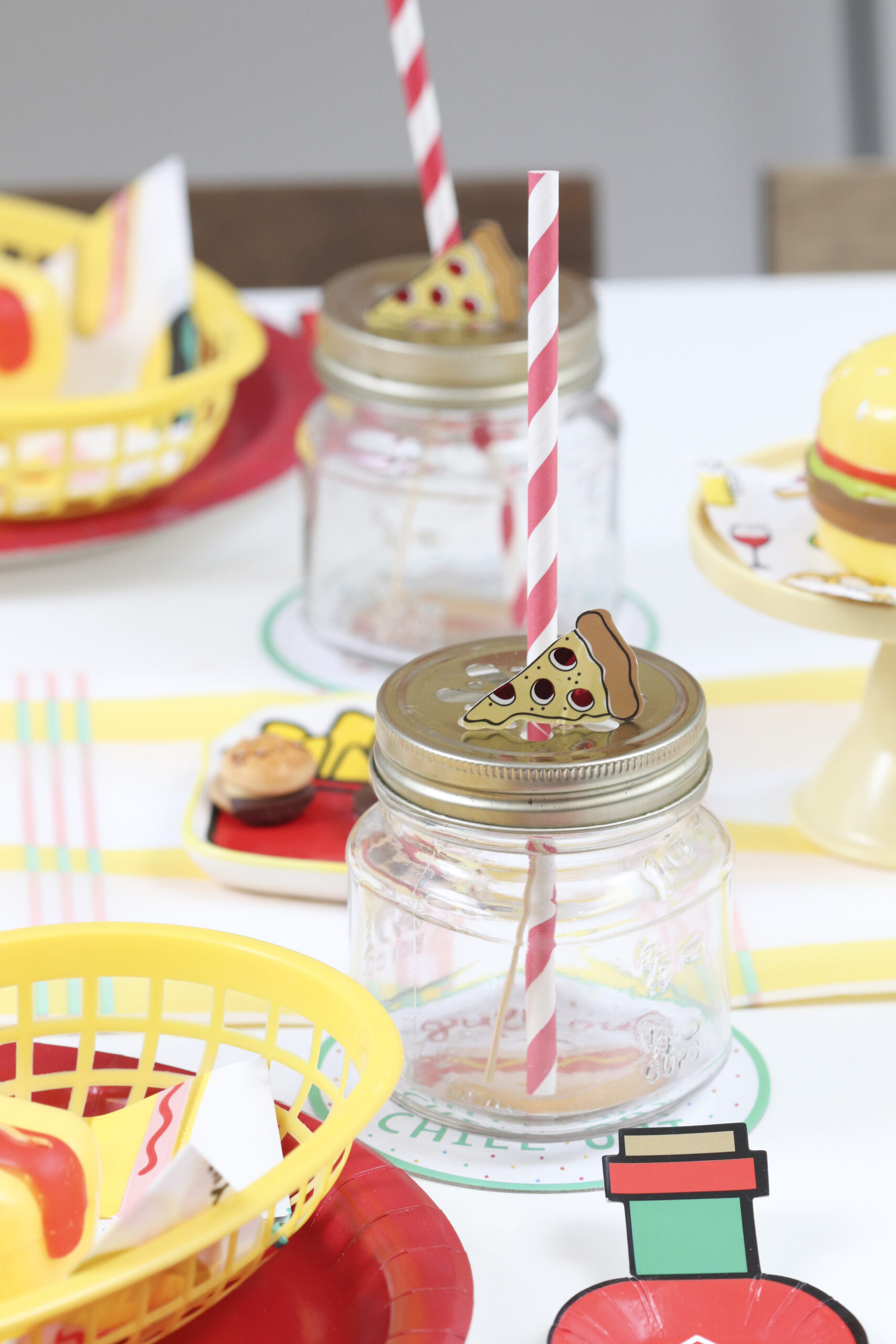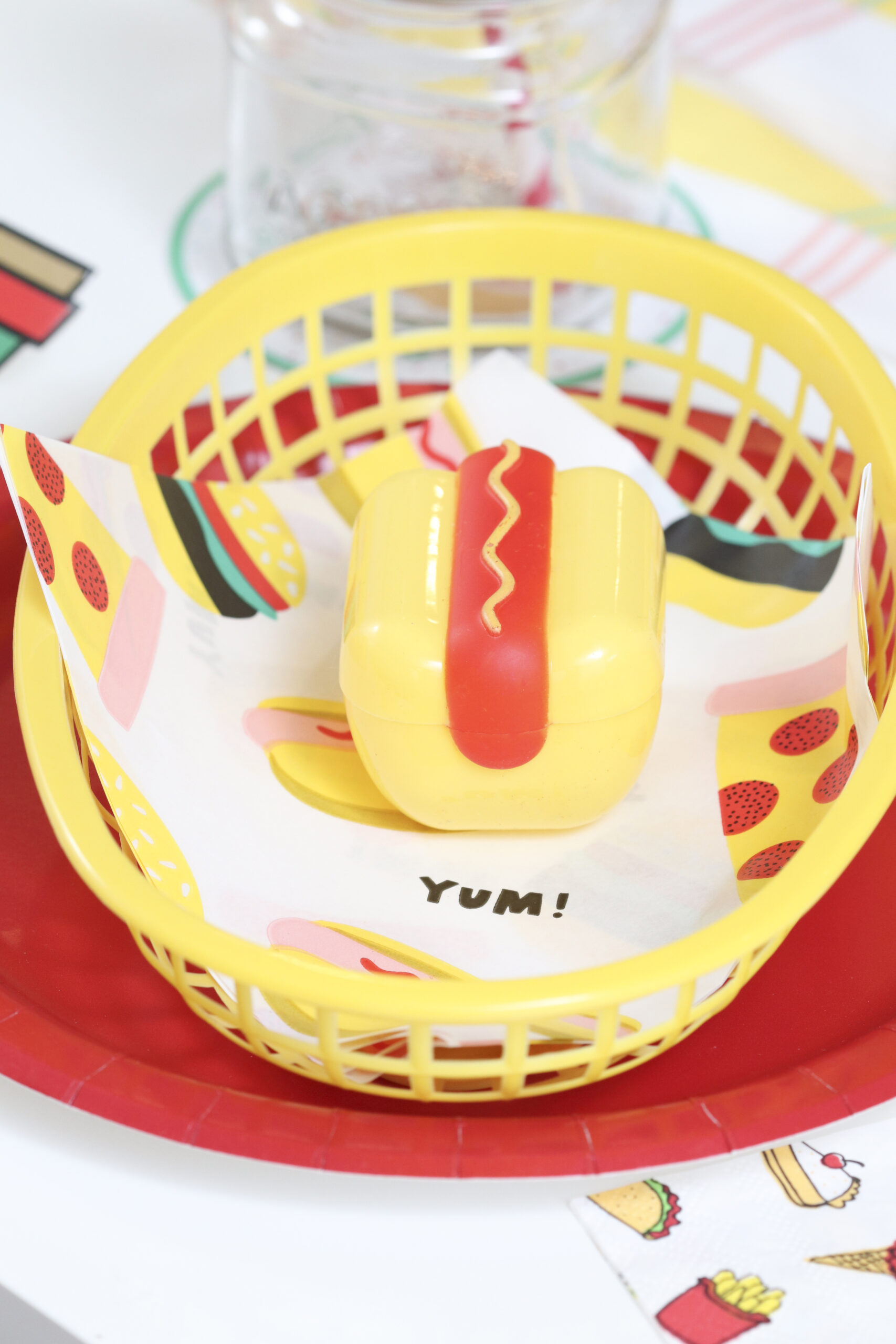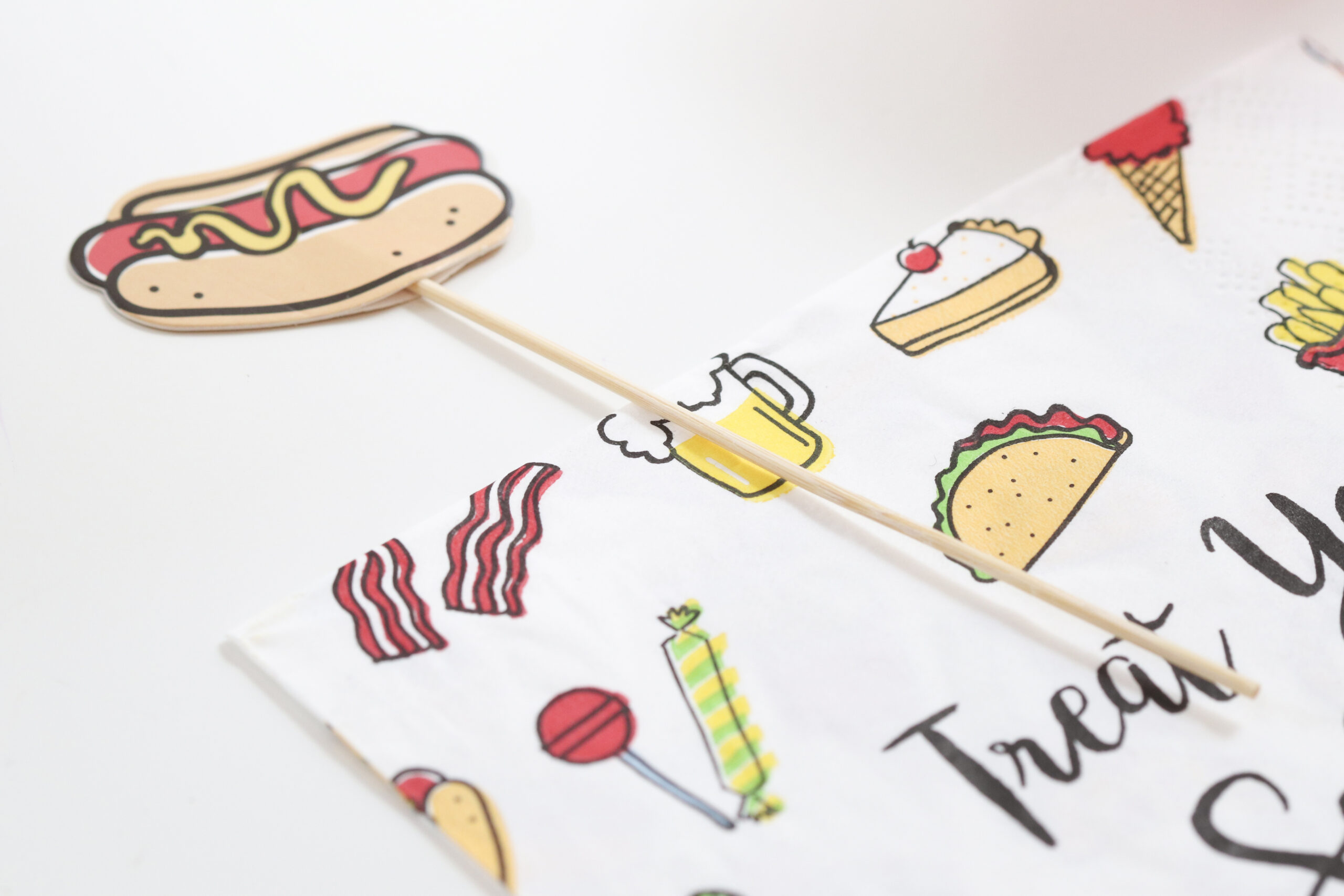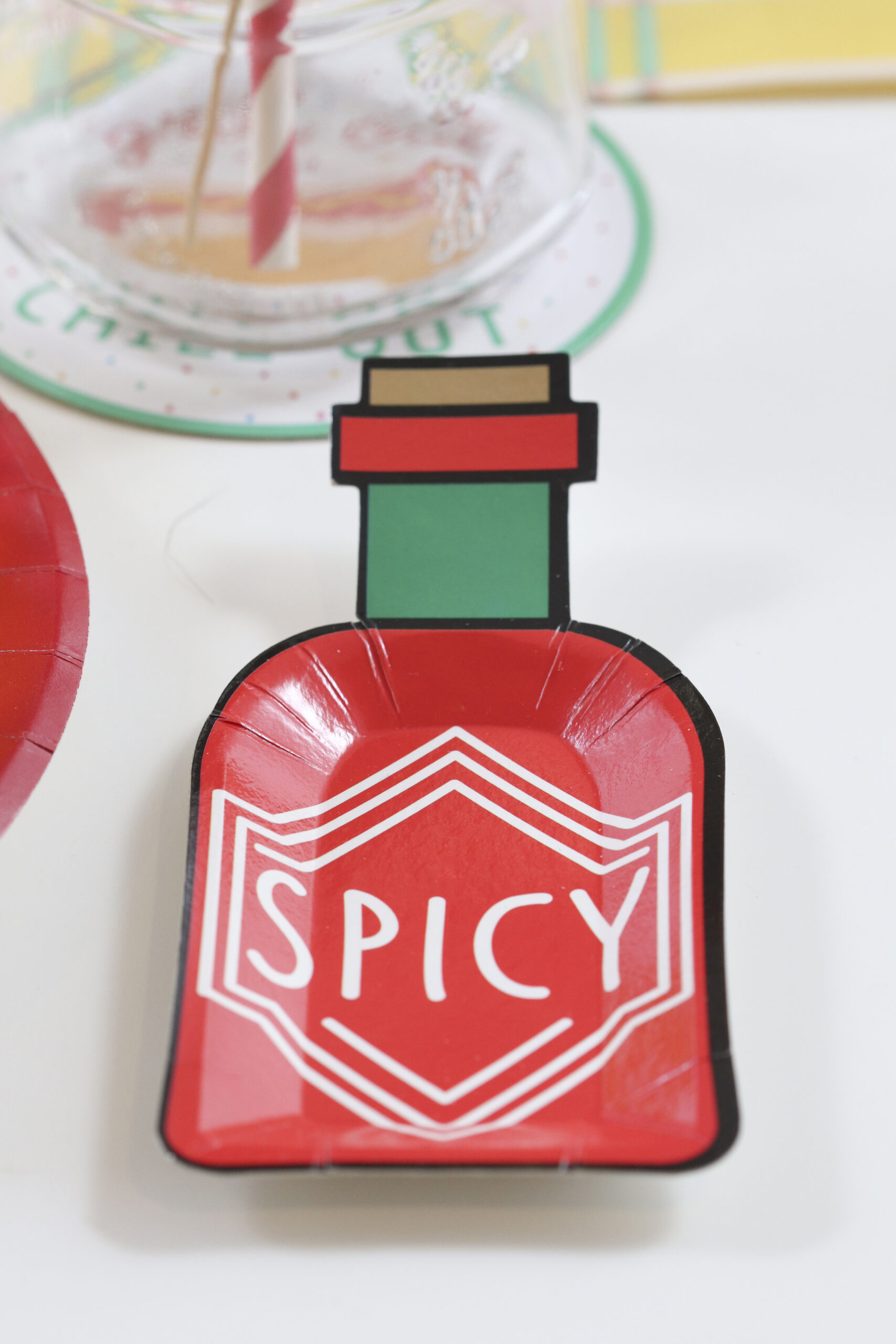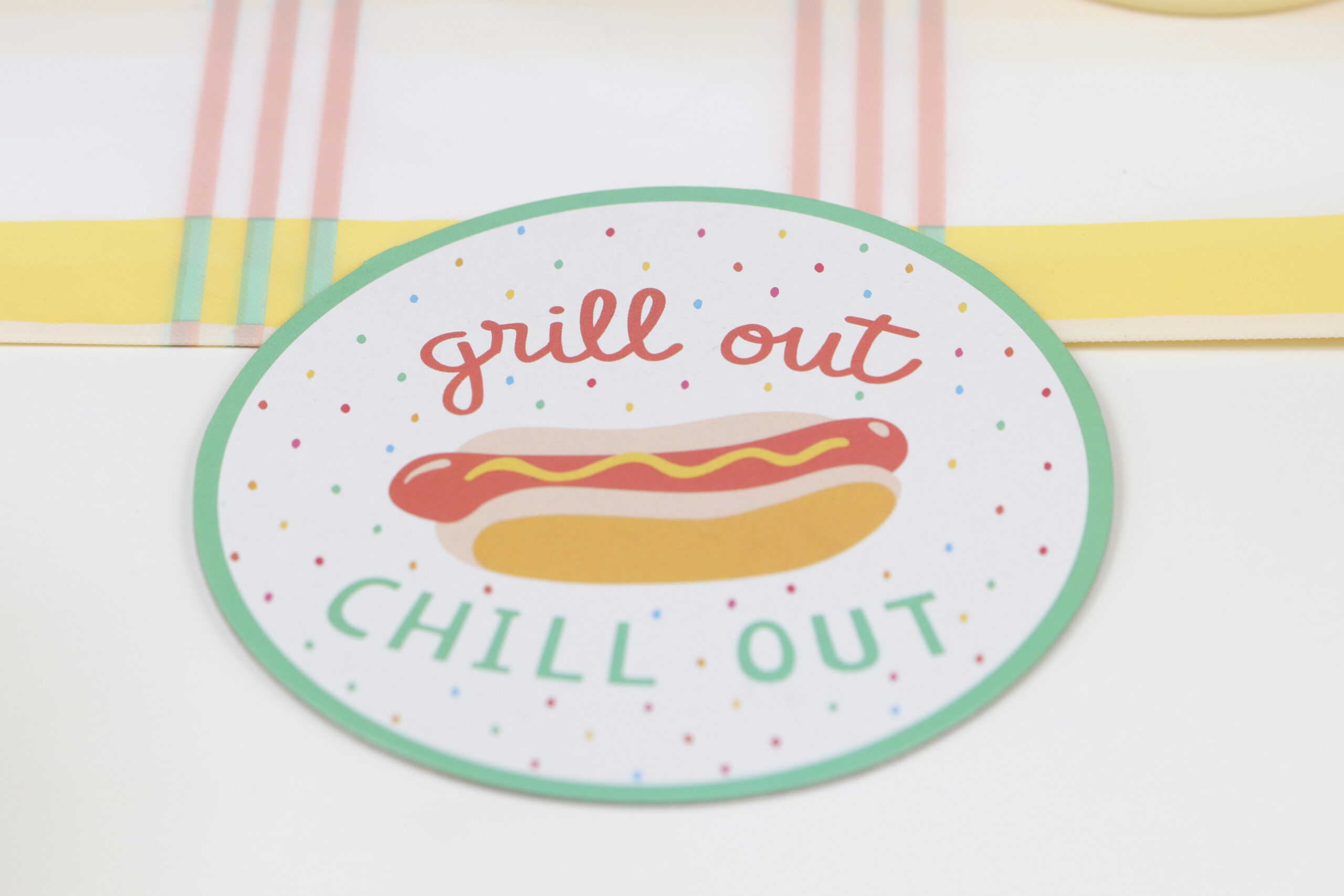 The second option was a more traditional setting using cute hot dog and hamburger plates, also from Target. I put a coordinating treat container on each. This is a cheaper option that might be easier to find than the baskets, but is still just as cute and fun!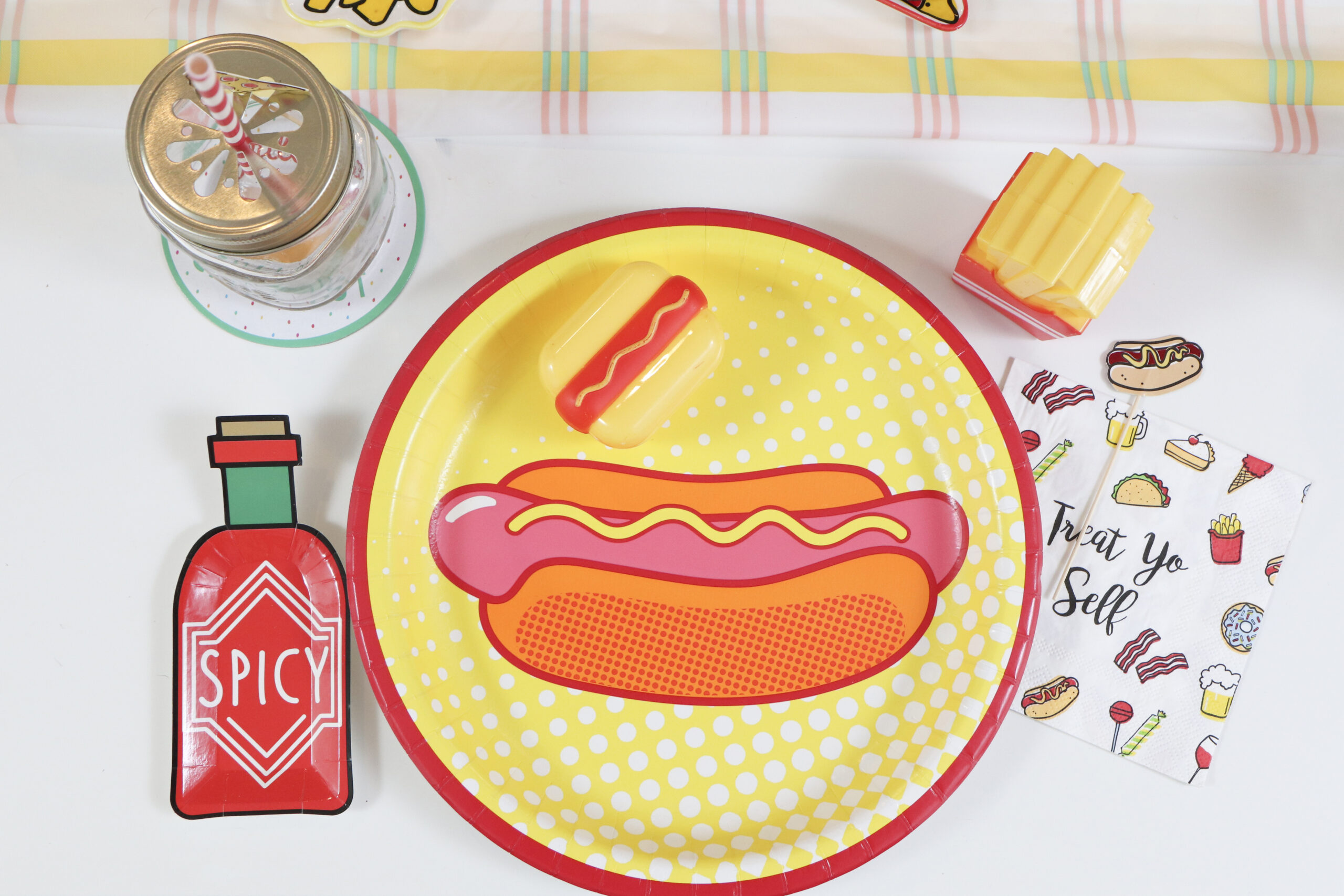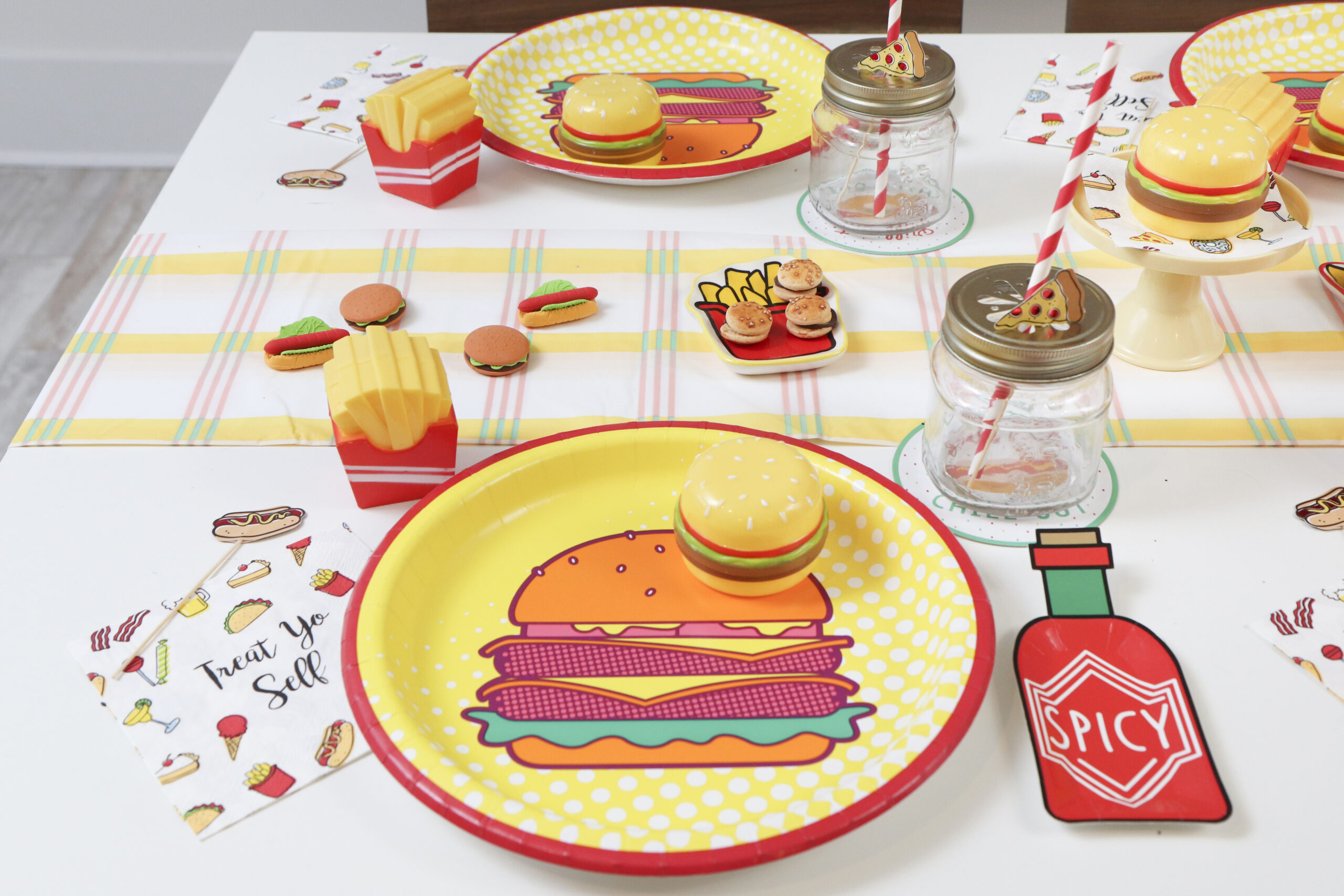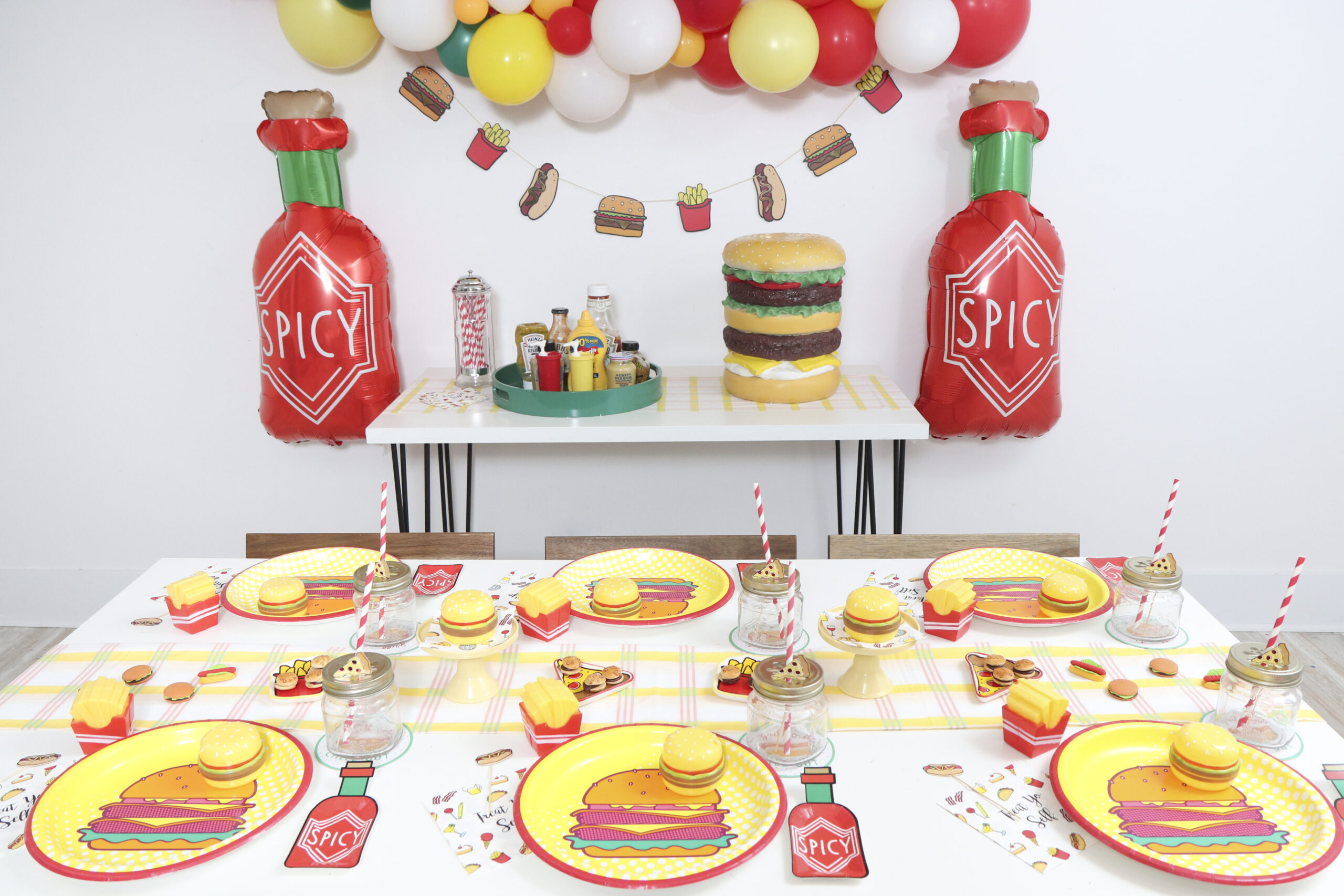 There you have it! A fun, family friendly, fast food party. What is your favorite fast food? Let me know in the comments! 
And for another (slightly healthier) food-themed party, check out my recent Tropical Fruit Themed Shower post!
Happy Partying!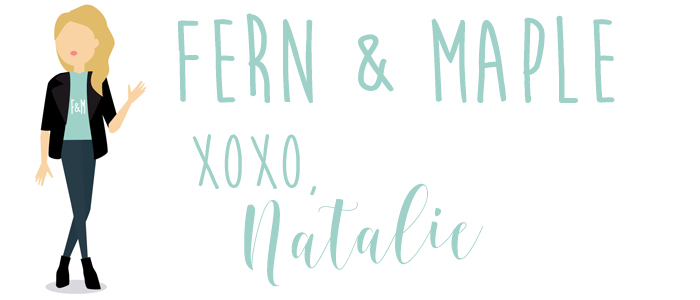 As a blogger, I sometimes receive compensation and/or products in exchange for my styling and crafting services. As always, all project ideas and any opinions expressed here are my own.  For further information on our disclosure policy please check out our disclosure page.
PIN FOR LATER: