I'm thrilled to be part of this years Trunk or Treat Blog Hop.  Those who are regular readers know that I'm originally from New Zealand.  In New Zealand, Halloween is not traditionally celebrated.  This did not stop me from getting right into Halloween when I moved to the United States.  It's now my favorite holiday.  It's also something my husband and I have bonded over and probably the one time when he gets as much into decorating as I do.
Despite being a HUGE fan of Halloween I had never participated in a Trunk or Treat.  In fact I'd never heard of this way of celebrating Halloween before, until until recent years when they decided to do it at my son's school.  We usually go all out on the house and now I get to go all out on the car too?! Does it get any better?
I think Trunk or Treat is a great idea for younger kids (and older kids like myself). I'm excited about decorating a smaller space and the challenge of converting the car.  When I was thinking about the theme I would chose this year I found a gorgeous scarab beetle box in a brushed felt dark jewel green.  It totally inspired me and I've gone with an Egyptian tomb theme!  If you follow me on Instagram (@fernandmapleevents) you will see how excited I was when I found him and his friends.
Flesh eating scarab beetles, scorpions and a spooky mummy (yes, I loved The Mummy movies with Brendan Fraser)…oh yes I have the spook factor!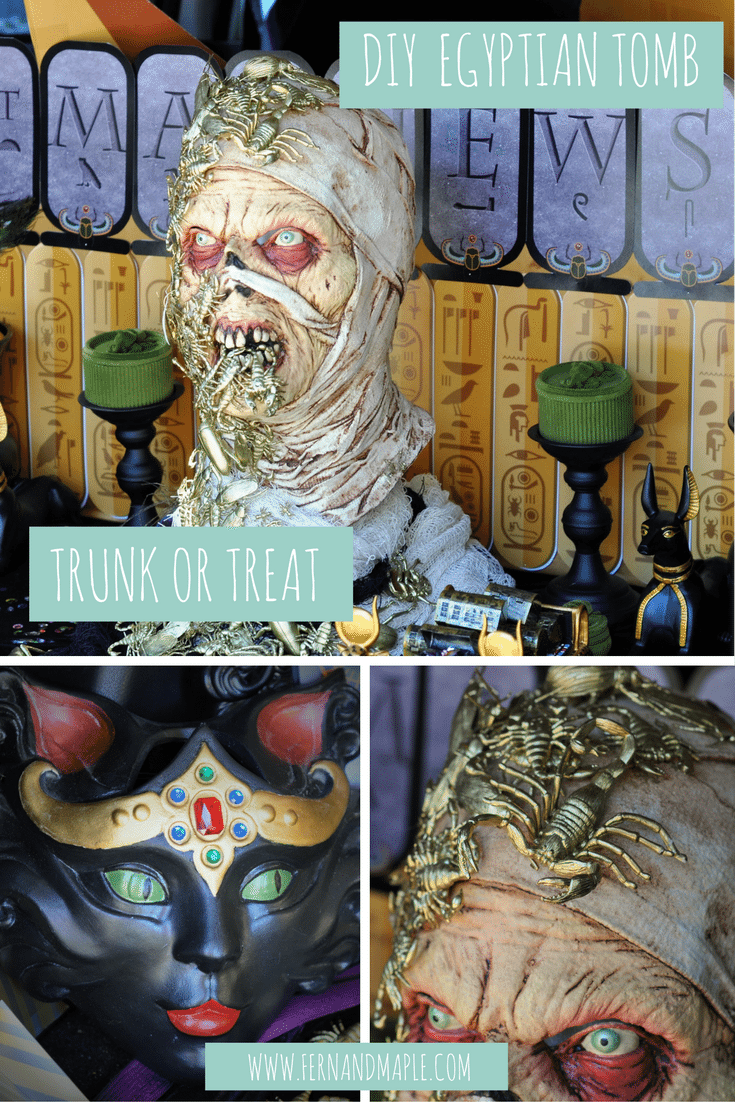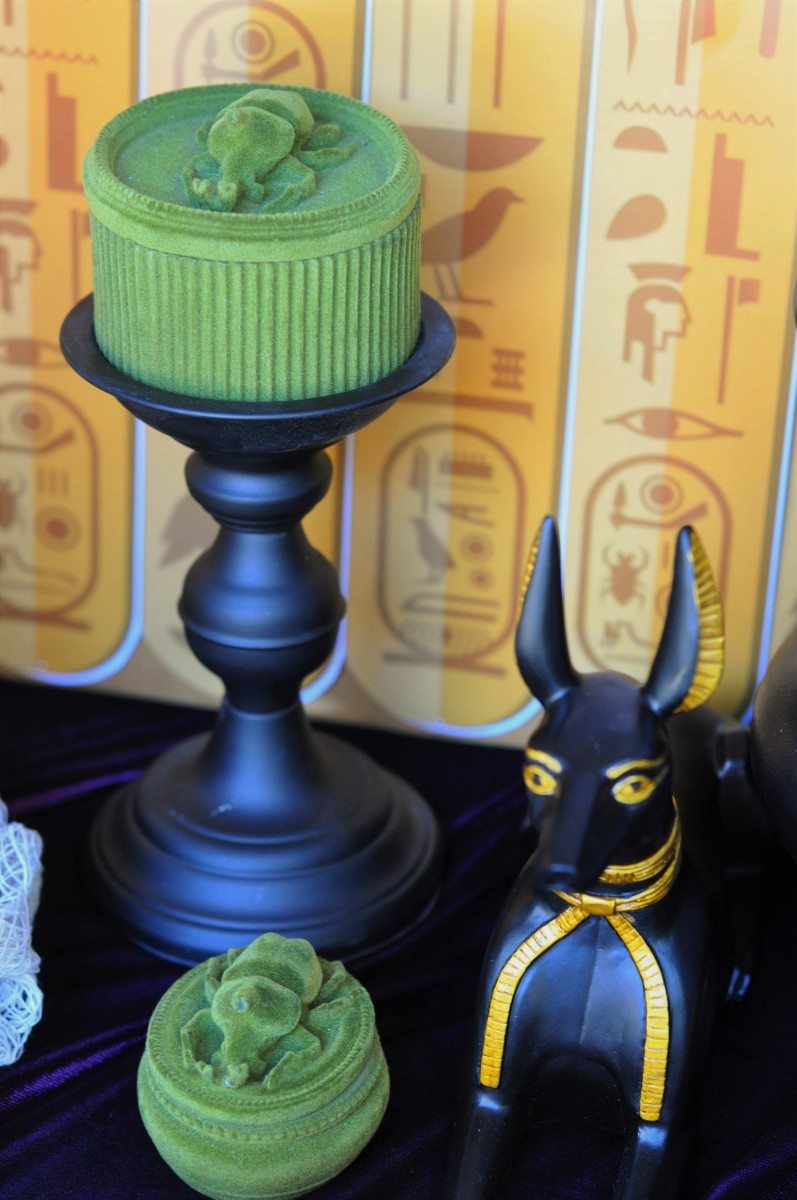 The beetle that inspired it all
When I heard about the Trunk or Treat blog hop with Nikki at Tikkido and Paula at Frog Prince Paperie I jumped at the chance of joining them (thanks ladies!) and their talented friends. I'm looking forward to sharing my design with you and seeing the details behind what everyone else has come up with!  The designs are fabulous.  Be sure to hop on over to the other blogs for a lot more fun!  All links below.
Before setting up the trunk in our driveway to practice how I wanted it for my son's Trunk or Treat, I did a bit of shopping around. There is a list of all of the items I used at the end of the blog and links to where I sourced them from.  First though, here is how I pulled everything together to create the final look.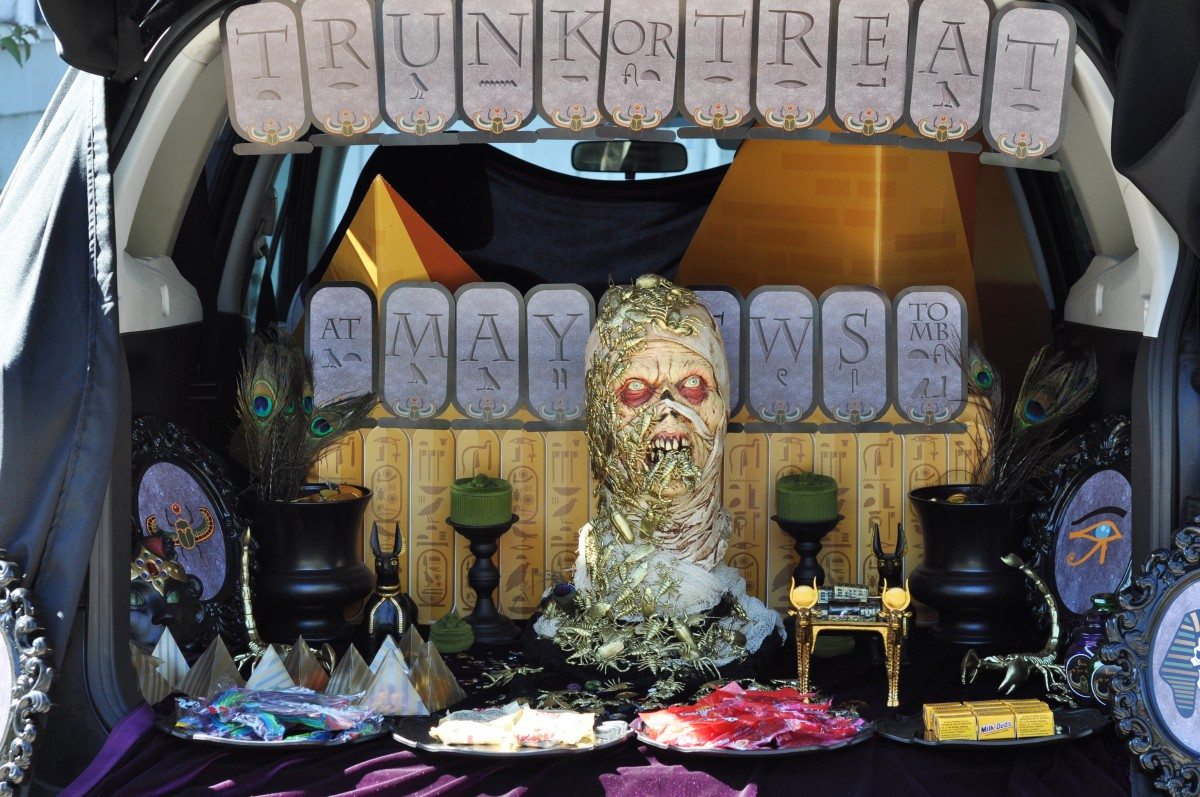 The first thing I did was put the seats down in the back of our SUV.  This gave me a large flat area to work with.  Then I lay down a piece of soft deep purple velvet on the flooring.  It spread over the entire bottom of the trunk and then I pulled it up to the front seat where I pinned the end to the headrests on the front seat.  Pinning here meant you can't see through to the front seat or the windscreen. Now I had a flat purple base.  I placed the large pyramid stand ups I got from Oriental Trading at the back of the trunk.  These were great for my backdrop and stand alone so don't need any propping up, there are lots of stand up prop options for other themes on their site and I like the coverage they give, you instantly think Egypt. Next was creating the tomb.  The Pharoah mummy's tomb lines the back of the trunk in front of the pyramids.  For this I used a 12×24 piece of foam wrapped in gold fabric and decorated to look like a mummy's tomb. My darling friend Elena of World Wide Party also made me some hieroglyphic panels to add to the tomb to make it look more authentic. I was able to cut them out and then overlay them on the foam & fabric to look like a carved tomb.  How lucky was it that she had just been to the Egyptian museum so was equally as inspired as I was!!  She also created a great banner for me that said "Trunk or Treat at Mayhew's Tomb" and made it look like carved hieroglyphics into stone with scarab beetle accents.  I used half on the tomb and the other half on the car.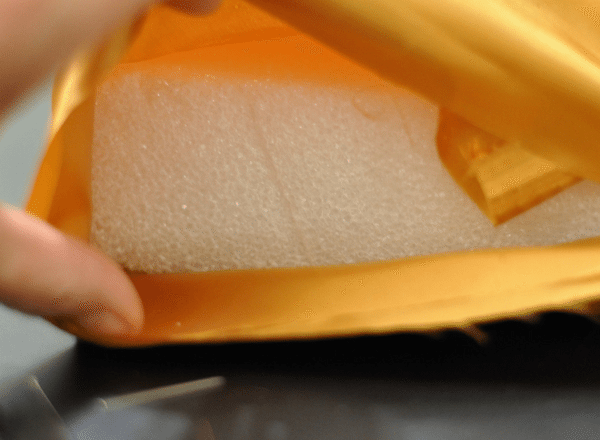 Take a thick piece of foam for stability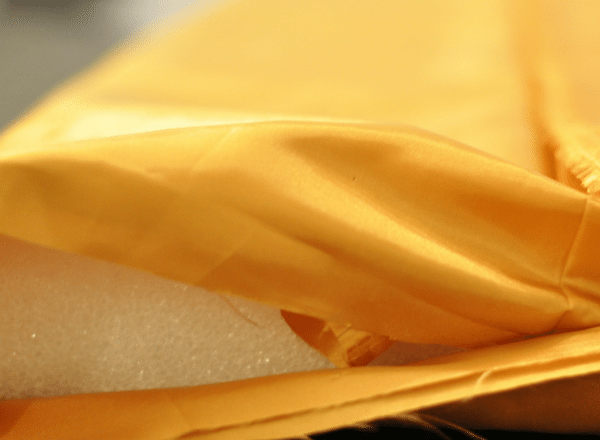 Wrap in gold (I used fabric)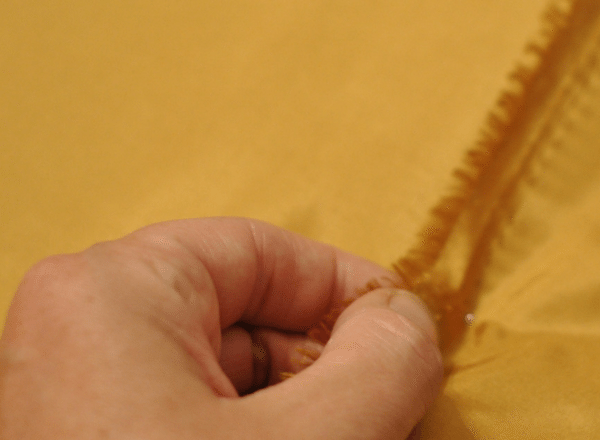 Pin to attach to foam (temporary and reusable)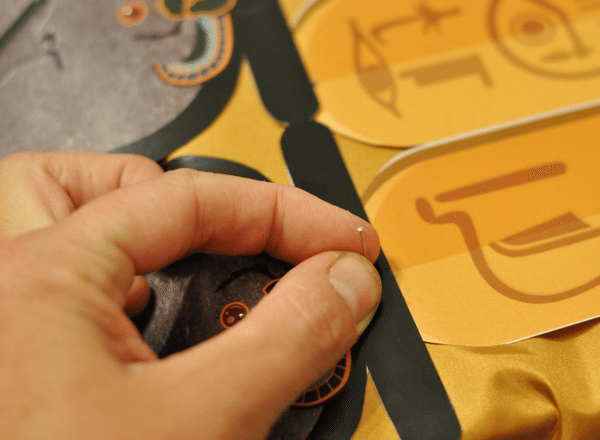 Next pin the panels of hieroglyphics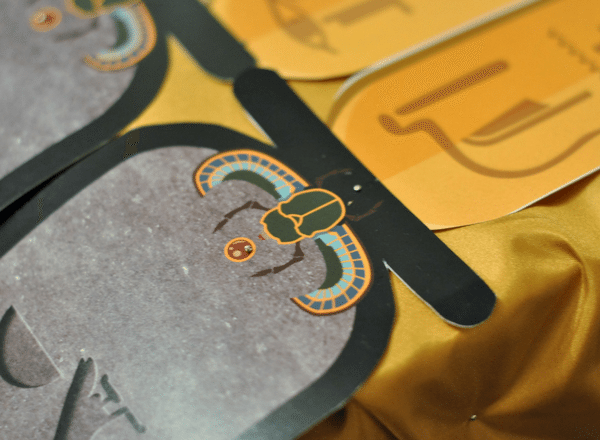 Then pin the banner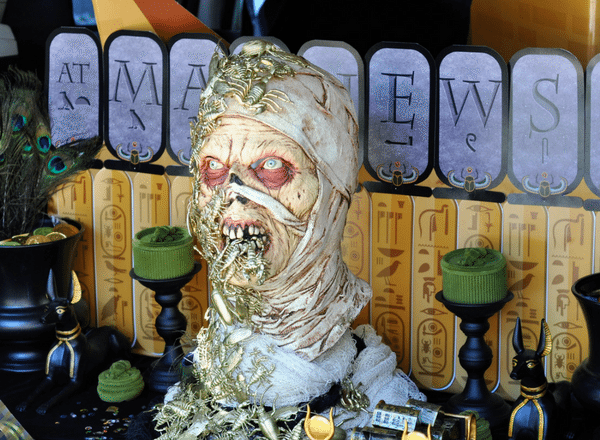 Pin personalized tomb signage.  Our tomb read "at Mayhew's Tomb"
I love that the banner looks as if it has been carved in stone…and has my scarab beetle as an accent.
I then finished the banner.  There is a small rim of rubber around the top of the trunk.  I used pins to attach the top of the banner "Trunk or Treat" above the tomb.   Then I added black tablecloths over each side of the car and over the open trunk.  I used a combination of safety pins and closing ends of the tablecloths in the car doors (!) to keep these pieces of black cloth secure.
Once secure I then started decorating the trunk itself.  Starting with the Egyptian props. And of course the flesh eating scarab beetles that started me on this journey.  I placed the larger scarab boxes up on black candlesticks I had from a previous Halloween for height.  Then I flanked these with 2 Egyptian Anubis dogs and a Pharoah cow bed, finally adding a Egyptian style bejeweled cat face I found at the junk store. I love these pieces.  They gave it that authentic feel, as well as the feel of creatures guarding the tomb.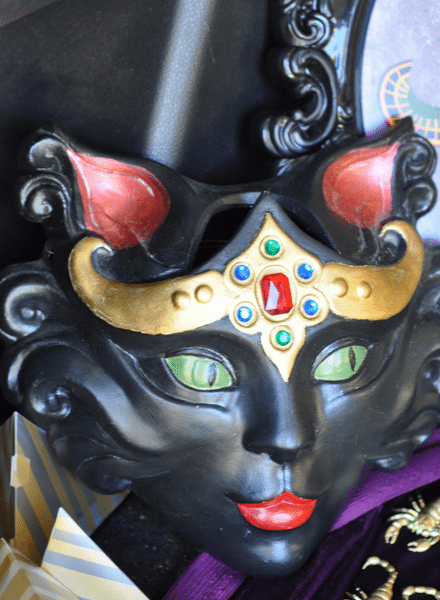 The bejeweled cat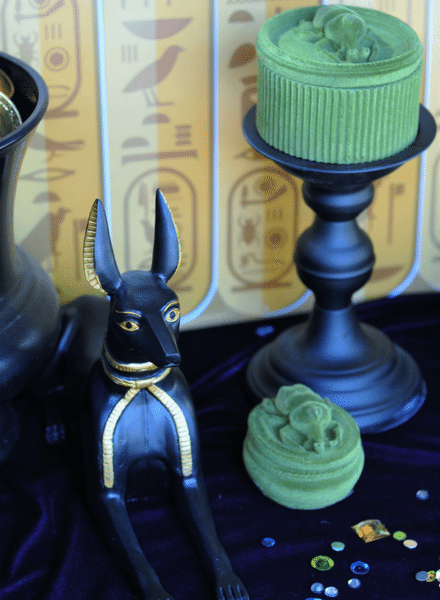 The dogs flanking the mummy in front of the tomb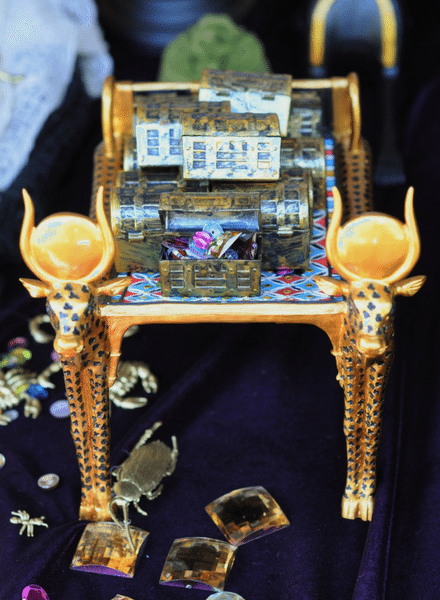 The traditional cow bed
I then added the centerpiece, a mummy head that is actually a mask! (I'll be posting a follow-up blog for the DIY instructions to make this creepy mummy centerpiece) I covered it in creepy bugs and surrounded it with even more bugs and scorpions.   For me ancient Egypt means flesh eating beetles and stinging scorpions so I used a lot!! I decided to spray paint them gold.  This is a super easy DIY process (see my next blog post) and it made them stand out really well against the dark purple backdrop of velvet and gave the impression of riches that you would find in an Egyptian tomb.  Add to that a ton of jewels and I think you get the impression you walked into an undiscovered tomb.
I also added glass bottles or vessels in rich jewel colors (green, purple and red) with labels "open if you dare" that Elena made for me to add to the mystique.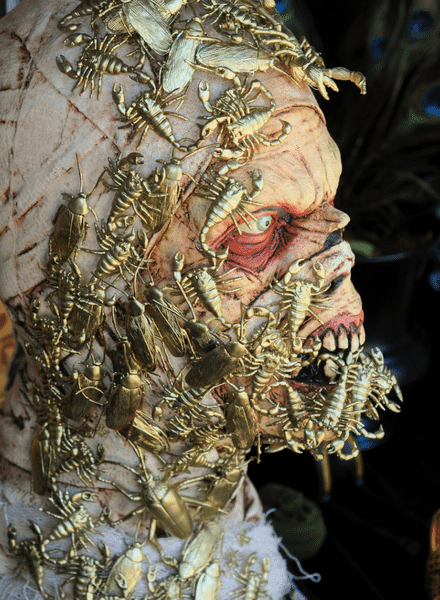 Gold spray painted bugs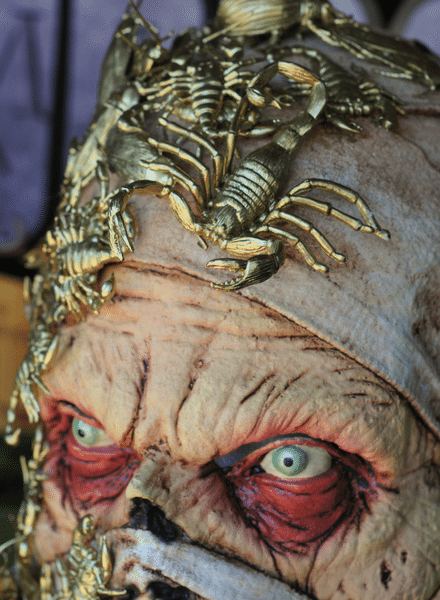 Scorpions, cockroaches & flies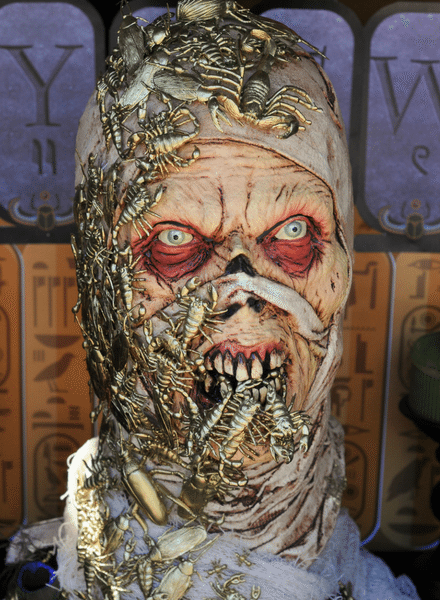 Cascading into the trunk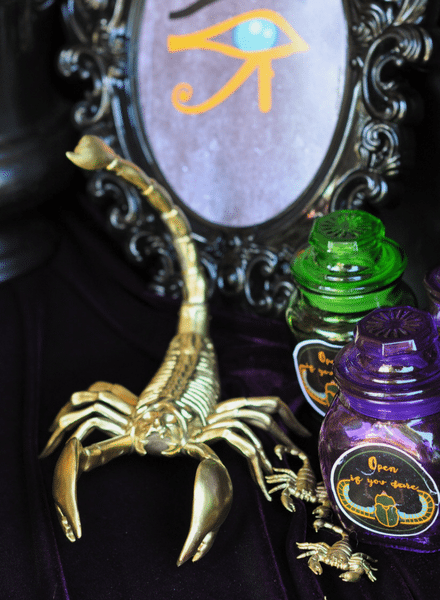 Giant guardian scorpions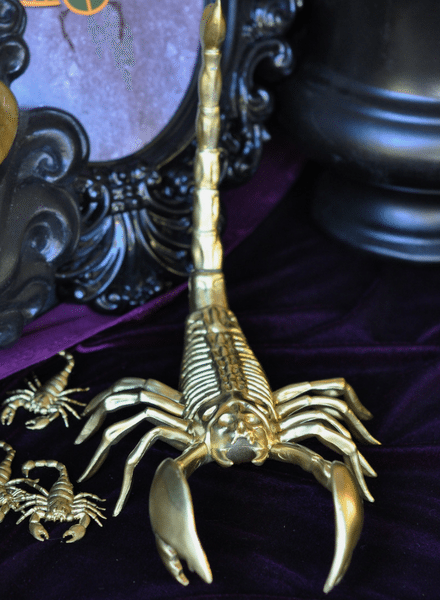 Either side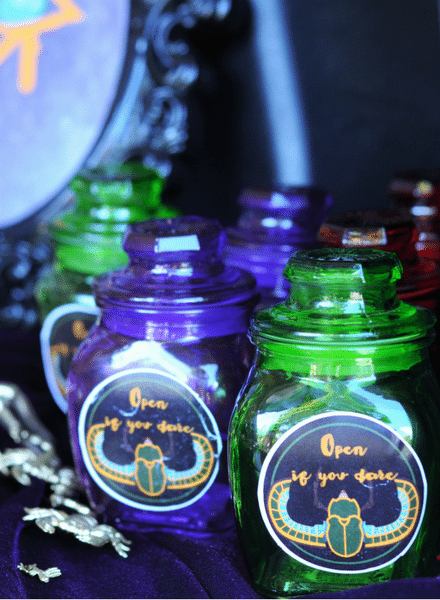 Mystery potion bottles
Chocolate & candy – oh my!
Well it wouldn't be a Halloween tomb without candy, so I added these next.  Several varieties.  First I used the super stylish gold striped favor boxes I found on Oriental Trading and filled them with chocolate coins…riches from the tomb! Then I filled the 2 black urns I found at the junk store with candy and saved some of the chocolate candy coins as a layer across the top.  This was my prime candy.  Don't laugh! It's for those super adorable kids with the best manners that I just want to shower with candy!
Then the main bulk of candy.  I used black ornate plates across the front of the trunk and stacked these high with candy.  Each plate has a different type.  Sort of like a different jewel in the tomb.  These are for my grab and run kids, lol.
I also added accents like peacock feathers to the urns, to give the feel of a rich and regal tomb.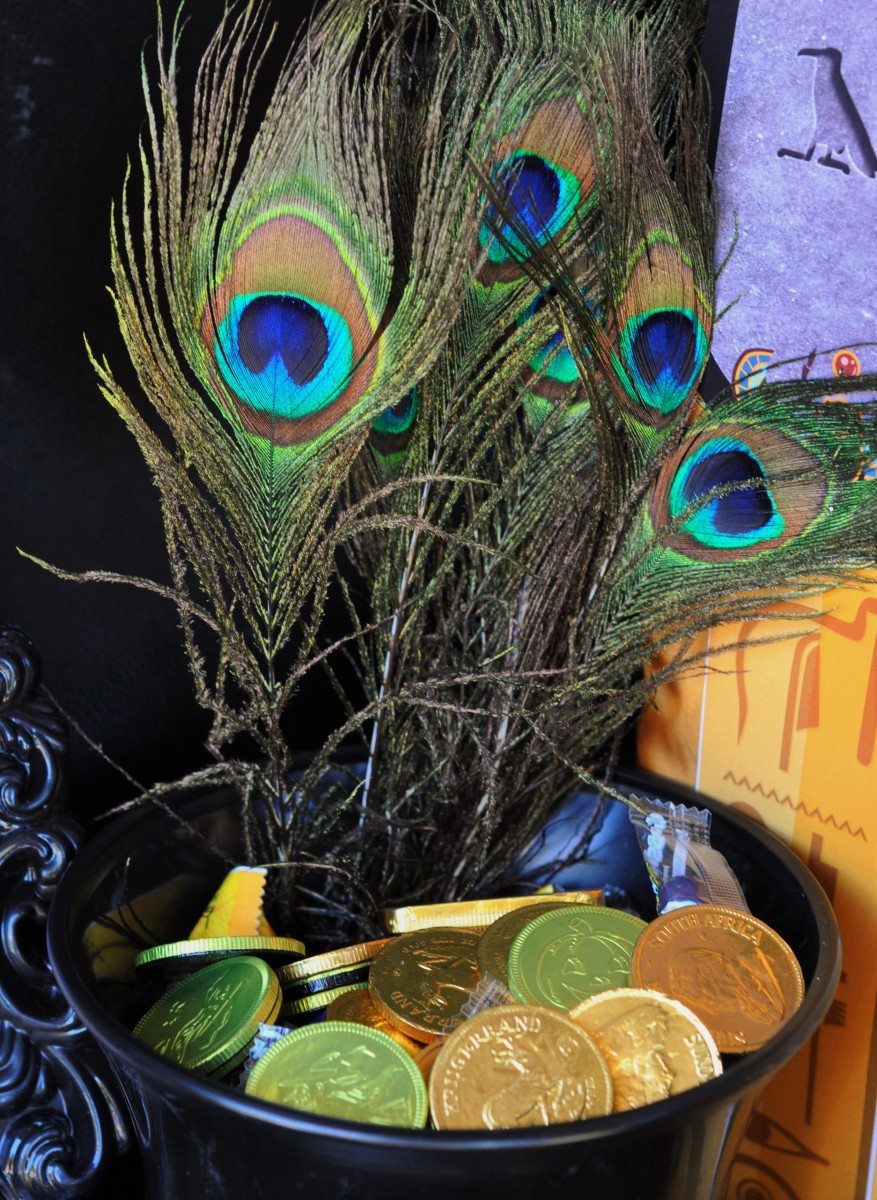 These days there are a lot of children who are unable to have the candy treats.  I always like to have a selection of non-candy treats, play dough, necklaces, pencils and rings.  There is a huge selection on Oriental Trading.  This year, to go along with my theme of an Egyptian tomb I went with jewels.  They have a large selection of crafting jewels that my kids love…treasure! I spread these amongst the bugs and put some inside tiny treasure chests.  An easy non-candy option.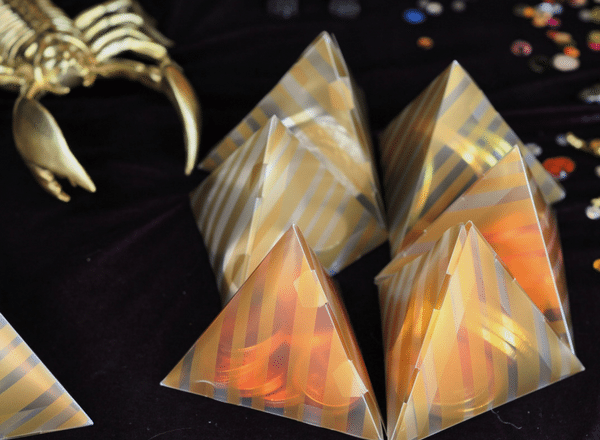 Pyramids filled with chocolate coins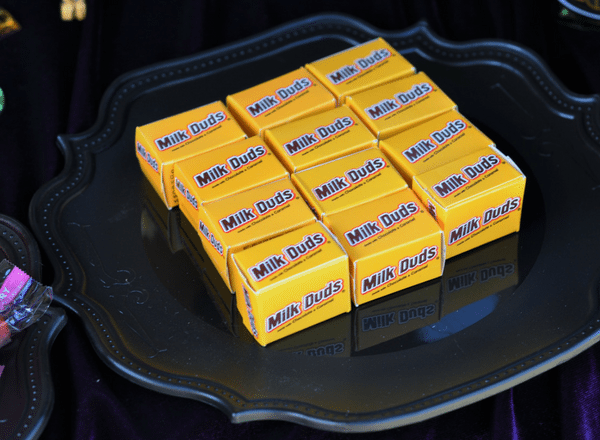 Ornate black plates piled high with candy
Non candy treasure boxes with gems and jewels
The last thing to add to give it a bit more spook are some creepy pictures.  I used black ornate frames I've had forever, and Elena created me some wickedly scary Egyptian images.  I took out the skull images in the frames and replaced them with a Pharaoh skull, the evil eye, a scarab beetle and a faceless Pharoah.  Once these touches were done I stood back and took a look at my 1st Trunk or Treat.  I think the only thing I might add on the day is an extra fold out table up front. I can cover with another black table cloth and put a lot more of the black plate/trays on it (eeeek! I have a ton) and put more candy on it.  Practically, this is going to keep the masses fueled with candy and also keep the kids a little back from the main design….
I also added accents like peacock feathers to the urns, to give the feel of a rich and regal tomb.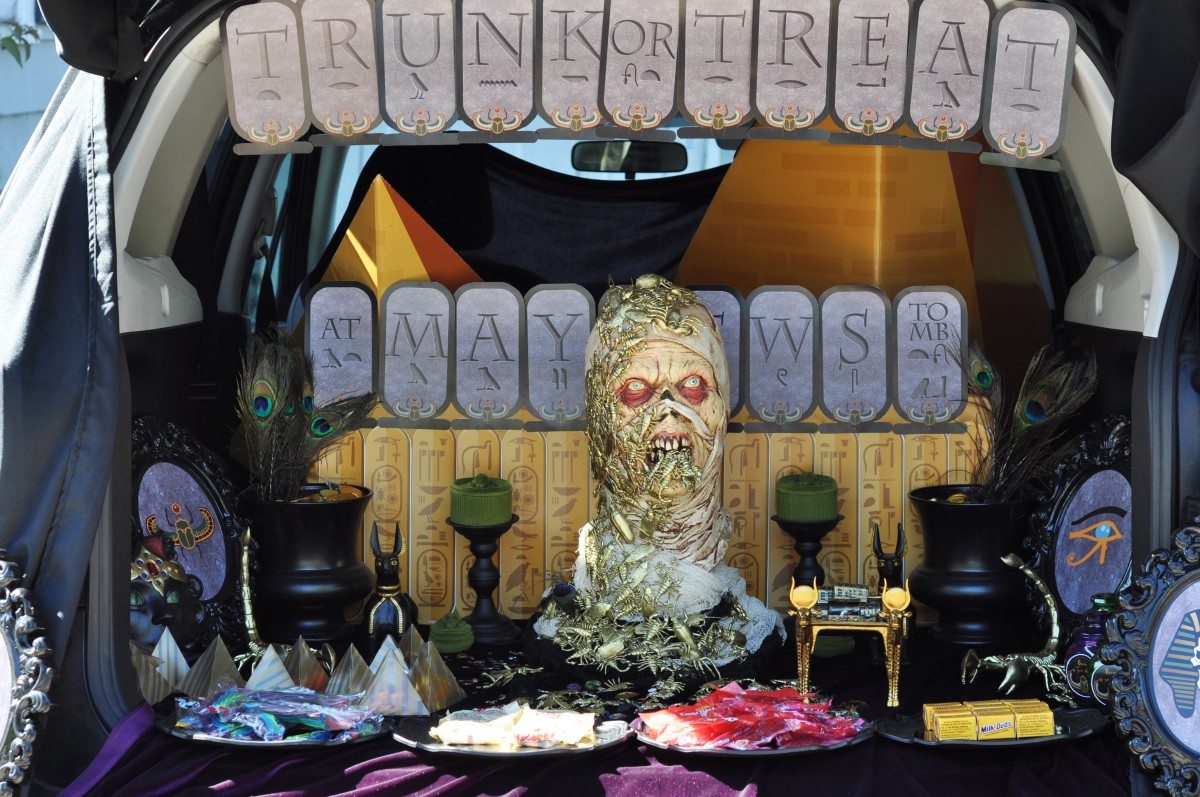 So there you have it. A spooky Egyptian tomb with a mummy that has been set free by an ancient spell! Here is where I found the items I used to decorate:
The 4 scarab beetle boxes that started me down this path, I found those teasure hunting around vintage stores in San Francisco.  The rest you can find as follows:
Local craft /fabric stores or online:
Amazon:
Local Scrap/Junk Resource:
Black Urns
Jeweled Cat Mask
Things I had from previous Halloweens / Parties:
Black tablecloths (kids events!)
Several yards of soft purple velvet fabric & gold fabric (last years fall festival!)
Several black ornate frames & candlesticks (my addiction to halloween)
The bulk I got from my go-to.  Oriental Trading, anything Halloween you can get here:
I did NOT receive compensation for this post. Disclosure: I did receive some free sample  products to use and try out to create this Trunk or Treat.  All project ideas and any opinions expressed here are my own.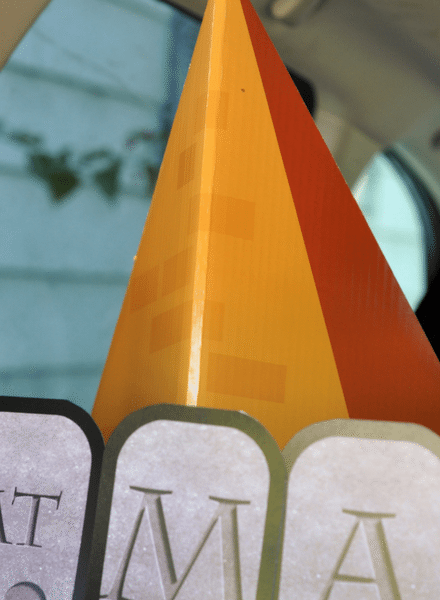 Now that you've escaped from the mummys grasp, do you want even more fabulous Trunk or Treat ideas for Halloween?
Check out the amazing Trunk or Treats created by my blogging friends: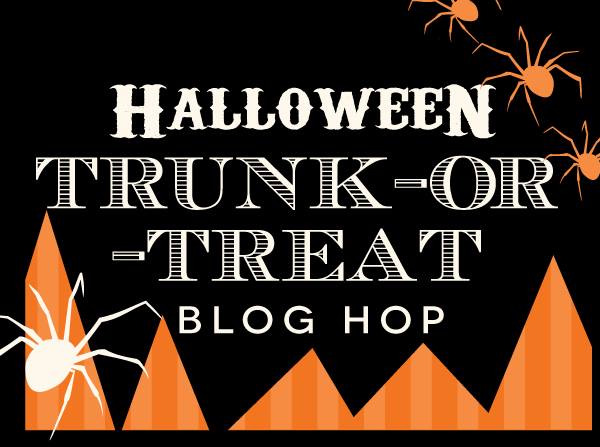 Minecraft Trunk or Treat from Frog Prince Paperie
City Morgue Trunk or Treat from Everyday Party Magazine
Silly Monster Trunk or Treat from Cupcake Wishes and Birthday Dreams
Big Top Terror Trunk or Treat from Michelle's Party Plan-It
Day of the Dead Trunk or Treat from Hey Girl Events
The Lion, the Witch, and the Wardrobe Trunk or Treat from Tikkido
Halloween in the Garden by Garden Chick