Looking for a super creepy centerpiece for your Halloween table? How about a mummy with scorpions and bugs crawling out of his mouth, onto his head and your table? Yeah you know you want one of those!!
In this post I'm going to give you DIY instructions that will take any halloween mask and turn it into a CREEPY head on a serving platter!  Main dish served….rah-ha-ha-ha (read: evil laugh)
I'm all about Ancient Egypt this Halloween.  Between my cool find of a scarab beetle box (as mentioned in my previous post) and recently watching "The Mummy" with Brendan Fraser again, my head was spinning with ideas.  Now, on watching the movie, I could say it was because my son wanted to watch it, but I'd be lying.  lol! I'm a sucker for those cheesy action adventures.
But I digress.  Back to Halloween.  I just couldn't get the image of a mummy spewing bugs (excuse the expression,ick) out of it's mouth.   So I knew this had to be my centerpiece.  I have visions of bringing him out on his platter and putting him in the middle of the dinner table, Indiana Jones style (told you I'm a sucker for action adventure).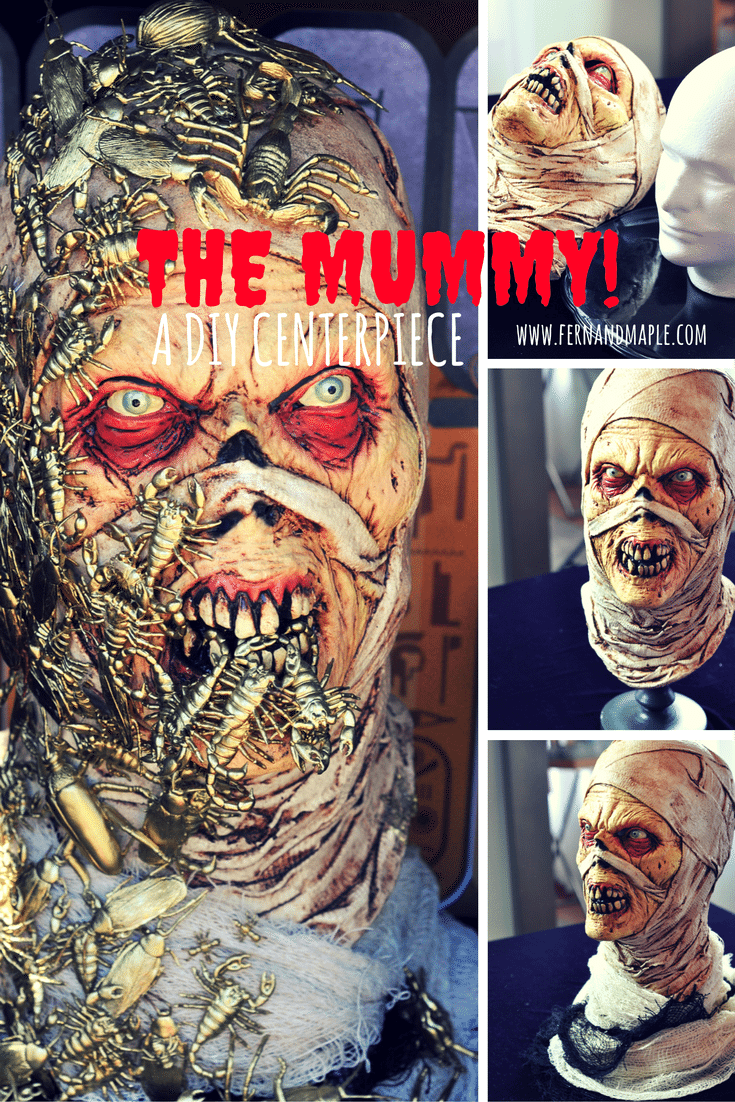 I found the BEST creepy mummy mask at Oriental Trading Company in the costume section.  It is so realistic, I love it.  Among the other halloween supplies on their site I was also able to find all of the bugs and creepy cloth I needed, in addition to jewels and a black scalloped platter to create the rest of the centerpiece.
This review is based strictly on my opinion.  Others may have a different opinion or experience with the products listed above.  I was provided these samples free of charge by the company and I have given my honest opinion.  No other type of compensation was received for this review. Click here for more information on our disclosure policy https://fernandmaple.com/disclosure/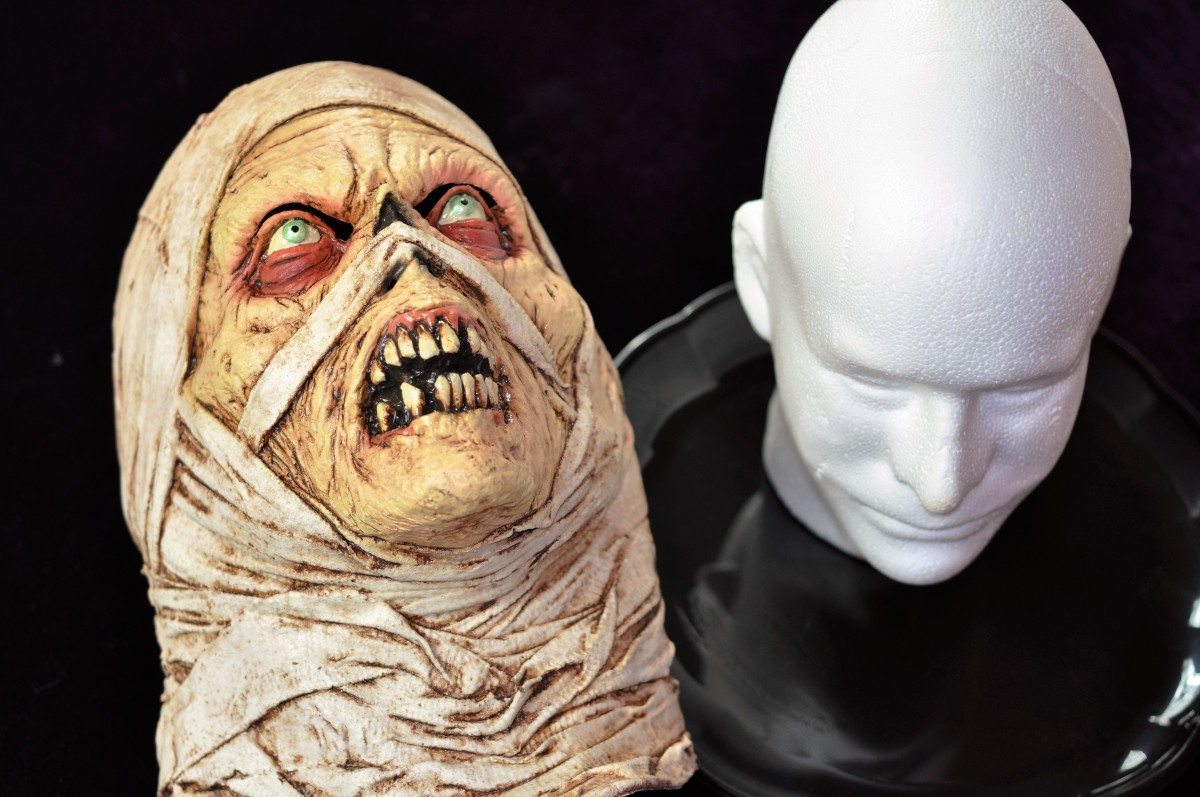 Now I have my creepy cool mask I'm not going to wear it, I'm going to stuff it!   So the only other thing I needed to complete this DIY is something to stuff the head with, my trusty Beacon Power-Tac adhesive and some gold spray paint. More on the spray paint later.
I chose to use a foam head (you can get these at most craft stores and even at Walmart) and a candlestick to stuff the mask.  The candlestick gave some height to the foam head to allow for the neck of the mask.  You could also stuff it with other items like fabric or paper, just make sure it fleshes out the mask and is sturdy enough to stand-up and hold up to your gluing things to it (i.e. you'll be pushing against the mask firmly).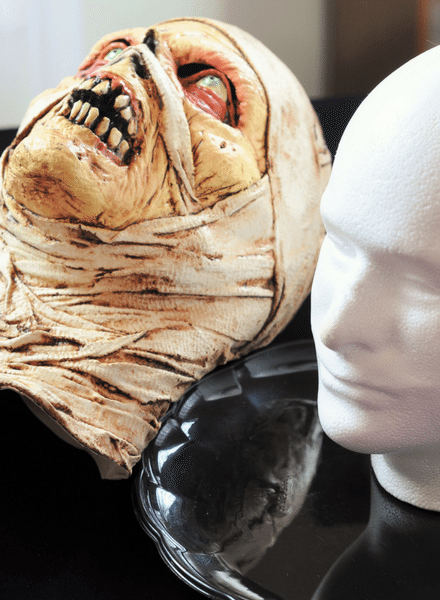 Next step is putting the base head together, stuffing the head and wrapping it so you don't see the pieces holding it up.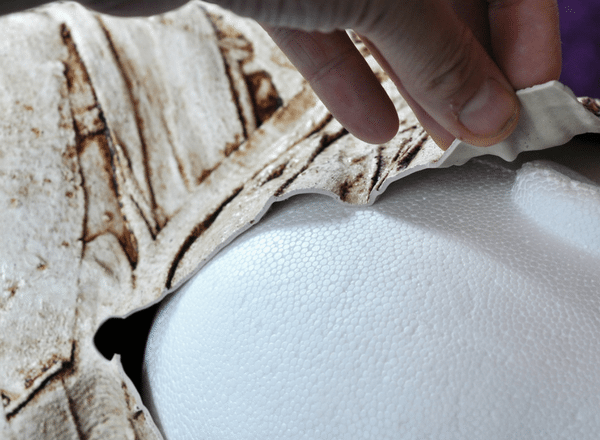 Step 1: Put the foam head inside the mask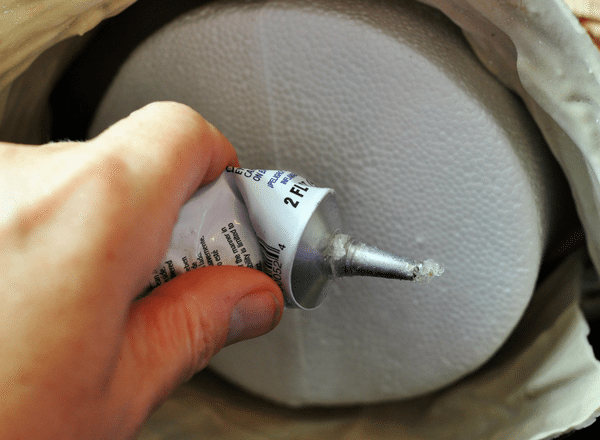 Step 2: Glue the bottom of the foam head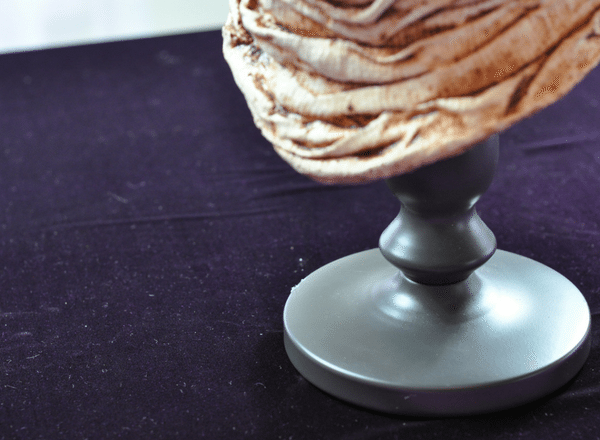 Step 3: Glue the foam head to the candlestick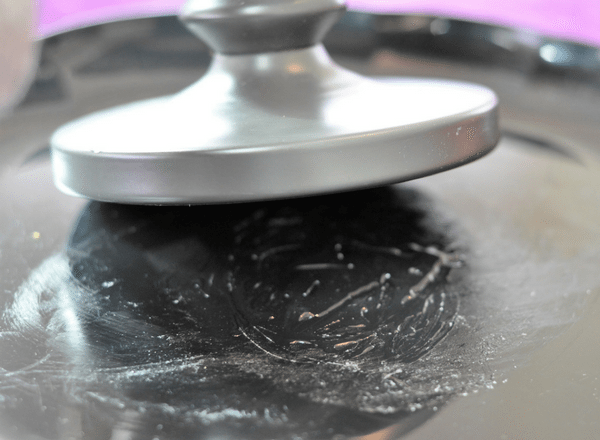 Step 4: Glue the bottom of the candlestick to the plate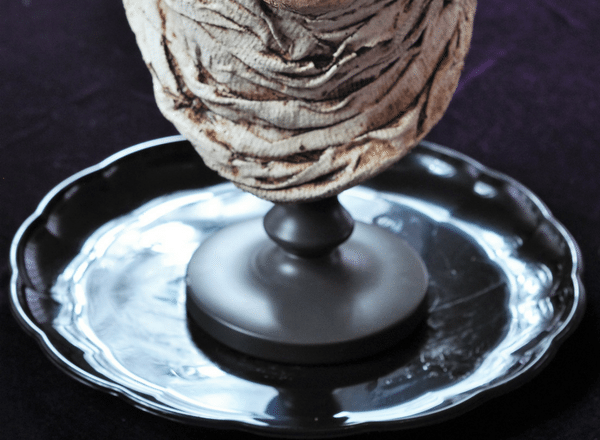 You are now ready to wrap the base & cover the candlestick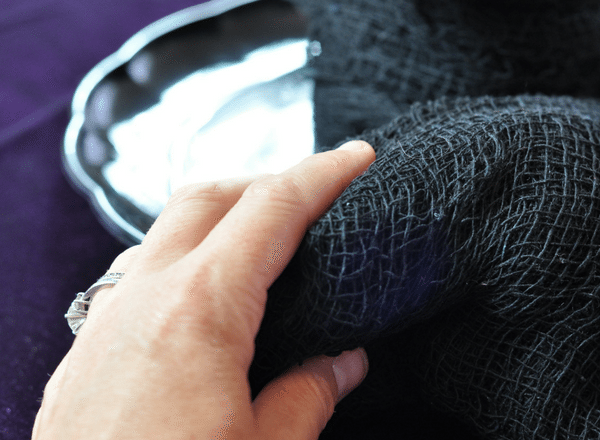 Step 5: Wrap with a mix of black & natural creepy cloth
The next part of this project is getting your bugs ready.  I love this bit, then I am a little addicted to spray paint, and especially glam gold.  I'm in lots of trouble with my husband already for spray painting bits of our back deck, oops!  I sprayed these gold because something just makes me think all of the bugs in an ancient Egyptian tomb would be gold!  Swoon, even a scorpion looks good in gold.
Step 1: Pick your bugs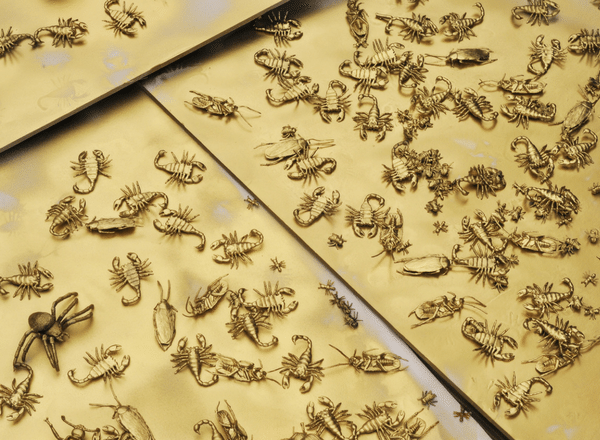 Step 2: Spray the bugs, both sides and I do 2 coats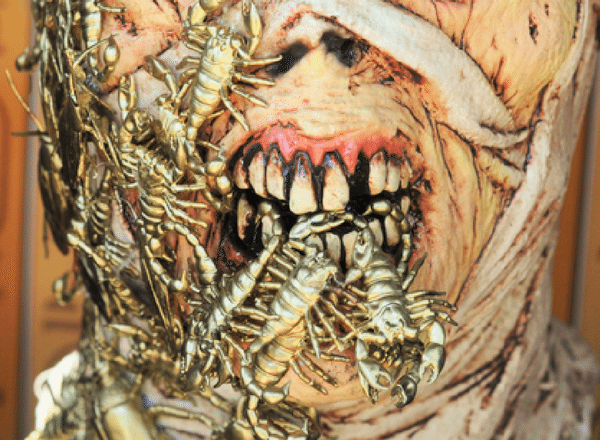 Step 3: Glue the bugs to the mask, as I mentioned above layer them
I then glued the bugs to the mask using power-tac so they don't slip off.  This is strong enough to layer them as well.  So to make it look like they were crawling out of his mouth in a rush I put some on top of each other and used a variety of small and large bugs.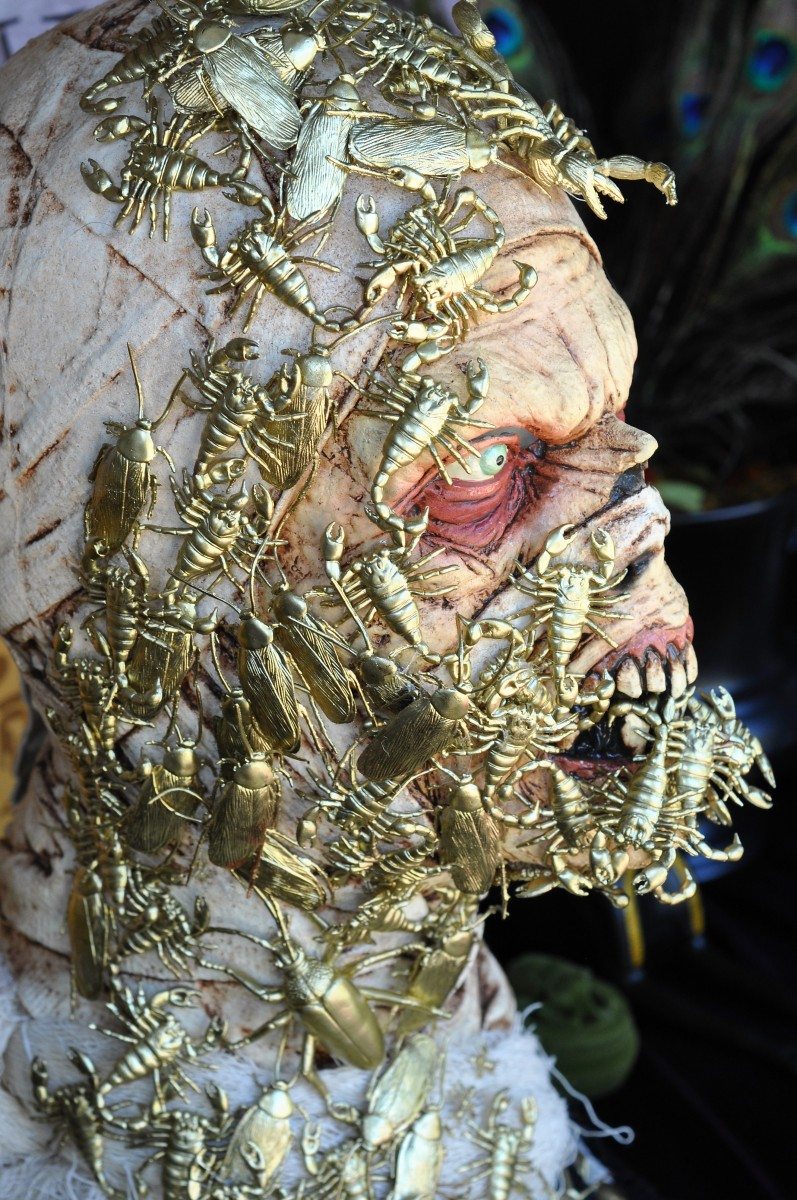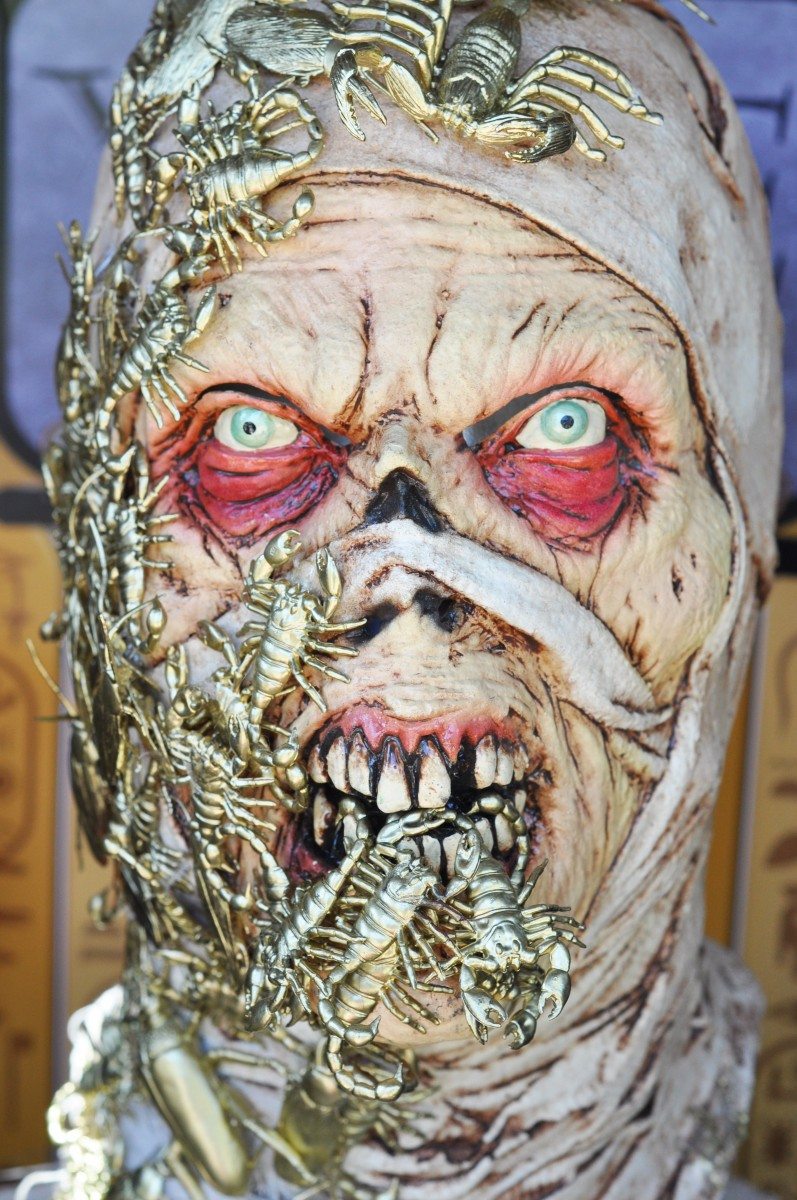 The last step is then taking the remaining bugs and placing them around the base and table / mantle / trunk (wherever you have decided to place you creepy mummy platter).  I sprinkled jewels and chocolate coins with them to give the Egyptian crypt riches look.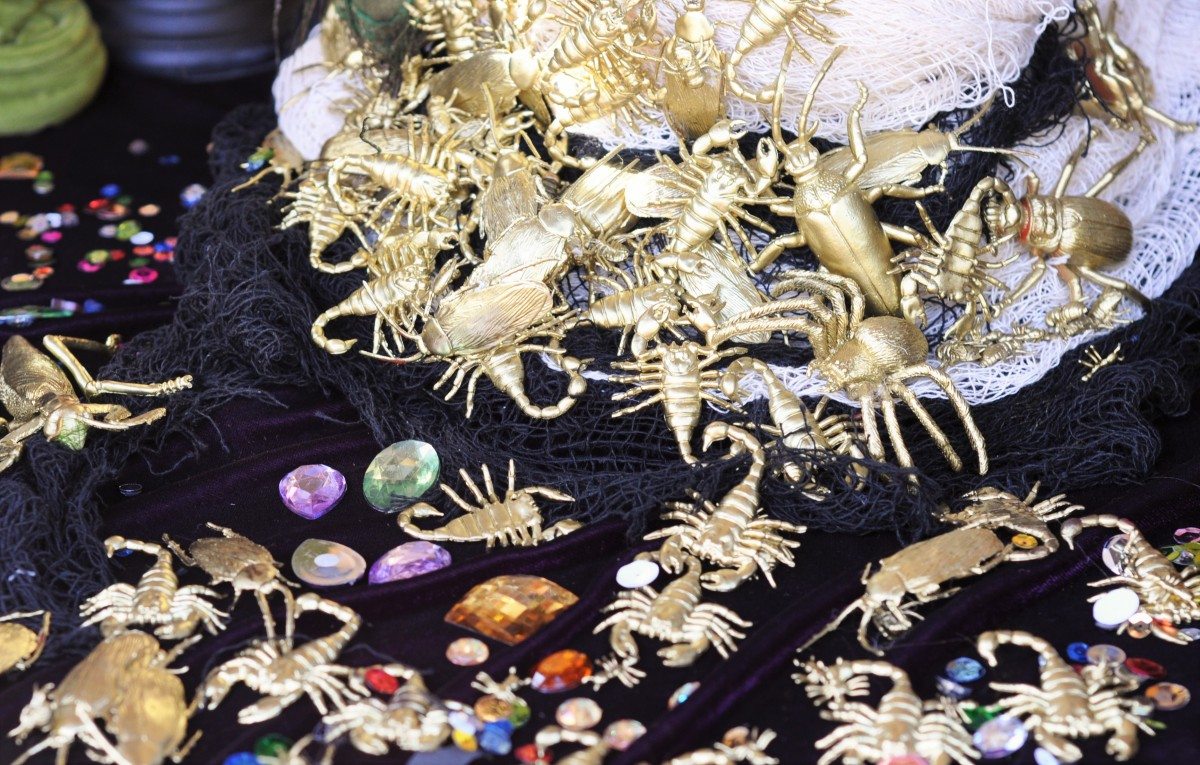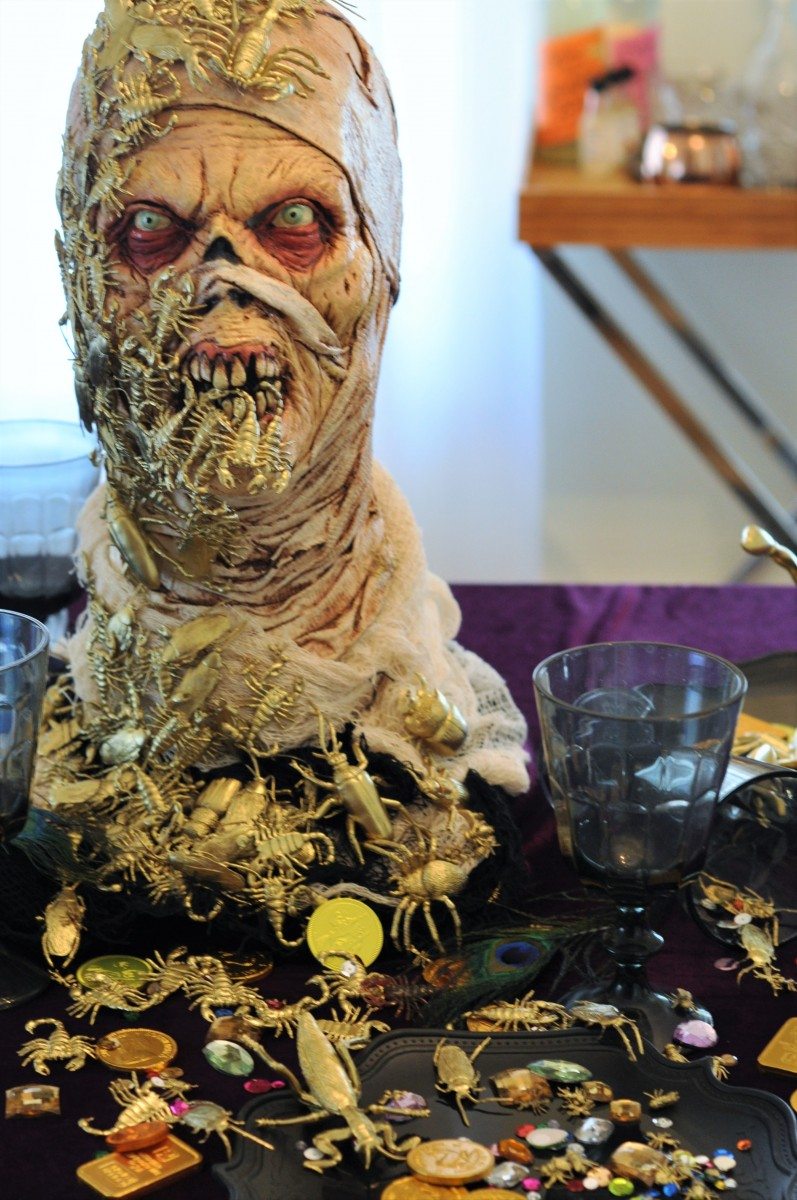 I was able to use the head both as a table centerpiece (above) and as the centerpiece in my Trunk or Treat.  Best bit I can still use it as a mask if I want and it's got cool bugs coming out of it….can you imagine.  LOL!  You can check out my previous blog post if you'd like to see how I used it in Trunk or Treat and created the rest of the mummy's tomb.
Hope you enjoy giving this a go….Happy Crafting!
Nat x