I am all about getting spooky and scary for Halloween – it's my absolute favorite holiday! But I also know that some Halloween stuff can be a bit too scary for younger kids. I've styled tons of Halloween parties for kids in the past, but this year I wanted to go especially silly with a Googly Eye theme! This one is sure to get some laughs, rather than screams – with a bright and fun color scheme inspired by Kailo Chic Color Blocked Party Ware. Read on to see how I set my Googly Eye Themed Kid's Halloween Party up!

How to Create a Fun Googly Eye Themed Kid's Halloween Party
As a blogger, I sometimes receive compensation and/or products in exchange for my styling and crafting services. I also may earn a small commission from any sales that result from affiliate links on this page. As always, all project ideas and any opinions expressed here are my own.  For further information on our disclosure policy please check out our disclosure page. 
Backdrop & Decor
First, I used eyeball balloons mixed with lime green, pink, and purple balloons to create a blobby balloon garland that really keeps an "eye" on the whole party (or a lot of eyes, to be honest). I color blocked the arch (pink, then green, then purple) to tie in with the plate color blocking.  I varied how much I inflated the balloons so that they'd be different sizes and add to the bulbous shape of the garland.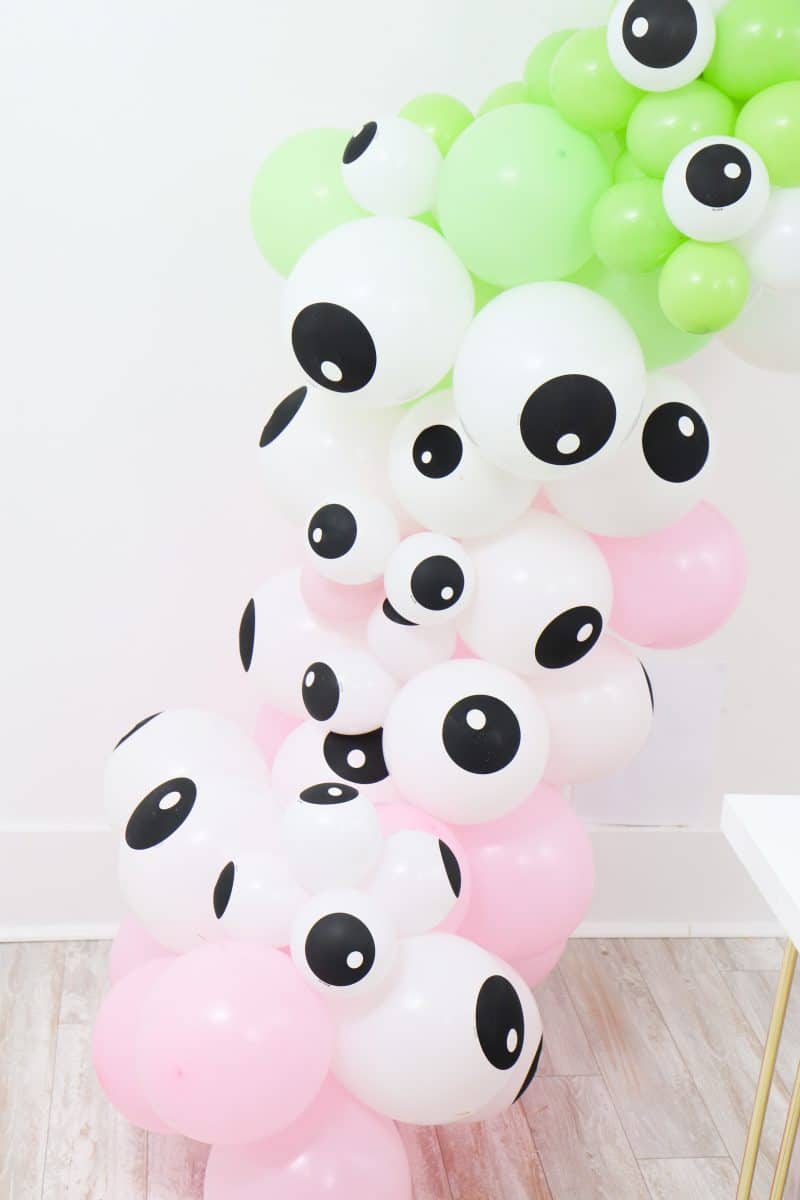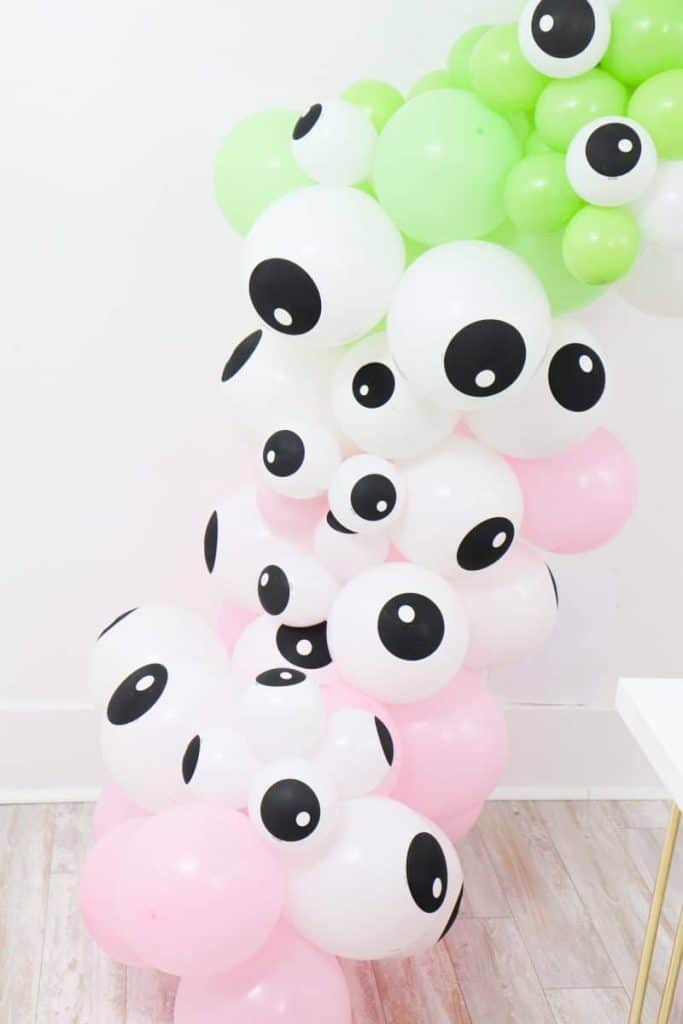 Next, I hung lime green script Eeek! Balloons covered with eyeballs under the garland.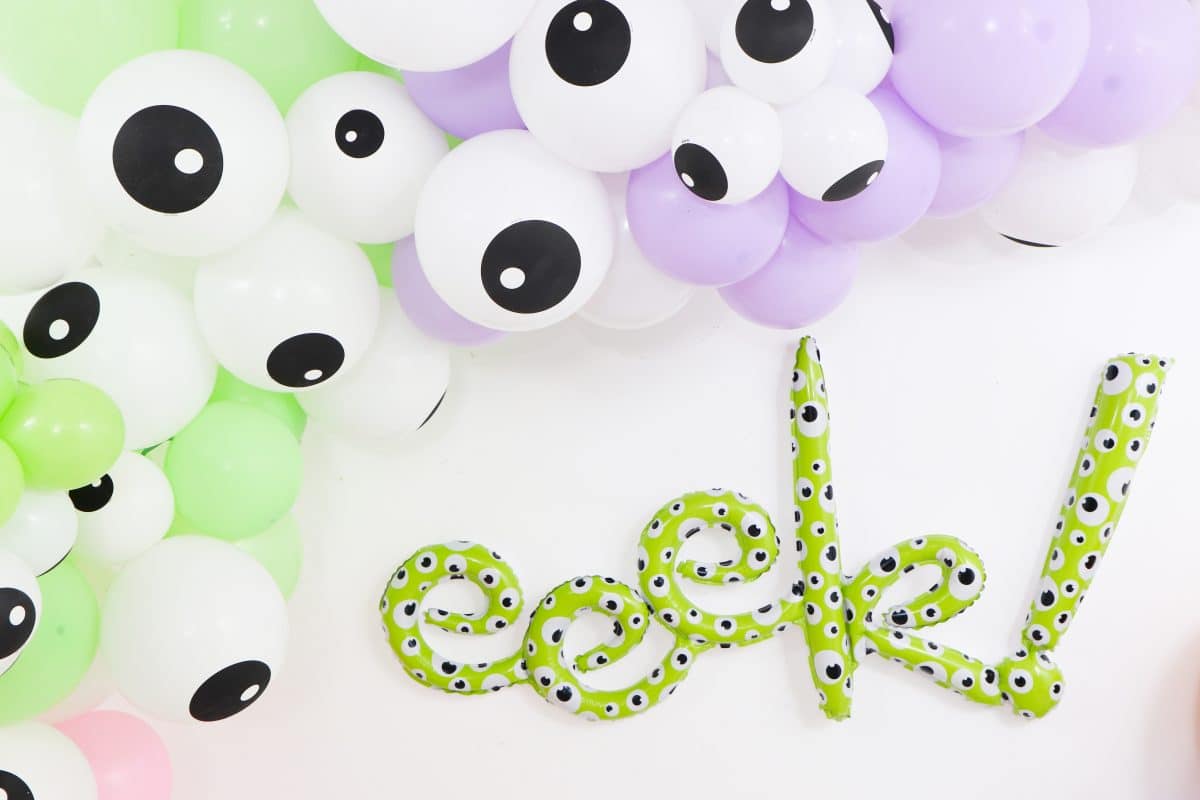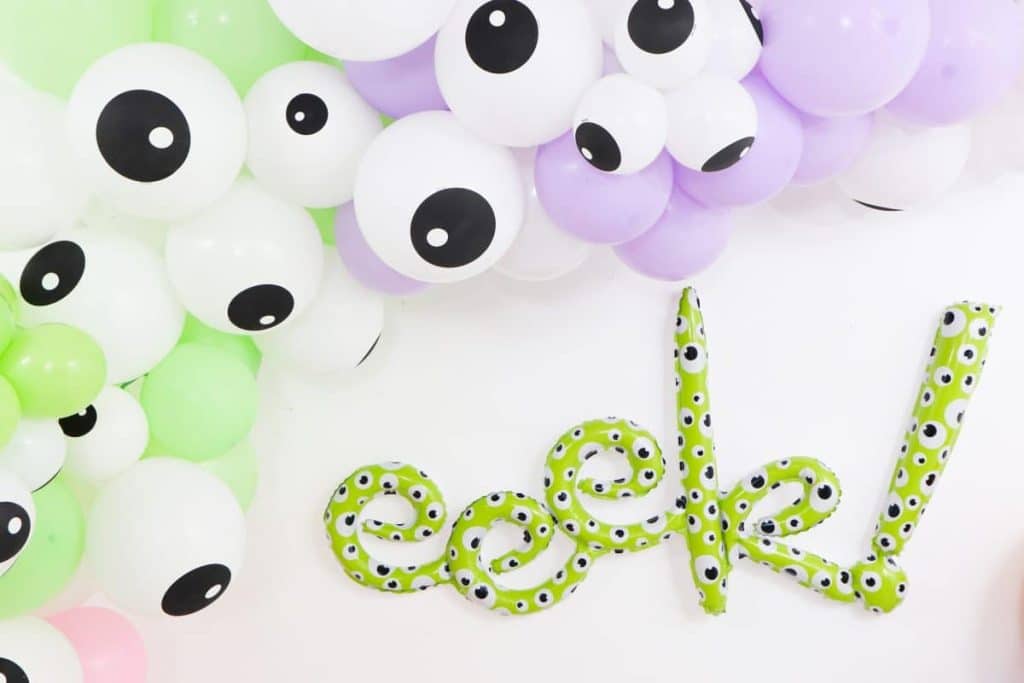 To one side of the balloons, I set up an acrylic stand filled with more balloons, and added two giant googly eyes to the front of it.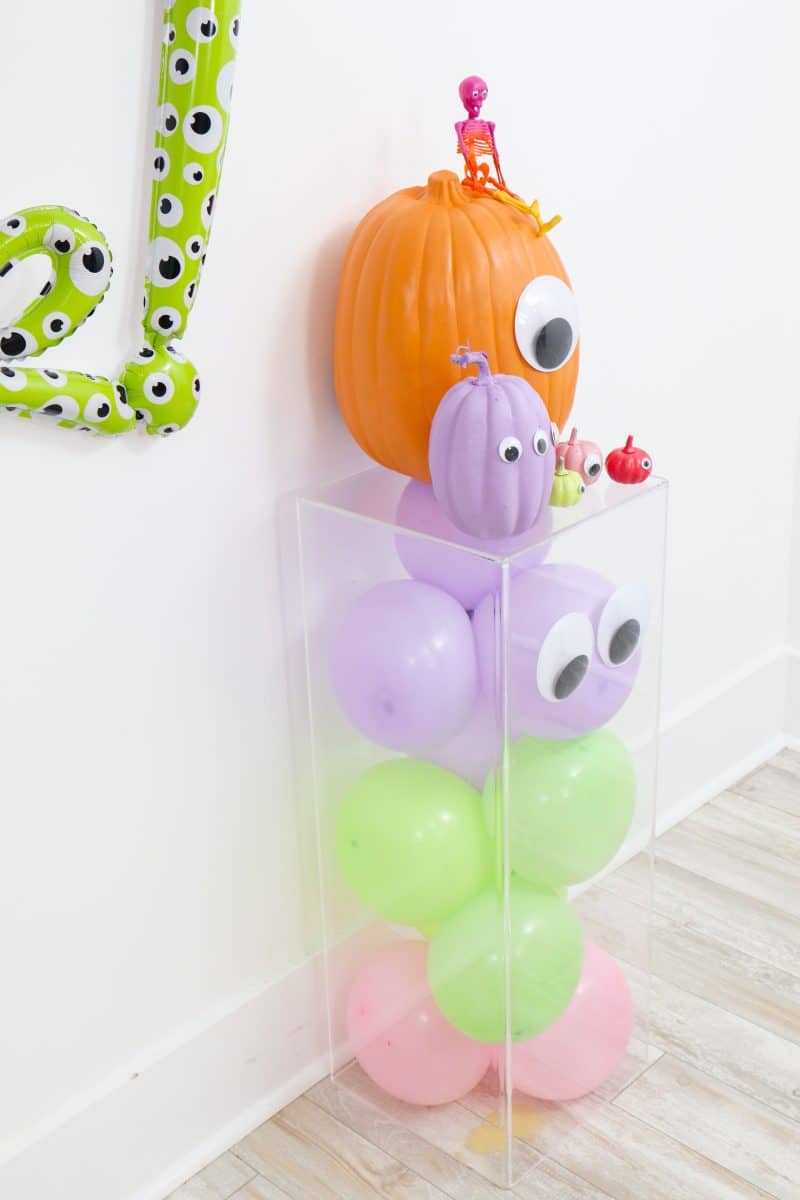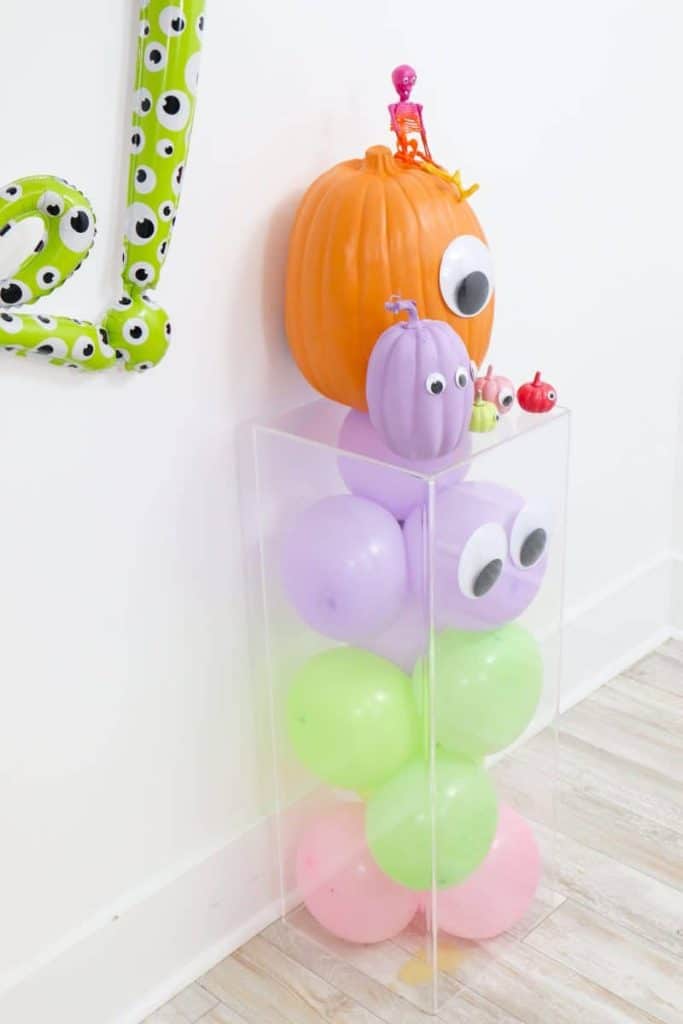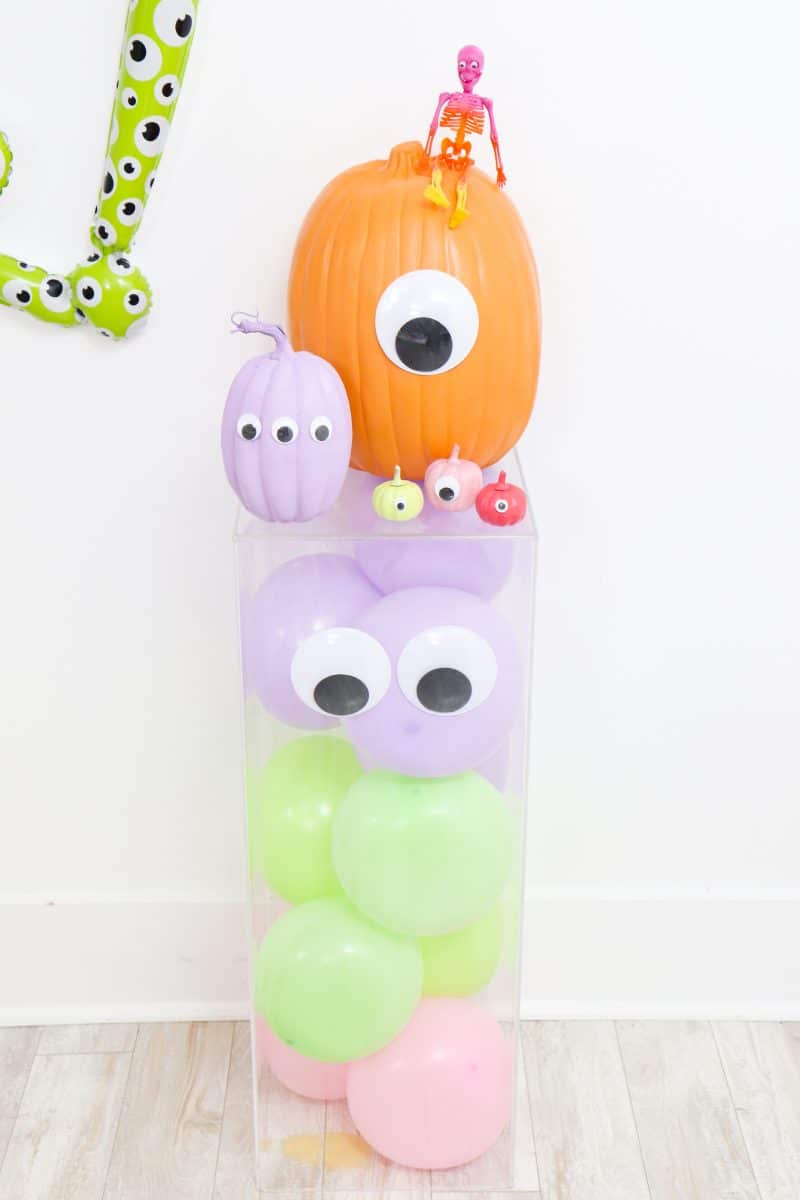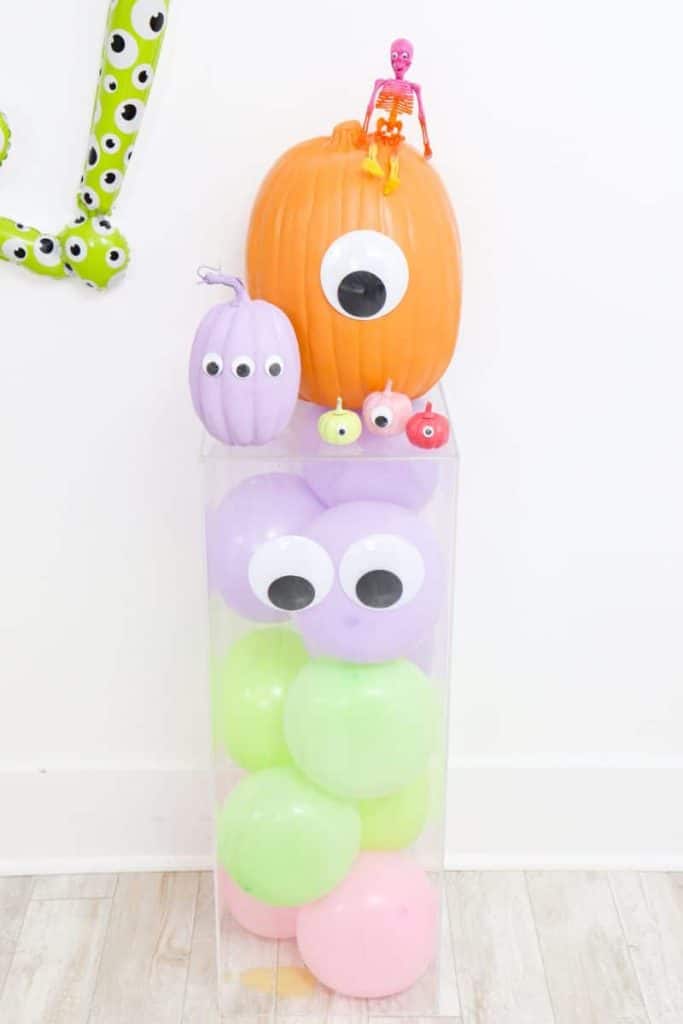 On top of the stand, I set out a variety of pumpkins painted in the party color scheme (I used Montana Gold Spray Paint in Lychee, Strawberry, Crocus, Scampi, Malachite, and Poison Pastel to go perfectly with the Kailo Chic party ware). Sitting on the biggest pumpkin was an Ombre Skeleton I found at Target. Of course, I added googly eyes to all of these! I didn't just stick with "typical" two eyed versions, either – there are some three-eyed pumpkins, and even some cyclops one-eyed pumpkins!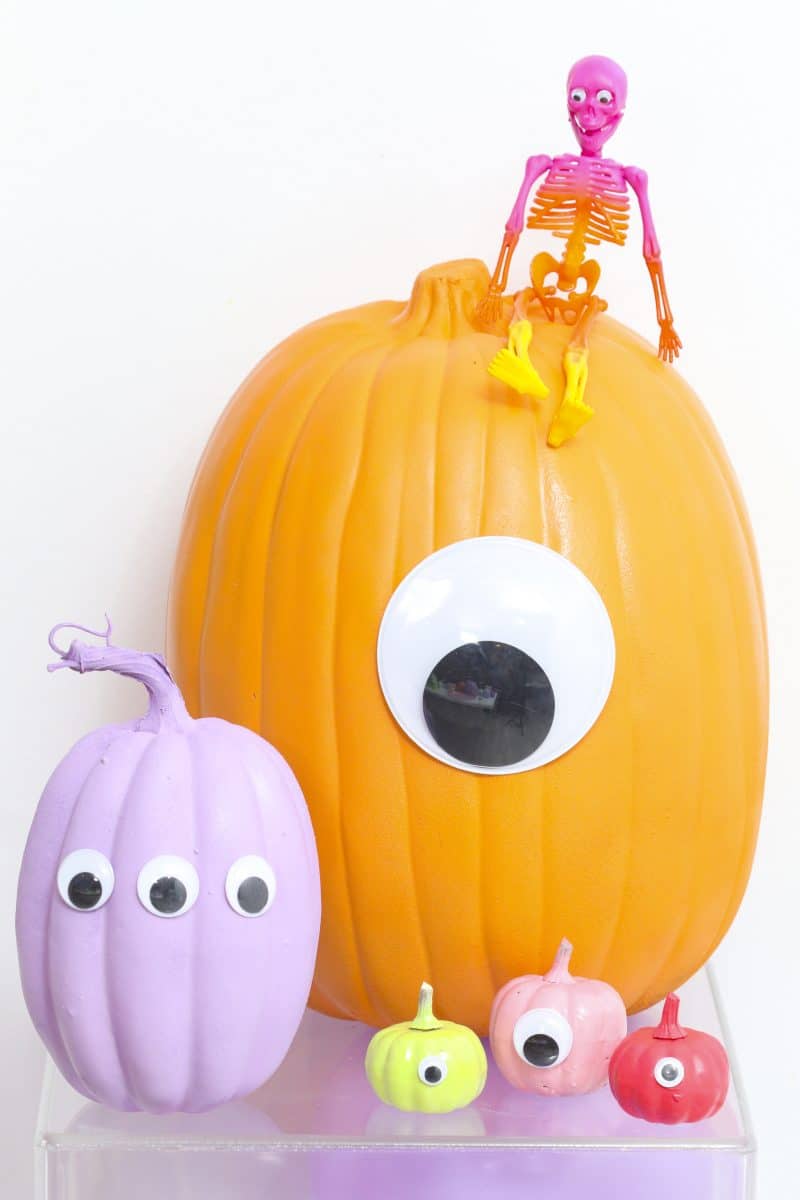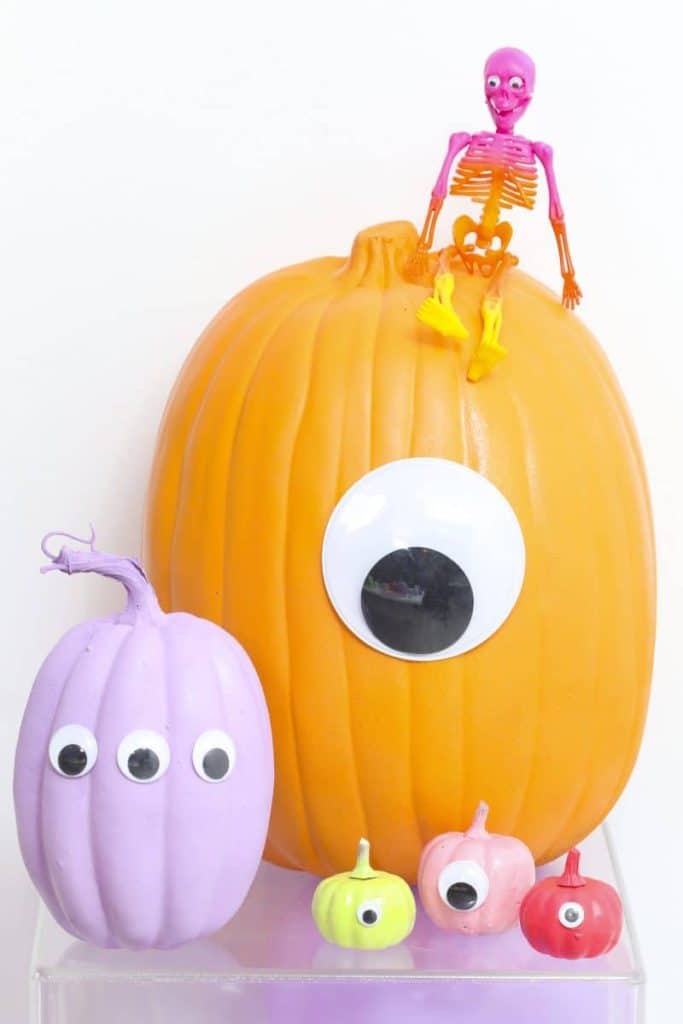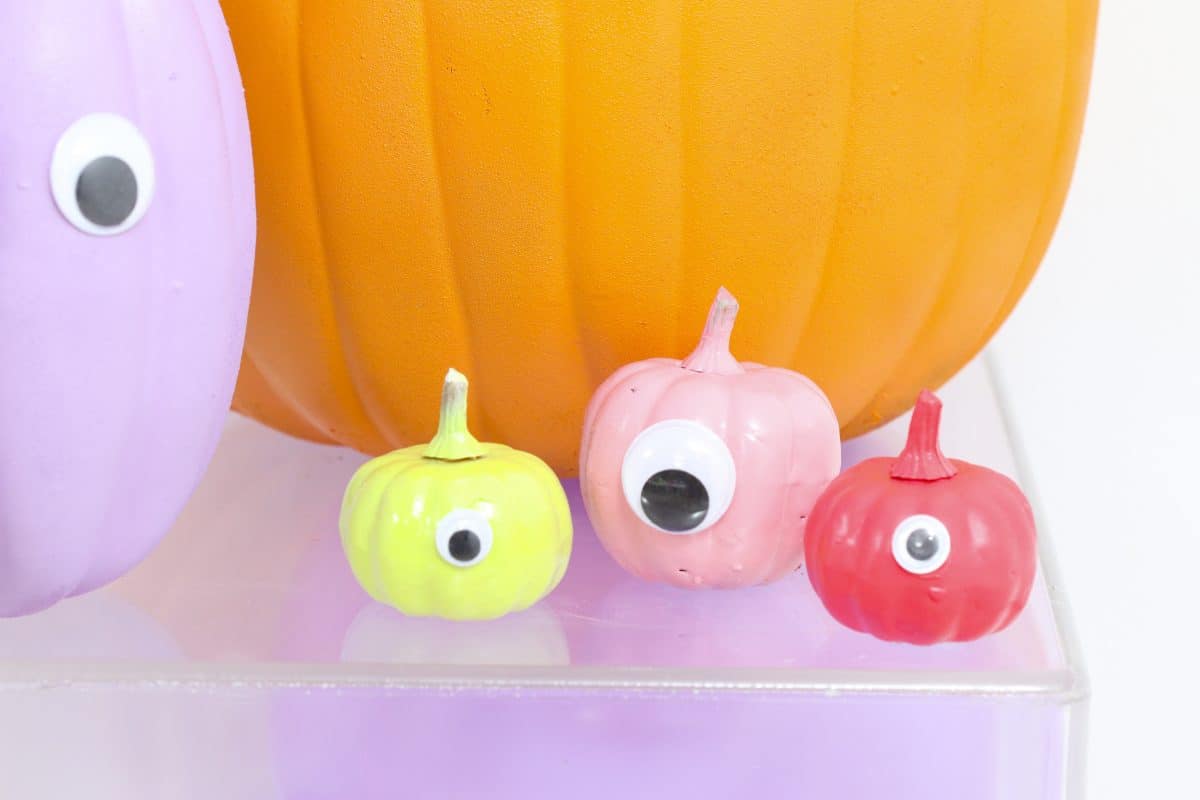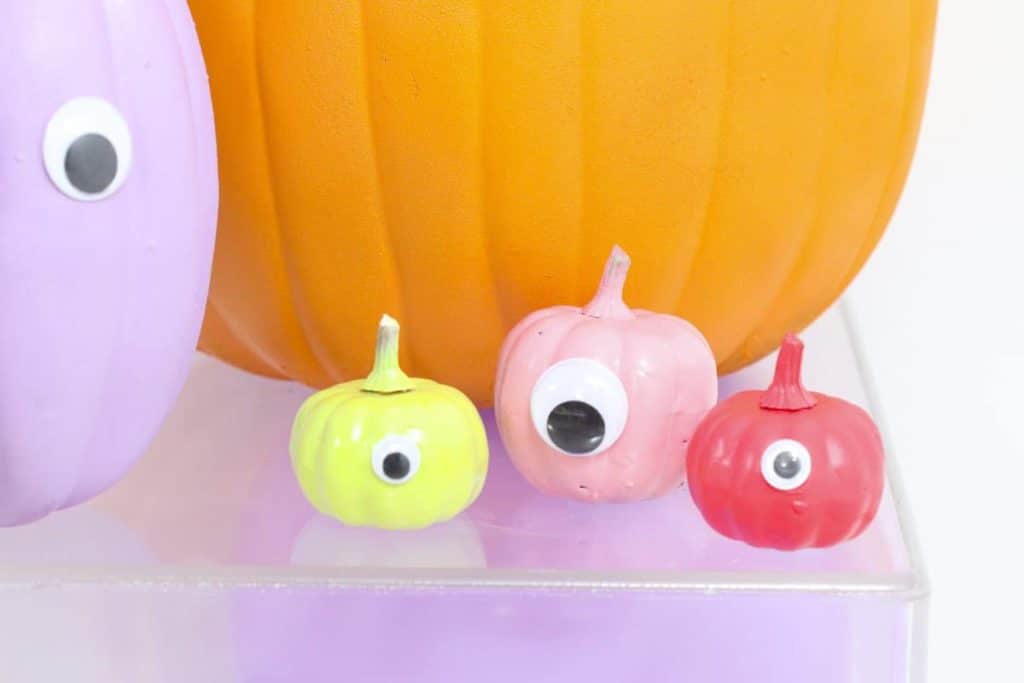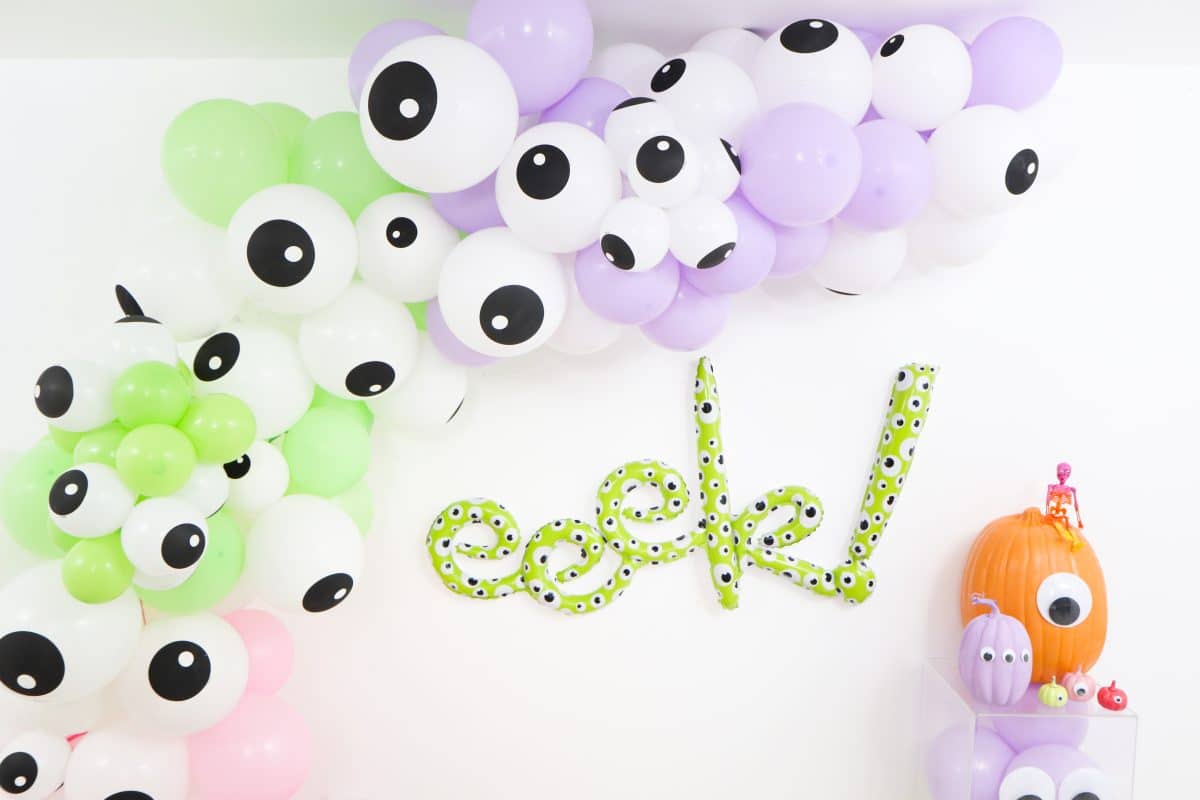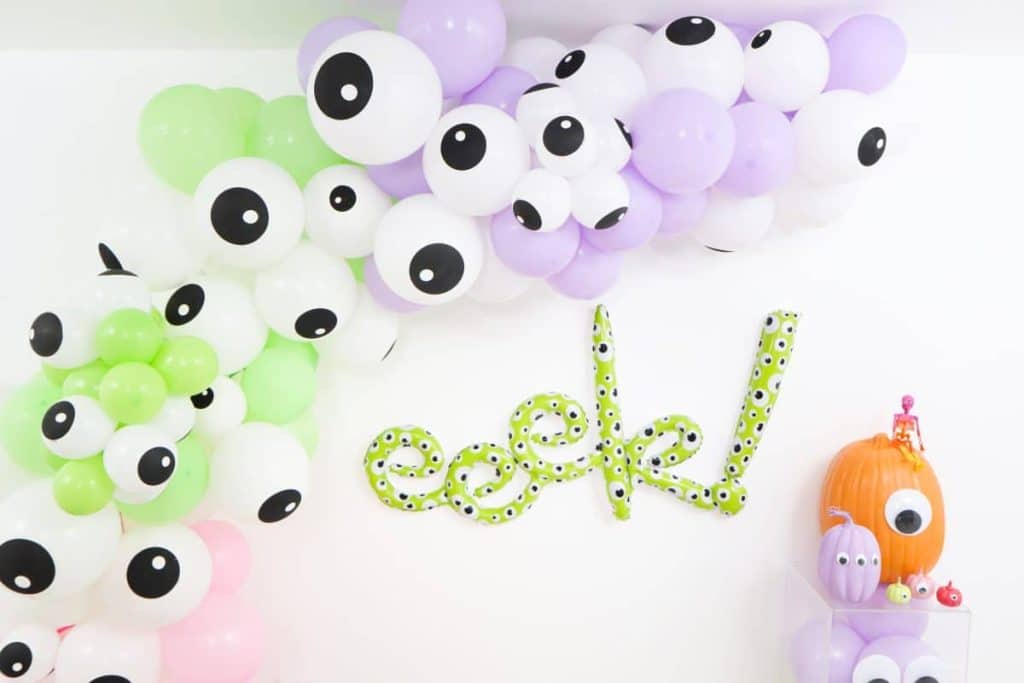 Table Setting
Down the center of my table, I set out a bunch of different sizes of painted googly-eyed pumpkins, along with some black and white fabric-covered pumpkins to add some contrast. I paired the pumpkin colors in the centerpiece with the plates – so at one end of the table I used the pink plates with pink pumpkins, followed by the blue and green and finally the purple and orange.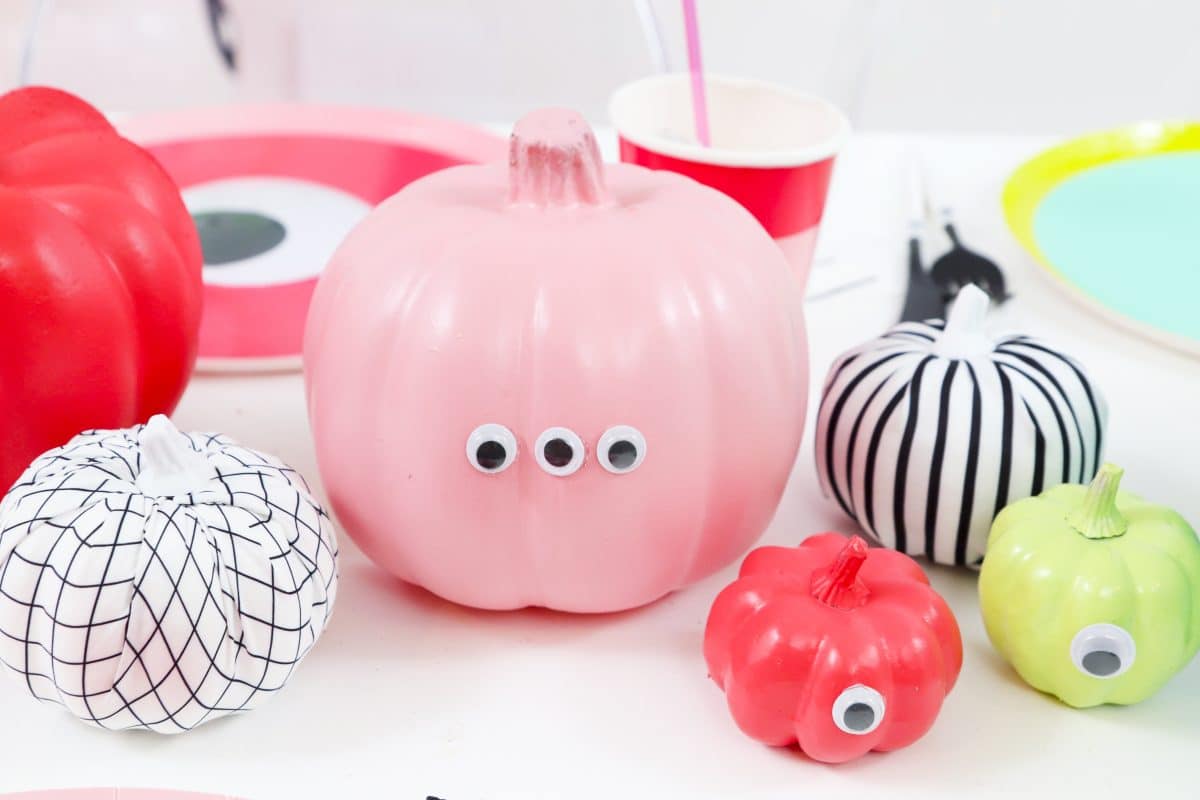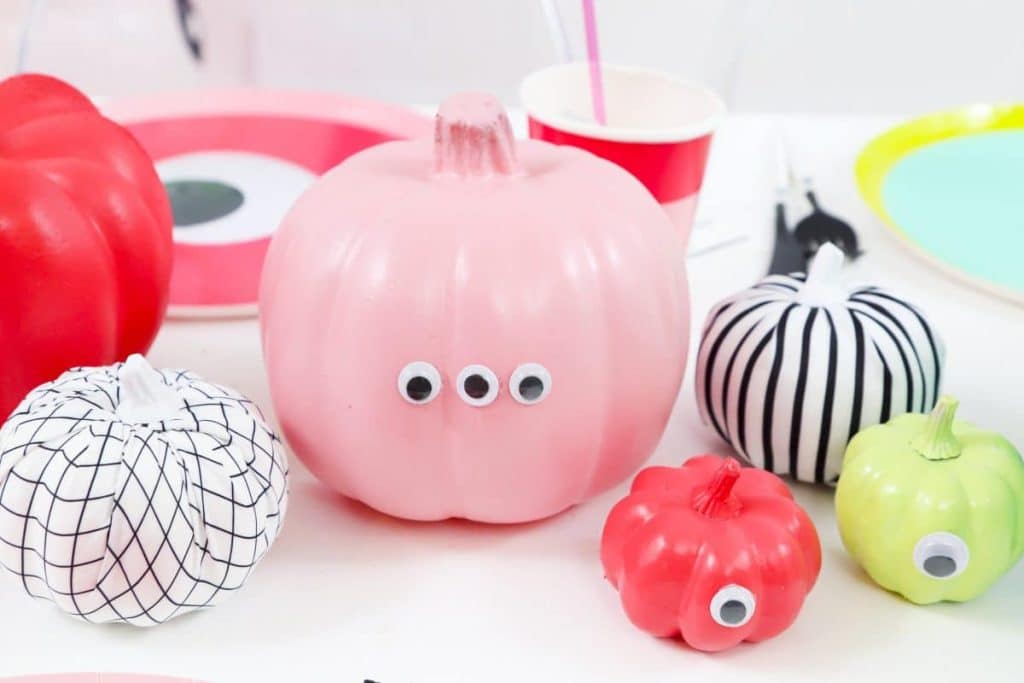 To up the spooky factor just a bit, I also added multicolored Skull candles throughout, with more googly eyes to keep it less scary and more silly.  Again the skull candle color fits with that "section" of the table.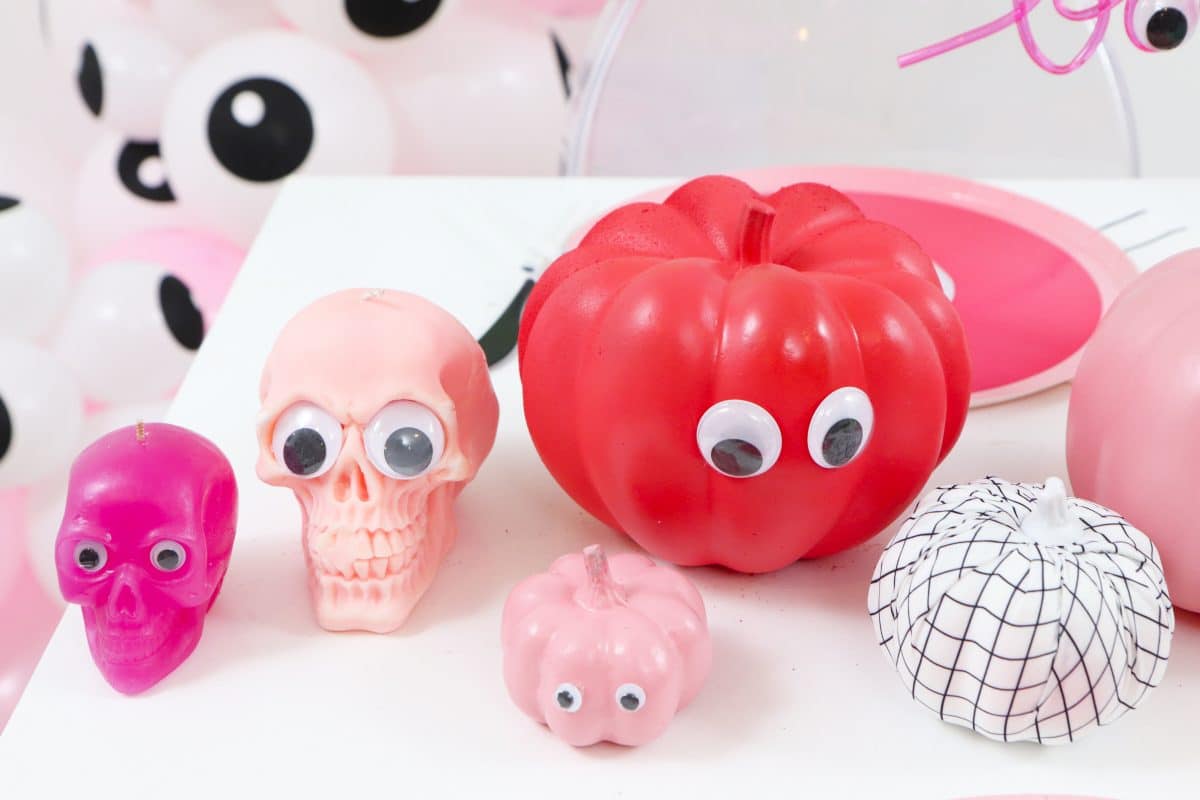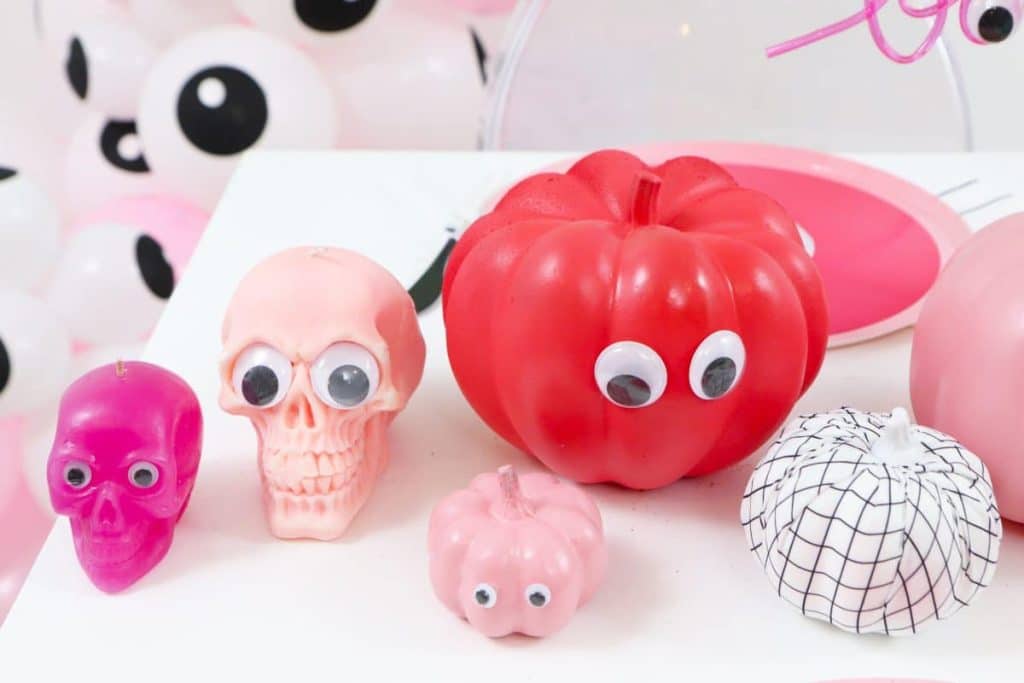 My favorite is when the googly eyes face different directions – how funny does this purple pumpkin look?!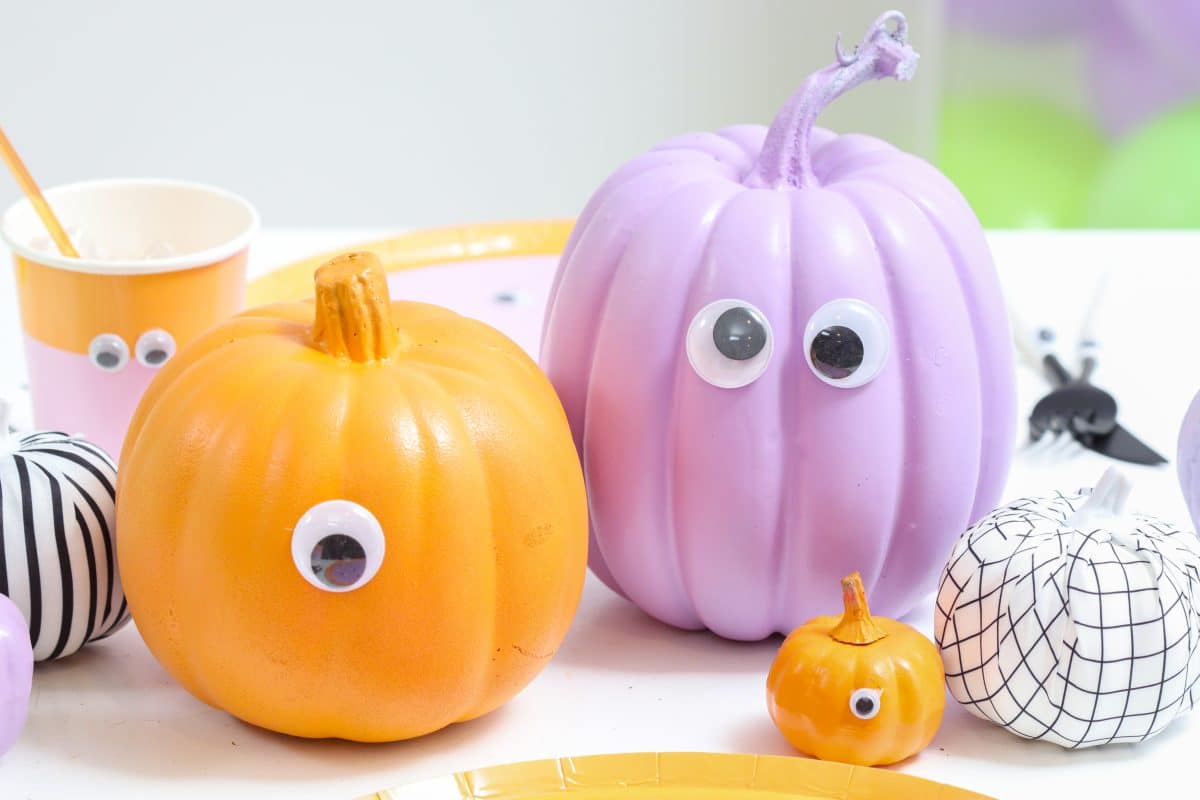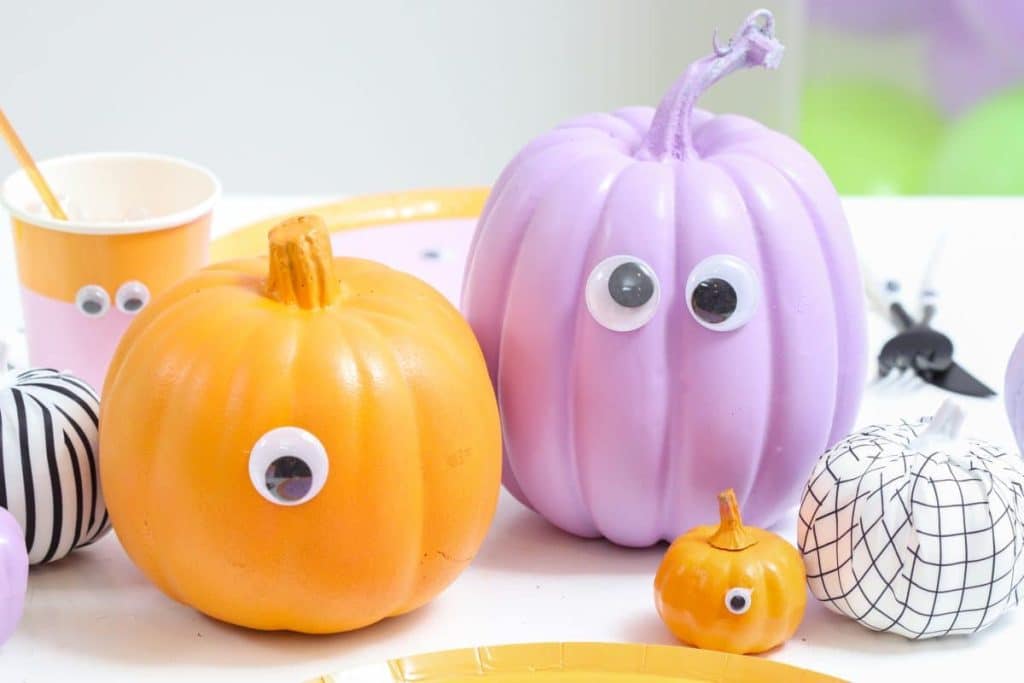 I used my largest pumpkins in the center of the table, along with another Ombre Skeleton to serve as a centerpiece.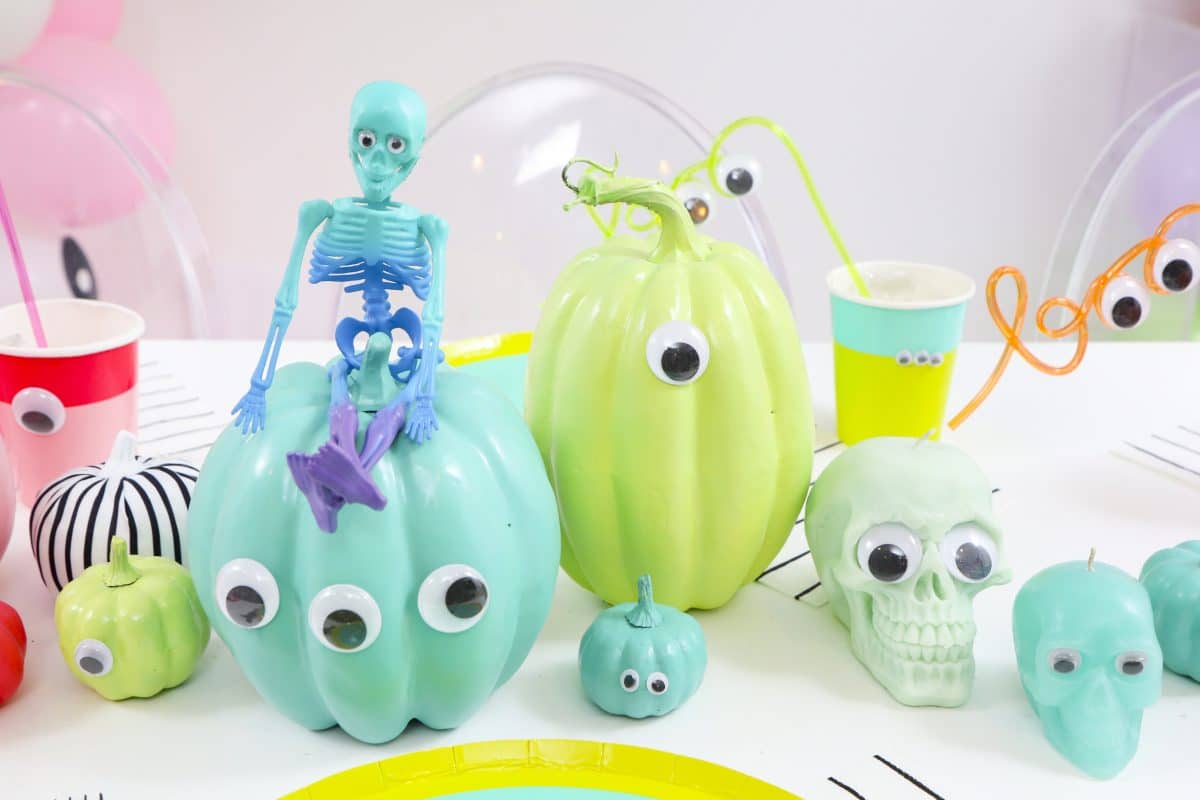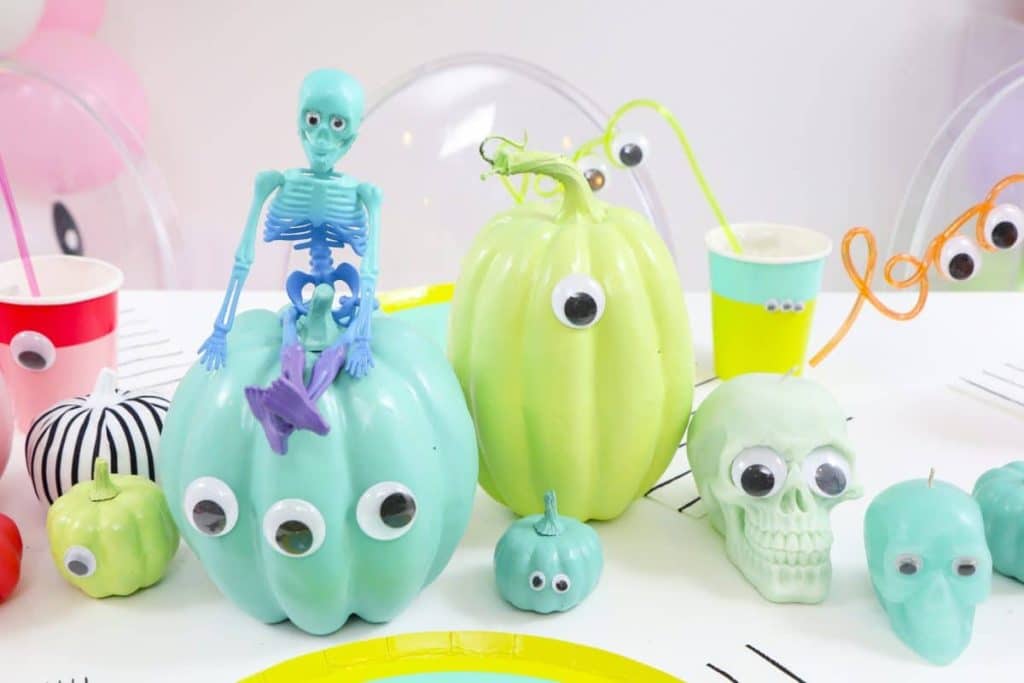 Doesn't he look comfortable on his pumpkin perch?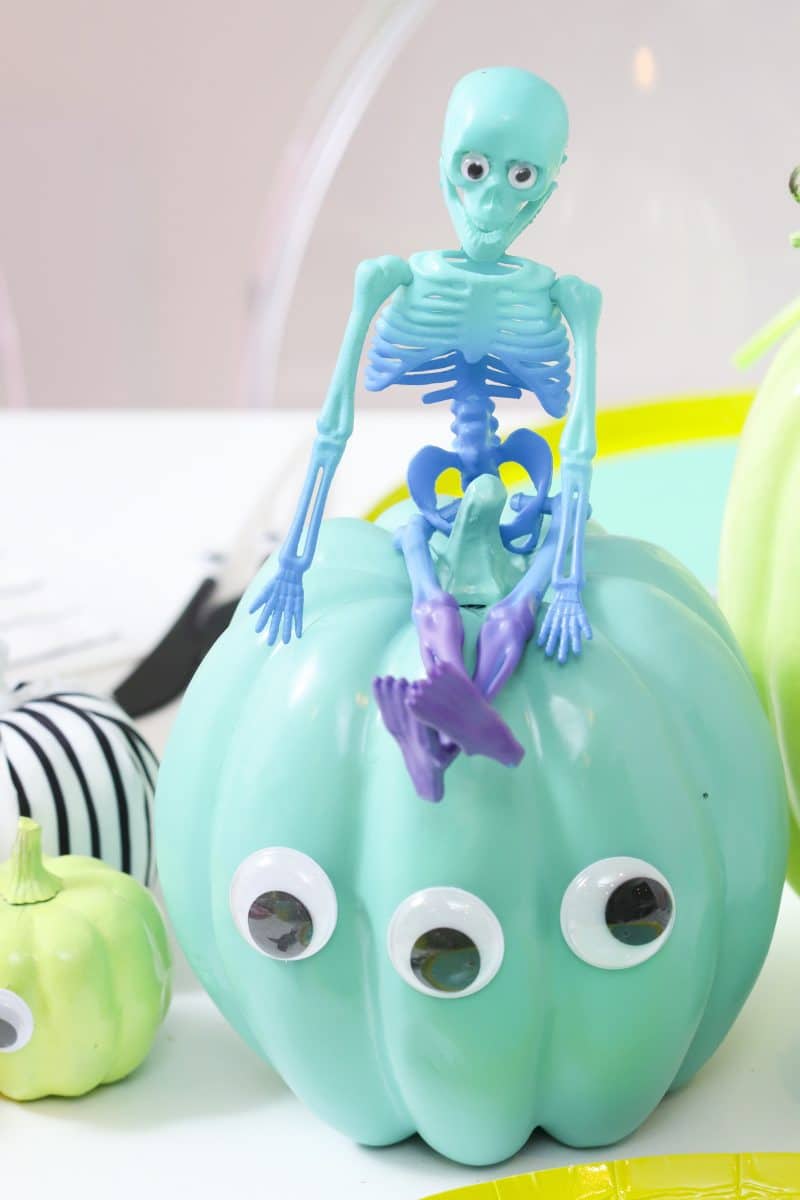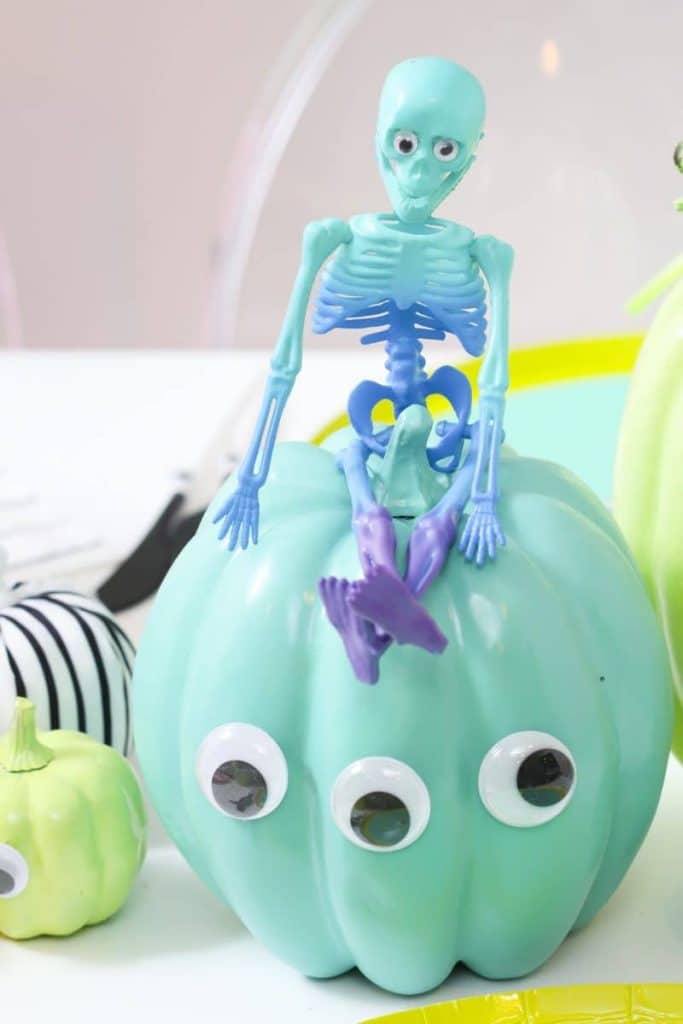 Place Settings
Then came the place settings, using the amazing Kailo Chic Color Blocked Party Ware! I added a few googly eyes of varying sizes and amounts to each plate and matching cup. I also stuck coordinating "boo"  crazy straws (with googly eyes added to the "o"s) in each cup. To finish off my place settings, I added black and white utensils and striped napkins. Take a closer peep at the utensils – even they got the googly eye treatment!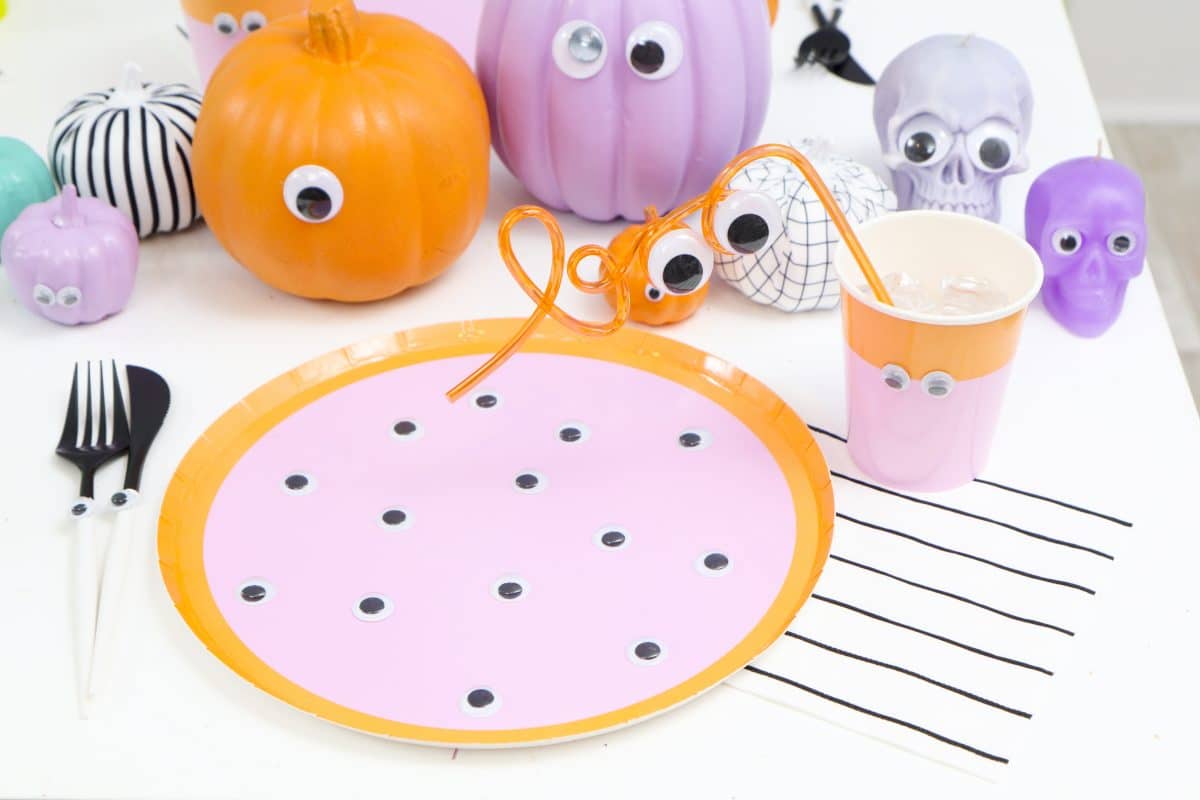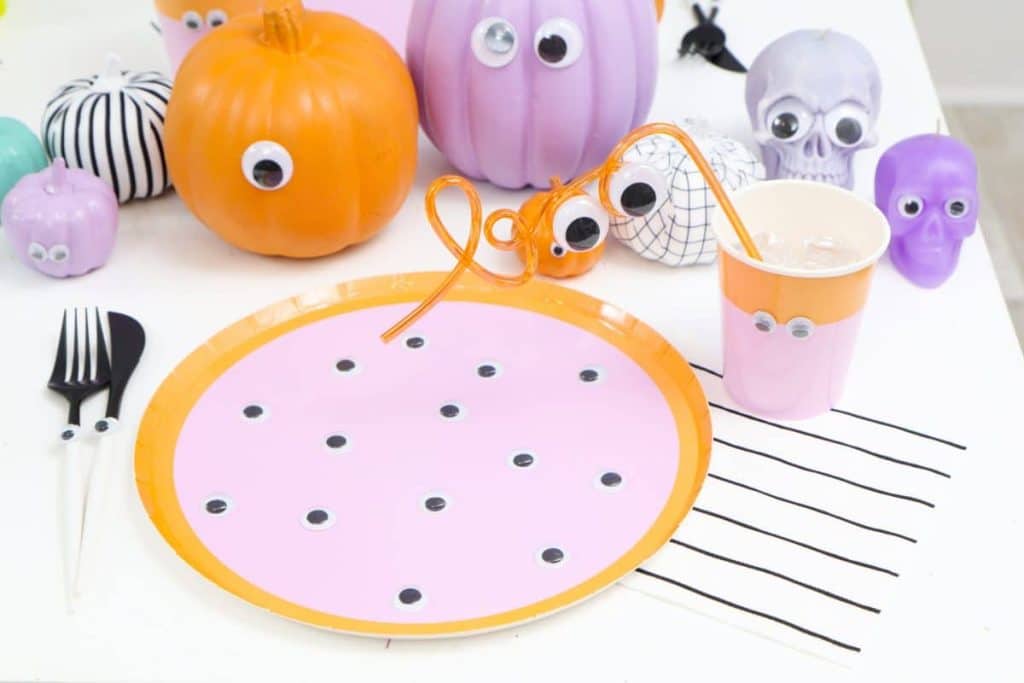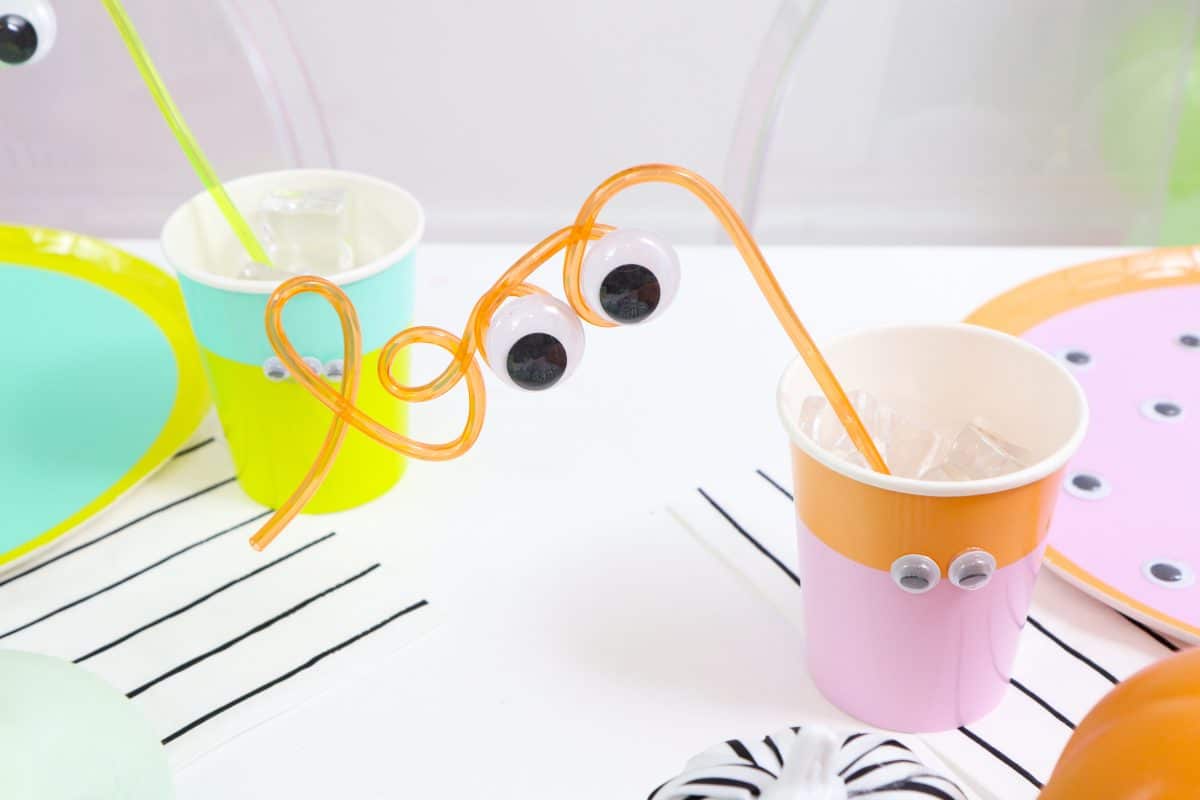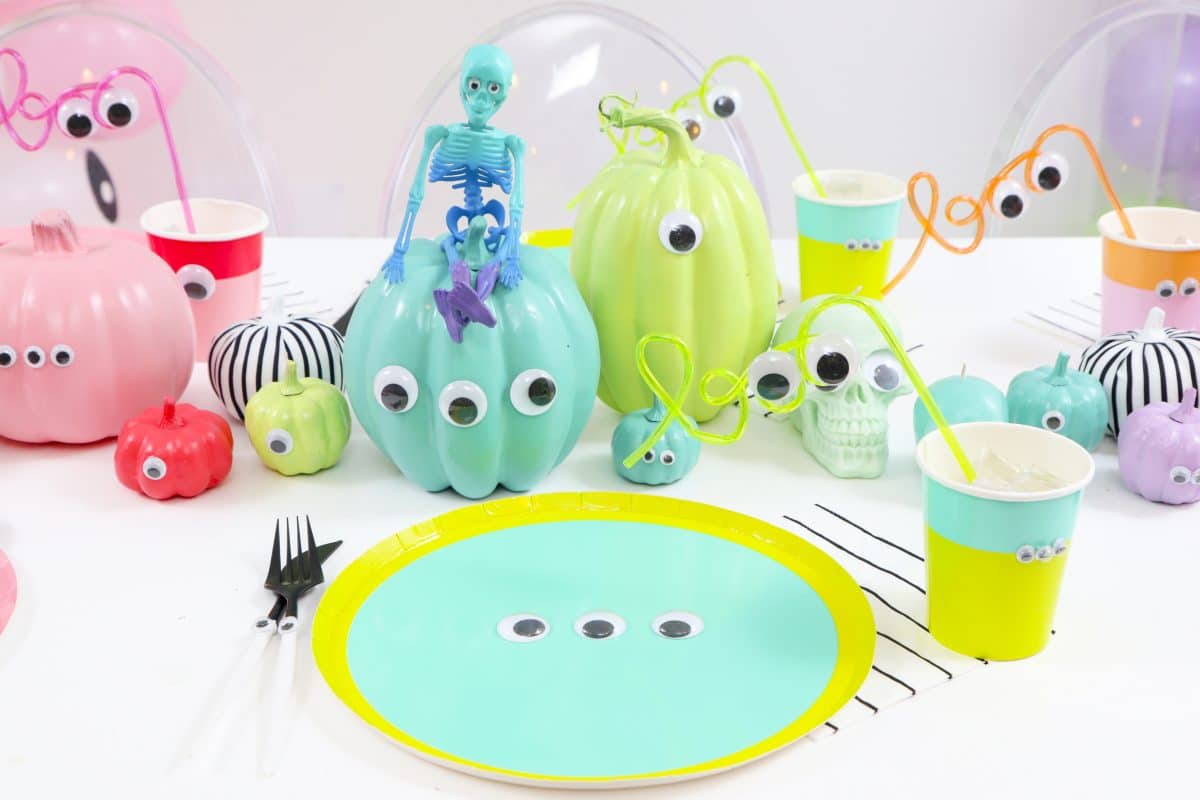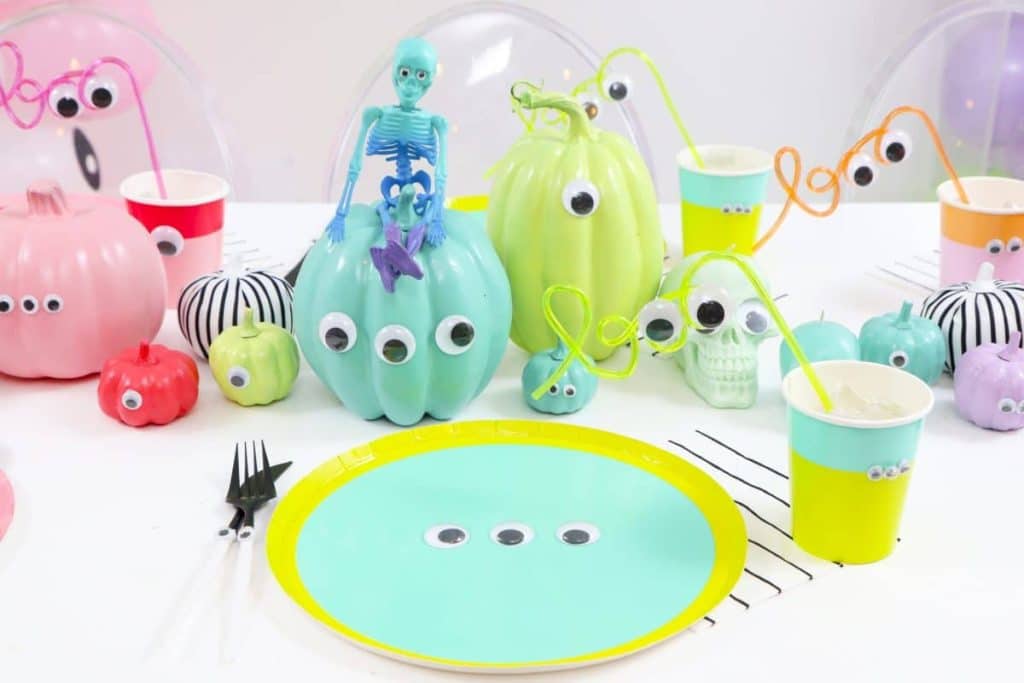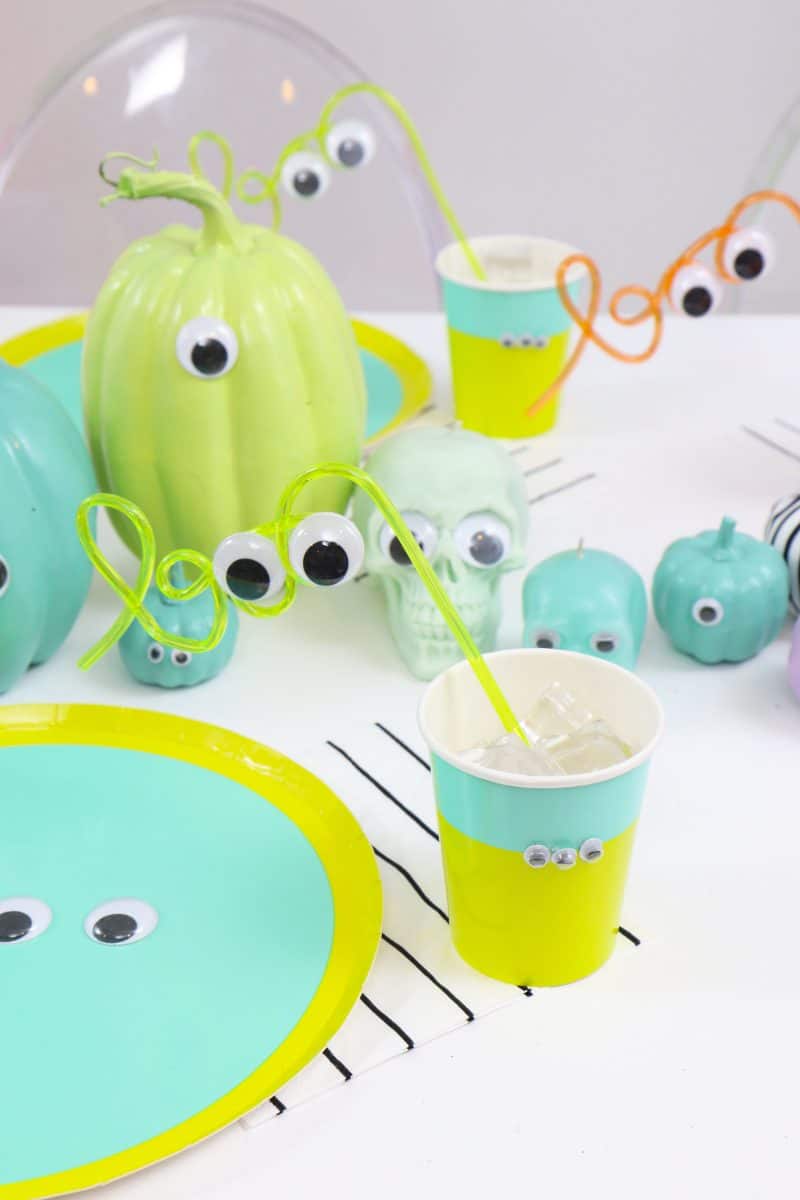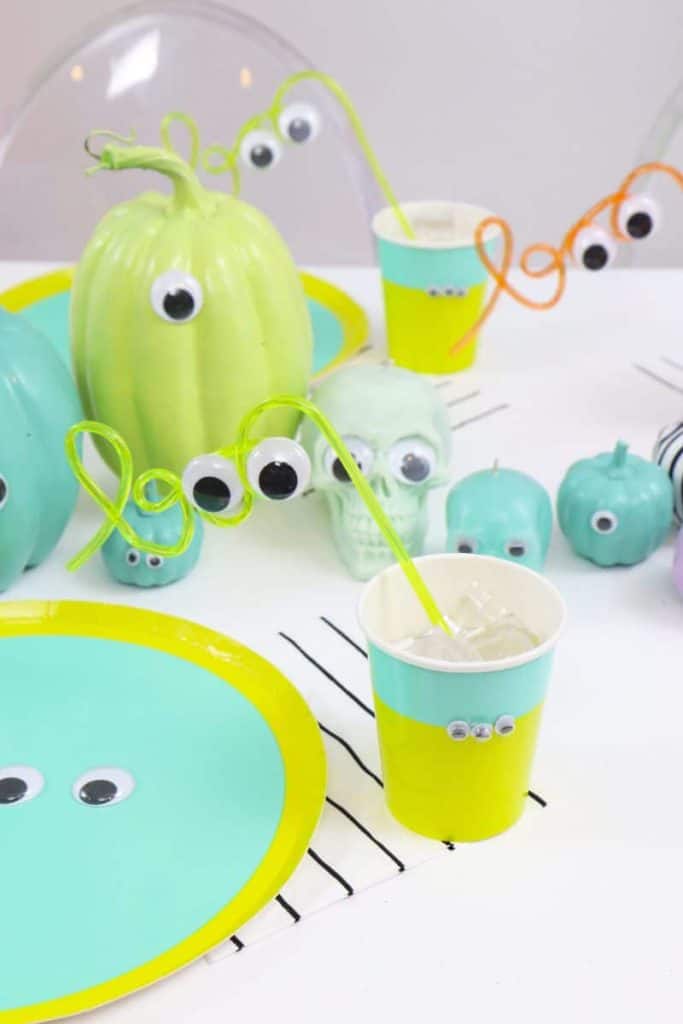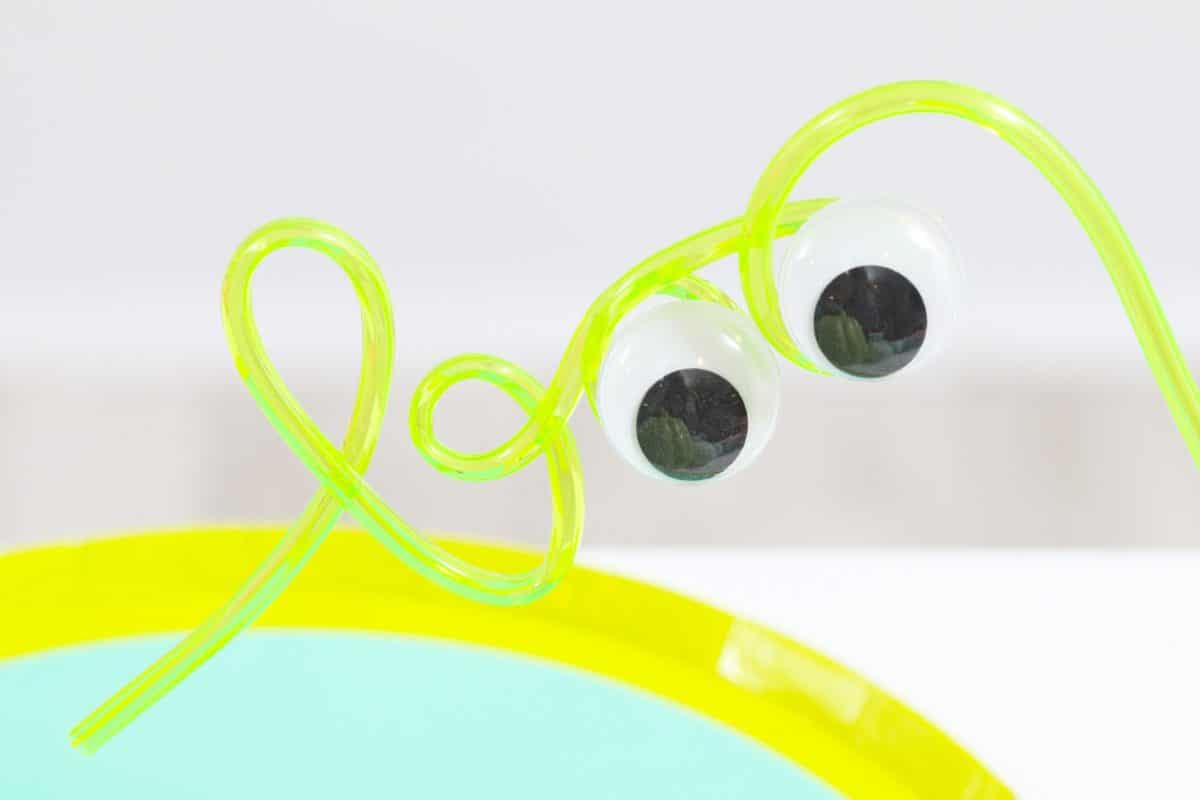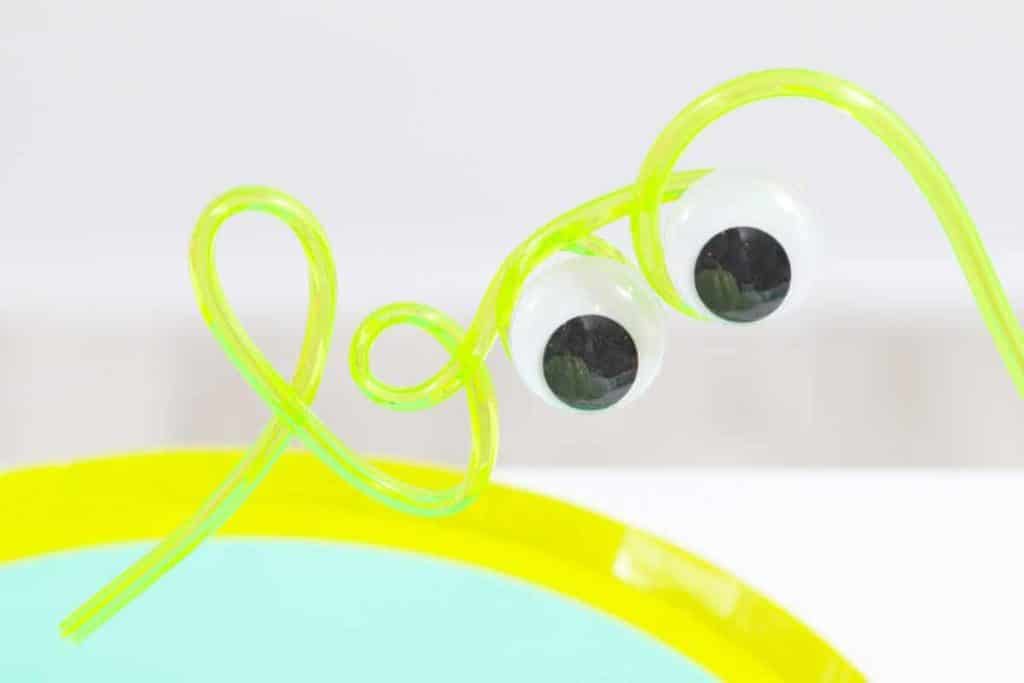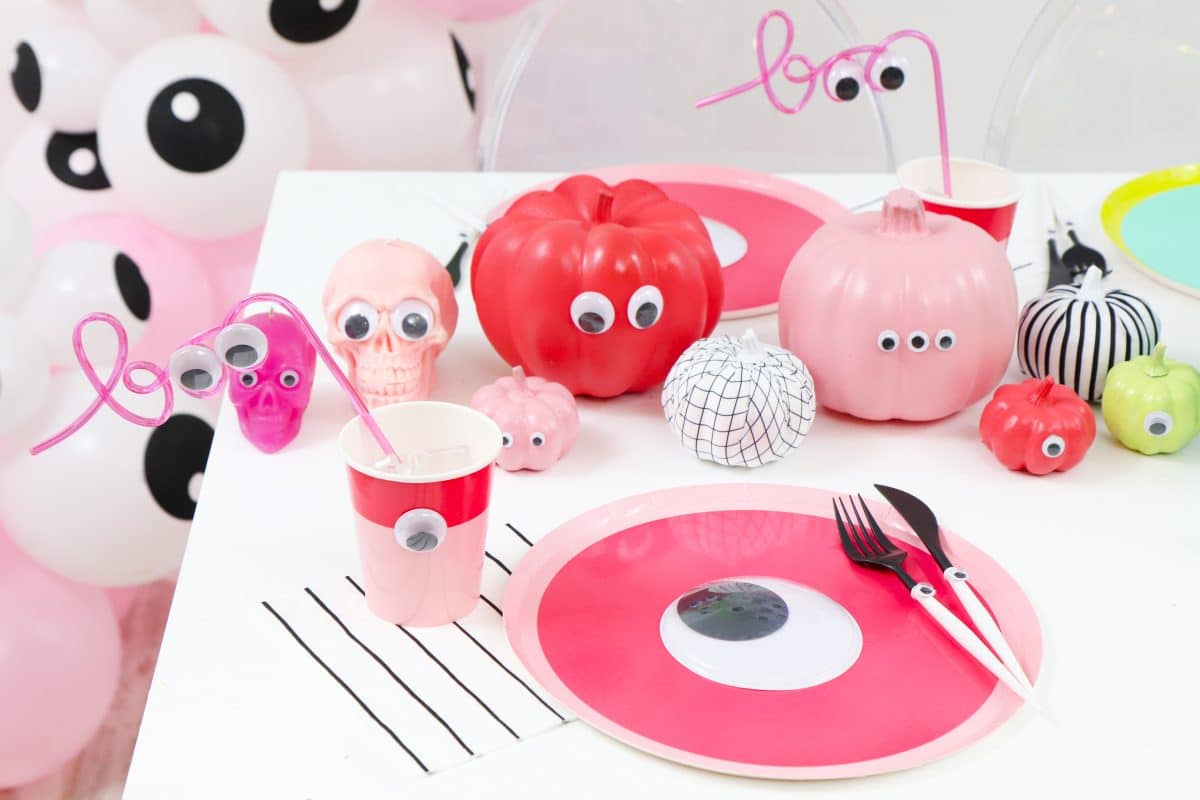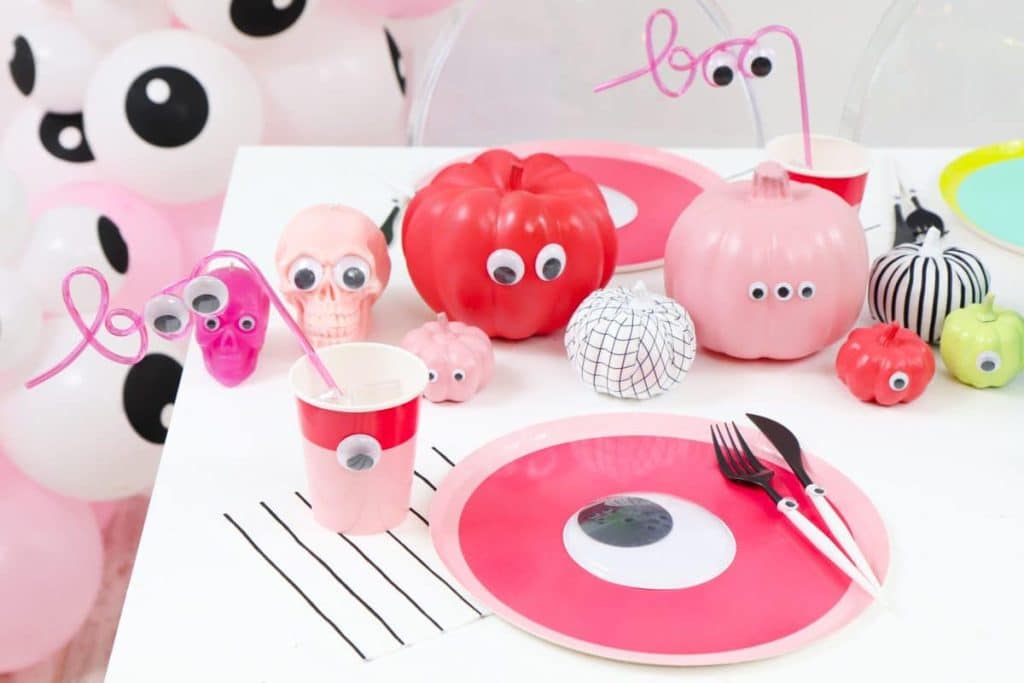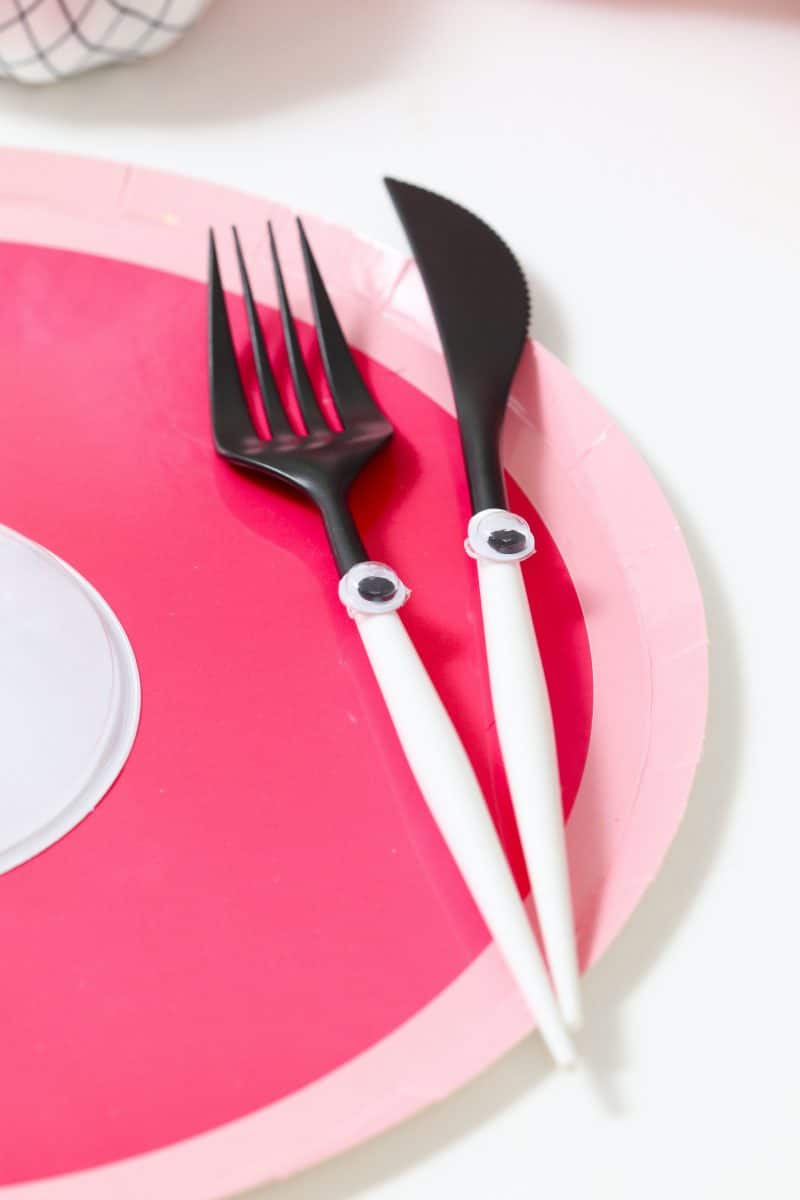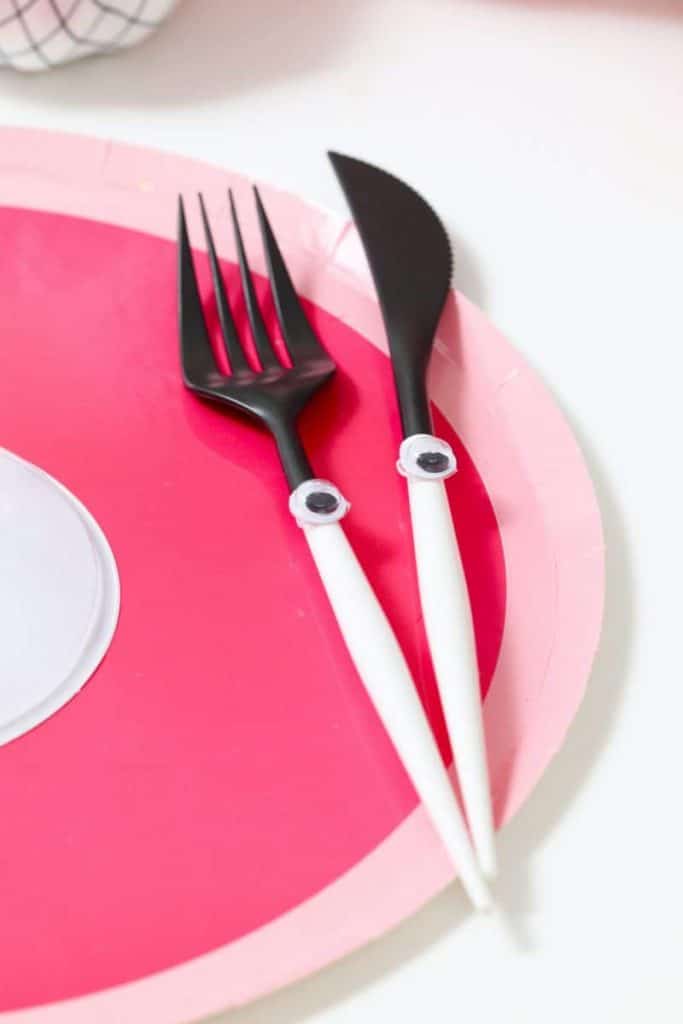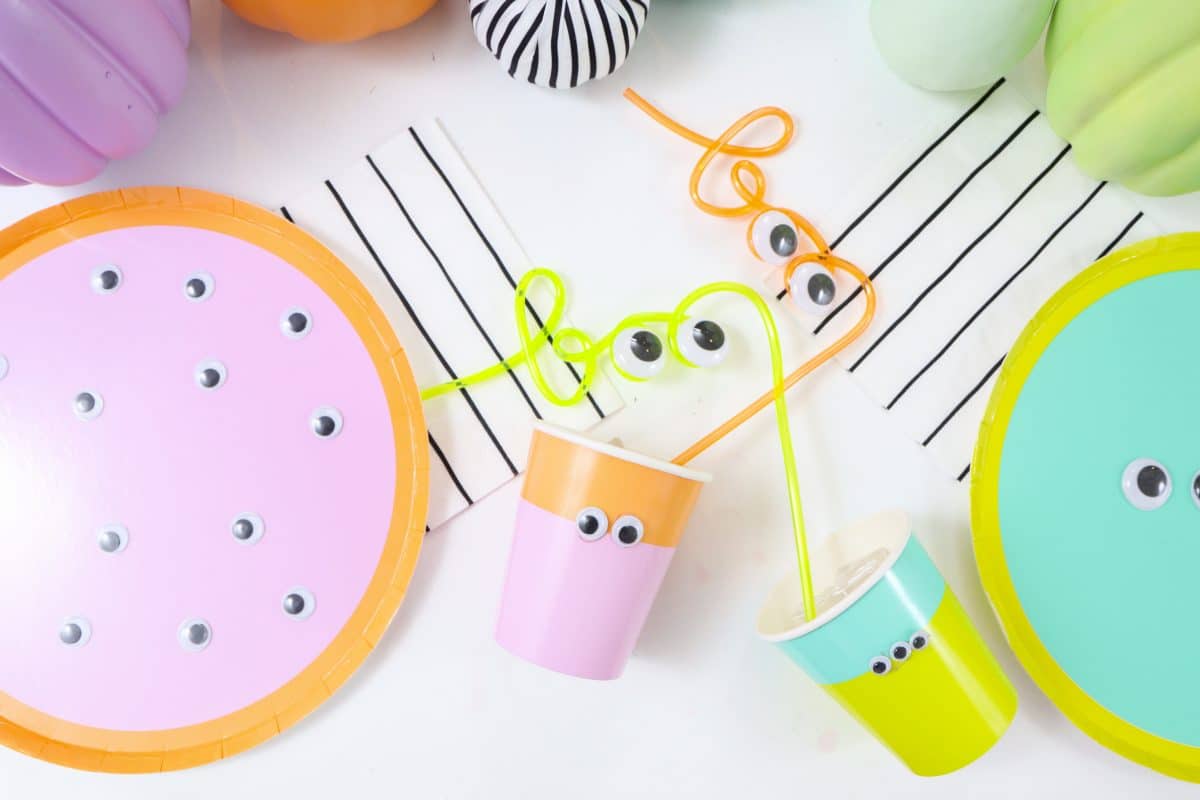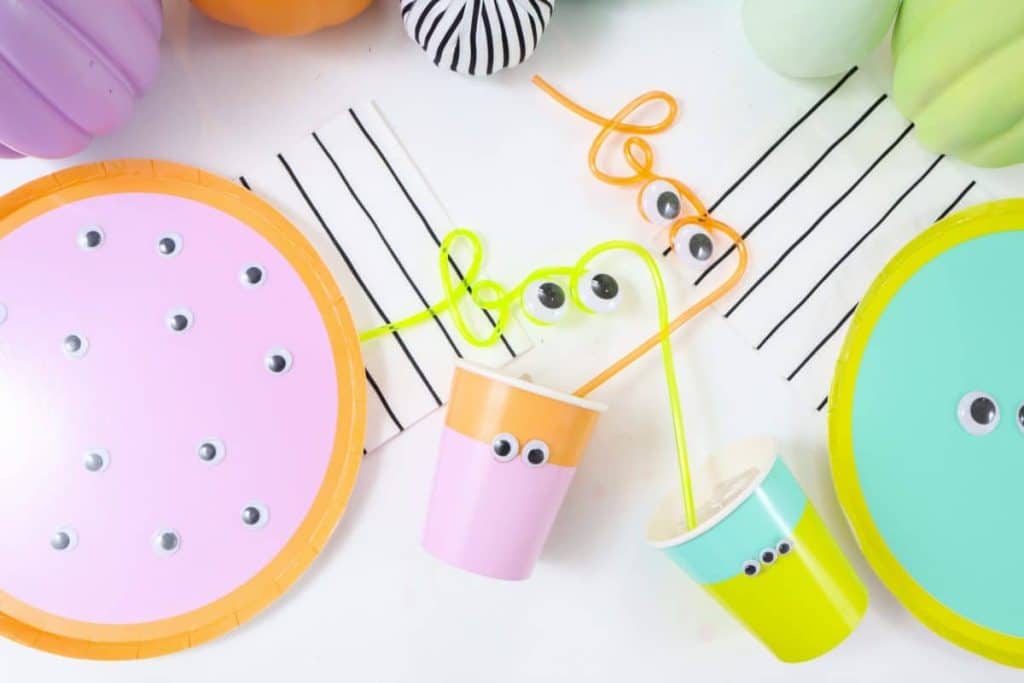 This silly Halloween party is so much fun, I couldn't stop giggling while setting it up, and your guests won't be able to, either!
I used items from a variety of places for this party, but don't forget to visit my Amazon Shop to shop for some of the items I used, plus some alternatives you can use if you prefer a one-stop shop for your very own Googly Eye Party!
Here are a few of my favorite finds:
And for more not-so-scary Halloween Party Ideas, check out my 13 Halloween Party Ideas for Kids post!
Happy Partying!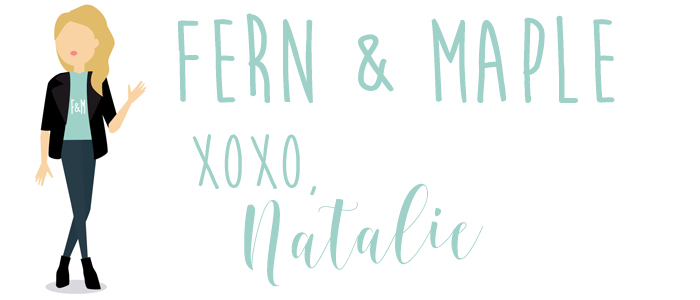 PIN FOR LATER: