I've really been feeling drawn to bright colors this season – I think it could be that we all need a little extra brightness in our lives this year. So when I came across the amazing neon Merry and Bright tableware collection from Daydream Society and felt my spirits brighten just looking at them, it was a no-brainer that I had to use the tableware as inspiration to create a Making Spirits Bright Neon Holiday party! This was a great opportunity to flex my creativity muscles – read on to see how I pulled elements from the tableware, and made them larger than life as party decor, with the help of my daughter, Parker!
P.S. For a list of some of the supplies I used and alternative options, check out my Amazon Shop and my LTK post.
As a blogger, I sometimes receive compensation and/or products in exchange for my styling and crafting services. I also may earn a small commission from any sales that result from affiliate links on this page. As always, all project ideas and any opinions expressed here are my own.  For further information on our disclosure policy please check out our disclosure page.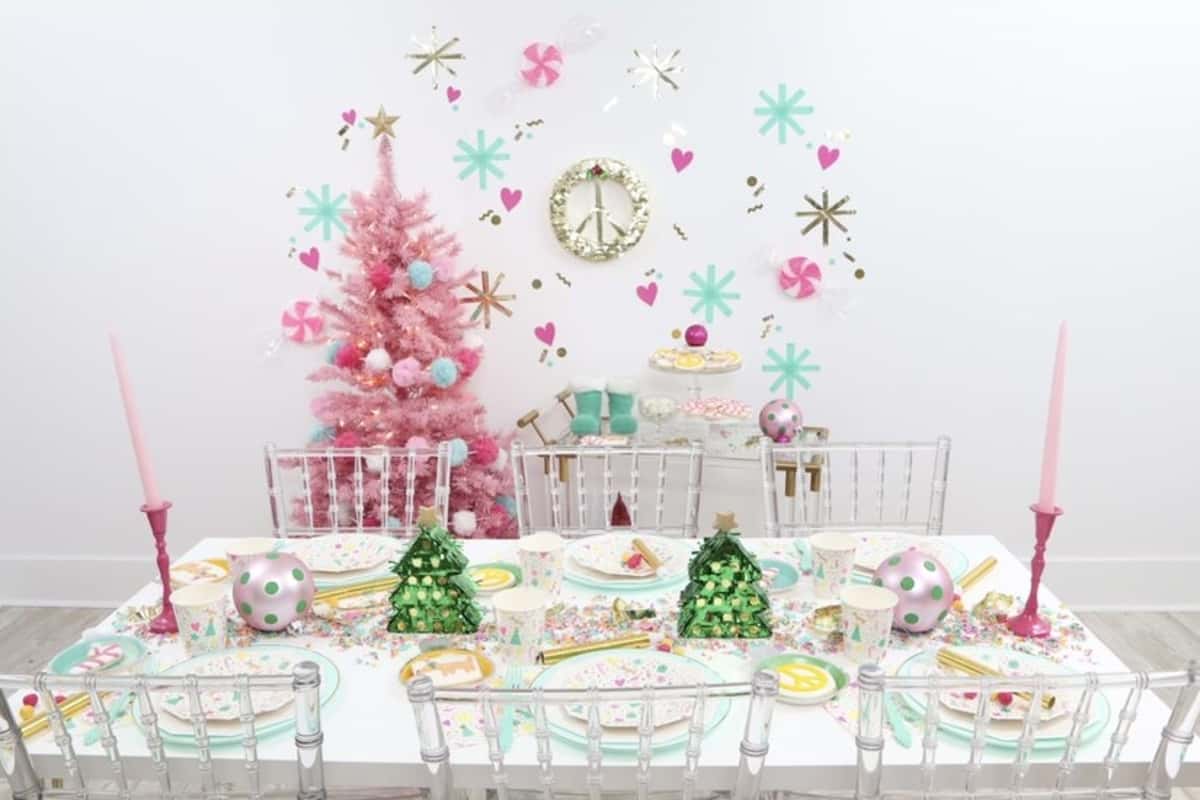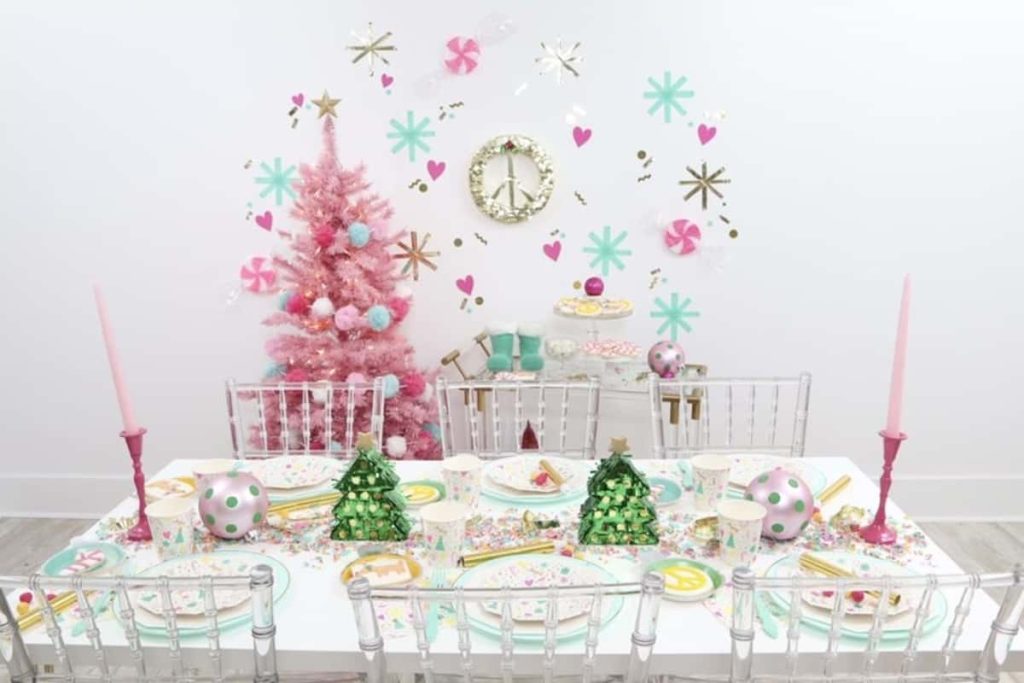 How to Make Spirits Bright with Your Own Neon Christmas Party
Place Settings
Of course, it all starts with the Merry and Bright tableware from Daydream Society. These plates, cups, and napkins feature a variety of fun holiday objects in bright neon pink, aqua, and yellow, along with some balancing pastel pink, mint, and tan – all wrapped up in gorgeous gold foil details. How could your spirits not be brightened by this cuteness?
I layered the Merry and Bright small plates onto aqua striped dinner plates and mint chargers with gold edges. Each setting also got a Merry and Bright napkin and paper cup, a matching neon mint plastic fork from Jollity and Co.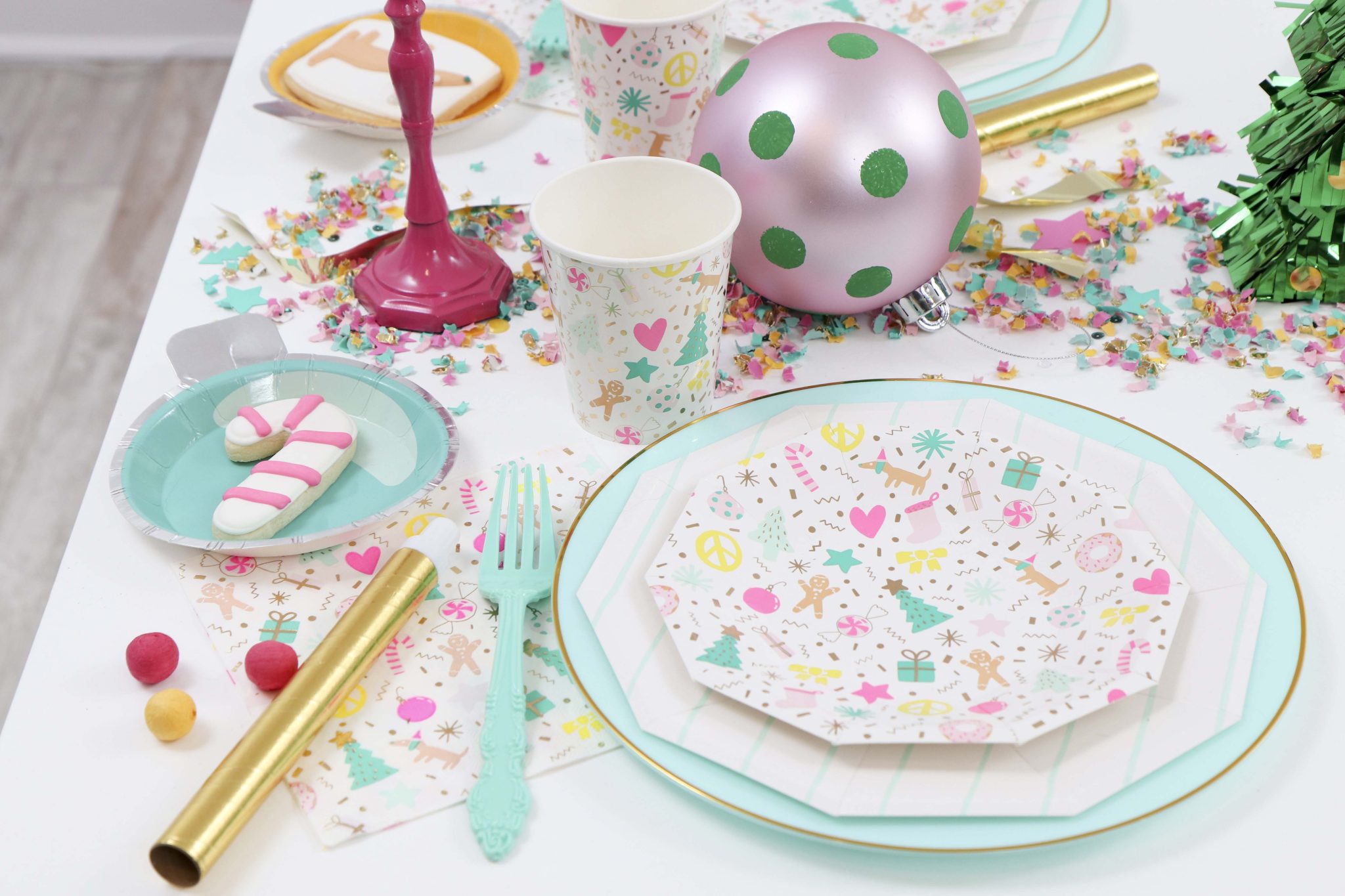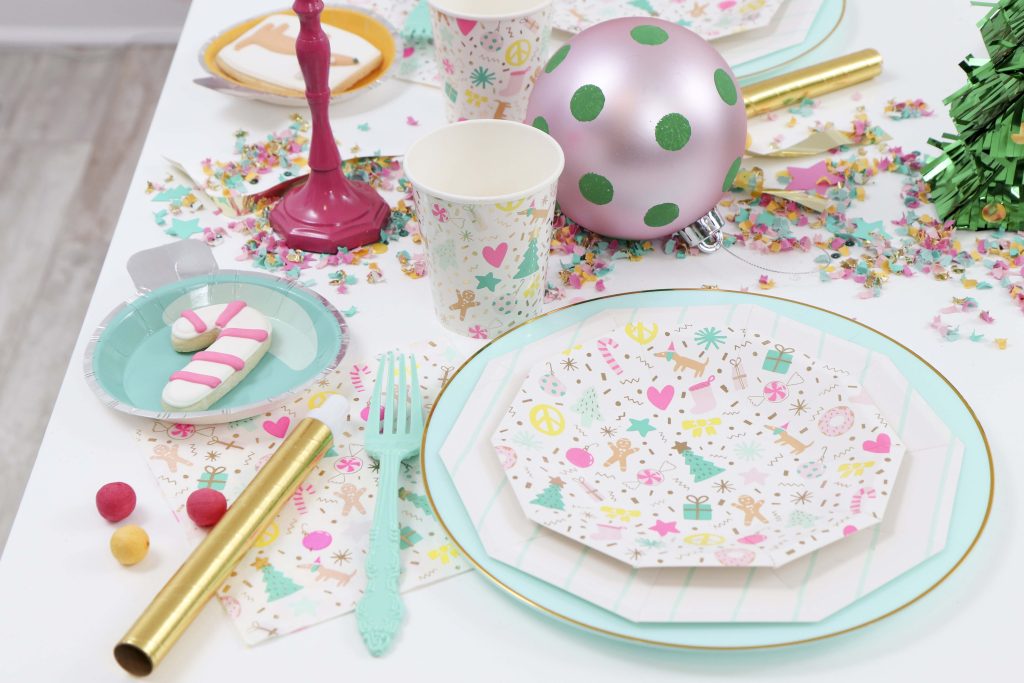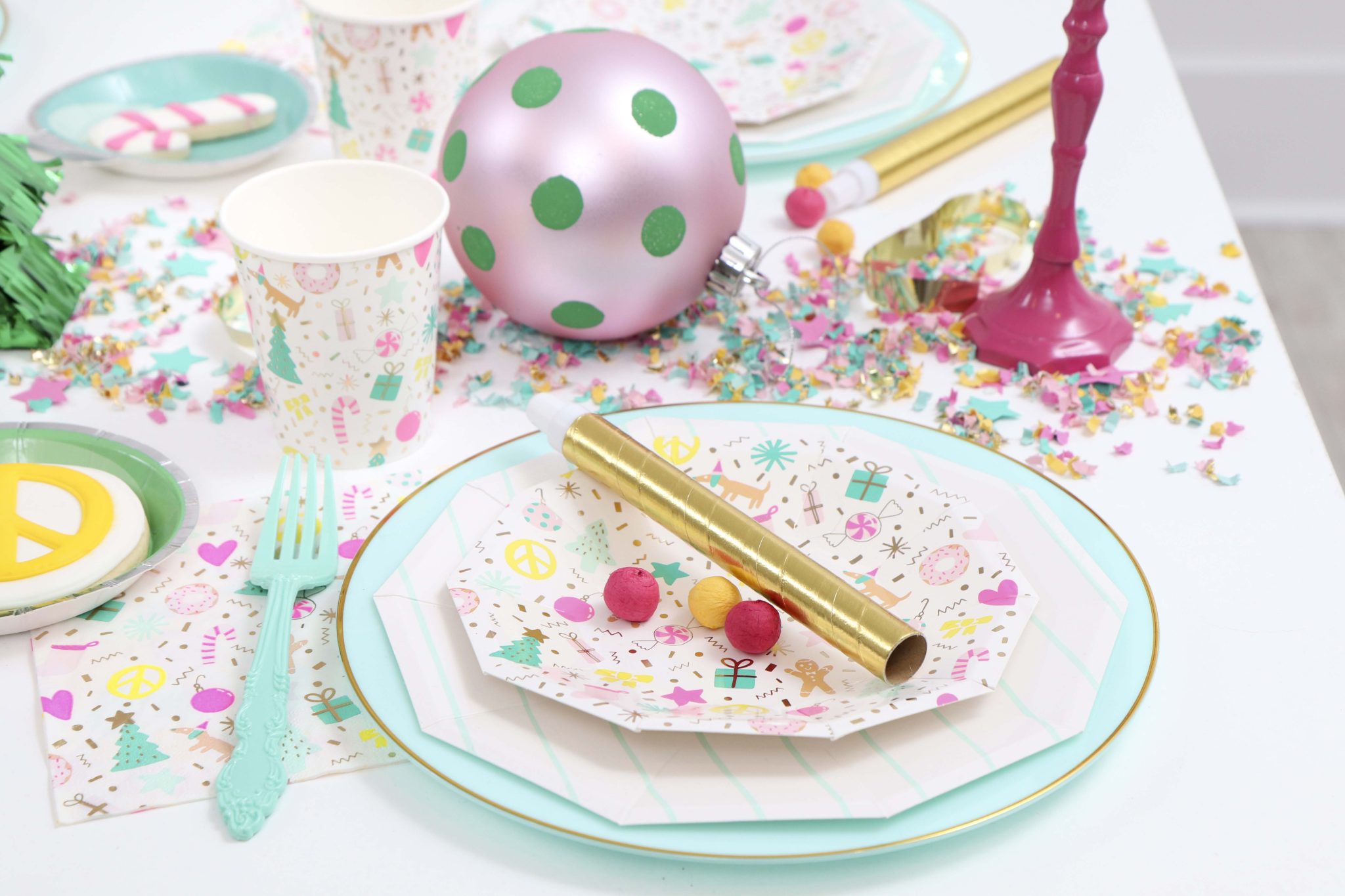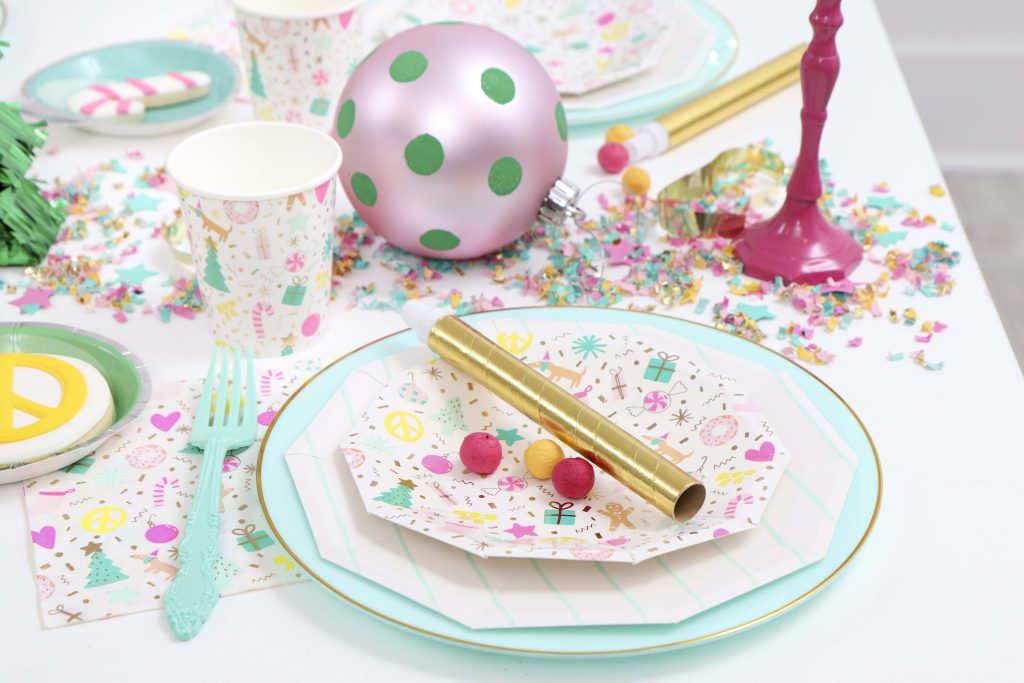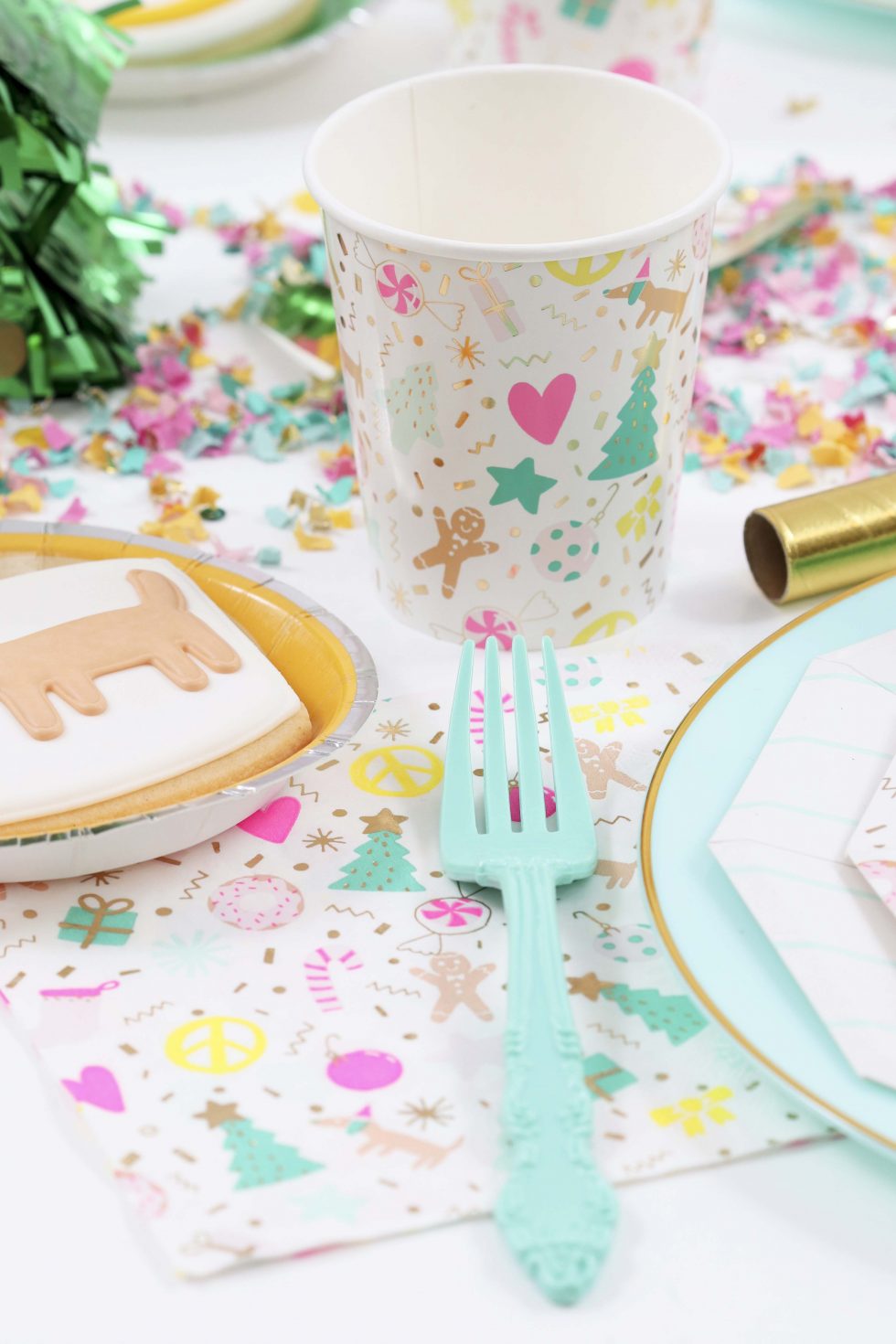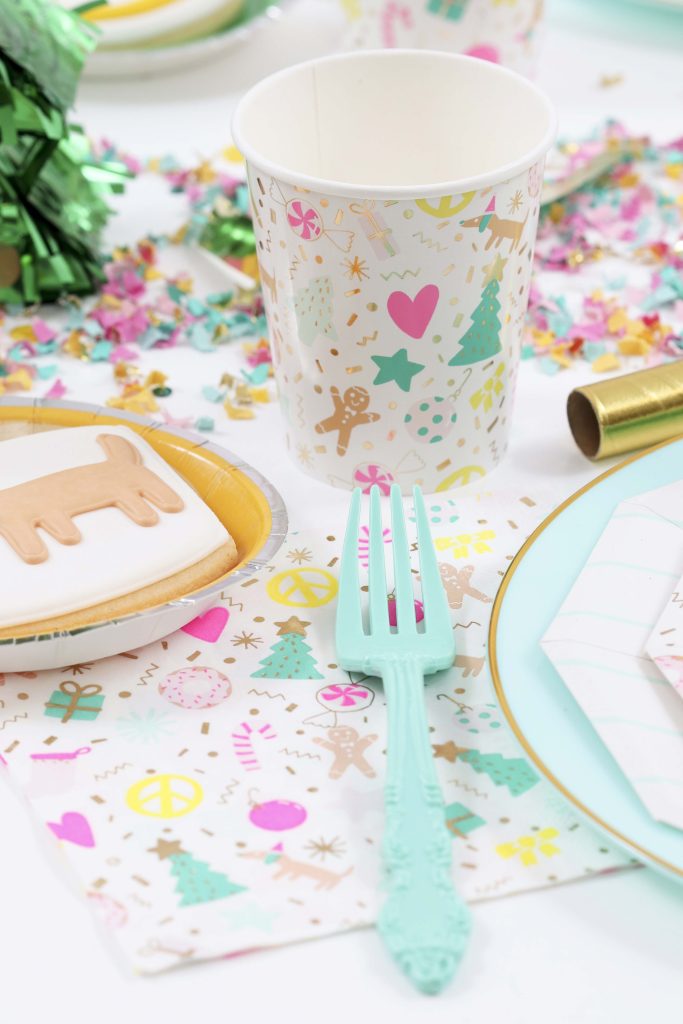 TIP: Add some entertainment to the place settings with these Pea Shooters and Party Balls! Kids and adults alike will find plenty of laughter and joy (also essential for making spirits bright!) by shooting these festive paper balls at each other with pretty gold tubes.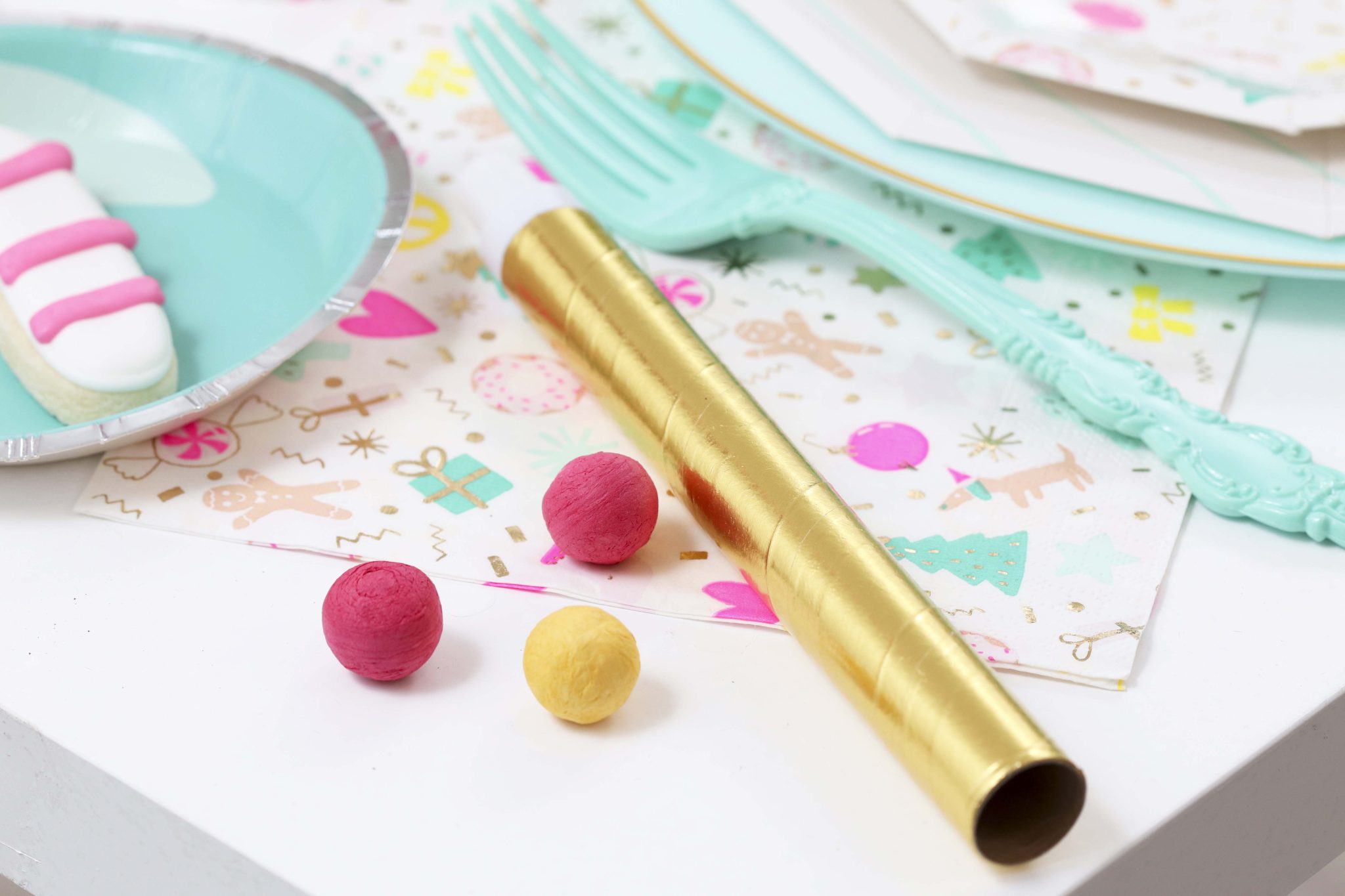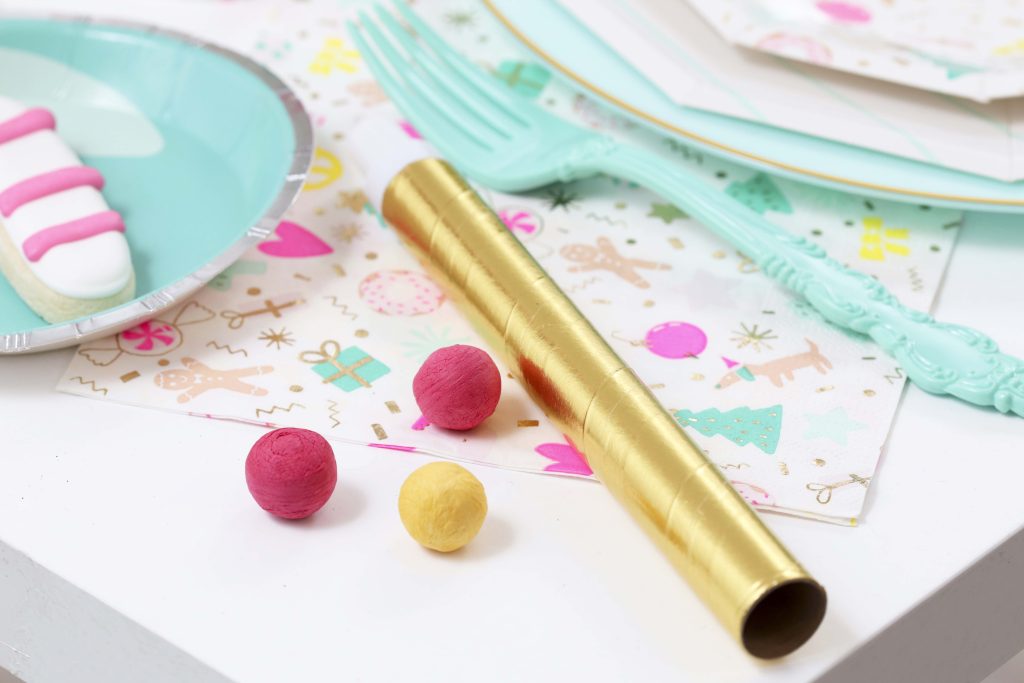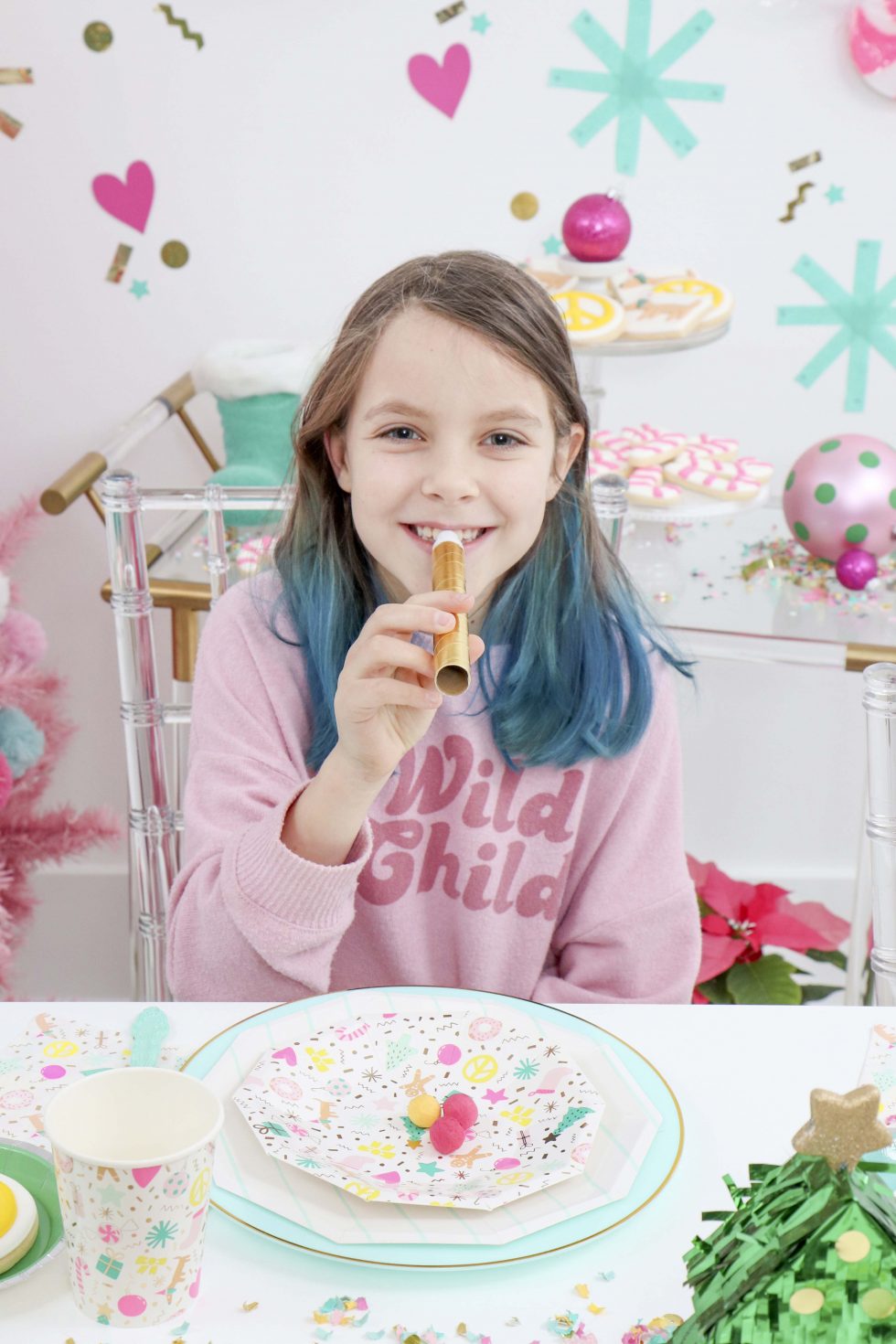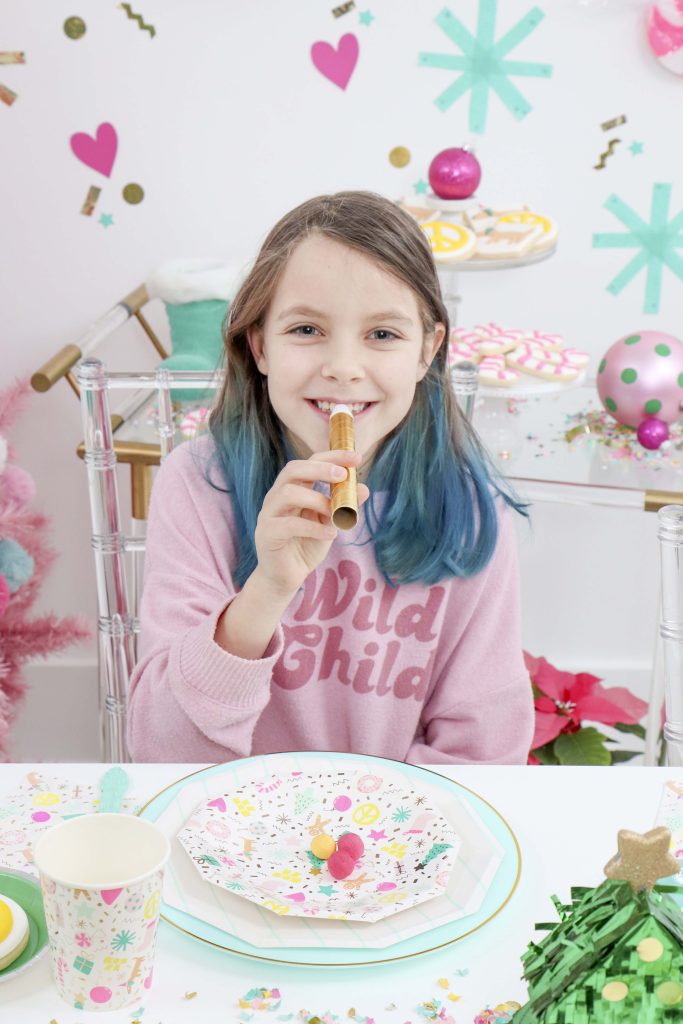 Then, I set out coordinating ornament dessert plates next to each setting for the cutest cookies from Trophy Baking. The cookies each brought different elements from the tableware to life! How cute are they?!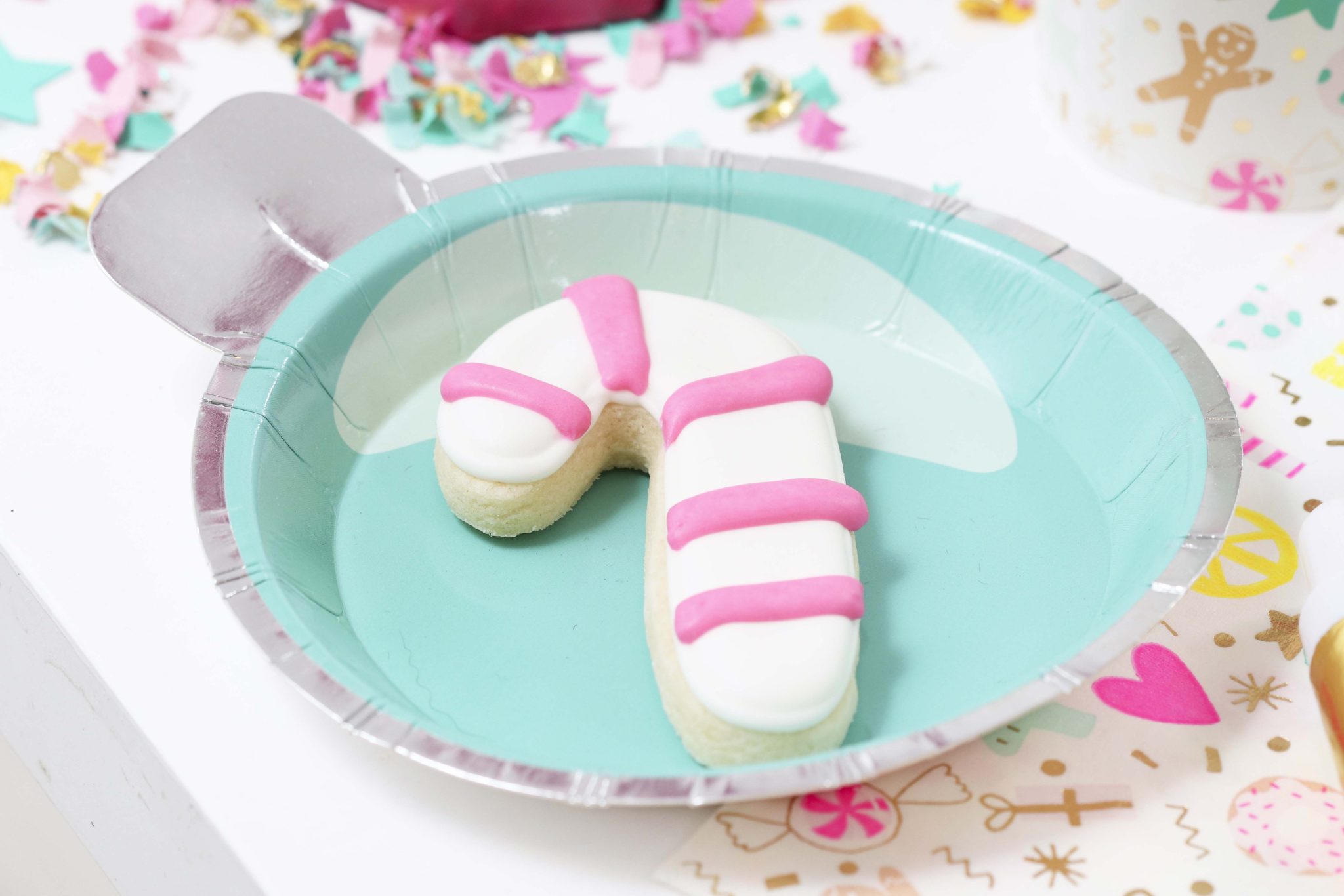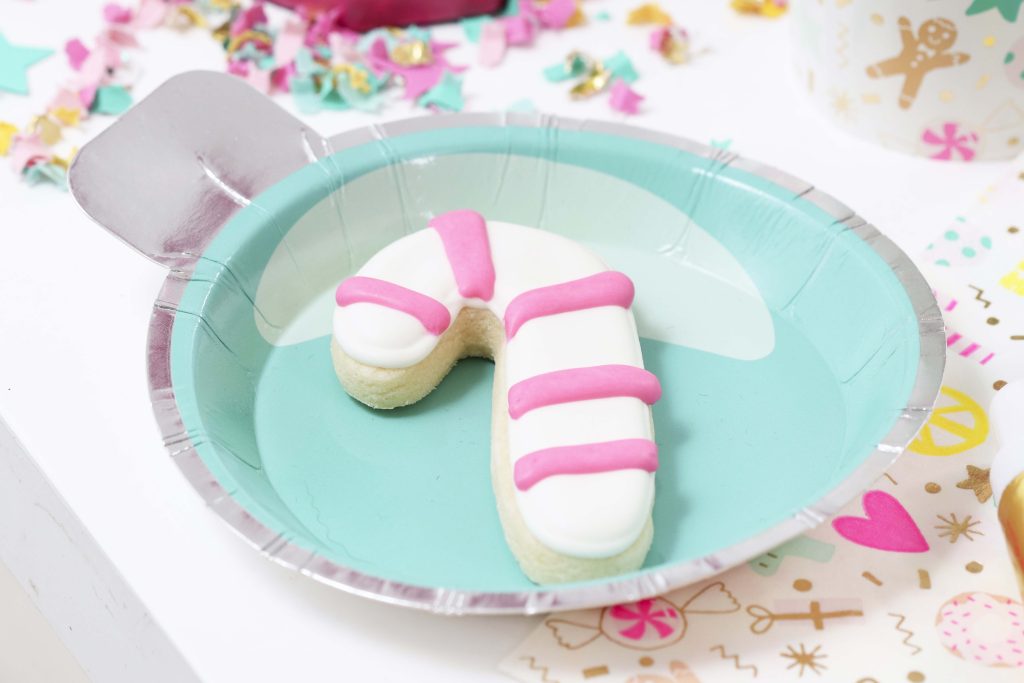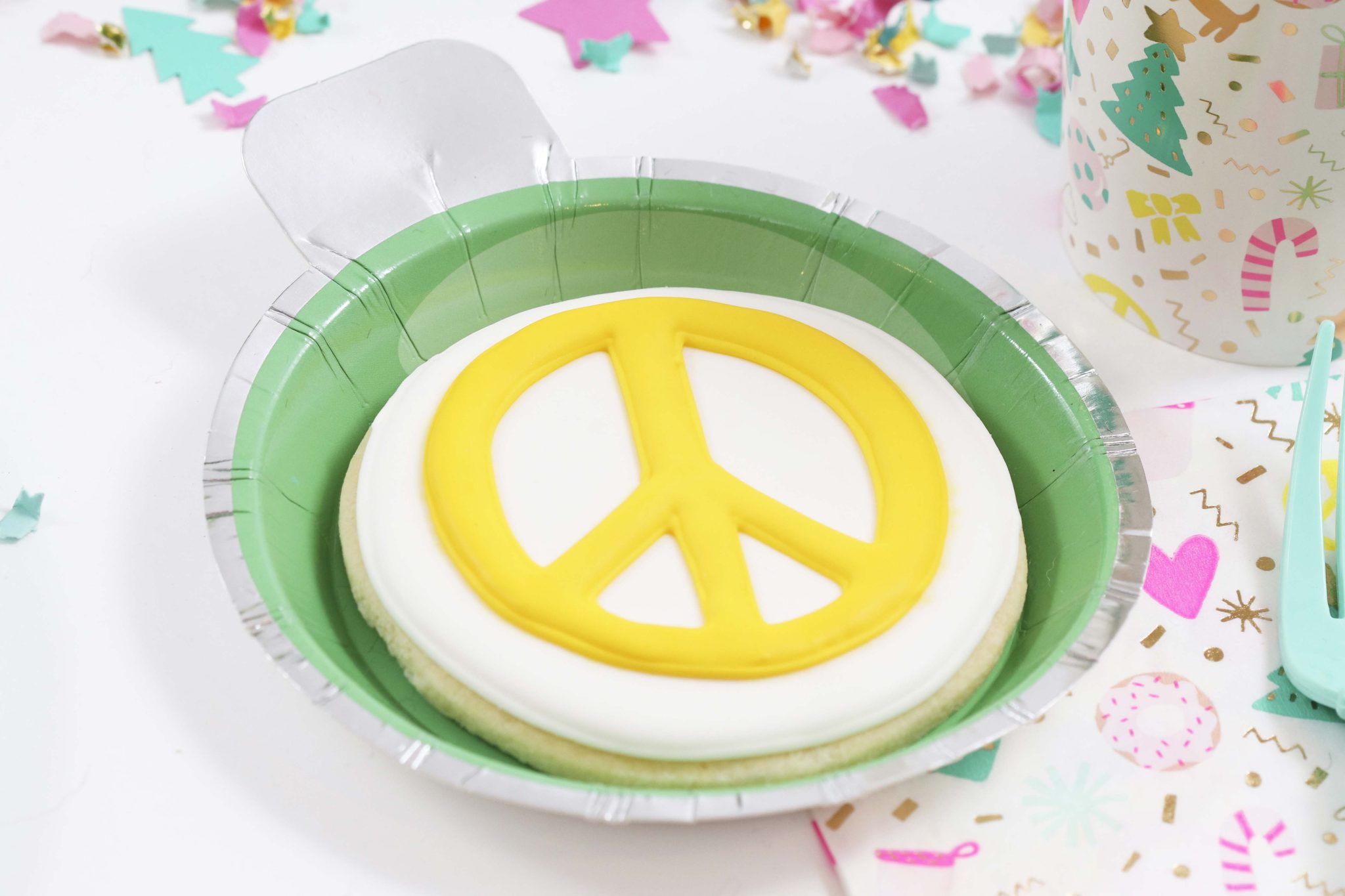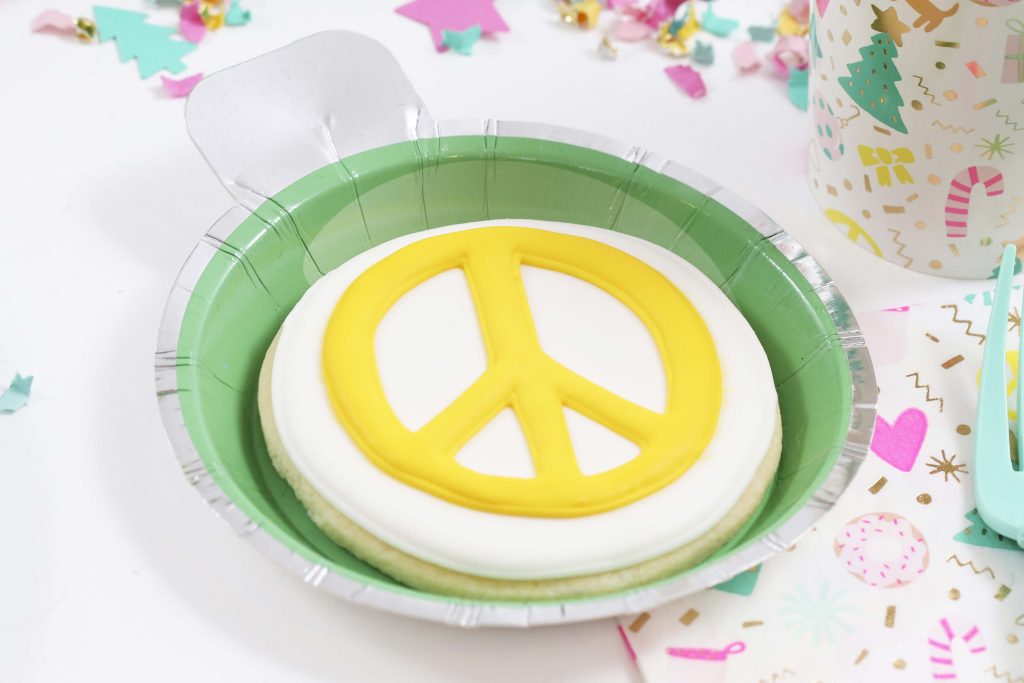 Table Decor & DIY Ornament Project
To finish off my cheerful table, I spread coordinating neon confetti from Festivefetti down the center as a runner.  Then I updated two shiny metallic Christmas tree piñata's from Target Dollar Spot with gold foil dots and a gold star so that they match the trees on the plates.  Finally, I added bright pink taper candle holders at each end of the table.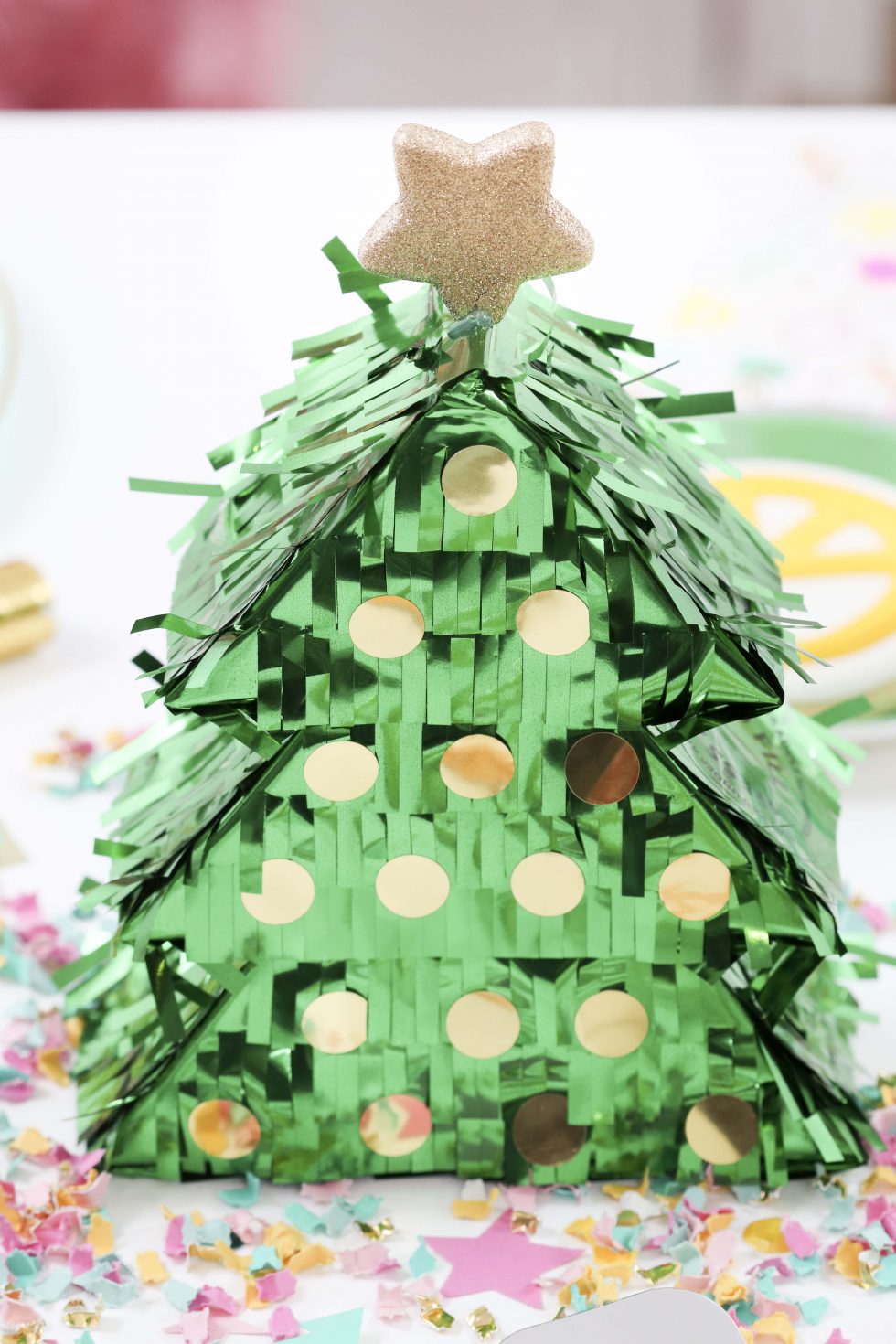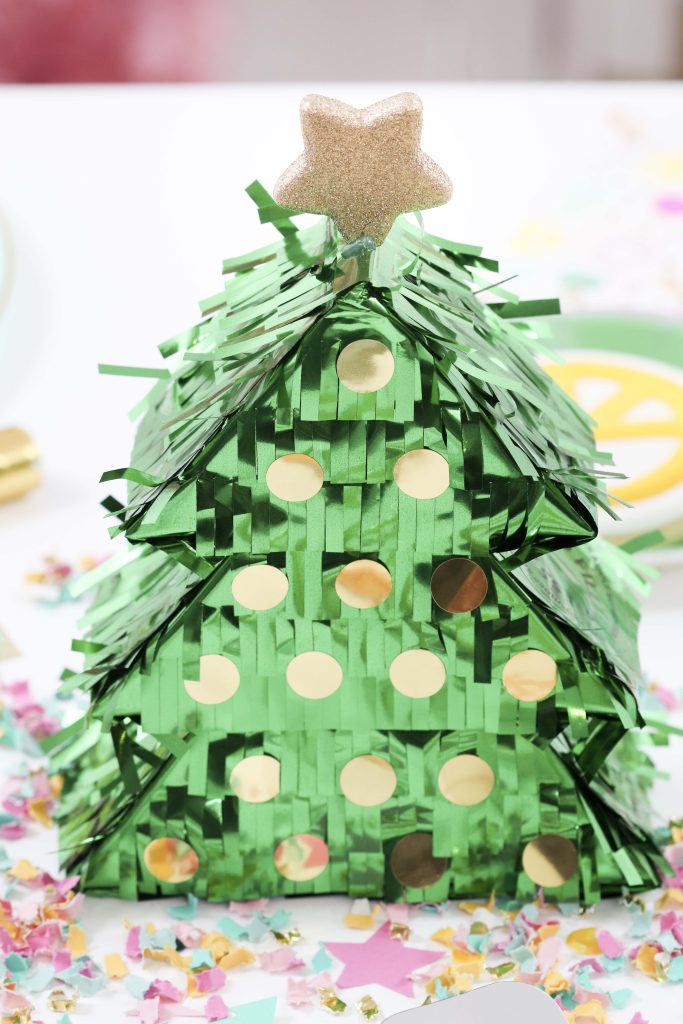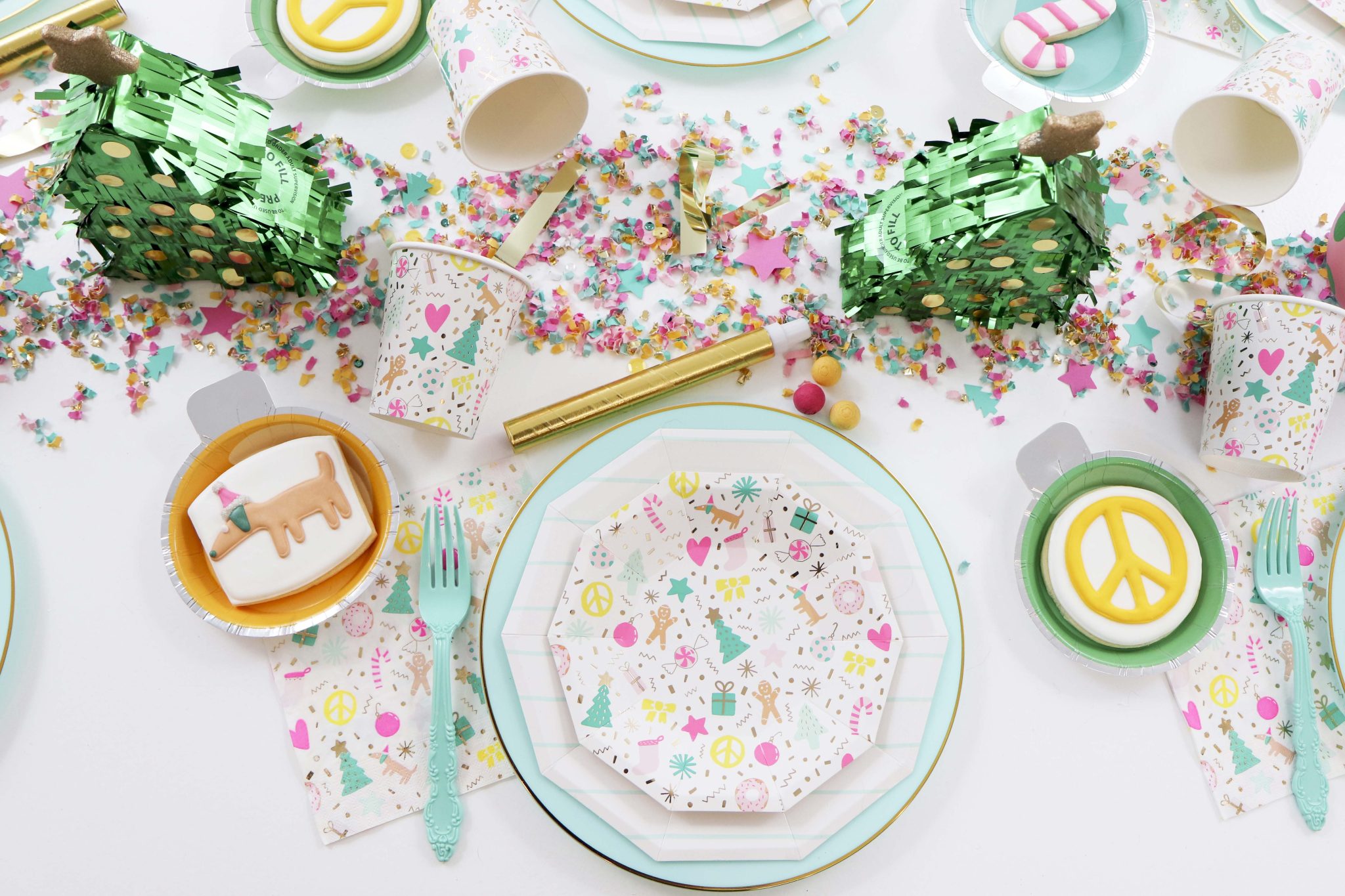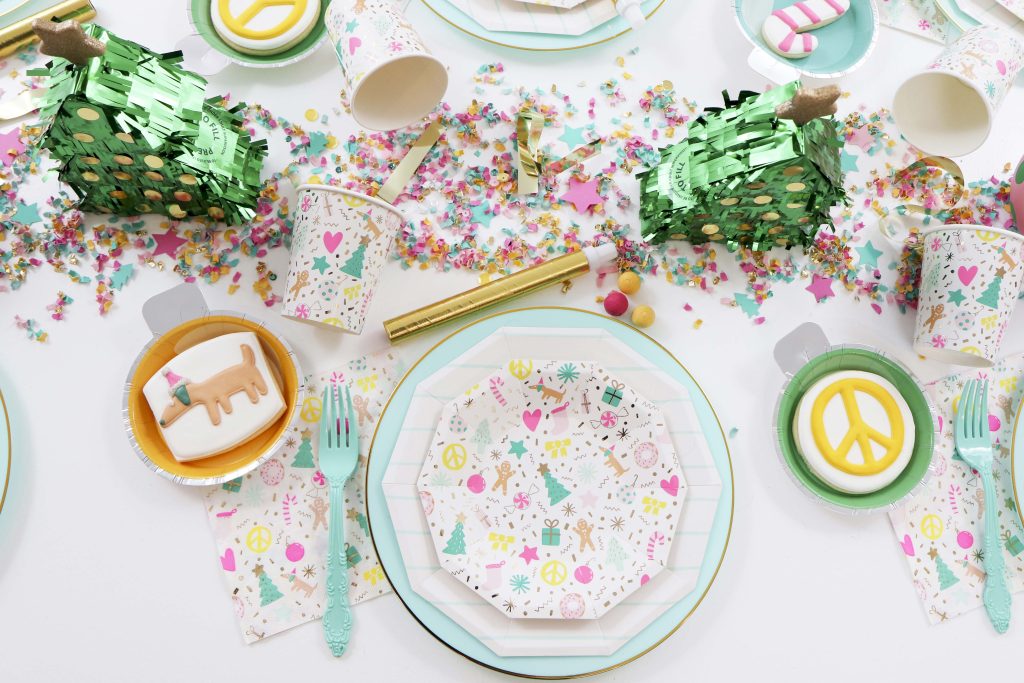 Continuing with bringing the plate to life, I added green-spotted oversized pink ornaments that matched the ones on the Merry and Bright tableware. But rather than trying to find exact replicas, I created my own by doing an easy and quick DIY project with them! I purchased large pink ornaments, and then added the spots by using green paint and a flat circular sponge brush. This is a great craft for the kids to help with.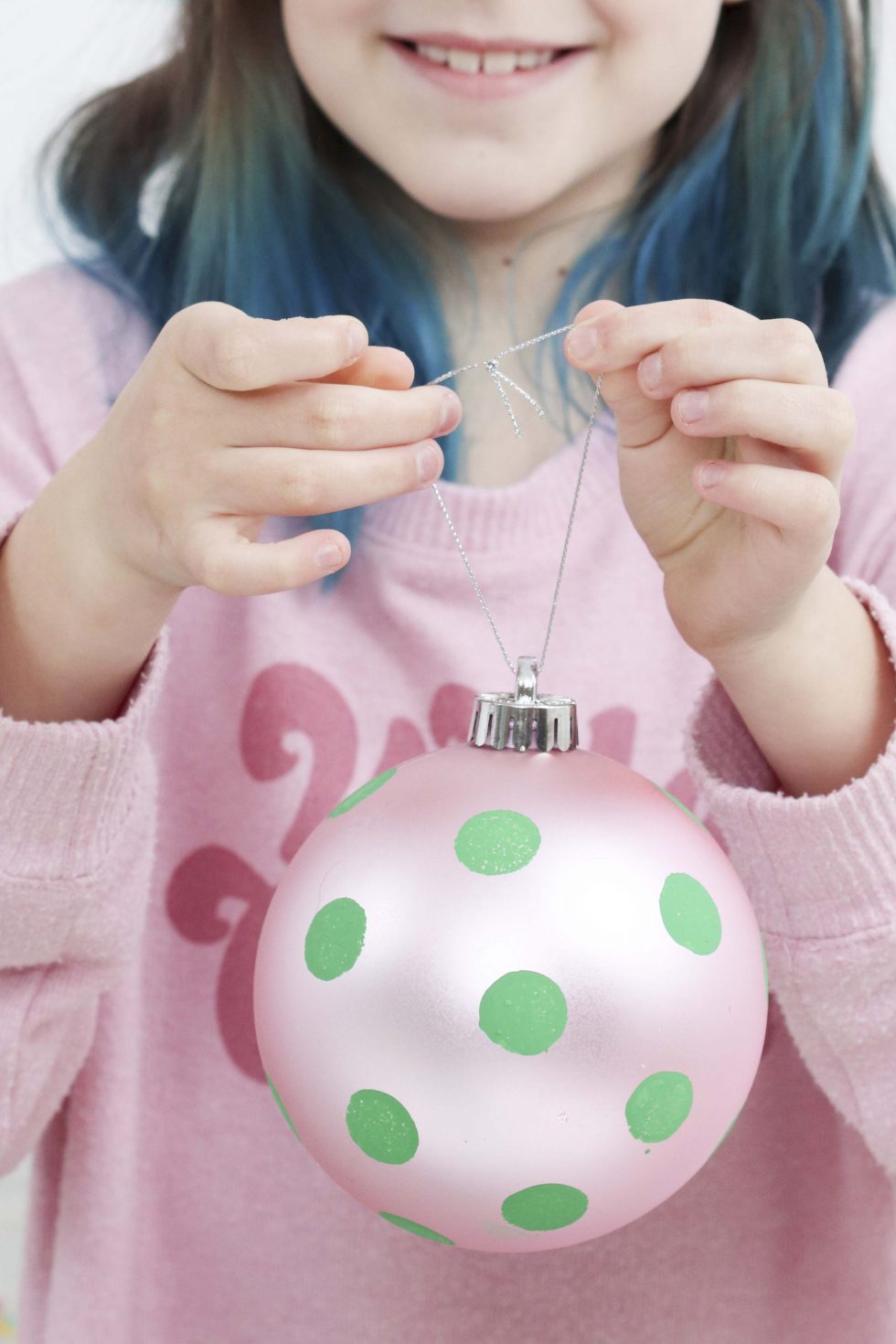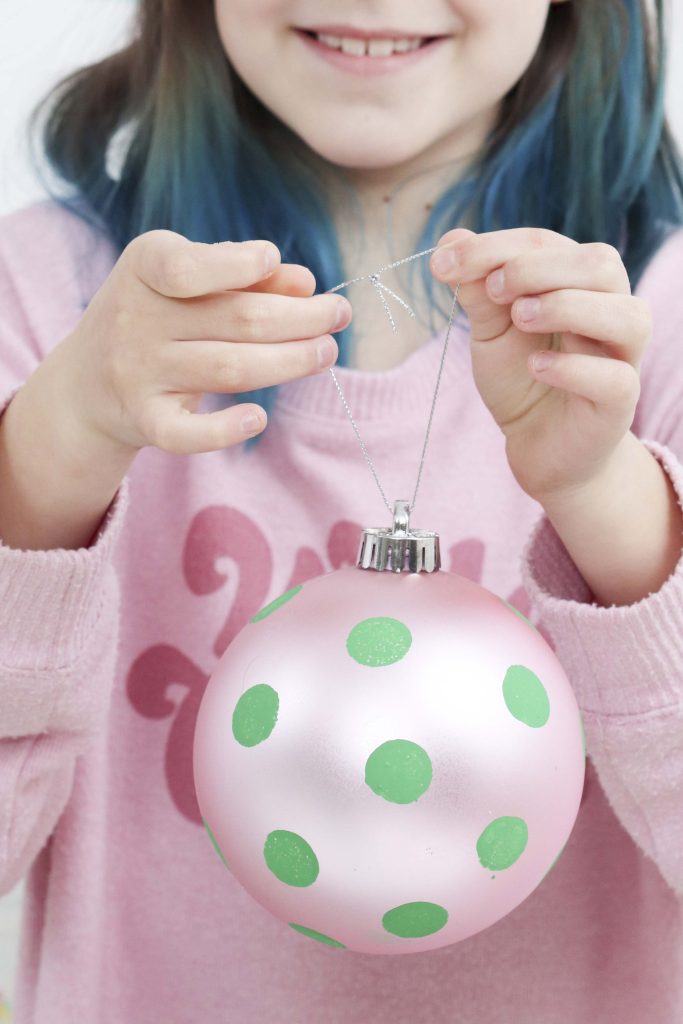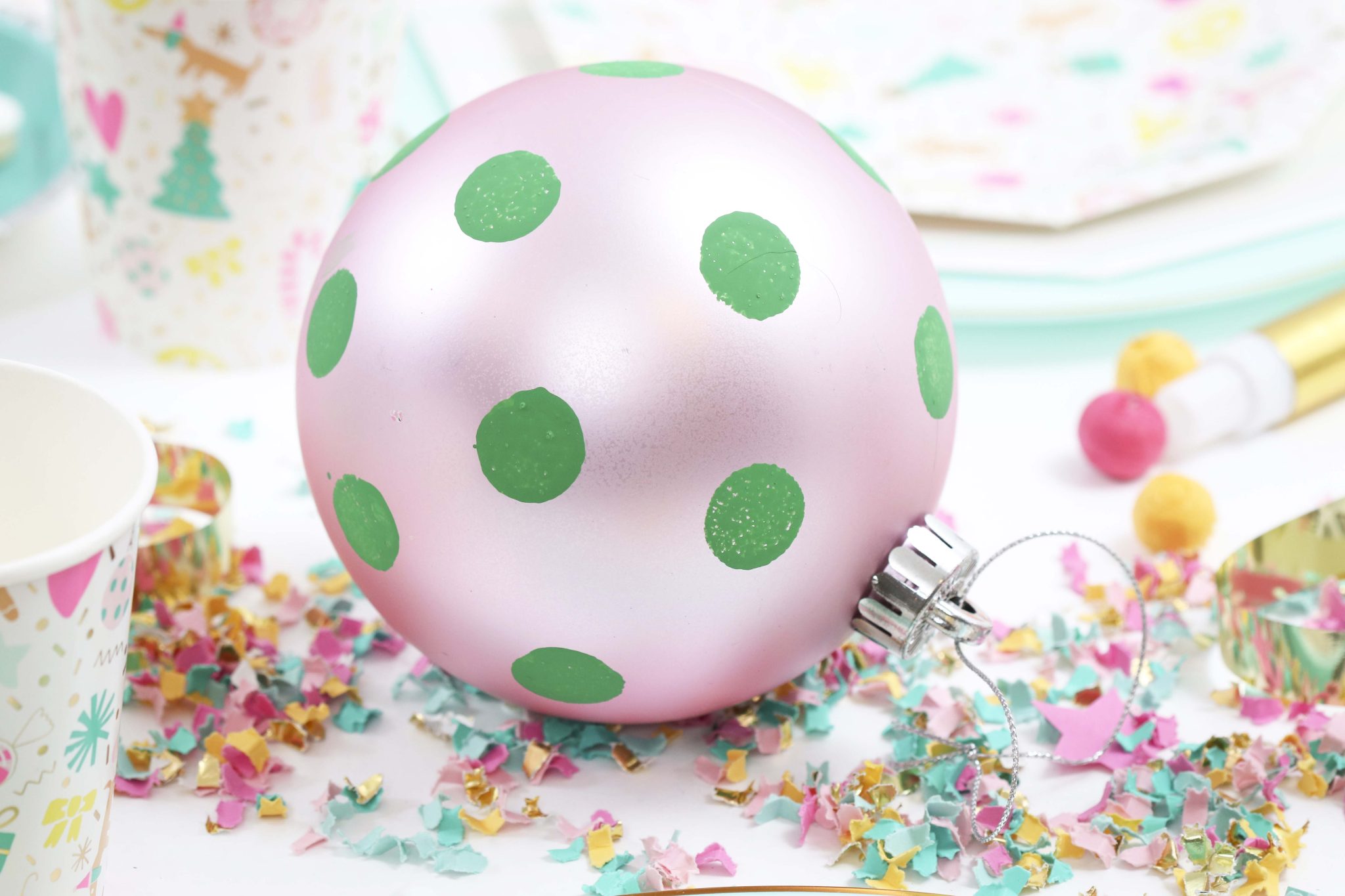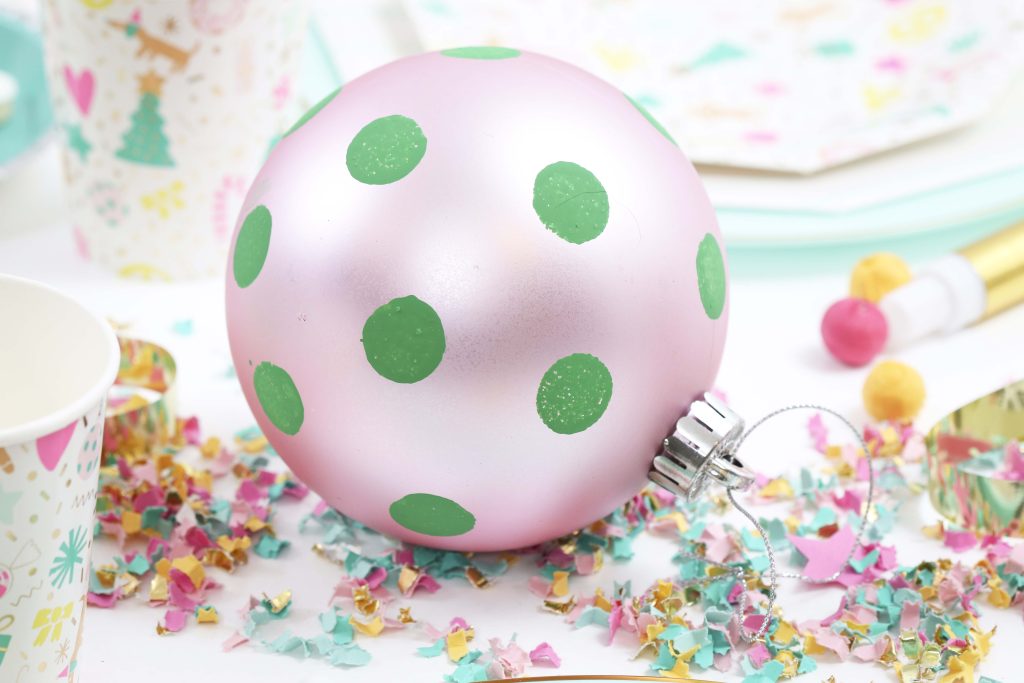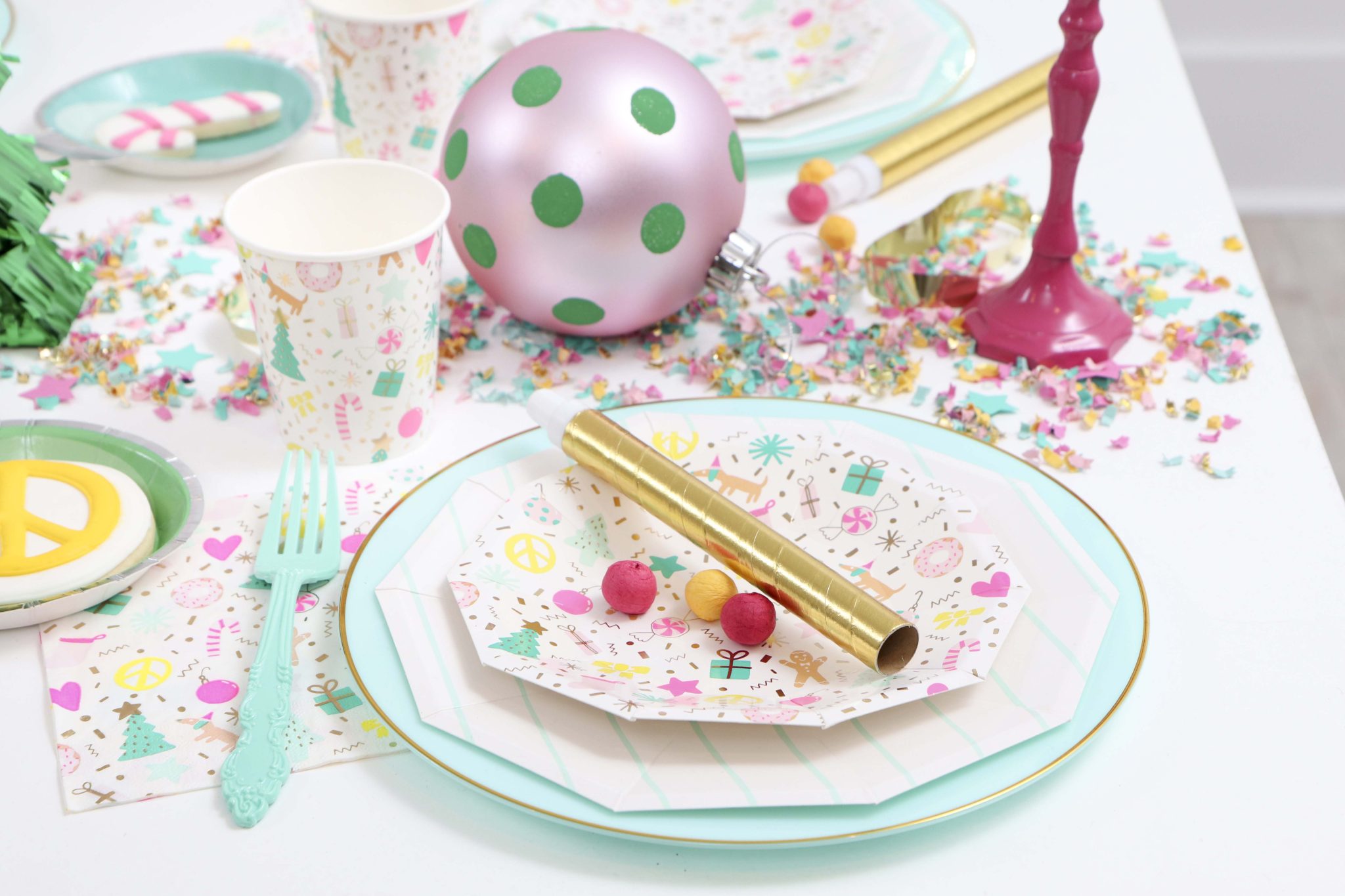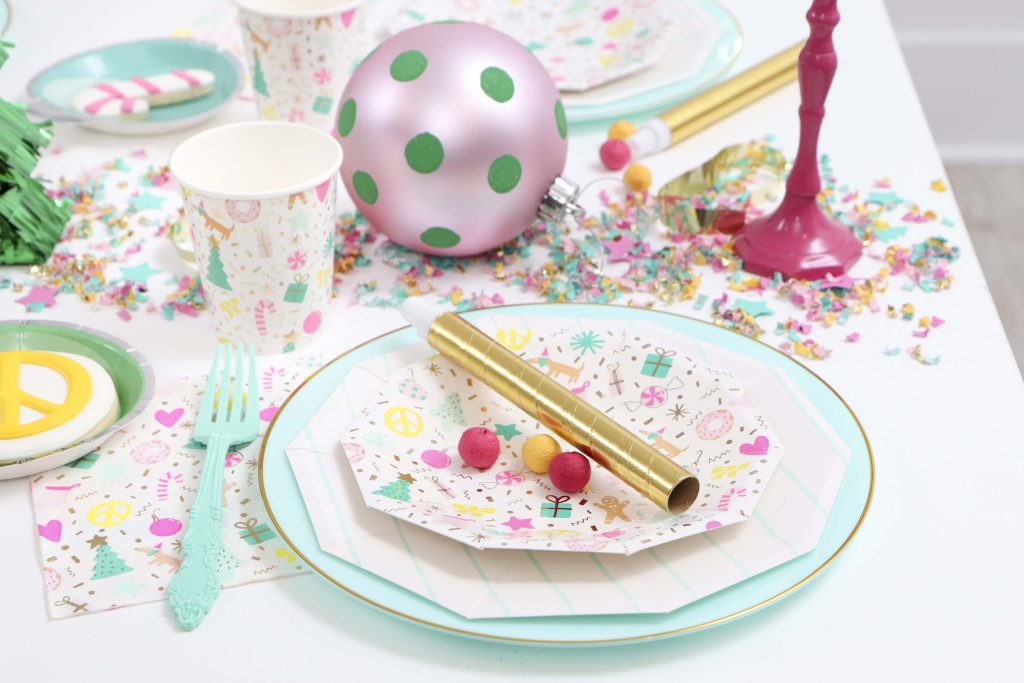 DIY Decor & Backdrop
Next, I created a joyful backdrop for the party. I used neon aqua and metallic gold tape, and neon pink paper heart cutouts to create a larger-than-life Merry and Bright tableware pattern on a blank white wall. I created a gold peace sign wreath, inspired by the peace sign in the tableware– here's hoping for more peace on earth next year?!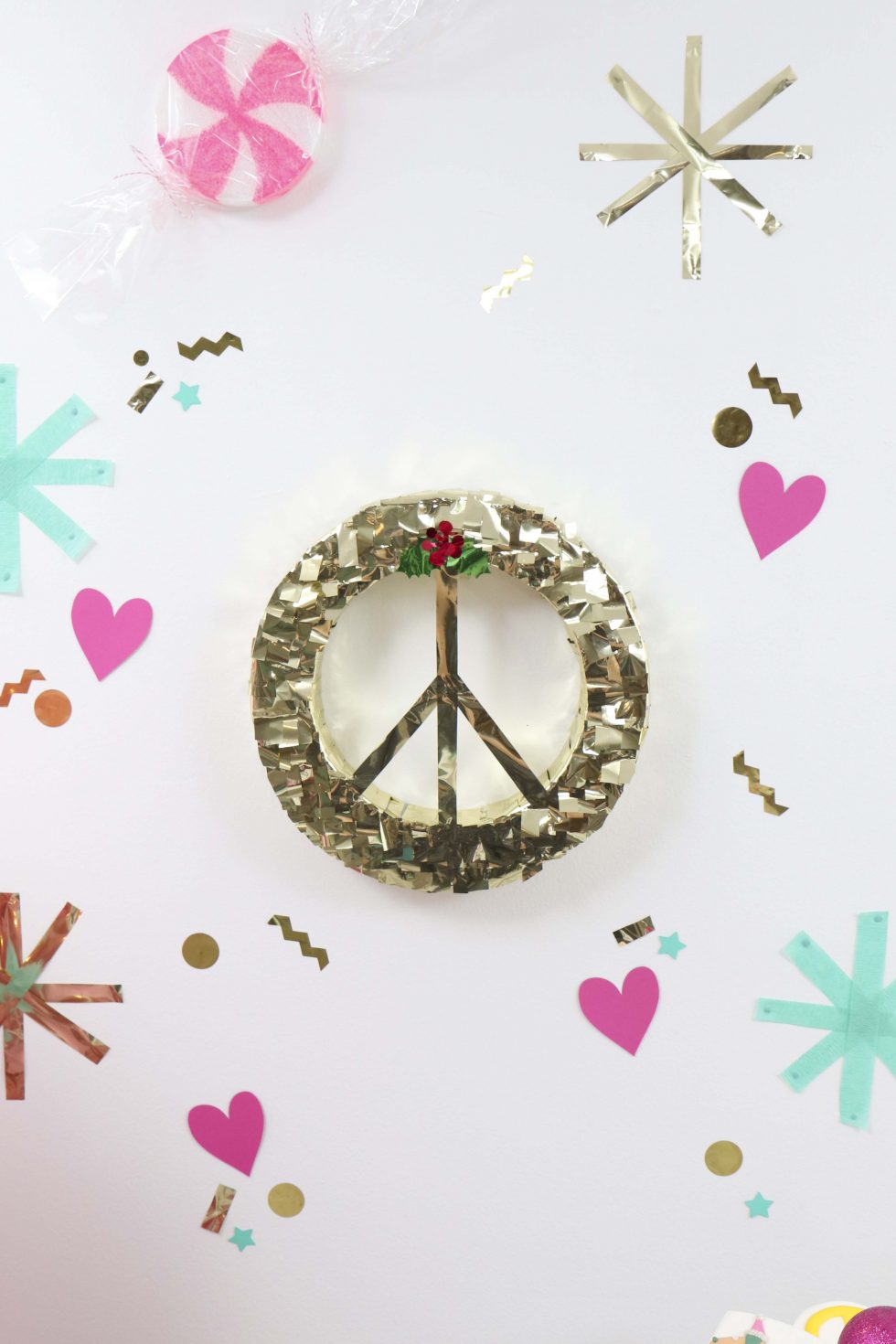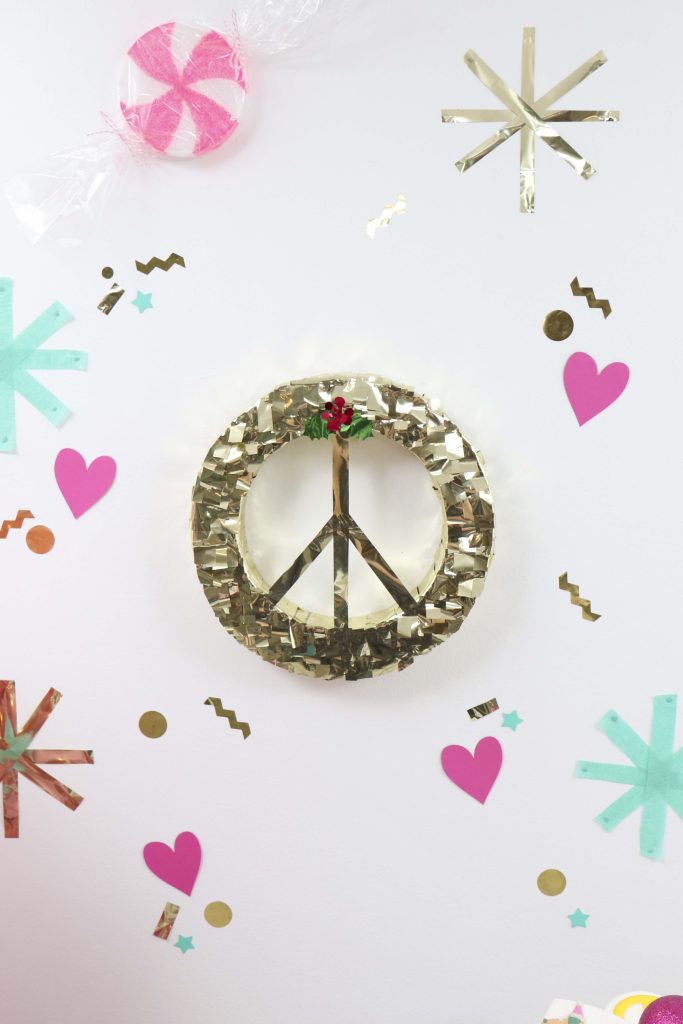 Then, I created some DIY neon pink swirl candies to match the ones from the plates. I used white craft foam circles, painted the bright swirls onto them, and wrapped them in clear cellophane bags tied with pink bakers twine. Easy and cute DIY candies!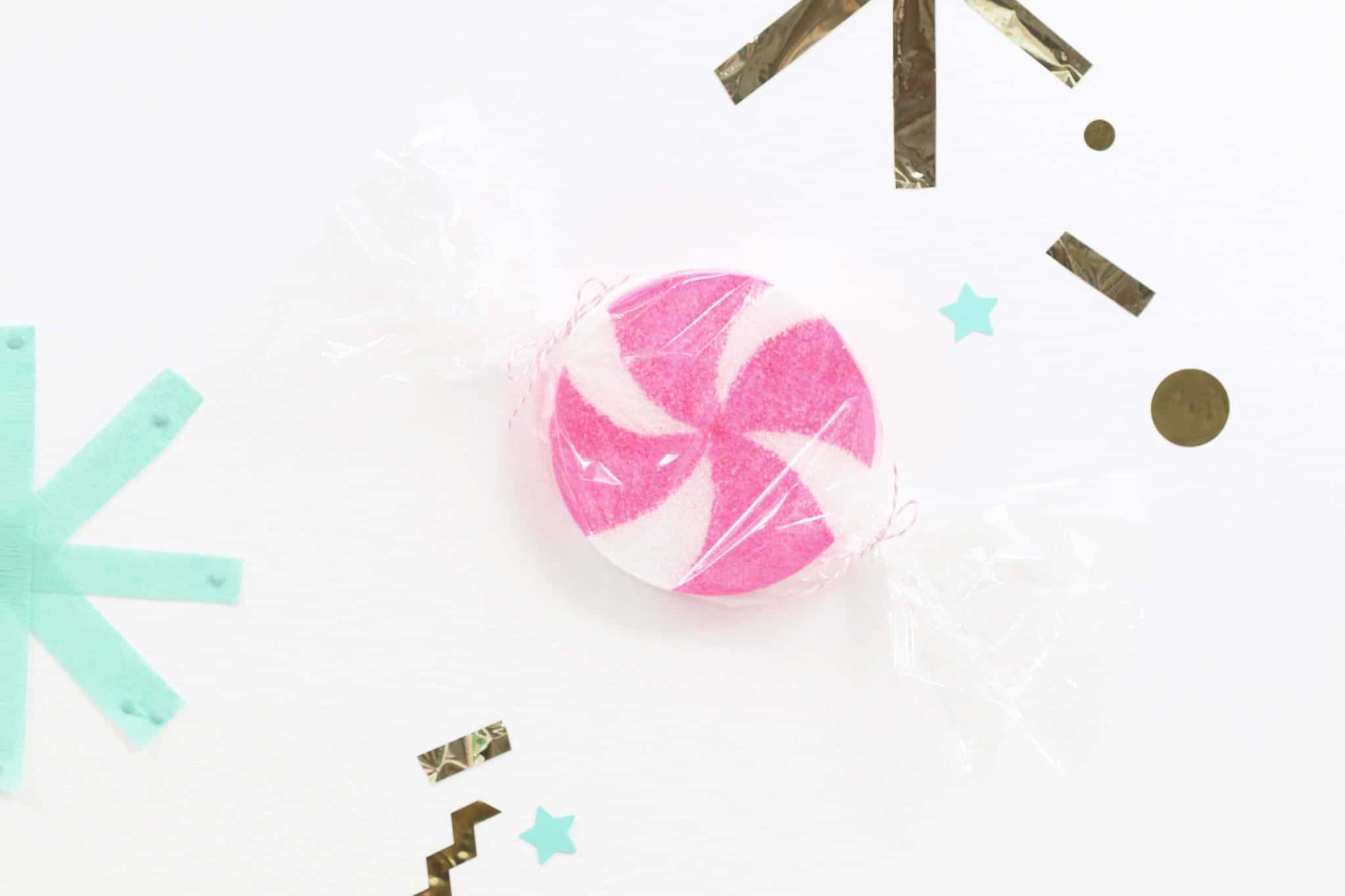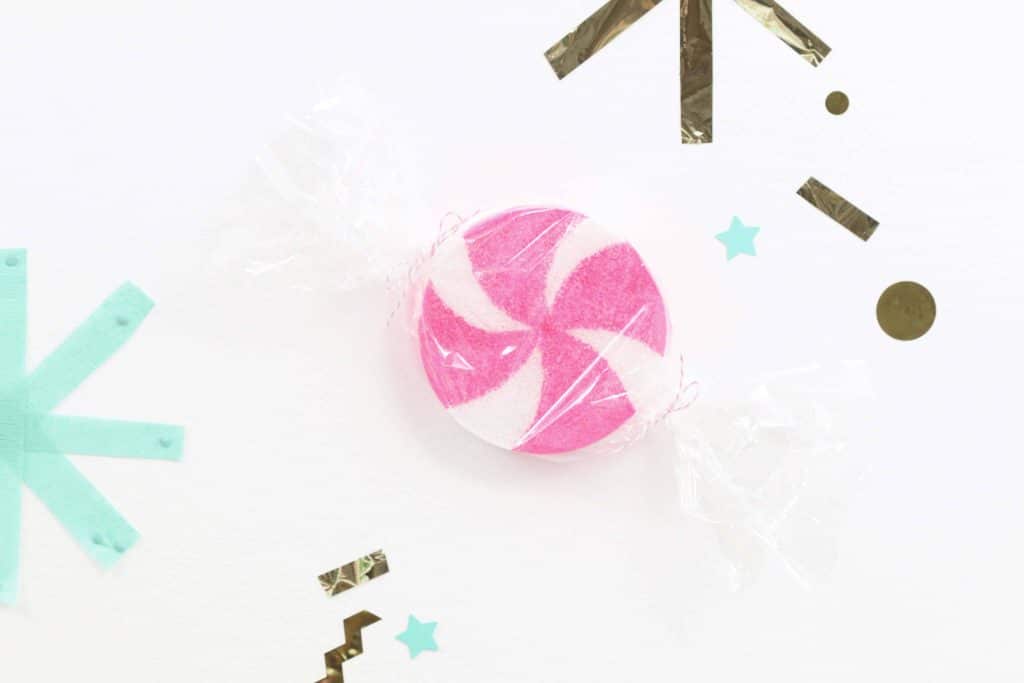 And because I'll use any excuse to have a non-traditional colored Christmas tree, I used this bright neon party setup as an opportunity to pull out my bright pink Christmas tree! I've had mine for a while, but you can find a similar one on Amazon here. I decorated it with a coordinating teal, white and pink pom-pom garland, and of course, a glittery gold star on top!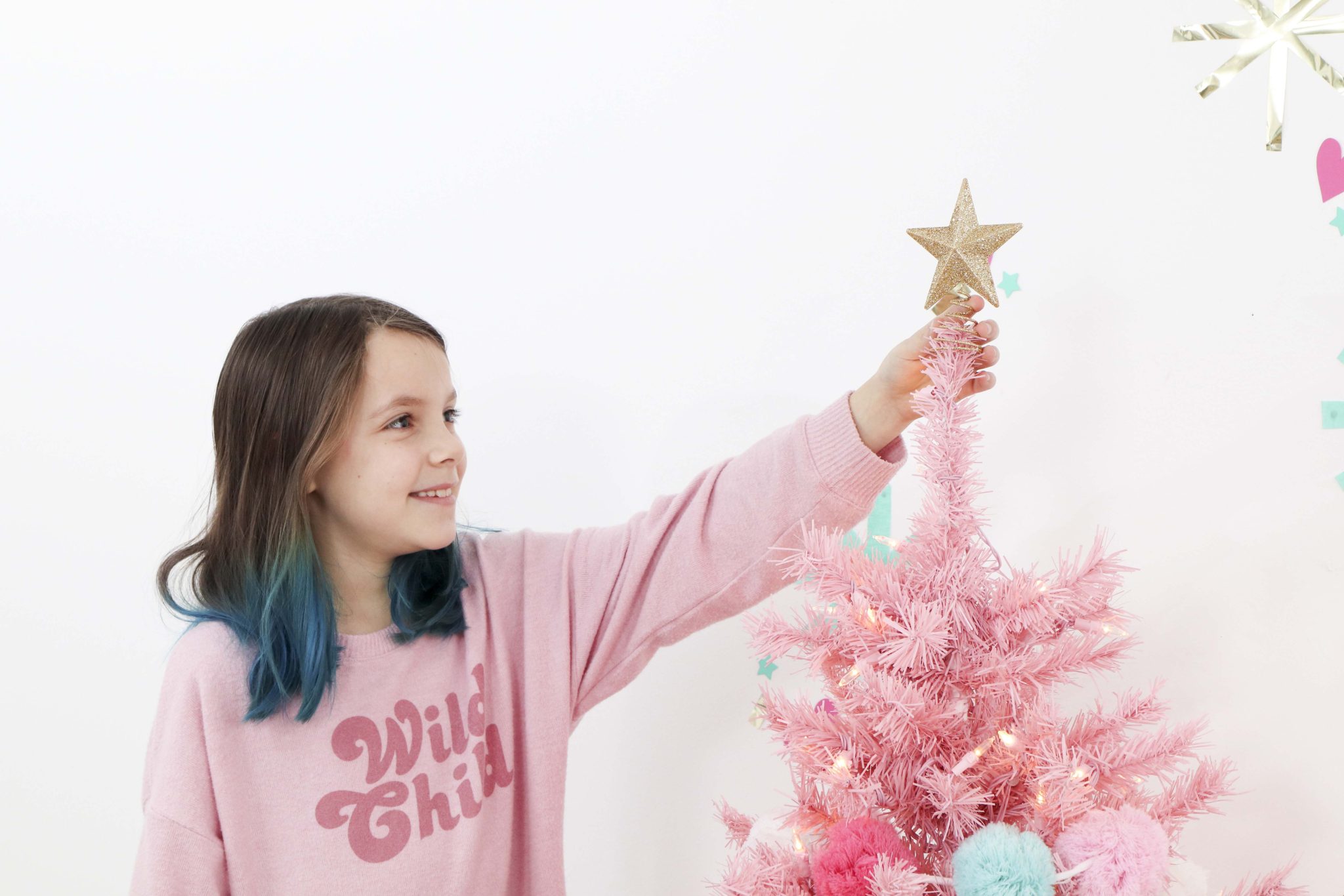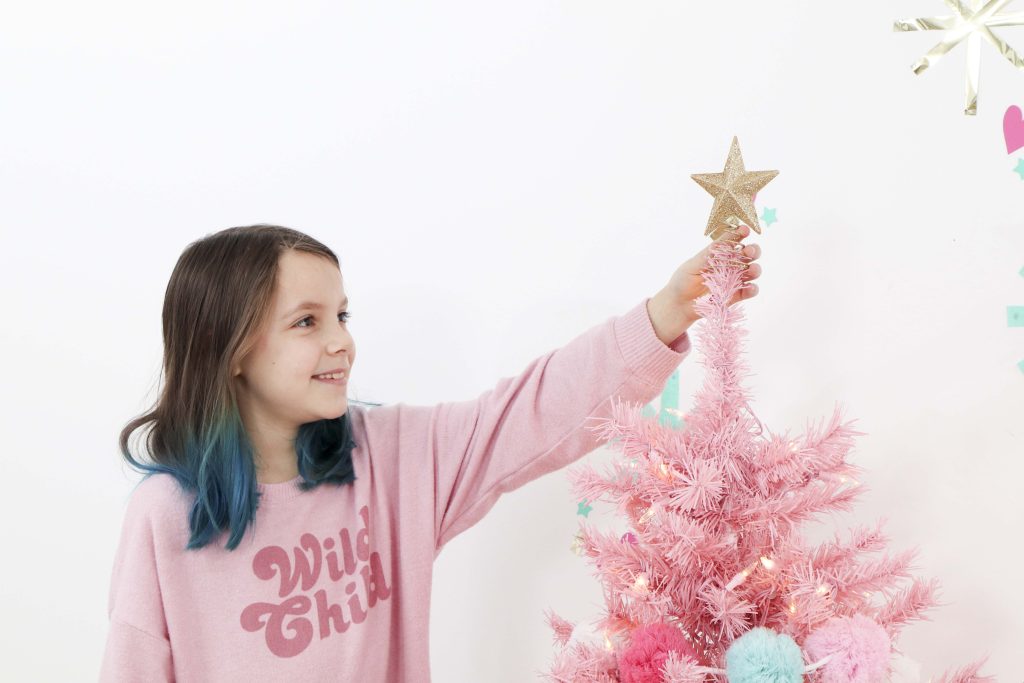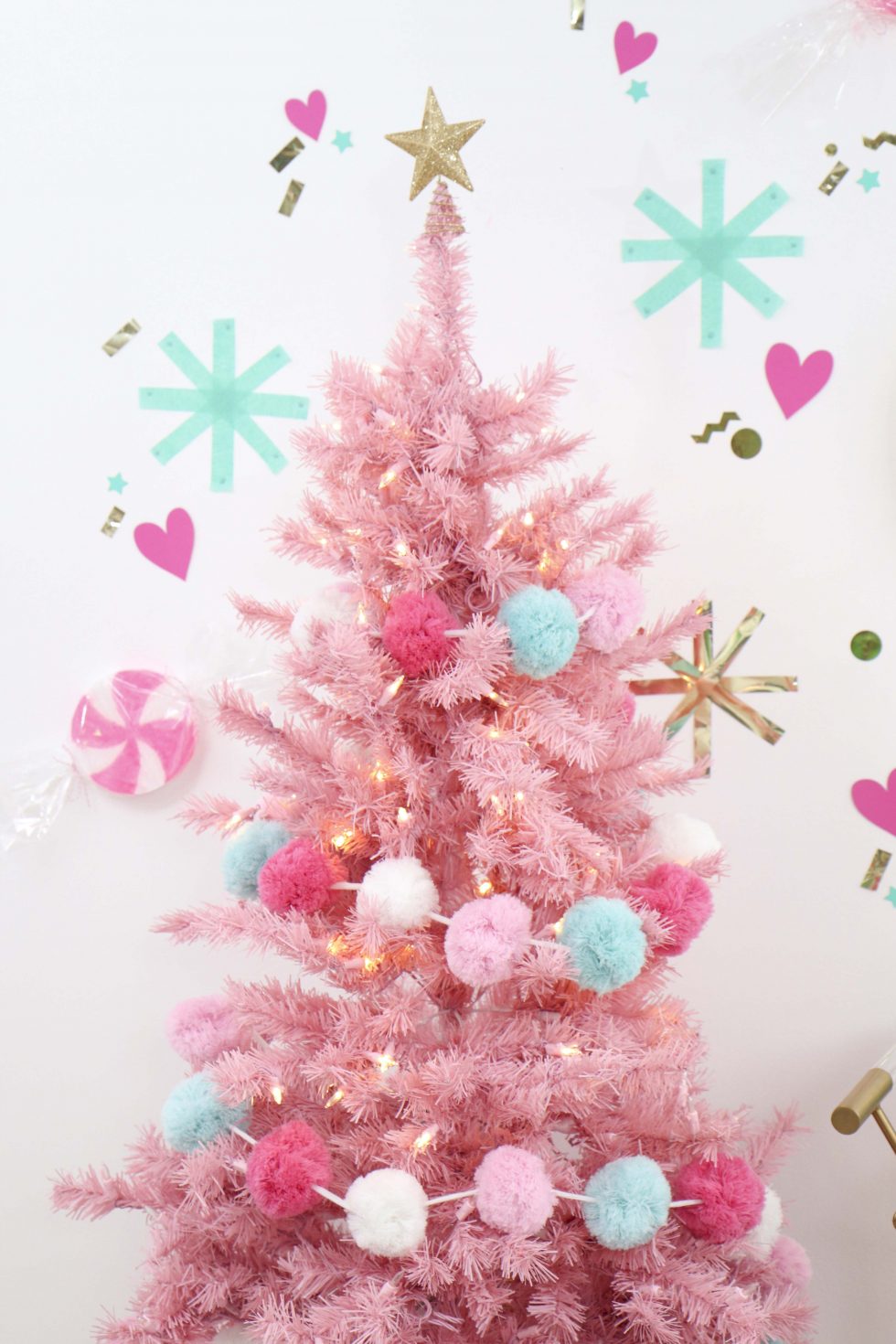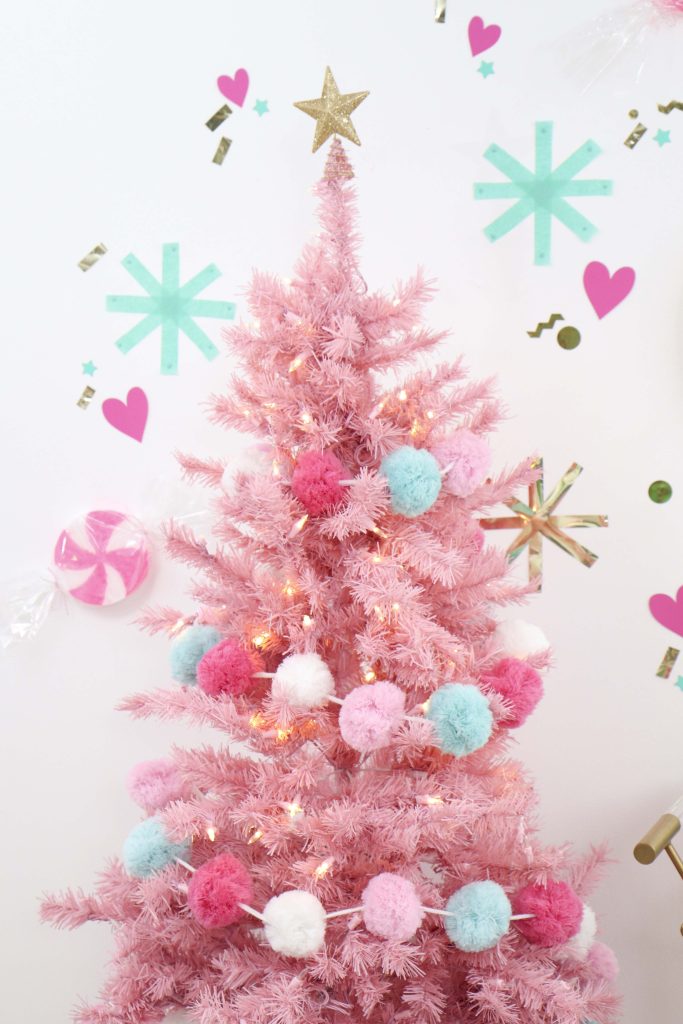 Dessert Cart
Finally, I set up a dessert cart using my versatile clear and gold bar cart. First, I decorated it with neon confetti and gold ribbon, another DIY ornament, fuzzy flocked teal Santa booties, a pretty pink poinsettia, and some bright colored bottle brush tree decorations.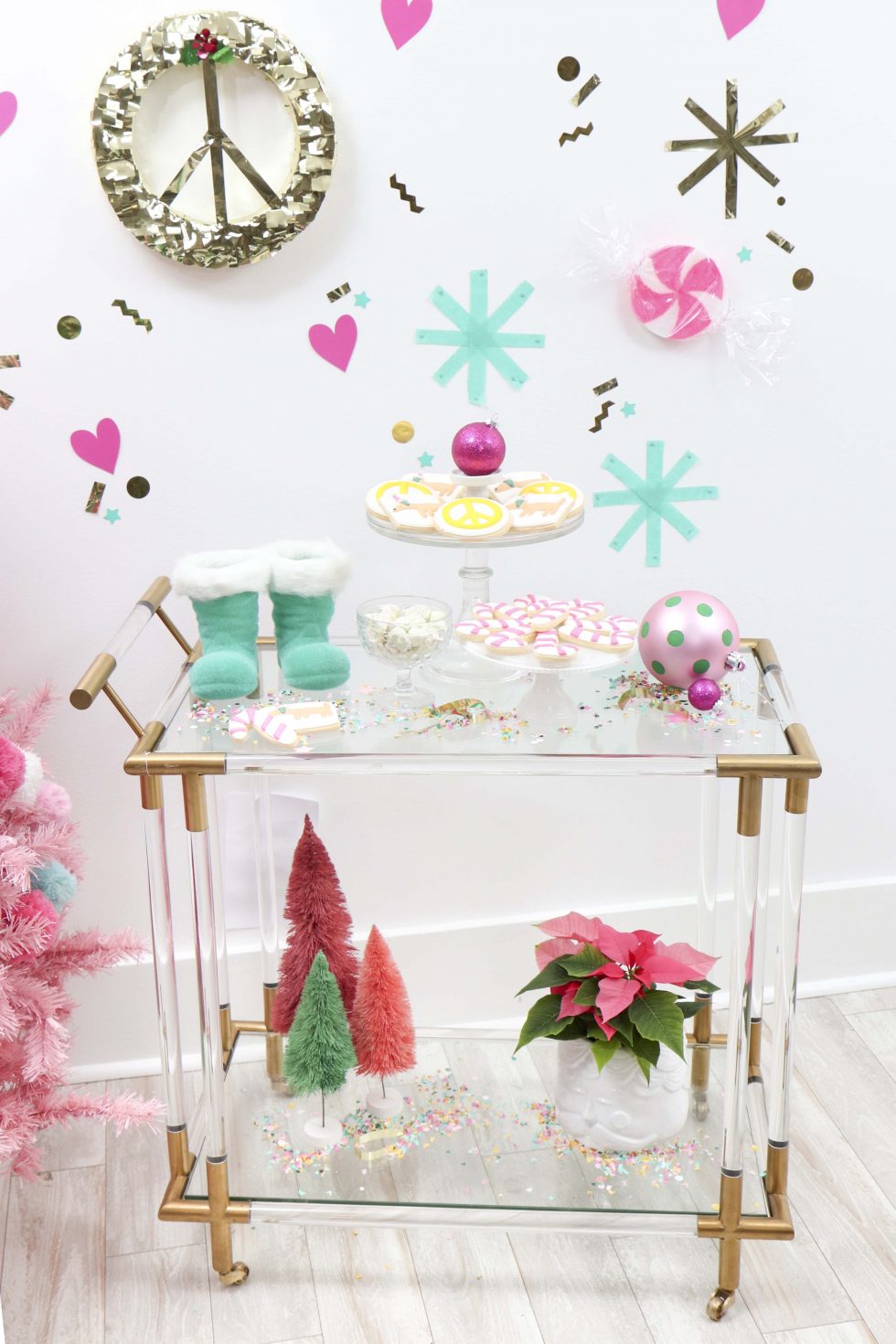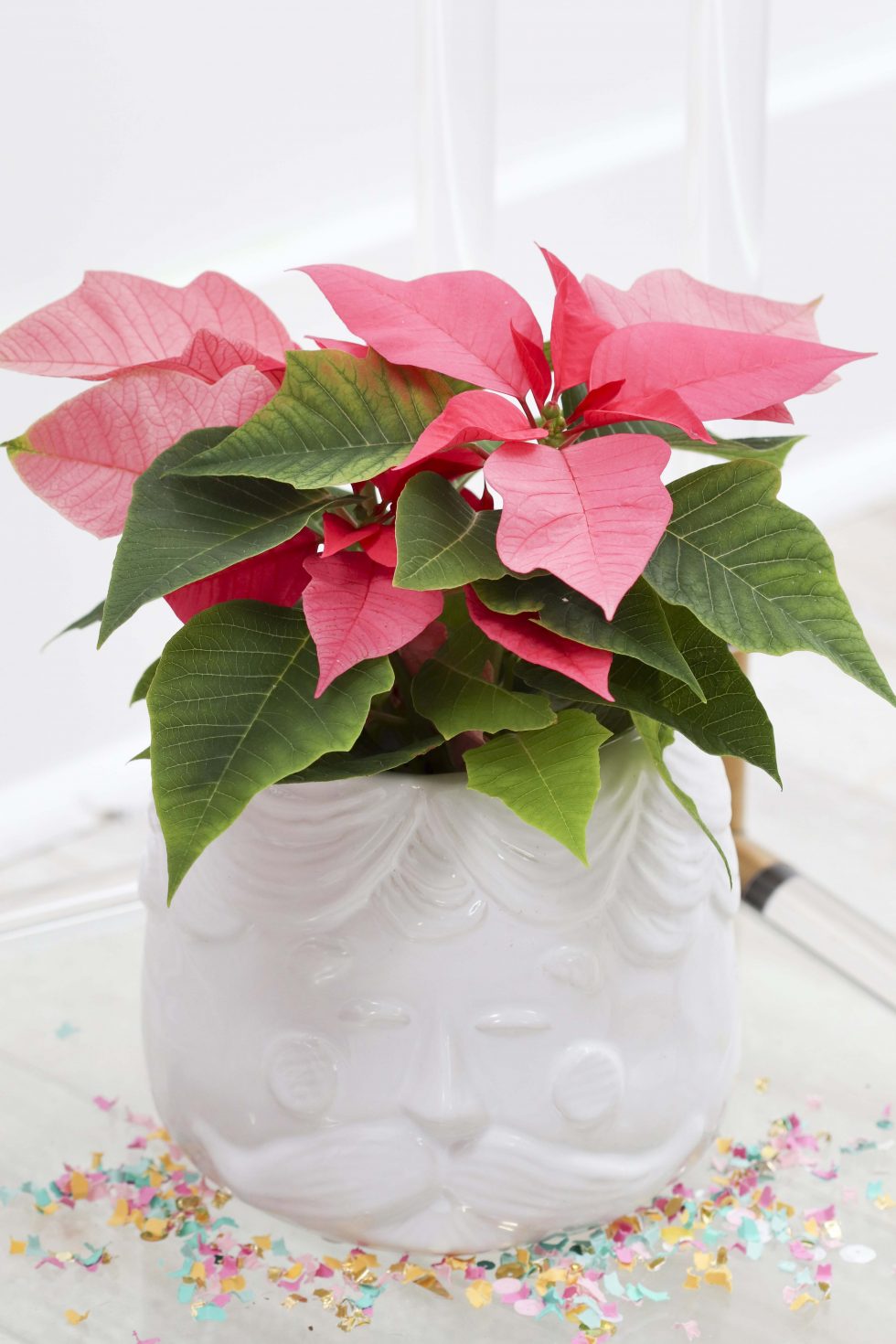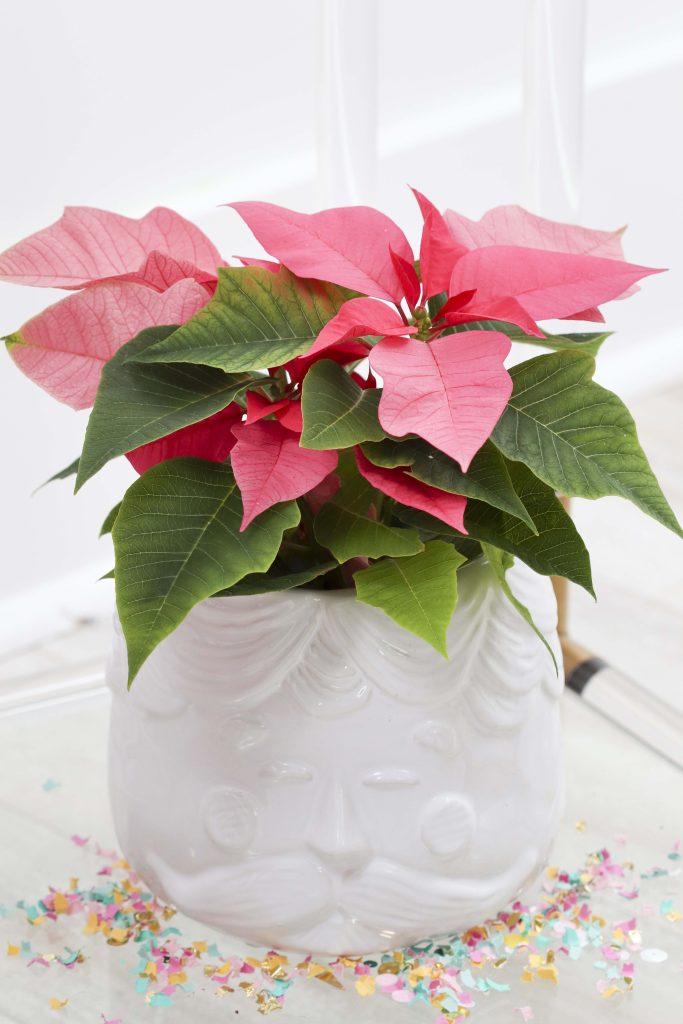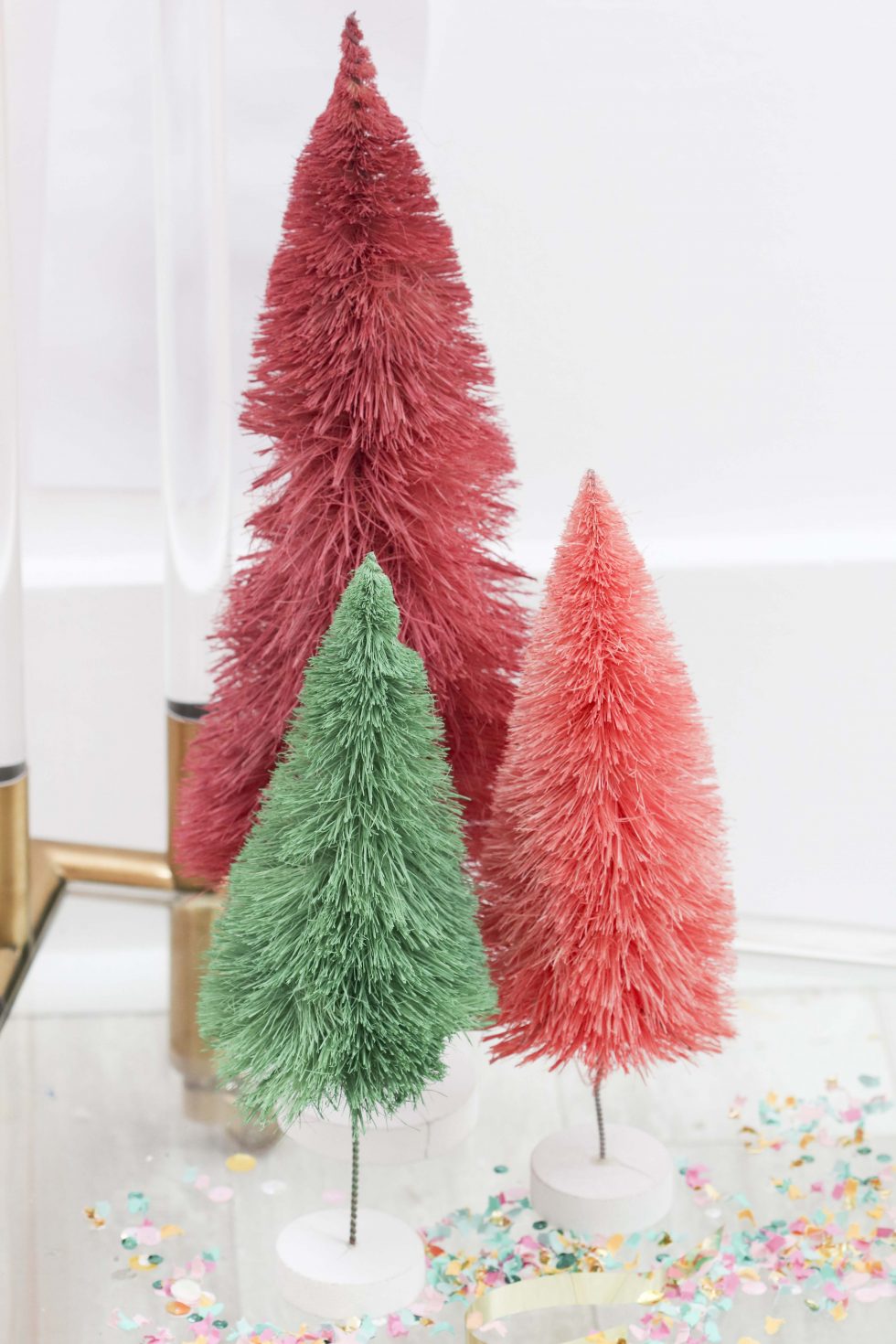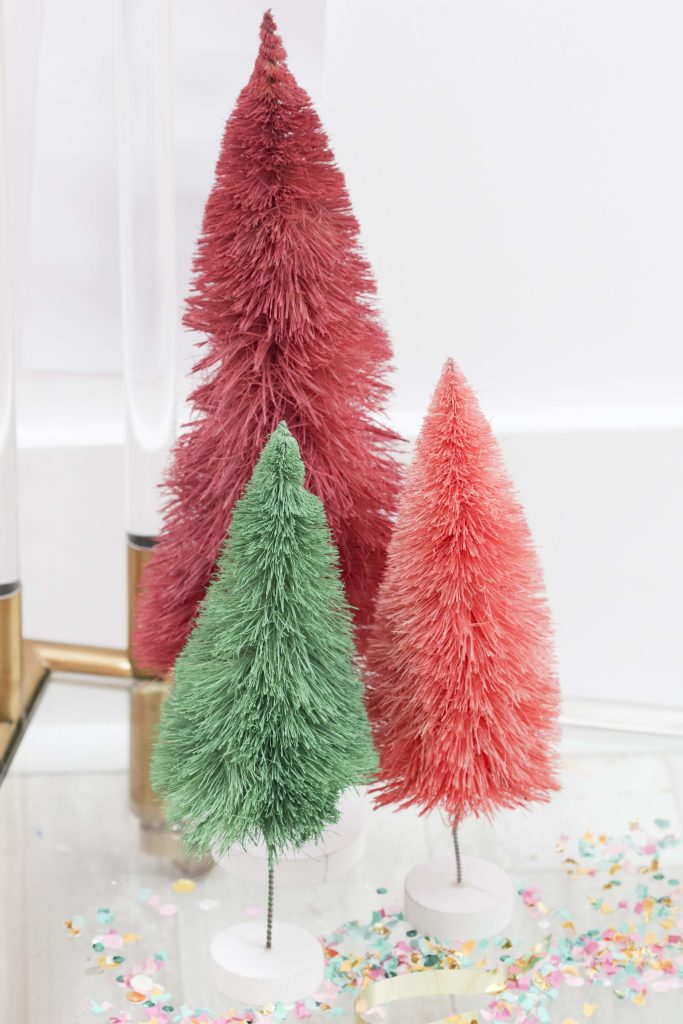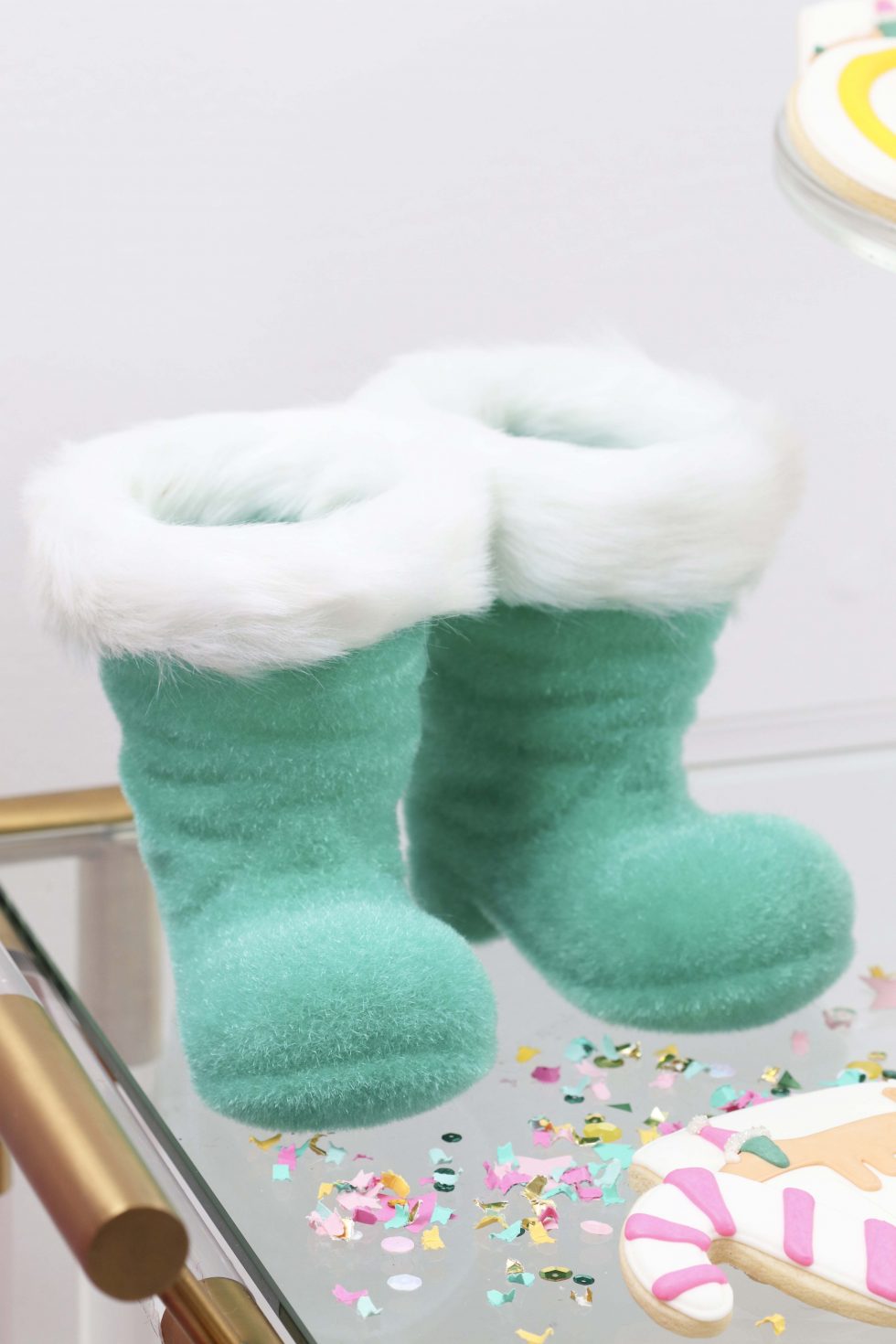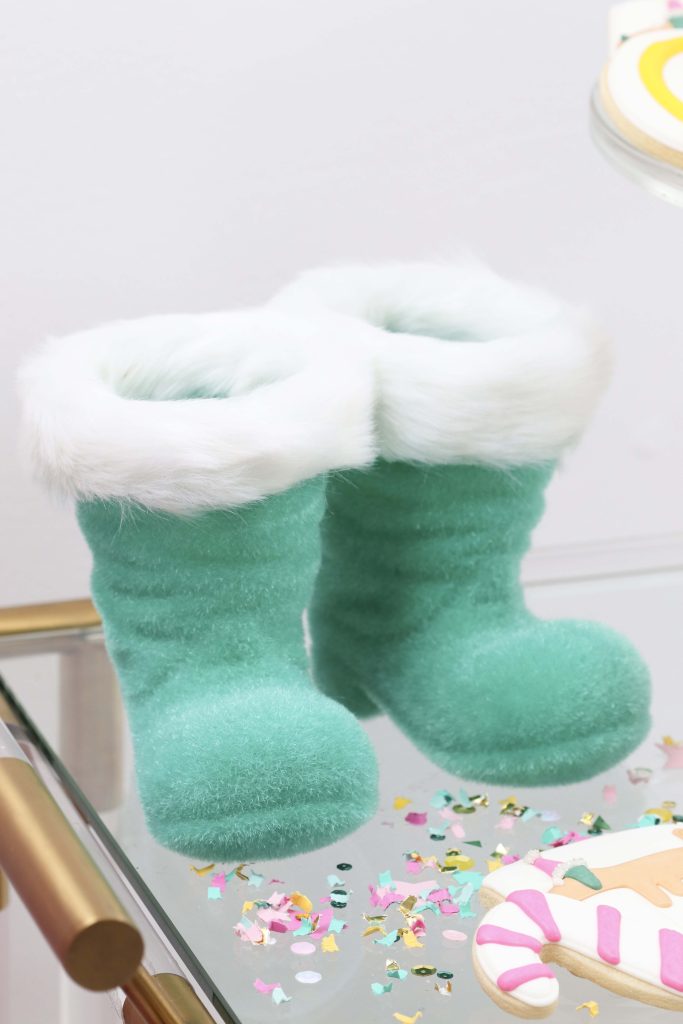 Then, I added dessert stands filled with more of the cookies, and used a glittery neon pink ornament to brighten up the plate and bring another tableware element to life.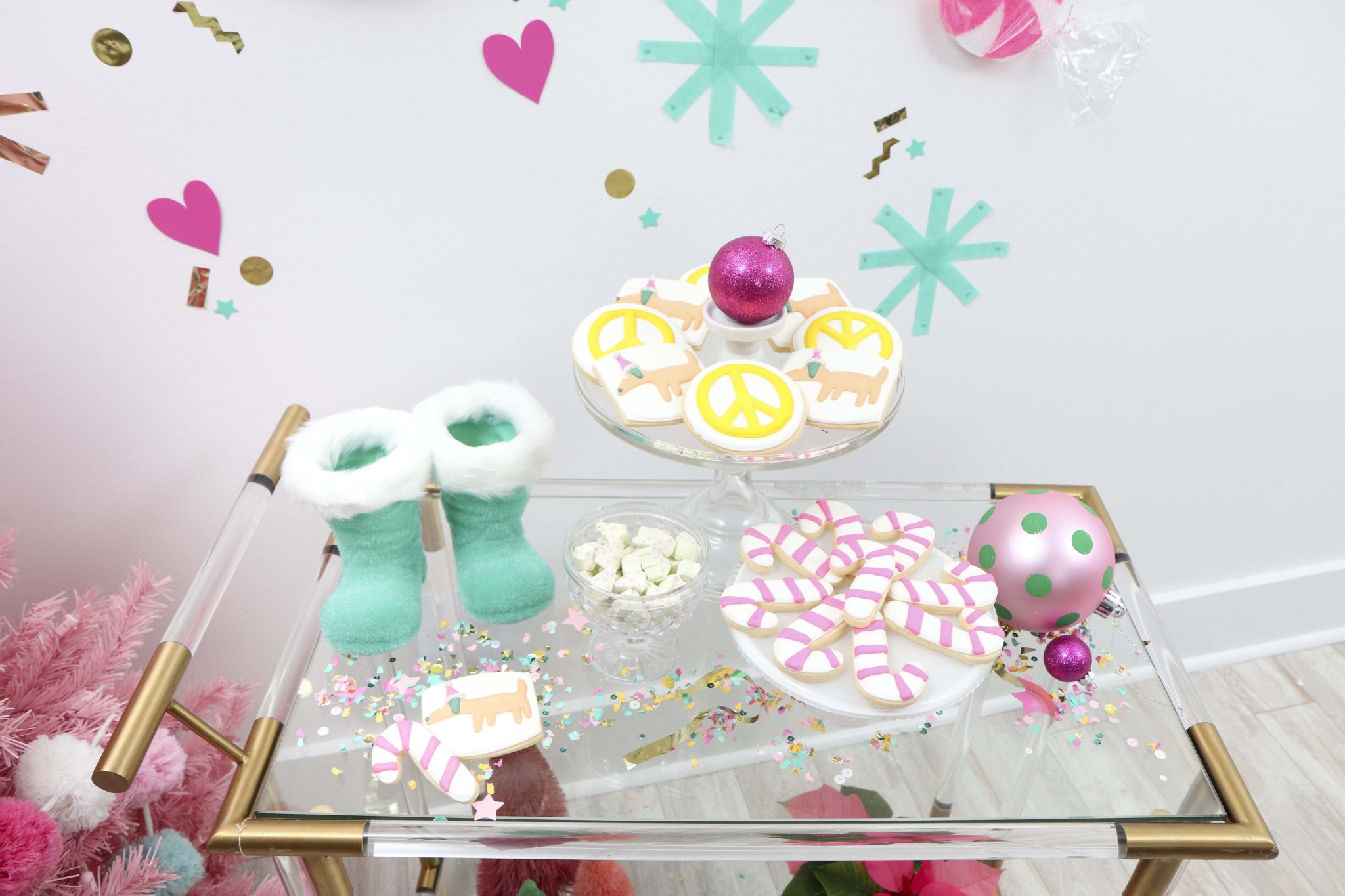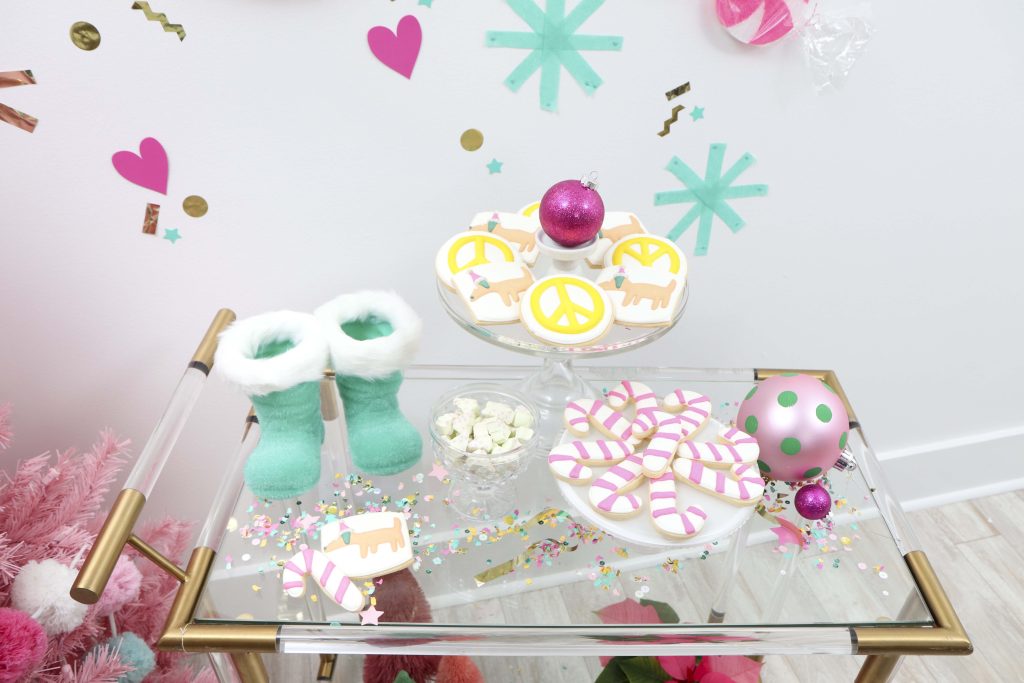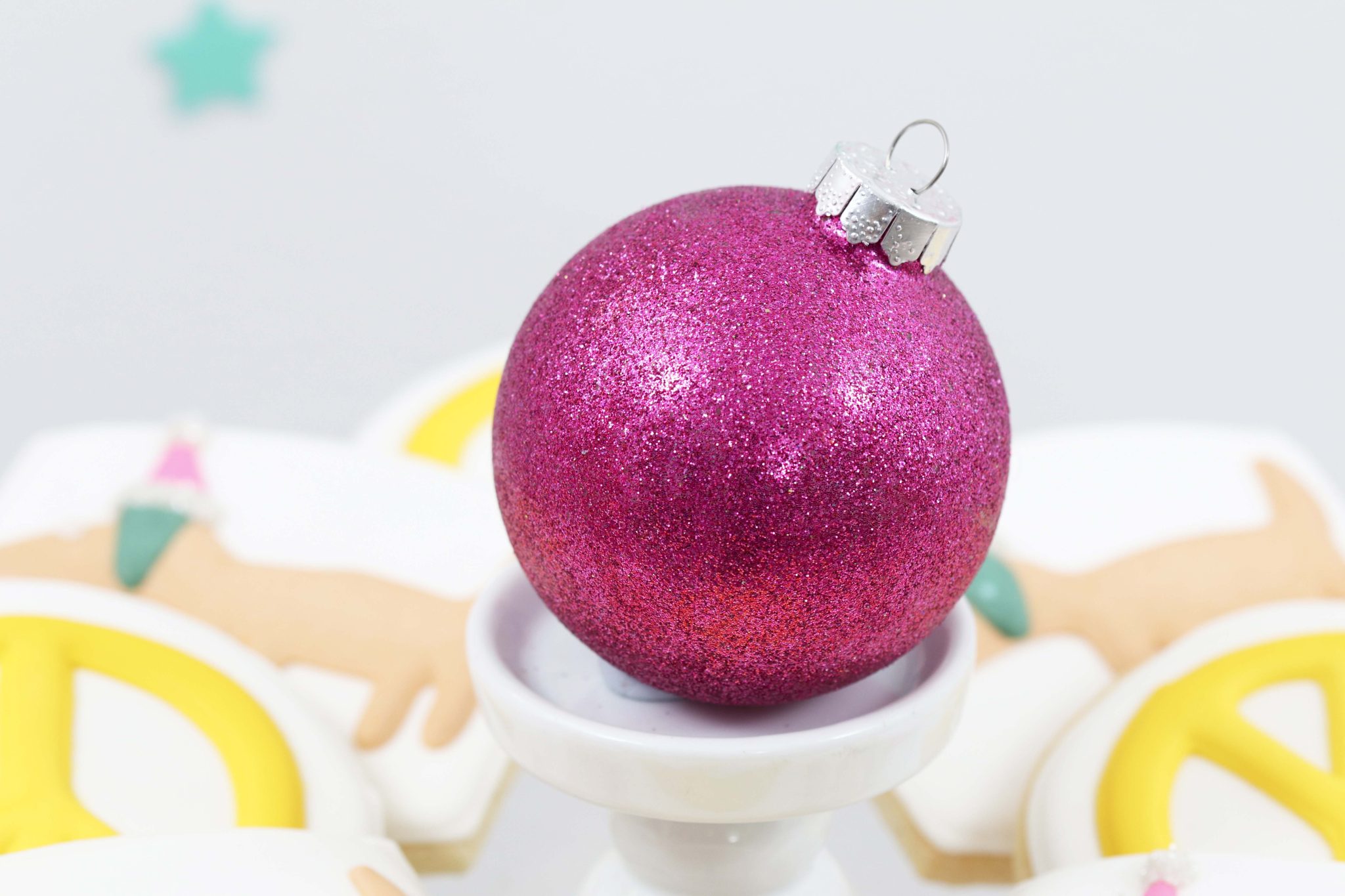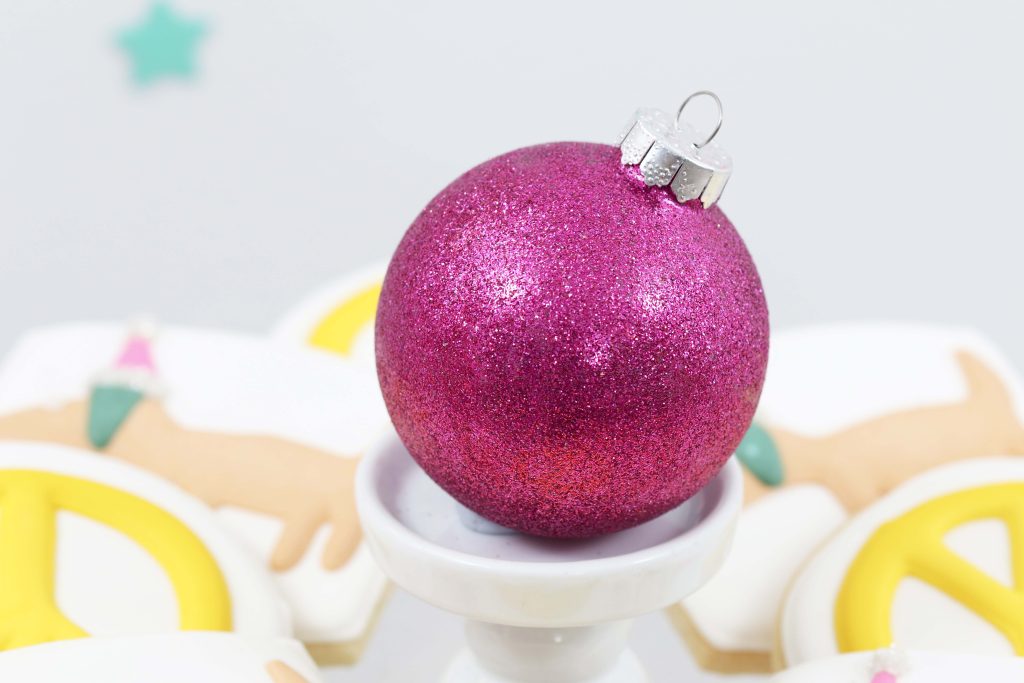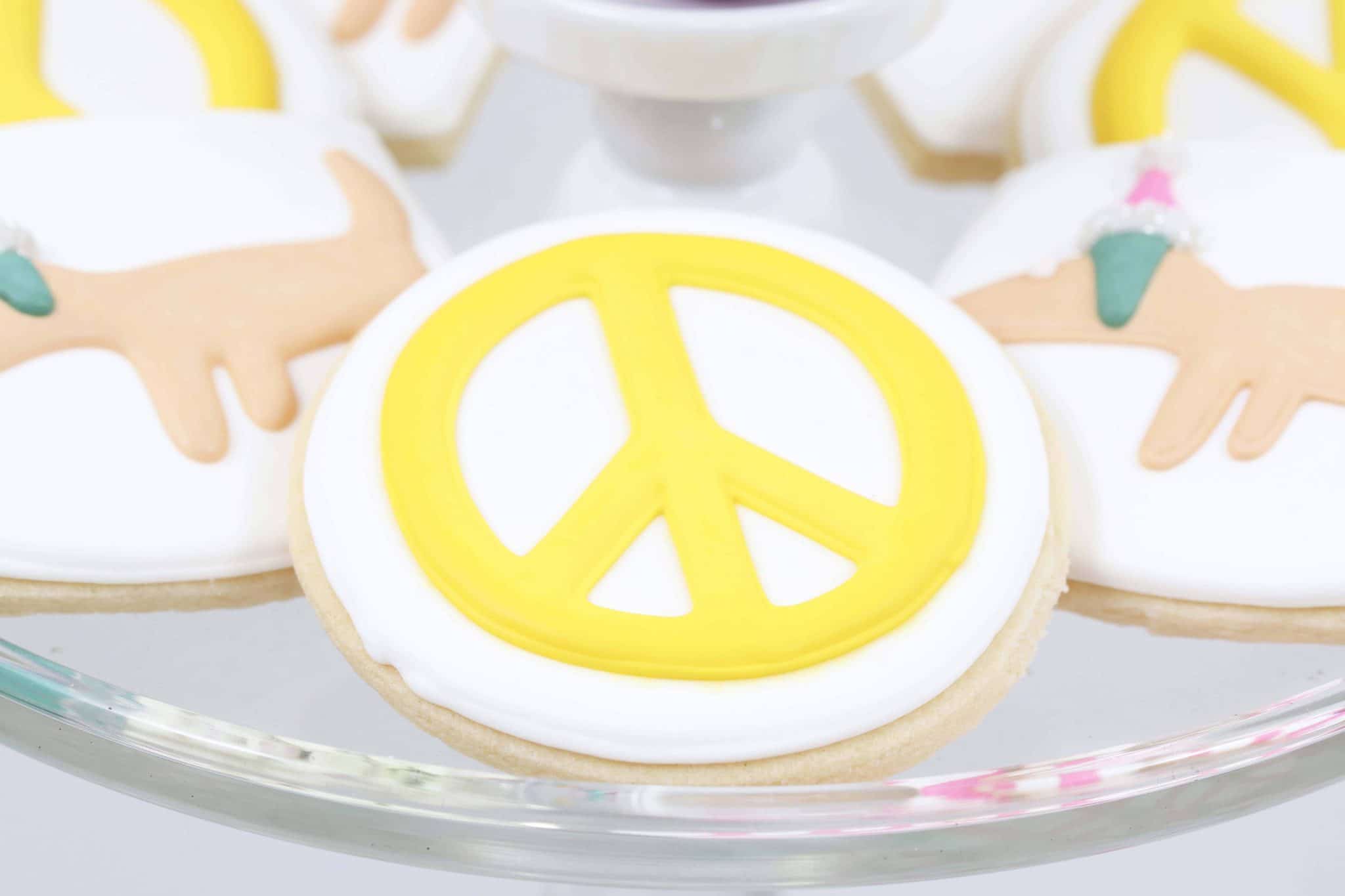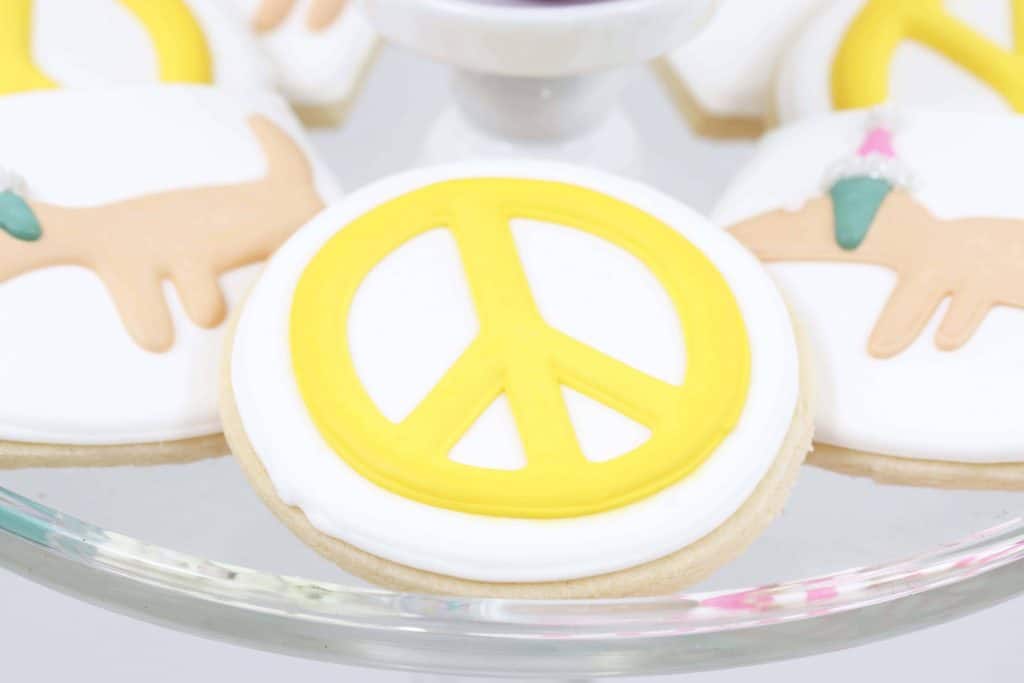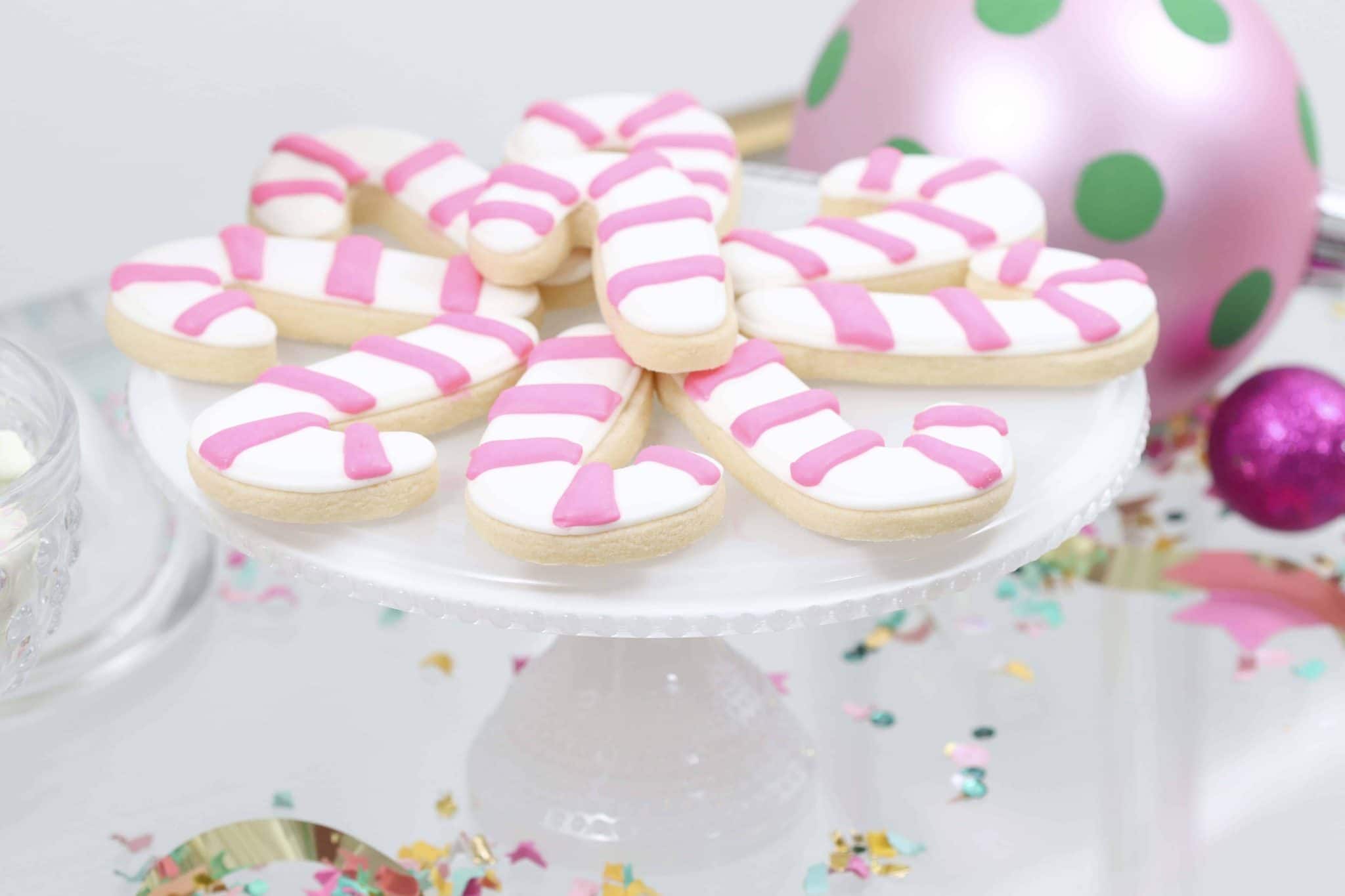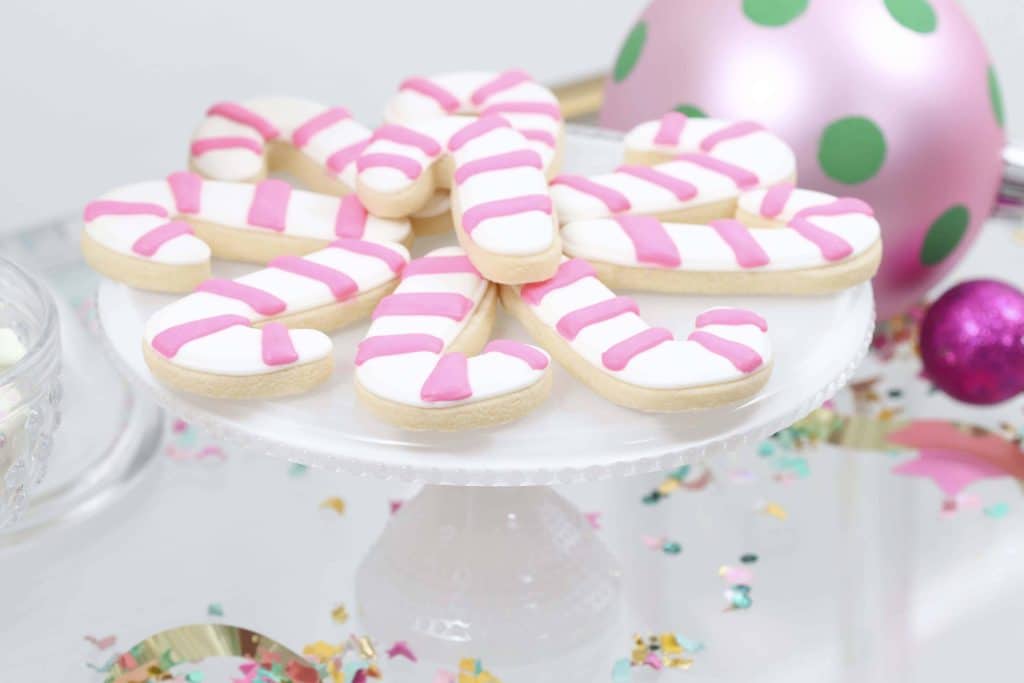 TIP: These cookies can do TRIPLE duty at this party – décor, dessert, AND favors – just provide little bags or boxes and let guests choose which cookie they want to take home!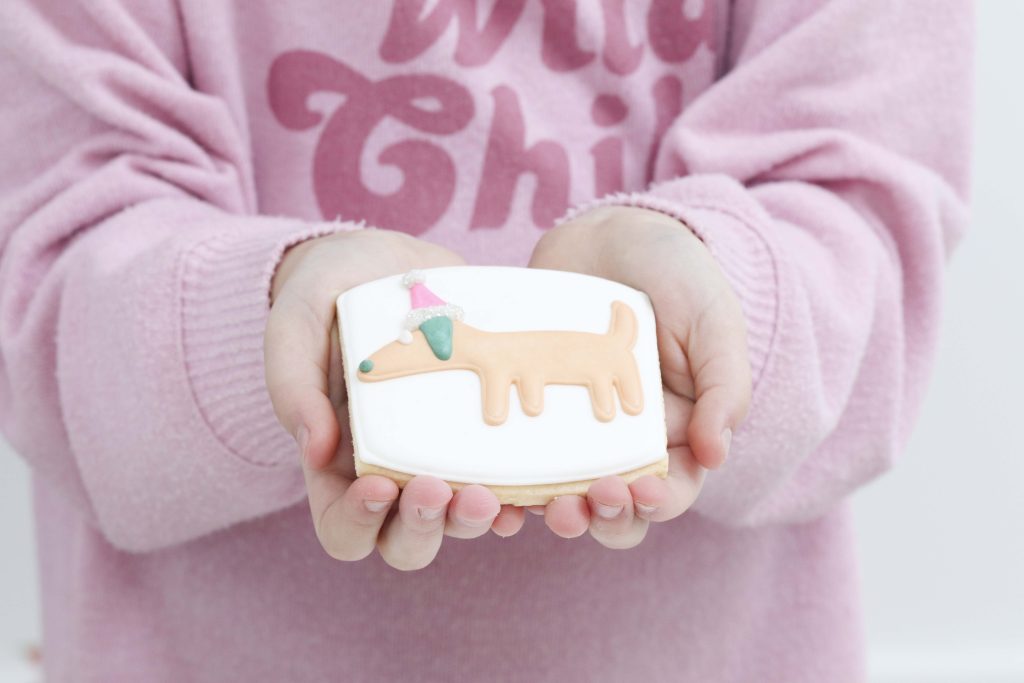 I also provided some mint green tree mini-marshmallows. Cutely coordinating with the tableware, and perfect for after dinner hot cocoa!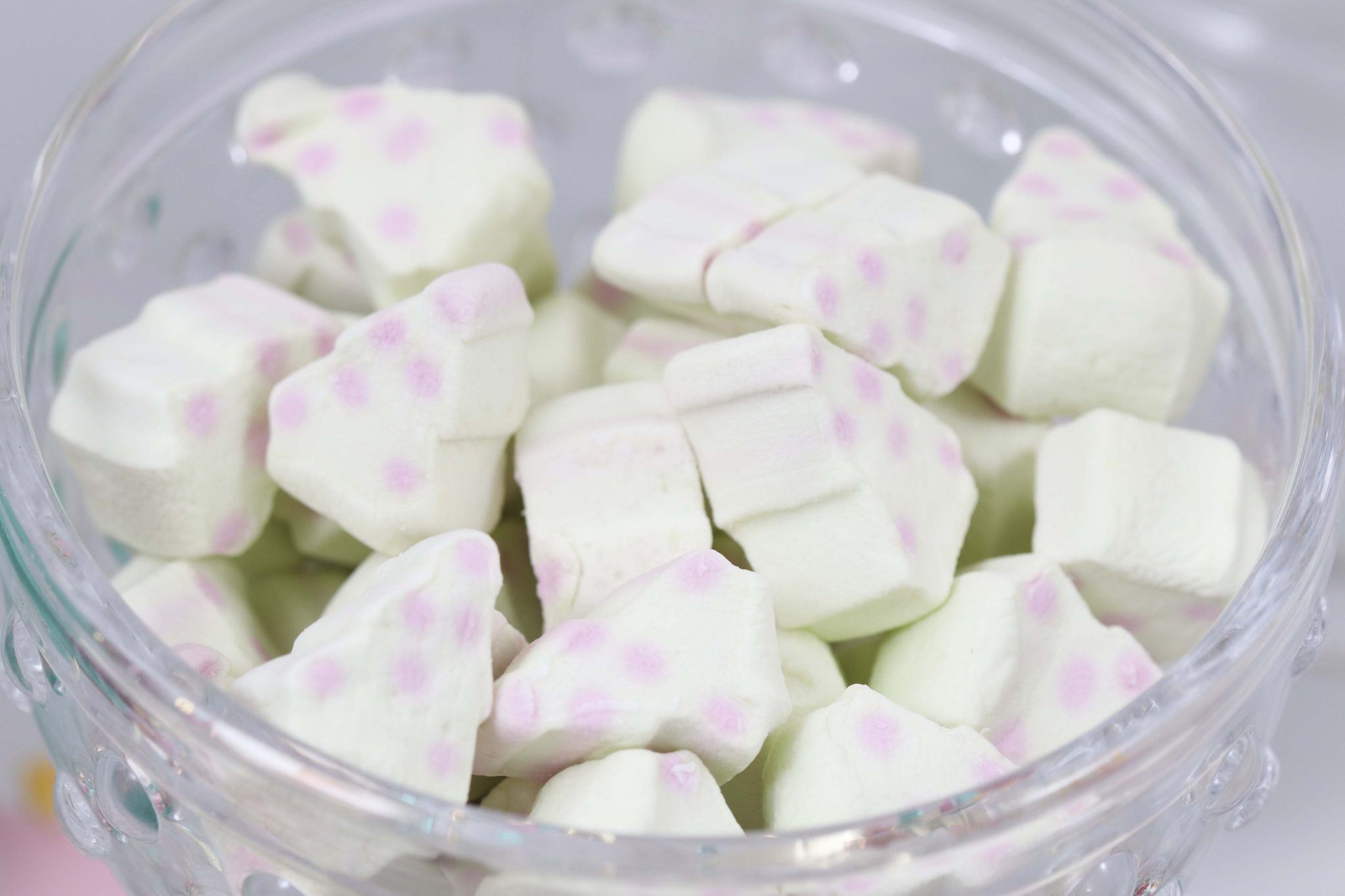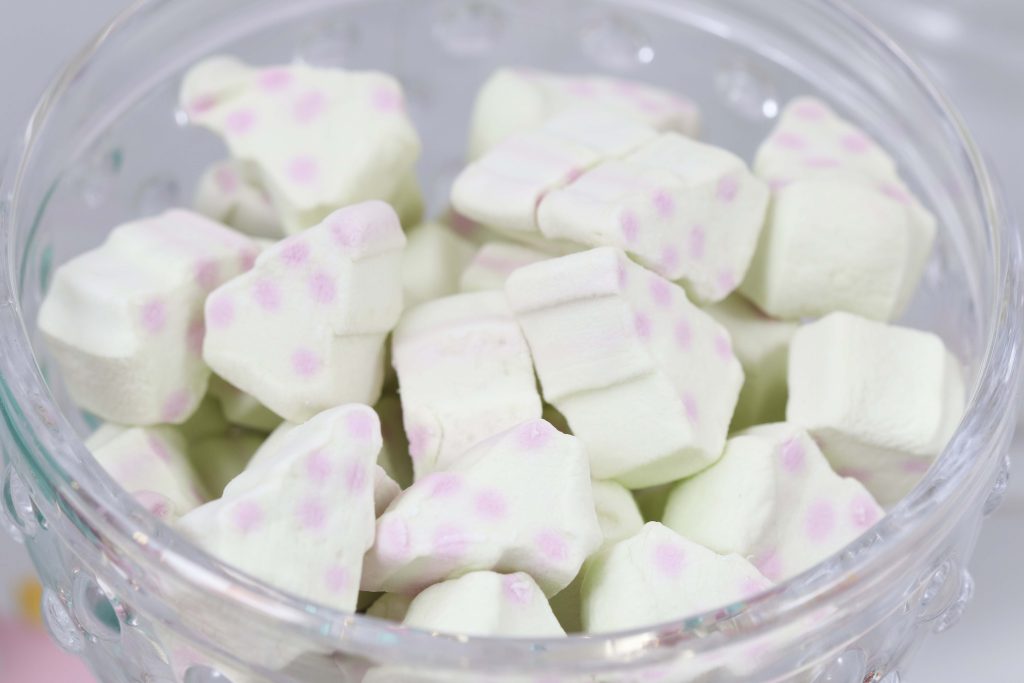 Even just the setup of this party made our spirits brighter – what do you think? I'd love to hear your opinions in the comments.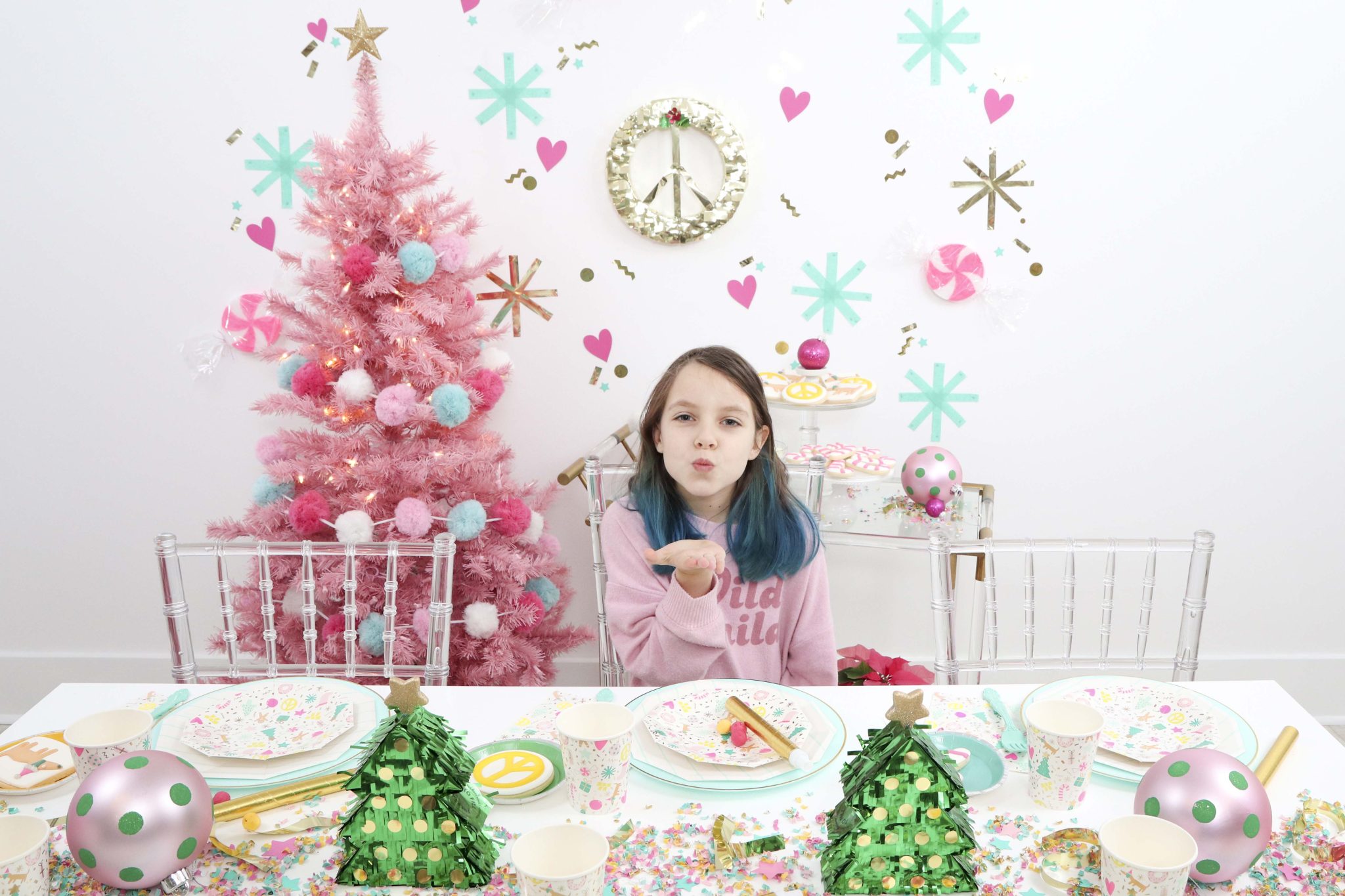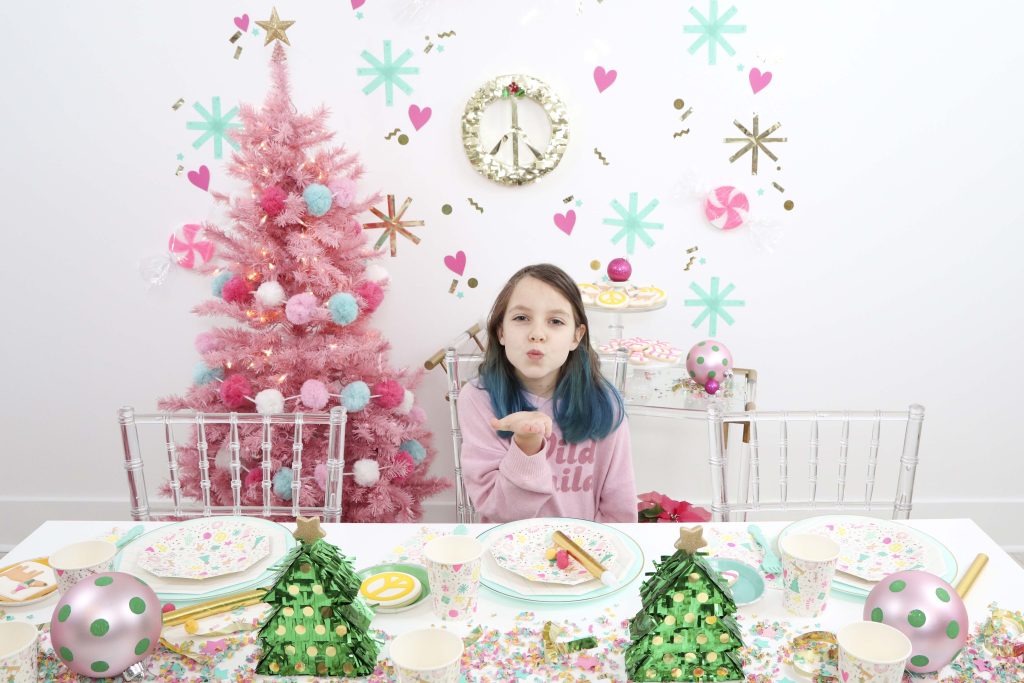 Don't forget to check out my Amazon Shop for a list of some of the supplies I used and some other options!
More Holiday Party Inspiration
And for more bright and cheerful Holiday celebration inspiration, check out this Confetti Christmas Bachelorette Party, or this Merry and Bright Christmas Light Craft Party for Kids!
Happy Partying!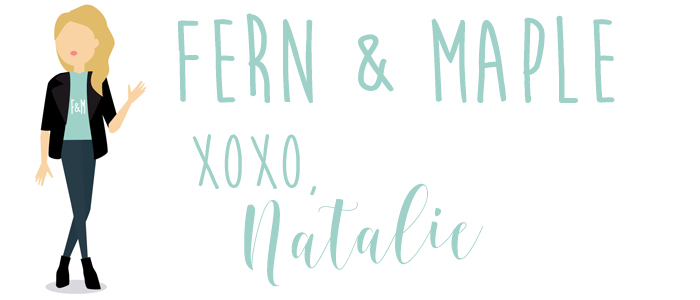 PIN FOR LATER: