Christmas is known for being a magical time of year. And what creature is more associated with magic than a Unicorn? That's why I found the "Magical Christmas" collection from Daydream Society so inspiring. Christmas AND unicorns…together?! Brilliant. So brilliant, that I decided to style an entire party around them. I love the unique pastel pink and mint color scheme combined with pops of traditional red, green, and gold. Do you find it magical too? Read on to see how I set it all up!
P.S. For an easy one-stop shop for this party, check out my Amazon Shop!
Table Settings
I started by setting my table with a fluffy  pink feather boa down the length of it, with a magical unicorn snow globe in the very center as my centerpiece. To add the Christmas element to it all, I added a foil holly and berry I removed from a holly and berry wire garland to the snow globe, and spread a few pretty gold ornaments throughout the boa. 
Tip: Raid your child's room for party décor.  This snow globe is part of Parkers room décor.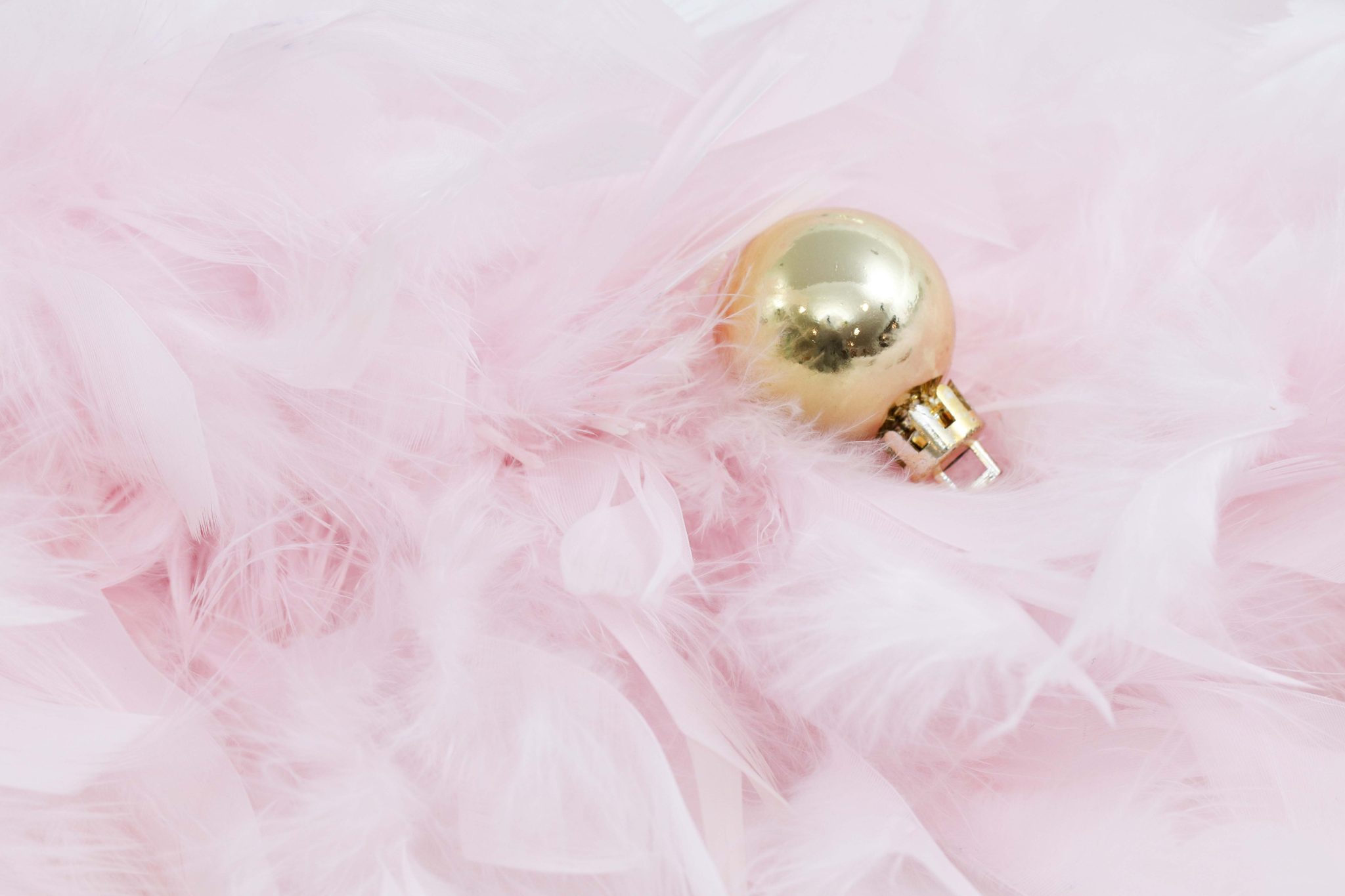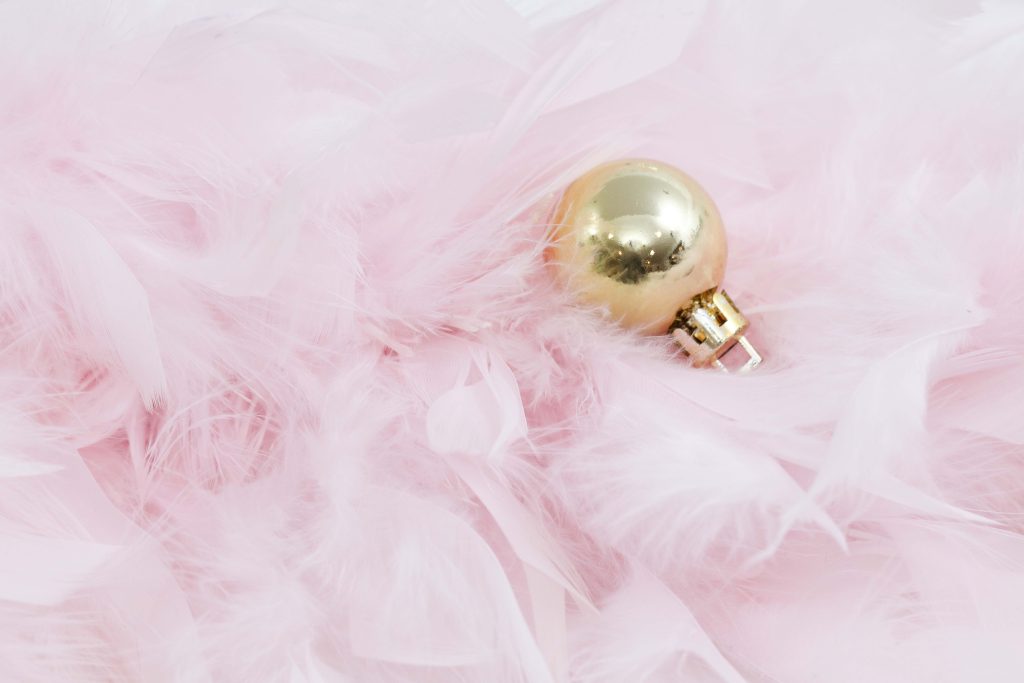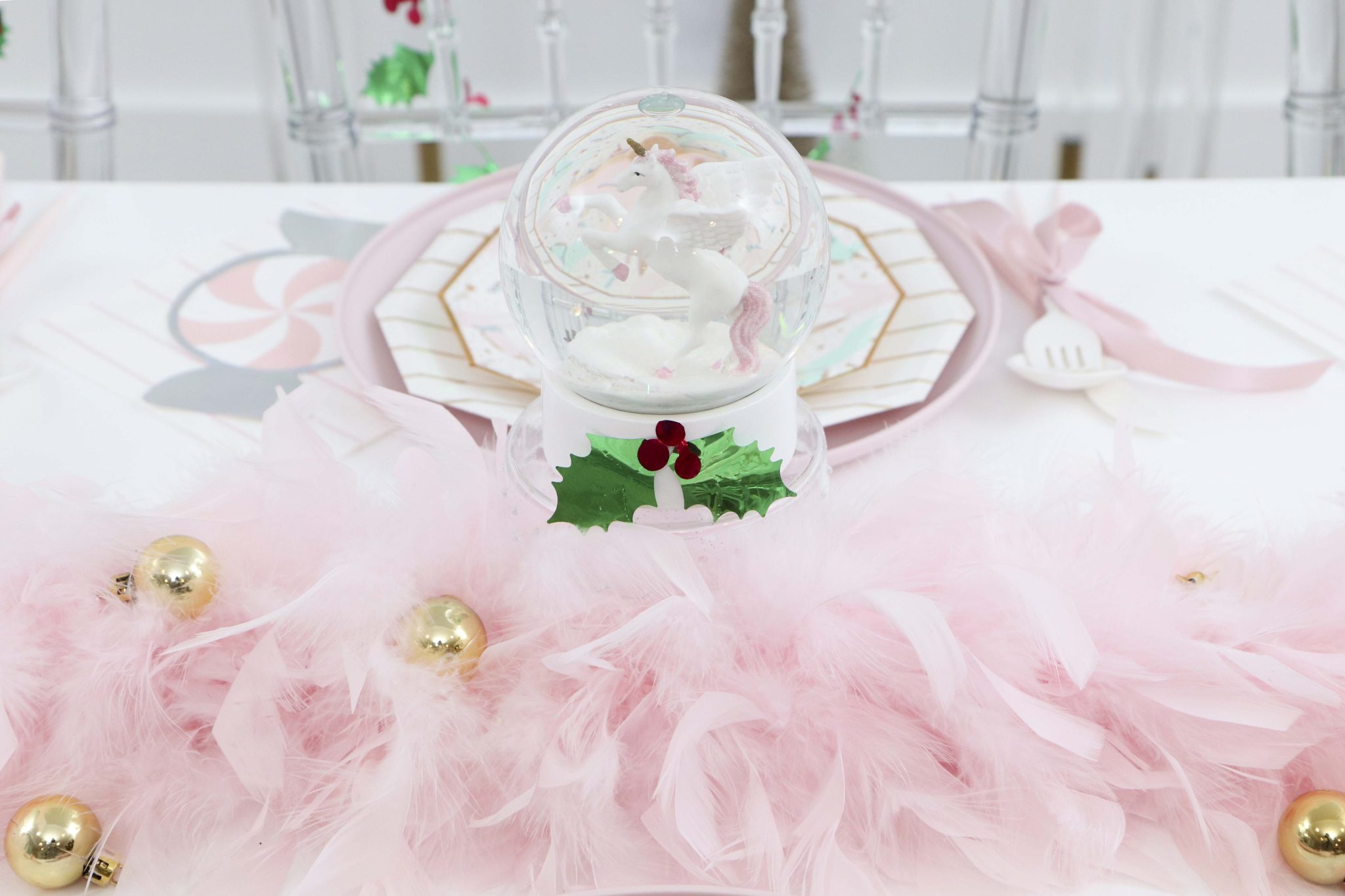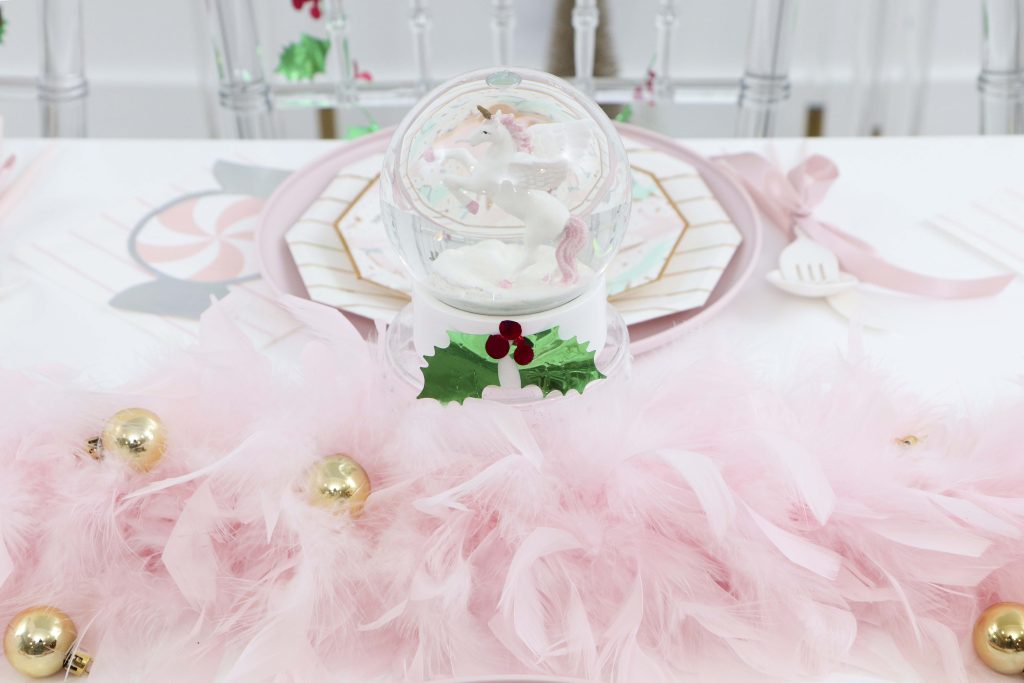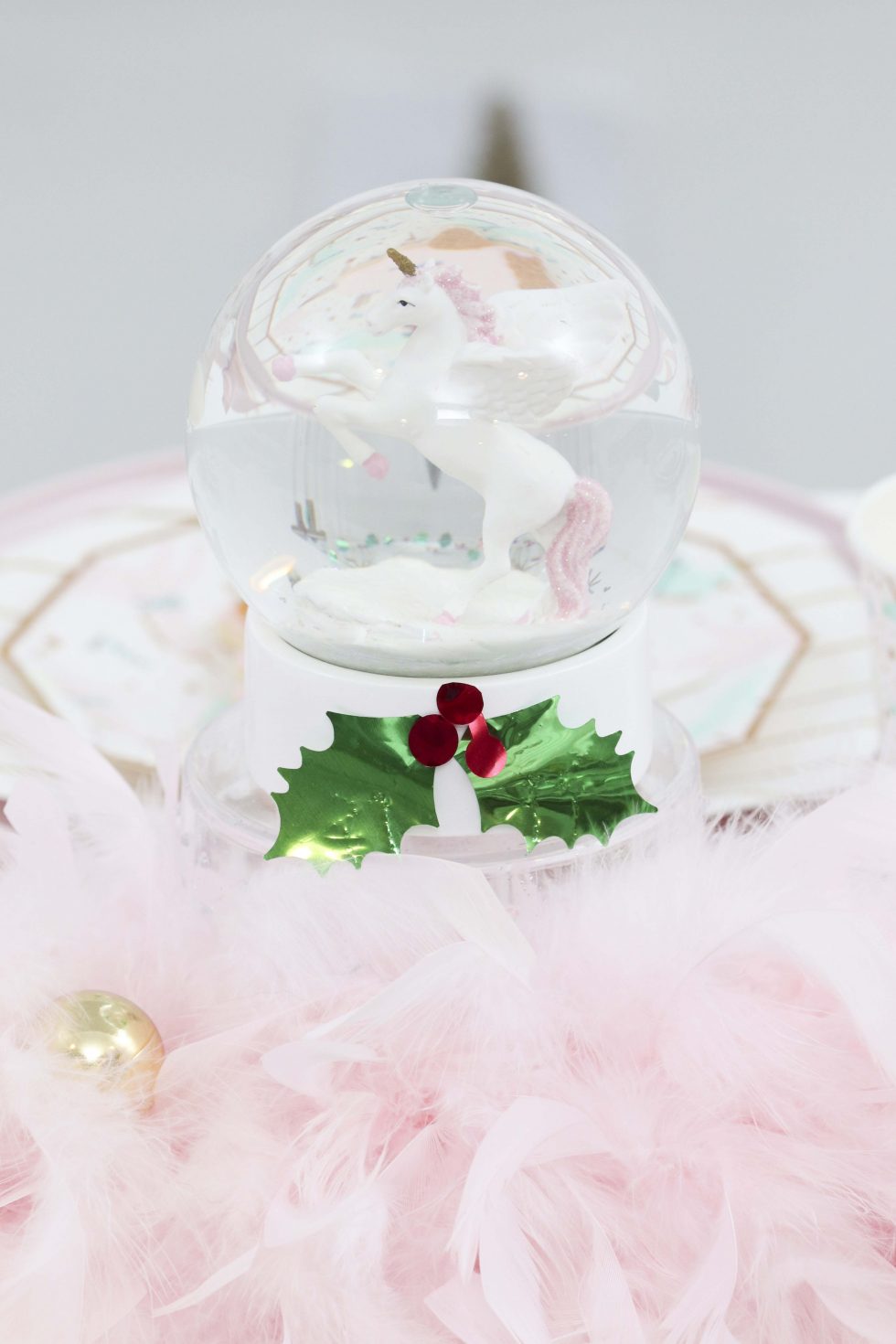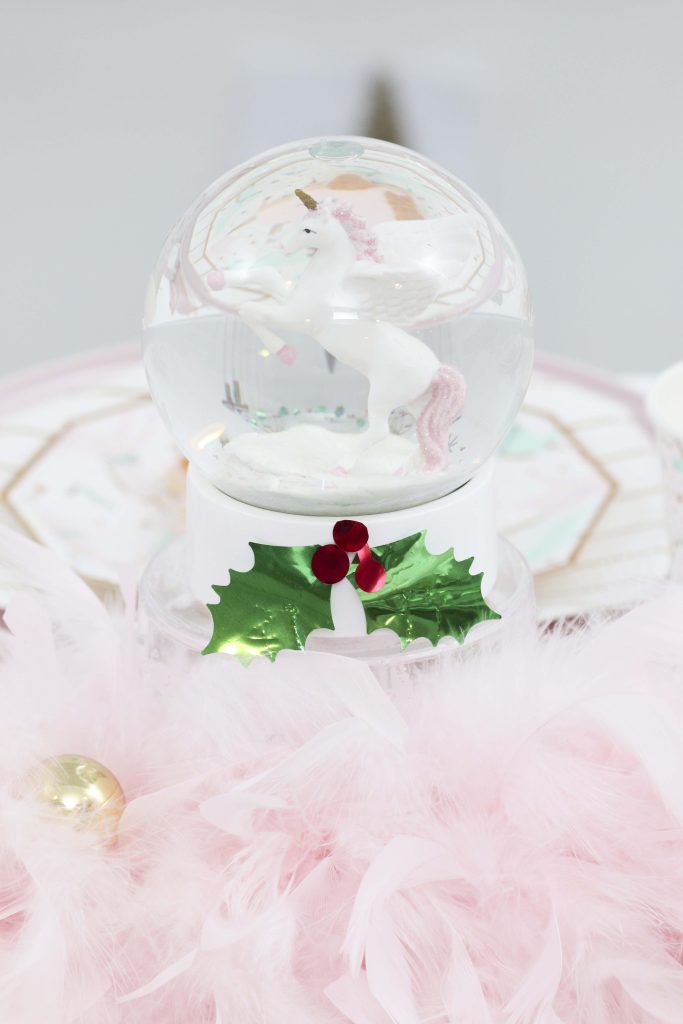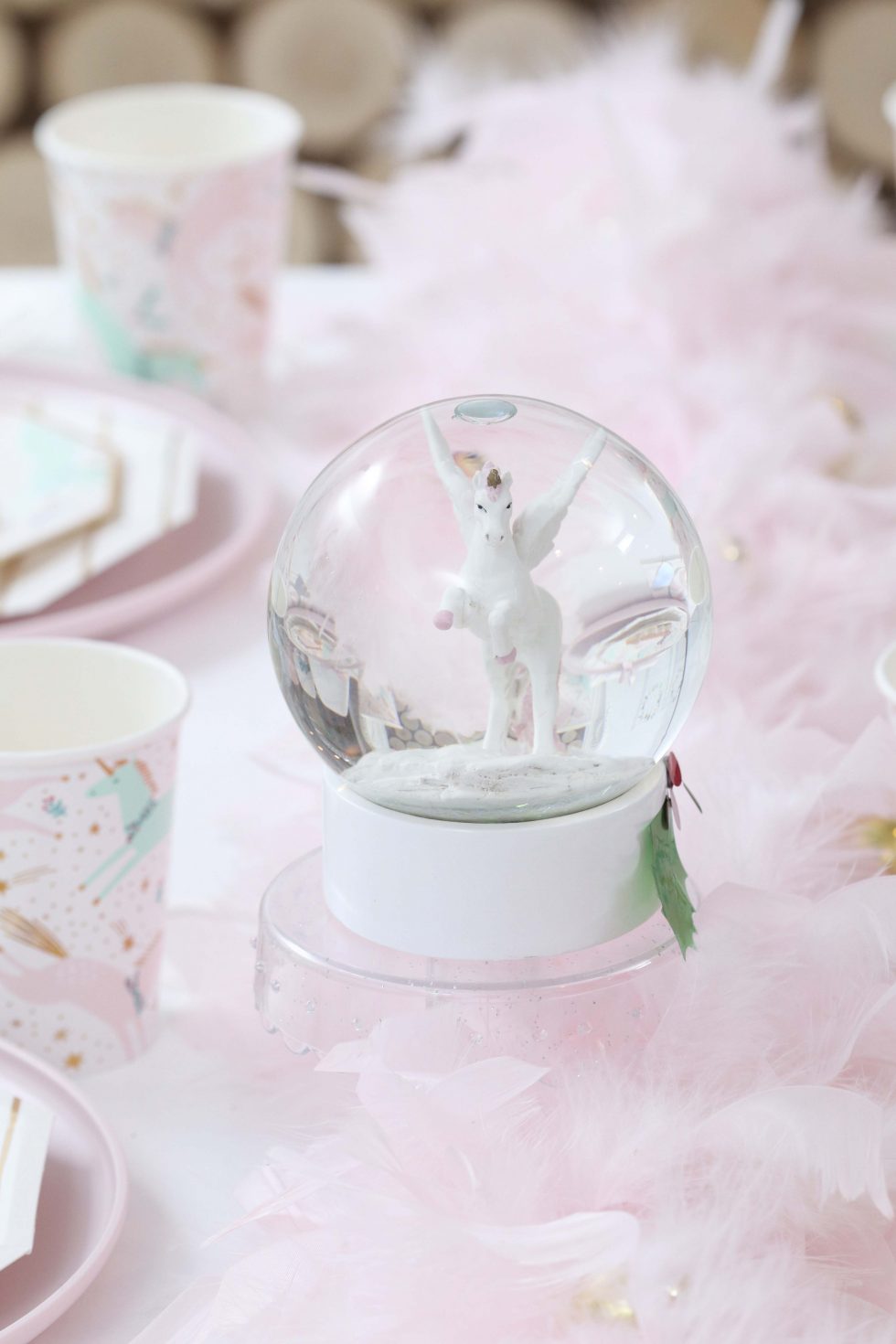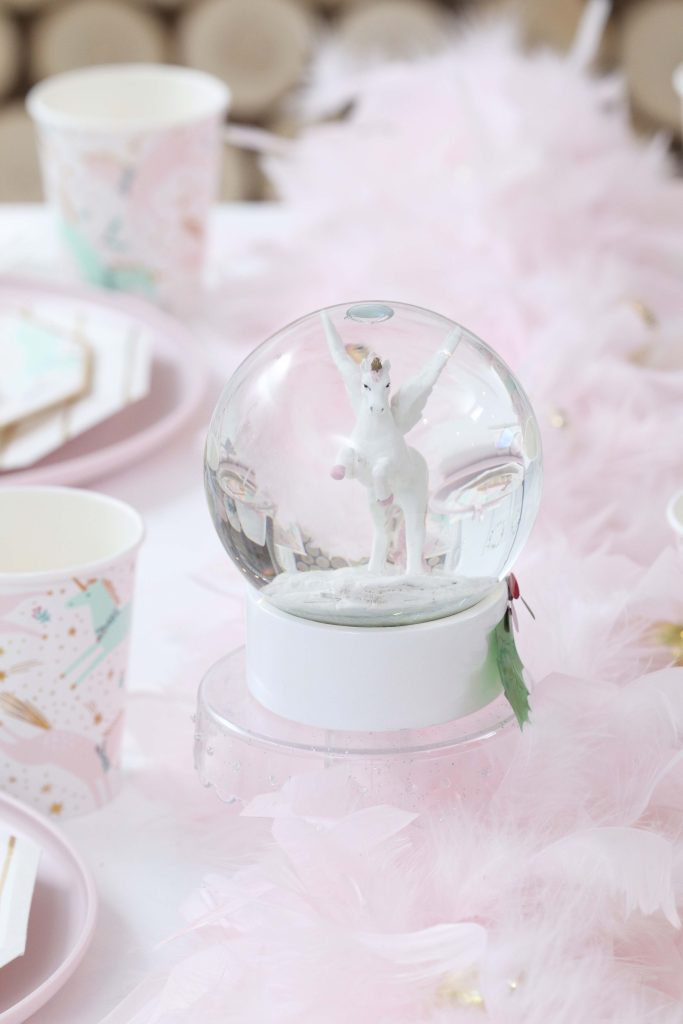 I also added a holly and berry garland wreath, similar to the ones around the unicorns' necks in the tableware, to each chair back.  I easily created these by cutting lengths of the garland and tying the ends together. The wire is easy to turn into a small hook to hang over the back of the chairs. They add the perfect Christmas pop to the area!
Tip: Hit up the Dollar Store! This holly garland was $1 for a 25ft roll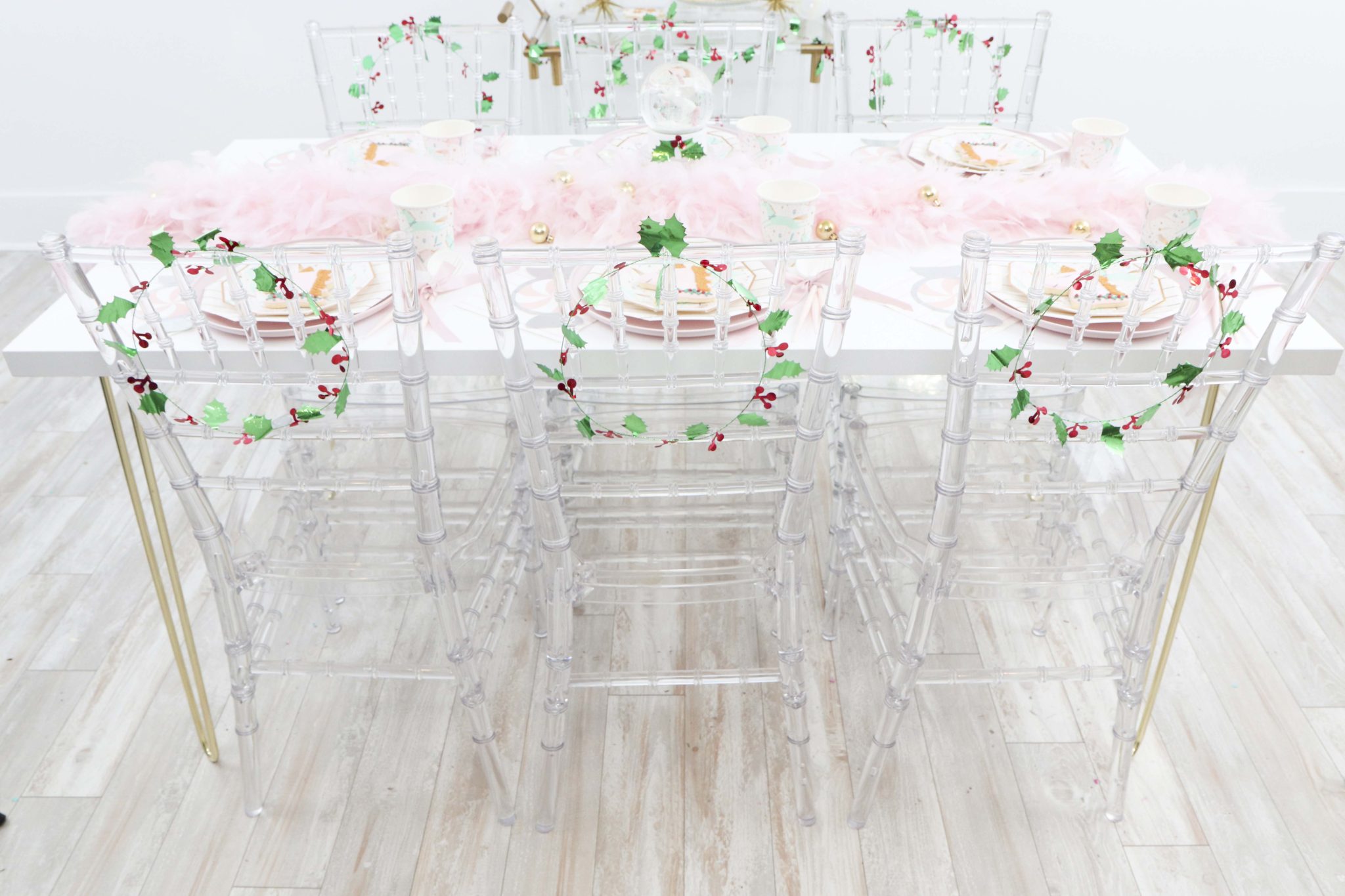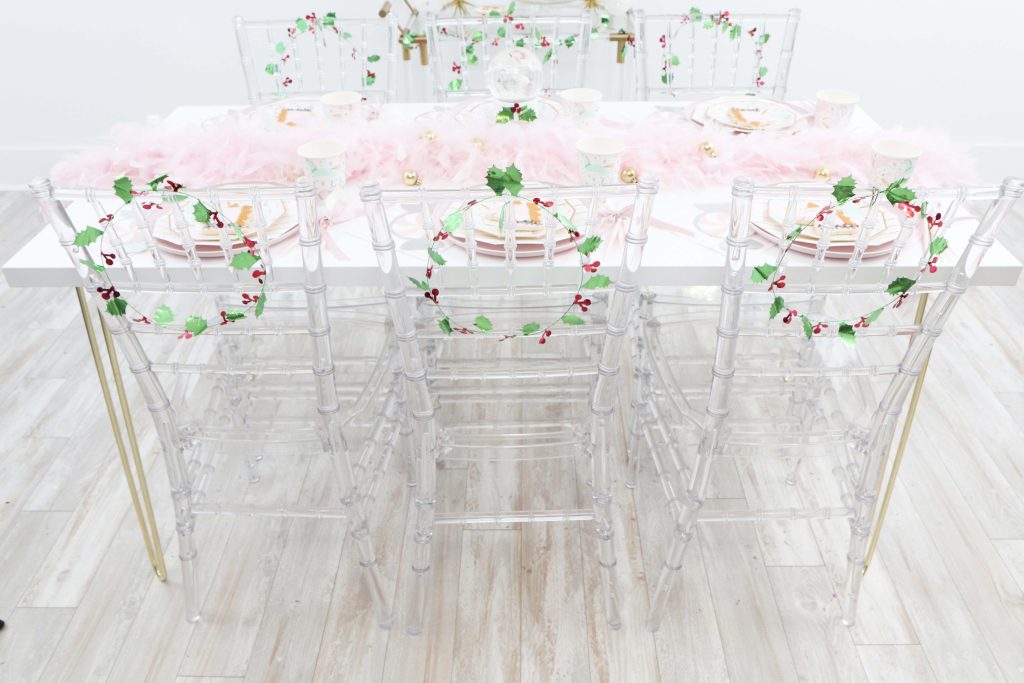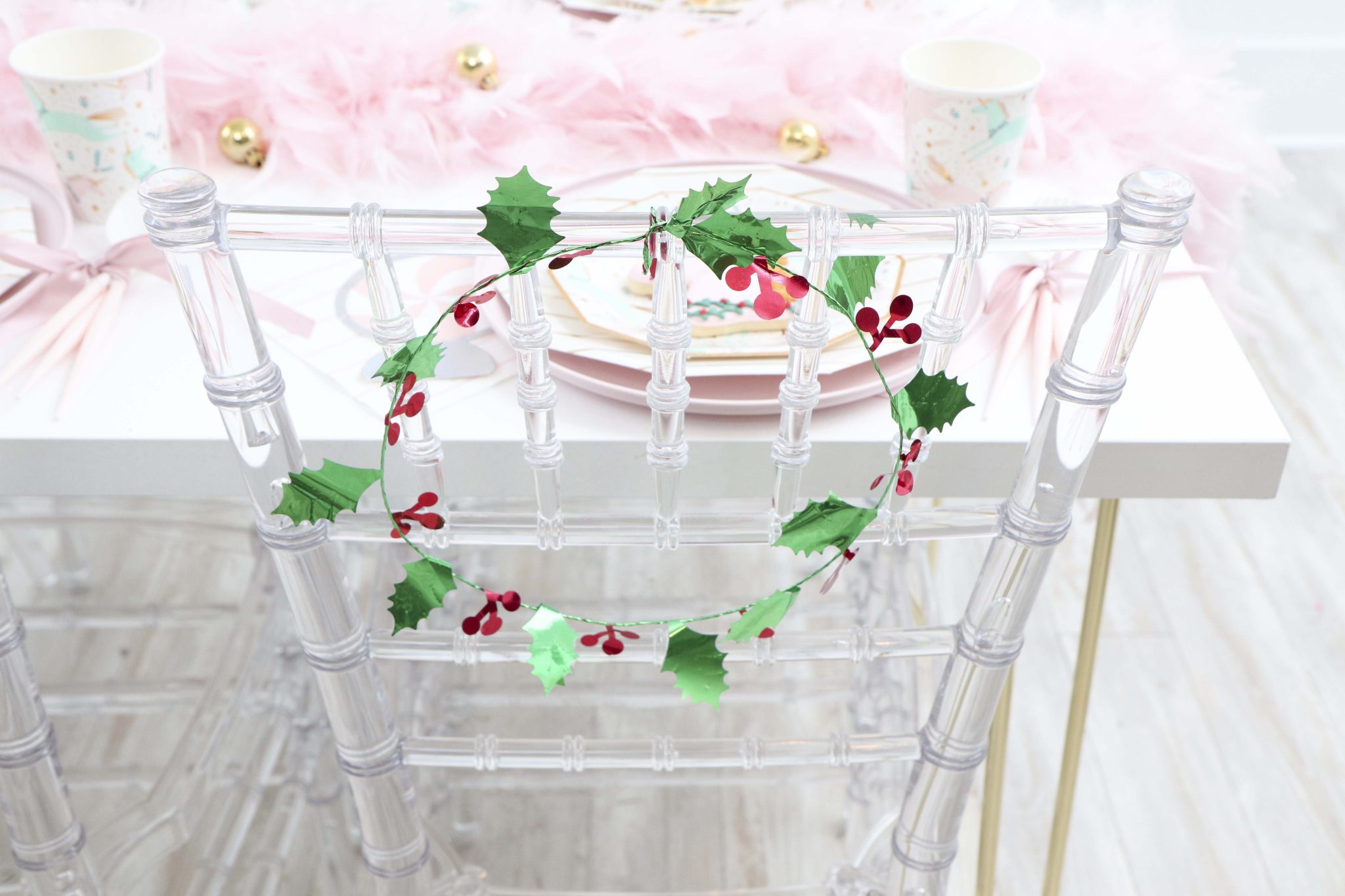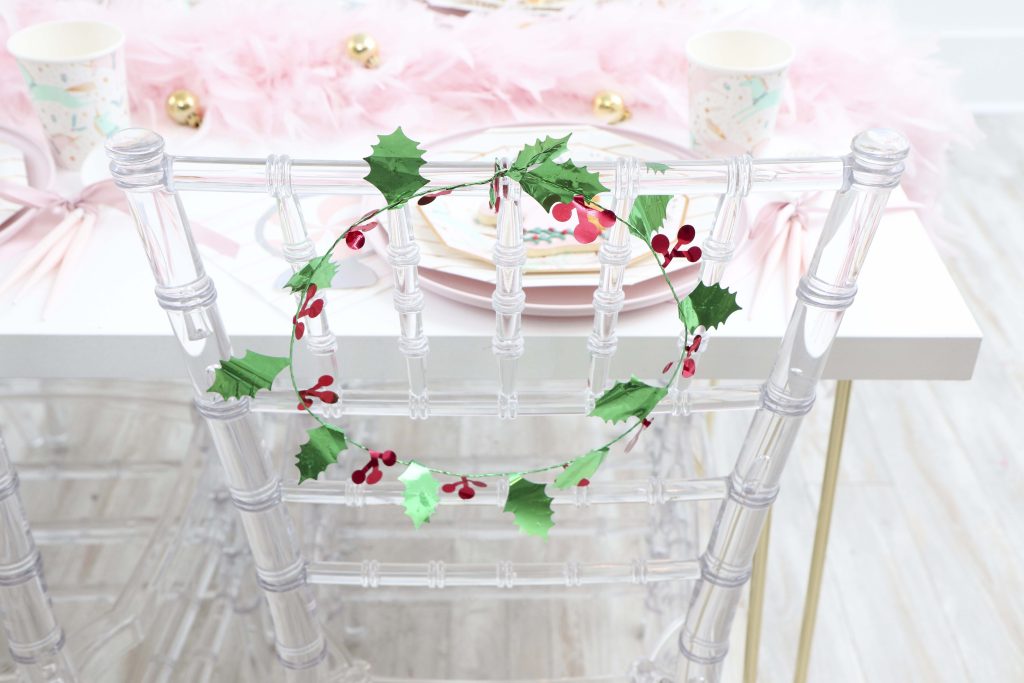 Place Settings
Then, I used the inspirational tableware to create my enchanting place settings. I layered pastel pink chargers with gold metallic striped dinner plates and the Magical Christmas small plates for dessert. On each dessert plate I placed the perfect Magical Unicorn cookie, amazingly created by Trophy Baking to match the unicorns from the Daydream Society collection. 
P.S. Last time I checked, the gold striped plates were out of stock…if they still are, don't worry! The blush or mint striped plates would also work amazingly with this setup!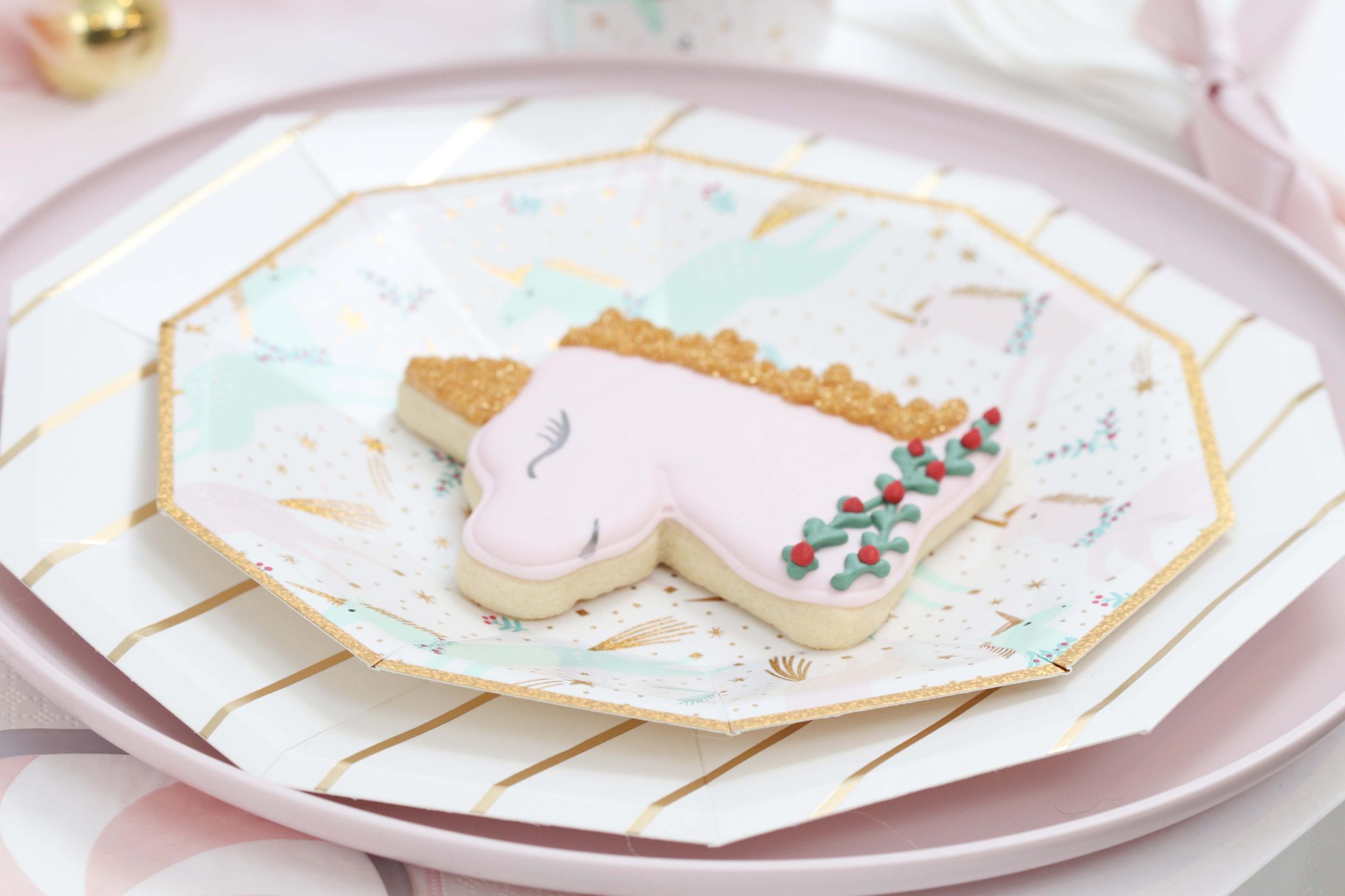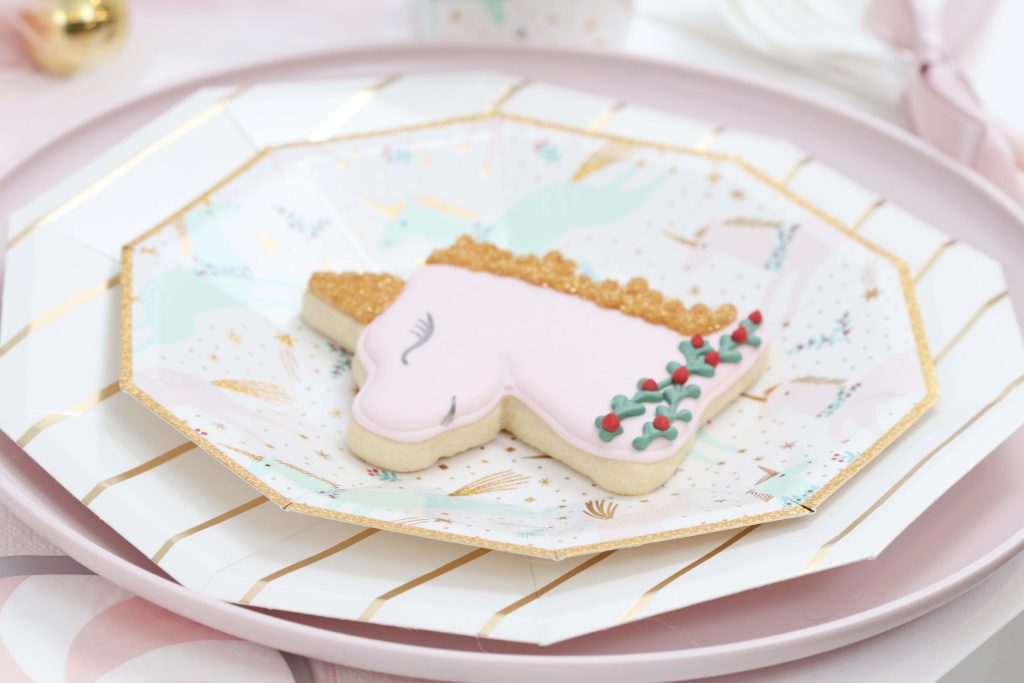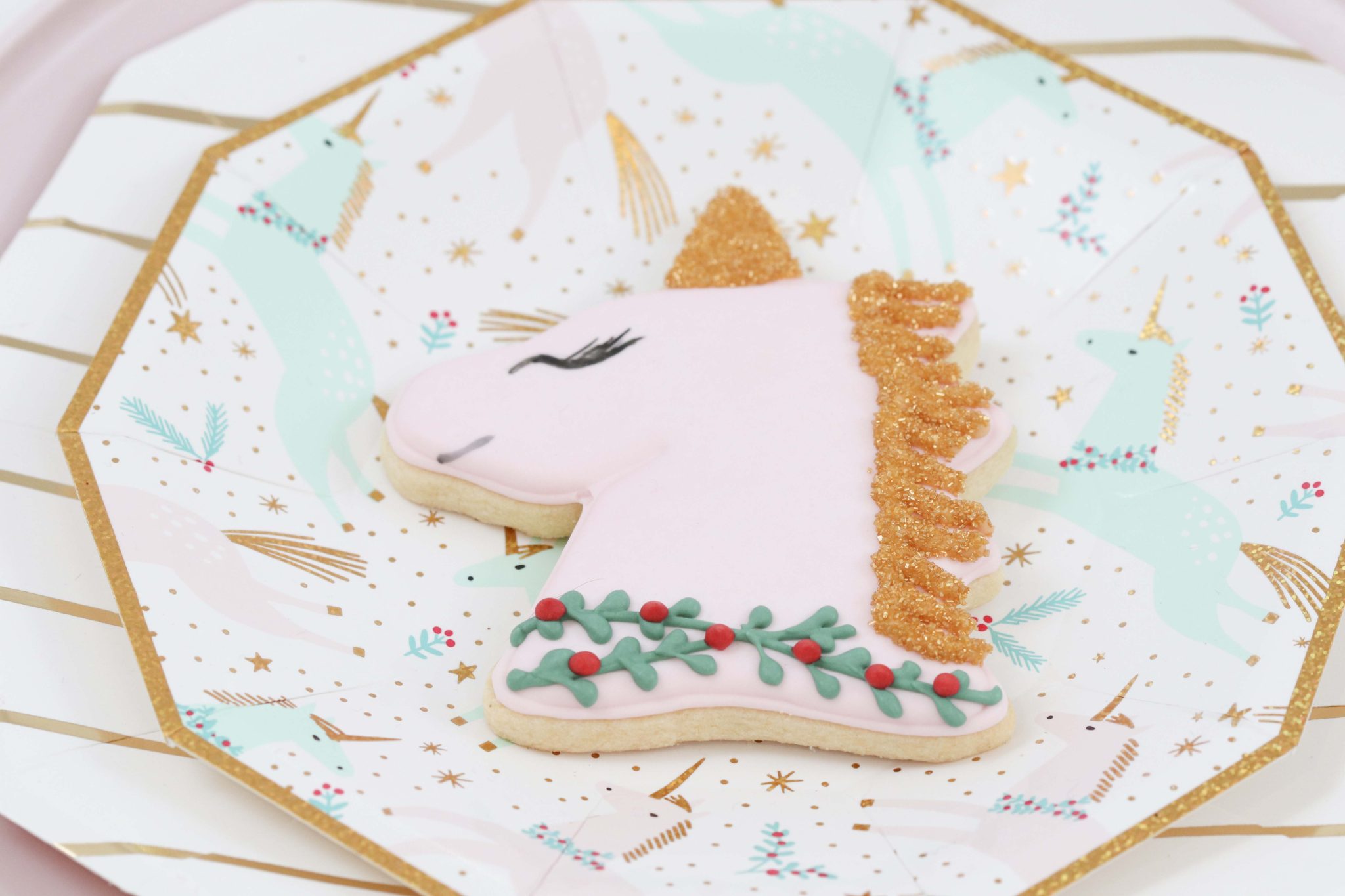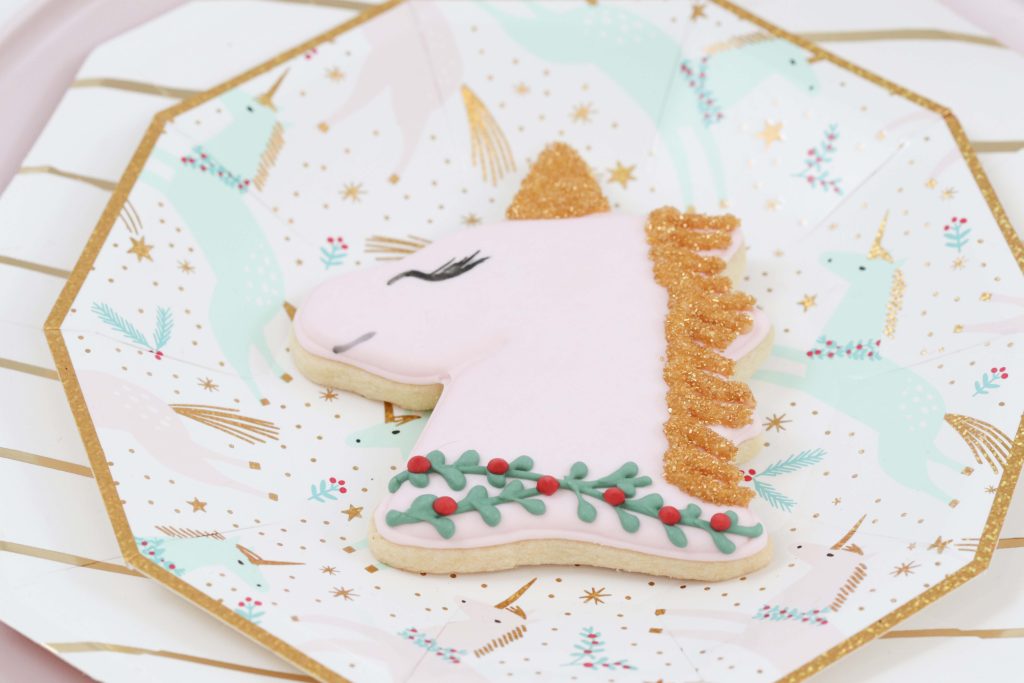 Next to each set of plates, I added a set of blush pink plastic utensils tied together with a pretty piece of pink satin ribbon. Ribbon doubles as a weave through a unicorns mane! Magical!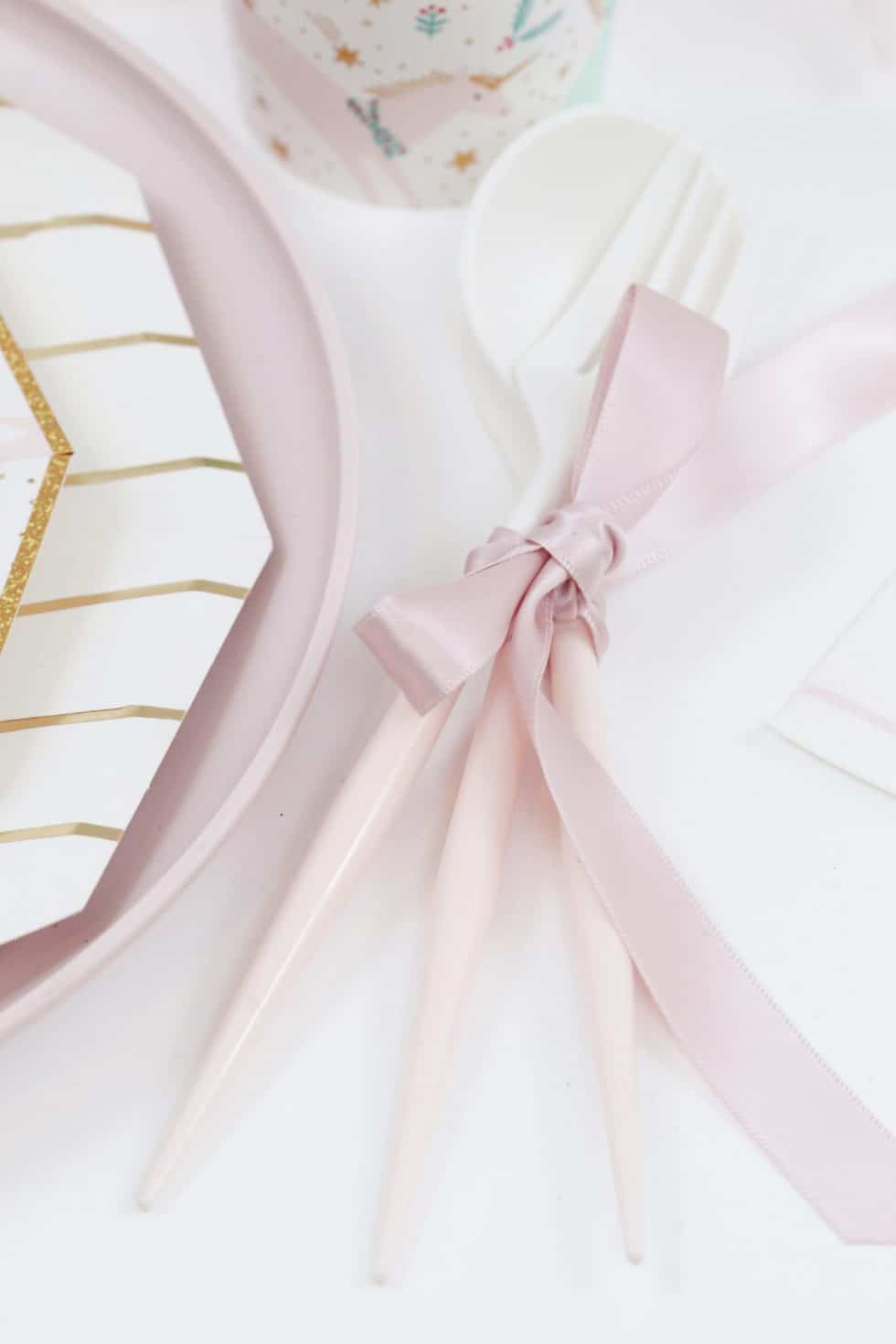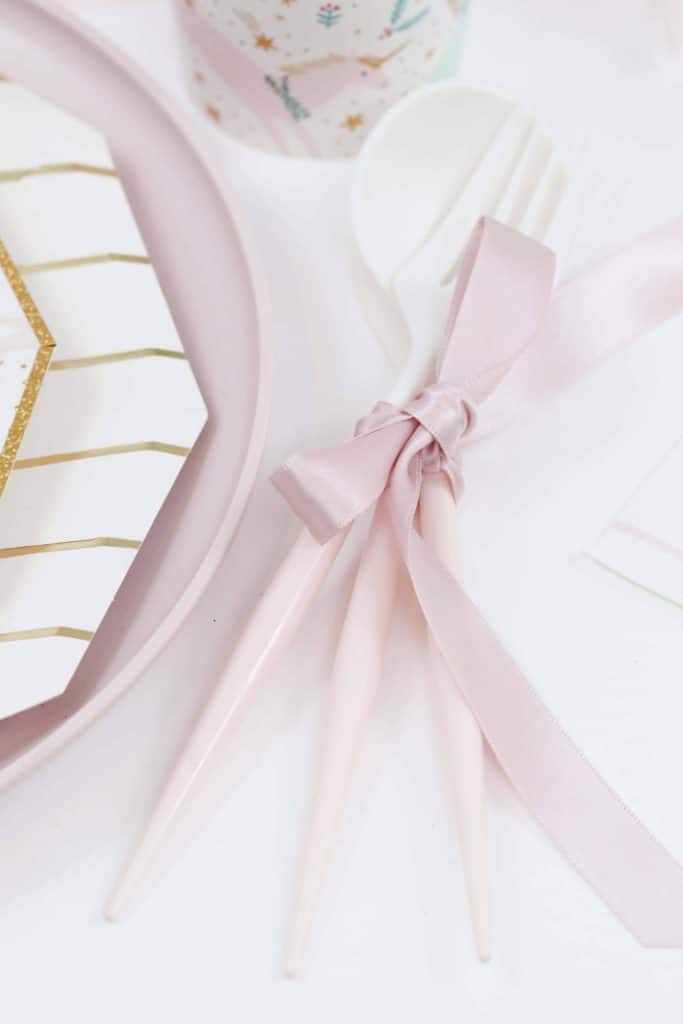 Then, to the other side of the plates, I placed pink striped dinner napkins and pink peppermint napkins – the perfect combination of Christmas and the pink color scheme!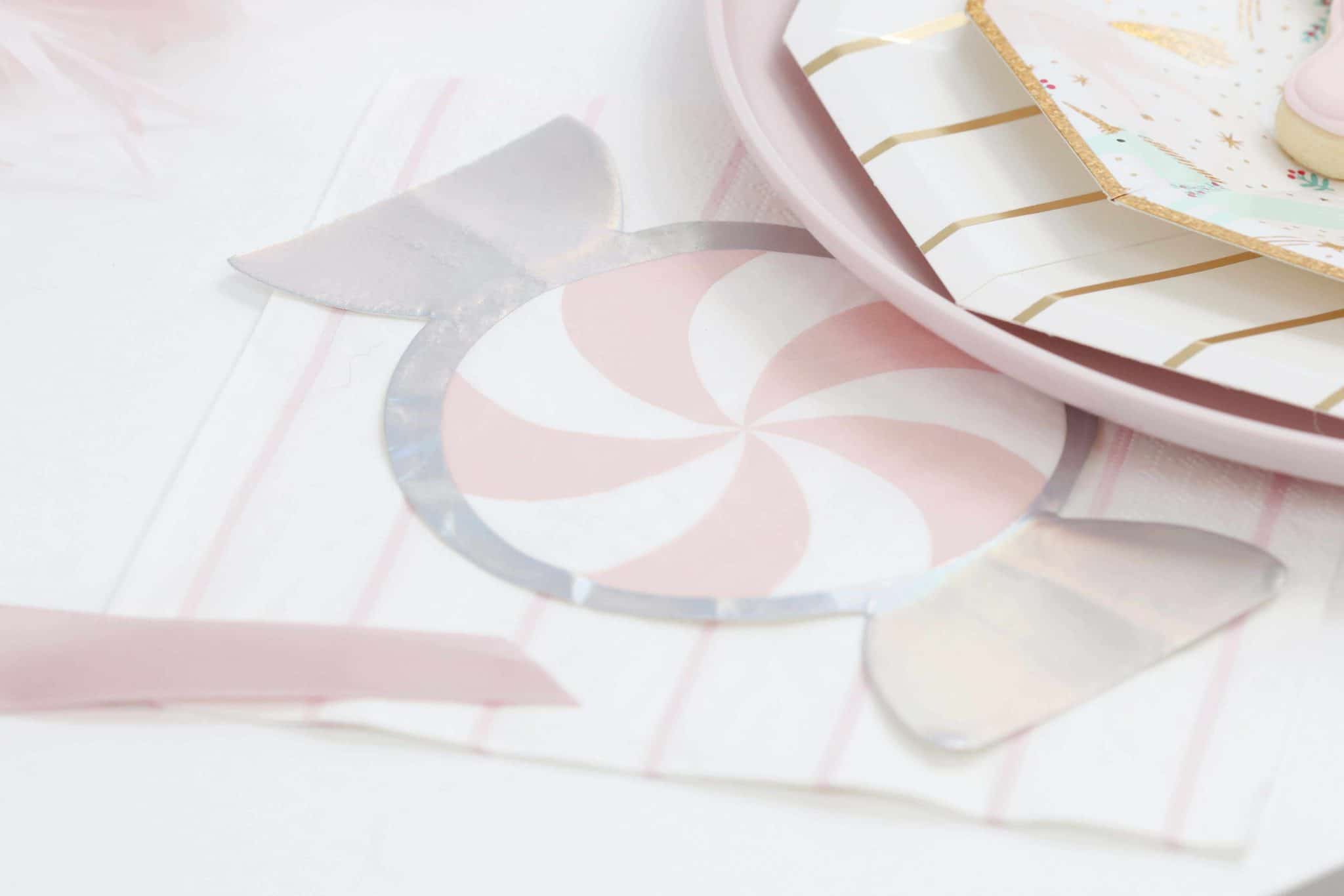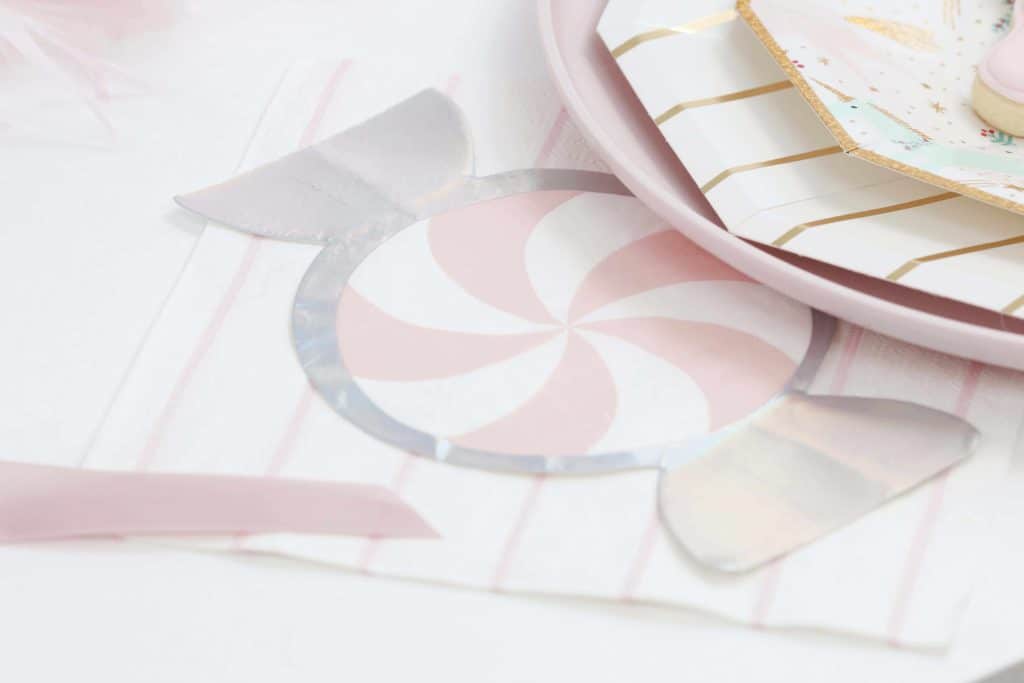 I completed the place settings off with the Magical Christmas cups.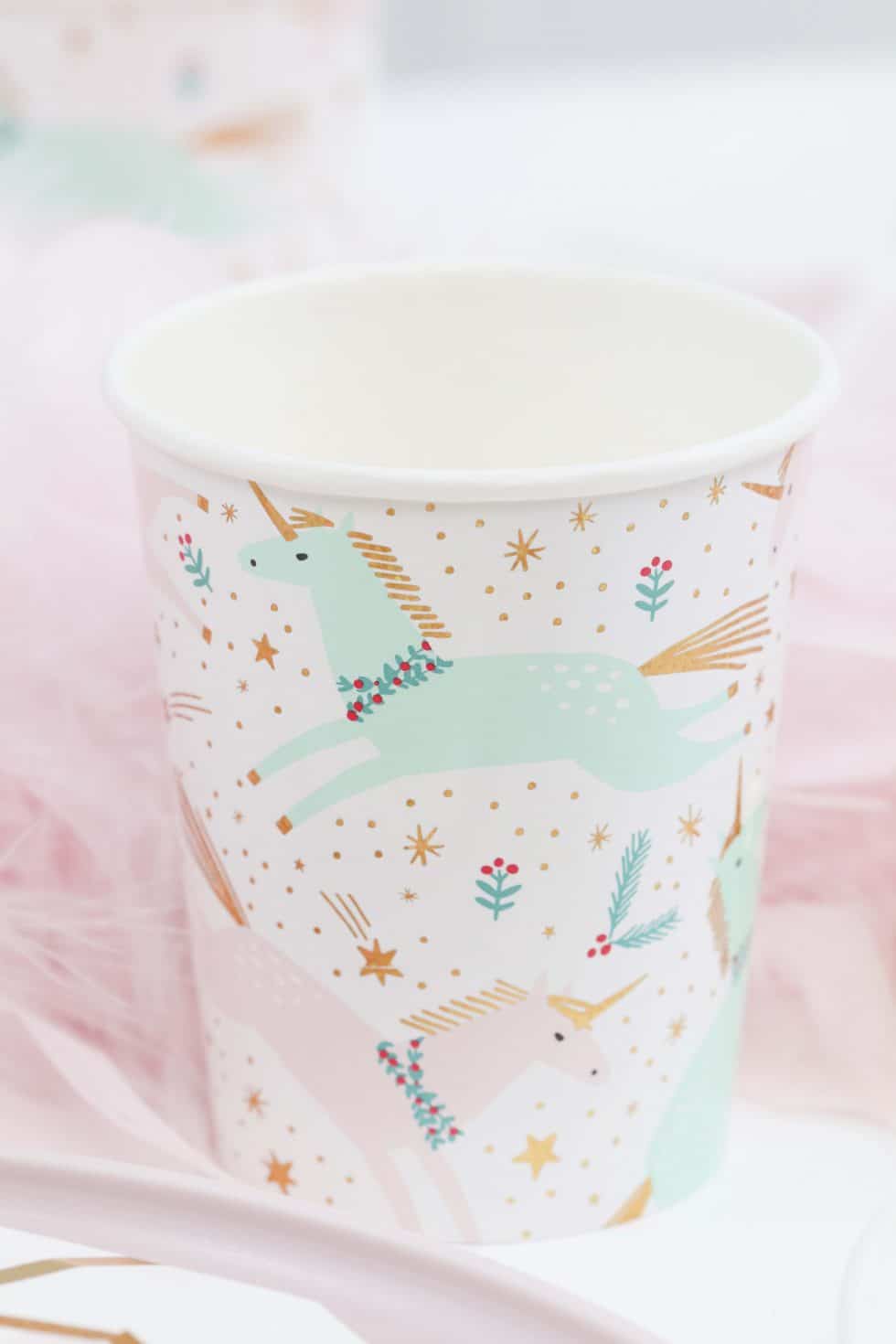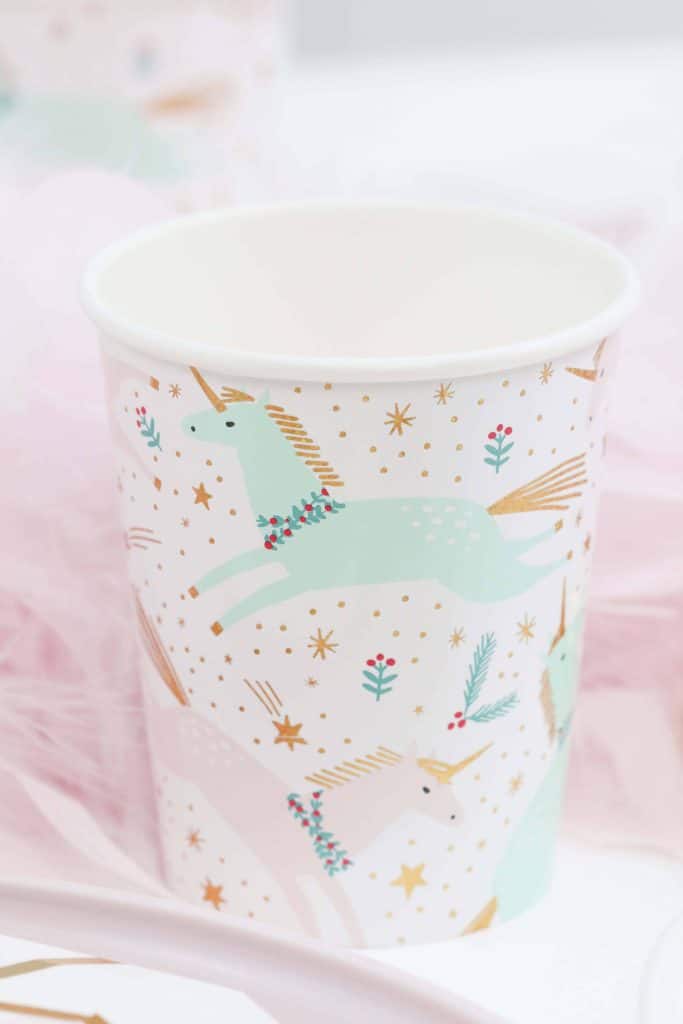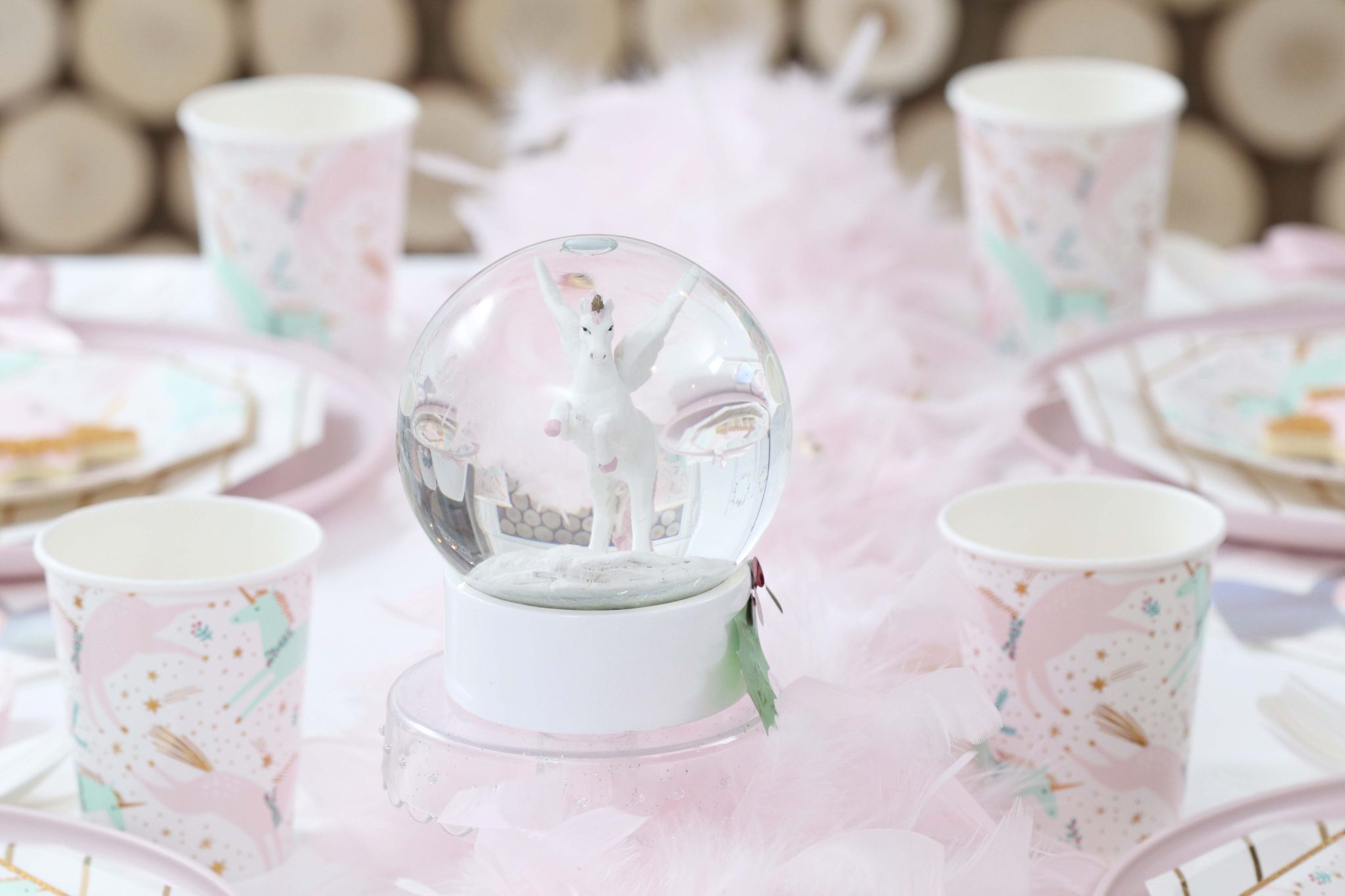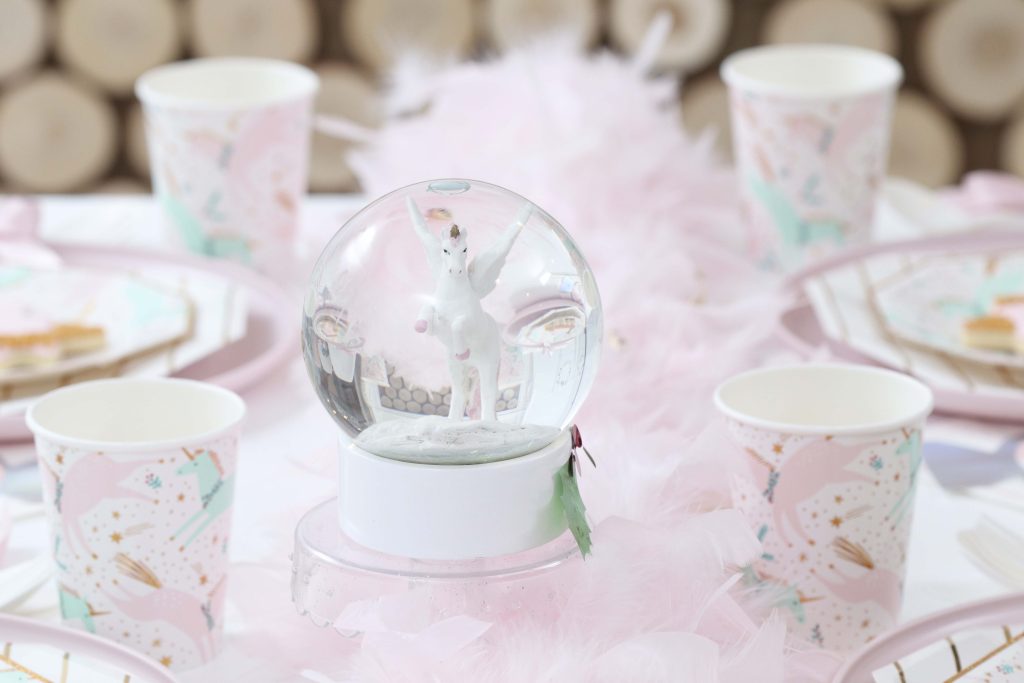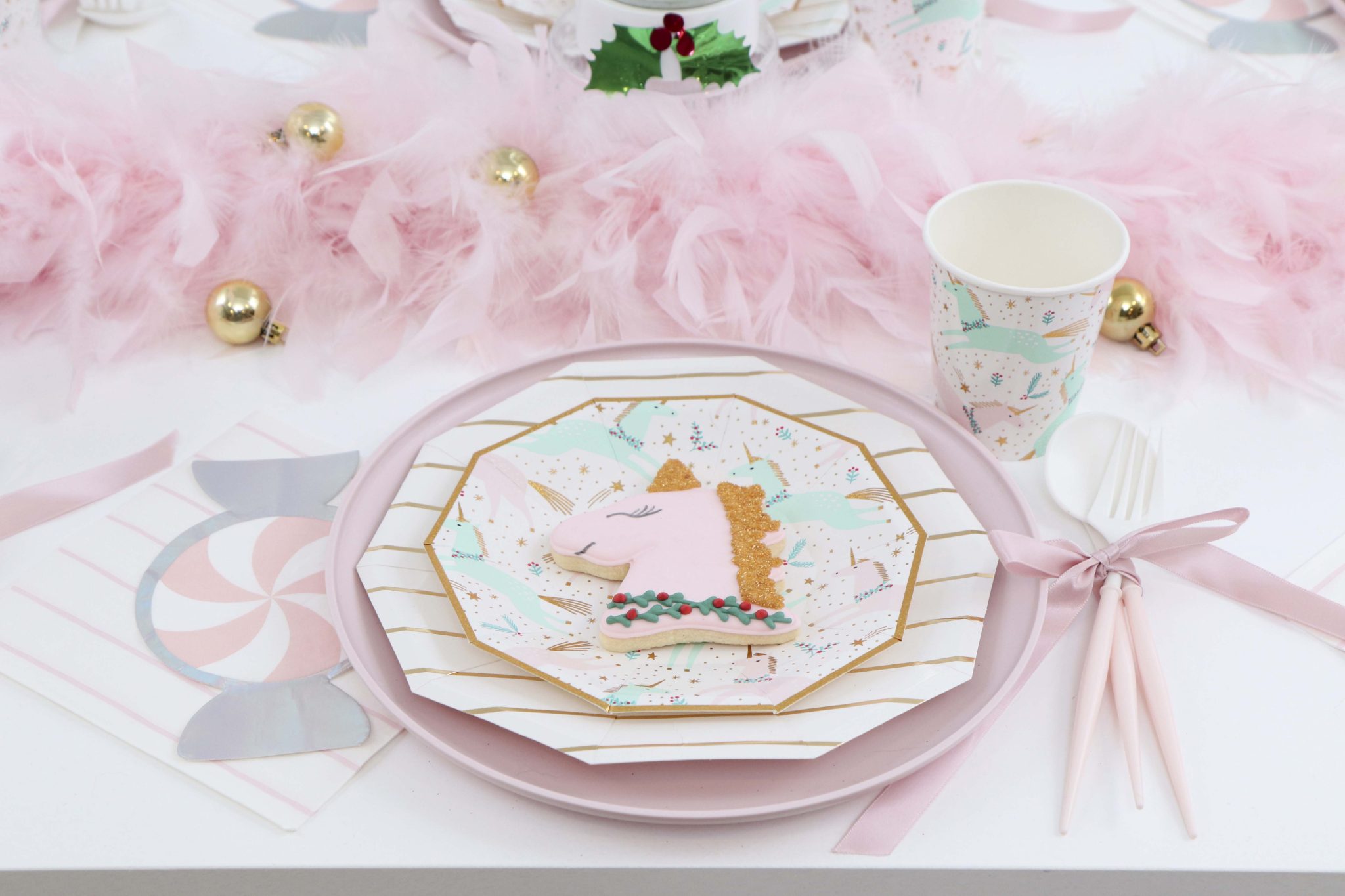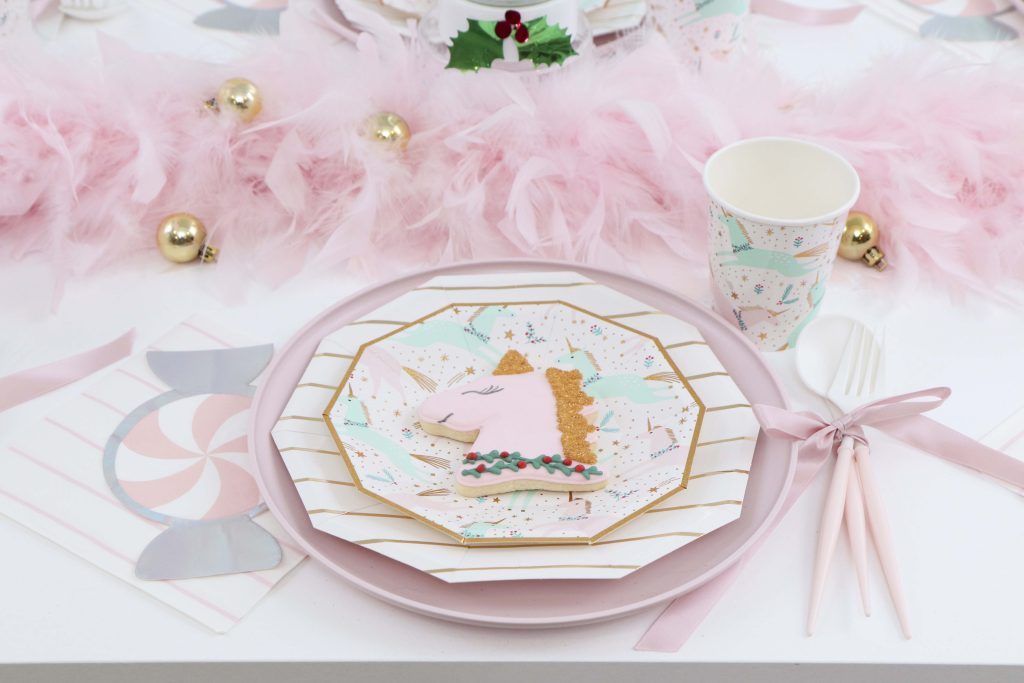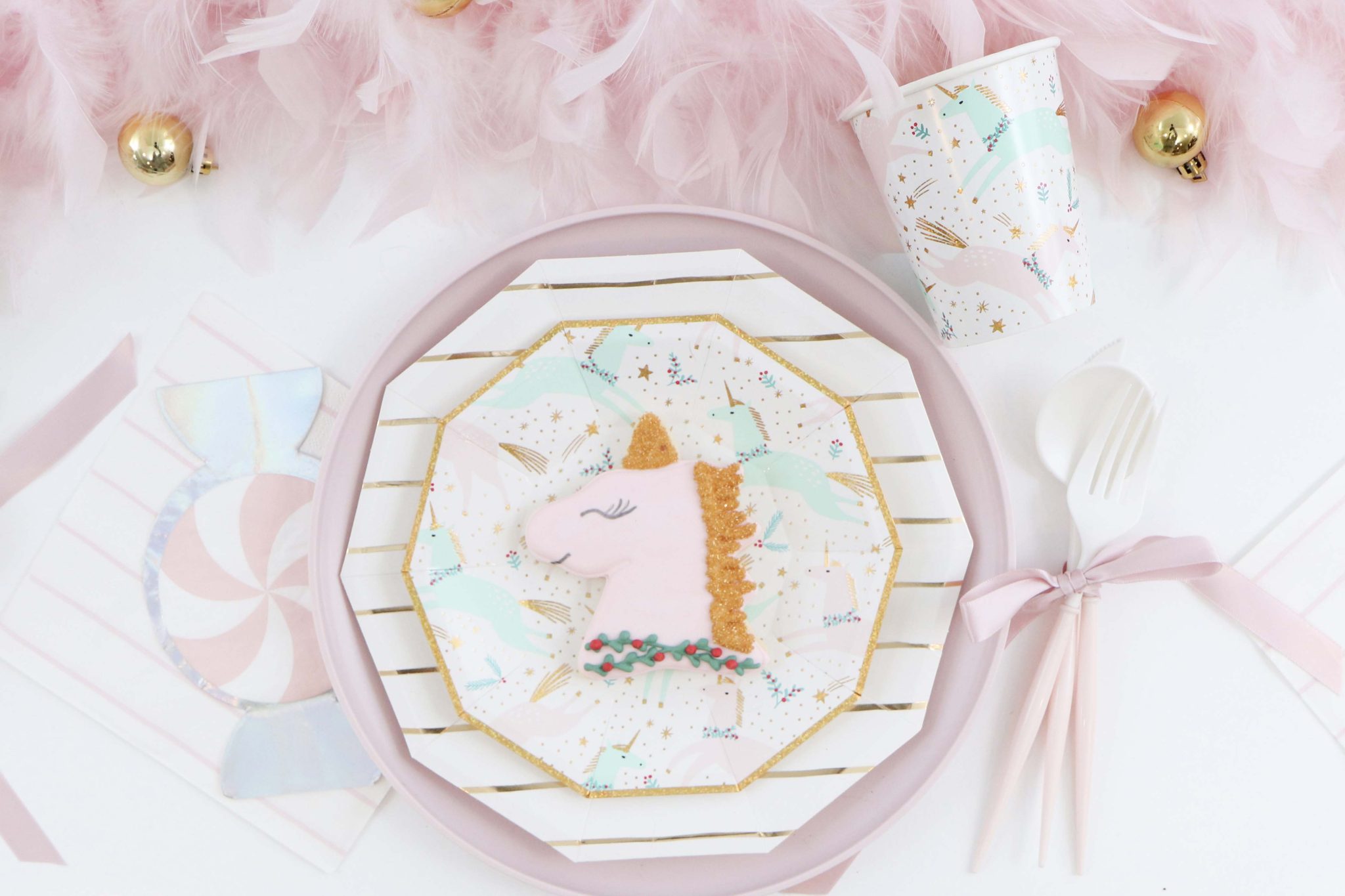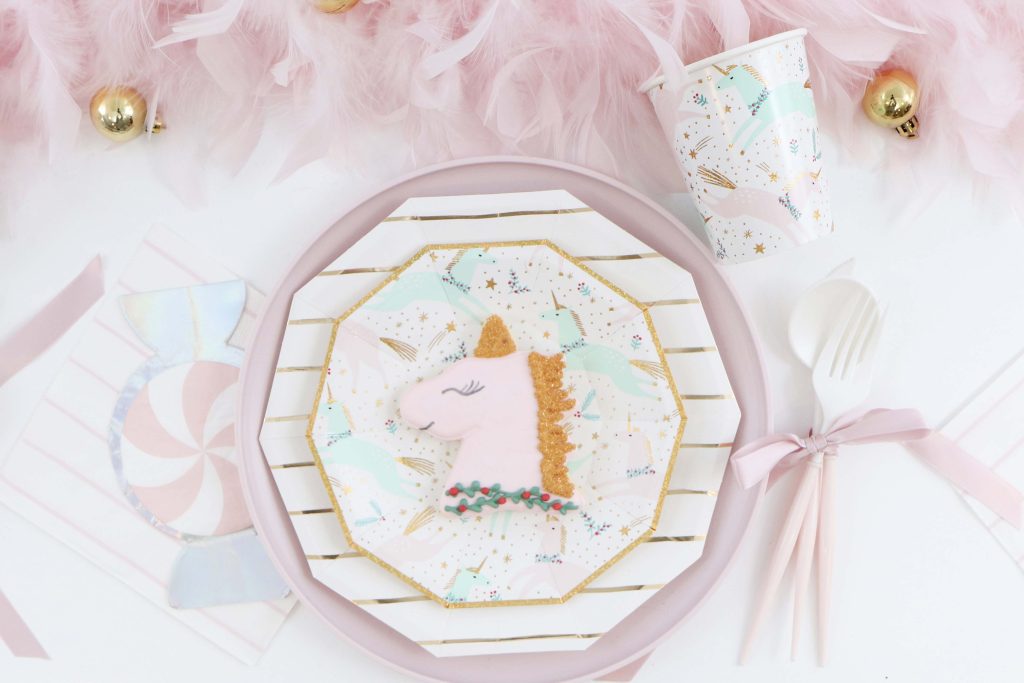 DIY Backdrop
My next task was to create a Magical Christmas Unicorn backdrop inspired by the collection. I started by hanging a pink unicorn head wall mounted sculpture. Again this was taken straight off my daughters wall! Shameless I know. I added a foil holly and berry from the garland for the Christmas look and to match the unicorn from the collection.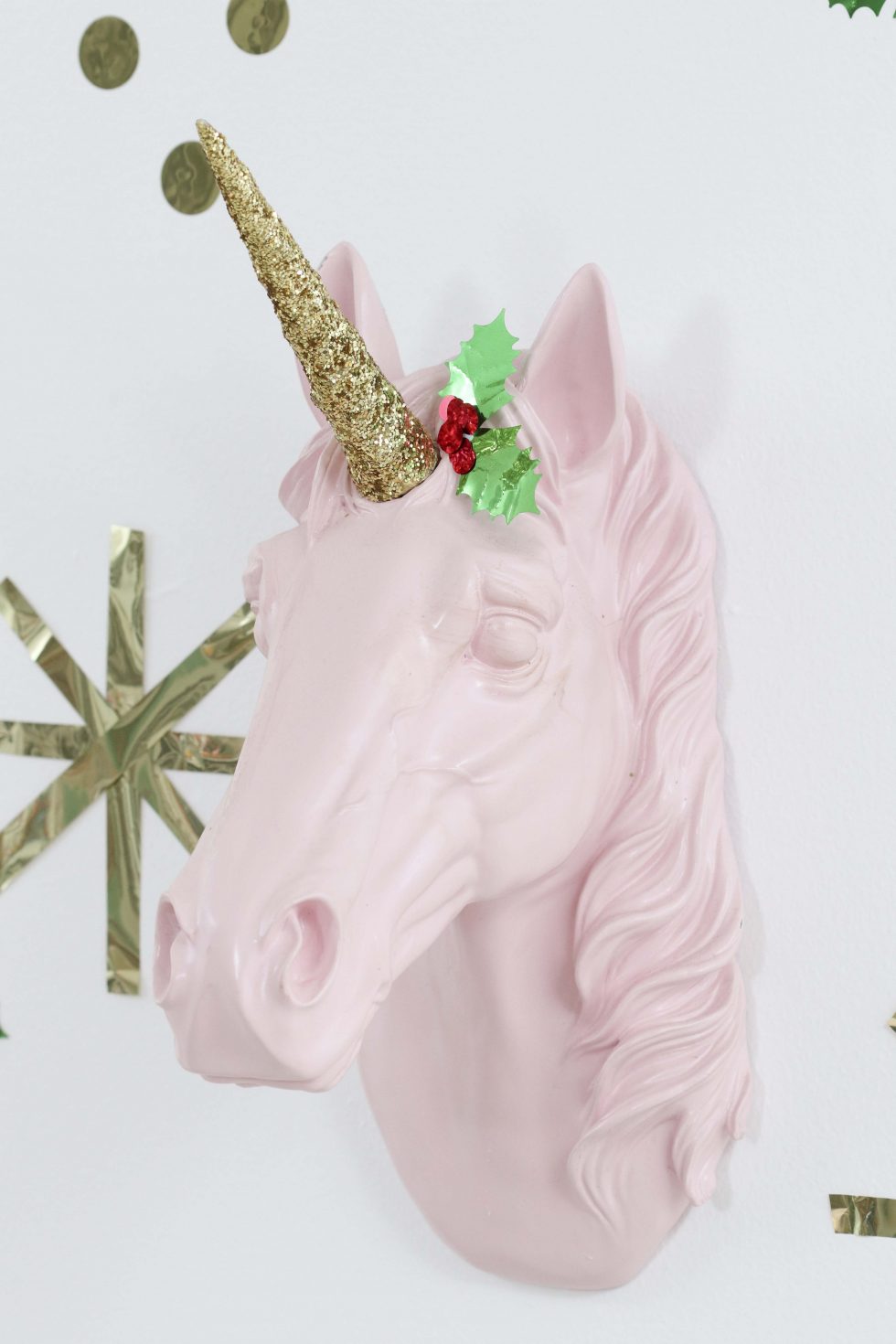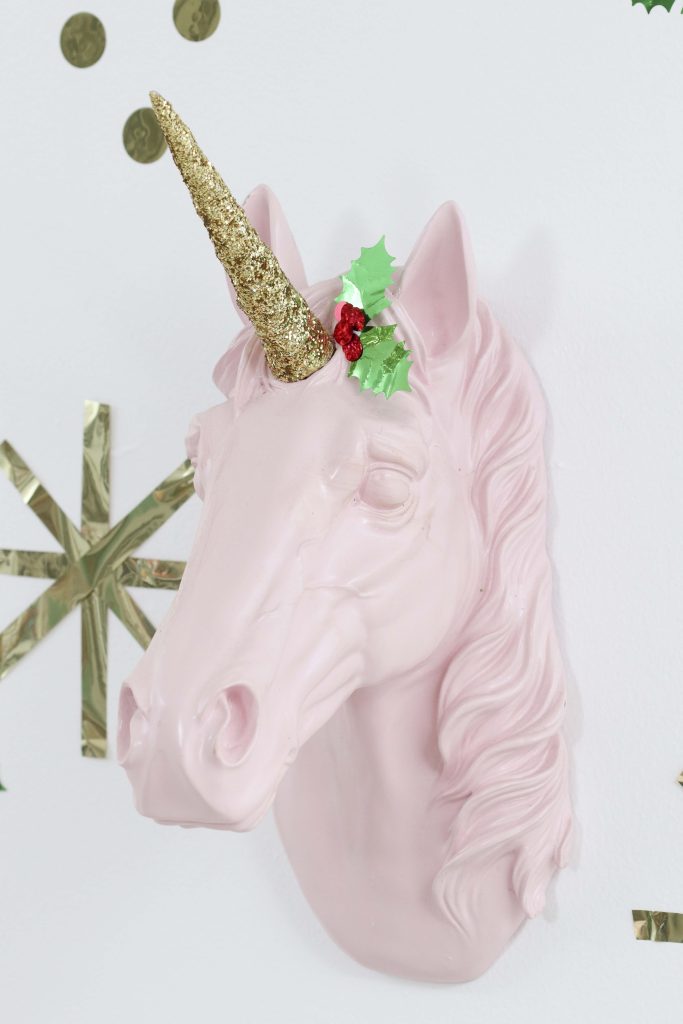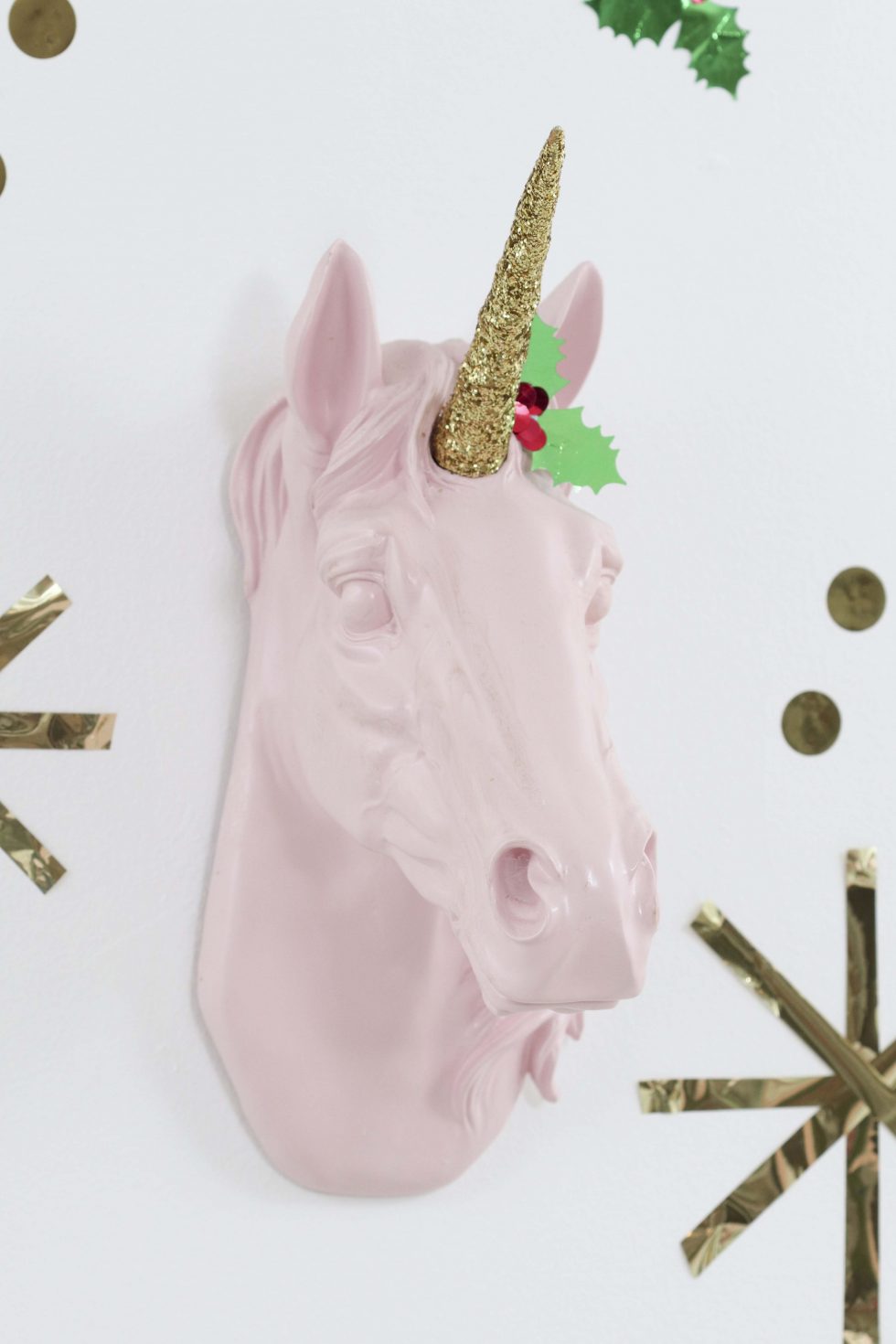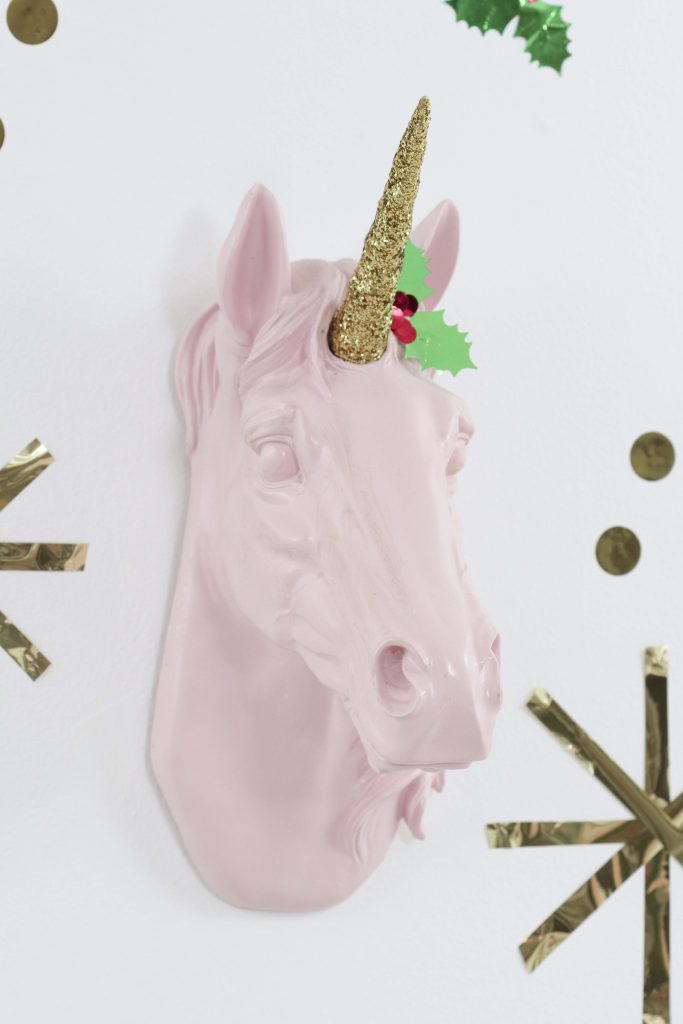 Then, I surrounded the unicorn with shooting stars and other designs from the collection that I created with gold tape, gold vinyl, more holly and berries removed from the garland, and pink and gold tassels from Glam Fete. The result is pure magic! Don't forget to wish on a shooting star!
Tip: Cut strips from an old foil tassel garland to create the 4 strip stars.
Tip: To create the larger shooting stars cut a star out of foam core and cover with gold foil from old tassels.  Then cut up a tassel into smaller squares and layer to create a piñata "look".  Add full tassels to the bottom of the star using glue dots to create the sparks.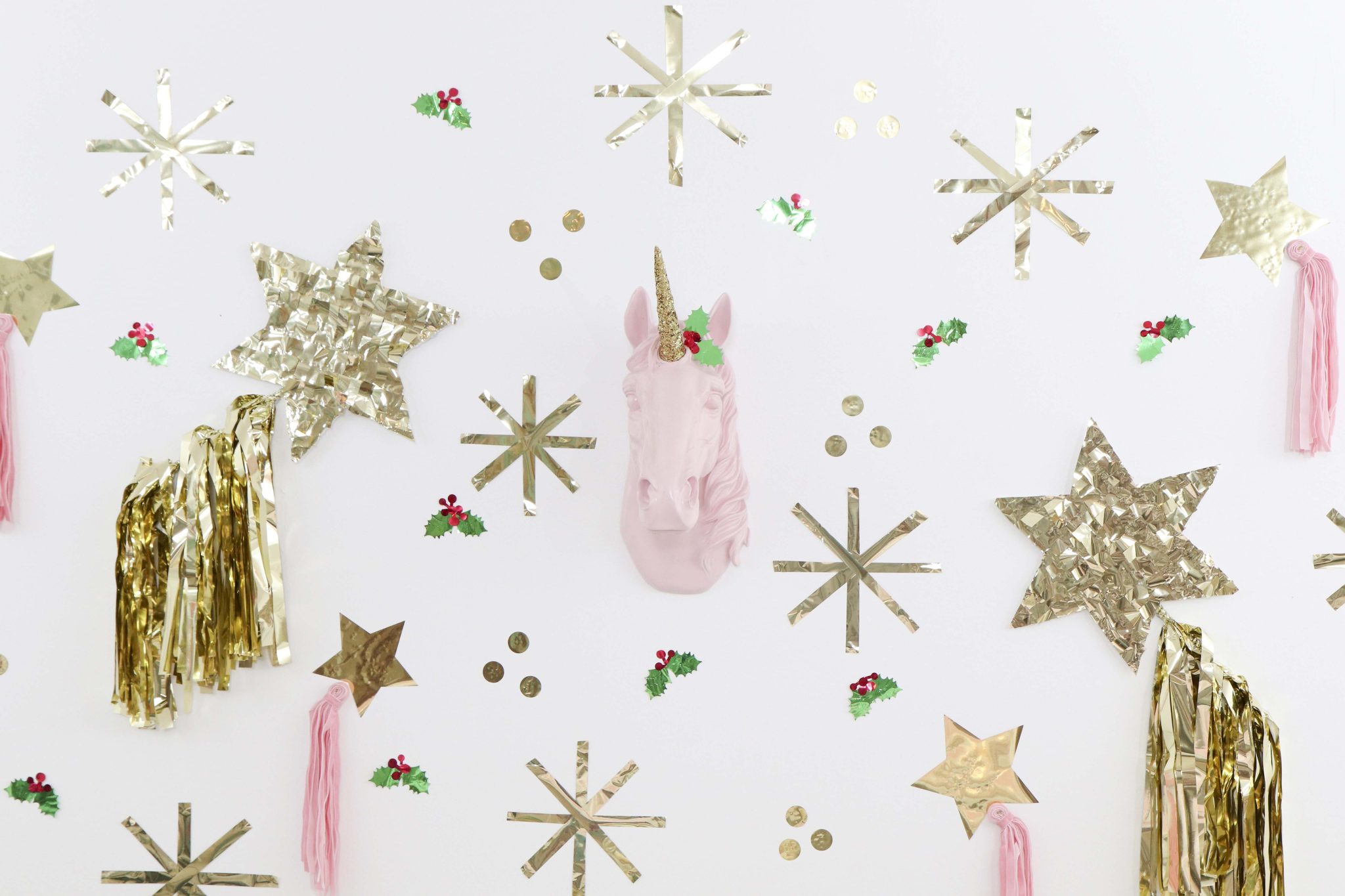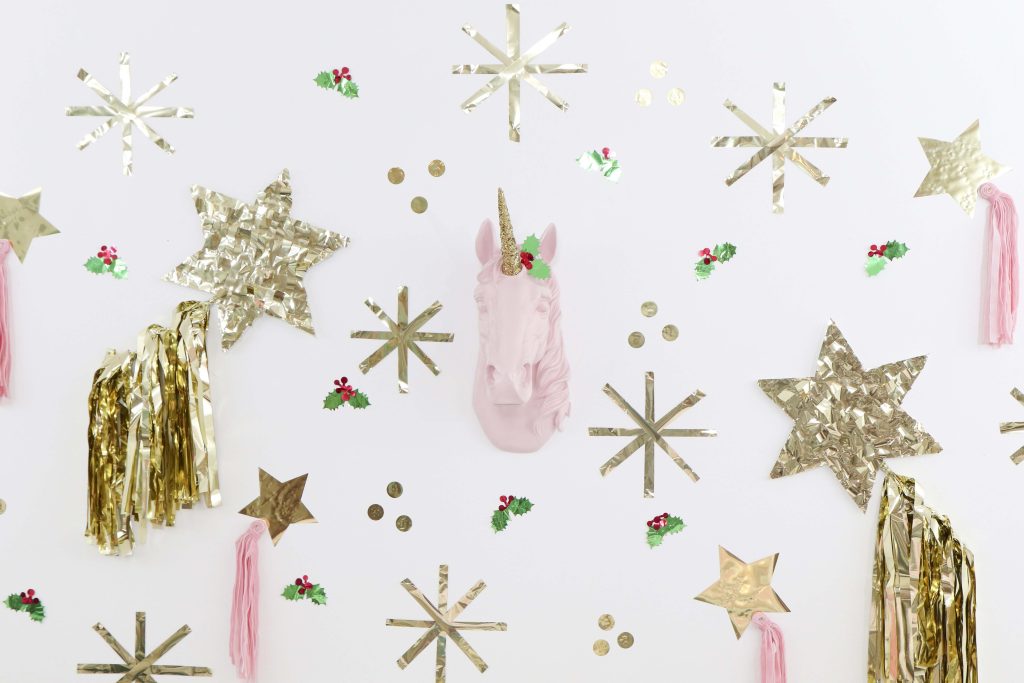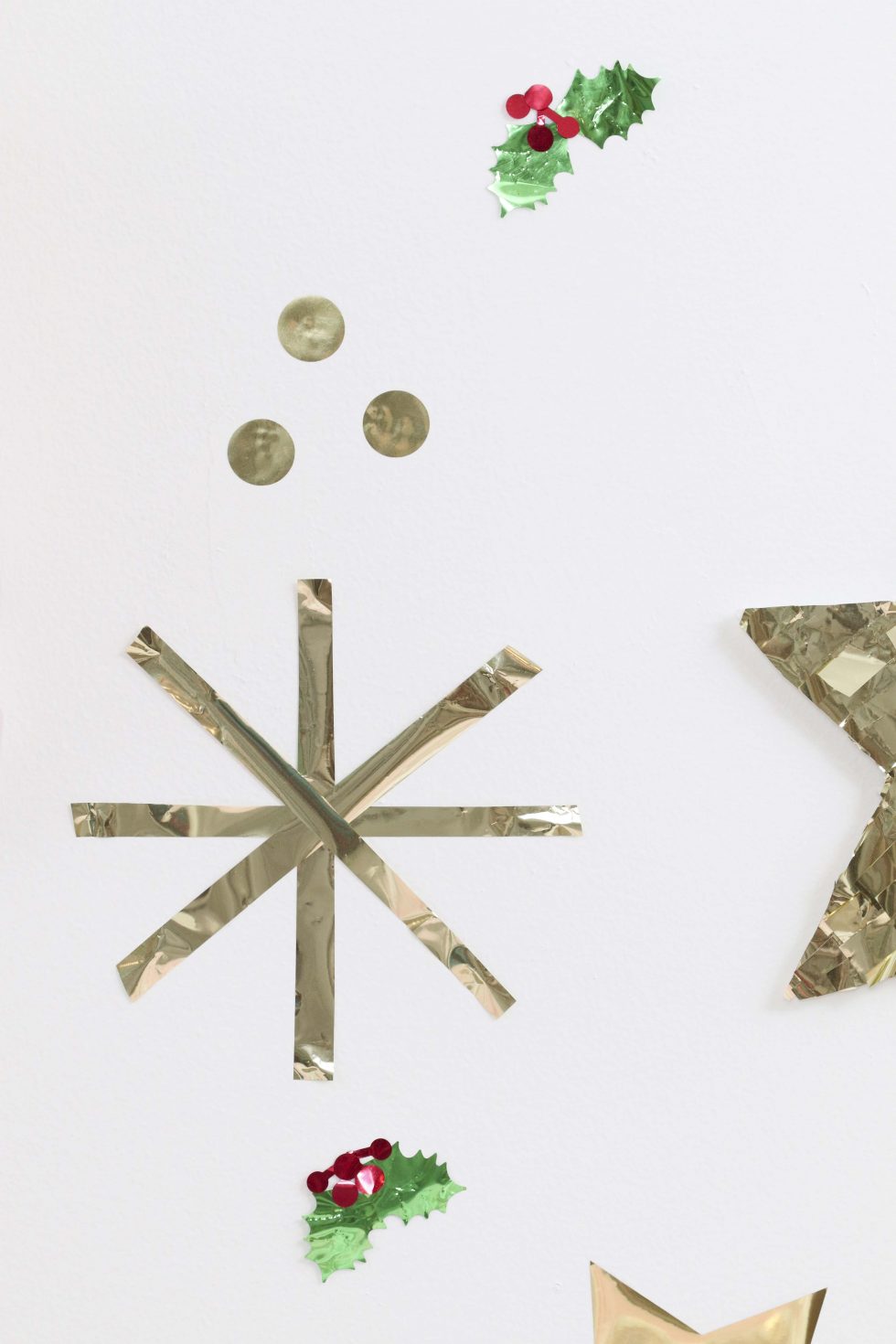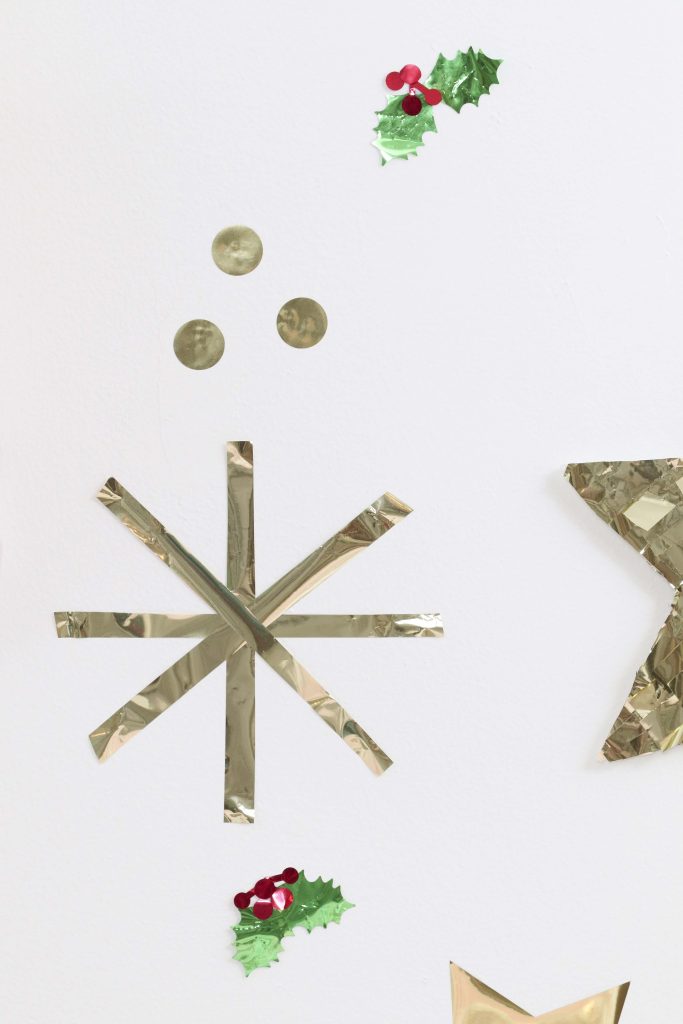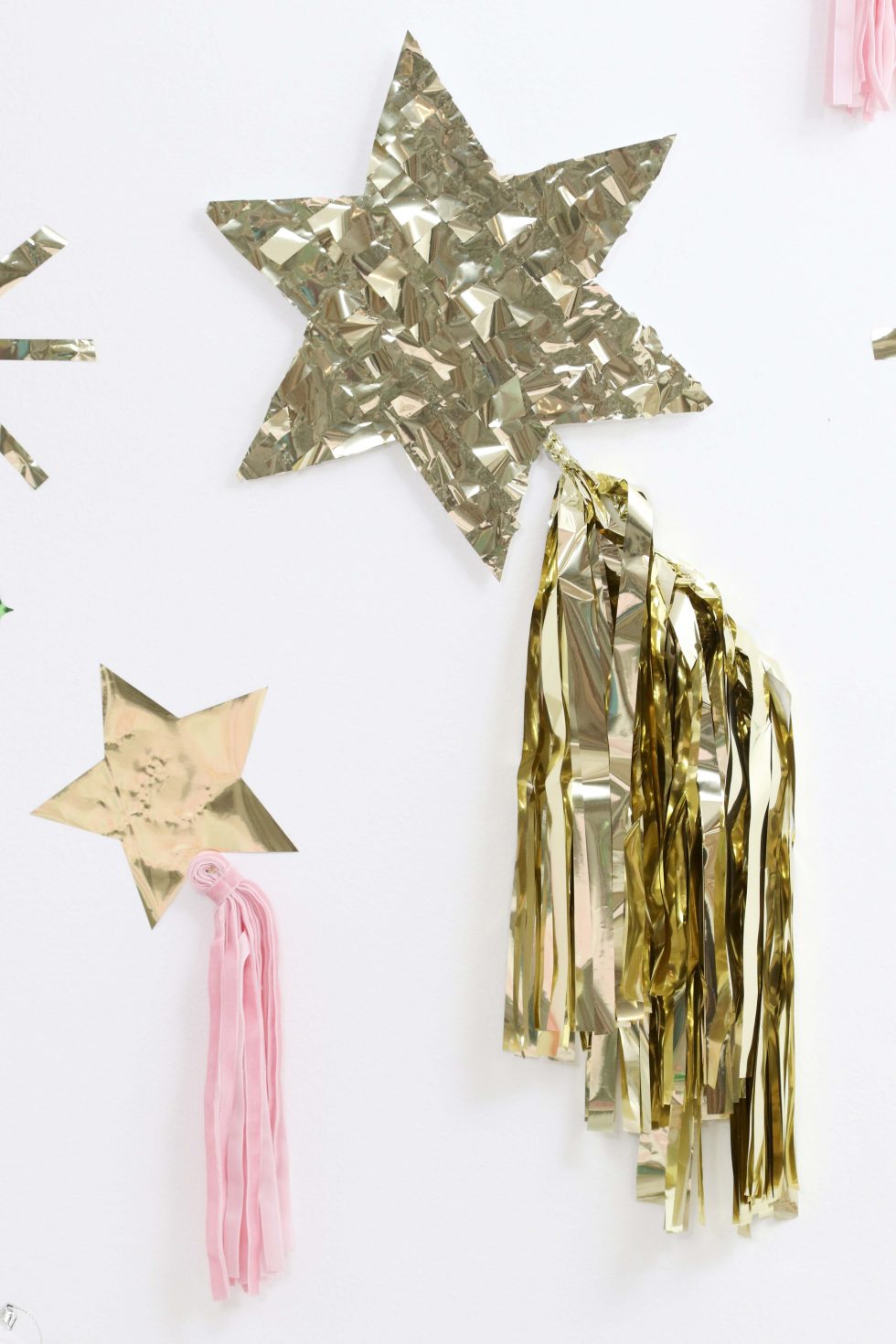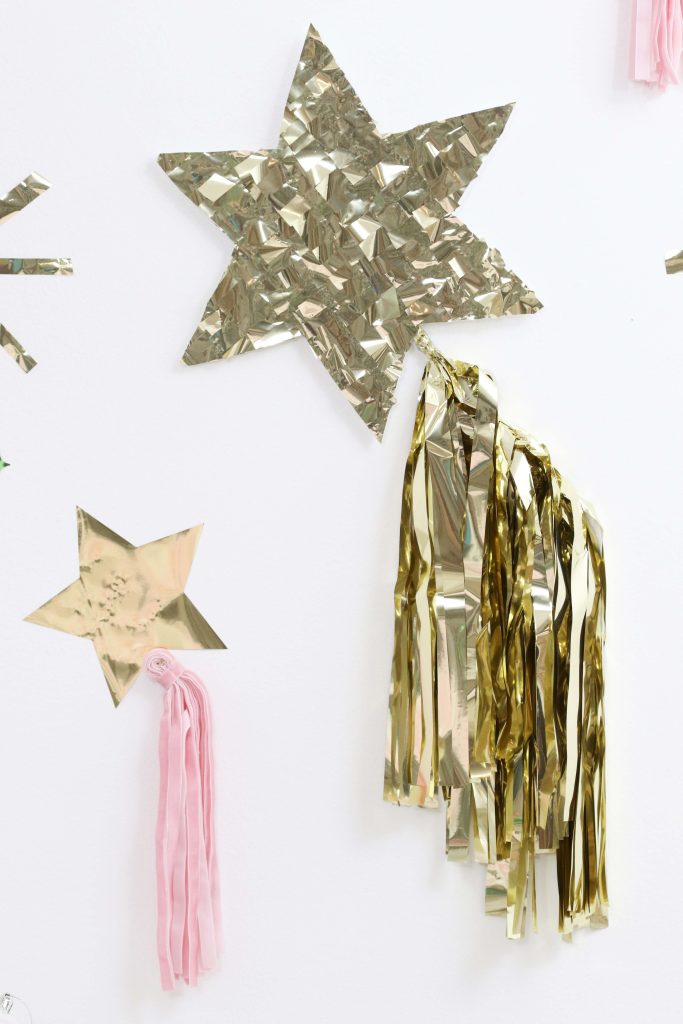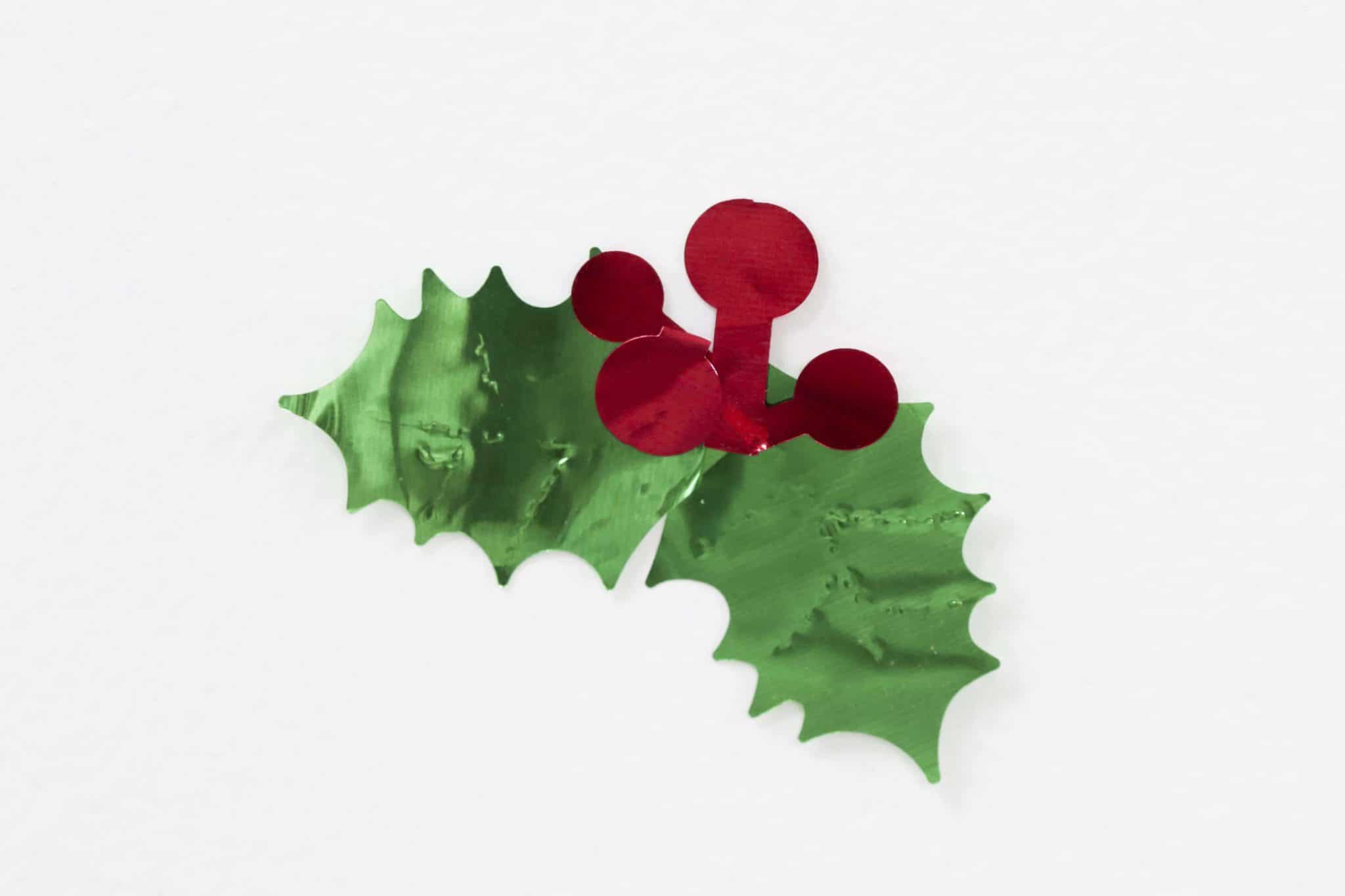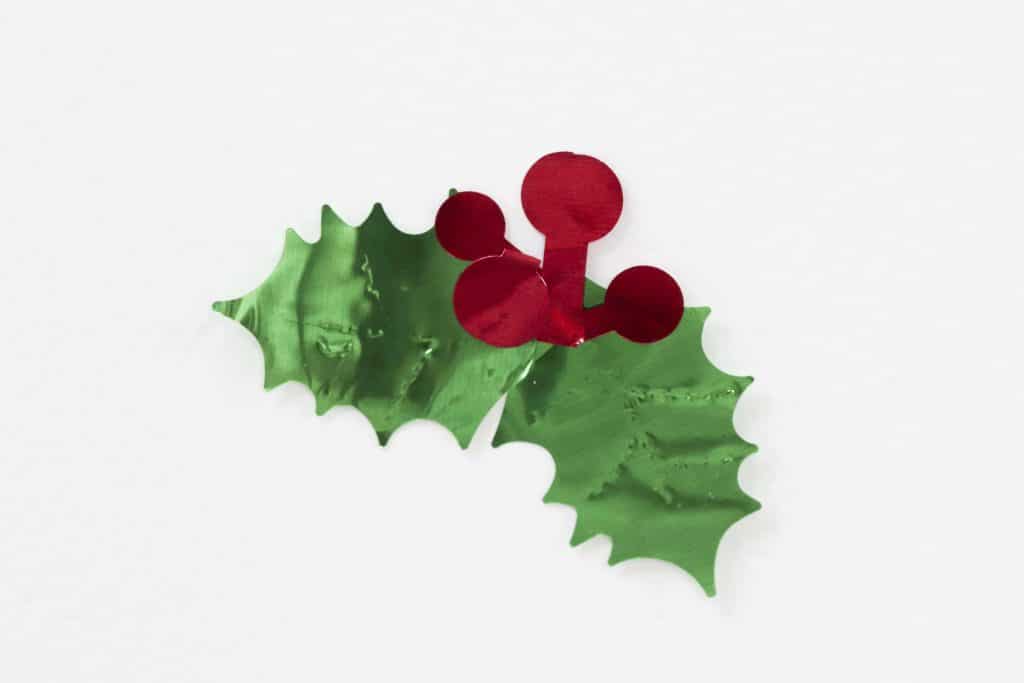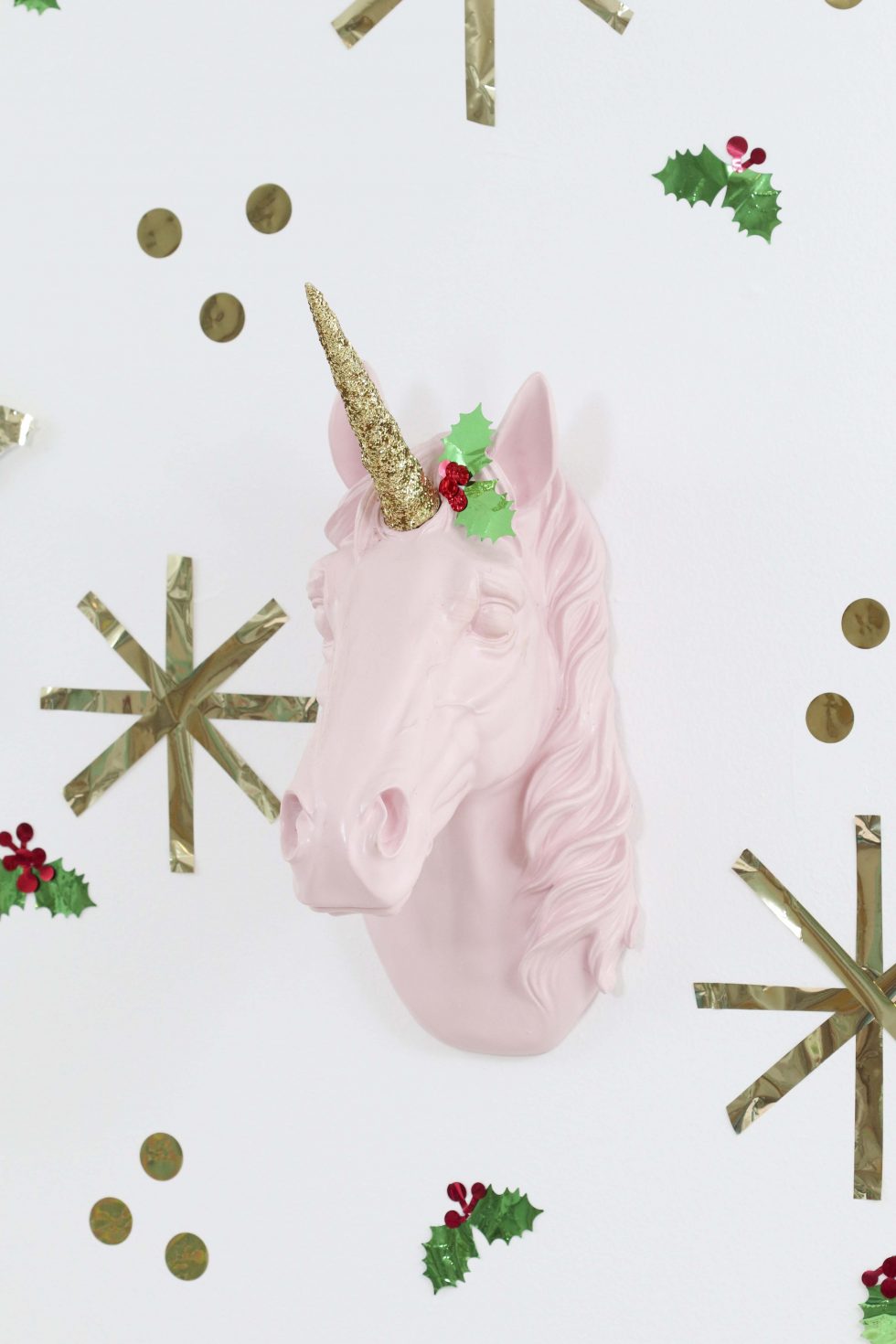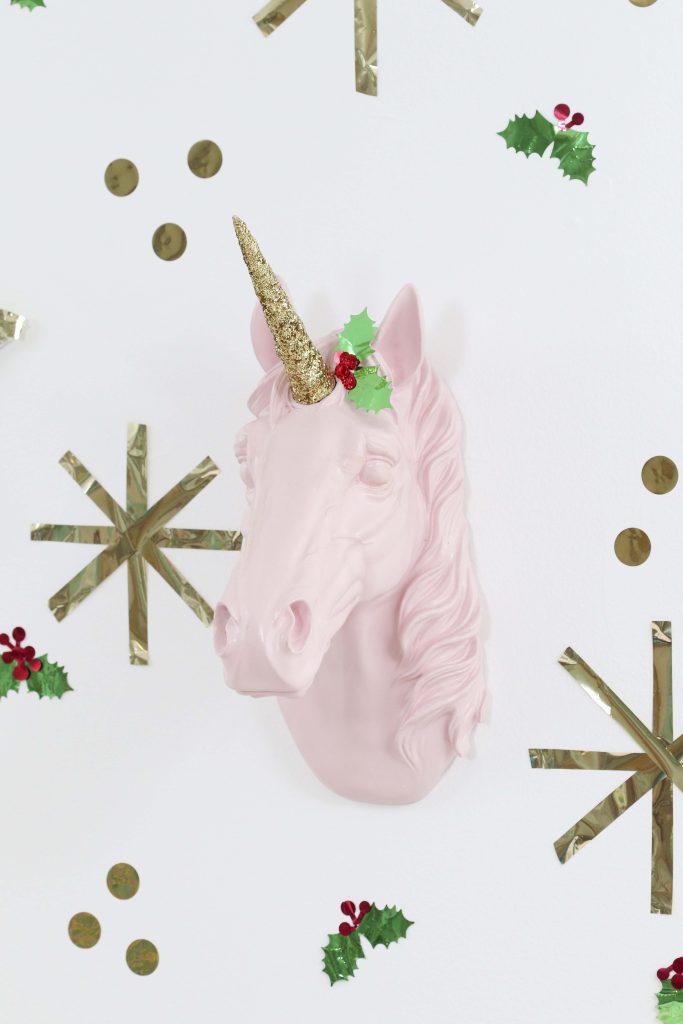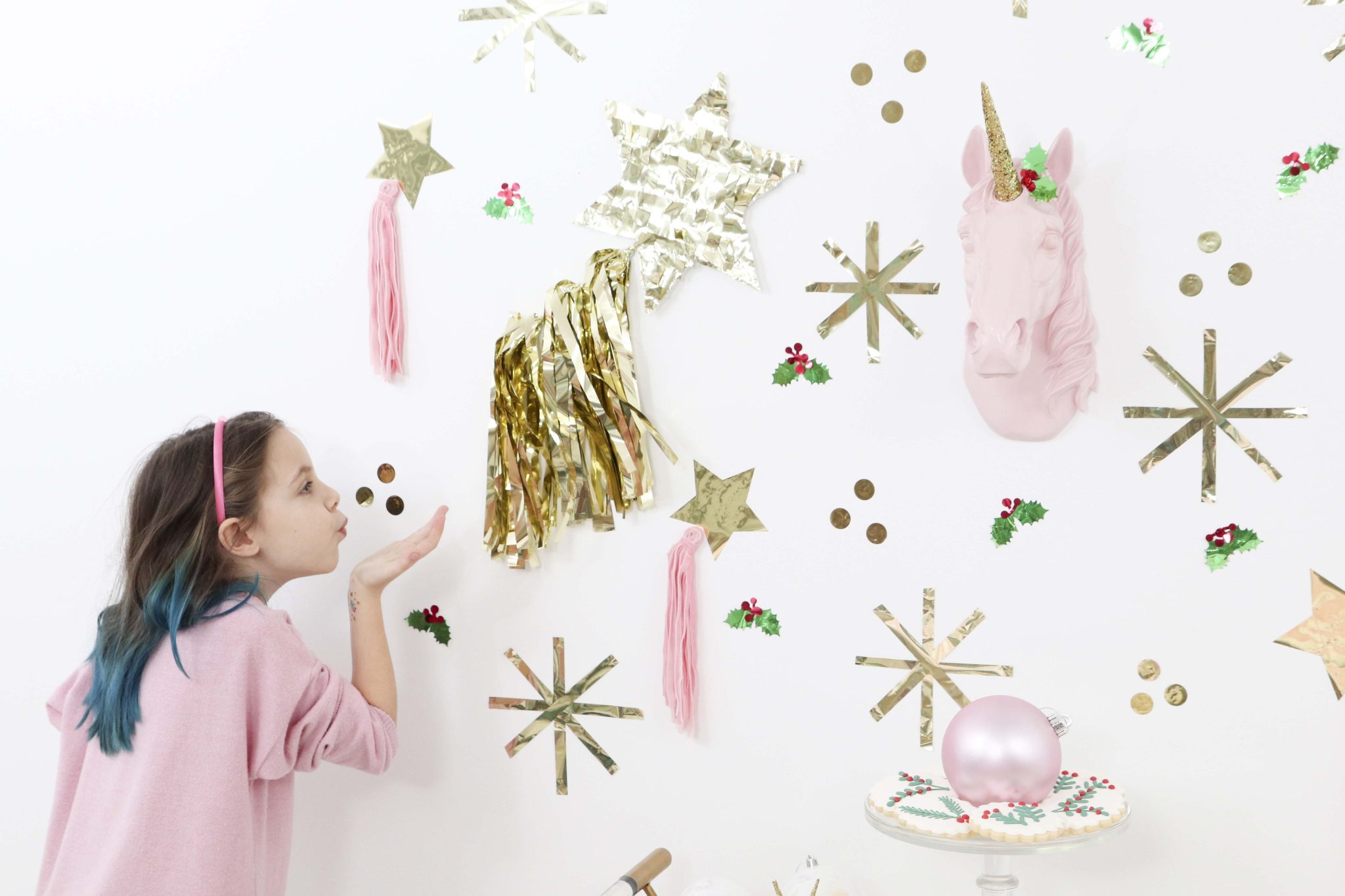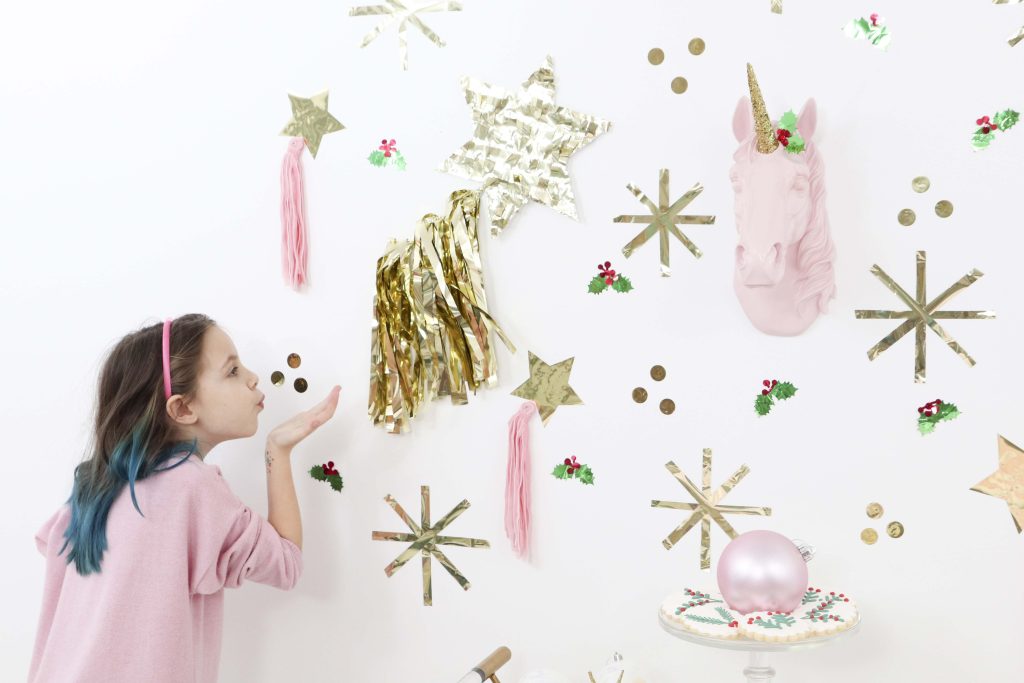 Dessert Cart
The last thing I set up was my dessert cart. I used various sizes of clear dessert stands, and loaded them with more of the gorgeous cookies. Then, I filled the rest of the cart with complementary Christmas décor – pink and iridescent white ornaments, glittery gold stars, and cute bottle brush trees. I then wound the holly and berry garland around the bottom level of the cart, and draped some across the front of the top level, for the perfect magical Christmas finishing touch that ties everything back to the plates.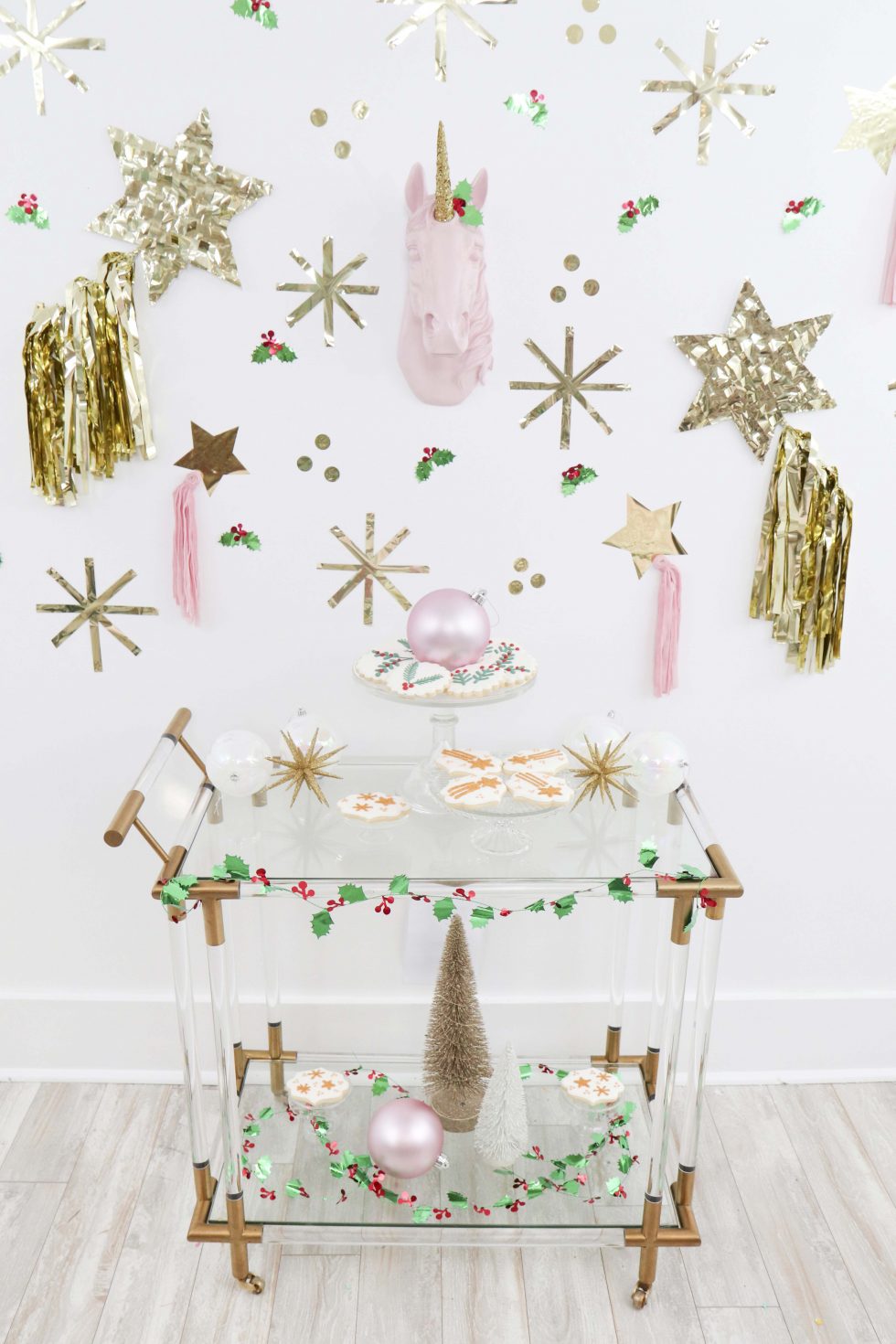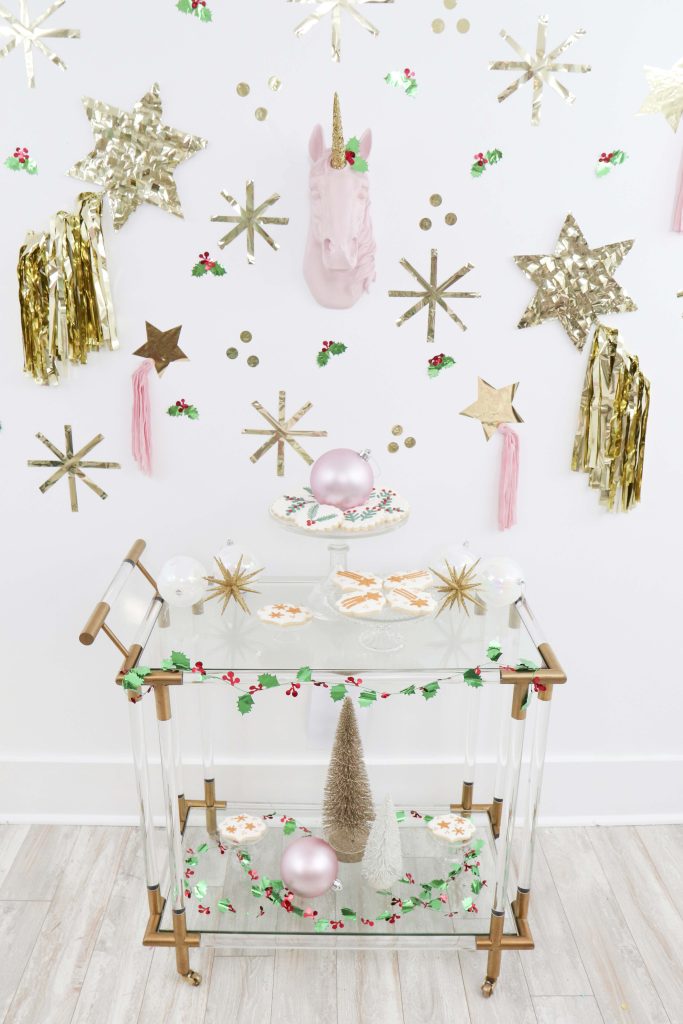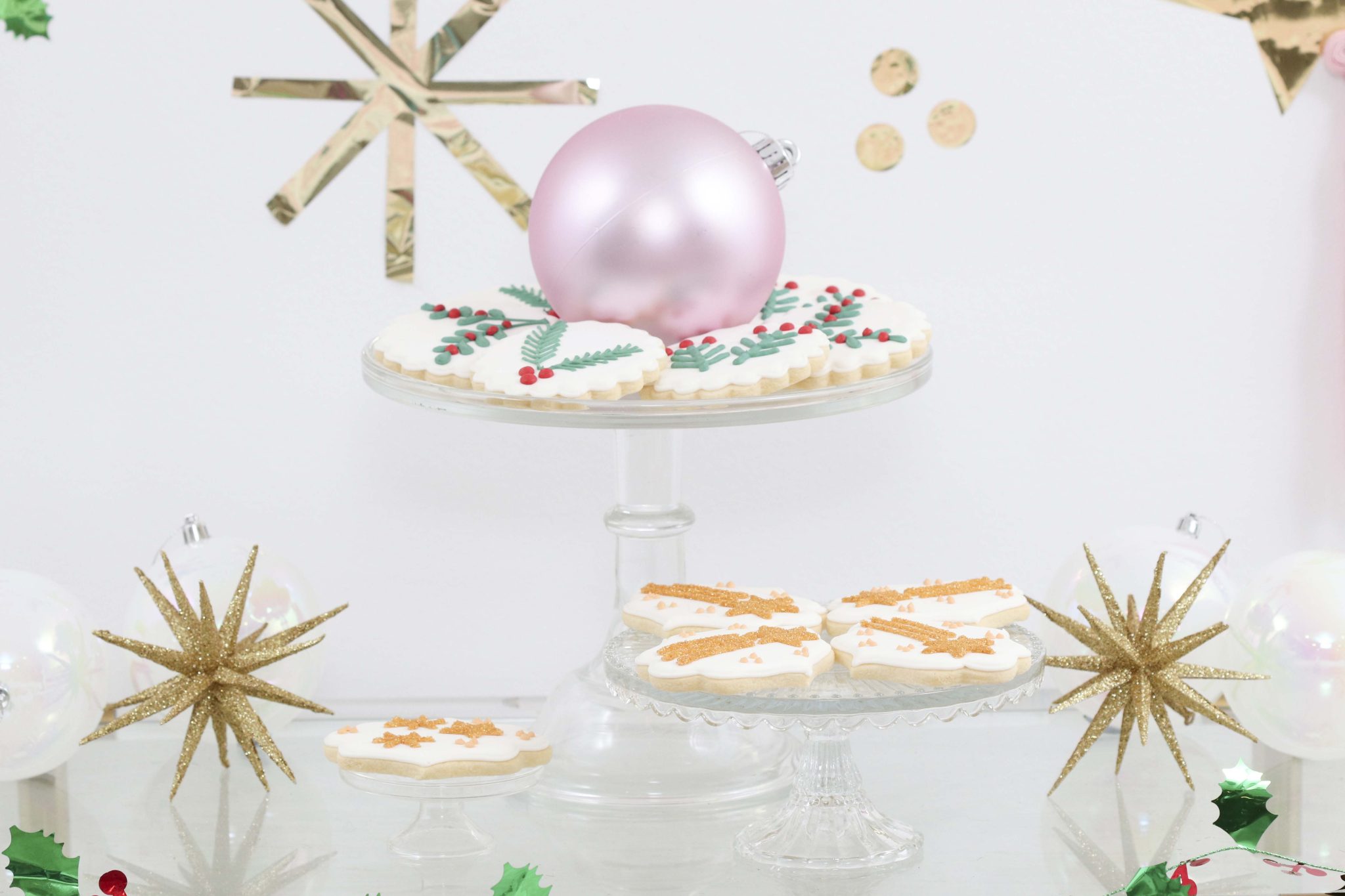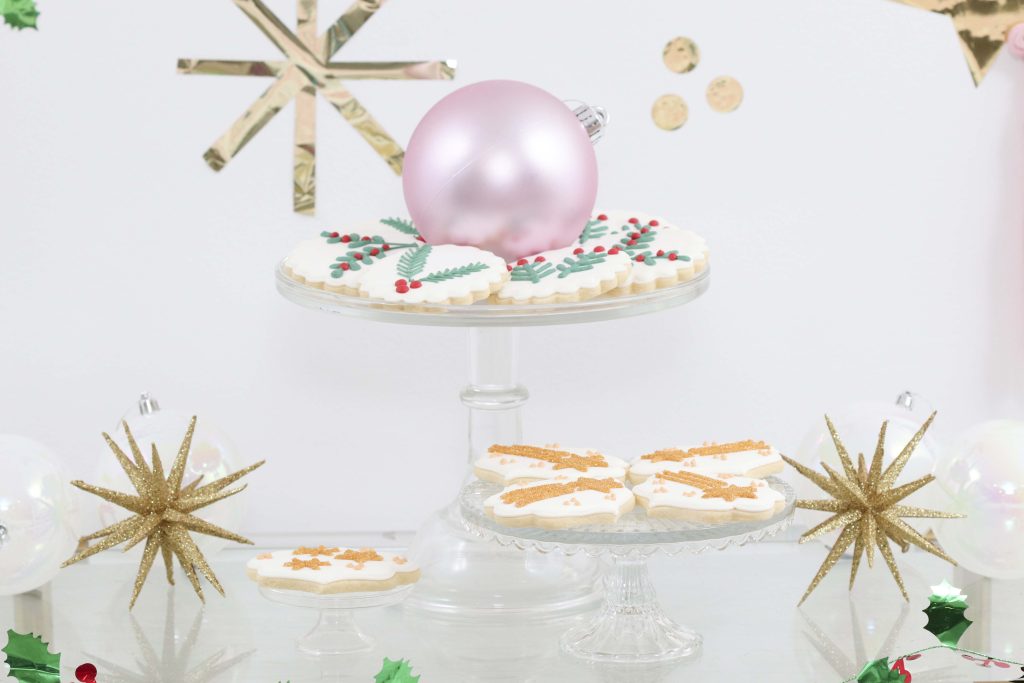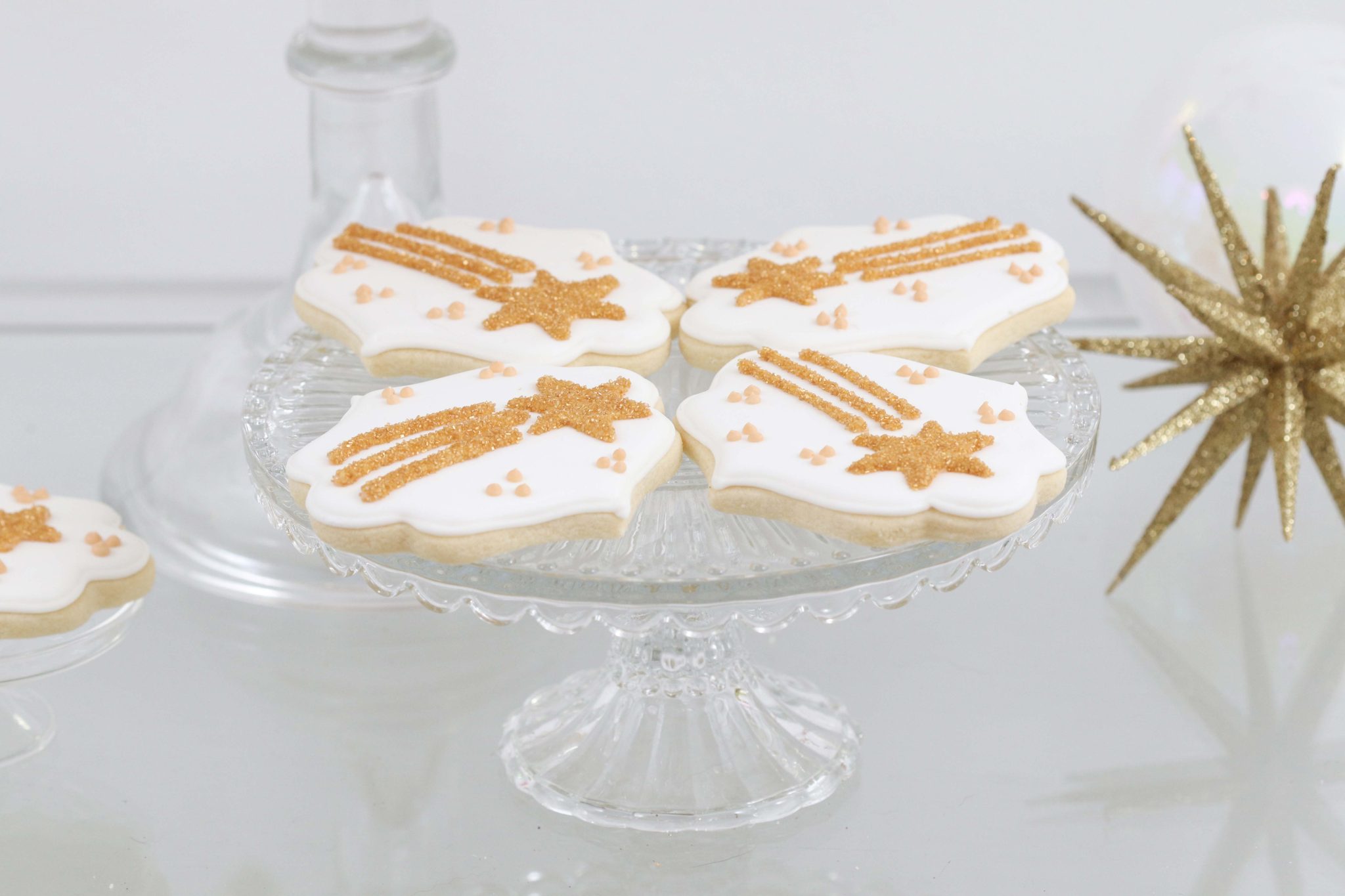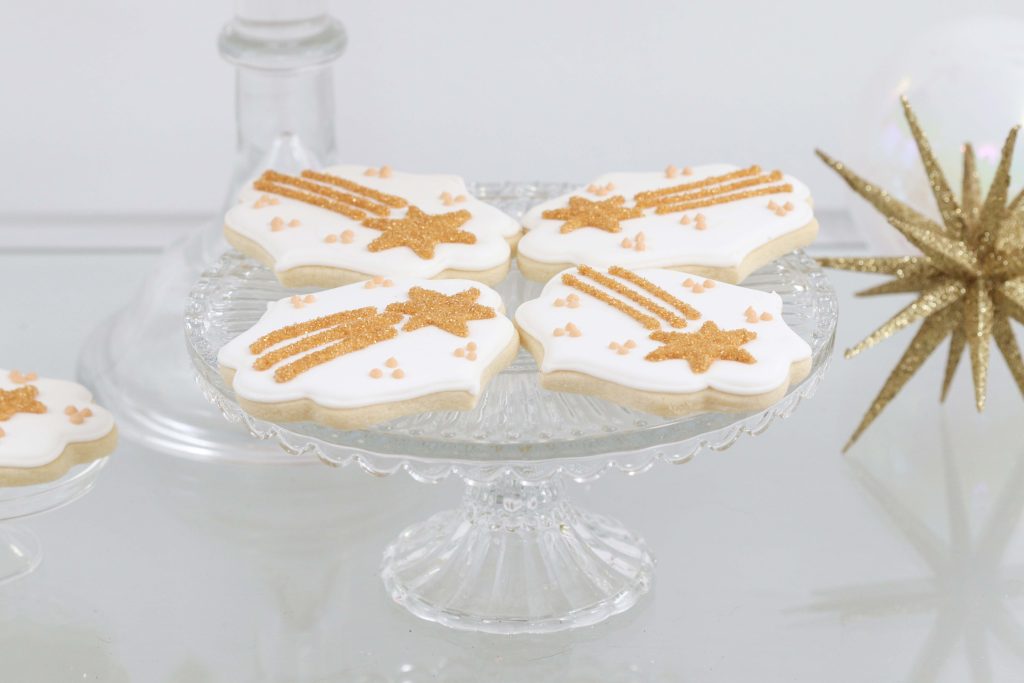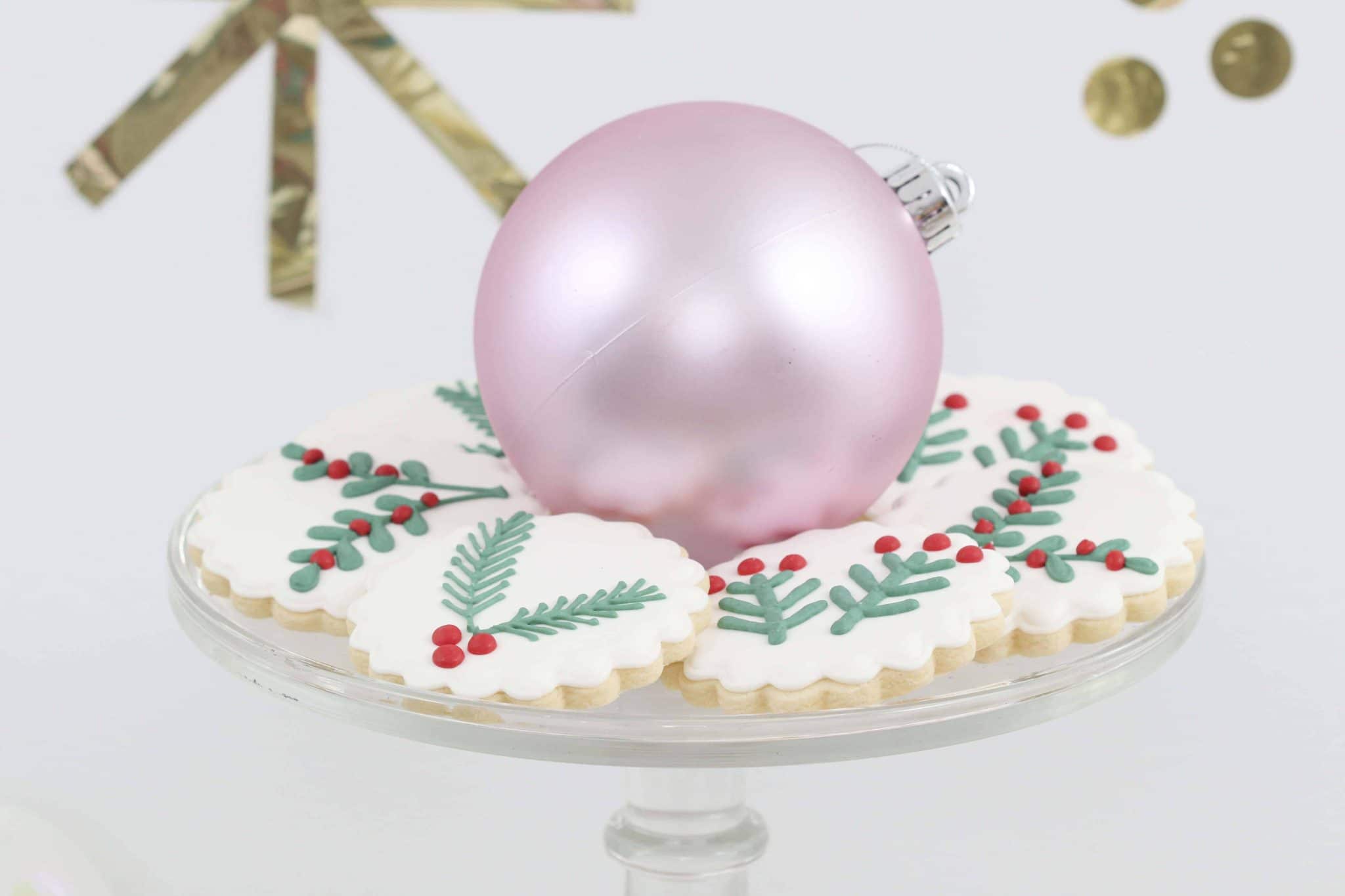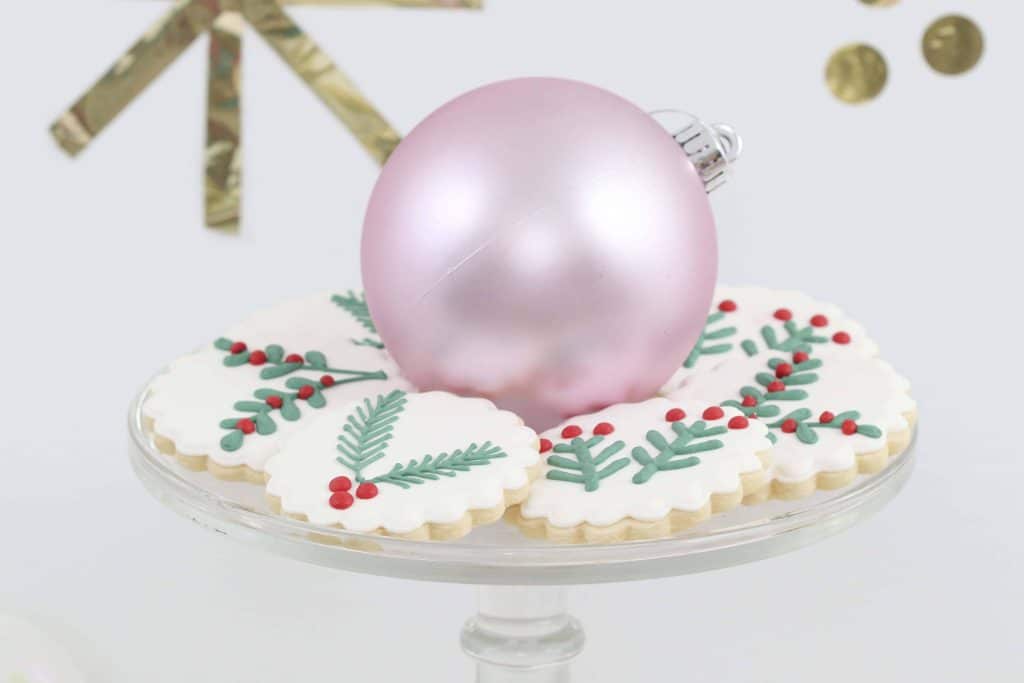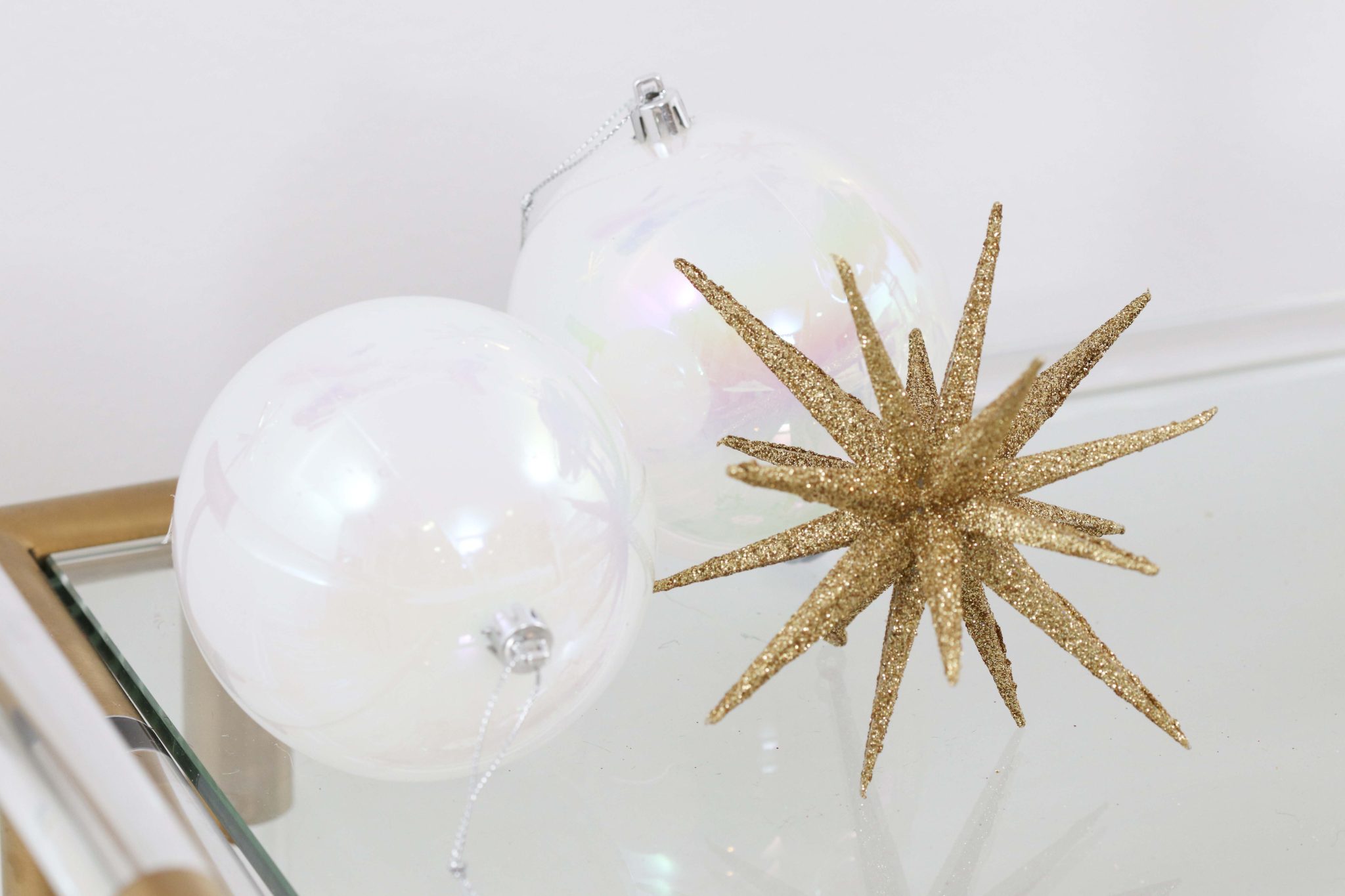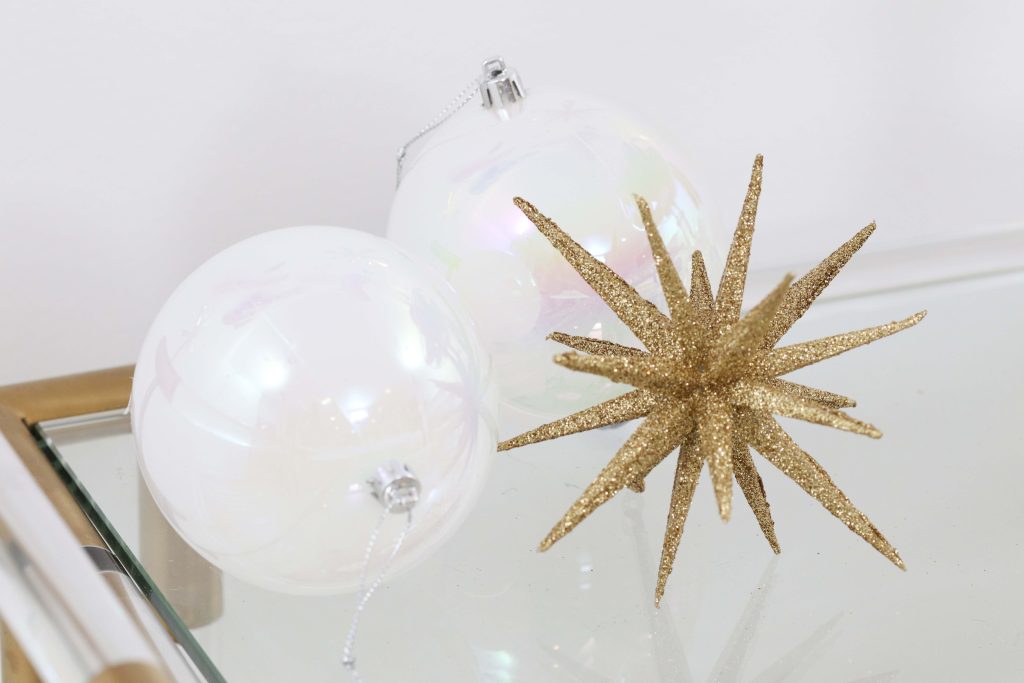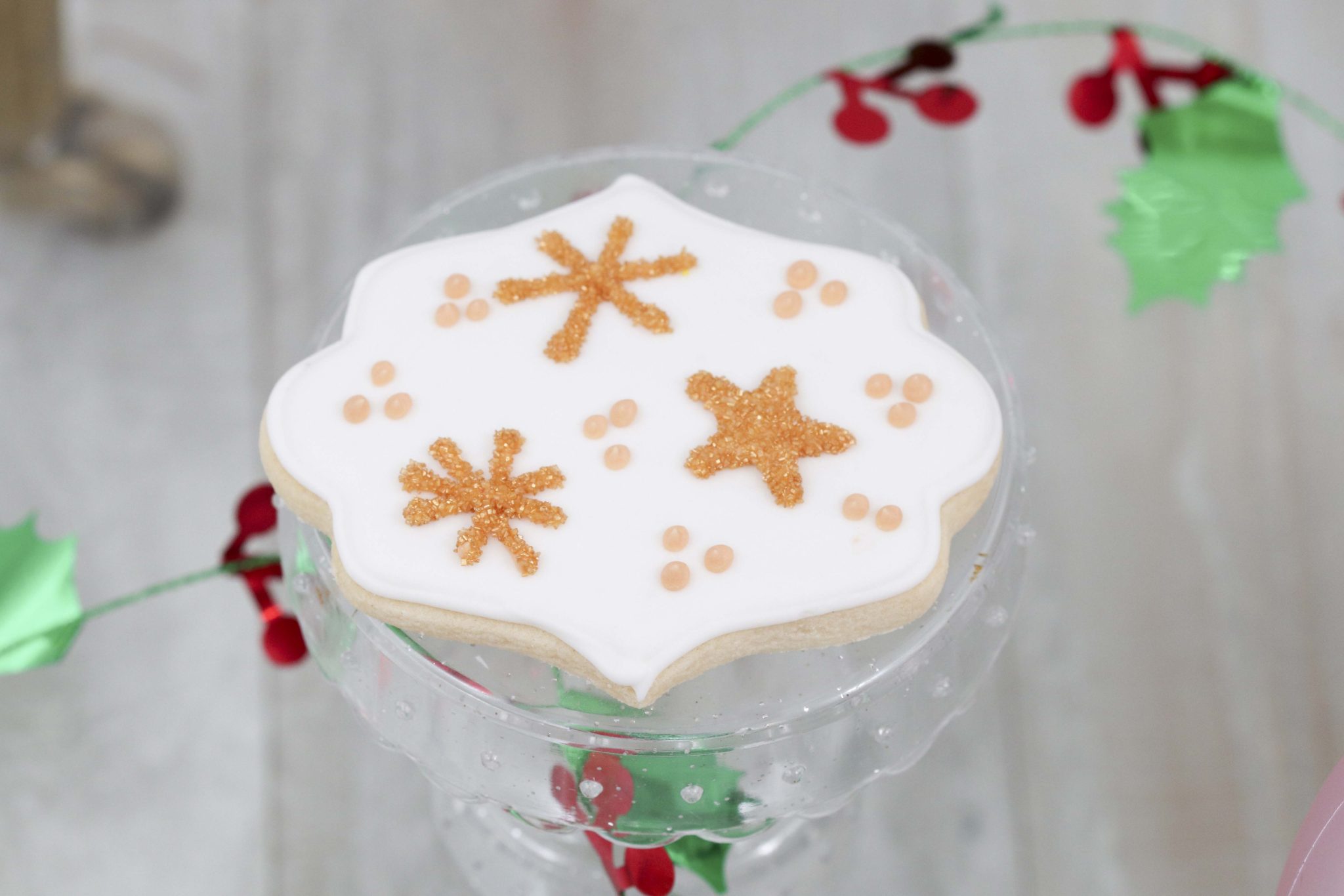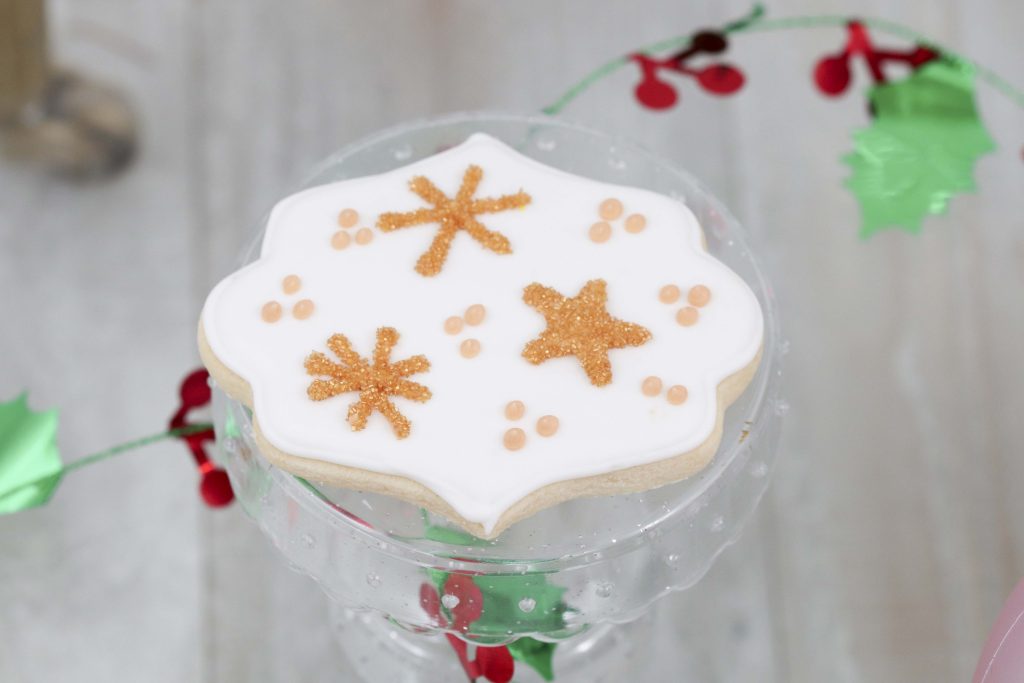 TIP: For a fun and perfectly complementary party favor, add these Magical Christmas temporary tattoos to the dessert cart for people to choose from. They can wear them at the party (all they need is a wet paper towel or napkin!) or choose one or two to take home for a dose of magical Christmas later!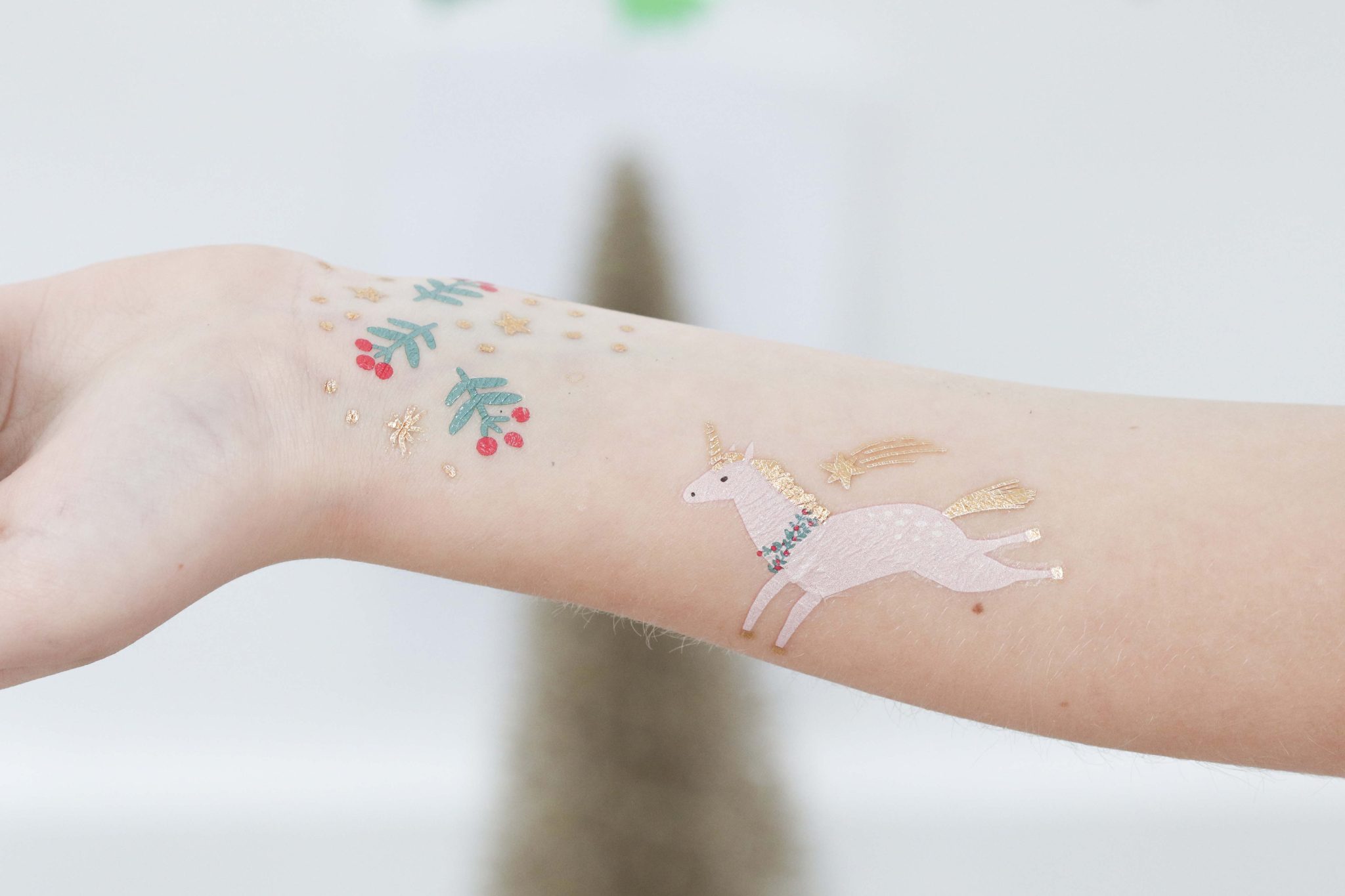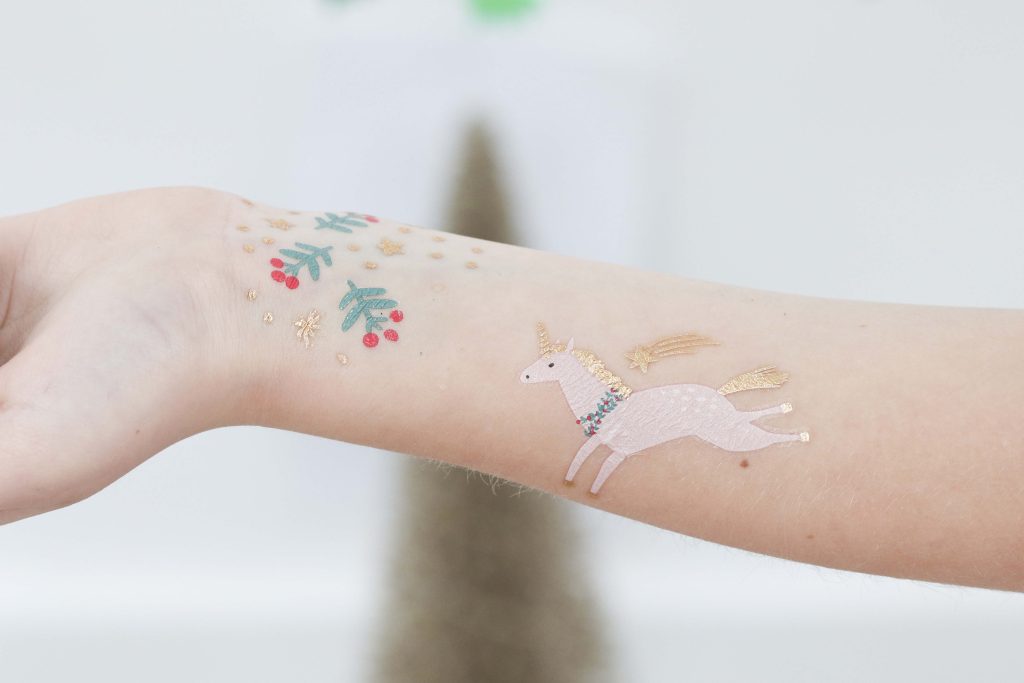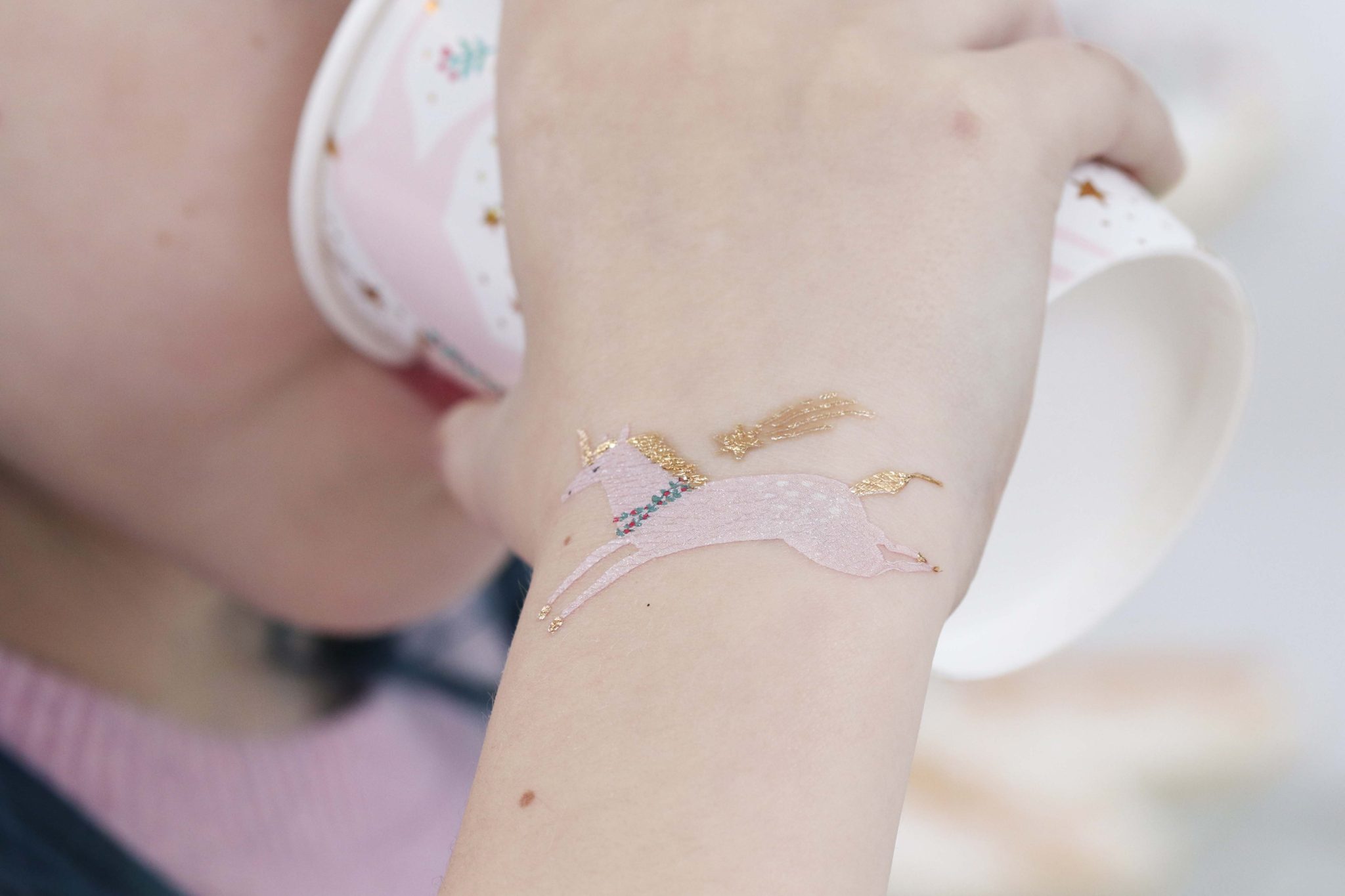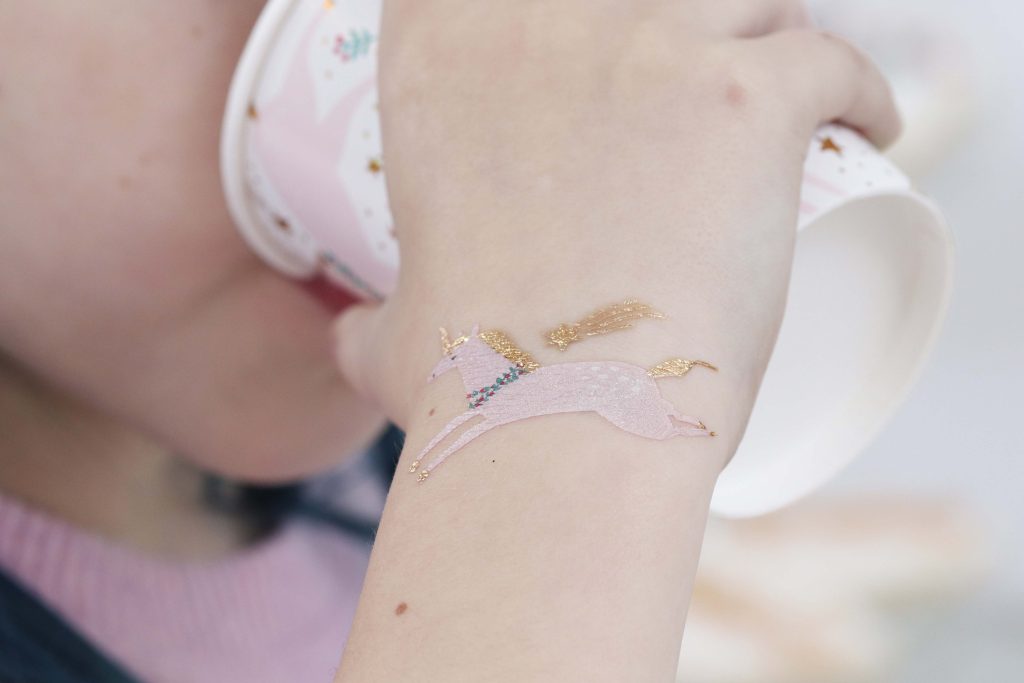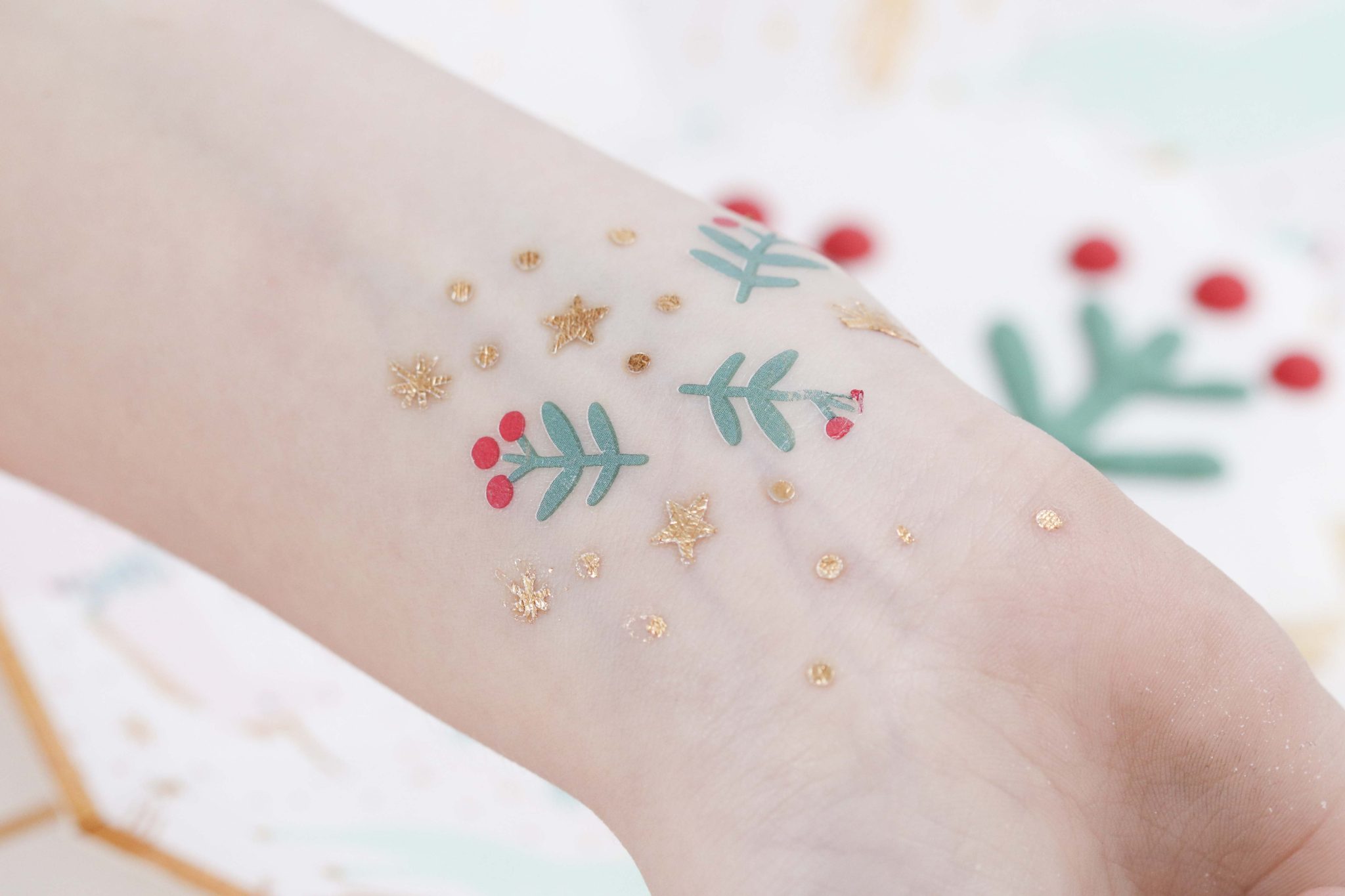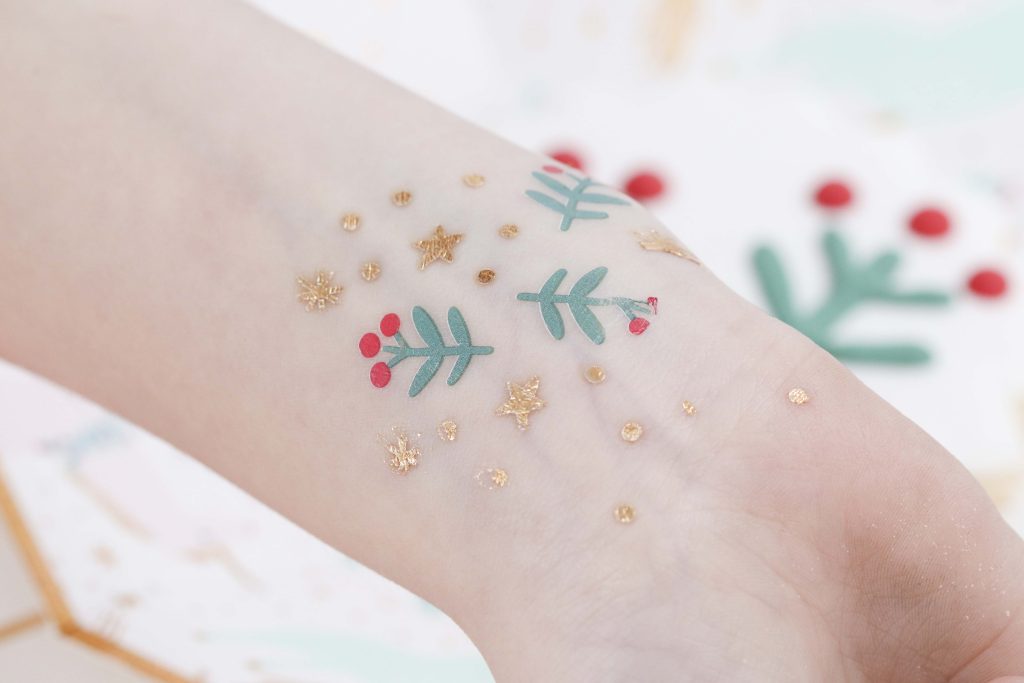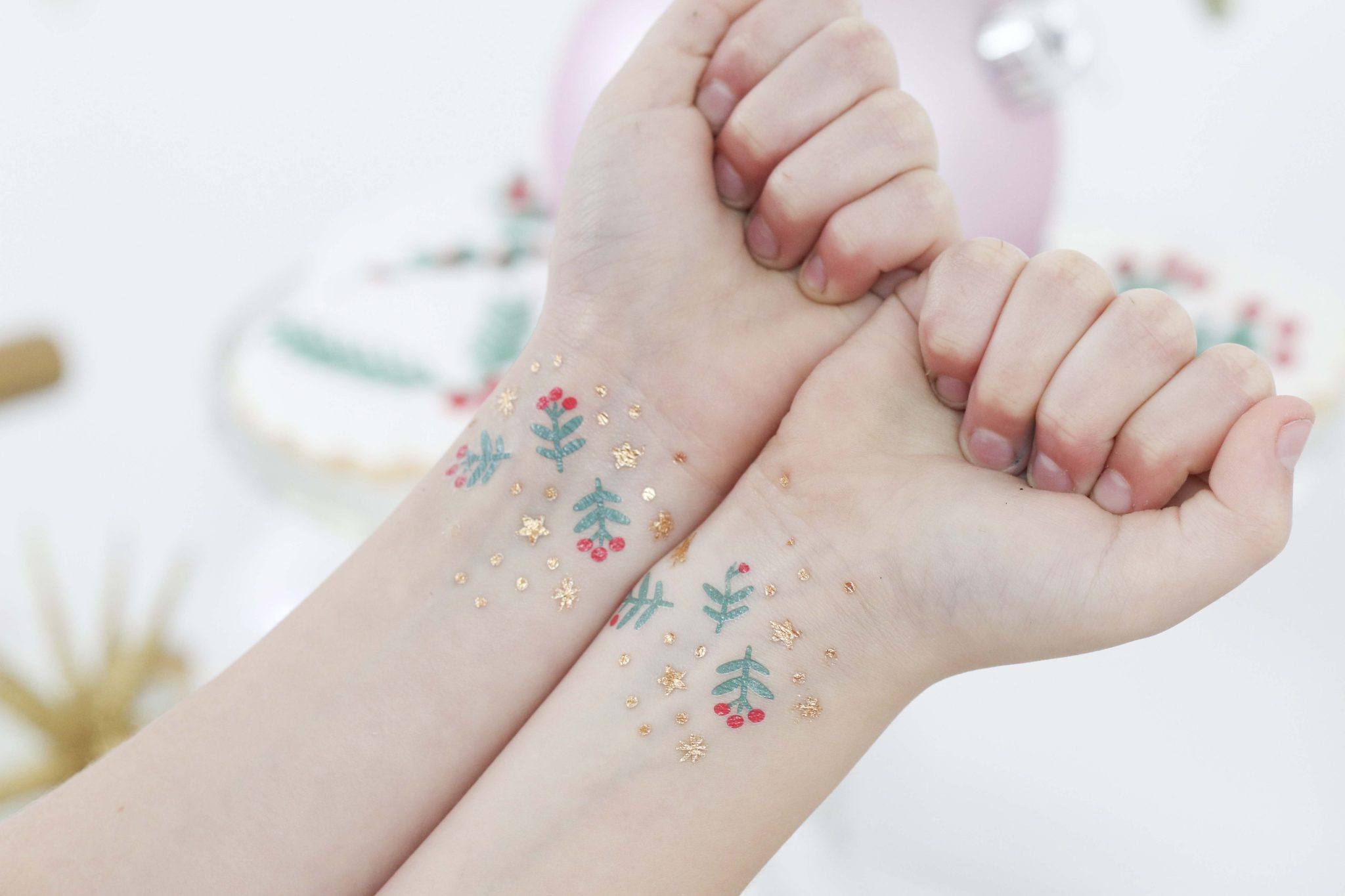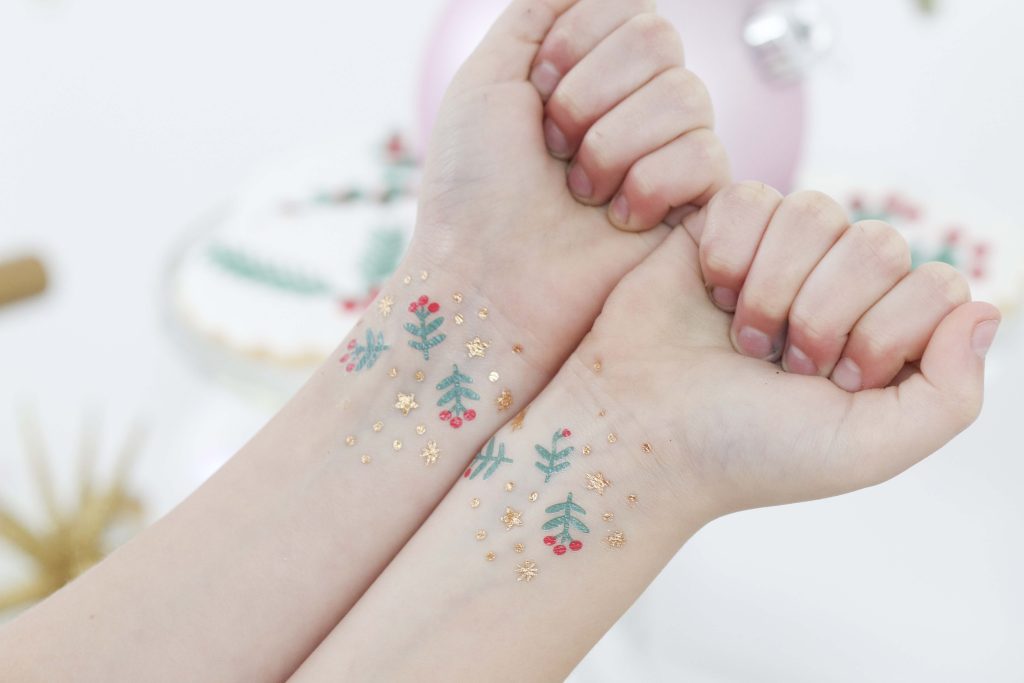 What do you think of this dreamy setup? I'd love to hear your thoughts in the comments, and I hope it has inspired you to have an enchanting holiday! 
And don't forget to visit my Amazon Shop to pick up everything you need to throw this party!
For more unique holiday inspiration, check out this Pom-Pom Holiday Party and this Making Spirits Bright Neon Holiday Party!
Happy Magical Partying!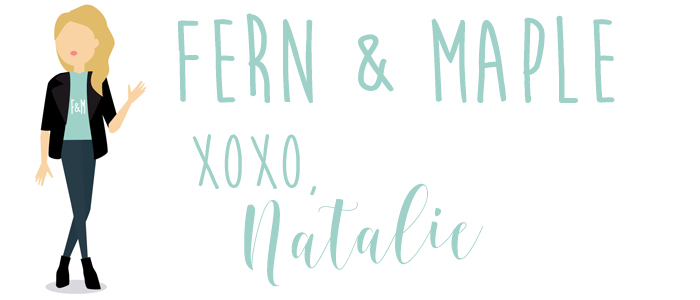 As a blogger, I sometimes receive compensation and/or products in exchange for my styling and crafting services. I also may earn a small commission from any sales that result from affiliate links on this page. As always, all project ideas and any opinions expressed here are my own.  For further information on our disclosure policy please check out our disclosure page. 
PIN FOR LATER: