How timely is Evite®'s "Party on the Fly" campaign for me?! Very, here's why.
I was at my son's basketball game last weekend and the group of moms got to talking. They are such a great group and we are always up for a get together. Our kids get on really well so it makes for a great (adult) night (with occupied kids).
One thing led to another and we decided we should have a cocktail night the following Friday to kick off the weekend with a bang and start getting into the holiday spirit. Most of us were putting up our trees that weekend so it seemed like a good excuse to have a party. Despite it being less than a week away I volunteered to have it at our place. Talk about a party on the fly.
I am an Evite® influencer and this is a post sponsored by Evite® . All opinions and experiences are my own. For further information, please visit our disclosures, page.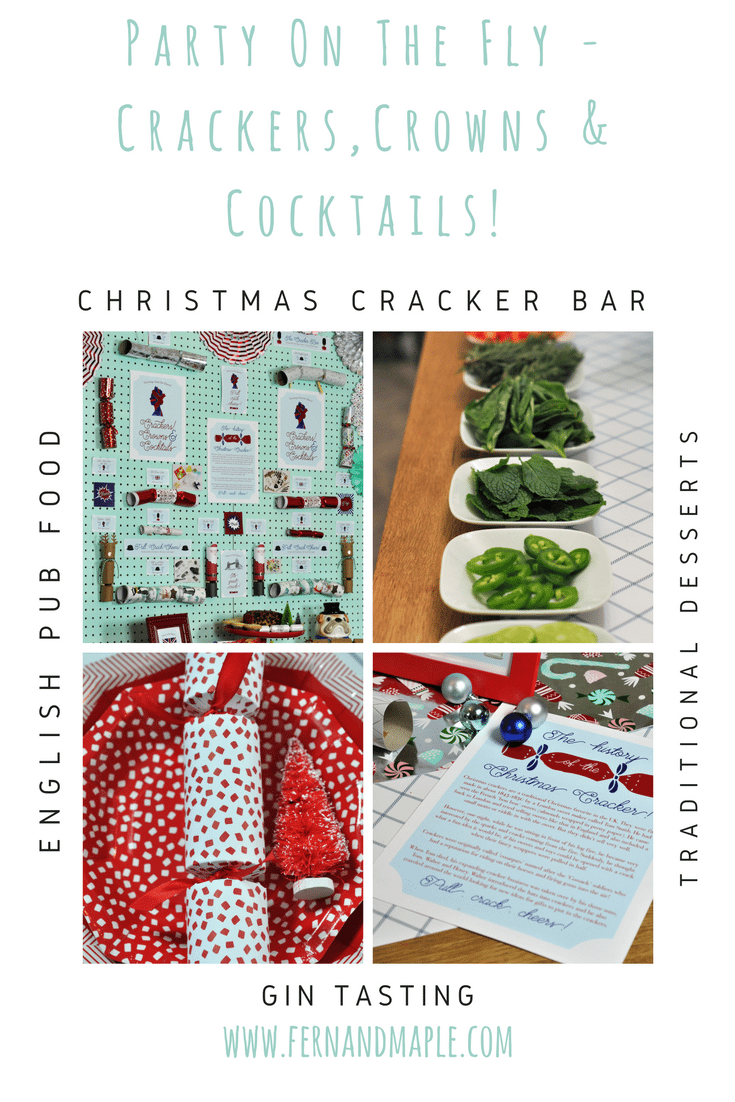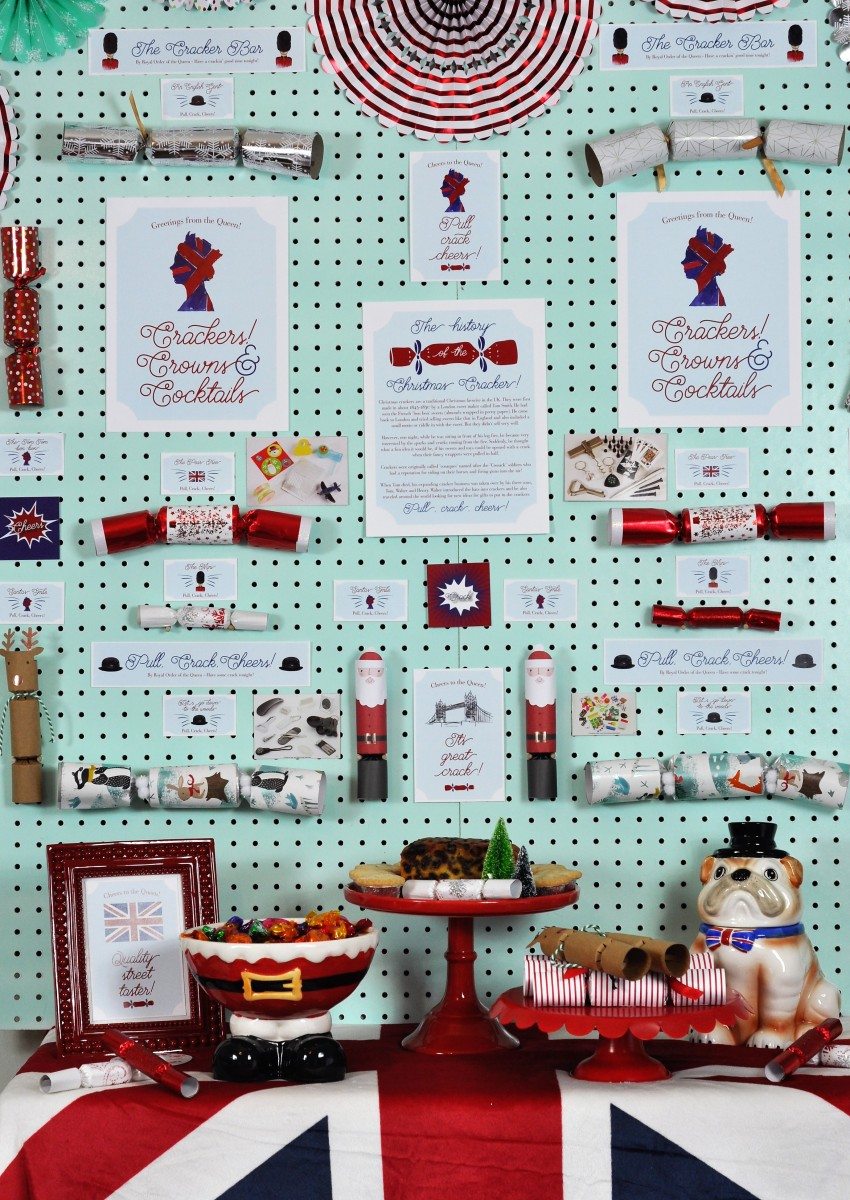 Crackers, Crowns & Cocktails – Party on the Fly and on a Budget
The next day I realized I had better get organized and send out an invite ASAP to confirm details. This was so we could all get started on any buying or prep. The thing was, I wanted to do something a little different …what a surprise! So first a bit of thought…
San Francisco is a bit of a melting pot, and while the majority of my friends are from (all over) America, I also have friends from the Netherlands, Australia, India and Canada. I love this about our group. We all have something to share. So why not a taste of "culture" for our cocktail shindig, starting with me!
I grew up in New Zealand, but with a very strong British influence. My grandmother was from England and my great grandparents and other relatives from Wales. Later in life I also spent 10 years in London. As a result I've adopted many British traditions and thought it might be fun to celebrate with some British flair.
I still remember my first year in San Francisco having our friends (from the South, Georgia) over and asking them to bring some crackers. Little did I know that they had no idea I meant Christmas crackers or "bon bons" as they are sometimes known. They brought crackers for cheese.
It was then I realized that these are not a tradition here in the US. Though they are becoming more popular there are so many people that don't associate them with Christmas day.
For me, well I grew up with Christmas crackers as a staple part of Christmas dinner. Us kids (my cousins and I) LOVED them. It was the best part of the day – apart from gifts of course. So much fun trying to pull the hardest and win the toy within the cracker. Then having the whole family, adults included, sit around the table wearing silly paper crowns and telling each other the corny cracker jokes. Our parents were hilarious, or so we thought. Thank you Christmas crackers!
This seemed like a fun thing to introduce more of my friends to. A theme was born – "Crackers, Crowns and Cocktails". Lucky Christmas crackers are becoming easier to find now and you can totally rock this theme with crackers alone! In this post I'll walk you through how I pulled this party together on the fly with tips along the way.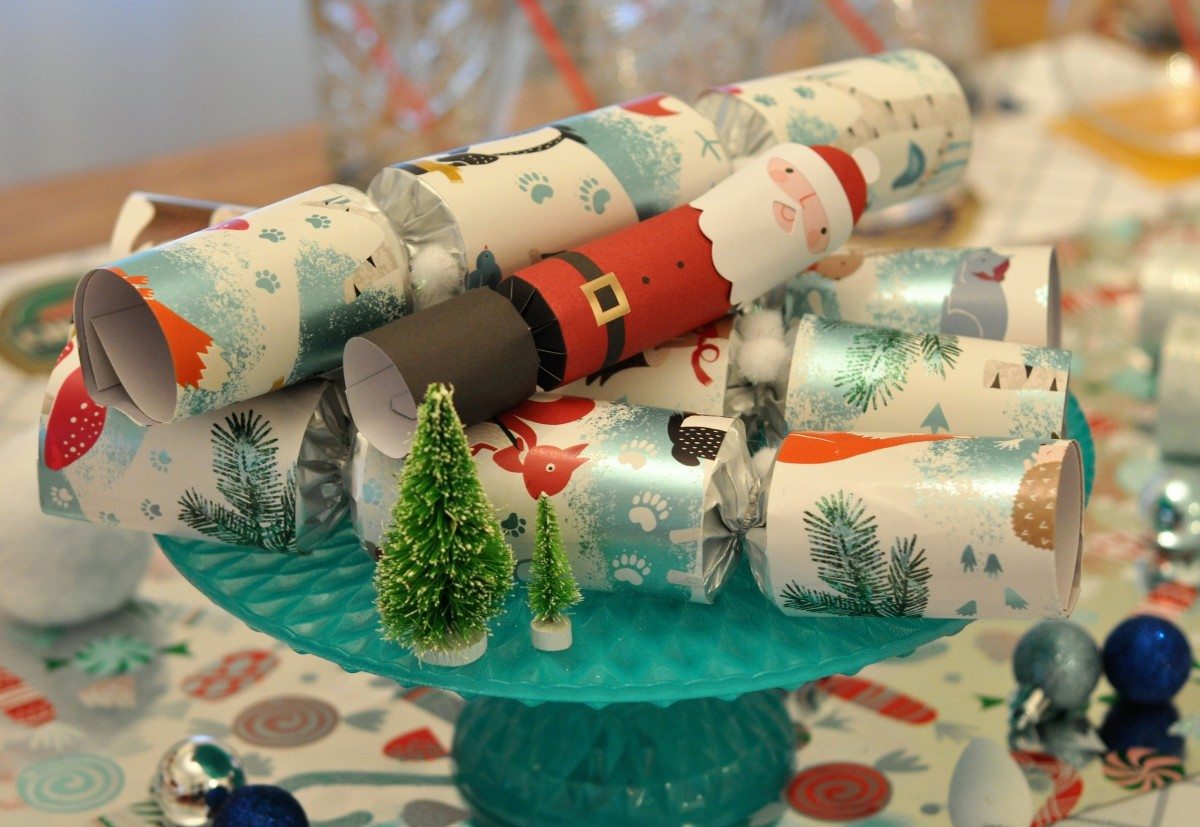 TIP ONE – Use Evite® for a super quick way to gather the troops and organize party details
Now I'd made up my mind I had to get "cracking" (seriously, I heart puns!) on the invitation. Evite® always has me covered and especially when I'm branching out to something unique. They have a "design your own" area which is my go to. I always like to use this when I'm getting something that is not a traditional theme, or has a twist.
My first call was to my friend Kim from Small Moments (you'll see from my blog we love to play together!) to design something I could use for everything from the invitation to the table. After I ran her through my concept she literally overnight designed the queen's head with the union jack inside in a watercolor. Perfect!
TIP TWO – If you like this theme, I have free downloads of the key designs by Kim here on my home page.
Before finalizing the invite I thought about my time in UK, the things (other than crackers) that were really British and fit with the theme. I needed to include contributions in the invite.
Our group of moms had agreed that to keep our celebration costs down we would all contribute (pot luck style) to the food and alcohol. To me, apart from the Union Jack, it was gin, Fish n' Chips and the good old Ploughman's platter that you got at the local pub. A ploughman's has yummy fresh bread, chutney's, pickled onions, piccalilli spread, cheeses and deli meats. Hearty in-front-of-a-fire fare!
This gave me enough to send out the invite and confirm the details & contributions of our basketball planning session.
The Invite – No Cost
I set up the invite using Evite®, you can choose an existing design or take my approach and use the design your own option.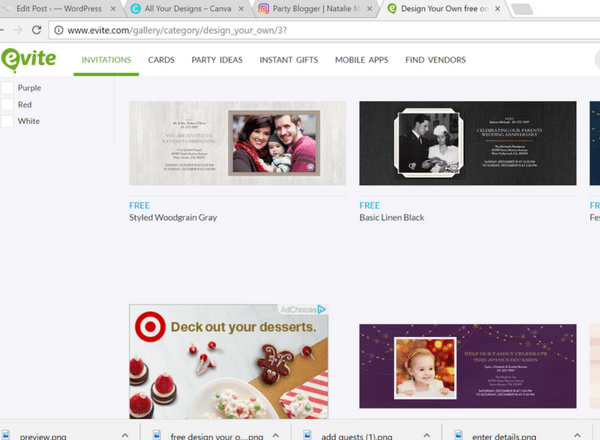 use the free design your own invite section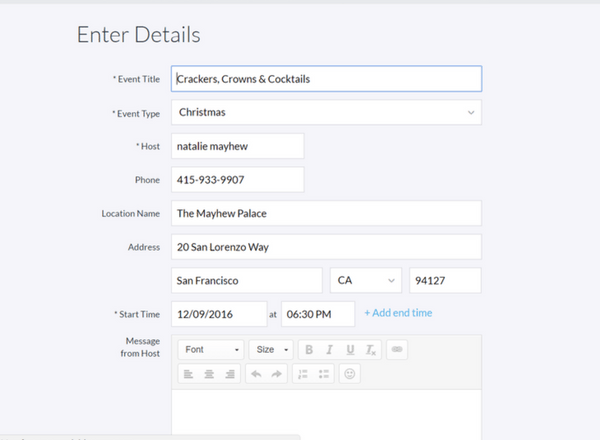 Add your party details
Add your design or a family photo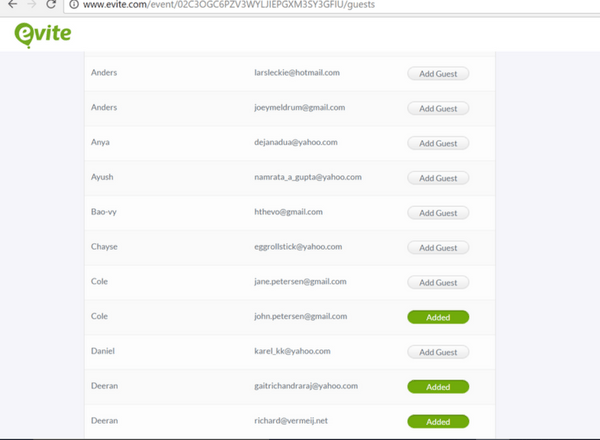 Add guests – new or from your address book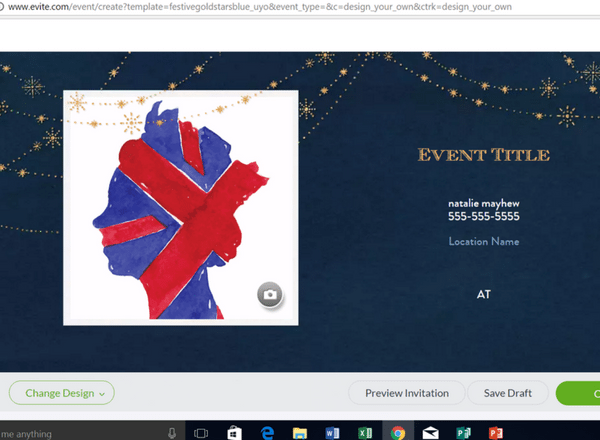 preview & update before you add details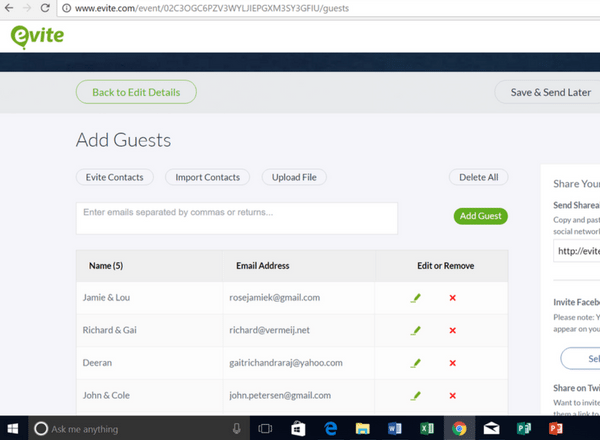 Edit guest if necessary (add extras or update names)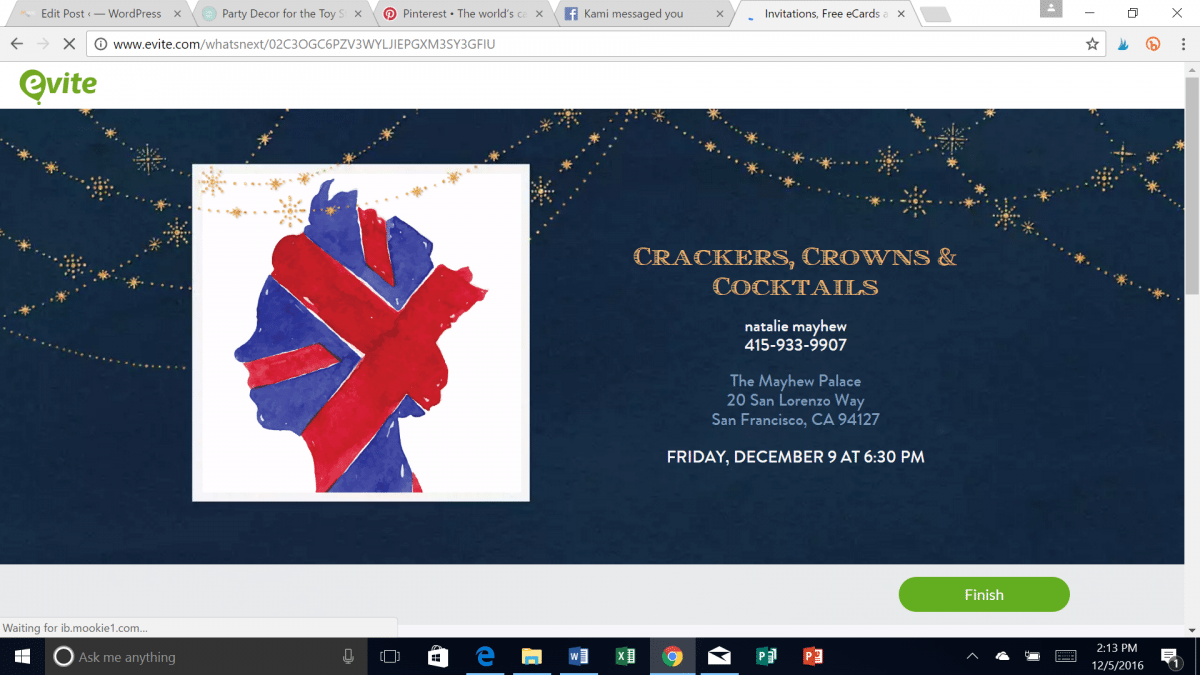 As I started working on the details – looking at what I had, what my friends would bring and then finally what I needed to shop for (my favorite part, hubby's least favorite bit) I found I was able to create an English Crackers, Crowns & Cheers party for as little as $100. TIP THREE – Use as much as you can from around your home and utilize existing holiday decorations TIP FOUR -Share some of the cost of the party with friends If you don't have some of these things around your house (I am a hoarder I must admit!) or some options like sharing costs are not available to you, I've given you either areas where you can either scale back (or go for broke), a budget for an additional cost to consider or an alternative to what I used. Let's go through what I had, what my friends contributed and lastly the essentials I purchased to create the very British cracker theme.
Backdrop
My Cost – $10
As a planner & stylist I can't help but create a backdrop for my desserts. For this one I used peg board which I have lots of at home from other parties. It is spray painted an aqua shade of blue I had left over from a mermaid party. This was quick to put together. I used wire I had at home to join 2 pieces together and then it was a matter of using tape to attach print outs of Kim's designs and wire to hold up the different crackers.
Lastly some paper pinwheel fans to soften the edges, this is where the cost came in. I purchased 2 sets of three in the colors I was using from Target. They were $5 per set. Then I simply leaned it against the wall on top of my sideboard. You could hang this from a frame but honestly leaning it worked just fine.
The goal was to create a "cracker bar" with the backdrop. A way of selecting your cracker of choice. Kim created cute labels and graphics for me so I was able to show every cracker I had, its name (I made these up based on the design), the contents of the cracker and the background to the history of crackers (you can find this on the back of most boxes) for my non-English guests and the kids. I also got Kim to do some sound effect graphics for me "crack", "pop" etc.
If you do want to create this backdrop yourself, sheets of peg board are approx. $8 each from Home Depot, wire is approx. $4-6 a roll and spray paint approx. $8-9 (40% off available at Michaels).
To save costs, pinwheels are also really easy to make yourself, use sheets of paper that you fold and staple together and then fan out to create the pinwheel. Martha Stewart is a great DIY resource for these.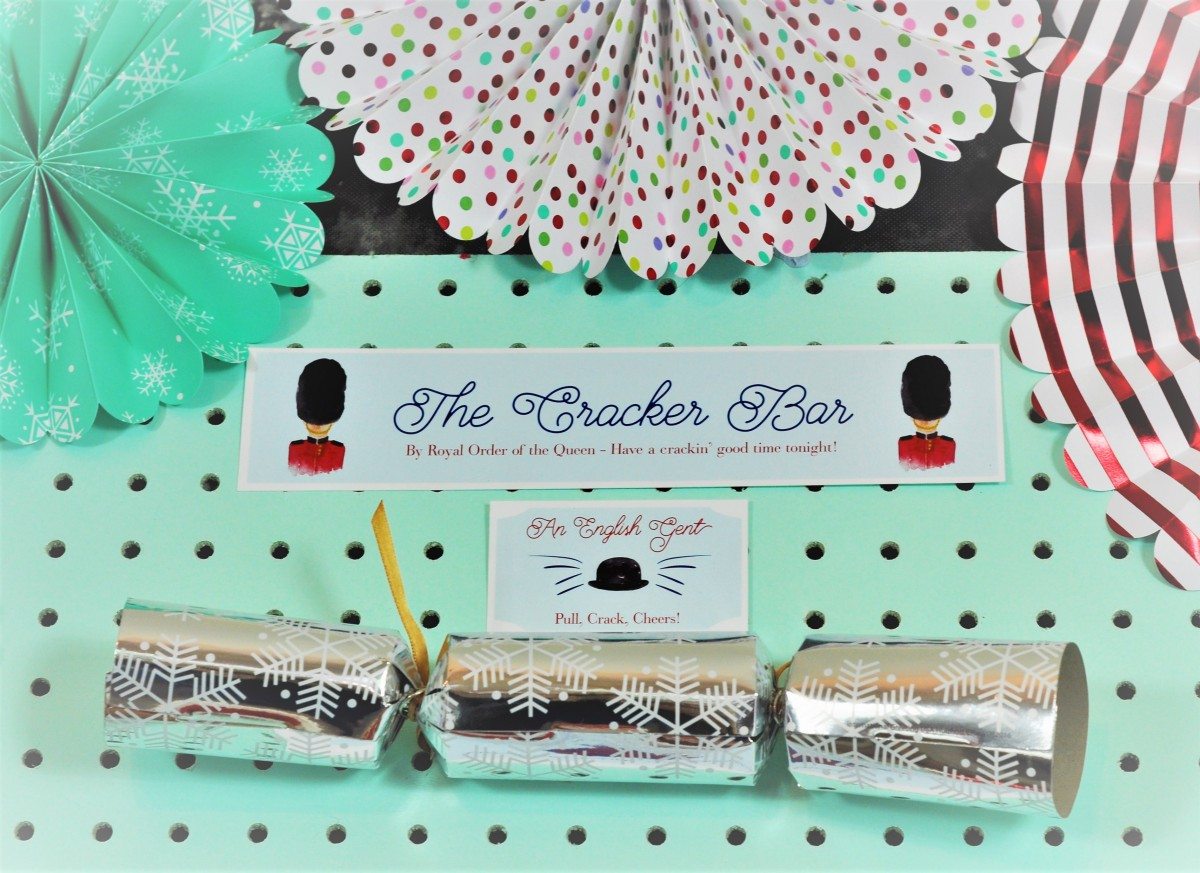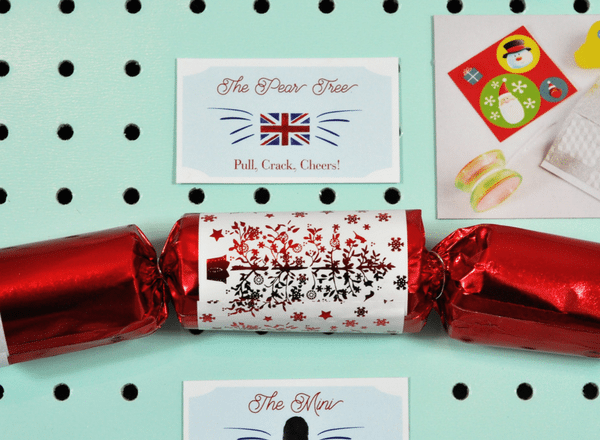 The Pear Tree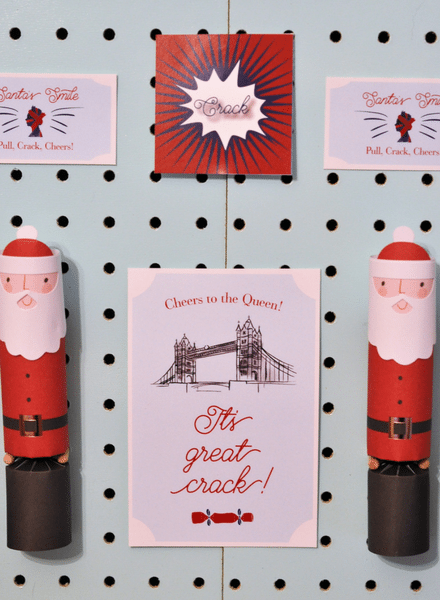 It's Great Crack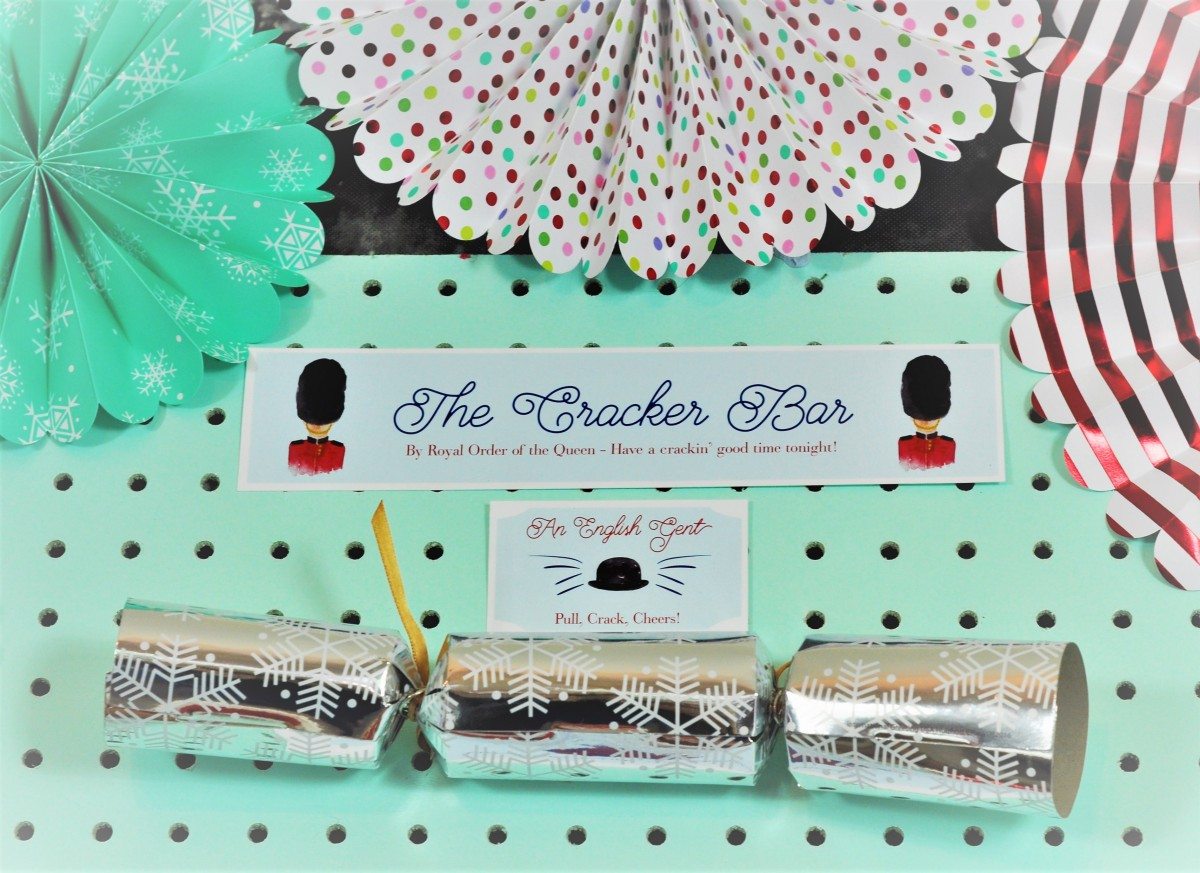 The Cracker Bar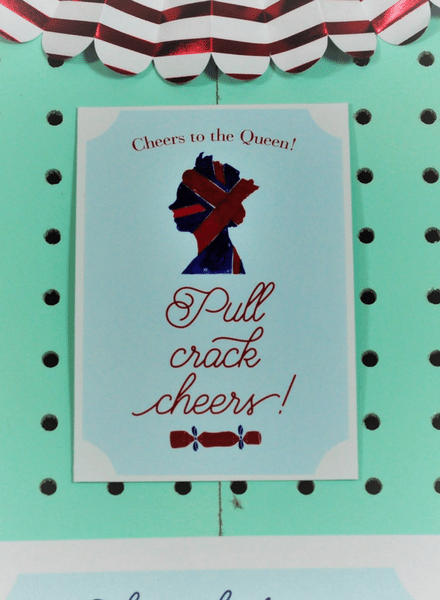 Pull, Crack, Cheers!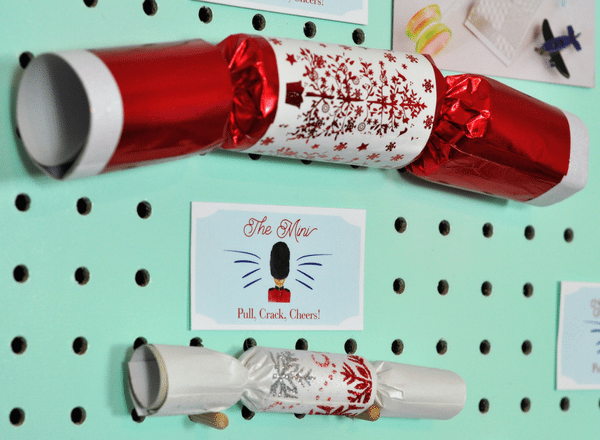 The Mini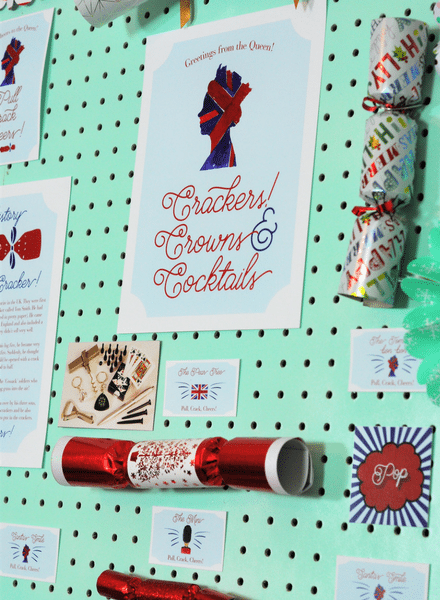 Greetings from the Queen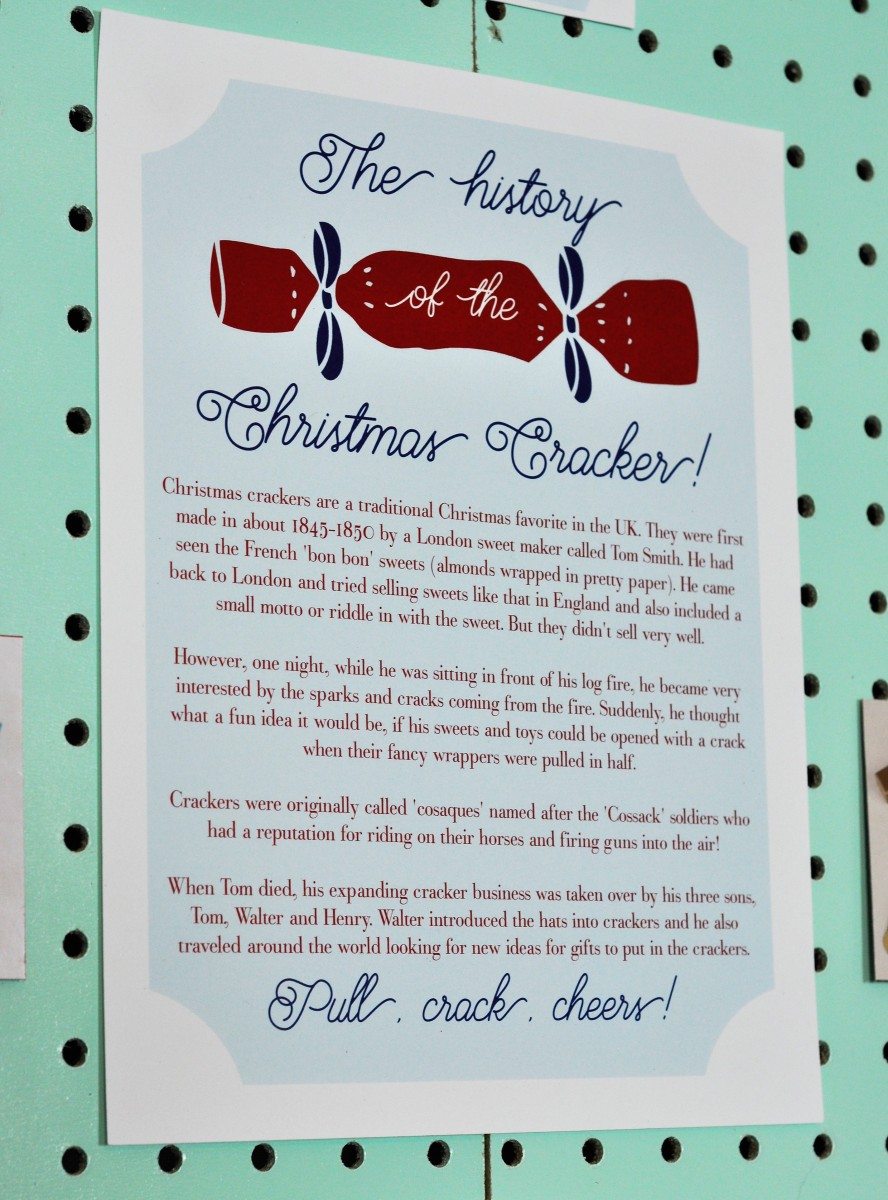 Dessert Table Decor
My Cost – $11
I used the dessert table to display my English desserts. My table covering was a Union Jack throw I bought off Amazon some time ago for a punk rock NYE theme. You could use a plain plastic red, white or blue table cover at a fraction of the cost. I also used a red photo frame and cake stand that I have in my inventory. Try Home Goods, Target or Michael's on sale if you need to purchase or display the desserts on plates, on top of cracker boxes or in the original tins.
TIP FIVE – If you are going with an International theme, World Market should be your first stop!
My one purchase here was the cutest bulldog cookie jar. I found it while buying English food at World Market and couldn't resist him. Lucky for me he was on sale for $11. Be in quick and you might be able to snag one too.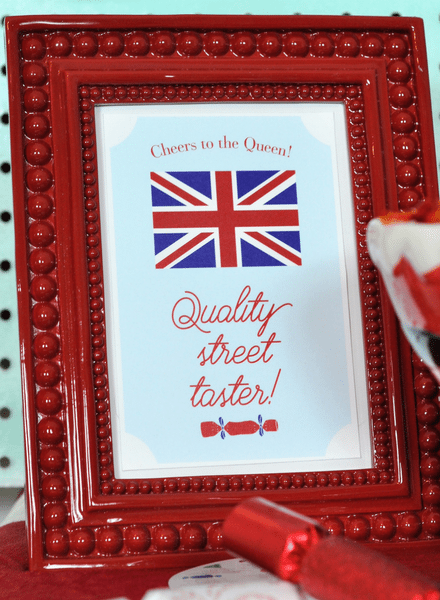 You had me at Quality Street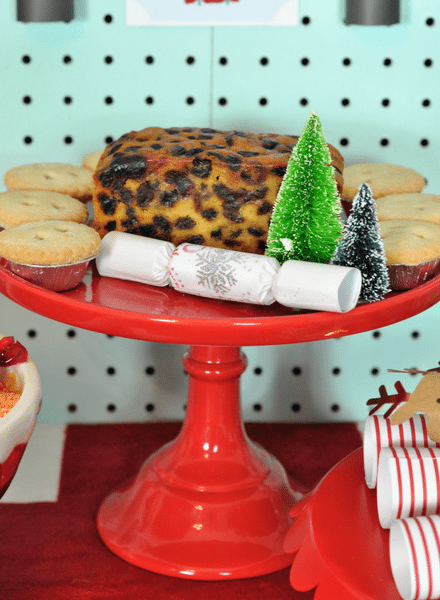 Fruit cake & sweet mince pies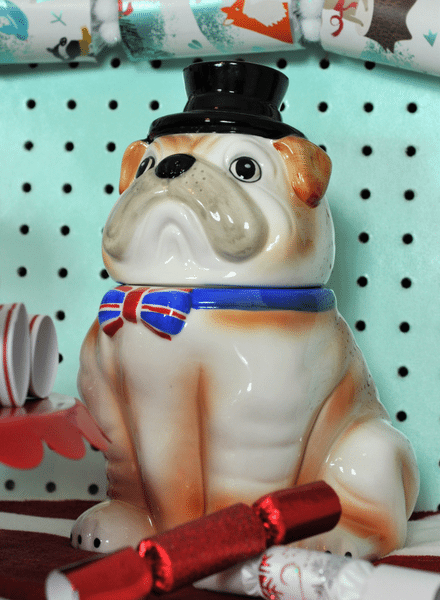 I've always wanted a bulldog!
Other Table Decor
My Cost – $17
TIP SIX – Use left over wrapping paper to jazz up the table quickly
On the main table I used Christmas wrapping paper (2 styles) to create a table runner with 2 different patterns. It's really fun, easy to clean up (just rip it off the table and put it in the trash!) and you can have a bit of fun with the design combination you choose. I then created a centerpiece using a storage box I painted white and put my own Christmas decorations on top (bottle brush and glass trees). I also added a London phone booth tin I found at World Market ($5) to bring in the display and other Christmas ornaments scattered down the table.
Finally I used my own glasses with "cheers" stirrers I found at Target ($3). Plain red napkins and paper plate sets for guests ($3 per set = $9) all from target.
If you are looking to cut down on costs you could use your own everyday plates and paper towels – this saves $9 for the cost of washing dishes.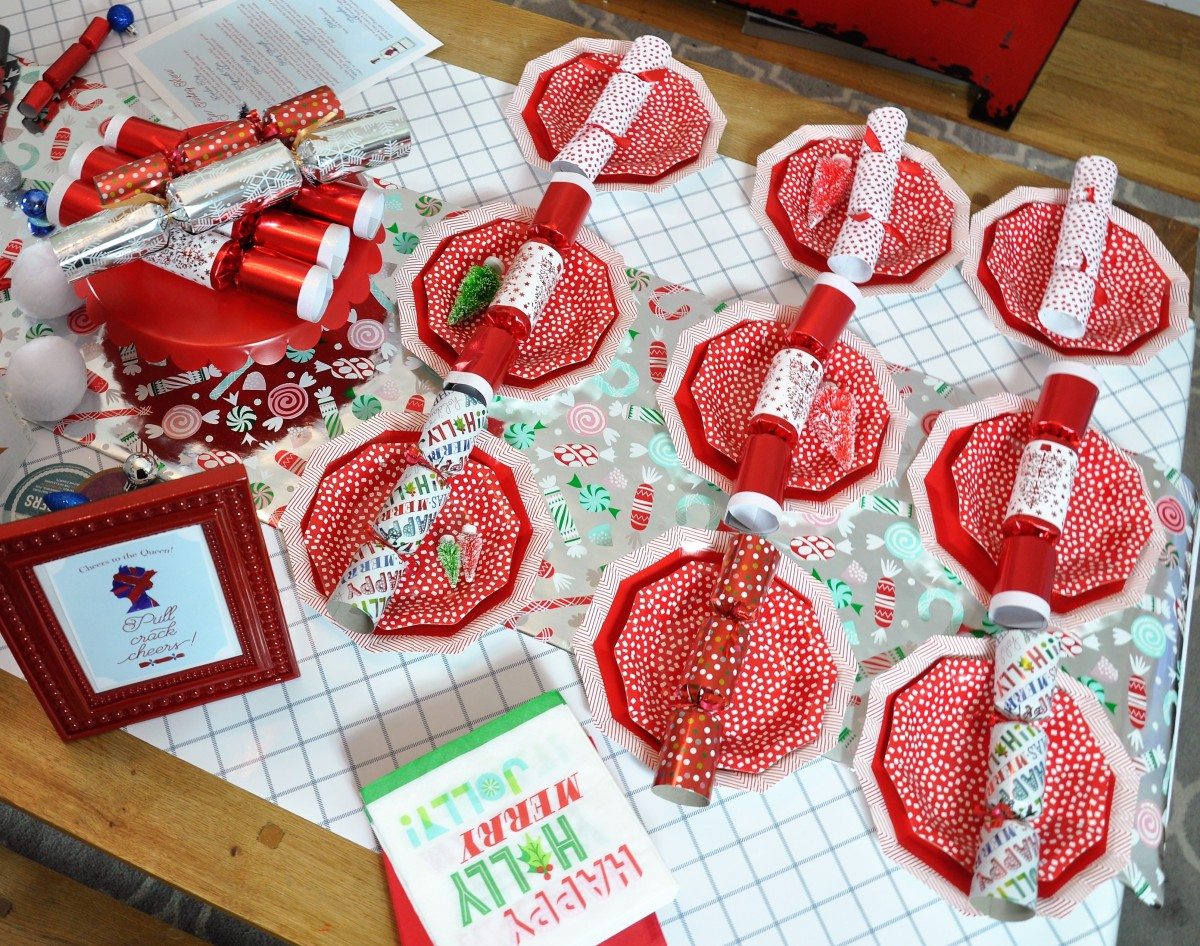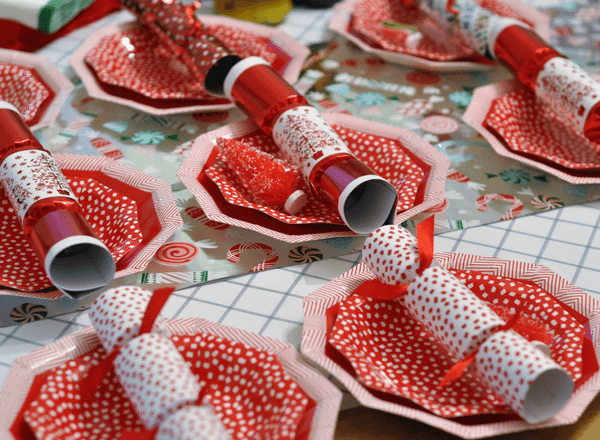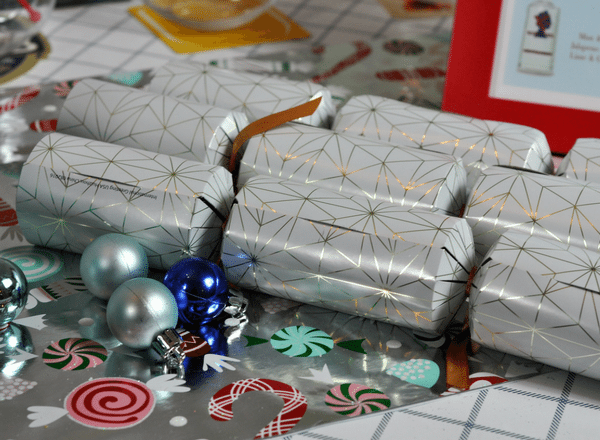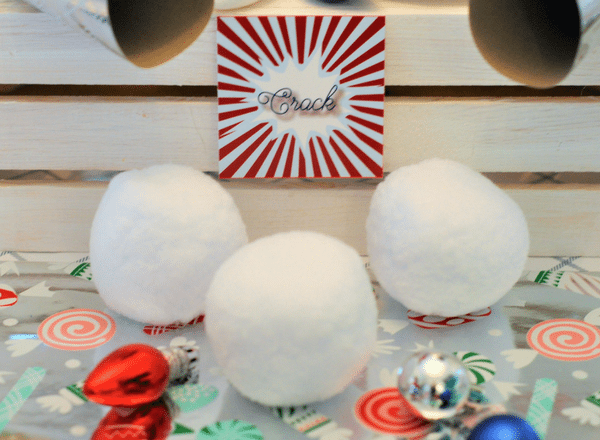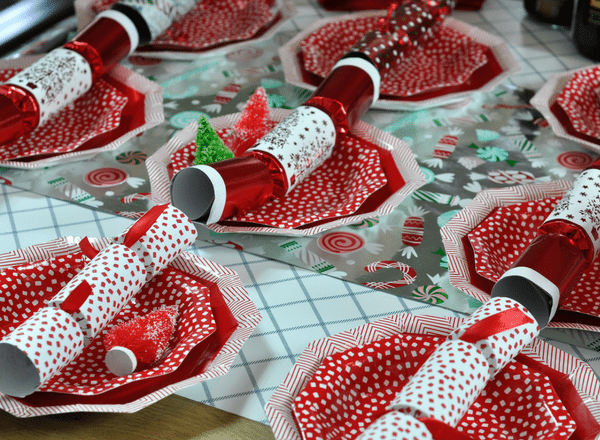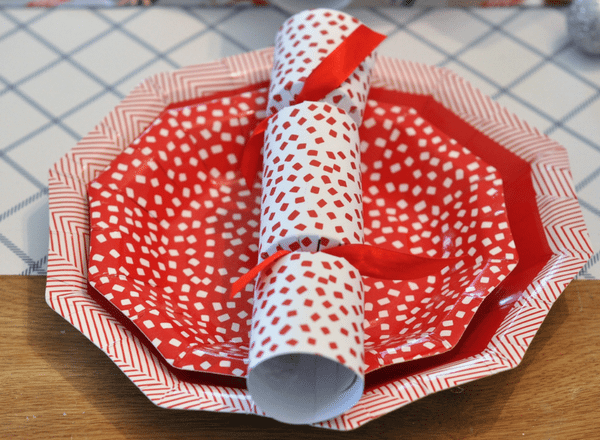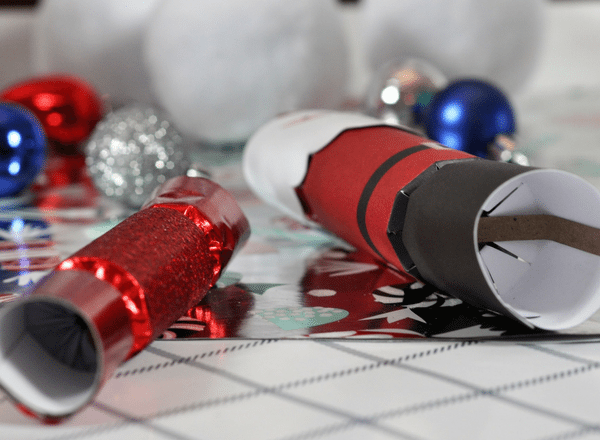 Desserts
My Cost – $27
TIP SEVEN – Pick lower cost desserts, like a chocolate assortment
This is where you can add in the taste of Britain. While you could simply just go with pull Christmas crackers, British foods will take it one step further. At home we always had both sweet Mince Pies filled with dried fruit and spices and a traditional fruit loaf. I got both from World Market at a reasonable cost ($5 for mince pies and $5 for fruit loaf) and also picked up an all-time favorite…Quality Street chocolates. It is not Christmas without a great chocolate assortment, Roses, Cadbury or Quality Street. World Market had these on sale too, down from $23 to $16.79. Honestly this chocolate assortment was the BEST at Christmas time. Apart from being colorfully wrapped they are delicious. The fights to get your favorite. Soooooo family!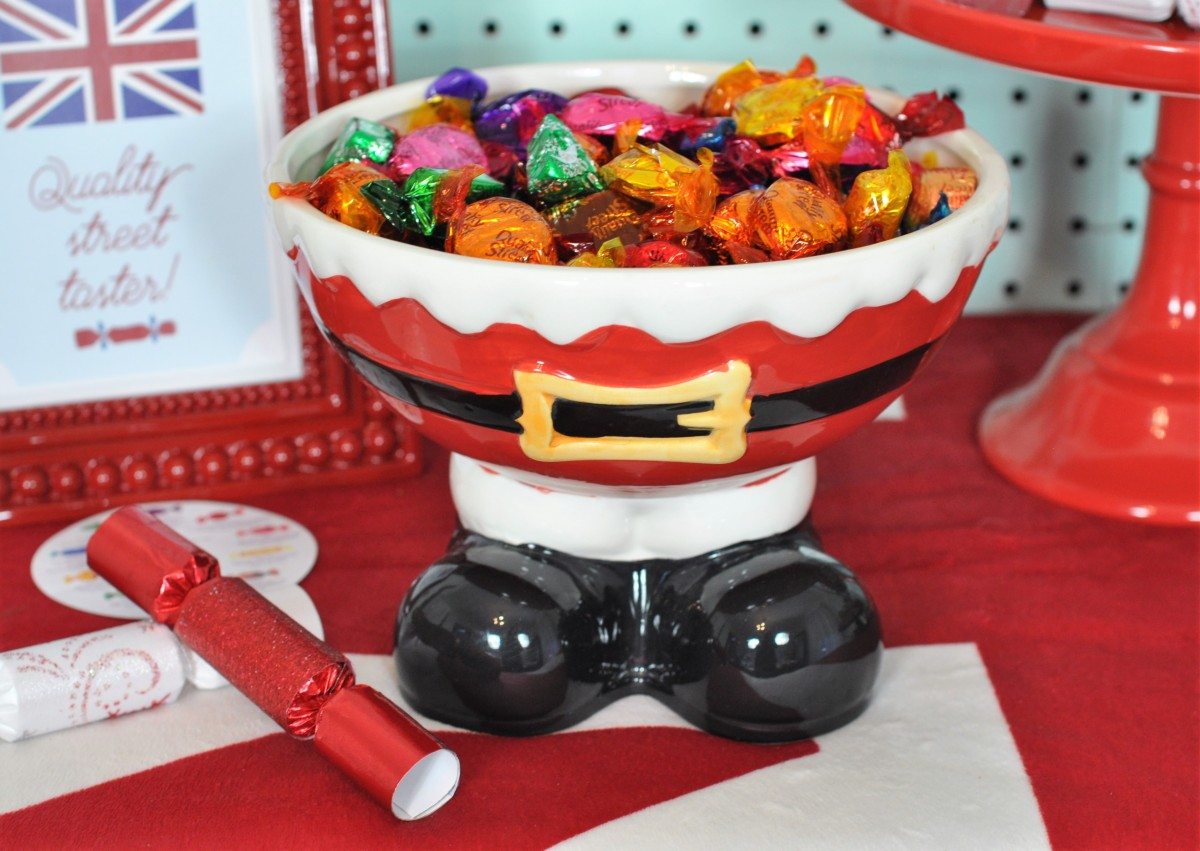 The Gin Bar or "Ginstitute"
My Cost – $5
TIP EIGHT – Turn left over booze into part of the fun, create a "taste flight", sampling drinks as part of the fun
Gin is a big time English drink. G&T hour is a rite of passage. Funnily enough I had it in my head that it was not my drink of choice but I was willing to give it a go. I can safely say that now…it's a new favorite. Turns out it's all about how your gin is made and the tonic of choice. Really?! Our friends Gai and Richard are big gin fans so I made sure that I did a bit of research on pulling together a good variation of garnishes. Then they got to be our mixologists (by choice!). Experimenting with the combination of gin type (yes I found out there were several), tonic and garnish.
My favorite was the one that had jalapeno. As you drink the gin, that bit just got better and better. The rosemary was another favorite.
To save on costs Gai & Richard bought around the British gins they had in their home bar, as did the rest of us, averaging a gin bottle or 2 each. So we ended up with a good selection of gins to taste. I decided to call it the "Ginstitute" after a bar in London. Then all we needed was a selection of garnishes. (basil, mint, jalapeno, peppers, lime, rosemary, apple, and strawberry). Out resident gin experts Gai and Richard offered to bring the garnishes so my cost was nothing outside of what was already in my fridge.
We all also had tonic at home. If you don't, make sure you invest in Fever Tree as a preference. Or Boylan – 2 of the better tonics out there and under $3 a bottle, depending on where you shop.
My friends are fantastic. They all totally got into the theme and were happy to split up the bar costs. I did add a fun British twist at my own cost, with some traditional English pub coasters I also found at World Market $5.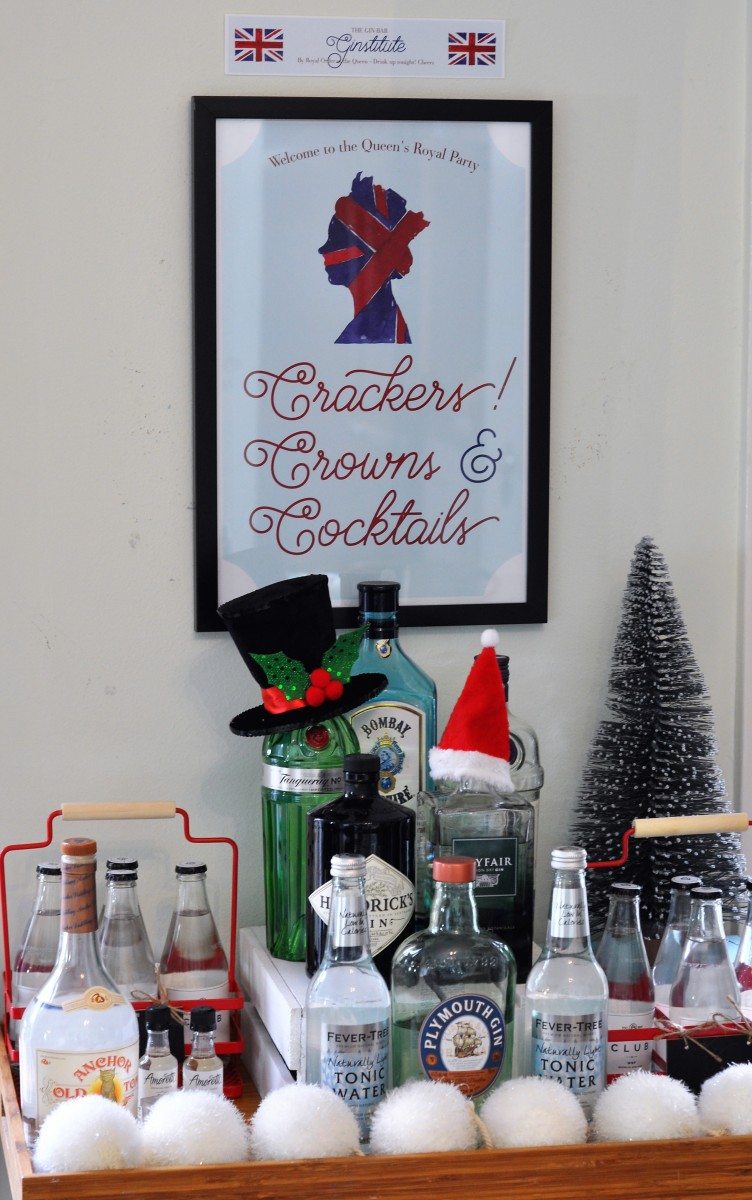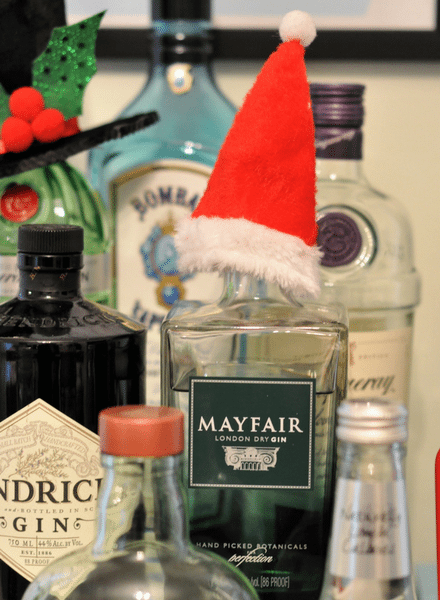 ready to party
Garnishes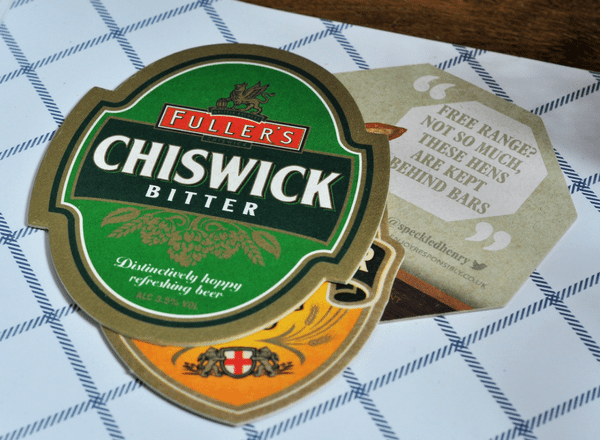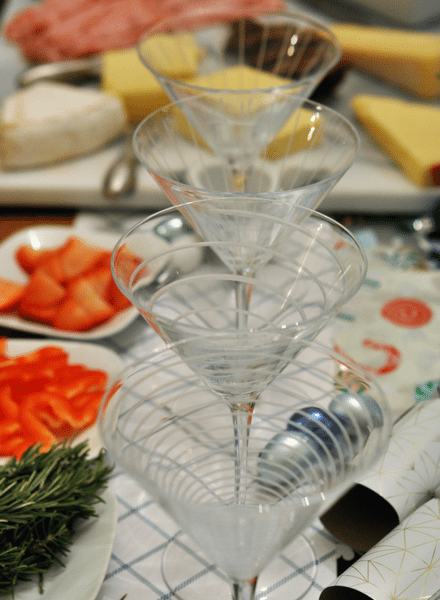 Martini anyone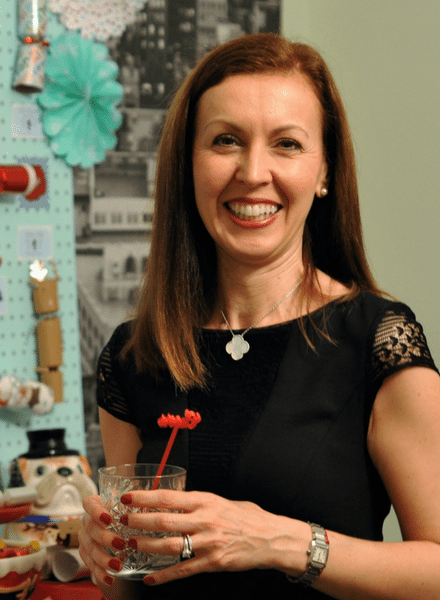 To taste or not to taste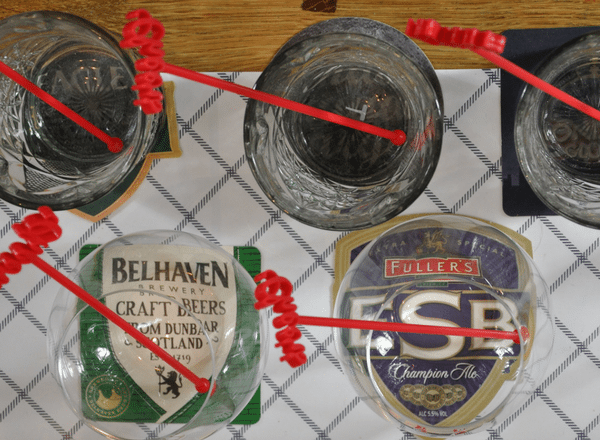 An English Gin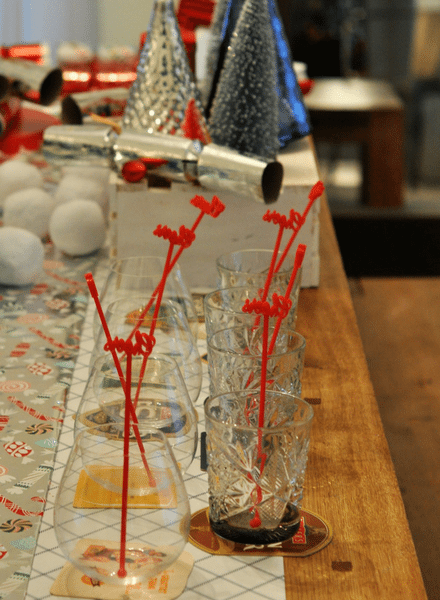 Cheers to cocktails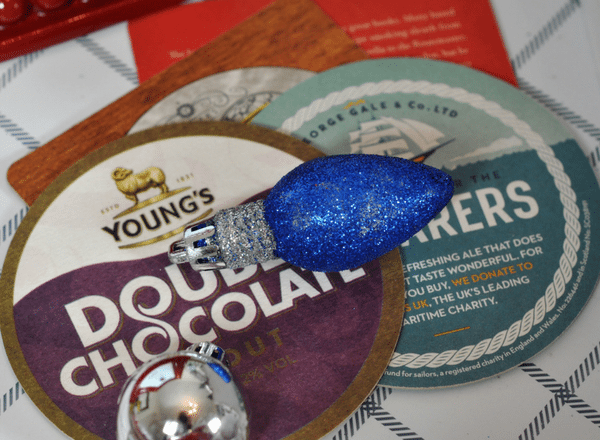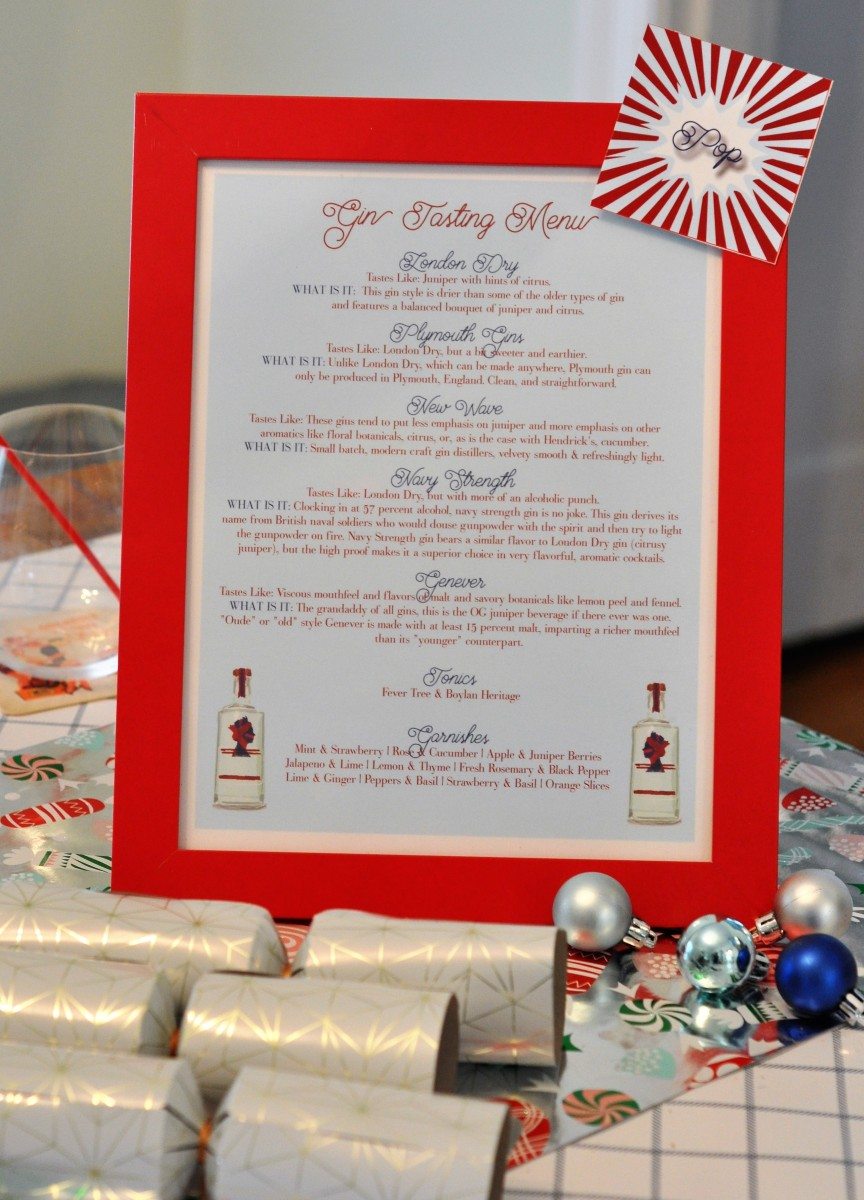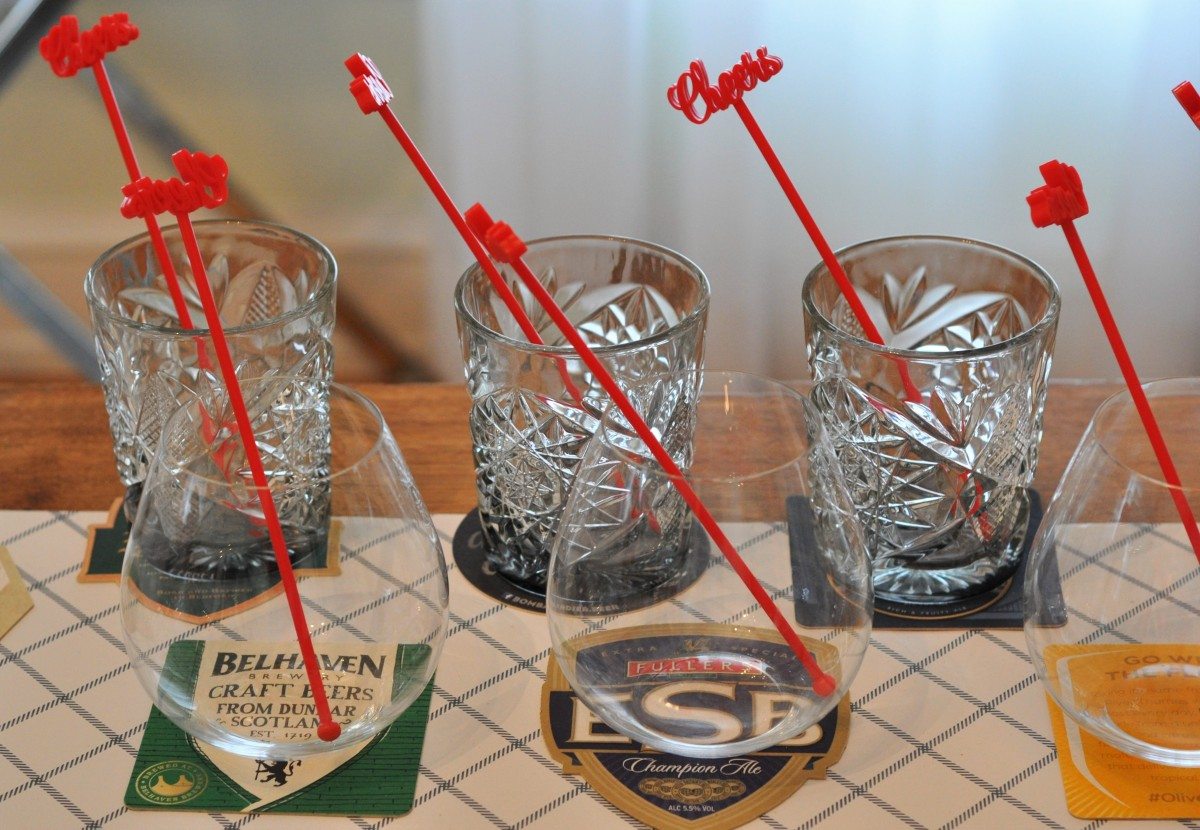 Food (Dinner) – No Cost
TIP NINE – Make dinner a potluck
This helps both on cost and on time spent pulling this together as everyone contributes. It doesn't have to be fancy, for this theme think pub lunch, low cost food that has the taste of Britain. I think John had the most fun with this. He bought fish and chips from an English pub over in the Inner Sunset. Once he bought them he even wrapped them in newspaper for true authenticity. He bought vinegar, salt and Lea & Perrins to complete the true British fish & chips experience.T
Gai & Richard predominately took care of the gin but also bought over a homemade chutney. A very Christmasy verison, it was cranberry based and delicious. I will be posting the recipe soon if you are interested in creating it yourself.
Mike & Oana provided the remaining cheeses, fresh bread and accompaniments for the Ploughman's meal – Hams, ($8), Branston Pickle ($4.50), Pickled onions (delicious with cheese -$5) and Piccallili ($5). They also found the preserves etc. at World Market in the British section.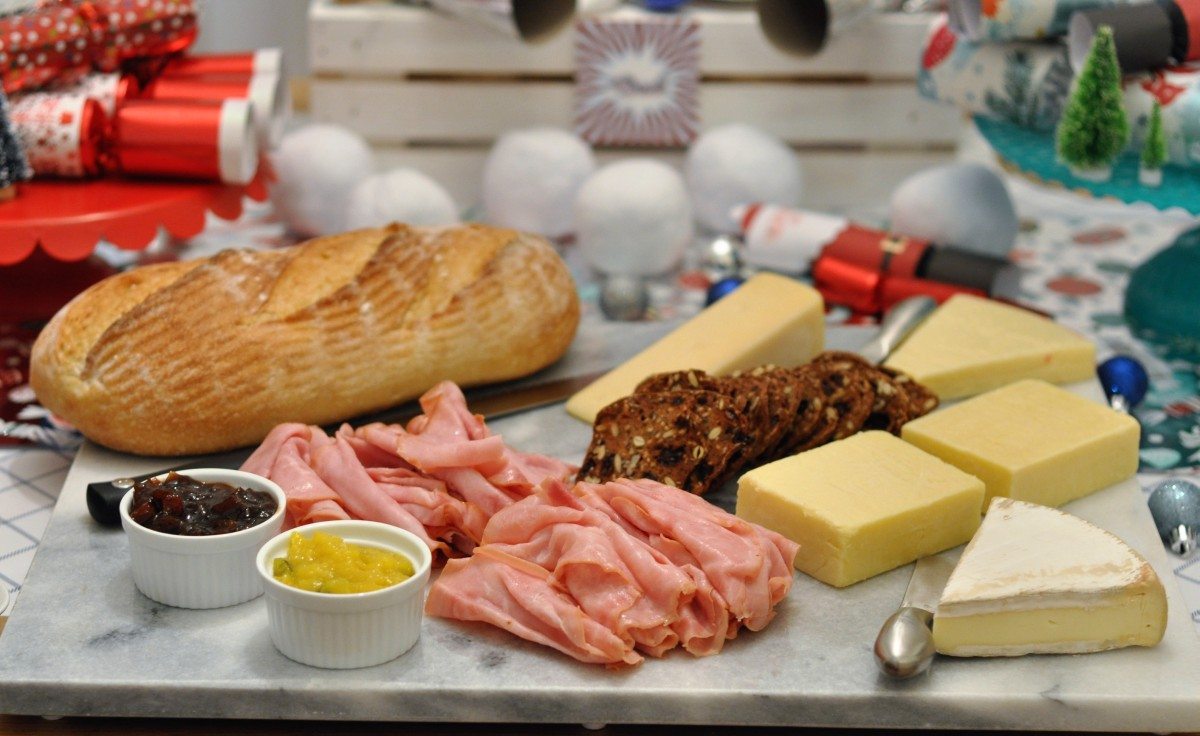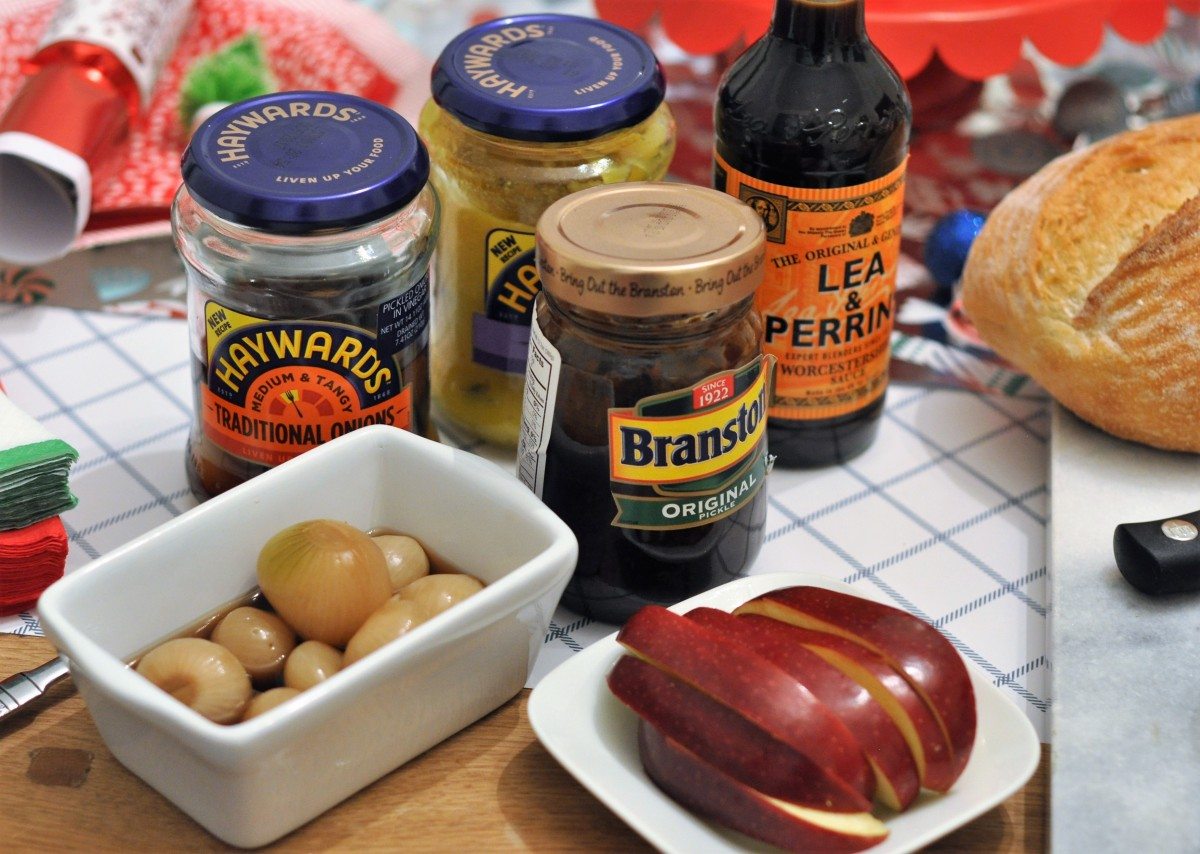 The Main Event
My Cost – $30
TIP TEN – Christmas crackers as an activity take no time to prepare and keep on giving with gifts, jokes & costume hats!
Crackers are really what this party is all about. If you do nothing else, do this, crackers will keep your guests happy and entertained. Buying Christmas crackers is also an area where your budget can be really flexible. You can spend your whole budget here or just a little.
I had some left over from last year which helped with my overall cost as I didn't have to purchase as many additional sets. I did want a really good range for my friends to try out though, so I was in charge of buying the crackers. This was our theme after all and the kids loved it. They couldn't get enough, and as anticipated, they wanted more than one each so I was glad I had plenty on hand for them to try out. Such amusement watching the competitive cracker pulling!
We did traditional cracker pulling where wee cross arms and pull crackers with 2 neighbours, lining up to do many at one time and we also did cracker pulls with different pairs. My daughter was shy and had eyes only for me…aww!
It was a lot of fun and continued just as it did when I was a child, with the fun of pull, even the adults wearing hats and all of us sharing corny and silly jokes.
If you are looking to go out and buy crackers, you'll likely be setting up for the first time so keep an eye out for sales. I got discounts on all of the sets I bought (ya for last minute parties on the fly!), purchasing several new sets for $30. Less than a third of the $100 budget I'd set myself.
The best quality crackers will have the CRACK but also a paper crown, a small gift and a crazy corny joke. Those are the crackers of memory. Some of the sets here though have other things inside, one of my Target sets had confetti which was kind of fun.
So be selective on where you buy them from and think about what you want. The cost of crackers range from as low as $5 to as high as $21 per set (Note: They come in packs or 6 or 8). Depending on the content of the crackers you'll pay different amounts.
Here are some of the best places to get them:
Target (Range from $5 to $12) – the cheaper ones only have confetti, the mid-range have tattoos as gifts (and a joke). The best quality range of crackers are $12 and they have a fun gift (golf tees, playing cards, shoehorns, bottle openers, puzzles and games) as well as the crown and jokes or game of charades.
World Market (Range from $15-40 and they have mini crackers for $7) – these are usually the deluxe crackers, those that have a high quality gift. Where possible I added a picture to my cracker bar (a cut out from the back of the box) so the kids knew what was up for grabs.
You can also try Sur La Table (deluxe sets for $10-21), Barnes & Noble ($7), Party City ($15 – $20), Bloomingdales ($25), The English Tea Store ($43 – woah!) or Meri Meri crackers (available at paper source, trouva, casa, beau-coup from $14-25).
The other option is you create a full-on craft party for your cracker party and create DIY crackers. The supplies to create a DIY cracker can be found here. They have all the supplies you need, from the paper tubes, the crack pulls and the sheets of paper.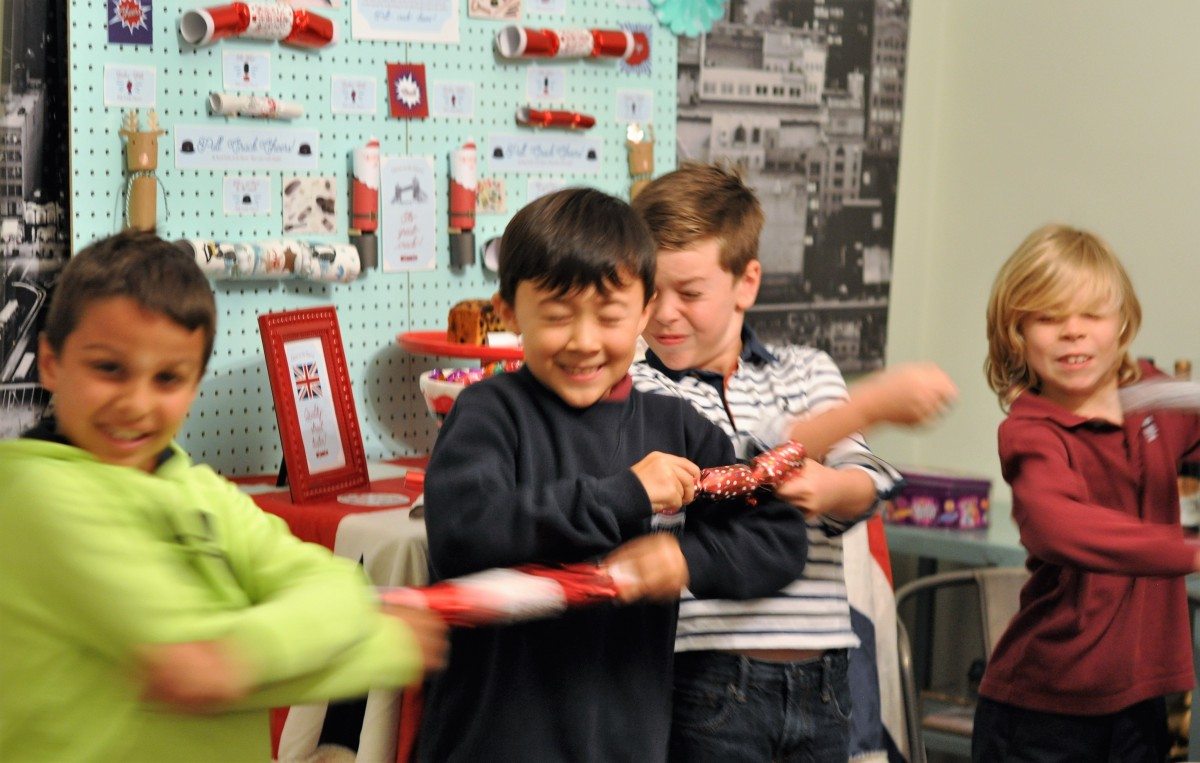 My Total Cost = $100
Extras to Consider
Design cost – I was lucky as Kim was happy to create the designs I needed. Etsy is a great resource for finding fun printables. I've found the traditional "pop,fizz, clink" for $3 before. If you love Kim's design she has some of the printable available for free and others for purchase on her store.
Printing costs – Consider printing costs when planning. I was able to print everything at home or at my husband's work. Naughty!
Props – I have a lot of cake stands and other display props available to me. If you don't have these you can use existing platters or plates on top of glasses or bowls for height or use flat platters…there are a lot of options to get things look the way you want them too.
The only other things we pooled to get everything we needed were cocktail shakers, olives and martini glasses. These things also got split out amongst the group, whoever had them bought them, no new purchases.
Ultimately it all ended up very equal. We celebrated with 4 couples and 6 children in the group (14 people). Each family contributing to get all of the decorations, entertainment (crackers), booze, dinner and dessert. Not bad for a last minute themed Friday night get together.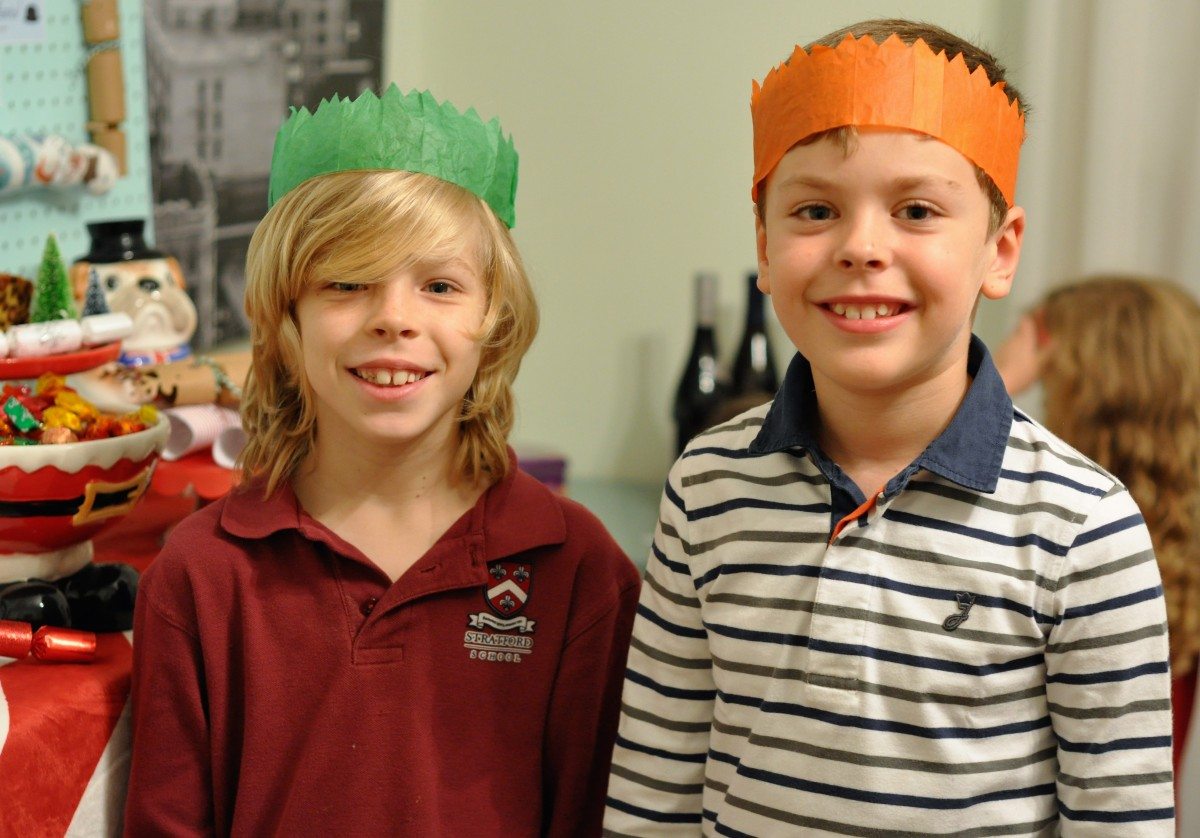 One Last Thing on Creating the Party – The joy of a Pun or Phrase
As I was designing the party I would send messages to Kim for printables. My favorite was replacing the "pop, fizz, clink" of a champagne event with "pull, crack, cheers" for our Brit themed cocktail party. I also made up names for the crackers that I found and sent her information for both the history of crackers (a photo from the back of the cracker boxes) and a Gin tasting menu based on research on several gin tasting sites.
Kim made amazing printable for these using the Queens profile, a Beefeater and the Union Jack.. She really helped me pull together the Brit look and feel in a cost effective way. Check out her site, Small Moments. She sent me some free bonus printables to create your own Brit or cracker themed party, you can find them on my home page.
As always have a little fun with your theme, a bit of cheesy humor is good for the soul. When I lived in London, I had several friends, the Irish in particular who talked about "good crack". This is an expression for "good fun" or "good stuff" . As a cracker is all about the crack it made coming up with small phrases for the party signage was so fun – Kim created "its all good crack" for me as a nod to my British friends.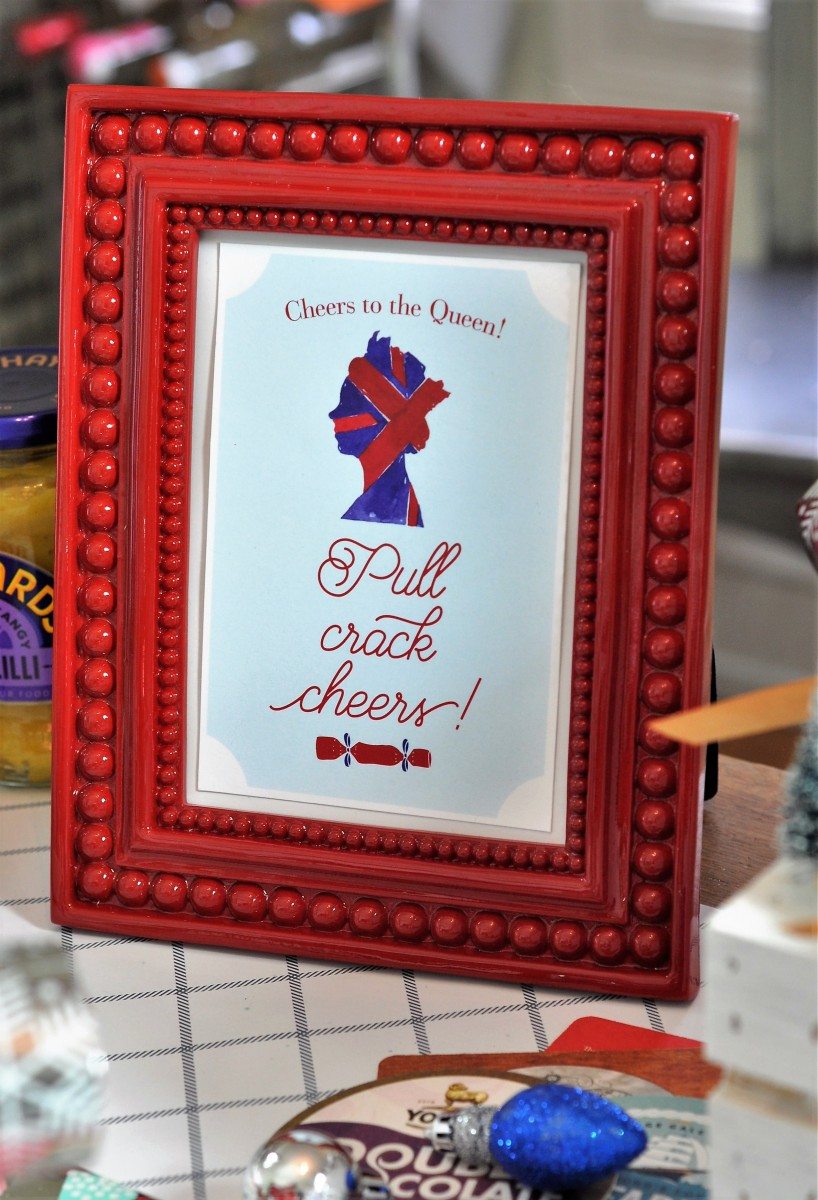 PARTY TIME! During the Party…
TIP ELEVEN – Save time sorting and sending photos to guests by doing it through Evite®
Ok, here is my new favorite thing I love about Evite® (another one). During the party I am mad for taking photos. I'm an old lady, my memory sucks! Photos are my memory. My friends are much the same (well they take photos, I'm not saying they are old…honest!). Instead of just taking the photos on my phone and then sending out a Dropbox photo later, I was able to take the photos directly from the Evite® app.
As soon as I took a picture I had the option to retake, edit and then publish into the party album. So as we were enjoying the party, every picture I took was being made available for my guests. Its super quick. You can take another photo while one is still uploading, so you are not tied to wifi speed or anything similar. If you don't have the app when you get to the party, download it during or deal with it after the fact. Some of my friends loaded up their photos to the app after the party. I have to say it was such a lovely surprise seeing how someone else was enjoying the party while I was flitting around butterfly like. In the end, by as early as the day after the party (today!), I had a full set of pictures from the night of fun. Awesome!!
Guests can add photos too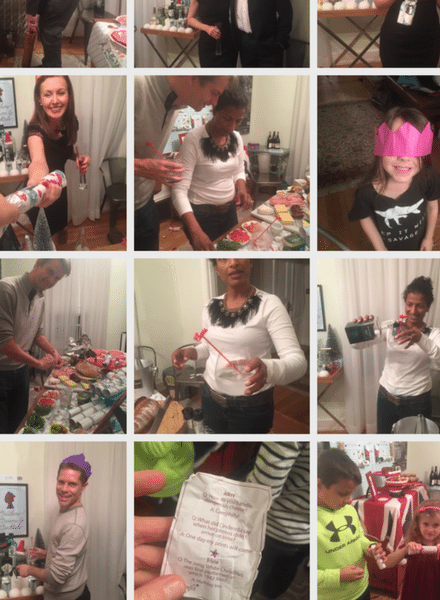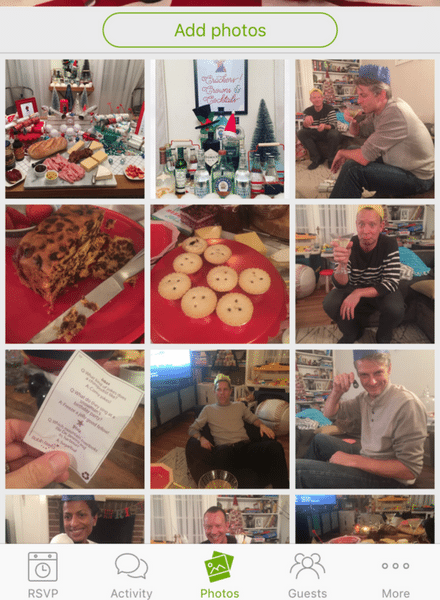 Take photos from the App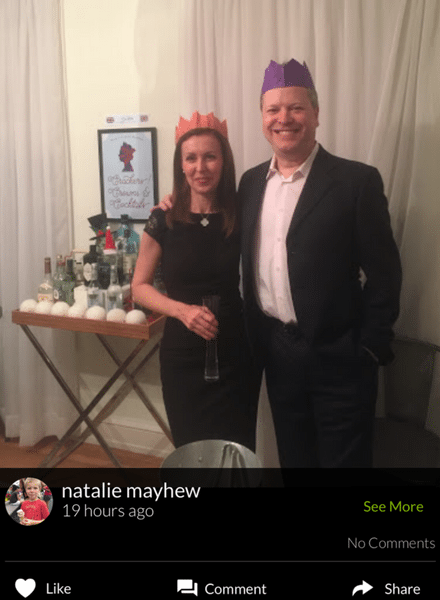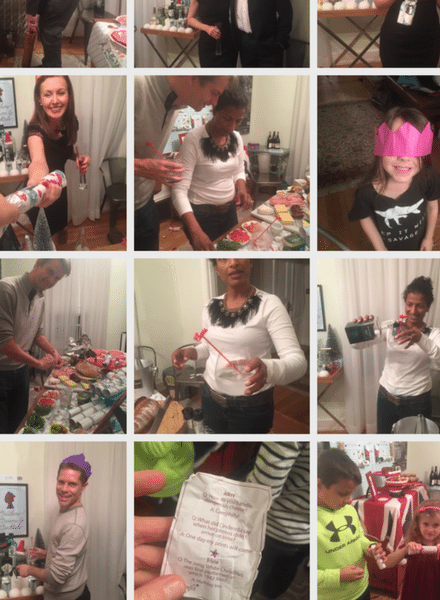 Comment on or like photos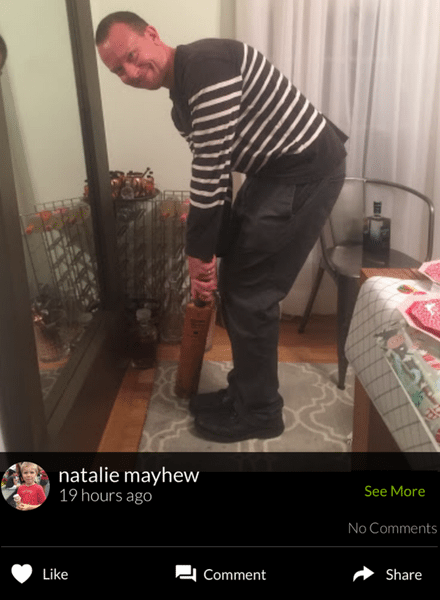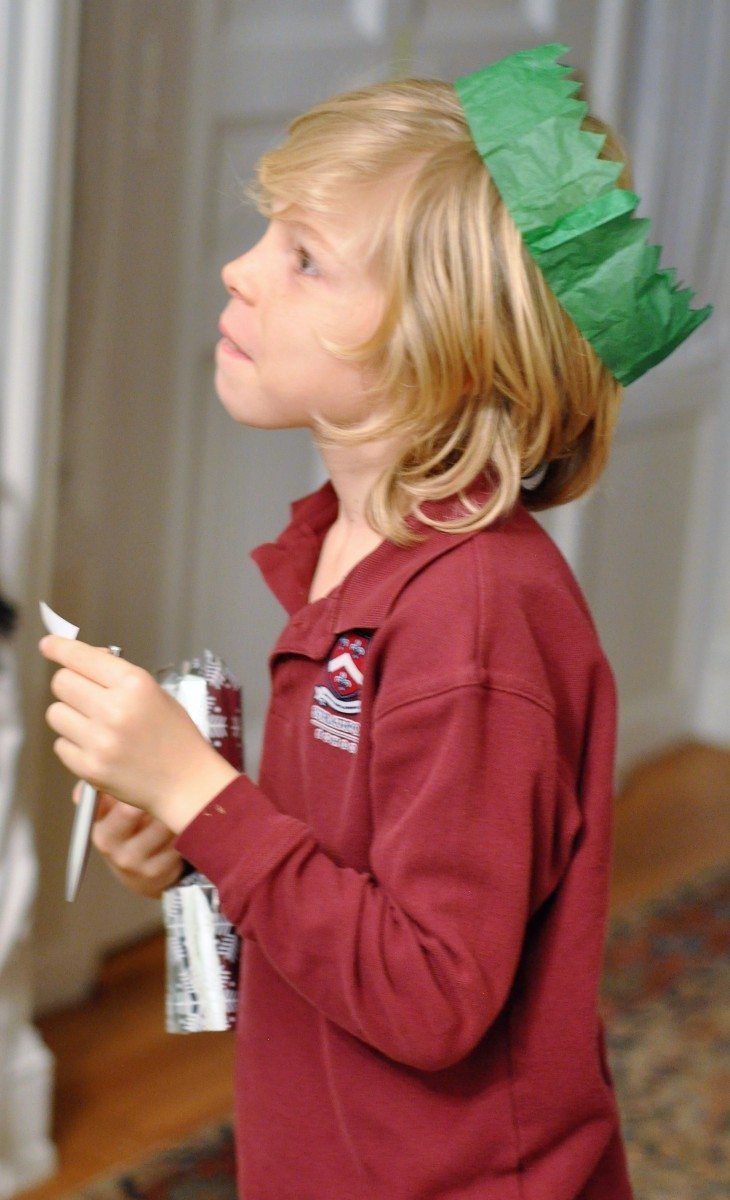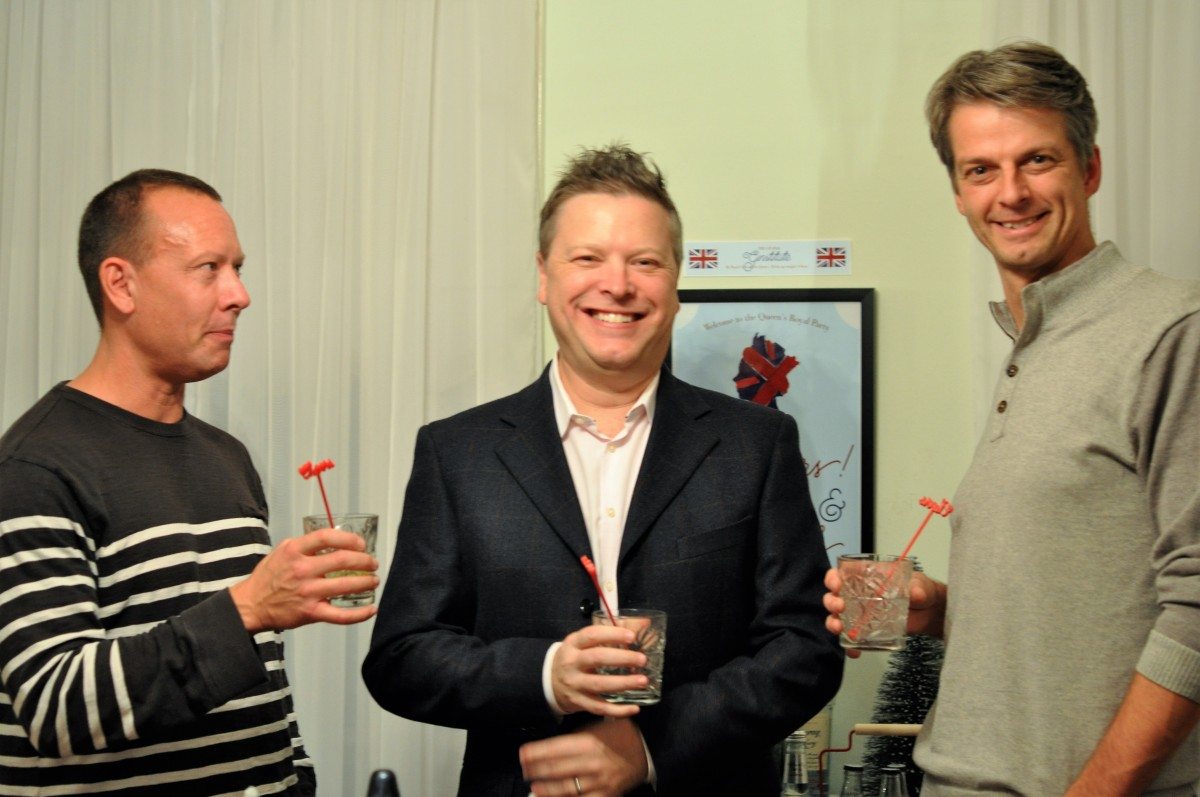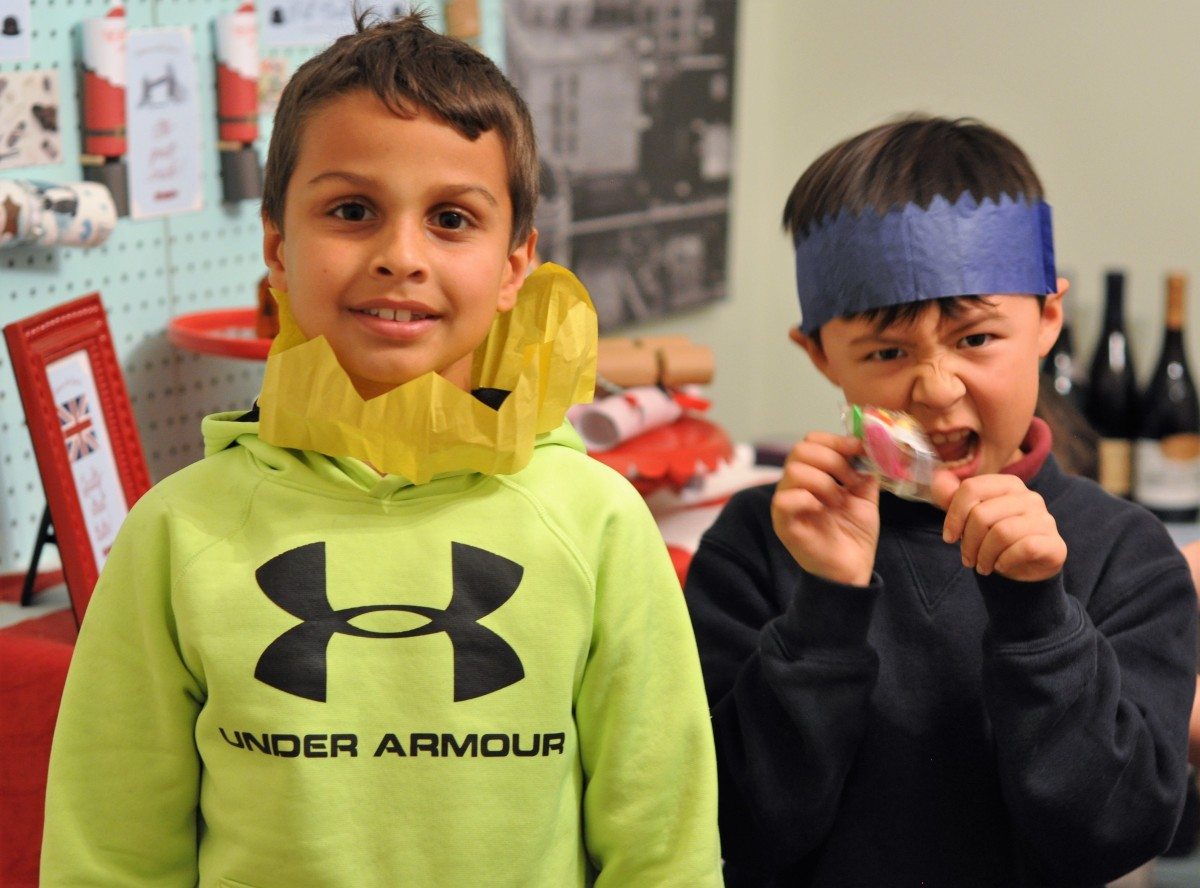 After the Party
TIP TWELVE – That's right save time by using Evite® again for the thank you notes
Being 'very British" means that your manners are of utmost importance! Be a jolly good fellow, make use of the Thank you function on Evite® wont you? You can either thank everyone with one message or personalize a message for each friend that attended. I even added photos from the photo stream.
Thank you for taking a look at my "on the fly" party – hope you have a cracking good time trying out this very British tradition. If you'd like to see more fun Party on the Fly ideas, head on over to Evite® for ideas from a ton of talented party, food and lifestyle bloggers. Happy holidays and Merry Christmas! Nat x