One of my favorite things about fall is the warmth of the colors and textures usually associated with it. It makes so much sense that the holiday that invokes feelings of relaxation and thankfulness would be in the middle of this cozy season! Read on to see how I styled this Copper, Plaid, and Fur Thanksgiving to be the perfect culmination of coziness for both adults and children (and visit my Amazon Shop for an easily shoppable list of similar items!)
You'll see how timeless the look is, I stlyed this Thanksgiving celebration 4 years ago when I lived in San Francisco.  I still love it and I think it really holds it's charm.
After all what screams warmth more than snuggly fur? I used luxurious faux furs from my friend Phoung who owns Tourance as table covers and as throws in a hearthside seating area. You'll love them too!
I also raided my daughter's stuffed animal stash and used a soft furry bunny as a table prop! The bunny oversaw a table of tasy treats for guests to take home.  Individual pumpkin spice loafs and pumpkin butters…yum! I added birch and copper Christmas ornaments as an acccent to this look.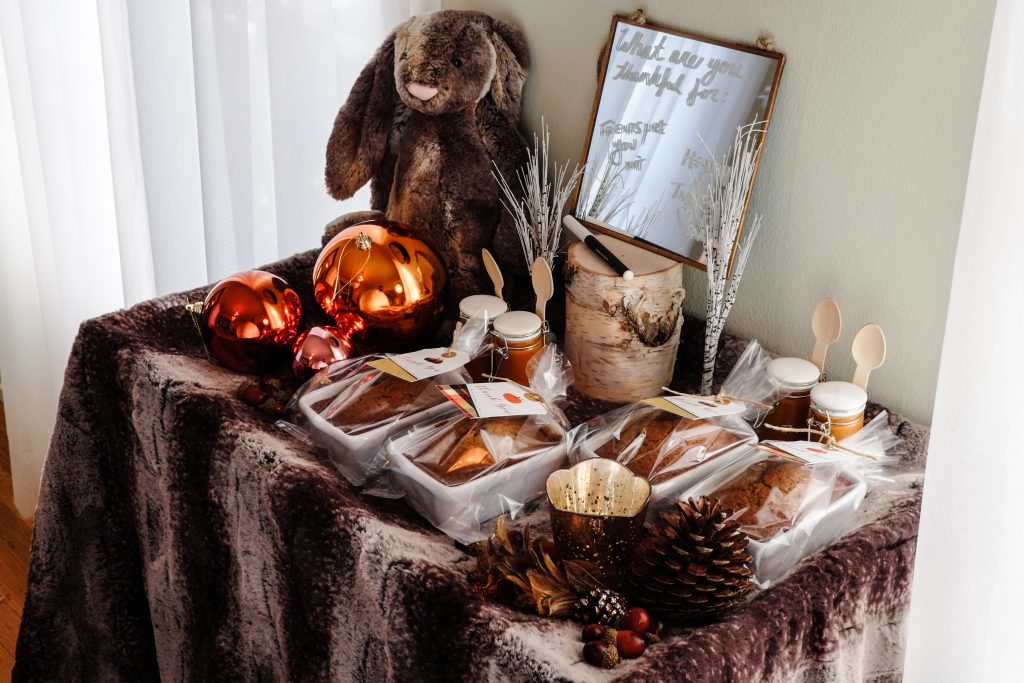 More fur at the hearth side…smores on the fire! I added a tassel banner and Give Thanks banner that could easily be taken down when we started the fire.  You'll find all the printables for this Thanksgiving Celebration over on my friend Elena's site.  World Wide Party by Elana has such an eclectic range of party printables.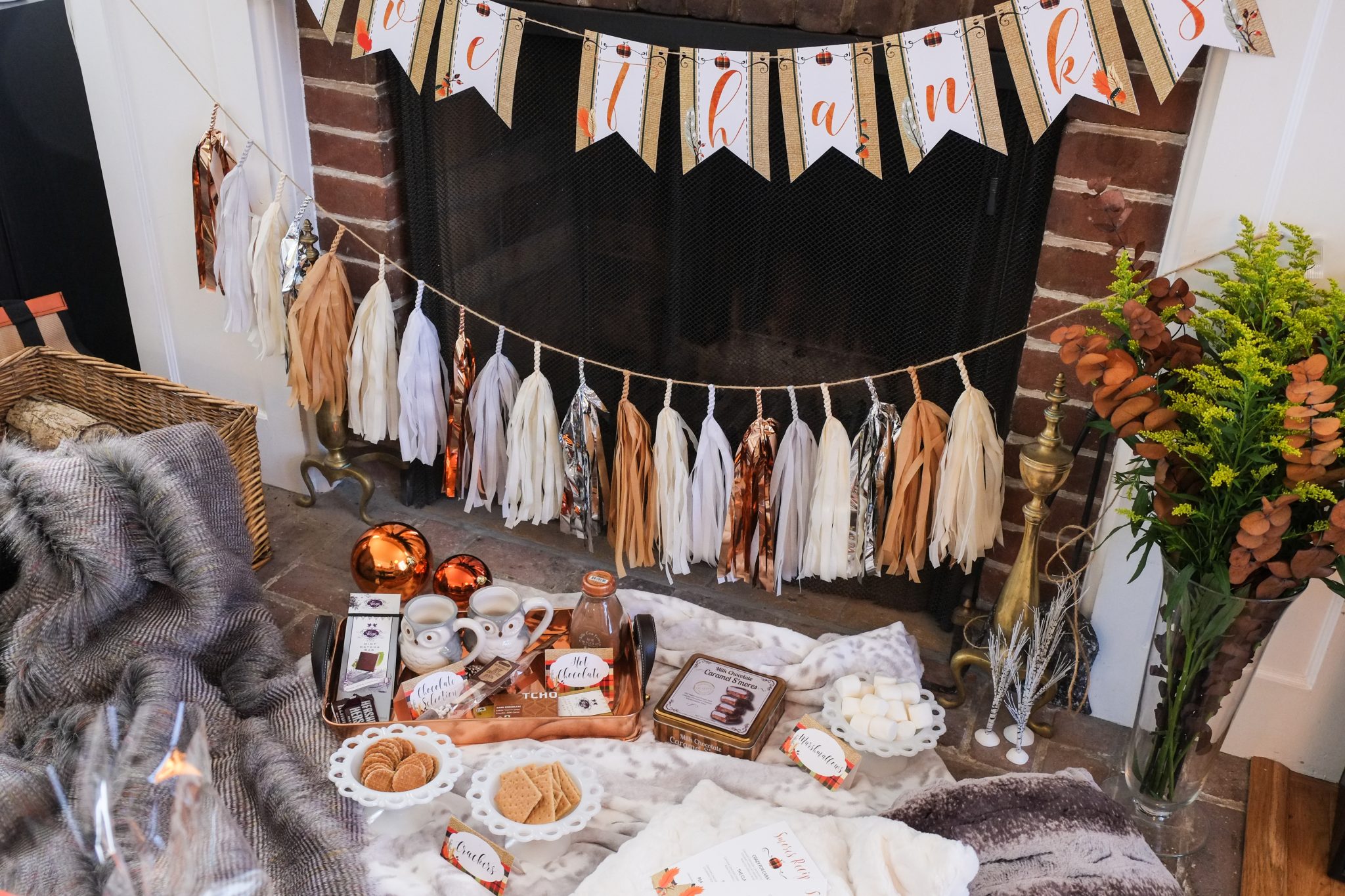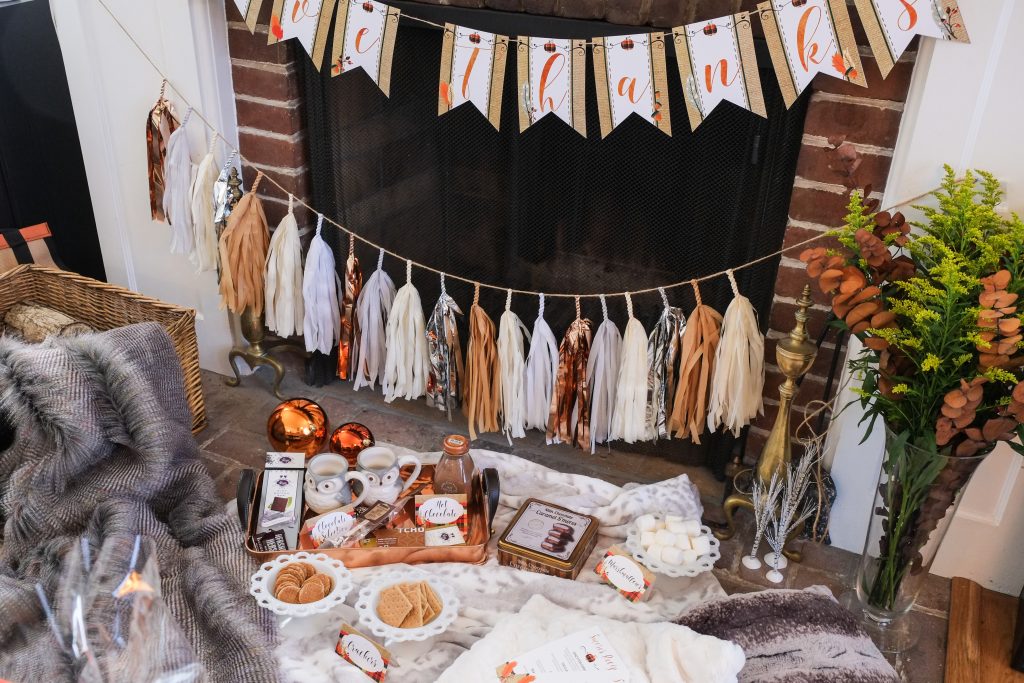 Another fabric that naturally brings about the warm fuzzies is plaid. I incorporated plaid elements throughout, including in the table covers and in all of  the adorable printables designed by World Wide Party by Elena.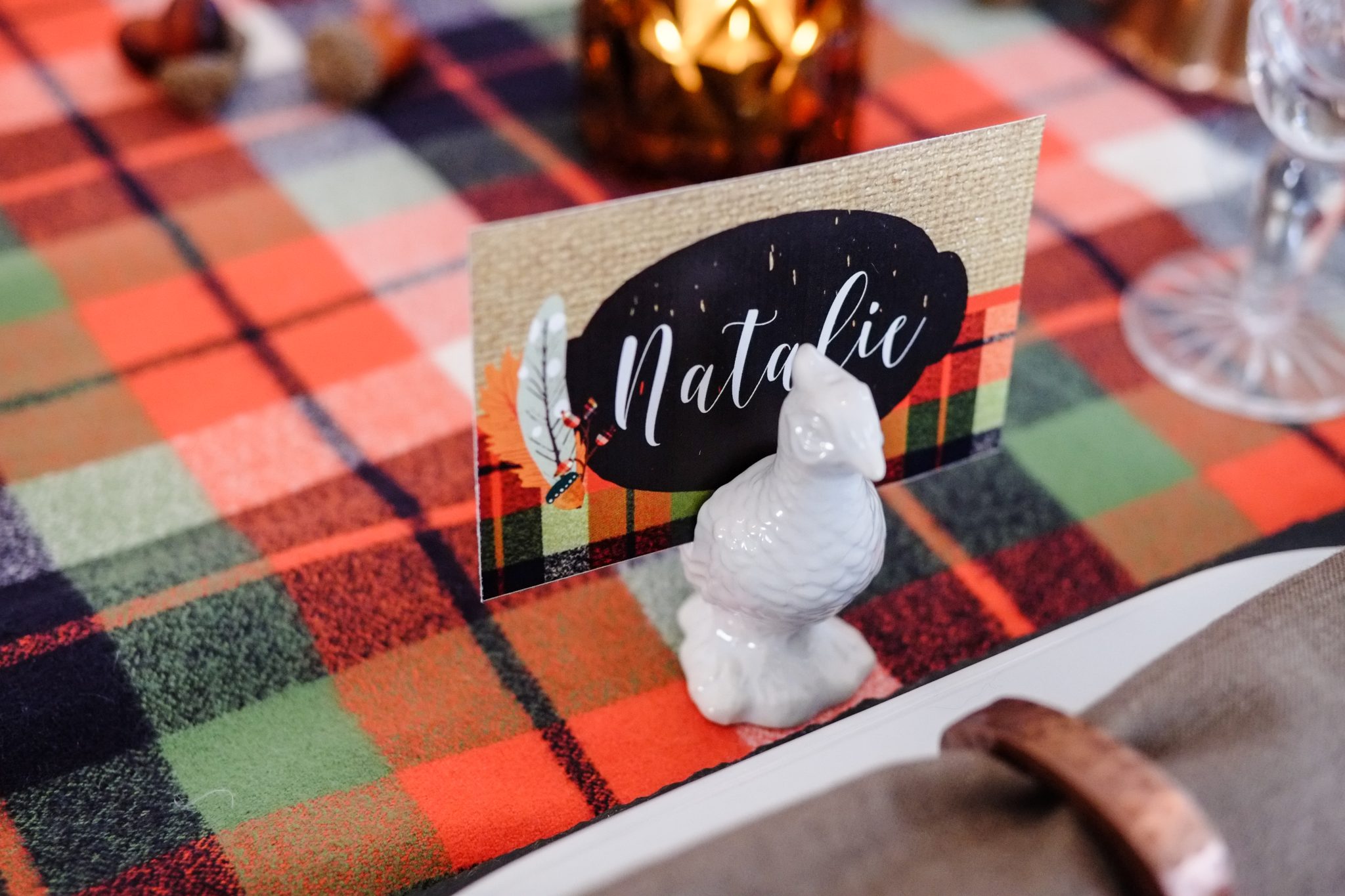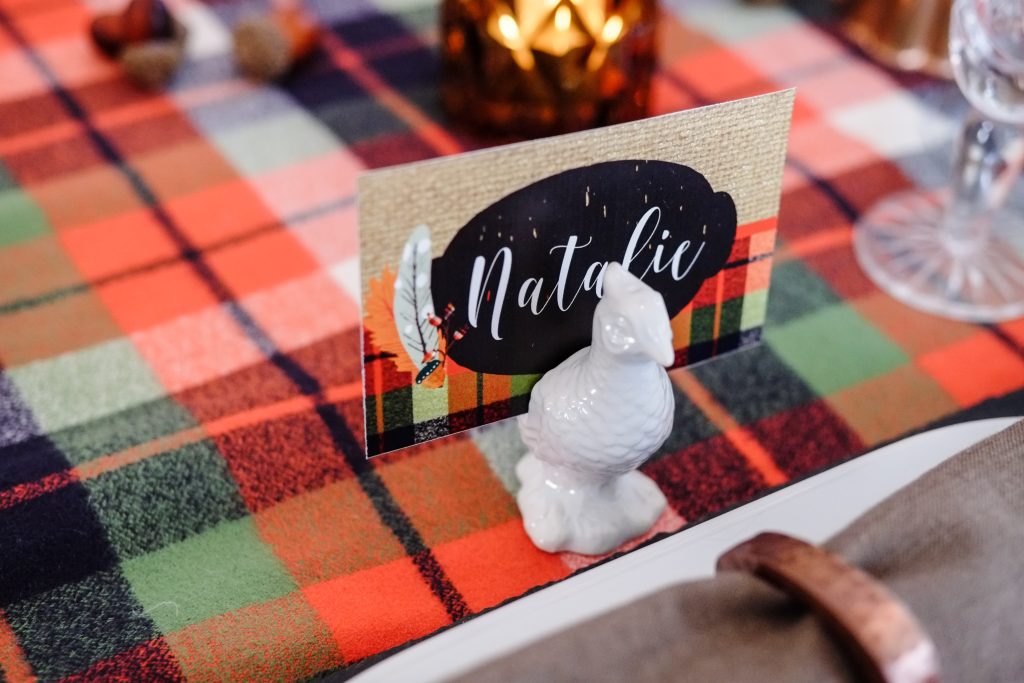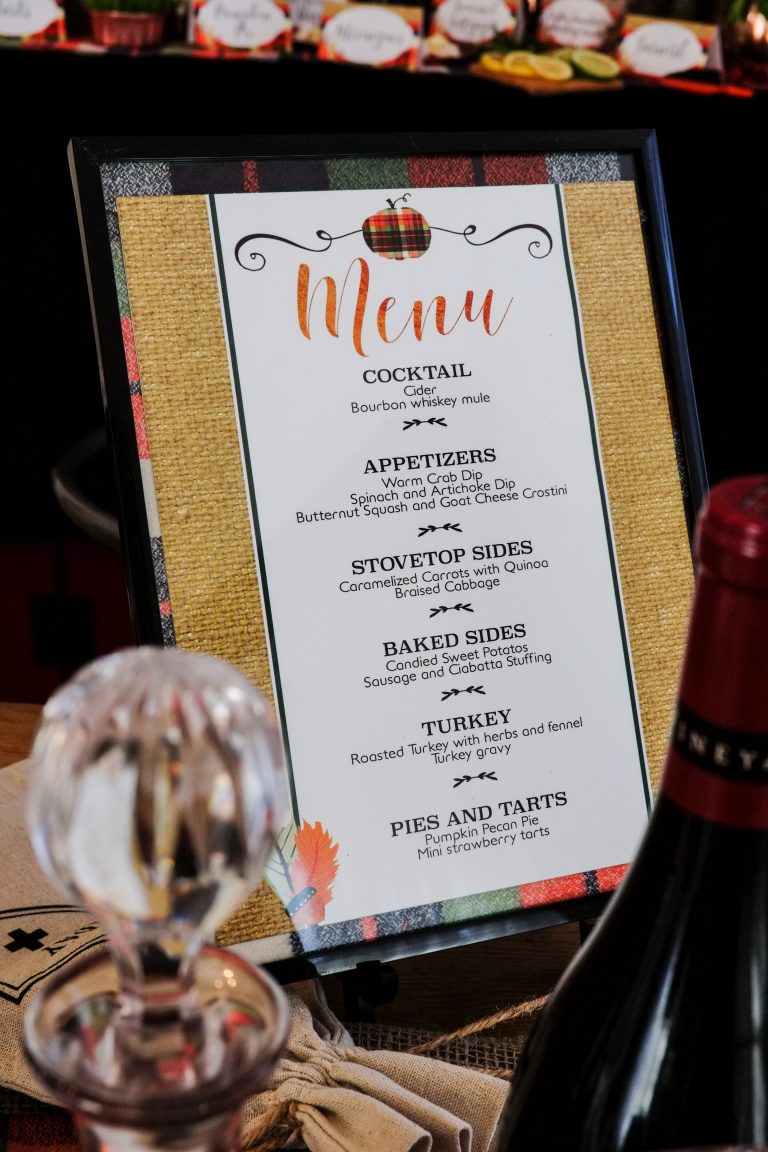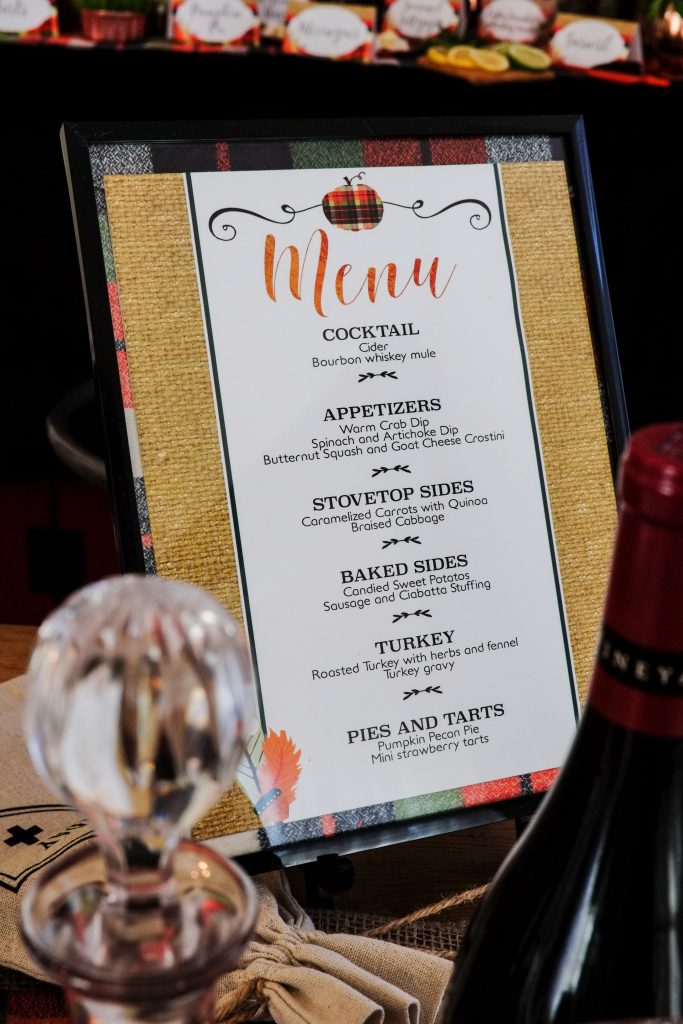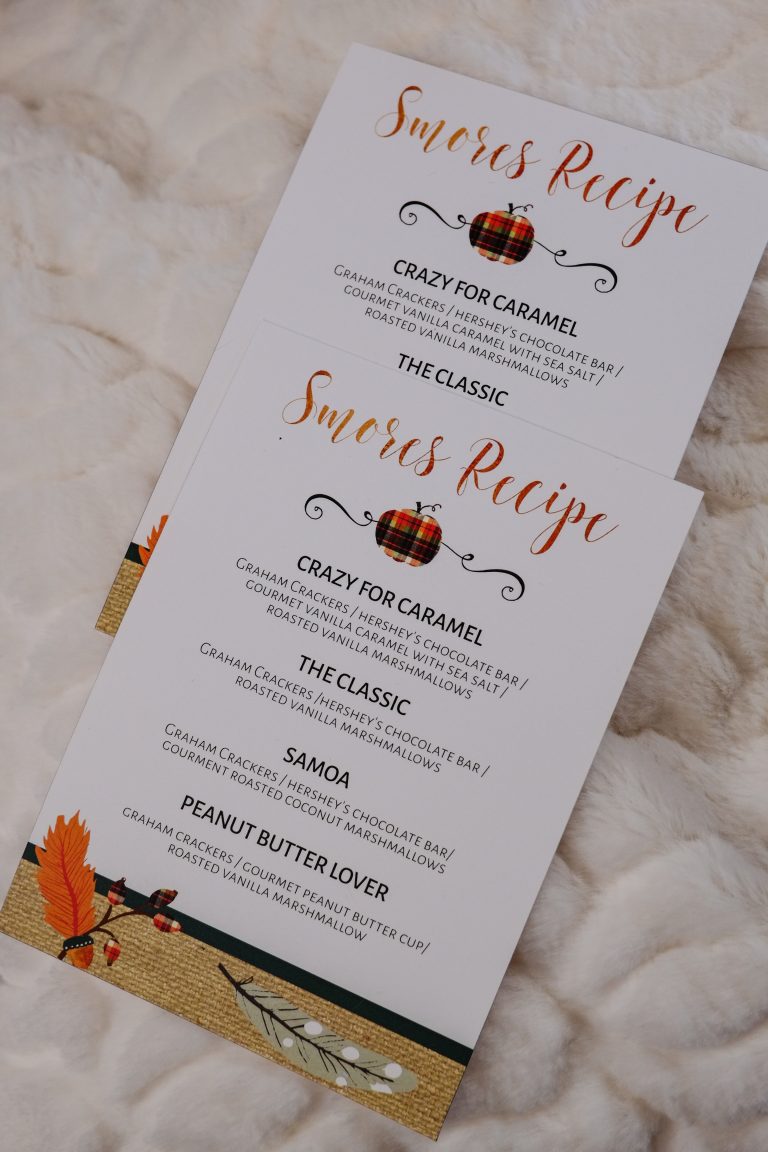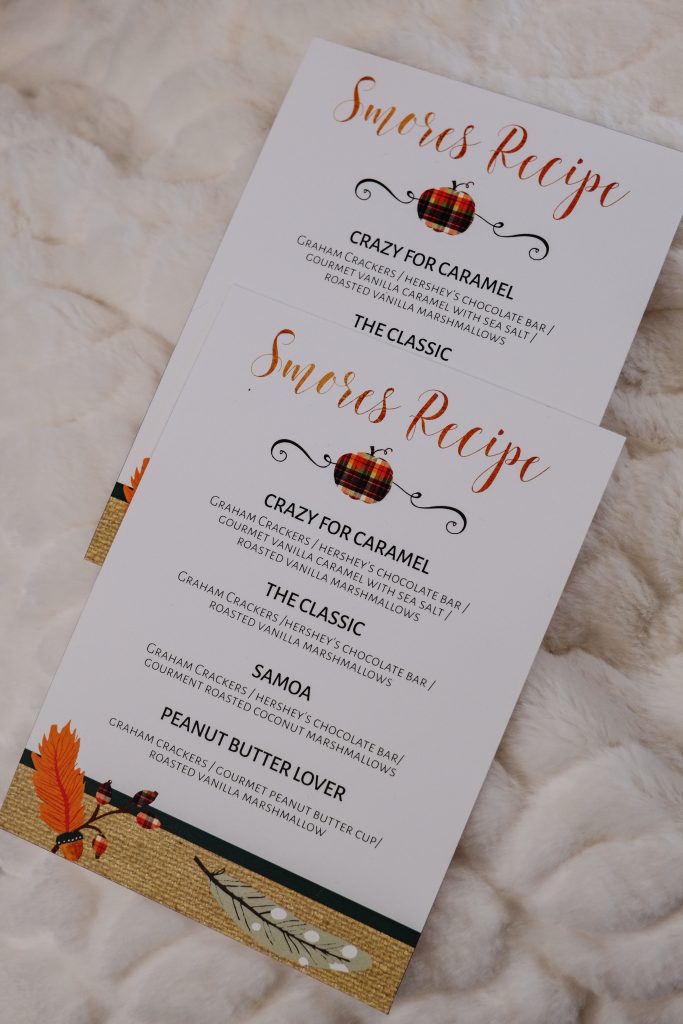 Adding in natural accents such as birch, feathers, acorns, pinecones, and burlap in the table runners and printables gave this Thanksgiving setup an earthy feel.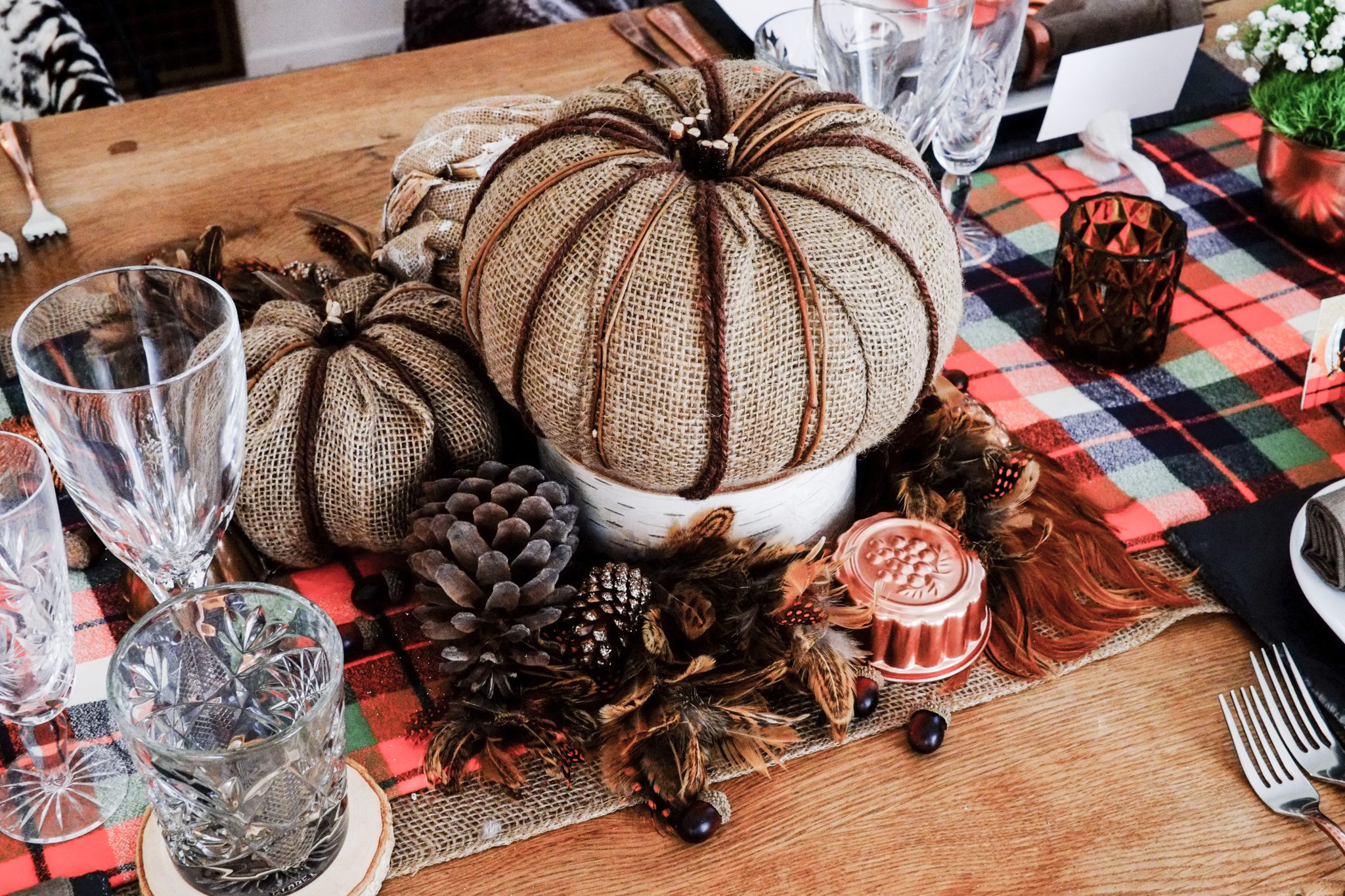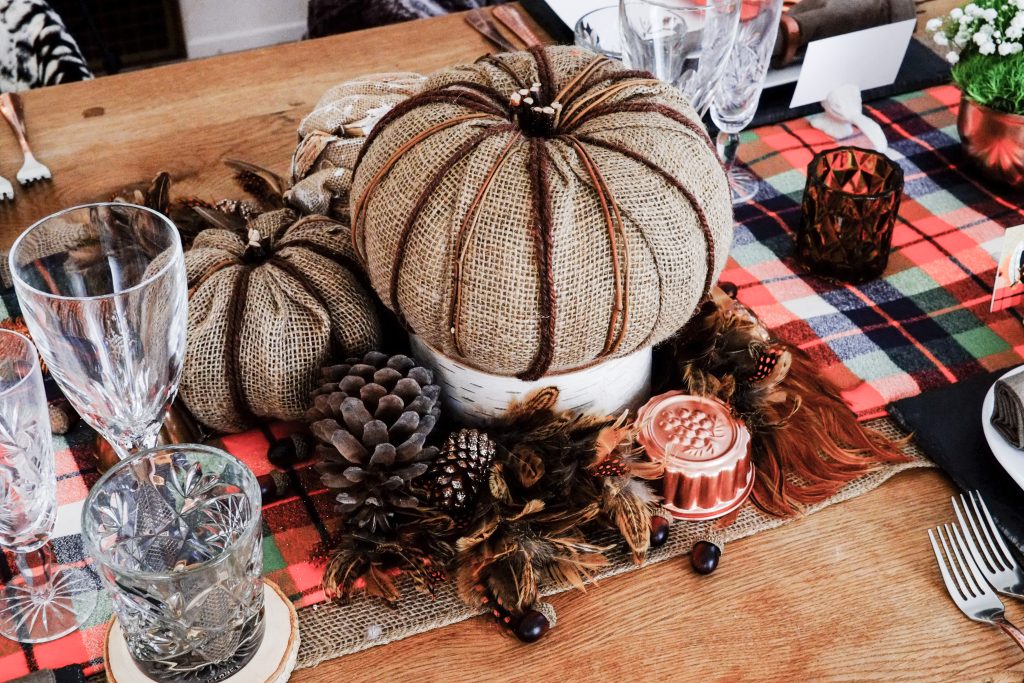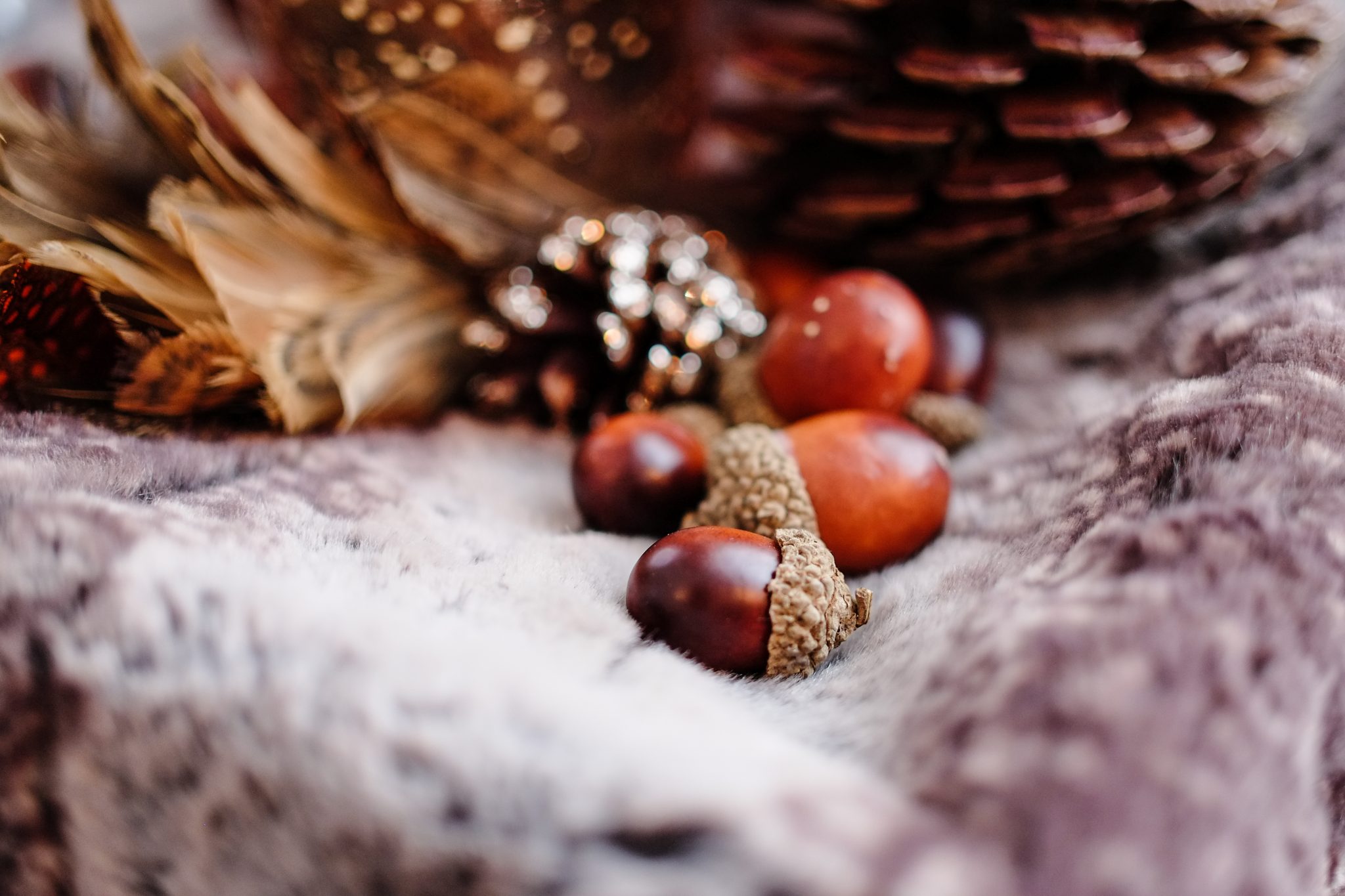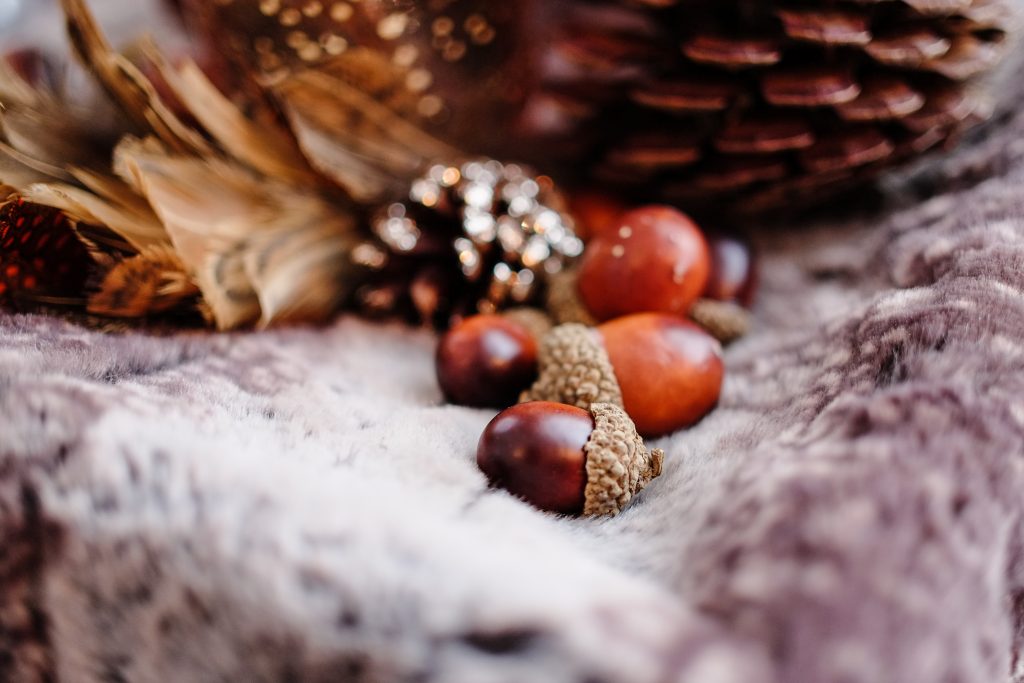 Finally, to make sure everything still had a chic modern feel to it, I used a warm copper tone throughout. Vintage copper jello and cake molds were placed on each place setting, along with copper drink mugs, napkin rings, and silverware. I hung a gorgeous copper-toned pinata from Prospect Goods, and its metallic fringe reflected warm candlelight throughout the space. A tassel garland, also from Prospect Goods, had matching copper fringe in it. Even some of the feathers I used were sparkling copper!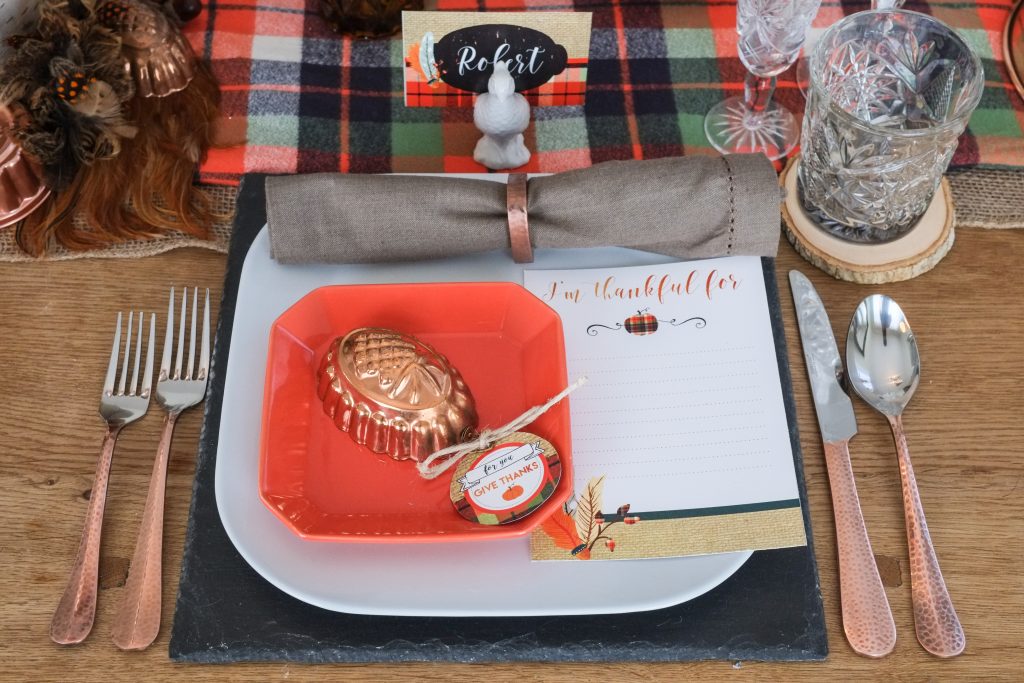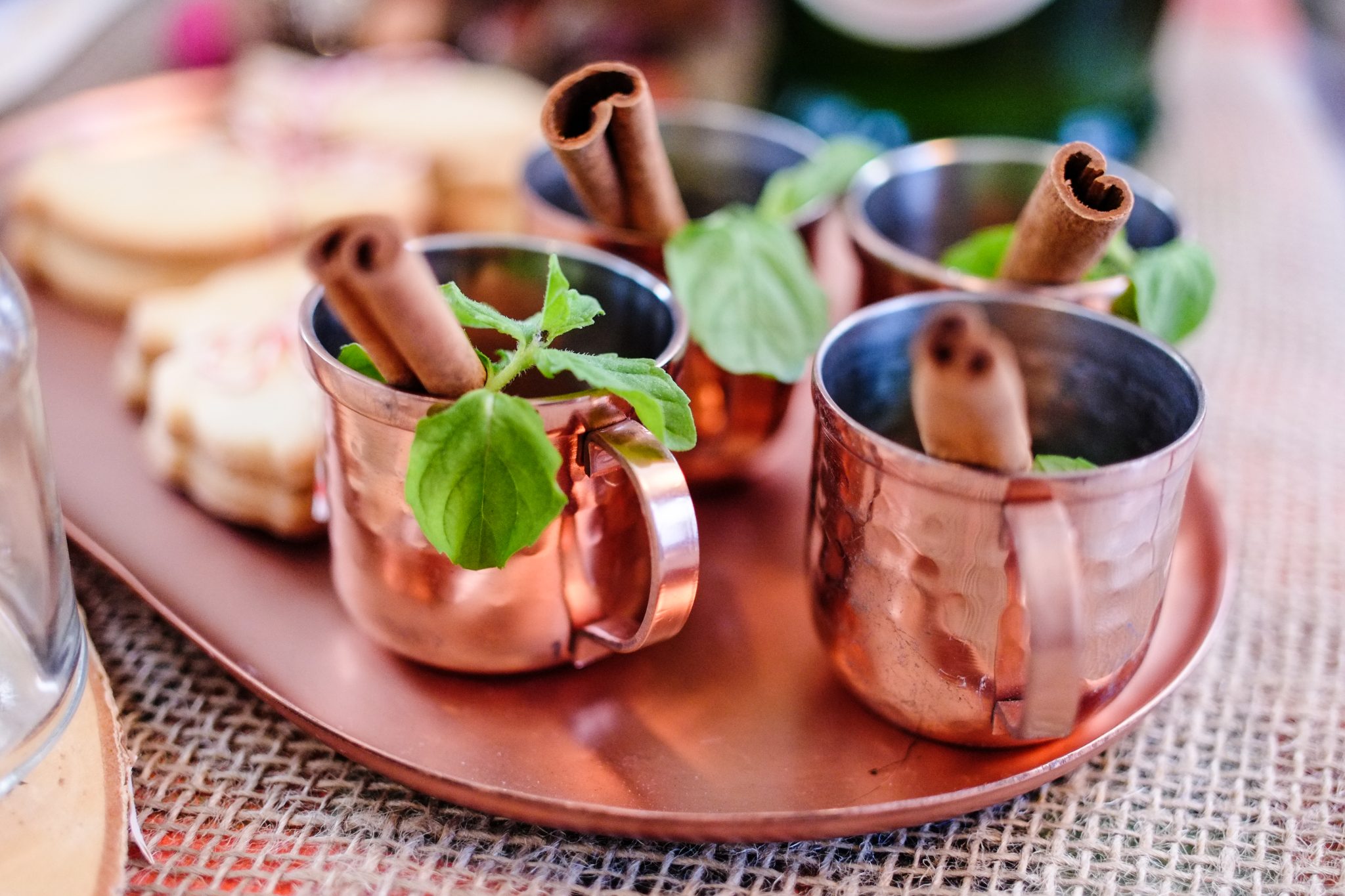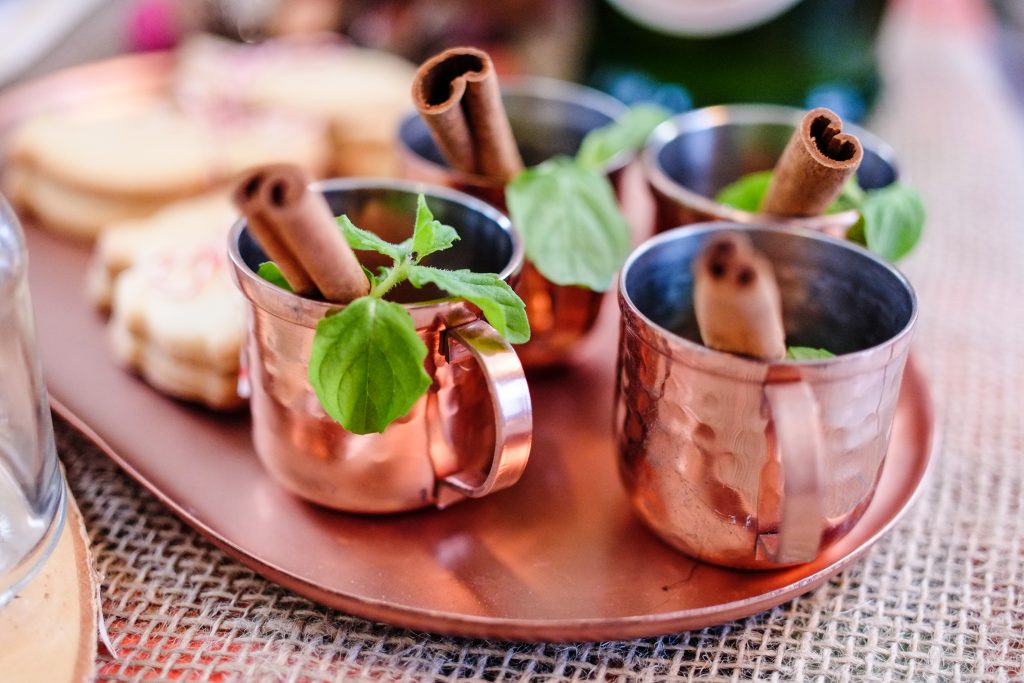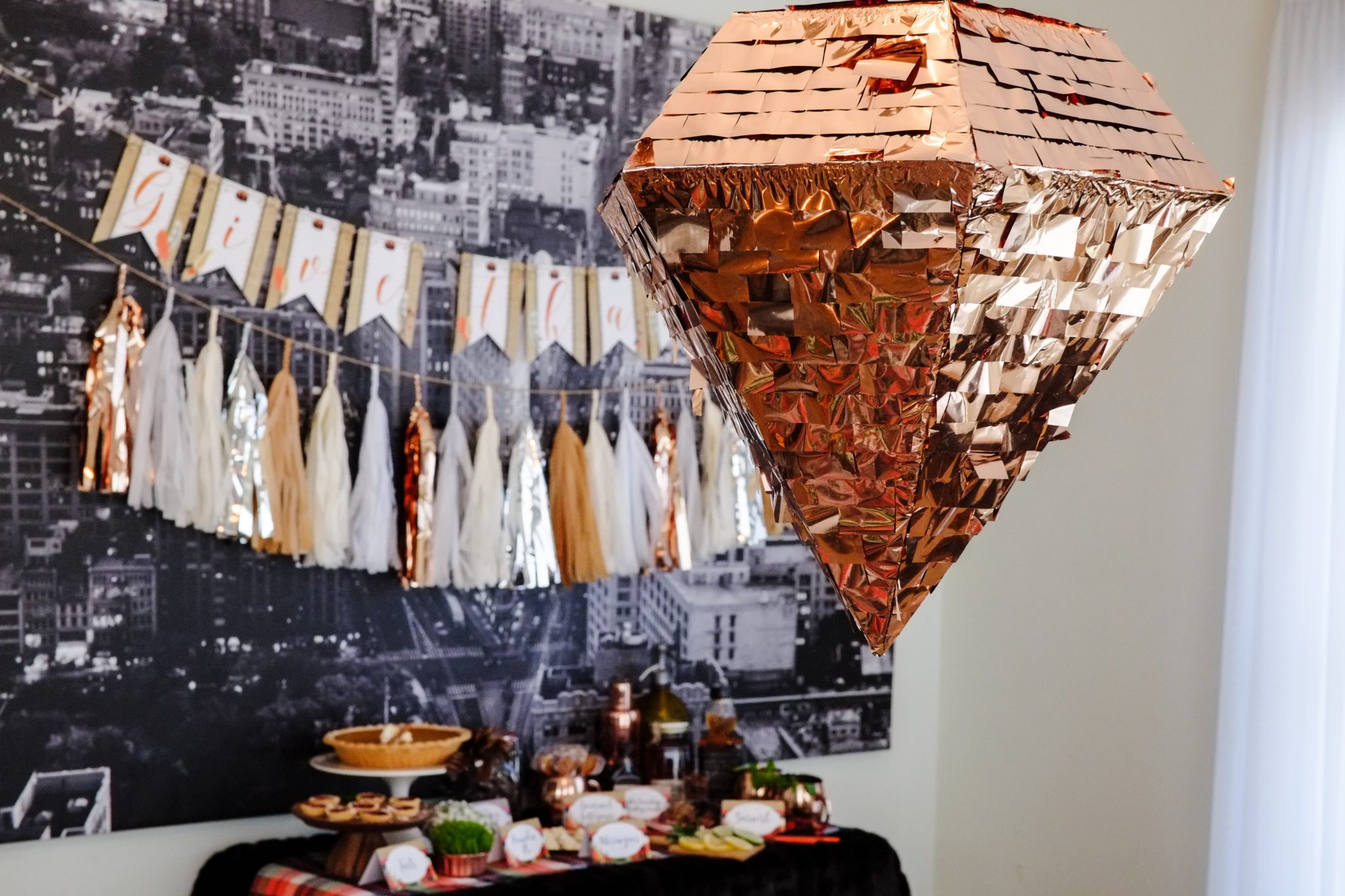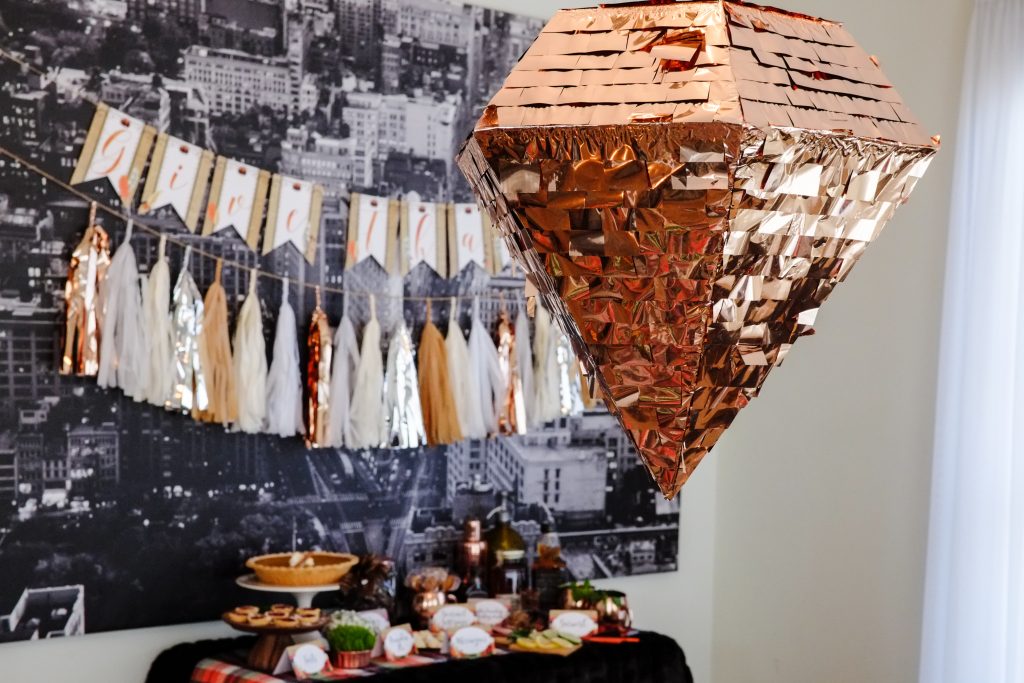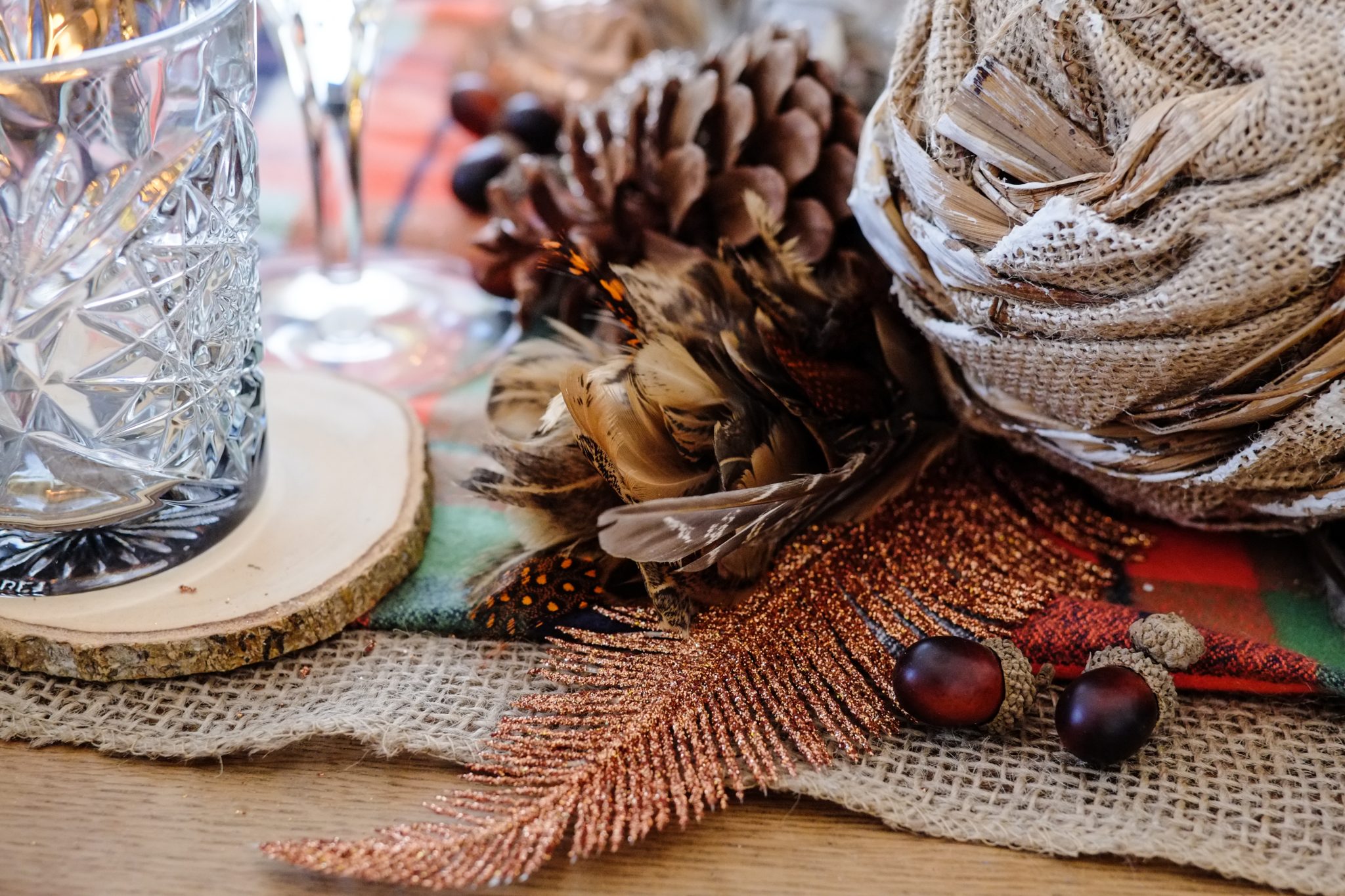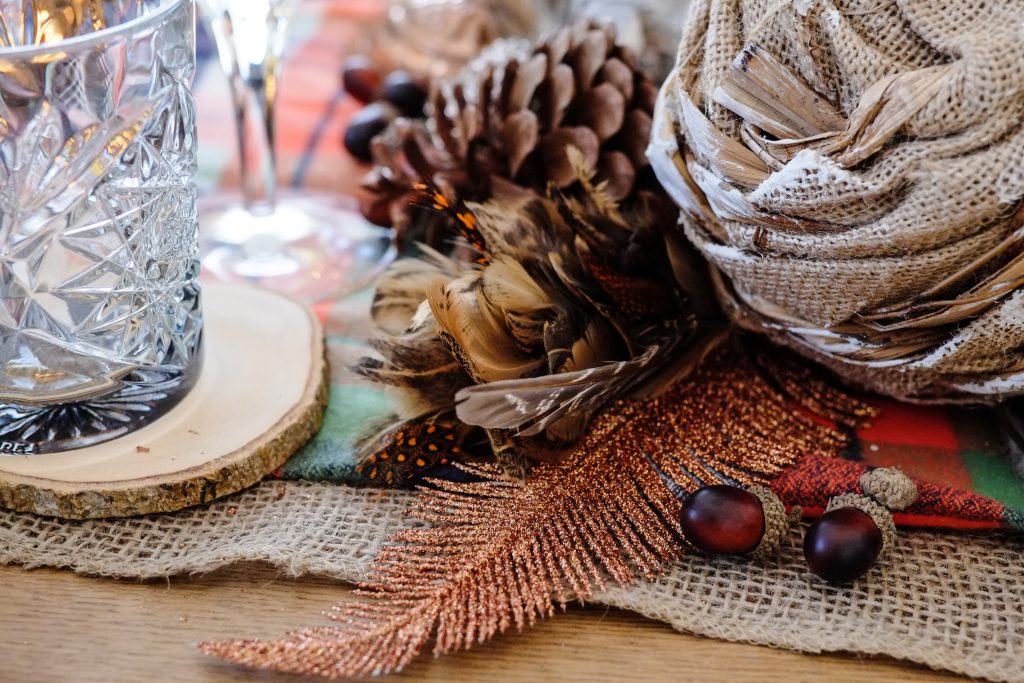 All of these colors and textures made their way into my kids' table as well. I wanted to make sure the kids felt just as cozy as the adults, but also entertained so that the adults could relax!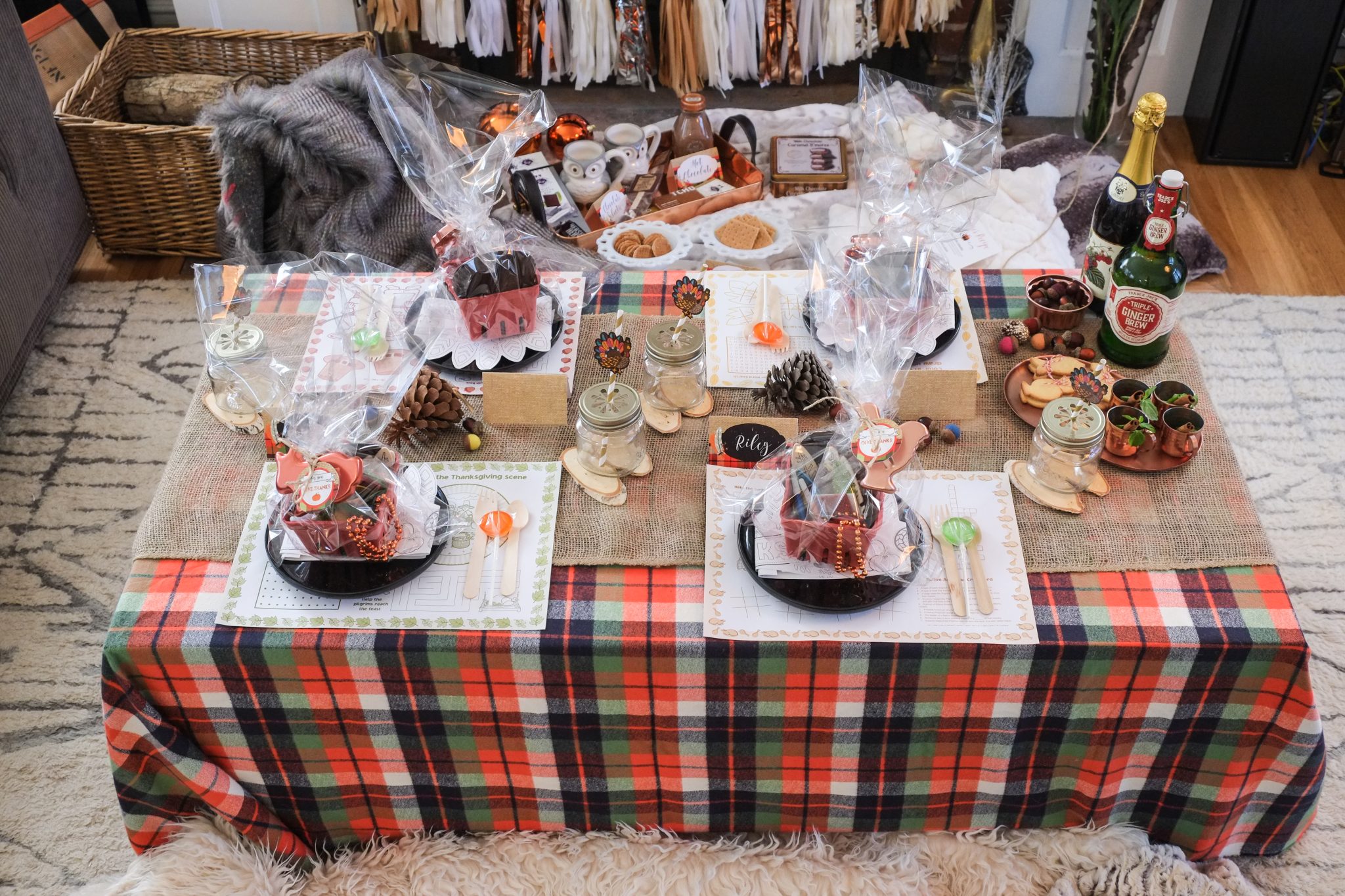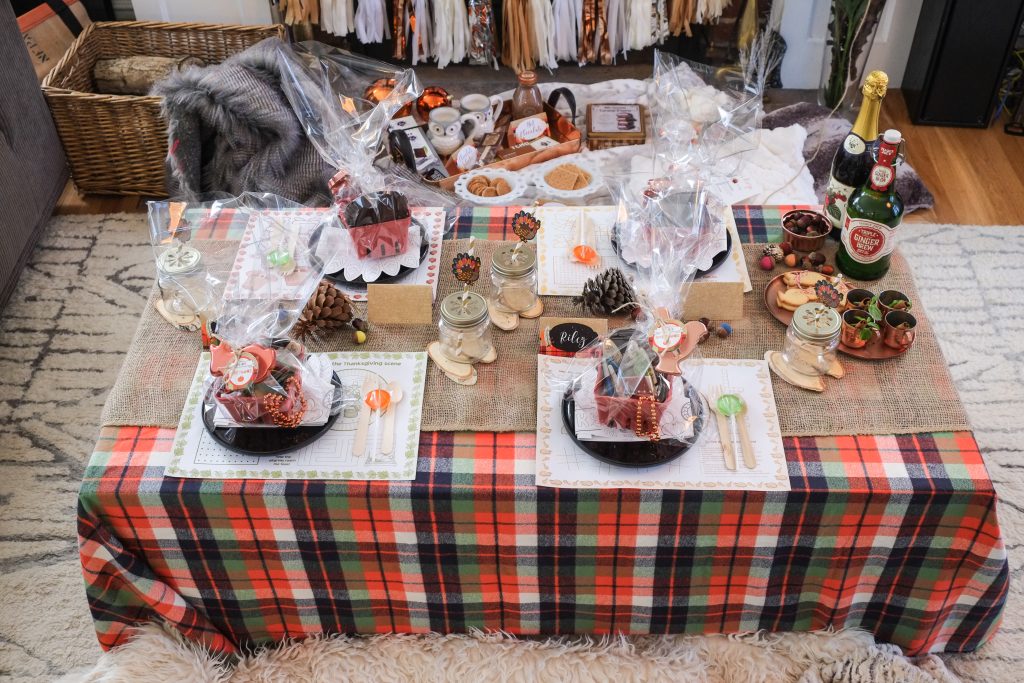 That's why I made some adorable little favor baskets that had fun art activities in them, and coloring in placemats and Thanksgiving crowns for the little one's to decorate.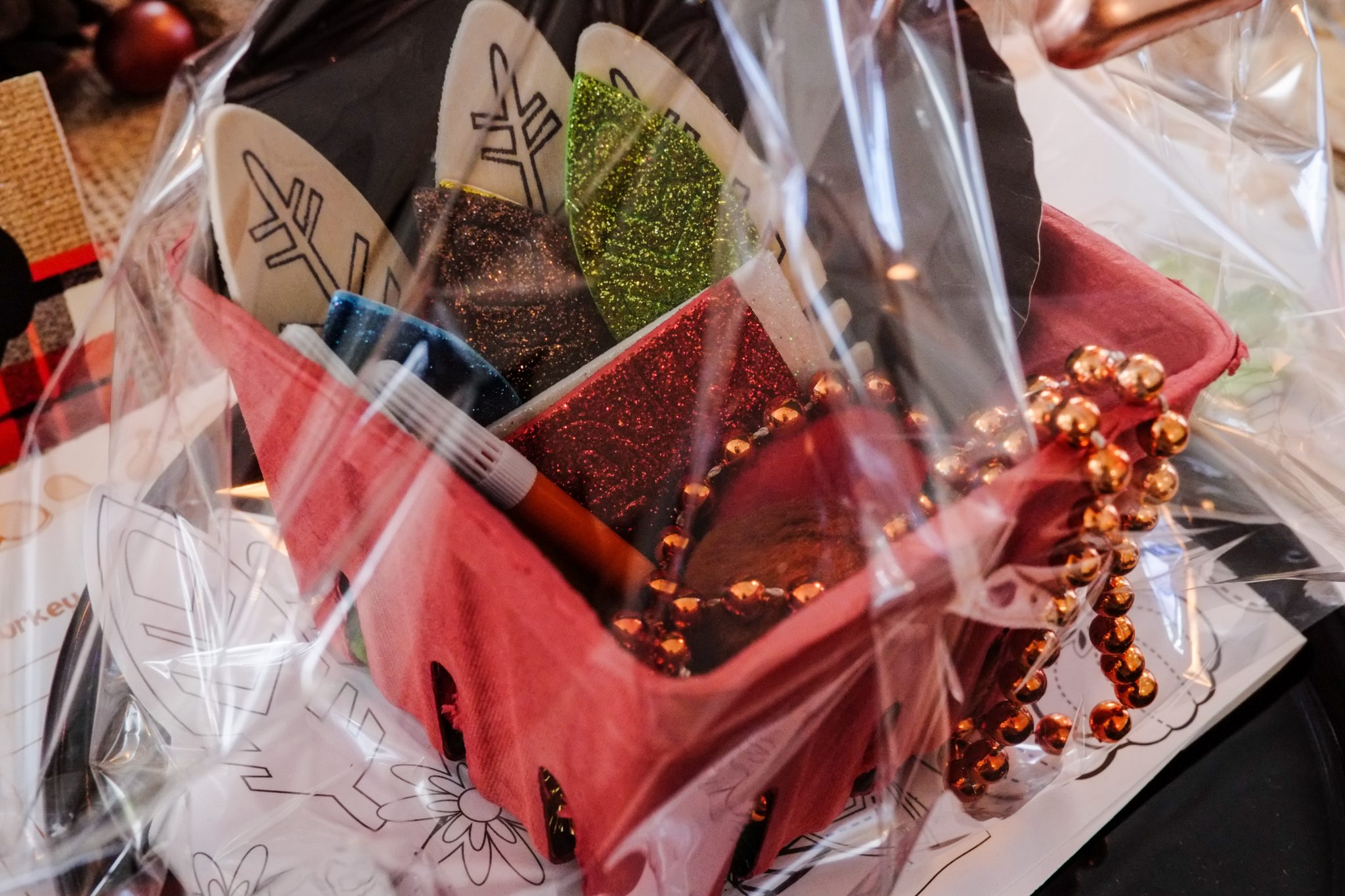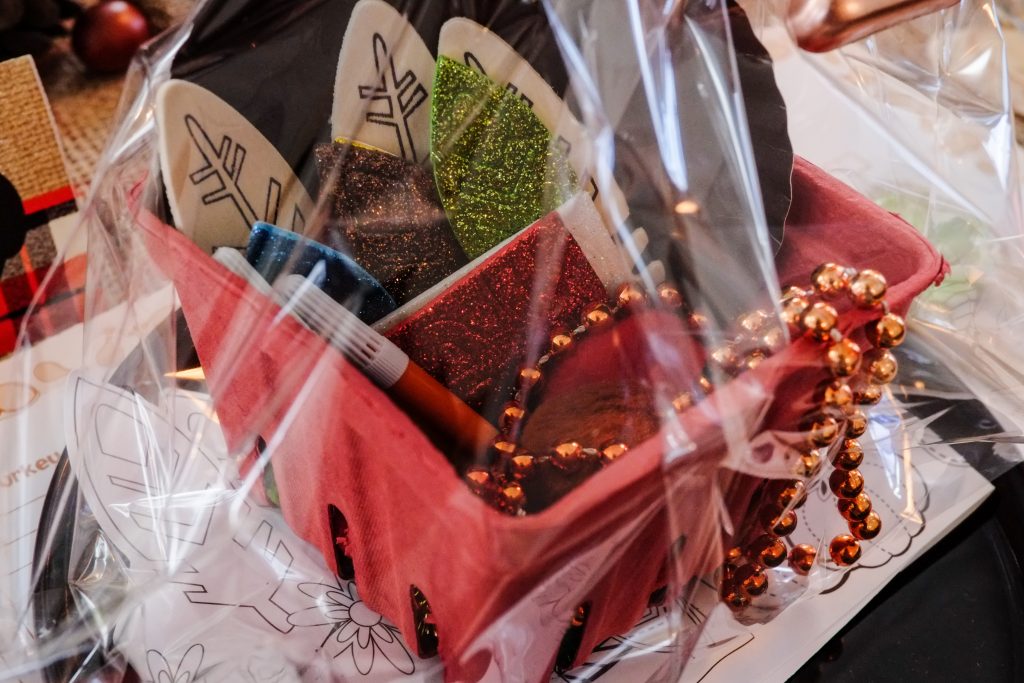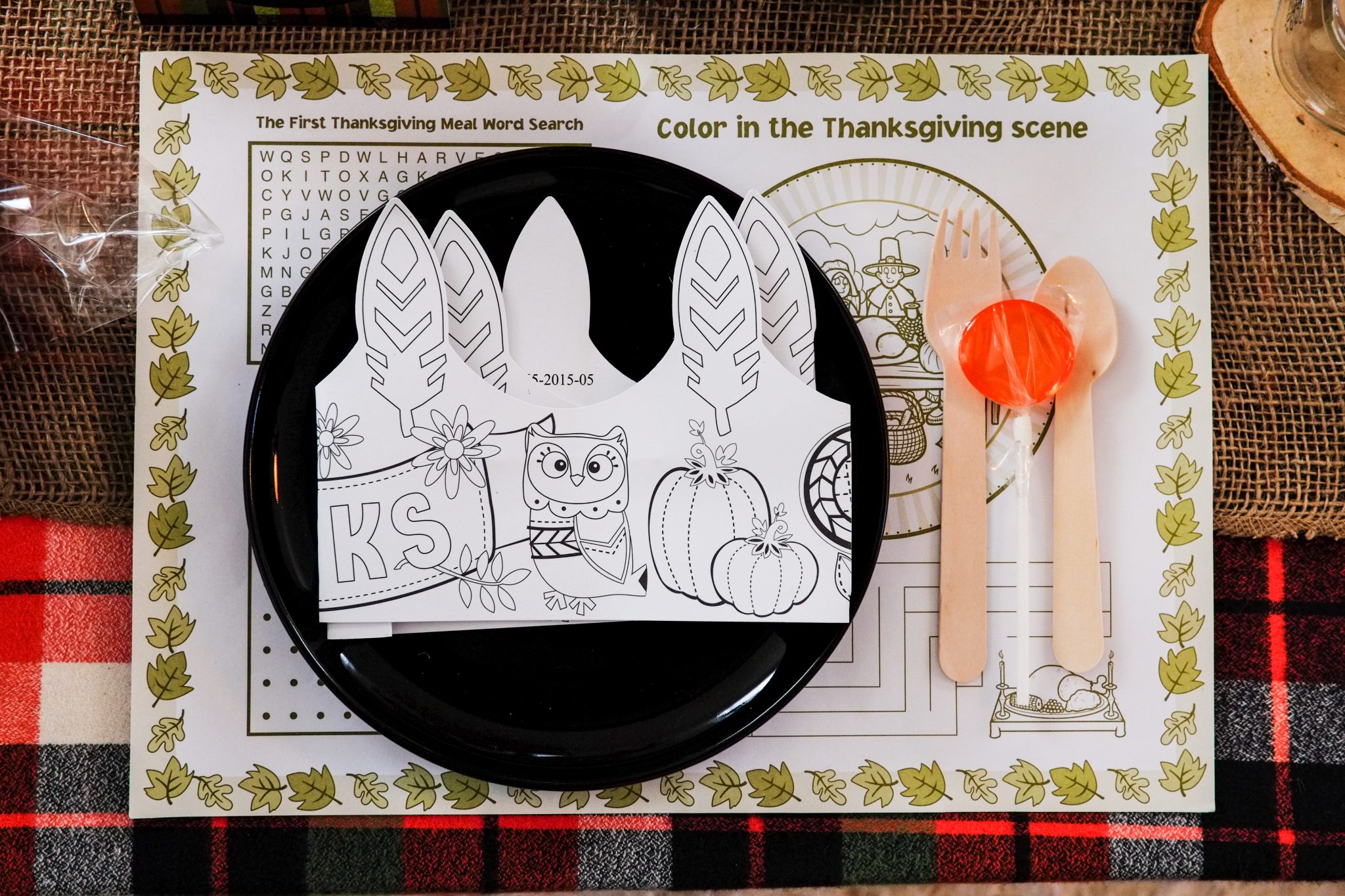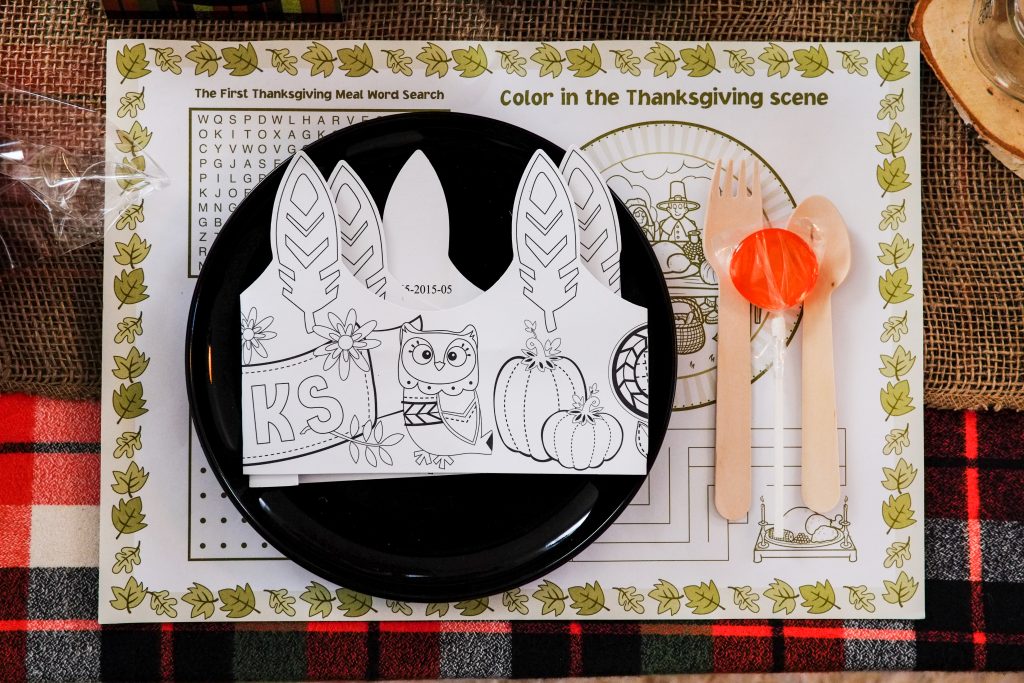 The kids also got some really cute turkey straws in their mason jar cups, and I have to admit I was a little jealous and wanted one for myself!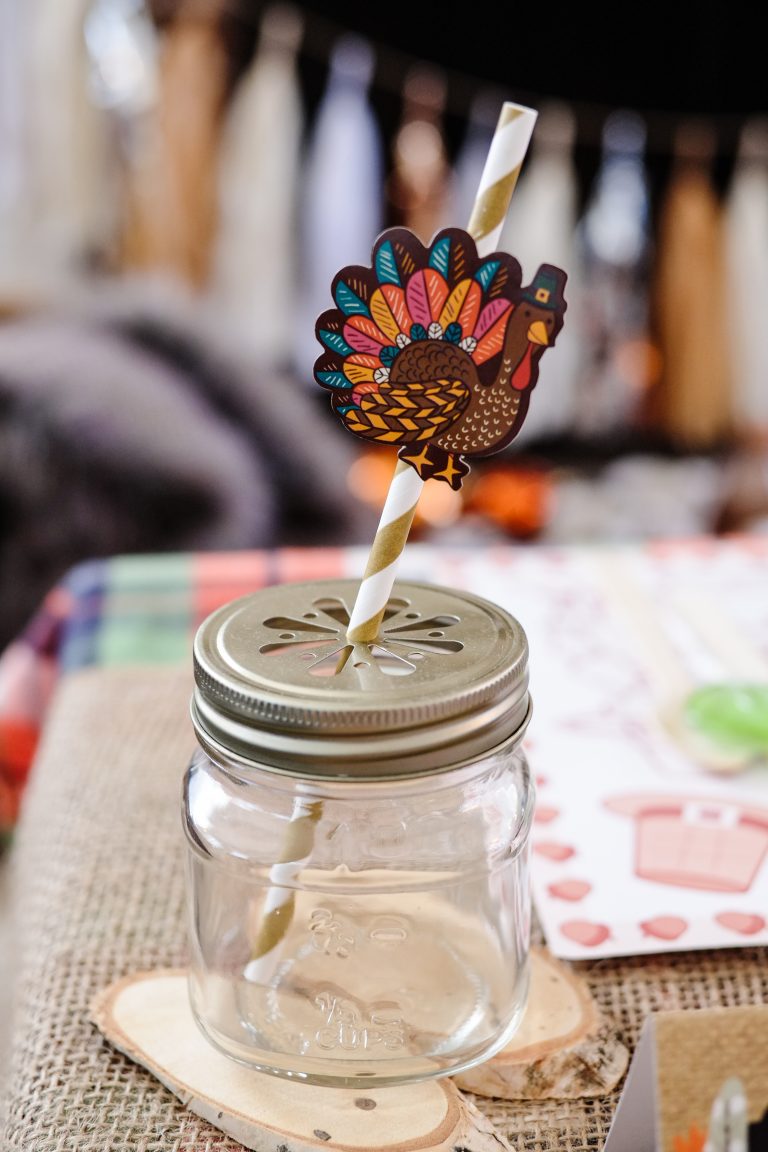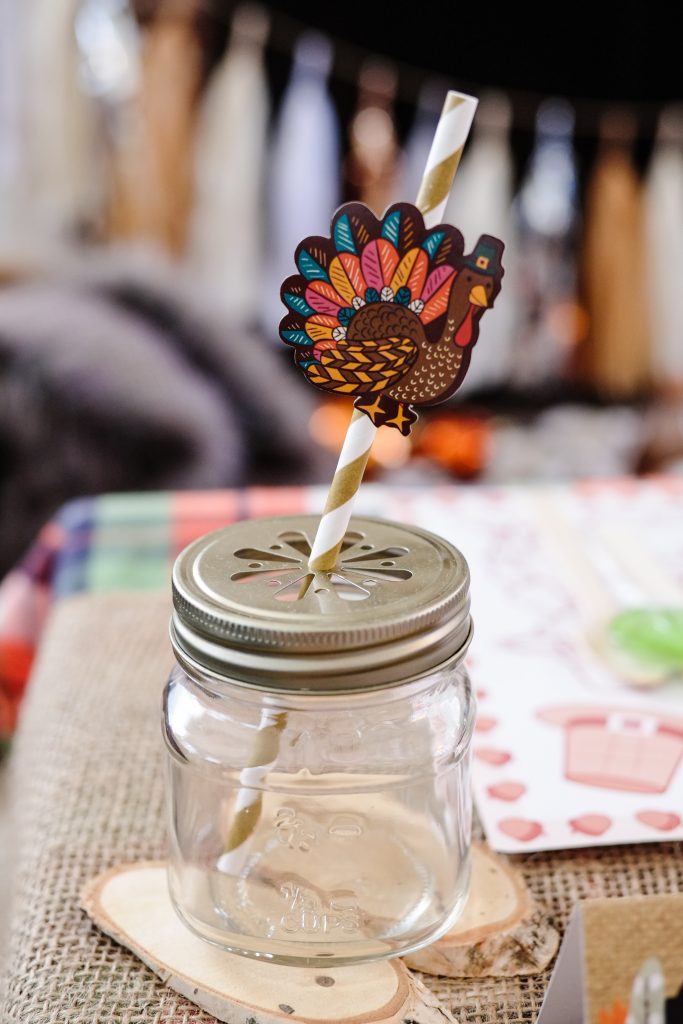 Before my guests left, I made sure that each of them had a moment to reflect on something they were thankful for- by adding it to this mirror with a white chalk marker. Real reflection!!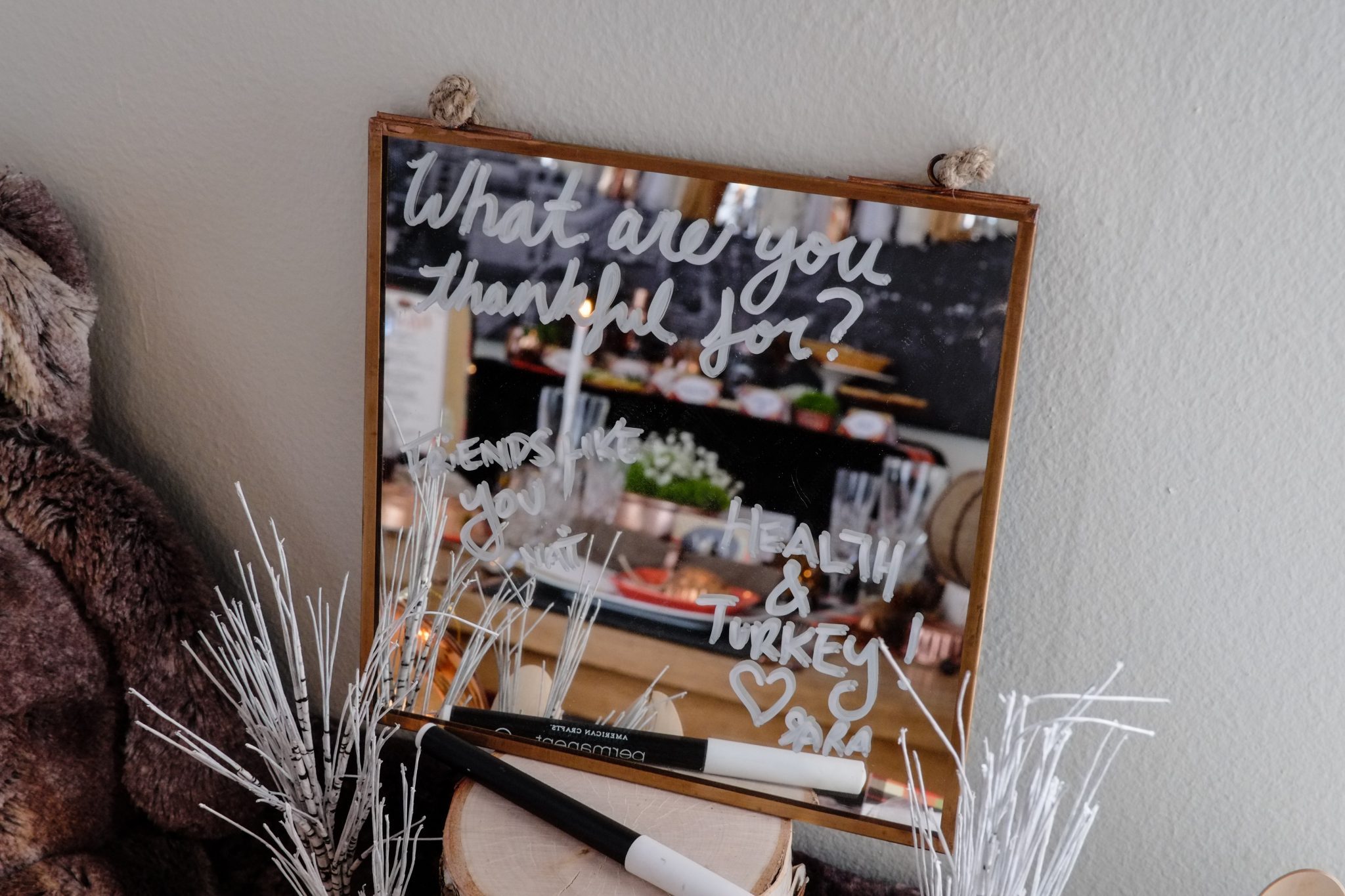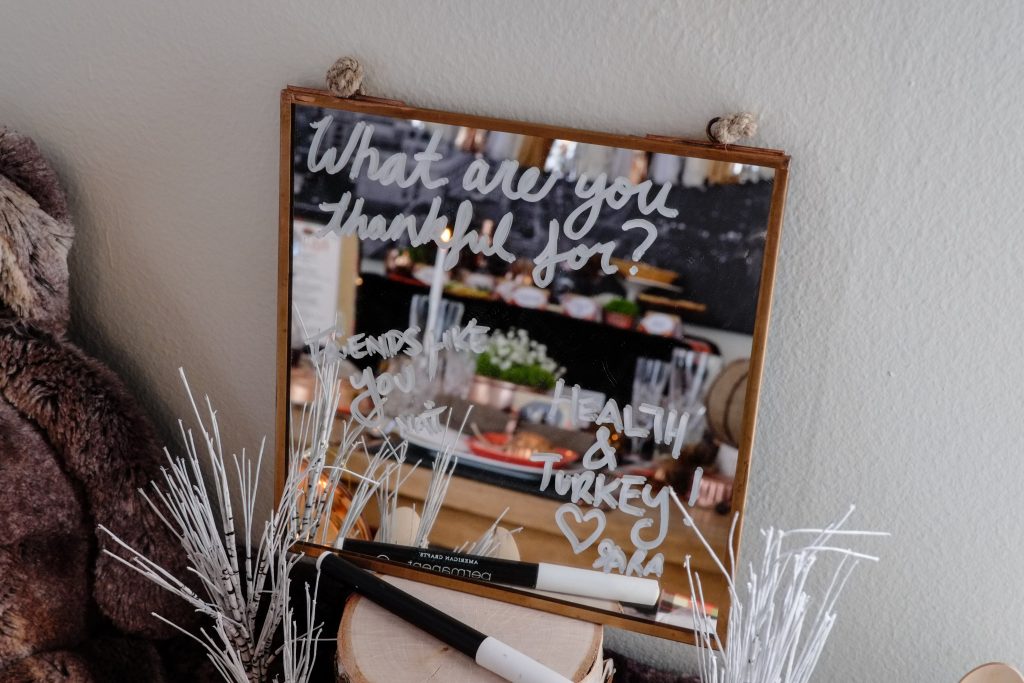 This Thanksgiving a few years back was definitely one of my coziest yet. I hope that it inspires you and yours to enjoy this holiday with warmth, relaxation, and love!
PIN FOR LATER: