Is your child a Bluey fan? I'm so thrilled to hear that the Bluey show from Australia is so popular here in the United States now. As a New Zealander I love hearing that Aussie accent!
Bluey is the most adorable 6 year old Blue Heeler pup who loves to play. Her parents get her to practice things and give her space to invent games for everyone to play.  There are several you can use at your party and get the kids involved in a real life version of the show.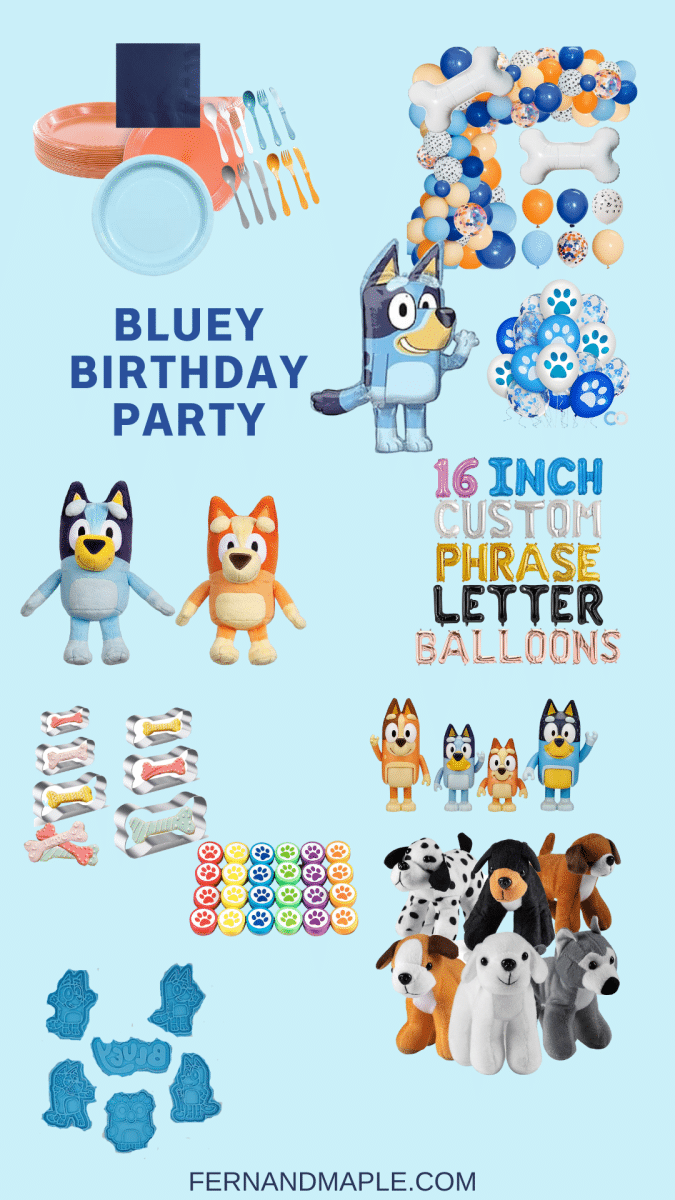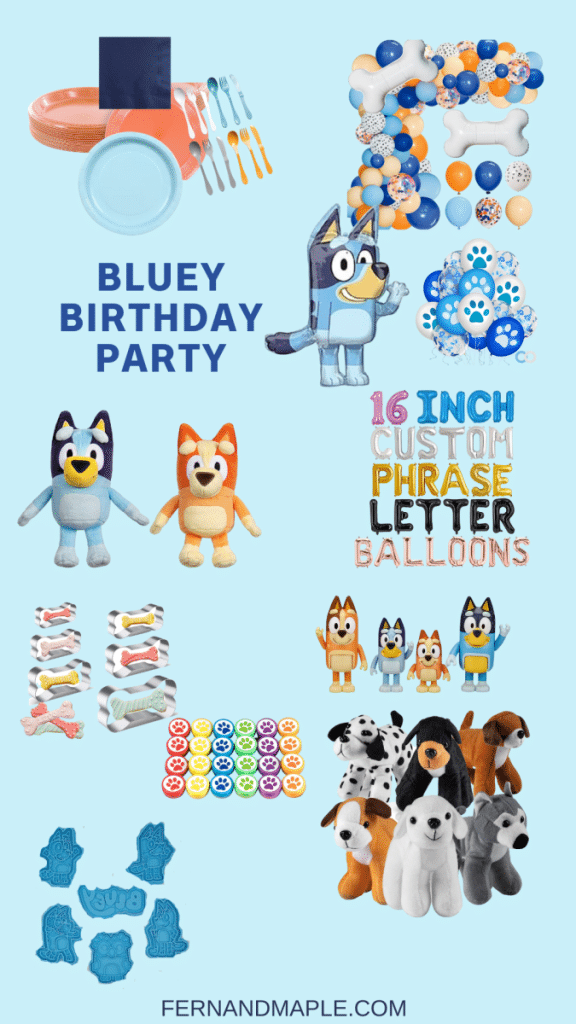 How to Set up a Bluey Birthday Party
Bluey is set in Brisbane, Australia near the beach.  I'd throw this party at a local park or close to the beach.  An outdoor setting is particularly perfect for a Bluey picnic with friends.  Think teddy bear's picnic but with Bluey. In the same way, use lots of soft cushions for kids to crawl over on and play.
Then, I would use the colors of a beach setting as my inspiration. This would definitely include a mixture of blues and tans or peach colors. I'd incorporate this color palette into both a balloon arch and table setting.
Next, more of the fun comes by adding dog bone and paw print balloons, as well as a Bluey mylar balloon. You can also spell out a bluey phrase like "Hey Mate" or "Wackadoo" in balloon letters if you have the space.
In this case, an easy way to bring the characters into the party without going over the top is to use Bluey figurines as cake toppers and to use the characters for desserts such as cookies.  Then, the kids can also take these home after the party.
For this age group, I always like to include an "adoption station" where kids adopt and take home a stuffy.  A dog adoption station works really well for this theme and their pup becomes a friend of Bluey!
I hope these ideas help you set up your Bluey party with ease.  Here is a detailed video on putting together this celebration and below is a shopping list ready-made for you!
Shop for a Bluey Birthday Party
As a blogger, I sometimes receive compensation and/or products in exchange for my styling and crafting services. I also may earn a small commission from any sales that result from affiliate links on this page. As always, all project ideas and any opinions expressed here are my own. For further information on our disclosure policy please check out our disclosure page. 
Head over to Tik Tok for more party ideas and help setting them up.  I'm always up for questions, let me know the theme you've been dreaming of.
Need a more detailed Bluey Birthday Party Plan? Or want some help creating a shopping list or customized party plan for your own theme? I can help. Don't hesitate to reach out!