There is a reason a snowy scene is often described as a "Winter Wonderland" – there is magic in a glittery white and icy environment! And equally as magical are the animals that live in the snow – particularly when they are portrayed in cute and cuddly ways, like those in Oriental Trading's "Winter Animal" collection. I loved how sweet these polar bears, penguins, and walruses looked, and had so much fun creating a magical Arctic Animal Winter Wonderland Party featuring them! This party is perfect for a kid's winter birthday, or just for anytime your kids need some winter magic in their lives. Read on to see how I set it up!
As an OTC blogger, I received compensation and/or products in exchange for my styling and crafting services. As always, all project ideas and any opinions expressed here are my own.  For further information on our disclosure policy please check out our disclosure page.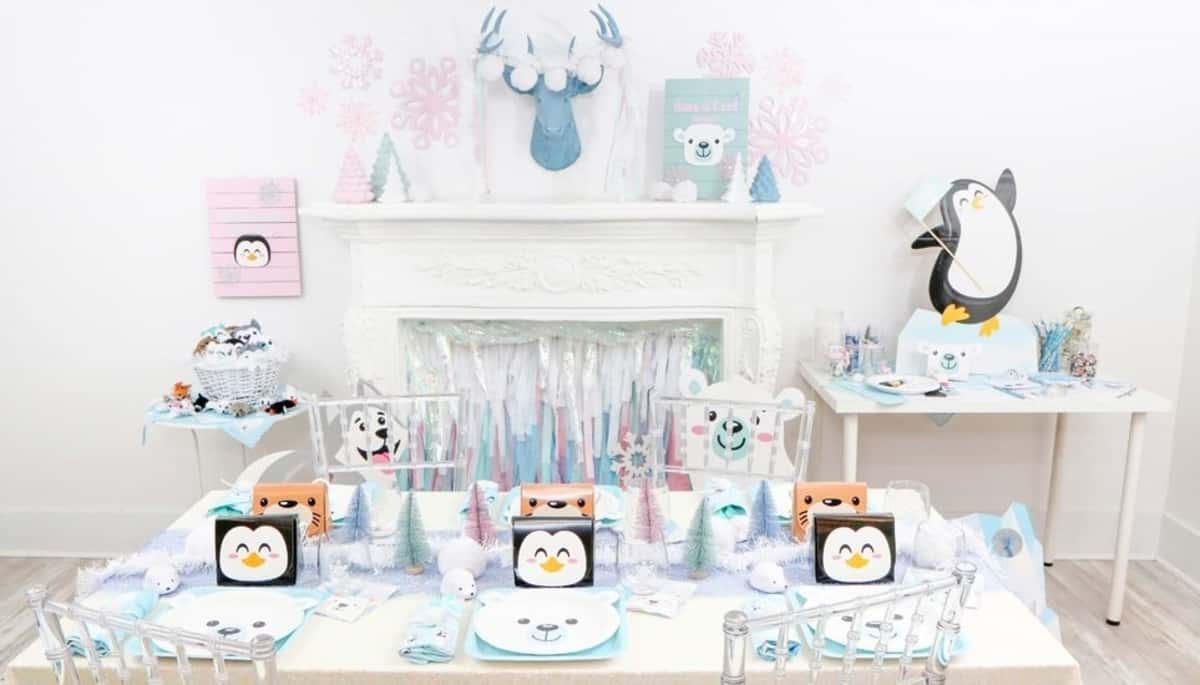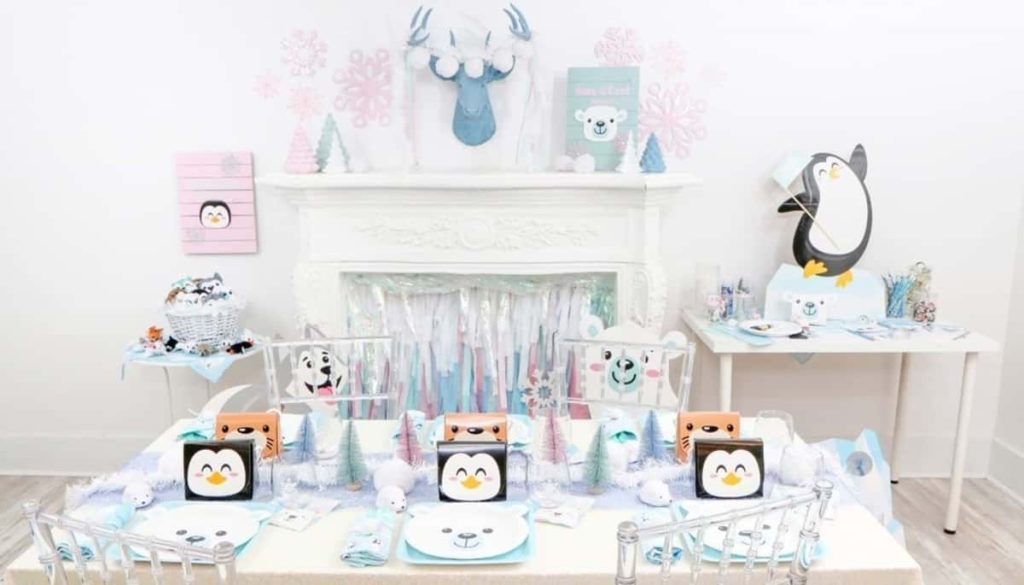 How to Create a Winter Wonderland Party with Arctic Animal Decor
Backdrop & Decor
The first thing I did was set my own snowy scene! I decorated above my mantle with an icy blue deer head decked out in wintry garlands and tassels. Then, I hung pink spray-painted snowflake décor on the wall surrounding it. On the mantle, I placed painted Christmas tree décor and a cute polar bear birthday sign I created myself. You can get the details and supplies for that HERE.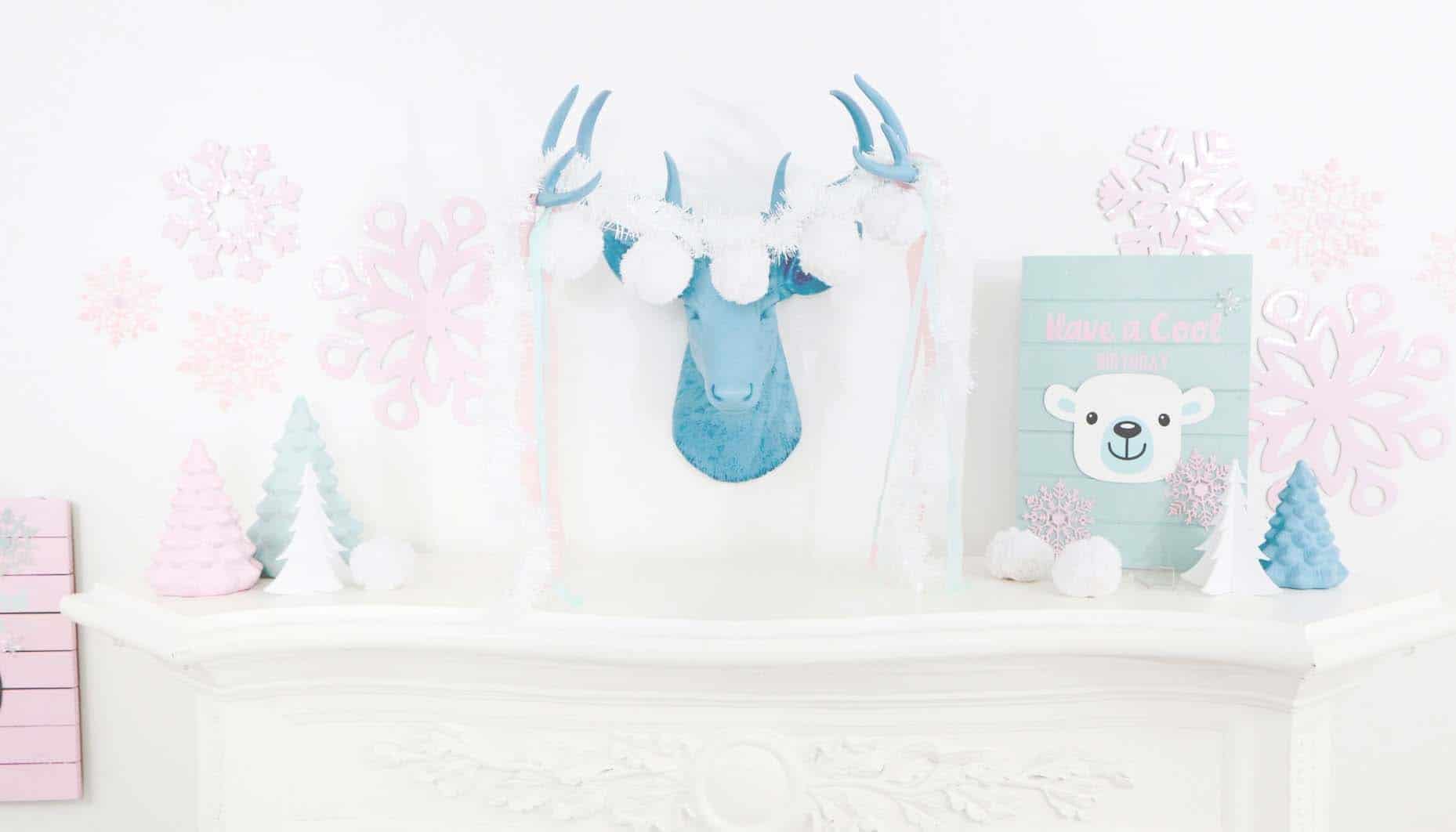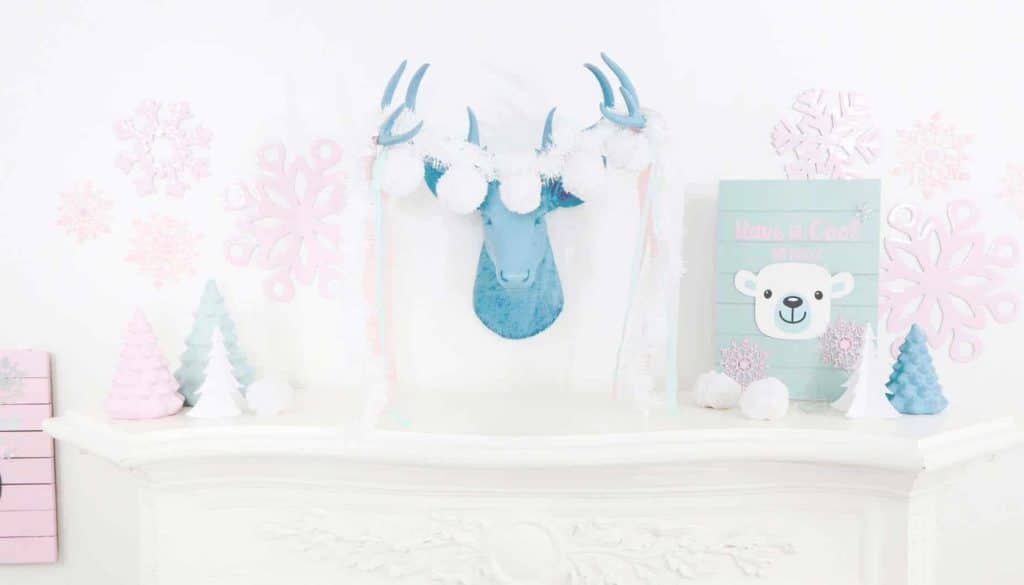 Next, I made a fun DIY Winter Icicle Backdrop that I placed in the fireplace opening, and set out some cute arctic animal cutouts in front of the wintry "cave" I created. The instructions for this DIY Winter Icicle Backdrop can be found HERE.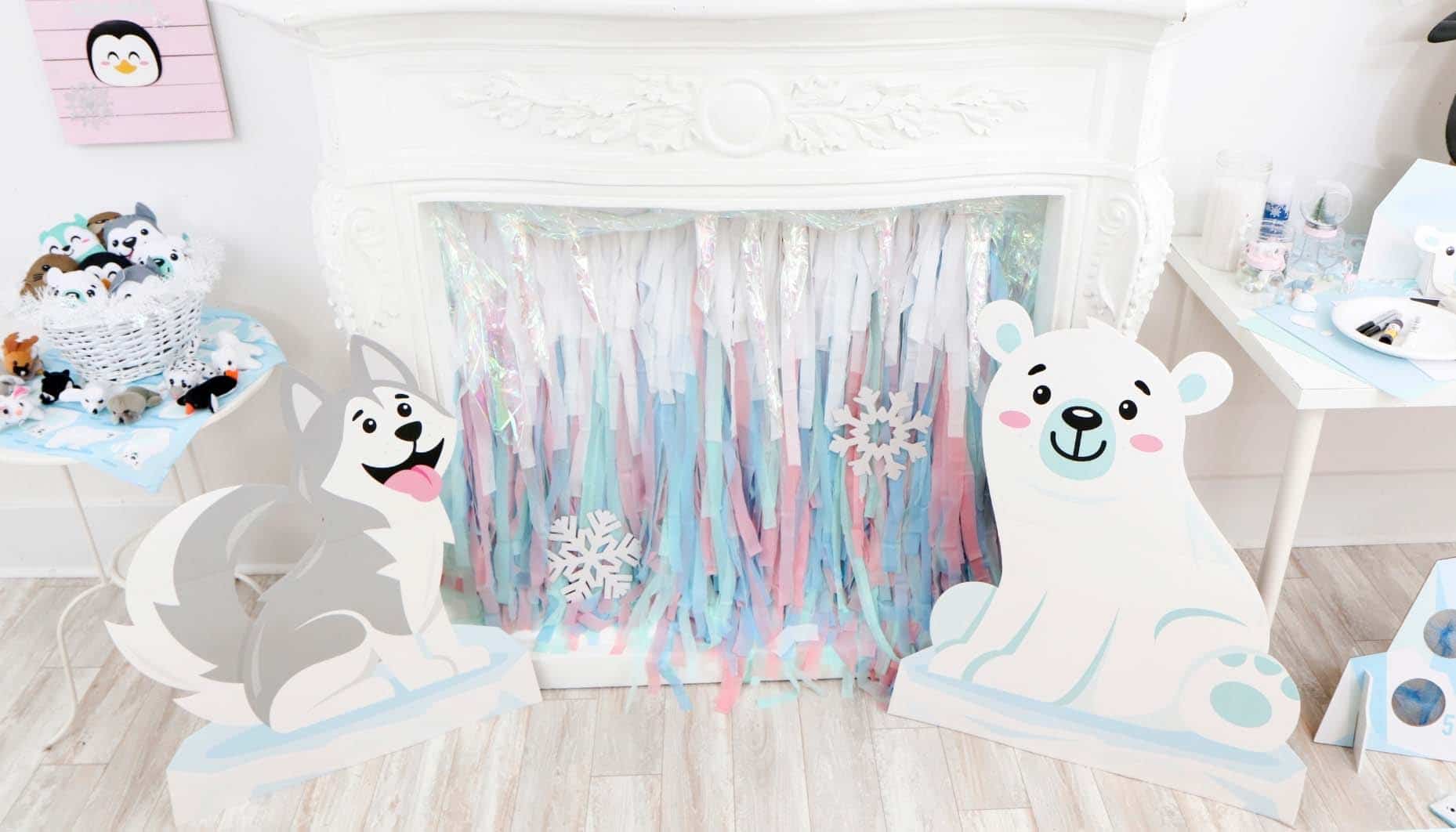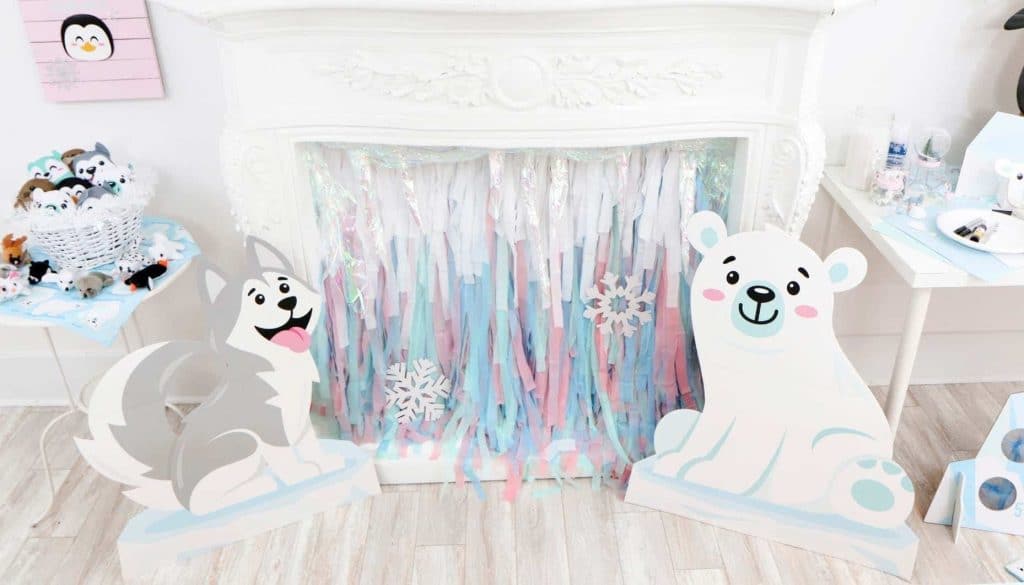 Table Setting
I covered my table with an icy iridescent sequin table cover and a frosty blue tulle table runner. I filled the center of the table with more winter décor – trees, snowballs, and a winter white garland. For the place settings, I had the kids create their own DIY Polar Bear plates (details HERE), and then layered them onto blue square plates. Each setting also received an arctic animal bandana pouch of icy blue plastic utensils, happy polar bear napkins, and clear cups I added snowy details to for an extra dash of wonder. Finally, each seat got an arctic animal favor box of sweet treats for dessert, and an arctic animal drawstring bag on their chair for favors and completed crafts.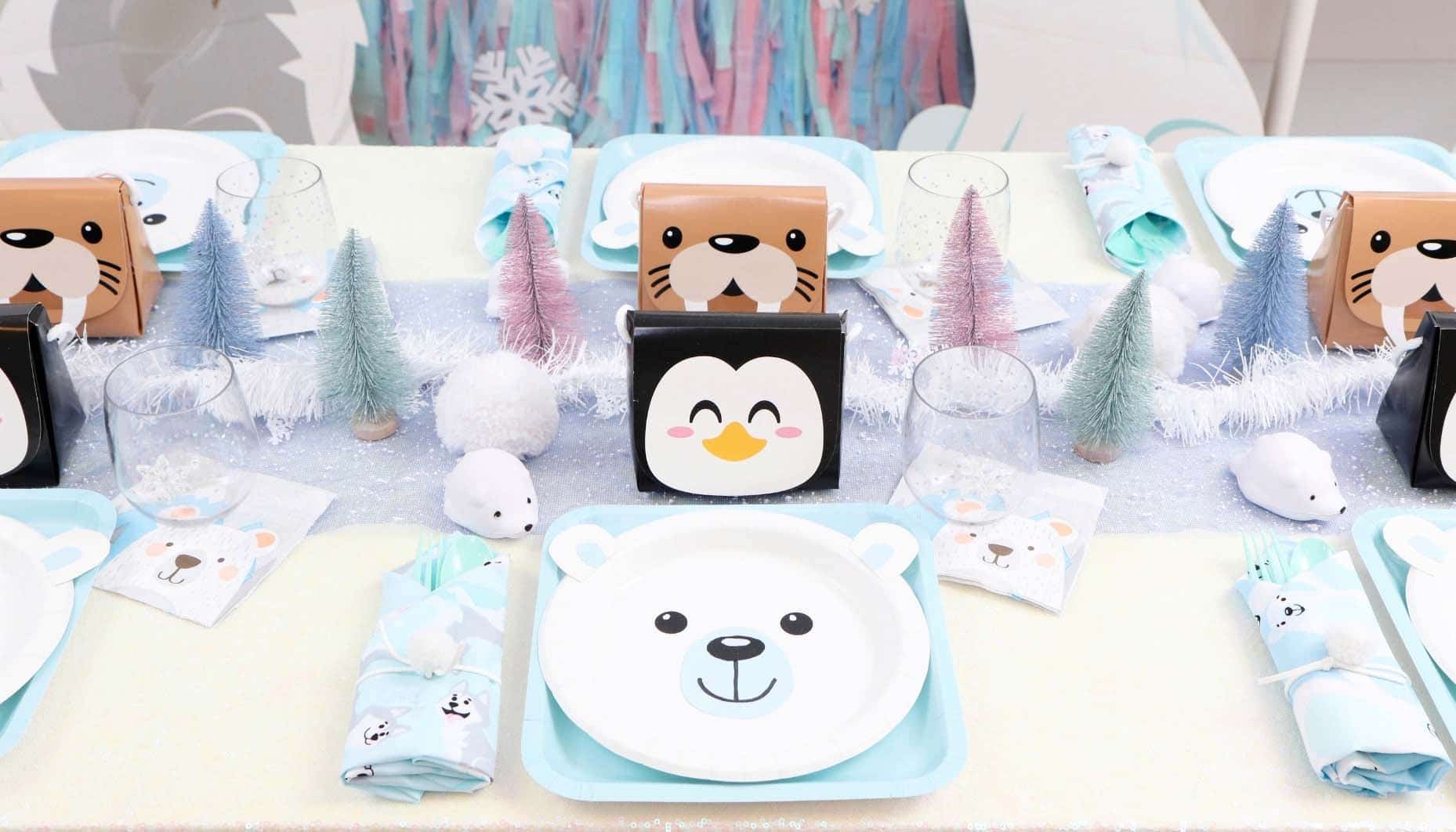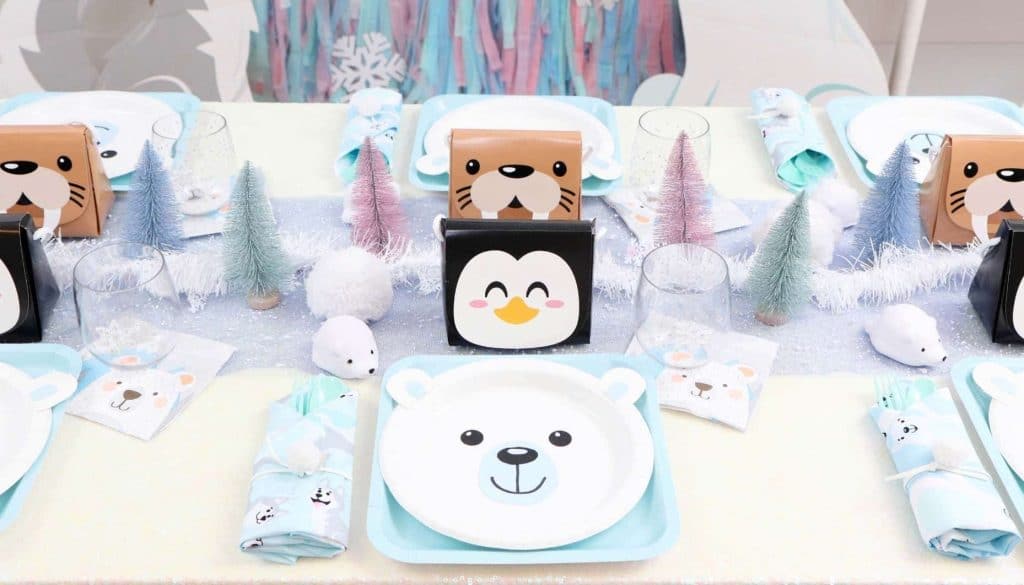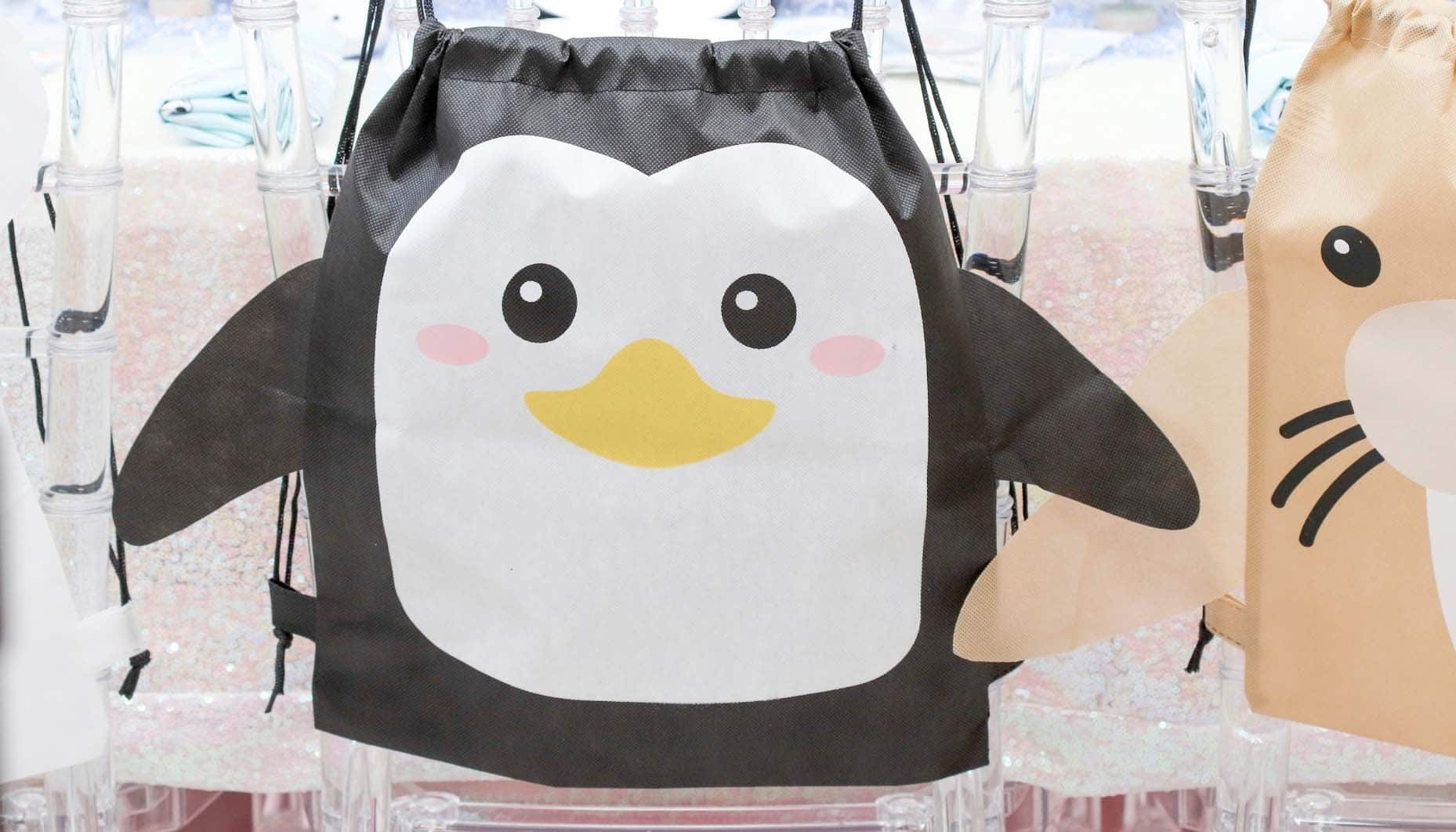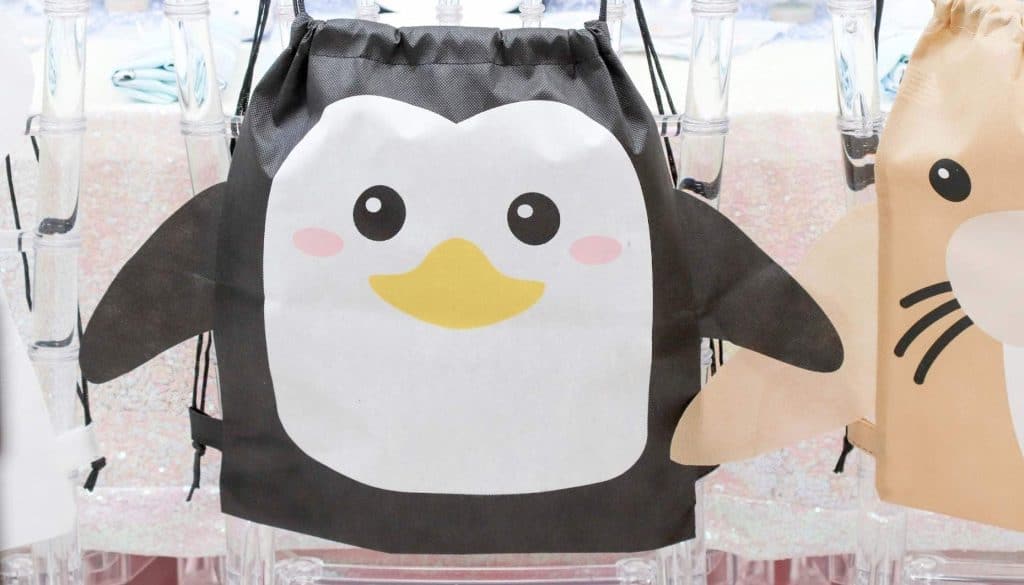 Activities & Favors
Because every party for kids needs entertainment options, I set up an arctic animal beanbag toss game, a stuffed animal "rescue" adoption center, and a craft station. At the craft station, kids could make their polar bear plates, create their own snow globes, and choose from a variety of arctic animal favors to use and take home in their totes.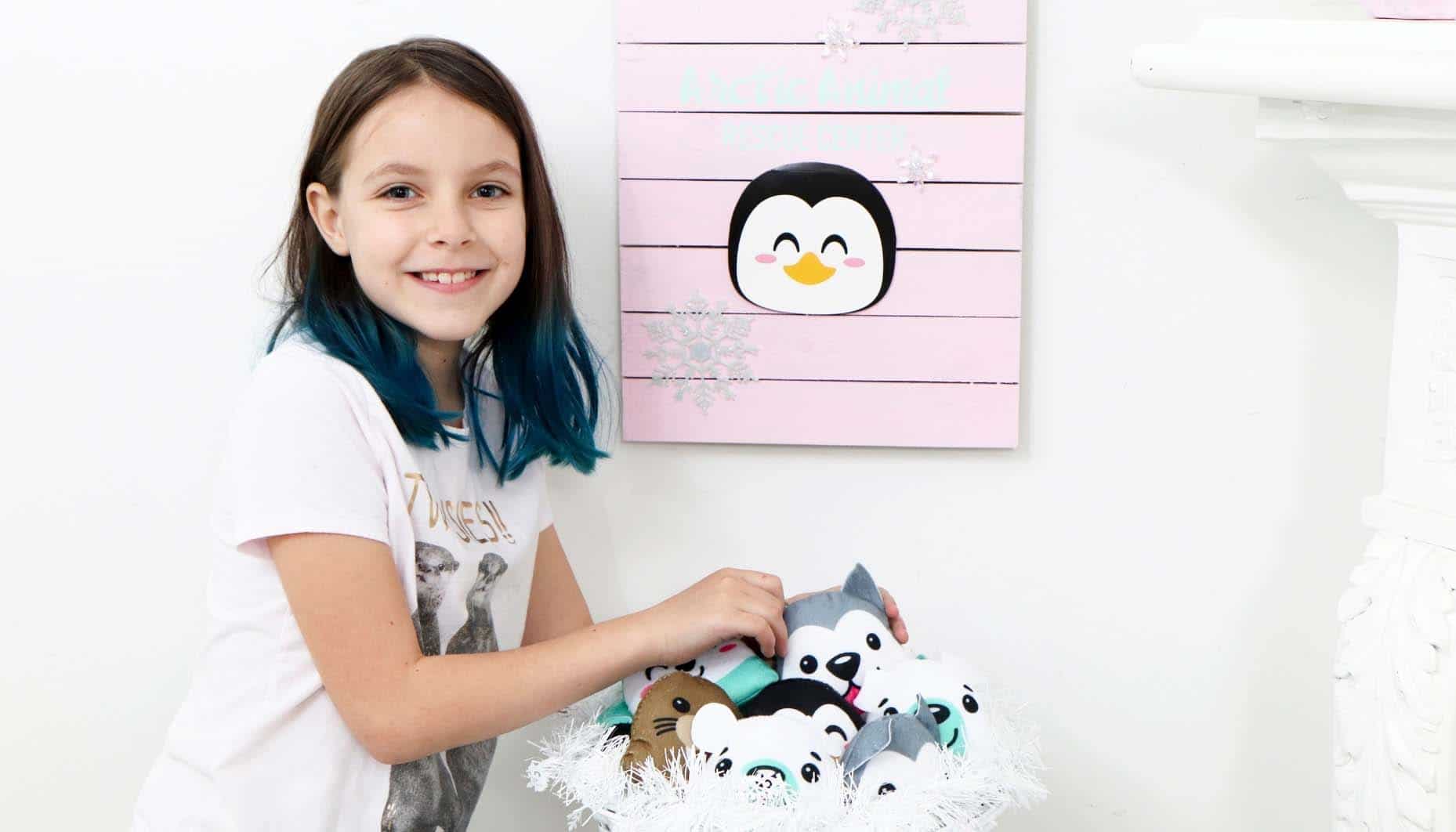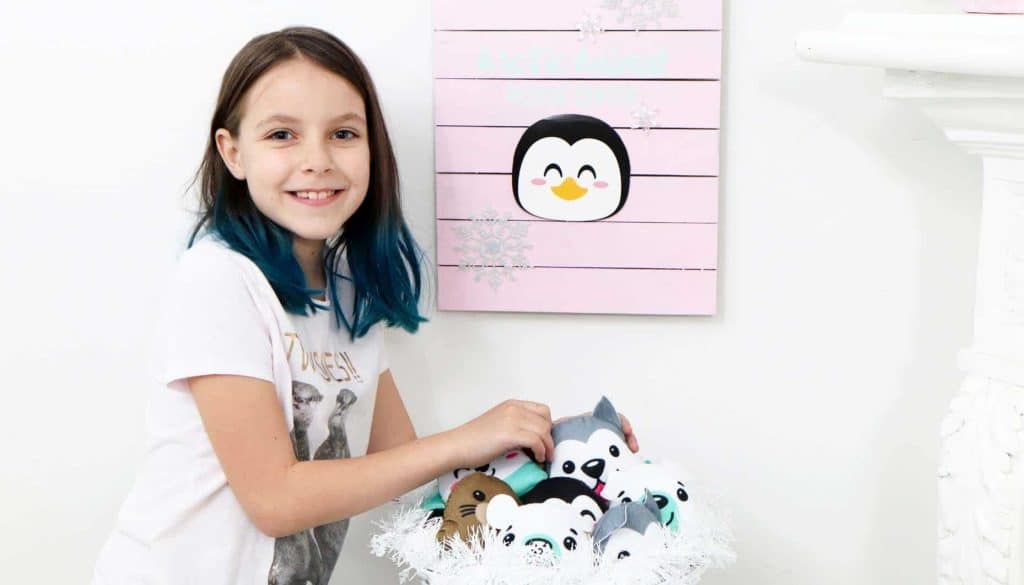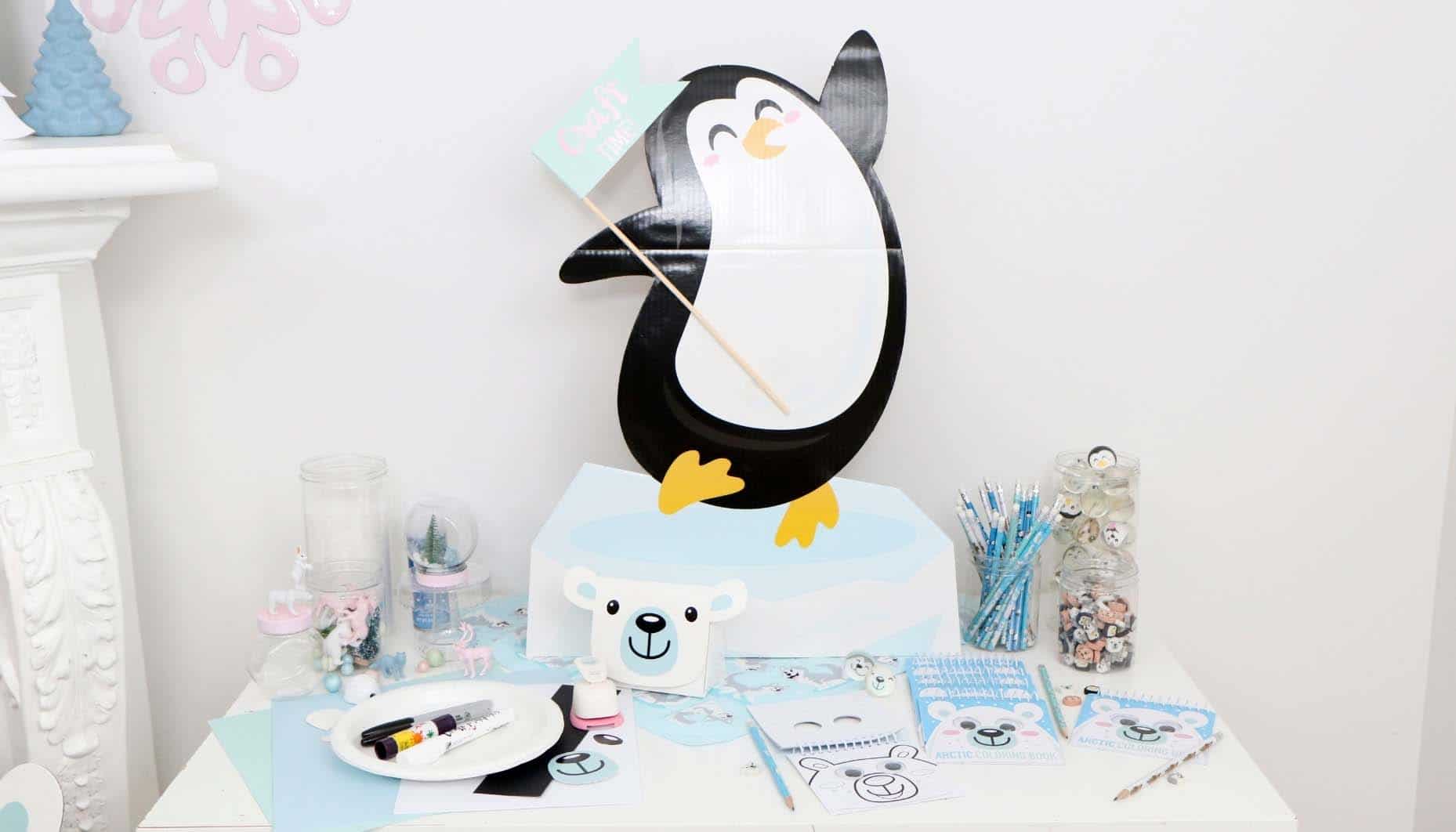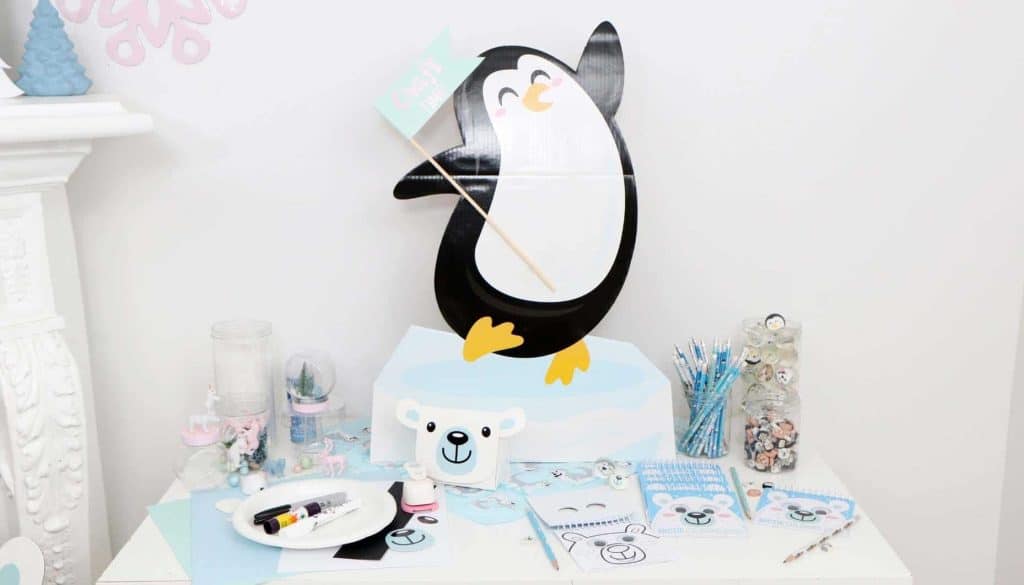 You can get all of the additional details for how I set all of this up, as well as shop for everything you need to create this Arctic Animals Winter Wonderland Party yourself on Fun365 at Oriental Trading. Everything you need to See It, Shop It and Make It with the click of a button! 
More Winter Party Inspiration
And for more winter/holiday party inspiration for kids, check out this Merry and Bright Christmas Light Craft Party and this Pom-Pom Holiday Party!
Happy Partying!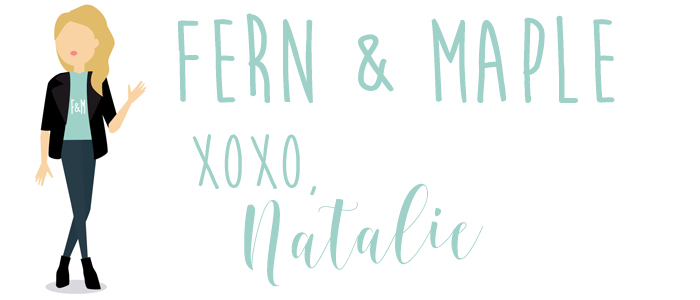 PIN FOR LATER: