I am a big fan of grazing boards. Not only do they provide a way for guests to snack on a variety of foods, they can also be turned into attractive pieces of food art for any party! And, because I have a a family of sweet tooths, my favorite type of grazing board is a dessert grazing board. Often, grazing boards are called charcuterie boards. But did you know that technically, charcuterie refers to a way of preparing meat? Meat plays a big part in most charcuterie boards, but for my dessert grazing board, I thought it best to keep it meat-free! I used a variety of cookies, candies, and other desserts to make a Valentine's Day grazing board sure to give anyone heart-eyes.
 Here are some tips for how to make sure your grazing board looks like art and not just a jumble of food:
1 – Choose a tray
First, pick a tray or a dish to hold all of the treats! You'll want to choose something with enough of an edge or lip so that some of your smaller or round items don't go rolling away.  I like to pick a tray with handles to make it easy to optionally serve to guests.
It's also a good idea to pay attention to the color of your tray. In this case, we are going for a Valentine's Day theme, and would probably want to stick to colors that coordinate with reds, pinks, and white. Or, do what I did, and choose a clear tray. This clear acrylic tray from West Elm does an amazing job of holding all of my treats in, while also allowing guests to clearly see their choices from all sides!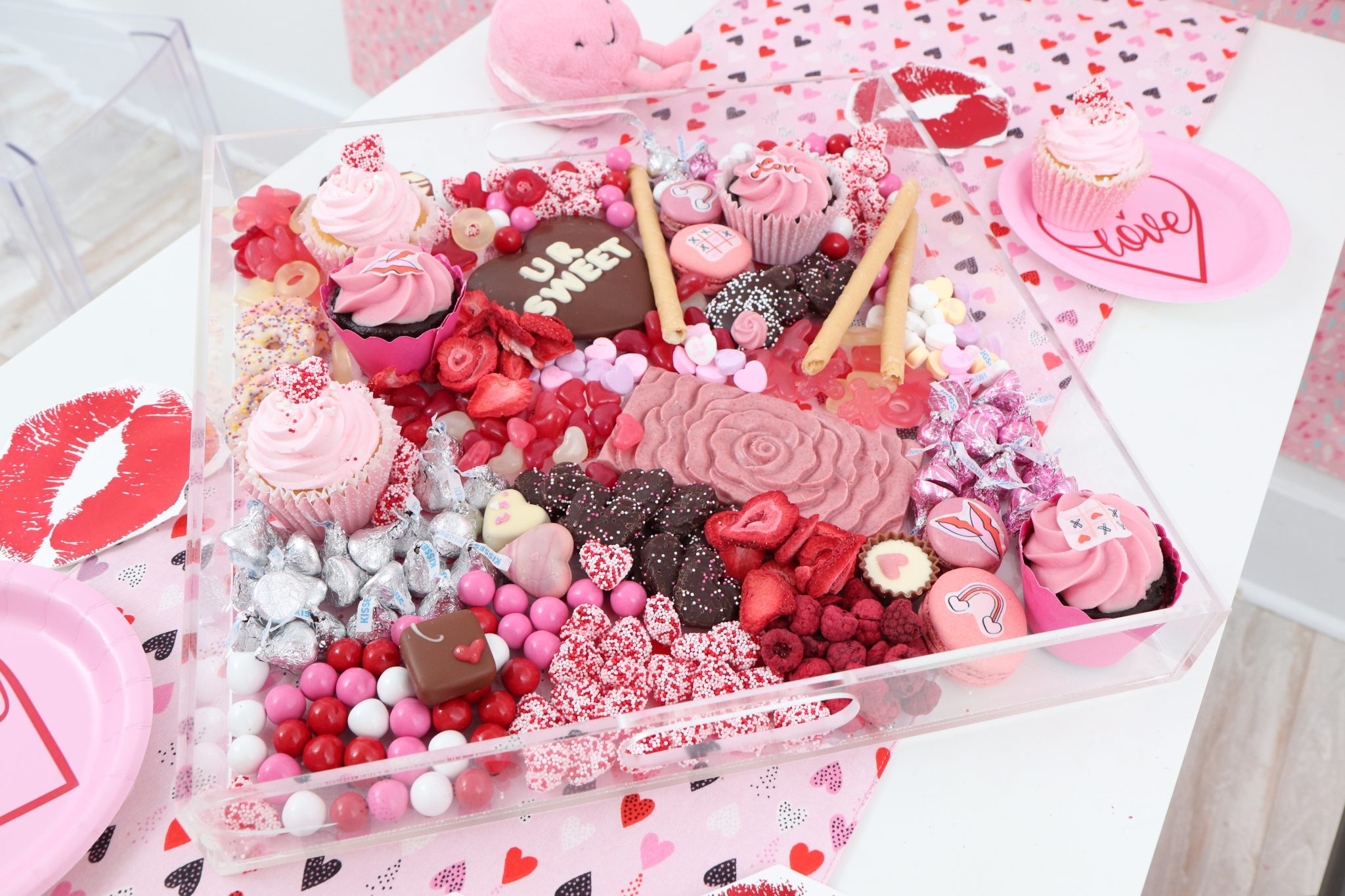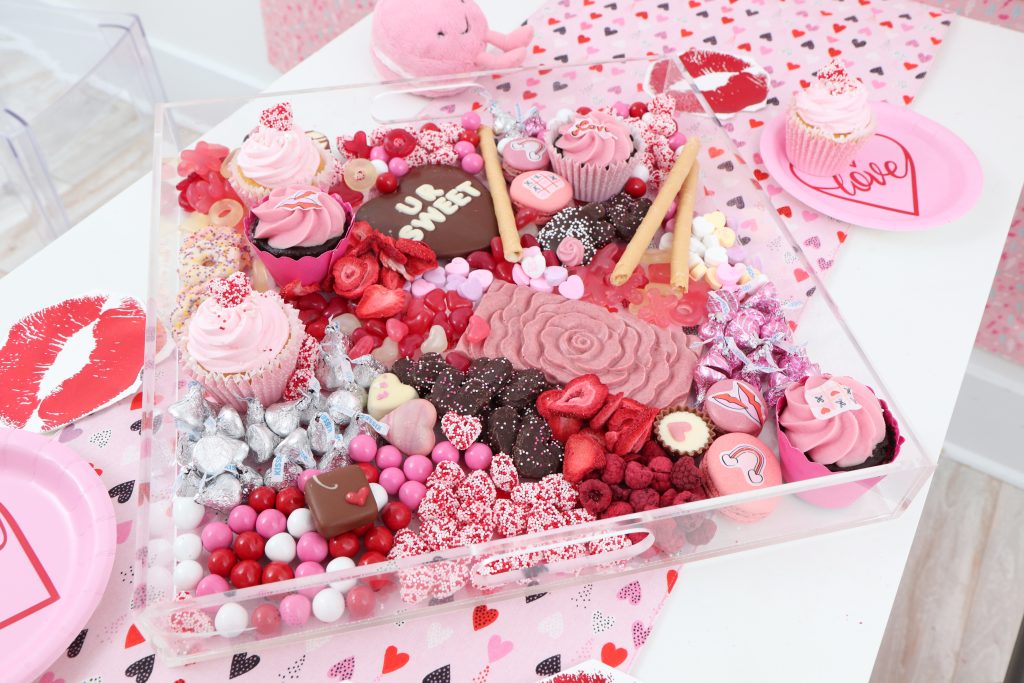 2 – Pick your treats
Next, you'll need to decide what you want to serve on your grazing board. Remember – variety is key! An attractive grazing board has items of varying sizes, shapes, textures, and of course, tastes. This keeps things interesting and ensures that there is something for everyone to enjoy, no matter their flavor preferences!
TIP: Consider dietary restrictions, include non-dairy and non-gluten items so each and every guest can partake.  Also consider a vegan option.
For my Valentine's Day dessert grazing board, I used the following:
Hershey Kisses, Conversation Hearts & new rose' flavor Cupcakes from Target.  Cupcakes are  decorated with edible stickers from Goodie Goodie (for more ideas on how to use time-saving edible stickers, check out this post!) 
Gummy X's & O's, Heart Jelly Beans, Heart Chocolate Cookies, Luxury Chocolates & Truffles, Dried Berries, Flower Cookies, Wafer Cookies & Pink Rose Chocolate Bar from Trader Joe's.  Trader Joe's always has SUPER AFFORDABLE SEASONAL TREATS!!
Heart Freckle Chocolates (in pink, red and white), Chocolate Balls, U R Sweet Chocolate Heart & Macaroons from Zupan's Markets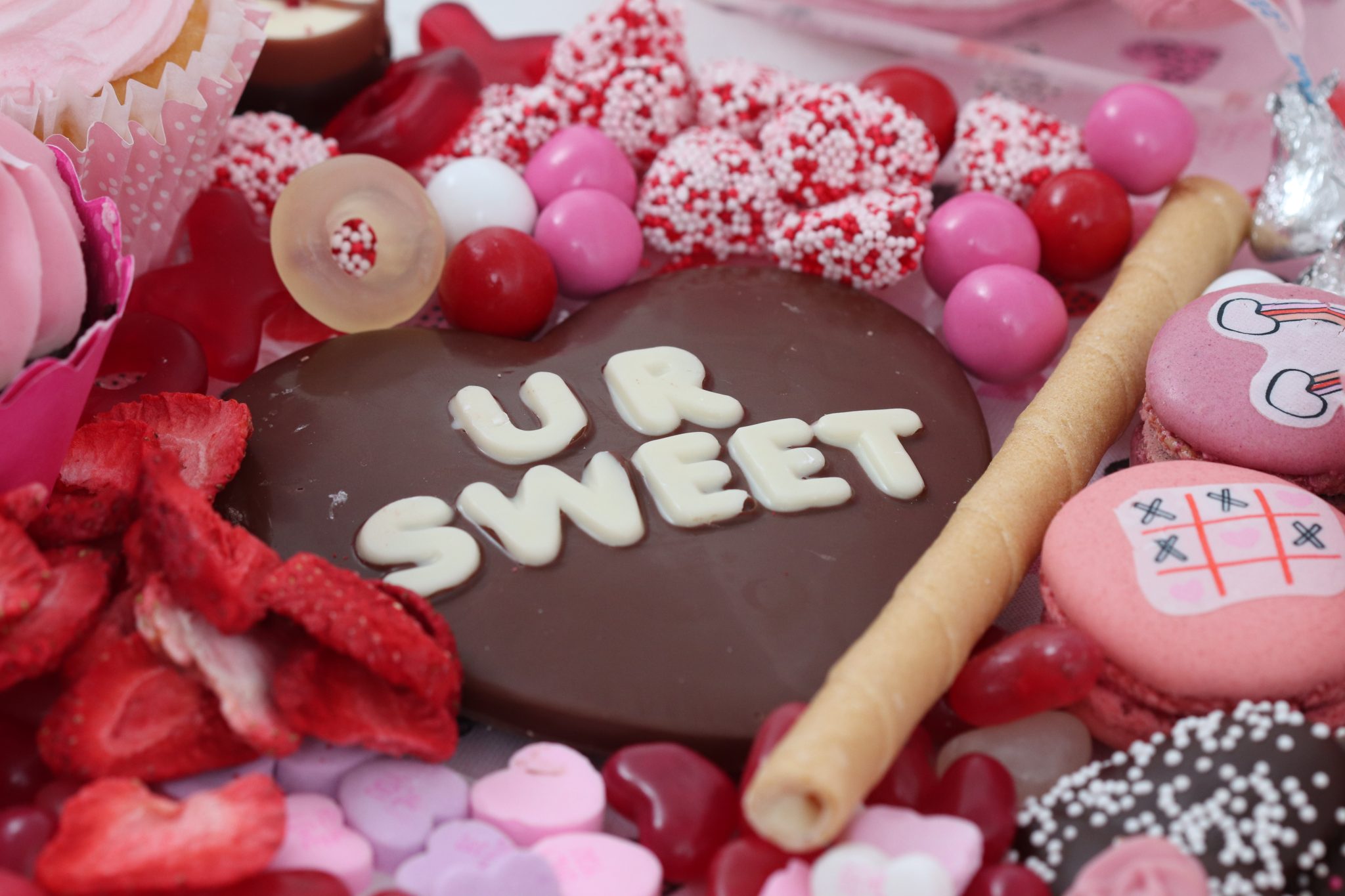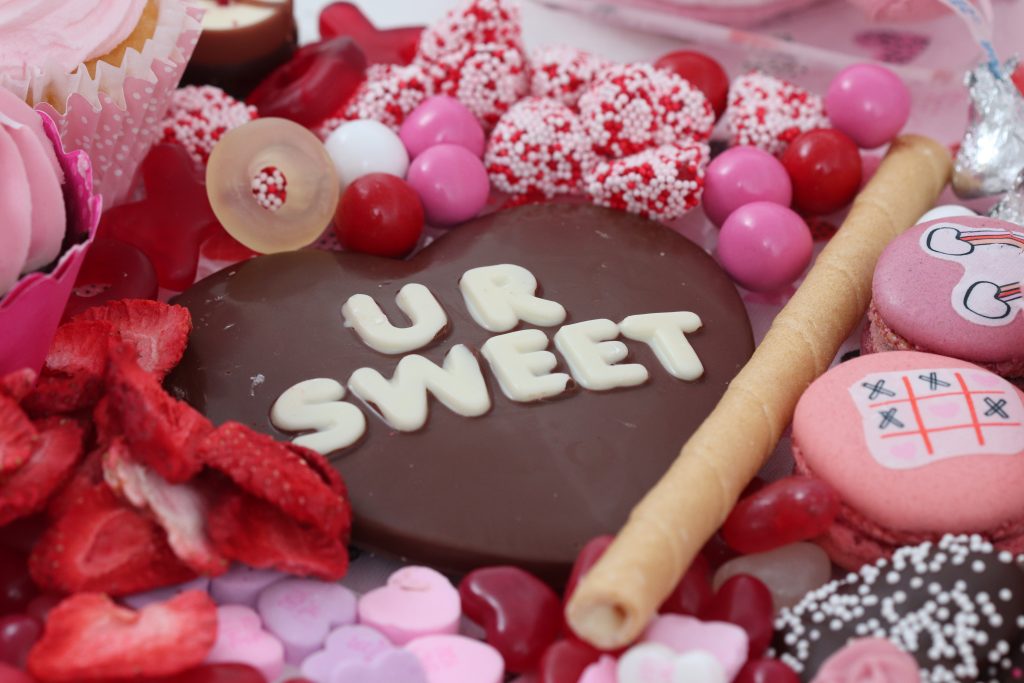 3 – Place big treats first
It's easiest to put all of your larger treats in the tray first. That way, you can make sure your tray feels balanced throughout, and you know how much space you have for smaller items. For mine, I first placed my cupcakes, macarons, and larger chocolate items, making sure to spread them out over the whole area of the tray. Focus on corners and the center of the board.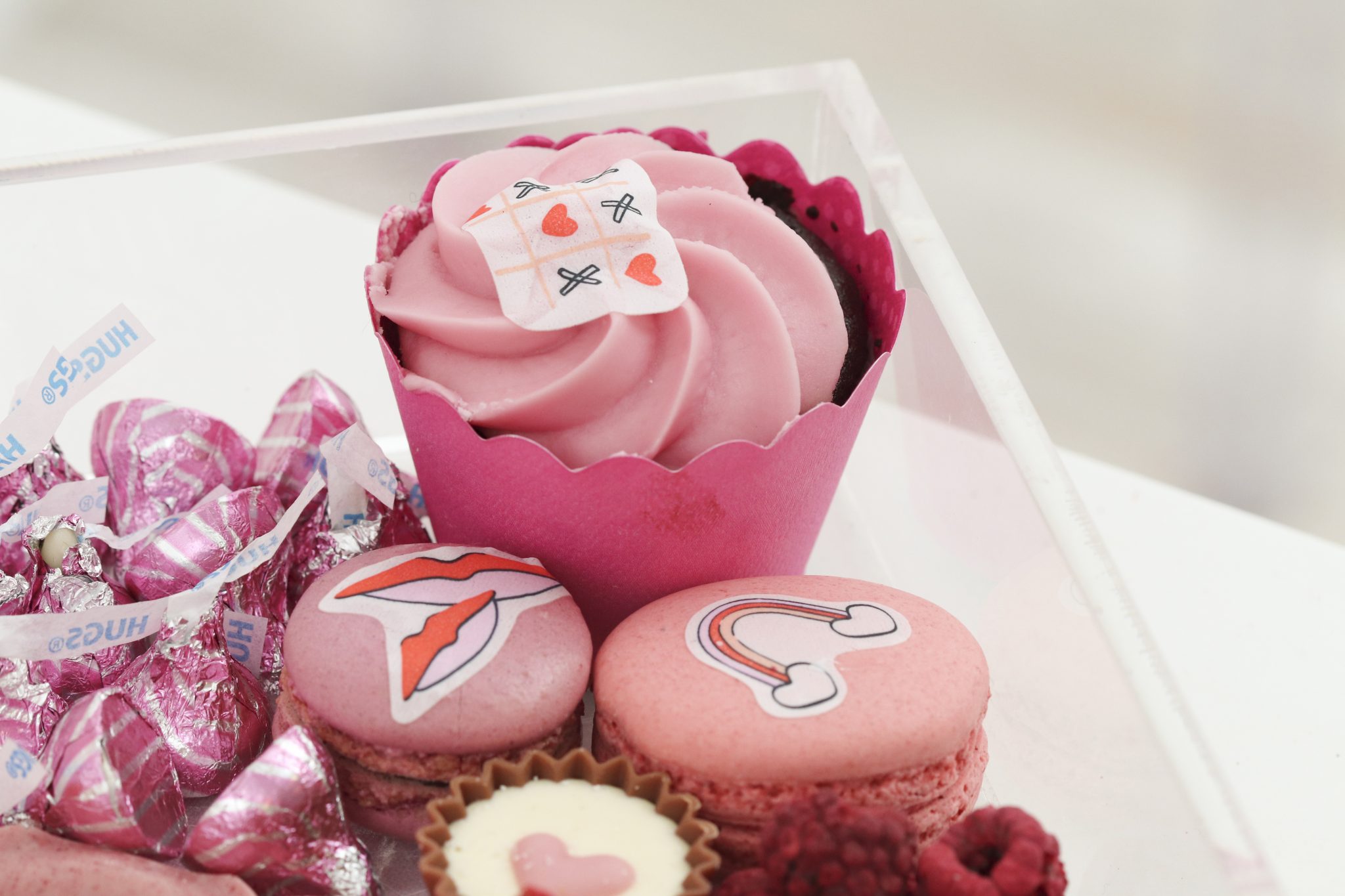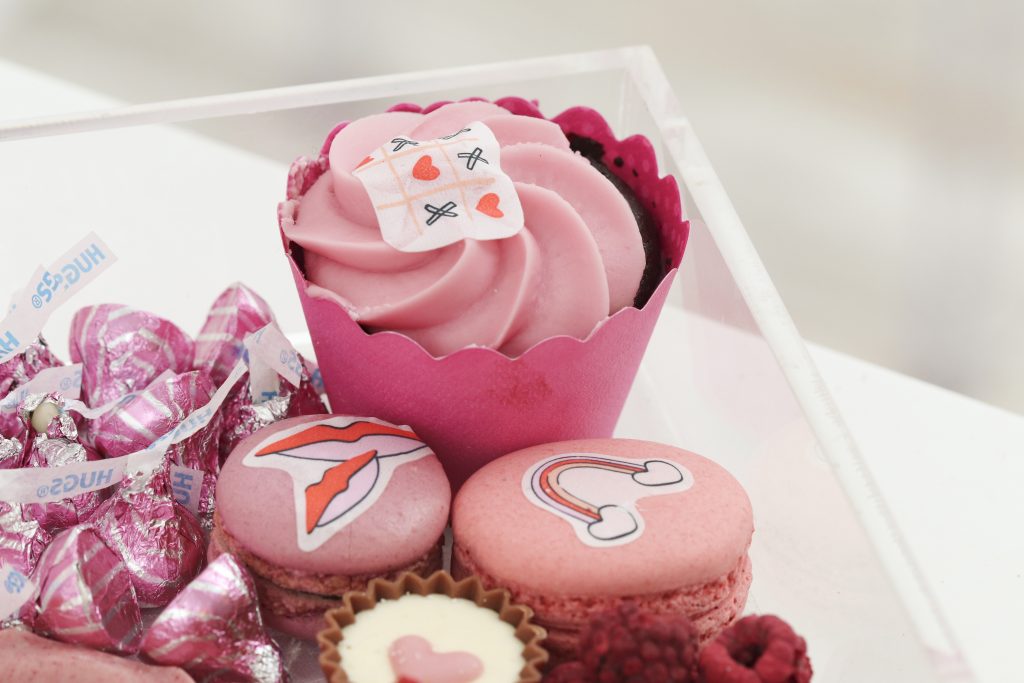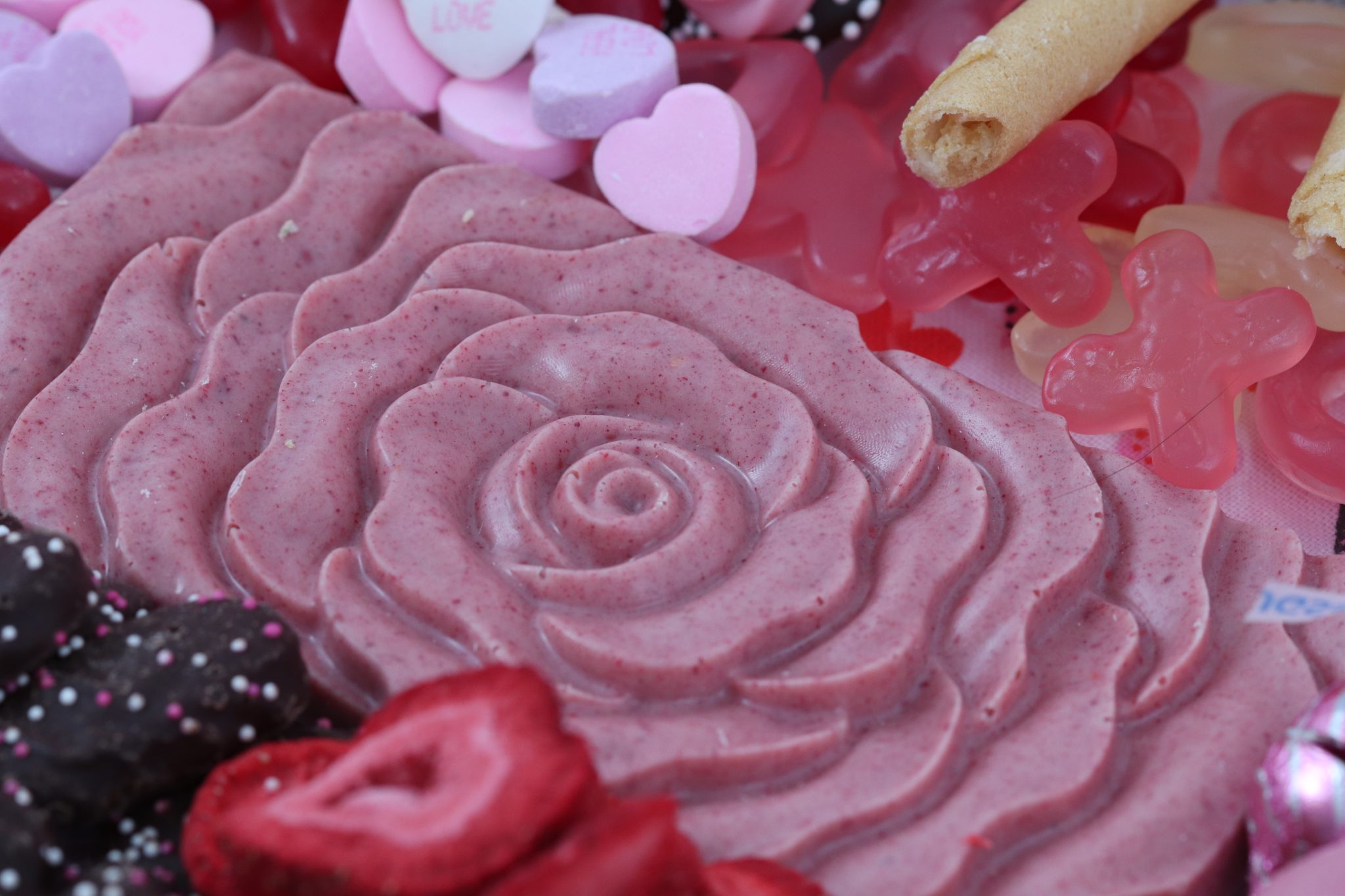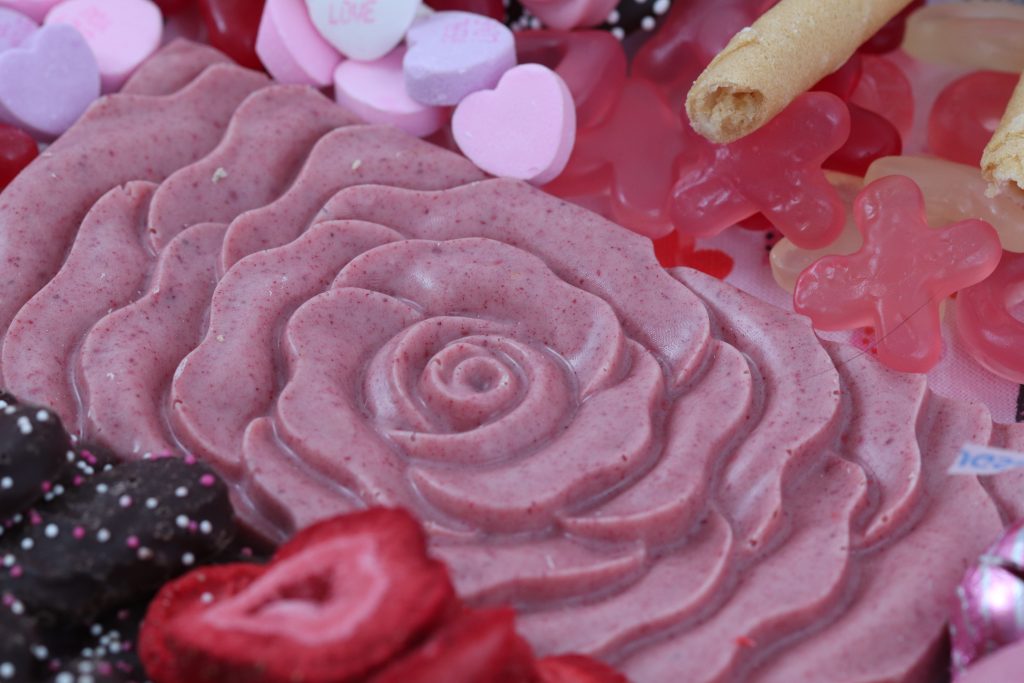 4 – Fill in the spaces with smaller treats
Then, when all of your large items are where you'd like them, fill in the spaces around them with smaller treats. You'll want to use a variety of candies and chocolates, but keep them grouped together to keep things from looking too messy. I tried to break up my colors and textures by separating some of the similarly colored red and pink items with metallic wrapped candies or darker chocolate pieces.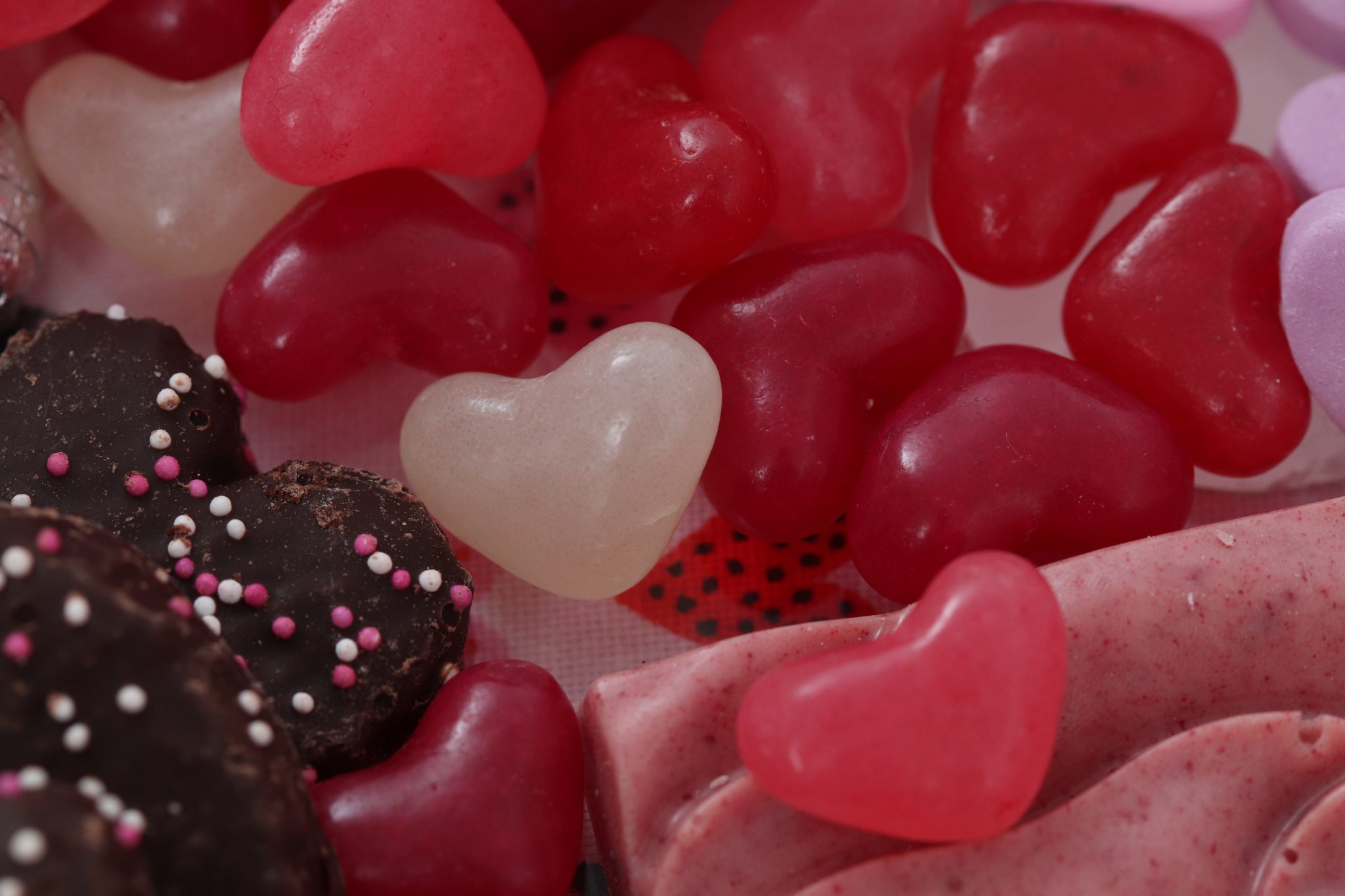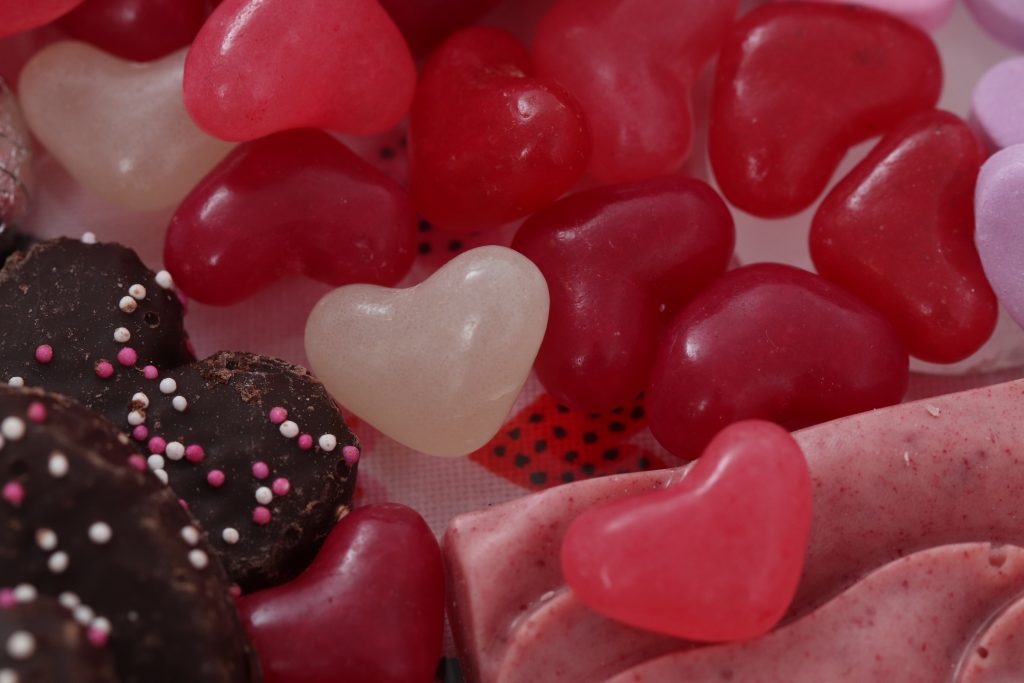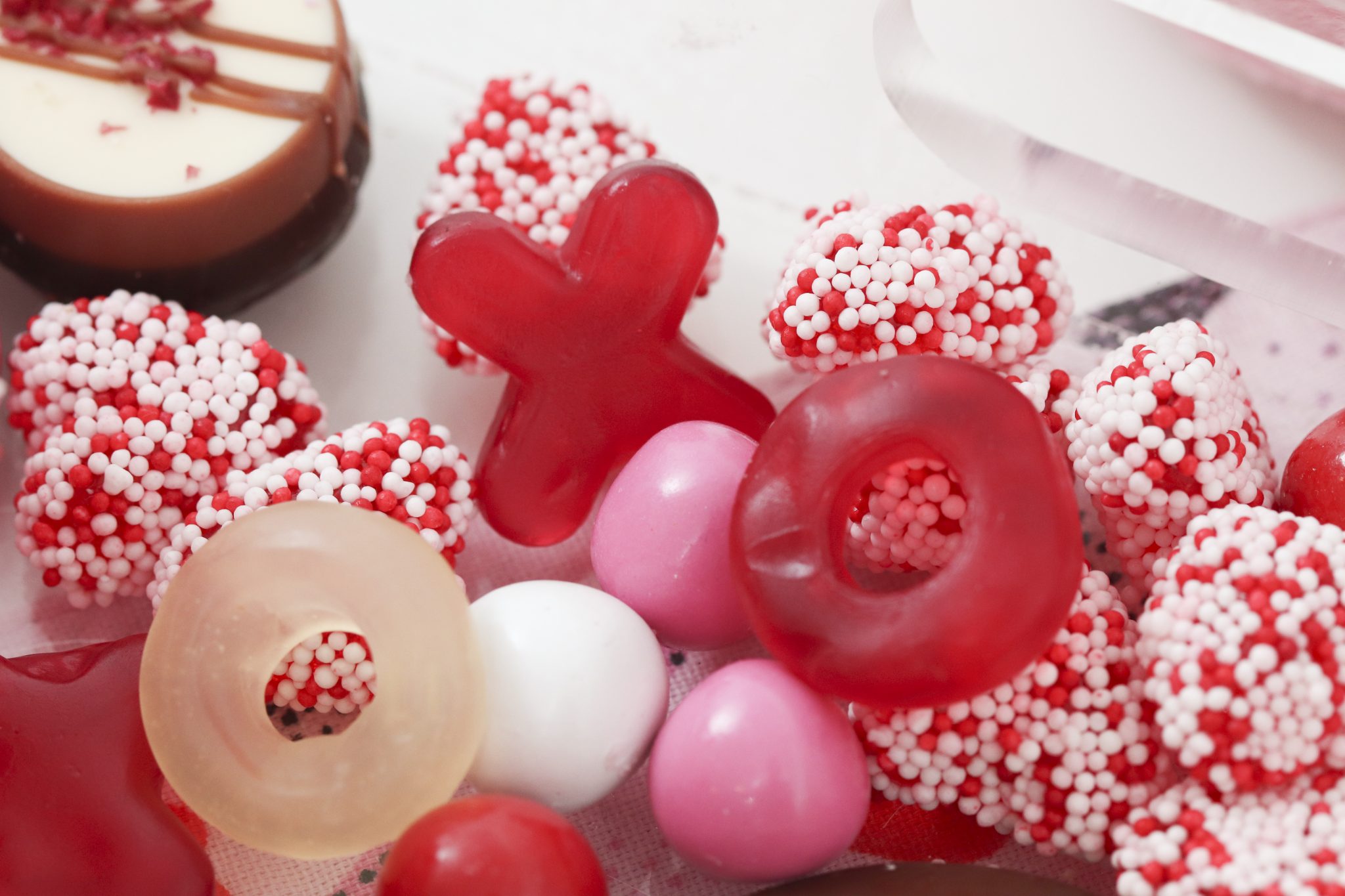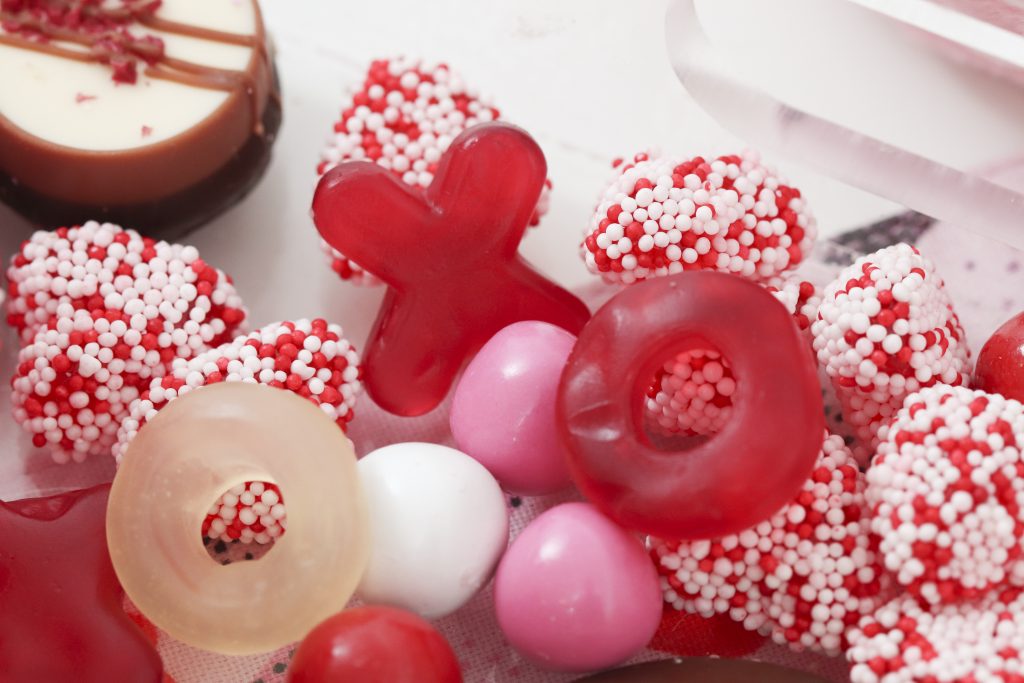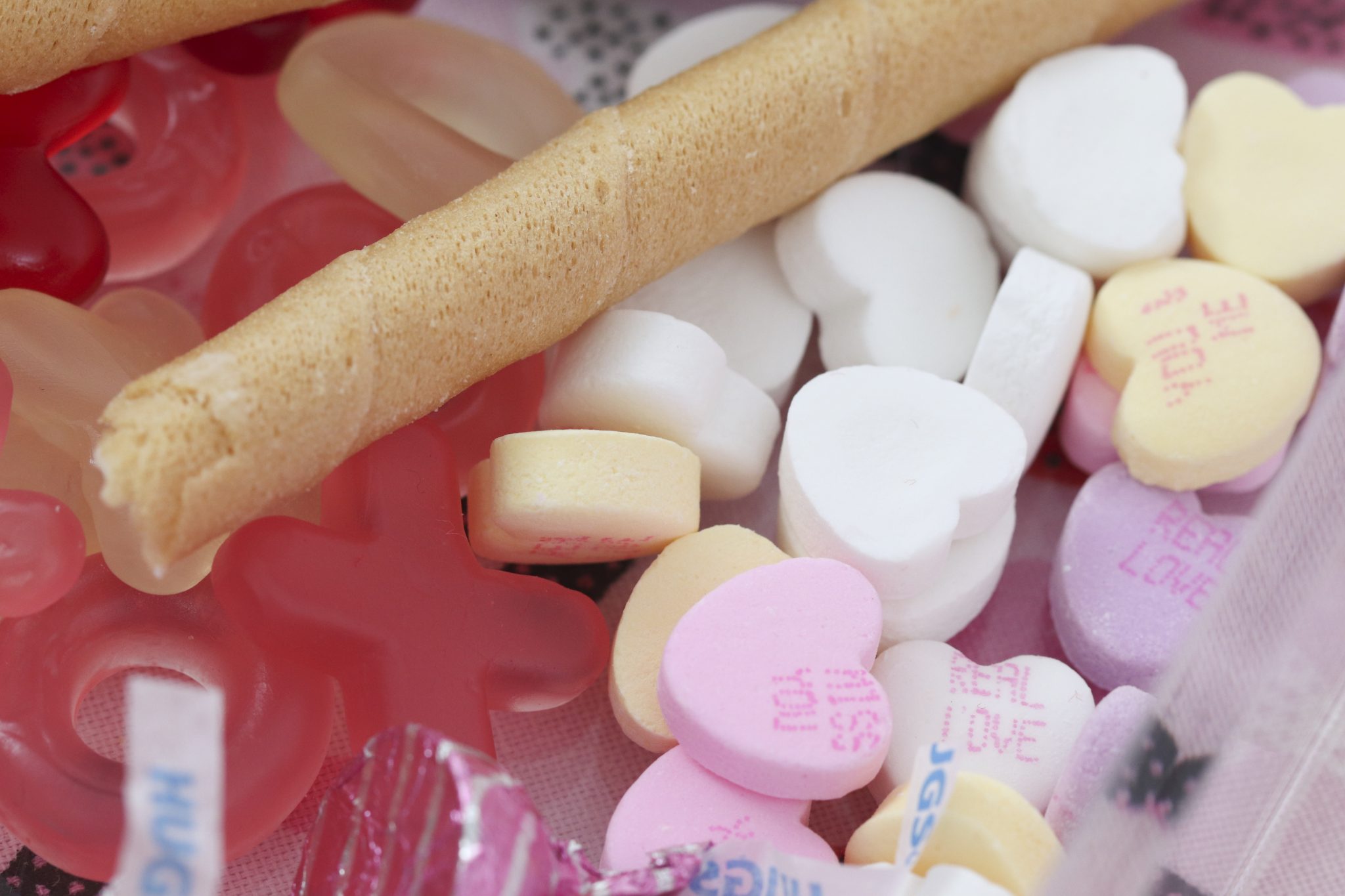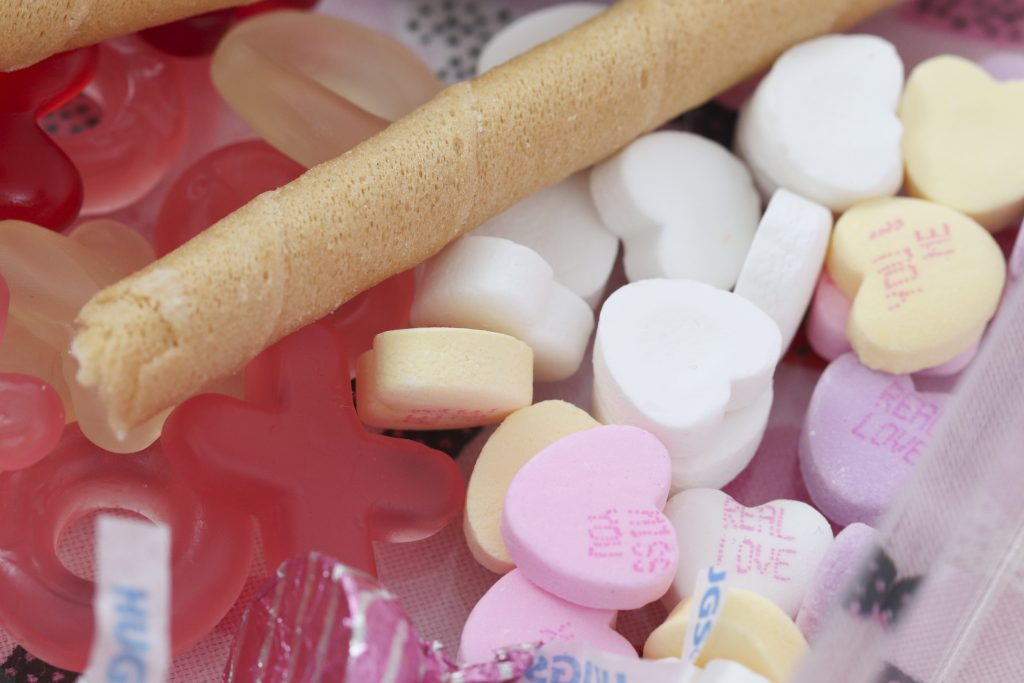 5 – Put the finishing touches on 
Finally, I like to add just a touch of originality to my grazing boards by putting a few unique smaller items throughout. They aren't as easily noticable as the larger items, but they add a fun element of surprise when you see them. In this case, I placed a few Valentine's Day specialty chocolates around the tray.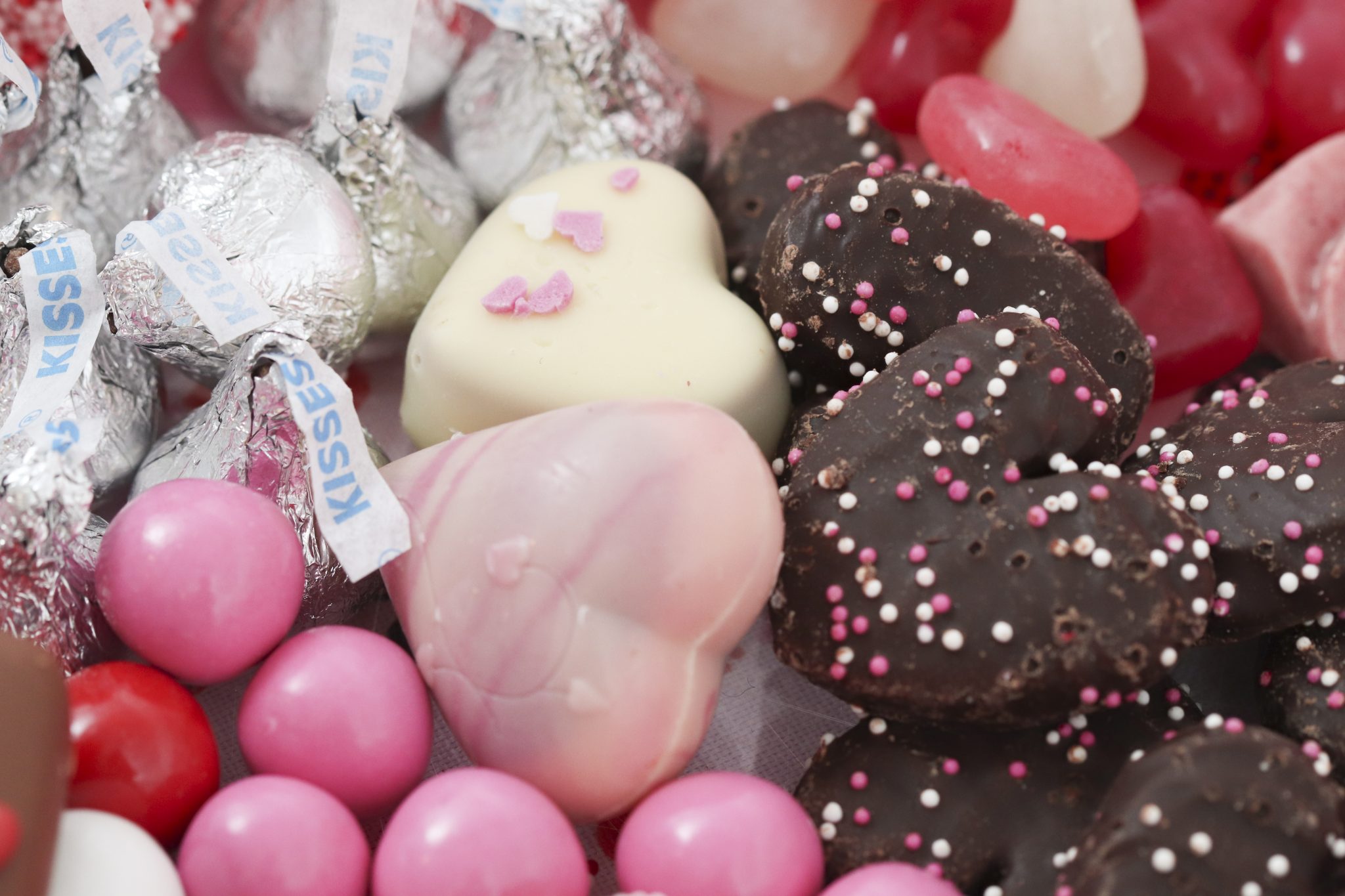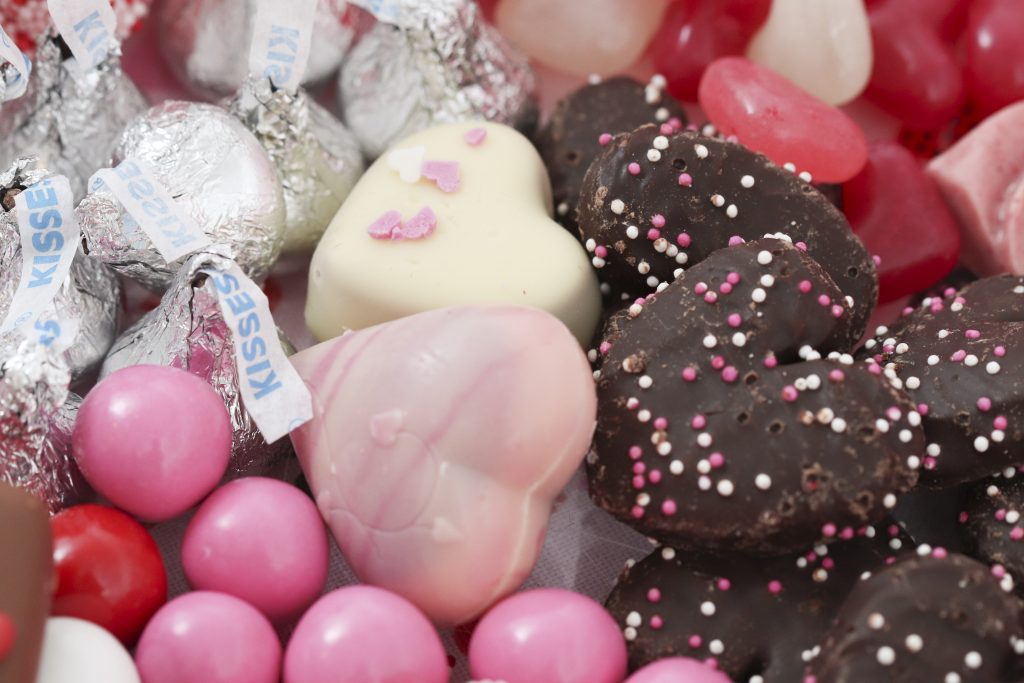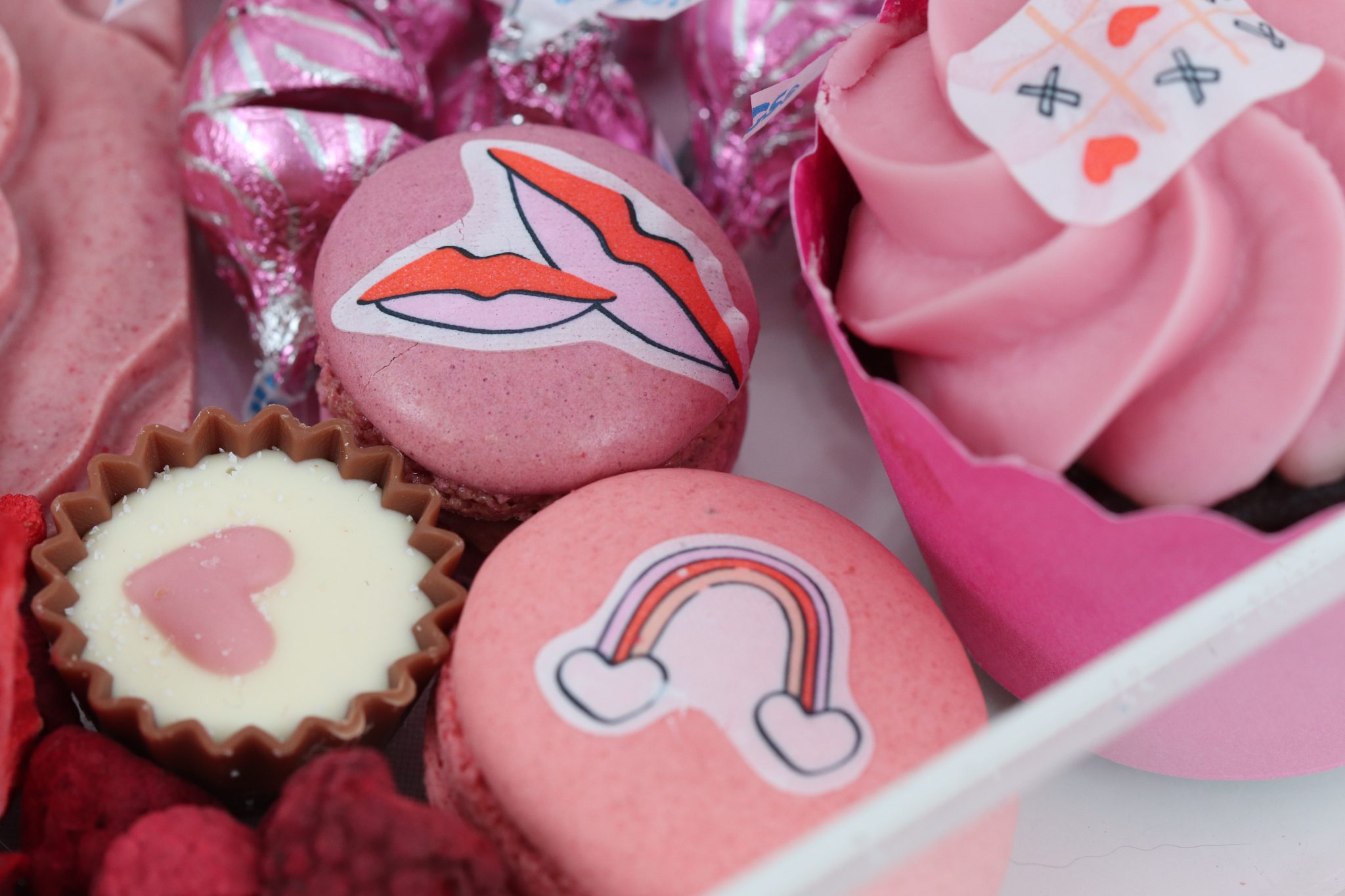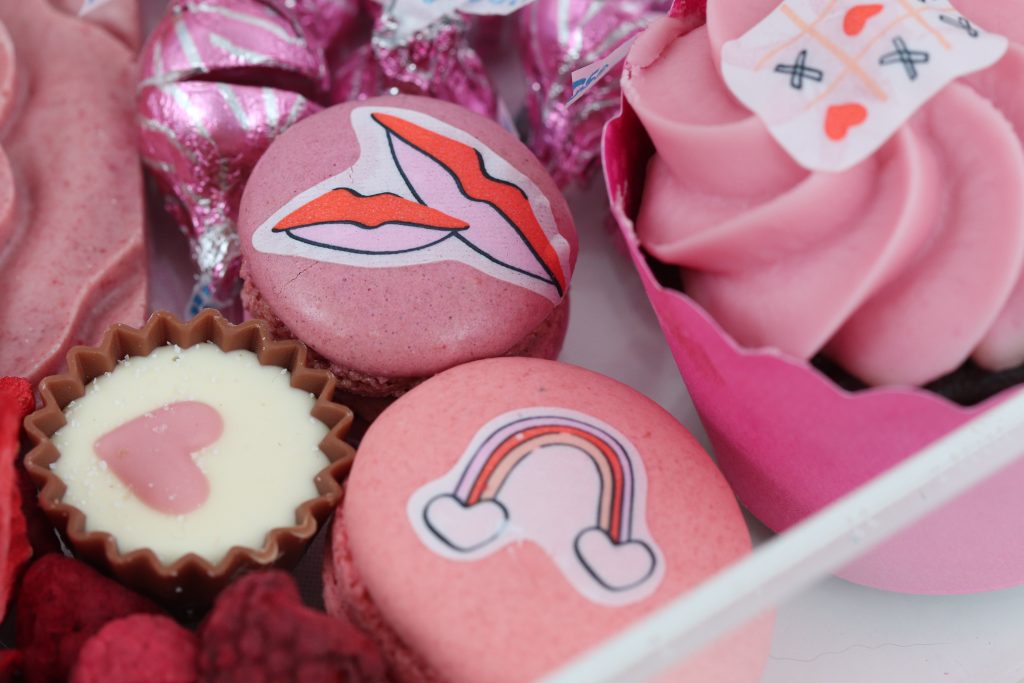 And there you have it! A Valentine's Day dessert grazing board to fall head over heels in love with. So easy to create, yet so impressive at a party.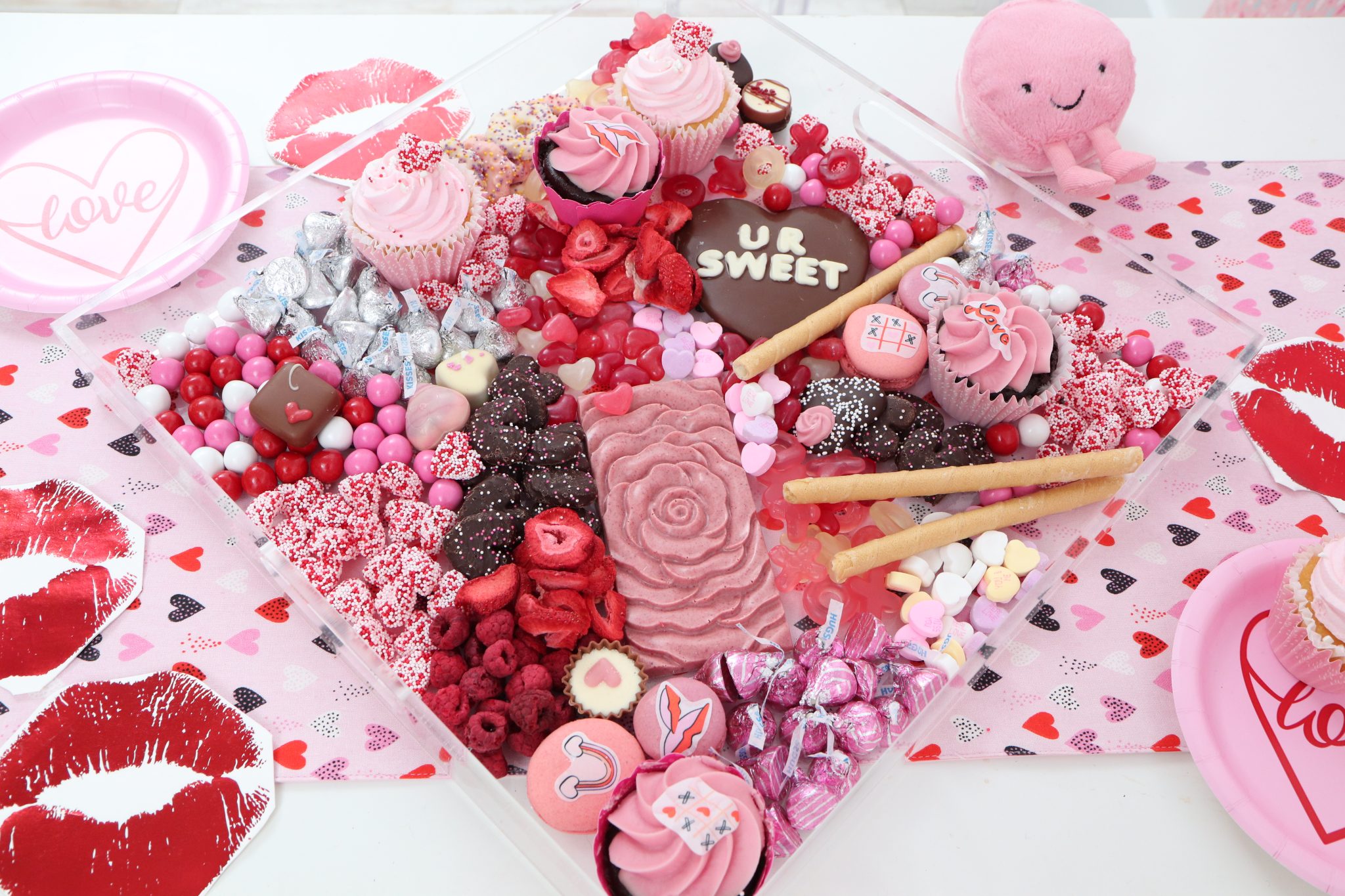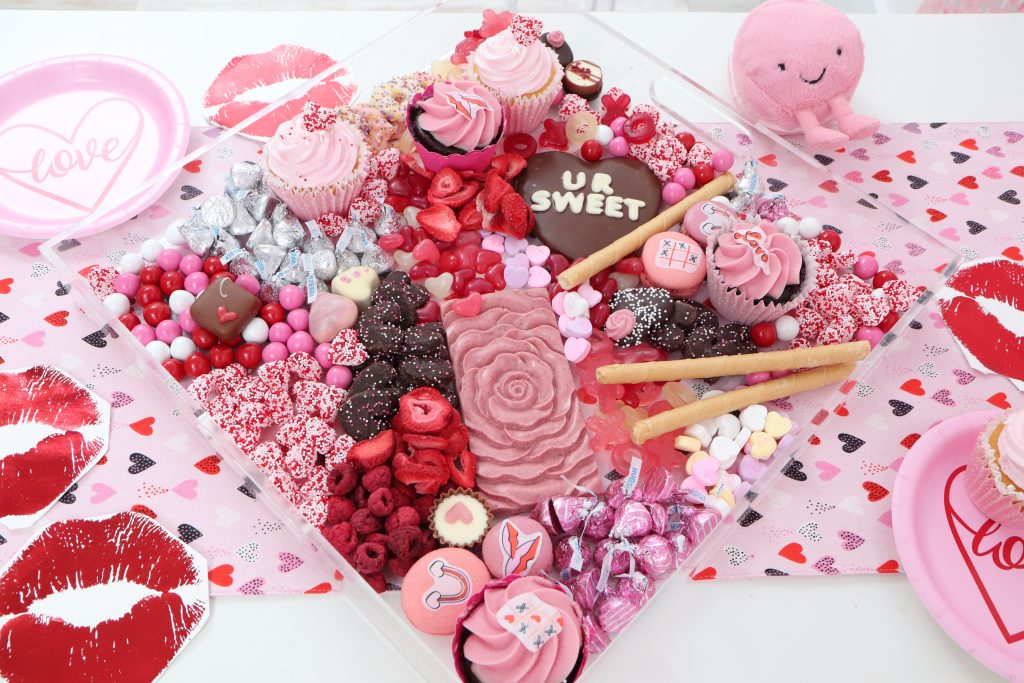 What treat would you absolutely have to include in your Valentine's Day grazing board? Let me know in the comments!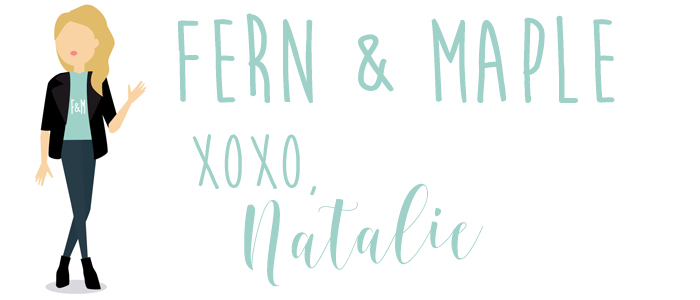 PIN FOR LATER: