To celebrate Thanksgiving this year I teamed up with Evite® and seven other influencers to compile a special #Passthegiving holiday planning guide to help inspire fun and new twists on old traditions. Check out our table of traditions to refresh your holiday celebrations, you'll be able to view and download the entire planning guide and all of the individual contributions over on Evite®
For our family, Thanksgiving really is Friendsgiving.
My husband and I have lived away from our respective immediate and extended families for many years. Even now, with a family of our own, we have moved cities and countries several times, never any closer to our children's grandparents. As such, our friends have taken on a very important role in our lives. It is our close friends that have become our family, those that we rely on, that our children adore….our tribe.
For us Thanksgiving is about celebrating our adopted family. Those in our tribe are also usually living far from their extended families and we have that bond to celebrate. This dinner is about saying thanks to them for all they do – the pick-ups, the sleep overs and more. We want to make them feel special.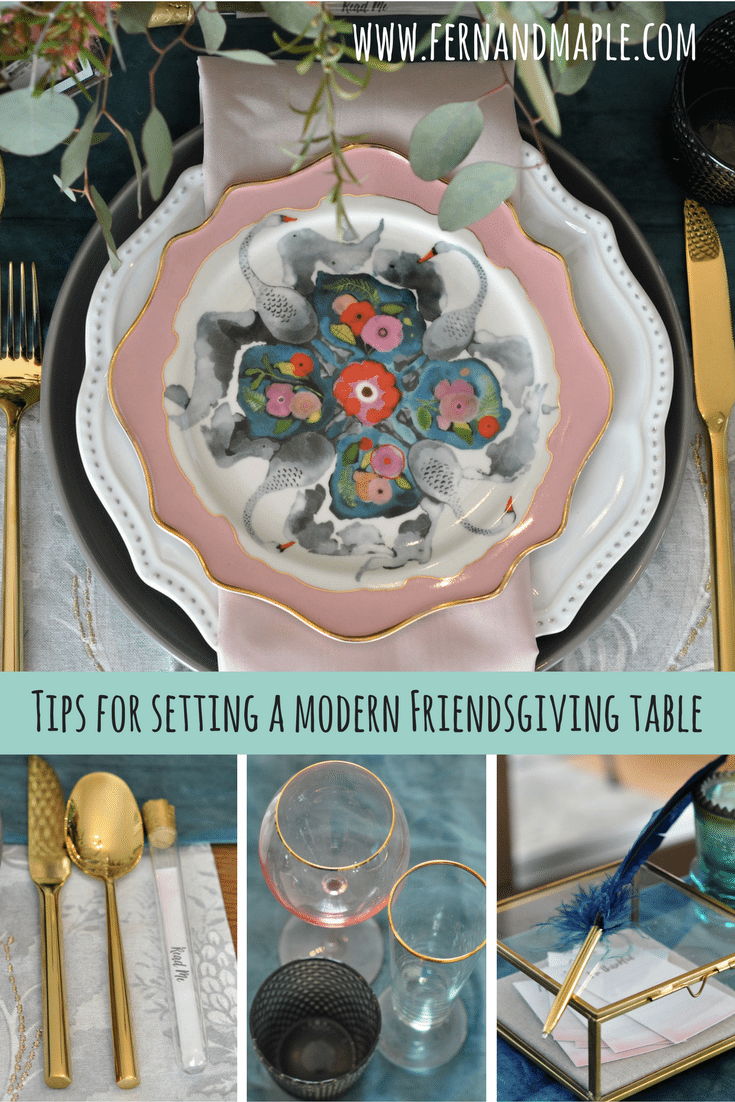 To do this, we have always hosted, and it is one those times of year that I literally "pull out the good china" or splurge and buy something new.
My goal is always to give our Thanksgiving party the warmth that this holiday represents to us all. A stylish treat that has a sumptuous but relaxed vibe. The adults eat together in the dining room and I set up a fireside nest for the kids to eat in the lounge. This usually involves a mini-sized version of our celebration and fireside s'mores.
As our family has not always lived in the United States, we tend to have a non-traditional view of the occasion. I'm opening my door to you and sharing our day, I hope you enjoy my take on a beautiful holiday.
I am an Evite® influencer and this is a post sponsored by Evite® . All opinions and experiences are my own. For further information, please visit our disclosures, page.
Table Setting Traditions & Tips
Traditions
1. Communicating thanks
Even when we were living in Australia we celebrated Thanksgiving with our close friends. We loved sharing Thanksgiving traditions with them and it was here that we had fun establishing our own family tradition that we felt represented the true spirit of Thanksgiving.
We call it the Jar of Thanks. On the outside of the jar I write the date, location and the friends that joined us that year. Inside, I keep the thanks that we gave each other that year, our special memories.
On the day we give out small cards and on these we ask each person at the table (or fireside) to write a message of thanks to each of the others around the table (or fireside).
Each thanks is then put it in a box on the table and during dinner we draw thanks out of the box, taking turns reading them out. This means you rarely read your own, a fun twist that for the kids sometimes makes saying thank you a little easier.
As we started this from the very beginning of the children's lives it has become something they very much take part in. I really want the children to take that moment and learn how to verbalize what they feel and realize how wonderful it is to communicate these feelings.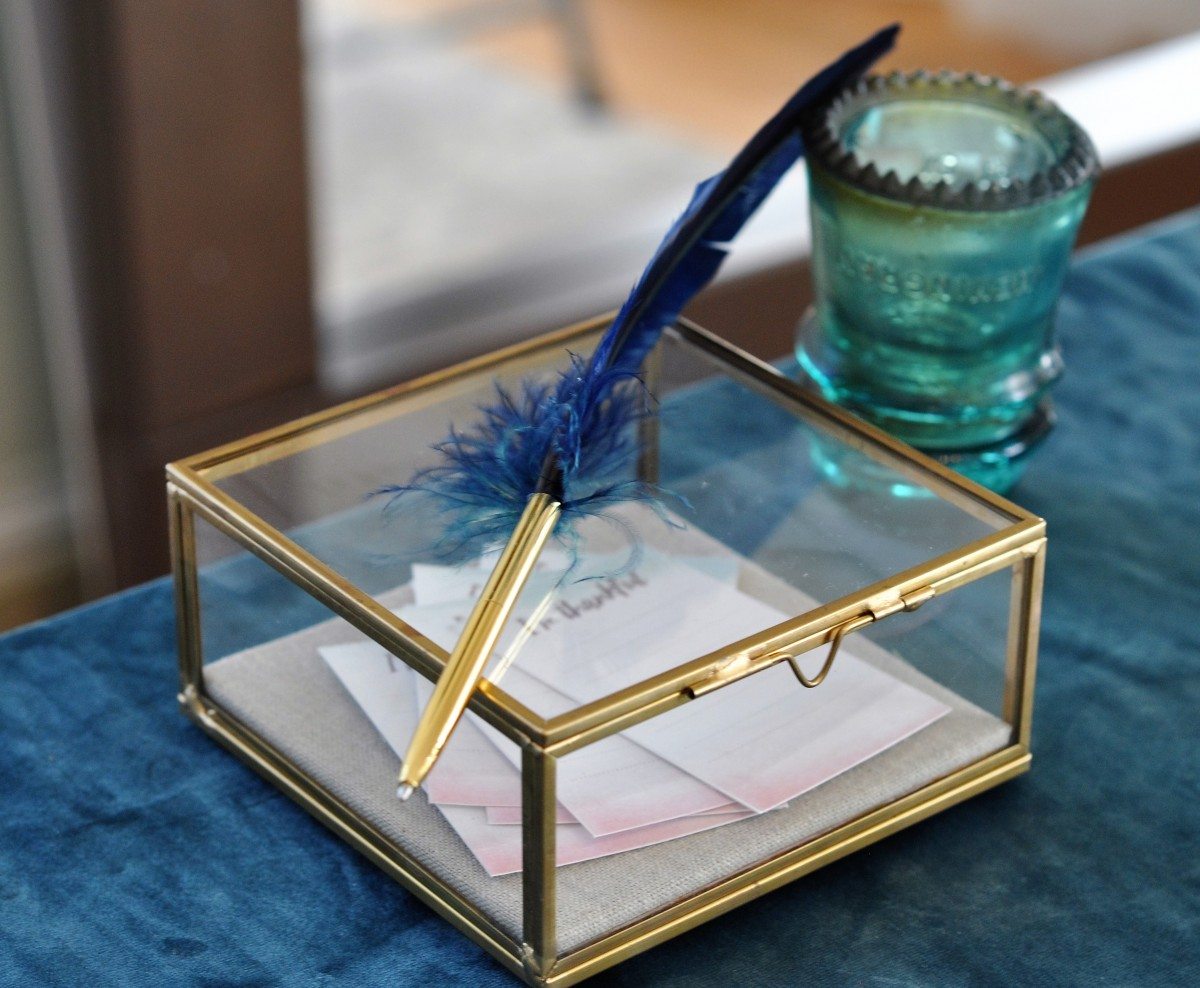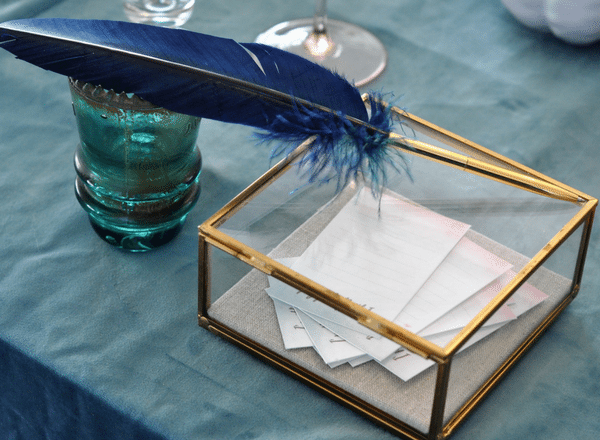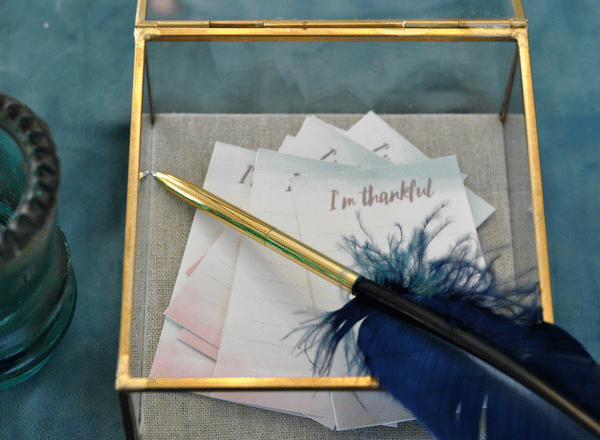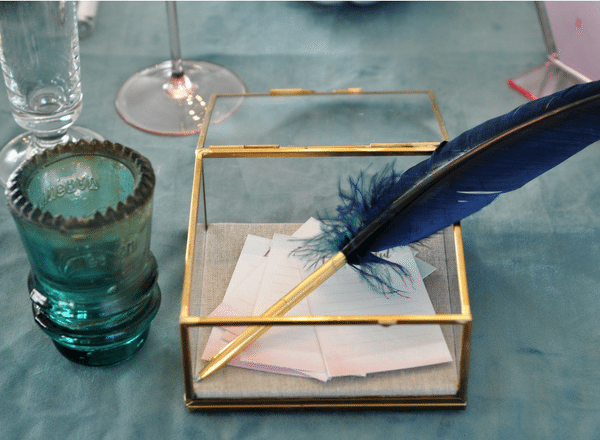 2. Feeling at Home
The only thing we ask of our friends (and each other) is that everyone brings one contribution that reminds them of their Thanksgiving or that represents themselves.
Over the years, this has bought wonderful things to our table. Our Australian friend, a bartender, created a unique drink.
My friend Sara & her family are from the South. We have celebrated with them for the last 3 years in San Francisco and she always brings a new yummy Southern side.
This year my friend Susan and her husband are joining us. Susan is an amazing florist and totally gets where I'm going with anything. Very rare! She created a beautiful centerpiece for our table..
This year, to represent my family, I incorporated my mother's gold rimmed glass flutes. I still remember her excitement buying these. As for David, well his contribution is always football! We must, I repeat must, host dinner that is timed to allow plenty of time for football viewing. My son is now addicted to football!
I really think it is important that we all have something that makes us feel at home and invested in the occasion.
This year I am adding one more fun element: an after dinner fortune. This is a really personal element as I am making a fortune that is written specifically for my friend and I'm writing it in my scribble.
Here are some of the other traditions I have in addition to some tips for hosting your own Thanksgiving dinner.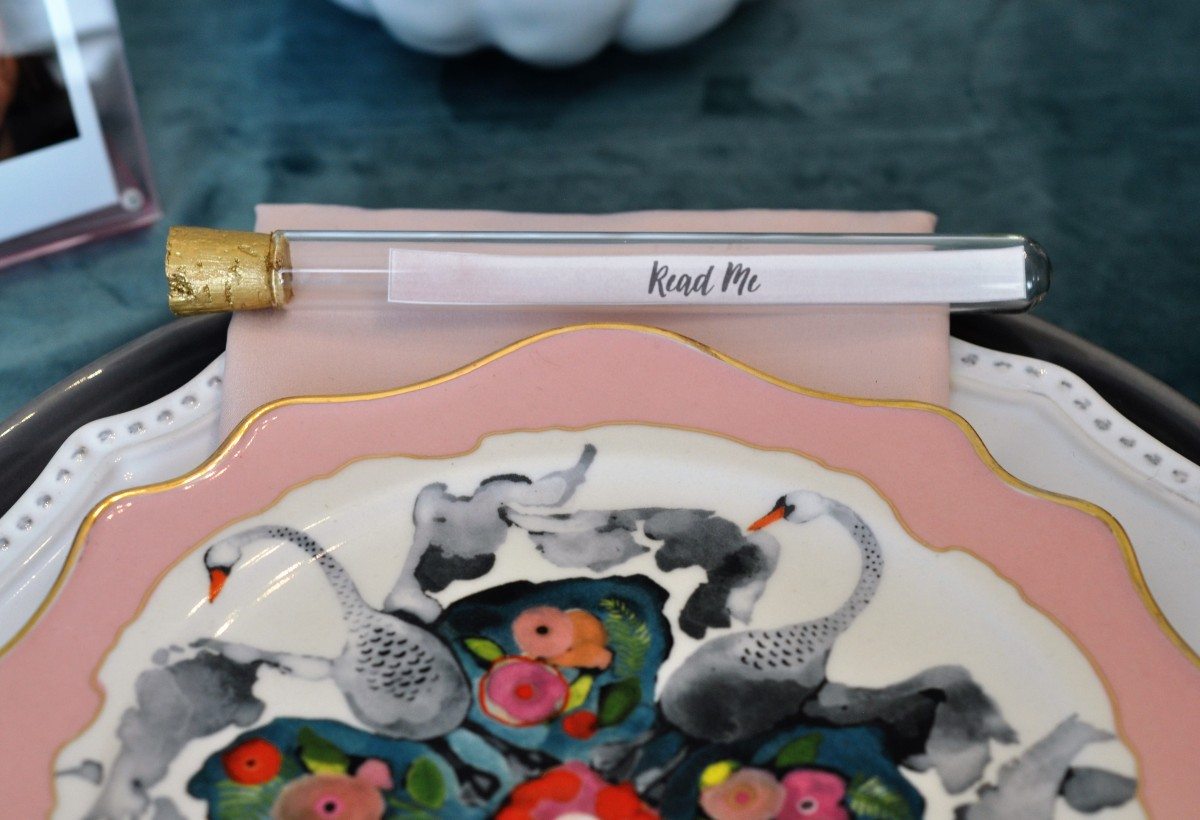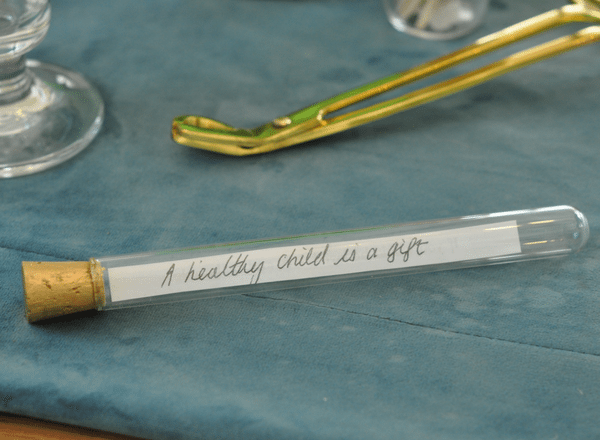 Hand write your message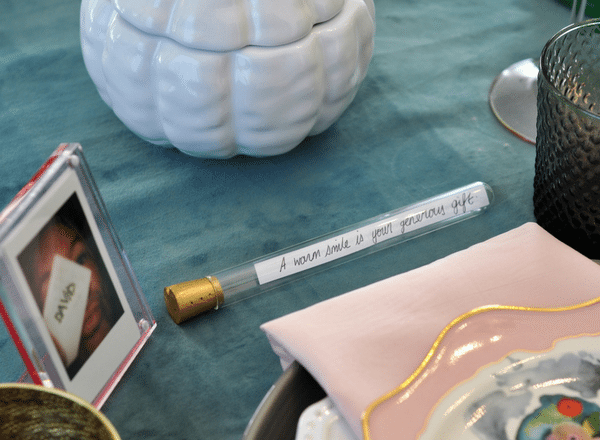 Use a test tube, paint the cork gold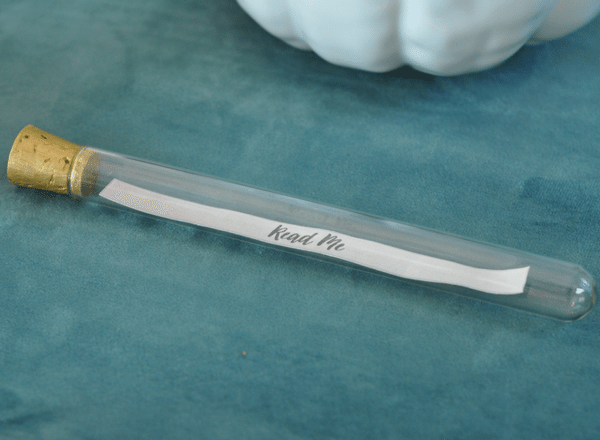 Read Me!!
3. Set the table early
A tradition I maintain every year is setting the table the night before Thanksgiving. Honestly sometimes I've even set it a couple of nights before and made small changes over the next couple of days.
The kids love this of course because it means they get to eat out in the living room for a couple of nights. It is something I've always done and the kids have learned not to touch!
It's just so much more relaxing and gives me time to really think about where I place everything, giving me time to change things.
It's really common for me to start with the setting and end up with a very different look. I spot something I have around the house that will work well and that can then give the table quite a different look. I love to incorporate unusual elements from my travels or forays into flea markets.
This year this "pause" meant I incorporated a few extra elements, a bunch of fresh smelling sage and a green glass power line cap. The color of the power line cap worked in perfectly with the velvet and I used it to give the look of an inkwell to match a feathered pen I had found, another last minute find.
Now early set-up has become a relaxing ritual and it means when my guests arrive I am not a frantic mess trying to get the table set. Less stress is better!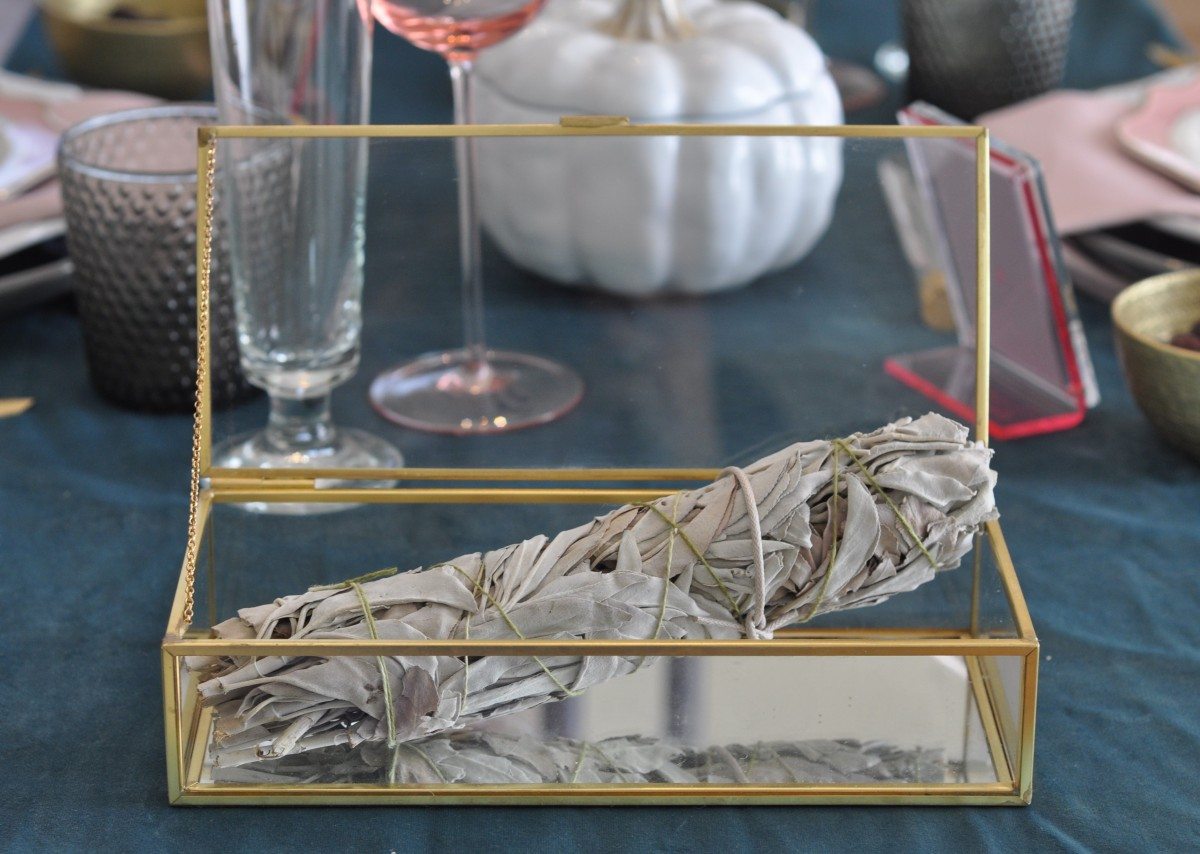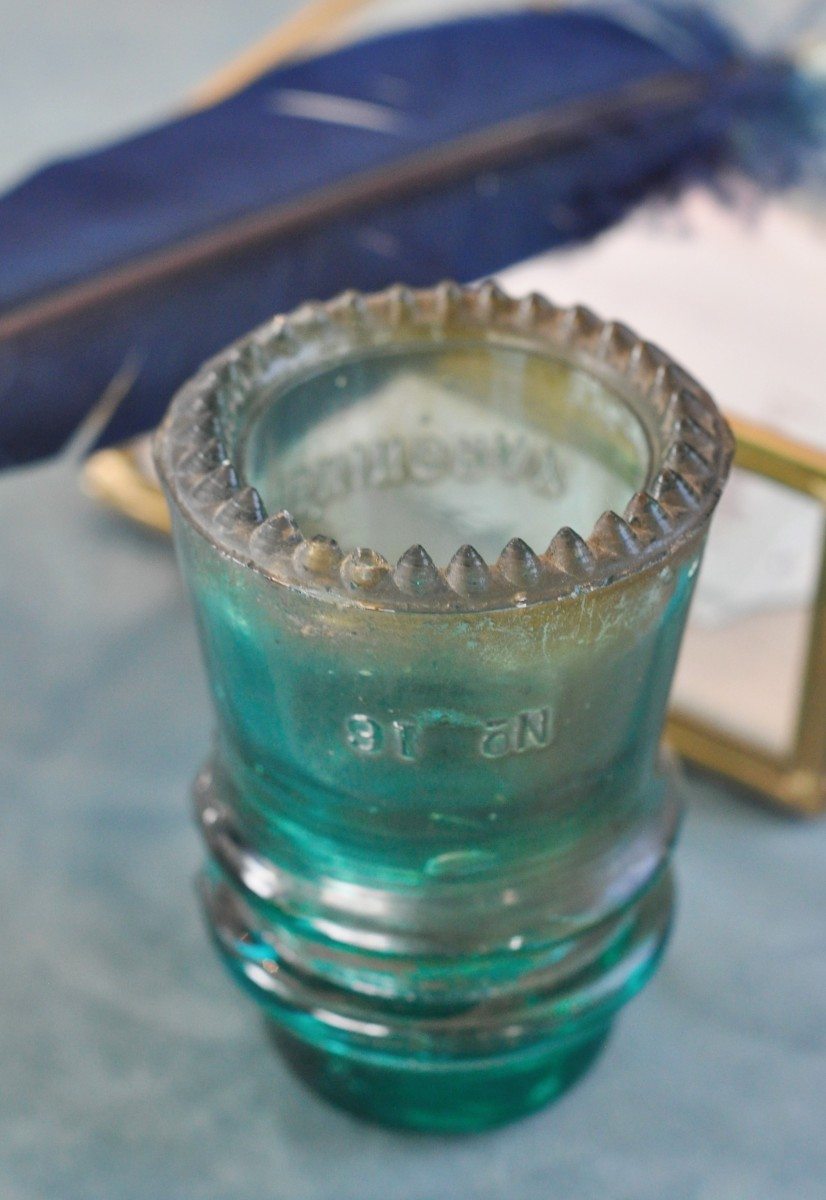 TIPS
Go with a palette you love
Don't be scared to try out a table setting that isn't traditional, you don't have to use browns and oranges for Thanksgiving or fall.
Why not try a new palette or one inspired by that one unique find. This year I was inspired by a gorgeous swan plate with tones of jade, blush pink and grey. Once I saw it I couldn't go past it.
Using non traditional colors in an unexpected way creates a memorable table. Fall comes in many colors and you can achieve warmth and elegance with many color combinations.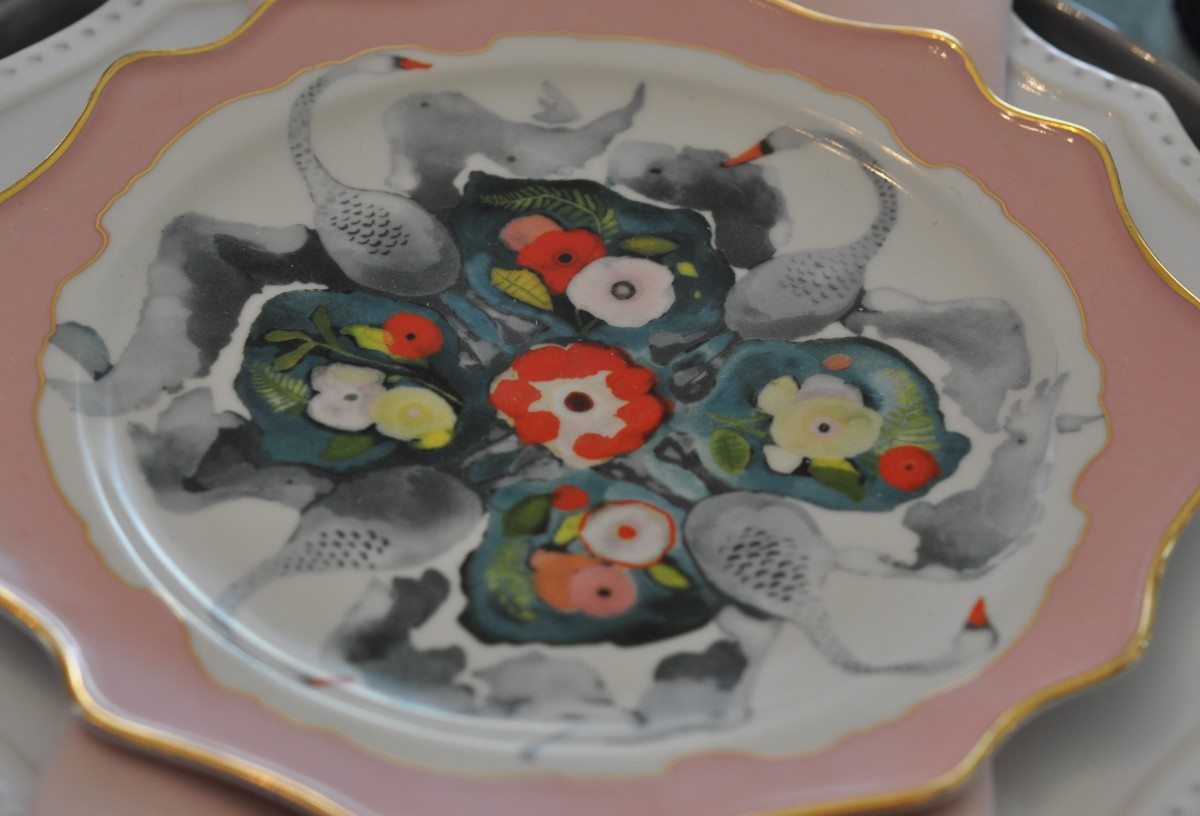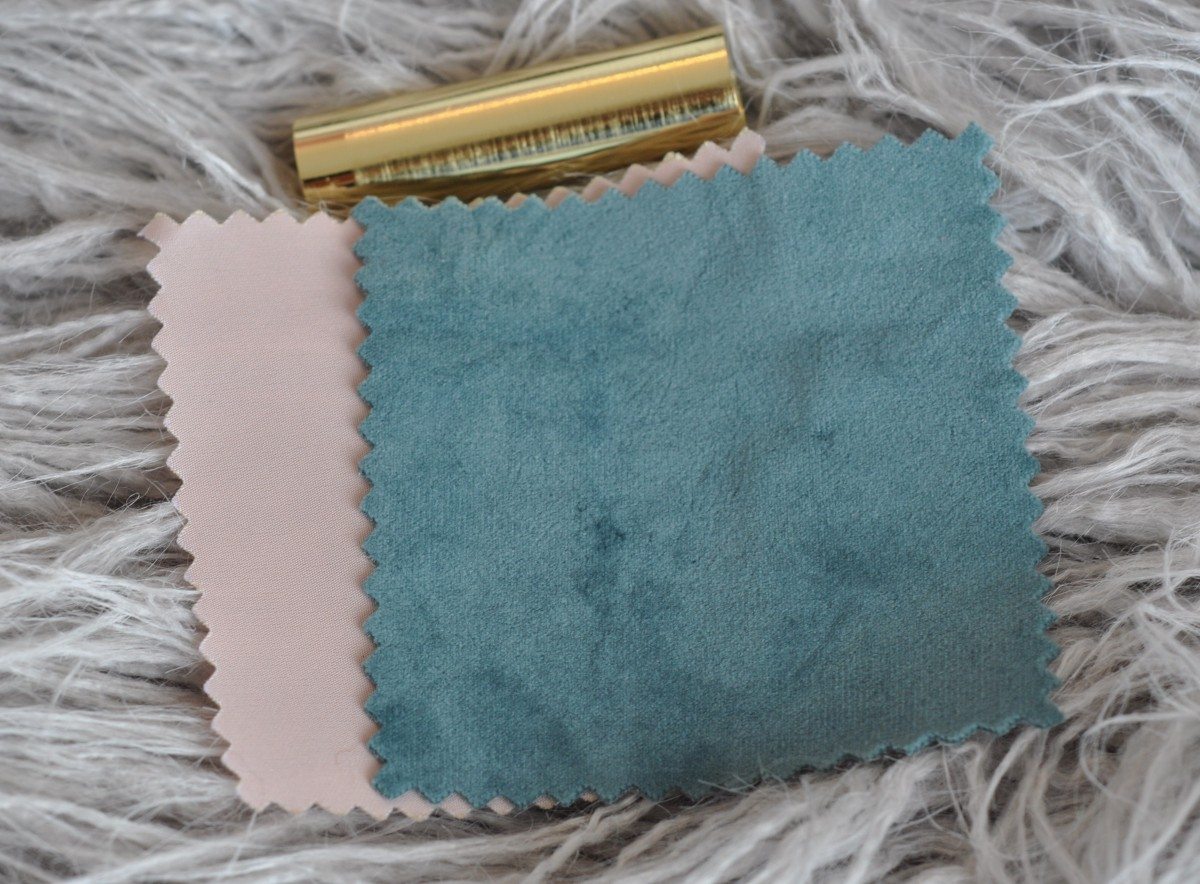 2. Bring nature indoors
Unexpected foliage can really add to the table setting, layering of different colors and leaf styles create depth and richness. I also love the inclusion of fruits and other unique elements. This year Susan incorporated olives on the stem, I love the reference to the olive branch. There are also stems of eucalyptus which have the beautiful green of the table runner and the benefit of reminding me of Australia. While smoke bush and agonis bring in the smoky grey of the swan plate. For fruits & vegetables you could try out some of the stems she incorporated, artichokes, lady apples and kumquats.
To me this arrangement represents what fall is all about, the changes in and elements of nature that are available in fall.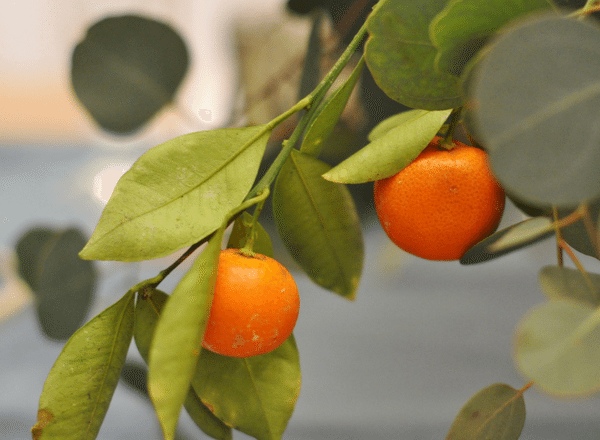 Hanging fruit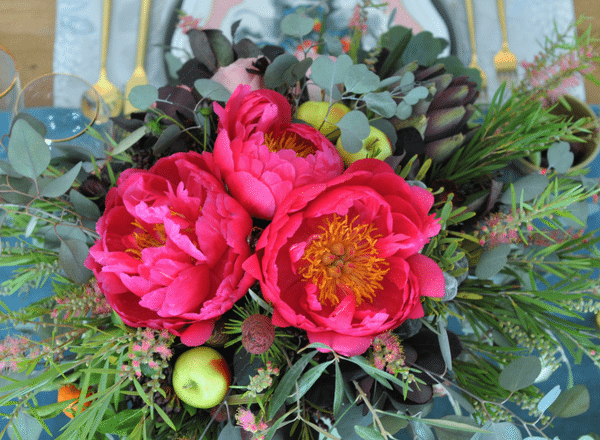 Eucalyptus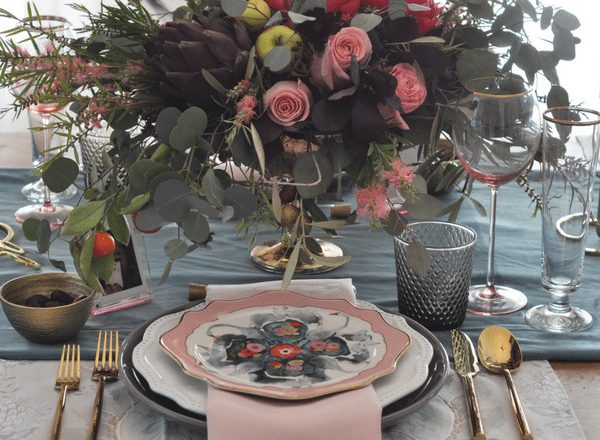 Artichokes and Olives
3. Have fun with layers
For an elegant and stylish look, use layering. From table linens (or absence of), to placemats, chargers and plates. You can even look to incorporate small individual serving dishes for each guest. I've used a small dish of olives for pre-dinner snacking and individual sweet potato sides.
Remember elements don't need to match perfectly, in fact a mix & match of textures and elements can be stunning. I kept the natural wood of the table, layering it with the velvet of a runner, cotton linens, china, brass, metal, glass in different textures and even a modern acrylic frame.
I also mixed the glasses, a smoky gray, a pink and gold wine glass and a clear flute with gold rim. Try copper or gold to add glitz and glamor. Look out for items that can be used in unexpected ways. This year I found gorgeous kitchen towels which I used as placemats. They had an elegant pattern and a touch of gold embroidery that fit perfectly.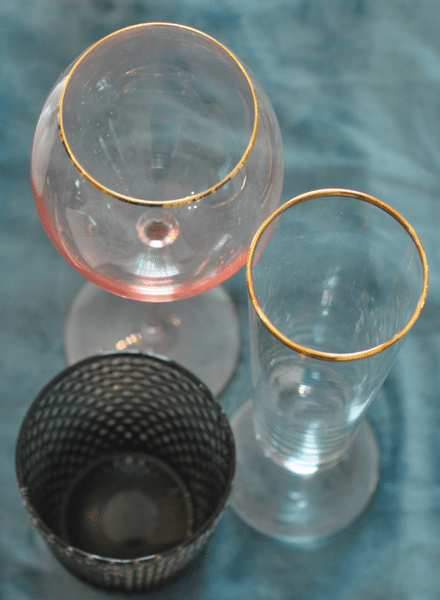 Gold & Glass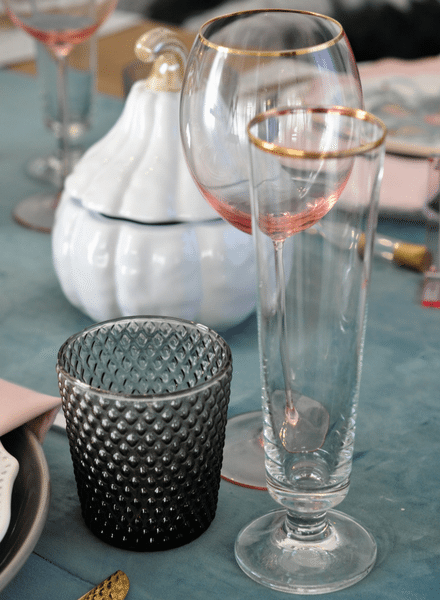 Smokey gray and pink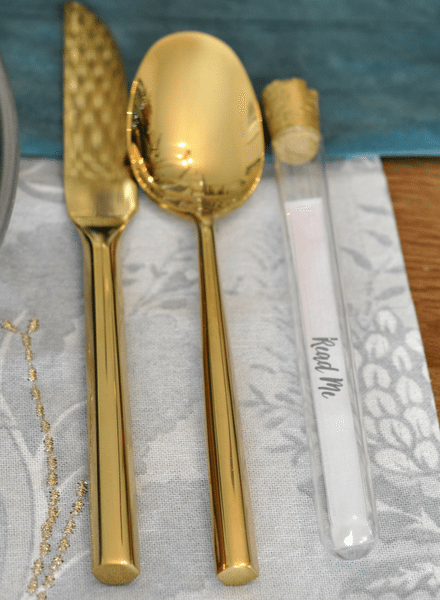 Metallic gold
4. Don't forget comfort
a) Seating
In our house we tend to stay at the table for quite some time talking. We take our time with dinner and while we are at the table I don't want anyone to feel uncomfortable. Soft comfortable seating is a must and it doesn't have to be the chair itself that is comfortable, you can use cushions, faux fur or throws over chairs. It can also really add to your look and ambiance,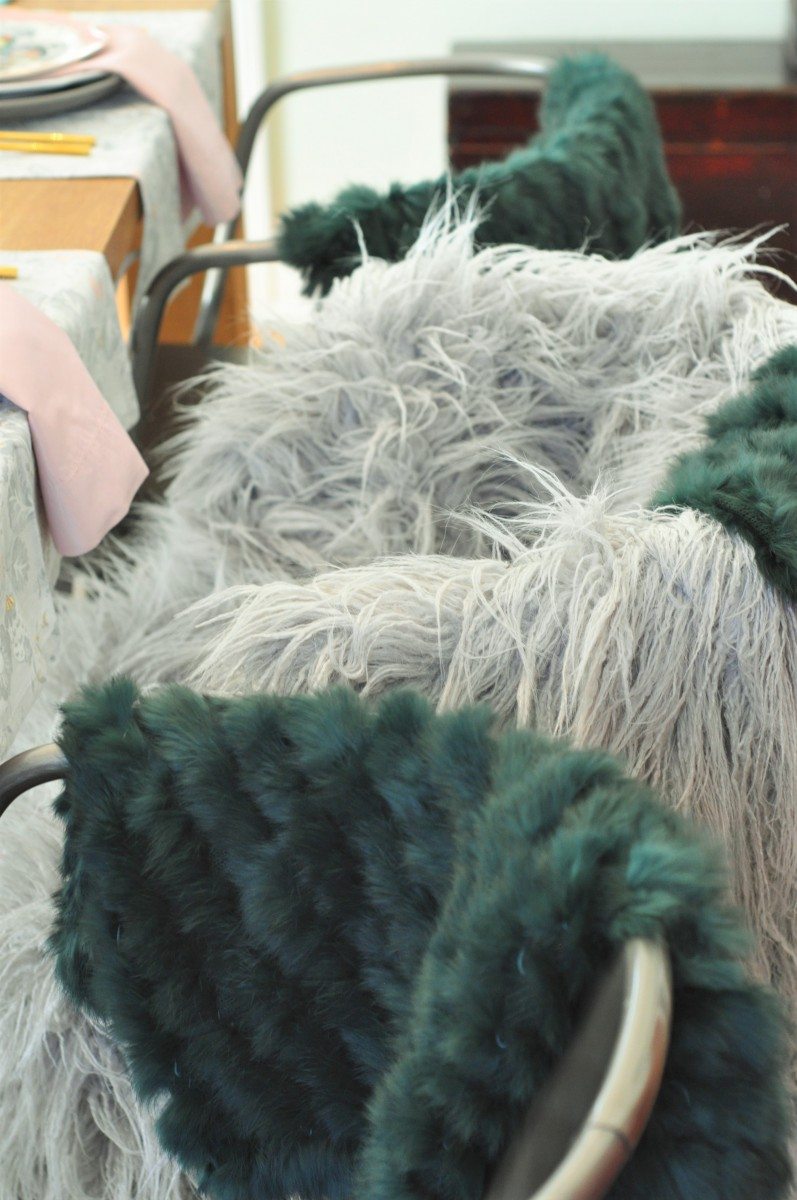 b) Lighting
What can I say? Candlelight. It makes everything look and feel better.
c) Eye contact
I am not afraid to use tall elements on a table, candles in particular are stunning. However I like to keep the main centerpiece between guests low. I'm all about the laughter and conversation, I just can't do that if there is something blocking my eye contact.
d) Less clutter
There are only so many things you need on the table. I don't want anyone sitting there "holding the plate" just waiting for an open space to off load. So I try to stick to the food basics on the table. Cranberry sauce, salt, pepper, butter, gravy and our place setting. The remainder goes to the sideboard. The turkey and side dishes can be passed around and then placed on the sideboard which is nice and close. It's easier for my husband to carve from there and then still close for me to top up the dishes during the meal.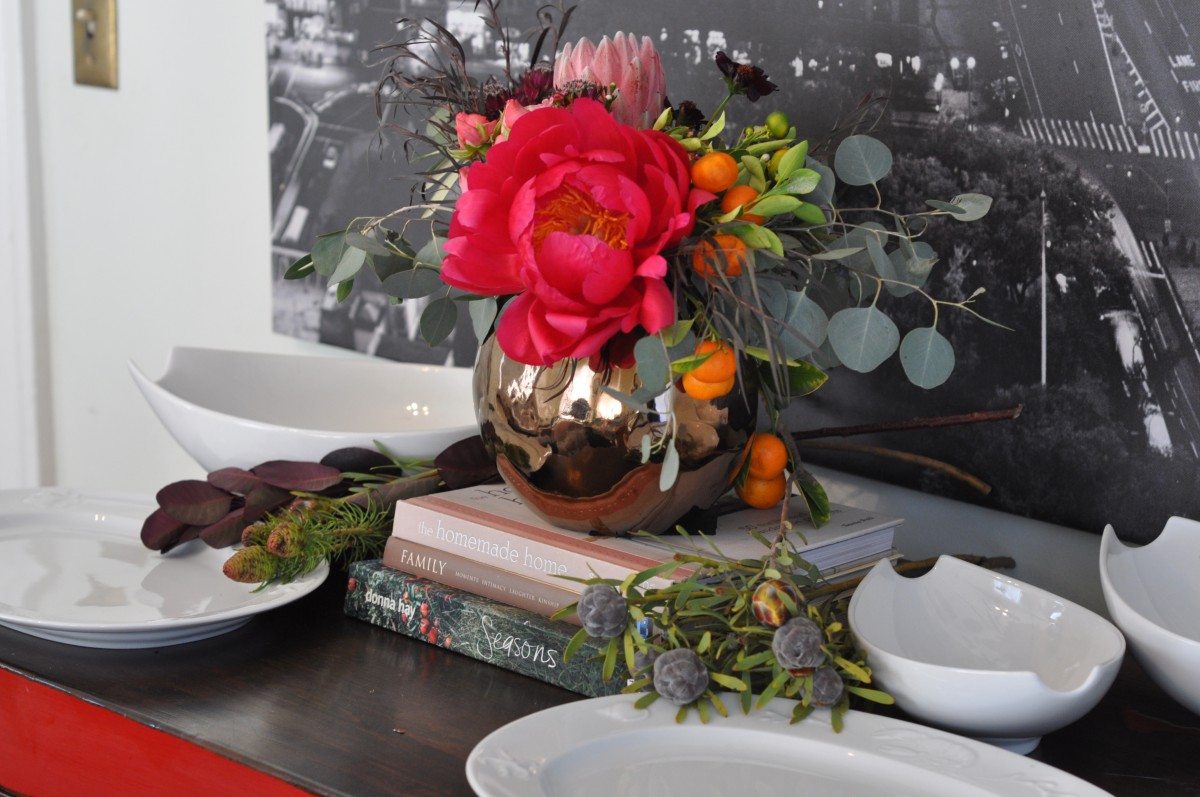 e) Personality & Humor
We are all around the table to talk and laugh. Incorporating your personality and a little bit of silly can be that surprise or unexpected element that set's the ball rolling. This year instead of using formal name tags on each place setting I took a silly polaroid of me holding each name card and popped it in a frame!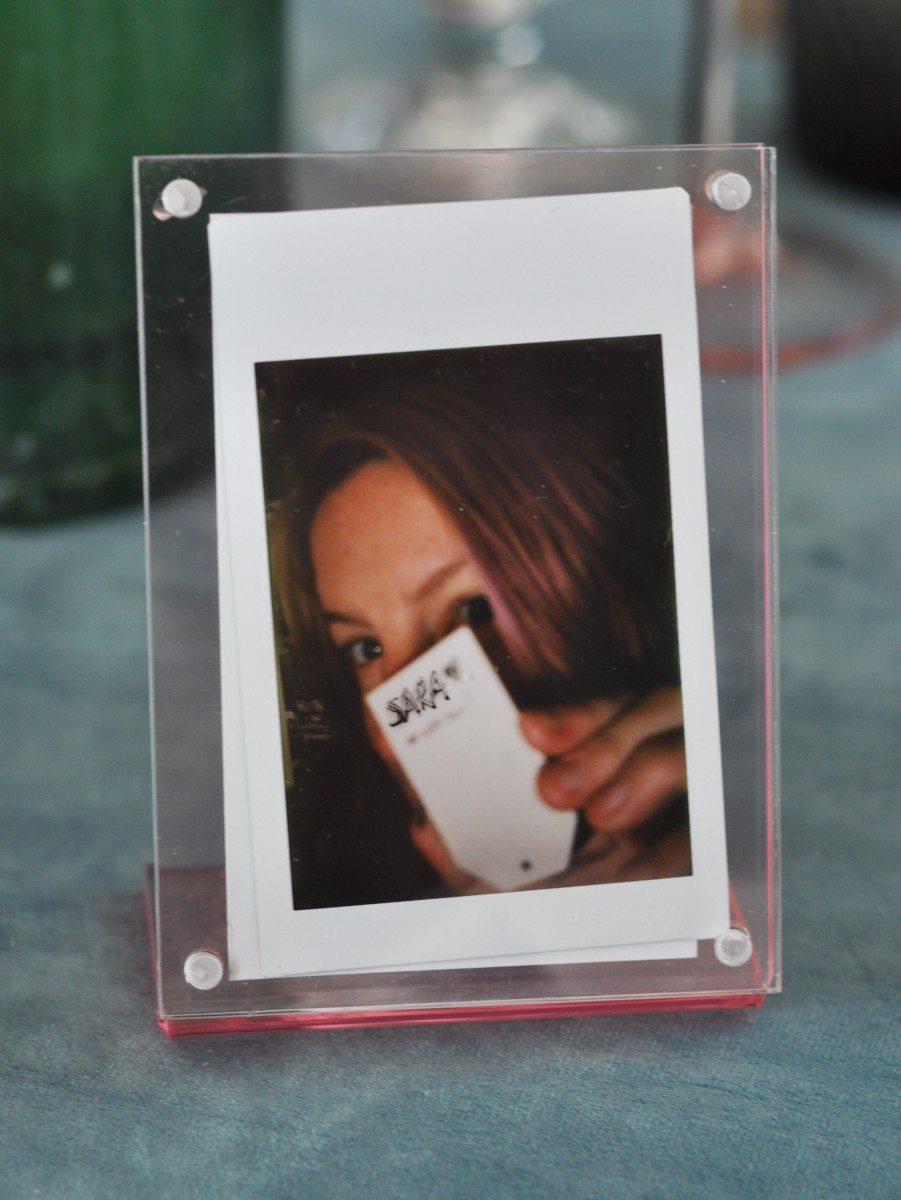 5. Budget
If you want to create an elegant look at a lower cost it is totally possible. Take a little extra time to hunt for those table settings. Look for mark downs, or wait until closer to Thanksgiving to take advantage of the mark downs – I picked up pumpkin side dishes for my sauces at 40% off.
Be selective about what you invest in, there are some things that are worth investing in over others – cloth napkins that can be reused year to year. A good cutlery set. Plate settings will impacted by fashion so much more. You can always mix and match these instead. Use an everyday set combined with something more unique. You can even use paper plates under china to give that pop of color or alternate two totally different settings.
Another idea is to try something alternative, I used kitchen towels as placemats for a unique pattern and design. Do you have something you love? Try it out on the table.
Alternatively consider rentals, get the look without investing – some items like a table runner can be a fraction of the cost.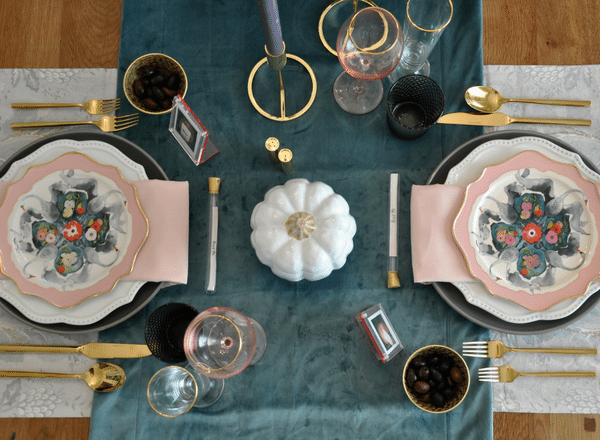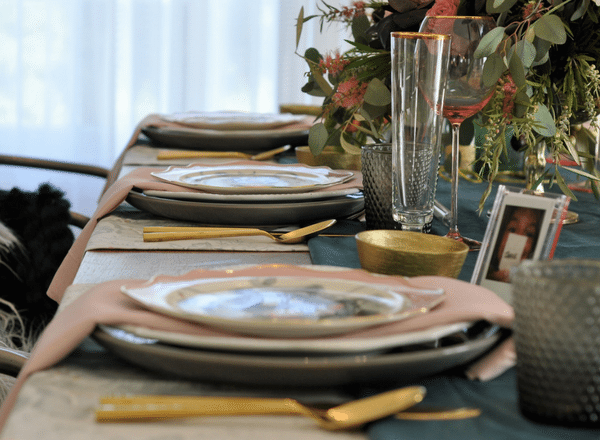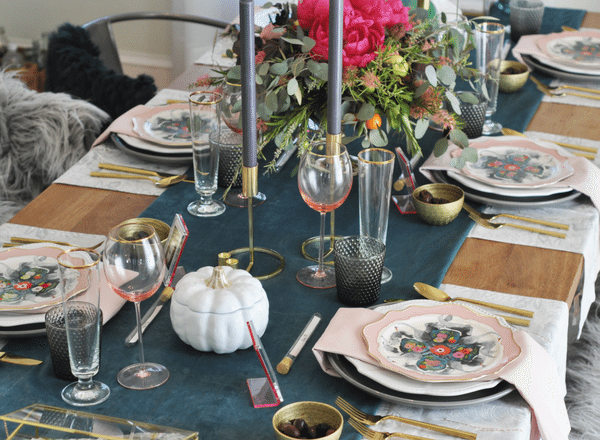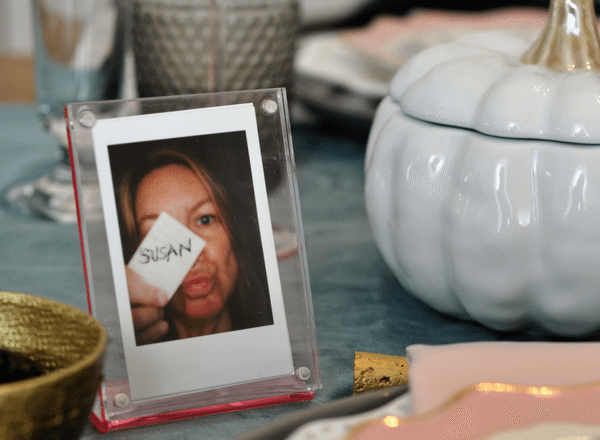 Now I've taken my time setting the table, our Thanksgiving table ready for our celebration of friendship. Time to #Pasthegiving and head back to Evite® to see the dishes and drinks the other influencers are bringing to the table and our holiday planning guide.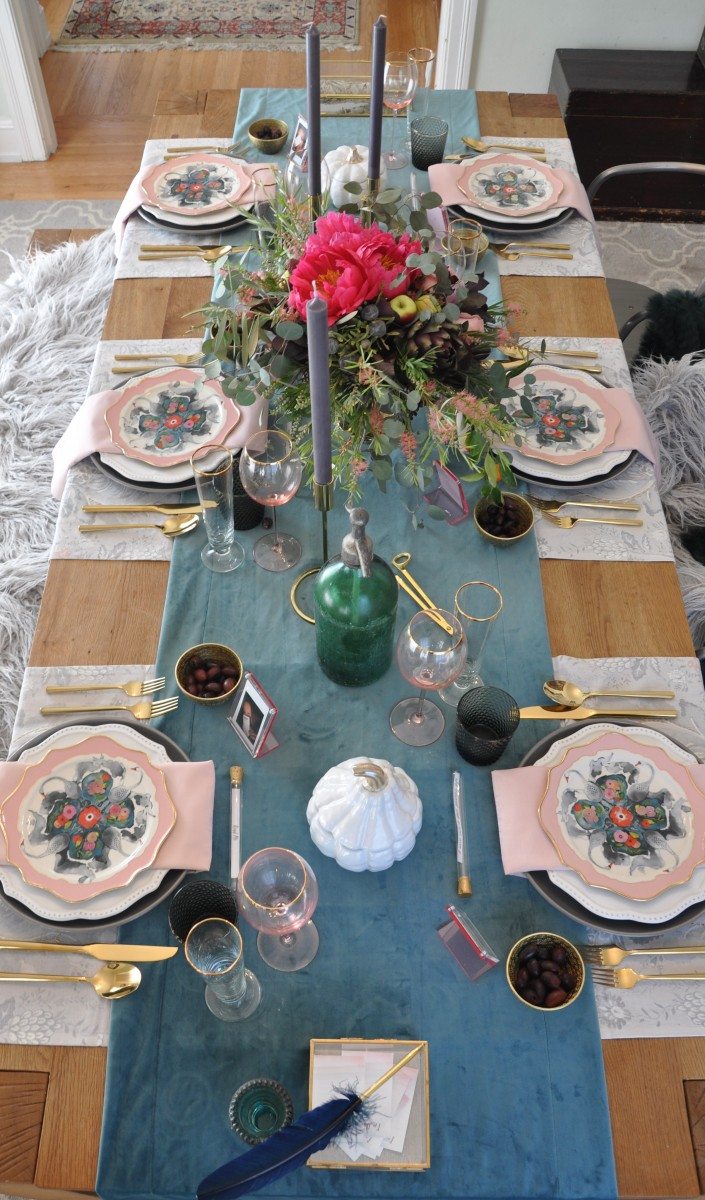 Other Contributors
Florals: Bloomin Couture
Graphics Printables: World Wide Party by Elena
Furs: Tourance