If you have a fabulous friend in your life that has recently had her "wish come true" then this unique Arabian Nights Bridal Shower theme is just perfect to celebrate her upcoming special day.
This bridal shower is for the lover of color. It has a rich & vibrant palette, full of deep purples, pinks, oranges, and blues, with gold accents and elegant Arabian patterns.
Take your guests for a ride on a real life magical carpet. Create an elegant table, full of texture and movement, with these inexpensive and creative combinations.
I did NOT receive compensation for this post. I did receive some free products to review. All project ideas and any opinions expressed here are my own. For further information on our disclosure policy please check out our disclosure page.
What You'll Need to Create Your Own Arabian Nights Bridal Shower:
2 – 2.5 yards of patterned fabric
White dinner plates
Terracotta terrines
Pink napkins
Moroccan tea glasses
Gold mercury votives
Candles – pillar & tea lights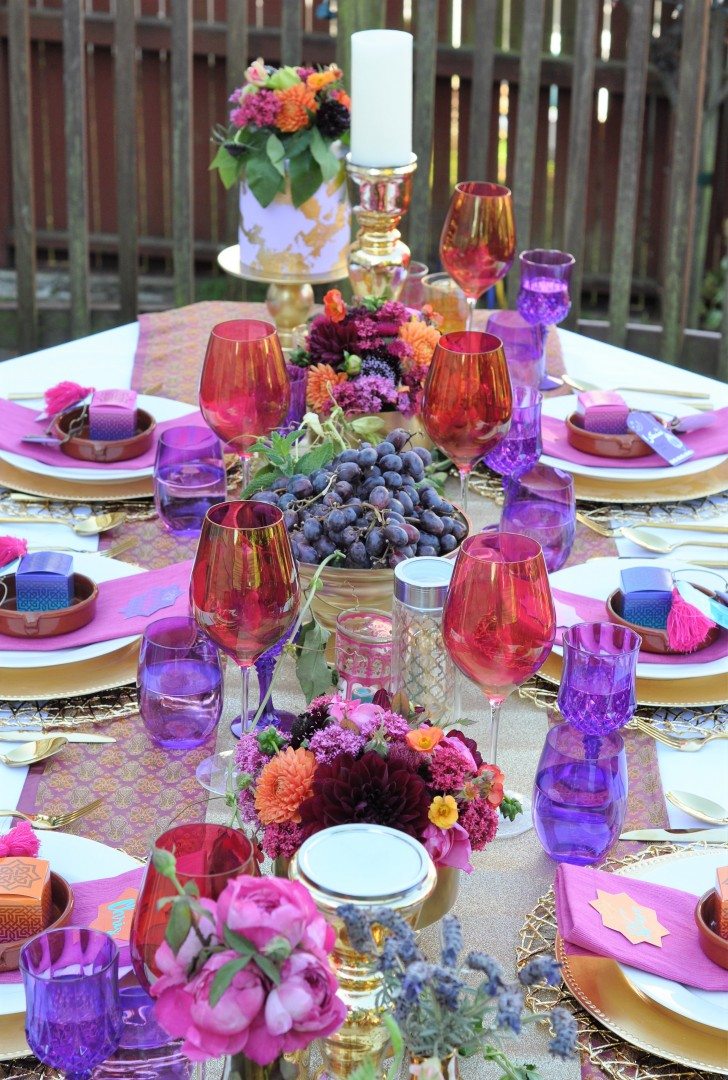 The base layer was a White Rectangle Polyester Tablecloth, I then created a runner made from a piece of Indian silk I had previously found on my travels. I folded it in half to get the width I wanted and added the gold glittered table runner on top of that. Layering different fabrics and textures gave me a luxurious and dreamy desert tent look I was after.
Some of the other items I used to create that lush yet relaxed tent look perfect for an Arabian Nights Bridal Shower, were cushions and sheepskins. Even better, I already had these at home.
I would always advise taking a look around your own home before you buy. You may find things that work for your theme. A fabric cutting, a bed linen, a sheet, a rug or even cushions.
My other key resource is thrift stores (I'm addicted) and a place called Scrap SF. It is full of fun finds that businesses or others have thrown out as scrap. I snap these up, wash or polish them and I have perfect accents for my tablescape.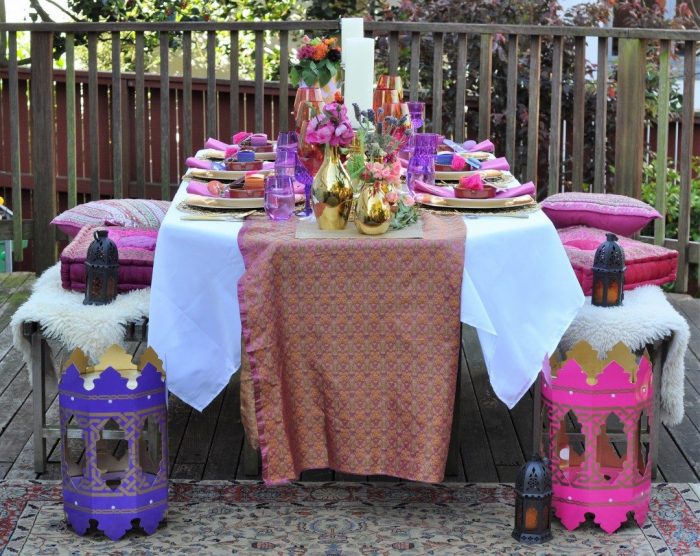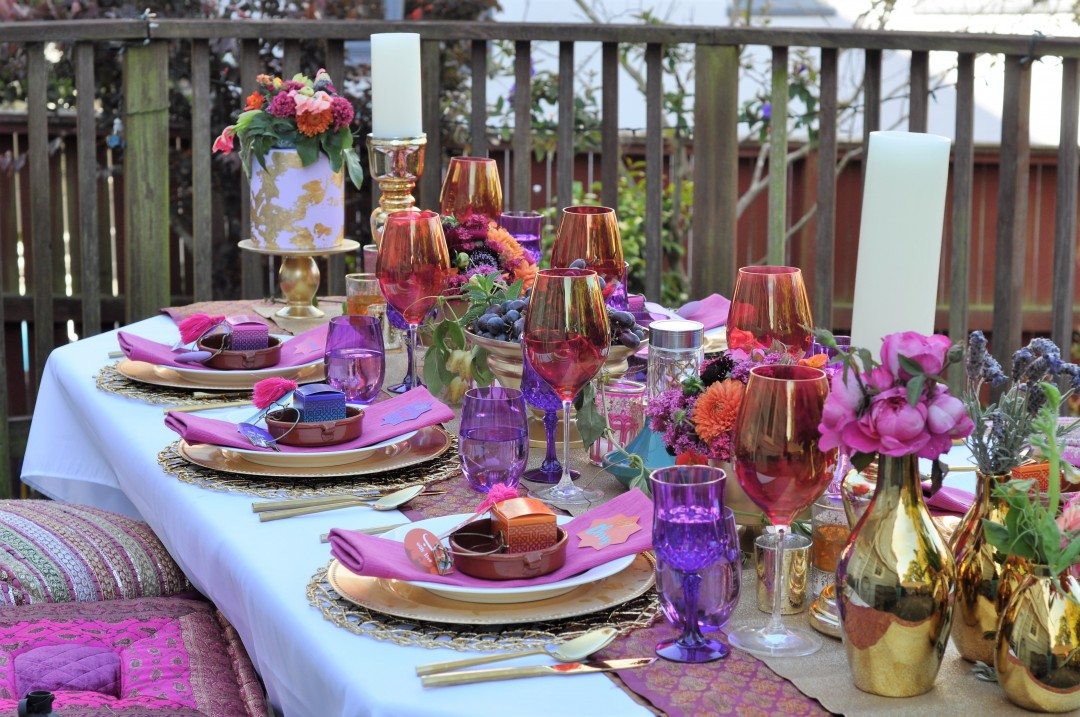 The Place Setting:
Each bridal shower guest sat down to a place setting with gorgeous layered metallic Gold chargers, gold beaded chargers, white dinner plates, topped with a pink napkin, a terracotta terrine and my Arabian Nights Bridal Shower DIY favors.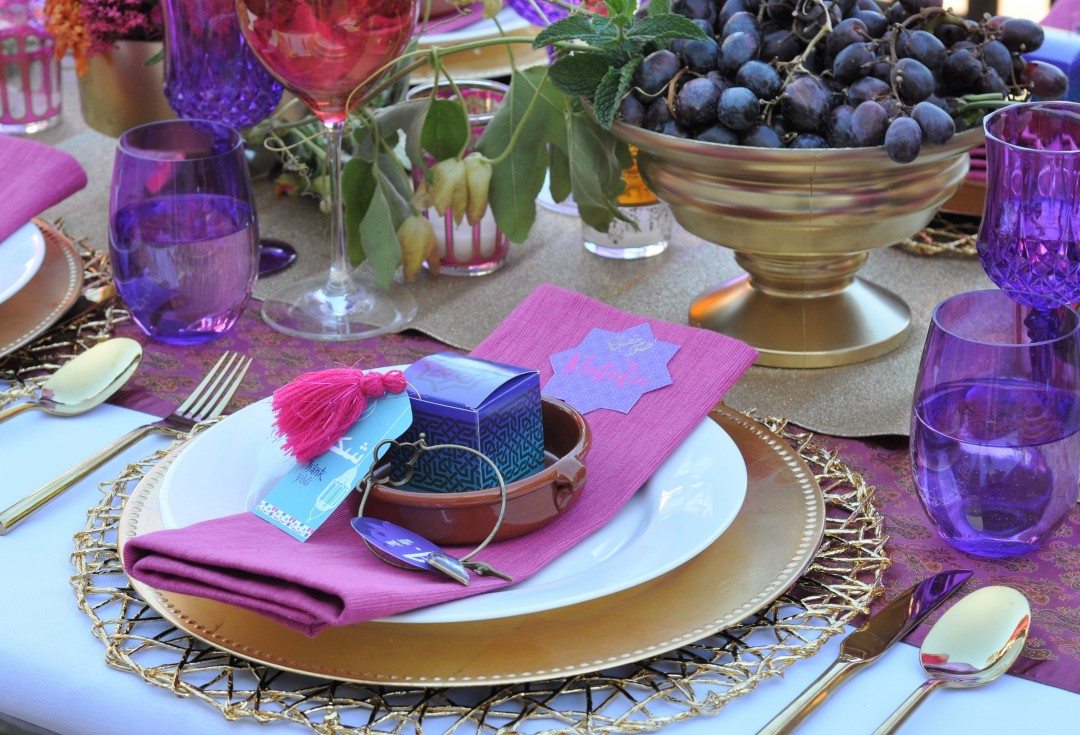 The DIY favors included a beautiful box with a tasty treat and a thoughtful charm bracelet for the guests to take home after lunch. They looked gorgeous against the terracotta and I just love the tags Elena of World Wide Party created for both. The touch of Arabic script she incorporated was so romantic.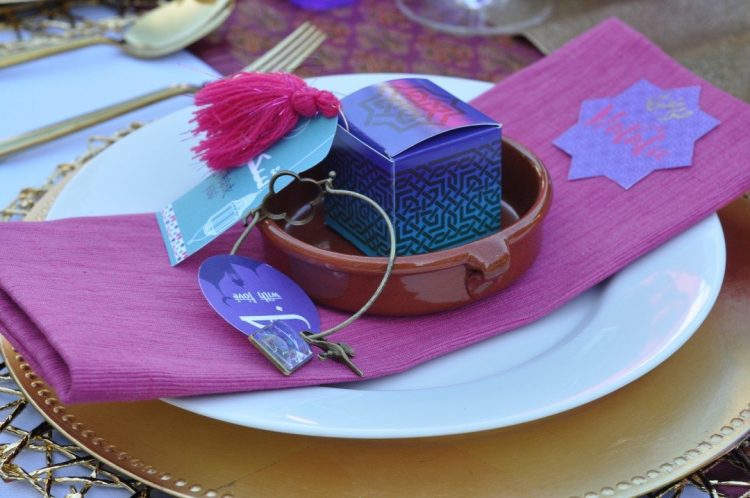 A place card was laid atop the napkin and the place settings were made complete with lovely gold cutlery and gorgeous colored glassware. A combination of my own red wine glass was added, in addition to a rich purple wine glass and a beautiful stemless glass, both from Marry Me by Oriental Trading. The stemless wine glass was perfect for our pre-lunch cocktail, the "Spiced Boussa"; boussa is Arabic for kiss and a smoky sultry one it is!
I love the width of the stemless glass mouth. It was perfect for preparing the glass with smoked spices before the cocktail is made. If you like the idea of a "Spiced Boussa Cocktail" you can find the recipe here! I thought it was the perfect cocktail for our Arabian Nights Bridal Shower.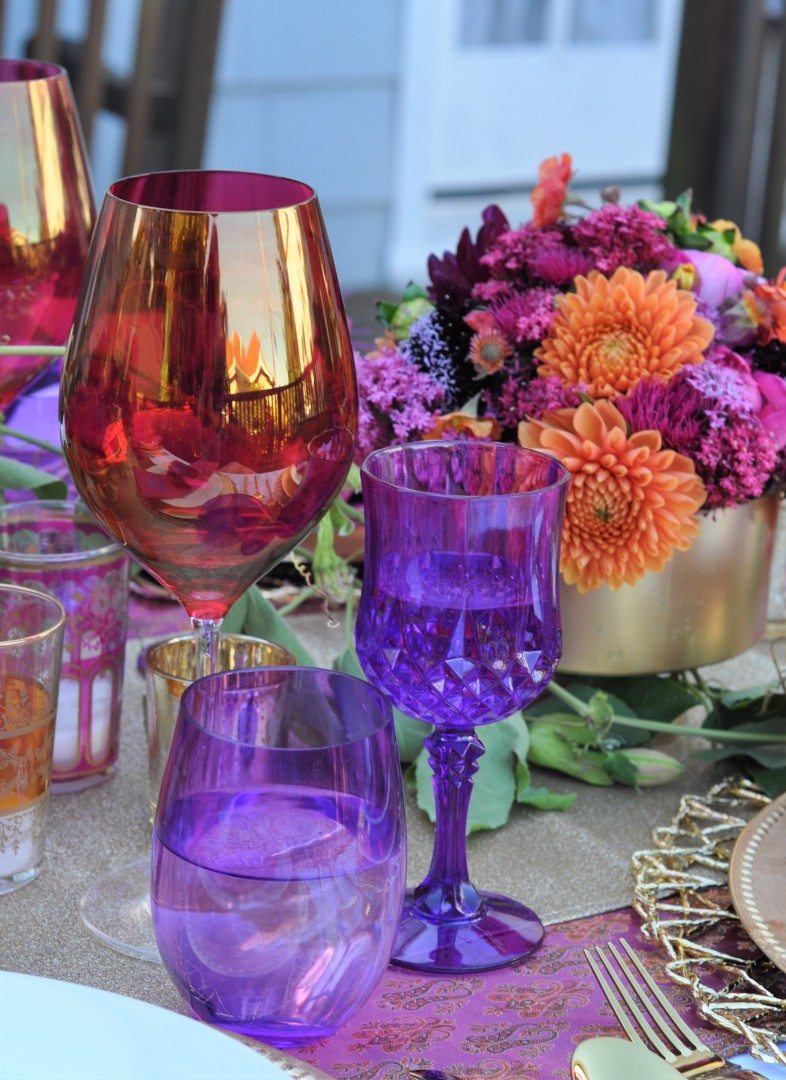 The Centerpiece:
The trifle containers (a set of 3) from Oriental Trading were the perfect height and width for low centerpiece florals. The design is so chic and versatile! I used two of these down the center of my table in addition to a vase I found at a local thrift store for 50 cents.
The DIY is quick and easy; a coat or 2 of gold spray paint. You can find the full tutorial for my DIY Centerpieces here!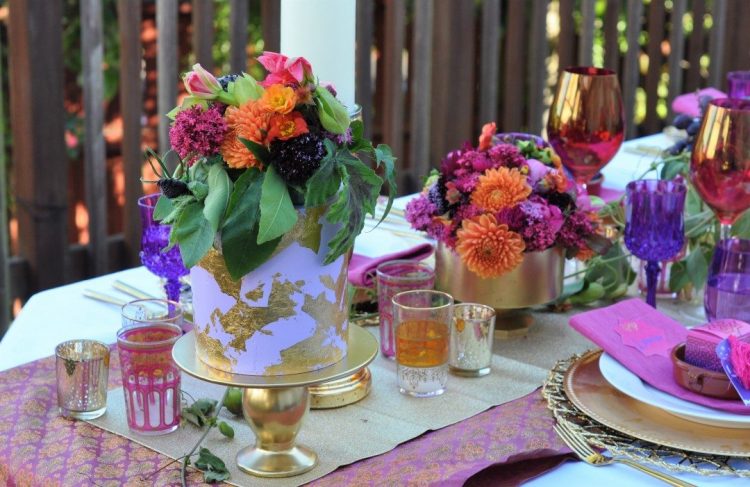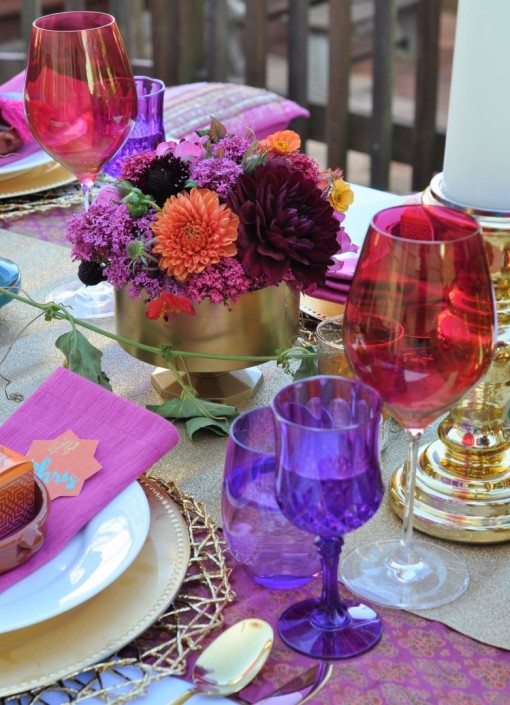 These and 3 other gold vases for smaller arrangements were then ready to be filled with fresh flowers and over flowing grapes.
My friend Susan of Bloomin Couture created the arrangements with flowers that were seasonal and locally grown, many purchased directly from flower farmers. The smell was divine; dahlias, scabiosa, lavender, mint, jasmine, geranium leaves and sweet peas combined.
What's so great about using seasonal ingredients, whether it's food or flowers, is that everything is usually readily available. Beautiful doesn't have to be a formal arrangement. The main centerpiece was fresh mint tucked into a bowl of grapes! Later in the summer you could use ripe figs or a bowl of citrus.
Down the middle of the table, I surrounded these larger pieces with two gold candlesticks topped with pillar candles, Moroccan tea glasses and simple gold votives. Then passion vine was woven through these items. You could find an old vine growing in your yard, to give this movement and to layer in texture.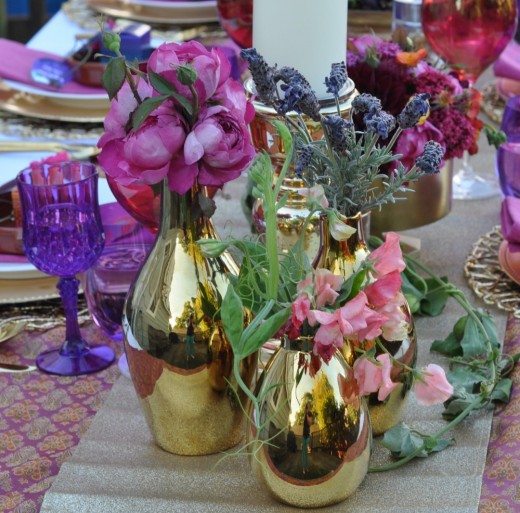 For other inexpensive flowers with bright colors try marigolds – many people have them right in their yards. Nasturtiums are also accessible, colorful and edible! Susan has totally educated me in the world of flowers since I met her and taught me so much. Now I look around my yard and see if there are snippets of branches or blooms that I can use to create my own farm to table décor.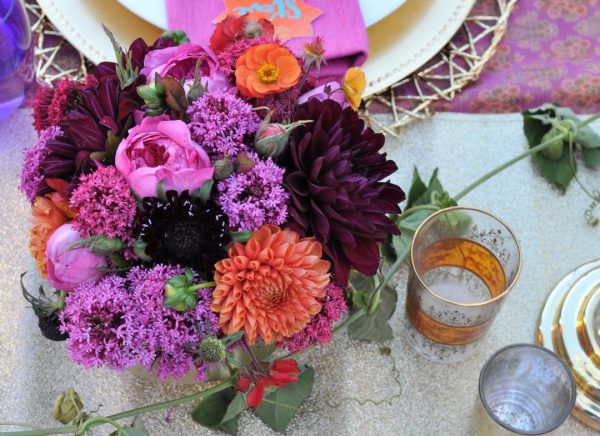 Finally, to incorporate both the blue tones from the color palette and the Arabian pattern into the center of the table I added a blue toned terrine (with cover) and a Moroccan style tea container.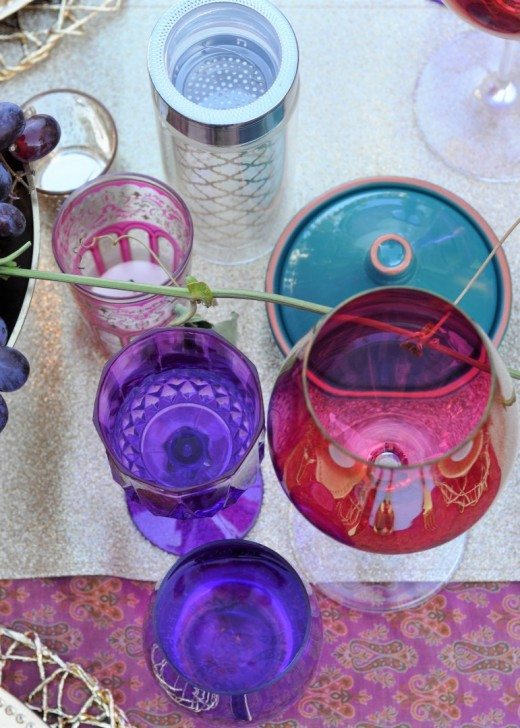 The Floor Accents:
Guests enjoyed the sunshine of the afternoon as lunch was served. As the light softened we lit the candles on the table and in the Arabian lanterns that sat at our feet.
These sat atop a rug I had "borrowed" from our hallway. It gave the feel of lunching outside atop a magical carpet.
The Arabian lanterns come in packs of 3, pink, purple and blue. These colors were perfect for this theme and I gave the inside a quick layer of gold spray paint to give a glam gold glow.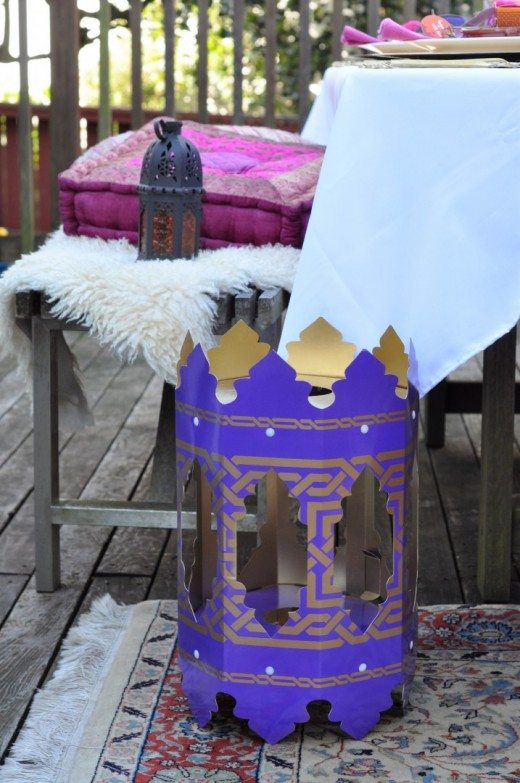 This Arabian Nights Bridal Shower is a fantastic way to celebrate your favorite bride-to-be surrounded by a feast of color and casual elegance, while you enjoy the romance of the setting sun post lunch.
Happy Celebrating, Natalie x