First birthdays are so much fun.  A wonderful celebration of that first year; phew you made it! That is something to be celebrated. Why not go with the barnyard 1st birthday party theme? A barnyard party is the quintessential 1st birthday theme; the sights and sounds of the farm animals are some of the first recognized and loved by little ones.
My daughter adores animals and she still giggles when she makes the piggy sound when she sings. If you are looking for a sweet and colorful 1st birthday that will help you rediscover your love for Old McDonald's farm then look no further!
I did NOT receive compensation for this post. I did receive some free products to review. All project ideas and any opinions expressed here are my own. For further information on our disclosure policy please check out our disclosure page.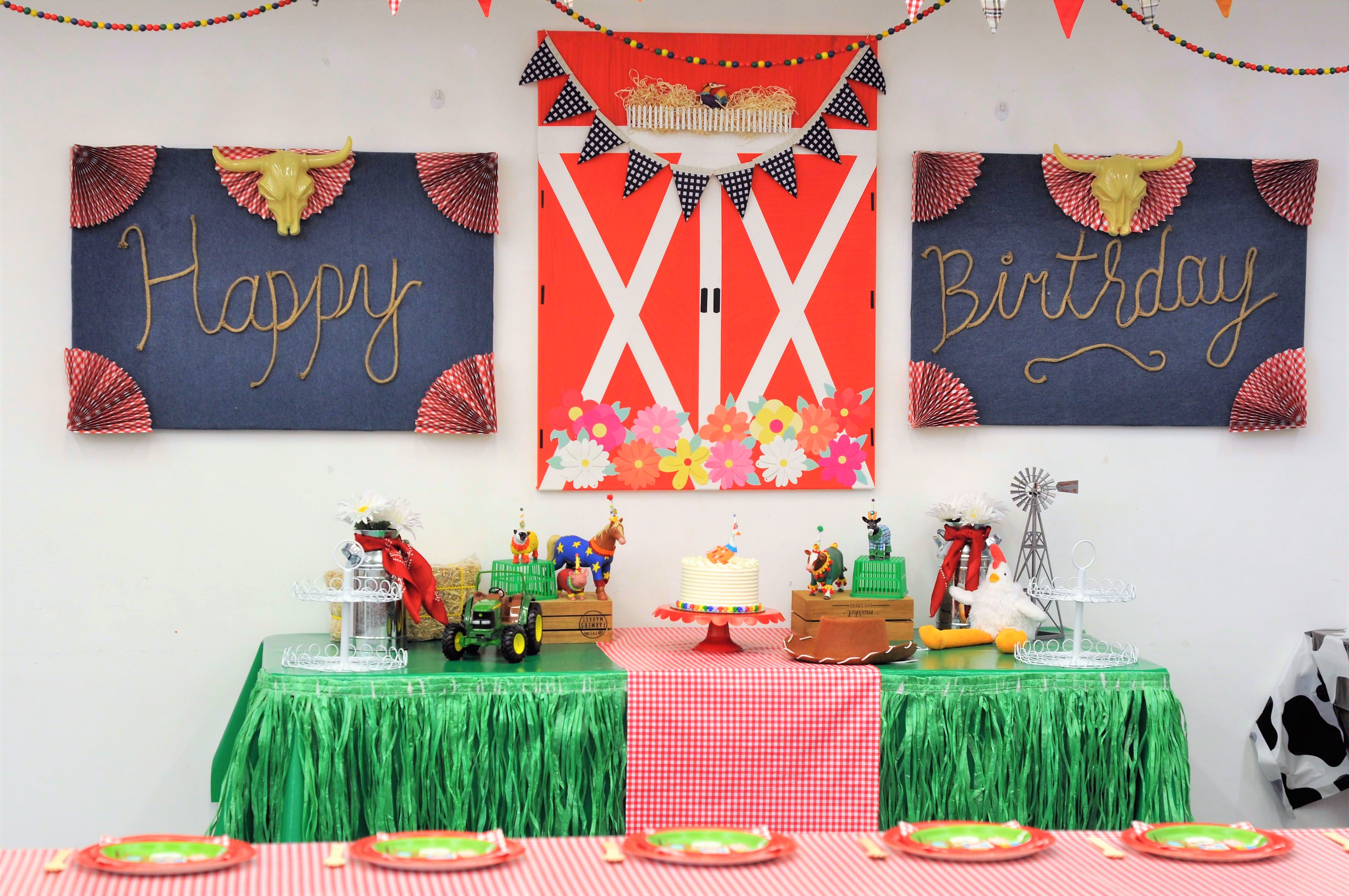 How to Create a Barnyard 1st Birthday Party
I created this barnyard theme party for Peek-A-Boo Factory in San Francisco.  These parties are booked and enjoyed by lots of children each week so they have to be easy for the team to put together and take down without my help.  They have around 15 minutes to set it up, so trust me this is easy to put together once you have all the items you need.
For this barnyard theme party I was able to get the majority of my party supplies at Oriental Trading and Painted Parade.
Oriental Trading has all the party staples, DIY supplies for rope art (I finally got to try this out, check out the instructions HERE*) and a new range of red gingham products which have become my new favorite.
Painted Parade is an Etsy store owned by Alyson, an artist that "dresses" up animals. The barnyard animals come as a set and are ready to party, complete with brightly painted party outfits and embellished party hats. This troop of party goers brings a total feeling of whimsy to the barnyard theme and all with primary colors and shapes recognizable by the little ones. So let's get this party started!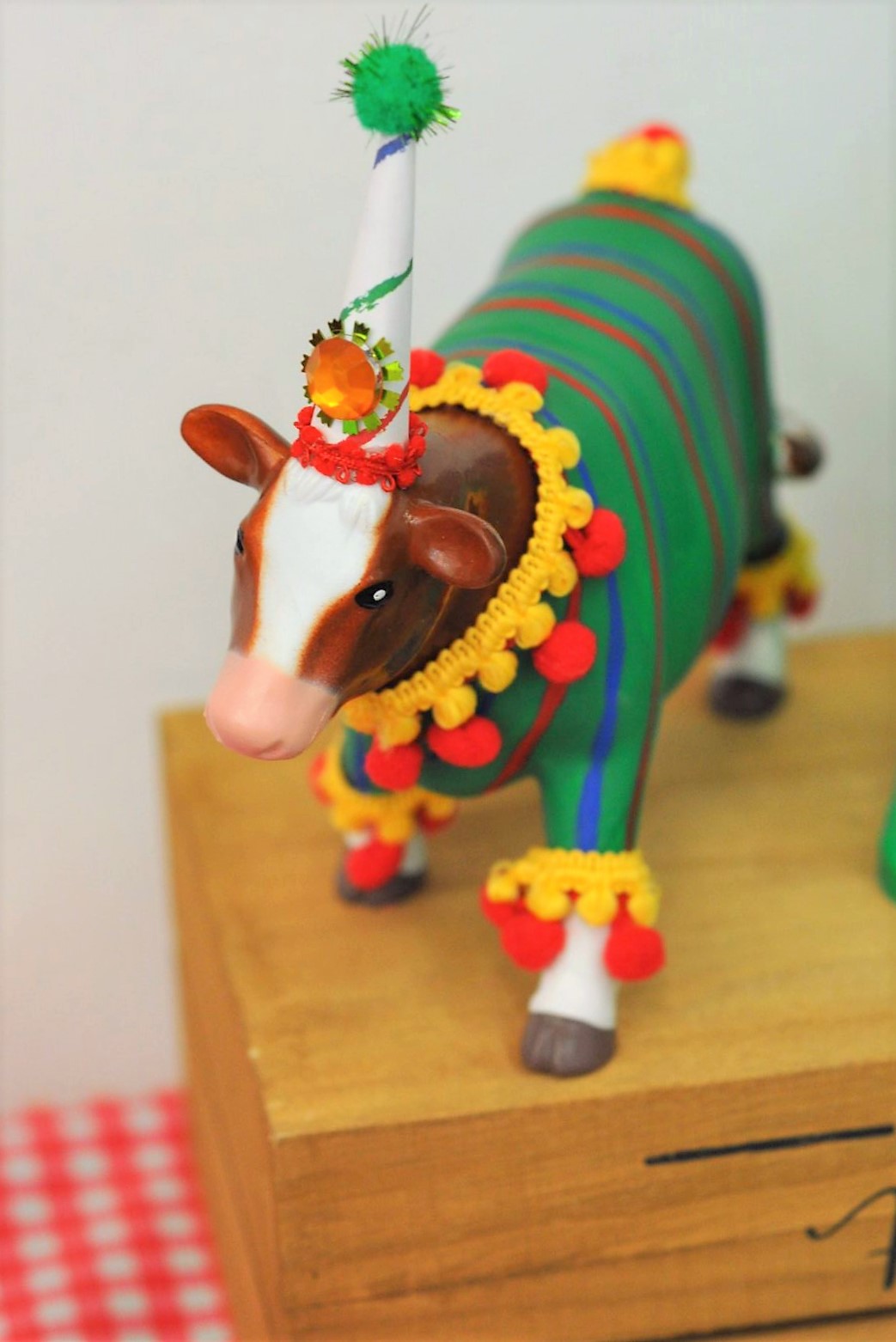 What You'll Need:
Wood forks
Small wood stamped crates
Galvanized Metal Milk Cans
Faux flowers e.g. daisies
Red Cake Stand
John Deere Tractor
Chicken stuffed toy (or other farm animal)
Barnyard backdrop (DIY)
Painters canvas
White duct tape
Red paint
Mini Fairy Garden Fence
Black marker
Paper flowers
Western fabric bunting
Primary color beads
2 happy birthday backdrops (DIY Instructions HERE)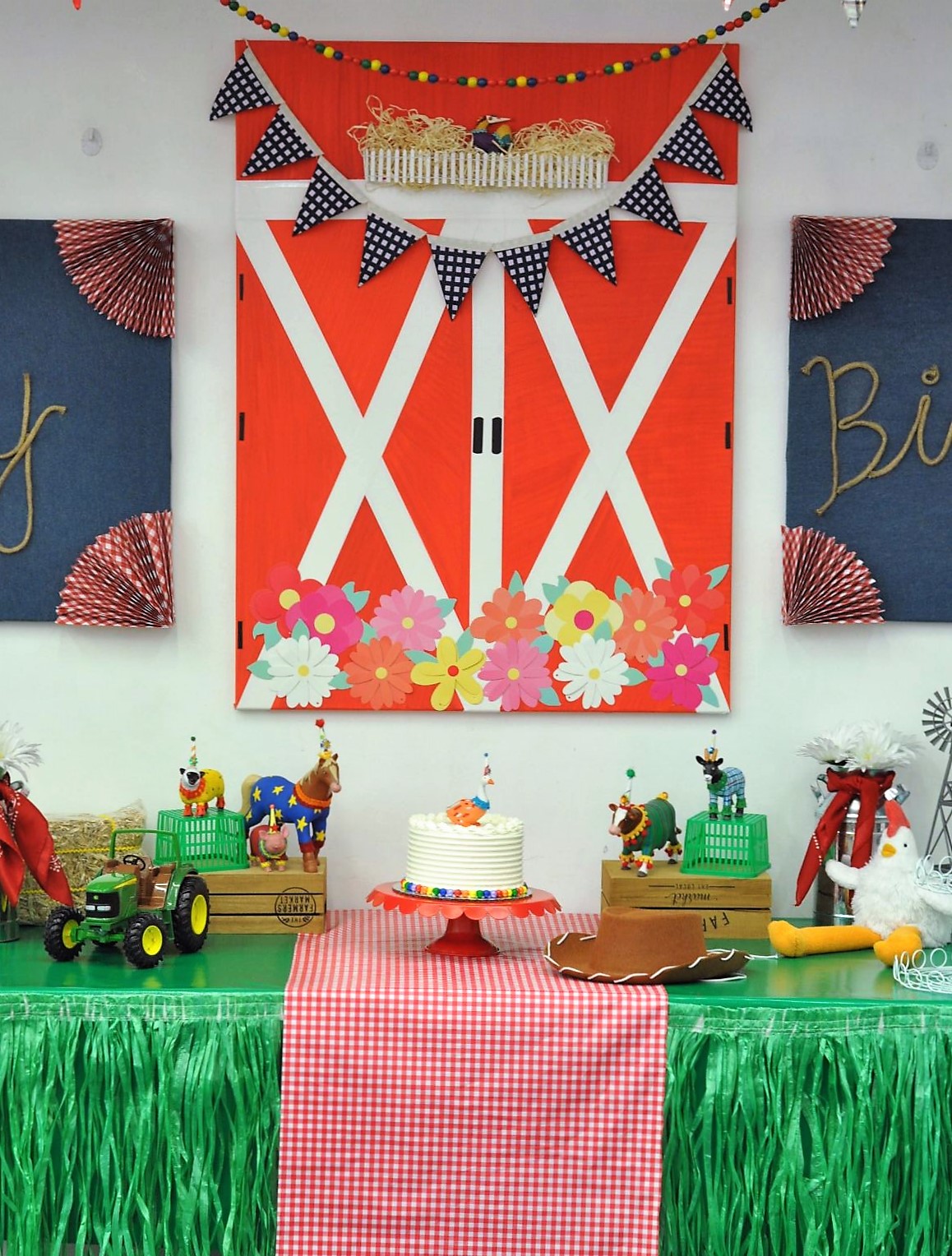 The Barnyard Theme Dessert Table:
When creating this barnyard theme party, I wanted to use classic primary colors and farm "textured" fabrics. I chose denim, like a farmers overalls, jute, checks and familiar farm prints like gingham. I planned out the dessert table to represent the rolling green meadows of a farm. A green plastic tablecloth with an artificial grass table skirt I layered with the red gingham plastic table cloth roll, leaving it folded in half to re purpose as a perfectly sized table runner.
On top of the meadows I created the "farm" to frame the cake and highlight the guests, our ready to party farm animals. To recreate the look and feel of a farm I used farm toys that my kids used to use. A rough and tough John Deere tractor, a cowboy hat, a windmill from a barnyard set and even a cute chicken stuffed toy.
I used small hay bales, wooden crates and berry baskets to give some height to the farm animals. Turning them into a feature the kids wouldn't miss. Lastly I tied red bandannas to metal milk cans and added faux daisies, putting one at each side of the table!
I have several cake stands available at Peek-A-Boo Factory so that they can accommodate any size cake the parents bring. For these catalog shots I used a small red stand and on top of my rainbow cake (I'm not going to lie, we didn't waste it….shared it out after the shoot!) and topped it with Mr. Duck. I also added 2 farm style cupcake stands that look like they could easily hold cupcakes or eggs!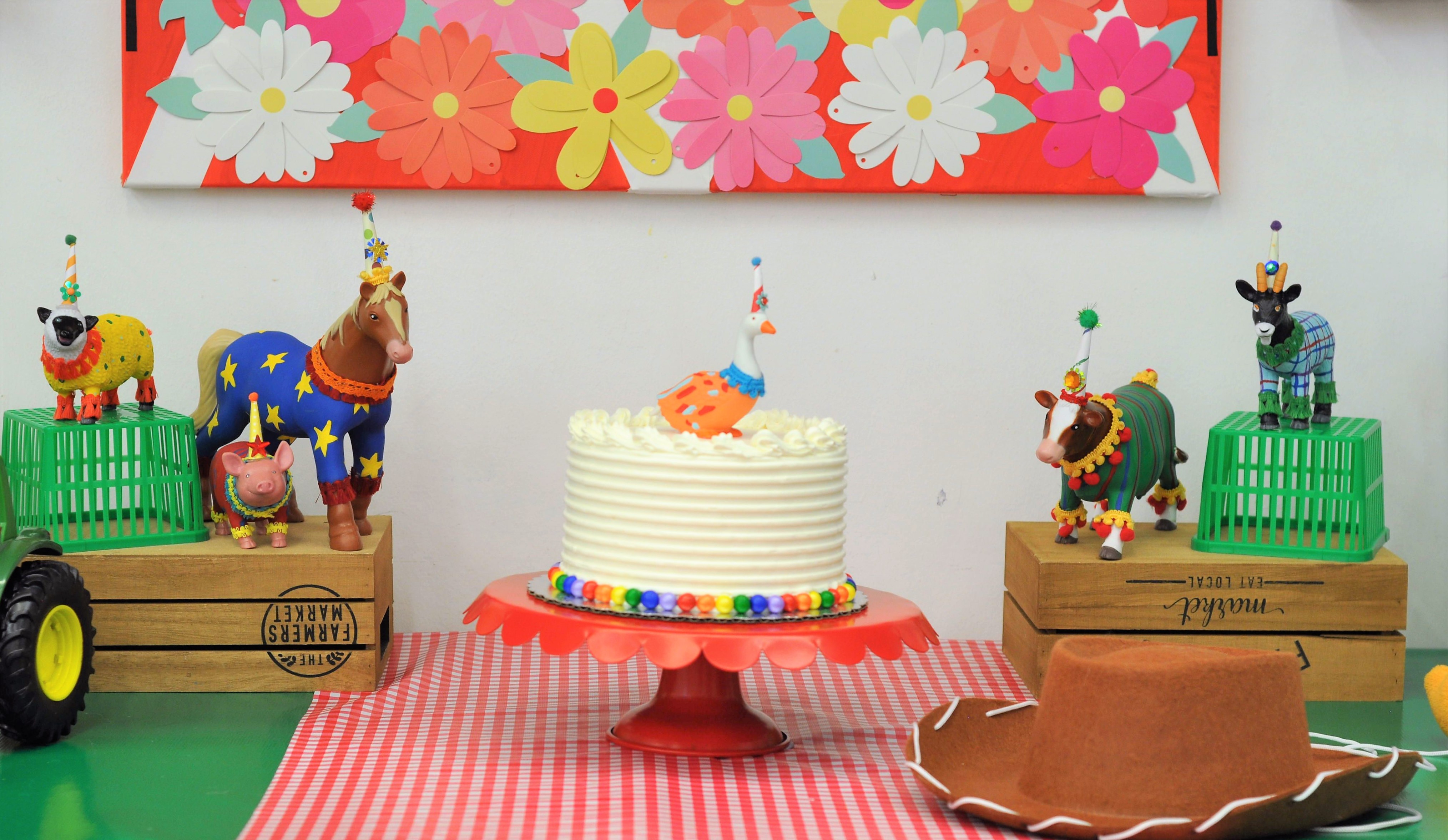 The Place Settings:
To highlight one of my favorite prints, gingham, I doubled down! Pairing a gingham table cover with gingham napkins. I broke up the two with layered plates. A larger red dinner plate was used on top of the table cover as a charger, the gingham napkin was placed in between and topped with a barnyard theme farm animal design dessert plate. I accented this with simple wood cutlery, naturally toning in with the unfinished crates on the dessert table.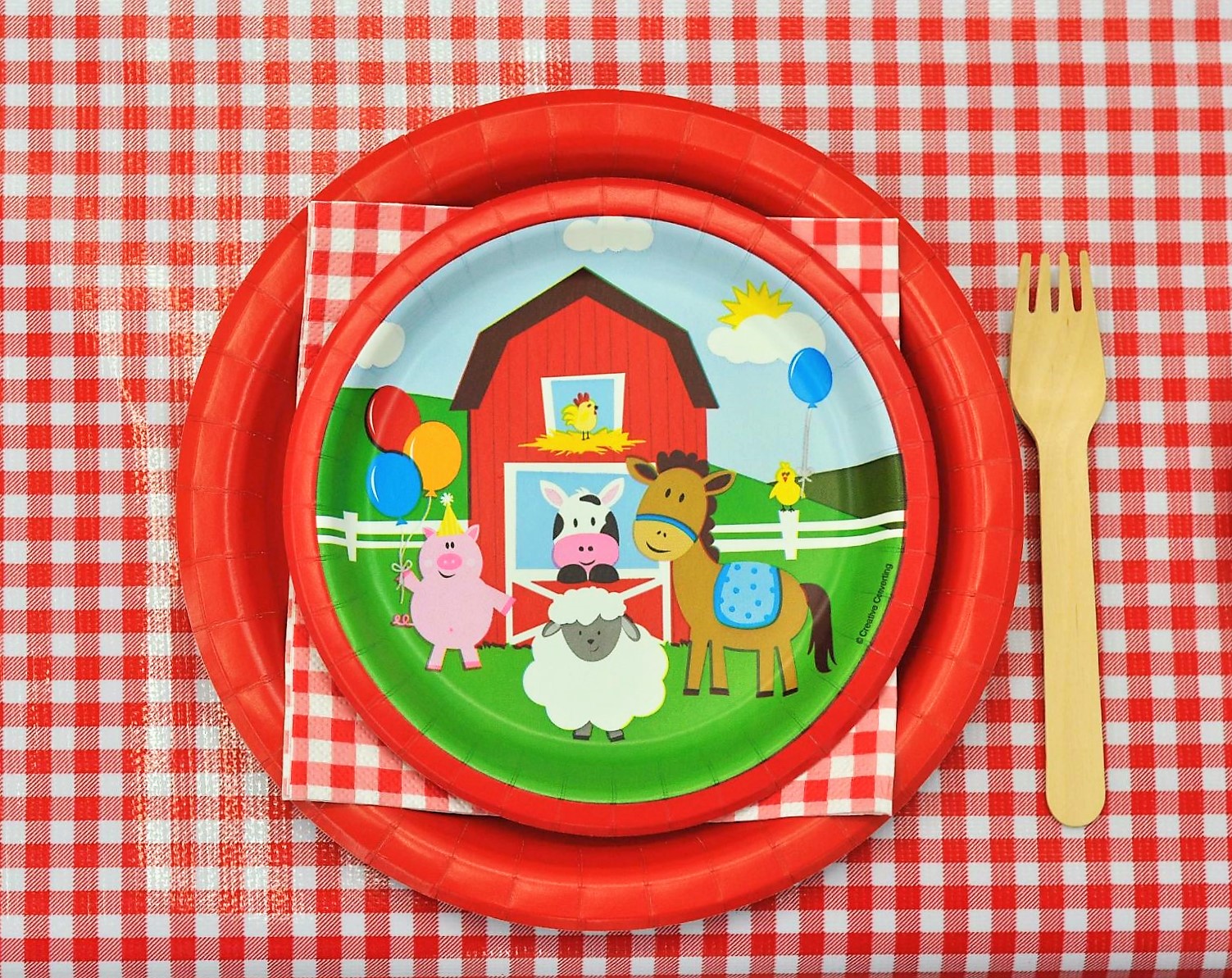 The Backdrop:
To keep with the barnyard theme, I used a painters canvas as the center backdrop and using white duct tape I created the barn doors and painted the rest red. Then I used a hot glue gun to attach hay, a rooster and small picket fence to the top of the barn and paper flowers to the bottom of the barn. Lastly a small blue gingham pennant banner.
Rather than use a birthday banner I tried my hand at some DIY rope word art to spell out a happy birthday message. I love how they turned out, like a lasso birthday wish and it was a lot easier than I thought! You can find the full DIY here (published tomorrow).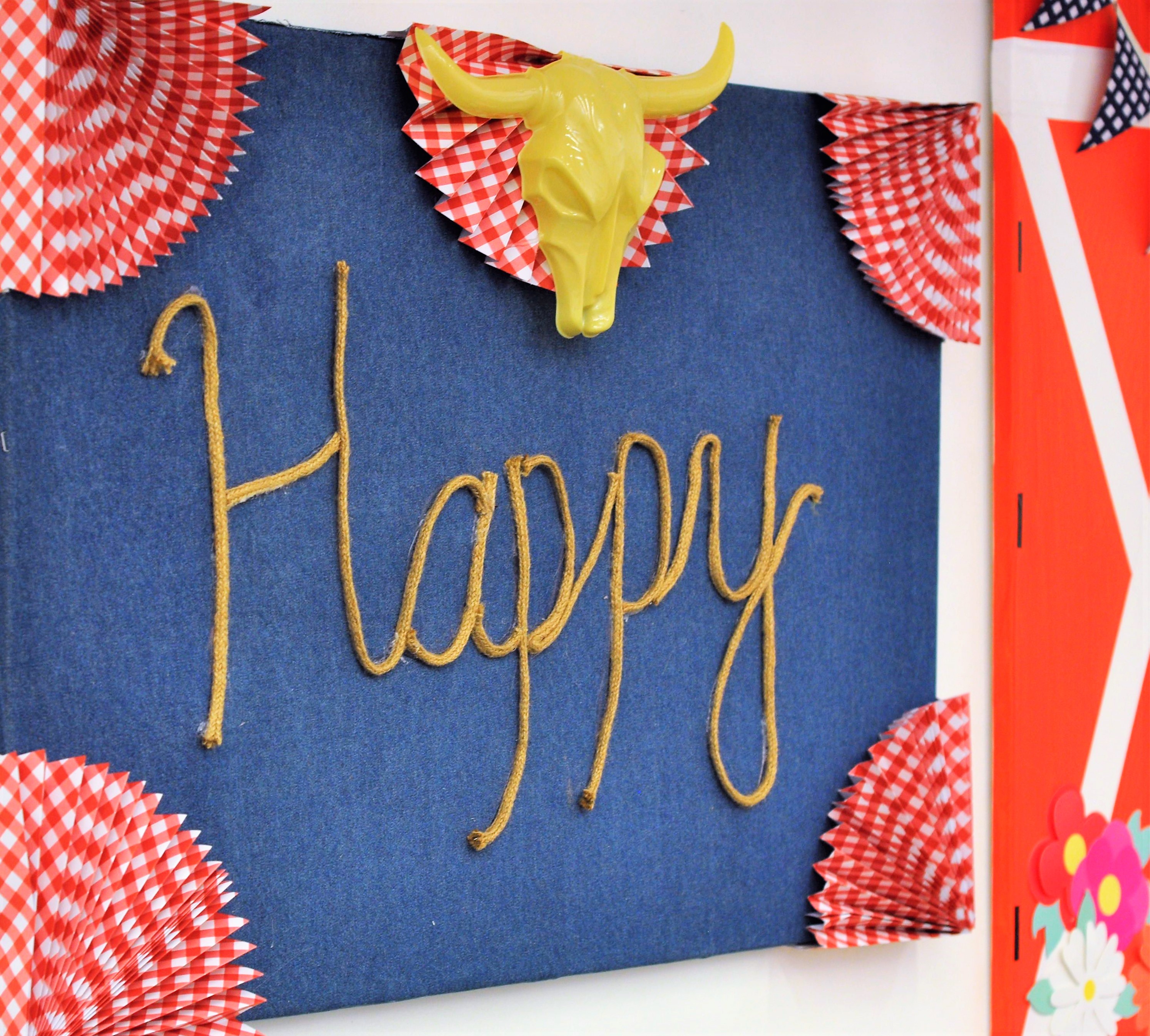 Extra Details:
To add a bit of texture to the design I added hanging décor elements. I dug out some of my Western themed party props from a few years back, a check, denim and jute pennant banner and strands of beads in primary colors.
Lastly on the other tables where parents bring their own food or favors for their guests I used the black & white cow plastic table cloths. These are so fun! I love them and they are the perfect accent to this barnyard theme. I also added another wooden crate for favors.
This party is now available for booking at Peek-A-Boo Factory. It's perfect for a 1st birthday. If you are looking for more Barnyard theme Inspiration? Be sure to check out the full tutorial to create the rope art birthday messages here!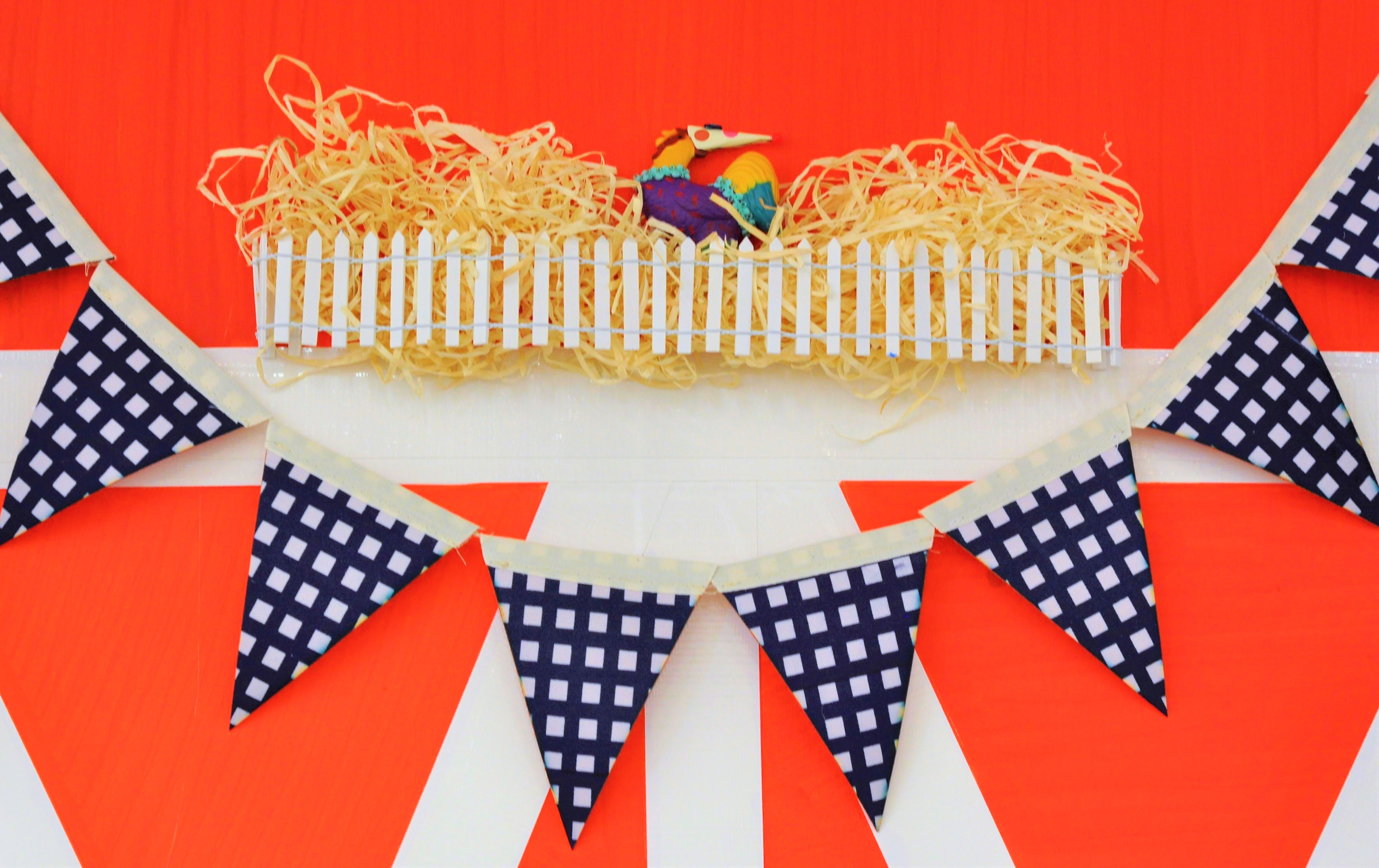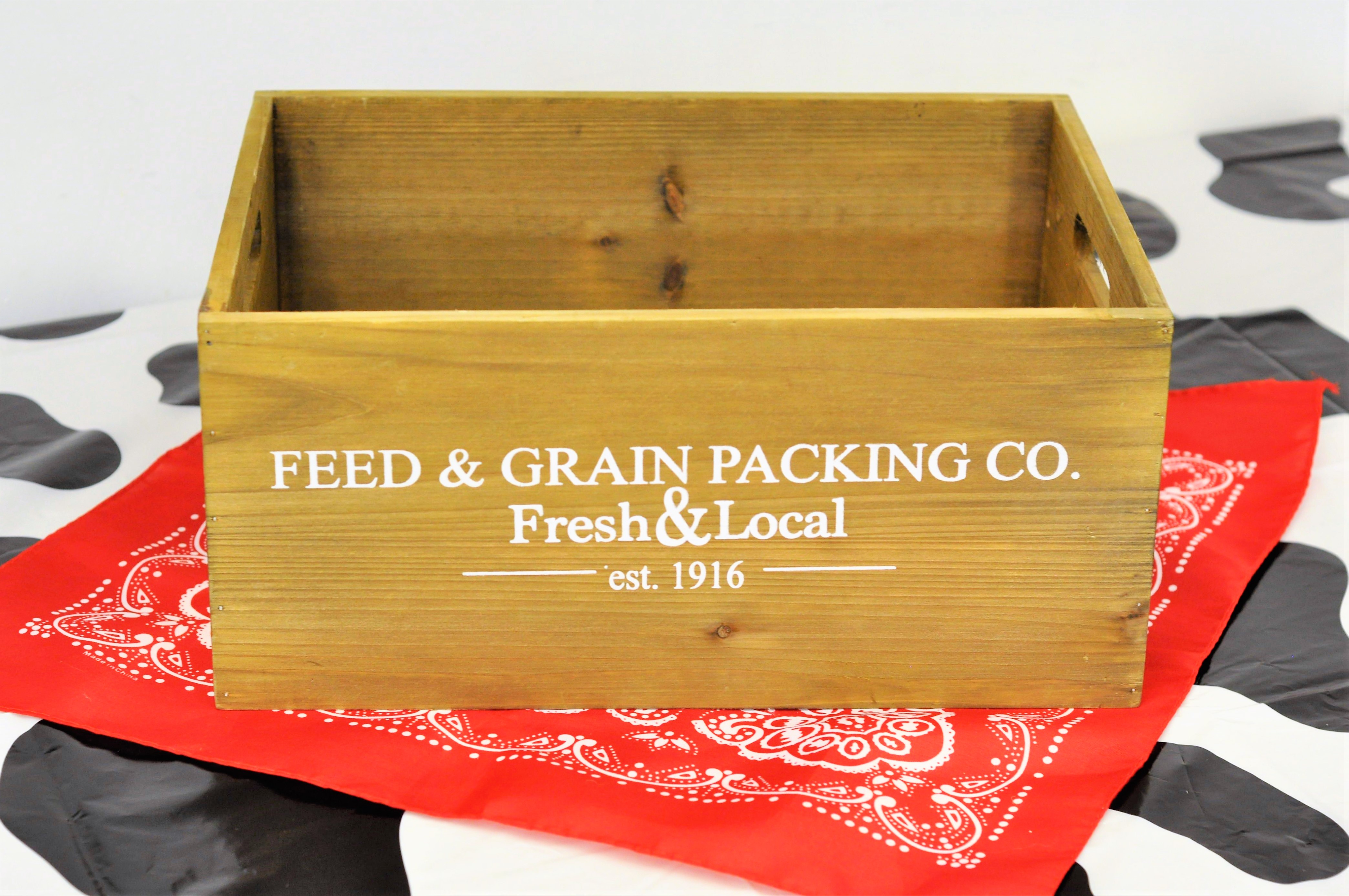 This Barnyard Theme is a fantastic way to celebrate your child's 1st birthday party, surrounded by bright, festive colors and familiar animal friends.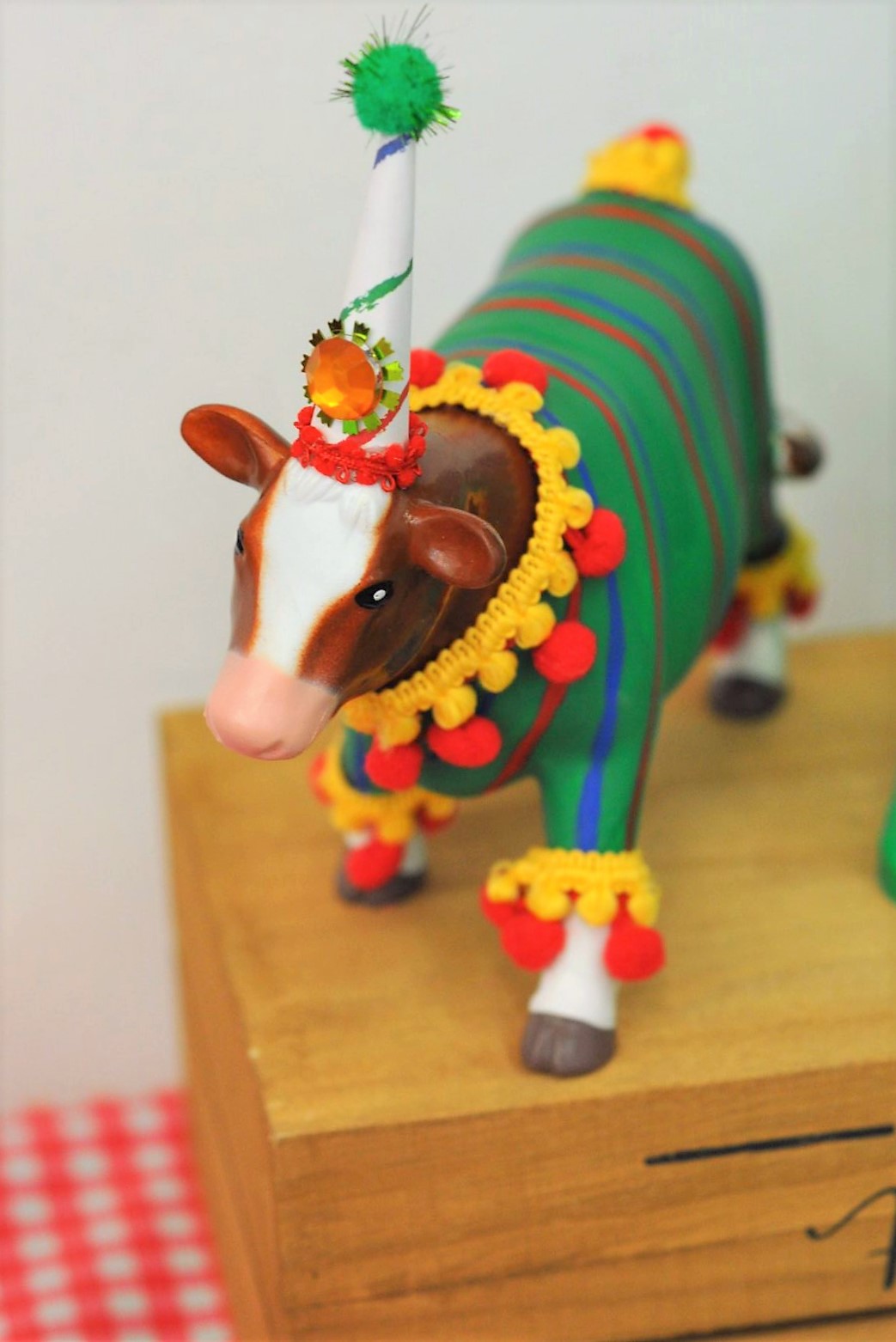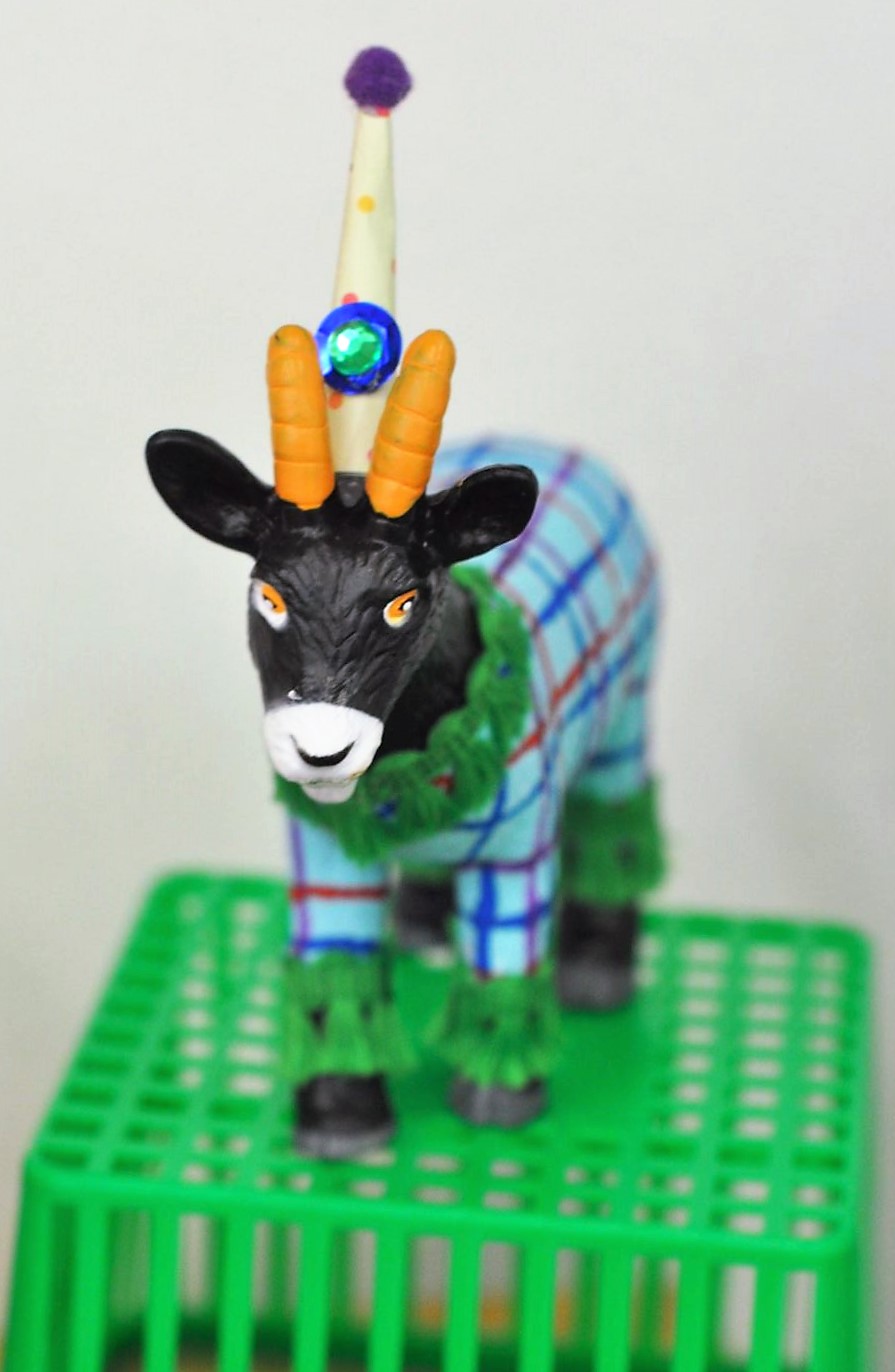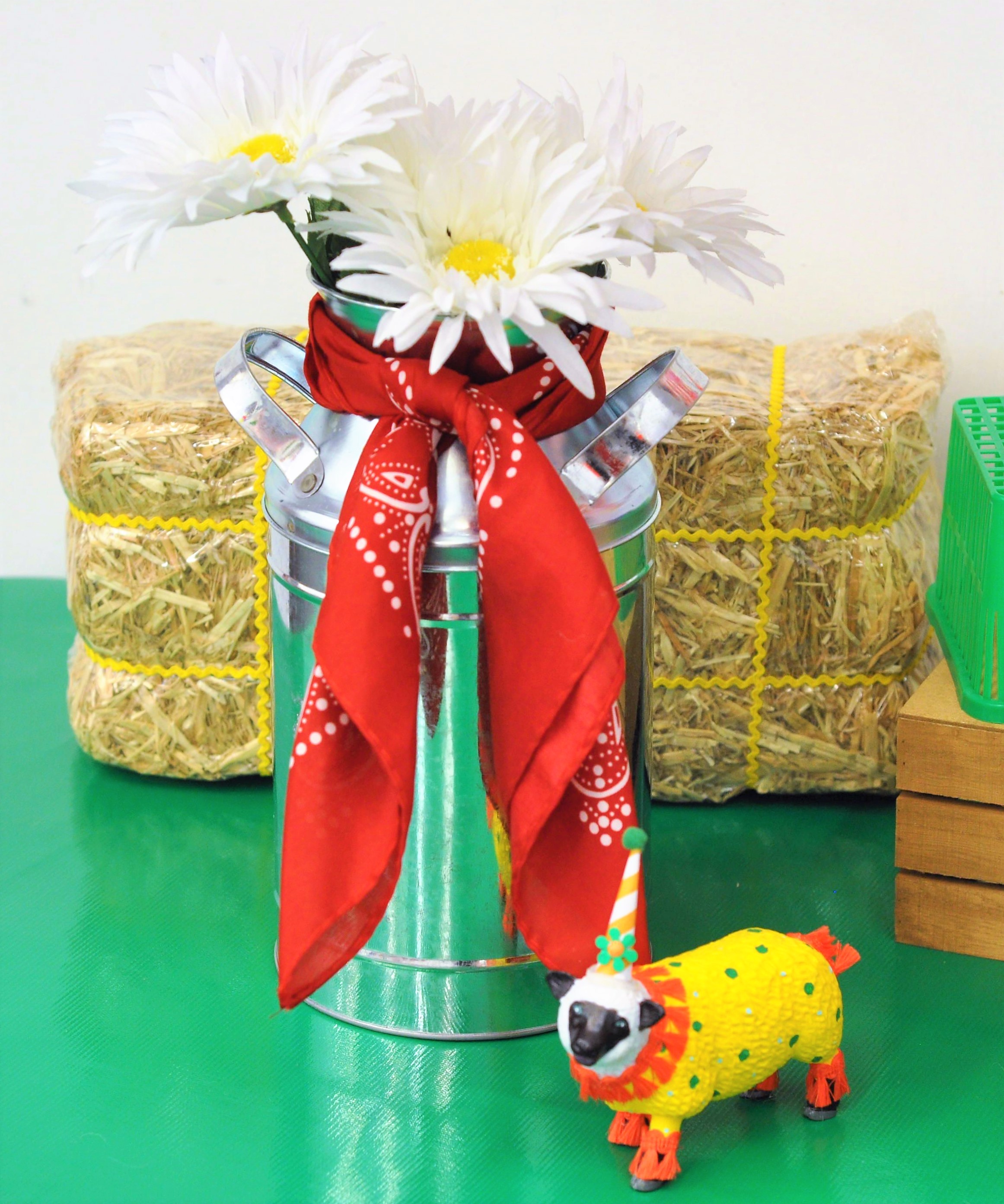 Happy Celebrating,