Living in Portland with many of my friends and family overseas, I am no stranger to getting creative with virtual celebrations. While it may not be exactly the same as celebrating in person, virtual celebrations can go a long way in making it feel like we are all together.  They can still be a great way to make the person being celebrated feel special.
Now, while we all practice social distancing in the wake of the COVID-19 pandemic, virtual parties are becoming much more common! Several of my friends have had birthdays since we have gone on lockdown, and it's been more important than ever to make sure they feel special and celebrated. Just like real parties, virtual celebrations do take a bit of planning. But don't worry, because I'm here to help! Read on to get my tips for how to throw a virtual birthday party!
Planning
The first step is to figure out a time and "place" to celebrate. Think about who your guests might be and what time of day might work best for the majority of them. The more advanced notice you can give, the better, so that guests can plan to spend the time at the virtual party, and you have time to get everything ready!
As for the place, because this is an online party, the place will be an online video chatting platform of some sort. Zoom, Skype, House Party and Google Hangouts are all good options for this. Do some research into each to figure out which platform will probably work best for you and your guests.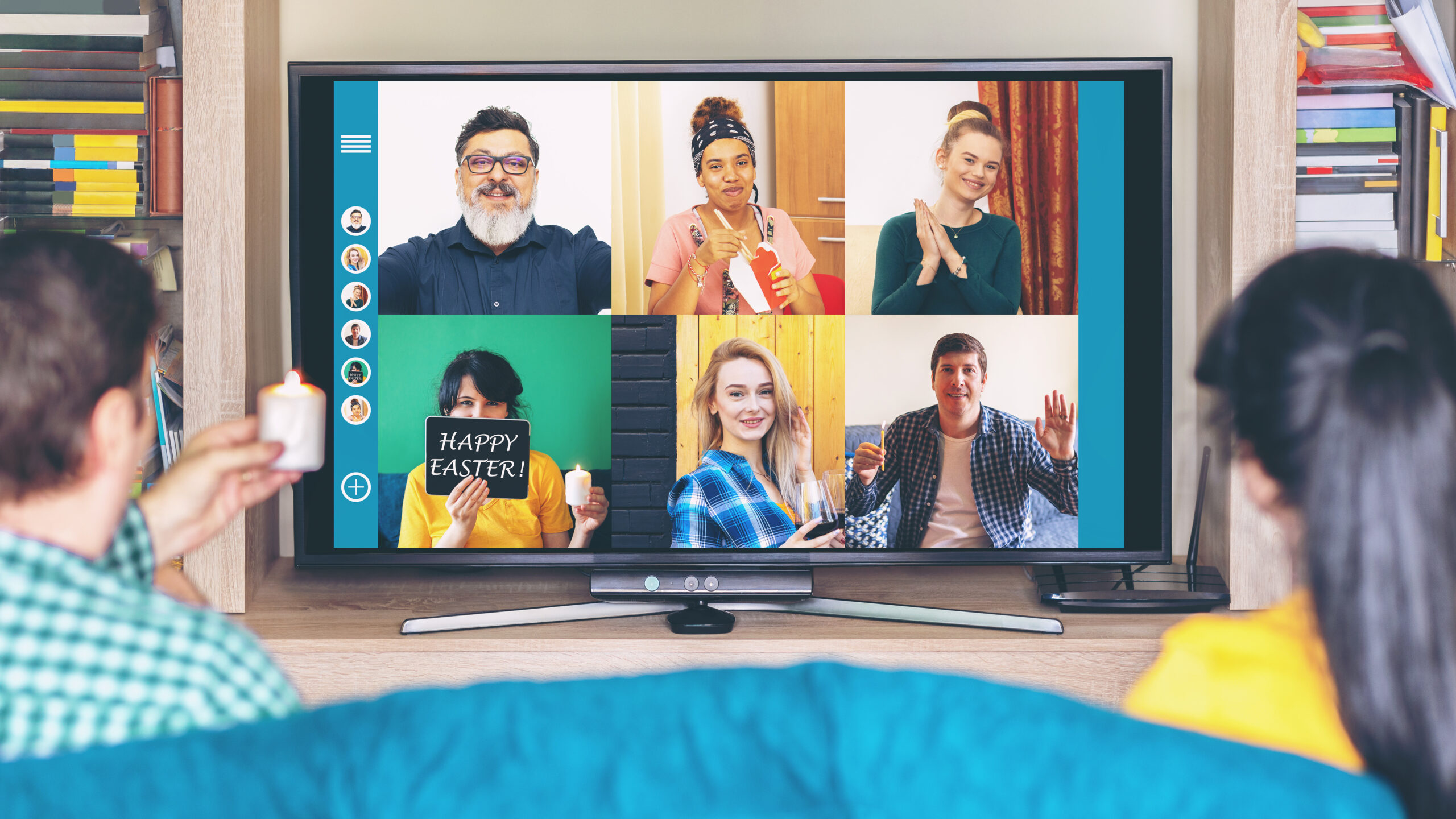 This is also a good time to decide whether your party should have a theme, and what that might be. Having a theme can definitely make a virtual party more fun and invite guests to get creative with what they wear to the party. A theme will influence every other aspect of your party, however, so consider how much time you have to plan, what materials you have on hand, and what you would have to purchase and have shipped to you.
TIP: If you want guests to dress according to the theme, it might be best to choose something fairly easy to achieve with what people have at home.  Color themes, Character starting with a letter (e.g. A party, D party) and Decade themes are a good choice – people can often find clothing,wigs and accessories or do hairstyles/makeup to acheive a look.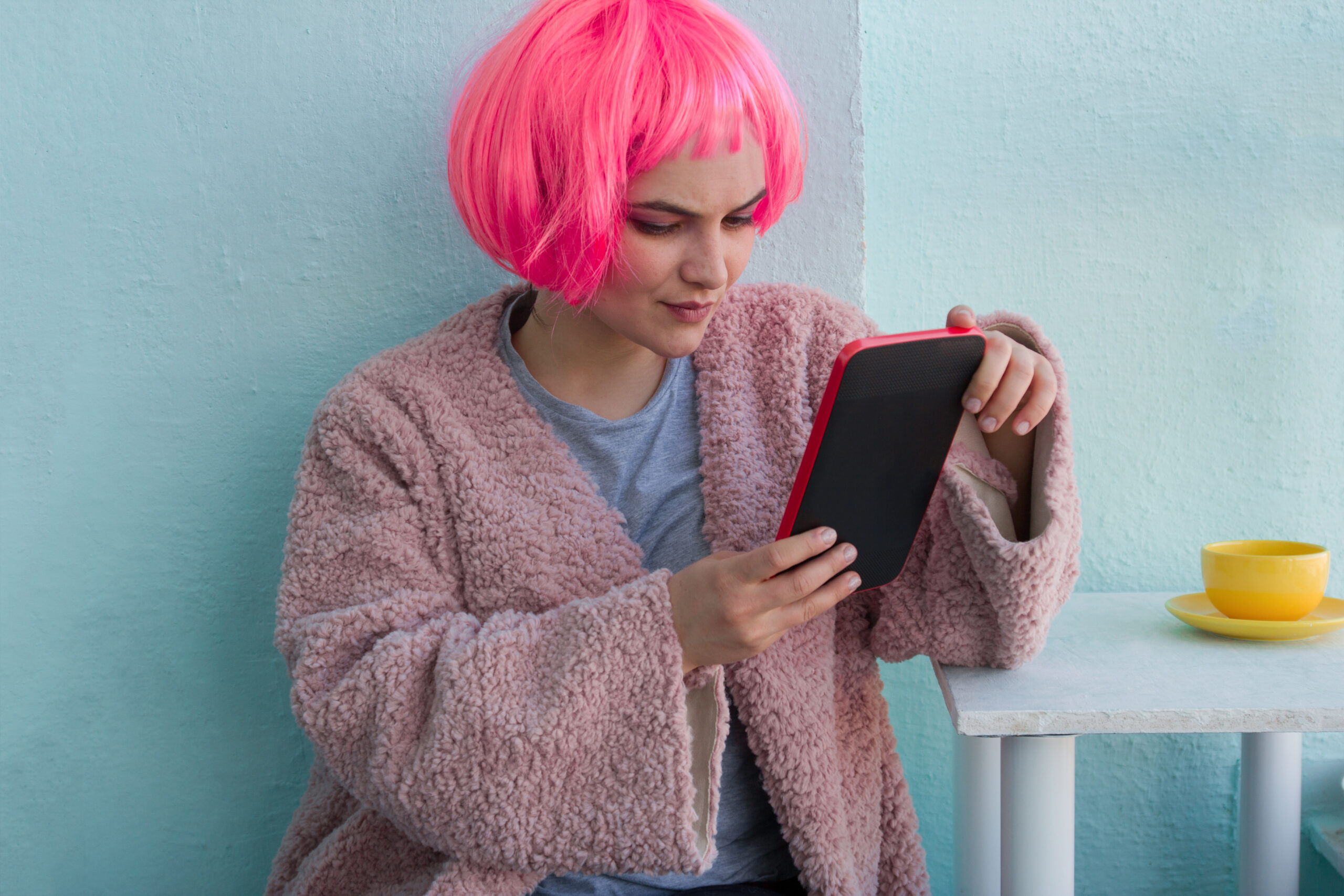 Invites
If there is time, you can create and mail actual invites to your guests. If there isn't time or you'd prefer to go paperless, there are plenty of online invitation options that still allow you to design the invite however you'd like or based on your party's theme. Many of these options already have invites created specifically for virtual parties! One great option is Greetings Island. They have so many cute designs to choose from, or you can create your own on their site. They even help with RSVP tracking!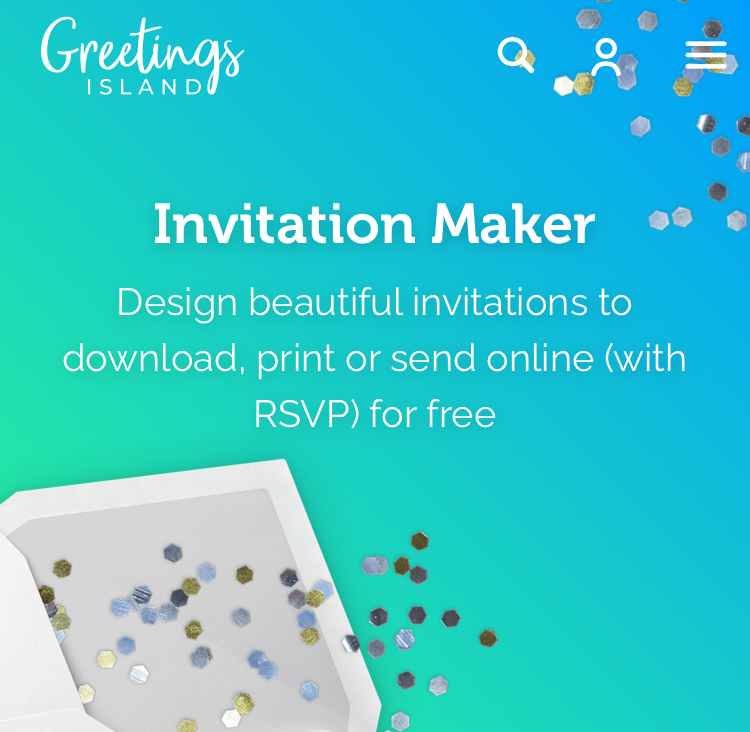 Don't forget to include the time of the virtual party, information for how to access the online platform, and any details they will need to know to participate in the party. Should they wear something specific? Have any supplies on hand? Will you be sending anythin in advance? Make sure this information is in your invitation!
TIP: It's also a good idea to send emails reminding guests about the party and the instructions closer to the event, just in case they forgot (or, like so many of us, are losing track of time in this strange quarantine life!)
Decor
Luckily, this is one area where virtual parties are much easier than in-person parties! Because guests will only be able to see what is directly behind or around you while you video chat, all you need to decorate is that area! 
If there is time, a fun way to connect the group is to mail guests some small decor items in advance, so that everyone has matching decor in their backgrounds. Large or heavy items can be challenging or expensive to ship, but uninflated balloons and crepe paper in your party colors can easily be sent in an envelope.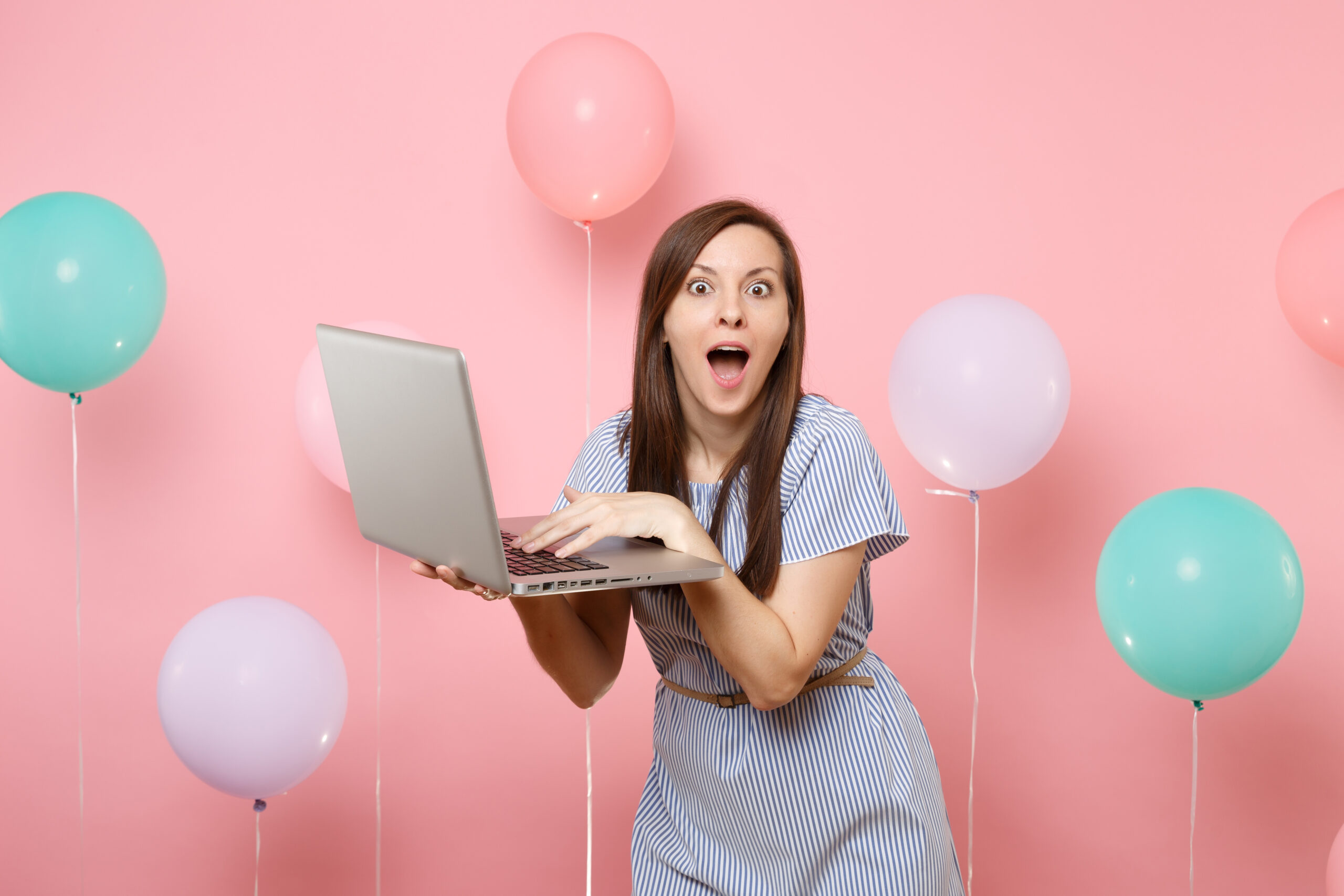 If there isn't much time, and you need to use just what you have around the house already- fabric, wrapping paper, tablecloths, or even shower curtains can make easy and eye-catching backdrops!
TIP: Set up your camera where you will be sitting during the party in advance so you can see what area you need to decorate and what your background will look like to the others once the party starts.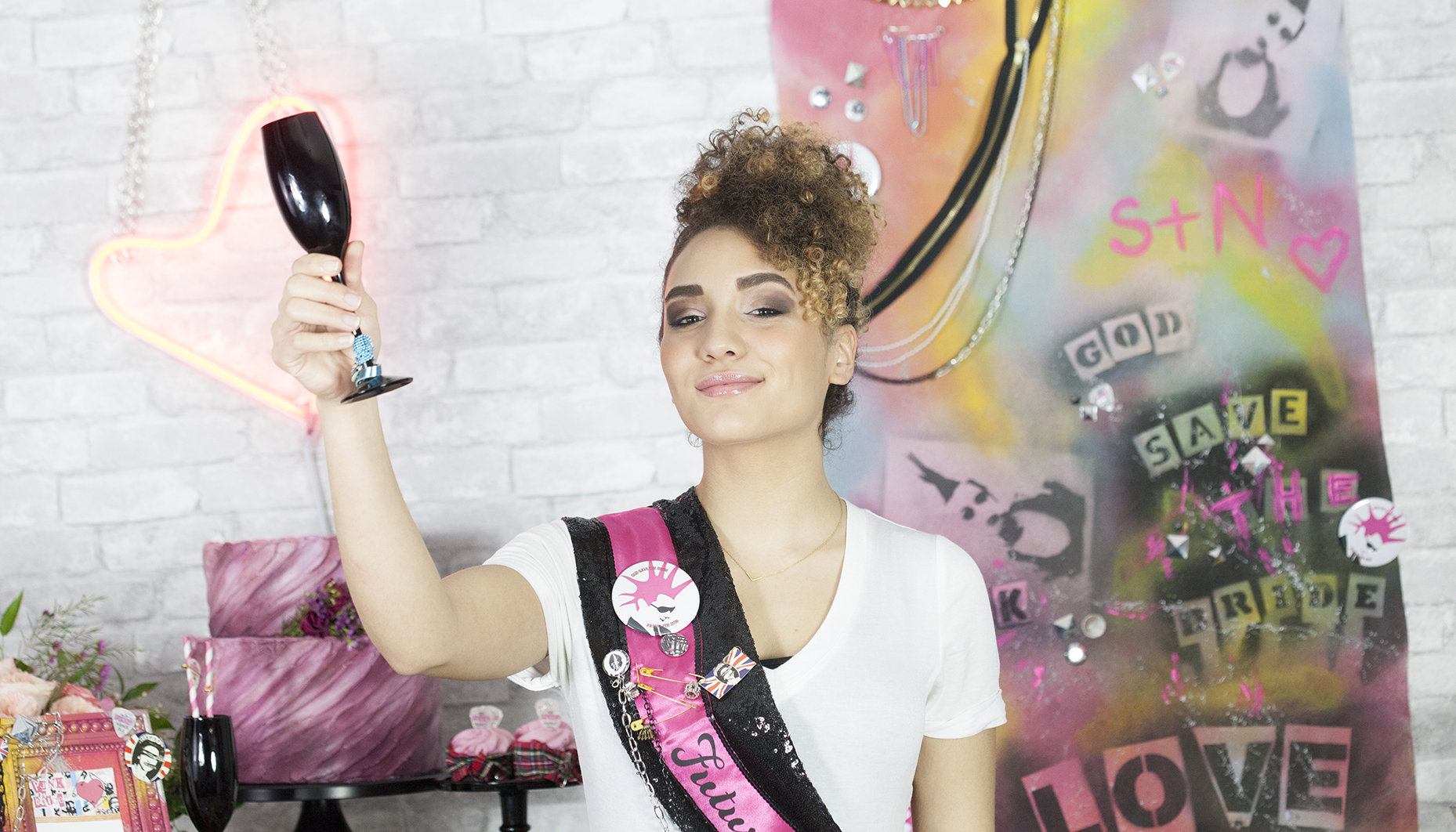 Food & Drink
Sharing food is so often a favorite way to connect with others at a party. Unfortunately, this can be one of the trickier parts of a virtual party. There are, however, a few ways to still connect over food, even from far apart!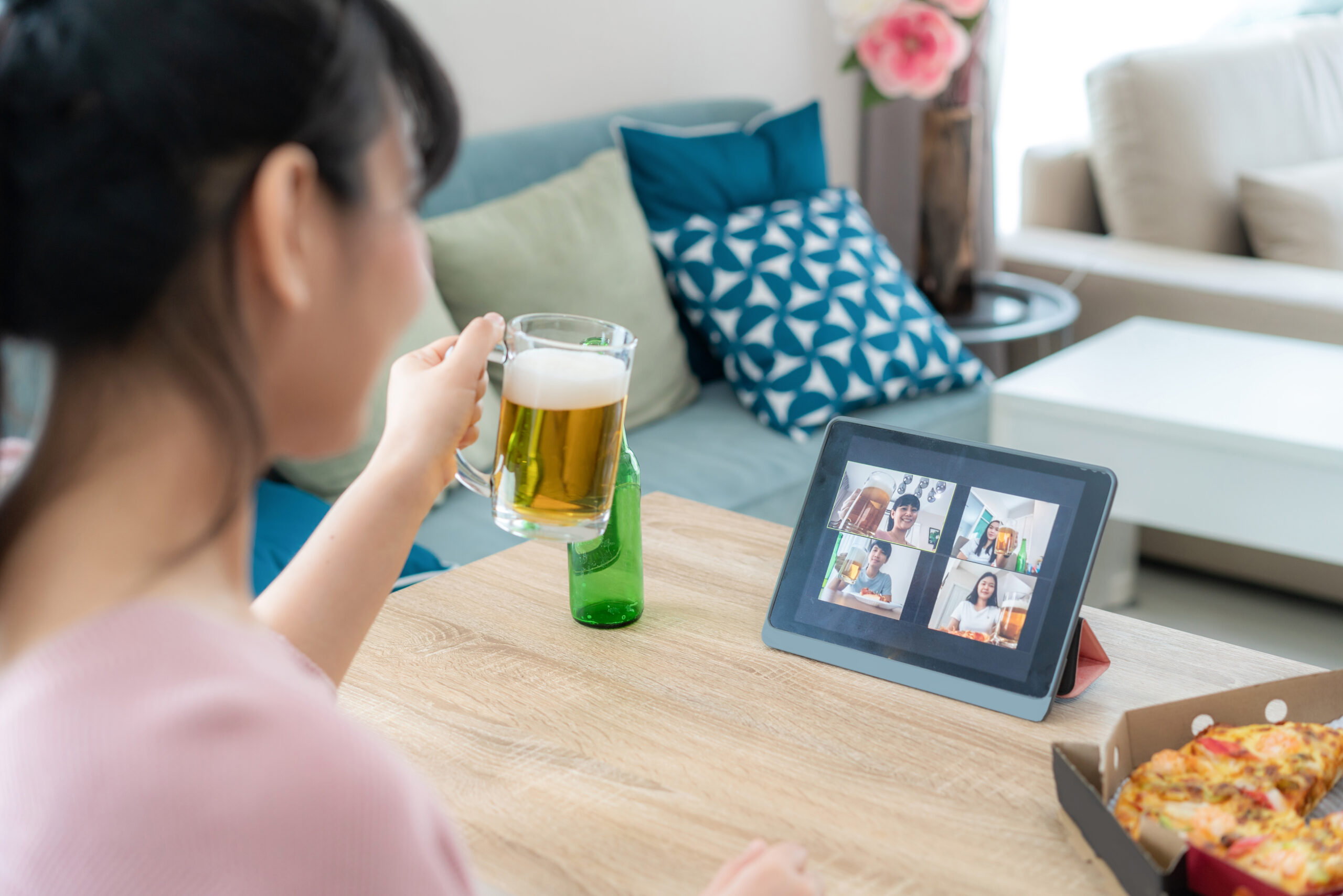 One option is to set the party menu in advance and have each guest prepare their own version of the dish before the party begins. You can then take turns showing off your creations and enjoying the food together while you chat. This can be something very simple and basic, or more complicated, depending on the preferences and skills of the guests! To make things simpler, you could also just choose a genre of food so that there are more options and chances for guests to get creative. It'd be a great way for everyone to get ideas and swap recipes!
Another option, if everyone is local, is to all order take-out from the same local restaurant. Not only will you be eating the same thing and can talk about it, but you will be supporting a local business that most likely will be quite grateful for your support during this time!
Drinks can be a little easier to coordiante – think about having a themed party like Italian style and all drinking Peroni beer! Or if your guests are close you could consider dropping off the same bottle of wine to their doorstep, so you can all toast with the same wine.
TIP: If you are ordering from a local restaurant, be sure to call in advance to see if they will be able to accommodate that many orders all at once. Many restaurants are currently working with limited staff, but if they know in advance, most likely would be happy to have the business!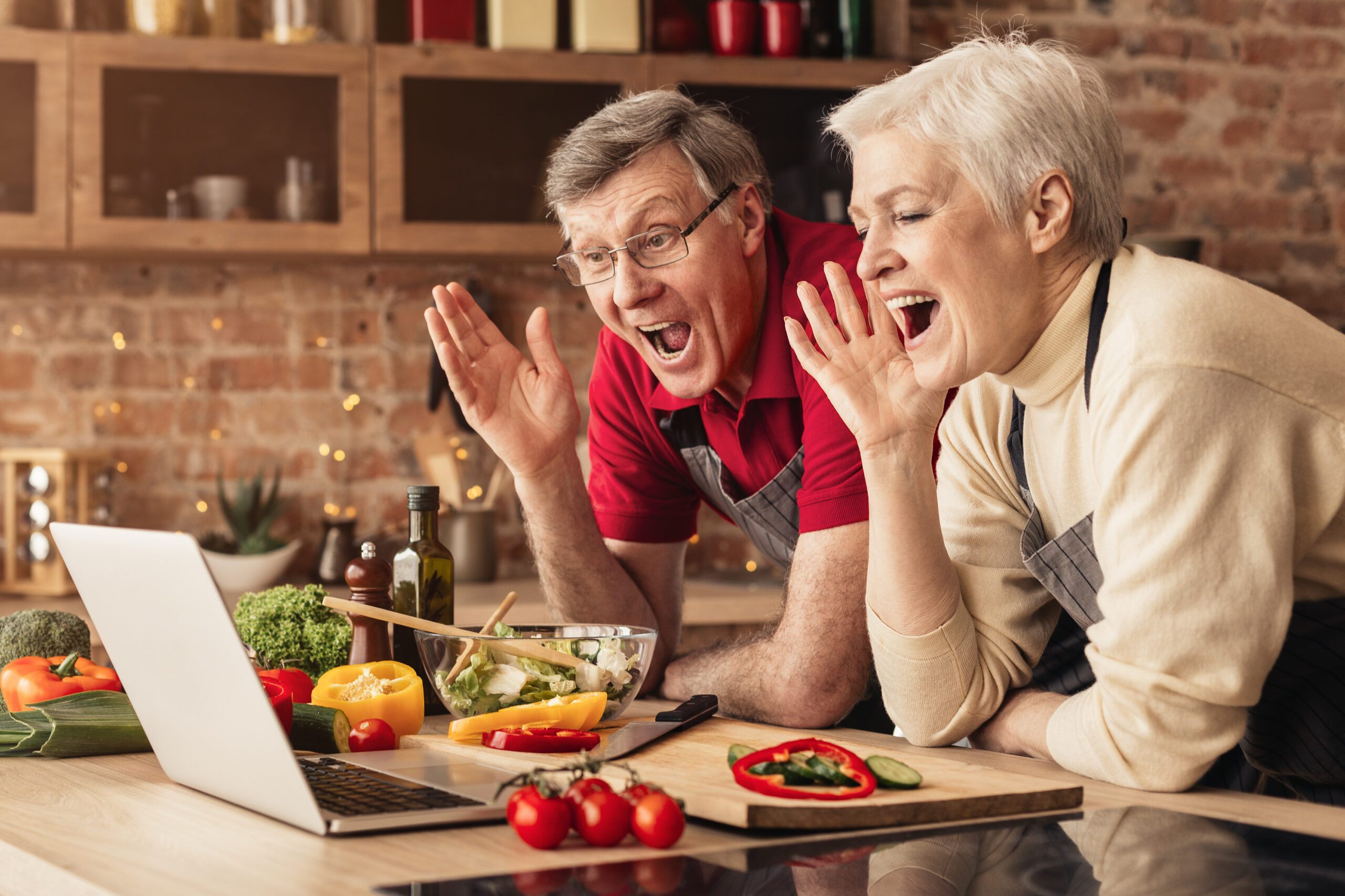 Gifts
If you'd like guests to send gifts, provide the address of the guest of honor in the invitations. They can send gifts in advance of the party. Have the birthday guest, mom or bride to be wait until the party to open them. Everyone can watch while they open gifts and let everyone know who the gift is from. That way, guests will still be able to see their loved one's reaction as they open their gift, even from afar!
Alternatively, you can let guests know a few of the guest of honor's favorite shops and restaurants (bonus if they're local!), and have guests purchase electronic gift cards to send. 
TIP: As there may be many who are a bit more financially stressed during these uncertain times, it may be a good idea to have "gifts optional" on the invitations, with some ideas in case they do choose to provide one.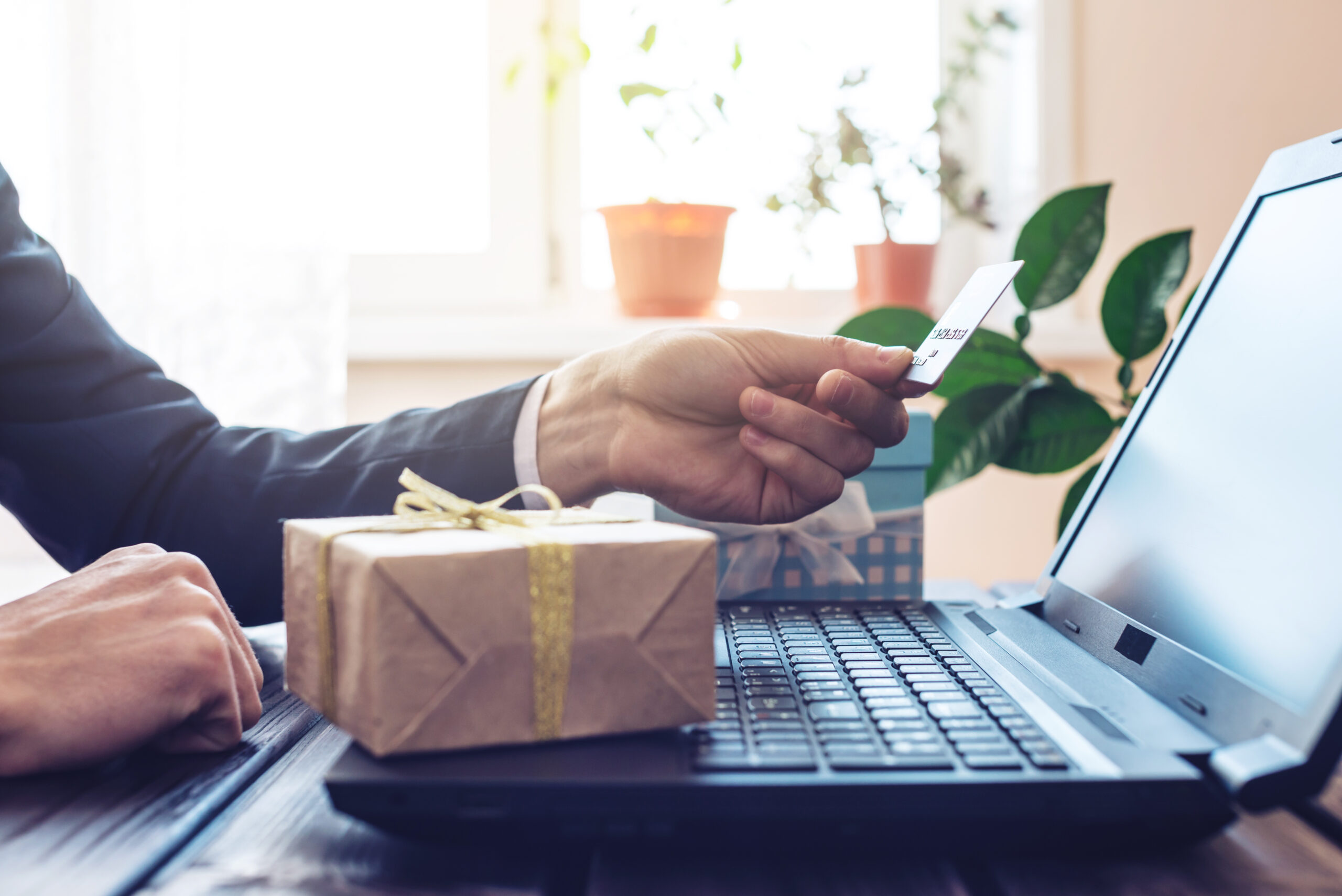 Activities
Just because the party is online doesn't mean it is going to be boring! You are certainly not limited to just sitting around and talking the whole time (not that that isn't also fun!). 
If you have the time, you can mail printed games or activity supplies to each guest in advance of the party. You could even mail craft supplies and have each person complete a craft together while video chatting!
If you don't have the time to mail items in advance, there are plenty of typical party games you can play even virtually. For example, you could easily play pictionary or charades with limited or no supplies at all.  If you are an artsy group, why not watch a youtube video on how to draw something related to your theme and practice your drawing skills? You'll have a blast sharing your results with each other when you're done. More of a performer? How about some virtual karaoke? Or take turns coming up with different dance moves and showing them off to the group. There are so many ways to have fun and keep everyone entertained, it just takes a little thought and some creativity!
For more ideas on incorporating activities into your virtual party be sure to check out my post with 8 Activity Ideas for Virtual Parties.
TIP: Think about the guests and their preferences/abilities when planning activities. While you may not be able to accommodate every person's ideal preferences, you don't want to choose an activity that will almost certainly leave anyone out. However, you can also allow guests to simply be observers if they'd rather not participate in any activity. Now, more than ever, is the time for compassion all around!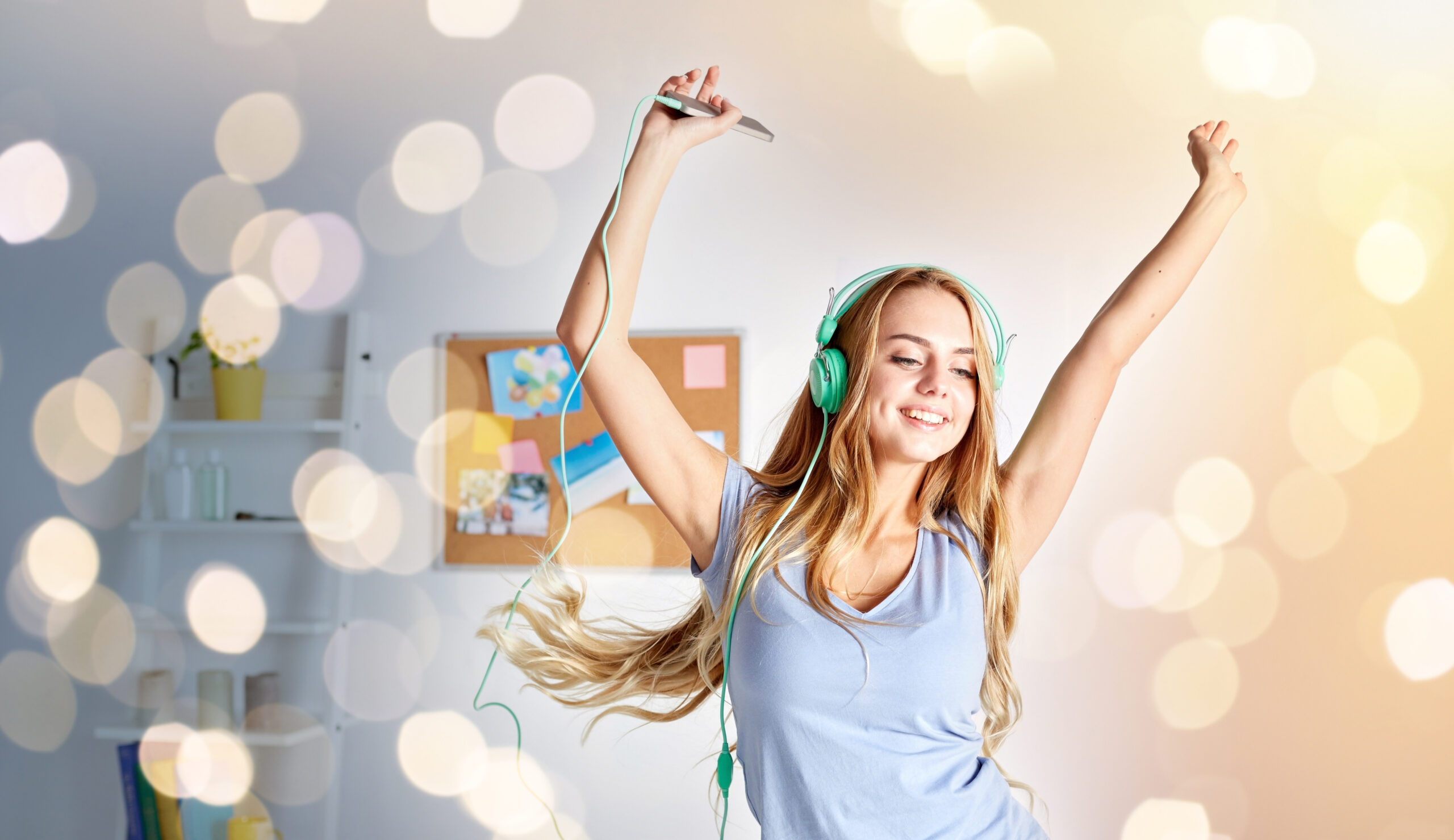 Favor/Thank You
If you'd like to thank guests for participating in your virtual birthday party, you can either mail them a favor in advance, or provide a virtual thank you gift by emailing them a small gift card once the party is over. If gifts are being dropped to you, why not set up a curbside table with small favors for guests to pick up.
Guests are certain to have so much fun at this virtual party, they might just be thanking you!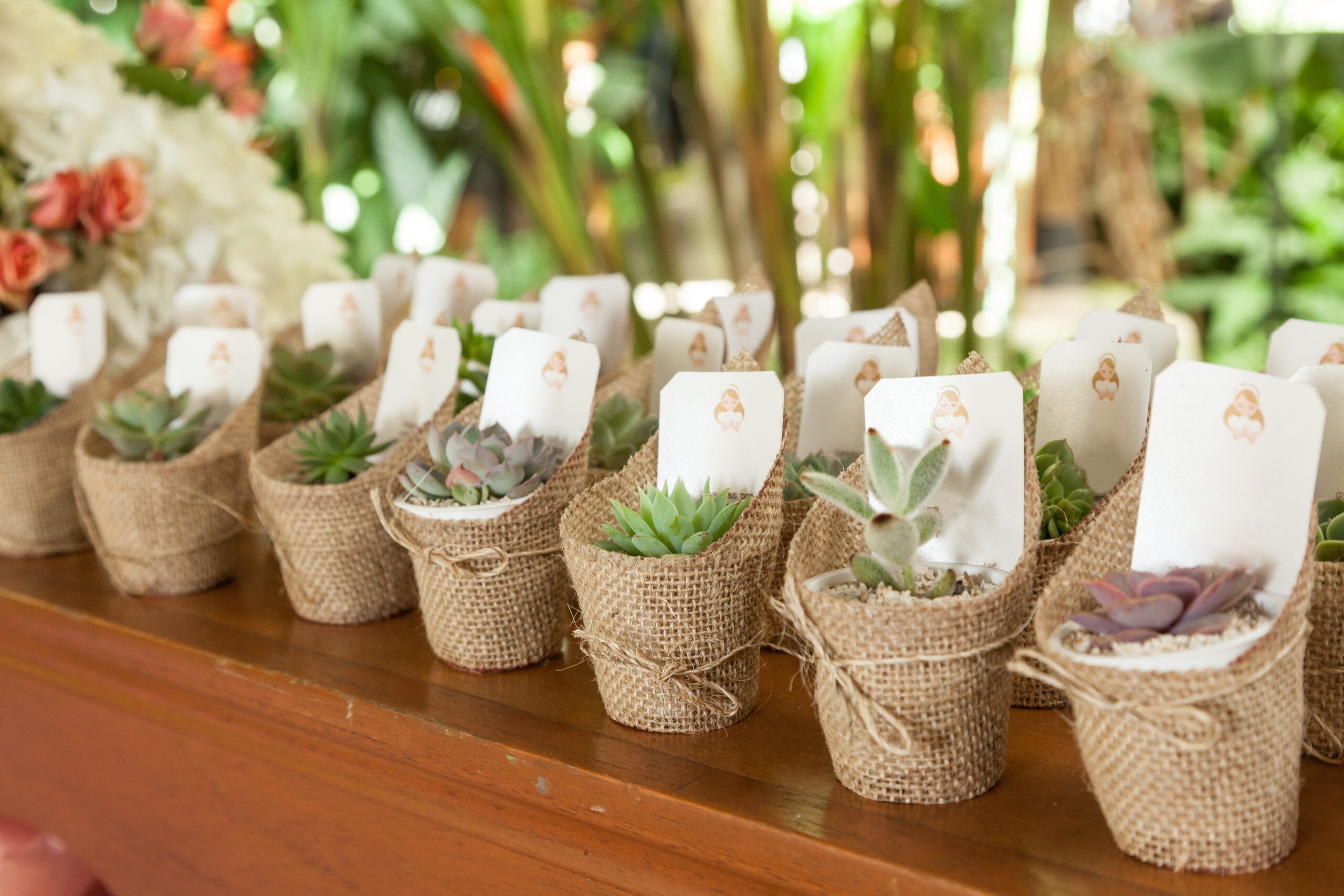 I hope that this post has provided some ideas and inspiration, and shown you that there are still plenty of ways to celebrate life, even during these crazy times! What other ideas do you have for celebrating virtually? Let me know in the comments!
And keep an eye out for more virtual party posts, coming soon! For now, check out my posts on Throwing a Birthday Parade, and my Ideas for Virtual Easter Celebrations with Friends and Family!
Happy Partying!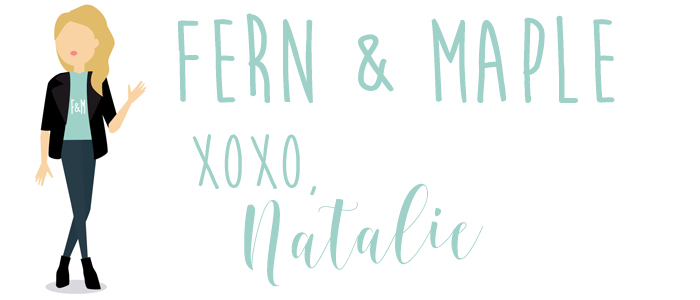 PIN FOR LATER: