Are you looking for a magical way to treat your guests? Look no further than a Harry Potter favor or treat station! Use your wand and some spells (or the instructions below) to whip up an enchanting display of wizard-inspired goodies. Whether you're throwing a Harry Potter birthday party, movie marathon get-together, or Hogwarts Legacy party, this magical setup is guaranteed to wow anyone with even the slightest appreciation for The Boy Who Lived. Keep reading for all the details on how to create the perfect Harry Potter favor or treat station!
P.S. I got most of my supplies at Oriental Trading. Check out their amazing selection of Harry Potter Party supplies!
How to Set Up a Harry Potter Favor or Treat Station
Diagon Alley Favor Station
For both setups, I set all of my items on a rolling craft cart. I used a backdrop of Hogwarts balloons and Bertie Botts Every Flavor Beans décor. Rolling craft carts are perfect for any type of favor or treat station. You can easily position them wherever they fit best for your party, or roll them where needed!
I provided a Diagon Alley-themed bag for each guest to fill with their choice of favors.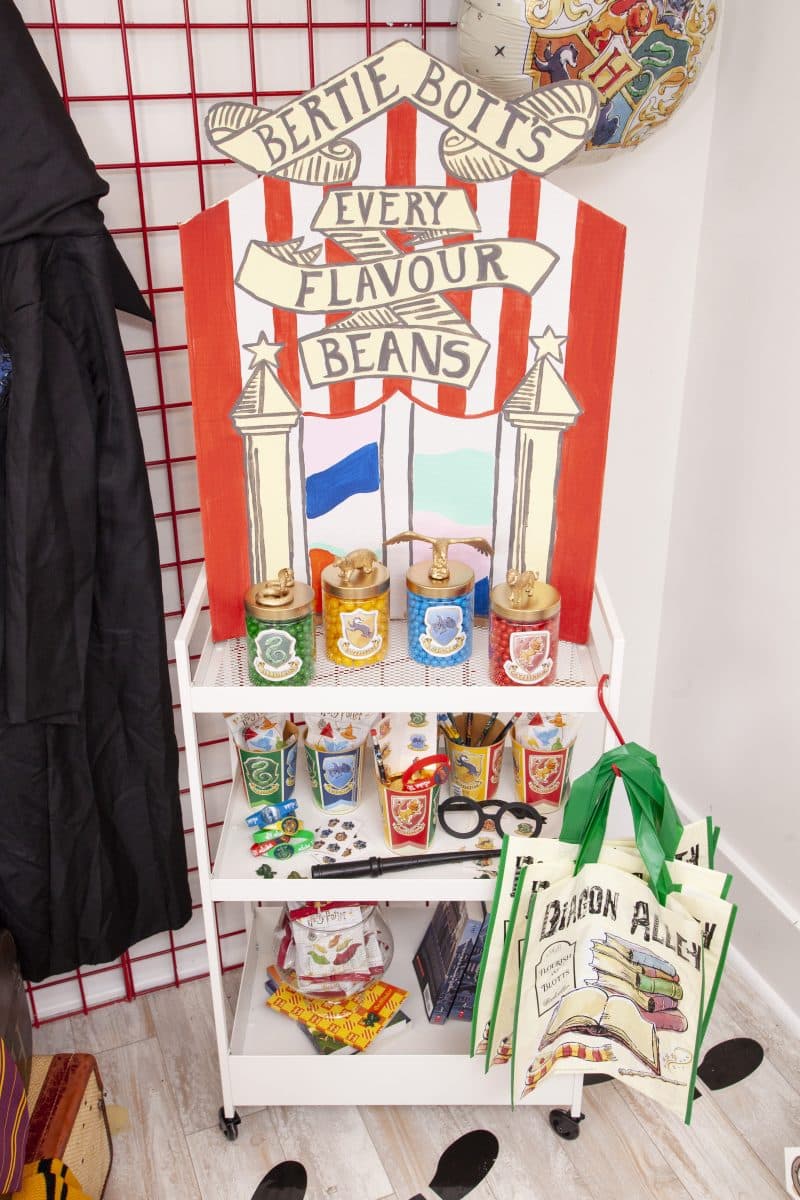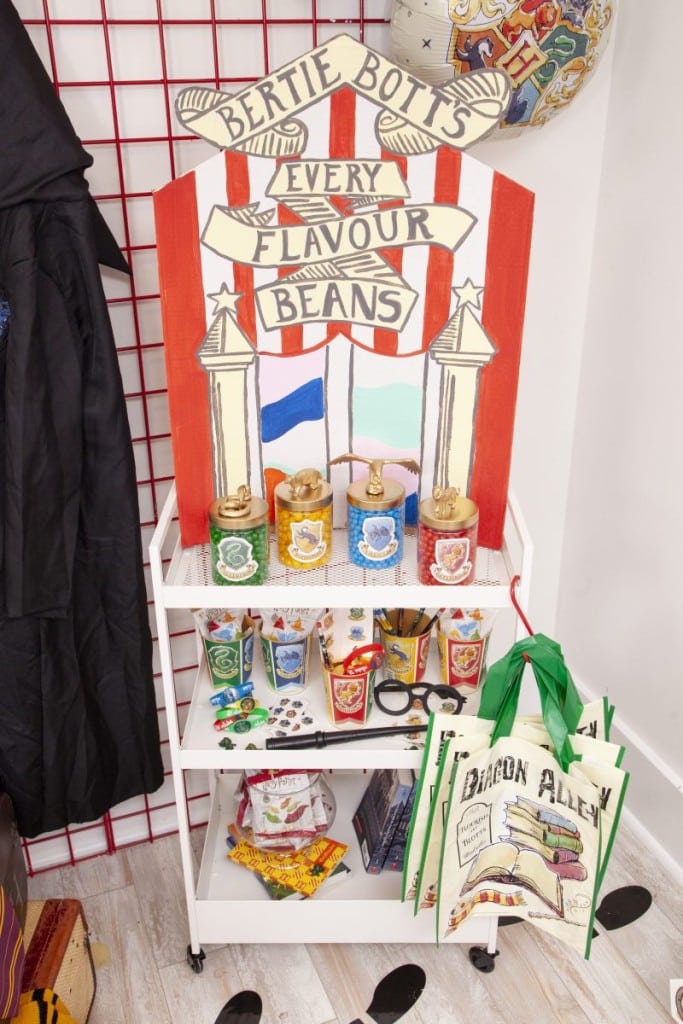 First I set up the top shelf of the favor cart (or should we call it a "trolley?). I placed DIY Hogwarts House favor jars filled with candy matching each of the house colors. These could easily be filled with any type of small Harry Potter favor, like stickers, temporary tattoos, or erasers instead of candy.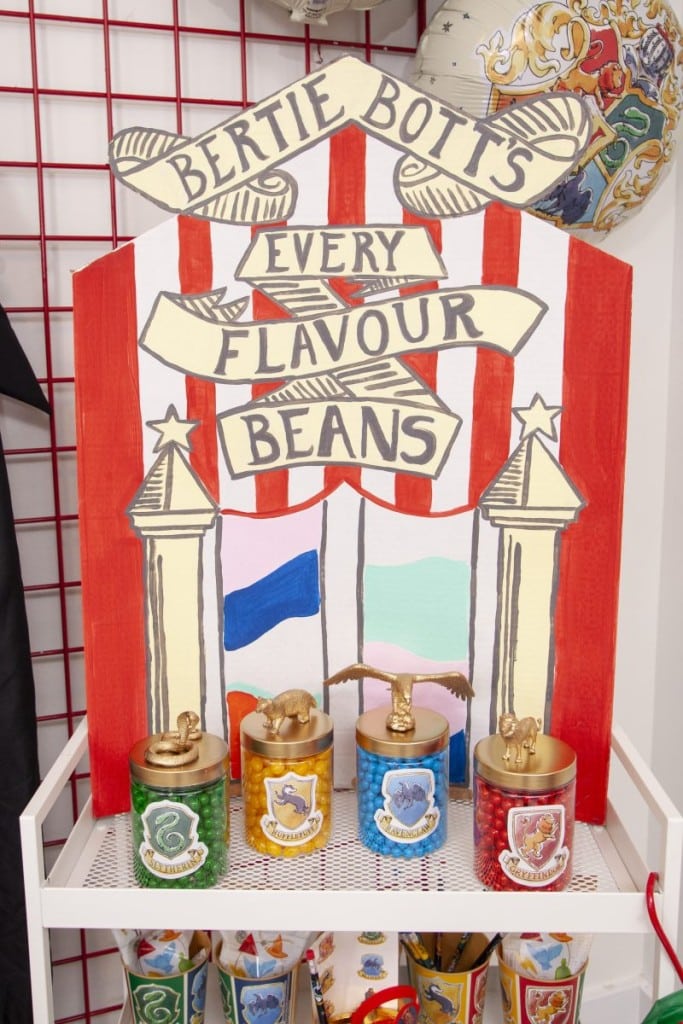 For dimension, I placed them on acrylic stands at varying heights.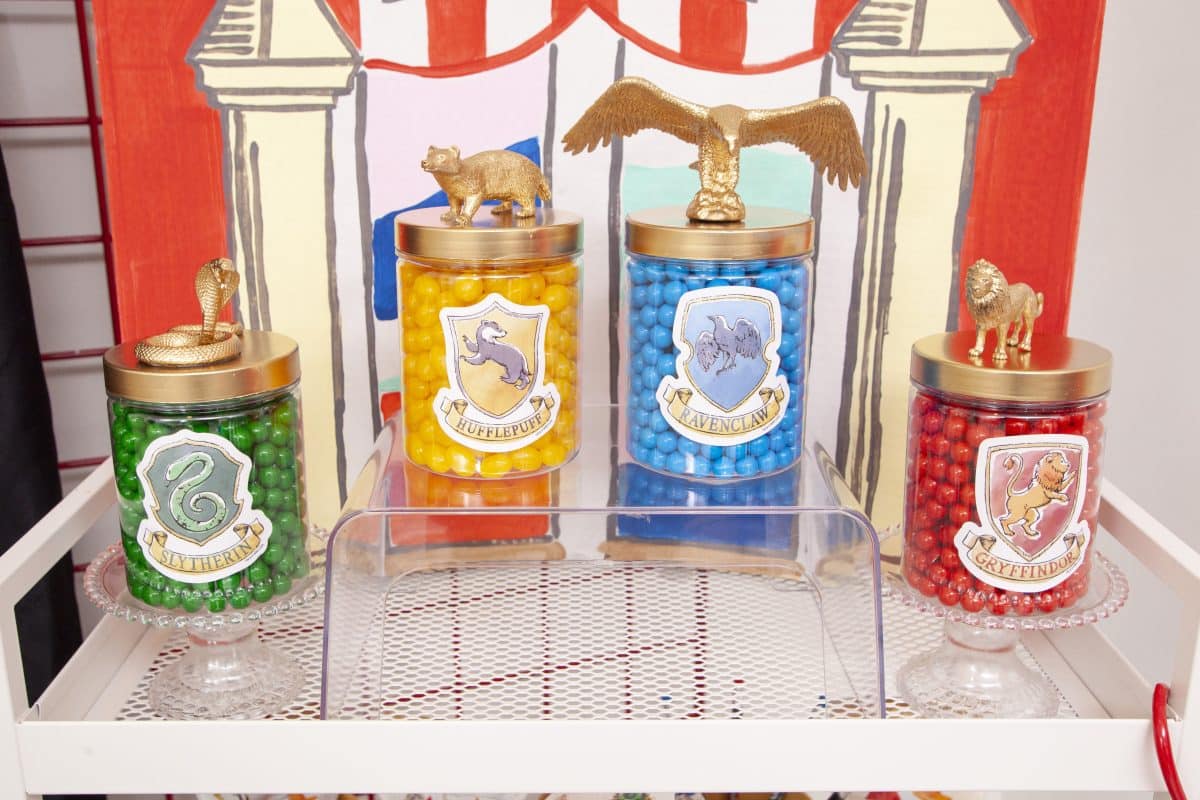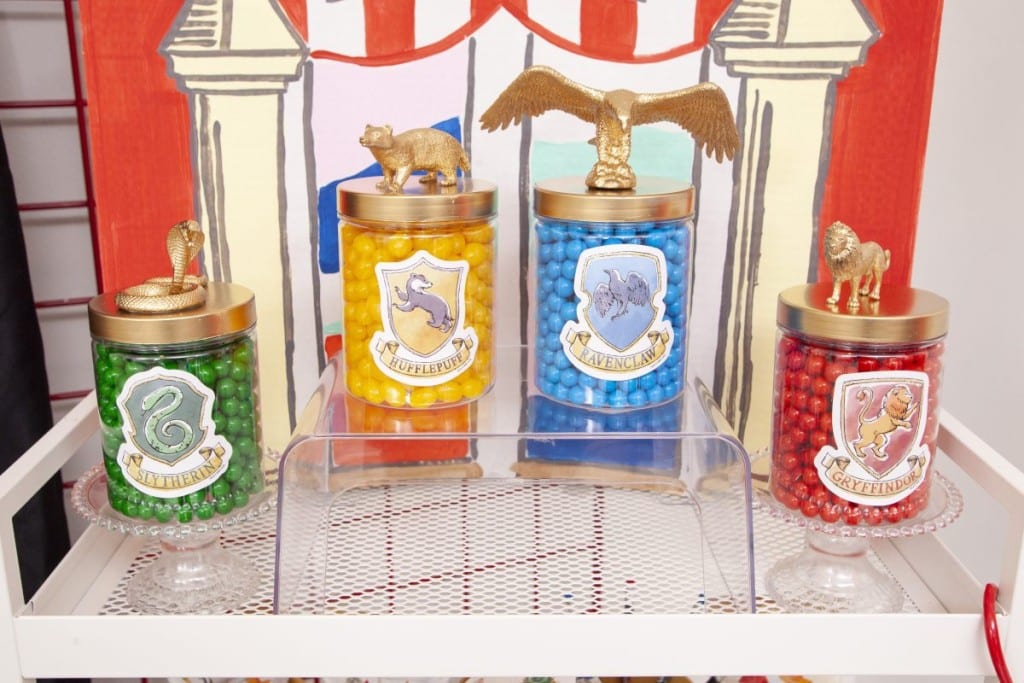 Get instructions for how to create these DIY Hogwarts House favor containers HERE.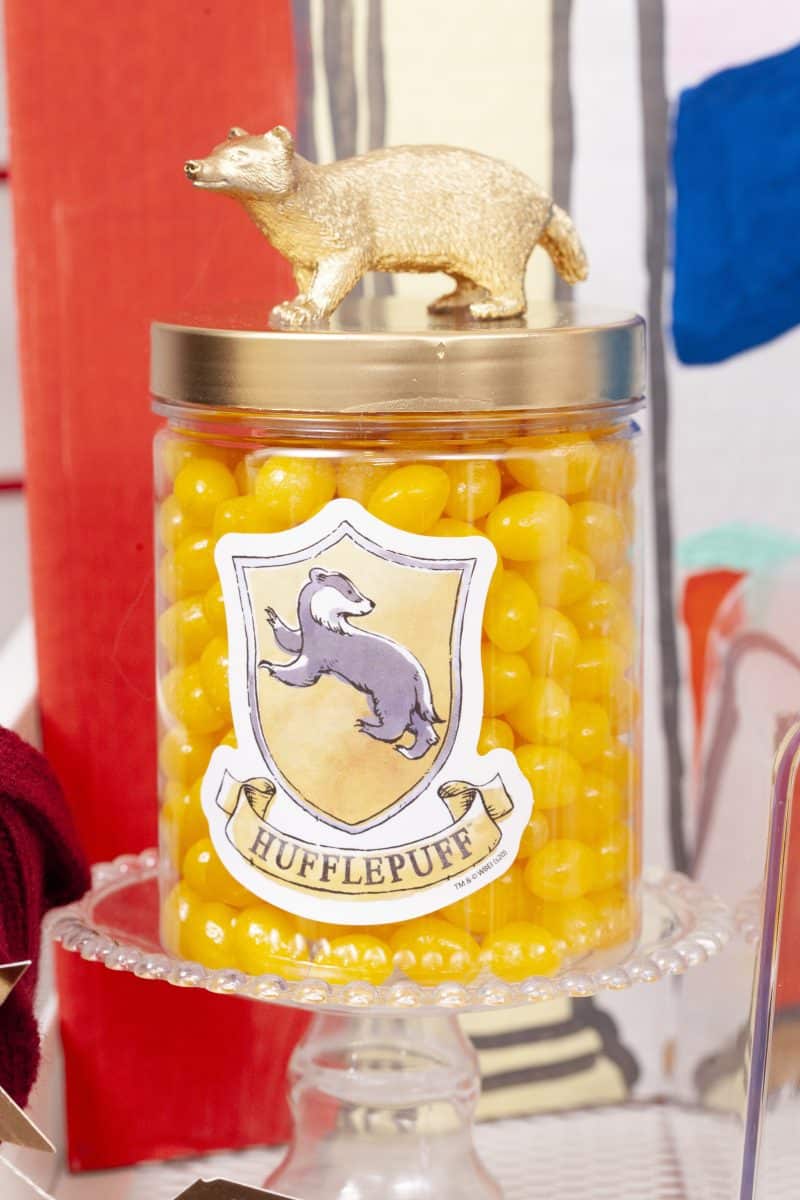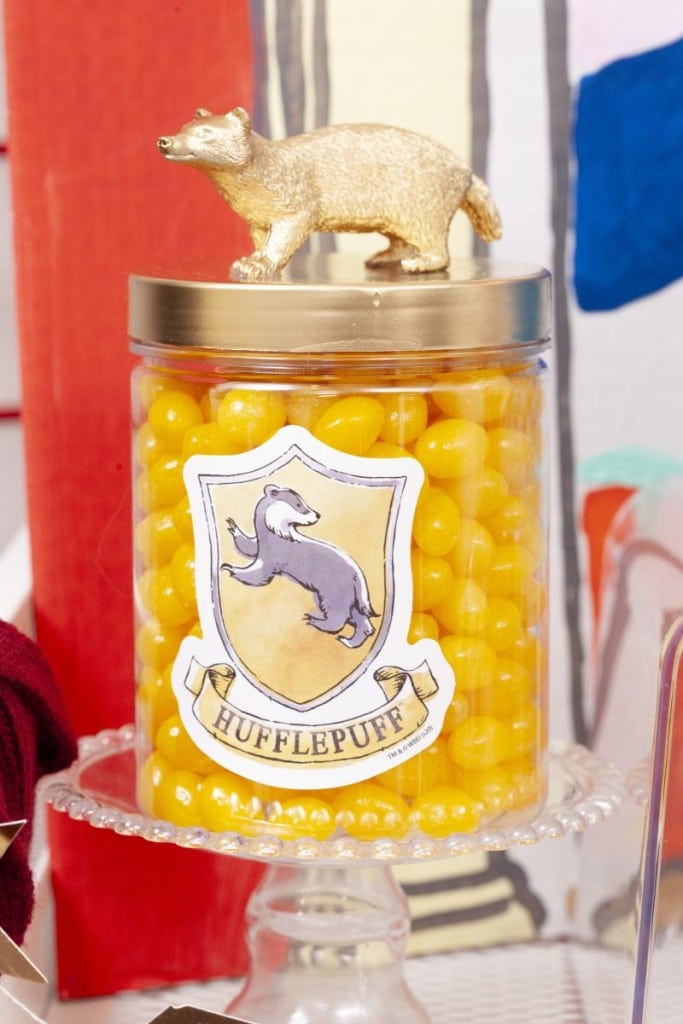 Then, on the next shelf, I placed Hogwarts house cups with all sorts of Harry Potter-themed trinkets, from pencils and stickers to wristbands and temporary tattoos.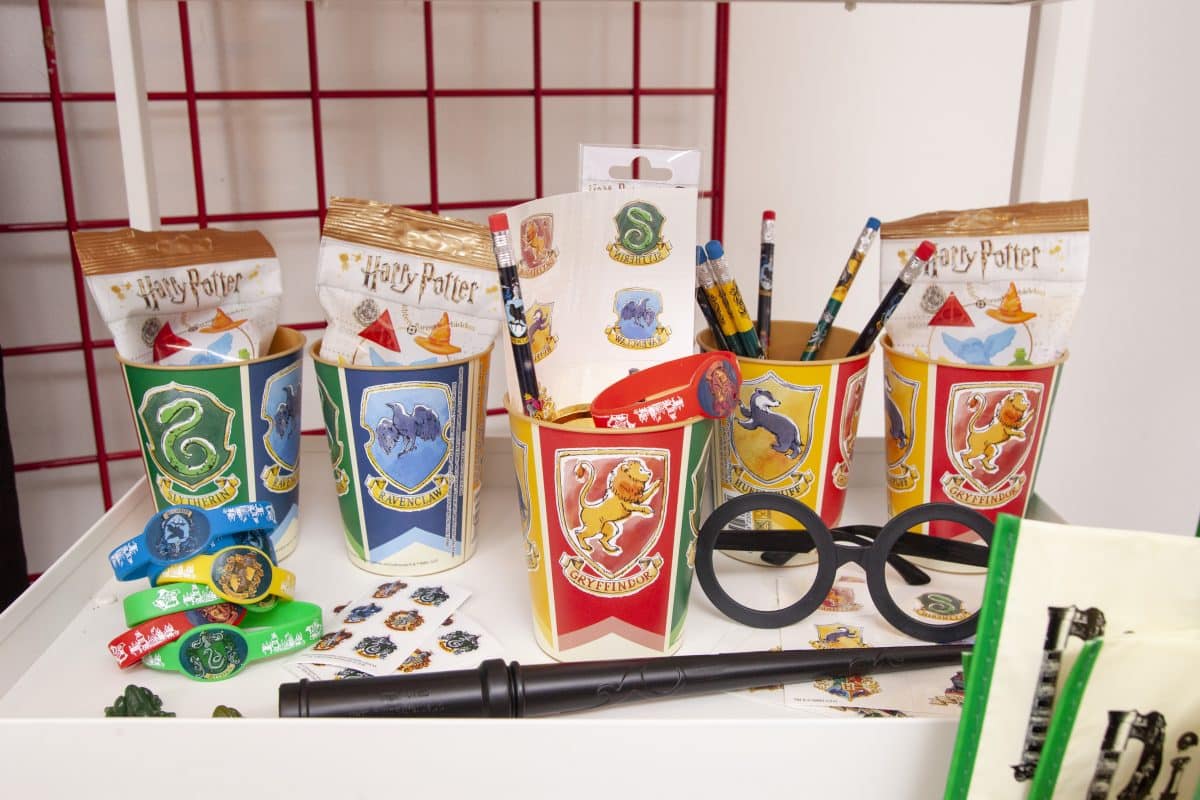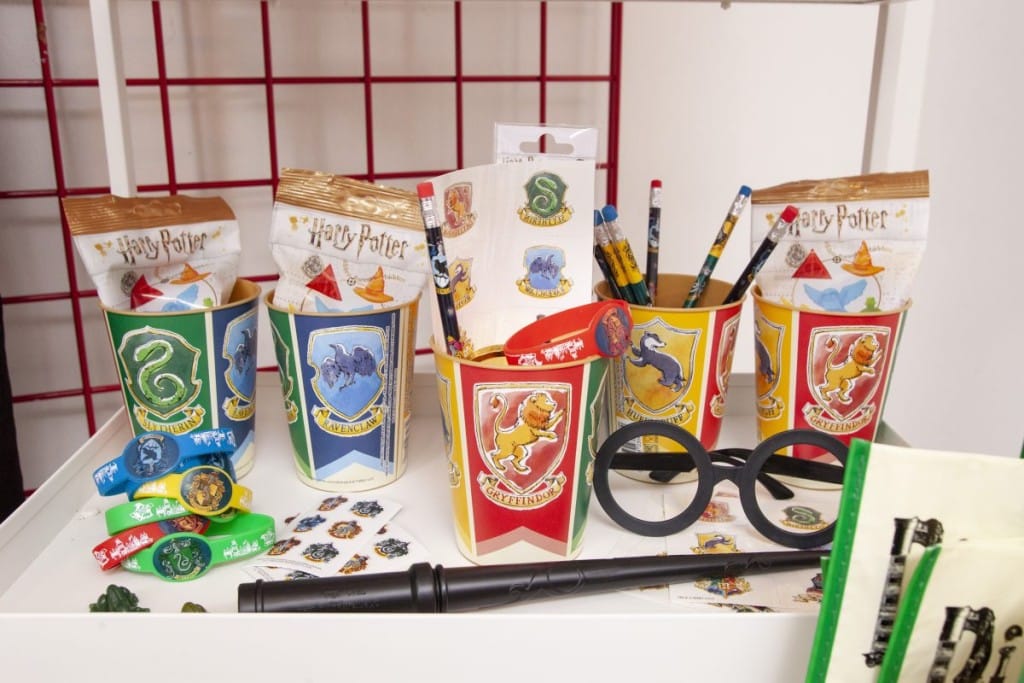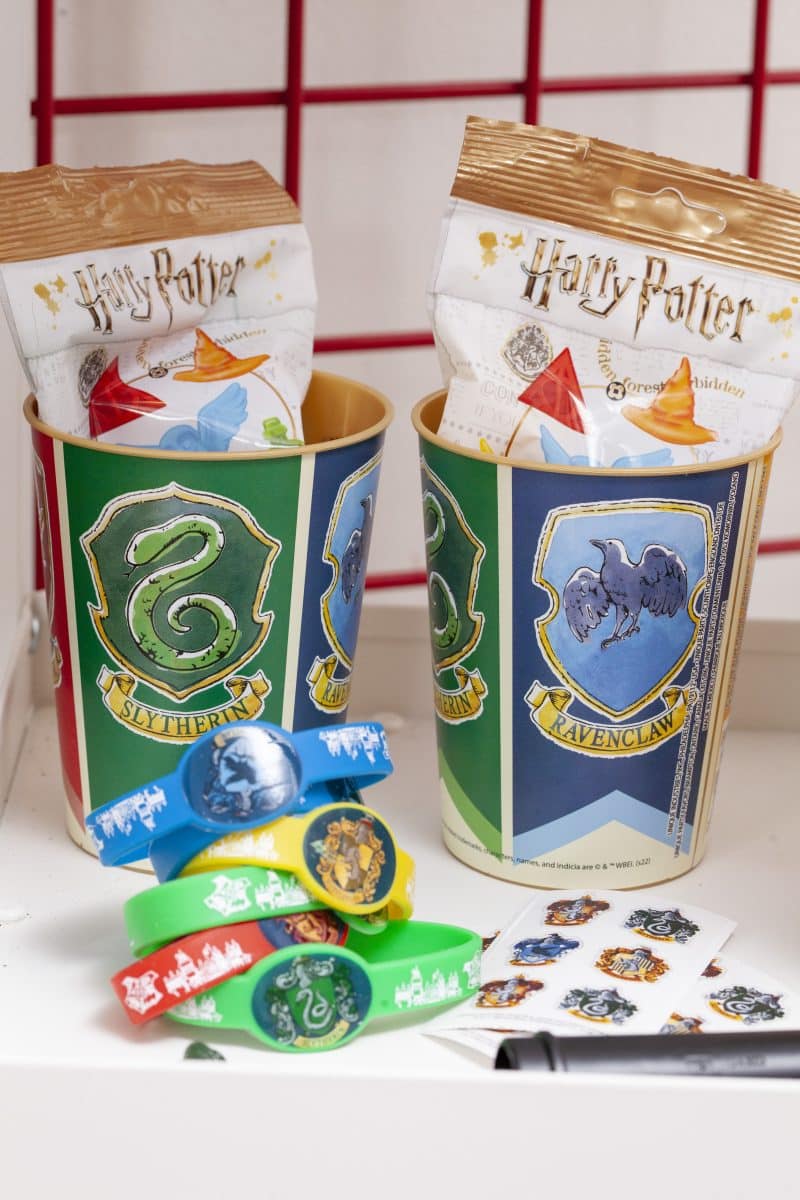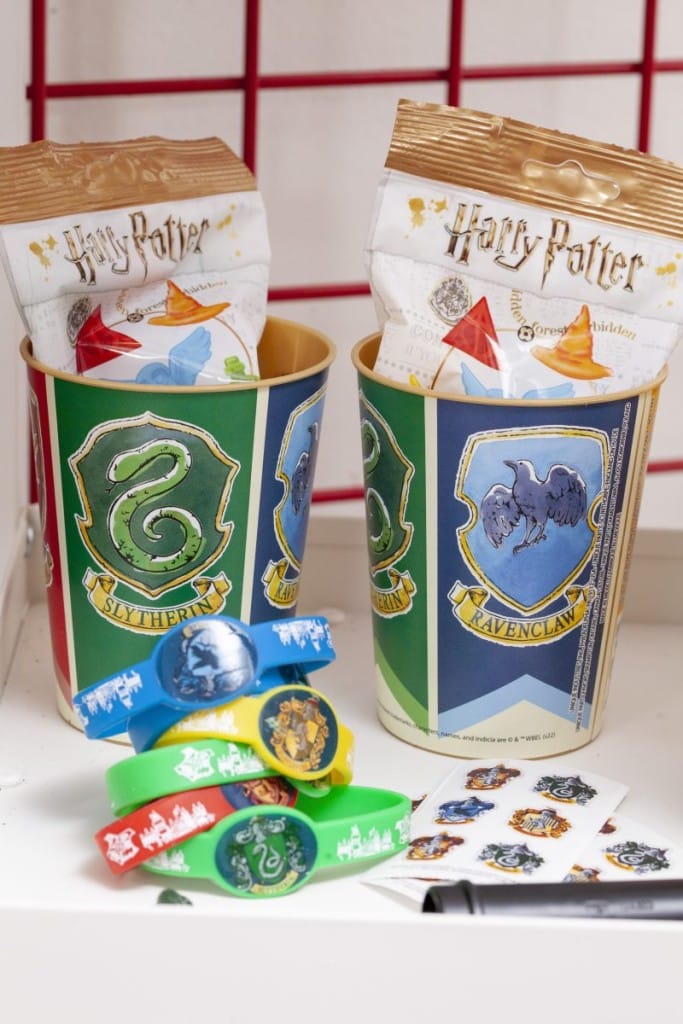 These cups are perfect because they showcase each house on different sides of the cups – but you could also use individual house cups if you have die-hard house fans in your group!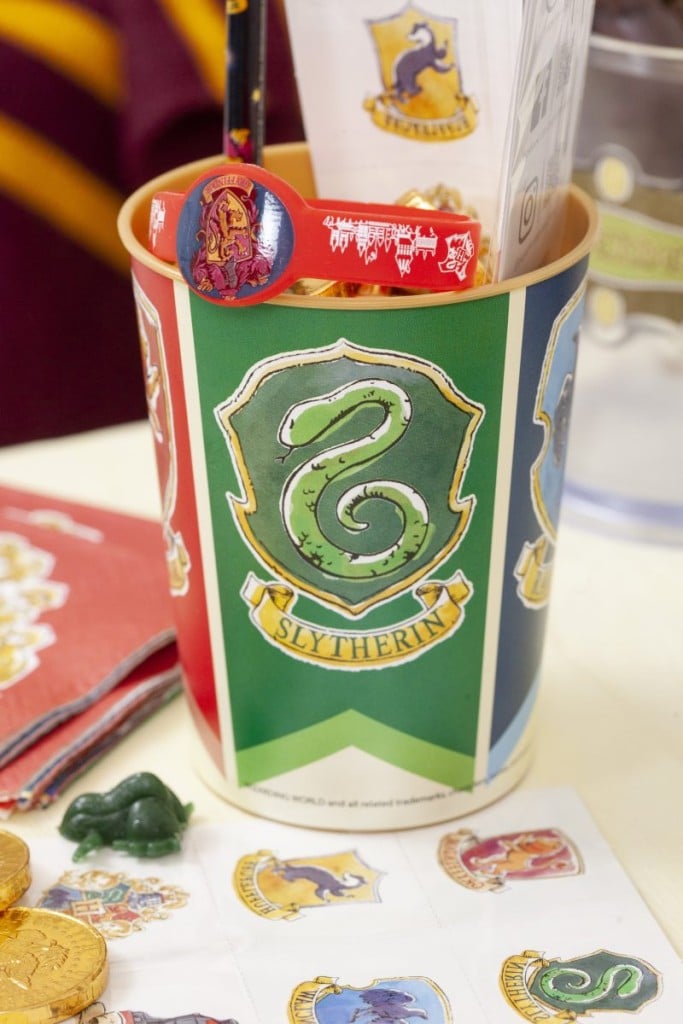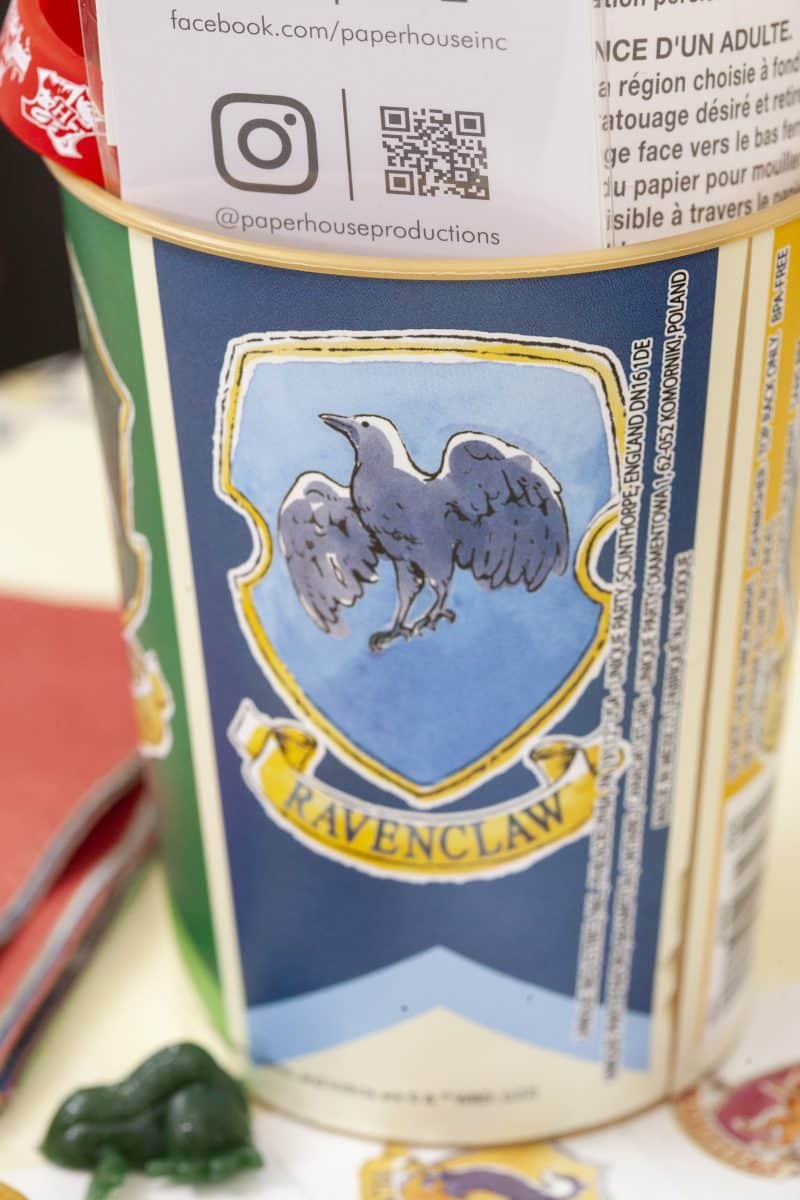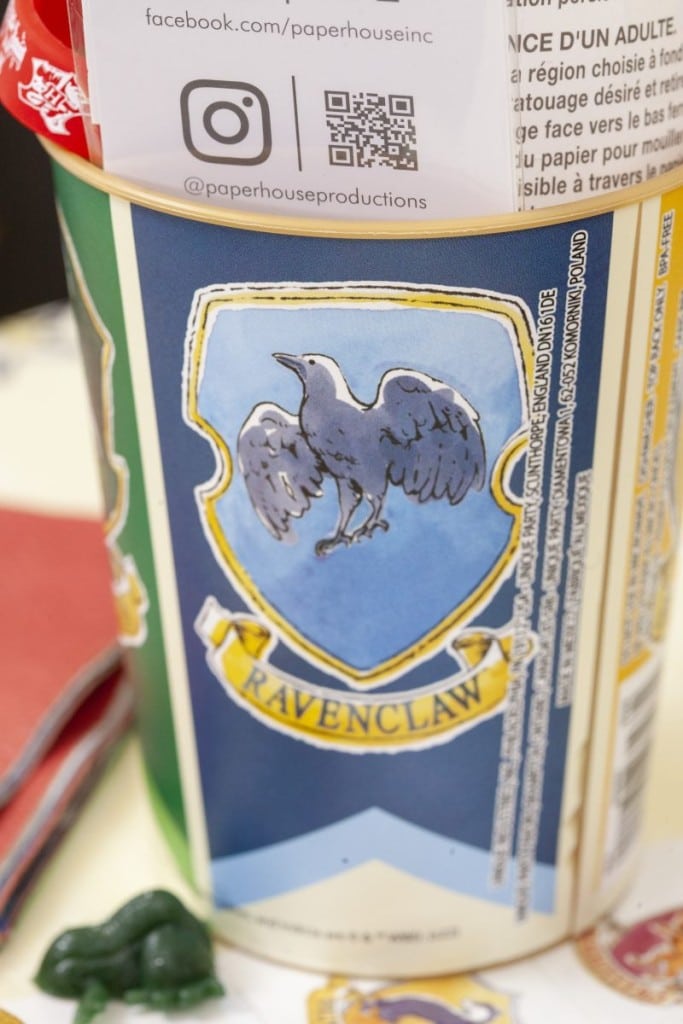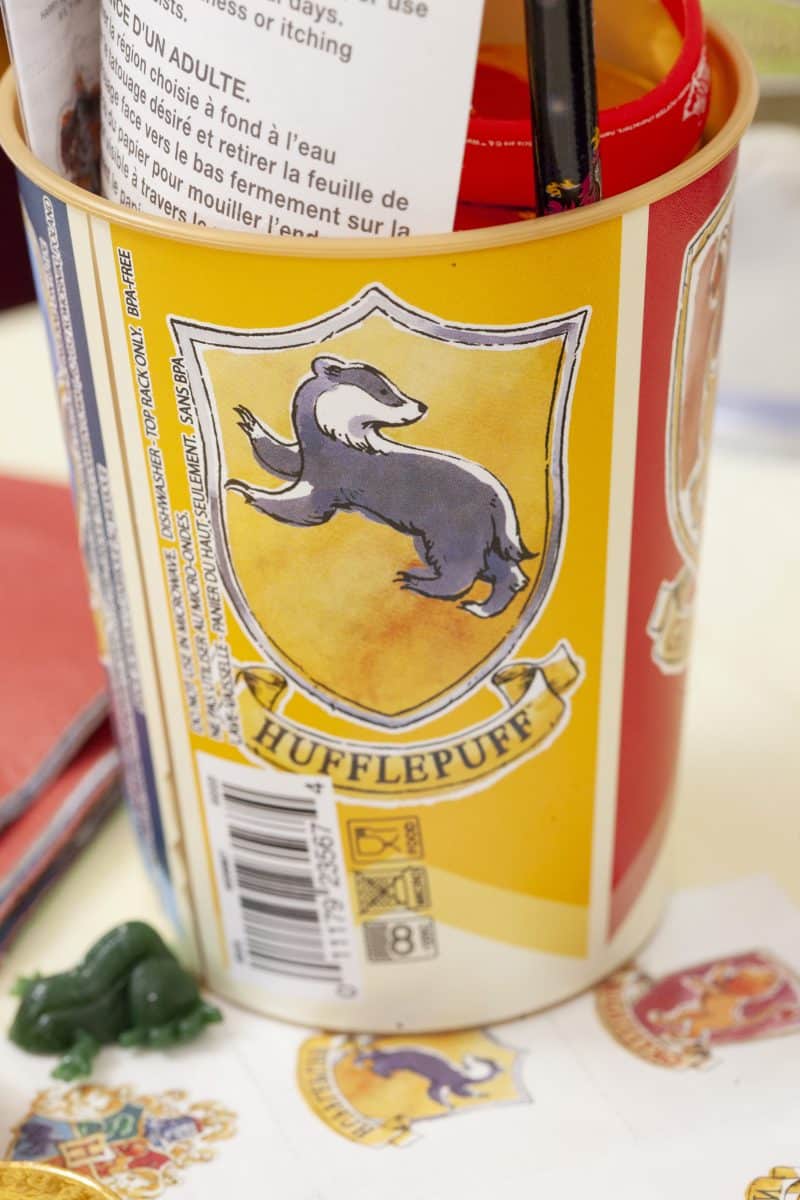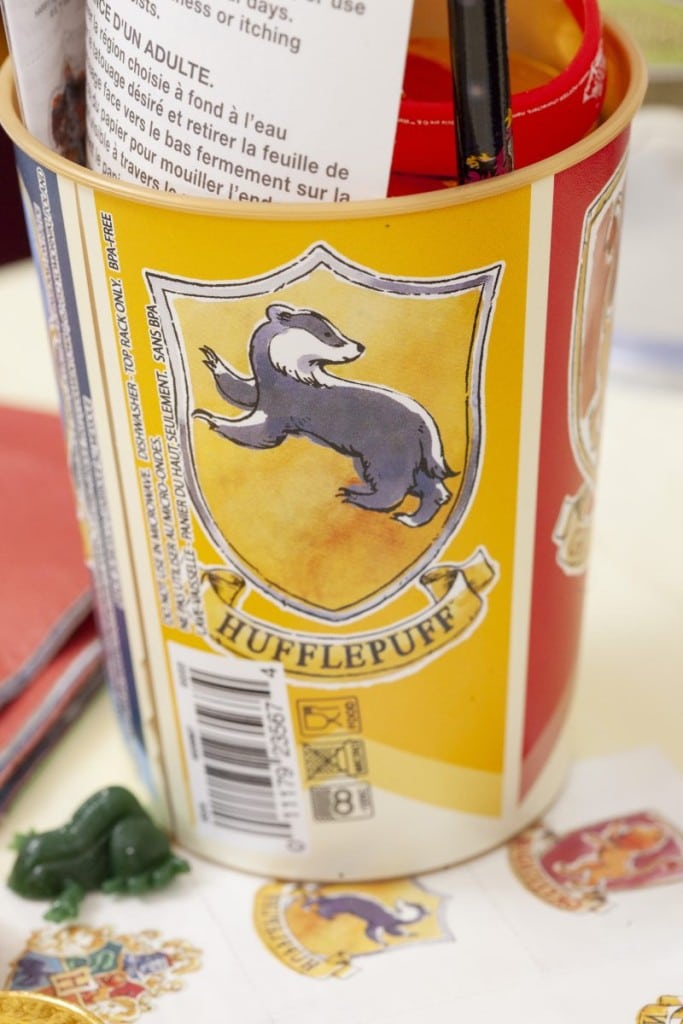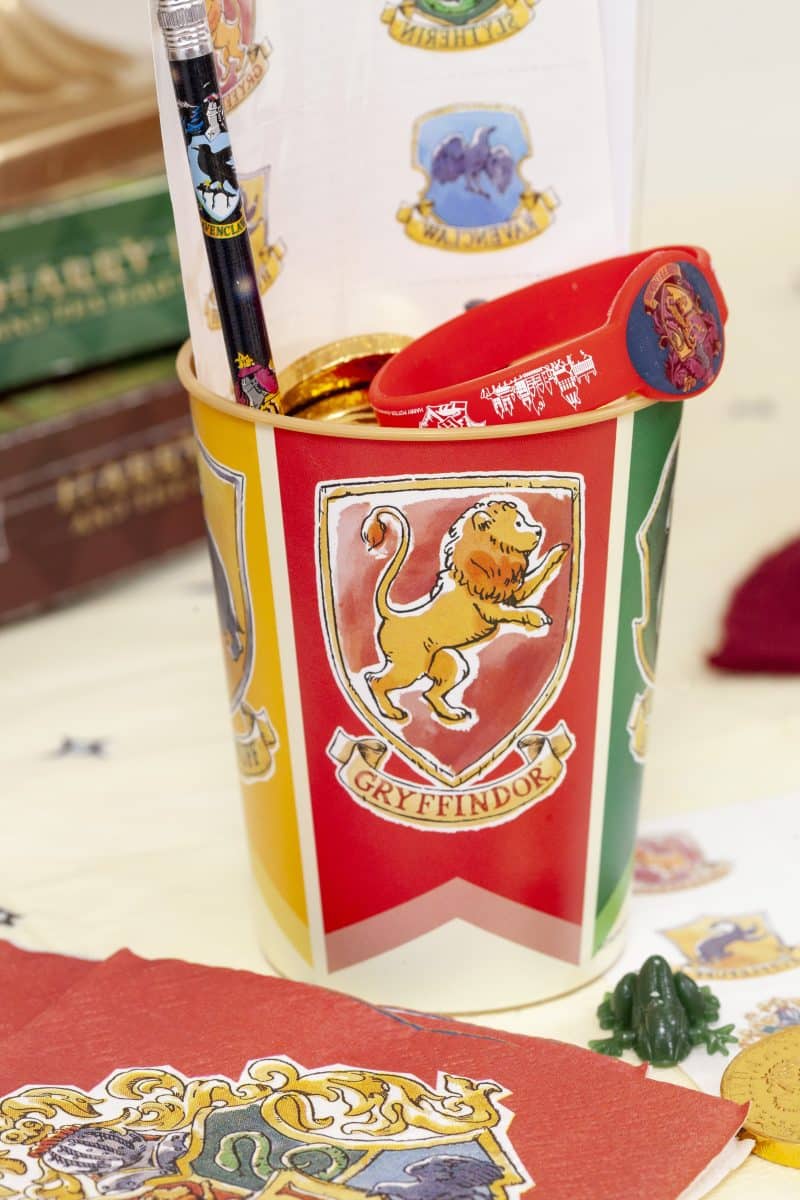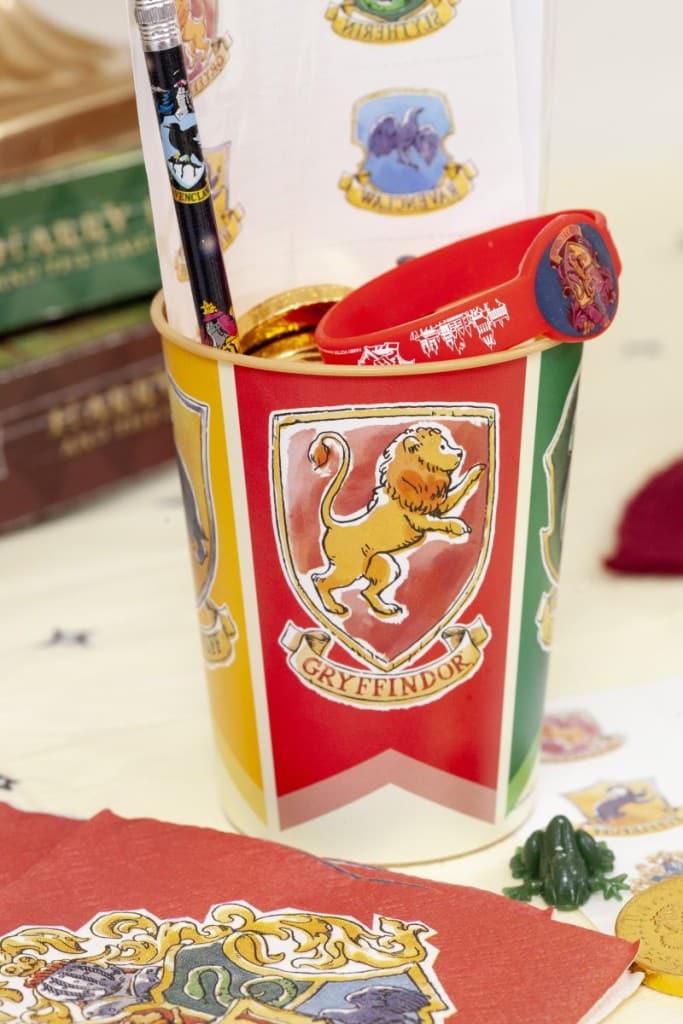 Having a variety of favors is key here, so that guests can "shop" for what they want, just like if they were walking down Diagon Alley!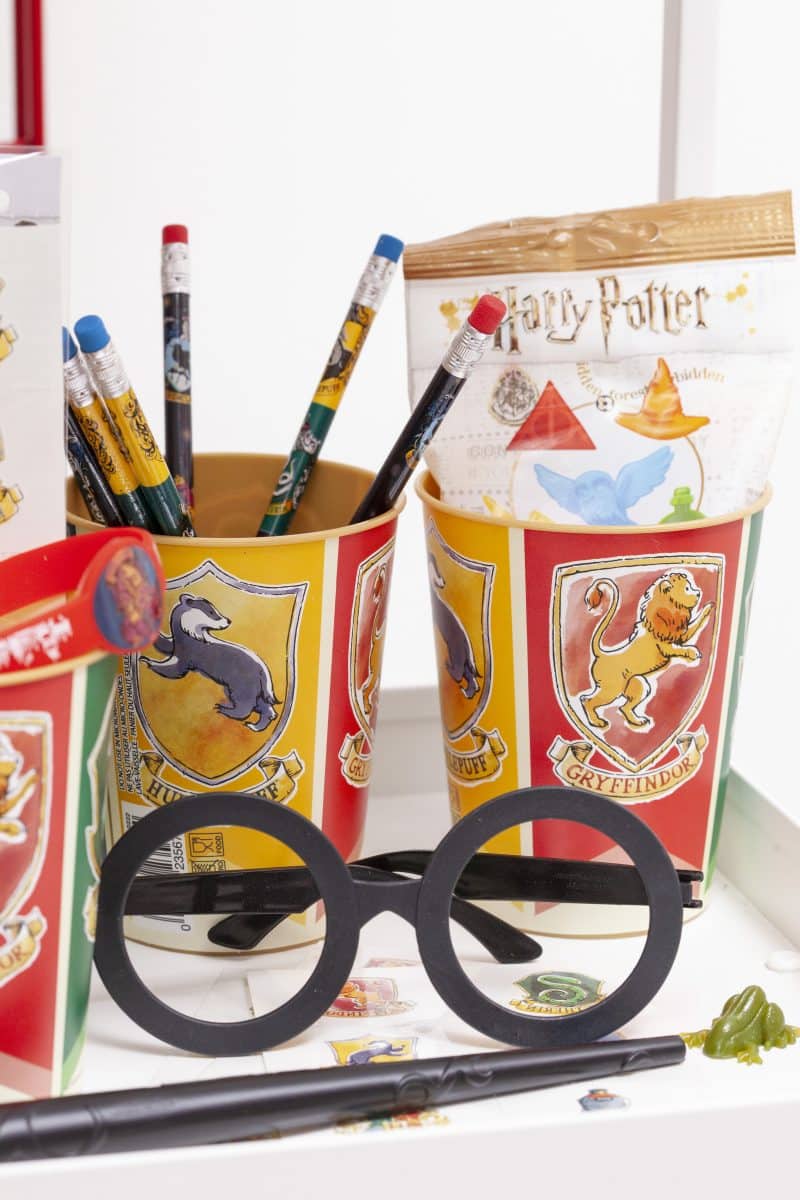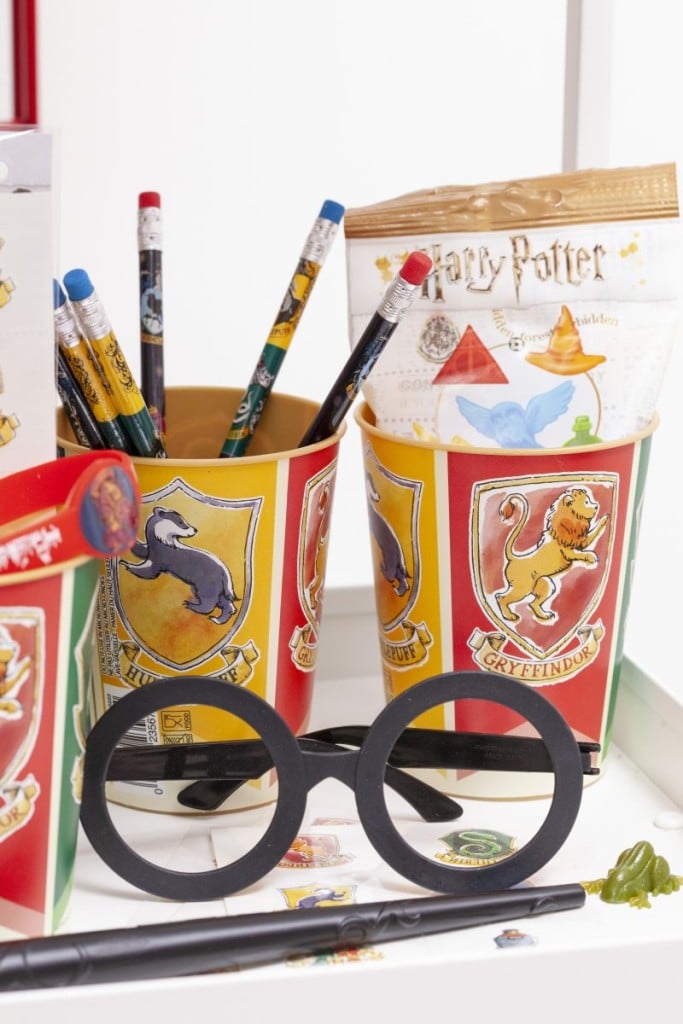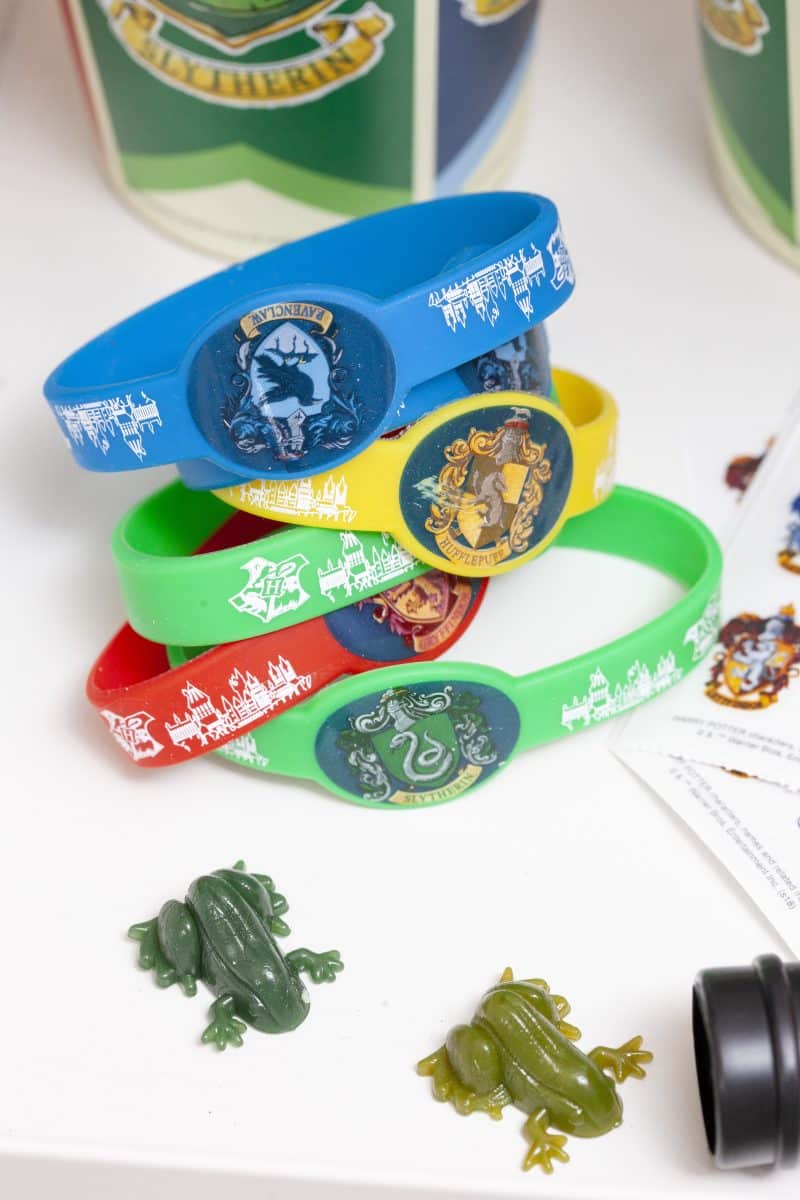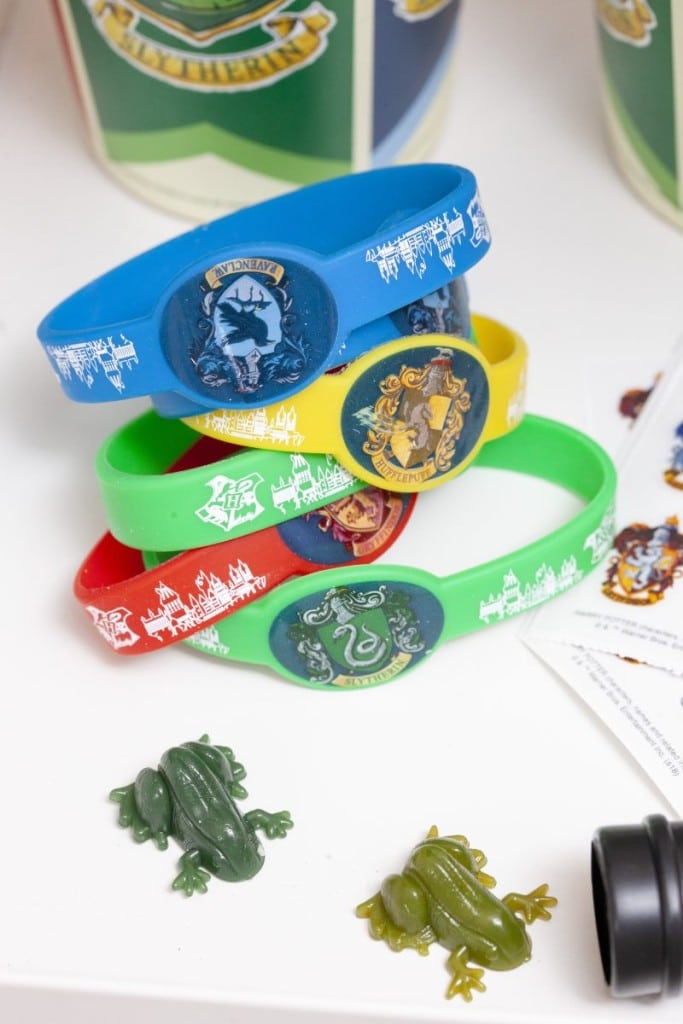 On the bottom shelf, I added a pedestal jar of sticky slugs, along with some Hogwarts House journals and paperback copies of the Harry Potter books.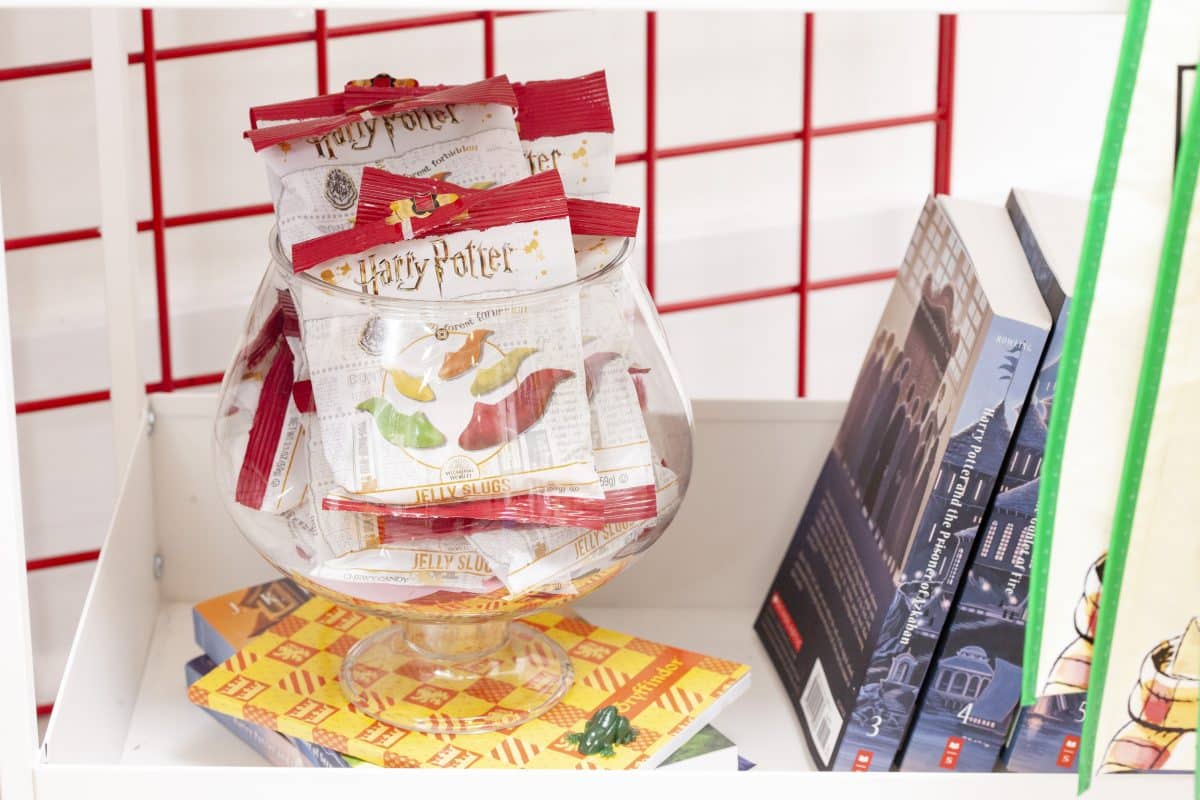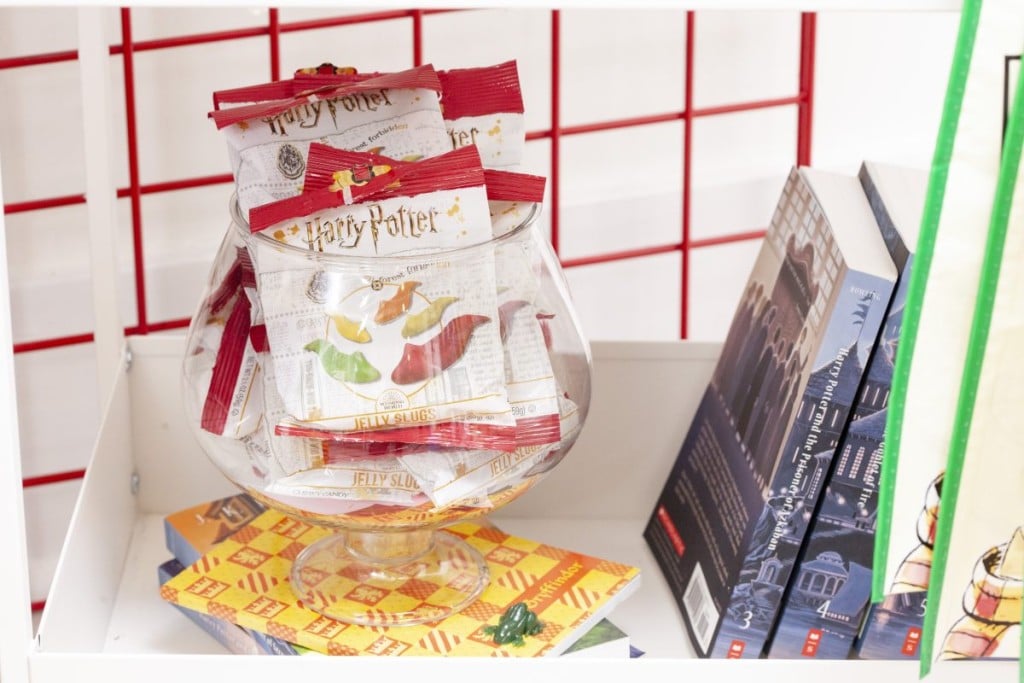 Hogsmeade Honeydukes Sweets Station
For the treat station, I removed the favors and added a variety of Harry Potter-themed sweets straight from the shelves at Honeydukes in Hogsmeade.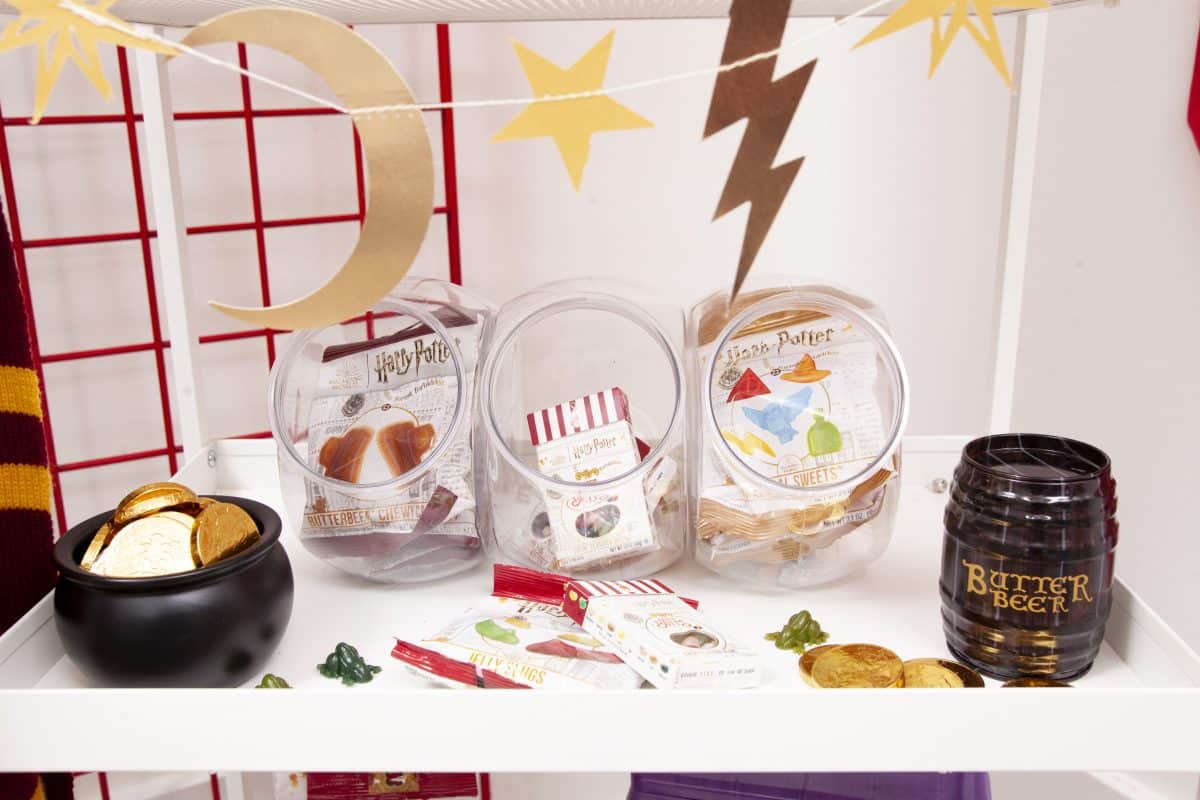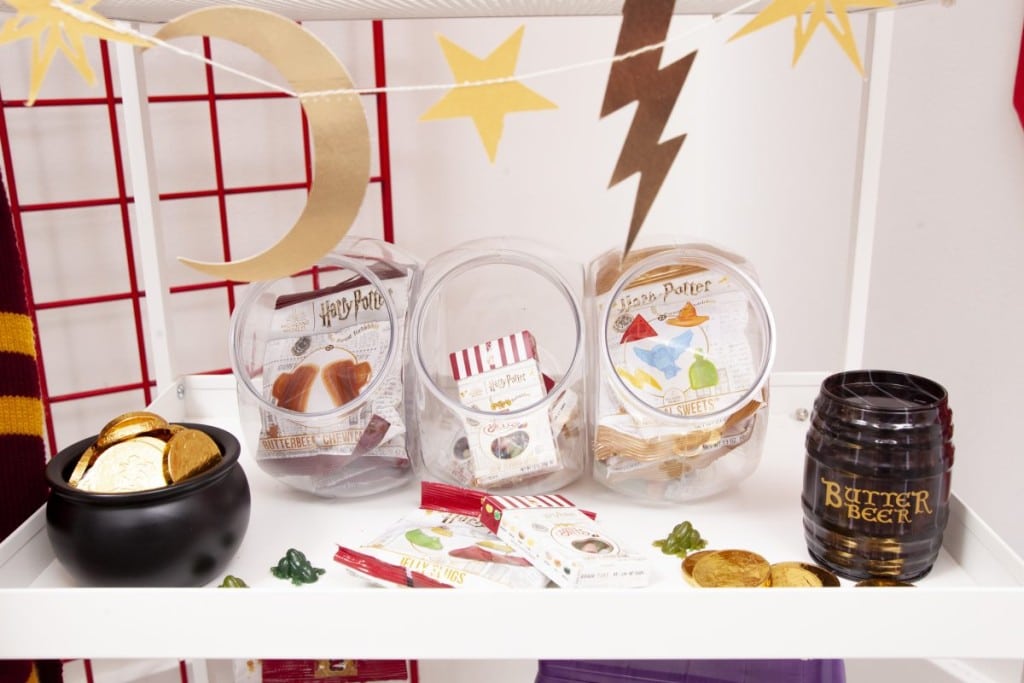 No Harry Potter treat station is complete without Bertie Botts Every Flavour Beans – but be careful, there really are some gross flavors in there! Taking turns trying the flavors is totally entertaining.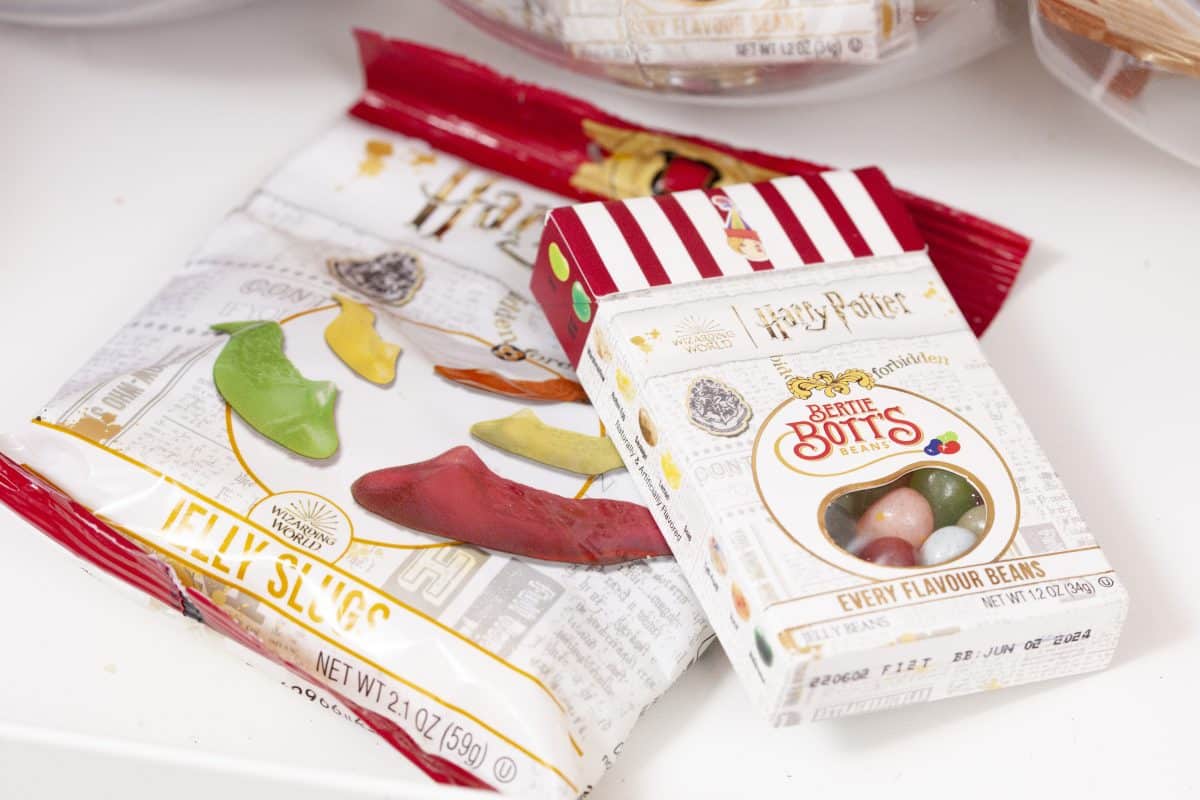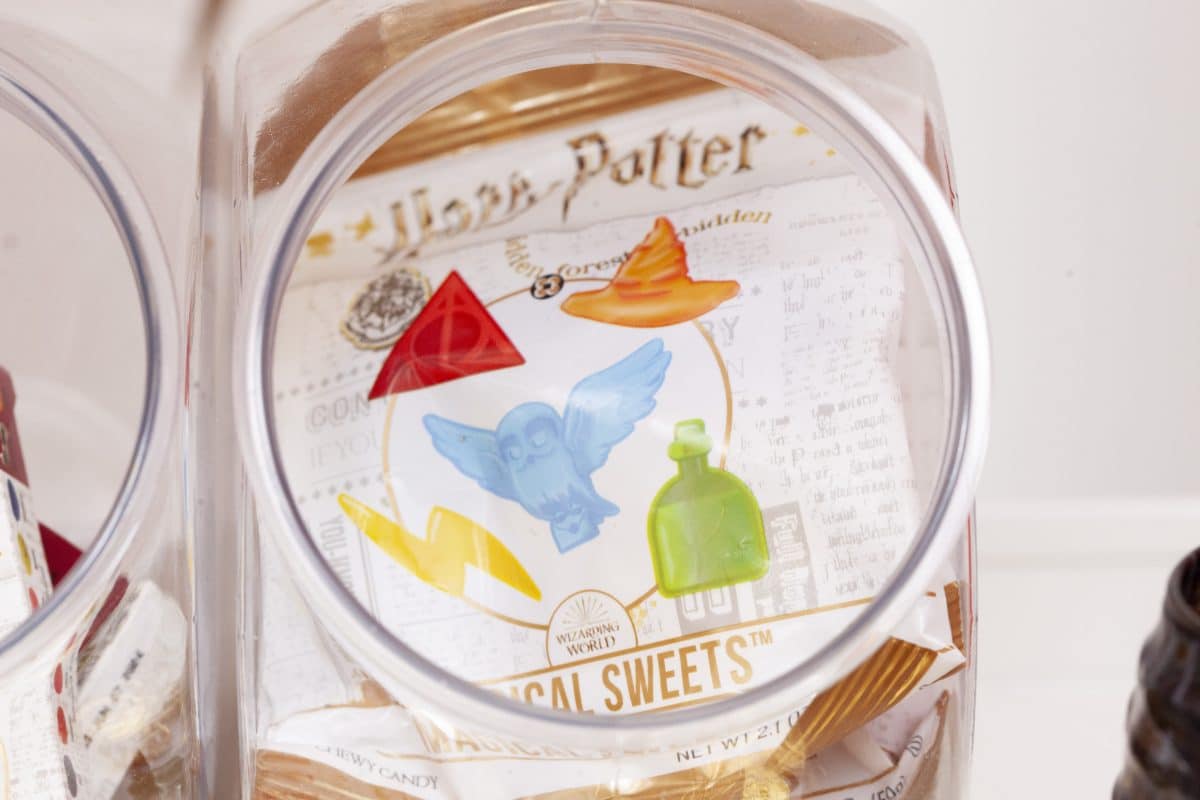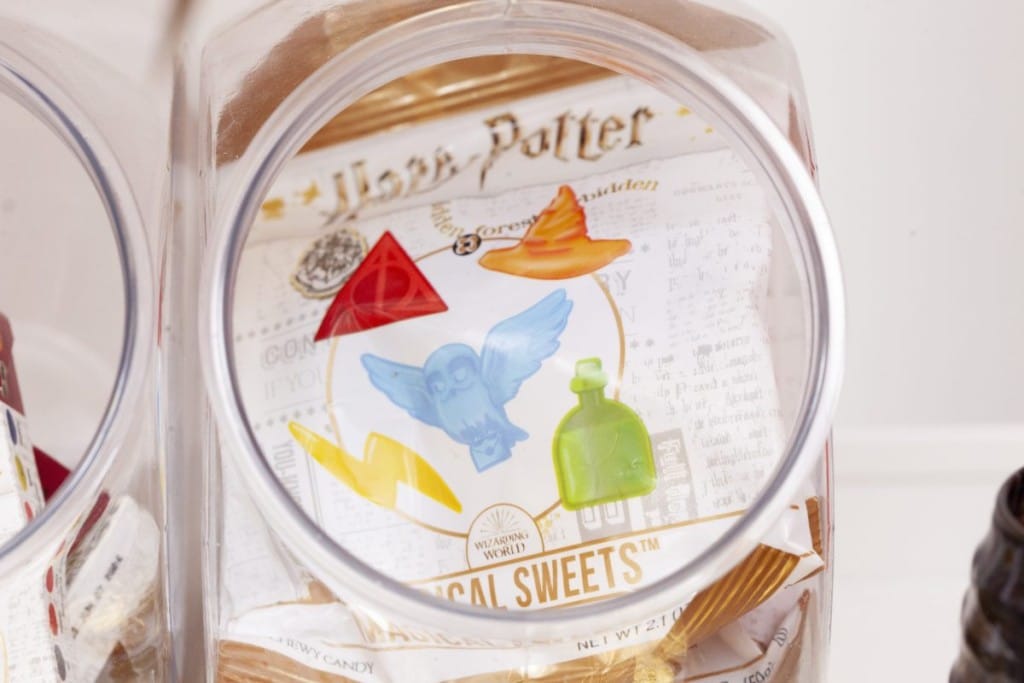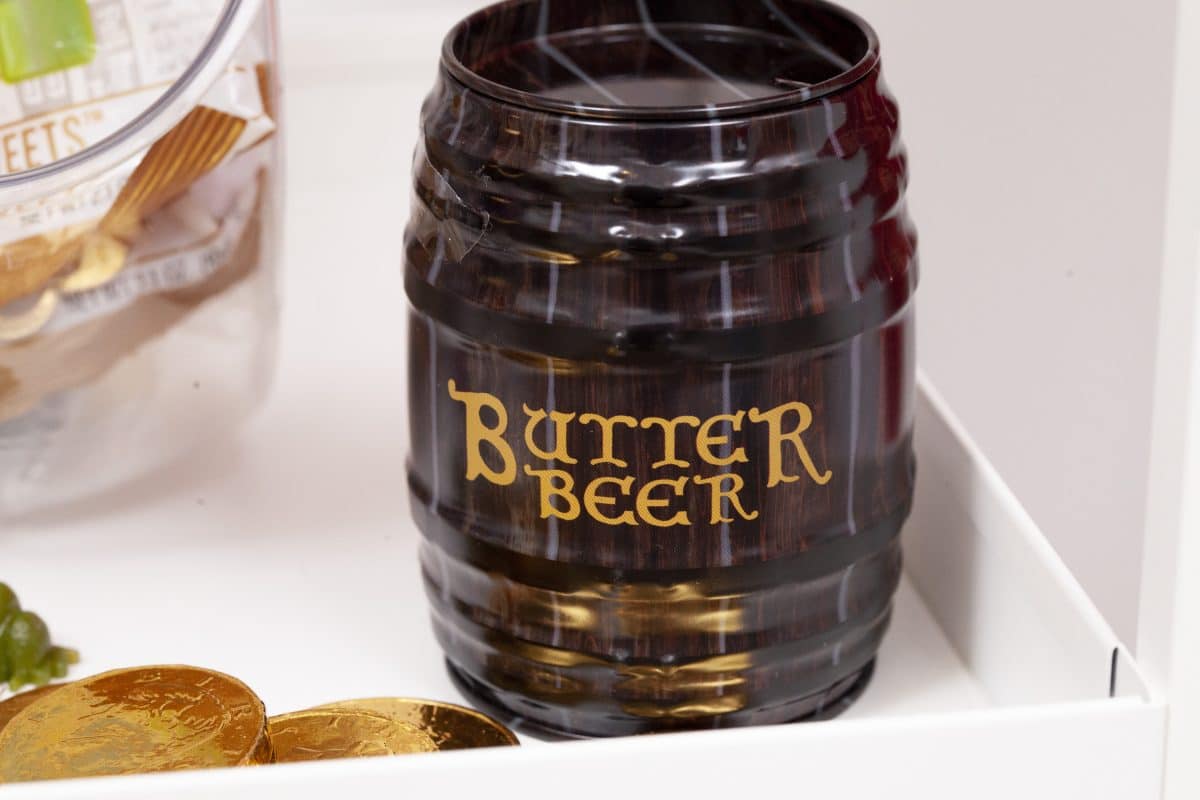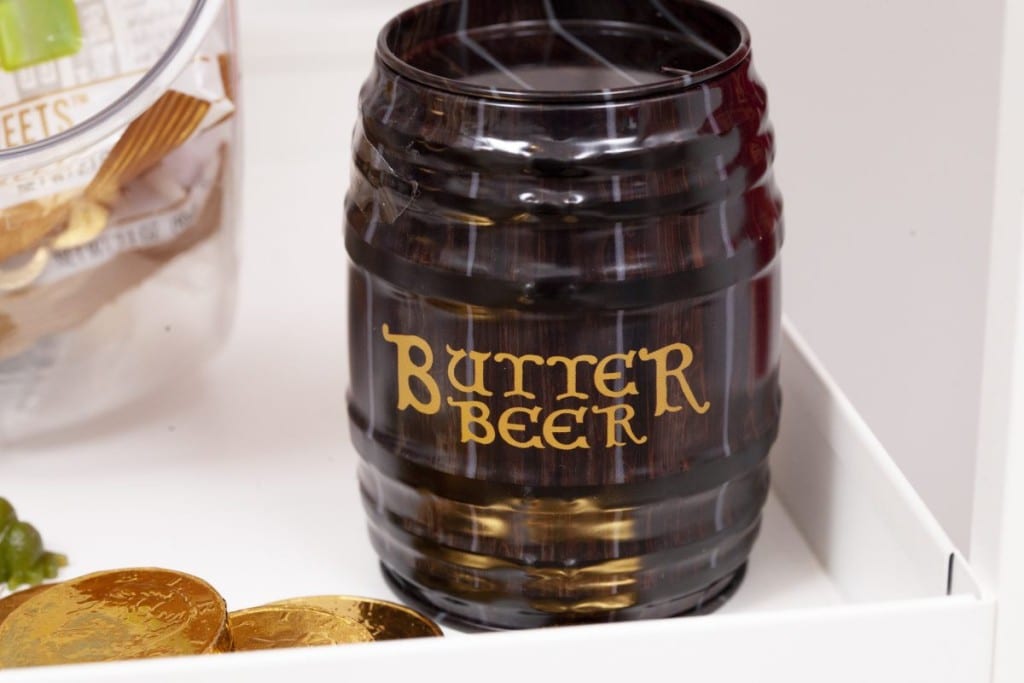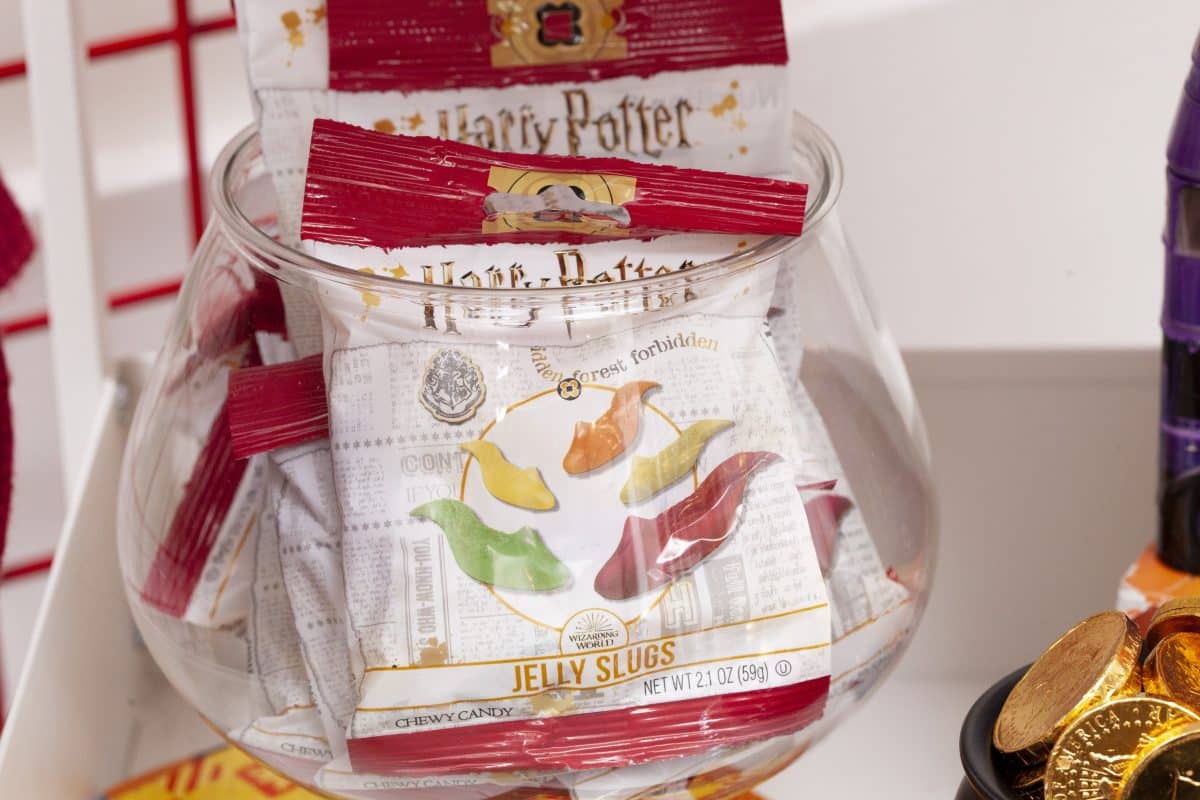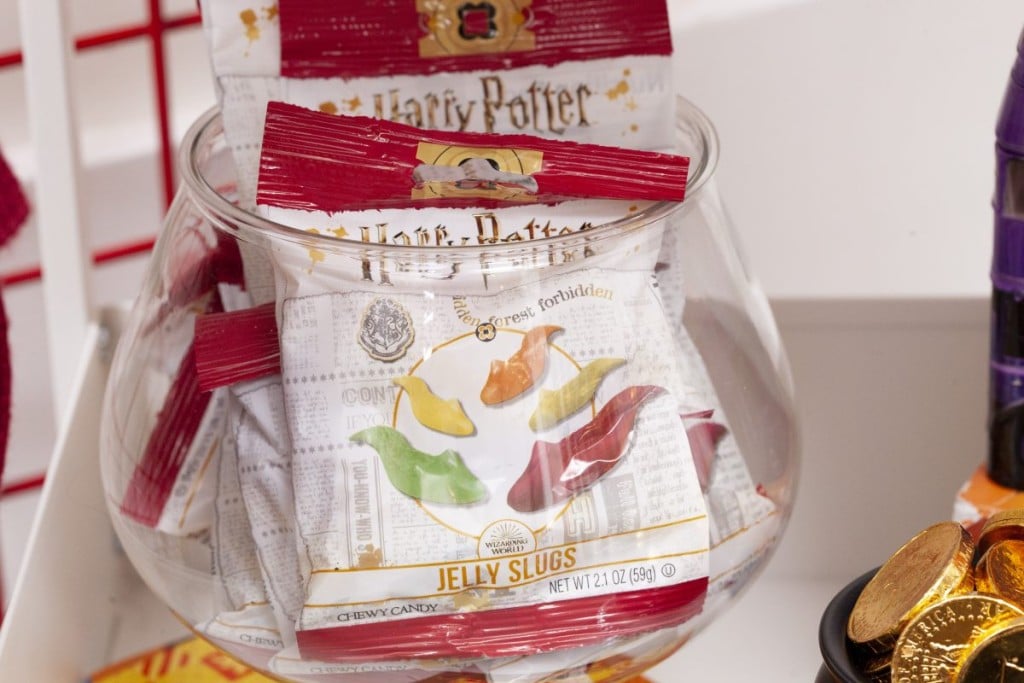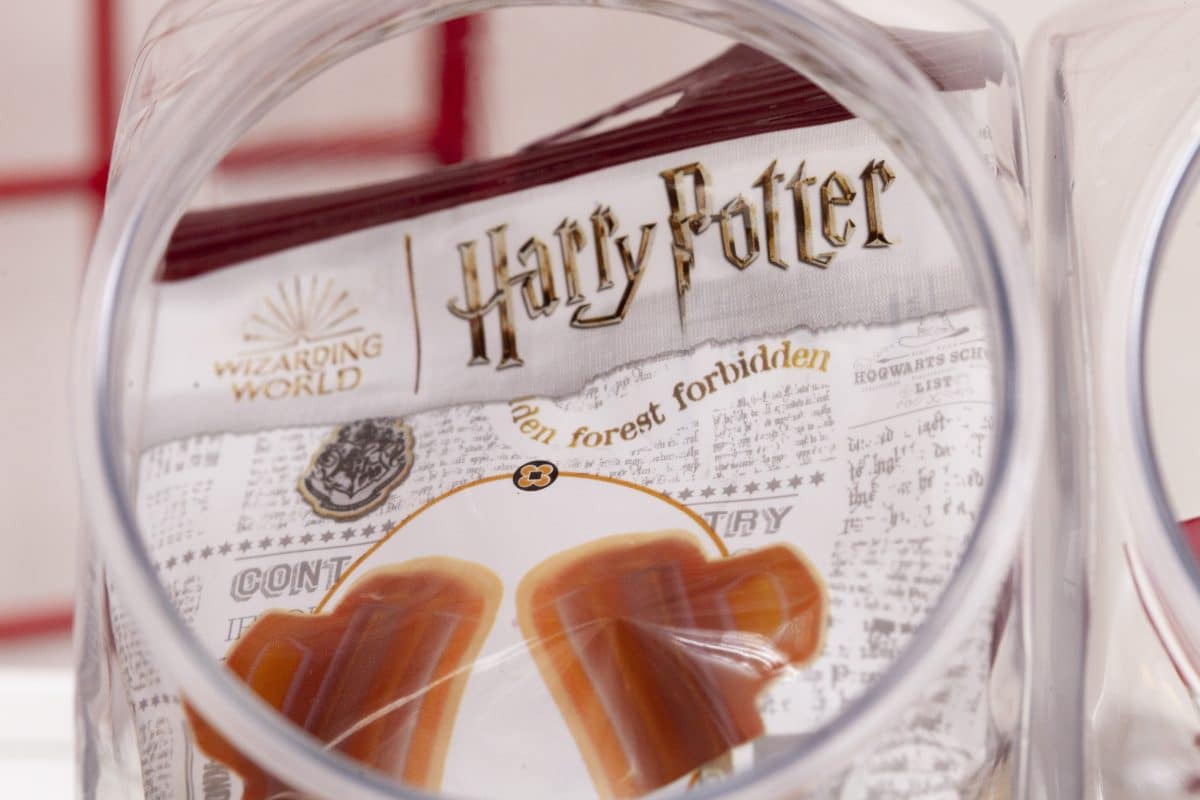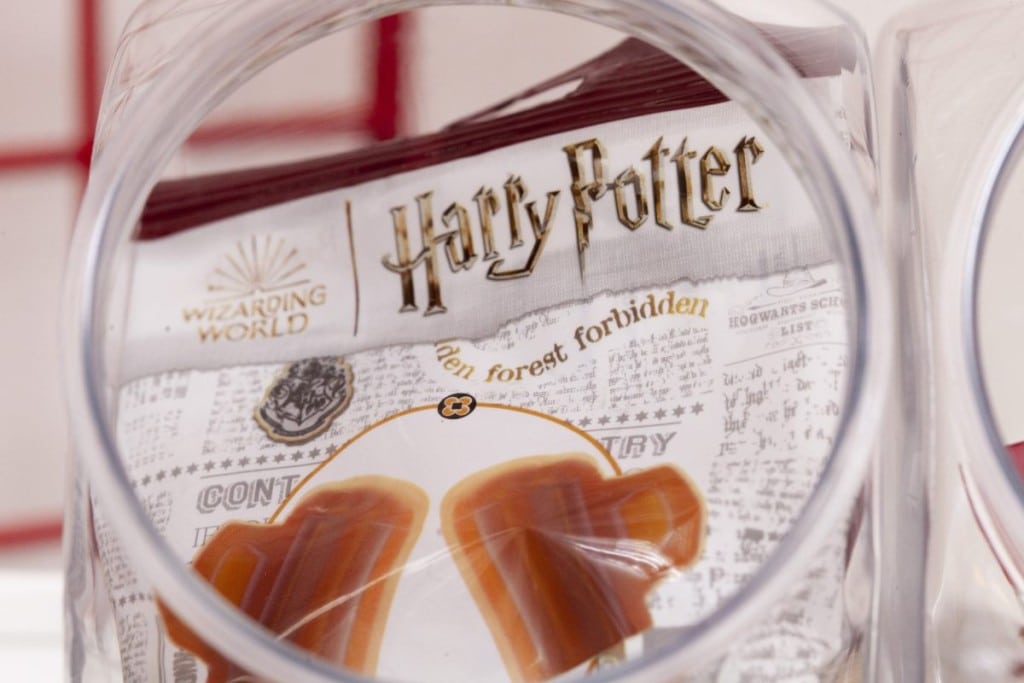 On the bottom shelf, I added more bags of sweets and another cauldron of chocolate Galleons. Then, set atop two of the Harry Potter books, an amazing little coin bank replica of the Knight Bus.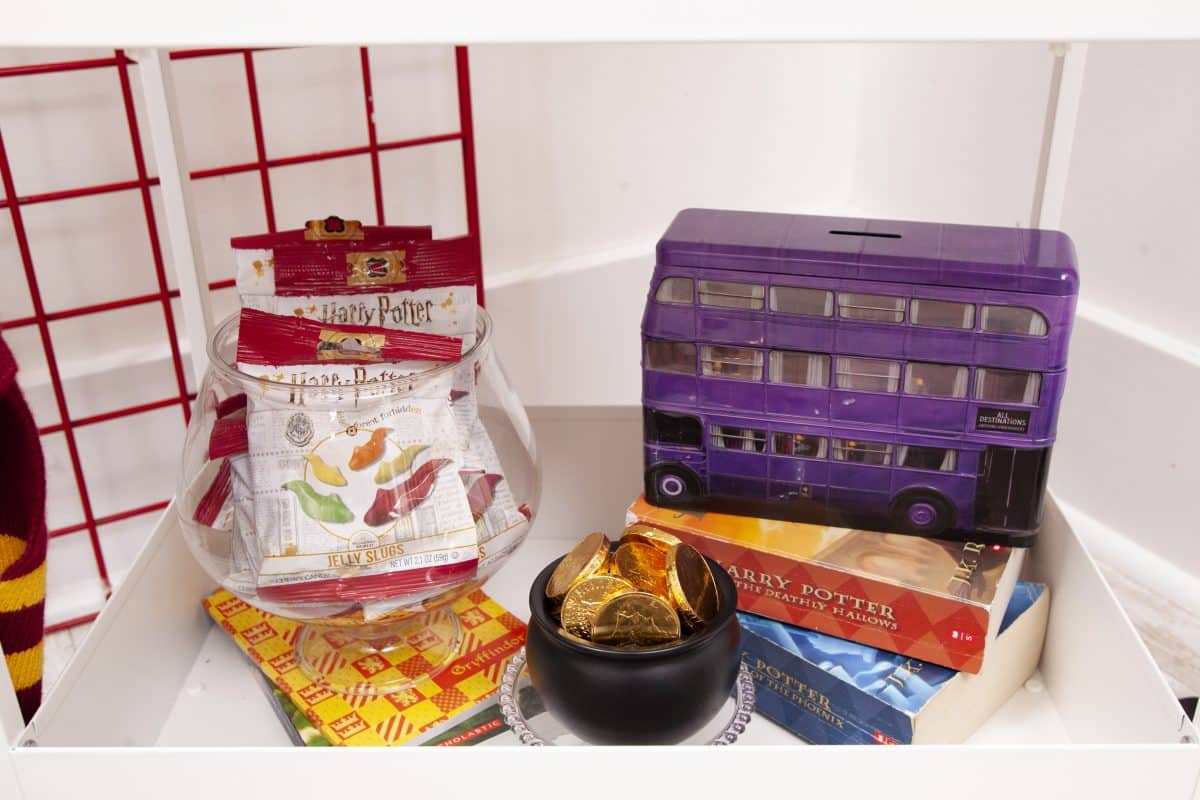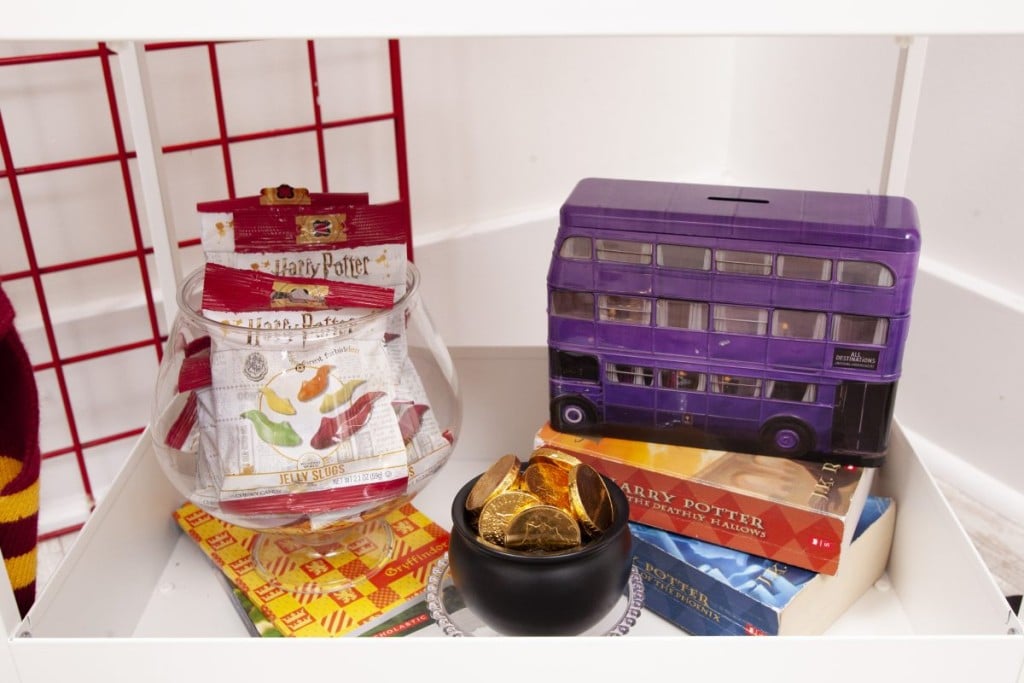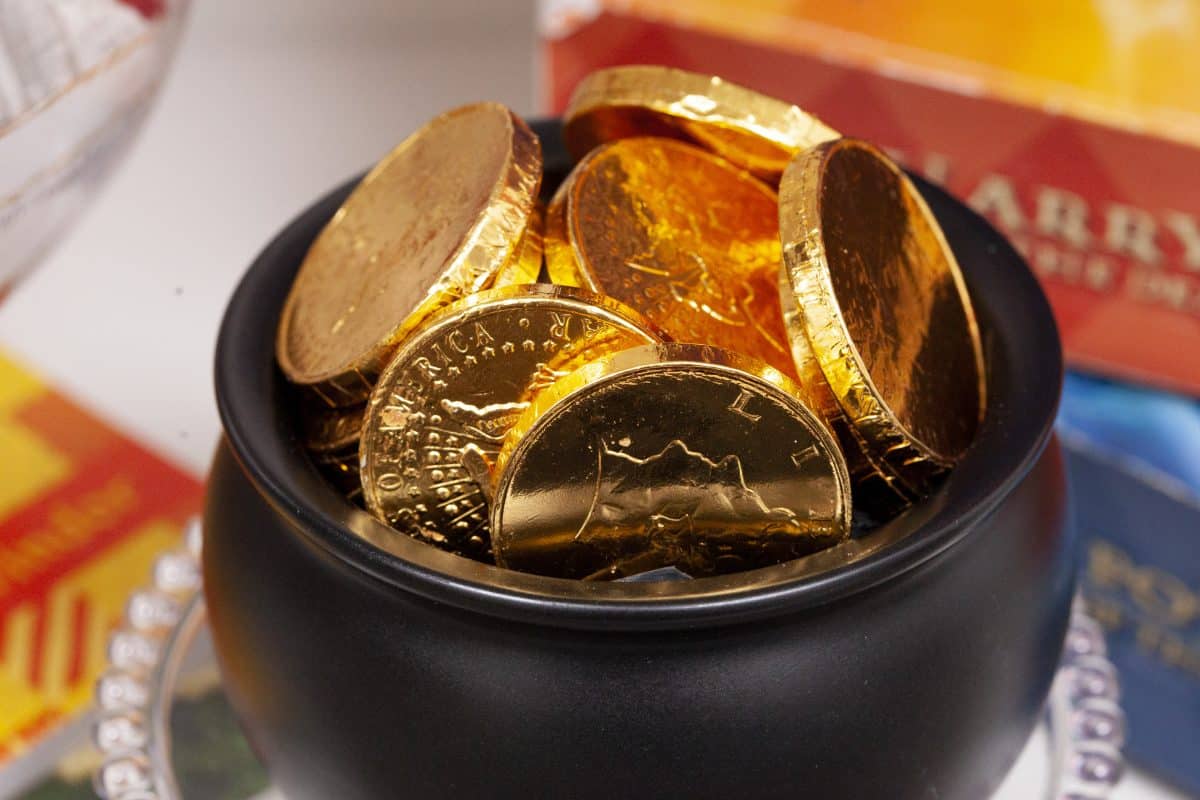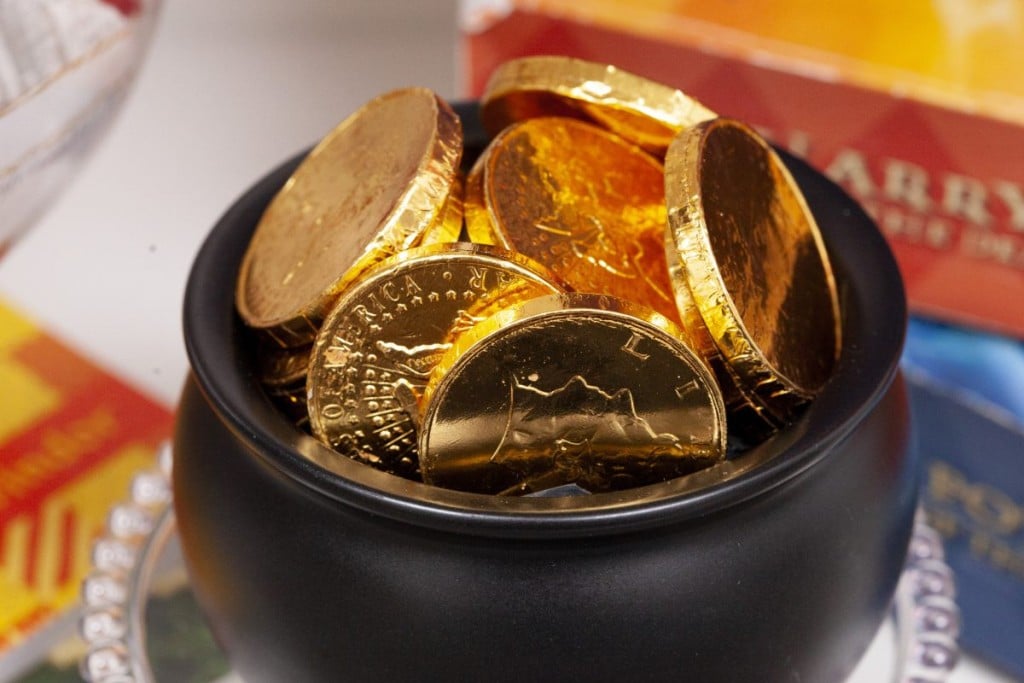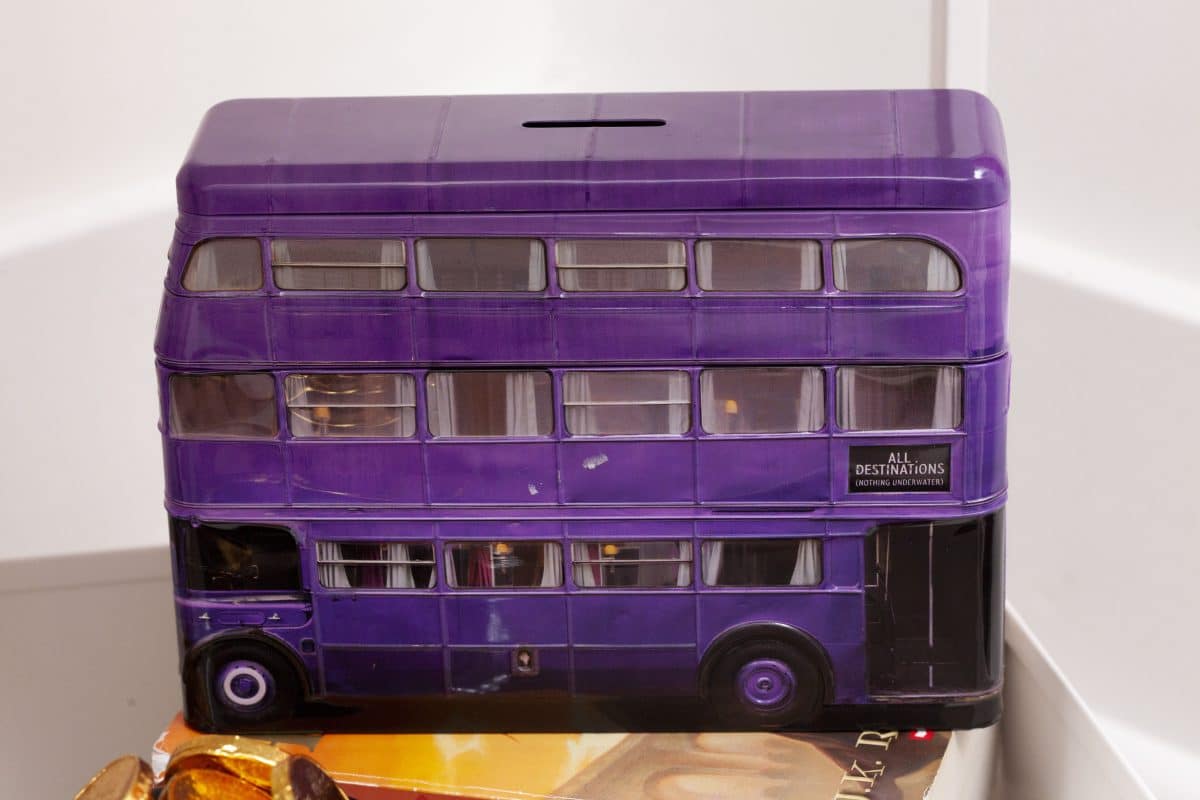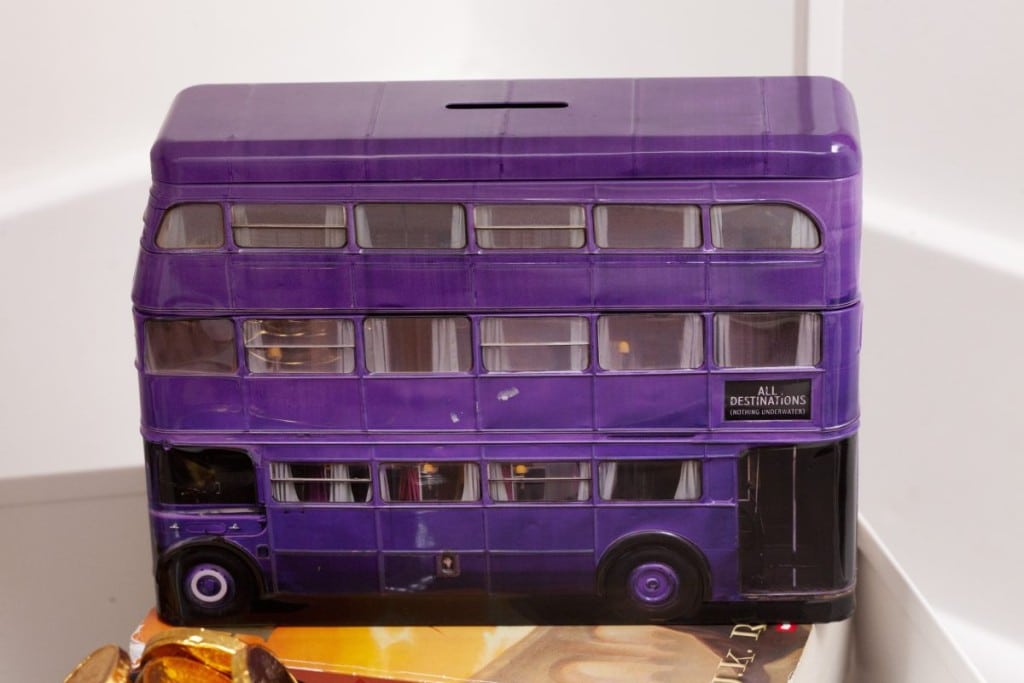 Whether you decide to set up a Harry Potter favor or treat station, your little witches and wizards will leave your party with a magical experience.
Don't forget to check out my Harry Potter Birthday Party and DIY Hogwarts House Treat Containers!
Happy Partying!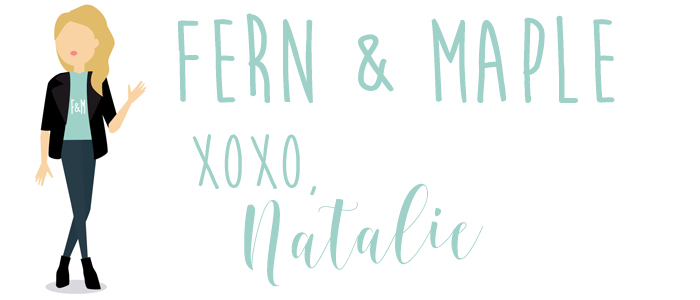 As a blogger, I sometimes receive compensation and/or products in exchange for my styling and crafting services. I also may earn a small commission from any sales that result from affiliate links on this page. As always, all project ideas and any opinions expressed here are my own. For further information on our disclosure policy please check out our disclosure page.
PIN FOR LATER: