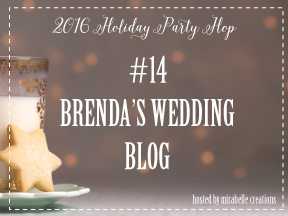 Hi there friends! Lovely to have you back.  For those popping in from Brenda's Wedding Blog; hello new friends!   I'm Natalie of Fern & Maple.  Wishing all of you a warm holiday welcome.
I hope you are enjoying the fun holiday entertaining ideas, recipes and parties from my amazing talented blogger friends.  This year the 2016 Holiday Hop has 18 fun bloggers and a full week of holiday entertaining ideas.
It has been a great week so far and I'm looking forward to sharing my holiday hostess gift idea with you.  If you'd like to see all the party blogs in the 2016 Holiday Party Hop, please start here. You'll find the link to the next stop at the end of this post.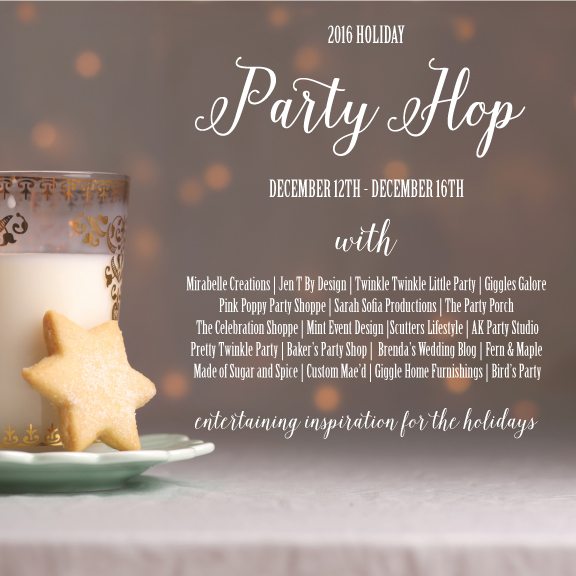 I am beyond thrilled to join in the 2016 Holiday Hop, if you are anything like me you will be loving the fresh new ideas for hosting holiday parties and are itching to try them out.  I love this season.  It's so nice to catch up with friends and share an eggnog or two…mind you after this hop I think I need a fix of cocoa too..mmmm!
When I host a holiday party like my recent Crackers, Crowns & Cocktails holiday party (by order of the Queen!) I always like to give my friends a special something to take home with them.  In turn, when I attend a party I always like to take a gift for the host or hostess.  A little something to say thank you for hosting and putting on such a fab night.
This year I decided to give my party friends a gift direct from Santa's workshop.  Something that could help my them get through this busy period.
I mean let's face it we could all use a bit of the elves help around the holidays.  All the shopping to do and then once the gifts are purchased, it's time to wrap them all up.  This is what inspired me to create a "gift wrapping kit" as a hostess gift.
Wrapping gifts happens to be one of my favorite things to do, like ever! Would you believe as a child I won a "Collectors" competition and was asked to display my collection in the Town Hall….it was a collection of gift wrap, bows and ribbons. Ummm yup, a hoarder and lover of wrapping from an early age.
So attend one of my parties or better yet invite me to yours (YAY! yes please) and you'll be getting a box of wrapping goodies direct from my "collection" of favorites.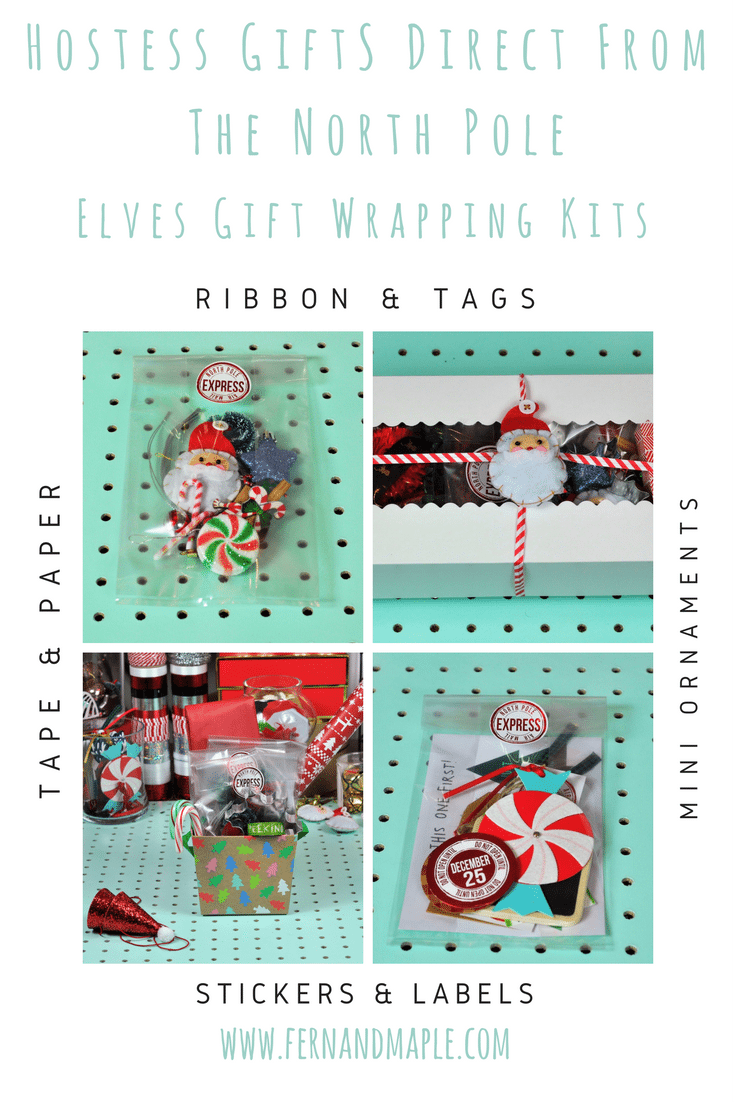 I'm going to give you a glimpse into my very own "elf" workshop (and obsession), as well as walk you through what I put into my box of wrapping goodies.  These are suggestions only.  You really can create any combination you'd like both in look & feel (color combinations) and in content (type of wrapping).
As a guideline, I like to stick with providing enough supplies to wrap at least 2 medium size parcels and a gift card as well as a larger selection of ribbons, bows and gift toppers to use on their other gifts.
At a minimum you'll want to make sure you include an item from each of these 4 primary areas to make a wrap set (i.e. select a coordinating set of paper, ribbon, a tag and topper).  You can do one set or multiple like I do to cover the package minimum I talked about above.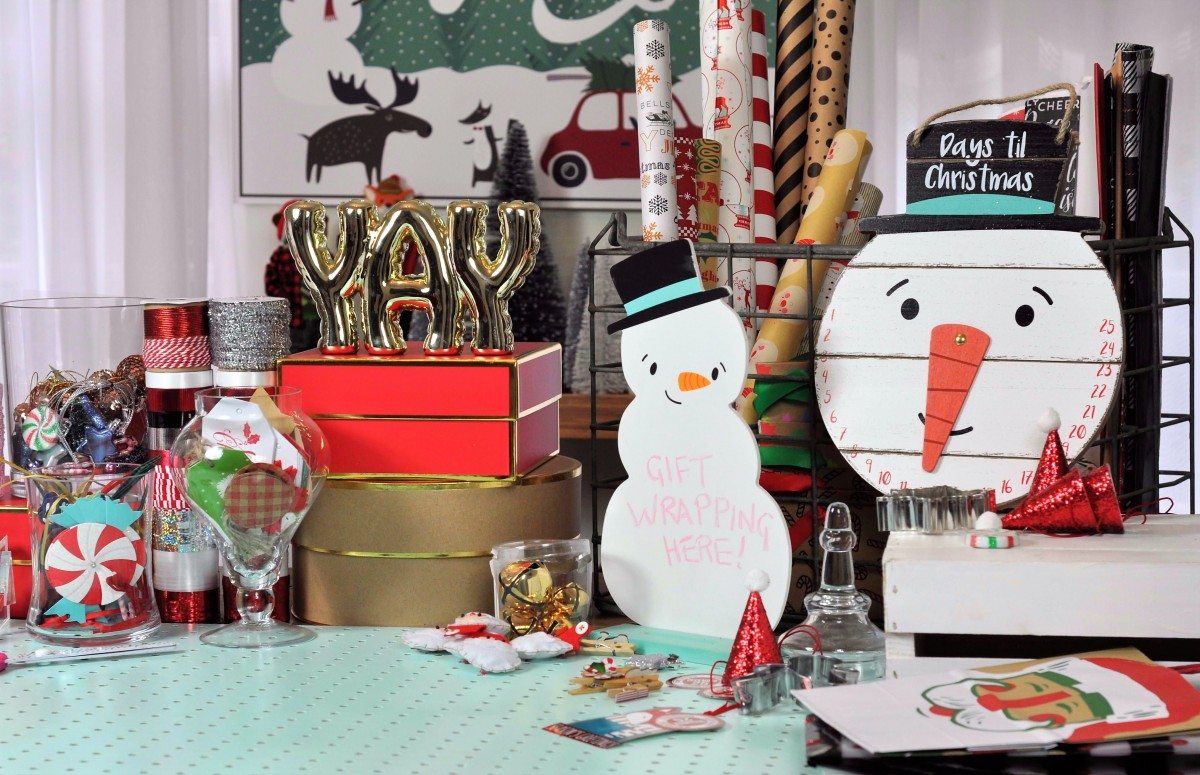 The countdown keeps me on track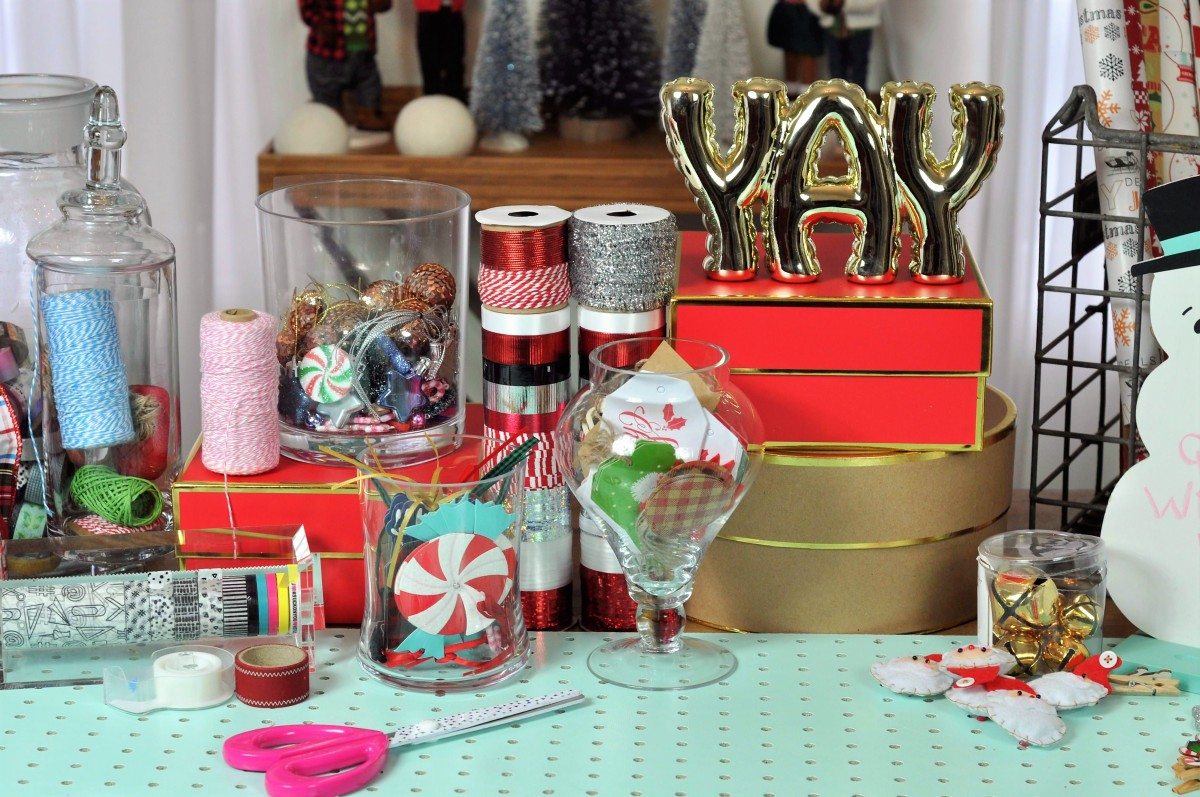 Yay is how I feel when I'm wrapping!
Here are some of the things you'll find in my box of elf wrap goodies.
For wrapping:
A box to put the supplies in, consider a box they can reuse
Wrapping paper
Tissue paper
Fabric & pins
Gift card boxes or sleeves
To keep it wrapped:
Christmas theme tape
Bakers twine
Ribbons – wired, pom pom, satin
For the gift messages:
Gift ties
Gift tags
Chalkboard tags
Stickers
As gift toppers (tie to the ribbon):
Miniature Christmas ornaments
Pom pom (fur or wool)
Rosettes
Candy e.g. peppermint sticks
Decorative clothespins
Cookie cutters
Faux pine or leaves
Mini bottle brush trees
Optional – decorating the paper/packaging:
Felt characters
Stick on letters or shapes
Stickers (e.g. North Pole express)
Washi Tape
Christmas stamp & ink (with butcher paper)
You could also consider including a cute pen, glue or mini scissors to cover all of the wrapping bases.
Here is how I packaged and presented my elf inspired hostess gift and the places I purchased my items.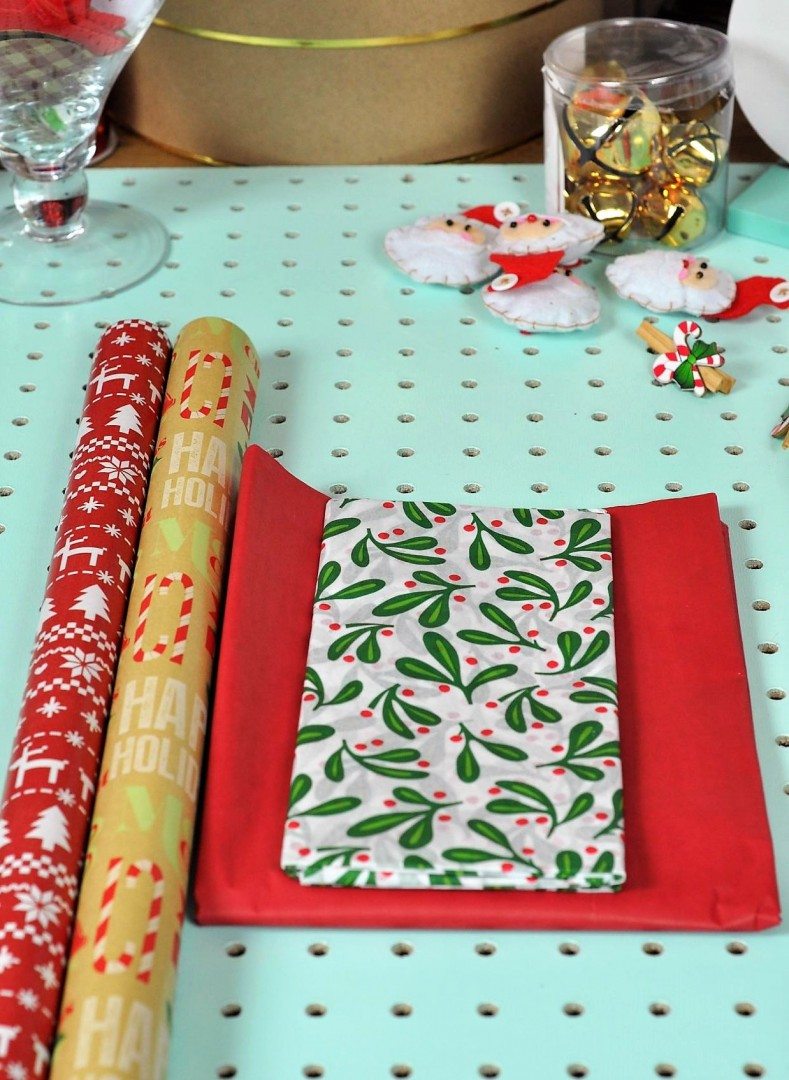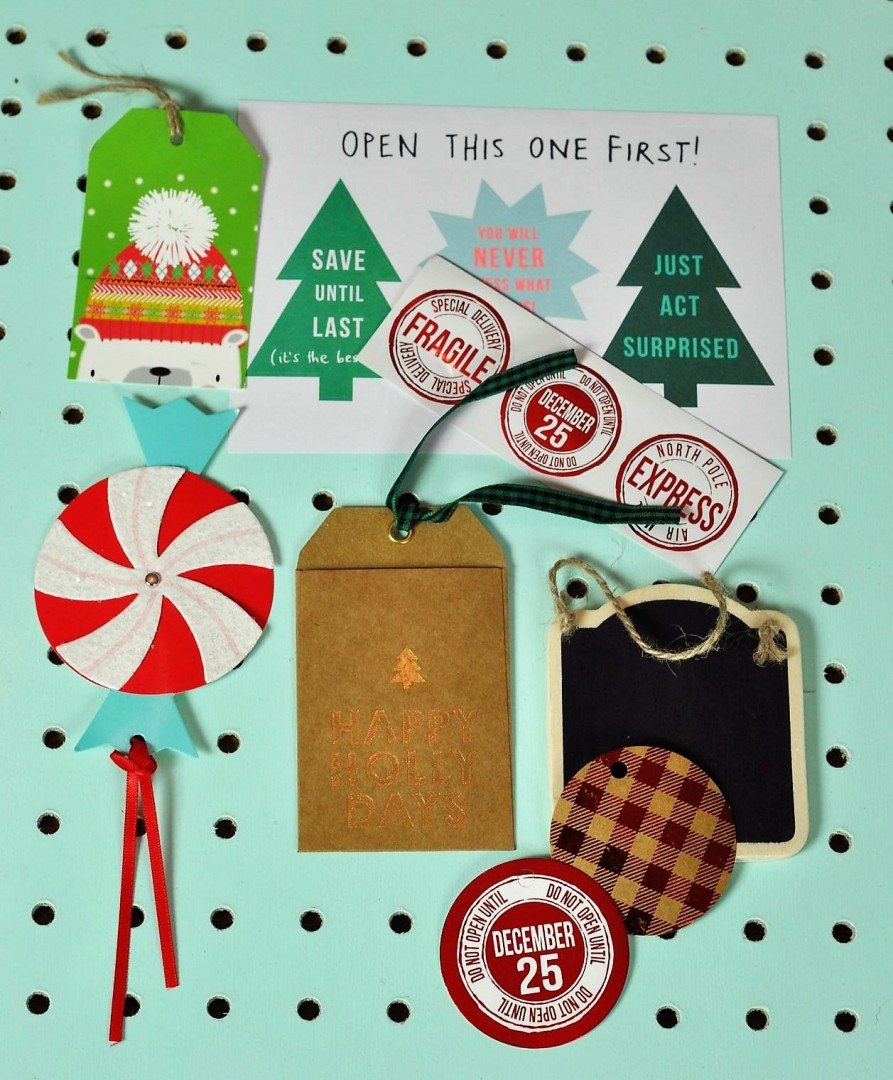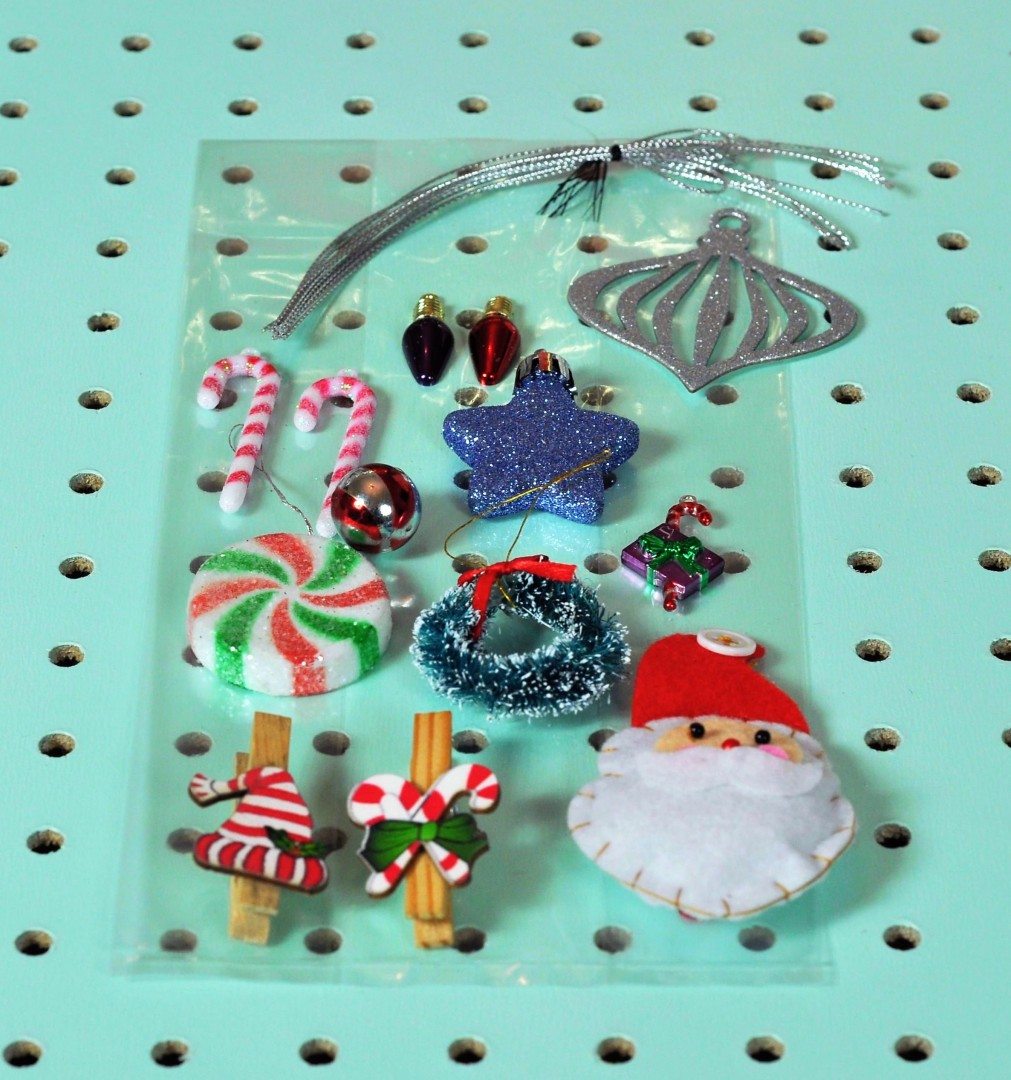 Starting with the box I packaged the goodies in – I chose a window bakery box so they can break the "no peeking till Christmas" rules and peek through the top to what is inside.  You can buy a batch of these for under $0.85 each at Paper Mart.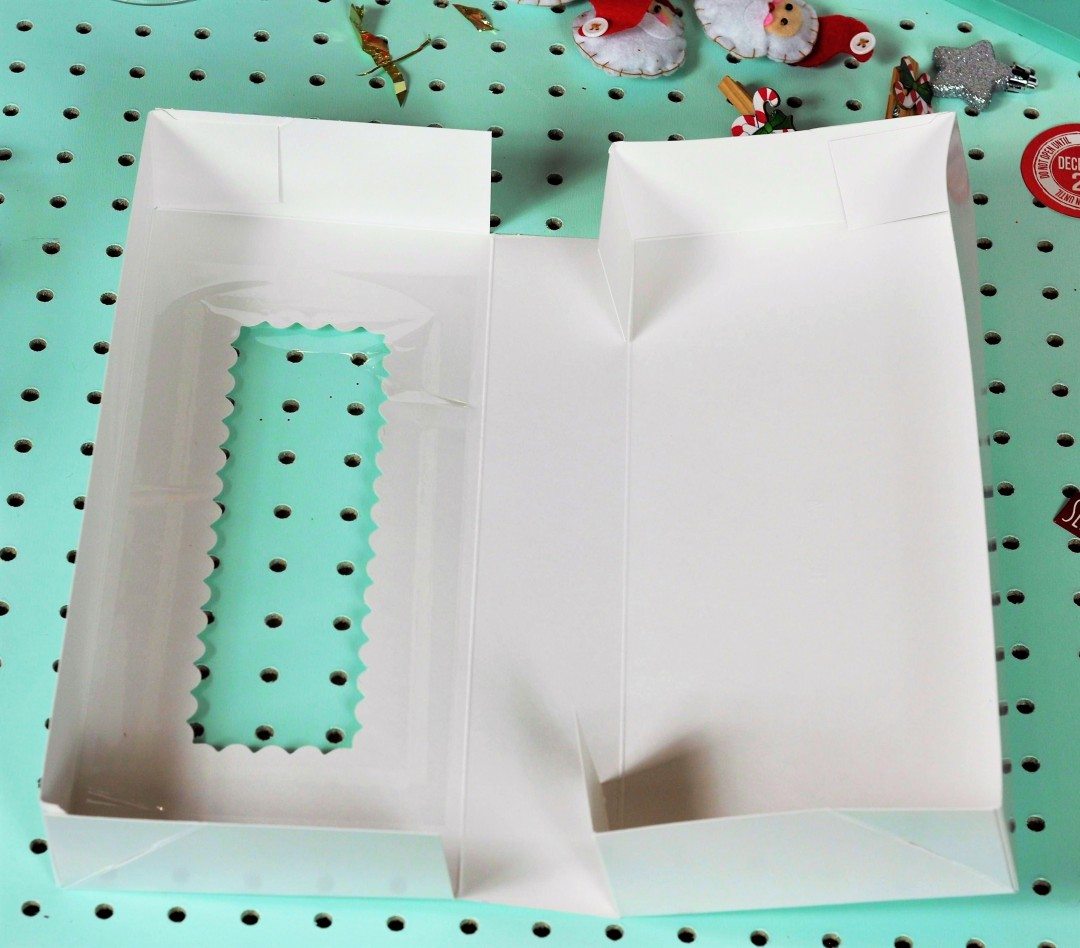 Include sheets of fun stickers
and gift card wrapping or pouches
then group items (like ribbons) to bag together
Bag up the smaller items together, ribbons
toppers into clear bags and seal with a sticker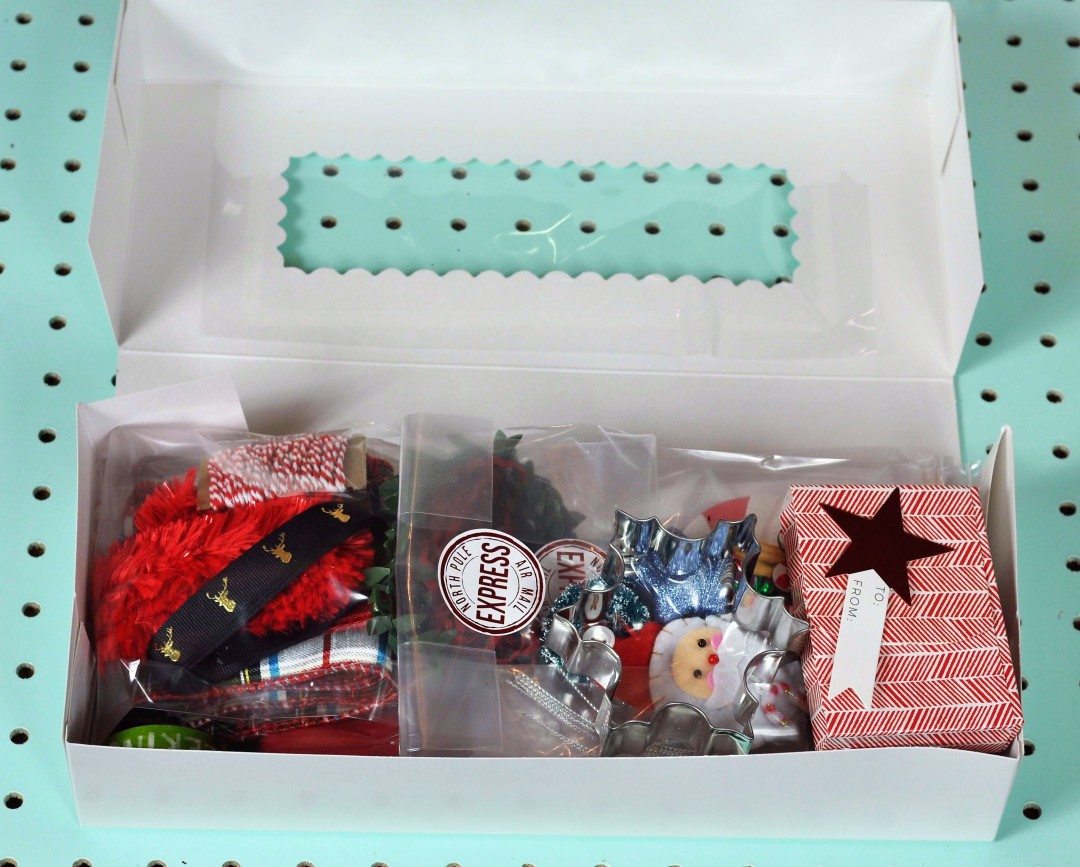 Pack all the bagged items with the tissue & other items into the box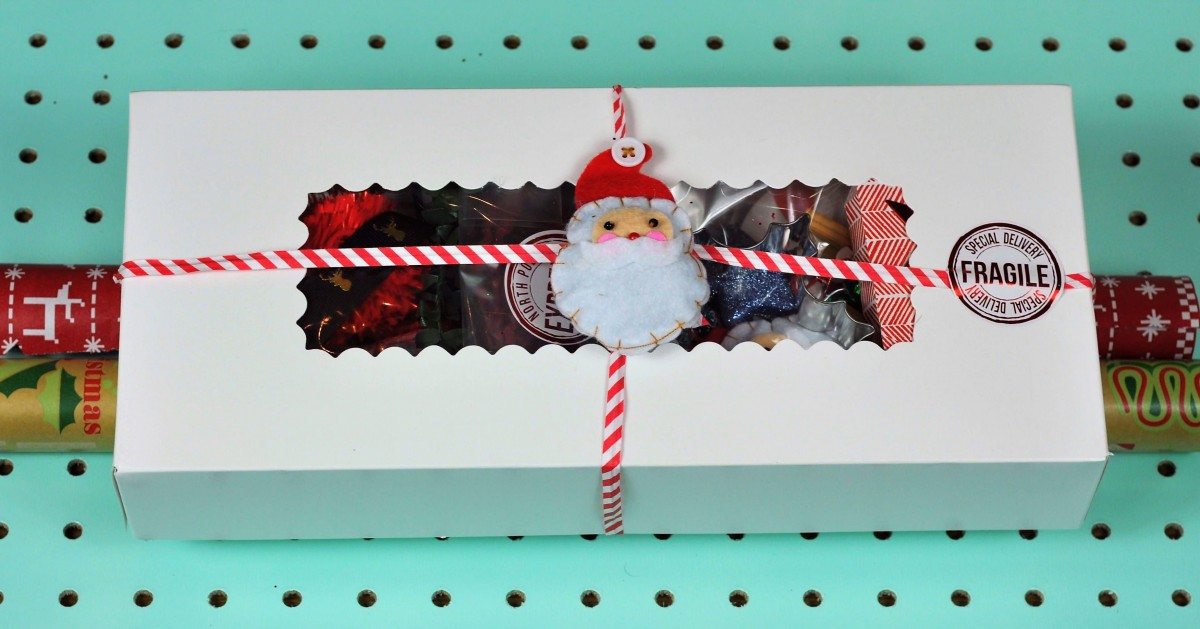 Wrap it up, using the ribbon to tie the rolls of wrapping paper to the box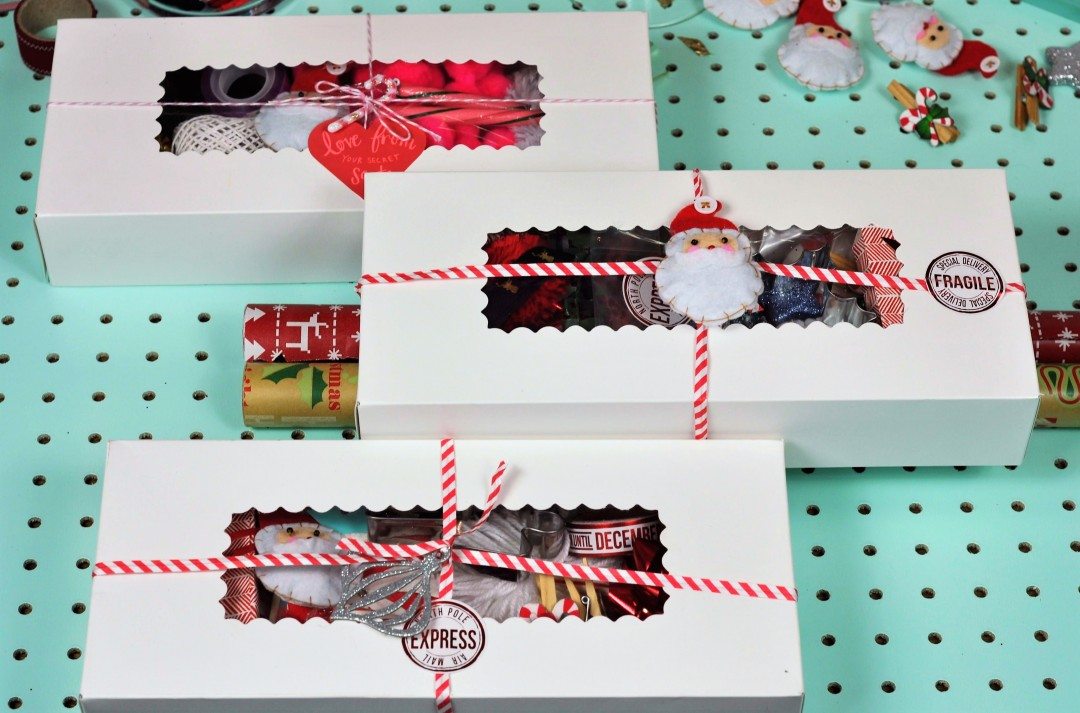 Put different combinations of wrapping paper etc. together in each box or create a standard set
The majority of my wrapping goodies I found at Target, Paper Mart, The Dollar Store, craft stores (like Michael's or Hobby Lobby) and Oriental Trading.
There are also lots of other options you can use instead of the baker box.  Try cardboard buckets with festive designs and handles like this one from the Target Dollar Spot. Or mini metal crates, again from the dollar spot and with cute chalkboard labels for your guests names. These can also be reused in by your friend as well.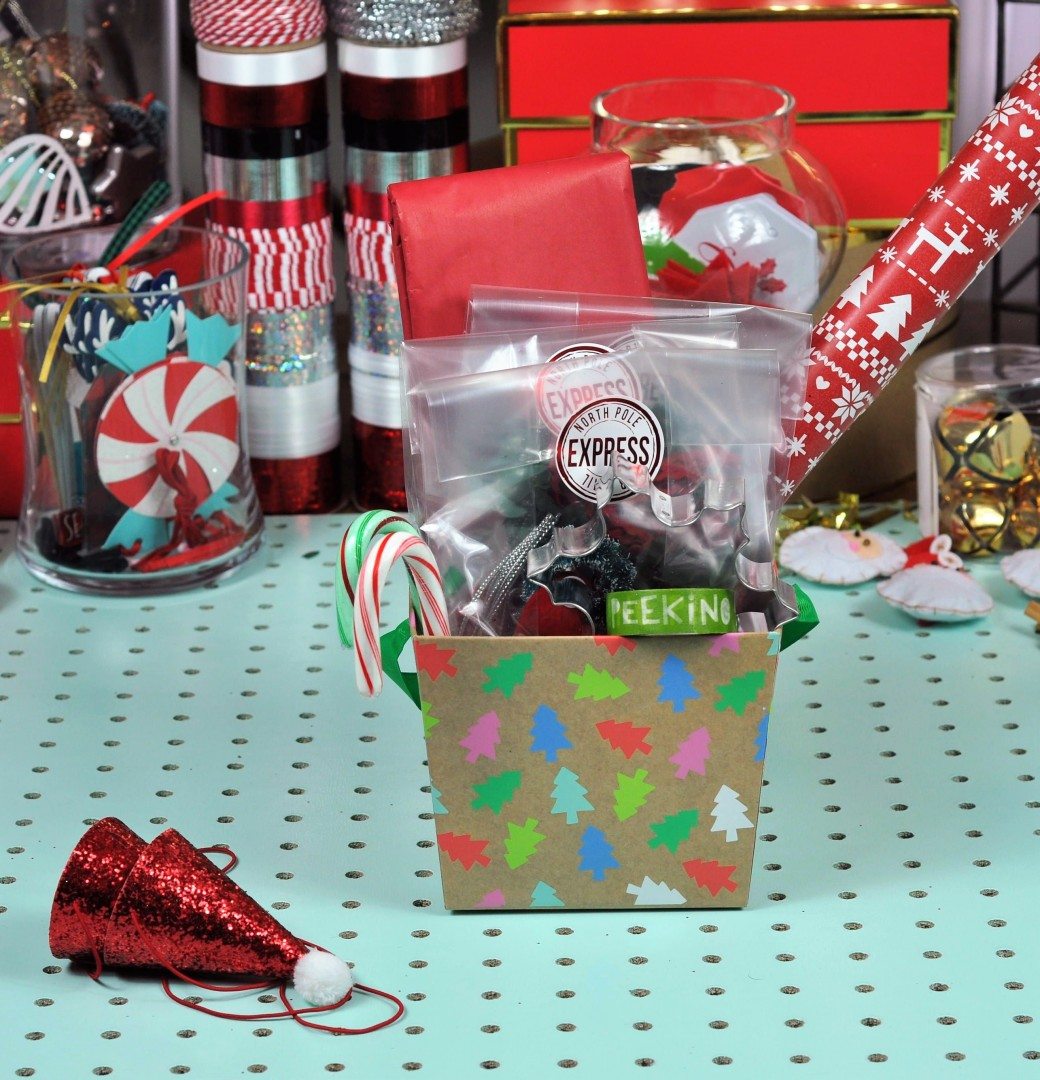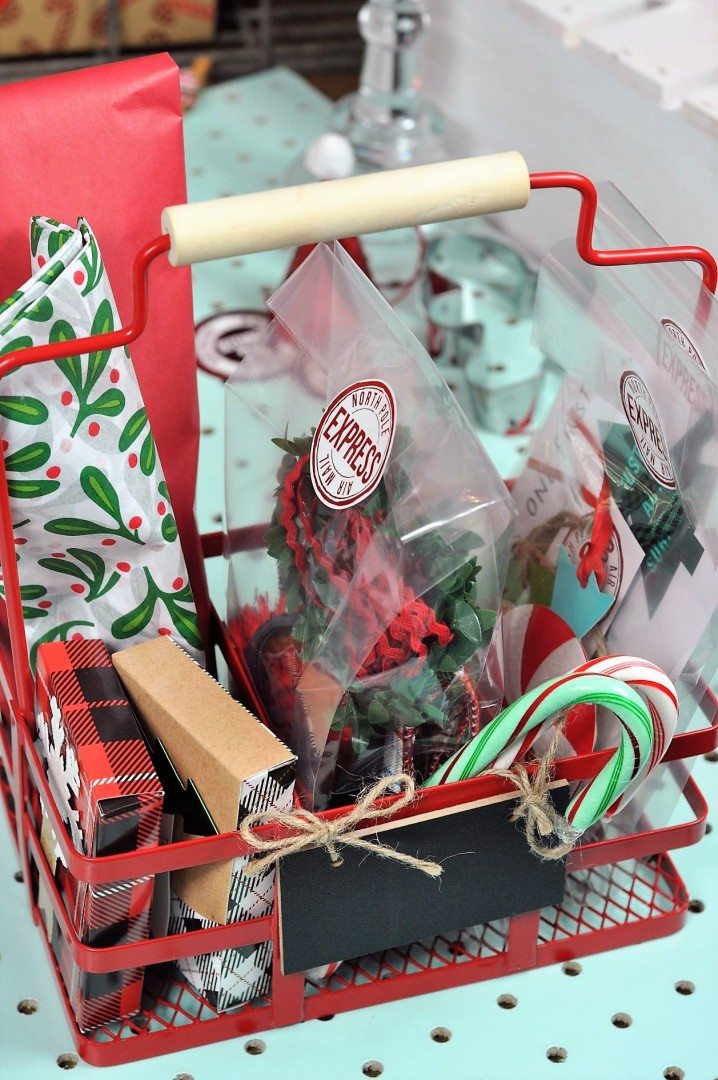 I hope you find these ideas inspire you to get your "ELF" on this Christmas. You might be surprise how relaxing gifting gift wrapping an be!
The fun isn't over yet, you can keep enjoying the fabulous parties, ideas and recipes on our Holiday Party Hop until the end of the week. So much gorgeous inspiration I can hardly wait to try it all out.  Next up is the lovely Annaliese from Made of Sugar and Spice, I like to call her the Queen of Glitter.  You are going to love celebrating with her. Head on over and check out her Girly Glam NYE Flamingle, the perfect way to send off 2016.
Happy  Holidays, Love Nat x